There are a few things you need to know about me. I love food. I eat a LOT! And I love eating good food.
I grew up near Lyon – look it up! Lyon is known for being the capital of France when France was called Gaulles. It is also known for its old city, entirely classed as UNESCO site. But mostly, Lyon is famous for being the gastronomical capital of France. Not Paris (though half of Paris stopped reading by now), but Lyon! We have a wonderful heritage and most of it evolves around food and the local specialties.
While France has many celebrity chefs, the most famous is Lyon's own Paul Bocuse! Bocuse was named Chef of the Century by the Culinary Institute of America in 2011 and has maintained its 3 Michelin star status at his Lyon restaurant for over 50 years! He sadly left us earlier this year, living a true legacy behind him.
Bocuse At Epcot
Paul Bocuse and 2 of his fellow French chefs, opened Chef de France at Epcot's French pavilion in 1982. Chef de France is a bistro-styled restaurant, which will transport you to Paris immediately upon passing its French doors. Everything in there is reminiscent of France, from the decor, to the menu and its French servers.
Upstairs however, is where the true magic happens. Monsieur Paul opened in December 2011 and was recently renovated. It is operated by Jerome Bocuse, Bocuse's son, who named the restaurant in honor of his father.
Monsieur Paul has its own entrance on the back side of Chef de France, just up the flight of stairs.
Dinner At Monsieur Paul
After years of wanting to try out Monsieur Paul, my husband and I finally made a dinner reservation for our anniversary. Little French-me had been very patient. My expectations were high and boy, did the experience deliver! Note that this is one of Disney's signature restaurants – if you are on the Disney meal plan, you will be using 2 entitlements to eat there. 
We checked in with our three young kids and weren't sure how we'd be received. In true Disney manner, the Cast Members were thrilled to see the kids and assisted us with warm smiles and great service. My extensive experience of eating in France had me worried about outfits, silence in the dining room, and very slow service. None of that happened! Disney truly adapted gastronomical French cuisine to its customers on vacation. Hey, who wants to miss their Soarin Fastpass because of slow service…?
Our servers and sommelier were all French and a lot friendlier than at any French restaurant I ever ate. We later learned that all chefs in the cuisine are from France as well. The kids were warmly welcomed and helped to refreshments, an assortment of breads and butter, while we looked over the menu.
Our Dinner
My husband and I like ordering different items off the menu and share a few bites with one another. We started off with excellent appetizers. Christian ordered the truffle soup, which Paul Bocuse prepared for the French president at the time – Valery Giscard d'Estaing. He was pleasantly surprised by the pastry top and delicateness of the soup. I could not resist the Escargots, which were wonderful and a great start to our meal.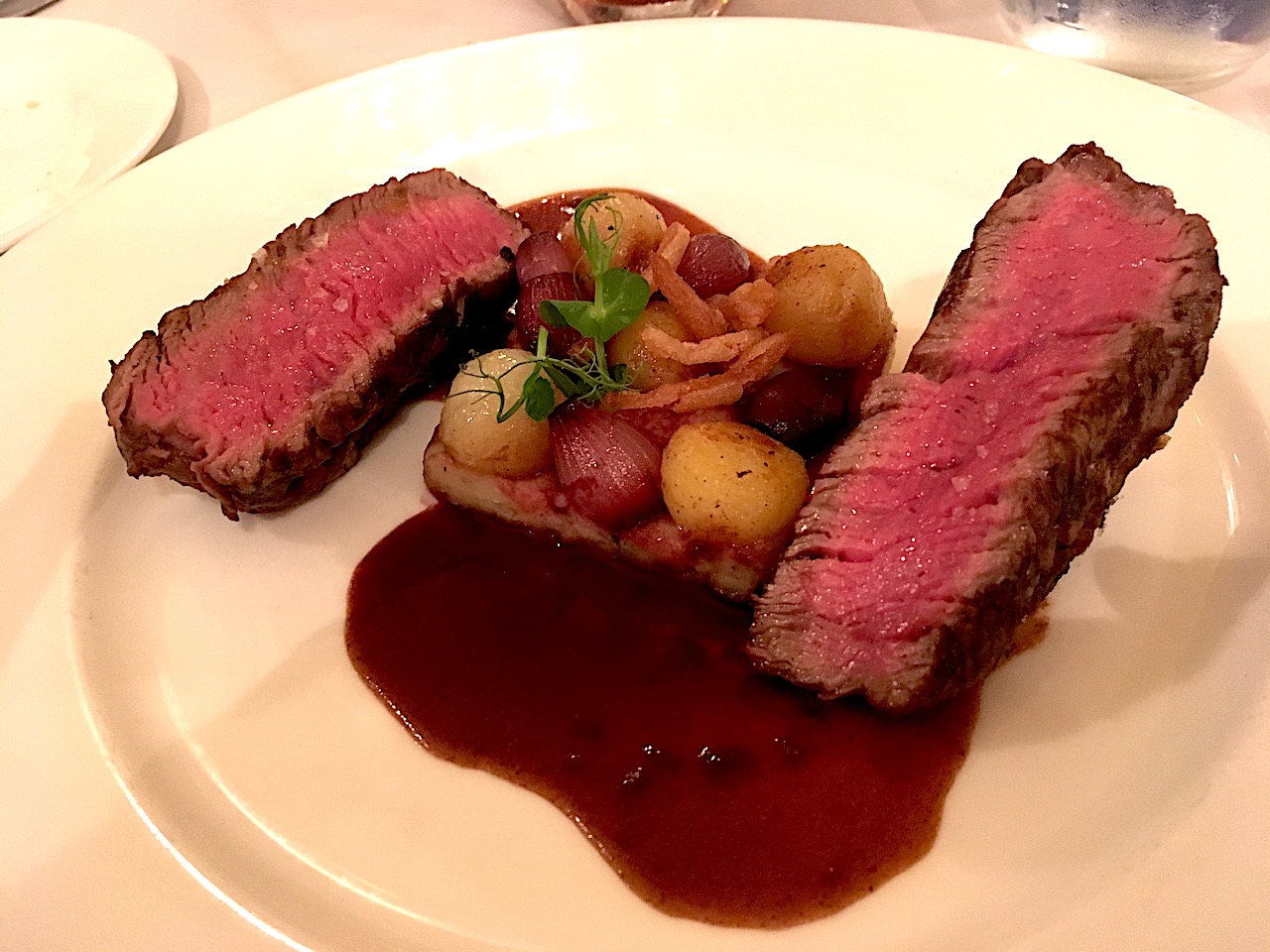 Christian is a big beef eater. He ordered this super tender beef tenderloin – Filet de Boeuf Grillé, which came with fingerling potatoes and a beef reduction.
I went with one of my all-time favorites, which reminded me of Sunday lunches at my grand-parents – roasted duck breast – Magret de Canard Roti. I loved the chef's creation with citrus around the plate, perfecting a duo of sour and salty.
As dessert, I went with the vanilla / raspberry vacherin – Vacherin Vanille / Framboise. My mom served this at my sister's baptism when I was just 7 years old, and it has stayed one of my favorite French desserts to this day. This one did not disappoint!
Keeping the best for last… my husband ordered the sphere – La Sphère. This was a work of art and show in itself. The inside is made of a chocolate almond cake, praline and chocolate cream, and a light hazelnut biscuit. It is all beautifully packaged in a milk chocolate sphere. As the server set it in front of Christian, he took out a hot chocolate and Armagnac sauce, which he gently poured over the sphere. The sphere melted and opened up in front of our eyes. The kids could not believe and it was the perfect ending to a perfectly French meal at EPCOT!
Right Outside Of Monsieur Paul
As we exited Monsieur Paul, the kids met someone coming out of L'Artisan des Glaces with a huge ice cream cone. Since they had really just been snacking on bread at dinner (they'd been eating all afternoon), we allowed them an ice cream. Note to those on the meal plan: use a snack entitlement for one scoop at l'Artisan des Glaces.
Clearly not hungry, my plan was not to have a second dessert that day. That was up until I walked in there… they had those giant frozen chocolate macarons crying my name. I had to… Look at that beauty, who would say no?
While those 3 lucky kiddos enjoyed a huge scoop of artisanal ice cream – about the size of 3 or 4 scoops in France. Who talked about sugar rush?
Final Review
We loved our experience at EPCOT's French pavilion. The food and service at Monsieur Paul were excellent and I was transported home for dinner with genuine cuisine in a relaxed atmosphere. It is a great place to book whether you are celebrating a special occasion or just fancying a nice dinner. All dishes were excellent and you will find yourself a little piece of France in this corner of Florida. Bon appétit!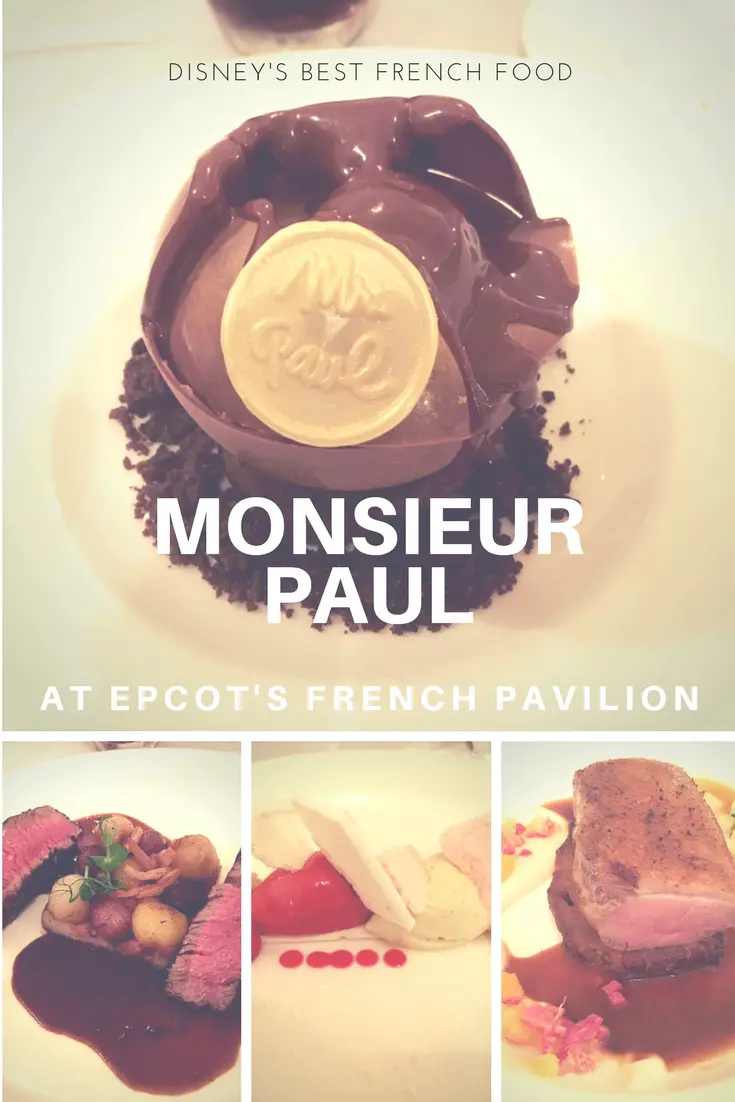 Related articles you might enjoy:
Disney Cruise Line – Maine & Canada
5 Reasons Why Cruising is the Perfect Family Vacation
10 Reasons to Cruise on Disney Cruise Line

If you enjoy reading us, stay in the know by signing up for our newsletter!