This is the product review of a wonderful invention: the Clean Cubes Disposable Trash Cans.
*This post may contain affiliate links. Please read our disclosure policy for more information.
When we moved into our new home a few months ago, our kitchen was nowhere close to being finished. We ended up spending 5 weeks eating out of an old microwave, using cardboard for a table. One detail that does not jump top of mind but that you quickly come to realize is that: no kitchen = no trash can.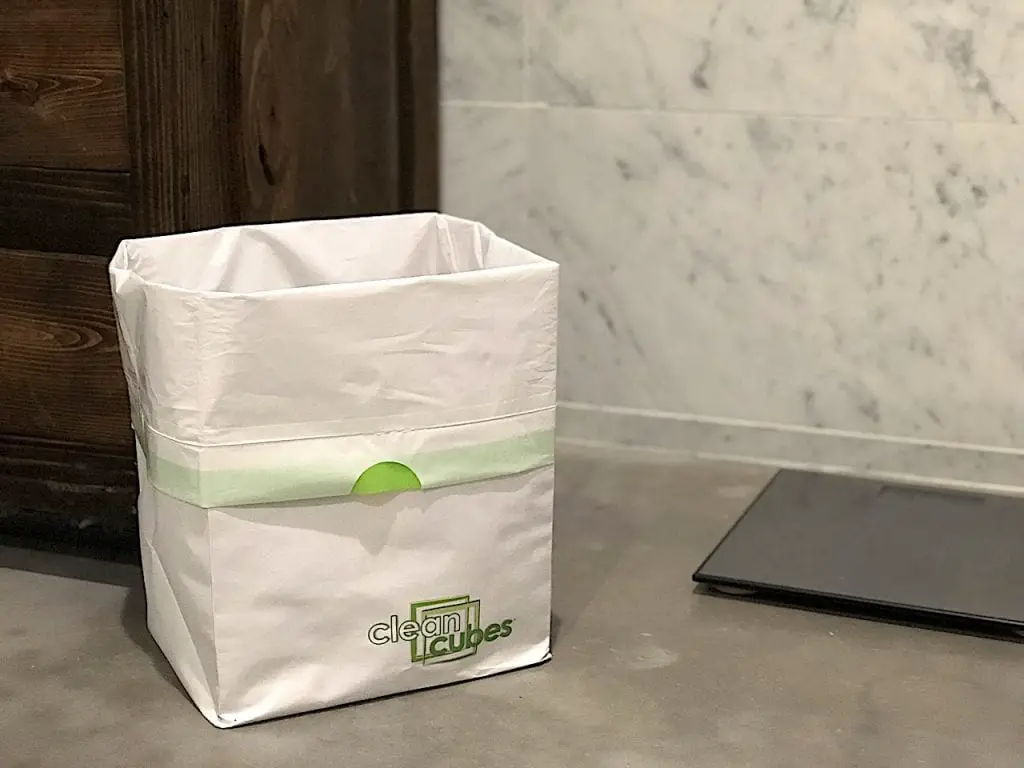 Good friends of ours gave us 2 sets of 3 disposable trash cans. I had never heard of the concept before but let me tell you – this is genius! If you are to ever host a party, this is a must-have! We set the one above in our bathroom and used it for a couple of months while sorting out our move.
Clean Cubes Disposable Trash Cans
You can buy sets of 3 or 12. All you need to do is to unfold the trash, prop it opened (little trick: push right in the middle of the shorter sides to keep the rectangular shape wide open), and dispose of the whole thing when done.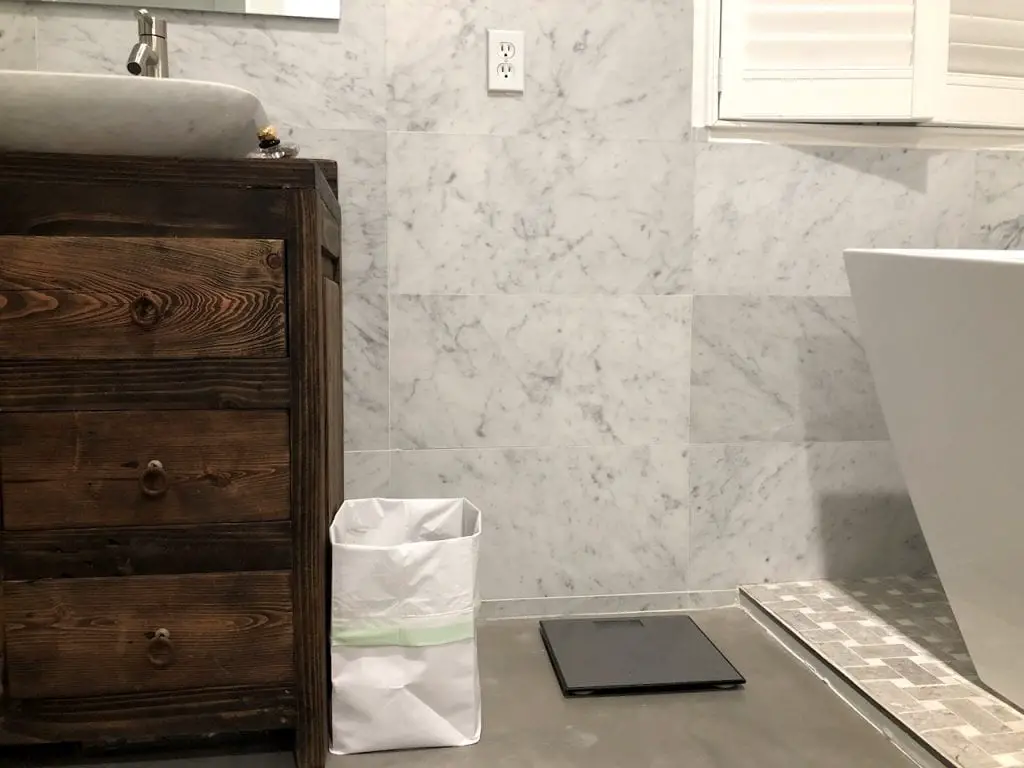 We set some up in the main room but also in each bathroom, and while they were a true life saver for us, most people do have a proper kitchen and trash can. However, think parties and special events. We used Clean Cubes when we hosted a Super Bowl party and my husband did not want our 30+ guests opening our pull drawer to trash their beers. We set up 2 Clean Cubes disposable trash cans in the party area and disposed of them at the end of the game!
Note: we tested them with several dozens bottles of beer and they are totally leak-proof!!
Themed Trash Cans
My favorite part of the product might be the cute designs they come in. Forget the boring black trash can… Clean Cubes are themed for your events. You will still find the plain white for office parties for example, but they come in a variety of other designs. For our Super Bowl party, we had purchased the football edition.
 Other themes include: Christmas, birthday, fourth of July, graduation, Halloween, party, picnic, bridal / baby shower, road trip, and many more.
Based on the size of your event, they have several sizes from 4 to 30 gallons available.
We love using them and keep some stocked in our home. They make for the perfect trash can solution for parties, events, picnics, tailgating, boat trips, trade shows, camping, etc.
Other articles you might enjoy:
Crayola Window Markers – Best Gift This Summer
5 Tips to Save Money Without Giving Up Quality of Life
If you have any time-saving / convenient tips for hosting parties, please share them with us in the  Comment box below!