Disclosure: This post may contain affiliate links, which means we may receive a commission if you click a link and purchase something that we have recommended. While clicking these links won't cost you any extra money, they will help us keep this site up and running! Please check out our disclosure policy for more details. Thank you for your support!
Let me tell you how I grew my Pinterest views by 100K monthly views AND engagement from 48 to 1.7K in less than 2 months!! I know, right? Sounds too good to be true… I'm letting you on all of my secrets and want you to see the same success!!
The Value of Pinterest
Pinterest is the social media that gave me the hardest time as a new blogger. I had been using it on and off before blogging but I'd go months at a time without visiting and would one day, remember a recipe I had saved, or start a house project and remember Pinterest existed. I started as a blogger with zero knowledge of Pinterest and had to learn everything from scratch. I am going to synthesize many hours of research in one article for you!
Pinterest has become a search engine, and this is what you need to do to be successful on Pinterest:
Optimize your boards and pins for SEO
Create attractive pins in a format that works for Pinterest
Pin your and others' content VERY often
Before we dig in, let's look at what is possible!
1 Month of Pinterest Focus
Because an image is worth a thousand words:

2 Months of Pinterest Focus
This is what 2 months of Pinterest focus looks like:

That's an extra 100K monthly views each month!!!
I started Pinterest sometime in June and stabilized around 3K views and 50 engaged users per month.
On July 7th, I signed up for Tailwind and set it all up. To my biggest surprise, I more than doubled my views in 4 days! What Tailwind does (and we'll discuss it in more detail in a minute) is help you schedule posts so your Pinterest is on auto pilot, saving you a ton of time better invested creating content.
About 2 weeks later, I started Tailwind Tribes, and optimized my profile, boards, and pins. And my views skyrocketed! My monthly views are 11X what they were when I started Tailwind and 34X what they were when I was pinning manually. What I am even more interested in, is a 36X increase in engagement. Those are the people clicking through my pins and driving traffic to my site!
Let's look at everything you need to do to drive Pinterest engagement and blog traffic and make sure to check Tailwind's very own Typical Results of Tailwind for Pinterest Members, published yearly!
Optimizing For SEO
A big ha-ha moment for me, is when I understood that Pinterest truly is a search engine. This is what you should do to optimize your content on Pinterest:
Convert your account for a business account ASAP and claim your website! For that, click on Analytics (top right corner) and select Website
Use hashtags – EVERYWHERE and up to 20 per pin! You should have descriptions

and

hashtags in your profile, each board, and each pin! Use all of the space they give you. People are searching for keywords and you need to have them in your descriptions to be found. My tip is to start with 3 to 5 hashtags and a good description
Pinnable images on your blog should have a full description with hashtags in the ALT Description box. Now is a good time to optimize all images on your site, and especially the Pinterest covers you include in your articles!
When you re-pin someone else's pin, make sure there is a description attached. If not, write one. If there is one, optimize it with more words and add hashtags
Create Attractive Pins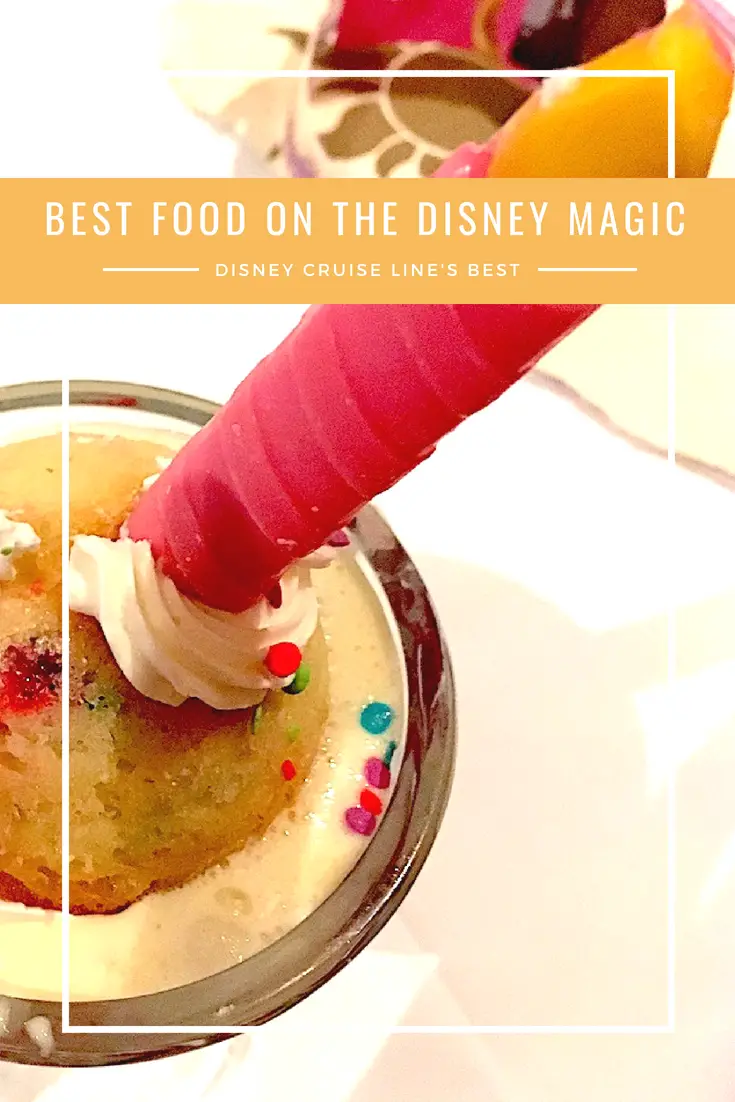 You want to utilize screen space on Pinterest. A good pin size is 2:3 (i.e.: 600 x 900 pixels). The easiest and fastest way to create beautiful pins is to use Canva. Canva.com is a free design service and you'll have perfect pins ready in minutes. Choose a Pinterest template, add your own images and text, and voilà! Make them extra special by adding premium designs, most of them for $1 only.
Tip: Make sure you have at least 1 good pinnable image in each of your blog articles. Install a plugin such as jQuery Pin It Button to make it easy for your readers to pin from your site directly!
Pin, Pin, Pin
I can't emphasize it enough. Pin a lot, pin often. Pin your own pins, pin others' pins. Try to pin popular pins. You want your followers to interact with your pins, and re-pinning successful pins gives you a higher chance of your followers clicking through them.
Tip: only pin articles and images you are truly interested in. Your followers relate to you and usually share your tastes and interests. Do not pin anything you are not interested in at the risk of disengaging your followers!
This is where Tailwind does its magic! You could spend all day on Pinterest. But remember that you'll still need to write blog posts, share and interact on Facebook, Instagram, Google +, Bloglovin, Twitter, etc… Tailwind allows you to automate Pinterest and comes at no risk since it is an approved partner.
Tailwind

Tailwind is so amazing, I can't tell you how excited I am to tell you about it! Essentially, you tell the program what you want to pin and it tells you when to pin to optimize views and engagement. You wouldn't even be able to be this good at Pinterest without Tailwind.
My next 4 pins today are scheduled for: 9.13PM, 9.24PM, 9.46PM, and 10,29PM. Why? Because that is when MY followers engage with Pinterest the most, hence giving me the highest chance of being seen and interacted with.
I like to schedule 1 month at a time and this is what the next few days look like: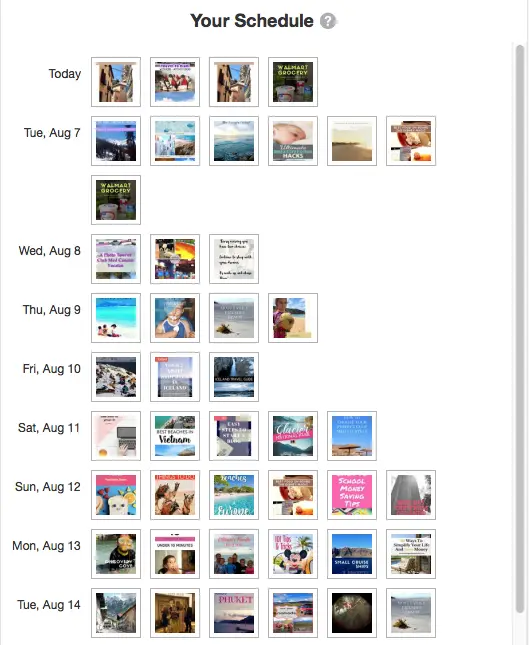 I recommend sharing as much from others as you share of your own. Try to share at least 5 to 20 pins each day and increase from there. I personally share 10 pins on average each day, both through automation and manually, and am working on increasing to 20 pins per day.
You are also welcome to tell Tailwind when to share, to add or remove time slots, ask it to shuffle the pins, etc. You own the pin schedule but Tailwind does all of the hardwork for you and makes you truly successful.
Another great benefit of Tailwind is the ability to auto-pilot your seasonal posts. Tell the program to share your Thanksgiving posts during the Holidays and never have to think about it again. Set it up to share old content and on multiple boards, or groups boards.
It does all of that for you!
Tailwind Tribes
As I mentioned earlier, Tailwind helped me gain 100,000 views and dramatically increase my engagement. But everything really took off when I joined Tailwind Tribes. As part of your Tailwind membership, you get to join 5 Tribes for free and share 30 Pins per month. You can also purchase a Tribes premium plan, allowing to join more Tribes and share more.
This is the basic concept behind Tailwind's Tribes. You join a Tribe in your niche. I have several niches and topics on my blog and one of them is luxury travel. So I naturally joined the [Luxury Travel] Tribe. The principle is to put your content in front of others with similar interests. Usually, for each pin that you add to the Tribe, you are asked to reciprocate and re-pin 1, sometimes 2 pins. It is a great concept to ensure that everyone helps each other out!

And this is the goldmine! See the red pop-up telling me that I received a Reshare? I have posted 6 articles in this particular Tribe and someone has re-pinned one of my pins since the last time I logged in a few hours ago.

Look at this pin, uploaded just a few days ago. 8 Tribe Members scheduled to pin it on their boards and Tailwind estimates that it can be seen over 4,000 times! That's fantastic. It's a lot of people who can convert into blog visitors and subscribers. Once they are on my blog, it is my job to keep them interested. What I want however, is to get them to the blog, and Tailwind Tribes does that for me!
Tip: What I want you to focus on, when choosing a Tribe, is not just the size of a Tribe. You probably don't even want overly crowded Tribes where your pin will only make the top of the list for a few minutes Concentrate on the activity level of a Tribe.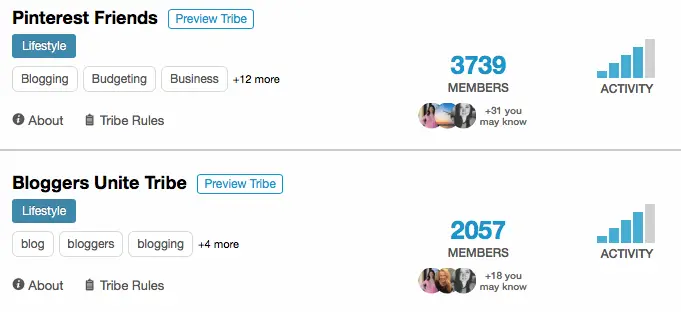 Pay close attention to the activity level. This tells you whether members pin and re-pin often. I personally prefer to join 4 and 5-bar Tribes.
I recommend joining Tailwind right now, to take advantage of all the benefits. If you are not quite convinced yet, start with their free trial and upgrade later. Note that I paid for the premium membership as soon as I joined and my results reflect that fact.
Re-Work Your Profile
You only have one chance at making a good first impression! Make it count!
In the midst of optimizing all of the above and setting up Tailwind and Tailwind Tribes, I did a lot of research on what successful bloggers' profiles look like.
Here is what I found:
They have an attractive headshot, or at least one that triggers an emotion. Not a full body shot – choose a welcoming and warm headshot that shows your true personality
None have their logo as profile image!!
Their Pinterest name usually includes parts, or all, of their actual name, followed by a "|" and keywords for SEO purposes. Look at my old vs. new profile:
OLD:

Alright, here's what's wrong here: you can tell that this headshot was not thought through. No one cares about the name of my blog – Pinterest users want to follow real people that they can relate to. The description of the blog is not SEO optimized.
NEW:

Much better. This profile picture is a lot more "me" and inviting. See the name? This not only tells my readers who I am, it also optimizes my profile to be found in searches related to my main niches – travel and lifestyle! The description is SEO optimized as well. I hit all of the key words potential followers will be looking for and finding in my boards!
Pinterest is such a wealth of information and one of the biggest referrers to my blog today. Spend time setting up for success and see great results come out of it. As with everything, you truly get what you put in. But Pinterest gives back immensely.
SIGN UP HERE and start seeing results on your free trial blog, or if you're convinced, do as I did and get the Plus plan immediately – you won't regret it!!
If you have ANY questions at all, please use the Comment box below to get in touch! And if you want to grow your Instagram, check here on how Tailwind can do that for you too!
---
Enjoyed the article? Pin it for later!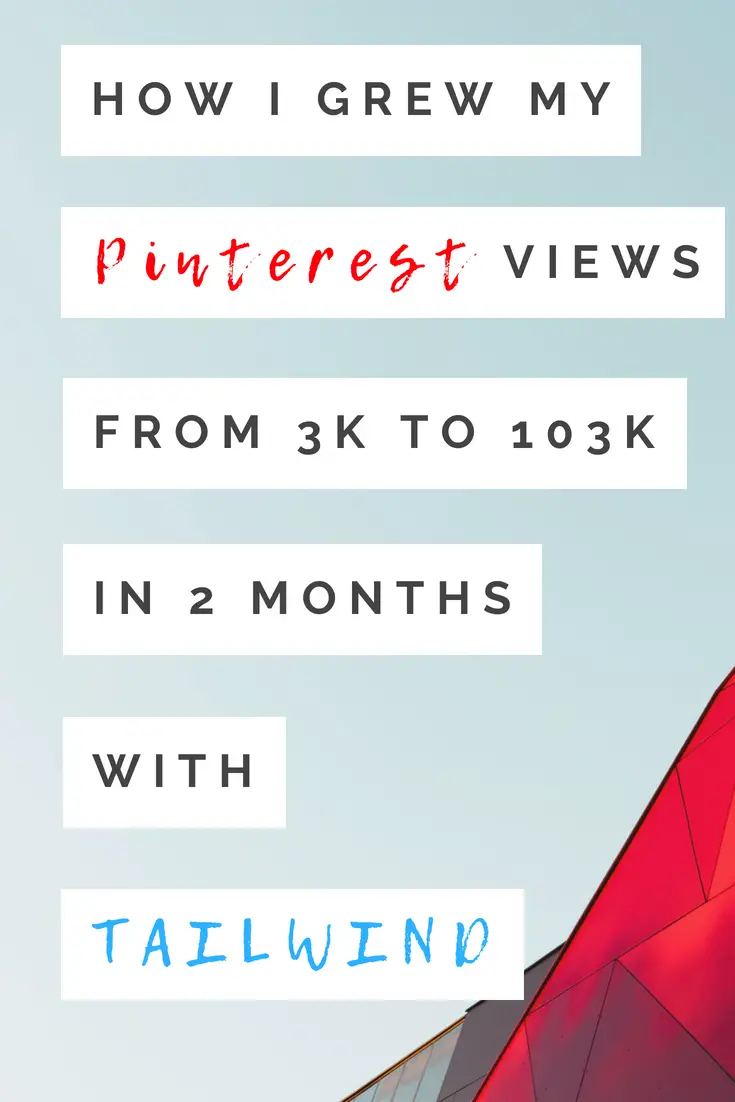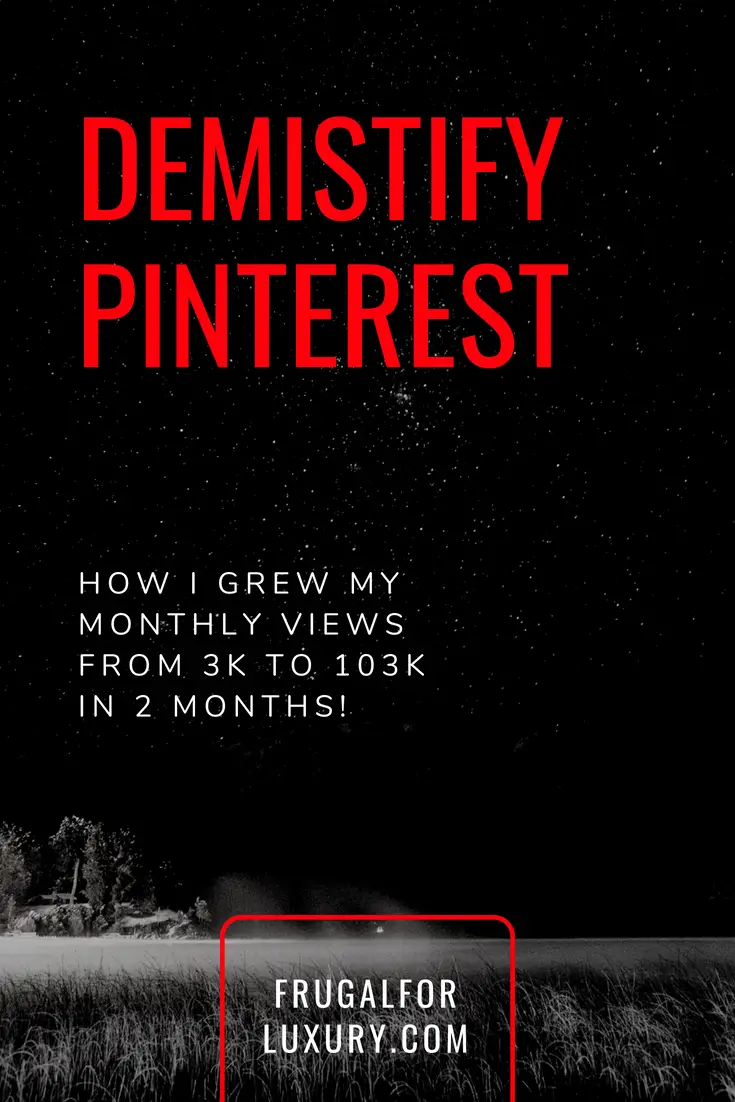 ---
Related articles you might enjoy:
Tailwind and Instagram – A Love Story
5 Subscriptions That Will Change Your Life As A New Blogger
The Power Of An Email List And How To Grow It
If you enjoy reading us, stay in the know by signing up for our newsletter and following us on social media!