Iceland has been getting so much attention this year, and for good reason! Your visit will leave you with speechless, begging for more, and give you bragging rights over the stunning pictures you'll be sharing with friends back home!
If you can, spend at least a week there. That will give you time to travel around the island, see the north and south sides, and venture inland.
If time is pressing, and you're benefitting from IcelandAir's Stopover program, try to spend at least 2 nights in the country and use this guide to maximize your stay.
With only 48 hours in Iceland, you are most likely traveling to and from the Reykjavik airport. We are sending you to the south-western part of the island. It is rich in landscapes and experiences and you will be amazed at the diversity offered to you. This is what we did with our 3 young children, and to this day, they call Iceland their favorite trip!
---
WHERE TO STAY
---
We have a packed itinerary for you. To make the most out of your 2 nights in the country, leave the airport and head straight out to Hella where you will spend the next 2 nights. Hella is perfectly located, with easy access to all the sites you need to see.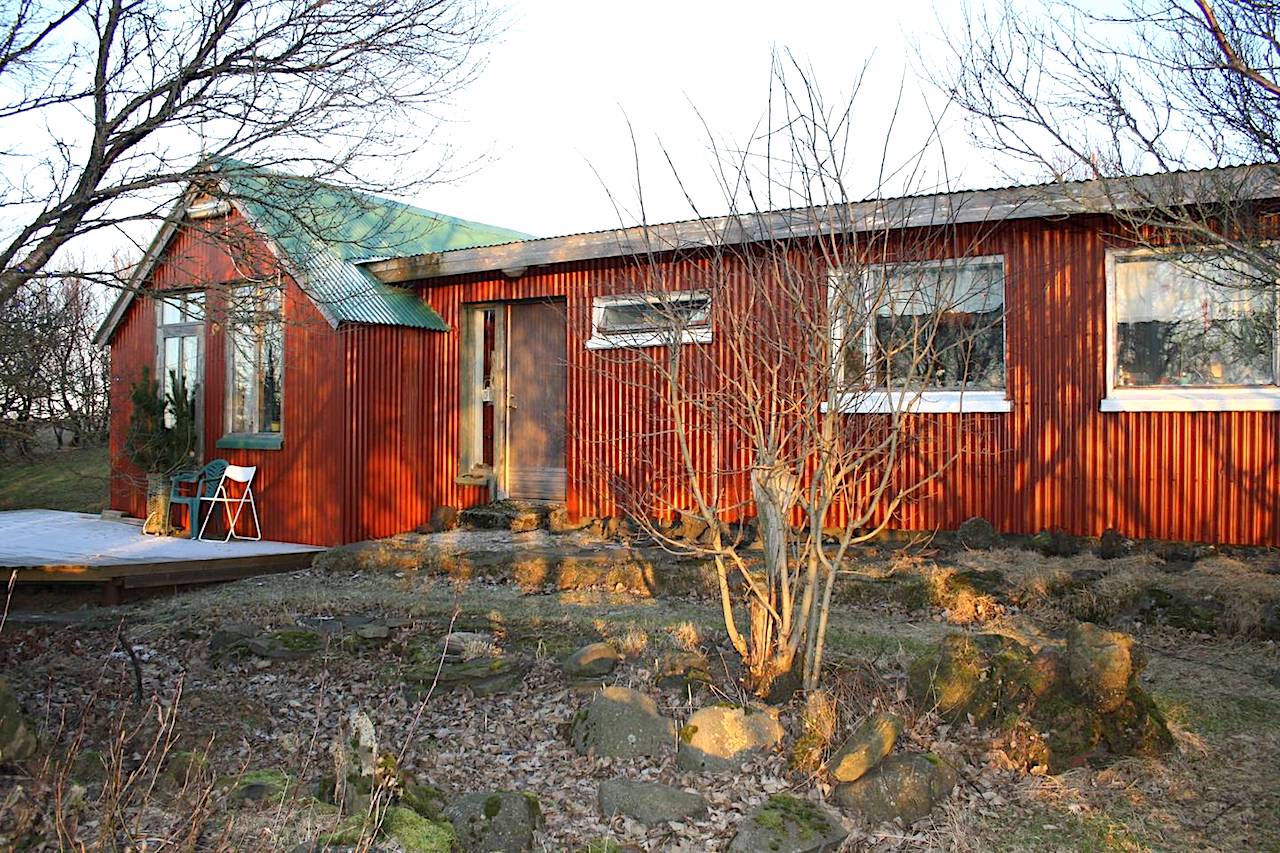 There are many options in the area, but we stayed in this beautiful AirBnB! Our hosts were great and we rented the whole cottage, giving us ample space to settle down with the kids! The reality is that you won't be spending a ton of time inside. But it is always nice to come back to a warm home to spend the night!
---
WHAT TO SEE
---
Geyser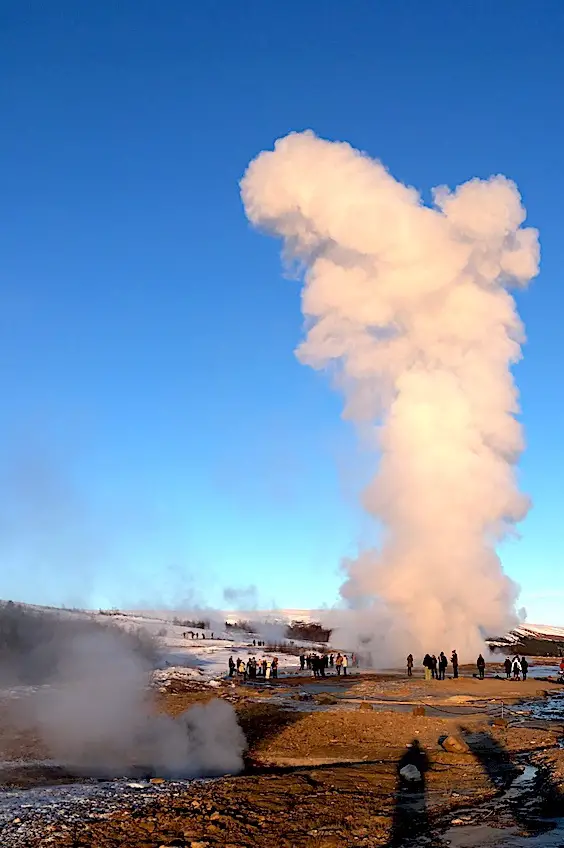 You won't want to leave Iceland without experiencing a geyser eruption. Geysir is a geothermal area in the Golden Circle with hot springs and active geysers. The largest one, in the picture above, erupts every 5 to 10 minutes. Since you are on a schedule, this is the best geyser to visit.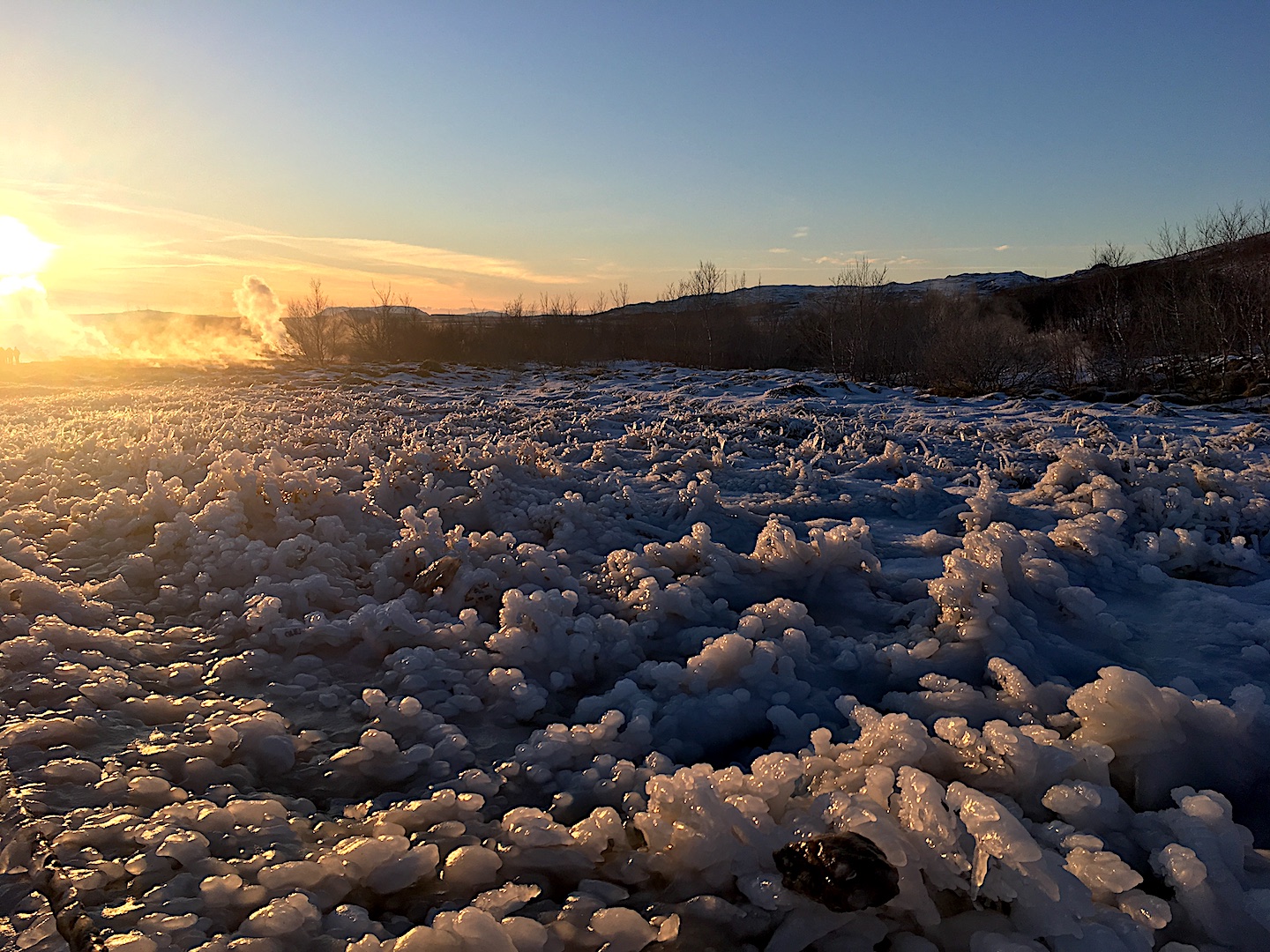 The walk to the geyser is beautiful with boiling mud pits. If you are visiting in the winter, the soil is frozen, creating a surreal contrast with the boiling water erupting from that same ground.
Waterfall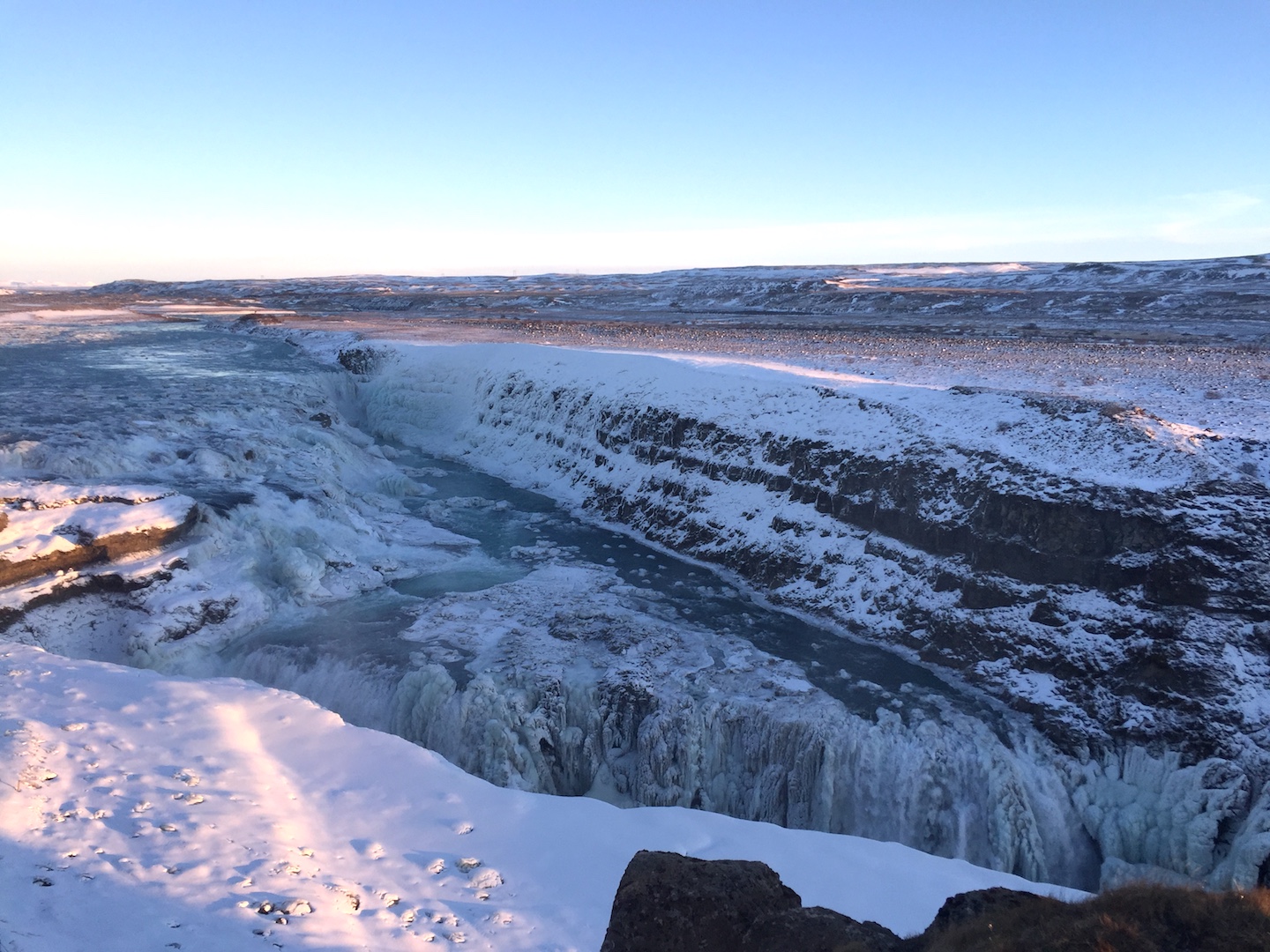 Down the road from Geysir, visit Gullfoos Falls. Frozen in the winter, with a small gush of water breaking through the thick ice, but of enormous power in the summer, Gullfoos Falls is a must-see when in Iceland. You will enjoy seeing this waterfall from the top platform, high above the water, but be sure to walk down the steep stairs for a closer – and breathtaking – view of this natural wonder.
Historical Farm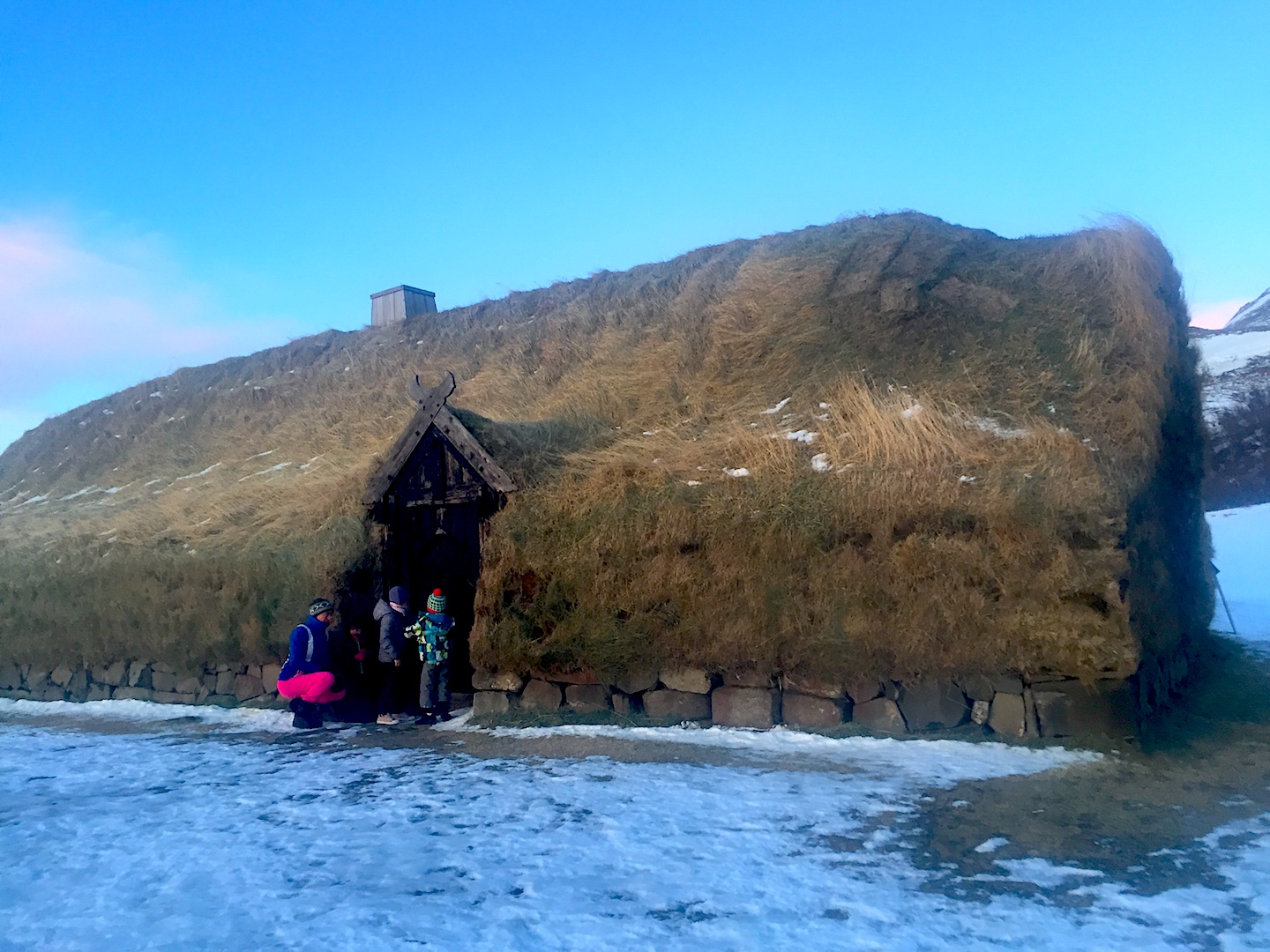 I wouldn't even want to try pronouncing the name of this beautiful site: Þjóðveldisbærinn, Iceland. A historical building, sitting a bit above a large lake, reminiscent of a Norwegian fjord, you will love stepping back in time when farmers kept their homes warm with thick layers of mud and grass. In the summer time, enjoy visiting the inside of this old farm. In the winter, expect snow and a cold wind, making the site that much more magical!
Glacier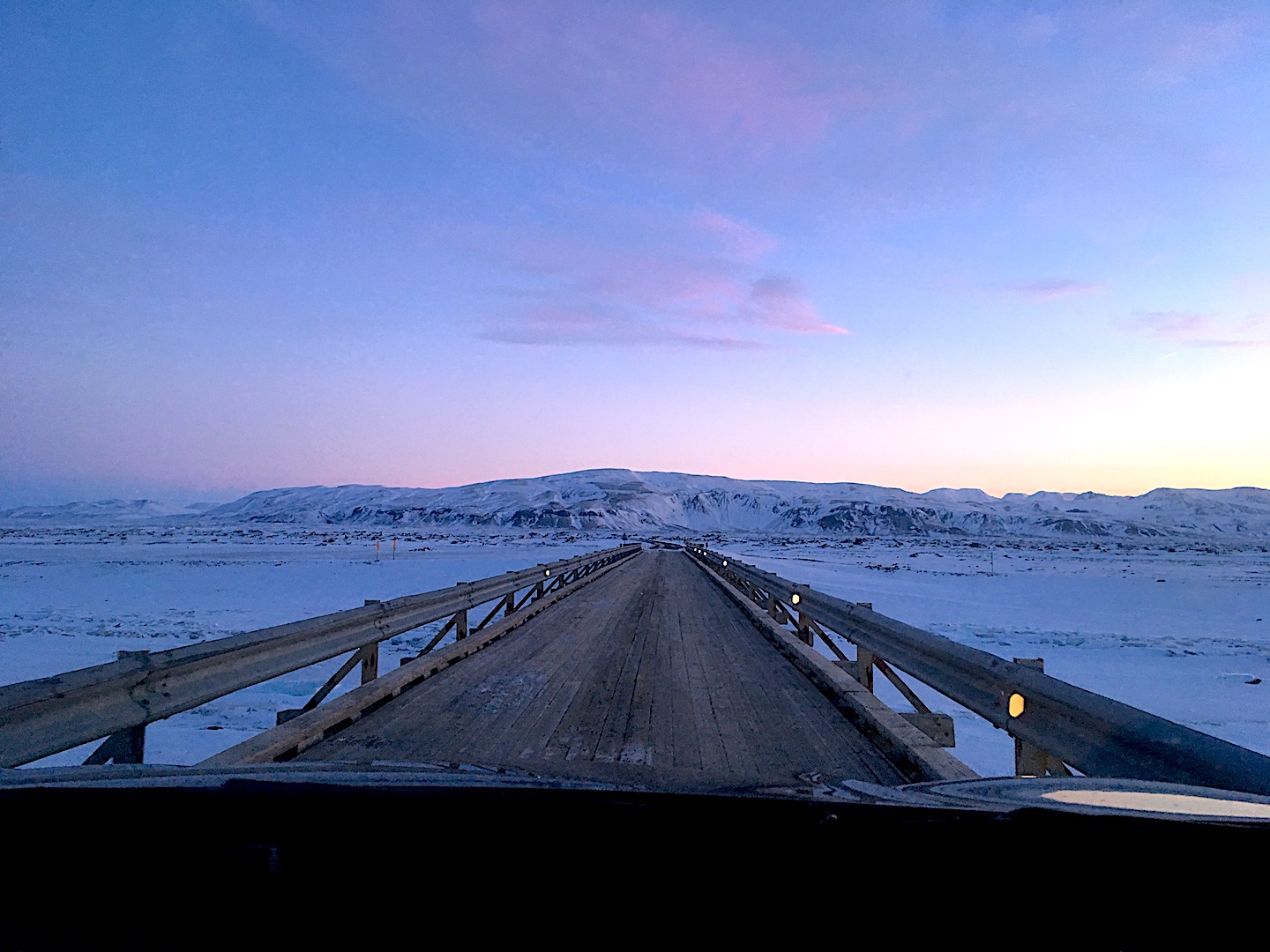 No trip to Iceland would be complete without seeing ice. As you drive back from Geysir and Gullfoos falls, hop on route 32 and make the sharp turn onto route 26 back to Hella.
Note: if you decide to visit Þjóðveldisbærinn, you will be on that road anyways! Route 32 will put you on the glacier's plateau, driving on iced roads and taking in the vast unmanned landscape around you.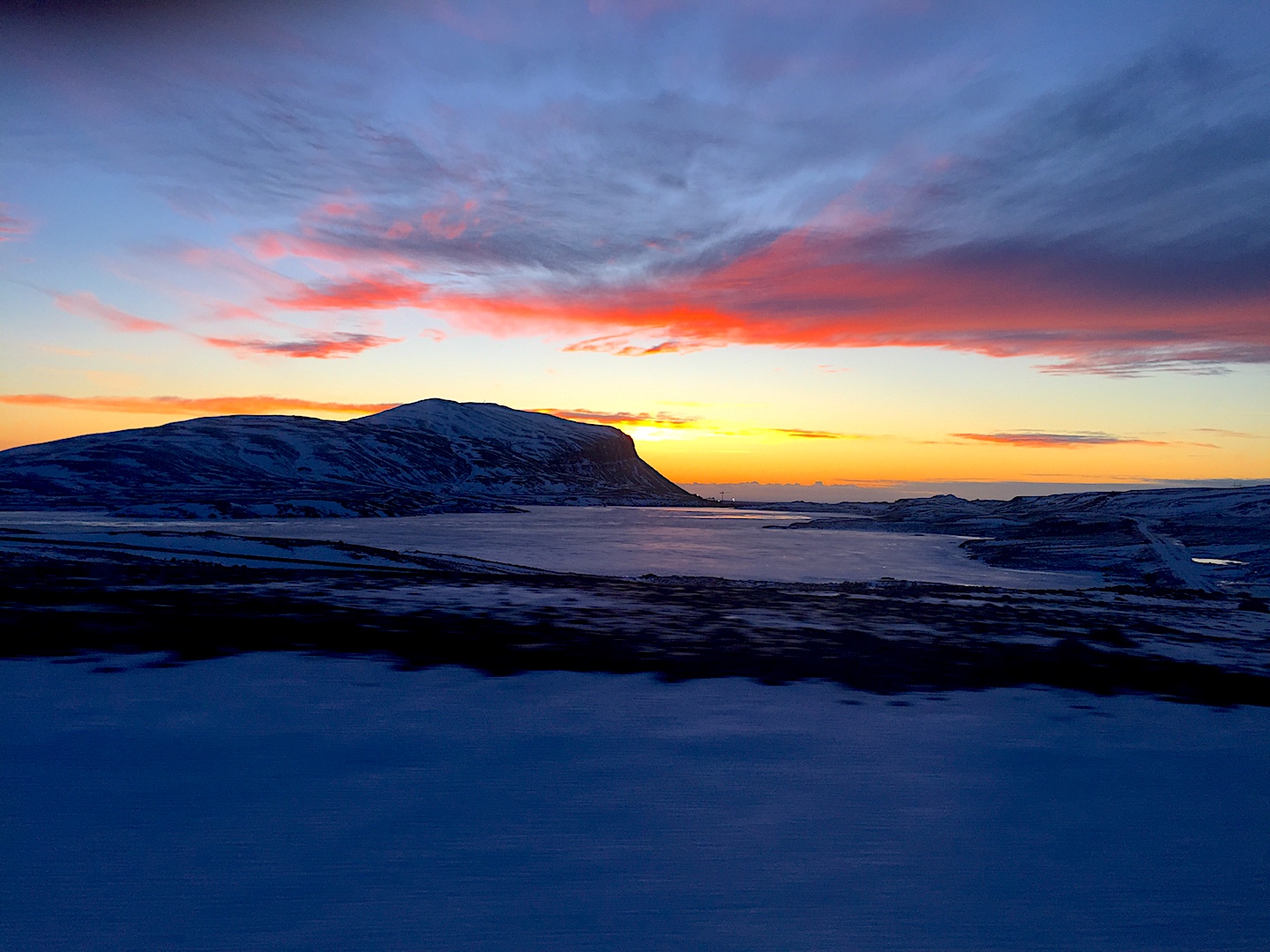 Since you'll be heading back west on route 26, try to time it for sundown and enjoy a sunset you will never forget!
Ice Cubes on a Volcanic Beach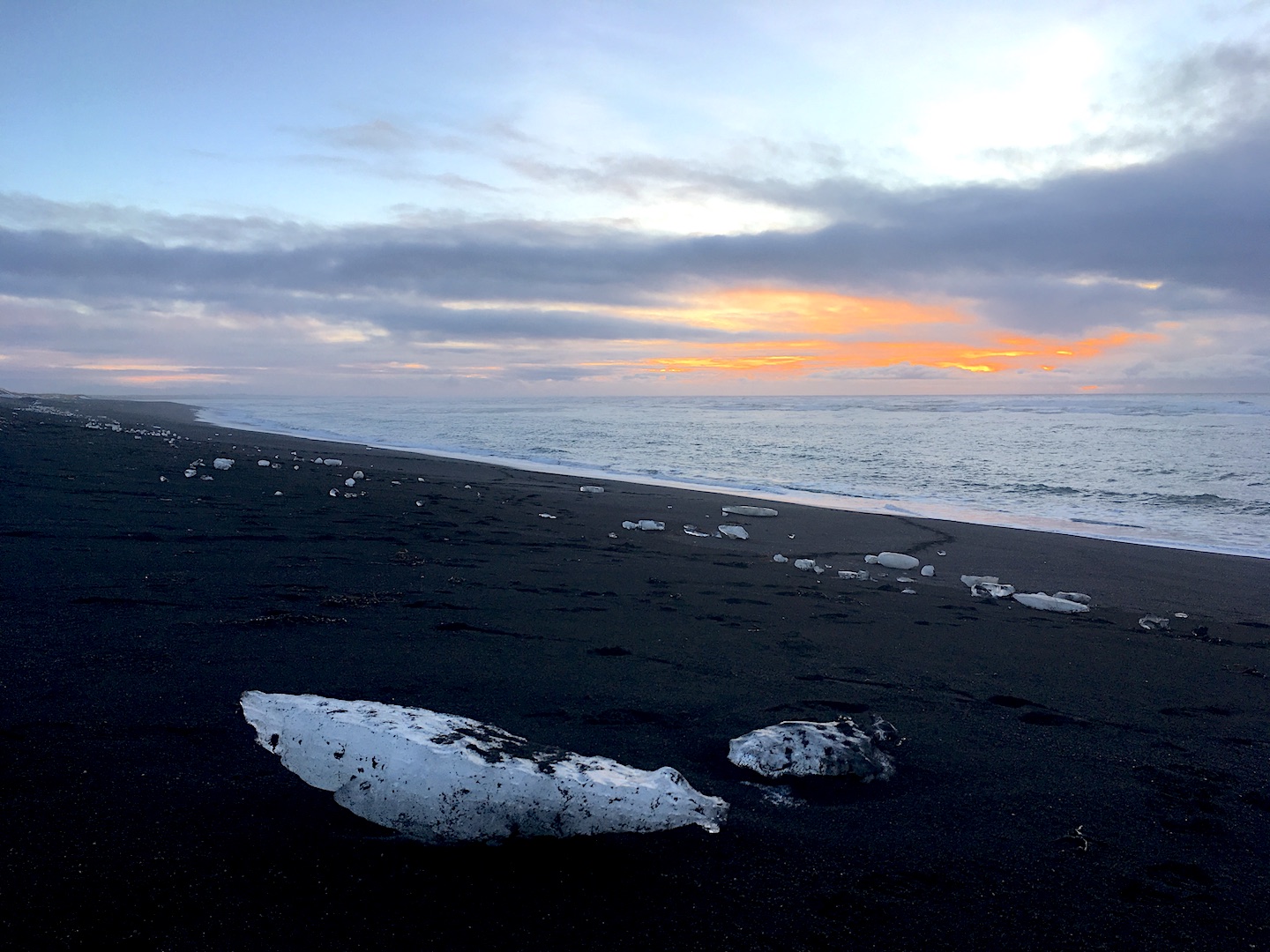 Because where else will you get to see random ice cubes laying on a black sand beach? You're now making your way back up towards the Reykjavik airport and driving along the coast. The coastline is absolutely stunning and such natural wonders will leave you speechless! Stop anywhere you feel like you can stop the car, and enjoy this natural marvel!
Troll Land
One thing I noticed as we drove through Iceland, is how much I felt like I was a part Disney's Frozen. Seriously, even the trolls were there and I was *almost* expecting an ice castle to magically appear! Look at this! Aren't you seeing the landscape from the movie? Right before those little green mounts roll into singing trolls?
This is all a part of the Reykjanesfölkvangur Park and you'll be driving right through it and you go along the coast.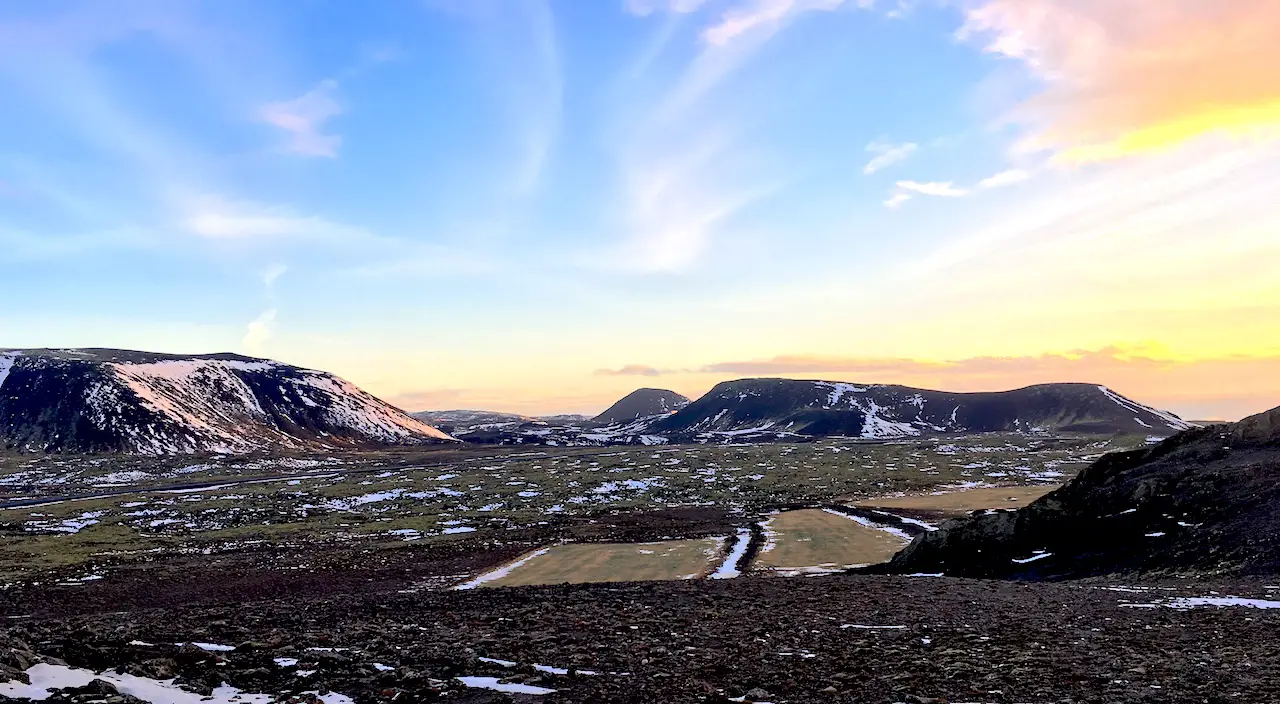 And since you probably won't have the time to hike a crater in 48 hours, the road (route 427) takes you up and through a crater. Look at the beauty of that landscape!!
---
WHAT TO DO
---
Geothermal Pool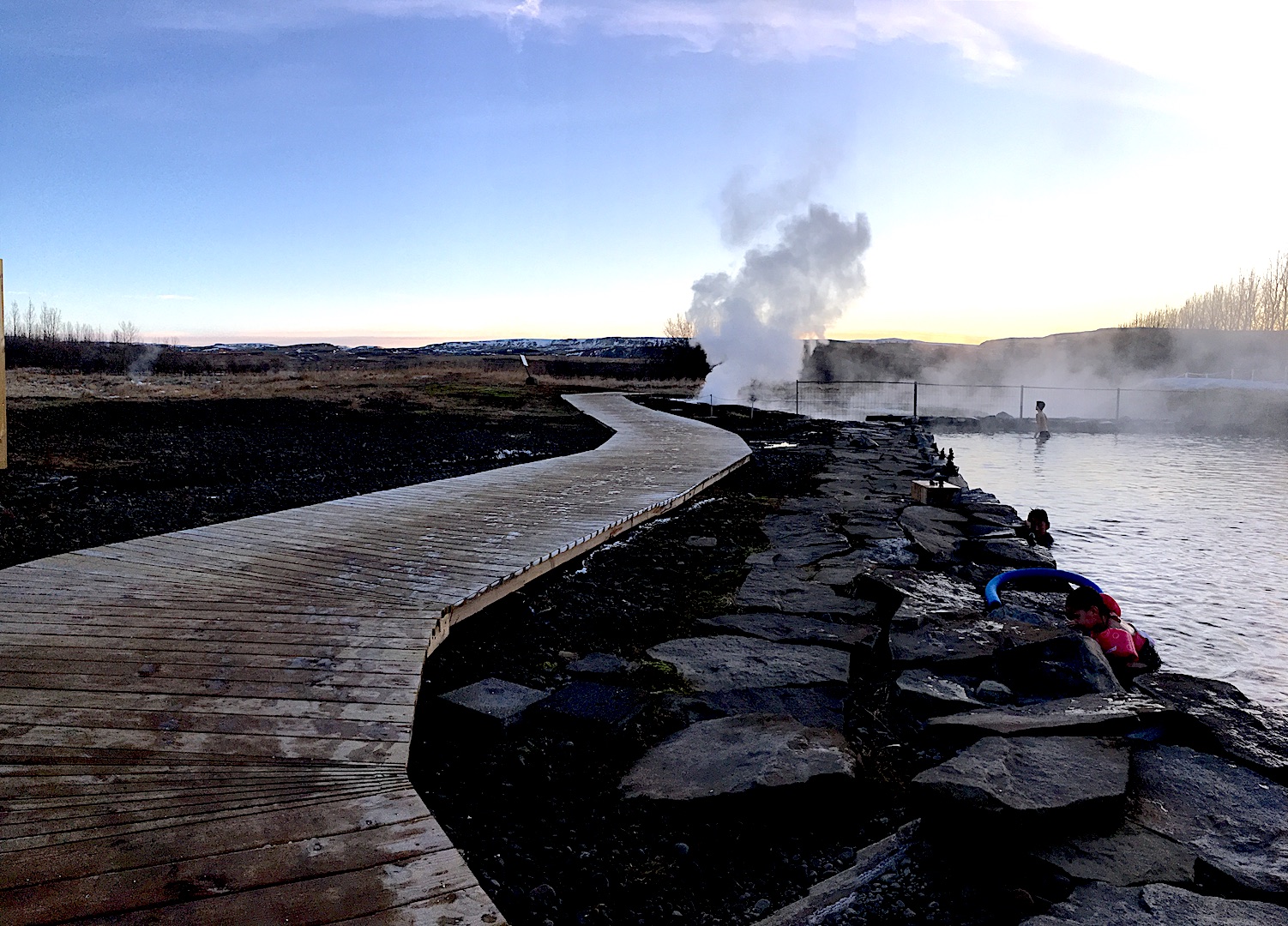 No trip would be complete without a visit to a geothermal pool. We are slightly obsessed with them ourselves, and wanted to find a local's favorite, instead of the more touristy Blue Lagoon (which I am sure is fantastic if you wanted to visit it – it is also right by the airport with easy access before or after flying). We chose to visit the oldest natural swimming pool in Iceland, called The Secret Lagoon.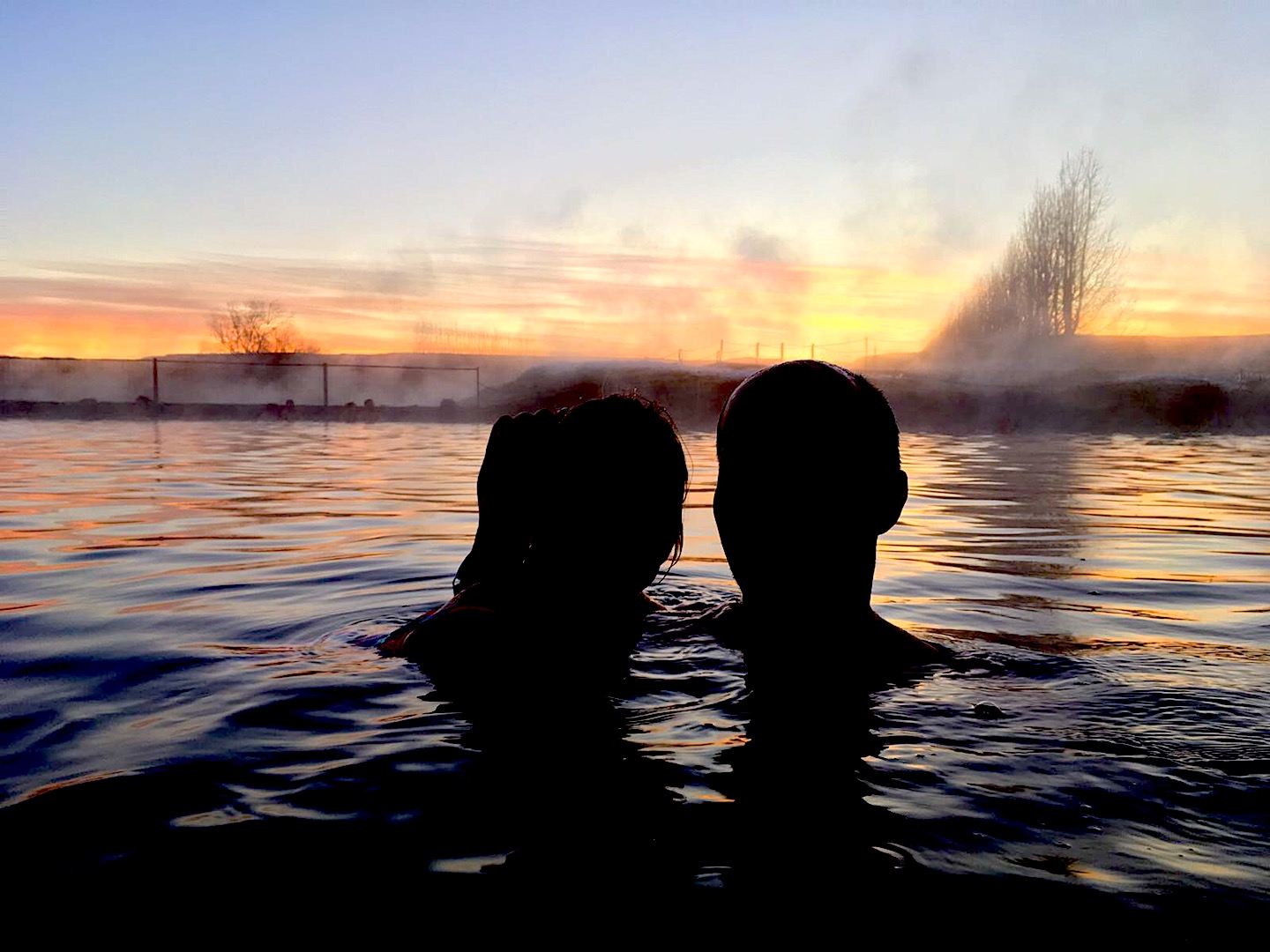 Located in Fludir, it is a great first stop from Hella on your first morning, putting you in a genuine Icelandic mood!
Icelandic Food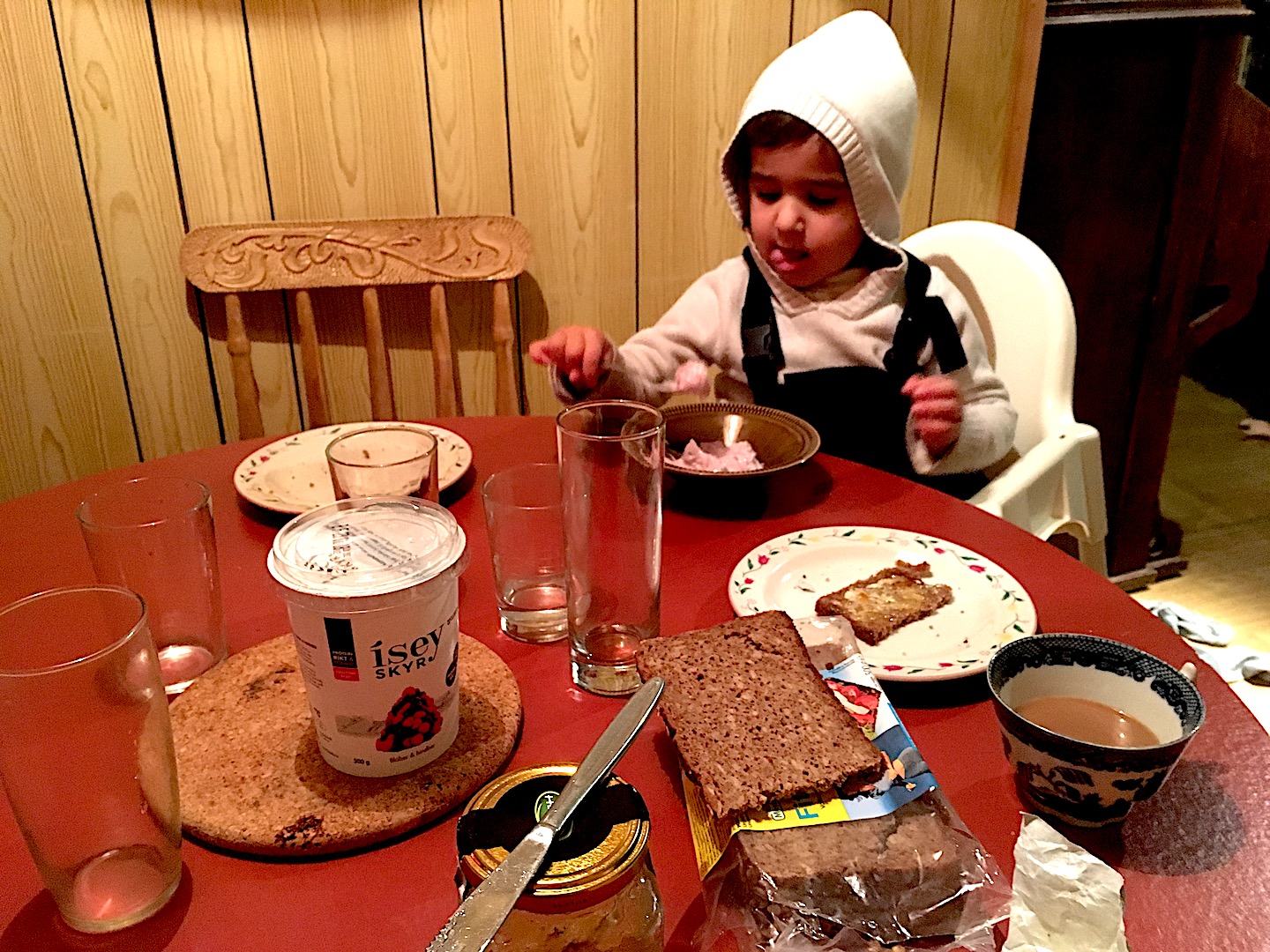 In 48 hours, you will want to see and do so much, and eating out might not be a priority. In all honesty, you will also not be driving in front of a ton of restaurants. Instead, save time and money by shopping at the local grocery store. We really liked Bonus (and their recognizable pink piggy logo) for the best range of options and prices! Make sure to grab local products – skyr,  rye bread, all sorts of salads  – shrimp, potato, egg, ham, etc -, pickled fish, and more. You'll be able to enjoy a nice breakfast at home instead of heading  out on an empty stomach, and have plenty to eat on the go or in the car!
Iceland tips:
Purchase alcohol at the airport's Duty Free. Icelandic grocery stores do not carry alcohol! You will find it in government-owned alcohol stores called Vínbúðin and you can expect very high prices (count nearly $3 for a bottle of beer)
Bring your own bags since grocery stores do not hand out free plastic bags
If you'll be shopping at Bonus, pack a jacket, I mean it!! A large area of the store is an actual walk-in giant fridge!! You will need that ski jacket!
Icelandic Horses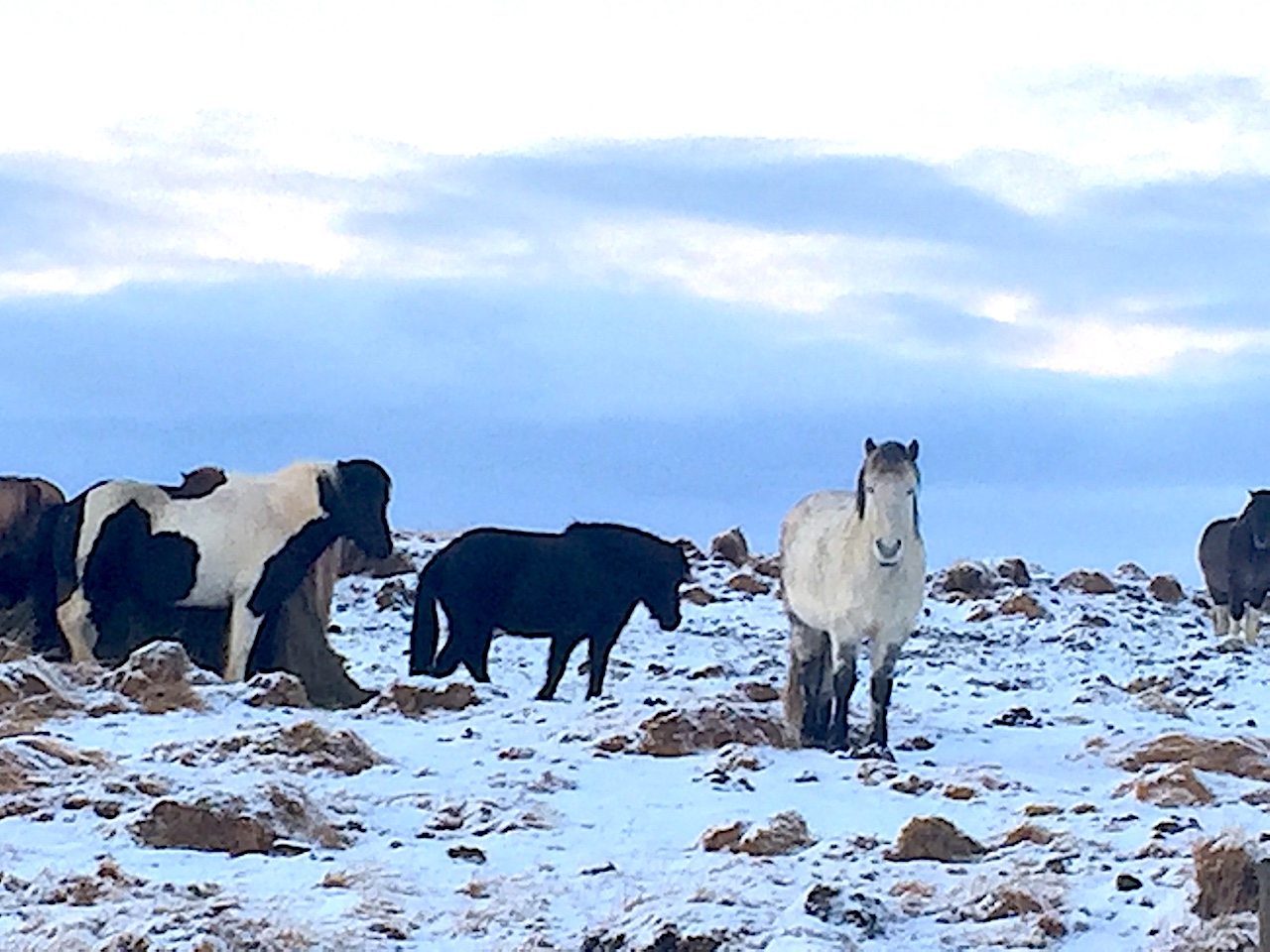 Pet, or at least, take a picture, of an icelandic horse. You will see them everywhere inland and they just look mystical!
---
GOOD TO KNOW
---
A few good-to-know's before leaving for Iceland:
1- Book a 4WD rental car, whether traveling in the summer or winter. In the winter months, request a car with little nails in its tires. I didn't even know that existed. But once you'll be on an iced road, you'll be happy to be equipped with a car that can hold straight! And I mean, this kind of ice roads: ↓ a thick layer of ice on the road that will make you slip and fall when you get out of the car ↓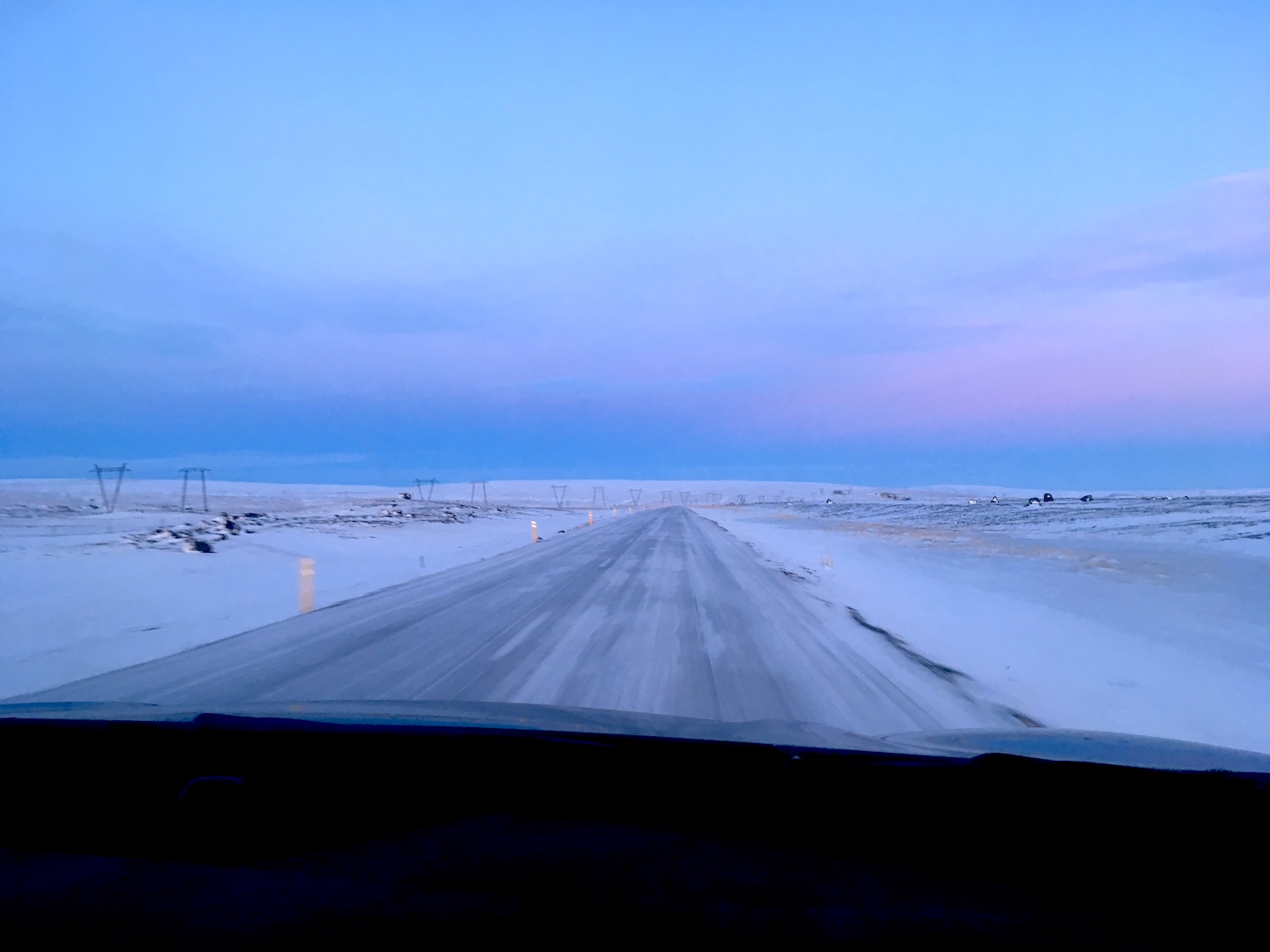 2- If you think you know cold, imagine it colder! Pack layers of warm and technical clothing that will take you through the coldest outdoor adventure with potential wind, especially in the winter! Make sure your extremities are covered, wear a hat, protect your ears! If you get warm, remove layers. But you want to make sure you have the layers with you when you get cold!
3- We visited Iceland in the first days of January and I went in thinking that we weren't going to see any sun light. I was wrong! Iceland is so far up north that the sun takes nearly 2 hours to emerge and 2 hours to go down. It would typically start getting bright around 10AM (giving us plenty to time to sleep in guilt-free!) and wouldn't be totally dark until 4:30-5PM. That gives you about 7 hours of daylight each day to enjoy the landscapes. When it turns dark, head over to the thermal pools and enjoy an experience you'll remember forever!
---
MORE DETAILS
---
For more details on the itinerary above, check out those 2 posts:
What to see on a 2-night layover in Iceland – Day 1
What to see on a 2-night layover in Iceland – Day 2
As always, if you have any questions, please be in touch. Email us at laura@frugalforluxury.com or use the comment box below! 
---
Enjoyed the article? Share it on social media and pin it for later!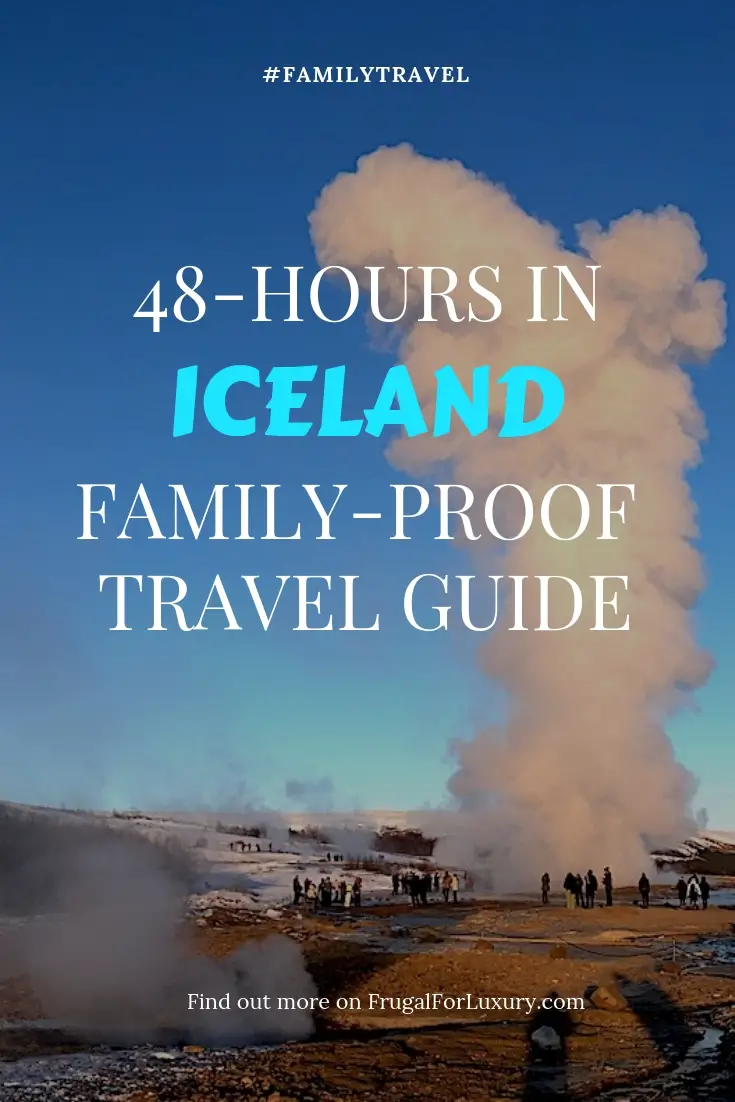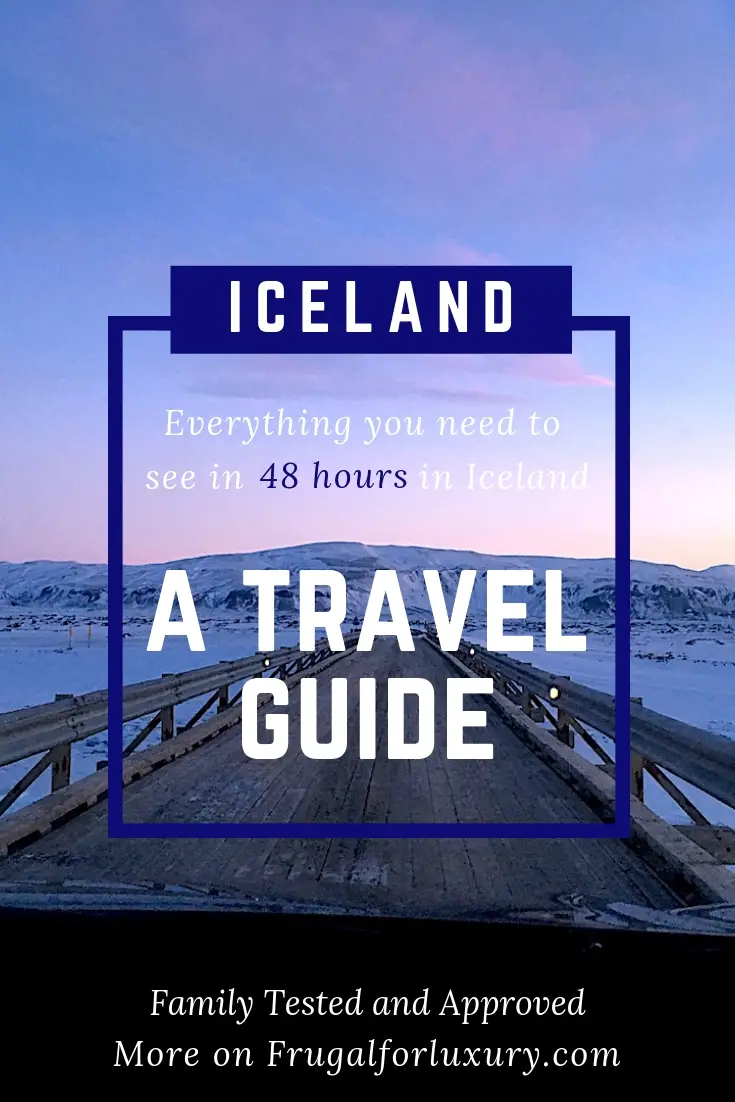 ---
Related articles you might enjoy:
5 Reasons Why Cruising is the Perfect Family Vacation
12 Photos That Will Make You Want to Visit Norway
10 Day Trips From Orlando, FL 
If you enjoy reading us, stay in the know by signing up for our newsletter!