Disclaimer: I was provided free products in return for my honest review. All thoughts and opinions expressed herein are my own. This post may contain affiliate links. Please read our disclosure policy for more information.
I remember holding my first born and wondering about her future and who she would become. I always dreamt of the close mother-daughter bond I had with my own Mom. Would we share common interests? Would we enjoy doing things together and have a laugh at the same jokes?
Fast forward 6.5 years. My newborn has become a first grader, with a personality of her own. She has 2 little siblings and life keeps all of us ultra-busy. That question I once asked myself while holding her new and fresh, has been put on the back burner for many years… until last weekend.
Last Friday, Ava came home from school and asked me if I would teach her how to crochet. She brought back a whirl wind of emotions and I could honestly not believe that she remembered that I could crochet! It'd been 2 years since I had last taken out my yarn. But Ava found an old crochet book of mine a few weeks ago and had been going over the colorful tutorials and glossy pages ever since. And while their favorite toys are the ones I created myself, I never realized they knew I had made them…
The Secret To Calming Down Children
As a kid and young adult, I was always involved in sports. When Ava was born, much of my me-time became caring for our family and a nightly 2-mile run. As we added on more children, the nightly run became a weekly occasion when the sun was shining. Get the trend?
When we moved to Germany, we discovered a schooling methodology we fell in love with. If you have never heard of Waldorf schools, please research them! We visited the local Waldorf school and immediately put our kids on the waiting list. A year and a half later, they became Waldorf students and our lives changed forever.
Waldorf is all about the nature and rich materials. Everything in the classrooms is made of wood, felt, wool, etc. There is no plastic to be found. The kids spend an enormous amount of time outside in all kinds of weather. They play with mud, sand, shovels, and wheelbarrows. Inside the classroom, my 2-year old's morning routine included peeling potatoes for lunch – and I mean an actual vegetable peeler and actual potatoes… on a 2-year old! Their playdoh is natural bee wax and the list goes on.
What stroke me upon entering the school was the low noise level. Our kids were in the 1 to 6-year old building. With all neutral colors, lots of natural light, round walls and no corners, and large mix-aged rooms, it was surreal to be walking into nearly silent classrooms. The children were all busy pretend playing and learning by doing, and often times the teachers were either cooking lunch or snack or… crocheting.
Crocheting?
I asked them why? Why do you crochet in the middle of the room, but yet don't seem to be teaching it to the kids? Crochet classes start in first grade and the teachers all told me that, when the classroom gets rowdy and loud, they start crocheting and naturally, all children calm down and go back to their own activities.
To be truly honest with you, I was in disbelief. This was far from the answer I had imagined…
With a 3-year old, a 2-year old, and a newborn, I decided to start crocheting. My main driver at the time, was to blend in… the school's Christmas Market was coming up and they were asking willing parents, to donate hand-made toys to sell. And so, I bought yarn, crochets, and looked up YouTube tutorials. And the girl who didn't know how to sew a button, learned how to crochet, and fell in love with it!
And guess what? My insane kids would calm down as soon as started crocheting… every. single. time.
I'd spend hours making them plushes, food toys, and little animals. They loved to cuddle and watch me, or grab a book and sit next to me. Crocheting became a calming, mind-clearing experience for all of us! All the stress in the world goes away as you start creating and I never expected to fall in love with it!
When Me-Time Becomes Us-Time
When we moved back to the U.S. and I returned to working full time, while deciding to renovate a home and take up blogging, I gave up crochet.
Related post: 5 Tips to Living Your Perfect Unbalanced Life 
So last weekend, when my 6-year old asked me to teach her how to crochet, all of the emotions from [holding her as a new born] to [crocheting while breastfeeding her baby sister] came back to me. It had been 2 years since I last "created" and I was suddenly CRAVING the good feeling and relaxation crocheting brings me.
While Mark and Elin were playing, Ava and I went to dig out the yarn and I started teaching her. Holding the yarn and the crochet is no easy task and I felt so proud of her for sticking with it and patiently listening to my advice. That old question of "who she would become" and whether we would "share interests" came back flying at me. This was it! This was the special moment I had been thinking of all those years ago! It was here, upon me, and I took a moment to breathe it in.
Looking For New Inspiration
I love to crochet for the kids. Lately, I have been working on the kids' bedrooms. We moved into our new home a year ago and have been so busy that I never took the time to decorate their bedrooms. Now that I left my job to focus on the blog full-time, I have time to think about those sorts of things AND time to pick up crocheting again.
And with Christmas coming up (seriously – Hobby Lobby has a huge Christmas tree at the entrance of the store already!!), I starting working on cute decoration ideas for the kids' bedrooms with a fabulous new book!!
Ira Rott is a Canadian knitting and crochet designer who learned the art of crocheting from her mom and grand-mother. She has published her very first book after one of her patterns went viral in 2016, and I can't tell you how much I love this book!!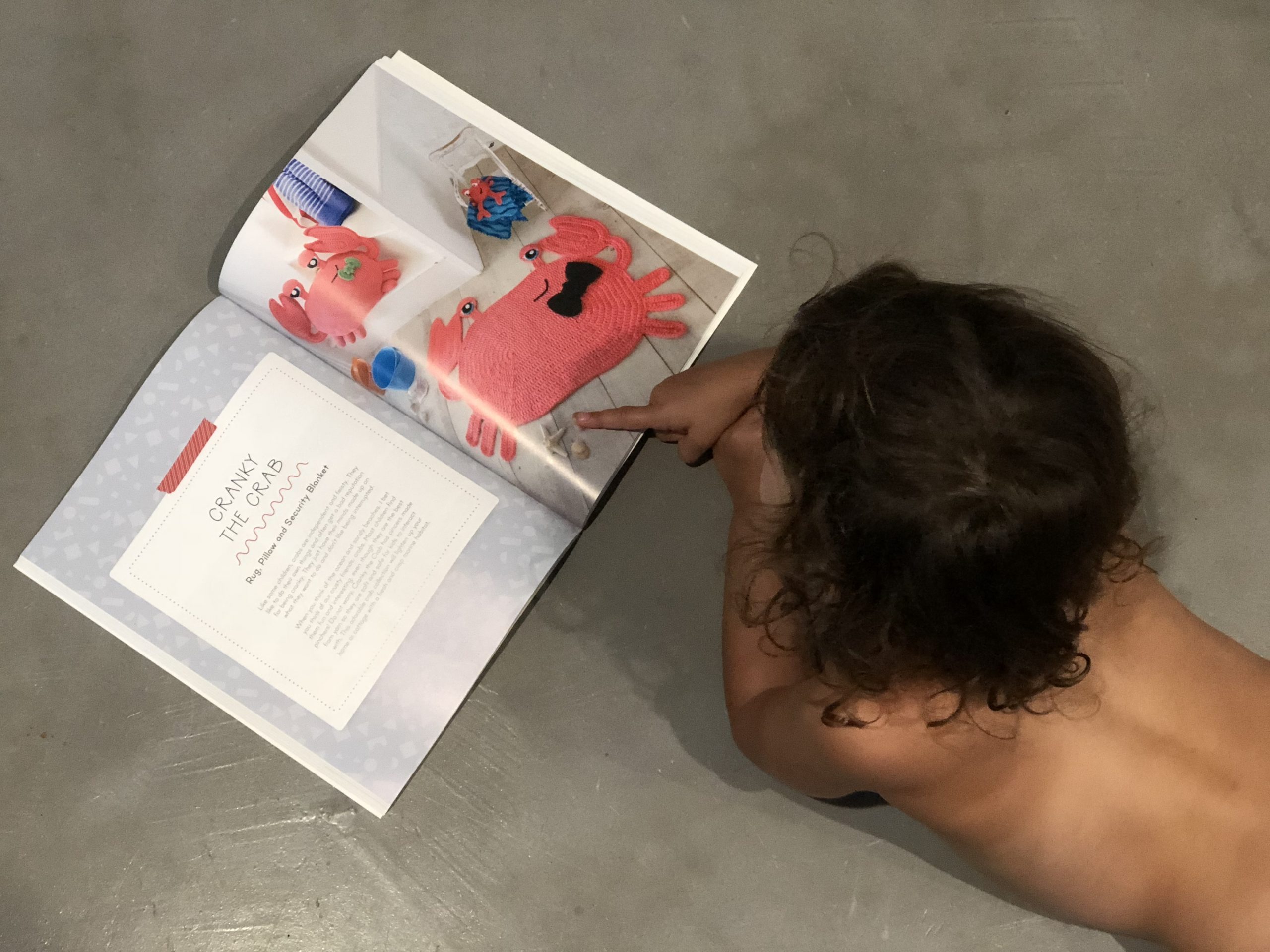 CROCHET ANIMAL RUGS is a collection of 20+ designs, for rugs and their assorted accessories, from pillows to security blankets. The floor mats are the cutest thing! If you are working on a child's room, you will definitely find one that works with the theme of their room. I gave the book to my kids and they each picked a design for me to work on!
The book itself is beautiful. I still consider myself a beginner, especially as I learn again after so much time off. Ira included easy-to-follow tutorials and useful charts for her designs. Those are super useful and I had never seen them in a printed book. She's even thinking of left-handed crocheters!
Whether you have kids or not, I hope this can inspire you to pick up a new hobby. Crocheting is unexpectedly mind-clearing for the busy and stressed out Moms we are, and if you have children, you'll be amazed at the impact this simple activity has on them.
If you decide to give this a try, or if you are a seasoned crocheter, Ira Rott's CROCHET ANIMAL RUGS is sure to amaze you. I have started on the Crab Pillow for Elin's reading nook and I know she'll end up falling asleep with it as soon as it's done!
Make sure to follow Ira on Pinterest and YouTube! And grab a copy of her book here
!
Happy crocheting! And please, share your favorite books with me. I am always looking for inspiration and can't wait to start regularly crocheting again!!!
---
Enjoyed the article? Save it for later!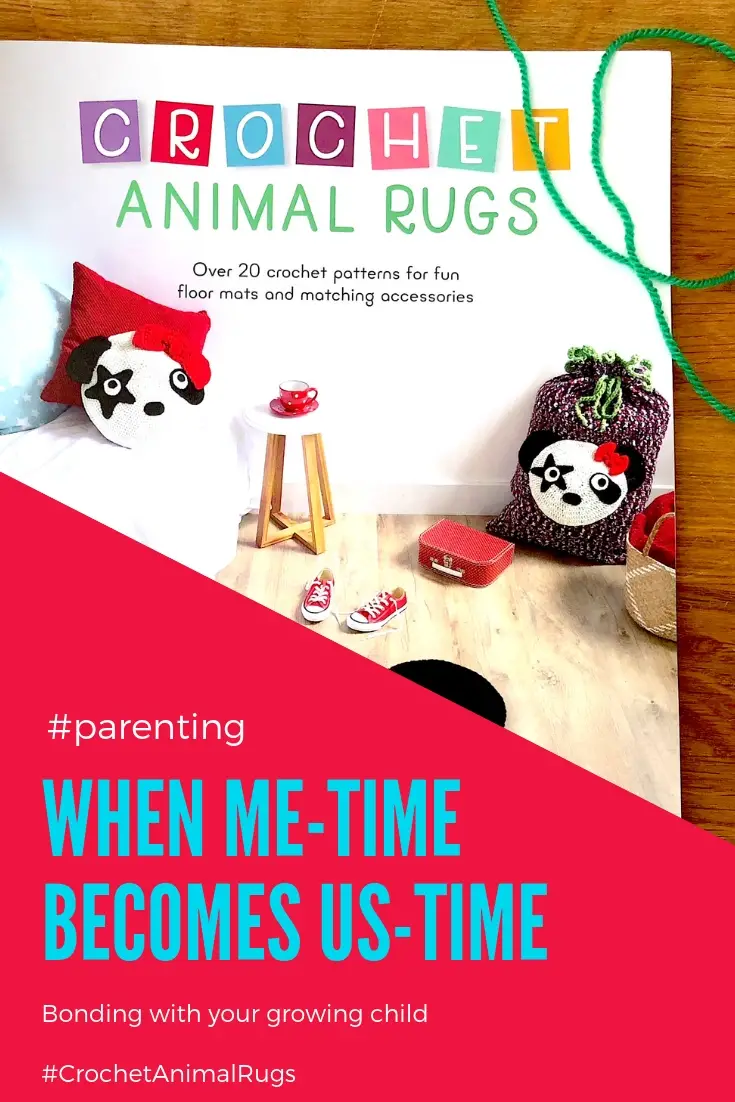 ---
Related articles you might enjoy: 
My Biggest Parenting Failure
5 Tips to Living Your Perfect Unbalanced Life
10 Meals For Kids Ready Under 10 Minutes
If you enjoy reading us, stay in the know by signing up for our newsletter!