Disclaimer: I was provided free products from Pressman Toys. All thoughts and opinions expressed herein are my own. This post may contain affiliate links. Please read our disclosure policy for more information.
I wasn't much of a board game player prior to meeting my husband. My family in general has never really played games. Christian's family, on the other end, is a game-playing family. When we met, I quickly fell in love with strategy board games, and as young adults (read: pre-kids…), we organized weekly board game nights with friends! Whenever we visit his family, it's almost a nightly occurrence.
This is how we set up game nights in Christian's German family: take out chips, candies, and chocolate. Pour everyone some wine, prosecco, or beer. Put your competitive face on and game the night away!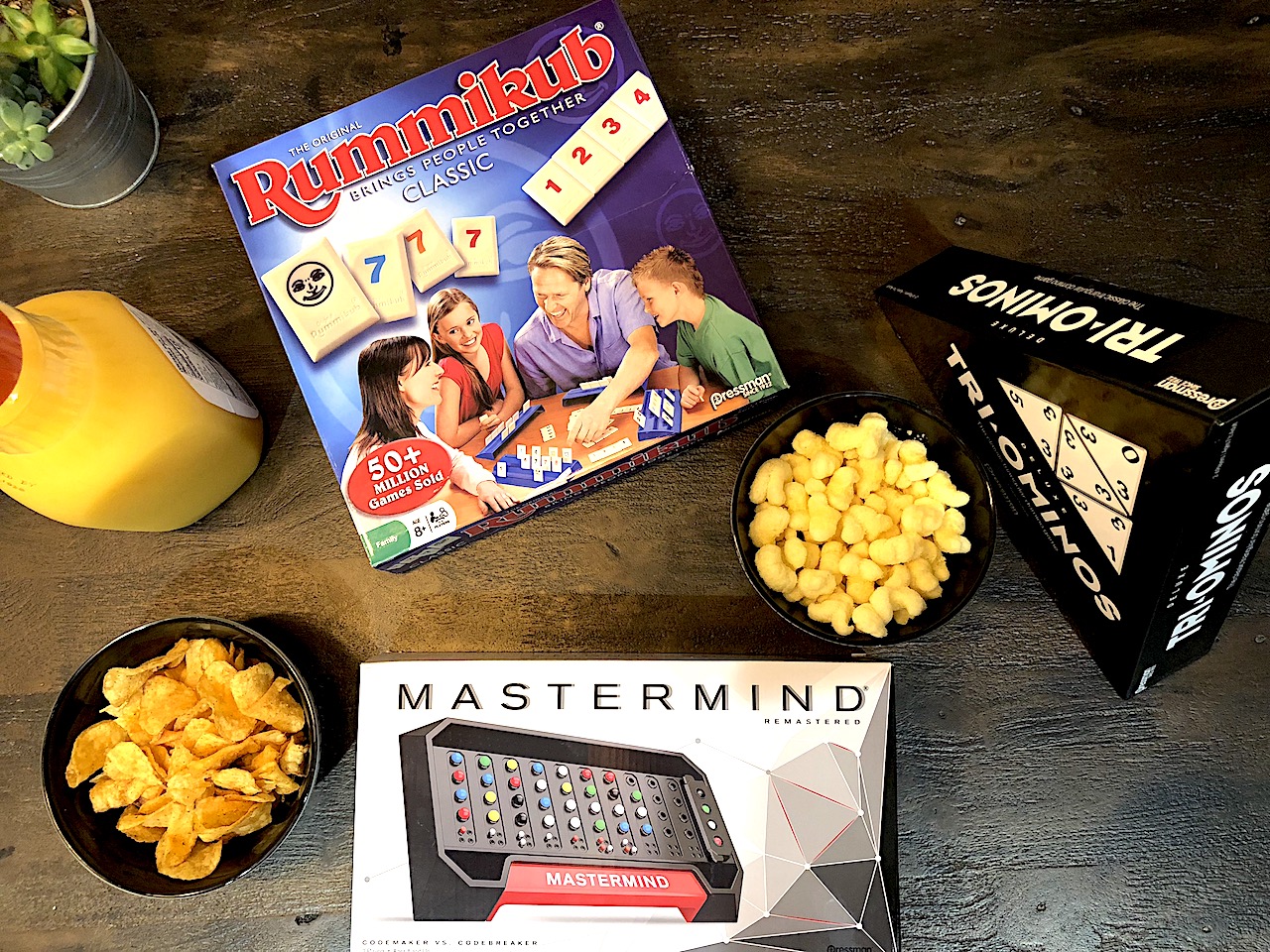 With both of us loving to play, we always had board games around our kids. There are so many wonderful games to play at all ages! The three below are classics. I am sure you have played some of those growing up, and that makes it that much more exciting to share with our kids! I love that they're getting older and we can now play some of our favorites with them!
So on a rainy afternoon, a winter night, or any other time the kids are inside, those are 3 classics we love playing with them! Just make sure you trade the wine for orange juice  😉
Rummikub
This is the first game Christian introduced me to and I have been longing for our kids to be old enough to start teaching them. Rummikub is such an incredible game that, even my mom – the least board-game enthusiast I know – loves it! We have been playing Rummikub with up to 4 generations around the table and it will forever be some of my most-cherished memories of Christian's grand-parents!
I played Rummy with my grand-parents as a kid. For anyone who has played the classic cards game, this is a similar version but with tiles and a few strategic variations.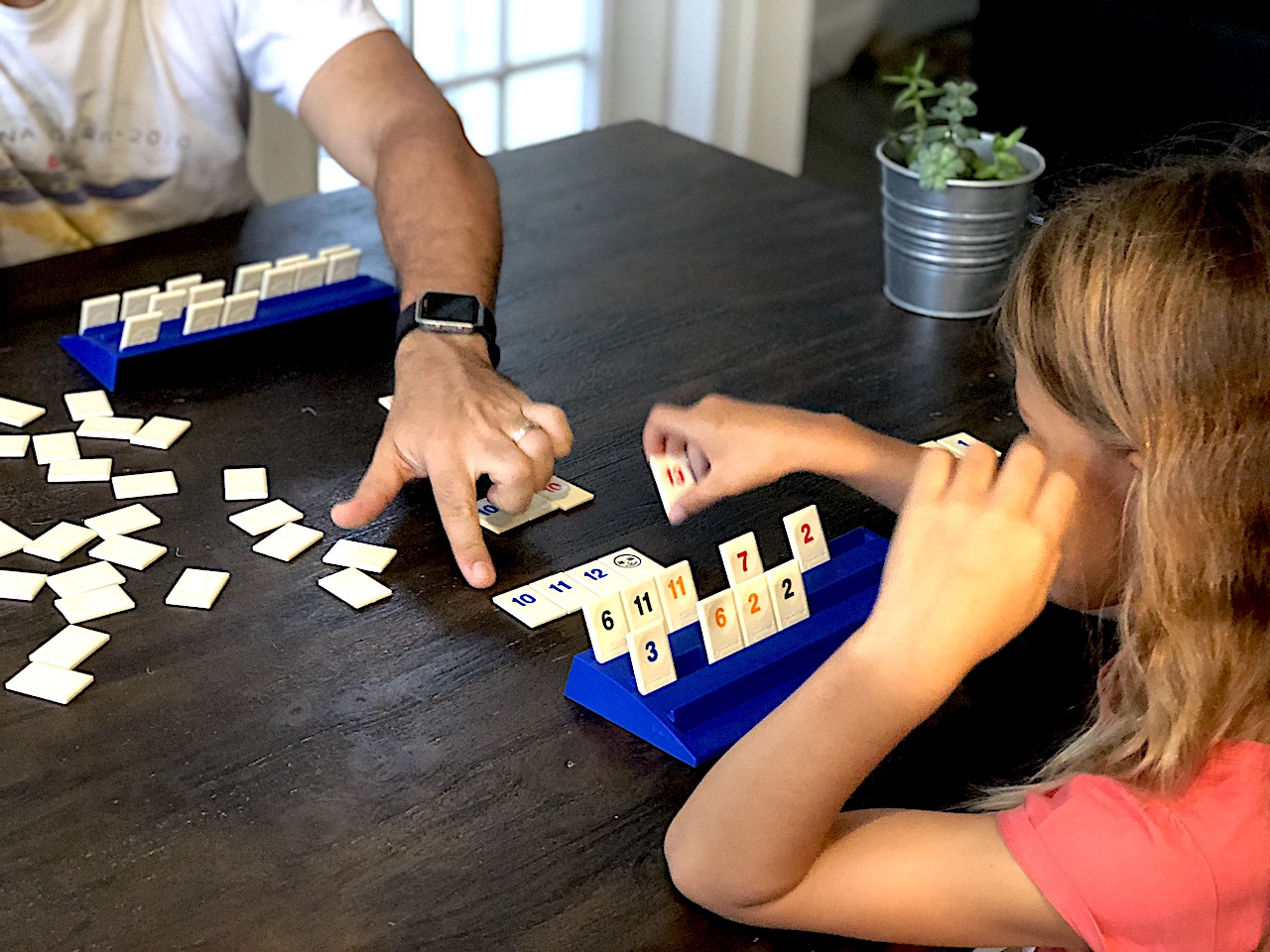 The ultimate goal is to get rid of all of your tiles by making up melds and runs and heavily relying on your adversaries' games!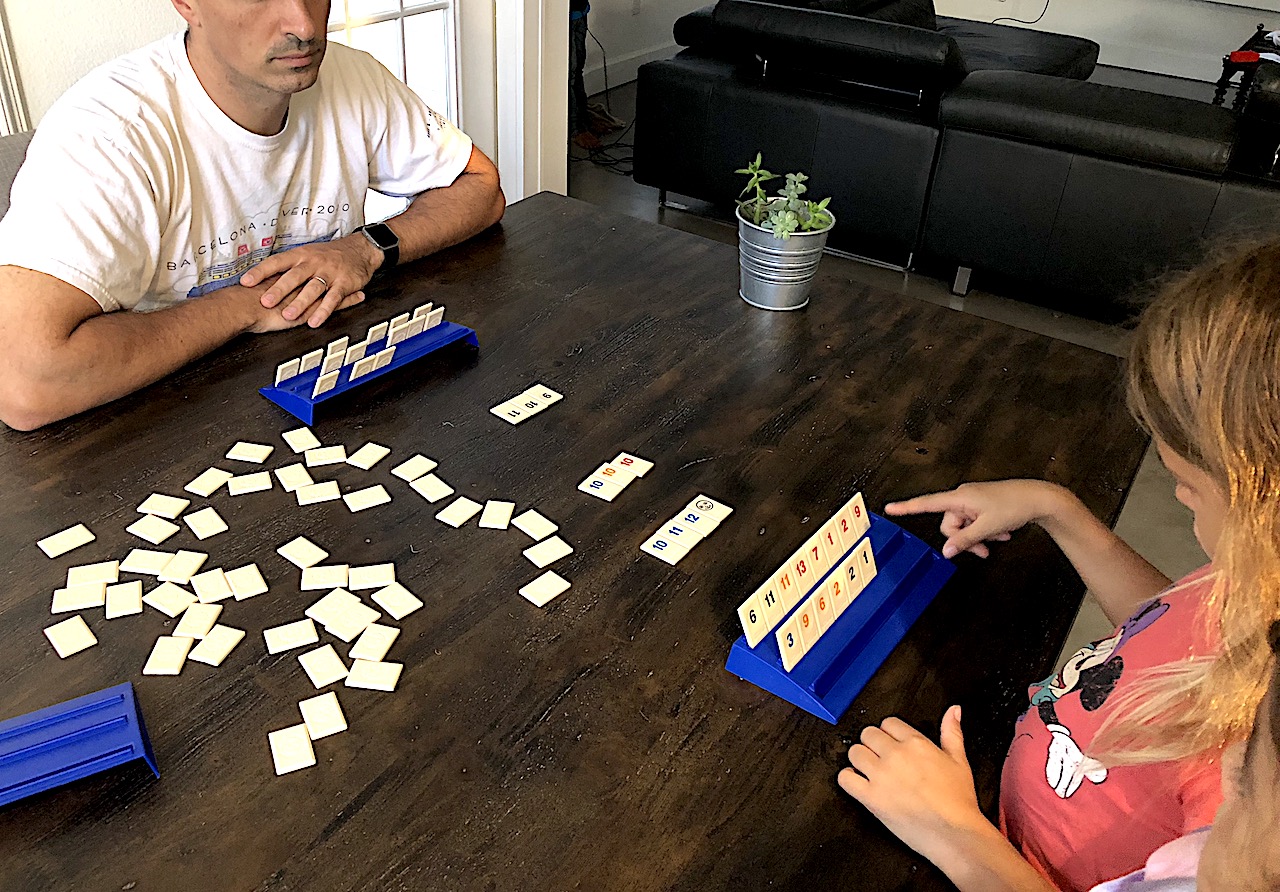 Pressman Toys recommends the game for ages 8+ and it can accommodate 2 to 4 players. Our competitive 1st grader loves playing and she is getting a really good grasp of the game and its (very few) rules! Our Kindergartner plays with a bit of assistance.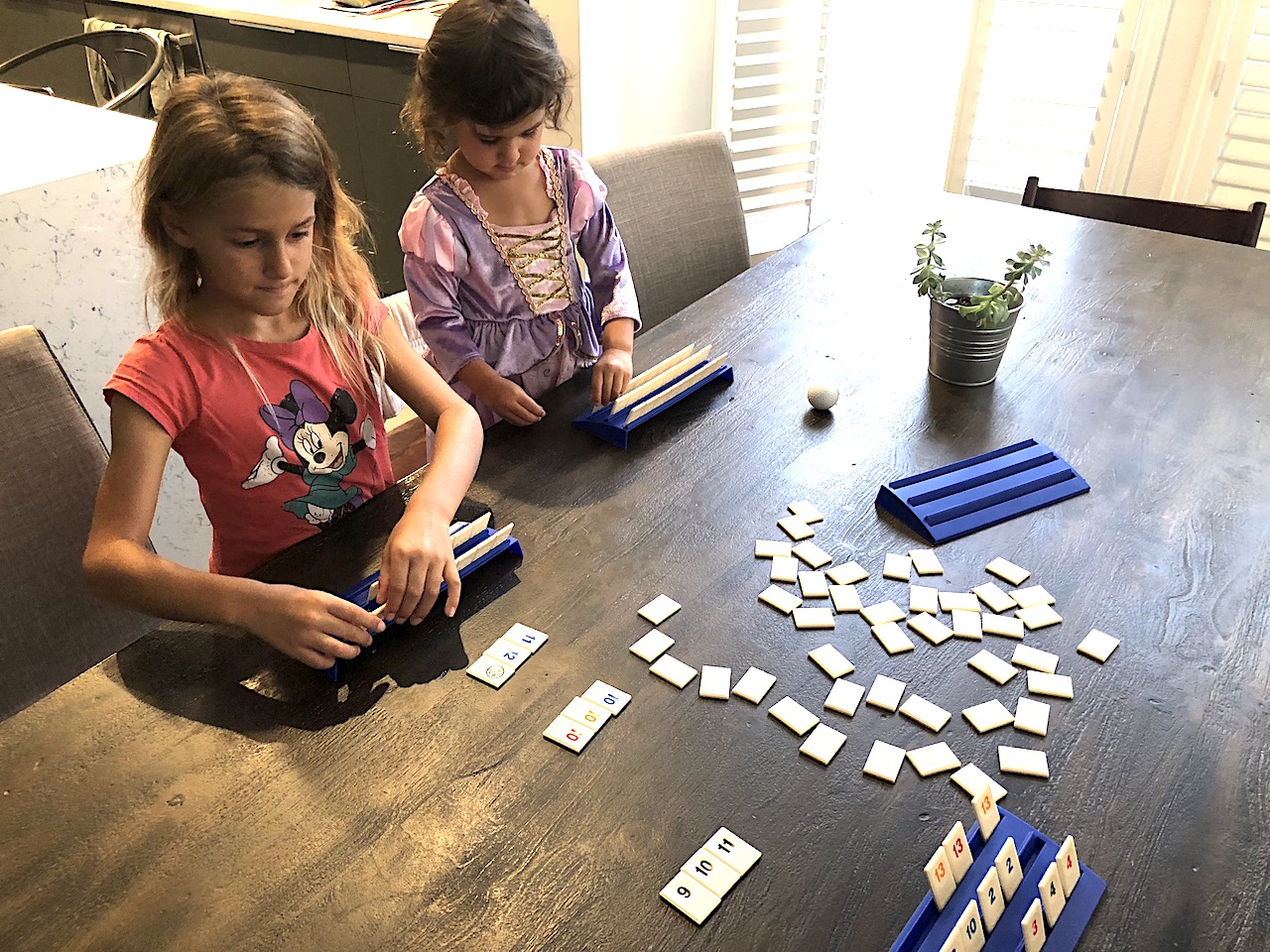 I also love using the tiles with our 3-year old to help her sort her numbers up or down!
Tri-Ominos
Tri-Ominos is by far our kids' favorite! I think they use dominos at school quite a bit and the triangular shape is very appealing to them. It is a really fun and attention-grasping game for all and all 3 kids can play!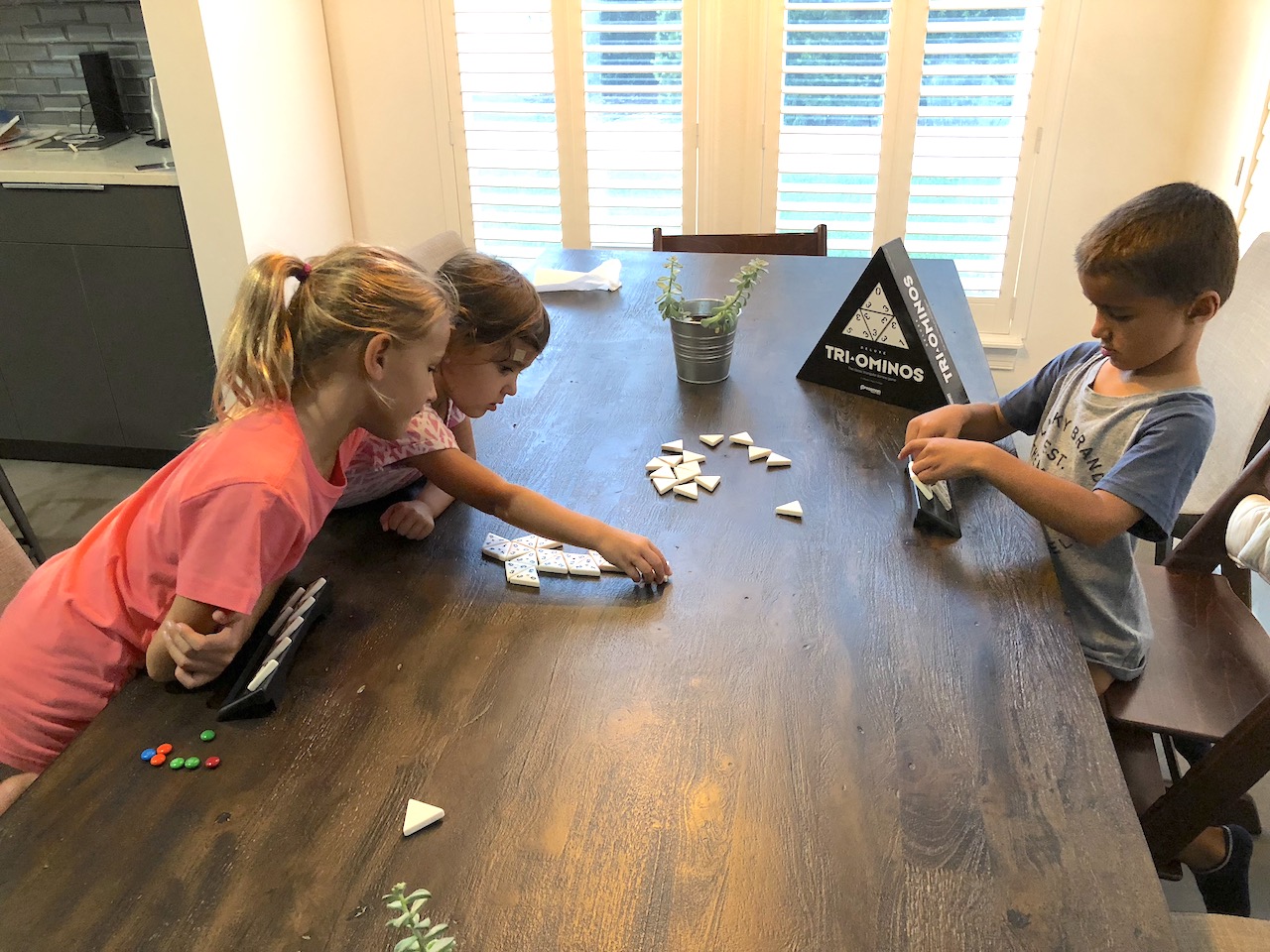 The ultimate goal is to get rid of all your tiles by aligning matching numbers. The concept is very simple and even our 3-year old can play with a bit of supervision.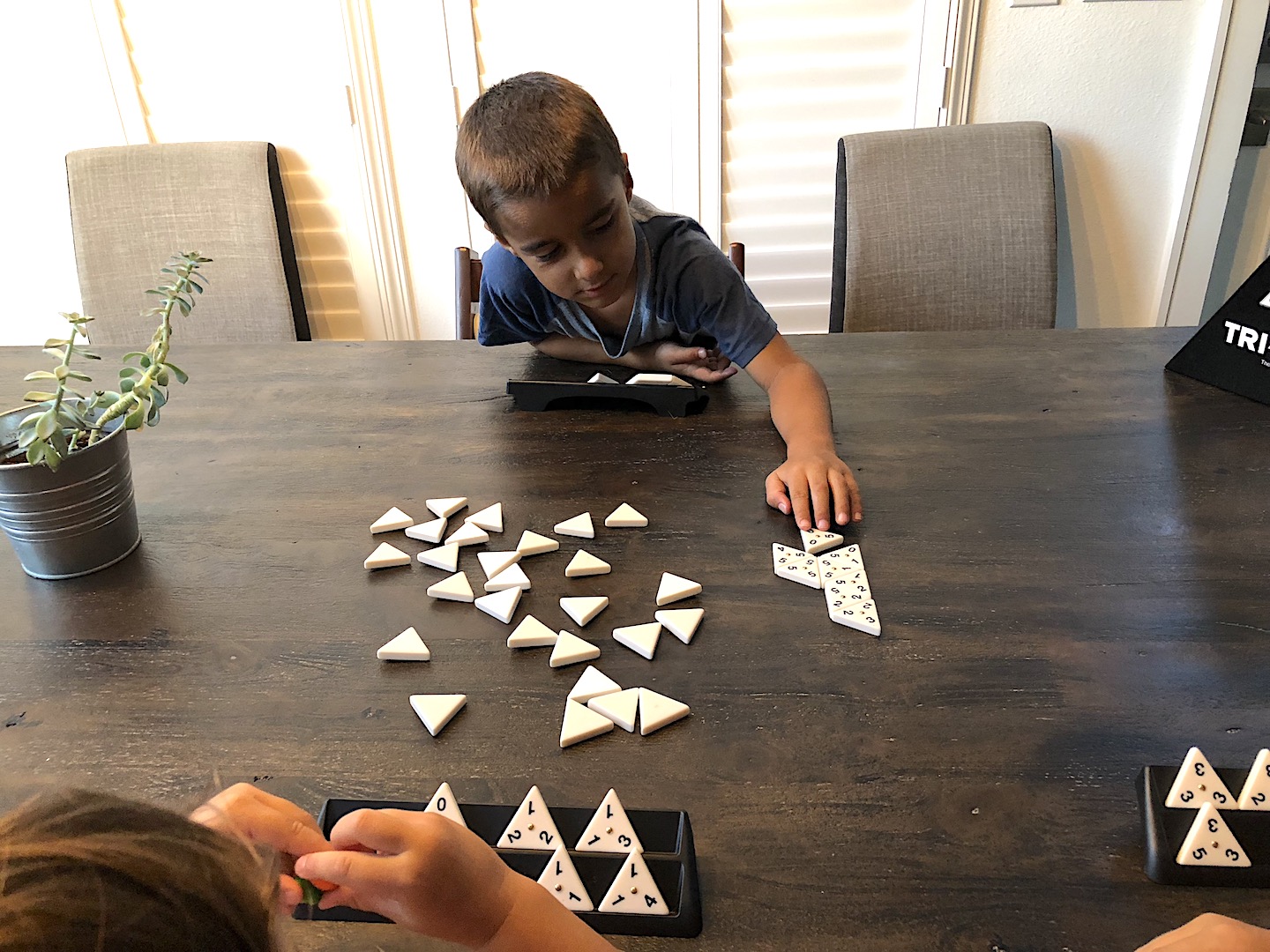 Pressman Toys recommends the game for ages 7+ and it can accommodate 2 to 4 players. If all 5 of us want to play, Christian or I sit with one of the kids.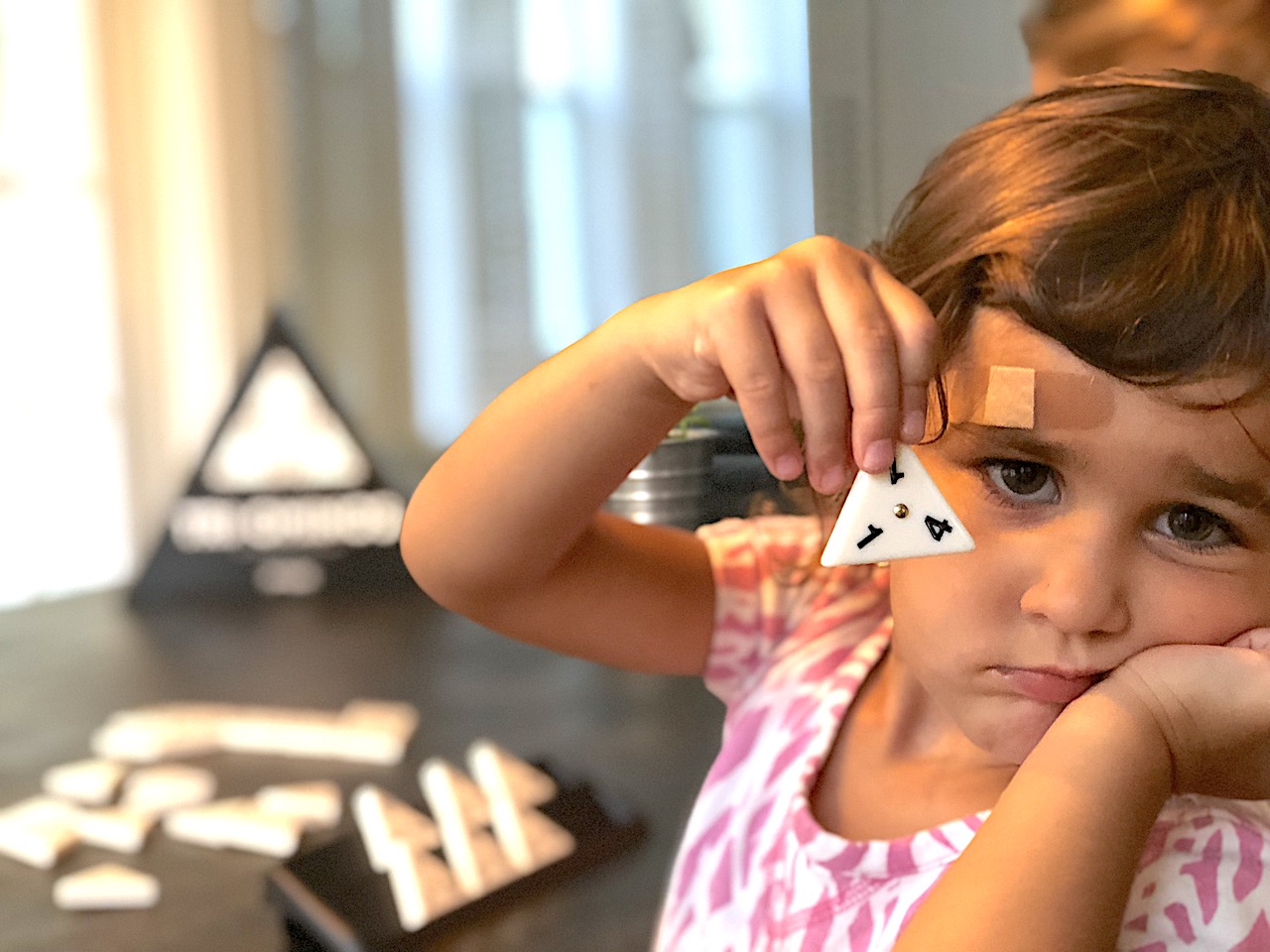 Tri-Ominos is very easy to understand. Once the kids get older, they will start developing a strategy but it is a wonderful starter game to get them playing. They quickly understand the game and are able to compete against adults.
Mastermind
Who hasn't played Mastermind as a child? I also feel like every single cruise ship carries one of those and Christian and I always end up spending evenings cruising around a game of Mastermind.
As Pressman Toys says it best: Codemaker vs. Codebreaker. This is a game for 2 where one creates a code and the opponent tries to break it. The code maker guides the code breaker through 10 attempts to break the code.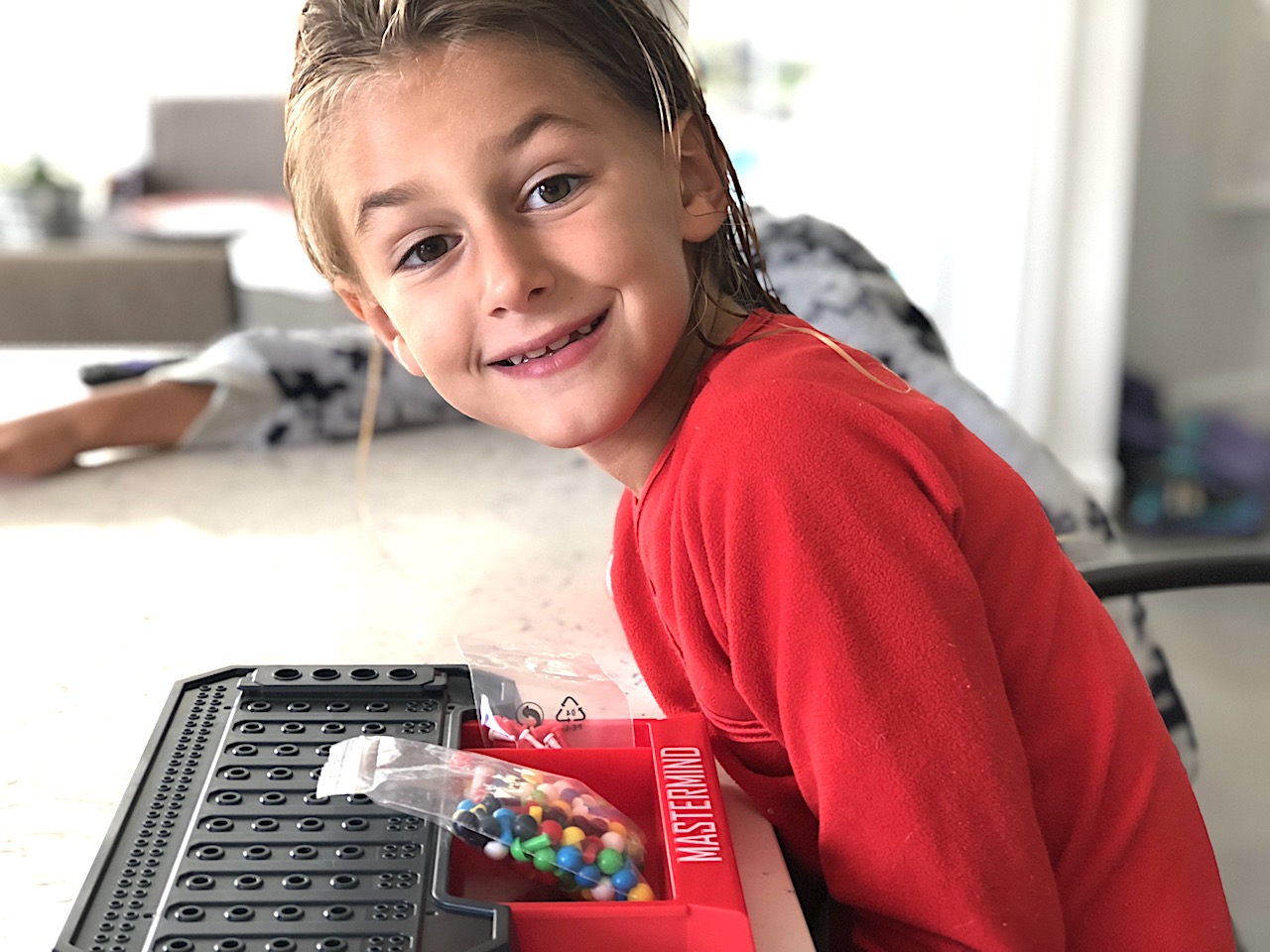 Our 1st grader has been very anxious to learn to play that game and she is doing really well. It's so much fun to see her try to decrypt the code!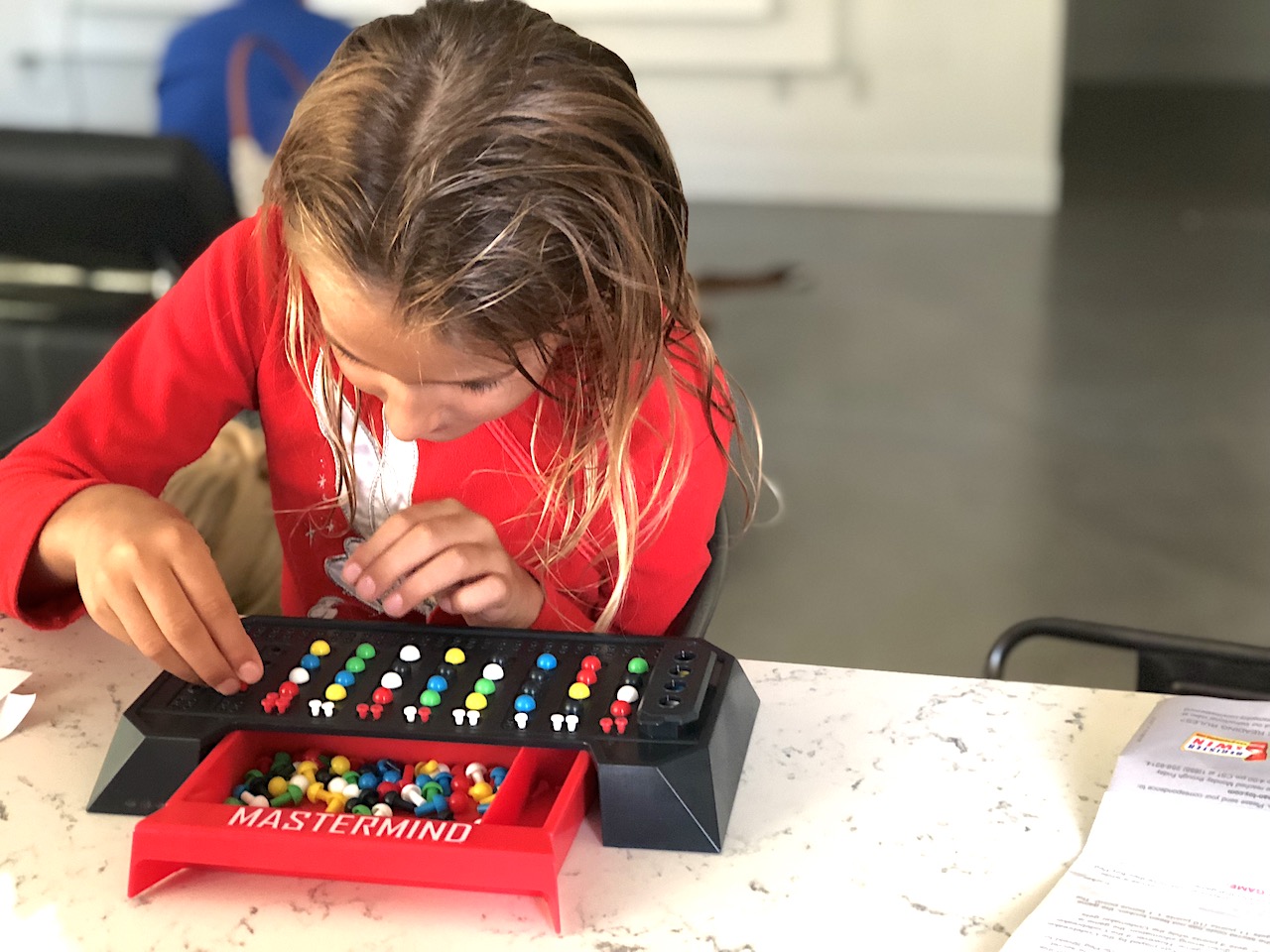 I find that our Kindergartener just doesn't have the attention span to focus for long enough, but then again, his attention span in general is very limited and I think it is a great game for all elementary-school students. It gets them thinking and develop a strategy.
Christian and I love playing that game. It's always a nice competition and the kids love watching, cheering us up!
What I really like about Mastermind is also the ability to focus on just one child. The code breaker has his/her own moment and is in total control of the outcome. Lots of fun!!
Pressman Toys
Rummikub, Tri-Ominos, and Mastermind are wonderful classic board games, by Pressman Toys, that keep our entire family entertained. I love seeing the kids get into gaming and watching their little brains spin is a wonderful thing! I know they are growing to love games and it's a wonderful family activity. Once we are all into it, there are no distractions. We're spending quality time together and it's all about managing everyone's reaction to loosing 🙂
We are creating family memories and traditions that will hopefully last a lifetime. Our kids love to play with us, with their grand parents, cousins, etc. Nothing is more wonderful than watching them interact with their loved ones. Another great benefit of family board games is making the kids feel like big people. They're always ready to help with chores and ask to do "big people" things. Playing games with them is the best way to let them act as adults in a very controlled and safe setting. A clear win-win for all of us!
If Santa Claus is not quite sure what to get your kids this Holiday season, give him a hint for guaranteed fun!!
Happy gaming!
---
Enjoyed the article? Share it on social media or pin it for later!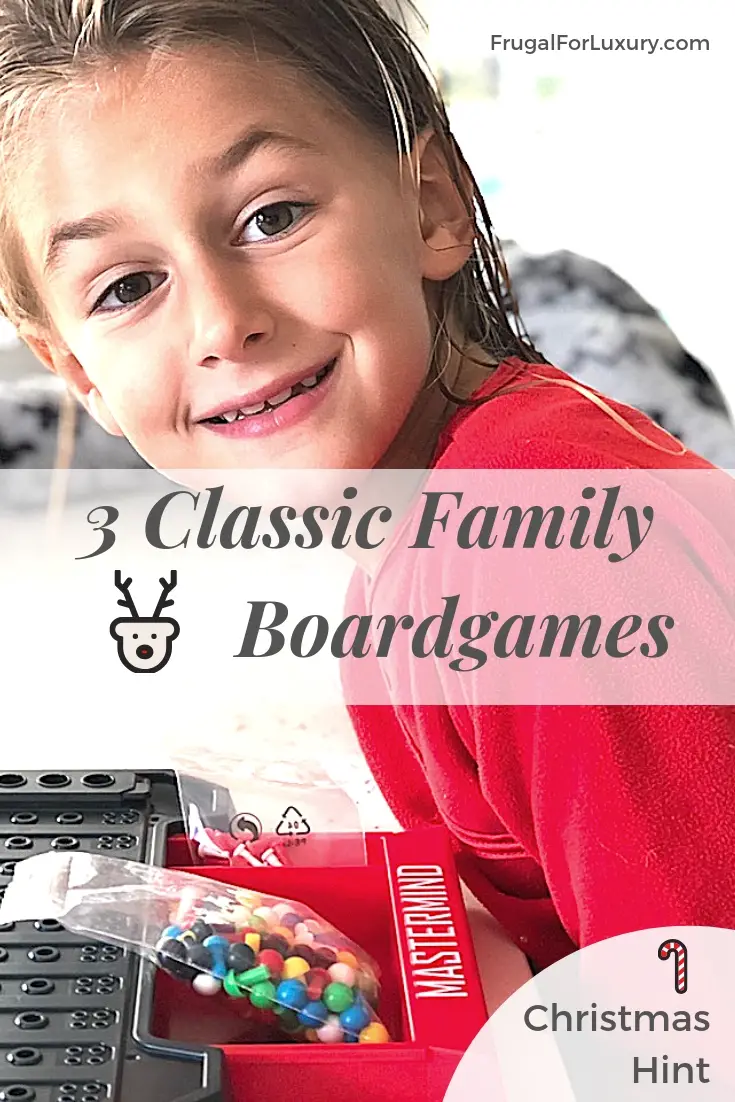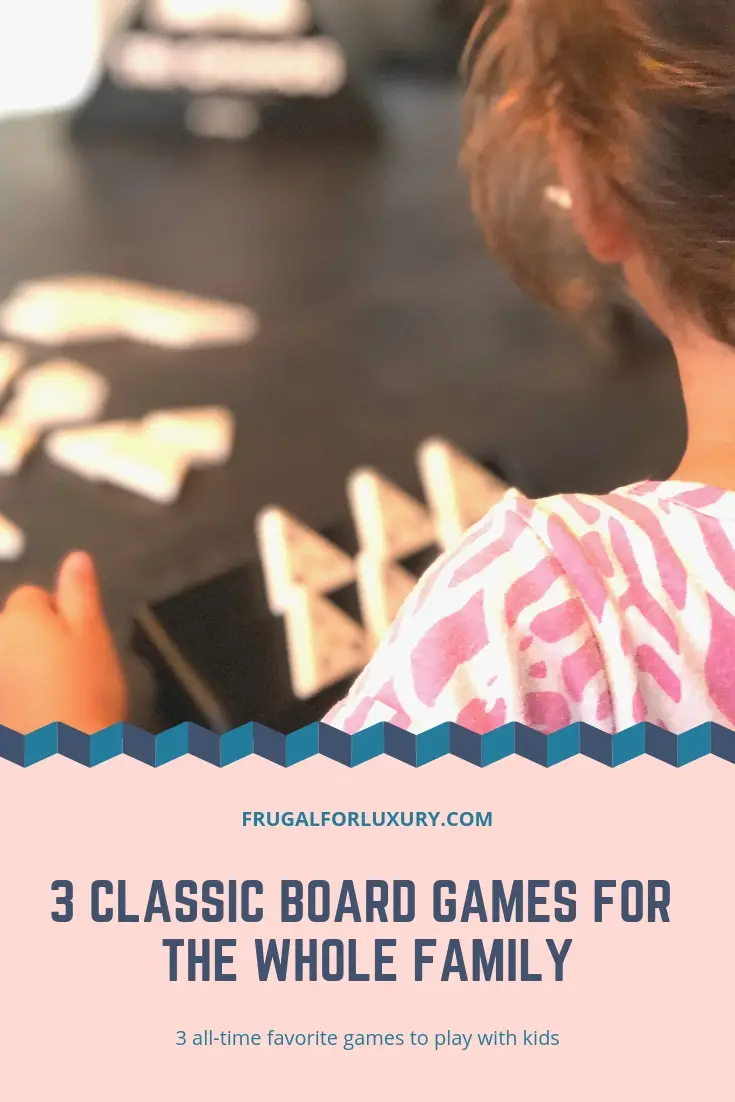 ---
Related articles you might enjoy:
Keep Your Super Hero's Teeth Clean This Halloween – with Dr. Plotka's Toothbrushes
5 Tips to Living Your Perfect Unbalanced Life
10 Tips to Raise a Child Who Loves to Read
If you enjoy reading us, stay in the know by signing up for our newsletter!