Disclosure: I was provided a free Swagboard T380 Elite for this article but ordered 2 more as presents for our children based on our satisfaction with the product. All thoughts and opinions expressed herein are my own. This post may contain affiliate links. Please read our disclosure policy for more information.
If you have active children, like I do, you know how difficult it is to keep them busy. Every few minutes, they need new distractions and there are very few things that keep them busy for long… This list compiles some of the best gifts for active children, and they were tested and approved by my crazy kiddos!! I promise you that those gifts will keep your active kids entertained for hours at a time. Some of those will require a bit of a budget, but you are making an investment in something that, from my experience, will be played with nearly everyday and I recommend purchasing quality items.
Related article: 50 Alternatives to Christmas and Birthday Gifts for Kids
As you will soon notice, a lot of items on this list include outdoors activities. Active children do much better outside. Their senses are triggered, they have space, less boundaries, can explore and let all of their steam off. And as they say in Germany – there isn't bad weather, only inappropriate clothing. So bundle them up, apply sunscreen, pack hot chocolate or iced water, get those kids outside and enjoy everything on this list!
Swagtron Hoverboard
I've had my eyes on hoverboards for a couple of years now and finally decided to get two for the kids. We got the Swagboard T380 Elite, which is amazing and we – the parents – have just as much fun using the Swagboard as do our children. What we love best about the Swagboard is its stability, smooth ride, top speed of 7 mph to 8 mph based on model, and how much Swagtron values safety, which was our #1 deciding factor when choosing Swagtron over other brands!
If you are on a budget, consider the Swagboard Twist T881 Kids Hoverboard
 (pictured above). You will love its price under $150 – an amazing value for this product!
With a hoverboard, your daring kids will be outside and entertained for as long as the battery lasts them. Put good protections on them and take them on your jog with you, or simply enjoy a cup of coffee on the porch while they ride up and down the curb!
Trampoline
Depending on how much room you have, choose between an indoor 3′ trampoline or a larger outdoor trampoline
. With some outdoor options starting around $150, if you have the space, a trampoline is a great investment and will make for hours of outdoor play and exercise!
Trampolines are an amazing way for children to regulate and balance their energy. If you have active children, especially kids with processing disorders, jumping on a trampoline can be healing as much as it is fun. Jumping gets the blood pumping and works the lymphatic system, strengthening the immune system and promoting blood circulation.
Climbing Tower
For your kids under the age of 7, a monkey bar climbing tower
can be a great source of fun. Set it up outside and watch your kiddos entertain themselves. With some models starting in the low $100's, you will not regret this investment!
Pro tip: Our kids love making a little home out of their climbing tower. Simply cover it with a loose bed sheet, put a few pillows inside, grab a coffee and a good book – your kids might not be home for a couple of hours!
Garden Playground
Based on your space and budget, you can go all out on a garden playground. The cheaper models start around $300 and you can spend north of $2,000 on a more intricate model. Whichever budget is yours however, your kids will love playing on it.
Pro tip: be careful to choose a material that works with your climate. A plastic playground in hot climate can burn children in the summer. A wooden slide up north will quickly be damaged by the elements and could leave dangerous splinters sticking out.
Swing
When you take your kids to a local playground, they probably ask you to push them on the swing. I know that's what we spend most of our time doing. How about getting the kids a simple swing
? A regular model will run you just over $20 and the kids will love swinging! Attach it to a tree branch, your porch, or simply a door or reinforced ceiling in your home.
Gymnastics Equipment
If there is one thing that gets used in our home daily, it is the gymnastics equipment. We got the kids 3 foldable mats, a horizontal bar, and a inclined wedge, and there isn't a day when they don't get used!
You will find plenty of gymnastics equipment
in all colors! Get good quality equipment so your kids can over-use them without injuring themselves and be sure to be nearby to prevent accidents. But if you have active children, this will be a winner and you need less space than you think! We actually set up their gym where a TV and sofa were meant to go… much better investment, believe me!!
Foam Mats For Babies
If you have an active child, you already know it by the time they're a few months old. No need to wait until they are toddlers, your active baby will be moving around and wanting action! If this is your little one, get them foam mats to exercise
 and spend some energy indoors!
Standing Easel
We are moving towards indoor activities. Anything that will have your child standing is great. How about a standing easel
? We have loved ours! IKEA has a great one for $20, that has an easel on one side and a whiteboard on the other. Amazon has several models that are great as well. We love the ones that have a magnetic whiteboard in the back (pictured above). They are fun for the kids to play and will come in handy when you start teaching letters and sounds. Kids can assemble words right on the magnetic board!
Twister
Twister
is a classic and a great gift for active children! It will keep your kids entertained and be a great game to play with friends or at birthday parties. Endless hours of fun in perspective with this one!
Wooden Train
Because active children need a good mix of physical activities and calmer moments, here is one that we took out every day for about 30 minutes to an hour when our kids were younger. Now that they are in early elementary years, they play with their wooden trains
much longer. It is a great toy to keep their brains thinking and problem-solving, without putting plastic in their hands.
We always purchased either BRIO tracks
and trains or the IKEA sets, since they are compatible. I am sure other brands make great products but I definitely stand behind both BRIO and IKEA. This is a toy you will be passing on to your grand-children! Have fun with it!
---
Thank you for pinning this article!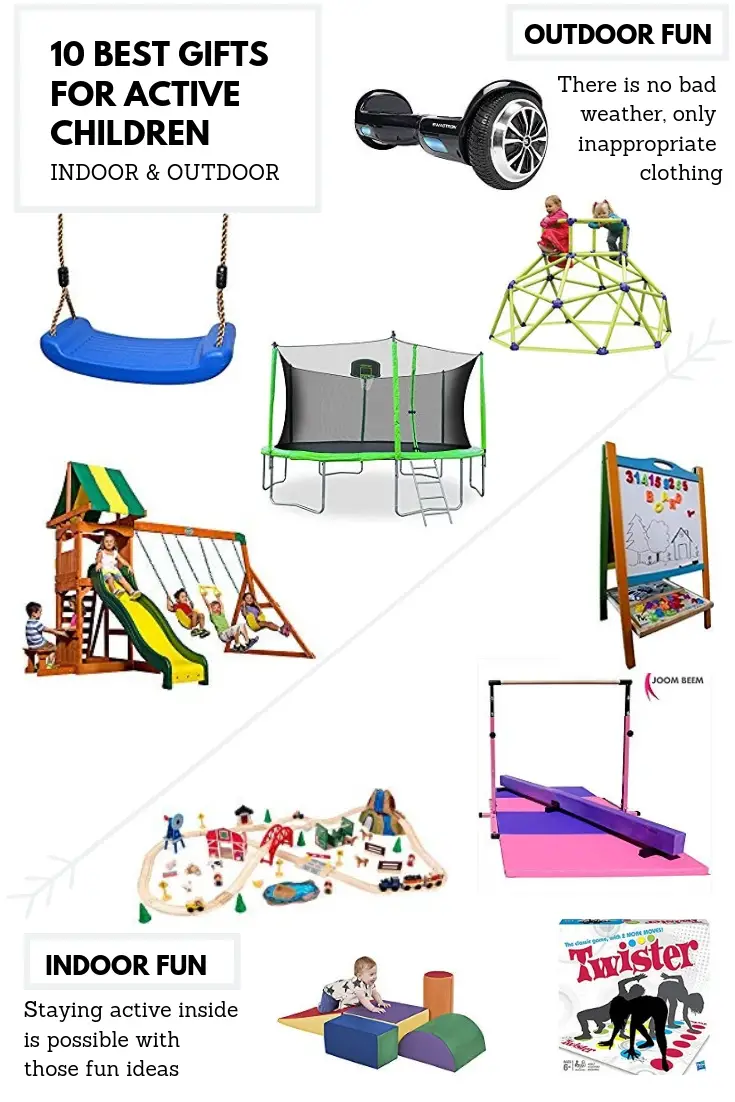 ---
Related articles you might enjoy: 
50 Alternatives to Christmas and Birthday Gifts for Kids
3 Classic Boardgames for the Whole Family
My Biggest Parenting Failure
If you enjoy reading us, be sure to sign up for our newsletter to stay up-to-date on all new content!