Disclaimer: I was provided the Ben Lido travel bag featured in this article, free of charge. All thoughts and opinions expressed herein are my own.
Traveling the world with kids is the most wonderful experience and the best gift you can give your children.
Packing for family trips, on the other hand, is a little less glamorous and I rarely look forward to the last-minute rush and fear of forgetting essentials. Anyone with me?
Related: Why NOW is the Best Time to Start Traveling with your Kids
We love planning long and well-researched trips but also enjoy the more spontaneous outings. Ben Lido has been our favorite packing partner and it has made our family travel adventures so much easier.
No matter the kind of traveler you are, Ben Lido will make your travels worry-free.
There are two ways to make Ben Lido work for you. The business or frequent flyer can sign up for a subscription and have a travel bag shipped to their home or a destination of their choice on a regular basis. That is an awesome service for a business traveler for example, or someone on long-term travel, who would want to receive the brands they trust in a place where they are not easily accessible.
If like us, you want to always have your necessities packed for an impromptu trip, you can order a Ben Lido bag every time you want to replenish. 
That's what we do. I don't feel that we travel enough to justify the subscription but I love knowing that if we wanted to leave the house tomorrow morning, I would only need to pack clothing and all of the travel accessories are ready to go!
The Concept Behind Ben Lido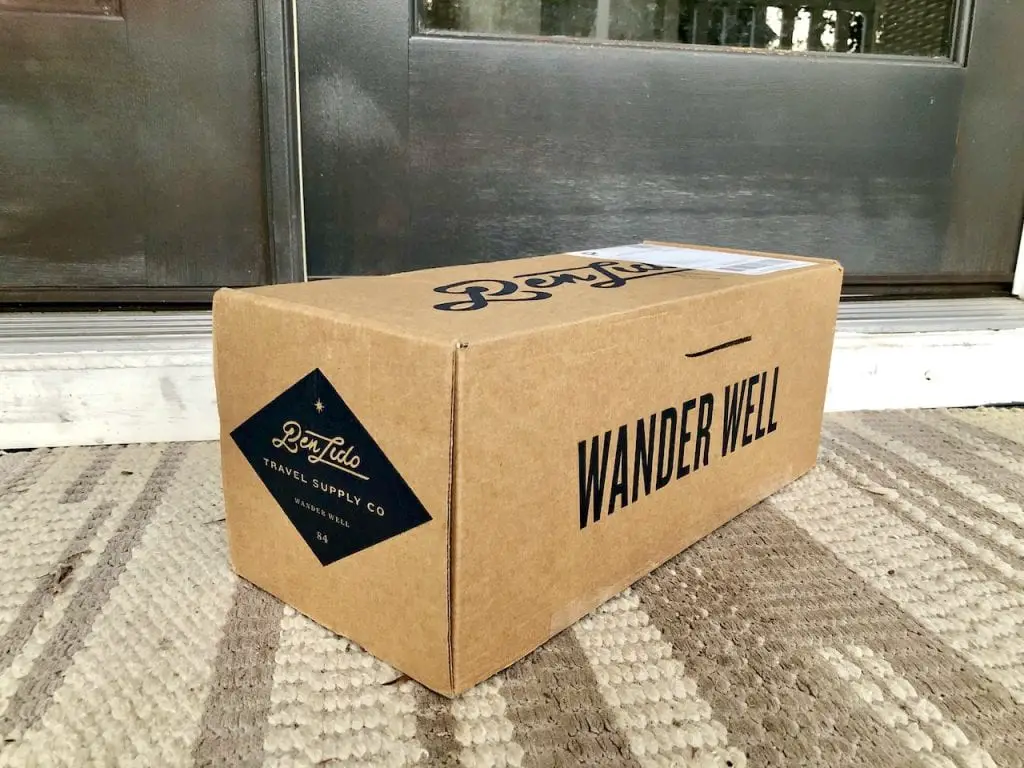 The concept is simple – Ben Lido takes the inconvenience away from packing and "keeps wanderers stocked with essentials at a fair price." There is no more wasting time running to the store last minute. Everything is ready and gives you the flexibility to travel easy.
You get to choose one of four travel bags, or simply skip that step if you have your own bag.
The second step involves choosing the essentials you would like to receive. One option is to choose one of five pre-made arrangements. These are hand-picked selections for men or women.
If you are attached to particular brands or want to customize your essentials to a particular need or destination, you can create your own list. Pick from an impressive list of products where you will find anything from multi-vitamins, organic scrubs, bug spray, laundry detergent, tweezers, and so much more. If you need it, Ben Lido has it and will be happy to ship it to you.
Tips For A Worry-Free Spontaneous Family Adventure
Having your essentials packed up and ready to go at anytime, enables you to go on more fun and spontaneous trips with the kids.
Remember your pre-kids days, when you decided mid-week to travel a couple of hours for a romantic getaway weekend?
Take some of that romantism out (sorry, don't have a guide for romantic travels with kids yet…), pack up the kids, and drive a couple of hours for a fun adventure weekend!
Tip 1 – Slightly Underpack
You want to keep this easy and should only pack the essentials. Pack your Ben Lido travel kit, 1 underwear per person per day, and a set of change of clothes. If you or the kids need to wear an outfit twice, everyone will be fine.
When we go on an impromptu weekend trip, we pack everyone in one large blue IKEA bag. If I need to start thinking about more than that, it becomes a full-blown trip and no longer is the spontaneous adventure we are seeking.
Tip 2 – Use Apps And Websites To Book Last-Minute Discounted Rooms
There are several options here and our favorite ones are:
Hotel Tonight: Click this link for the web-based version, but I prefer using their app. We have stayed at luxury resorts for a fraction of the price and booked last-minute rooms up until a few hours before getting to the resort!

Hotwire: We love the taste of mystery we get with Hotwire. Pick a date and city. On the map, select an area and book a hotel based on its star-rating. Once you have booked, discover where you will be staying for a heavily discounted rate!
We prefer booking a hotel in a central location in order to be close to what interests us. That saves us from having to buckle everyone up, find parking spots, etc.

Tip 3 – Have Fun
Get everyone excited and in a festive mood. You are going on an adventure and the kids are loving it already. Try to disconnect from electronics, enjoy being together, make pictures and funny faces.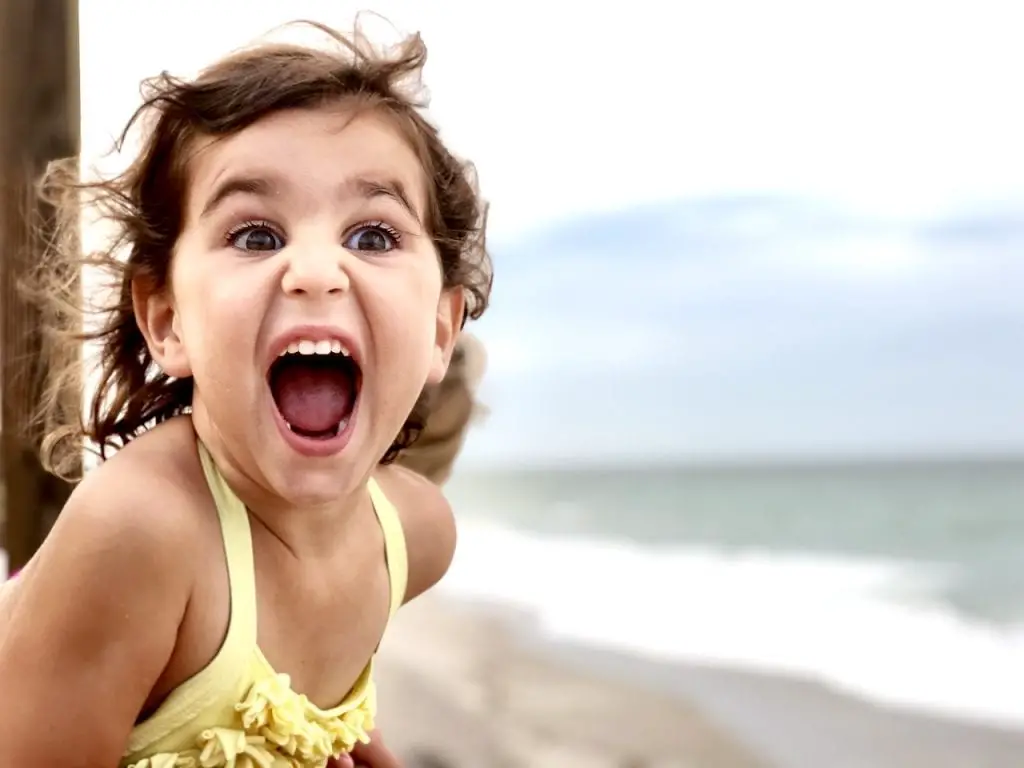 Family travel does not need to be over-planned and overly complicated. Children actually prefer not being on a tight schedule and having time to explore. When going on a spontaneous trip, try to not over schedule your days with visits and attractions. How about planning an unplanned day?
Take your time to get out of bed and have a relaxing breakfast. Walk around the area you are visiting, wander without a goal and let the kids point out to details, funny shops, street art, and the world around them. If letting the kids play hide and seek is in the way of hitting your to-do's, think about what will stick as a memory for that trip…. and let them hide… and seek!
Happy Travels You All!
---
Pin this for later!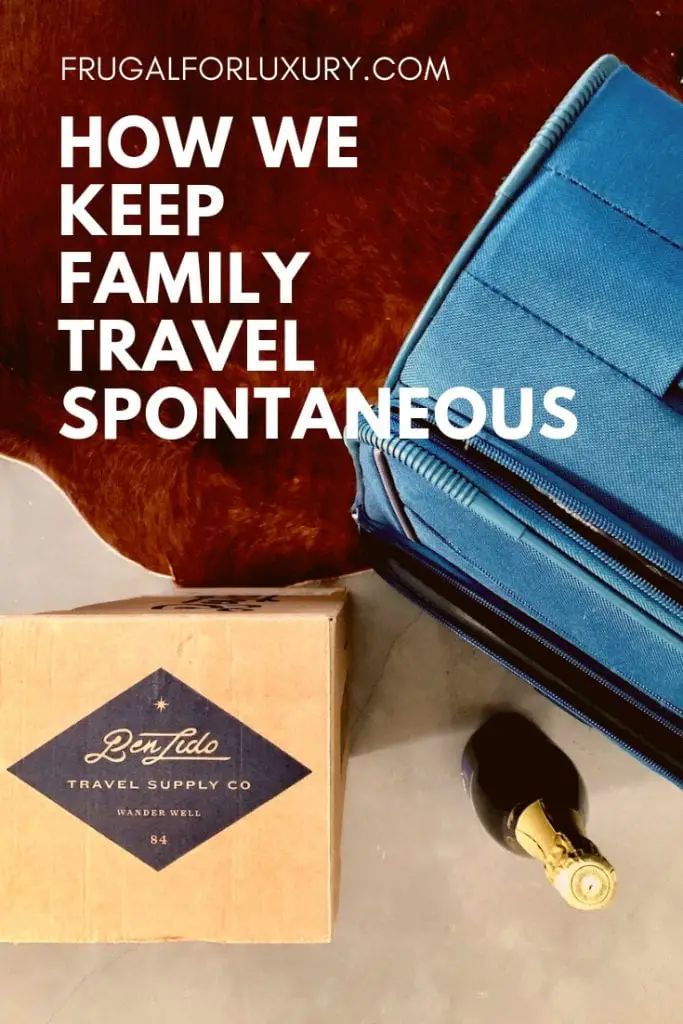 ---
Related articles you would enjoy:
10 Sanity-Saving Tips For Traveling With Kids
The Most Valuable Credit Card For Travelers – Chase Sapphire Reserve
3 Essentials To Keep Your Airport Visit Cheap And Fun With Kids
If you enjoy reading us, don't forget to sign up for our newsletter!