If you don't know me yet, I am the one who will give you a kick in the butt, have you pack 2 bags for your entire family, and put you on an airplane for your dream destination.
You have kids. I have kids. So what?
Does it mean that your life has come to a stand-still and the next 15 years will be spent at home… waiting?
If you've traveled pre-kids and loved it, why wait until you are 60 and retired to start traveling again?
Now, let's get serious and look at the WORST that can happen!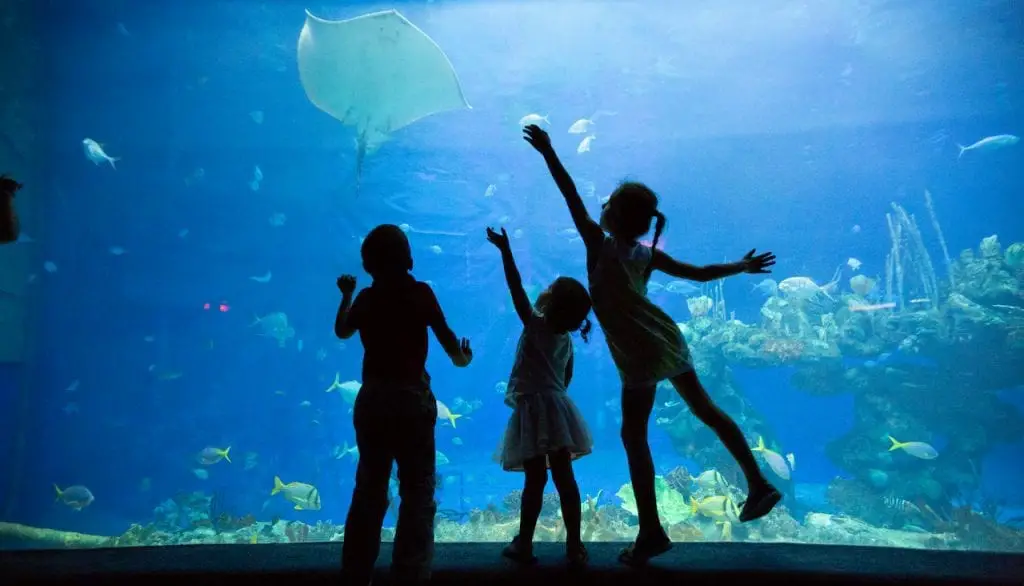 You Will Over-Photograph And Run Out Of Phone Storage
There is really nothing cuter than those baby fat rolls, getting sandy on a Bahamian beach. We get it… but that comes with a risk.
You won't be strong enough to resist the temptation to photograph it under all angles. Wait, the waves need to be coming in to the picture… need a re-shoot…
Guess what, before you know it, you will be uploading all those photos on a cloud because you are running out of phone memory and want to photograph Jr. eating his sandcastle tomorrow!
You Might Need To Run Through An Airport Or Two…
But then again… you could just be running around your neighborhood, as you do twice a week, every week.
We don't really see the difference, expect for the fact that you are on your way to somewhere exciting.
But really, you just running! Next…
Your Kids Will Ask You To Translate And You Will Face A Terrible Dilemma
Admit that you have no idea what that Greek sign says… or lie to them that it reads "children should eat their vegetables."
I know… I wouldn't want to find myself in this situation either…
You Will Be Sharing The Bathroom
Unless you have enough money for a connecting room, you will be sharing the bathroom with your kids.
Sorry, I have nothing smart to say about this one…
Your Friends Will Start Hating You
See what you're doing here? Breaking friendships just because you decided to take your kids on a family vacation?
All that over-sharing on social media, all of that bragging before and after the trip, all of that pretty sun tan, etc… all of that will turn people away from you and your friends might never speak to you again!
Consider yourself warned!
Your Kids Will Cry… Real Tears
Be ready for your children to hate leaving your resort to travel home… After several days of fun, they will cry their eyes out when time comes to go home.
At that point, you will find yourself making crazy promises such as: "We will come back!", "How about we do this every year?", "Junior, you get to pick where we travel to next", etc.
You Are Facing Risks Of Family Depression
I am not talking about just your depression, but an actual group depression…
Heard of the end-of-vacation blues. I am sorry to tell you that the feeling will be shared, so it might be best you just stay home and avoid it all together!
Be Ready To Become The Official Family Travel Specialist
This one is tough – friends and colleagues, coming to you for advice. "How did you do it?" "Do you think we can take Junior on a 3-hour flight?" "What did you pack for a mountain trip?" "My wife is crazy, she wants to take our 5-year old to Paris…"
Be ready for stardom, it is inevitable!
You Will Waste Precious Time Reminiscing
And I don't mean just after you get home. You will be remembering your trip for years to come and spend hours discussing family memories.
You might even tell your grand-kids one day, how their Mom got in trouble with Italian grandmas for running around the harbor and away from her parents.
No kidding – that happened to us and could happen to you! No one kids with Italian grandmas!
Kids Might Get Hit With The Travel Bug And Blame You For Their Empty Wallets
Let's look at 20 years down the road. Just because we're trying really hard to find a good reason not to travel with our kids today.
Say your kids get totally hooked up on the thrill of adventure from your family trips.
They are now in their thirties and itching to hop on an airplane and visit just one more country that year. They might call you and repeatedly blame you that this is all expensive and they can't afford the flights to Malaysia.
Now you feel really bad… because your friends' kids are calling their parents and complaining that the latest iPhone is horribly expensive and they really can't afford it on their current salary…
You have raised kids who appreciate discovery and experiences over goods and consumption. See what you did? I'd blame you too!
Congrats, you've made it to end of how bad your next trip will go, now that you are a parent…
Now leave a comment below with where you will be taking your kids next!
---
Pin for later!
---
Related articles you will enjoy:
3 Things we Always Bring on Family Trips to Keep the Airport Cheap and Fun
Why NOW is the Perfect Time to Start Traveling with your Kids
What to Pack on a Winter Vacation with Kids
What to Pack for a Beach Vacation with Baby