Disclaimer: I was provided a free Swagtron T380 Hoverboard but all thoughts and opinions expressed herein are my own. This post may contain affiliate links. Please read our disclosure policy for more information.
Our kids are always on the lookout for new ways to have fun outside. If your kids are anything like mine, they come out of school with enough energy to power the house for a week.
We are lucky to now live in Florida where the sun shines and temperatures are warm most of the year. But even when we lived in Germany and had 9 degree snowy weather, the best way to keep the kids entertained and productive has always been to take them outdoors after school!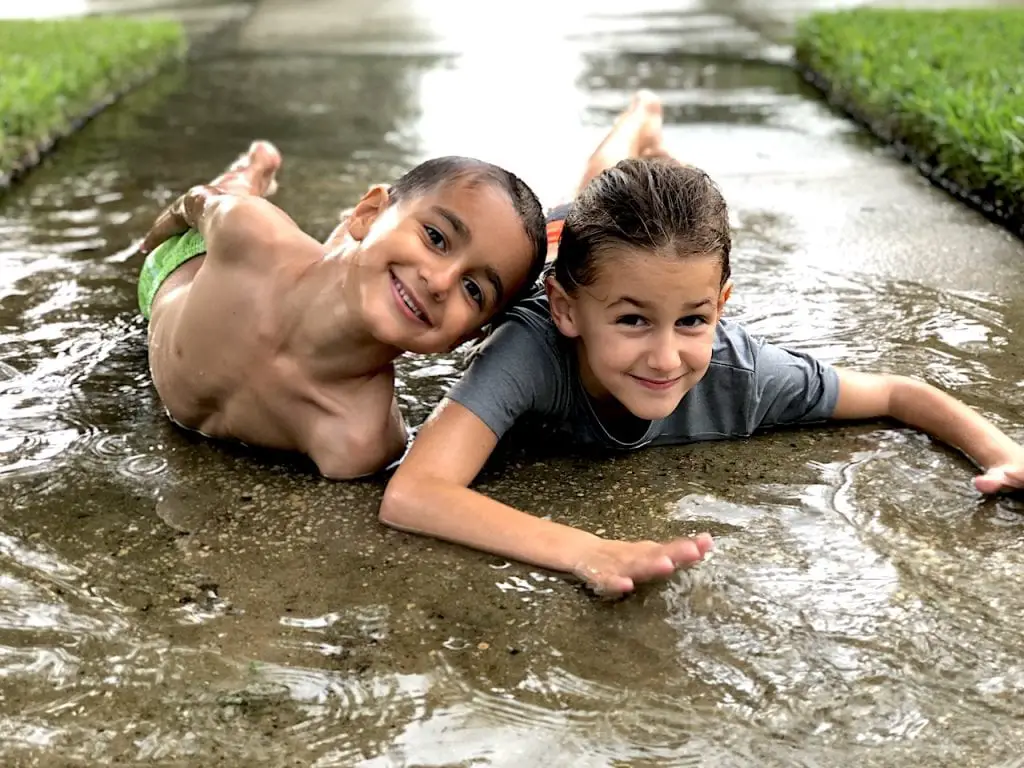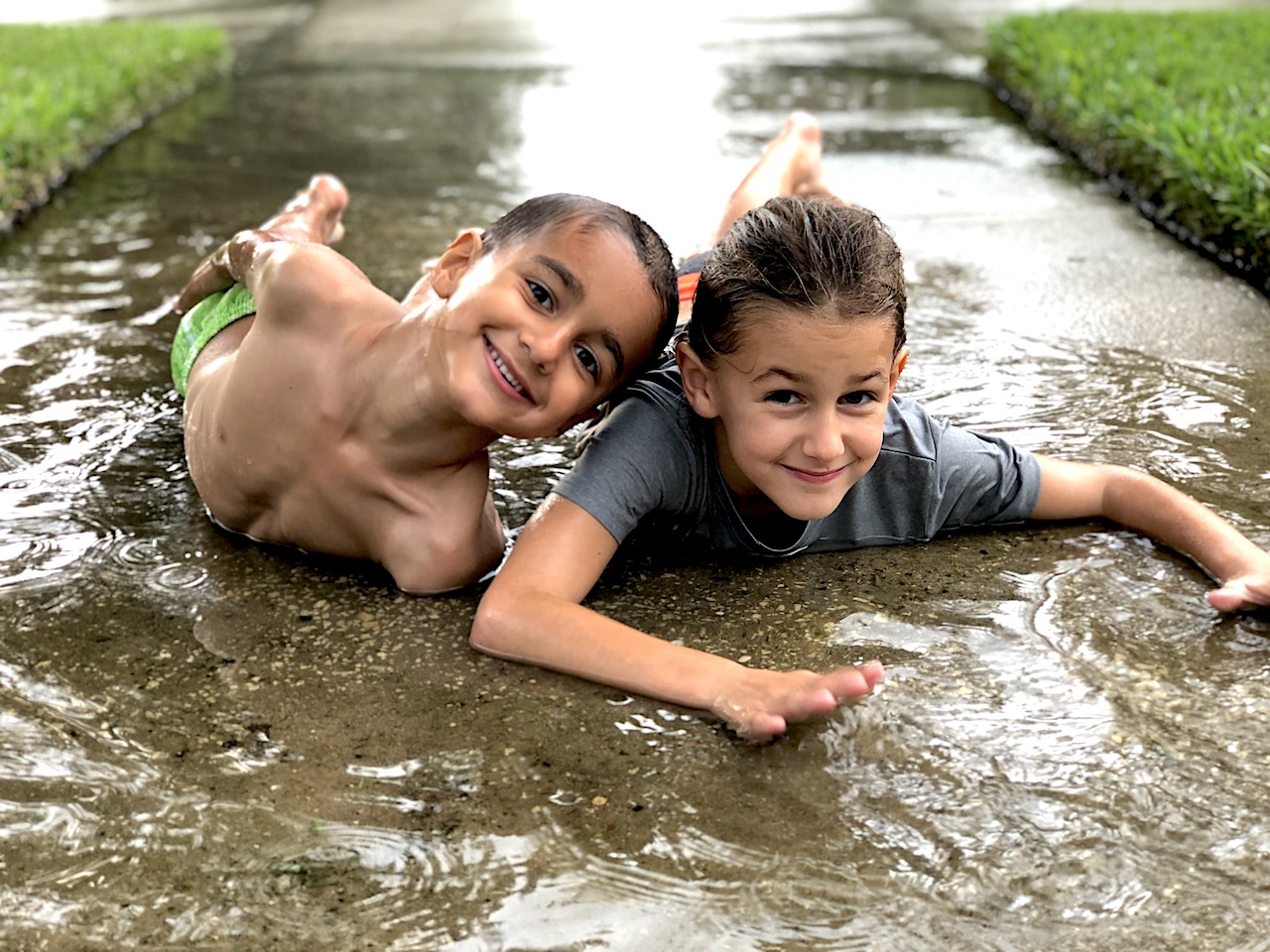 I love letting them play outside and watching them get busy. I'm not a big playground mom. I'd much rather have them get creative and play with sticks, jump in puddles, and run up and down the driveway than organize games and instruct them with rules.
Related: 10 Best Gifts for Active Kids
Free play has always been top of my list and I believe in the power of boredom. Ask my kids what they wear in the rain? They'll tell you swimsuits, of course. They have learned to entertain themselves with their surroundings and get active.
Their favorite time outside will generally involve some sort of wheels. I'll open the garage and within minutes, all sorts of bicycles, scooters, roller-blades, balls and bats are out and played with.
So when I looked for something new to encourage the kids to be active outside, I knew that Christian and I wanted to join in the fun. We are now at a stage where we no longer have a baby and enjoy doing physical activities as a family.
I looked into hoverboards… I am sure you've seen kids around your town, casually gliding past you. Those always seemed fun and I realized that Swagtron offers models for adults and kids.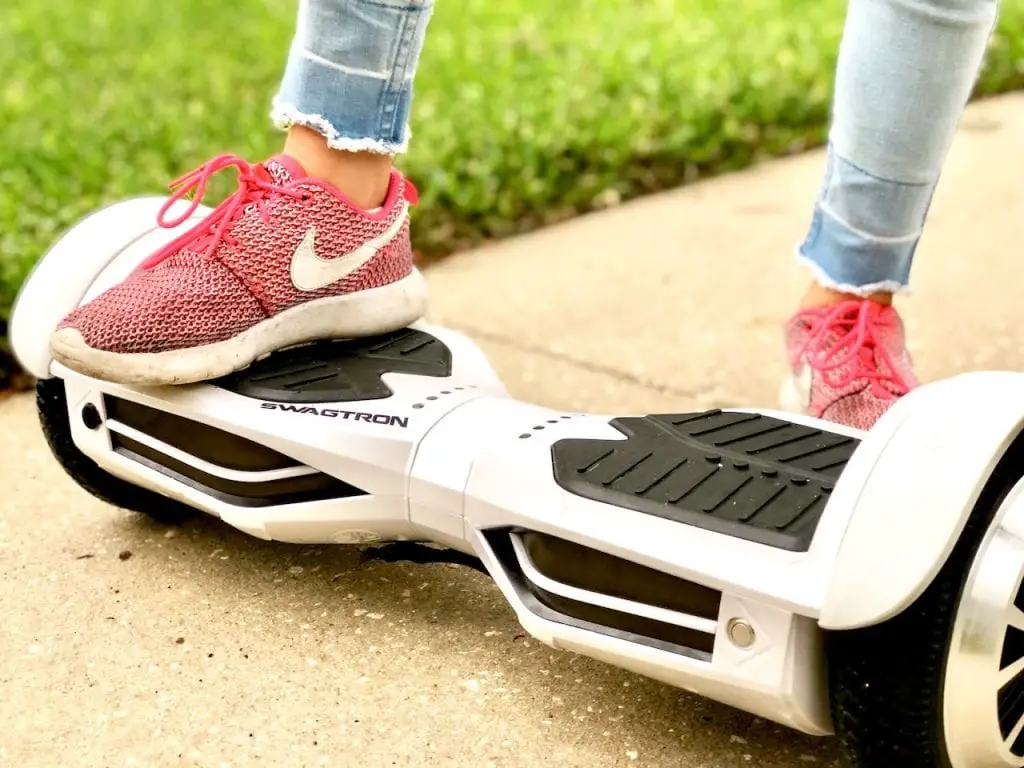 It took all of us less than 5 minutes to get the hang of it. After figuring out how to step on it and hold our balance, it was a matter of minutes until we understood how to move our weight to move forward, backwards, and sideways.
Family Fun

Honestly, I was stunned that my five-year old, clumsy Mark, figured it out in 2 or 3 minutes.
If I was truly honest, I'd say that I was even more impressed with Christian, my husband, riding it like second nature. He is not one who enjoys anything involving balance, sliding, or rolling. But within minutes he loved it so much that we nearly had canceled our date night 🙂 The following day, he called me to let me know he was going to take the Swagtron for a ride outside and he wouldn't answering his phone for a little while.

Our entire household proceeded to spend the weekend, taking turns on who got to ride when. We had so much fun spending time together and enjoying ourselves distraction-free.

I cannot wait for the kids to have their own hoverboards so we can take them out together.

Swagtron

I was very impressed with Swagtron – they not only offer a large variety of electric devices, but they stand behind their quality. If I am to put any of us on an electrically-powered device, safety is my number 1 concern.
Swagtron offers high quality products that are safe to use and cater to a variety of ages and weights. Whether you are looking for a hoverboard, an e-bike, or e-scooter, you know you are getting a quality product that will last!
Swagtron T380 Elite Hoverboard

We all love the Swagtron T380 Hoverboard! Both Ava and Mark have no problem maneuvering it and are in full control. Since it has several modes (and I don't need them to reach the 8 MPH top speed…), we have it set on a lower speed, acceleration, and sensitivity when they use it and I have no concern.
It is definitely the top of the line and I would probably buy it for adults rather than children. The minimum weight is 22.5 lbs, which should work with most kids and the maximum weight is 220 lbs.
We love the bluetooth connection that lets us ride in music and the fun lights indicating whether we are accelerating, breaking, or turning!
Once we had all mastered riding the T380, we connected to the Swagtron app, which is full of great data such as speed, power, battery temperature, distance traveled, etc. This is also where you change modes and set acceleration, steering sensitivity, and highest speed parameters.
Swagtron Twist T881 Hoverboard
For Christmas, we got the kids the Swagtron Twist T881 in cute colors. I will update this article after they have used it for a few days. But I wanted to make sure you all hear about Swagtron now!

Our thoughts were: lower price point, lighter weight, made for kids, smaller in size allowing the kids to use a narrower stance, and a top speed of 7 MPH.
I think that will be a great starter hover board and perfect for the kids. They will get a ton of fun out of it, while still working hard on their balance, core muscles, posture, and body perception.

---
Pin this for later!
---
Related articles you might enjoy:
50 Alternatives to Christmas and Birthday Gifts for Kids
10 Best Gifts for Active Kids
3 Classic Boardgames for the Whole Family
If you enjoy reading us, subscribe for our newsletter to stay up-to-date on our latest content!