So you're planning a 1-week trip to Costa Rica and you're traveling with kids? Great, you will love it!! I am so excited for you!! Please, take me along!
Costa Rica has so much to offer to families. The diversity is mind-blowing. You will go from volcano to cloud mountains, through steaming hot valleys, palm tree plantations, hilly jungles, and coastal towns. Your kids will love seeing animals in the wild, and trying to spot sloths. The food is really good and fairly priced if you eat at "sodas".
So here's what I recommend doing with a week in Costa Rica, if you are looking to maximize your time and see as much as you can! You could easily spend 10 days or even 2 weeks on this itinerary. But if a week is all you have, we travel-proofed this with 3 children ages 3 to 7, and everyone had a blast: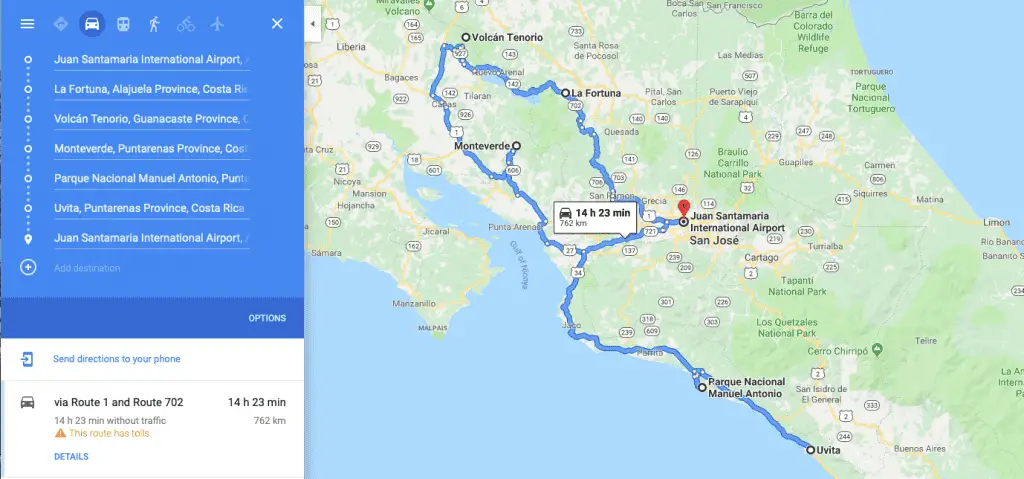 Travel to and from San Jose (airport code: SJO)
Day 1: 2.5-hr drive to La Fortuna + safari float with Desafio
Day 2: Parque Nacional Volcan Arenal + Paradise Hot Springs + Don Olivo Chocolate Tour
Day 3: 2-hr drive to Parque Nacional Volcan Tenorio + spend 3 or 4 hours exploring + 2.5-hr drive to Monteverde
Day 4: Zip-ling + hanging bridges at Selvatura Adventure Park + 4-hr drive to Manuel Antonio
Day 5: Parque Nacional Manuel Antonio + 1-hr drive to Uvita
Days 6-7: Beach days in Uvita + 3.5-hr drive to San Jose airport
Day 1 – Safari Float With Desafio Adventures
Full Desafio Adventures report
The road conditions are good between San Jose and La Fortuna. After a quick 2.5-hour drive, you will be left with plenty of time for an afternoon adventure near town.
I recommend Desafio Adventures – they take amazing care of children and include little extras you will love! The Safari Float is a great option if you have young children and it will be an exciting way to start your stay in Costa Rica. You might see monkeys, crocodiles, birds, iguanas, and more.
Day 2 – Exploring La Fortuna
Day 2 is packed with amazing experiences!
Head over to Parque Nacional Volcan Arenal in the morning and enjoy climbing on dried lava, strolling through the forest, and admiring 500-year old trees! Plan on spending 2 to 3 hours inside the park.
Head over to Paradise Hot Springs to enjoy nature's wonder – the volcano heats up the water and you will love the swimming pools of varying temperatures. Purchase an entrance ticket that includes lunch and leave with a happy belly.
Spend the end of the day at the Don Olivo plantation! This 2-hour tour starts with LOTS of tropical fruit tastings, followed by home-made rum, and a final tour of the chocolate plantation. Make your own hot chocolate at the end of the tour! This may be one of the highlights of your vacation! It surely was, to our family!
Day 3 – Parque Nacional Volcan Tenorio
Full Parque Nacional Volcan Tenorio report
Leave La Fortuna early in the morning to get to Volcan Tenorio with plenty of time to explore. Plan on spending 3 or 4 hours hiking inside the park. You will be amazed – and I mean amazed! – at the color of the local Rio Celeste.
Wonder at the crystal blue waterfall on the hike's first stop.
And make sure to hike all the way to the end of the park to witness the spot where the Rio Celeste turns blue!
Day 4 – Zip Lining In Monteverde
Monteverde is a very unique place. Nested in the cloud forest, it is a charming little town (with wonderful ice cream!!). It is also the original home of zip lining!
Prepare for a day of thrills! We were recommended the Selvatura Adventure company by a local resident and we loved our time there! Their canopy is beautiful, their guides were amazing, and the facilities seemed very well maintained.
If you can, do the zip lining in the morning.
And follow with a gentle hike on top of the hanging bridges! You won't regret it!
Day 5 – Parque Nacional Manuel Antonio
Full Parque Nacional Manuel Antonio report
It wouldn't be Costa Rica without a stop at their #1 national park – Manuel Antonio.
Inside the park, spend 1 or 2 hours admiring the local fauna, including sloths!
Spend the rest of the day at the beach! We loved Playa Manuel Antonio with kids, but there are several others worth exploring!
Tips:
– note that only fruits and un-wrapped sandwiches are allowed inside the park and you will be bag-checked
– buy your tickets ahead of time to avoid having to queue up twice (first to purchase tickets, then to enter the park…)
– start queuing up at least 30 minutes before the park opens (yes, that means before 6.30AM!)
– do what we did and hire a guide: he will point out to animals who would have otherwise never seen, he will come equipped with amazing equipment to see the wildlife, and he will have queued up so early that you are essentially getting a cut-the-line!
Days 6 & 7 – Beach Time In Uvita
I have good news! After 5 intense days of trekking, it is time for relaxation!
Uvita is located on the Pacific coast and boasts stunning beaches! If you can rent a home right on the beach, do it! If not, head over to Parque Nacional Marino Ballena and enjoy some of Costa Rica's most beautiful beaches.
Since you are spending a couple of days in Uvita, head over to the waterfall in Ojochal. Enjoy cooling off in the river, hiking the waterfall, and let the kids become Tarzan for a moment!
How does that sound?
I know this is a packed itinerary but you will see as much as possible in one week. Feel free to spread it out over 10 days or 2 weeks. But if you only have a week, that itinerary works really well!
Our kids had a blast. We saw a ton of wildlife, enjoyed the forest, mountains, the jungle, and the beach! We couldn't have asked for any more!
Enjoy Costa Rica!
---
Pin this for later!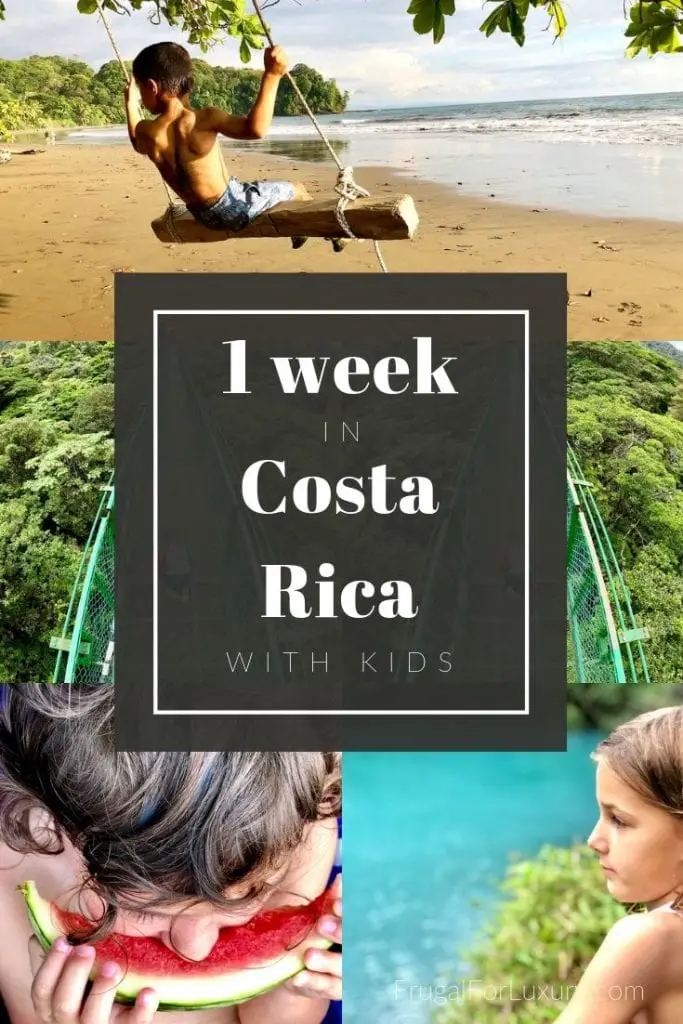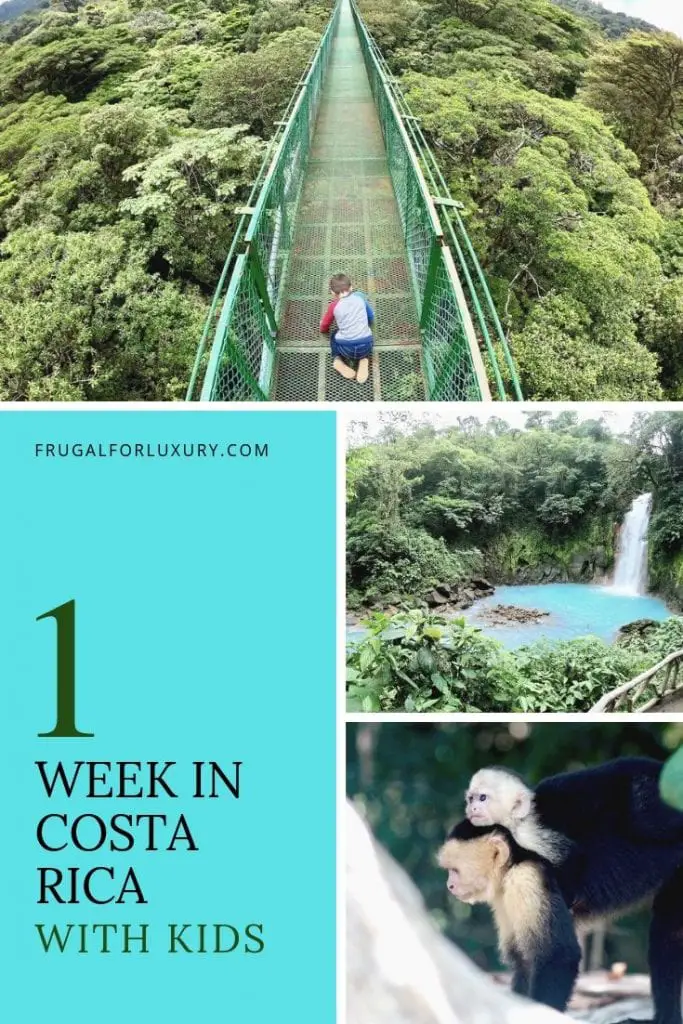 ---
Related articles you will enjoy:
When Safety Meets Convenience – A Must-Have In Family Travel
6 Tips To Get Your Kids Excited About Your Next Trip
Travel Connected Around The World With Go-Sim
If you enjoy reading us, make sure to sign up for our newsletter below!