If you decide to visit Southern Idaho with kids, you are in luck. I am giving you 10 awesome ideas for what to do in Twin Falls with kids!
We spent four days exploring Twin Falls and the adjacent areas and feel like we only scratched the surface. Do yourself a favor and book at least 4 or 5 nights to fully explore Southern Idaho.
Where To Stay In Twin Falls, ID
Since we travel in our RV full-time, we chose to stay at the Twin Falls / Jerome KOA. It was a super fun campground to stay at, especially for the kids.
KOA never disappoints and the Twin Falls / Jerome KOA was amazing. From shady spots, wide enough to drive through without worrying about the trees, to its summer pool, free mini-golf, and an array of premium activities, you will love your stay at the KOA.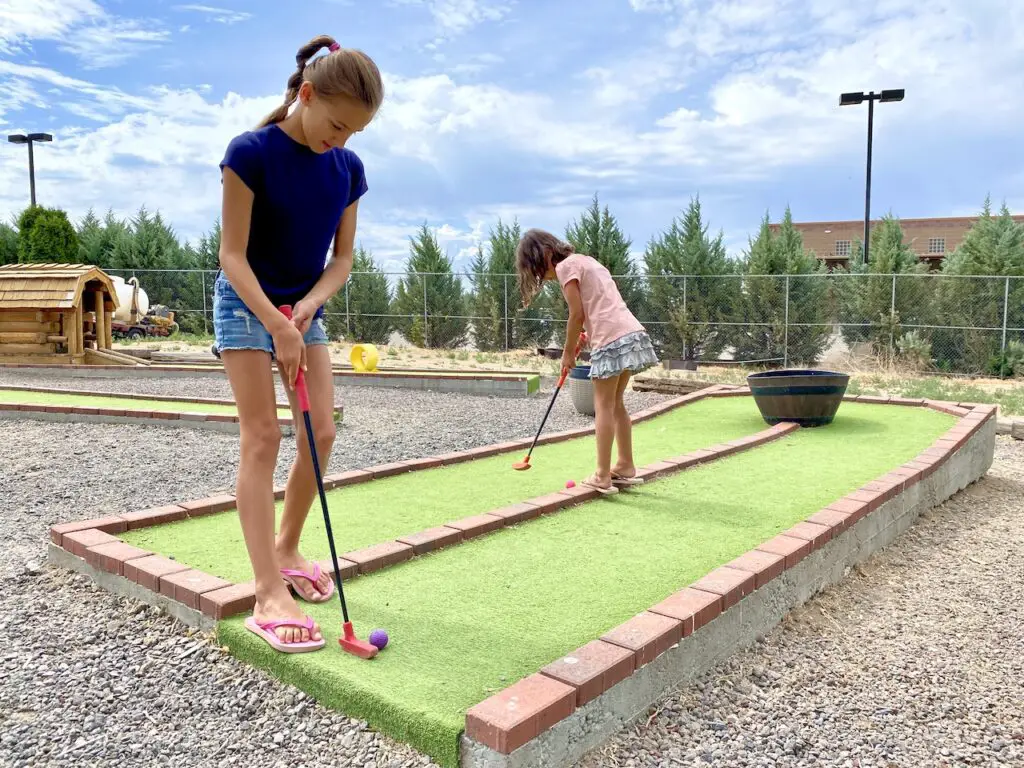 Our rig is 41 feet long and we fit it at the Twin Falls KOA without a problem. The owner was great and the location makes it the perfect spot to explore in and around Twin Falls, ID.
What To Do In Twin Falls, ID
Let's start with activities right in town and work our way further out into Southern Idaho.
1- Twin Falls Visitors Center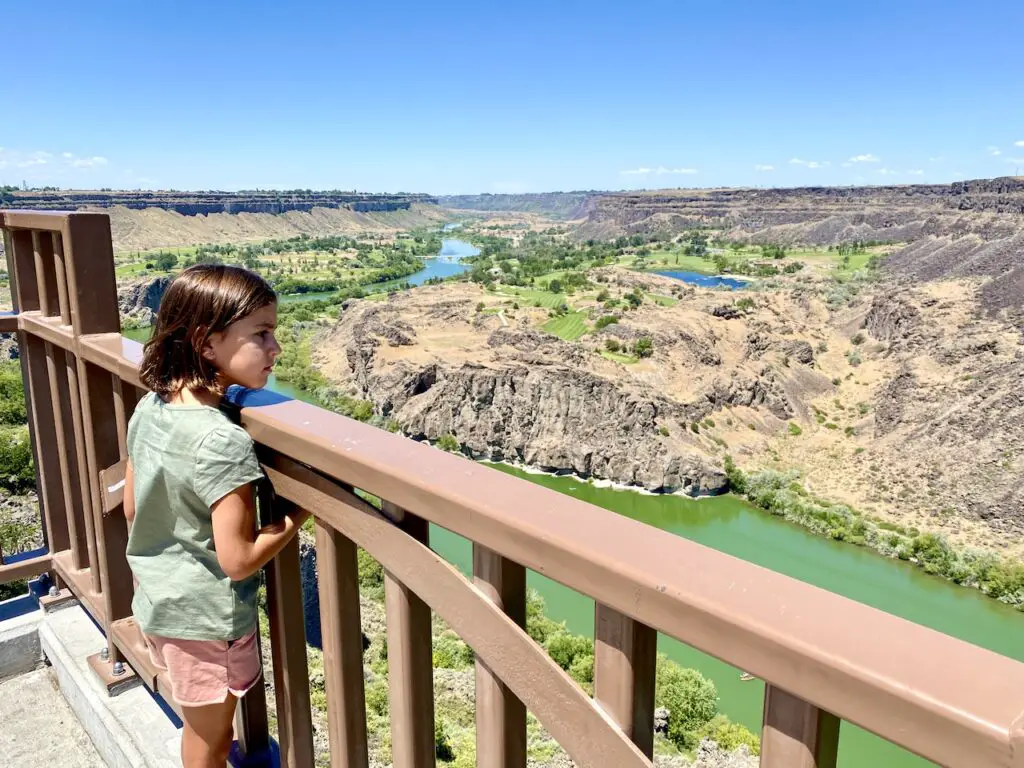 We always start our visits at the local visitors center. In Twin Falls, not only do you learn amazing facts about the area and its fascinating history, but it also has a viewing platform of the Snake River, its canyon, and the Perrine Memorial Bridge.
2- AWOL Zip Lining
Minutes from the Twin Falls Visitors Center, and straight down to the Snake River, sign the family up for some thrill! On your way there, make a quick pit stop to watch the Perrine Coulee!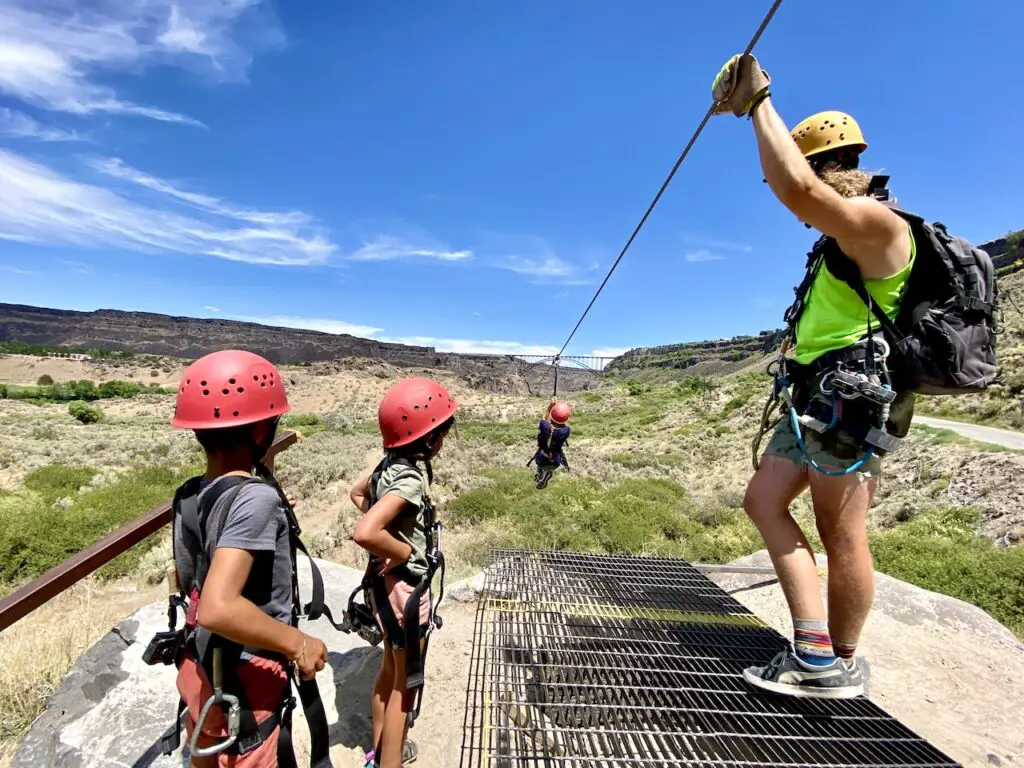 The AWOL zip line starts inside Centennial Park, steps from the river. After being harnessed to safety, an open Hummer drives you less than a mile to the first launching platform.
A series of 4 zip lines have you soar high above ground with views of the Snake River, the iconic Perrine Memorial Bridge, the canyon, and its golf course.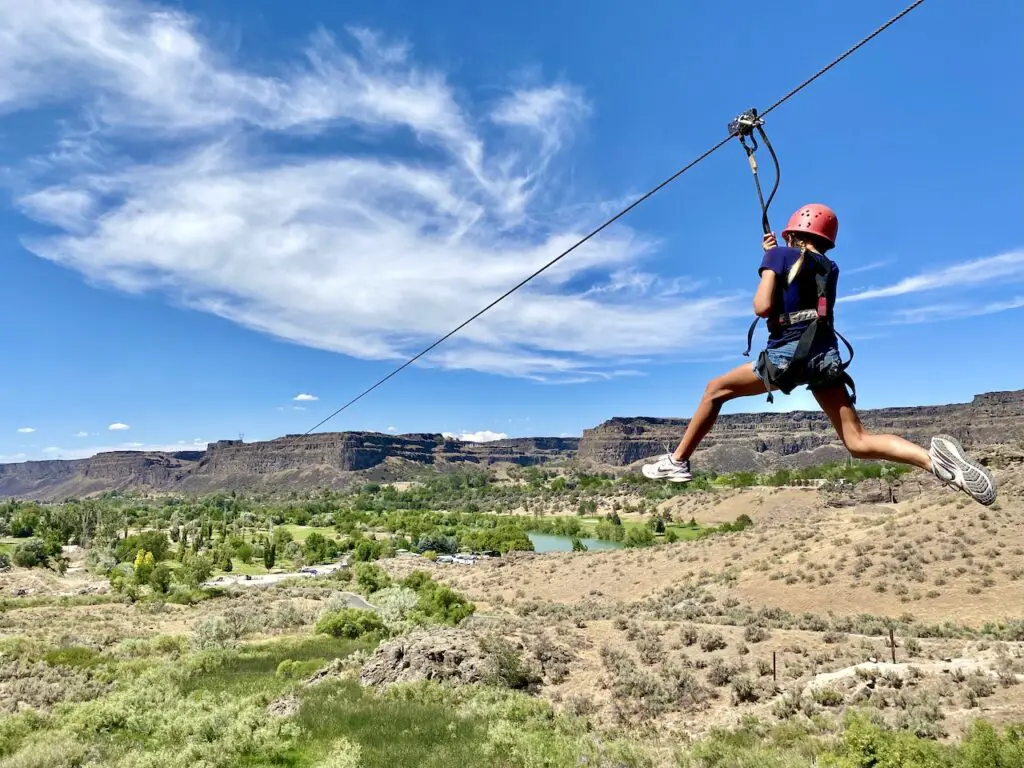 The whole course takes just over an hour and there are a couple of water stations along the way. On a hot day, take advantage of the iced water AWOL hands out before leaving!
We felt really safe with two guides helping on and off the zip lines. The minimum recommended weight is 50lbs to ensure your youngest adventurers don't get stuck on a course. If they do, they'll be quickly rescued by the guide.
3- AWOL Kayaking
Rivers are for kayaks. Kayaks are for family memories!
If you are in for the memories, this is it!
Right where you signed up for AWOL's zip lining adventure, rent some kayaks or paddle boards to paddle up the Snake River, all the way to the Perrine Bridge and beyond!
You can rent solo or double kayaks, as well as paddle boards from AWOL. Depending on how much time you have, the 2-hr session will give you plenty of time to make your way up to the Perrine Memorial Bridge and back down. You will be starting against the river flow and coming back in will be a breeze.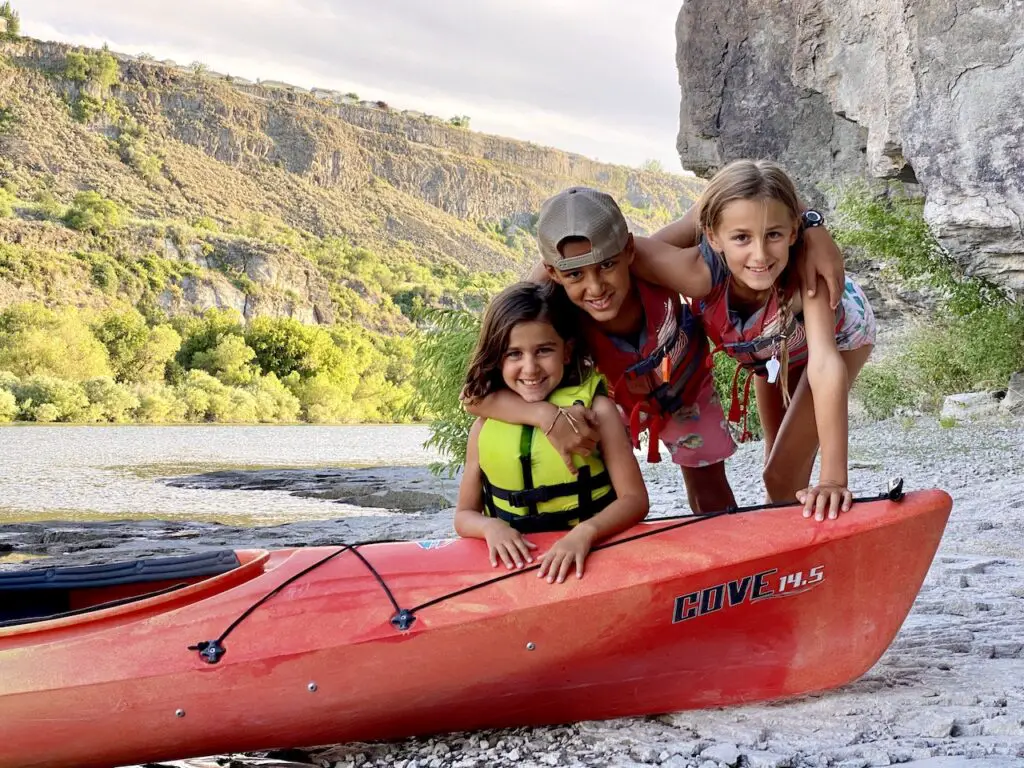 At the bridge, watch the base jumpers jump from the Perrine Bridge, and on your way back, park your kayak by the canyon rocks to let the kiddos play around and have a good time.
If you book the 4-hr session, you will have enough time to push past the bridge and make it to Pillar Falls, a beautiful site you can also see by hiking down from the trailhead.
4- Shoshone Falls Park
While in Twin Falls, ID, you can't miss the Shoshone Falls and their nightly illuminations.
Known as the Niagara of the West, the show is incredible. At 212 feet tall, did you know that the Shoshone Falls are higher than the world-famous Niagara Falls?
Park your car for $5 at either Shoshone Falls Park or Dierkes Lake and you are in for a natural wonder!
5- Mermaid Cove And Waterfall
Located in Jerome, on the north rim of the canyon (opposite side from the falls and Centennial Park / Visitors Center), get your GPS to guide you to Mermaid Cove, not far from the Twin Falls / Jerome KOA.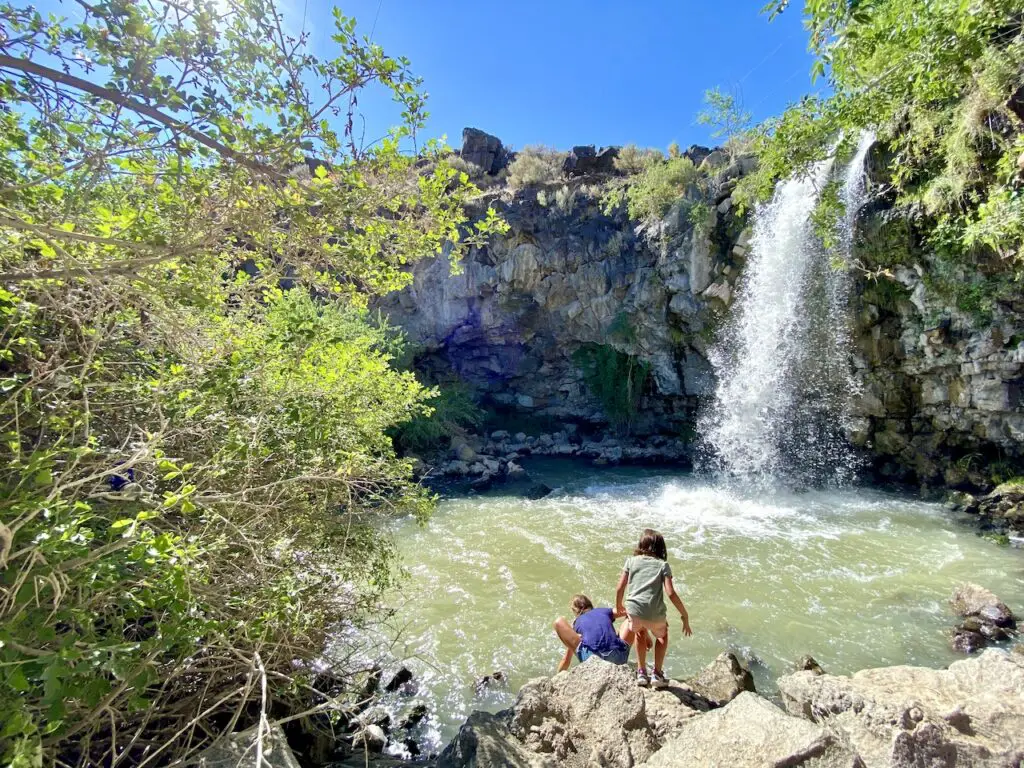 In the corner of the small upper parking lot, find the trailhead and hike down a short hike to the waterfall.
6- Kayak To Blue Heart Springs
In Buhl, ID; a 40-minute drive from Twin Falls, you will find the Banbury Hot Springs, located right on the banks of the Snake River.
At the hot spring / campground check-in desk, rent some kayaks and let yourself float down to this Caribbean-turquoise blue spring. You have the choice between solo and dual-kayaks, as well as paddle boards and the 6-person Megalodon paddle board.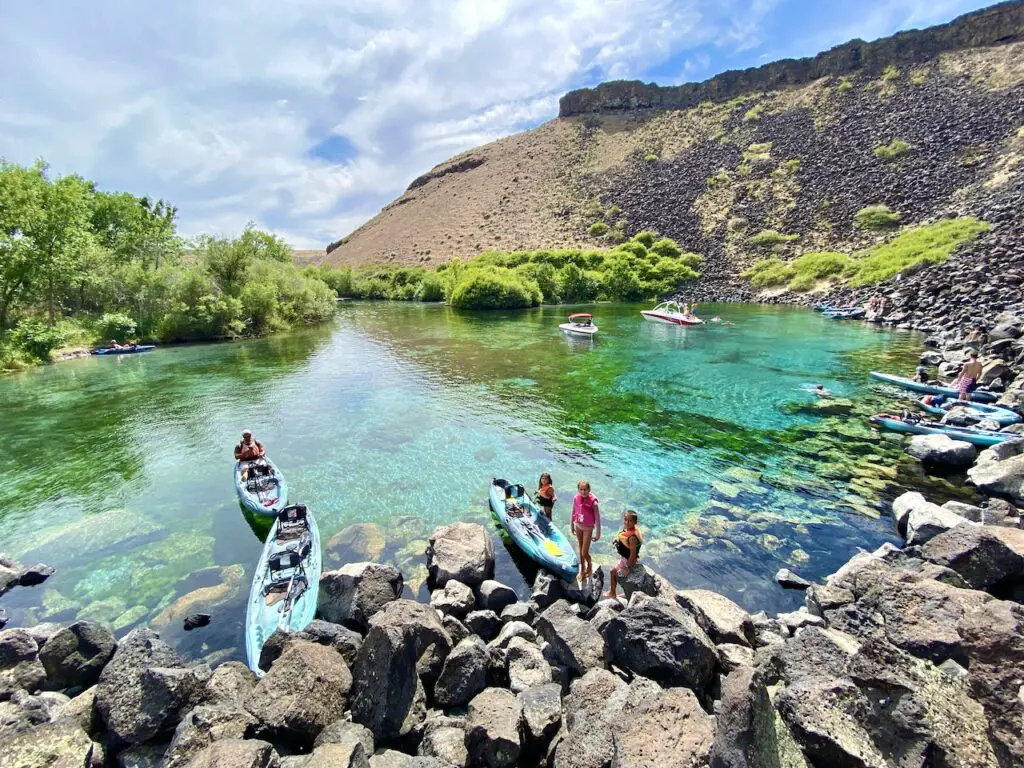 Appropriately named Blue Heart spring, it is a 45-minute downstream paddle from Banbury. The water is only about 65 degrees and the most adventurous will take a dip. Even if you don't, the sight is one to see!
The hot springs and kayak rentals do seem to be closed on Sundays – plan accordingly!
7- Banbury Hot Springs
After kayaking to your heart's content, go for a swim at Banbury Hot Springs. The geothermal-spring fed swimming pool is the perfect way to relax those muscles and let the kids enjoy themselves to their fullest.
The diving board is the big attraction, but so are the floating tree trunk or basketball hoops.
Upgrade your experience by renting a private hot pool by the hour for more intimacy and relaxation.
8- Thousand Springs State Park – Malad Gorge
Thousand Springs State Park is made up of 6 units, one of which is Malad Gorge, only half an hour northwest of Twin Falls, in Hagerman, ID. As with most other Idaho state parks, $7 per vehicle get you inside the park. Grab a map to the Malad Gorge Unit as you get in and make your way to the multiple viewpoints.
At Malad Gorge, an impressive canyon awaits you. You first stop is the only one with a short flat hike, giving you a closer look at the Devils Washbowl.
There, the Malad River carved its way 250 feet into a canyon taking it to the Snake River just 2.5 miles further.
Stop at all 6 stops along the way, with the other 5 being lookouts and marvel at our Earth's geological beauty.
9- White-Water Rafting With Idaho Guide Service
Right in Hagerman, book a thrilling (and very family-friendly) white-water rafting trip down the Snake River. Not only is Idaho Guide Service family-friendly, but it is family-owned and you feel like you become a small part of their family during your trip with them.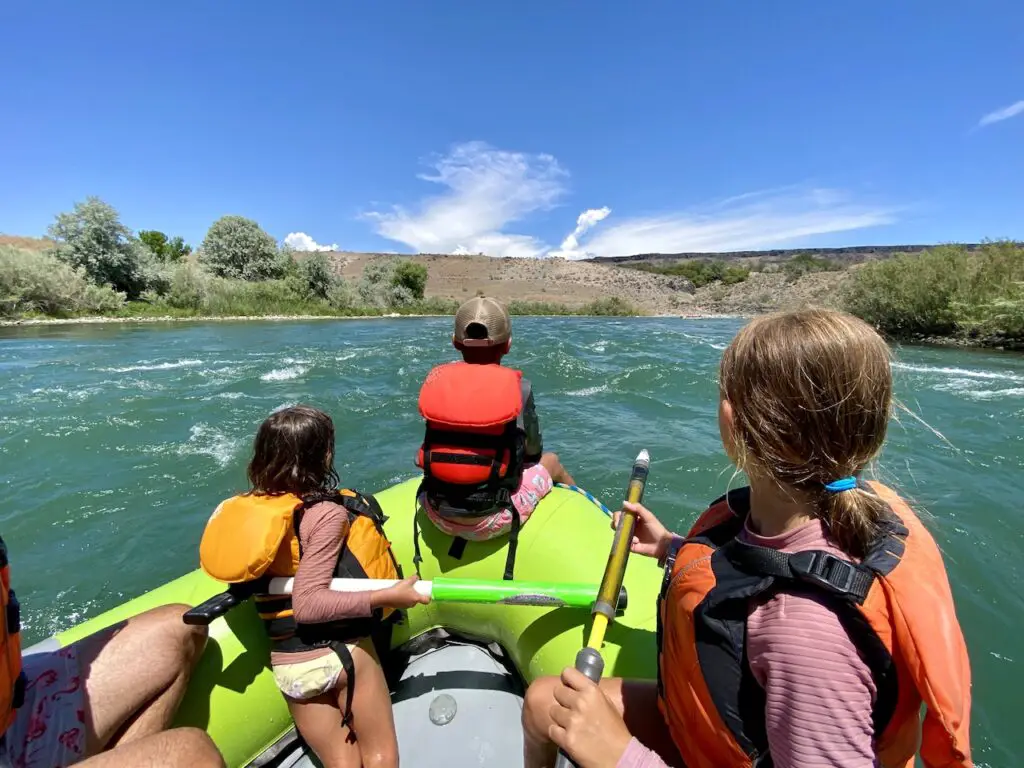 The guides are exceptional, teaching just as much about the river, as its fish population, history, and the sport of white-water rafting.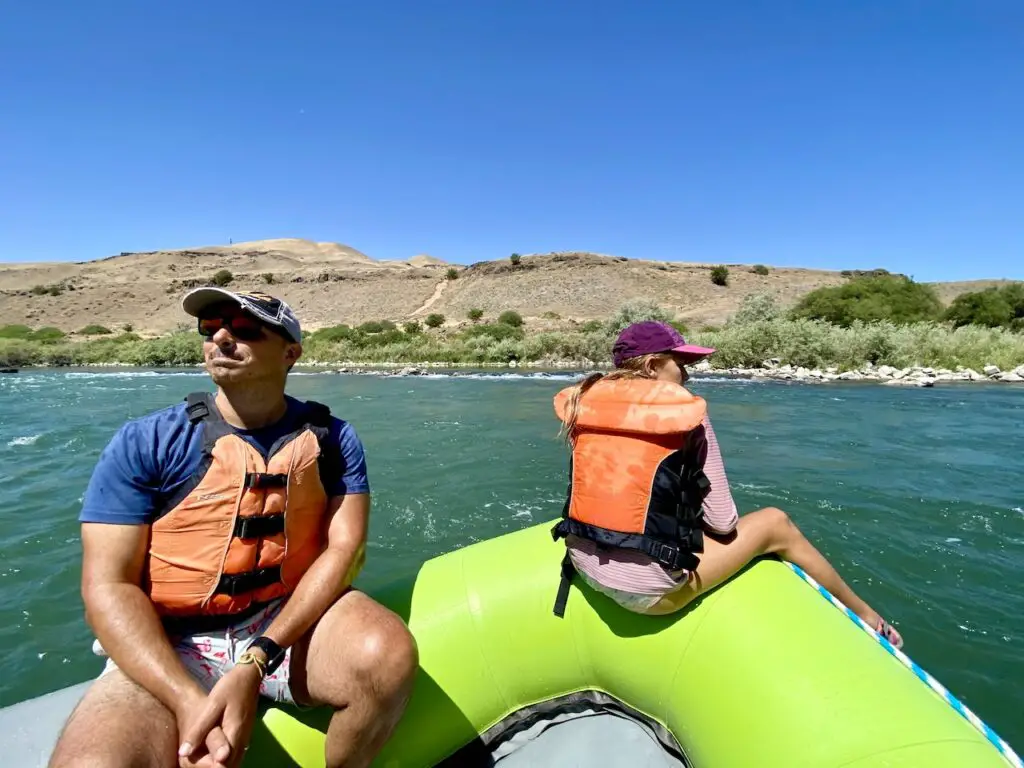 While Idaho Guide Service offers several trip packages on both the Snake and the Salmon Rivers, the Snake River Trip is your closest option when visiting Twin Falls, ID.
I highly recommend picking the trip with lunch so you do not need to pack your own lunch. The white-water rafting excursion is made of class 2 and 3 rapids, where you can expect to get wet and live the experience of a lifetime, while being completely safe for children ages 4+.
Our kids had the time of their lives, and so did every adult on the tour.
At lunch, we stopped on the river bank and were served wraps, veggies, and even dessert! We had time to dry up in the sun before continuing on our Snake River journey!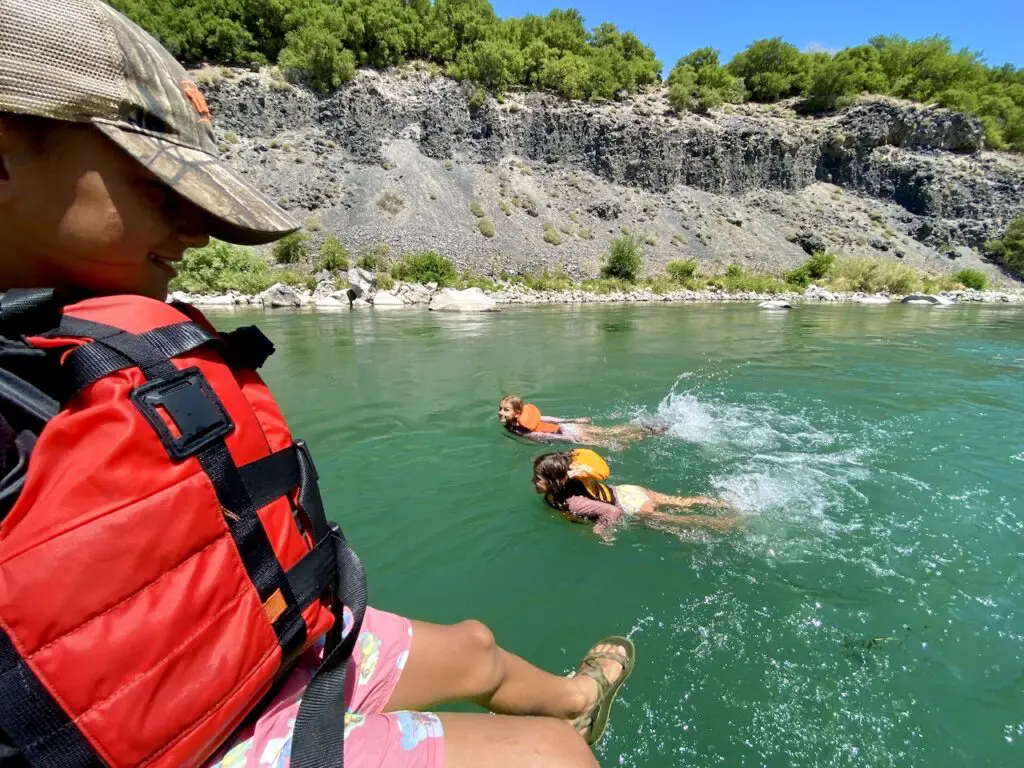 We all loved the rapid rushes and getting splashed with water. We also had fun playing water gun battles with some of the other rafts and picking mulberries from nearby trees. But really…. the life-vest floating down a gentle rapid and another 2 miles down the river took first place for family memories!
I can't recommend Idaho Guide Service enough if you are considering a white-water rafting trip down the Snake River! They have been giving tours of the river since 1974 and it shows!
10- Skillern Hot Springs
If you are hot spring lovers like we are, you have to make your way up to Skillern Hot Springs!
More of a day trip from Twin Falls than a short excursion, it is an experience like no other. If you like hot springs, this is the ultimate treat!
A 2-hour drive from Twin Falls, drive past Fairfield, ID and about 45 minutes on an unpaved mountain road taking you to the trailhead in the Sawtooth National Forest. From there, a 3-mile hike (6-mile round trip) rewards you with an experience like no other.
Either soak right in the river, where hot spring waters meet the cool river below, or hike a few steps up to the hot spring waterfall falling into a pool of warm water, perfectly warm to be comfortable on a hot summer day.
Word of caution – we encountered hundreds of hungry horse flies right at the springs. They left us alone while we bathed but were a bit aggressive just outside of the water. Be ready with bug spray!
You have 2 ways to reach Skillern Hot Springs. The upper trail has a bit of elevation change and takes you on a mountain hike with views of the valley below. If you use AllTrails, this is the trail the map takes you to. On the way back, you can decide to hike the lower trail, which is flat and crosses the river 4 times. It is a super fun and refreshing way to get back to your vehicle!
Where To Eat Near Twin Falls
I am going to give you a few options on places to eat near the activities above:
Twin Falls – 2nd South Market
Twin Falls, ID is a fun city with a hyp / college vibe to it. We loved walking around, getting some much-needed shopping done, and eating there.
2nd South Market will be your kind of lunch / dinner spot if you like rehabilitated spaces, food options to please everyone, and a relaxed atmosphere.
We have a similar place in Orlando that we love eating at, and those fun spots are right down our alley. We enjoyed poke bowls and awesome barbecue, but other options include Latin food, pizza, a yummy creamery, shakes & coffees, and a tap house.
On the right days in the summer, you will catch some live music
Hagerman – Snake River Grill
You could have lunch or dinner at the Snake River Grill any day that you visit the Banbury Hot Springs, Blue Heart Spring, Malad Gorge, or before or after your white-water rafting tour with Idaho Guide Service.
Ideally located near any of those attractions, it is a laid-back, homey-feel, local-farm-to-table restaurant serving local food you'll want to come back for.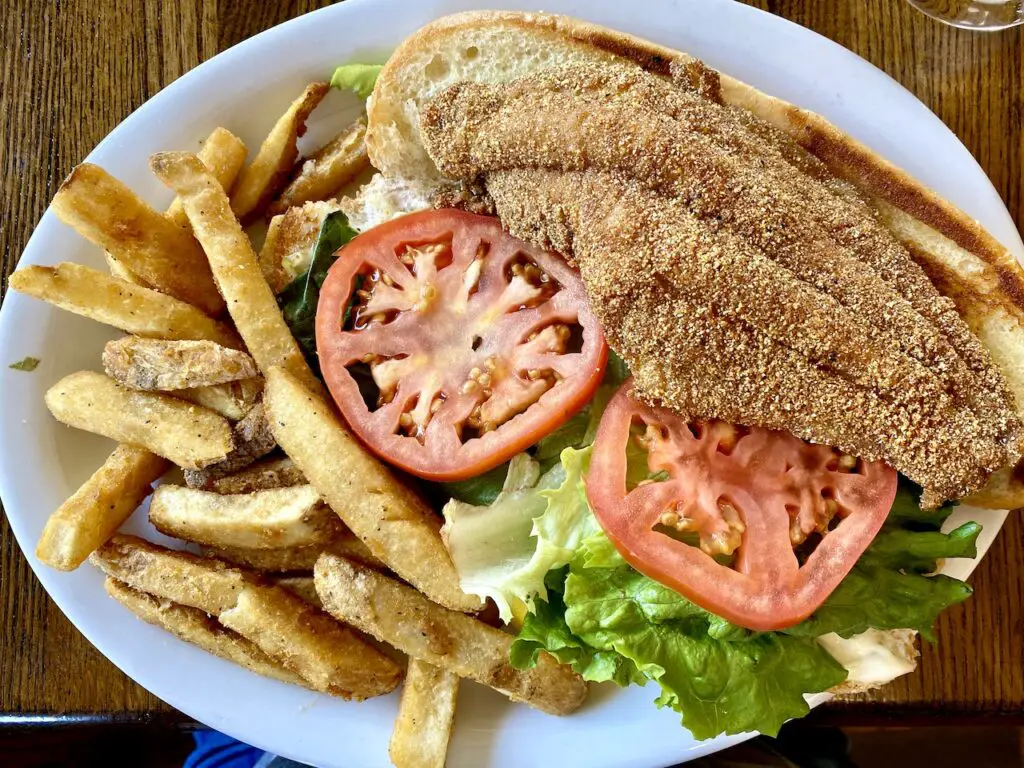 We opted for some local catfish and sturgeon sandwiches, which were amazing. The burger was really good and our littlest has been asking me to make her melted cheese ever since our visit!
What To Do In Twin Falls, ID With Kids
I hope you are looking forward to your visit to Twin Falls, ID, because you are in for a treat! Those 10 fun family activities in and around Twin Falls are just scratching the surface.
If you are a fun and thrill-loving family, this should fill your bucket list. There are many other options if you are looking for more nature activities near Twin Falls, and I recommend checking out the incredible resources of Visit Southern Idaho's visitors bureau for ideas on other things to do with kids in Twin Falls, ID!
A huge thank you to Visit Southern Idaho for hosting our family on this fun trip. While most meals and activities on this list were comped, all opinions are our own and reflect our personal family experience in Twin Falls.
---
Pin for later!
---
Related articles you will enjoy:
White Water Rafting Idaho With Kids – With The River Company
What To Do In Orlando With Kids – A 3-Day Itinerary
What To Do In Heber City Utah – Amazing Ice Castles & Soldier Hollow