If you're like us and have a couple of days to spend in Rome with the kids, I have the perfect Roman experience for the whole family. Yes parents, I am looking at you! This is your chance to live out your childhood dream and become a gladiator!!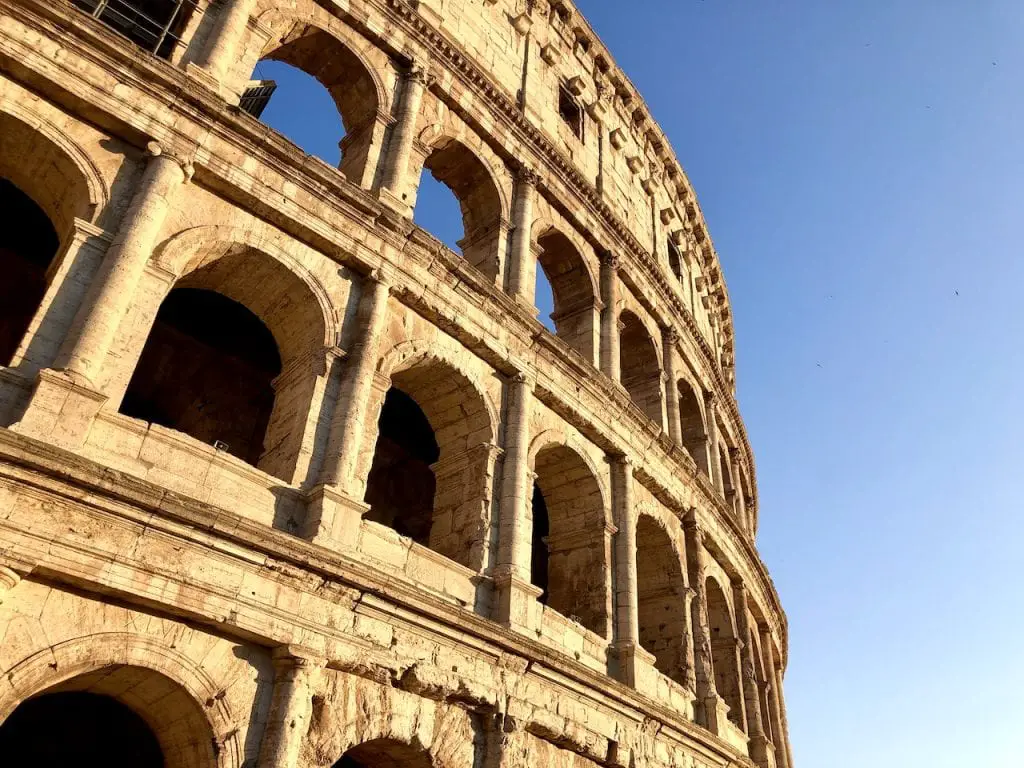 We did the Gladiator For A Day adventure with You Local Rome and couldn't have had a more genuine and fun day in Rome!
It is the perfect experience in Rome for kids and you can't miss it!
This is what you need to know:
What Will My Gladiator Experience Look Like?
1- Kid-Friendly Guided Tour Of The Colosseum (~1.5 Hours)
You can expect the Gladiator For A Day program to last 4 to 4.5 hours, and I promise you you won't be bored a single second.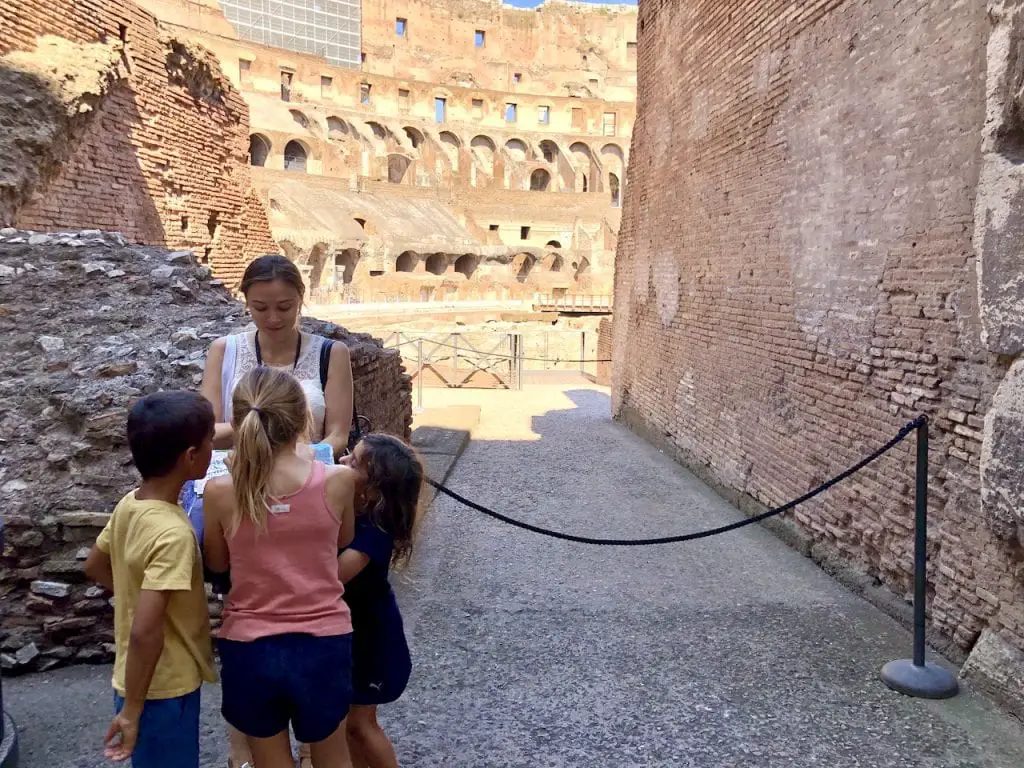 You will meet your wonderful guide at the entrance of the Colosseum where you will scan your cut-the-line entrance tickets (cost of tickets is included in the price of the Gladiator experience).
Inside the Colosseum, your guide will give you a grand tour of the building, inside and outside.
Our guide was incredibly kid-friendly. Mark and Ava probably had 50+ questions for her and she answered each and every single one of them with amazing patience. She was able to give answers the kids understood and her spoken english was perfect!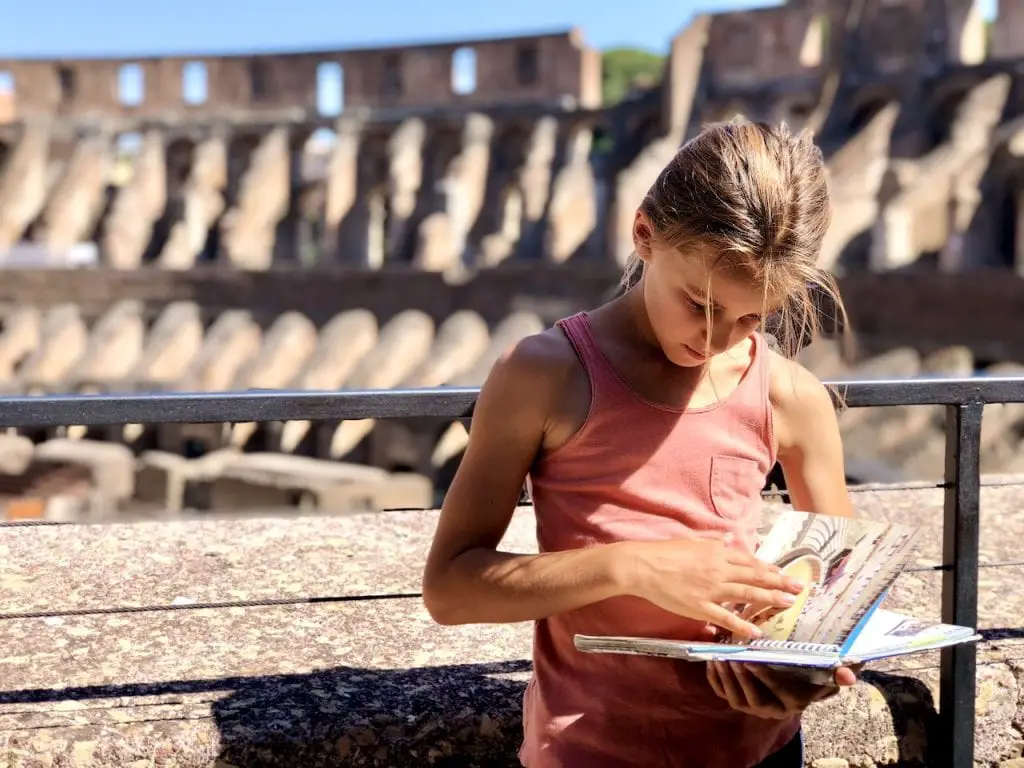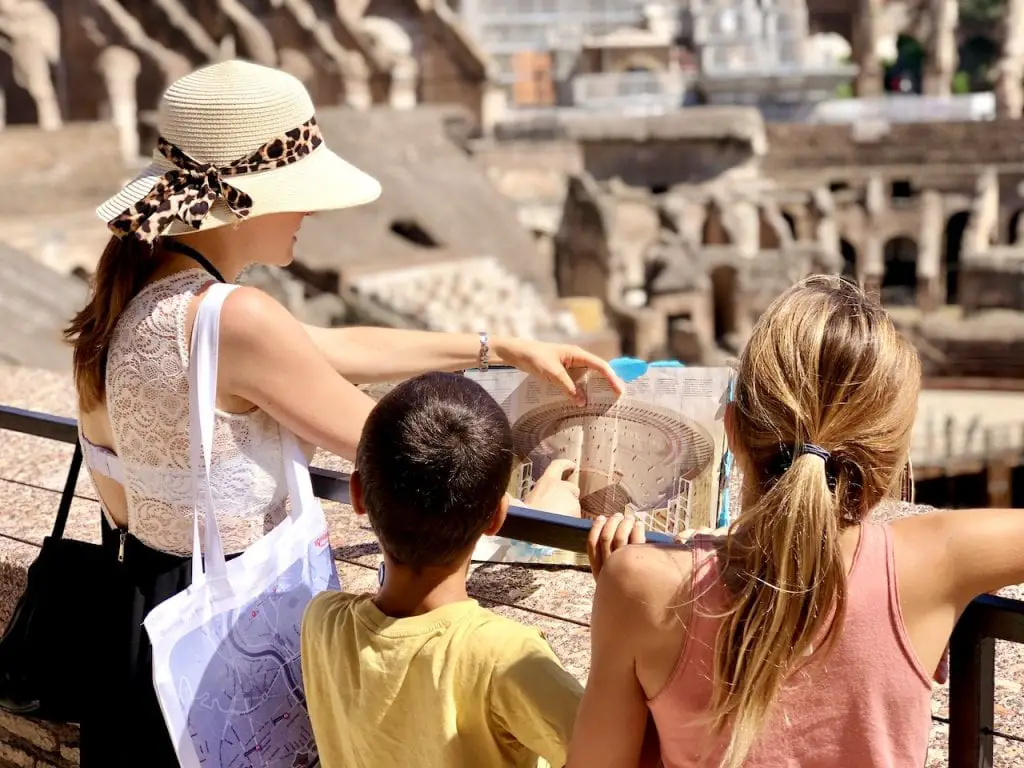 A vetted guide of the Colosseum, your guide will share his/her wealth of knowledge and teach you so much more than you would have gotten out of a self-guided tour. For the kids, this is a perfect example of high quality world schooling!
2- Taxi Transfer To Gladiator School (~20 Min.)
Once the guided tour of the Colosseum is completed (and all of your questions have been answered!), you will hop in a taxi for the Gladiator School of Rome. Your Gladiator For A Day ticket includes a round-trip taxi ride < Colosseum – Gladiator School – Colosseum > for total peace of mind!
3- At The Gladiator School Of Rome (~2 Hours)
There, you will be greeted by a professional gladiator and equipped with outfits and tools, as well as given a new gladiator name, by which you will be addressed throughout the lesson. From then on, you are a gladiator in training!
The gladiator lesson is split in three activities.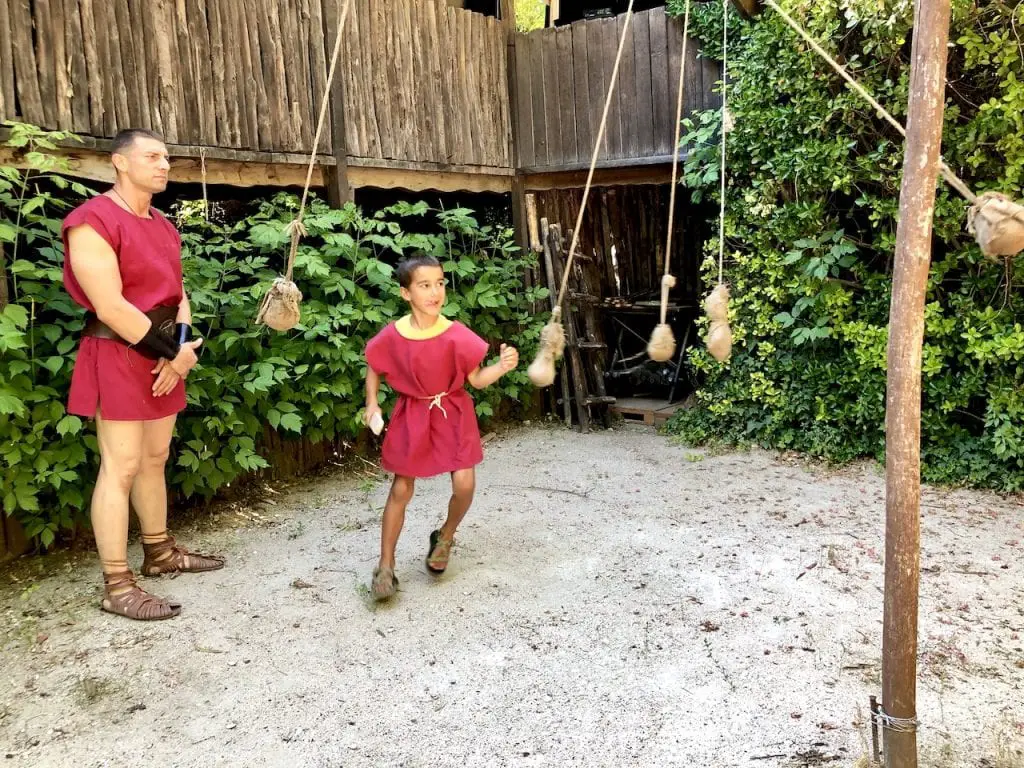 The aspiring gladiators (adults included!) will first be led through a warm up and workout session. A series of drills will get you ready for training!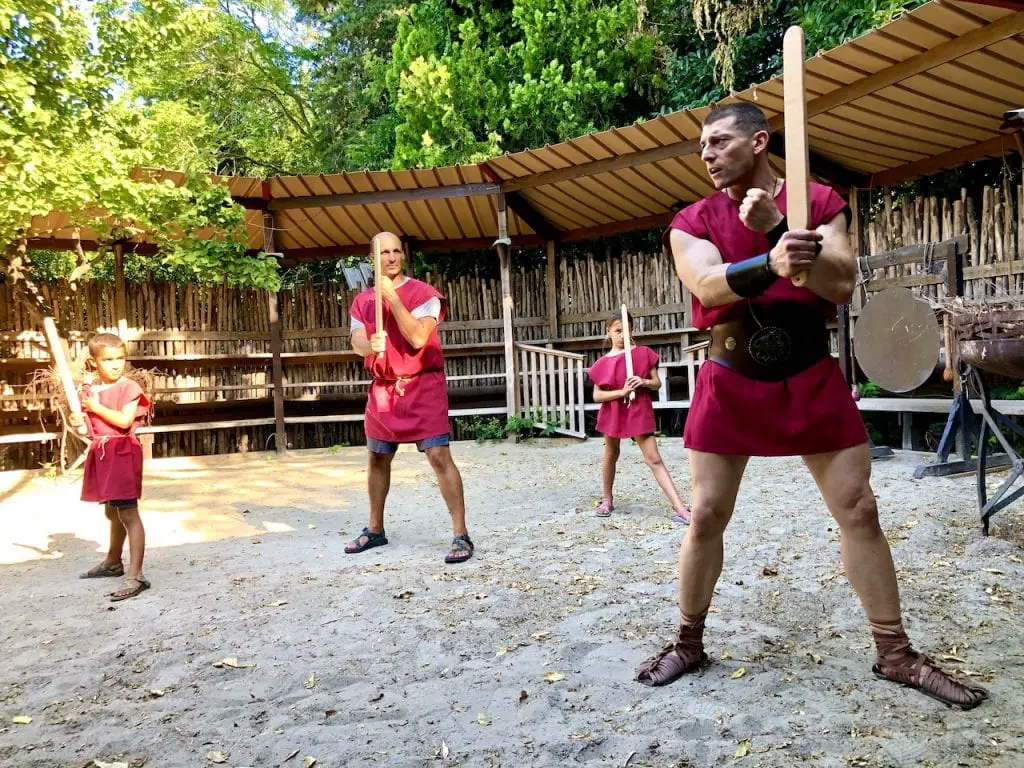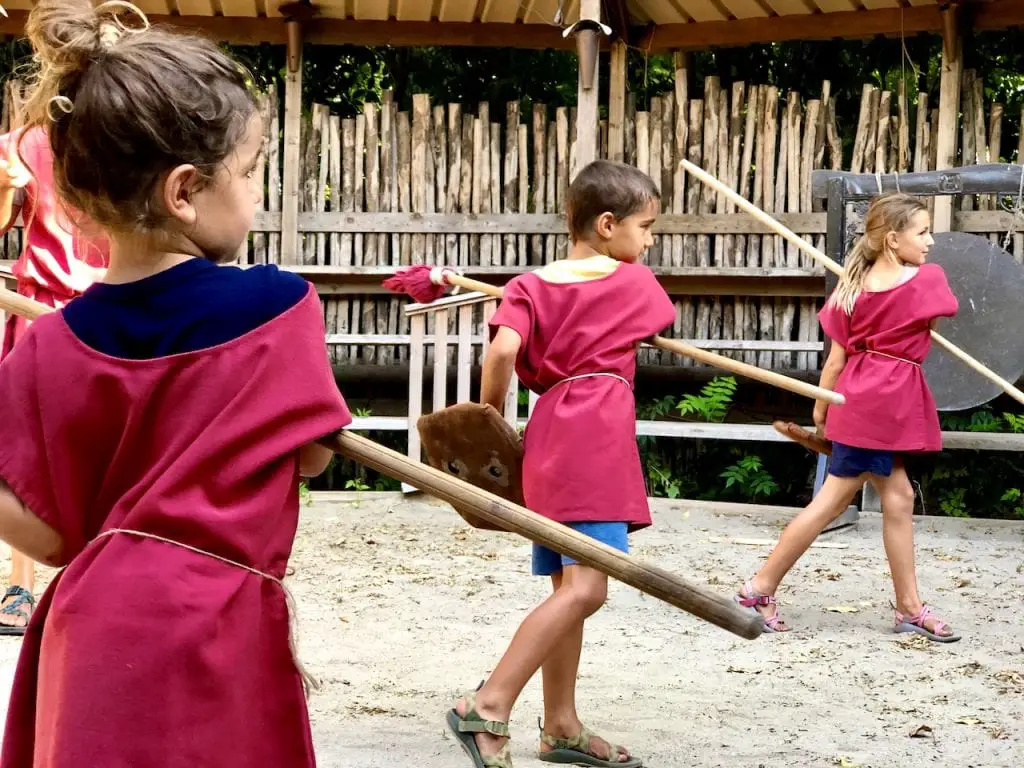 You will then be taught essentials moves to get ready for battle. Starting with elementary successions of moves, you will learn to use different tools and get ready for combat.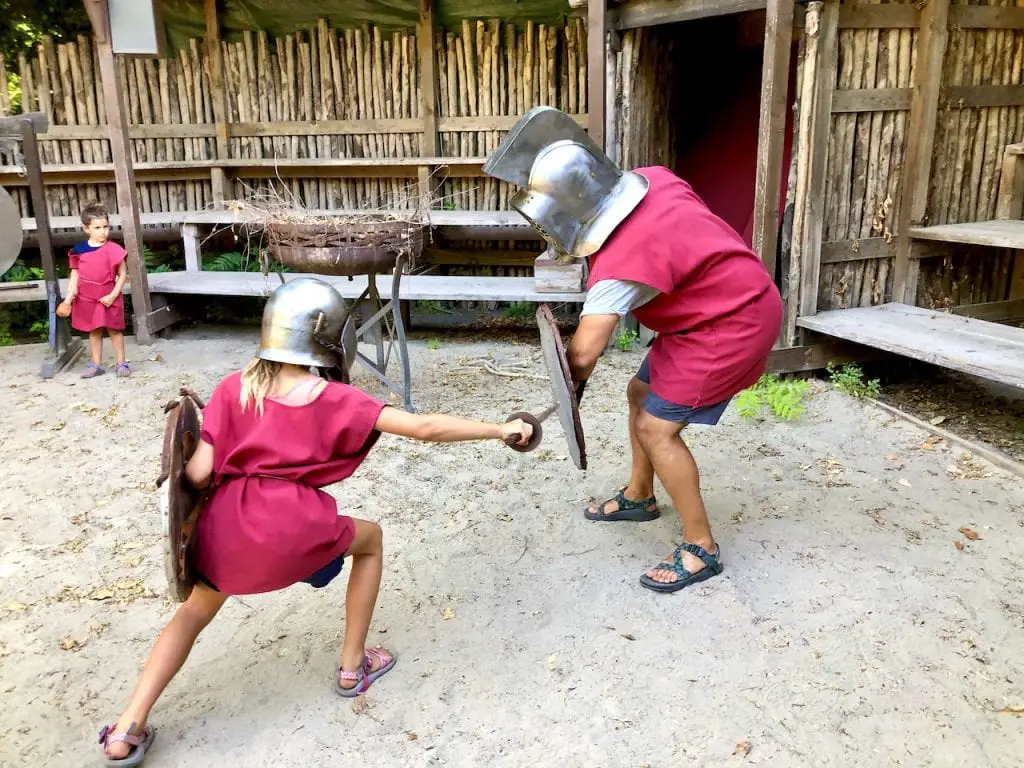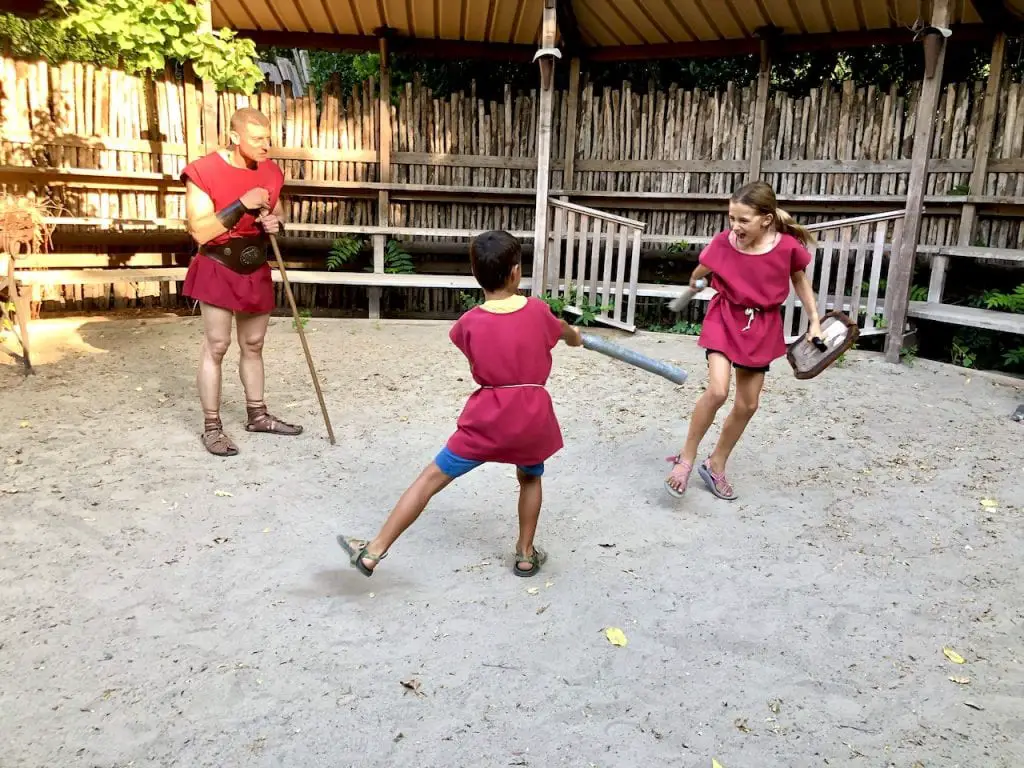 The last portion of the gladiator lesson is the fight – kid-friendly and safe of course! This part of the course was our kids' favorite. The smiles on their face was their best testament. They grinned from ear to ear through the entire lesson, and the fighting brought out their friendly competitive edge and they were squealing in happiness!
4- Taxi Transfer Back To The Colosseum (~20 Min.)
Once you are done with your gladiator training and sworn in as a citizen of the city of Rome, hop in the taxi back to the Colosseum.
Best Ages To Participate In Gladiator For A Day
All of us took part in the Gladiator Training and I would say that the Gladiator For A Day program is best enjoyed by children ages 4 and above!
We, as adults, had an absolute blast as well! We all loved the guided tour of the Colosseum, as well as the physical gladiator training.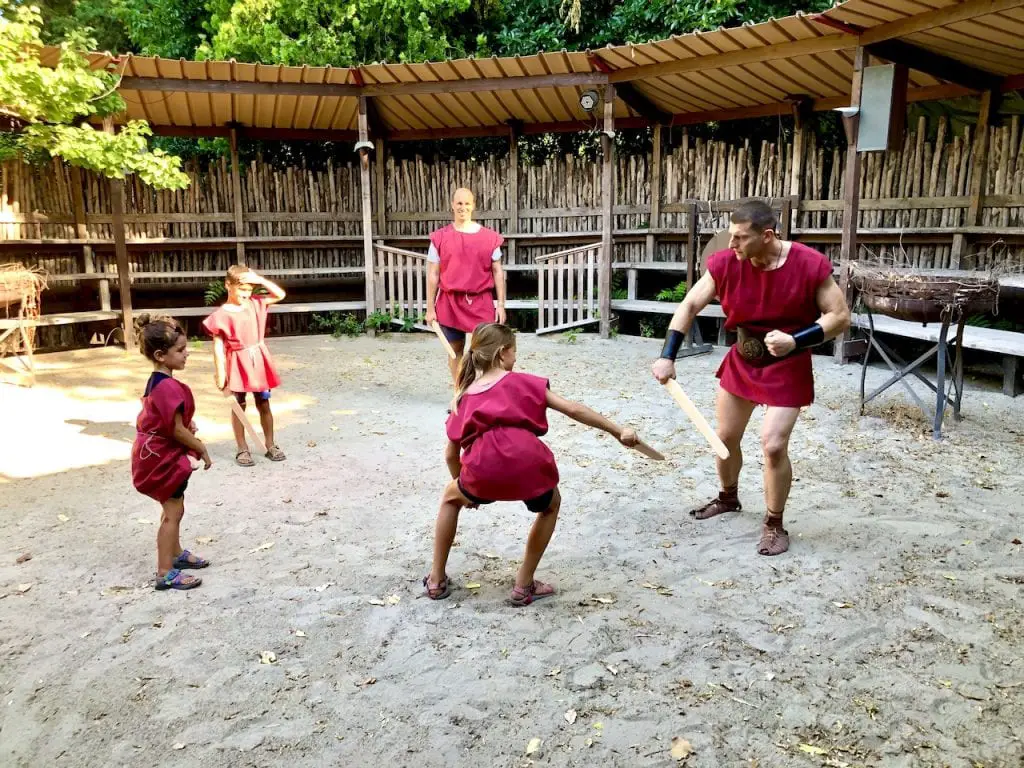 If you have children younger than 4, I would definitely not shy away from the program. Kids ages 1 to 6 pay a reduced fee of 20 EUR, which is great value for a cut-the-line guided tour and they will definitely be entertained by their siblings' gladiator lesson as well!
Bring Hats And Water
Depending on the time of year (the Gladiator For A Day program runs year-round), the weather could be very hot, especially in the Colosseum.
Bring at least 2 refillable water bottles for the whole family to stay hydrated! Once inside the Colosseum, there will be a bathroom before you head up and you will need your own water for most of the visit.
You will find really cool water stations right outside of the Colosseum to fill up on flat and bubble water before and after going in!!
Wear Sneakers
Make sure you are wearing comfortable walking shoes. You will be spending about 3 hours of your time on your feet, and while nothing is really strenuous and you won't be walking long distances, comfortable shoes will probably work best.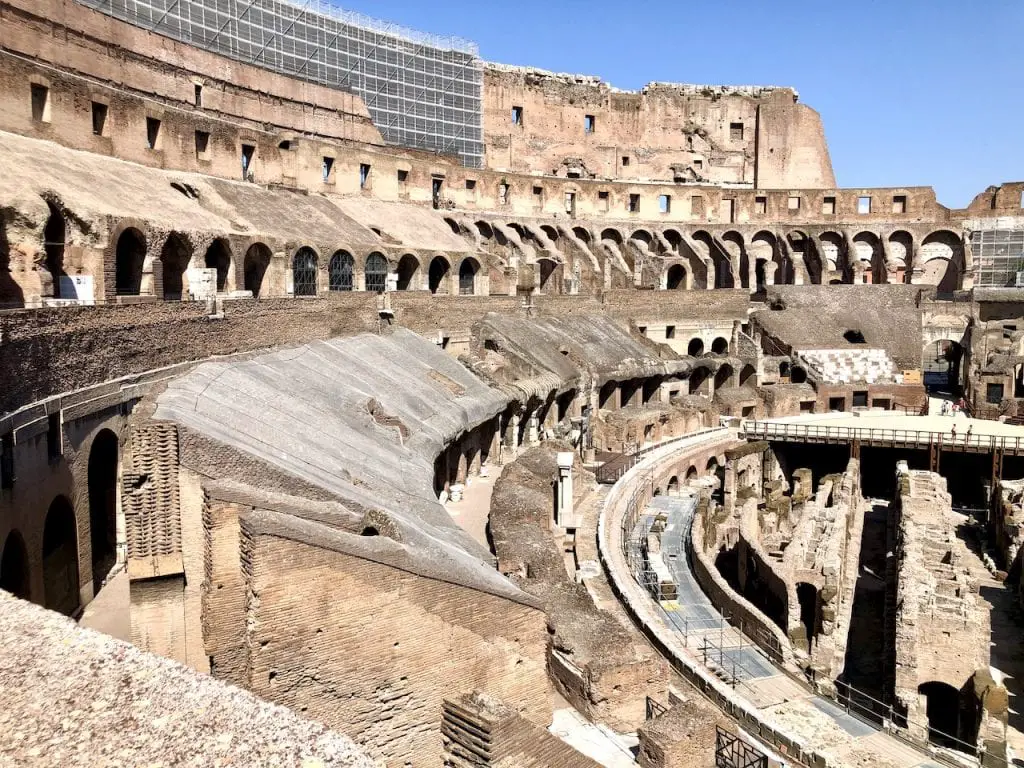 The gladiator training is on sand and sneakers are a bit more comfortable than sandals.
Insider Tip: Bring Moskito Spray
This one is not a necessity but there were a few mosquitoes flying around the Gladiator School of Rome. They provided us with bug spray, which was amazing. But if you have a favorite brand, bring it with you to protect yourself.
Use Your Ticket To Visit The Roman Forum
Your Colosseum tickets give you access to the Roman Forum within 24 hours of clicking in at the Colosseum.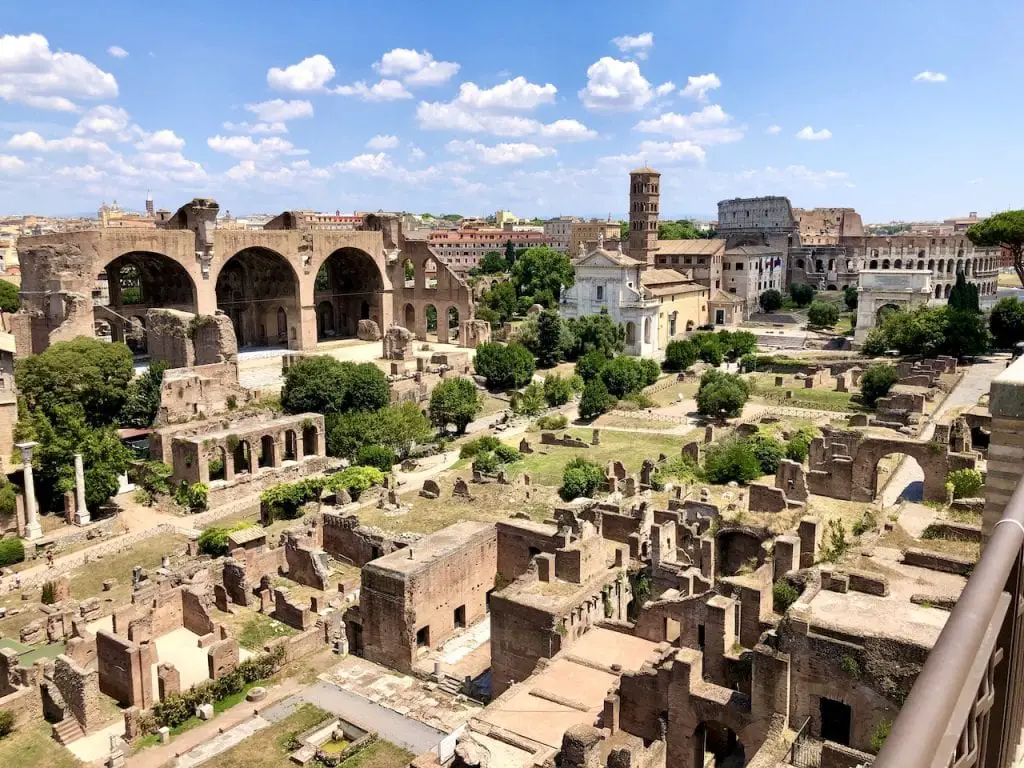 We did our Gladiator For A Day program during the late afternoon, so we came from back for the Forum the next day! I loved that perk and would highly recommend not missing the Roman Forum. It's an incredible site to see!
Why You Local Rome?
You Local Rome hit the ball out of the park! They were amazing in every way.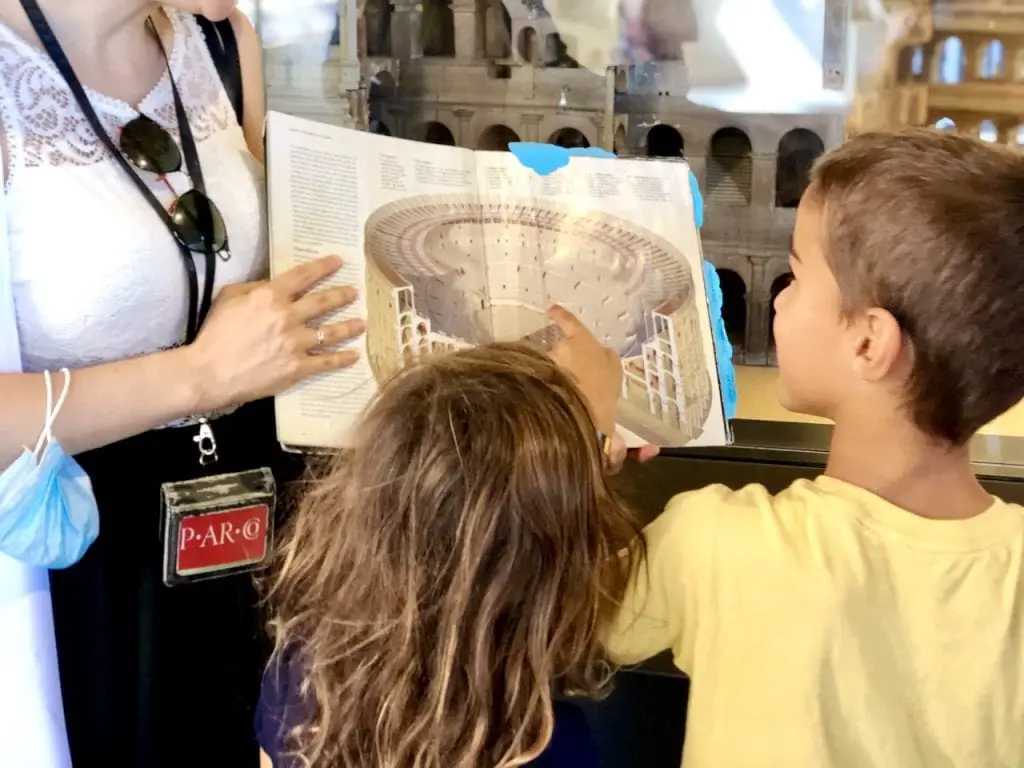 You Local Rome offers several family tours in Rome and they are always kid-friendly experiences. They have a Family Walking Tour Of Rome, an Ancient Rome For Kids tour, and a St. Peter's Basilica And Dome Tour. But check their website often as they add new family-friendly experiences in Rome!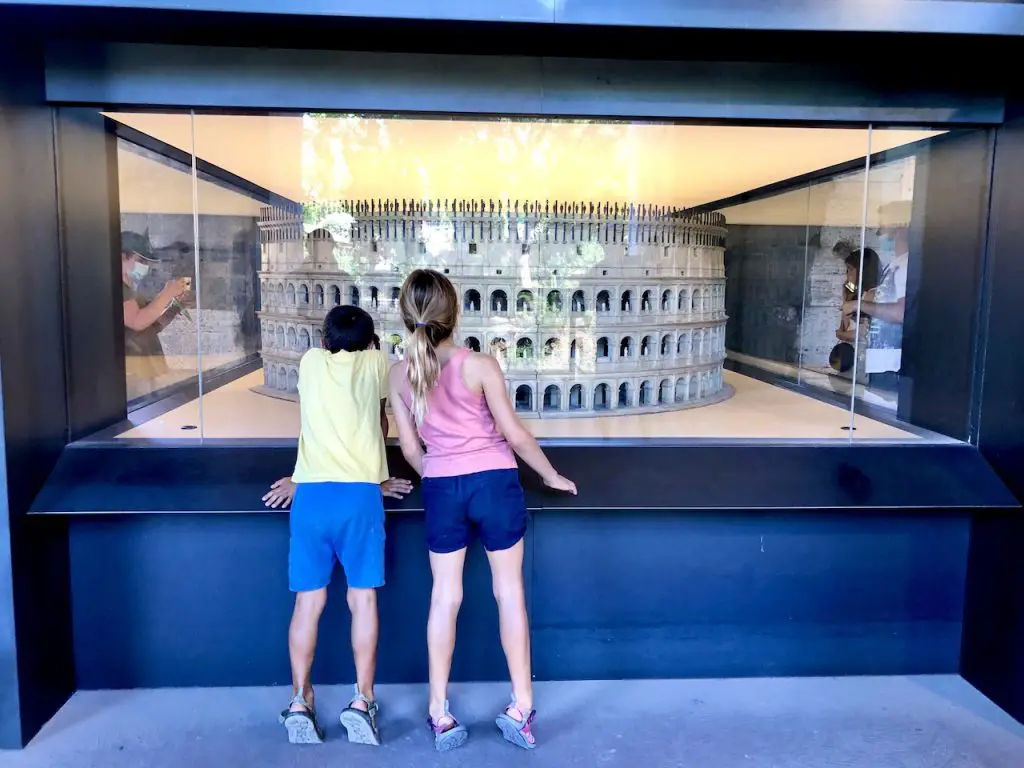 Once the experience booked, I loved not having to worry about the details. They booked the Colosseum tickets and the taxi transfers were included. We only had to show up! For an extra fee, they will organize a half-day private driver for your party!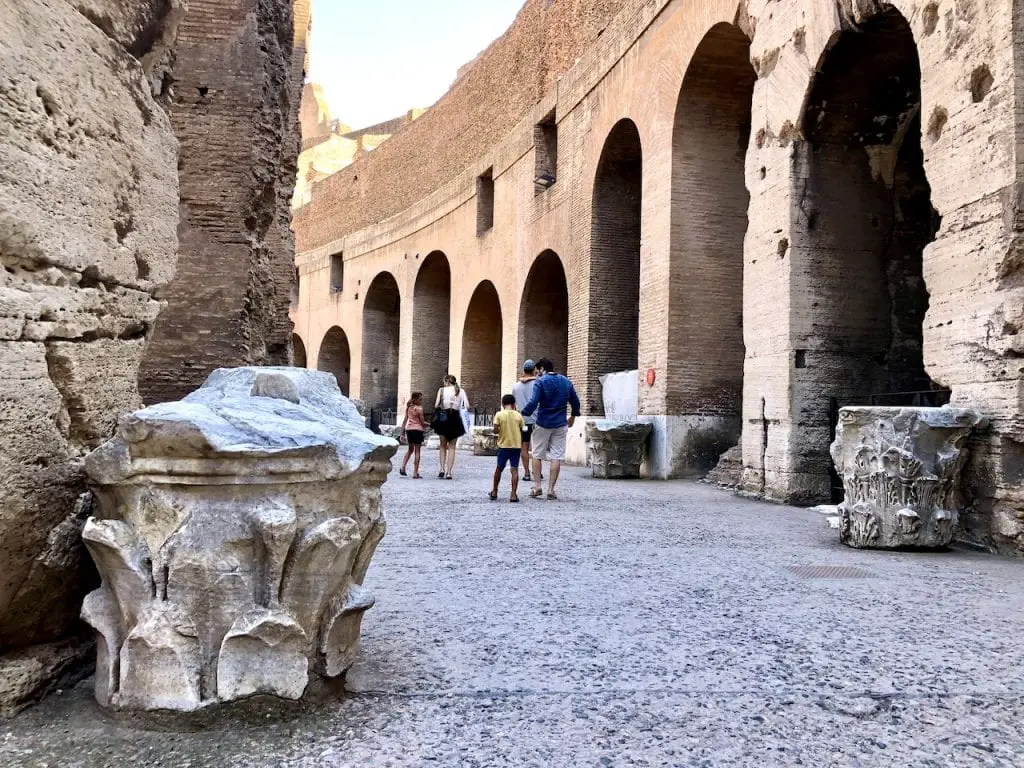 At You Local Rome, you can customize your tours of Rome. We got to pick which time worked for us and were in touch with them throughout the scheduling process. But I love that they will 100% personalize your tour if you ask them. Make sure to be in touch with them and schedule an off-the-beaten-path tour of Rome to discover the city like a local! You can even book an airport pickup with You Local Rome! They are the perfect partner when visiting Rome with kids!
And be sure you visit their blog for Rome locals' tips. This is one of my favorite article of theirs: Our Favorite (Non-Touristy) Trattorias In Rome!
Best Experience In Rome With Kids
We have been to Rome 5 times, twice since the kids were born, and their Gladiator For A Day experience with You Local Rome has definitely been the highlight of their visit, and probably one of their most memorable travel memories!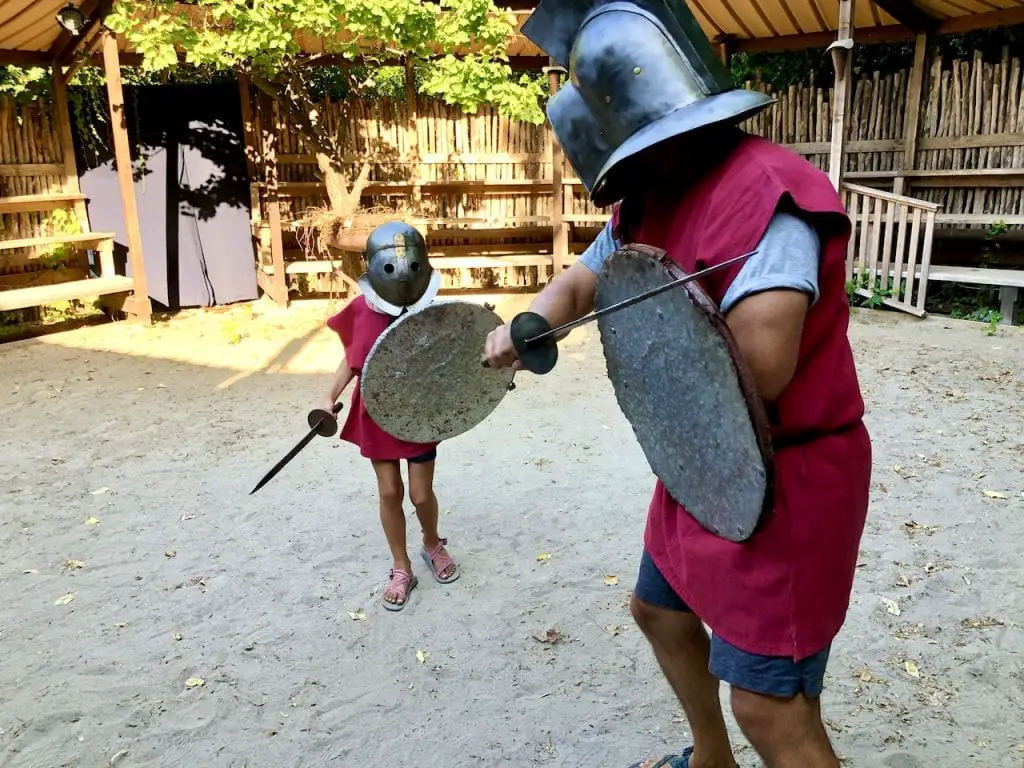 I can't recommend the guys from You Local Rome enough. They are so incredibly kind and offer some of the most family-friendly tours in Rome (or any city as a matter of fact).
Their Gladiator For A Day program is high quality and you will come out of your experience totally thrilled!
---
Pin this for later!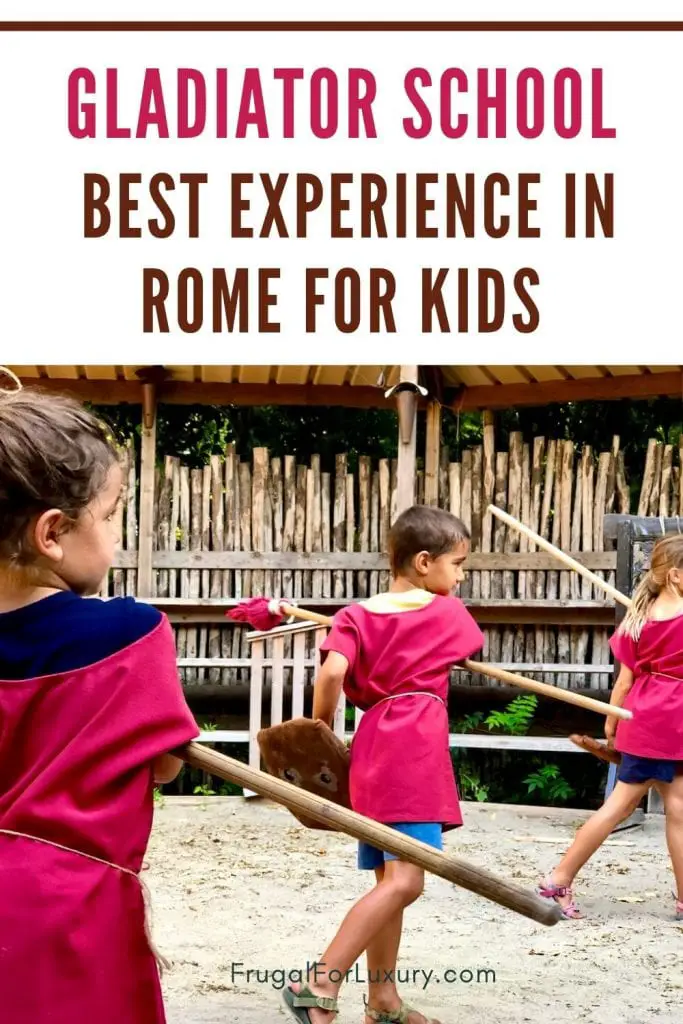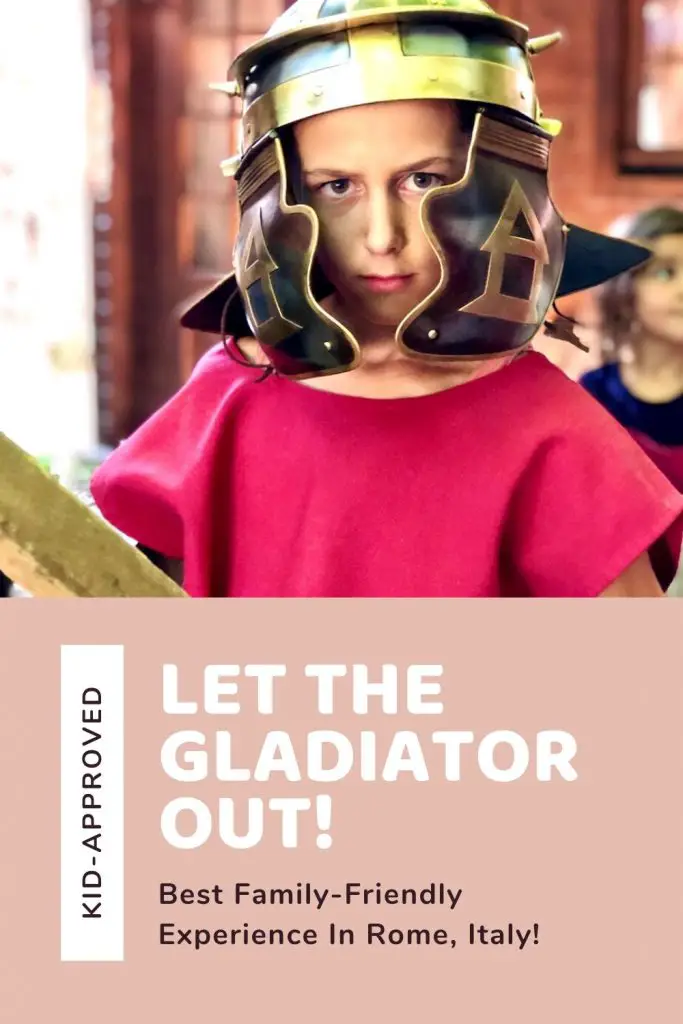 ---
Related articles you will enjoy:
8 TIPS FOR VISITING PLITVICE LAKES NATIONAL PARK WITH KIDS
HIKING PAKLENICA NATIONAL PARK WITH KIDS
BEST DAY TRIP FROM LJUBLJANA WITH KIDS – POSTOJNSKA JAMA
If you enjoy reading us, sign up for our newsletter below!