Disclaimer: I was provided a free booster seat from MiFold but all thoughts and opinions expressed herein are my own. Please read our disclosure policy for more information.
If you guys need to know 3 things about me –
1- I love to travel!! …can't ever get that wanderlust satisfied…
2- Hubby and I won't leave without our 3 crazy kiddos
3- I'm too cheap to pay for luggage…. I'd rather pack just one suitcase for the 5 of us (yep – did that on a week-long ski trip and on a 9-day expedition to Costa Rica!) than pay for a second checked luggage!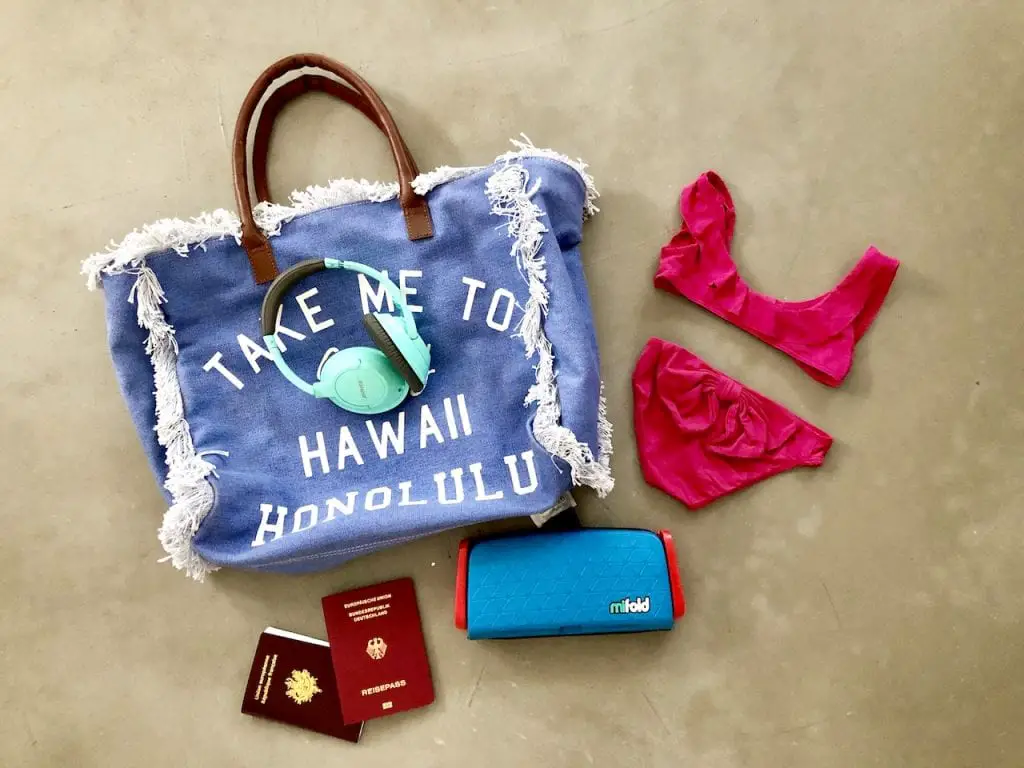 Now that we can put this behind us, let's talk about one of my favorite family travel accessory. I have this one on my short list of MUST-HAVES when traveling with children – the MiFold booster seat!
MiFold Booster Seat
Whether you travel short or long distances with kids, your hands are full. If you are lucky enough to not be carrying a child (or two), you will be dealing with everyone's sweaters, backpacks (because let's be real – they won't want to carry those either…), pulling a luggage, and trying to keep an eye on all those walking feet.
Add to that a car seat or booster seat per child, and if you're like my husband, you will be sweating and silently hating the whole wide world for a minute. YES, it is still worth it! You should be traveling with your children. But no, the whole flying, airport, taxi, shuttle part, is rarely fun.
If I told you that MiFold makes a Grab-and-Go Booster, 10 times smaller than a regular one but just as safe… would I get a happy dance?
How Does MiFold Work?
Let me start with the safety piece. The first thing you'll notice in the MiFold booster, is its thickness – or lack thereof.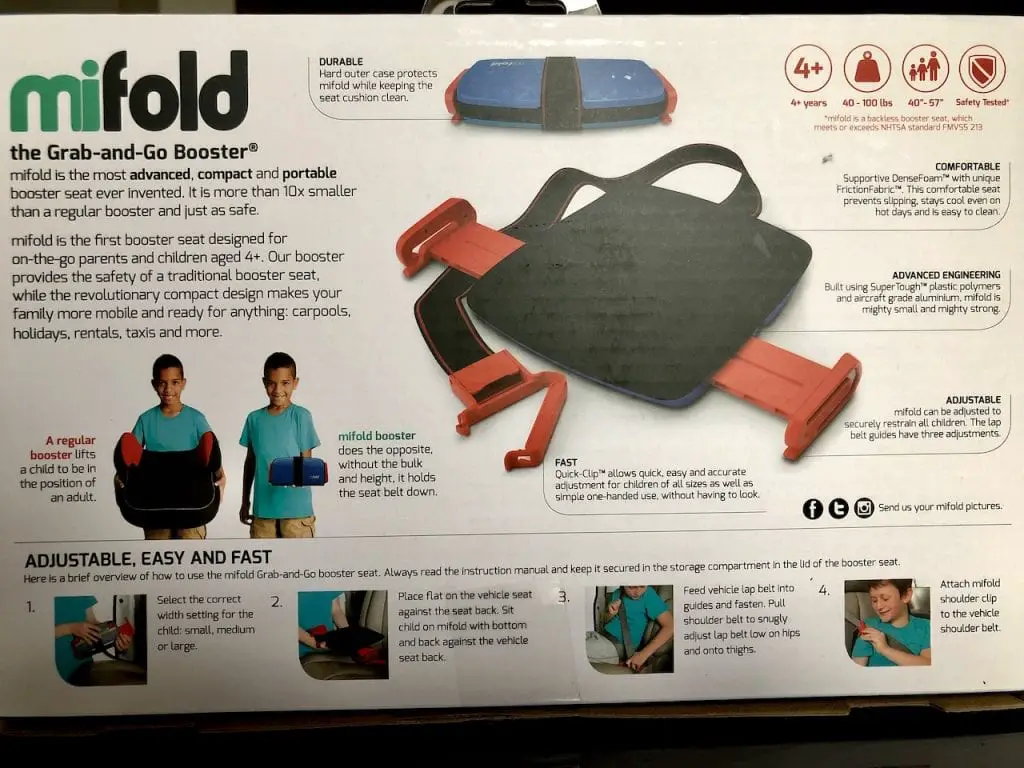 What a regular booster seat does, is raise the child's height to an adult size. What MiFold does, is the exact opposite. It holds the seat belt down to where it is safe for the child's size. In other words, it is able to offer a thin seat with the same safety benefits!
The actual mechanism is super simple. The MiFold booster comes folded for space efficiency. The outer shell becomes its protecting case, keeping the actual seat clean!
1- As necessary, extends the red lap belt guides to one of three width to fit your child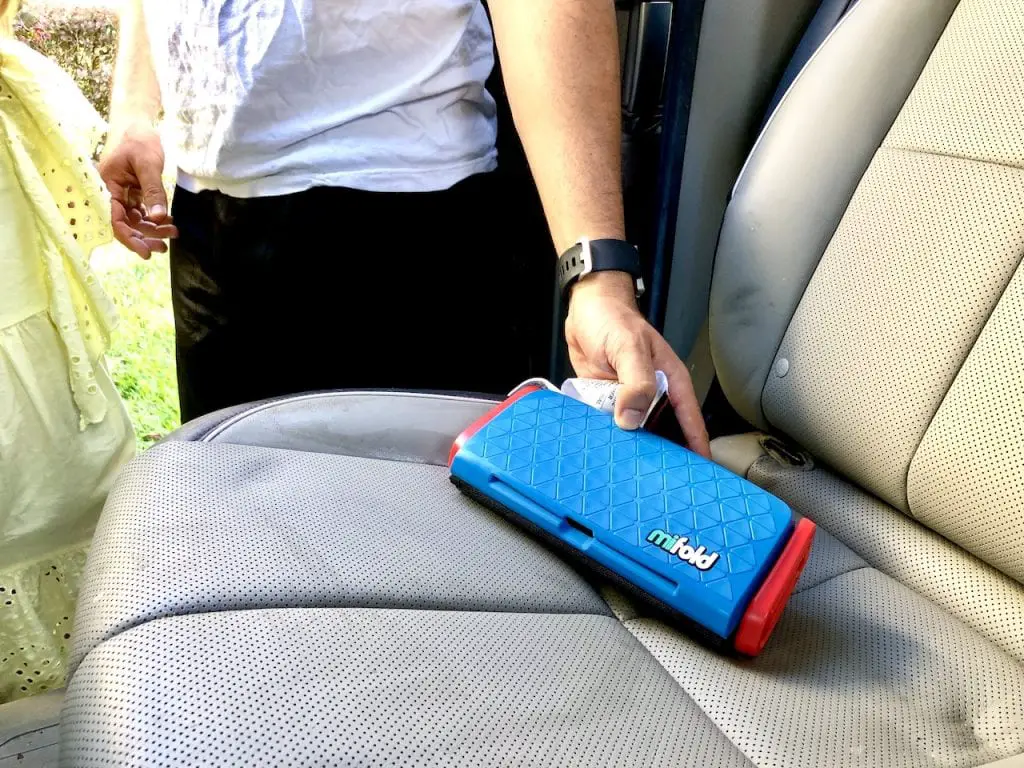 2- Unfold the seat to place it plat on the car's seat and against the seat back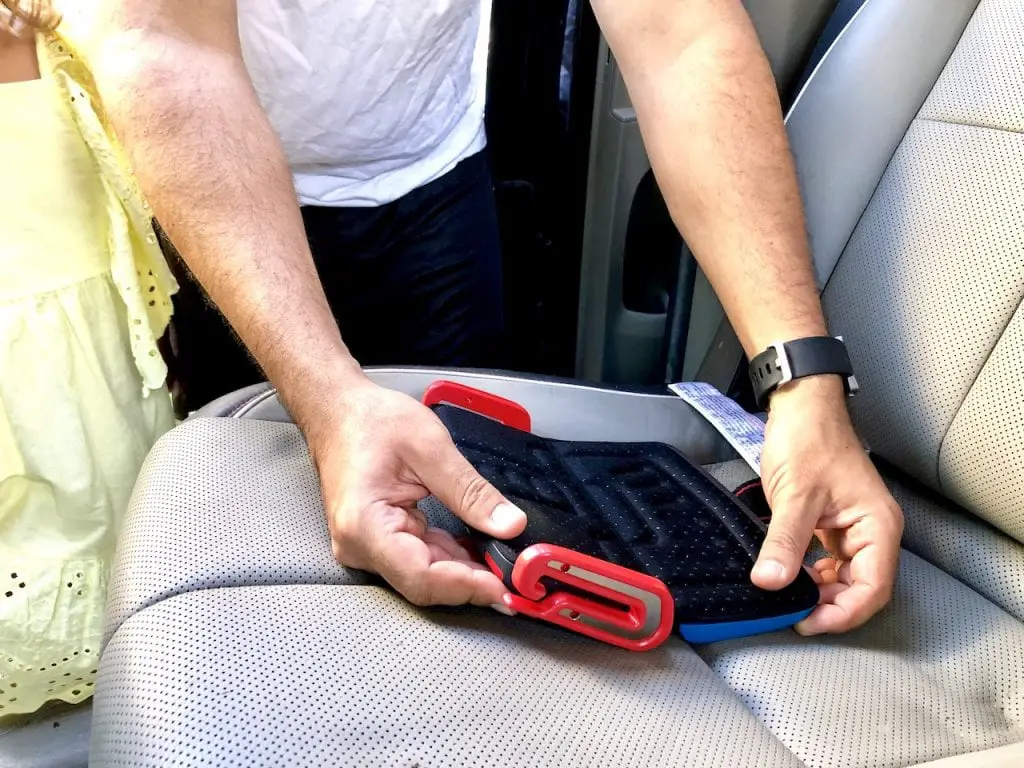 3- Sit the child on the booster with her back against the seat back, and slide the lap belt into the guides to fasten, pulling the shoulder belt to snuggly adjust the lap belt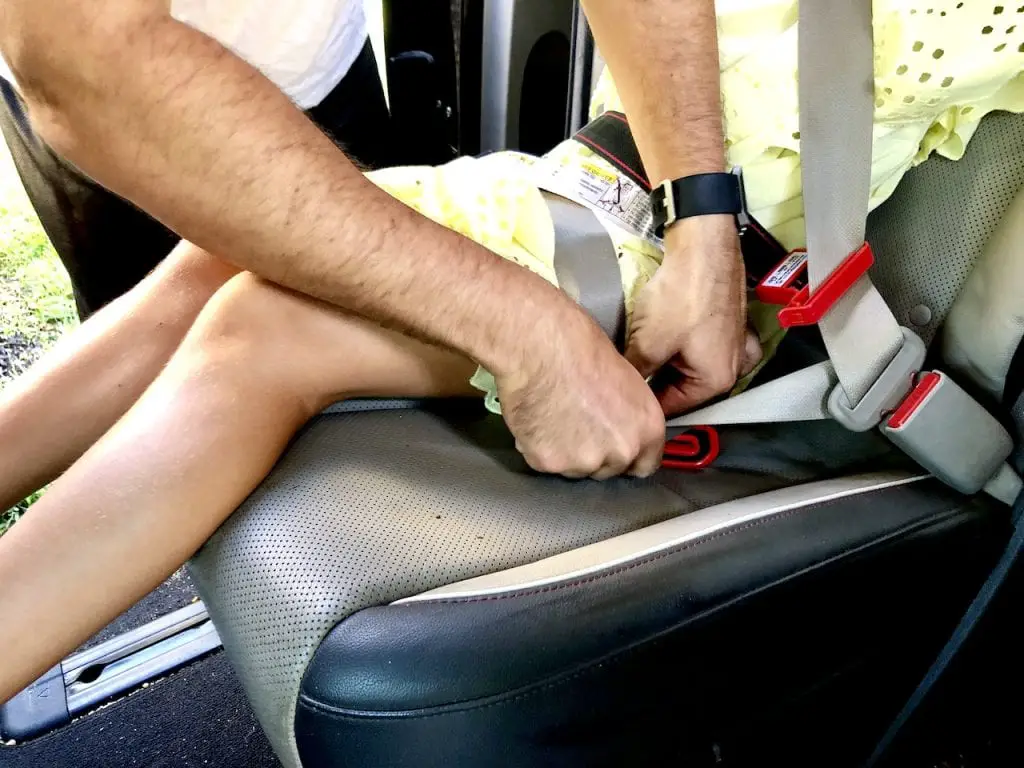 4- Attached the MiFold shoulder clip to the vehicle's shoulder belt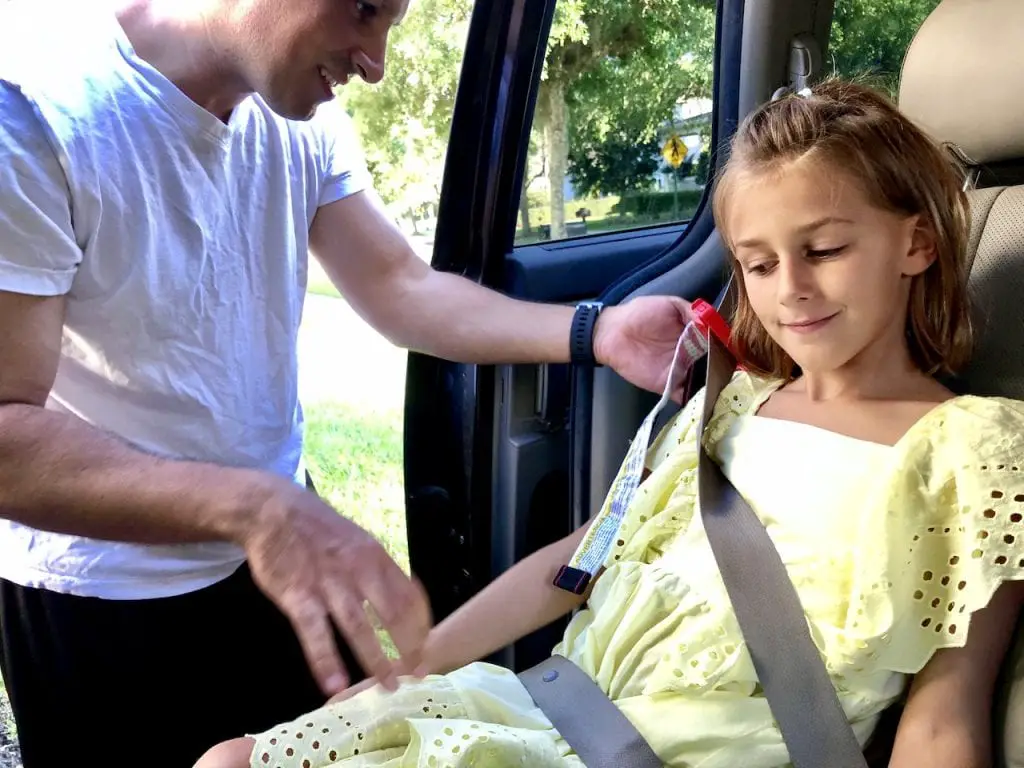 5- Enjoy the ride!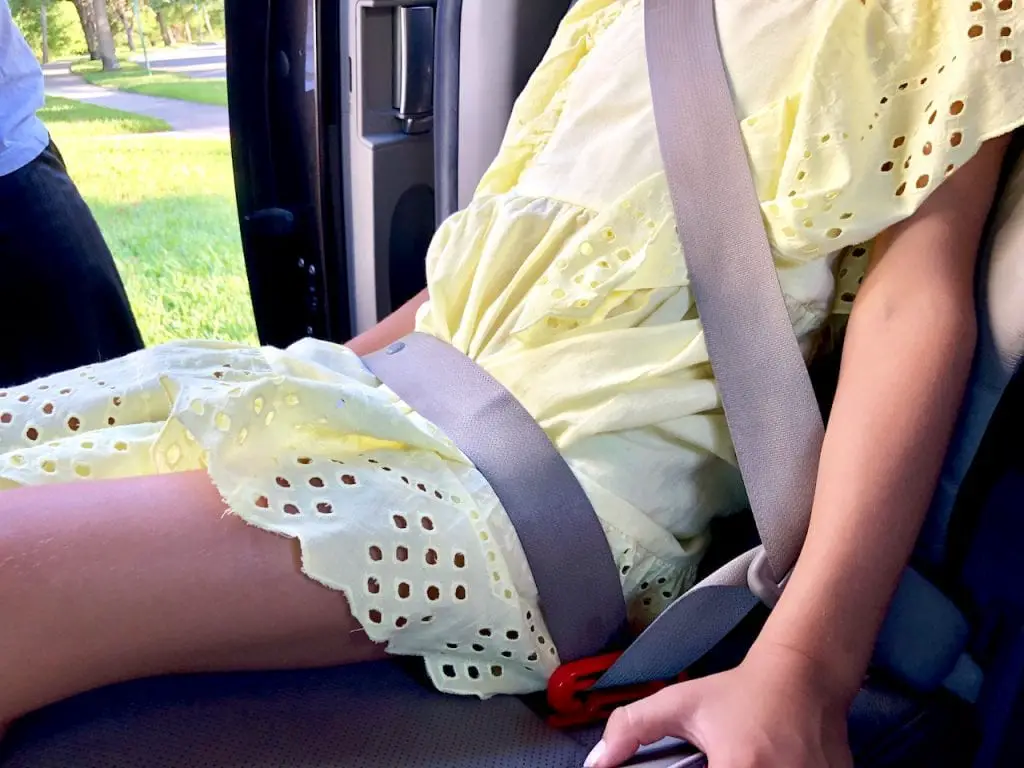 Who Is The MiFold For?
MiFold Booster is a booster seat, with no back. It is ideal for children:
4 years or older
between 40 and 100 pounds
40 to 47 inches tall
If your child prefers a high back with head rest, MiFold created the HiFold!!
It is 3x smaller than a regular full-back car seat and you can carry it like a backpack! It has 4 adjustable zones to fit children 40 to 100 pounds and 40 to 57 inches tall. It fits in the overhead compartment and you can fit 3 in a row!
When To Use MiFold
MiFold Boosters are a game changer when traveling with children. We have taken ours around the world and used it in:
rental cars
airport shuttles
city buses
Uber
But you can also use it in taxis, Lyft, car sharing, or even better – in every day life!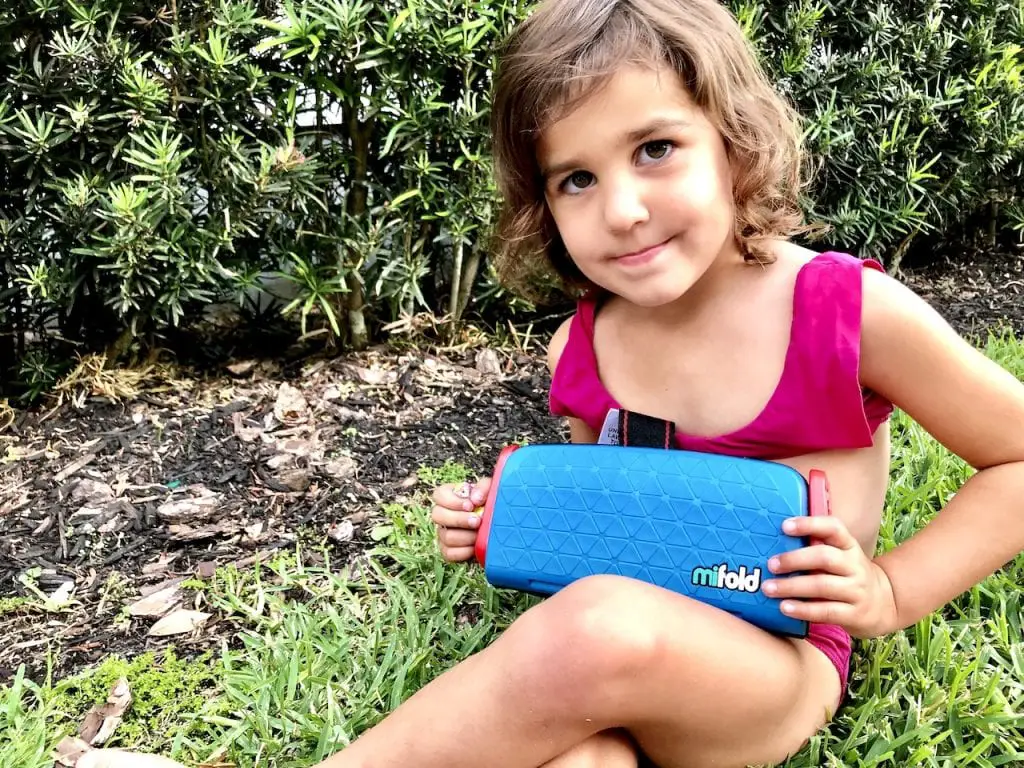 I keep ours in the glove department. That way, I can carpool kids without wondering how to keep everyone safe. When I know that another mom will be taking my daughter to gymnastics, I put the MiFold in her school bag and she has it with her when the mom picks her up!
We've also used it in grand-parents' cars many times. Let me tell you… Christian's most hated chore is removing car seats from our car… He loves just handing out the MiFold without having to re-arrange our car every time our kids are picked up by someone else!
Why We Won't Travel Without MiFold
There are very few products that truly make family travel better. I can probably count them on one hand – the kind that make transfers easier, travels safer, and give you internal fist pumps for rocking it!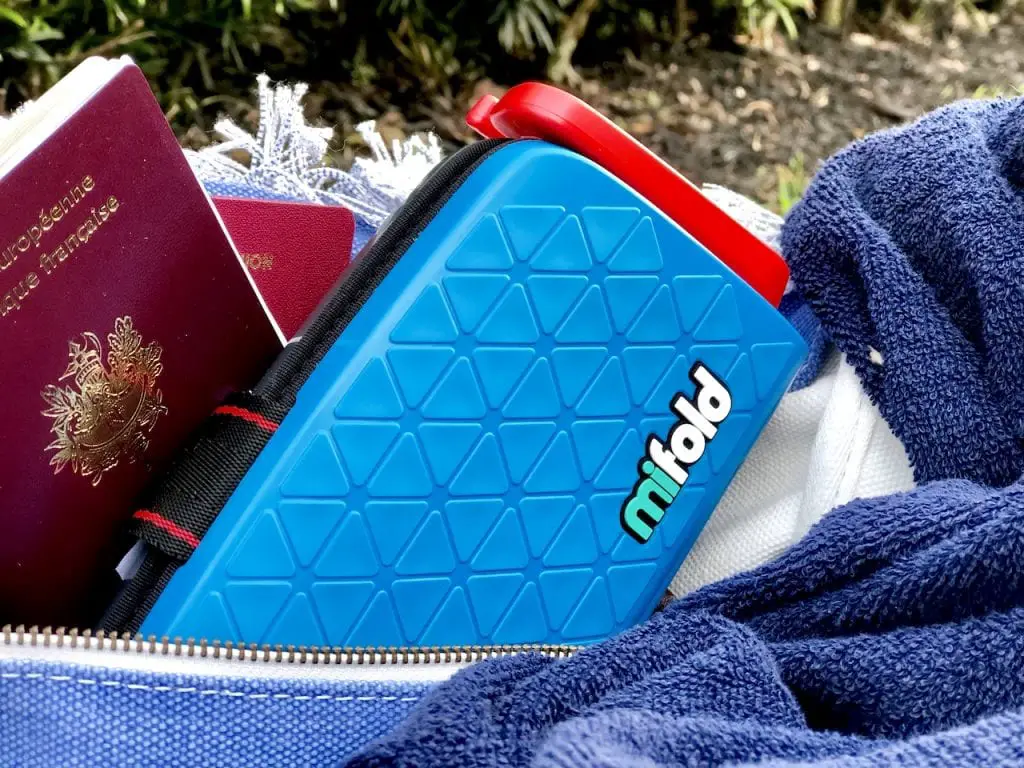 We love being able to carry MiFold in our back pocket, especially when time comes to get all luggages out of the rental car and collecting seats. It is one less thing in our hands.
The MiFold is super portable and adapts to the sizes of all of our children. We're able to fit all 3 kids in a row – another big win when renting a car outside of the U.S.!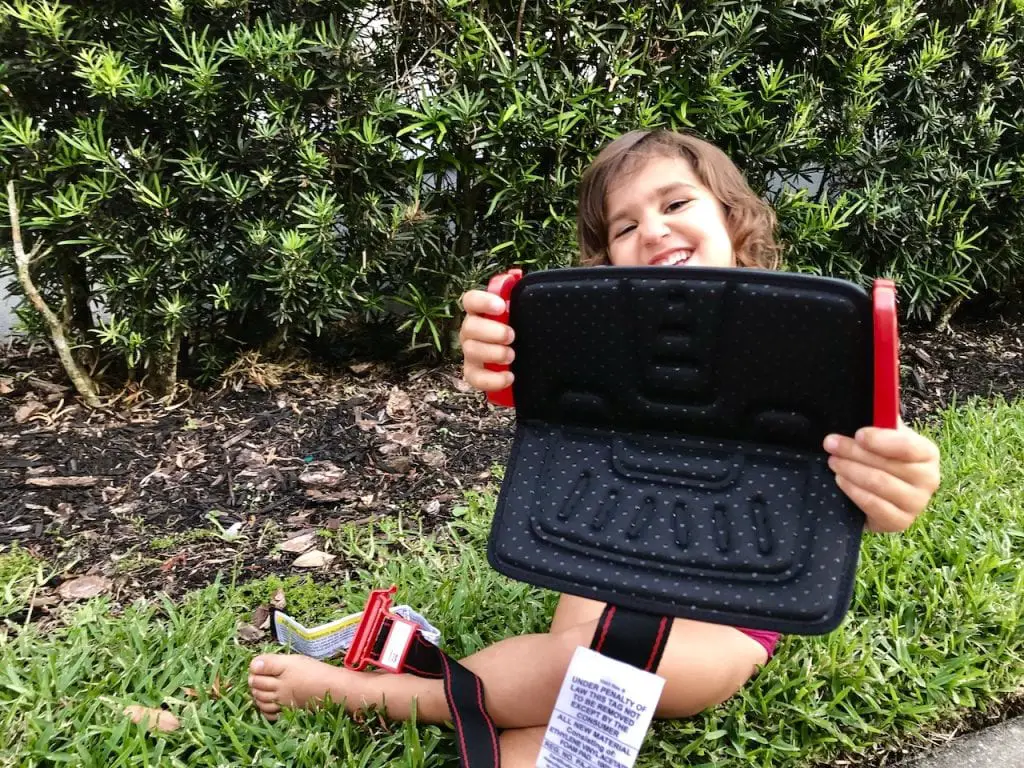 The kids think it's comfortable, which is a big win for us! We typically drive quite a bit during our travel, and we love knowing that the kids are comfy!
And very transparently, who makes such a cool booster for just $35?! CLICK HERE to grab one! They also have a luxury version called MiFoldSPORT, made with leather-style high-end materials.
---
Pin this for later!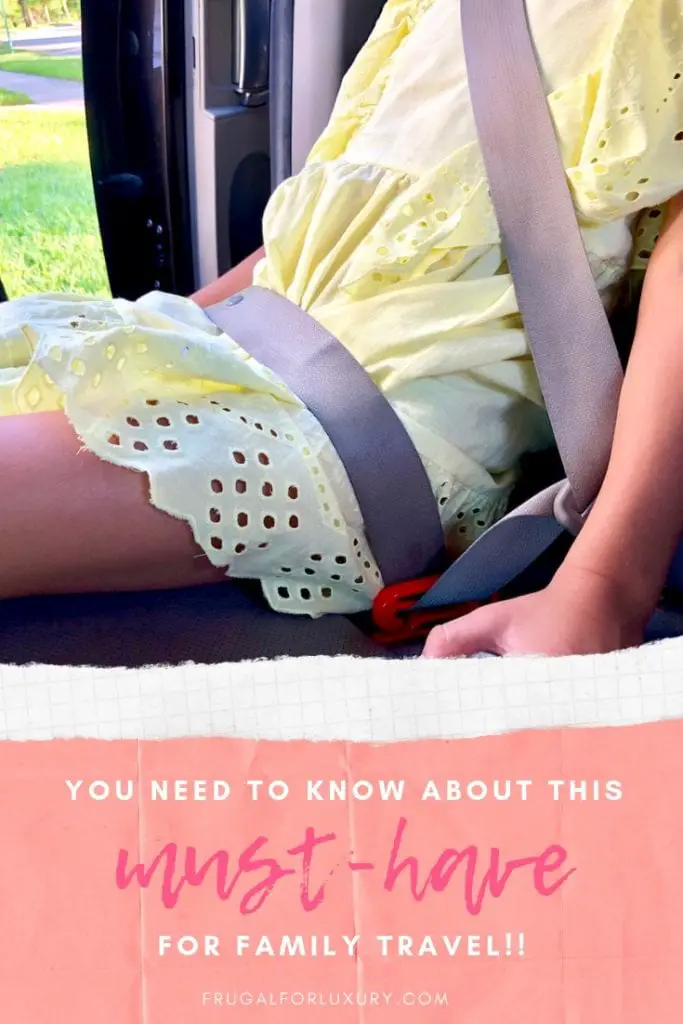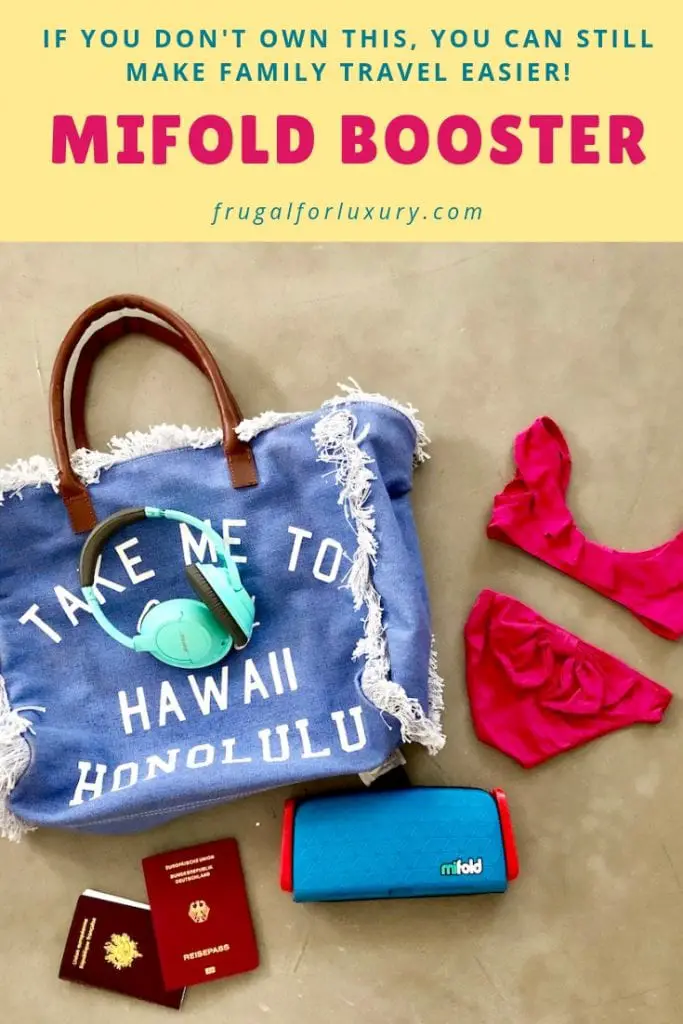 ---
Related articles you would enjoy:
21 Things Your Favorite Travel Hacker Won't Tell You
3 Things We Always Bring On Family Trips To Keep The Airport Experience Cheap And Fun
10 Sanity-Saving Tips For Traveling With Kids
If you enjoy reading us, make sure you sign up for our newsletter below!