So you are coming to Orlando, but are looking for something new, fun, and exciting to do? Maybe looking for things to do in Orlando, FL besides the theme parks?
Let me introduce you to ICON Park Orlando!
We were recently invited to discover ICON Park with the kids and had such an incredible time that I wish all families would consider spending a day there!
Some of the things we loved most about ICON Park:
Cleanliness: we saw nothing but extremely clean places. All attractions, and the entire outdoor area, were very clean and tidy
Staff: I think we were most impressed with the staff and the amount of service we received at ICON Park. We were approached by kind, patient, and helpful staff members, and everyone was wearing a smile on their face
Whole-Family Fun: we felt like all kids, no matter their ages, were involved in the fun. If you purchase the Play Pass, everyone will participate in the thrill and, outside of the 44-inch StarFlyer height restriction, all attractions are opened to everyone
COVID Measures: we visited during COVID and masks were required everywhere. We took our masks off inside The Wheel since each capsule is only filled with one family
Free Parking: there is plenty of free indoor parking! No more getting back to a boiling hot car after a day of fun
Florida Residents: if you're visiting from Florida, check out the Florida resident discounts for up to 40% OFF special ticket offers!
Park Topper Option: this deal is too good to pass! Bring your valid theme park ticket or annual pass, and receive 50% OFF your ticket to The Wheel and enjoy soaring after a day in the parks (see discount section for more details!)
Location: ICON Park is perfectly located on International Drive, near the Orange County Convention Center, between Disney and Universal and right off of the Sand Lake Road restaurant row
My #1 tip for visiting ICON Park Orlando, is to purchase the Play Pass! You get access to the 7 attractions and discounts on dining.
Where To Meet Santa In Orlando, FL
What actually got us to ICON Park in the first place, was the Santa Workshop Experience!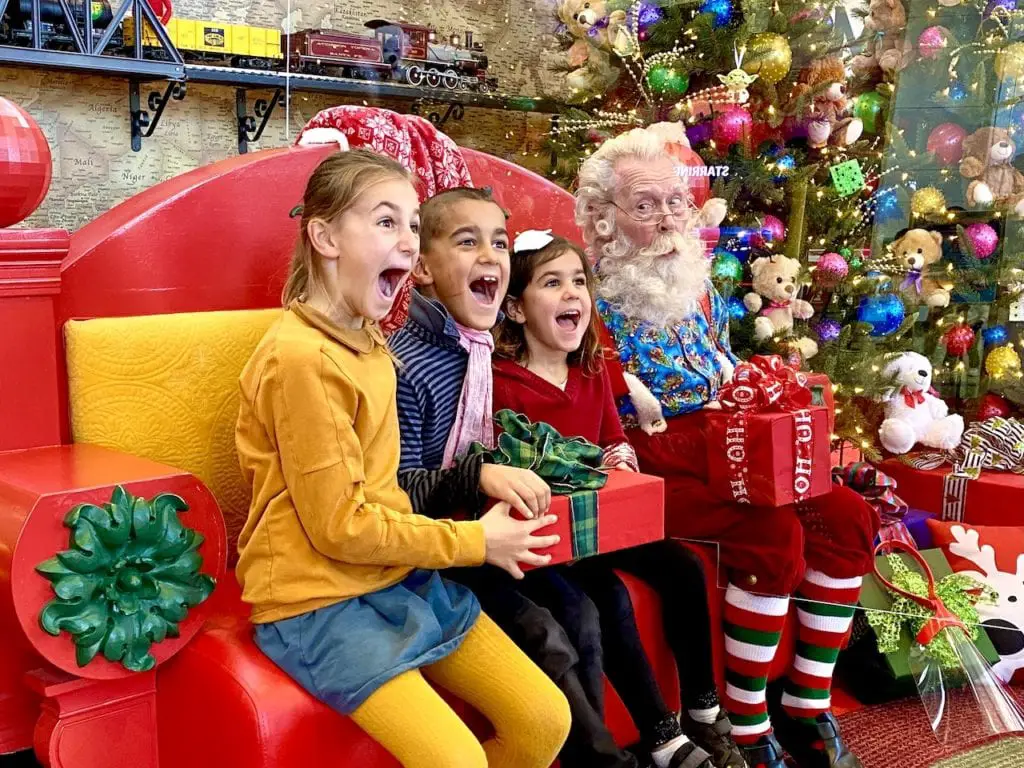 If you are looking for a non-crowded, nicely organized, safe, and no-line Santa encounter, head over to ICON Park to get your kids photographed with Santa!
Head over to the Santa Workshop Experience website first and see which Santa you prefer for your Holiday pictures. We met with the morning Santa around lunch time and he was the cutest and sweetest!
I loved that the kids could take their masks off – all photographers and staff members had theirs on. They first got portraits taken by the fireplace.
Before meeting Santa and getting their photos taken with him in cute and funny poses!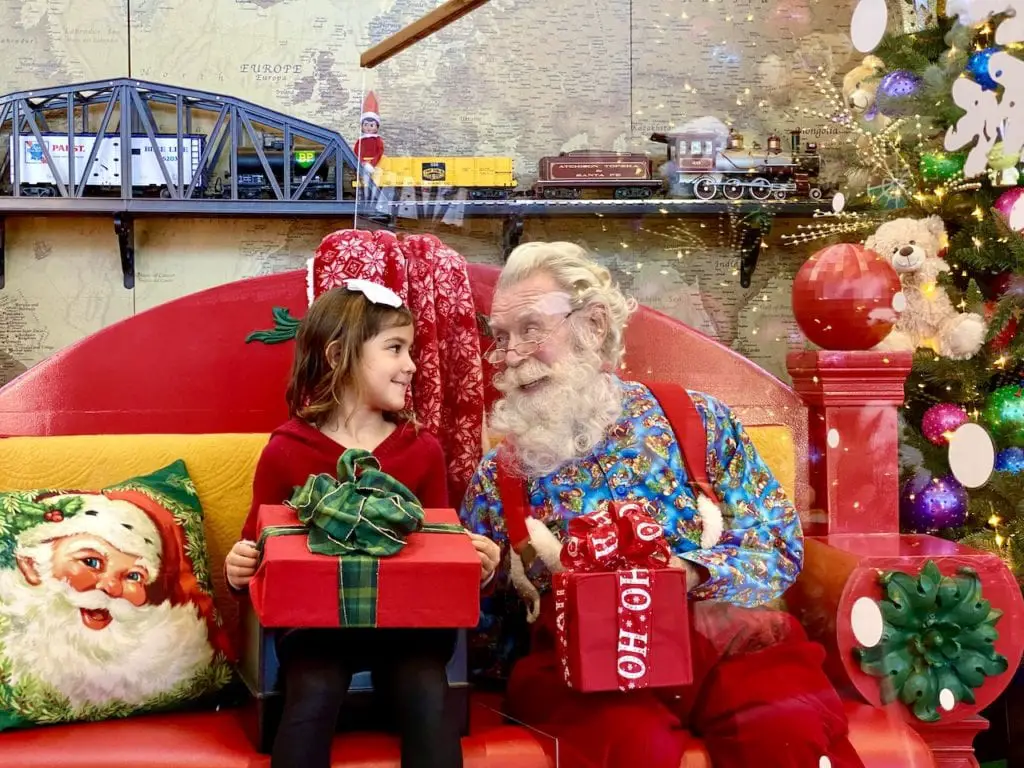 Santa also had his mask off since a plexiglas partition separated him from the kiddos. It was very well done and you can barely see the plexiglas on the photos!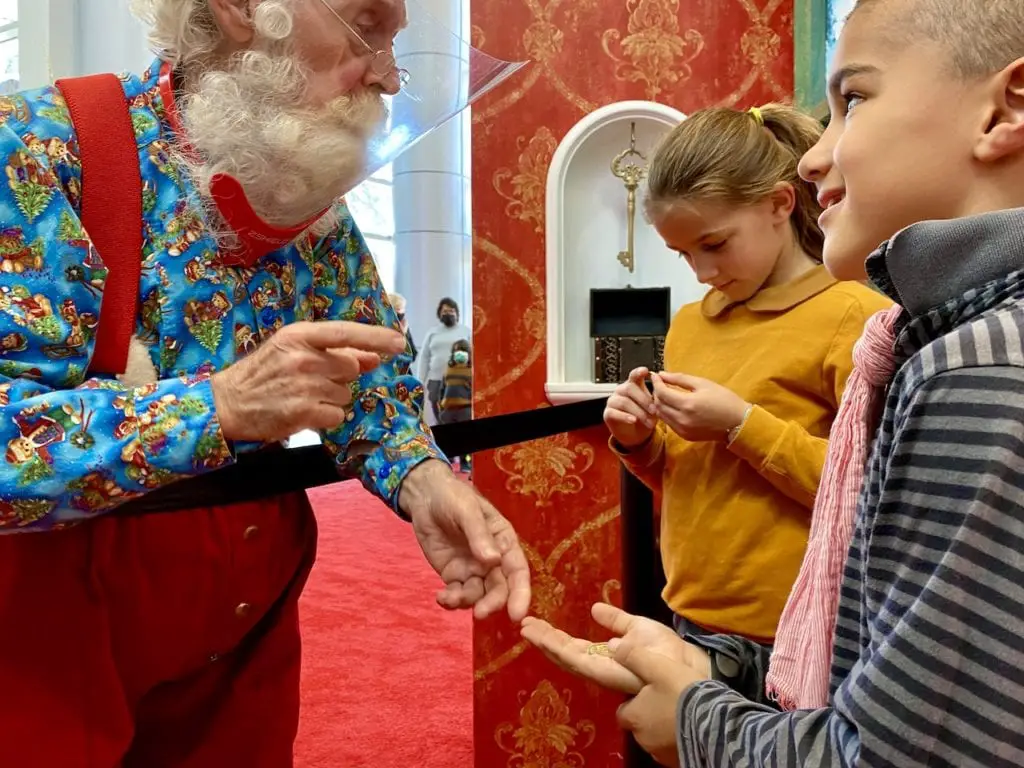 After all photos were taken, Santa slipped on a transparent face mask and chatted with the kids, handing out a golden coin for them to ride The Wheel for free that day!! We loved our Santa Workshop Experience and it is a beautiful memory to look back on!
Now, before we look at the ICON Park attractions, let me quickly tell you about one of our favorite places to eat in all of Orlando! It turns out to be less than a 5-minute walk from ICON Park, and is an artsy and super family-friendly one-of-a-kind locals' favorite. I feel like I'm letting you on a secret, and I probably am! Ready?
Where To Eat Near Icon Park On International Drive, Orlando
We have loved Café Tu Tu Tango for over 15 years, and were overdue for a visit. It had been over 10 years since we had last dined in. And guess what? The experience was just as good as we remembered, and the food was to die for!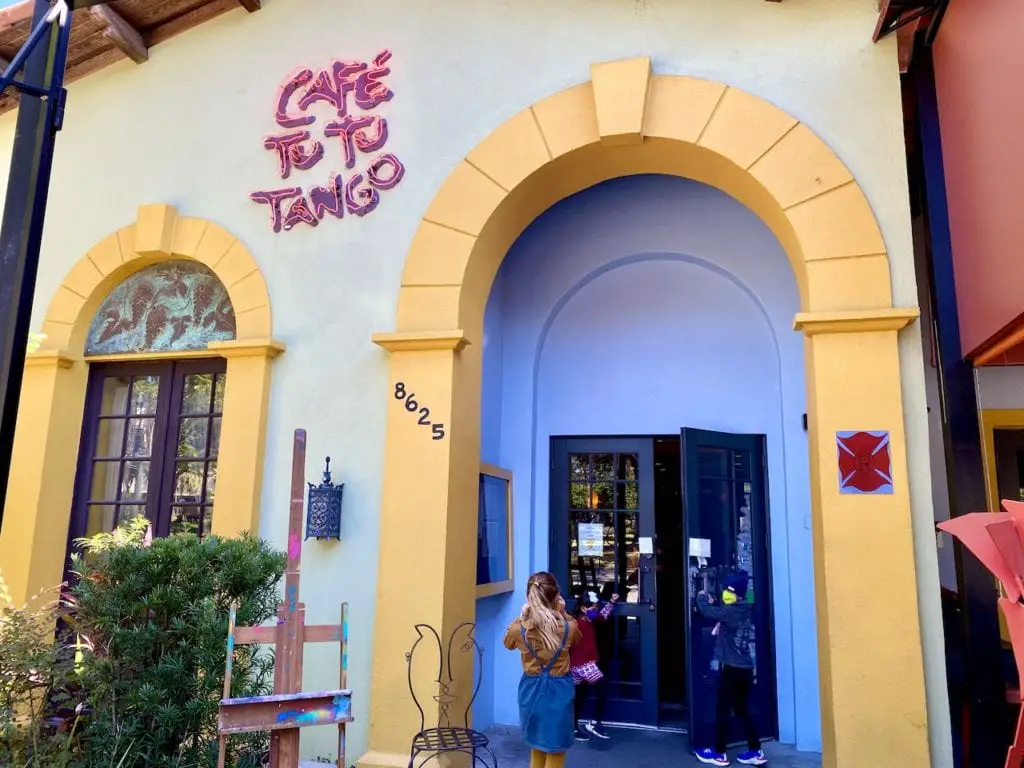 Café Tu Tu Tango has been serving Orlando locals and tourists for over 30 years and a brunch / lunch / dinner there is always a good idea!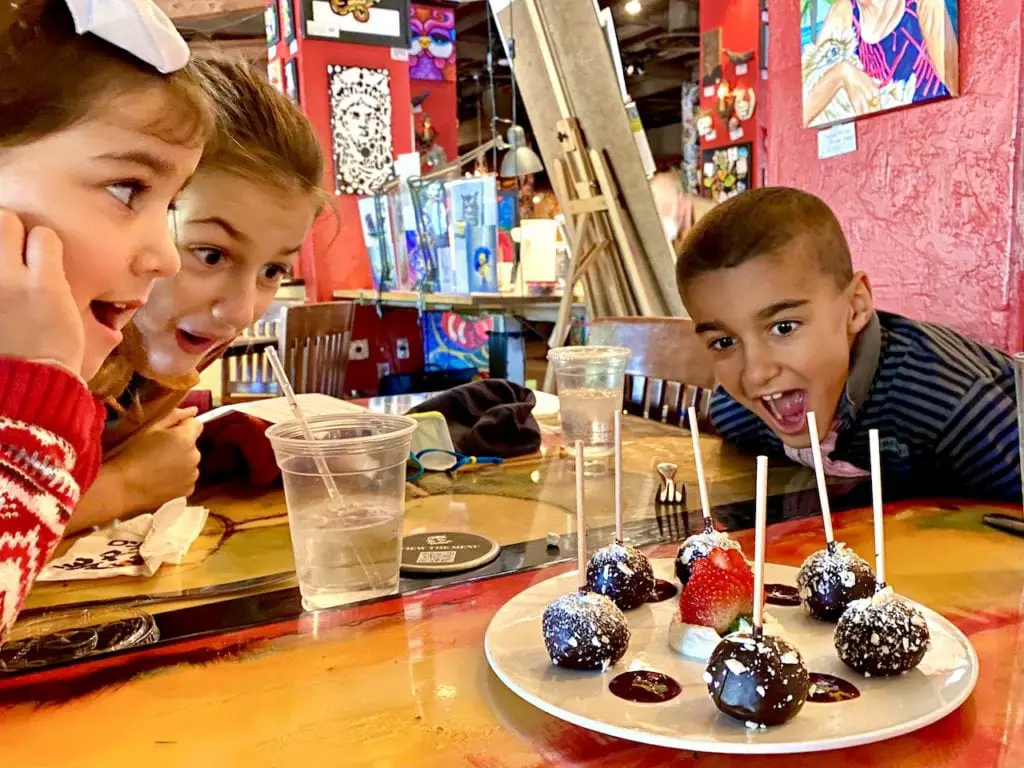 Served tapas-style, count 2 to 3 portions per adult and be ready to share the goodness! Everything we tasted was exceptional! Our family favorites? The Street Corn, Dynamite Shrimp Lettuce Wraps, and don't leave without trying the Triple Chocolate Cake Pops!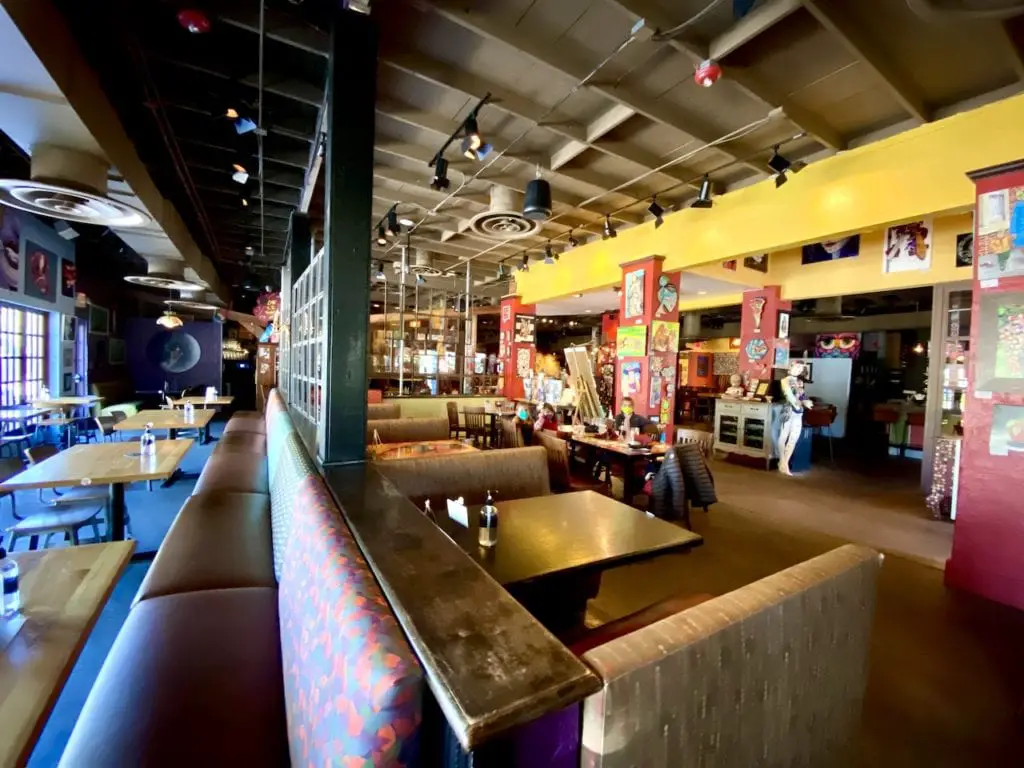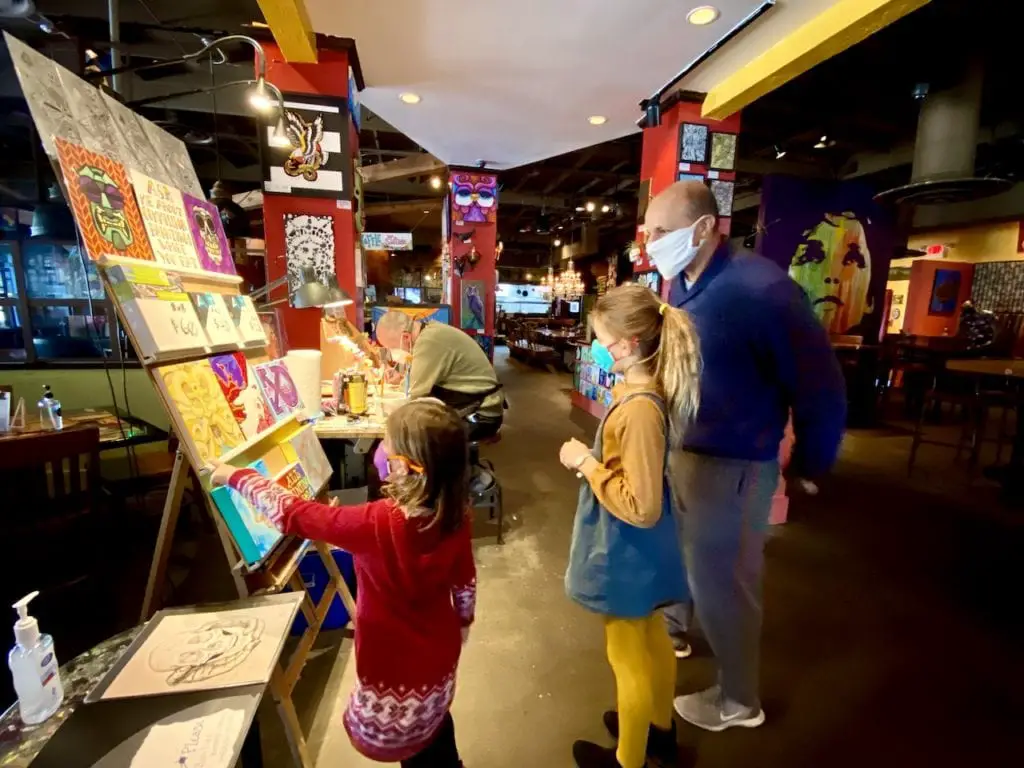 After the food, the atmosphere is everything inside Café Tu Tu Tango. The walls are covered in art you can buy, and you will find resident artists creating live art while you dine.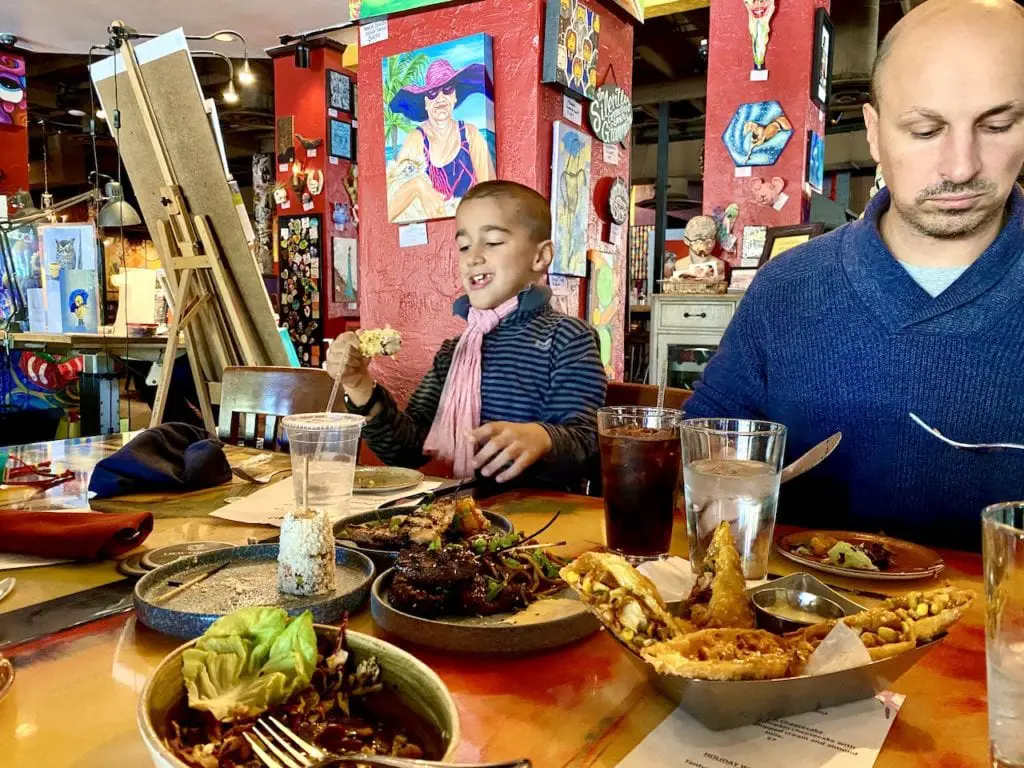 It is a beautiful, quirky, super-special establishment, that Orlando locals have loved for years, and we find it amazing for families! We love sharing adult food with our kids, but they do have a kids' menu, coming with a different coloring sheet on each if you prefer!
Alright, back to ICON Park – let's look at the 7 attractions you have access to with the Play Pass!
1.
The Wheel
I will start with the most obvious – the one you see as you drive up and down I-4, which is screaming at you to come visit – The Wheel! Orlando's own observation wheel!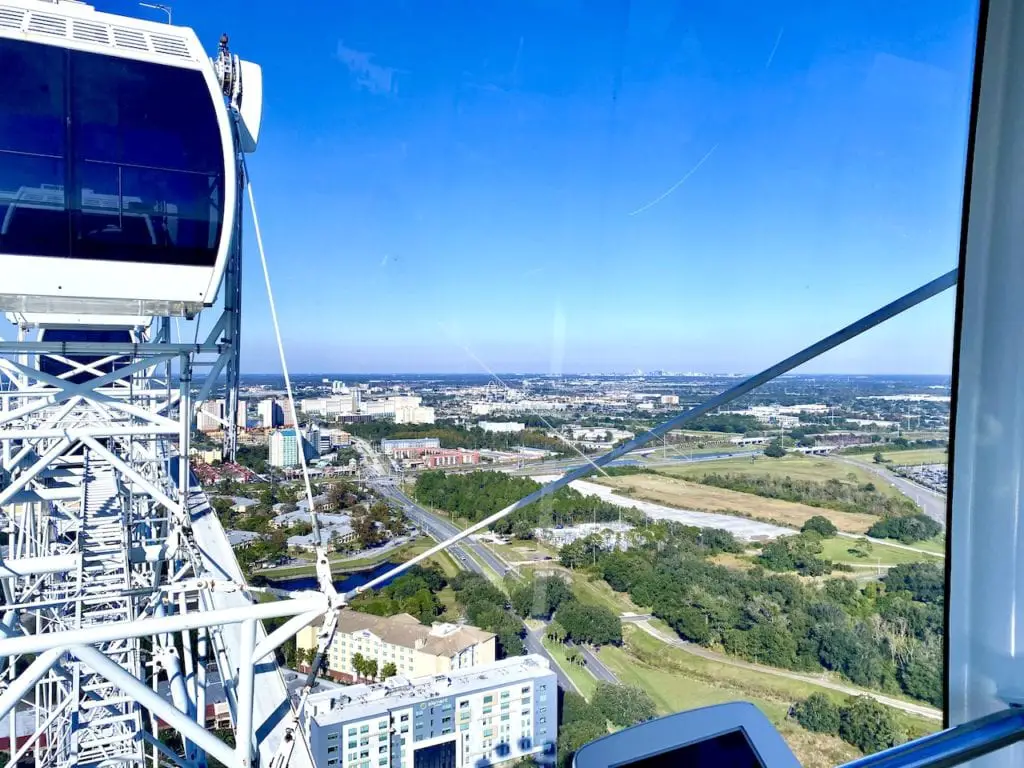 Many refer to it as the Orlando Eye, as it looks so similar to the London Eye, and for having ridden both, they are equally amazing and exciting!
The Wheel at ICON Park takes you up 400 feet into the sky and lets you discover Central Florida from the sky for nearly 20 minutes! Each capsule is air-conditioned and equipped with iPads that tell you more about what you are seeing from atop. Additionally, a recording speaks during the flight and tells you more about Central Florida and the vistas.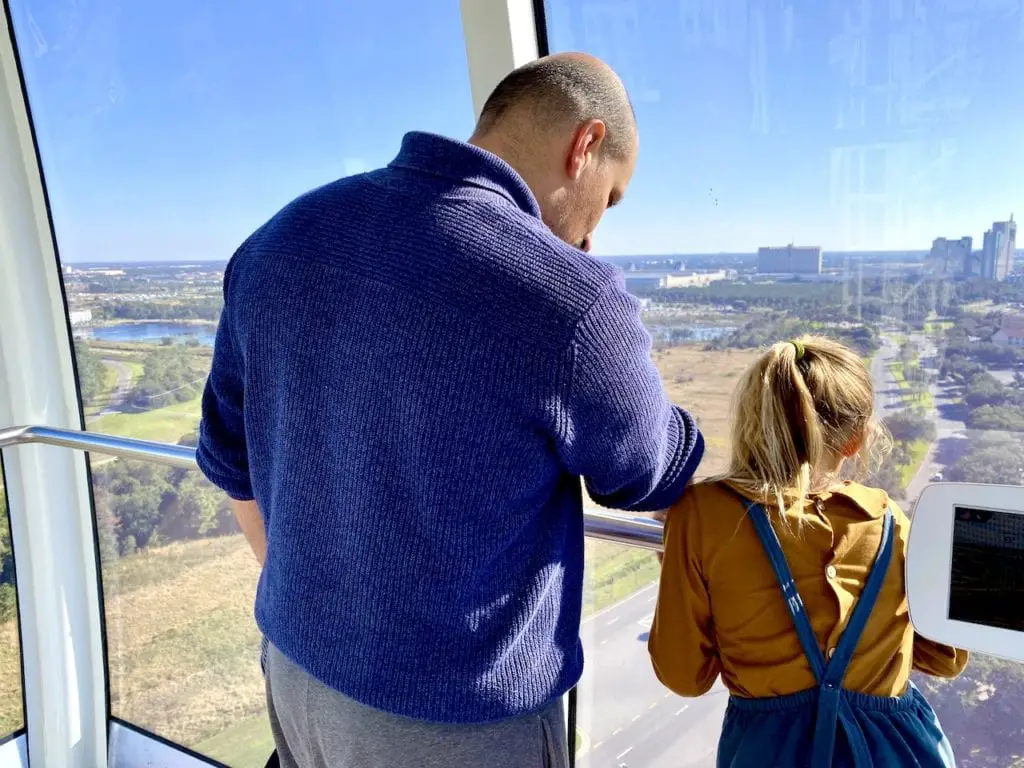 You will see as far the Gulf Coast and get incredible views of Universal Studios and good details from Walt Disney World. Hop on the Orlando Wheel at night and time it right for a glimpse at the fireworks!!
2.
Madame Tussauds Wax Museum Orlando
We were so impressed with Madame Tussauds Orlando! Not sure what to expect, we walked into a beautifully-themed wonderland of wax celebrities.
Some local stars, such as Ponce De Leon and Walt Disney were present, as well as U.S. Presidents, Madame Tussaud herself, and many others who left their mark on our world.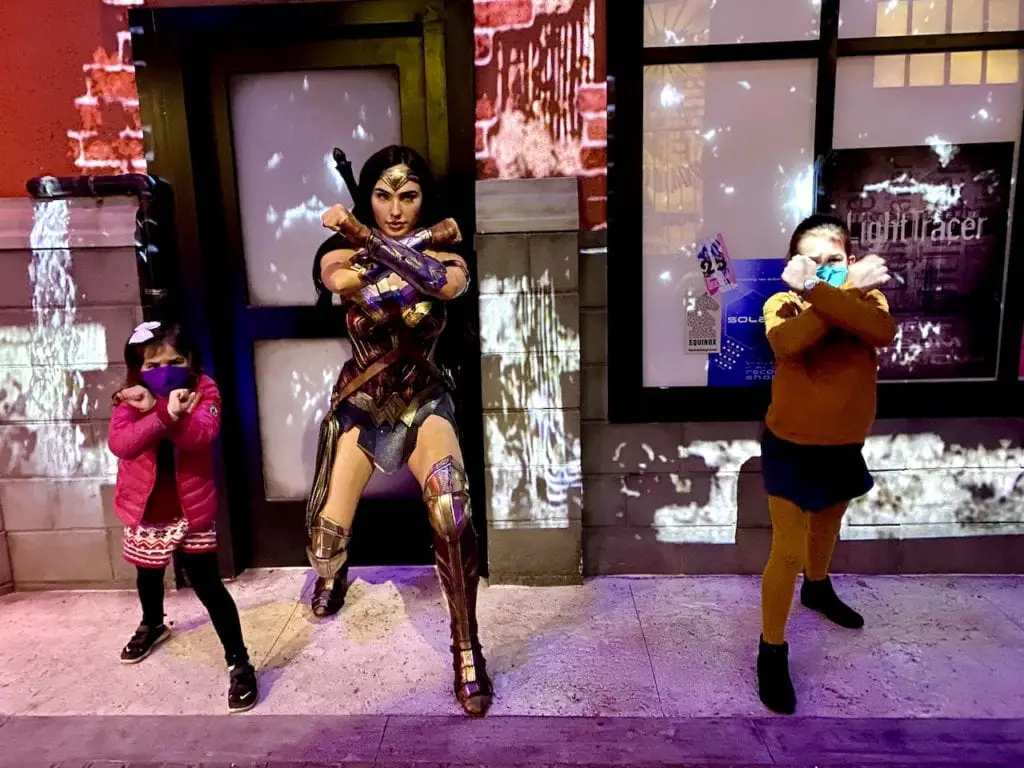 We loved the "Orlando touch" with super heroes and animated movie stars.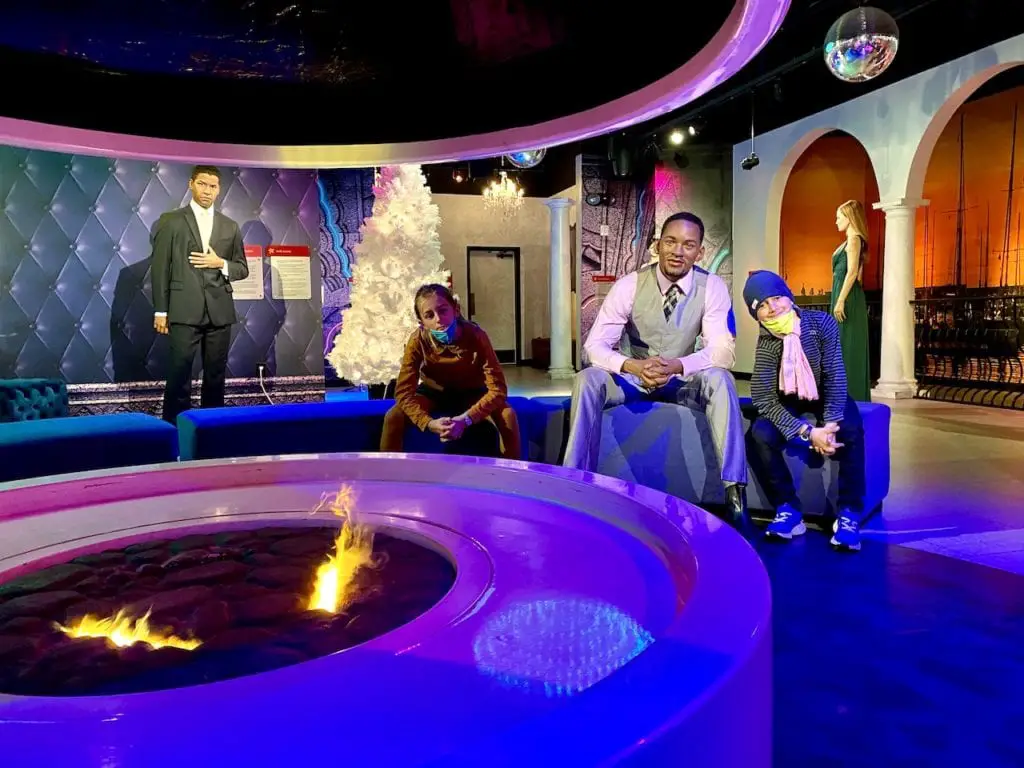 As well as all of the current stars, athletes, and celebrities.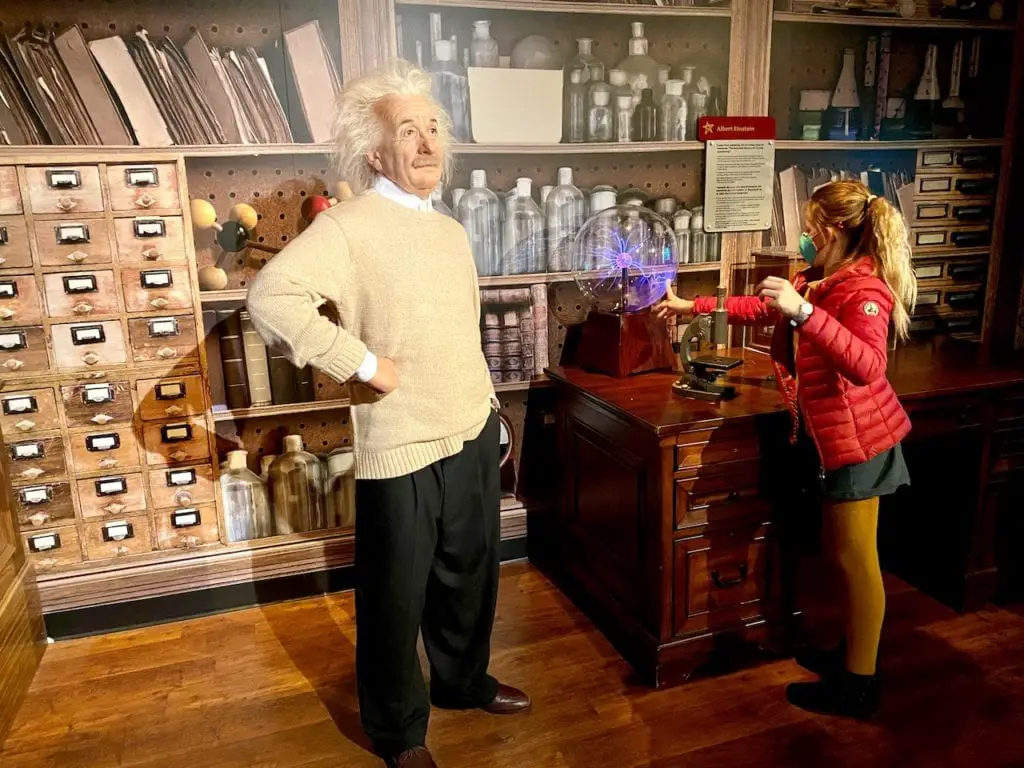 And honestly, we got a fair amount of world schooling in Madame Tussauds Orlando, brushing up on U.S. history and other historical figures! Plan just over an hour to enjoy all of Madame Tussauds Wax Museum Orlando.
3.
SEA LIFE Aquarium Orlando
Next on our day of fun at ICON Park Orlando, was one of our family's favorites – the SEA LIFE Aquarium!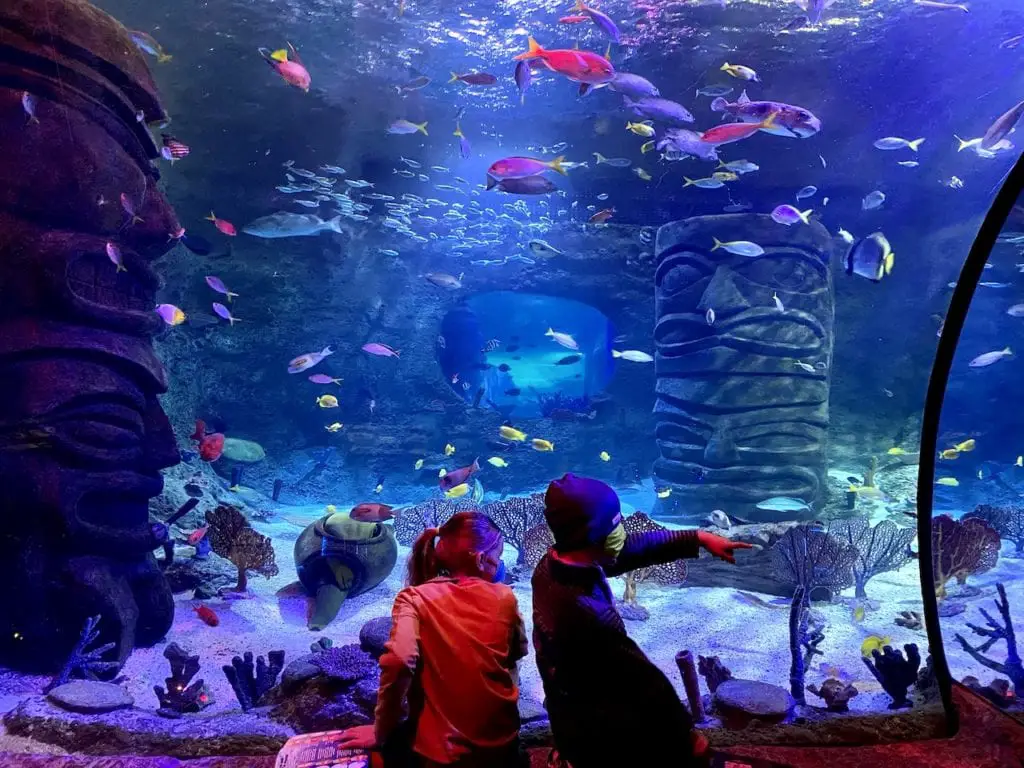 We actually wrote a whole article on SEA LIFE Orlando a few months ago. You can read our 5 Reasons To Visit SEA LIFE Orlando On Your Next Orlando Visit here!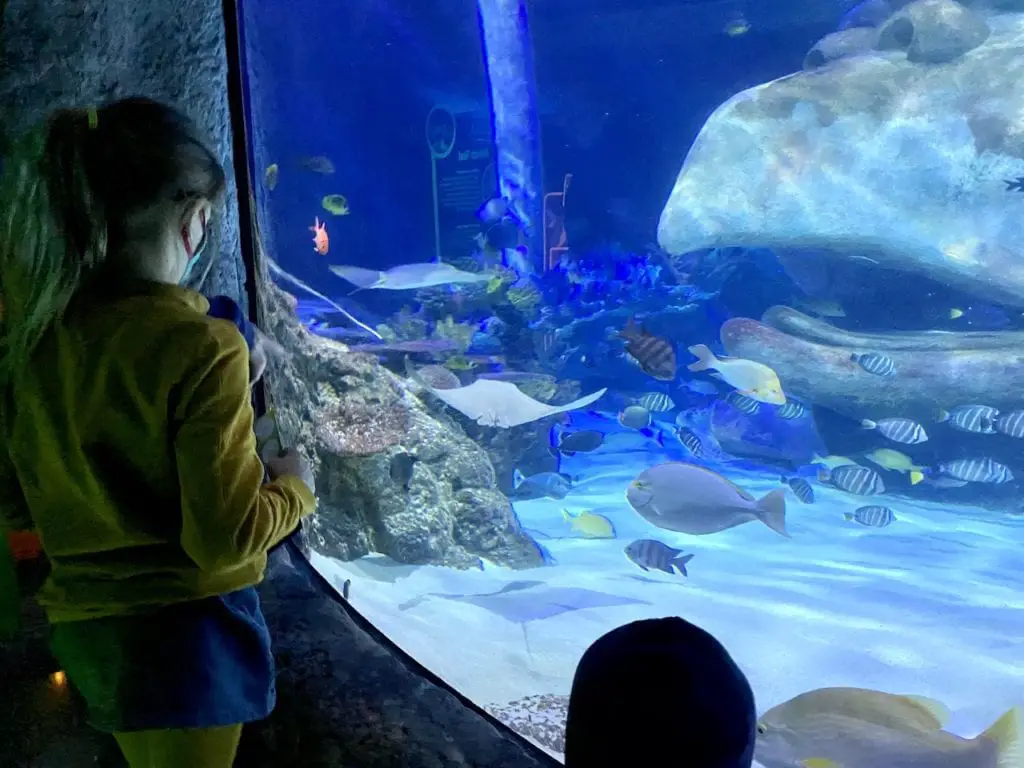 When the kids were little, we were annual pass holders of the SEA LIFE Munich. So naturally, we love visiting the one in Orlando!
There are so many beautiful rooms full of fish at SEA LIFE Aquarium Orlando. The kids could spend all day watching them! Realistically, plan about an hour or more to take your time and fully experience the attraction.
Did you know that you will be walking through Florida's only 360-degree Ocean Tunnel? It is my favorite part, as rays and sharks swim above, below, and alongside us.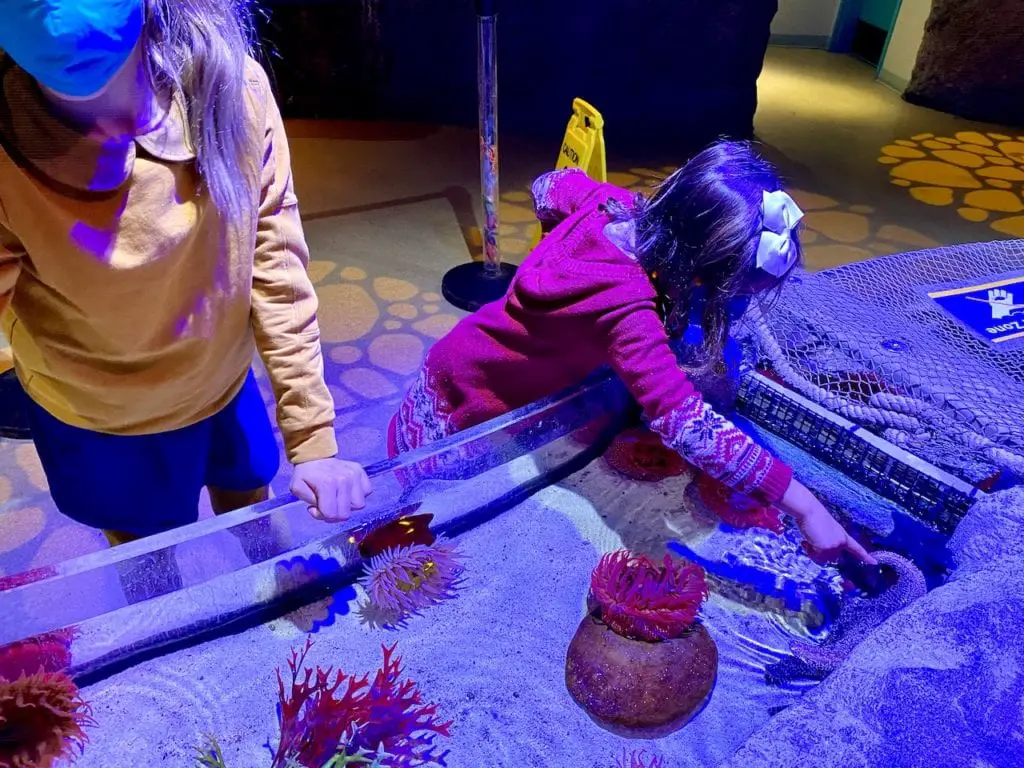 And don't skip the last room, where the kids get to touch sea stars and anemones! I love that this was still available during COVID!
4.
7D Dark Ride Adventure
The ICON Park 7D Dark Ride Adventure was a-ma-zing! It turned out being our 7-year old's favorite attraction of the day.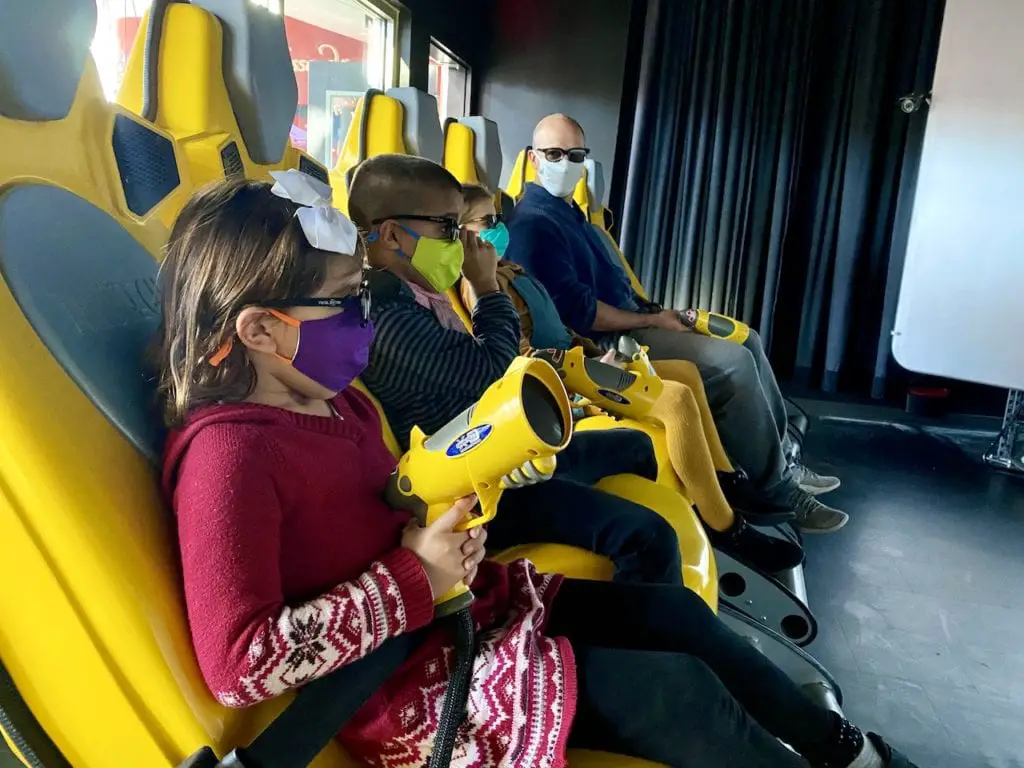 I was a bit apprehensive bringing in our 5-year old, but she ended up loving it! You can choose from 3 movies – the "softest" one being the Banditos, which we watched.
You are given 3D glasses and a laser "gun" and taken on a moving action ride with smells, sounds, and fun sights, where you become the main hero and compete with your ride partners.
During COVID, we had the entire theater to ourselves and the ride gets disinfected between each party.
5.
StarFlyer Orlando
Now, onto the big thrill of the day! The Orlando StarFlyer!
Another tall-standing staple that has become a part of the International Drive skyline, the Orlando StarFlyer is the tallest swing in the world!
It stands 450 feet tall – 50 feet taller than The Wheel!! You are seated with a partner (or by yourself if you are an odd number during COVID) with a seat belt and buckle between your legs and are sent twirling high above Orlando!
The girls loved the Orlando StarFlyer so much that they rode it twice! If you purchased the ICON Park Play Pass, you will only pay $8 for each extra StarFlyer flight!
StarFlyer Orlando height requirement: 44 inches.
6.
Arcade City At ICON Park
Honestly? The cleanest arcade I have ever visited!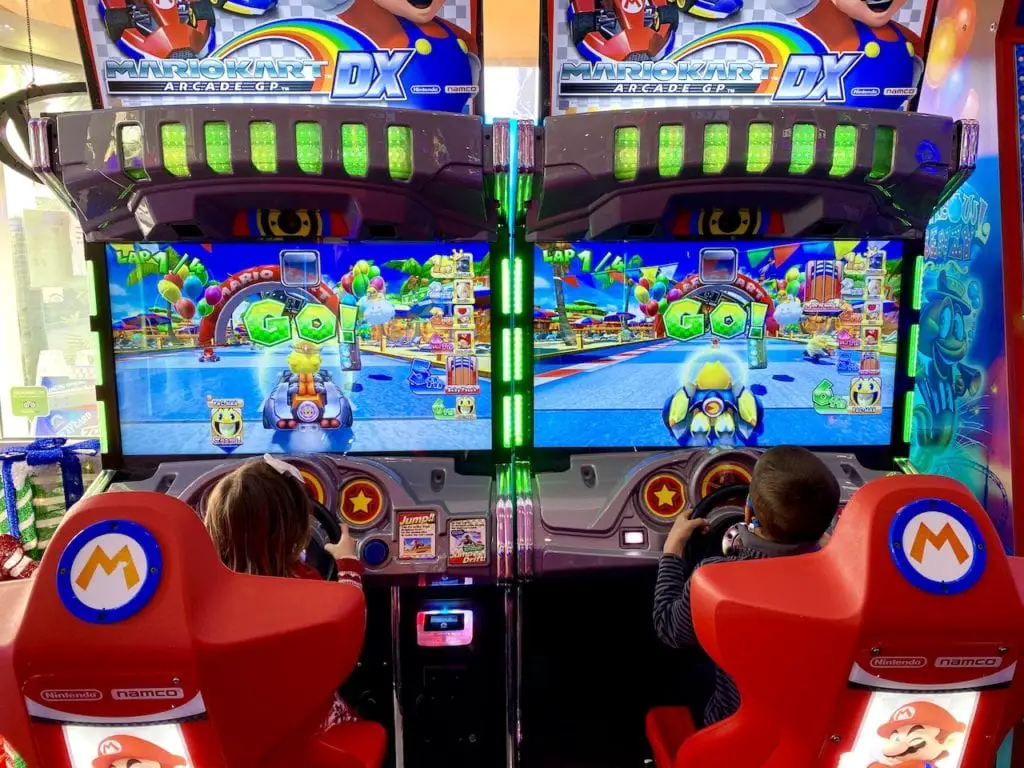 With the ICON Park Play Pass, you get a $5 credit at Arcade City, located right outside of the parking garage. We let the kids use our $5, so they had $25 to split among themselves and had fun for a long while!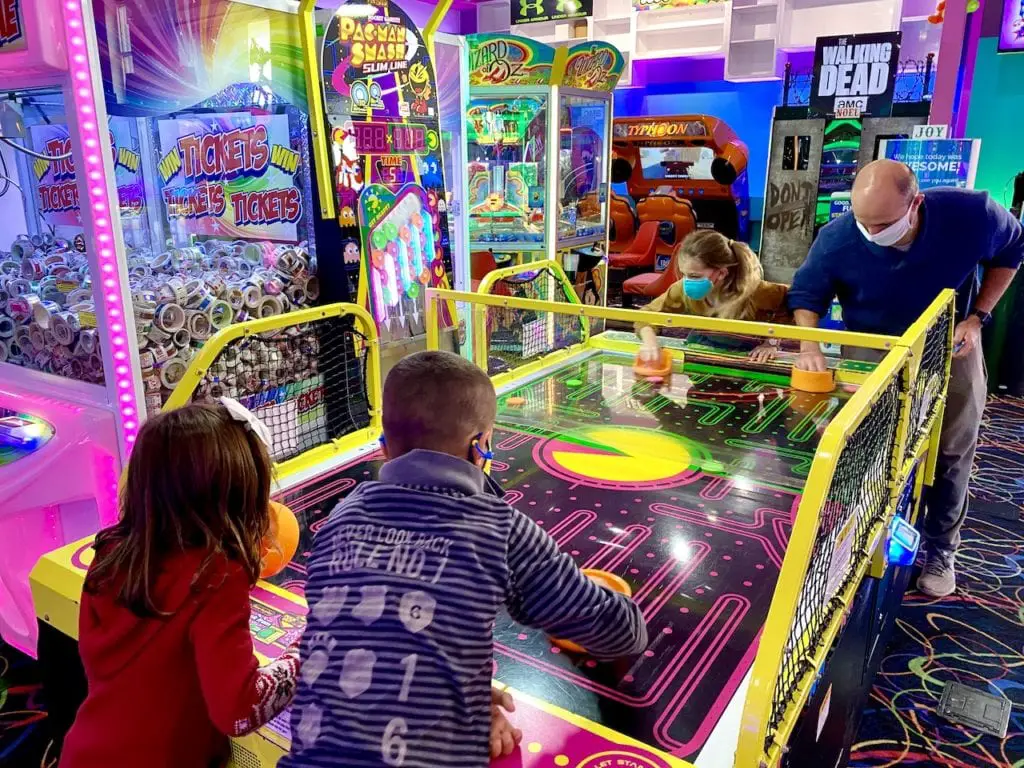 Each game cost between $0.50 and $1.50 and they collected tickets for a fun toy at the end. The Arcade at ICON Park was incredibly clean, bright, and the staff was amazing and super kind!
7.
Pearl Express Train
We actually skipped the train since we arrived before it started running, but it looked super cute and our kids asked several times to hop aboard! Probably best suited for the youngest guests, it takes you from right outside the parking garage, all the way around ICON Park, and comfortably fits adults as well.
ICON Park With Kids
We had such a fabulous day at ICON Park.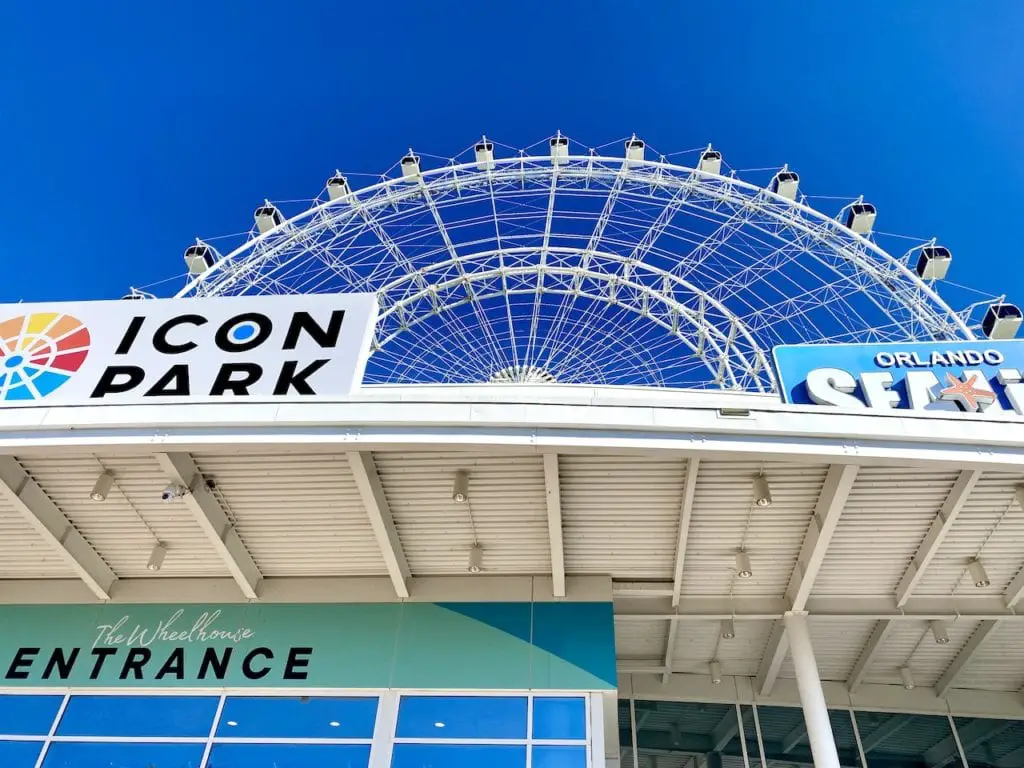 We were very pleasantly surprised by the level of service, the cleanliness and attention to detail everywhere. If you take your time and enjoy yourself, you can spend nearly a full day there. We arrived when it opened at 11AM and left around 4PM, with a nice lunch at Café Tu Tu Tango.
If you are there for the first time, you can definitely spend a little longer at SEA LIFE Aquarium and inside the Madame Tussauds Wax Museum.
ICON Park is also a great attraction to do on a rainy day or hot summer Orlando day, with much of it indoors and plenty to discover away from the elements.
I highly recommend it for families with kids of all ages – from toddlers to teenagers, the whole family will have fun and find some thrill at ICON Park. We had a wonderful time and it is definitely something to do in Orlando, FL besides the theme parks!
Here's another cool thing to do in Orlando besides theme parks: rent a boat and enjoy the many lakes and chains of lakes in and near Orlando!! Rent by the hour, as low as $75 and have an incredible Florida day on the water!
---
Pin this for later!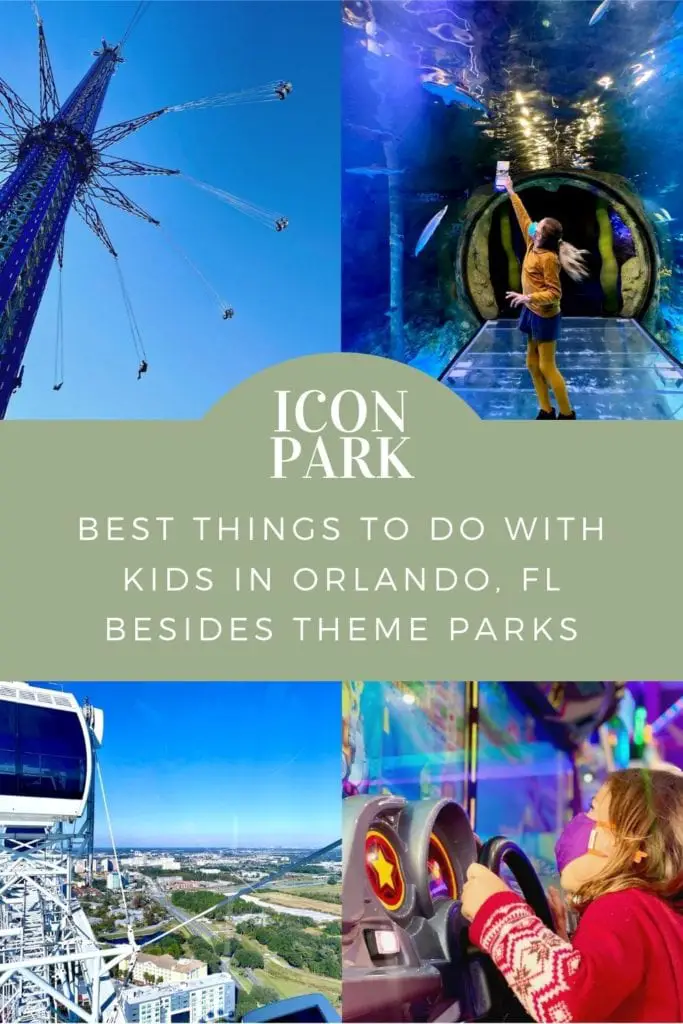 ---
Related articles you will enjoy:
10 Day Trips From Orlando, FL
20 FREE Things And Experiences At Disney World
Multi-Generational Family Fun At Drive Shack Orlando
If you enjoy reading us, sign up for our newsletter below!