I know most of you are already laughing!! Floridians are known to take out the beanies and mittens when temperatures drop below 75˚F… so how can I be talking about "true cold" and Orlando in the same sentence, you ask…
If I told you that you can experience 9˚F cold throughout the Holidays, just minutes away from Disney World, and go slide on ice, would you believe me?
The proof in image:
What Is ICE! At Gaylord Palms?
ICE! at Gaylord Palms is a magical experience for all. I have seen just as many stars shine in little kids' eyes, as their parents' and grand-parents'!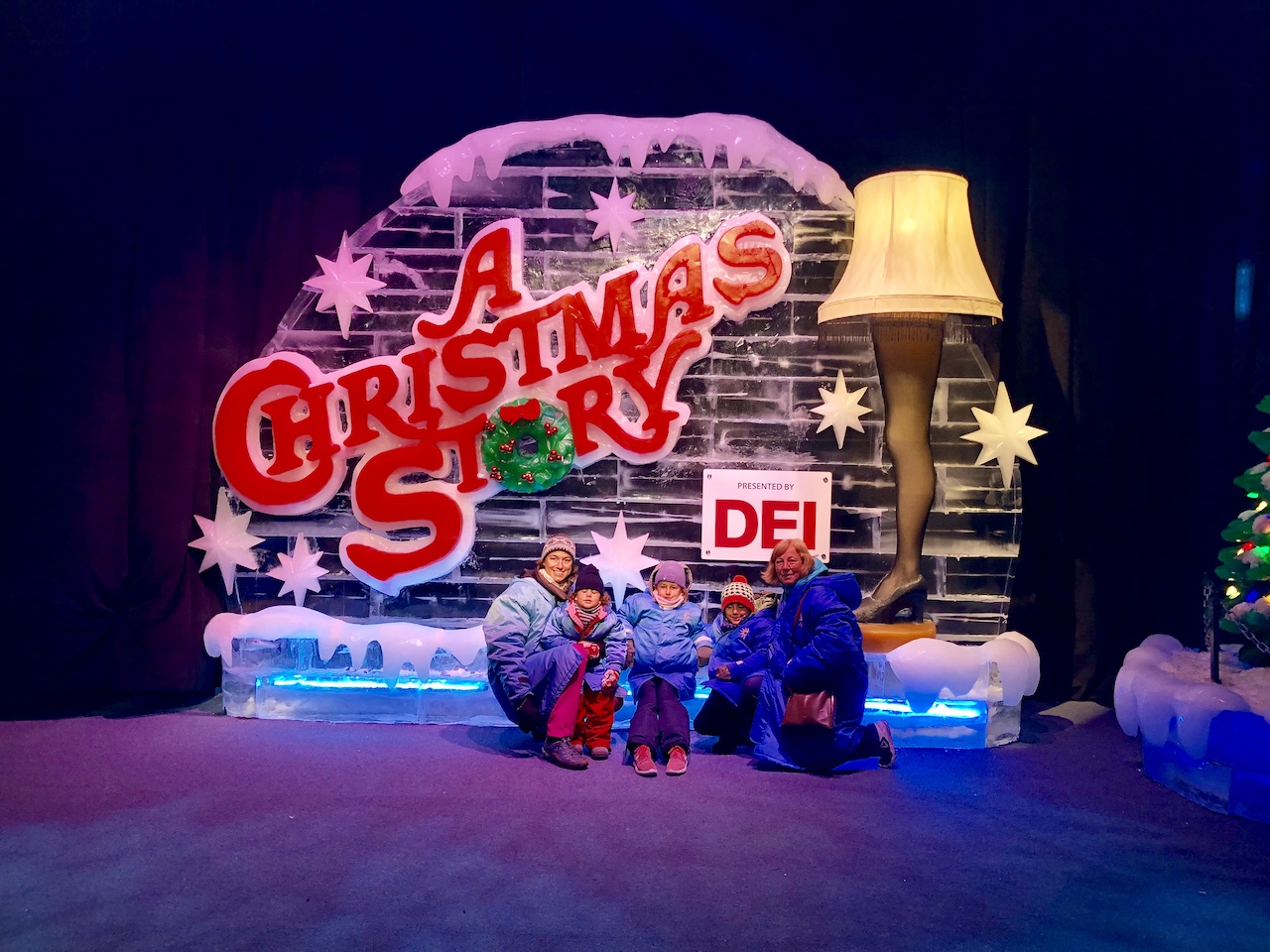 ICE! is 2 million pounds of ice, hand-carved by a team of 40 North Chinese men. Each year is themed and this year's theme was the beloved Holiday move classic – A Christmas Story. As we walked through ICE!, we became part of the hilarious family tale, immersing ourselves in its most iconic scenes.
The entire place is kept at a below-freezing 9˚F to ensure the ice remains cold and hard.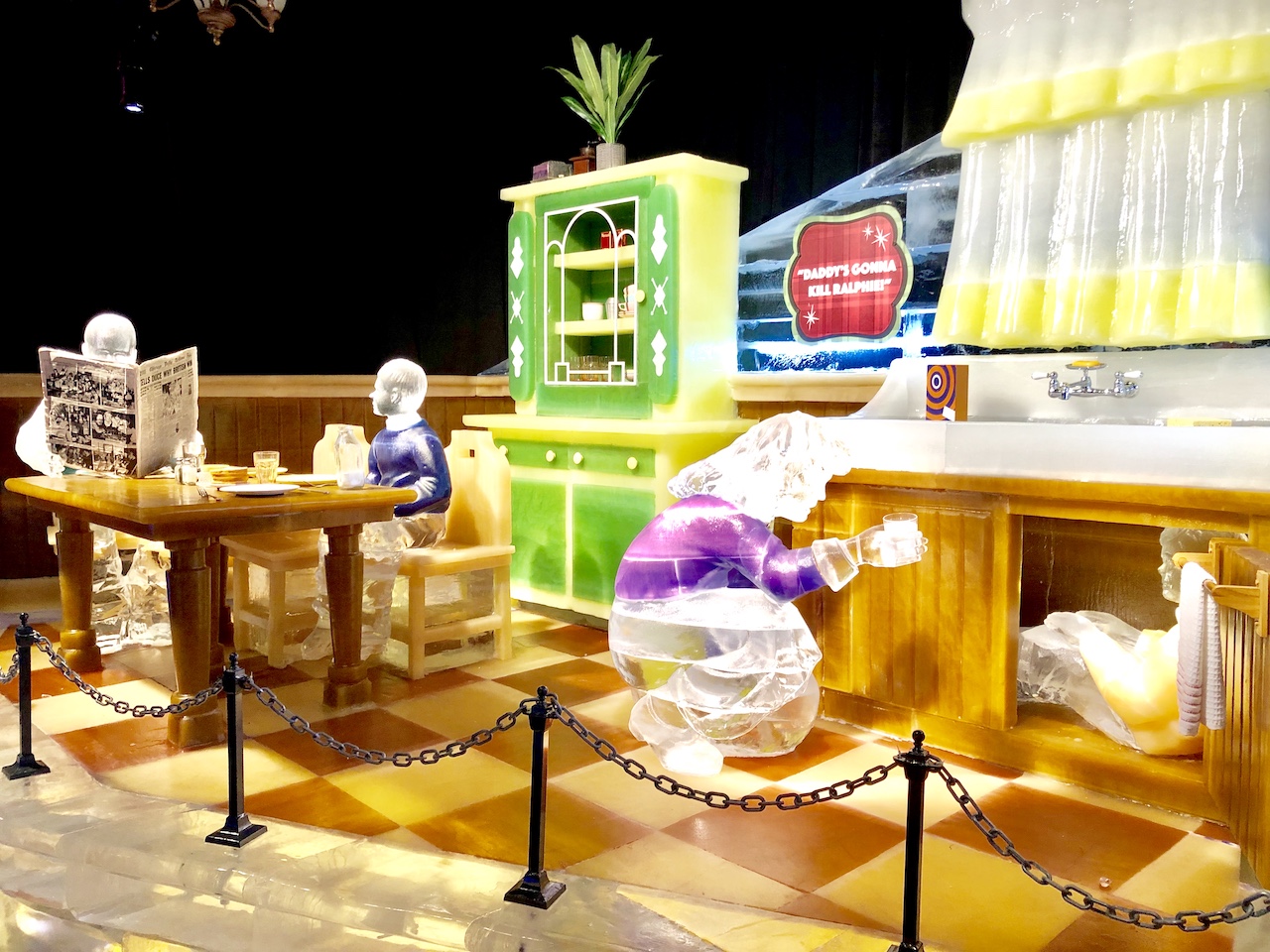 You will be amazed at the art work. Each scene is entirely made of painted ice. Just thinking of the hours of hard labor made me want to stay just a little longer, starring at the incredible workmanship and paying tribute to the amazingly talented artisans from Harbin, China.
Inside ICE!
When you first get to the Gaylord Palms, park your car in the back of the hotel and enter through the convention space. From there, proceed to the front desk where you will enter the attraction.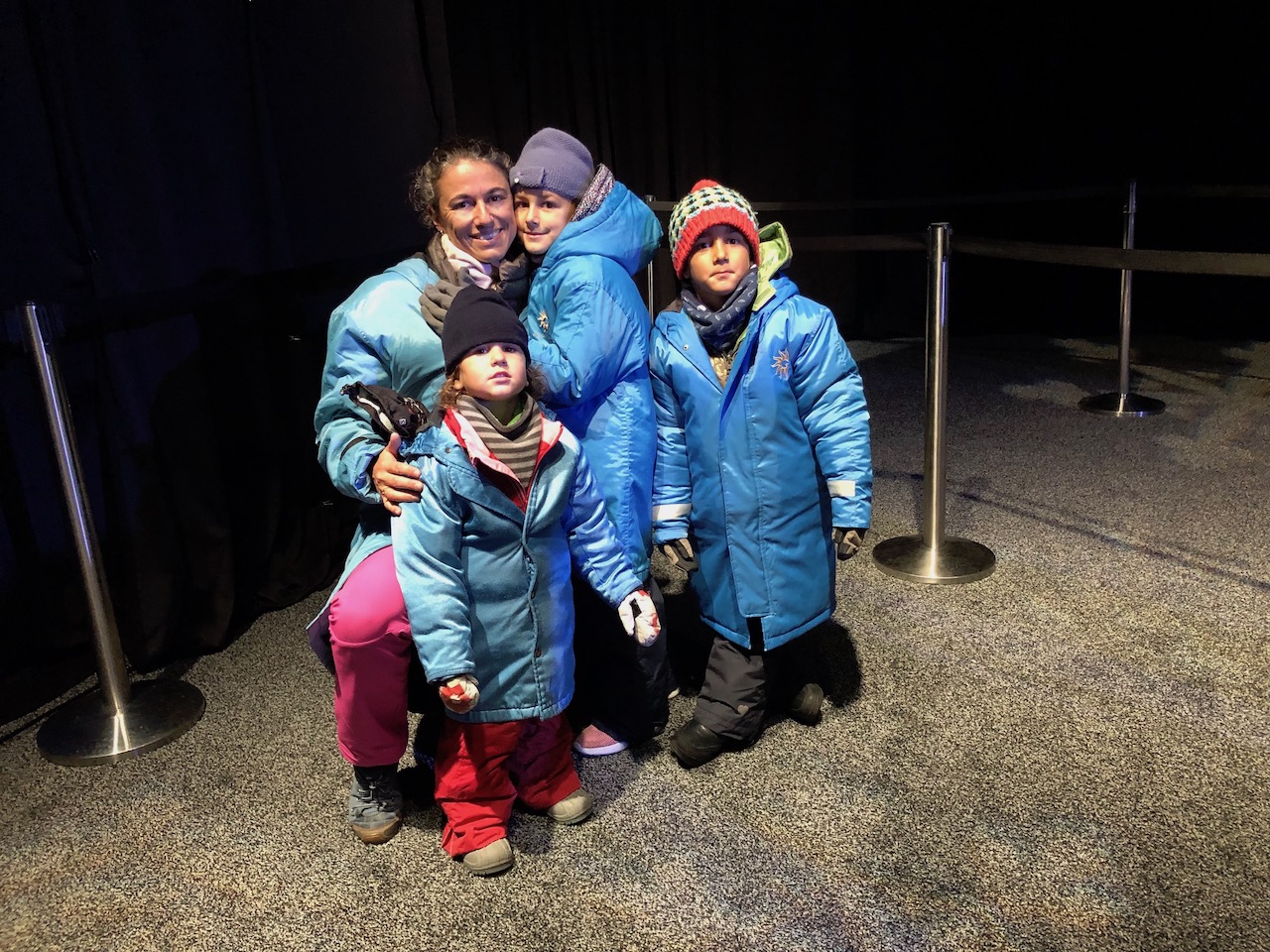 Your first stop will be at the winter coat distribution desk. I had dressed everyone in their warmest ski outfits, with technical underwear, snow boots, and all! But inside is so cold that I was very thankful for the knee-long parkas they gave us!
Note that in order to slide down the ice slides, you will have to wear the blue parkas! 
Once equipped and ready, enter the showroom and let yourself be amazed at the incredible ice-carved scenes from the movie!
The ice sculptures are colorful and life-sized. Stop at each scene and take the time to notice the details and hard work behind each one of them.
Once you get to the ice slides, prepare yourself to spend a little bit of time in there! The kids will LOVE sliding down on the 5 two-story ice slides, and adults should definitely join in the fun!! If you don't, be ready for a few sets of jumping jacks as you try to stay warm while your kiddos run around.
I loved the live ice carving zone inside the ice slide room. It is amazing to see those artisans work the ice!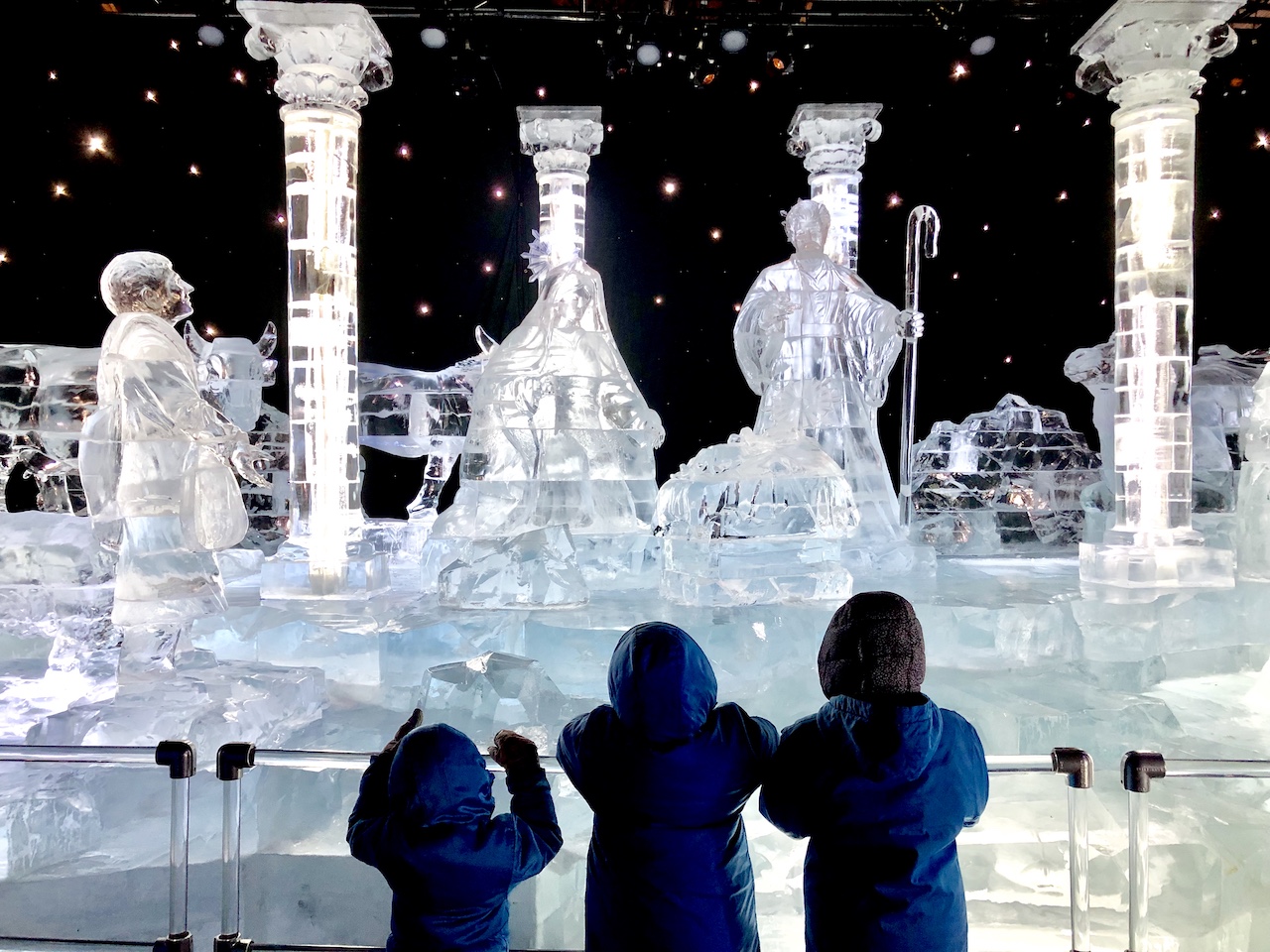 The last room before exiting ICE! is an impressive area dedicated to the Nativity. Made of crystal-clear ice and lit up in white, it is the cherry on the cake, and will leave you with wonder in the eyes!
Tickets And Tricks For Cheaper Tickets
There are two kinds of tickets at ICE!. The basic ticket includes the walk-through and two-story ice slides. You can add on the snow tubing option (called Snow) and enjoy snow tubing in the main hall, which is much warmer than the attraction itself!
You will be booking your tickets for a specific day and children ages 3 and under are free. If the younger children meet the height requirement, a separate ticket can be purchased for them to snow tube!
Use THIS LINK to purchase your tickets directly through Gaylord Palms ticketing. The advanced online purchase price is $14.99 for children and $28.99 for children.
A local's trick for cheaper tickets
You will generally find tickets to ICE! on Groupon, where you will select the day, ICE! alone or ICE! + snow tubing, and the adult / children combination of your choice. You will typically save about 40% on Groupon.
If you do decide to purchase on Groupon, remember to open Groupon through Ebates or Ibotta and receive cash back on your purchase. Ebates had a 6% cash back when I got our tickets and I earned $4.08 from the purchase!
Gaylord Palms Resort and Convention Center
6000 West Osceola Parkway, Kissimmee, FL 34747
The Gaylord Palms Resort, operated by Marriott and located in Kissimmee, is about as close as it gets to Disney World. A member of the Great Hotels of the World, it is one of the biggest hotels in Orlando with an impressive glass-ceiling atrium covering 4.6 acres, complete with baby alligators, turtles, and an indoor fort for a true Florida experience.
Enjoy the water park year-round and treat yourself to a cabana rental for ultimate comfort. Your kids will love the slides, while you will enjoy the quiet adult pool!
---
Pin this for later!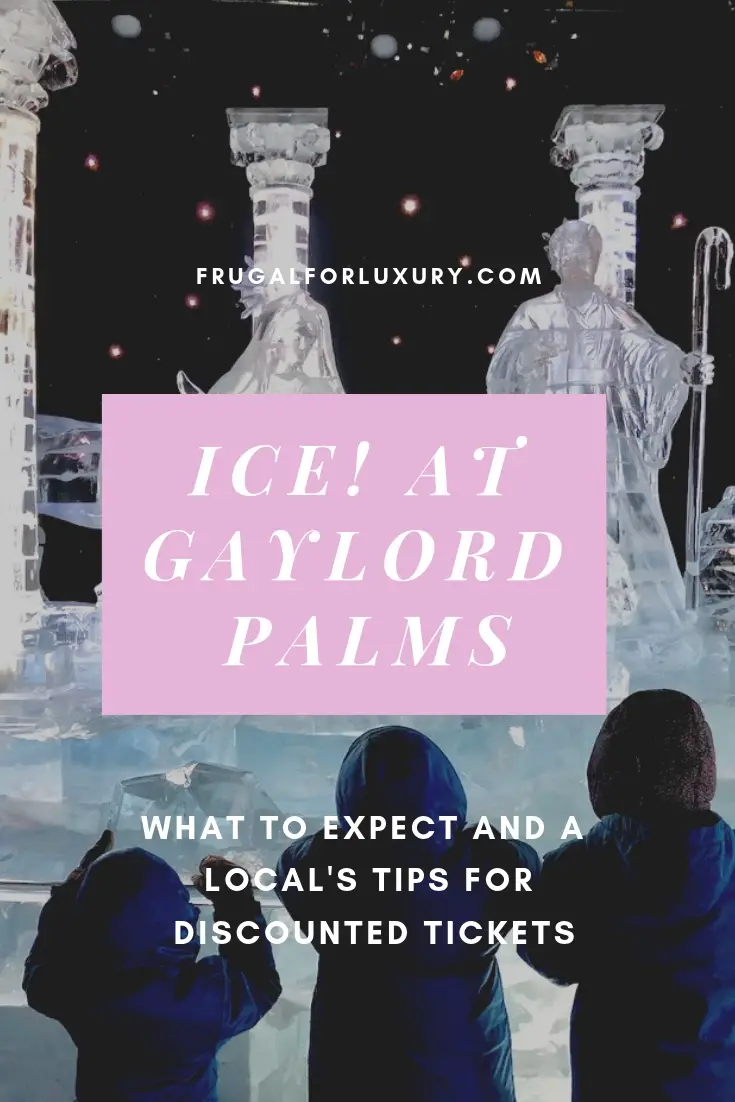 ---
Related articles you might enjoy: 
Grocery Stores in Florida 
10 Day Trips from Orlando
Family Fun in Orlando, FL – Canoe Outing at Shingle Creek Regional Park
If you enjoy reading us, remember to sign up for our newsletter!