There are many ways to enjoy Rovaniemi, Finland, with lots of different experiences, museums, animal encounters, and even a very magical meeting with Santa Claus. Most of the fun is to be had outdoors and you can choose from several different active tours in town. We chose Wild About Lapland for a very special Arctic adventure and had the most wonderful time!
Related article: What to do with kids in Rovaniemi, Finland
Reindeer And Canoe Trip In Rovaniemi
We did the Reindeer And Canoe Trip – one of our favorite family travel experiences to date. If you are in Rovaniemi with kids from age 3 or 4, I highly recommend the adventure. Our youngest is 5 and had an amazing time on the experience.
This is what we did and what we loved about it!
Up Close Encounter With Reindeer
Seeing reindeer was one of our family's bucket list items for our Europe trip and when Wild About Lapland tells you that you will meet reindeer, they're not joking.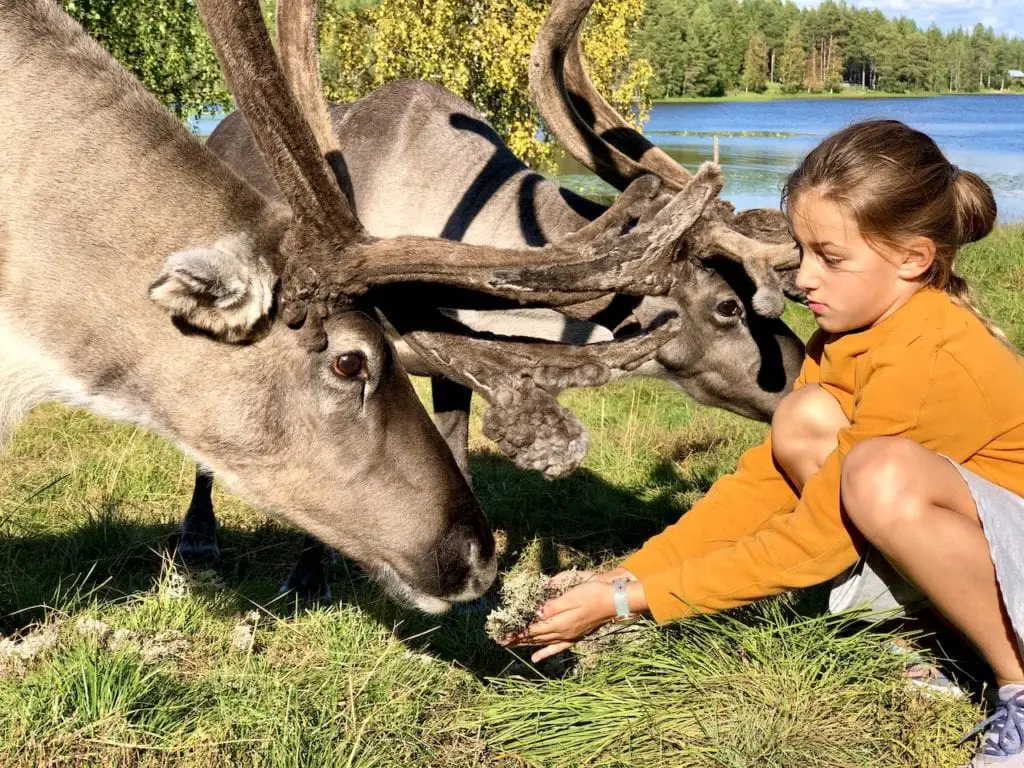 Our guide, Theo, took us to a beautiful local reindeer farm where we met the reindeer keeper who was eager to share her knowledge.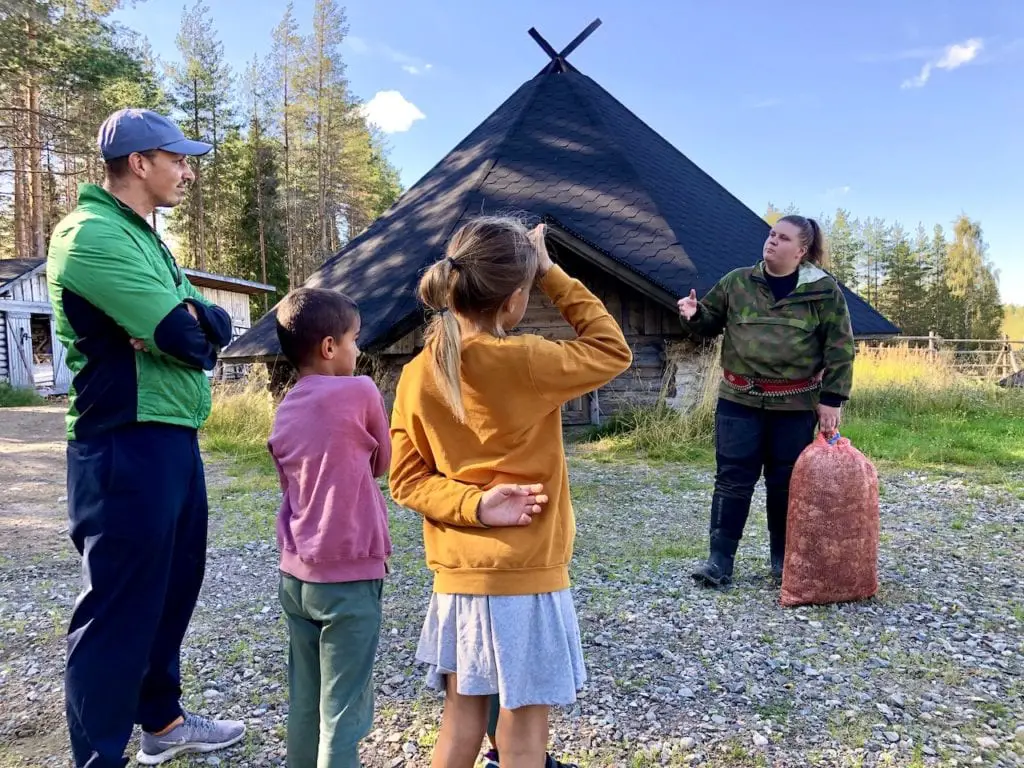 Mark and Ava must have asked her about 200 questions in the two hours we spent at the farm, and she very patiently and kindly answered every single one of them.
We learned amazing facts about those Arctic animals:
– Did you know that no reindeer is wild in Finland? All are owned by Finnish farmers
– The country of Finland won't let the reindeer population go above 200,000
– Reindeer are safe to hand feed since they don't have front teeth
– We were even told that many Finnish vegetarians eat reindeer meat as the species is not bred for meat and most reindeer are free to roam the local forests
The reindeer encounter was an exceptional world schooling opportunity, but also a one-of-a-kind encounter.
We fed moss to the tamest animals of the herd and walked among them and into the forest with them.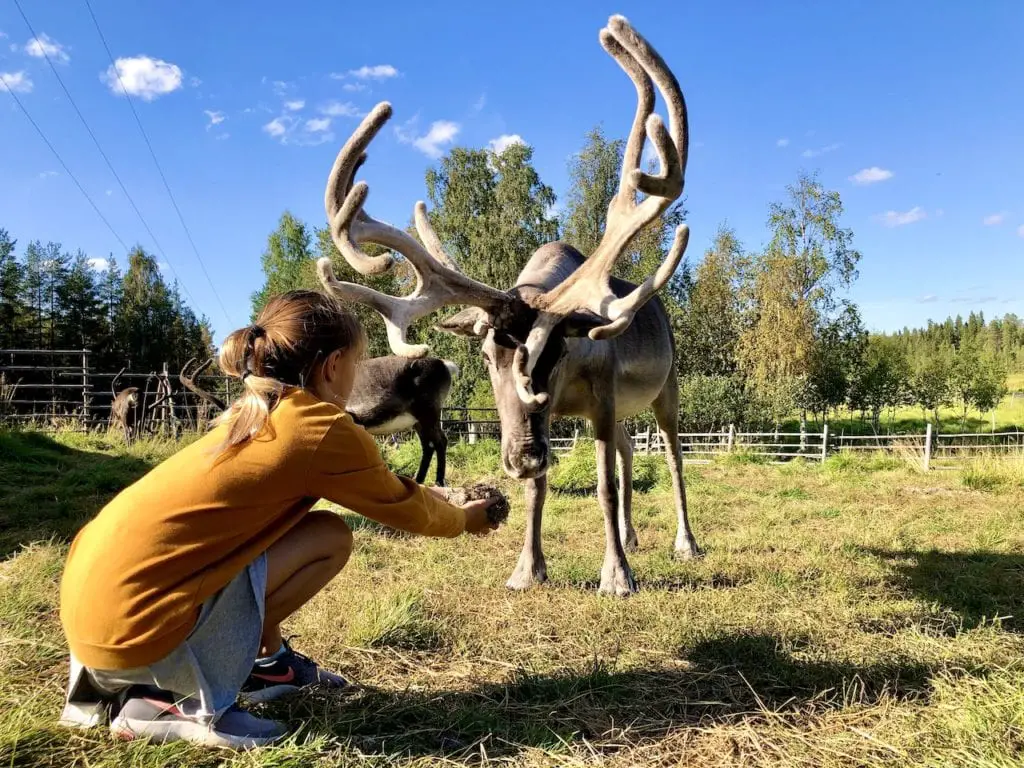 After interacting with the reindeer, we joined the farm herder for coffee and warm juice for the kids, by the fire.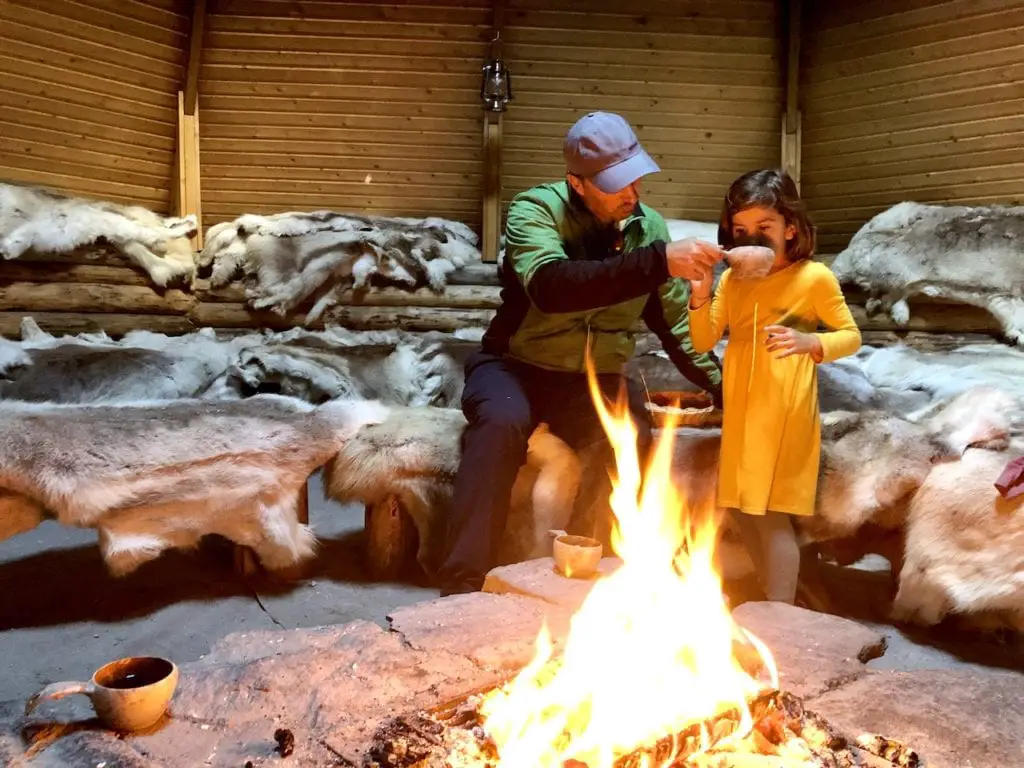 The experience was top notch and a must Arctic adventure for families in Rovaniemi.
Canoe Outing In Rovaniemi
After warming up to hot coffee and juice, we headed to the lake bordering the farm and took the canoes out for a spin.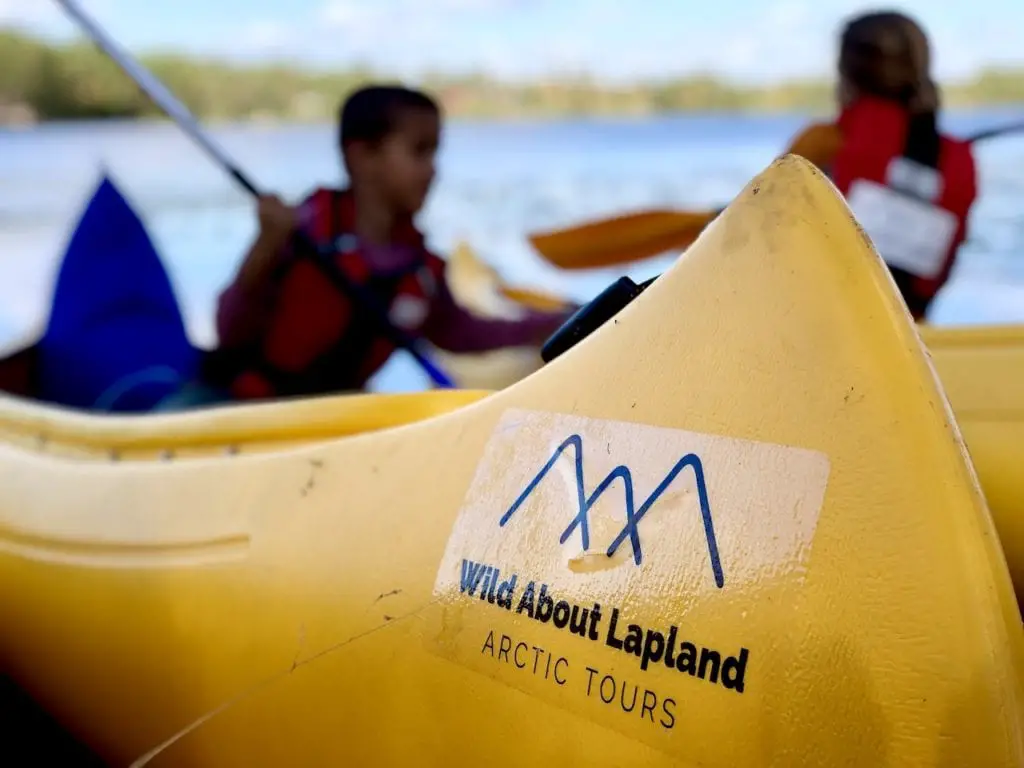 Our guide was incredibly thorough and focused on safety. He even ran out to grab a smaller life jacket for Elin, though we told him she is a swimmer.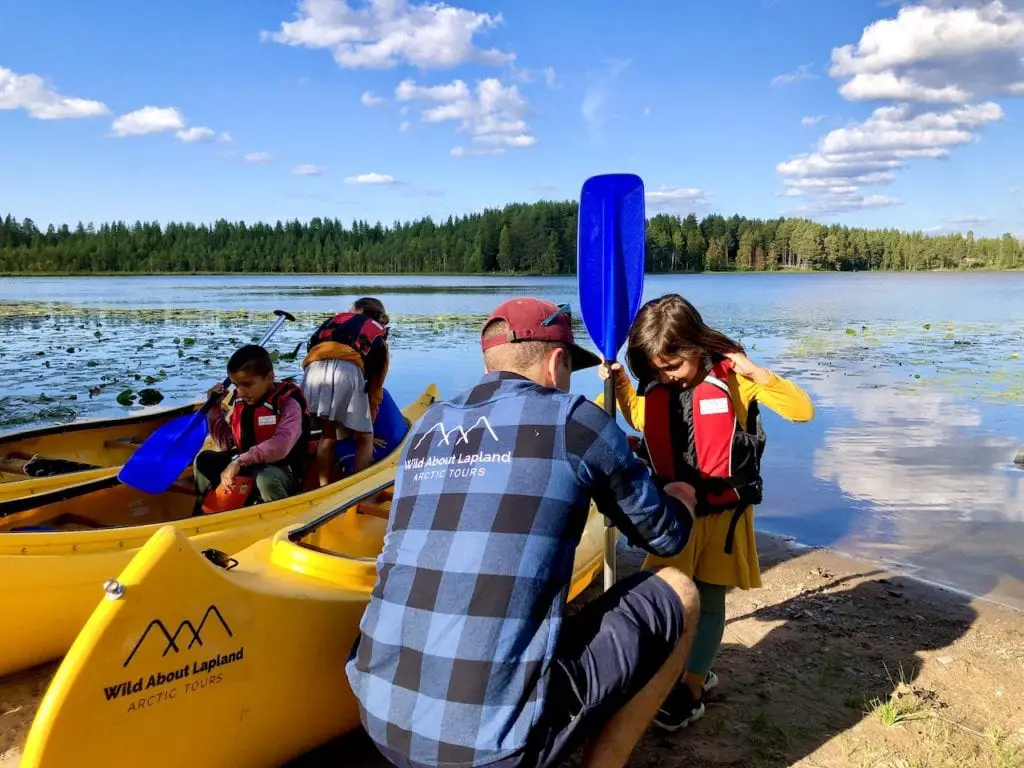 After a safety brief and quick canoe lesson, we headed out on to the lake.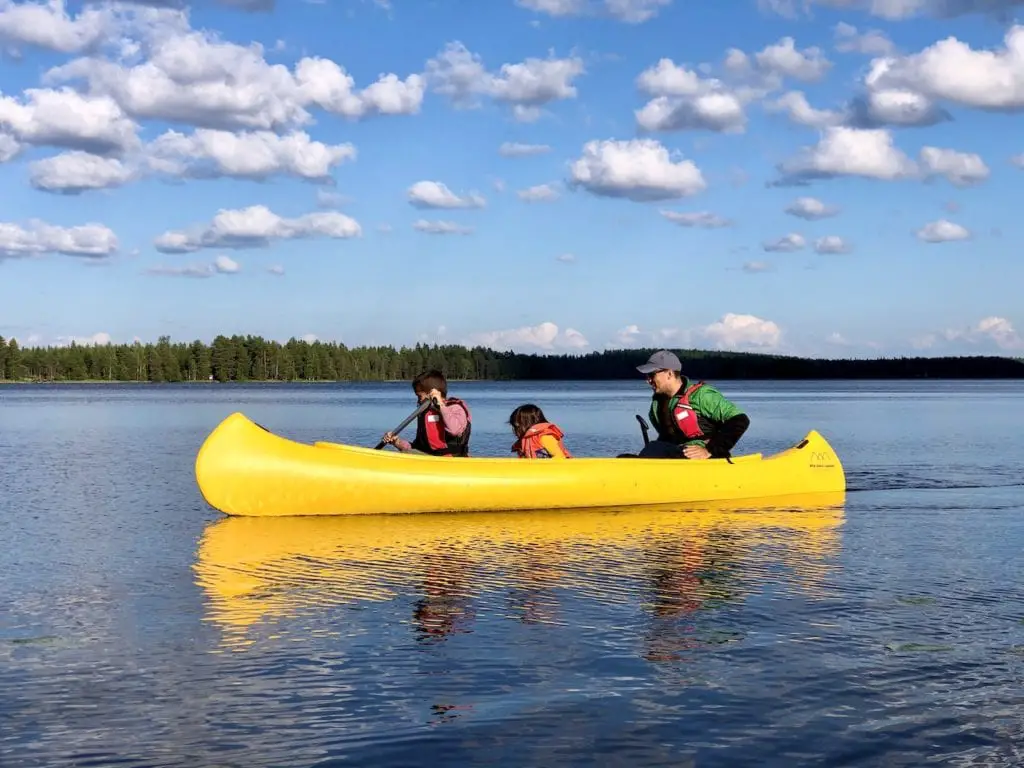 We started by practicing a few drills and making sure our rusted skills came back to life before spending about an hour out on the lake.
The kids had a blast and with the sun shining on a warm summer day, we all had a fabulous time paddling.
Arctic Adventure With Wild About Lapland
If you are in Rovaniemi with kids, I can't recommend Wild About Lapland enough for an Arctic adventure.
They have a large menu of winter adventures and summer adventures, and can arrange anything from an icebreaker cruise to a northern light chasing tour.
We loved our time with them and will cherish the memories of our Arctic adventure with Wild About Lapland for years to come.
Thank you to Wild About Lapland for hosting us on the Reindeer and Canoe Trip!
---
Pin this for later!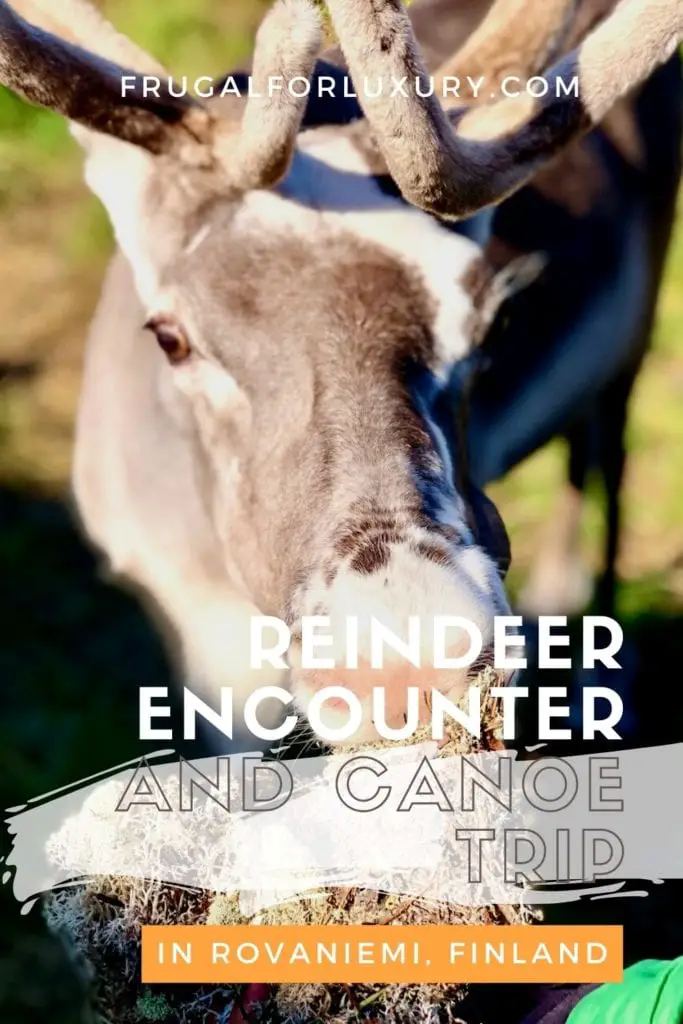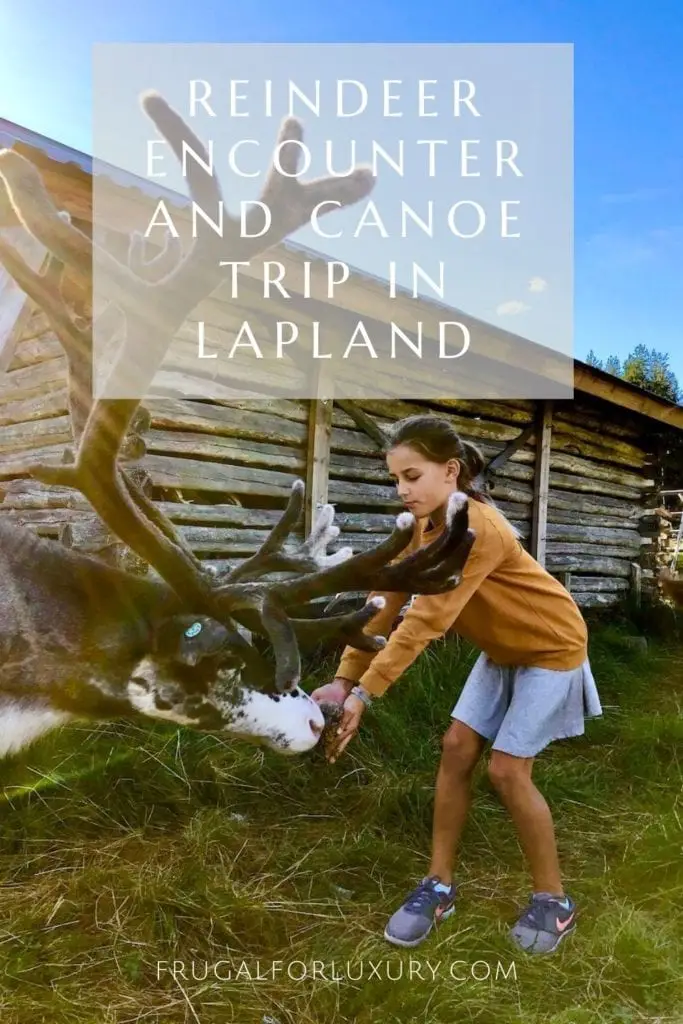 ---
Related articles you will enjoy:
Amazing Dog Sledging In Rovaniemi With Kids – At Bearhill Husky Tours
Sigulda Tarzan: Thrilling Family Day Trip Near Riga
The Cheapest Car Rental In Europe You Didn't Even Know Existed // TT Program
If you enjoy reading us, sign up for our newsletter below!