If you're thinking about traveling to New Zealand, you're on track with making amazing memories. With kids? Even better!
If you are flying from the U.S. or Europe, I highly recommend spending 3 weeks in New Zealand. That will give you enough time to see a lot of both the North and South Islands.
And if you only have 2 weeks, I suggest picking one of the islands and discovering it slowly, rather than trying to cramp both in 2 weeks.
Now, if you have more time, each island would deserve 2 to 3 weeks each! But unless you're retired or slowly traveling, 3 weeks seems like the right amount of time to maximize your visit of New Zealand.
Here is what you can do and see on a 3-week New Zealand road trip!
Where To Fly To And From In New Zealand
Since you'll be visiting both islands, I recommend flying in to Auckland and out of Christchurch.
Auckland is located on the North Island and has a large international airport, from where you can start exploring New Zealand's North Island.
The second part of your 3-week New Zealand road trip will take you to the South Island and you will fly out of Christchurch, located on the east coast of New Zealand's South Island.
Best Way To Visit New Zealand With Kids
There are several ways to visit New Zealand with kids. You can opt for a rental car and Airbnbs, a rental car and hotels (mostly called motels in NZ), or renting an RV.
We traveled 3 weeks in an RV and loved it. I wouldn't visit New Zealand any other way. Here are a few things you should know about RVing through New Zealand with kids:
RV's are known as "motorhomes" or "campers" in New Zealand (helpful for your Google searches!)
You can also rent a smaller RV, or "campervan", for a lesser price
Free camping is authorized and clearly delimited
Free camping in an unauthorized spot will cost up upward of $200NZD!
Use the following apps to find a spot to spend the night: CamperMate, Campable, Rankers Camping NZ. We mostly used CamperMate but all three are great resources with similar information
In many places, locals will rent their driveway or a spot on their land – all of those are in the apps as well
We shopped nearly all RV rental companies, and found the best deals on Motorhome Republic – a congregator company. They're also the ones we used for our Australian RV!
Week 1:
Ngawha Hot Springs
From Auckland, drive up north and start your New Zealand adventure at the Ngawha Hot Springs. You will have likely traveled a great deal to get to New Zealand and the springs are a 3.5-hour drive from Auckland. Starting with a morning of relaxation in hot sulfuric waters will feel heavenly!
With 16 pools of varying temperatures, you will love the small and natural feel of the facility.
Tip: if you have darker-color swimwear, I recommend wearing them. Some of our lighter colored UV shirts have gotten stained by the sulfur in the water.
Address: Kaikohe 0472, New Zealand
Biggest Bee Hive In The World
Located in Keri Keri and a short driving distance from the hot springs, the Bay of Islands Honey Shop is a fun and educative family-friendly stop.
Enter the shop and for a small price, walk into the biggest bee hive in the world. Most tours are given by the bee keeper himself and you will get to ask all of the questions that pass through your mind!
Address: 414 Kerikeri Road, Kerikeri 0230, New Zealand
Haruru Falls
Time for some nature and the first waterfall on your New Zealand itinerary.
Park your car and hike a very short distance to the top of the Haruru Falls.
Address: 80 Haruru Falls Road, Waitangi 0204, New Zealand
Drive Back Towards Auckland
As you drive back towards Auckland, use the coastal roads and enjoy a beautiful succession of bays. Make sure to stop and park by the side of the road to take in all the beauty!
One of our favorite spots was Rawhiti, New Zealand. The coast is stunning
Kaipawa Trig Track
This is the first real hike on your New Zealand itinerary. Not extremely physical, the path is well marked, but note that it will take you about 3 hours return and this is not a loop. You will be hiking up and down the same path.
The views however, are stunning. Once at the top, enjoy views of the bay on both sides!
Tip: wear long pants as there are many spiky plants along the way and our kids weren't big fans 🙂
Address: 275 Whangapoua Road, Coromandel 3582, New Zealand
Hot Water Beach
We are big thermal water lovers! Bring in all the hot therms and hot springs. If you're anything like us, this is going to blow your mind!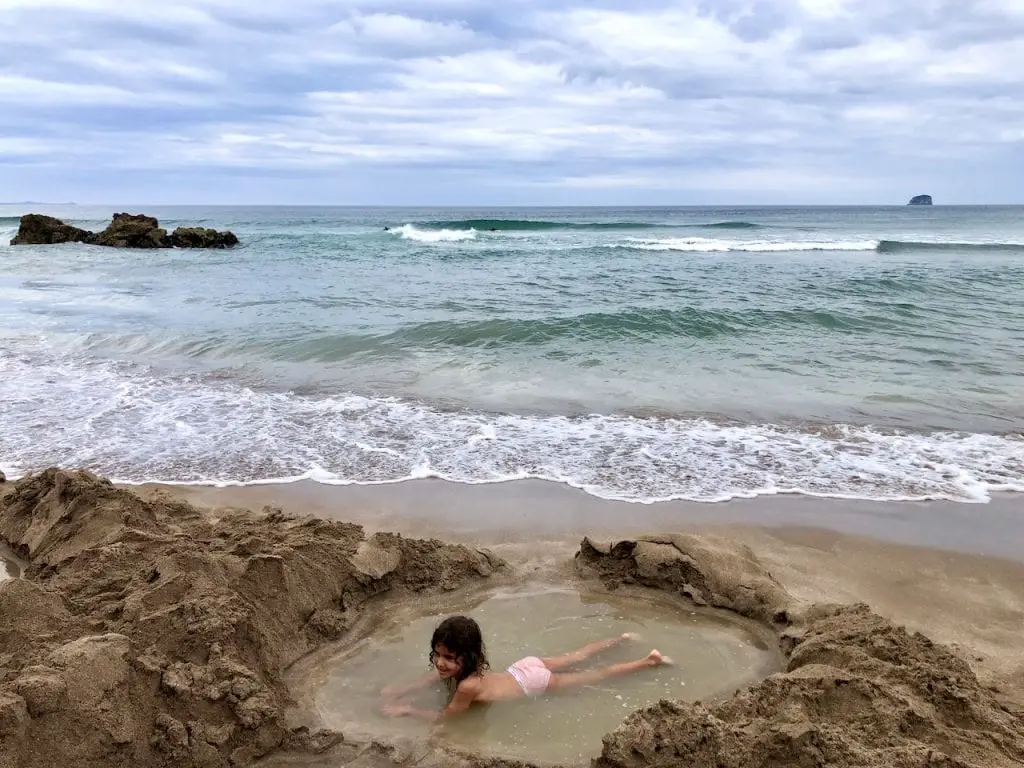 Expect LOTS of tourists and my recommendation is to get there shortly before sunset, when most tourists head home and you'll have the beach to yourself!
Hot Water Beach is like no other – grab a shovel in the village, or if you get there late, re-use the holes dug by others throughout the day. Here and there are little sources of very hot water. As you dig a hole, hot and cold water mix in and create warm baths for you to lounge in!
Read this amazing article on Hot Water Beach by my dear friend Leslie of 7Wayfinders!
Address: 3591, New Zealand
Wai-O-Tapu Thermal Wonderland
If you should see only one thing on New Zealand's North Island, this is it! You will need a ticket to enter and I recommend checking their website for the most up-to-date information.
The Wai-O-Tapu Thermal Wonderland is one the most impressive natural sites we've ever visited. There, you will wonder at our planet's geothermal activity and witness colors, smells, and textures in a variety like no other!
If you want to see the Lady Knox Geyser erupt, make sure to get there around 10AM for a sharp 10.15AM eruption! After that, most tourists head over to the thermal wonderland to visit the site.
Tip: if you are not emotionally attached to seeing the geyser erupt, skip it and show up at Wai-O-Tapu Thermal Wonderland around mid-day. You'll walk into the park as everyone else ends their visit and exits! The park will be yours to explore with very little crowds!
Address: 201 Waiotapu Loop Road, Rotorua 3073, New Zealand
Lake Taupo
Lake Taupo is beautiful and so large and full of waves, you'll think you're on the ocean.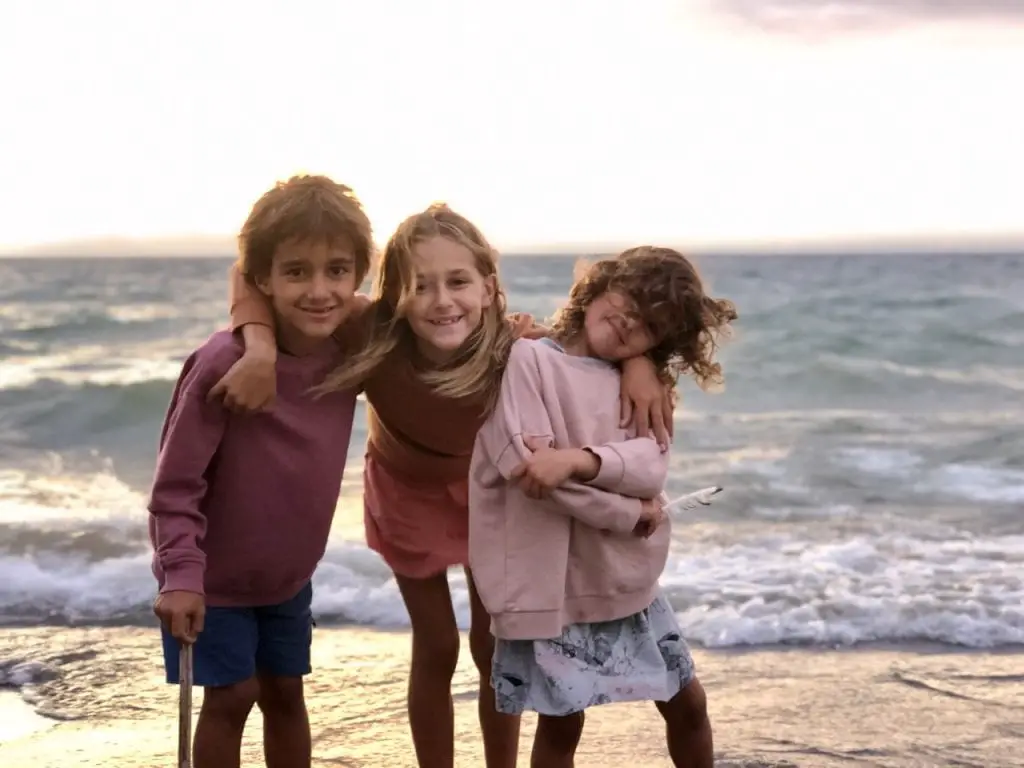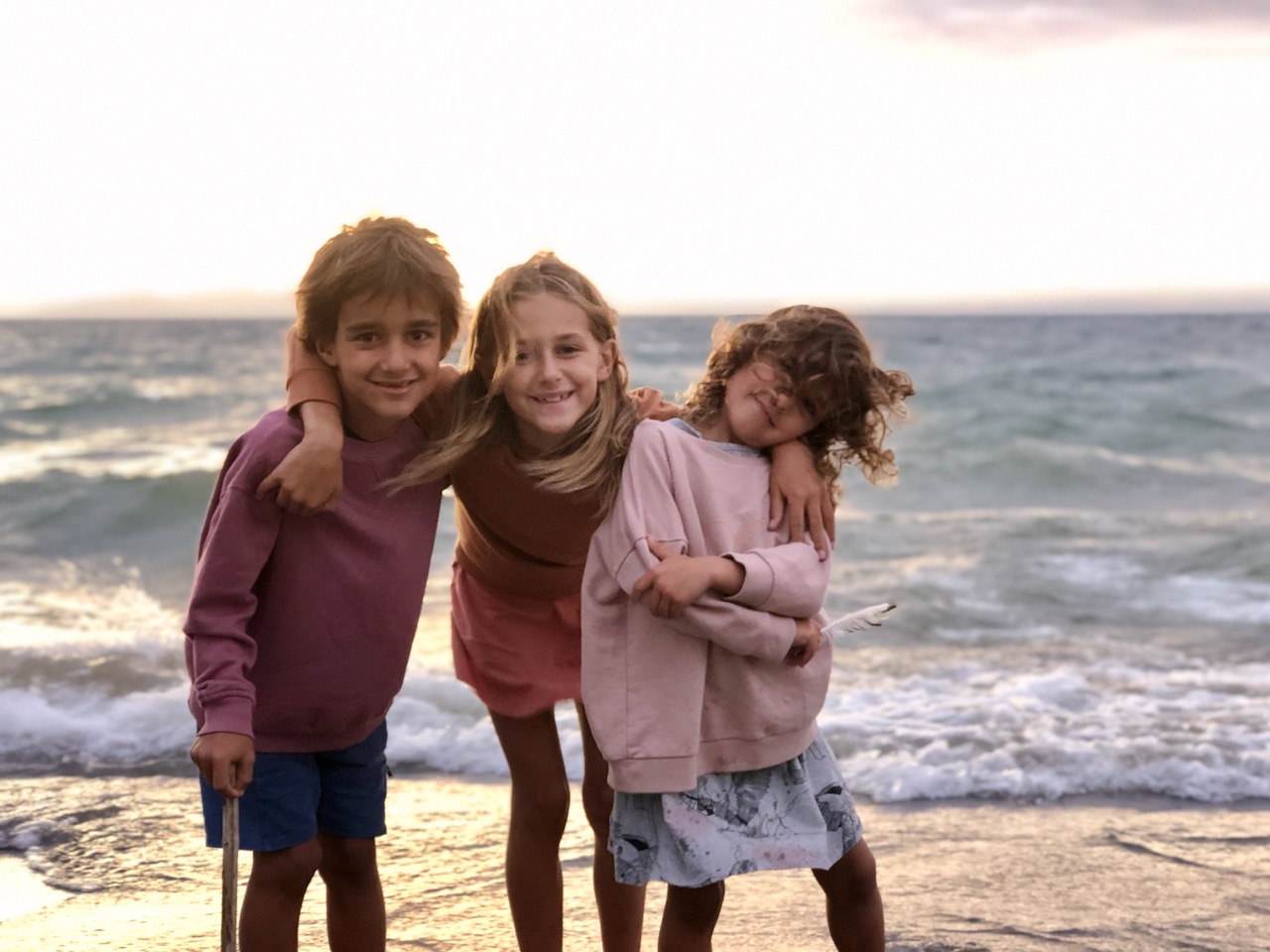 Enjoy the towns around the lake and make sure to catch a sunset on the lake! You could also take a boat excursion out to the Mine Bay Maori Rock Carvings
Address: 201 Waiotapu Loop Road, Rotorua 3073, New Zealand
Week 2:
Tongariro National Park
Tawhai Falls
The Tongariro National Park will be your last nature stop on New Zealand's North Island. If you have nice weather, you will see beautiful nature on a mountainous backdrop.
Your first waterfall stop are the Tawhai Falls. They are a fairly short hike from the parking area and I recommend hiking down all the way to the bottom.
Tip: visit the Tongariro National Park's visitors' center to learn more about the animals of the region, volcanic activity, and more.
Address: Manawatu-Wanganui 4691, New Zealand
Taranaki Falls
A must-do in the national park! The Taranaki Falls are found mid-hike on one of our favorite hikes ever. We decided to hike the higher trail first and come back via the lower trail. Park your car at the visitors' center and walk over to the start of the trail.
The first half of the hike took us on top of the plateau, in wide-open space.
Then came the falls, where you will want to leave the trail and get closer to the base of the waterfall.
Leave the falls via the lower hike and enjoy a forested return to the parking lot. You could also stop at the manor for high tea on your way back. The setting is beautiful and the menu, very appetizing!
Address: Tongariro Northern Circuit, Tongariro National Park 4691, New Zealand
Wellington
Did you know that Wellington is New Zealand's capital? We fell in love with it the second we stepped foot in the city! It has a very easy-going and welcoming vibe to it!
We loved walking up and down Cuba Street and had finger food at the Asian night market right off of Cuba St. Very cool little street to spend the evening.
Don't miss the Museum of New Zealand Te Papa. Plan on spending several hours and enjoy the playground in the park nearby, or a walk along the harbor! The museum is free, with the exclusion of 1 or 2 exhibitions.
Other fun things in Wellington include the cable car and free botanical garden.
Ferry Transfer To The South Island
New Zealand's South Island is separated from the North Island by a large arm of sea. You will need to book a ferry ticket for yourself and/or vehicle.
We used the Interislander Ferry company and had an amazing experience. We paid around $400USD for the crossing but the ferry had free wi-fi, our tickets included food vouchers, and the kids had a playground, while Christian and I relaxed in comfortable couches. The ferry even had a movie theater with cheap tickets for purchase! Note that the crossing takes about 3.5 hours, so this will be a full-day adventure!
Tip: While most RV companies allow you to take your RV on the ferry, only 2 car rental agencies allow you to do the same with rental cars! Make sure you check with your car rental agency whether you are allowed to travel between islands!!
Abel Tasman National Park
Known as one of New Zealand's sunniest regions, you will love Abel Tasman National Park. We also found it to have very warm weather, in comparison to other places we had visited before.
You could spend a whole week there… but if you only have 3 weeks in the country, I recommend spending a full day there and taking in as much as you can of the scenery!
Address (we parked our car here and explored the beach by foot): 2 Harvey Road, Marahau 7197, New Zealand
Cape Foulwind
If you enjoy lighthouses, here is a fairly short hike for you, with beautiful views.
Cape Foulwind is easily accessible via a steep but short hike from the parking lot.
Address: Cape Foulwind 7892, New Zealand
Seal Colony Tauranga Bay
The seal colony is super fun to watch. This is also where we saw our first kiwi!! It is a short walk from the car park on a well marked coastal path.
Tip: bring your binoculars, the seals are fairly far from the viewing platform!
Address: Coast Road, Cape Foulwind 7892, New Zealand
Mitchells Gully Gold Mine
This experience is sensational. You will walk the grounds of an old gold mine and can start your visit in a cave with lots of glowworms!
The owner, a descendant of the gold miner, is incredibly passionate about the mine and shares a wealth of knowledge before you head down in the mine on your own!
Tip: bring flashlights for the cave tour!
Address: 7664 State Highway 6, Charleston 7865, New Zealand
Week 3:
Punakaiki Cavern
There is a really cool thing going on in New Zealand – they have caves, and most have glow worms! Many of the caves are free to enter but make sure you've packed flashlights and wear shoes that could get wet.
The Punakaiki Cavern is a free, fun, and short one to explore and we saw many glowworms. Park your car by the side of the street and have fun exploring.
Tip: bring flashlights.
Address: 4300 State Highway 6, Punakaiki 7873, New Zealand
Punakaiki Pancake Rocks
A natural wonder, not to be missed. Get there at high tide and the blowhole will be in full swing. But anytime of day is good to visit the Pancake Rocks.
Looking like stacked pancakes, the walk takes you on top of the cliff with beautiful views of the bay and blowholes below.
Address: 4294 Coast Road Punakaiki, RD1 Runanga, West Coast 7873, New Zealand
Truman's Track
Located inside the Paparoa National Park, just like the Pancake Rocks, park the car on the side of the road and walk this easy hike down to what resembles most like a hidden beach.
This pebbled beach is a little gem, with a skinny waterfall and lots of places to explore.
Address: State Highway, Paparoa National Park 7871, New Zealand
Franz Josef Glacier
I wish I could tell you more about outdoor adventures at Franz Josef Glacier, but we visited during a historical flood that kept all outdoor adventures absolutely closed. Some of the sought-after adventures include hikes and glacier walks from helicopter drop offs.
Since it was downright pouring and all trails were closed, we opted for the Franz Josef Glacier Hot Pools and had a wonderful time!
Address: 63 Cron Street, Franz Josef Glacier 7886, New Zealand
Ship Creek
Ship Creek was one of our favorite walks and beaches. A nice forested walk will take you to a coastal viewpoint or skip straight to the beach and enjoy the views.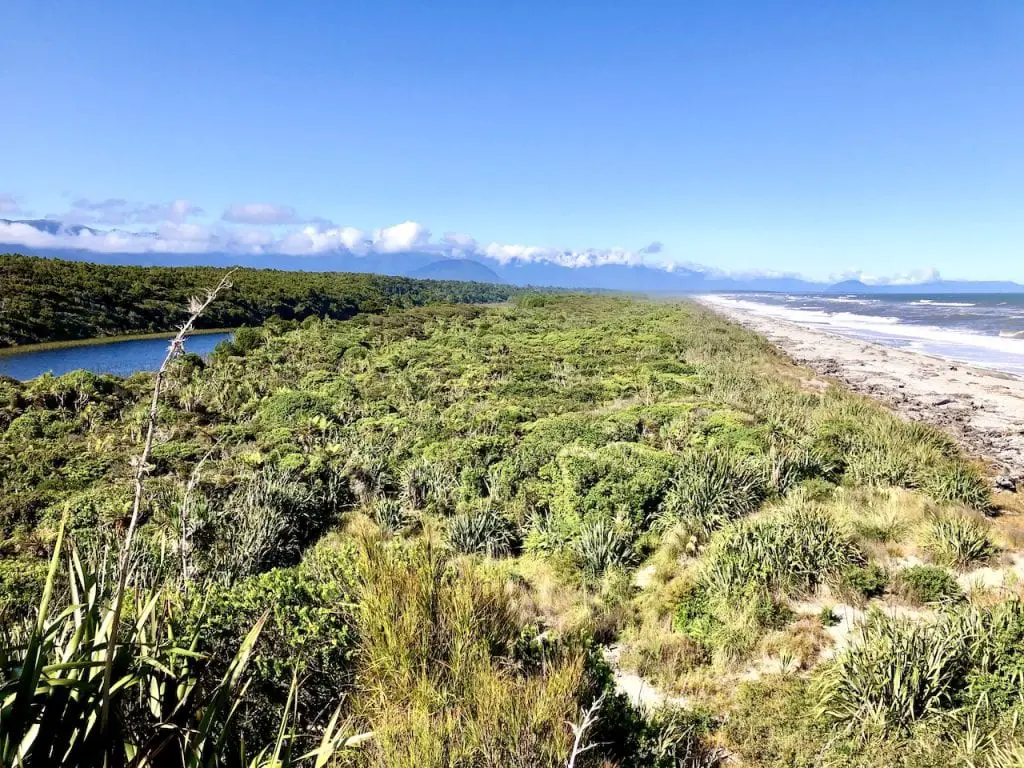 Tip: look for greenstone on the beach!
Address: Haast Highway, Haast 7886, New Zealand
Jackson Bay
Jackson Bay is definitely out of the way (100km roundtrip) but so worth it. Do not skip it!
Drive the 50km coastal road from Haast to Jackson Bay and park your car at the dead end of the road. From there, hike down to the ocean on the Wharekai Te Kou Walk and enjoy some beautiful scenery. Waves crashing against the rocks, the kids will love climbing from rock to rock and getting their feet wet in the waves.
You will also find the quirkiest little restaurant – Cray Pot – right before the start of the hike, serving the freshest of seafood in a caravan parked right by the sea.
On your way back towards Haast, you will find an old pioneer cemetery on the right handside, worth stopping for!
Address: Jackson Bay 7886, New Zealand
Blue Pools Track
The Blue Pools Track is a fun, 30-minute hike to a crystal blue river (depending on season and weather). We loved the forested hike and hanging bridges, and saw many swim in the river.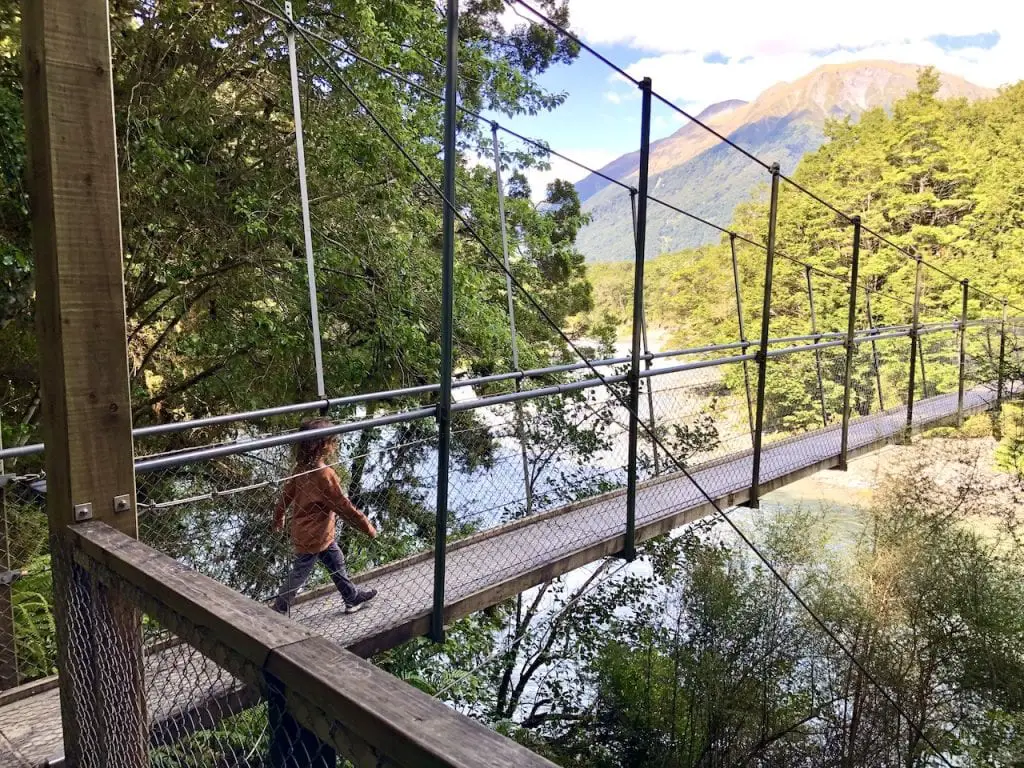 Address: Haast Pass-Makarora Road, Mt Aspiring National Park 9382, New Zealand
Queenstown
From Blue Pools Track, the road to Queenstown might be one of the most beautiful you'll ever drive. Make sure you start with plenty of daylight to fully enjoy the experience.
Once in Queenstown, there is so much to do – from extreme jet boat riding, to a luge adventure, a canyoning experience, or ziplining, be ready for all the thrill!
Milford Sound
From Queenstown, Milford Sound needs to be your next stop. Opt for a cruise on the fjord or a helicopter tour, and marvel at the beautiful nature. The floods had destroyed the access roads to the site and we weren't able to visit. That gives us a good reason to go back to New Zealand!
Tip: book a helicopter tour leaving right from Queensland, and save on lots of driving!
Te Anau
Te Anau is a cute coastal town, which also feels like it caters to tourists a little more than we like. But it is definitely worth a stop and stroll along the lake.
We loved the huge playground with spectacular views for the parents. We also visited the free Te Anau Bird Sanctuary, and ended the evening watching the sun set behind the lake.
Address (bird sanctuary): 181/209 Manapouri-Te Anau Highway, Te Anau 9679, New Zealand
Dunedin
Dunedin is such a fun town, you'll probably want to spend two days there! Every thing can be done by foot within the city center. Here are some things not to be missed:
Otago Museum
Here's to yet-another free New Zealand museum! The Otago Museum is super fun for the whole family. Our favorite part was the top level with natural history exhibitions and tons of animals to learn about!
Address: 419 Great King Street, North Dunedin, Dunedin 9016, New Zealand
Railway Station
Known as the second most photographed building in the Southern Hemisphere (after Sydney's Opera House), you'll want to snap a picture! From there, walk up the main street and enjoy the city center. There is a public library at the top, in case you need free wifi or have a little bookworm missing reading!
Address: 3074332, Dunedin 9016, New Zealand
Toitu Otago Settlers Museum
Ready for one of our favorite museums ever? The Toitu Otago Settlers Museum is a thing of beauty!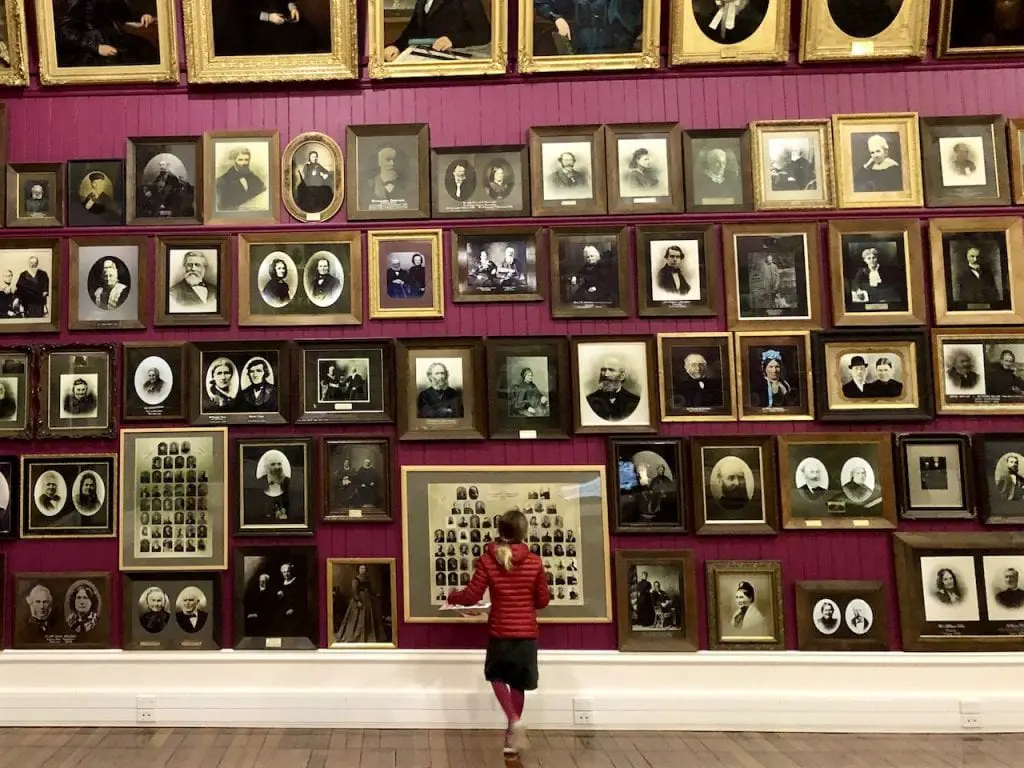 Another free museum, you will learn about the first settlers in New Zealand, with areas of the museum for the kids to experience life of the past. If you should do just one thing inside the city, this was our favorite!
Tip: stop by the front desk and receive an age-appropriate scavenger hunt through the museum!
Address: 31 Queens Gardens, Dunedin 9016, New Zealand
Dunedin Chinese Garden
Neighbor to the Toitu Otago Settlers Museum is the Lan Yuan Dunedin Chinese Garden. We loved the cultural experience, Chinese heritage, and many hands-on games to keep all of us entertained. Count about an hour or so, this is a fairly quick visit.
Address: 39 Queens Gardens, Dunedin 9016, New Zealand
Blue Penguin Pukekura
A must-do while in Dunedin! The Blue Penguins are the smallest penguins there are and in Pukekura, a wild colony of about 400 of them, live on the beach. They leave every morning before sunrise and return right after sunset, after spending the day fishing 25 kms away from their home.
This is a paying tour and also the only way to see them. A guide will take the group down to the viewing platform right at sunset and you will have an hour and a half to wonder at those beautiful birds. I promise you it is worth every penny and an experience you will never forget!
And since you'll be there at sun down, you'll enjoy some of these views!
Tip: the night and winds can be incredibly cold! Pack all the clothes you have. I'm not kidding… we each wore 5 or 6 layers, 2 pairs of socks, and long johns, and 2 kids did not make it to the end…
Address: 1260 Harington Point Road, Harington Point 9077, New Zealand
Moeraki Boulders
Moeraki might only be an hour-drive away from Dunedin, we left winter and landed in hot summer! There is a total change of climate and we welcomed the sun and heat!
Head to the boulders beach and marvel at one of Earth's incredible formations!
Address: Moeraki Boulders Road, Hampden 9482, New Zealand
Timaru
Timaru is a coastal town and we headed straight to spend the night near Caroline Bay Association. Thankfully, we got there with plenty of time to enjoy the outdoors and spent nearly 3 hours having fun there.
Caroline Bay Association is an amazing park right by the beach. It includes a large water play area for the kids, a huge playground, a skate park, a bird aviary, and of course, boardwalks leading to a beautiful beach!
This is the perfect stop for the kids to have fun and feel like you're living a local's life!
Address: Timaru Central, Timaru 7910, New Zealand
Rakaia Gorge
Welcome to another natural wonder. The Rakaia Gorge is flowing crystal blue and is a sight for the books! Take your cameras out!
This is another good place to book a water adventure if you wish. There is also a 10-km (3 to 4-hour) walkway if you have the time!
Address: 609 Rakaia Gorge Road, Windwhistle 7572, New Zealand
Akarua
We fell in love with the quaint charm of Akarua. A little drive away, but totally worth it.
This coastal town will steal your heart. Walk by the water, then up the main street and stop for a coffee or crèpe. Akarua makes you want to take your time and live a slower life for a while.
Christchurch
That's it… this is your last stop in New Zealand, and expect to be impressed. I think I could move to Christchurch. We fell in love with its feel, views, and the amount of fun in the city. So here's what you can't miss while in Christchurch with kids:
Botanical Gardens
The Botanical Gardens are free and have a large parking lot nearby. Walk down the serene space, stop at the playground, or even take a swim in the pool on a warm day.
Address: City Centre Rolleston Avenue, Christchurch Central City, Christchurch 8013, New Zealand
Canterbury Museum
Located at the very end of the Botanical Gardens is the free Canterbury Museum. Another beautiful museum with fun exhibitions, such as the re-creation of a teenager's room in each decade, the re-creation of ancient Christchurch streets, and the walk-through of 2 shell-fanatics' home.
Address: Rolleston Avenue, Christchurch Central City, Christchurch 8013, New Zealand
Mona Vale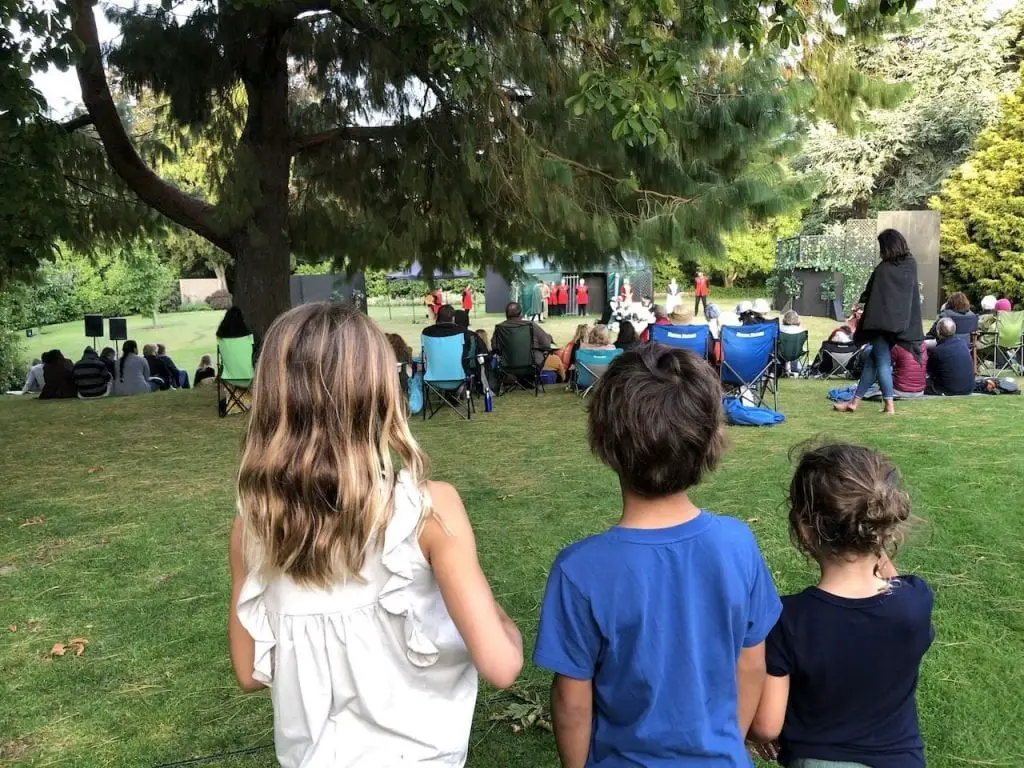 We stumbled upon the Mona Vale Gardens by chance (looking for public bathrooms has its advantages) and we loved our walk through this peaceful garden with historical buildings.
Address: 40 Mona Vale Avenue, Riccarton, Christchurch 8011, New Zealand
Margaret Mahy Playground
Sorry parents.. you'll come once, twice, probably 3 or 4 times even. The Margaret Mahy Playground is the largest playground in the Southern Hemisphere and you won't be able to take the kids away, but it will all be worth it!! There are food trucks and coffee trucks, so all will be good!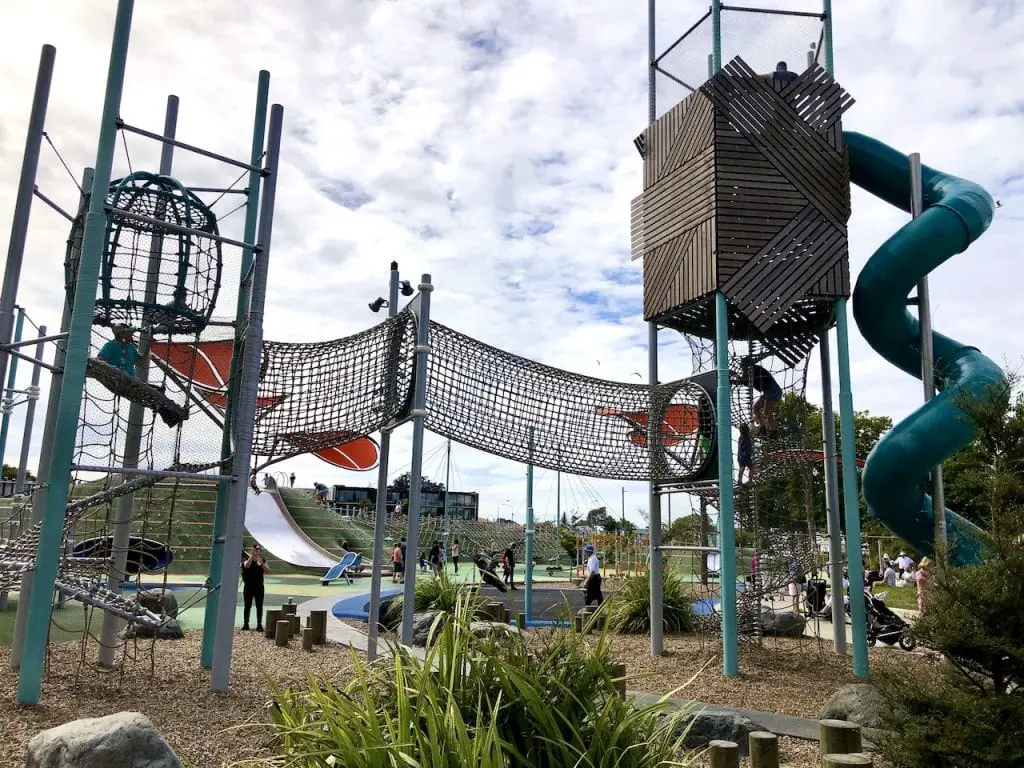 Tip: there is free parking right here! Make sure to check on site as parking rules change frequently but this was a 2-hr free parking when we went. Pack a change of clothes in case the kids decide to play in the water area!
Address: Armagh Street, Christchurch Central City, Christchurch 8013, New Zealand
The Christchurch Library
My favorite library on the planet. This is such a happy / feel-good place! There is free wifi, amazing architecture, and it is a kids paradise. With thousands of Lego pieces, dress-up clothes, a reading tower with slide, and staff that happily looks after the kids after checking with us that they were allowed to play PSP games, I can't think of a better way to spend quiet time for a while!
You will easily walk from the Margaret Mahy Playground to the library. Use New Regent St for a fun walk and a shot at seeing the cable car!
Tip: get up to the top level and get amazing views of the church from the terrace.
Address: 728-720 Colombo Street, Christchurch Central City, Christchurch 8011, New Zealand
Air Force Museum New Zealand
The Air Force Museum was a great free museum to learn more about the wars fought from the air. I had never realized the role New Zealanders played in some of the world wars and this was an amazing museum to gain more knowledge of their Air Force.
Address: 45 Harvard Avenue, Wigram, Christchurch 8042, New Zealand
New Brighton Beach
Looking for a beach day near Christchurch? New Brighton has a long water front with many little restaurants, excellent pizza, a waterfront public library, an amazing beachfront playground, and the coolest night time illuminations on its pier!
Address: Brighton Mall, 8061, New Zealand
3-Week Roadtrip In New Zealand
So here you have it – this is your 3-week, kid-tested, kid-approved, road trip itinerary through New Zealand!
It is a beautiful country with a wealth of natural and historical sites. Feel free to adjust to the time you have in the country. This is a full itinerary and you will need to take things quite rapidly, but if you only have 3 weeks, it will be worth it. You could also totally do this in 4 weeks if you have the time!
Enjoy!
---
Pin this for later!
---
Related articles you will enjoy:
What To Do In Canberra, Australia With Kids FOR FREE
How To Visit Sydney, Australia With Kids – Hop-On Hop-Off Cruise With Captain Cook Cruises
Best Way To See Most Of Fiji With Kids – 11 Reasons To Cruise With Captain Cook Cruises Fiji
If you enjoy reading us, sign up for our newsletter below!