We just spent the day at Bearhill Husky Tours in Rovaniemi, and we had such an amazing time that I rushed home to edit my photos and put the video together, to re-live all of our experience.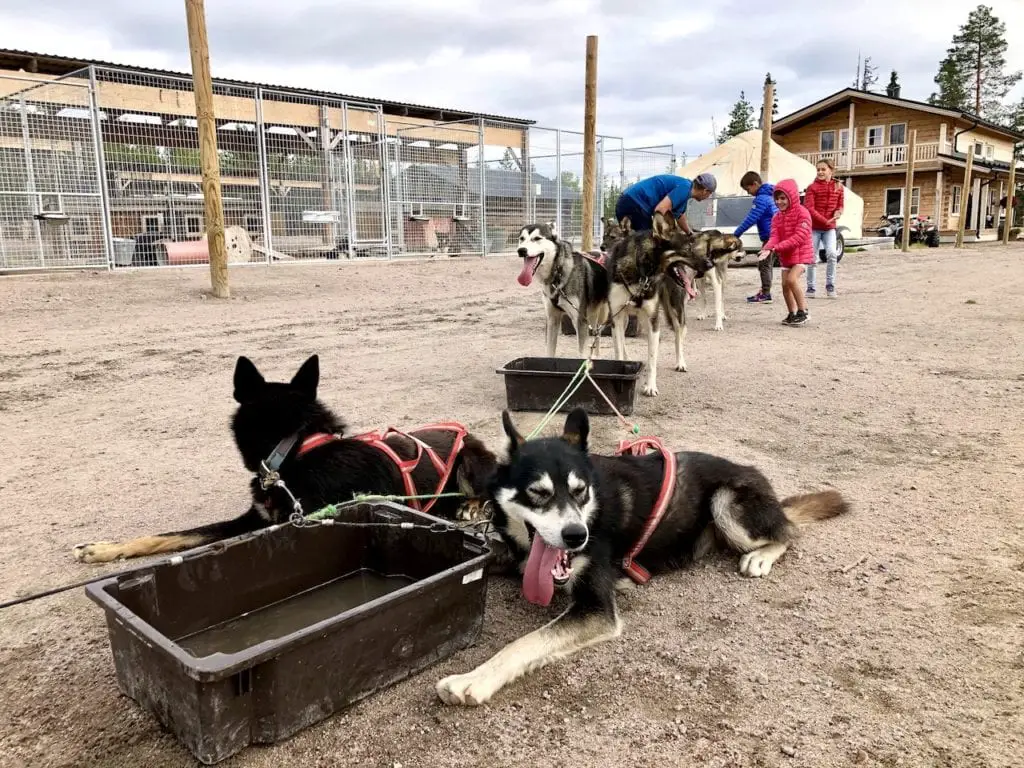 Our day of dog sledging at Bearhill Husky Tours is going to remain one of the most beautiful memories of our world tour.
Bearhill Husky Tours is located right outside of Rovaniemi and it is must when visiting Rovaniemi with kids!
Let me share with you what makes the experience so special!
1- Beautiful Husky Kennel
We were so surprised coming in, at how beautiful, modern, and clean the kennel at Bearhill Husky Tours is.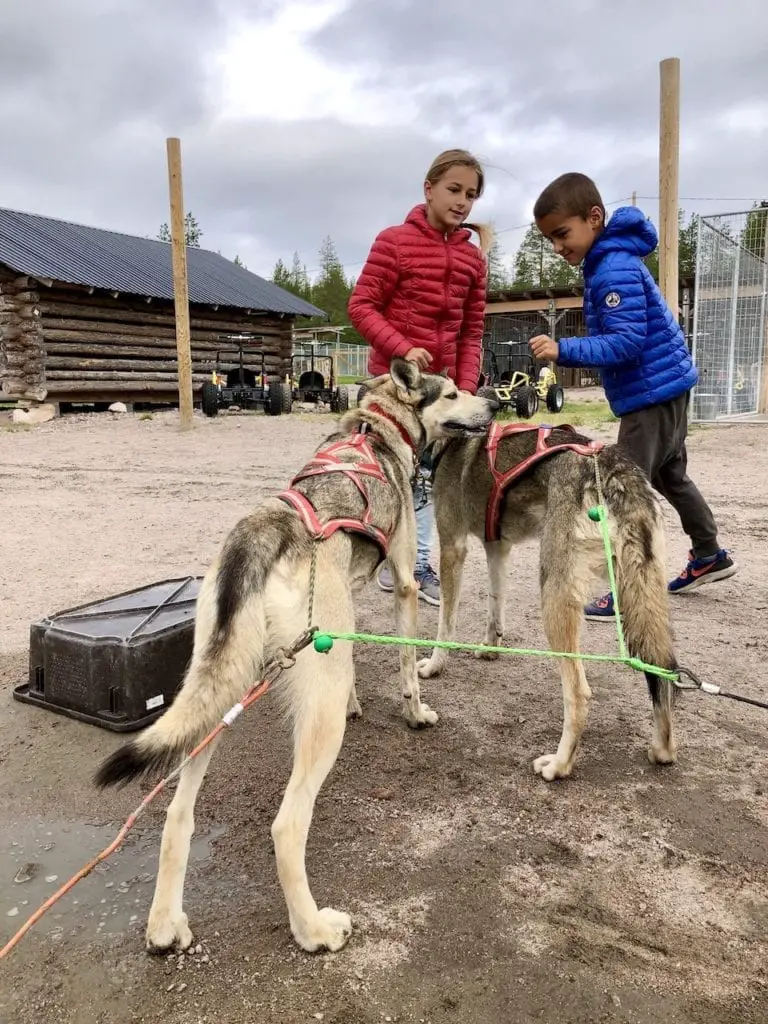 Christian knows that I am not a big fan of dogs and he has warned me that the kennel and the dogs would smell and be dirty…
None of that here. The installations are modern and beautiful. There isn't an ounce of smell going around, and it is just beautiful nature all around!
2- Love For Dogs
The one thing that transpires throughout the whole kennel and experience and how loved the dogs are.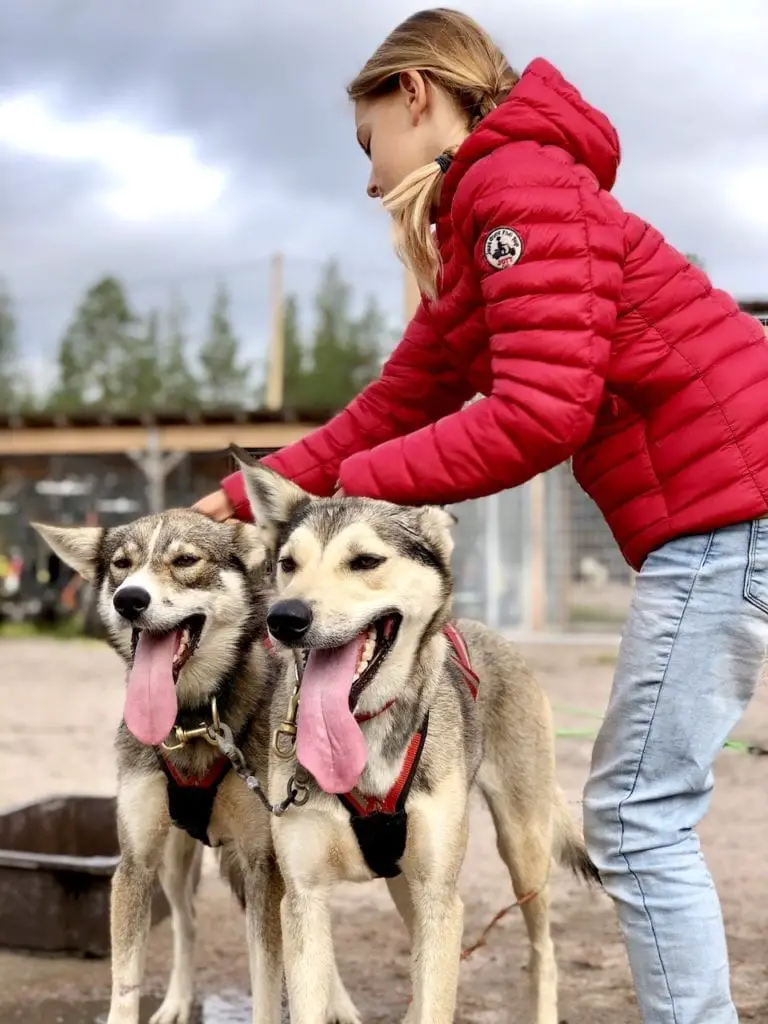 Bearhill Husky Tours is home to almost 90 Alaskan huskies and they are loved and cared for beyond measure.
The owner and the care takers know each dog by name. They can tell you everything about the dog's pedigree, its family ties, his specialties, weaknesses, and character.
3- Family- Friendly Kennel
We were amazed at the family friendliness of our whole experience.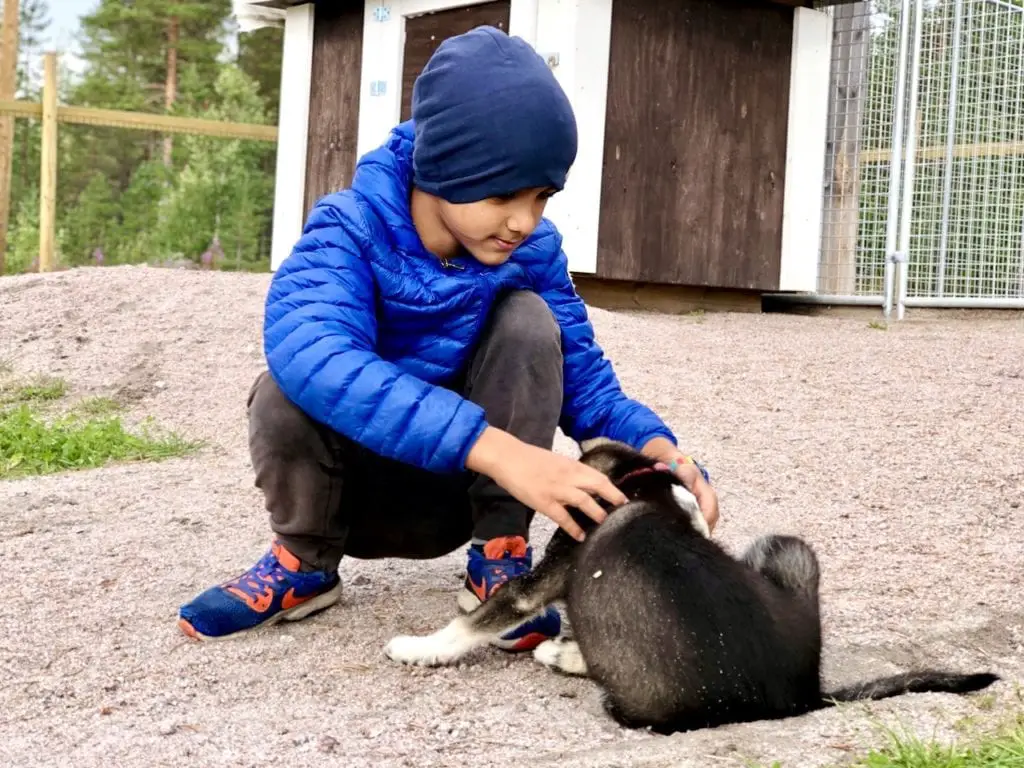 We participated in the summer Life of the Husky program – a 2-hour encounter with the animals, dog sledging ride in the forest, 1,742,459 questions asked and answered by the owner, and a cookie and juice time by the fire.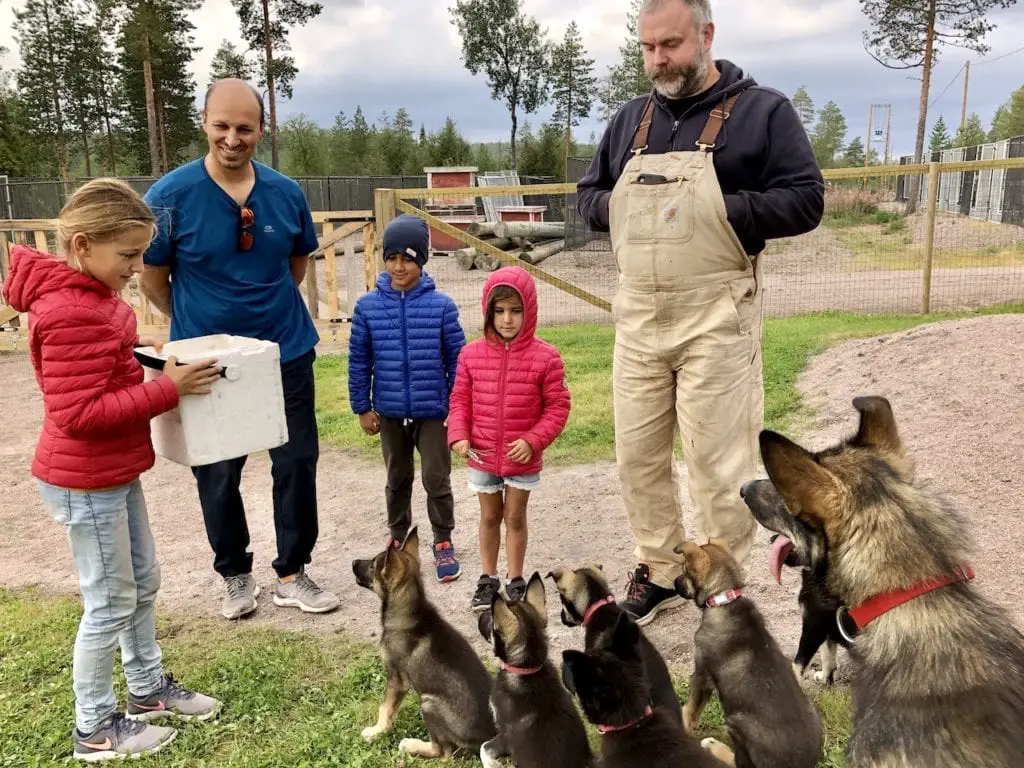 Valentijn, the owner, loves the kids. He patiently took time to answer their questions, directed his comments towards the adults and children, and we could tell he understood children and their needs during the visit. Amazing experience!
4- They Are Racing Dogs
Over at Bearhill Husky Tours, the dogs train all year to race competitively. This is not just a tourist touring business. You will be helping the owner train his dogs and be taken on quite a wild (super super safe!) ride!
But you can tell that the huskies are trained and demand to pull the sledge, which is an amazing feeling for visitors.
5- Amazing In The Summer Too!
Of course dog sledging is a winter sport best practiced on snow, and I highly recommend visiting Bearhill Husky Tours in the winter for a snow sledging experience.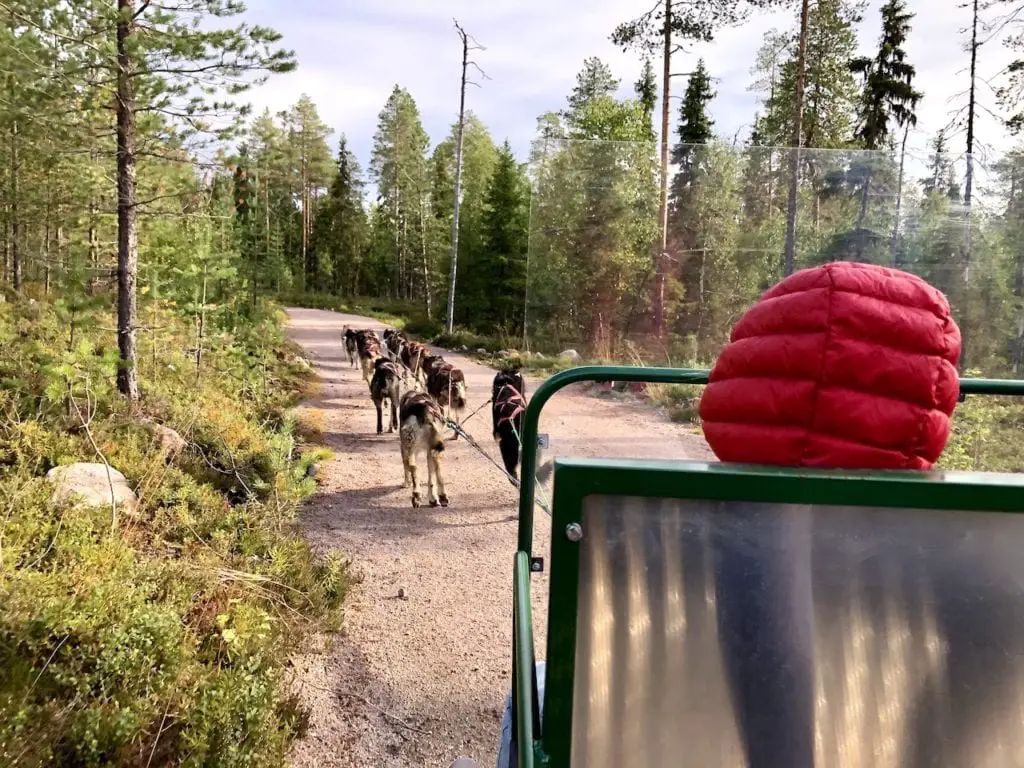 However, do not overlook the experience if you visit Rovaniemi with kids in the summer.
The warmer temperatures mean that you won't be counting the minutes until you are in front of the fire. We had the luxury of taking our time to interact with the dogs and we still went dog sledging – only with wheels and on sand. But the dogs were thrilled and couldn't wait to take us out in the forest!
Dog Sledging In Rovaniemi With Kids At Bearhill Husky Tours
Rovaniemi is definitely worth visiting during the summer and the husky kennels need all of the love they can get to get through this pandemic…
If you are visiting during the summer season, I think you are in luck and will be able to fully appreciate your encounter with the animals and maybe even cuddle with a pup or two.
But you are probably more likely to visit in the winter. At Bearhill Husky Tours, in the winter months, you can participate in all sorts of tours and safaris at all times of day or night. Check HERE for all of the winter fun to be had! Choose from 10 experiences, from 2.5-hour safaris to full-day expeditions.
We honestly had one of the best days of our travel lives today, and I wish for many more families to experience the beauty of Alaskan huskies in Lapland. So if you are looking to go dog sledging in Rovaniemi with kids, please check out Bearhill Husky Tours for your experience! I promise it will turn even the least dog-loving person into a husky fanatic!
Thank you for Valentijn for hosting us on a Life of the Husky experience, we had a beautiful time!
---
Pin this for later!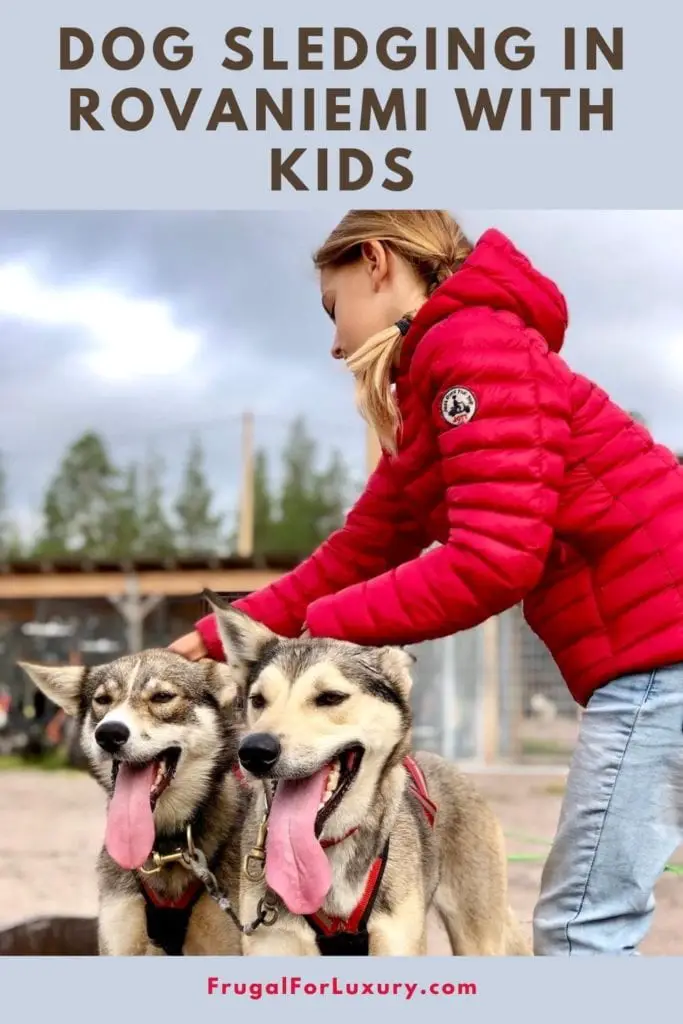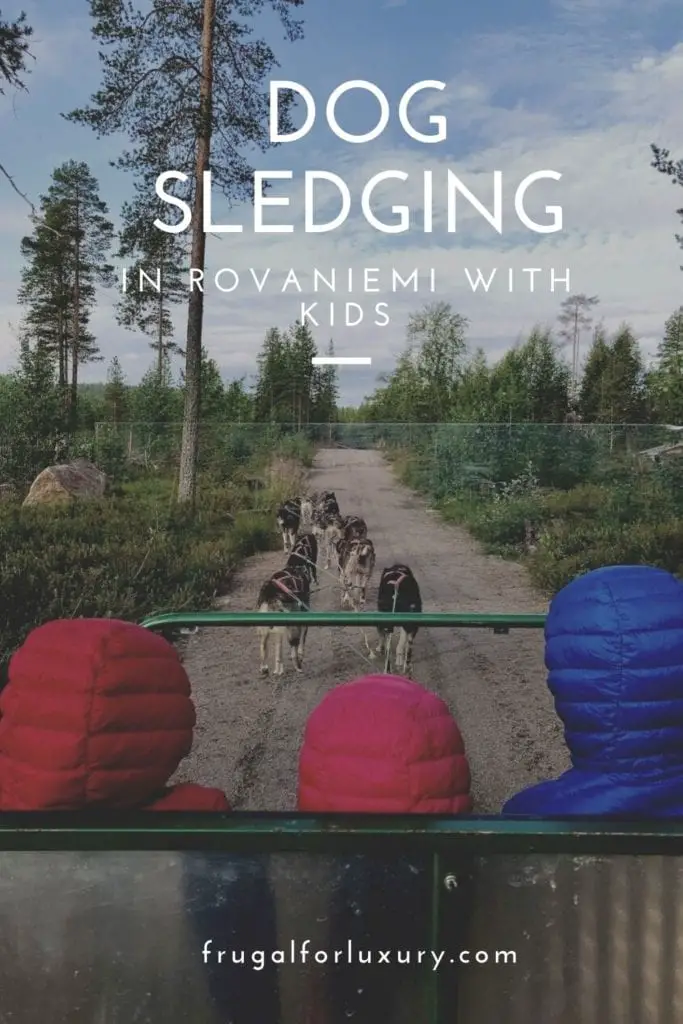 ---
Related articles you will enjoy:
Sigulda Tarzan: Thrilling Family Day Trip Near Riga
Budapest Thermal Baths: 11 Thing You Should Know Before Visiting With Kids
The Cheapest Car Rental In Europe You Didn't Even Know Existed // TT Program
If you enjoy reading us, sign up for our newsletter below!