The Cliff Lodge Snowbird is one of Snowbird Ski Resort's 5 accommodation options, and by far our favorite. If you plan on taking the kids skiing to Snowbird and are looking for a luxurious stay, The Cliff Lodge will not disappoint. After having gone through $35M in renovation in 2015, it is shining beautiful, modern, and cozy, while retaining its original and traditional mountain lodge feeling!
Here are 8 things families will love about The Cliff Lodge Snowbird:
1- True Snowbird Ski-In Ski-Out Resort
Isn't there something utterly luxurious about being able to slide down straight from your mountain lodge to the first chair lift in the morning?
No hopping on shuttles. No walking in uncomfortable ski boots. No parking a car and getting in said ski boots on a cold parking lot.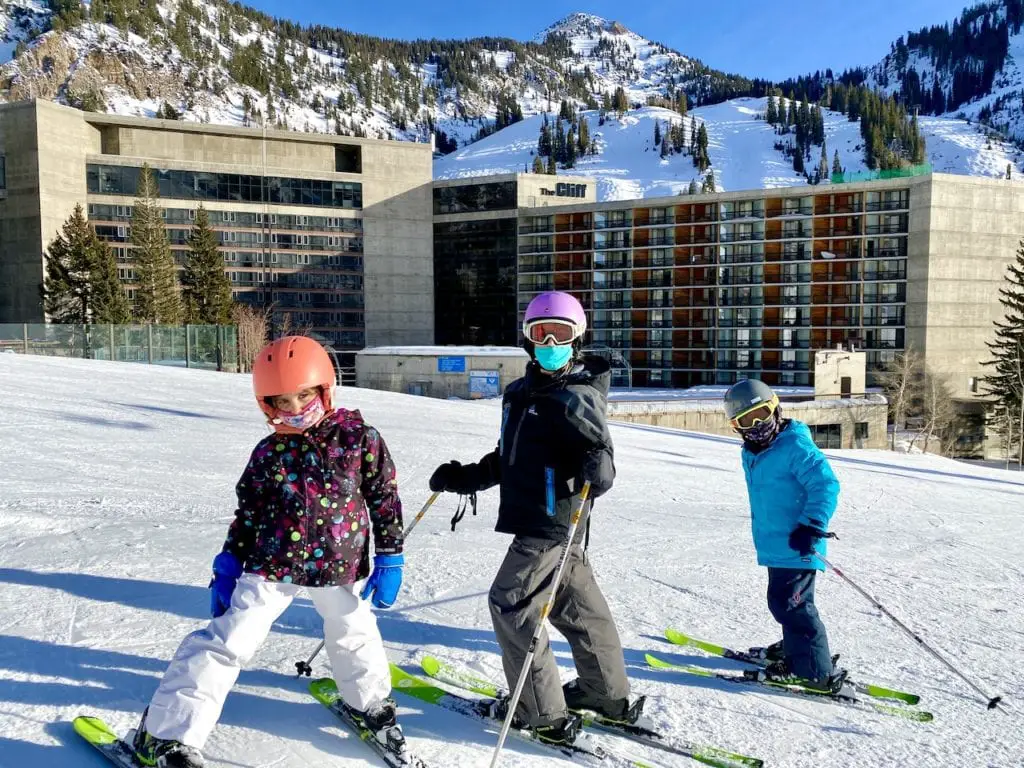 At The Cliff Lodge Snowbird, you get ready in the lockers, click in your skis, and are on your way!
At night, hop back up the Chickadee chair lift and ski right into the Lodge. Chickadee is the easiest green run at Snowbird and everyone in the family will easily manage the slope down to the resort!
Related Read: Find all of our Utah content here.
2- Most Luxurious Free Lockers!
Not only does each Cliff Lodge room come with a free locker, but they are the most luxurious we have ever seen.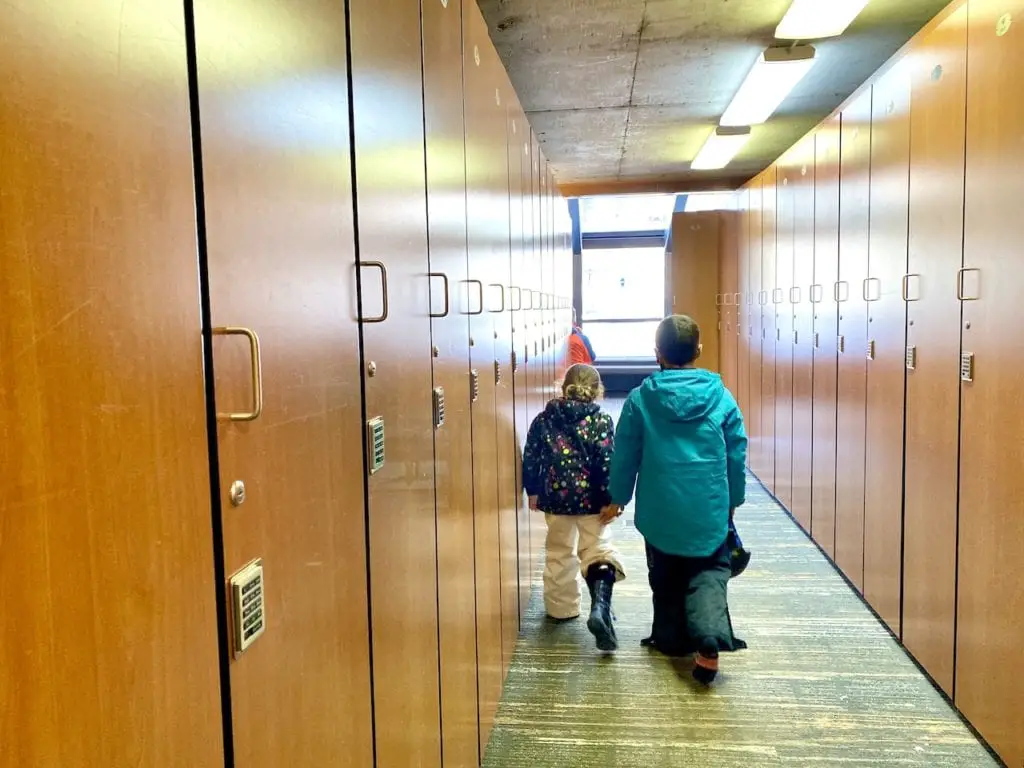 There is space in there to stand your skis up, hooks to hang your gloves and poles, shelves for your helmet and goggles, and hot-air-blowing rods to fit your ski boots!! Now, how cool is that?! No wonder our feet slid right into those boots the first morning. If you are a beginner skier, a warm ski boot makes all of the difference!
The Cliff Lodge Snowbird lockers are by far, the most luxurious we have ever had and they are right by the ski slope so you never have to carry your equipment more than a few steps.
3- Hot Pool + Hot Tubs With A View
Who loves a warm hot tub session to relax those tired ski legs at night?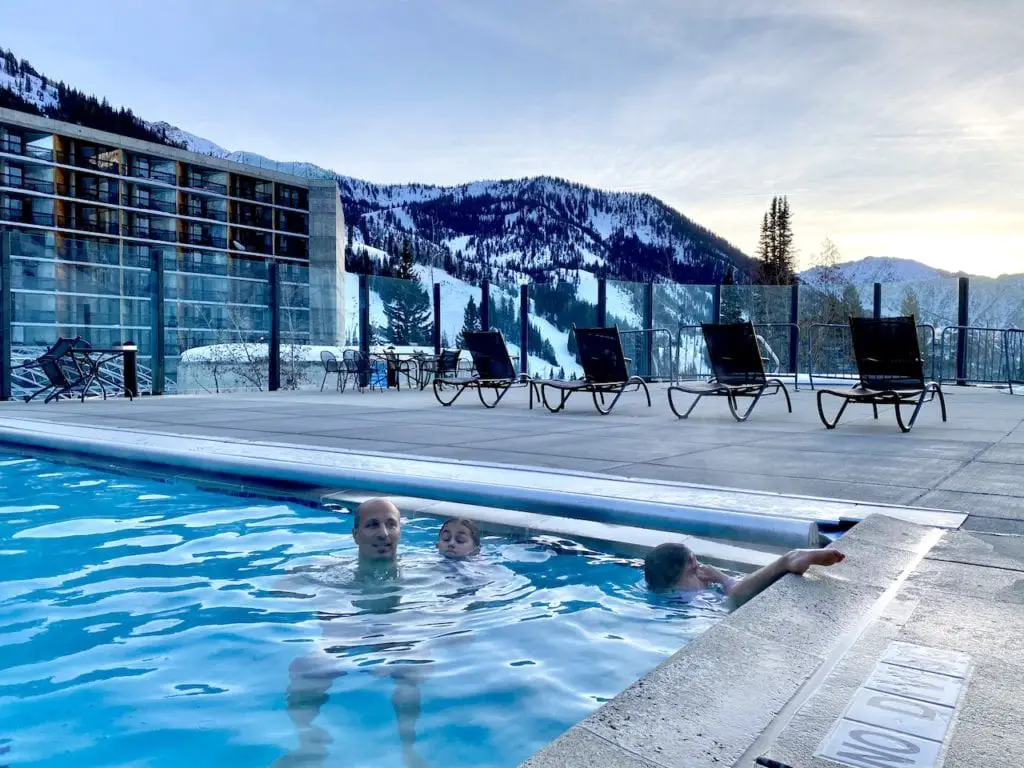 It is our family's favorite après-ski activity. At The Cliff Lodge Snowbird, the pool is incredibly warm and if the hot tubs are a little busy, you can relax in the pool and be perfectly warm. The hot tubs however, are the best for relaxing muscles and mind after a long day of skiing Snowbird.
Pro tip: Make a point in being in the pool at sunset. It does not get any dreamier than watching the sun set down Little Cottonwood Canyon with only snow between you and the largest star.
4- The Cliff Lodge Snowbird Kids Club
The Cliff Lodge Snowbird has a Kids Club open with reservations during COVID. While we have not personally used the service, it sounds like the perfect way for kids and parents to fully enjoy themselves. The kids are entertained at the Kids Club while the parents enjoy the Cliff Spa or a romantic dinner out.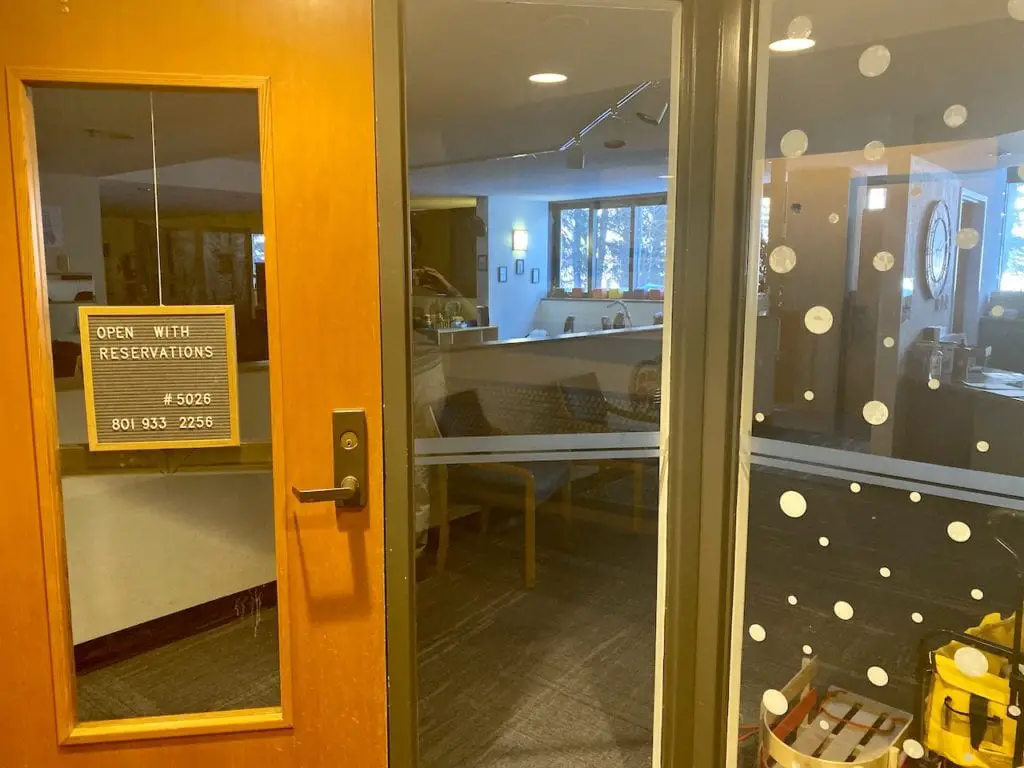 A babysitting service is also available at The Cliff Lodge with a 3-hour minimum booking window, for kids of all ages staying at the Lodge with their parents. A 48-hour advanced reservation is required.
5- Food & Cocktails, Anyone?
We had such a delicious dinner at SeventyOne – the restaurant named after the year Snowbird Ski Resort was opened. Renovated and themed after the year 1971, it is a beautiful, retro, and fun restaurant, great for families with kids.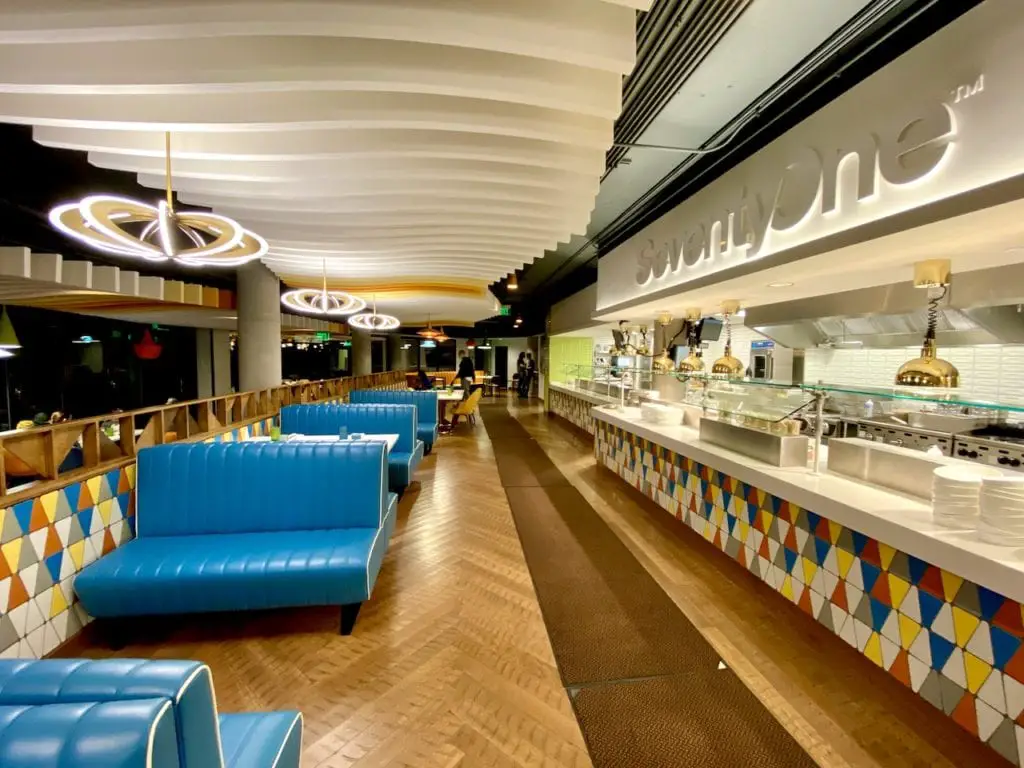 SeventyOne serves sophisticated American fares with a twist. Make sure you try the fried chicken – it is absolutely wonderful!
The open kitchen is super fun for the kids to look at and we were impressed at how quickly our food was served!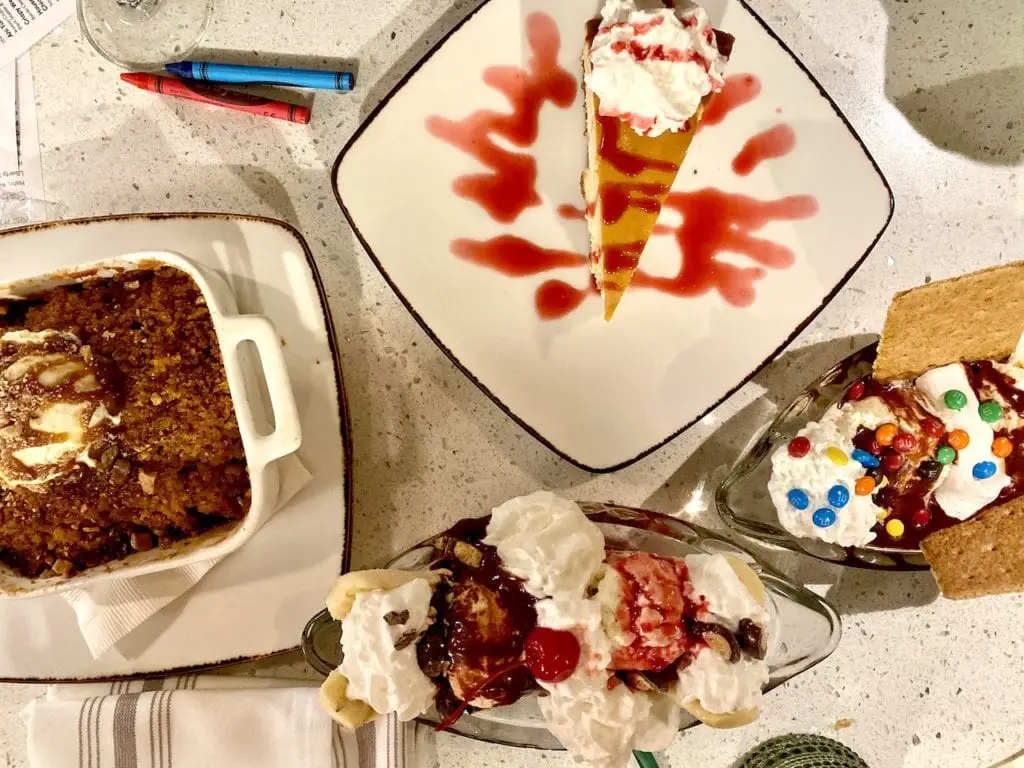 The cocktails were great and the desserts were a big hit! Check out the Dinner Menu right here!
In the morning, SeventyOne serves a buffet-style breakfast. We opted for a quicker option and grabbed specialty coffee, the absolute best Açaí bowls and cake pops right in the Atrium! Nothing beats those tall windows looking right into the mountain!
6- The Cliff Spa – Rooftop Adult Pool + Tub + Spa
Accessible for an extra fee and to adults only, the Cliff Spa is a thing of beauty. A rooftop pool and hot tub, but also 30 treatment rooms, a weight room, steam room, and yoga studio, you will feel all of the luxury 10 floors above the Snowbird Ski Resort!
Here again, head up at sunset if you can. The mountain views are breathtaking.
While this is an adult-only area, it is the perfect way to relax while the kids partake in Kids' Club activities. Everyone can have fun at the same time at Cliff Lodge Snowbird!
7- Connecting Rooms For Families
One thing I love when traveling with kids, is the option some hotels have to book connecting rooms. It adds privacy and allows the kids to go to bed while the parents have a few more awake hours in their room.
The Cliff Lodge Snowbird offers connecting rooms where the parents can book a king-size room and connect to their kids' double-queen room. That will work really well for families with up to four children.
8- 100% Snowbird Hospitality
Snowbird Ski Resort is an amazing place to stay, eat, and ski, but it's the hospitality of the people that makes all of the difference.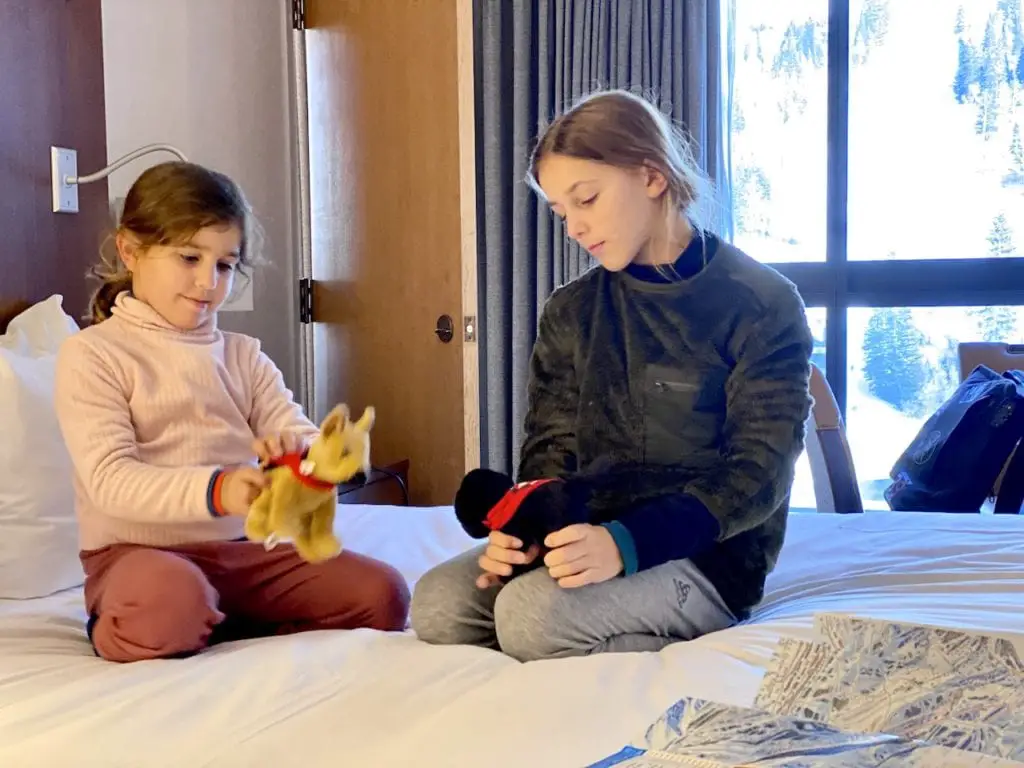 At The Cliff Lodge Snowbird, we felt like a part of the Snowbird family. The entire ski resort, including its hotels and restaurants, is privately owned, and you become true guests as soon as you park your car.
The Bell Desk was incredible. From the moment we pulled in, they were available to assist and help with our things and questions. They are problem-solvers and went the extra mile over and over again, even in one of those "dark" family travel moments where frenzy took over and we felt like we were heading a zoo more than civilized children. Hey, skiing in itself can be chaotic, and we were dealing with slightly stressful time commitments 🙂
The guys over in the lockers were always looking to help and carried the kids' equipment multiple times, just to give us a hand.
The entire staff of The Cliff Lodge Snowbird is exceptional and truly represents Snowbird's hospitality, making your stay so very pleasant. We felt very welcome as a family and caught the kids striking several conversations with staff members who kindly took the time to chat with them.
Luxury Family Vacation At The Cliff Lodge Snowbird
If you are looking for a luxurious lodging option for your family vacation at Snowbird Ski Resort, The Cliff Lodge is a wonderful option.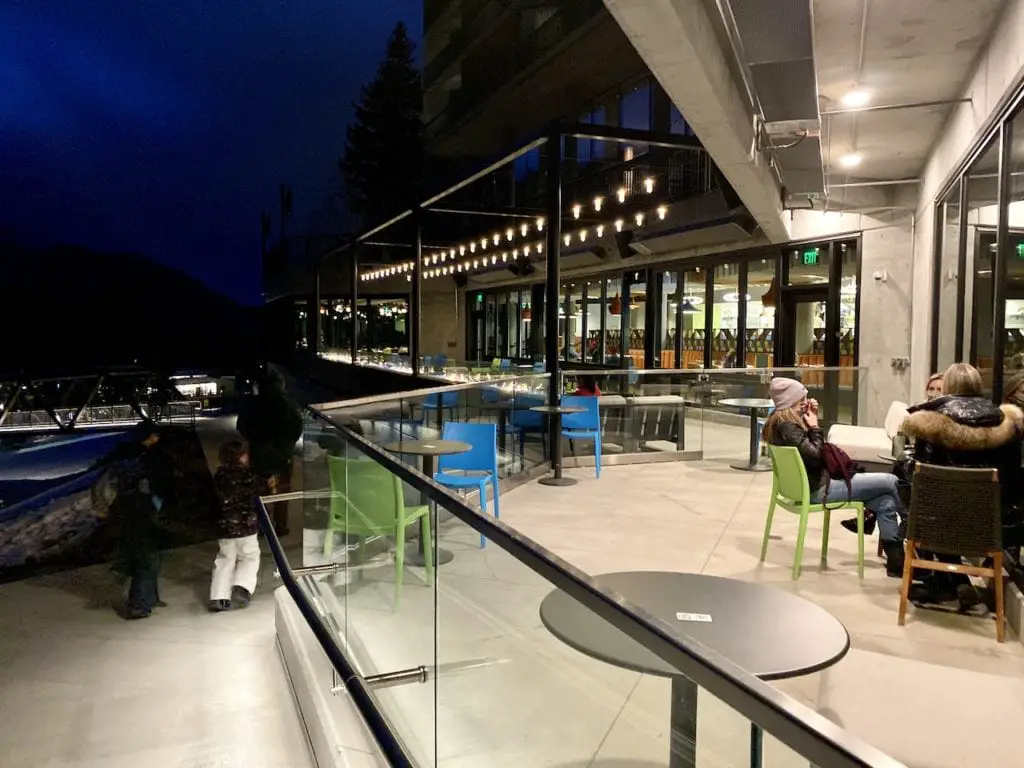 From the amenities to the service, the excellent dining options, and the beauty of the lodge, it is the perfect ski-in ski-out resort at Snowbird for families.
We thank The Cliff Lodge for hosting our family at their beautiful resort.
---
Pin this for later!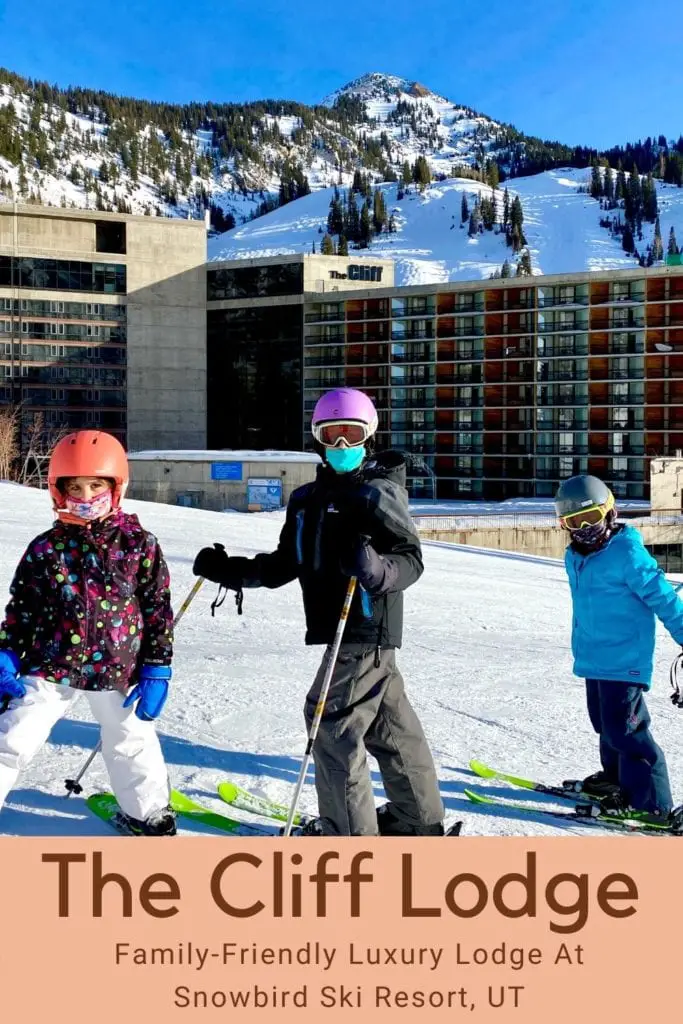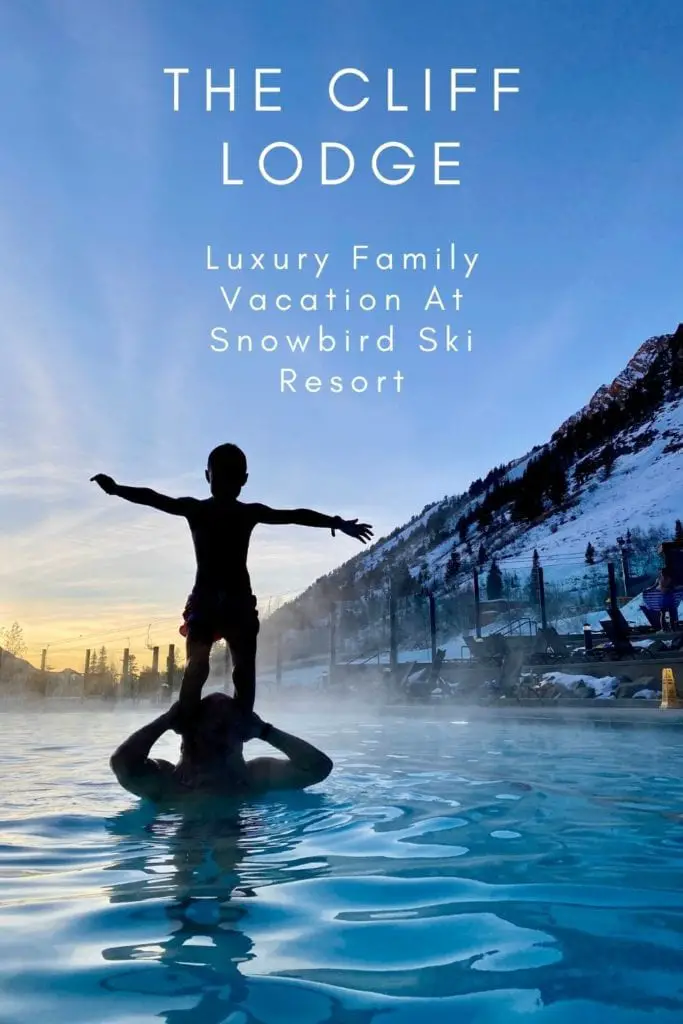 ---
Related articles you will enjoy:
Snowbird Ski Resort – Ideal Family Ski Vacation
Alta Lodge – The Perfect Family Ski Resort At Alta
10 Reasons Why Family Ski Is Awesome At Alta Ski Resort
If you enjoy reading us, sign up for our newsletter below!