No family Croatia trip would be complete without visiting Plitvice Lakes National Park.
Related: Hiking Paklenica National Park With Kids
Plitvice will astonish you. It will change you and leave you with a renewed sense of respect for what Mother Nature has created.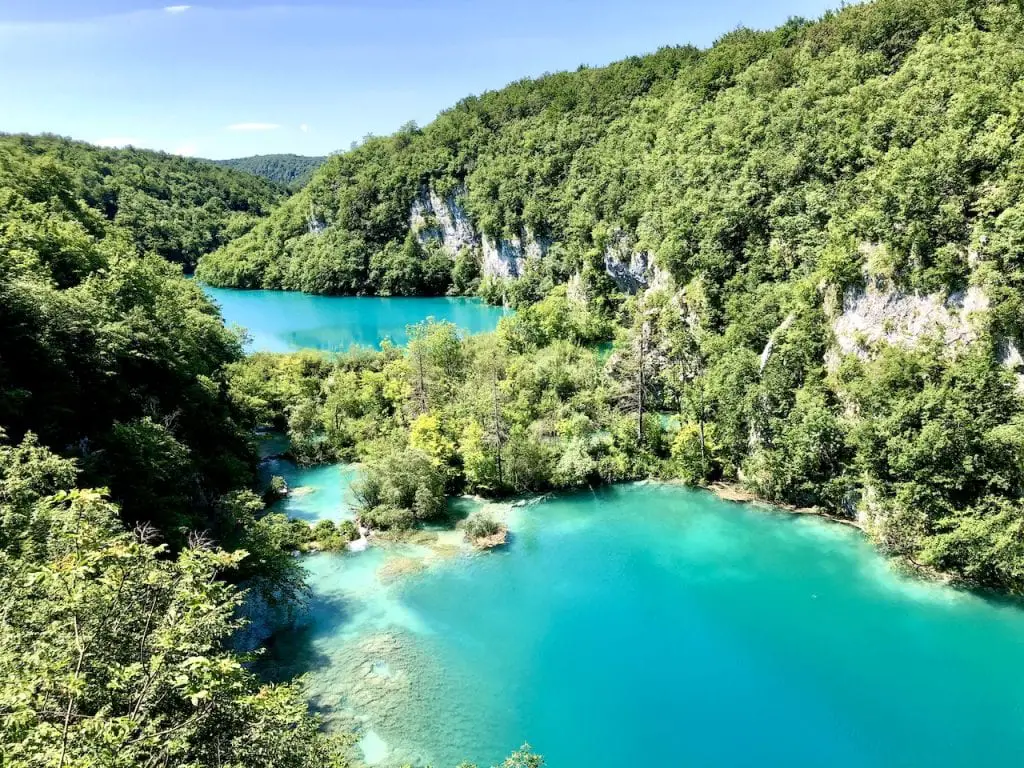 We have visited national parks on three different continents and Plitvice is in our top 3 most beautiful natural sites. If you are visiting Plitvice Lakes National Park with kids, here are 8 tips to make your visit easier and unforgettable:
1- Leave The Stroller Home
Plitvice National Park is best visited on foot.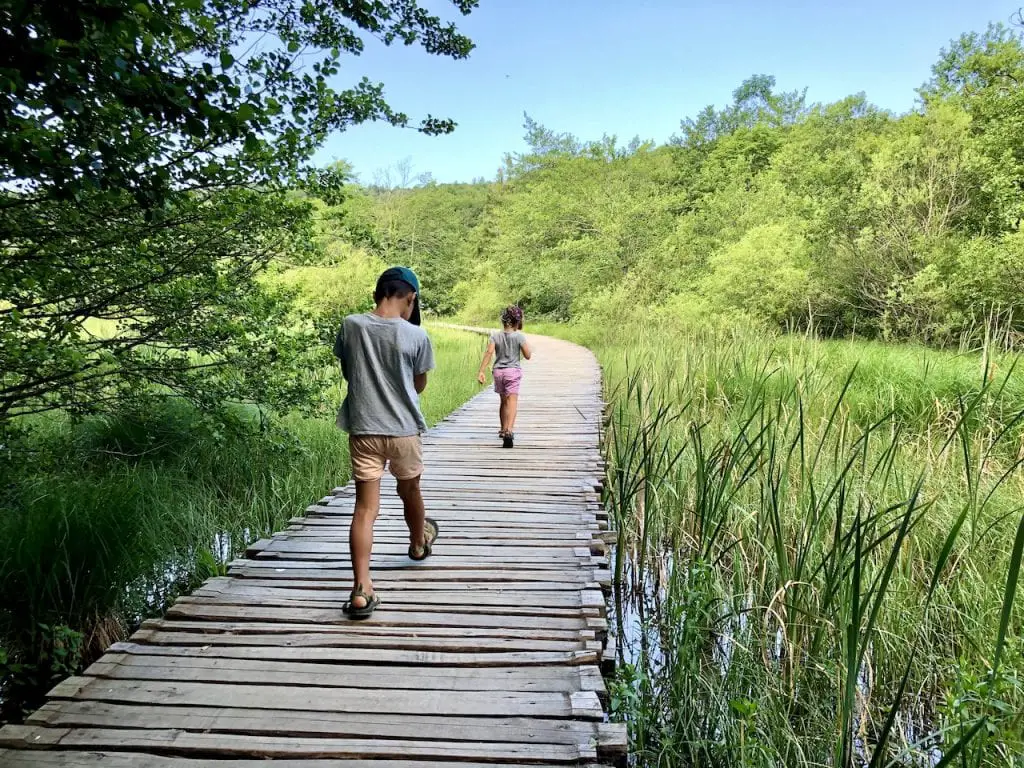 You will encounter many stairs and uneven terrain, making using a stroller a bigger challenge than you will find it helpful.
Instead, take a good hiking baby carrier and enjoy the freedom it gives you!
2- Buy Your Tickets Ahead Of Time
Especially in the high season!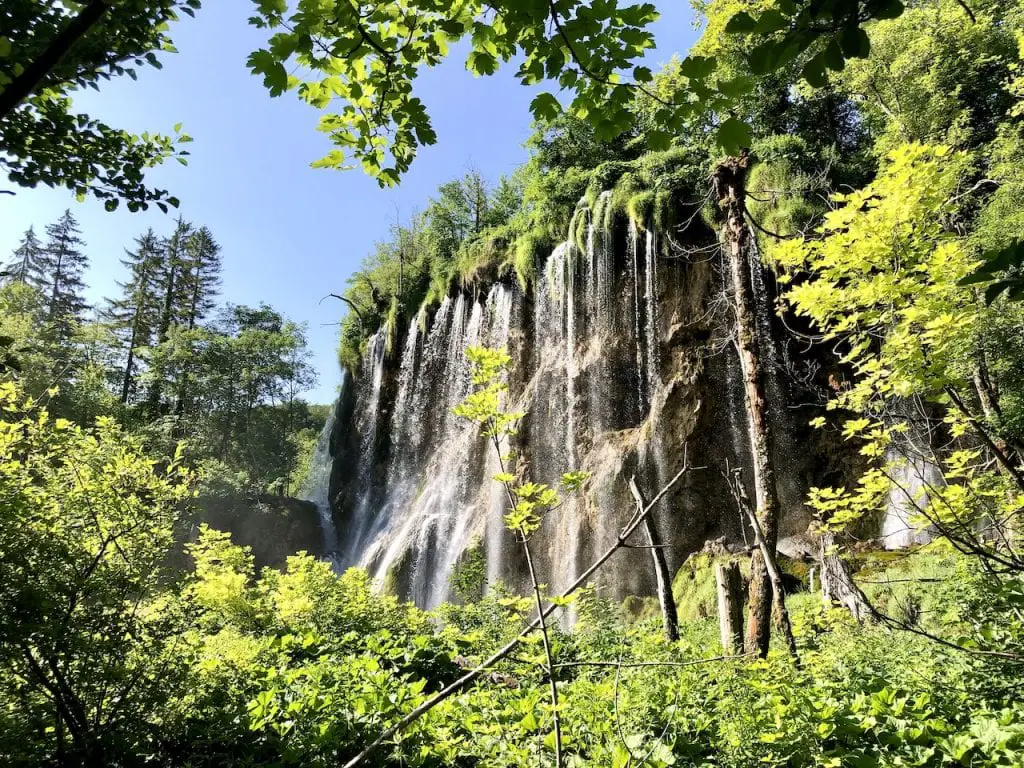 Plitvice Lakes National Park only sells a limited number of tickets and you will be asked to pick a time to come in.
Purchasing your tickets well in advance will ensure that you get your desired date and time of entry in the park.
Note that you will not be admitted into the park before your picked time, and will only have an hour to get in after that. An 8AM ticket will allow for 8AM to 9AM entry!
3- Get There Early
When visiting Plitvice Lakes National Park, wake up early and get there at park opening. Check for hours of opening HERE.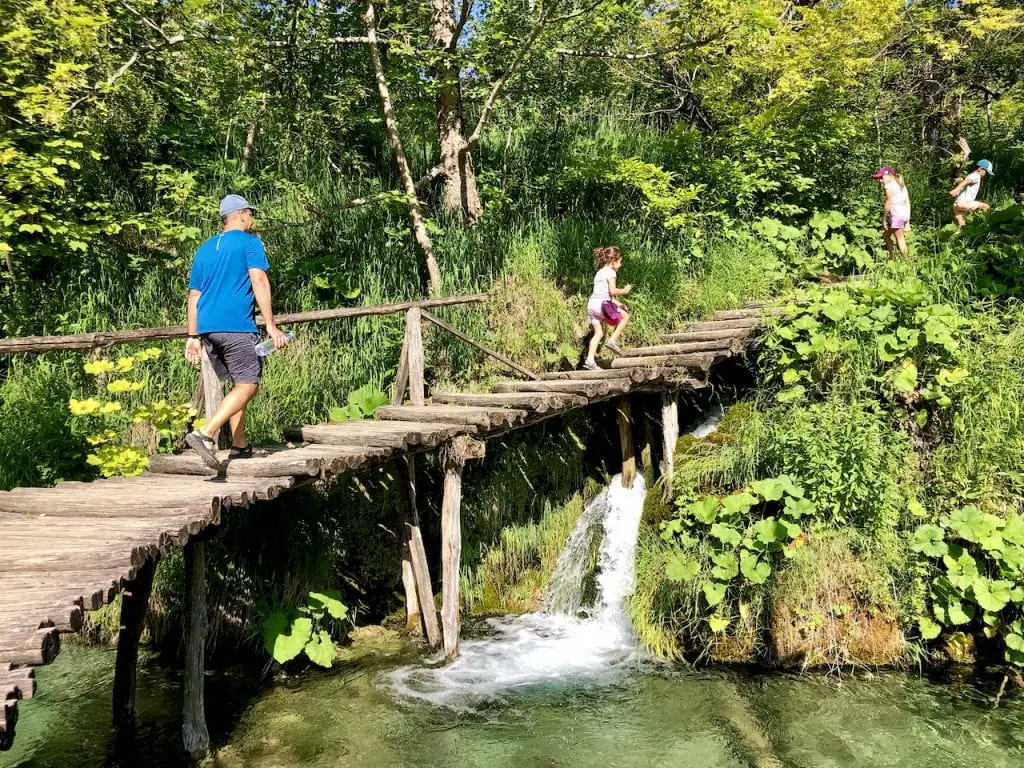 This is my single biggest piece of advice for Plitvice! Get there early to beat the crowds, get there early to beat the heat!
4- Stay Near Plitvice National Park The Night Before
The easiest way to get to the park early in the morning is to stay nearby the night before!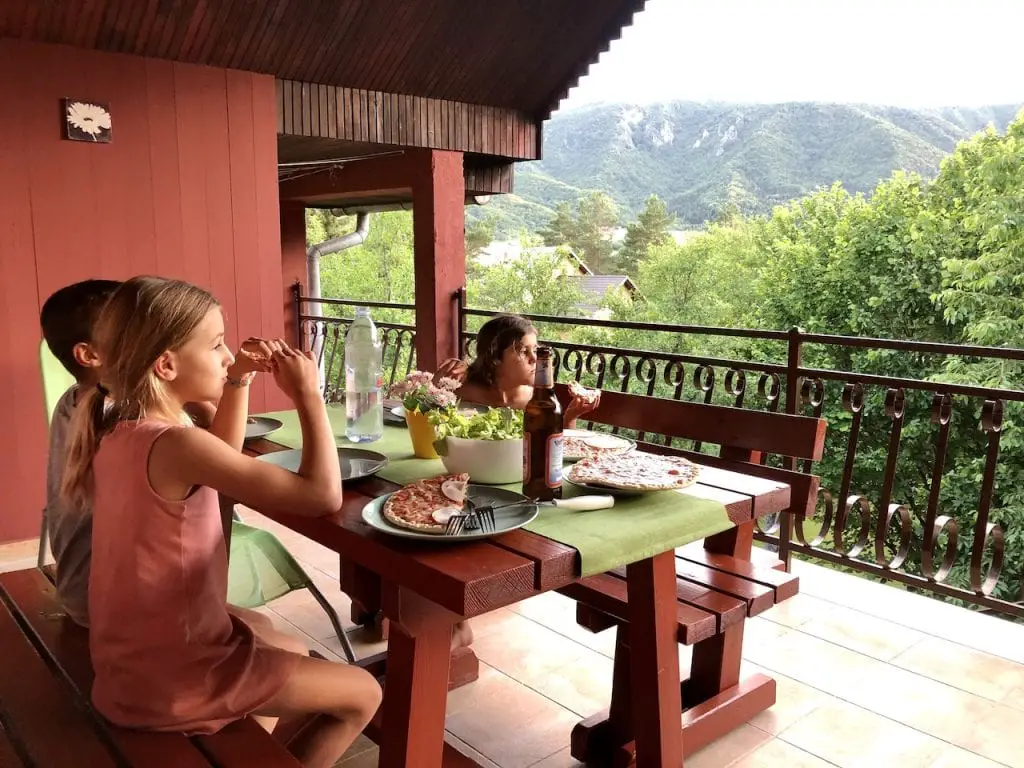 You could even stay inside the park. The hotel is right at entrance 2, making your visit to Plitvice super easy. Note that a park ticket is included for each night you purchase, but you will need to purchase an entrance to the park for your day of arrival!
We stayed at an AirBnB nearby and there are plenty of options. Look at the small village of Rudanovac for an easy morning ride into the park!
5- Park At Entrance #2!
When approaching Plitvice Lakes National Park, you will find 2 parking lots / entrances.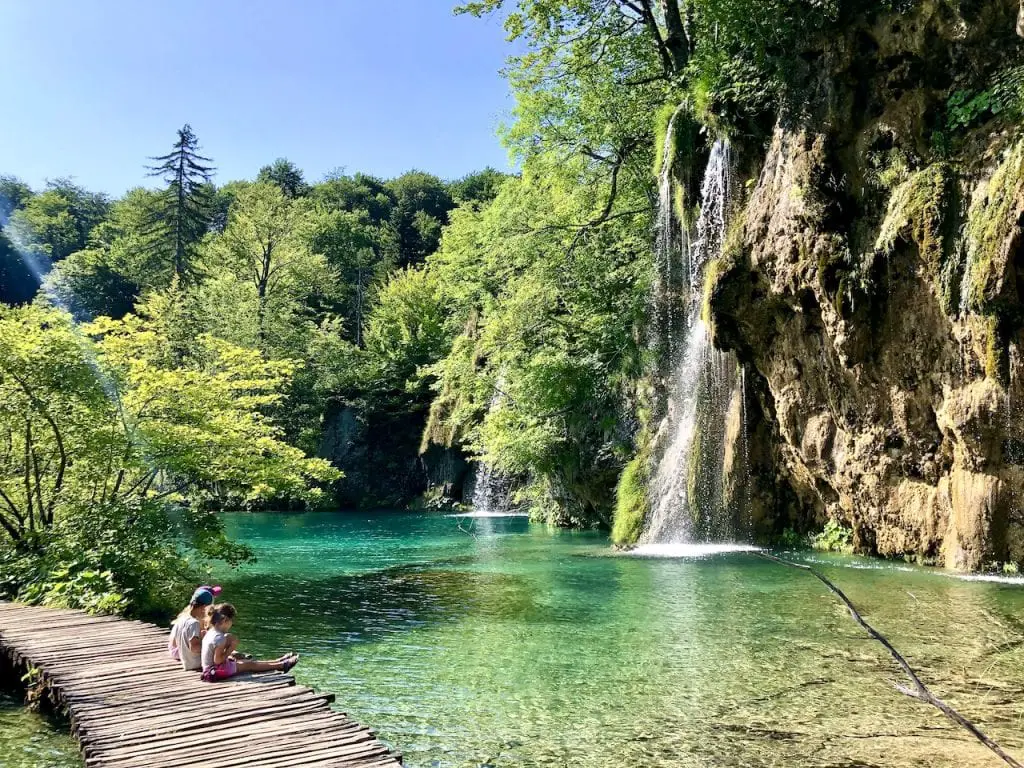 Pick Entrance 2 for several reasons:
most people park at entrance 1, which seems logical, and you will beat the crowds by starting early from entrance 2
you will take a bus to the head of the trail, then hike most everything downhill!!!, and hop back on a bus back to the parking lot. Visitors at entrance 1 hike up all along!
you will end your day with the big waterfall, instead of seeing the pretty sight first
6- Which Trail Is Good With Kids
There are 4 trails of varying distances in Plitvice Lakes National Park.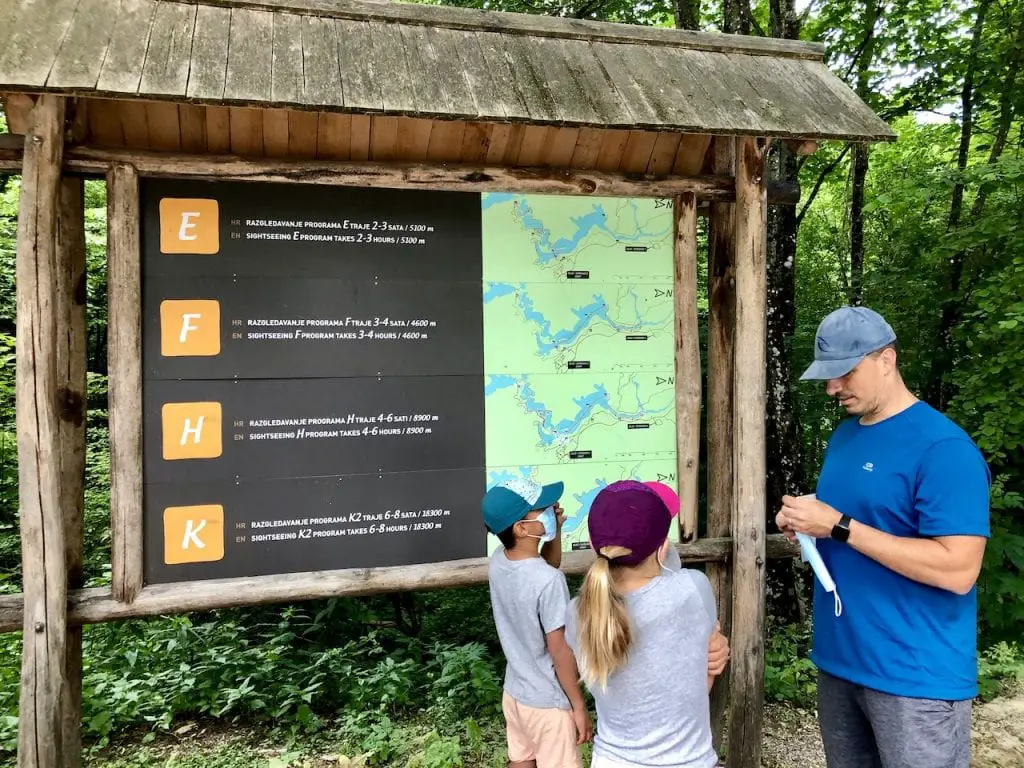 If you have a little over a half day to spend at Plitvice (keep in mind you're getting there around 7AM), I recommend hiking trail H with kids! Starting from entrance 2, you will mostly be hiking downhill.
Trail H takes 4 to 6 hours, which is pretty much how long it took us since we waited for the boat a while (see tip #7), and covers 8.9 kilometers, which is less than it sounds when walking downhill.
Trail H gives you the option to walk along all lakes, cross over with a boat, and end at the highest waterfall in Croatia.
The next trail, trail K, has you walk along the large lake you would otherwise sail through. We didn't think it was worth the extra 9.4 kilometers.
7- Boat Crossing At Plitvice Lakes National Park
Most trails include some sort of a lake crossing. The boat ticket is included in your park entrance but read on to make sure you don't wait for it 25 minutes like we did…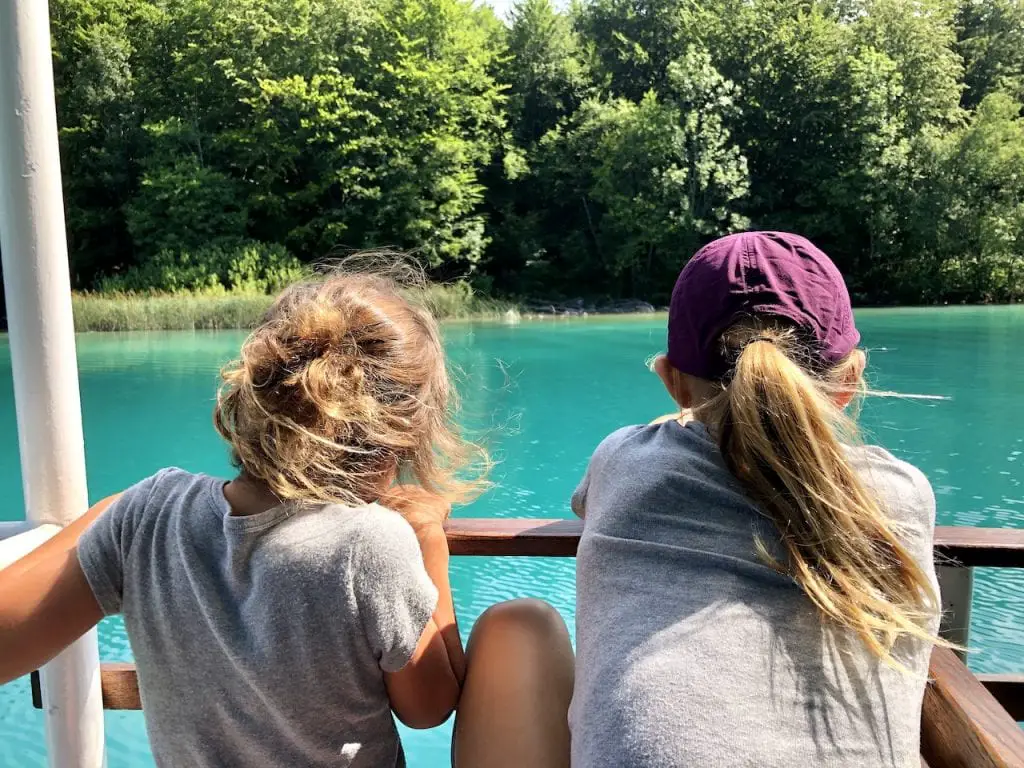 The boat on trail H leaves on the full and half hours. Keep that in mind as you walk the first half of the trail so you can optimize your time in the park.
8- Will You Be Doing More In The Region?
If you think you will be visiting more than one park in the Lika region between June 1st and September 30th, purchase the voucher booklet!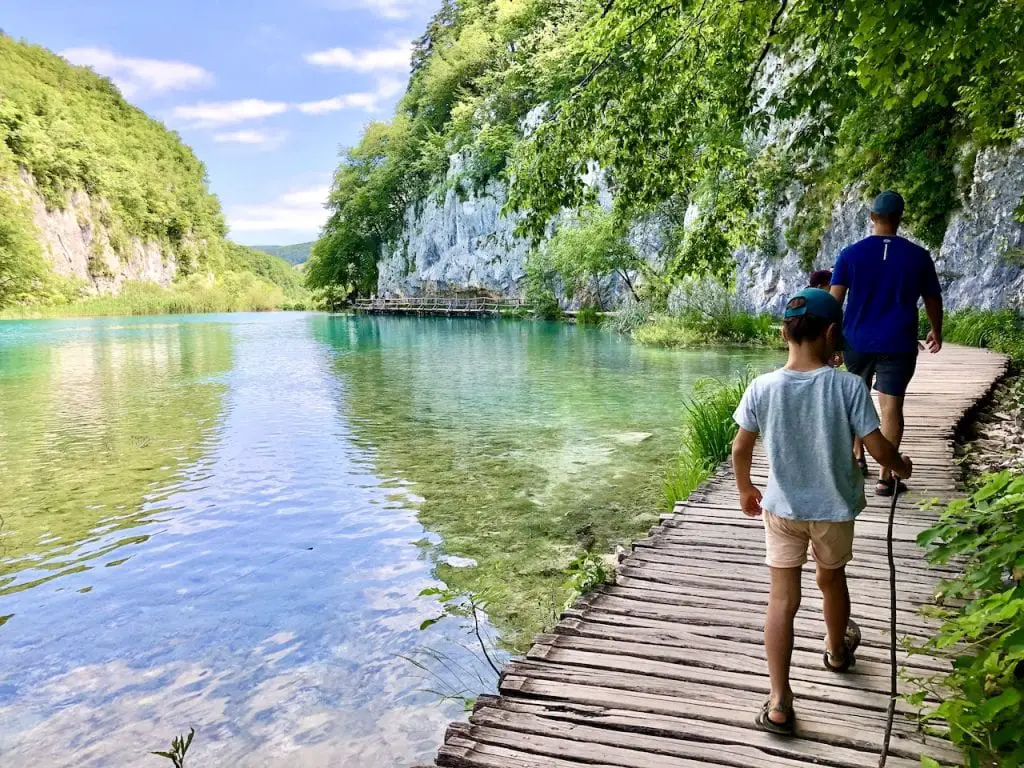 For the cost of about 2 parks, you will gain access to 8 natural parks in the Lika region!
Visiting Plitvice Lakes National Park With Kids
Plitvice Lakes National Park should be added to your bucket list.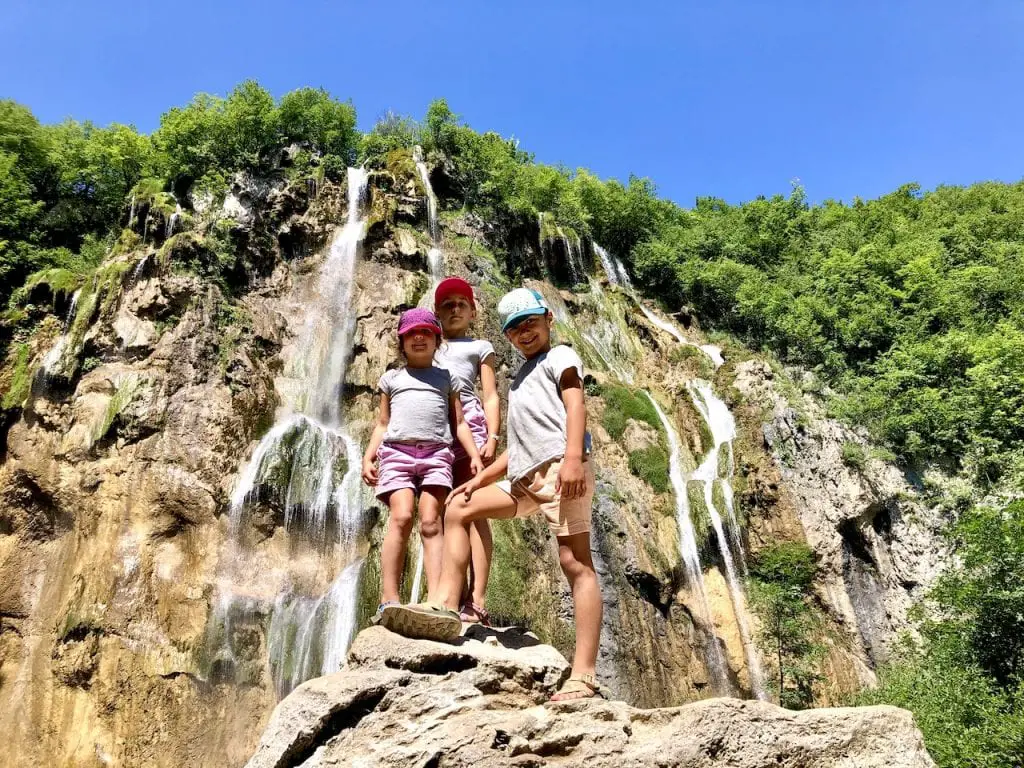 It is one of the most impressive natural sites we've ever visited and it will leave you in wonder of what our planet created.
It is a great and easy national park to visit with kids and you should have an easy visit if you follow the tips in this article. Make sure you make it a priority when visiting Croatia!! I promise you you'll love it!
---
Pin this for later!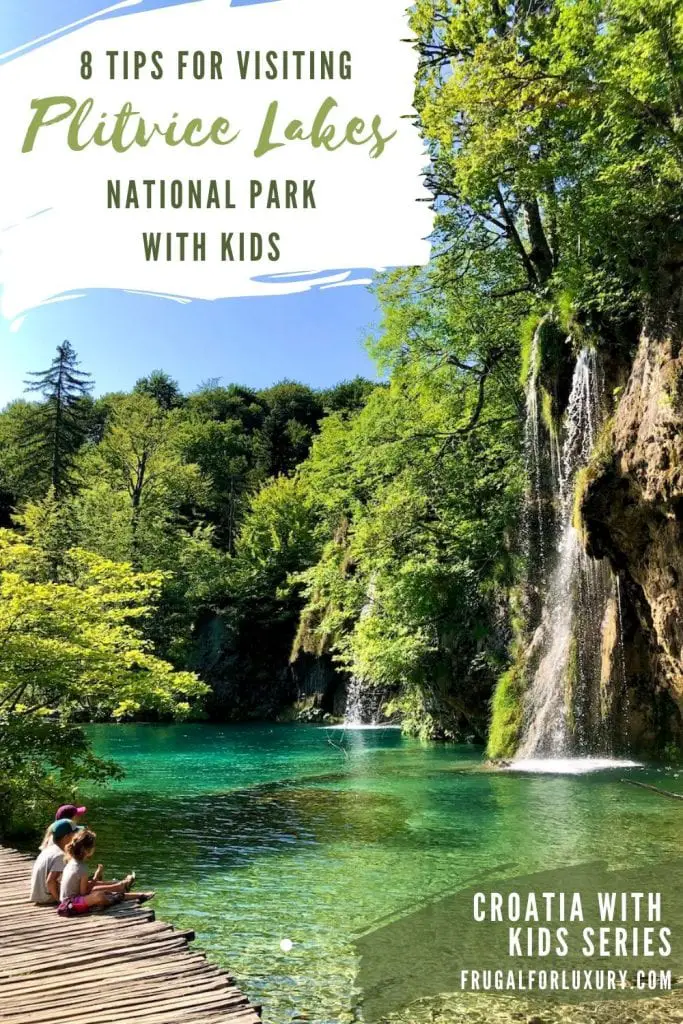 ---
Related articles you will enjoy
HIKING PAKLENICA NATIONAL PARK WITH KIDS
BEST DAY TRIP FROM LJUBLJANA WITH KIDS – POSTOJNSKA JAMA
ULM, GERMANY – A FAMILY WALKING TOUR
If you enjoy reading us, sign up for our newsletter below!