Orlando, FL has been our home and playground for over 15 years. We transitioned from college to grad school students, engaged to be married, to young married professionals, to being parents in the City Beautiful. Each life stage has been amazing, and we are very lucky to call Orlando home.
There is SO MUCH to do in Orlando, that we are still discovering the city and its attractions ourselves. Traveling with our children is our passion, and Orlando gives us plenty of opportunities to explore near home.
So what to do in Orlando with kids? Here is a perfect, kid-approved, 3-day / 2-night itinerary for nature and animal lovers. If you only have a weekend to spend in Orlando, and are looking for things to do besides the theme parks, here is what we recommend.
This itinerary has been tested and given thumbs up by our littles, and us as parents! And honestly, the parents had just as much fun and thrill as the kids!
Here we go – What to do in Orlando with kids – A weekend getaway for the nature and animal lovers!
Find all of our Orlando content right here and gets tons of updated Orlando travel inspiration and deals from Visit Orlando!
Day 1 – Gatorland
Nothing (and I mean nothing…) cries out Florida more than alligators! No matter your level of comfort with them, they are a must-see when visiting Orlando.
Us locals, love our baby gators. And even though we get to see them in ponds and lakes around our homes daily, we still take our kids to Gatorland!
Did you know that Gatorland opened its doors in 1949? That's 22 years before Disney World, and 6 years prior to Disneyland's grand opening!!
Gatorland has been family-owned since day 1 and their love for the animals truly shows!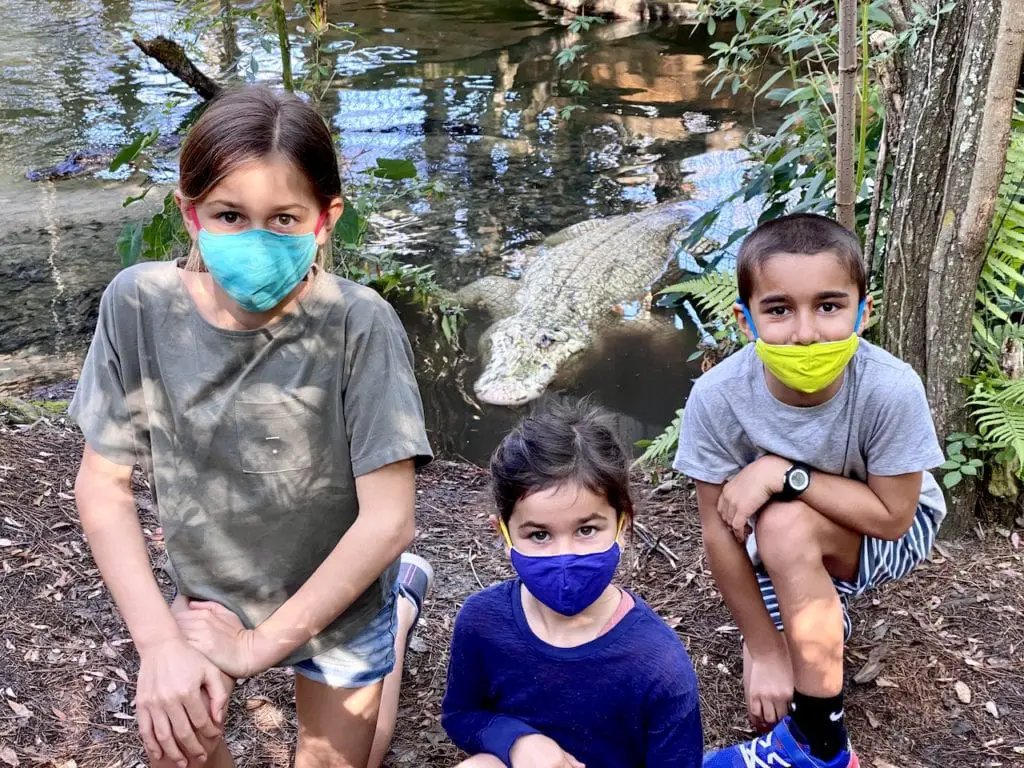 I love that their prices are manageable – sometimes hard to find in Orlando. A family of 4 can enjoy a full day of fun for just $100, including free parking. Make sure to purchase your tickets online for extra savings!
While you are there, I recommend adding on a few experiences to make your Gatorland visit with kids, a little extra special:
** Adventure Hour
The Gatorland Adventure Hour is a must! If you want to get really close to the alligators, this one is for you.
In this behind-the-scene experience, you will venture into the Alligator Breeding Marsh, where your host will gently call the gators to come meet you for a special feeding.
A few alligators show up at first, and before you know it, over 30 of them are lined up, eagerly waiting the meat you are feeding them.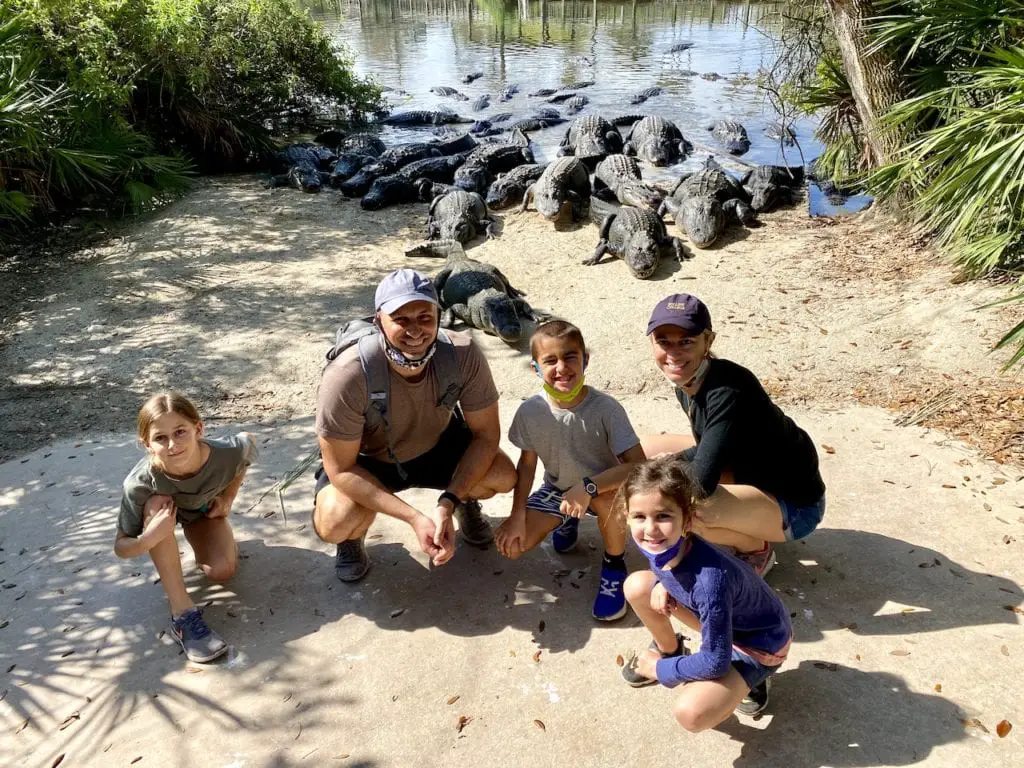 Then turn around (a little eerie to turn your back to 30+ giants, but they're happily fed, no worries!) and your guide will take a family picture of you with the gators!
The Adventure Hour carries a $10 / participant fee and is well worth it!
** Zip Lining At Gatorland – Screamin' Gator Zip Line
The zip line at Gatorland is amazing! How often do you get to zip line above alligators and Cuban and Nile crocodiles?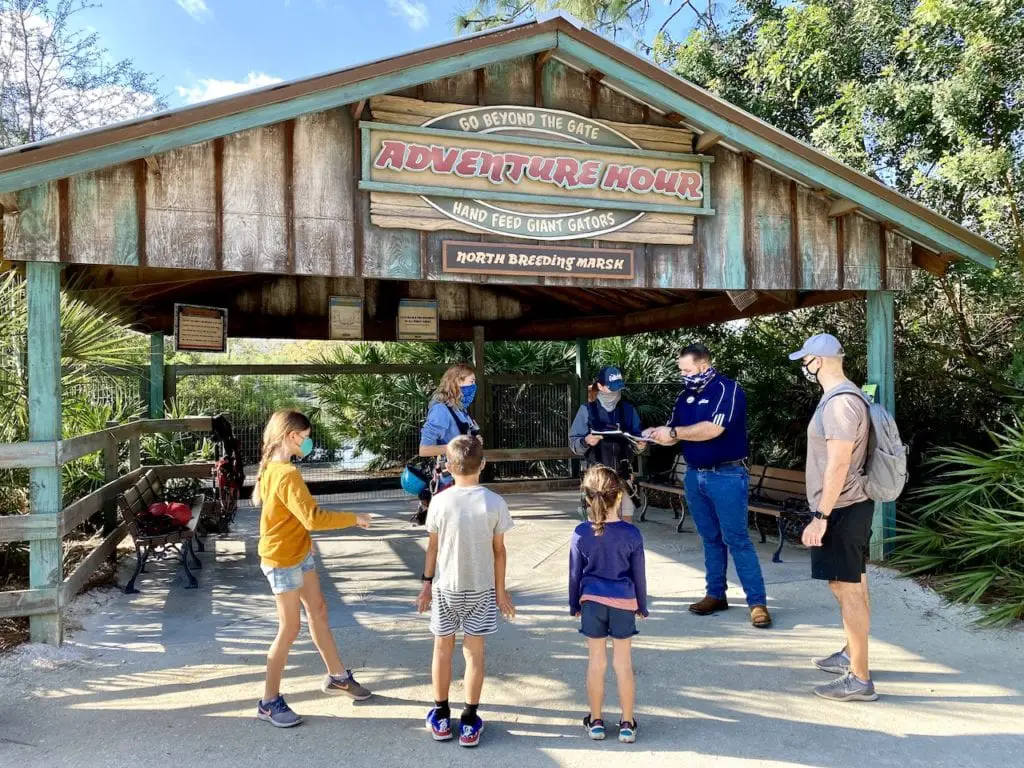 And if soaring above 130 alligators is not enough, take in the canopy views above the Florida marsh.
The Screamin' Gator Zip Line includes 5 zip lines ranging from 230 to over 500 feet, as well as a swinging bridge.
You will also find the only accessible zip line in the U.S., which is absolutely wonderful for guests with disabilities!
Expect to spend 1.5 to 2 hours on this unique experience.
** Alligator Feeding
If you have never fed an alligator before, this is your chance. This experience brings you close to the gators and for $3, you get some Gator Chow to feed the gators from the distance.
This is a fun experience for adults and kids of all ages!
** Gatorland Grunt Package
The Gatorland Grunt Package is an extra $7 for adults and $8 for kids, but includes $15 of extra experiences. You will get to take a photo of yourself holding the mouth of an adult alligator shut. This is the alligator meet & greet, which takes place right before the Legend of the Swamp show. The Grunt Package also allows you to ride the Gatorland Express train as much as you'd like and to safely feed the alligators!
And if you're not at Gatorland for the gators, come for the signs and a good laugh!
Here are a few more impressions of Gatorland, because it is not just about the alligators: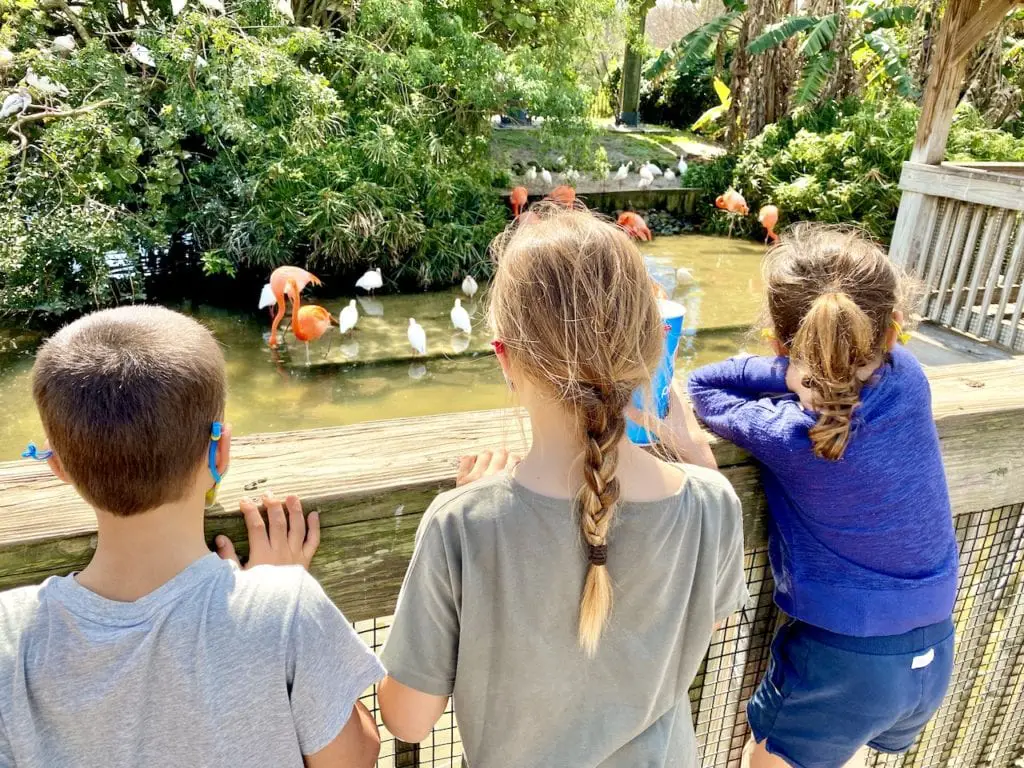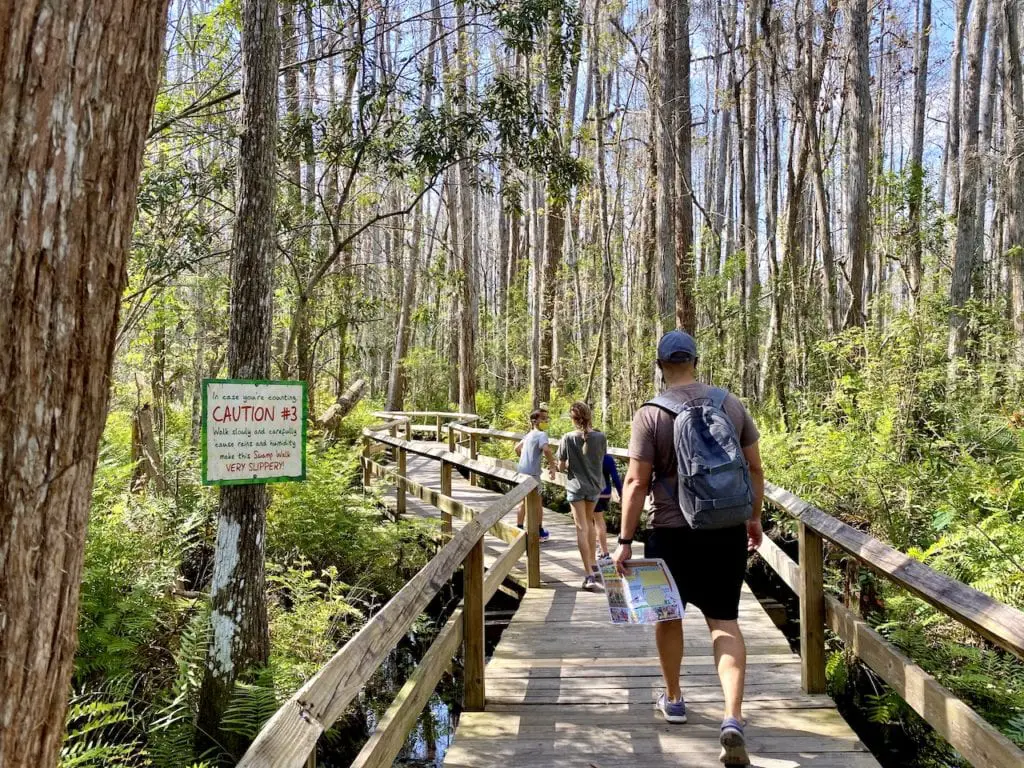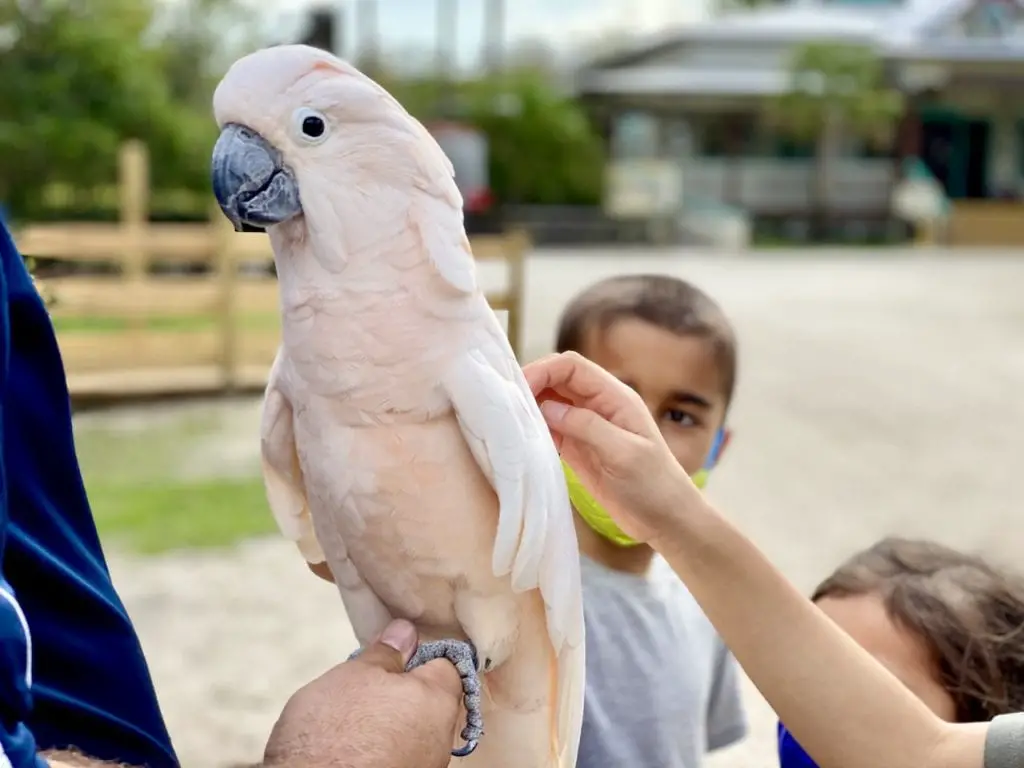 Day 1 – Spend The Night At Magic Village Views
Perfectly located, less than 5 minutes from Disney's Animal Kingdom, and close to your Day 2 attraction, Magic Village Views is the perfect hotel in Orlando for families.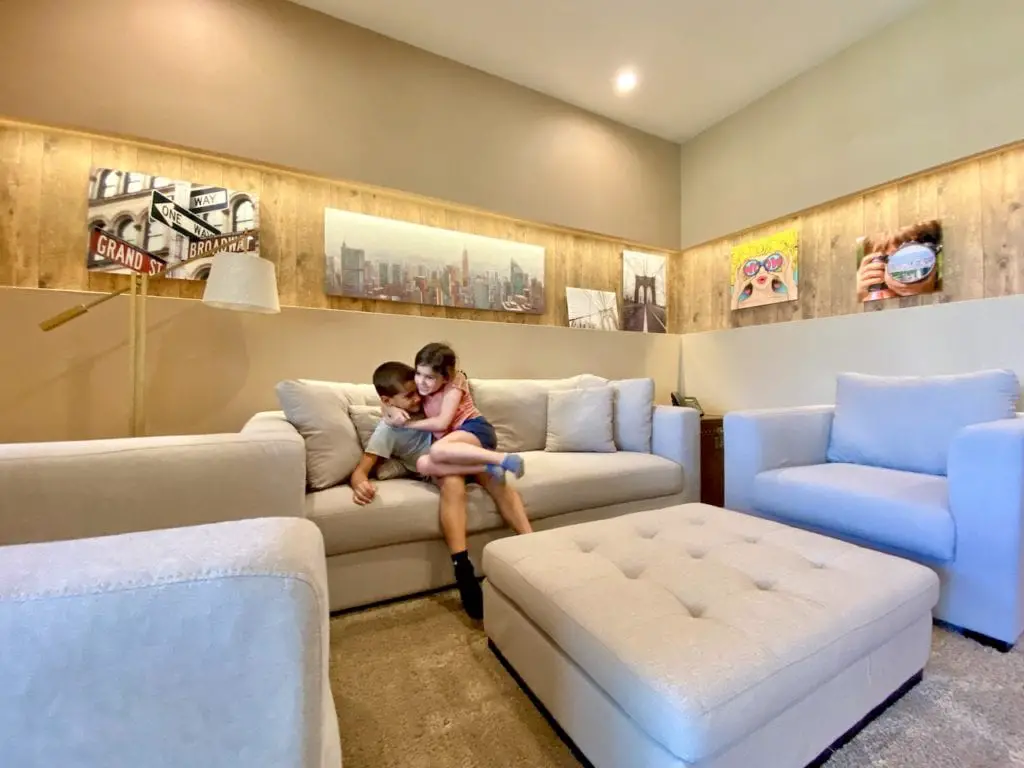 Not only ideally located, within close driving distance to all of the Orlando kid-friendly fun, it offers 3- and 4-bedroom villas, with full kitchen, gorgeous modern feels, and all of the space a family can dream of!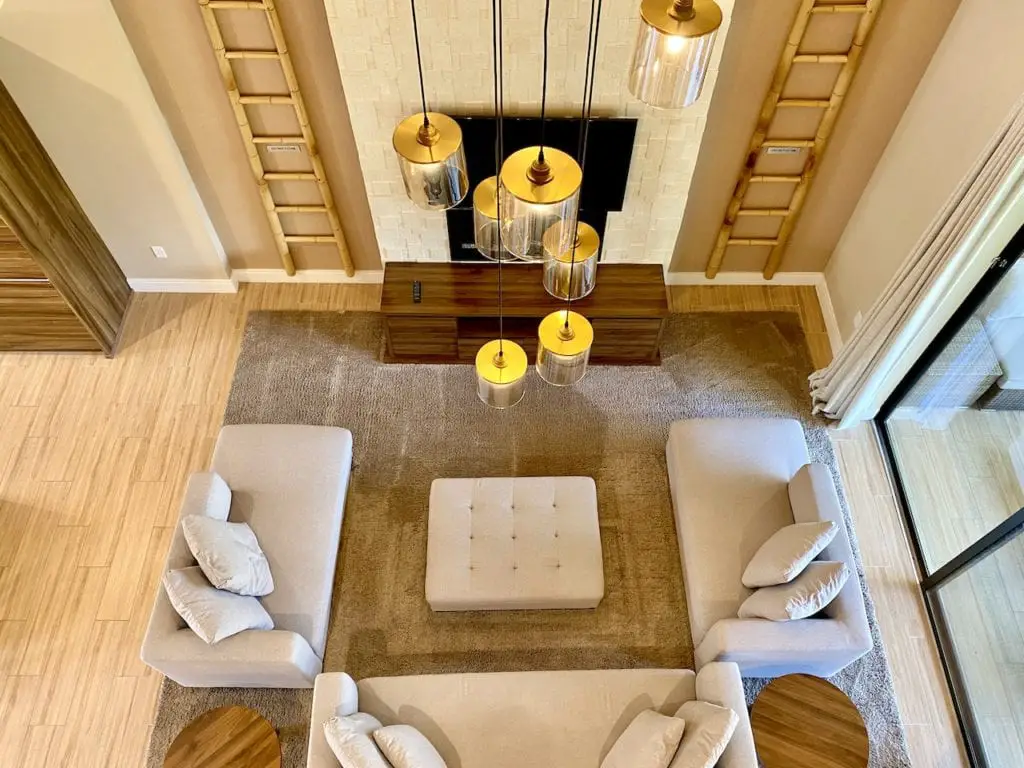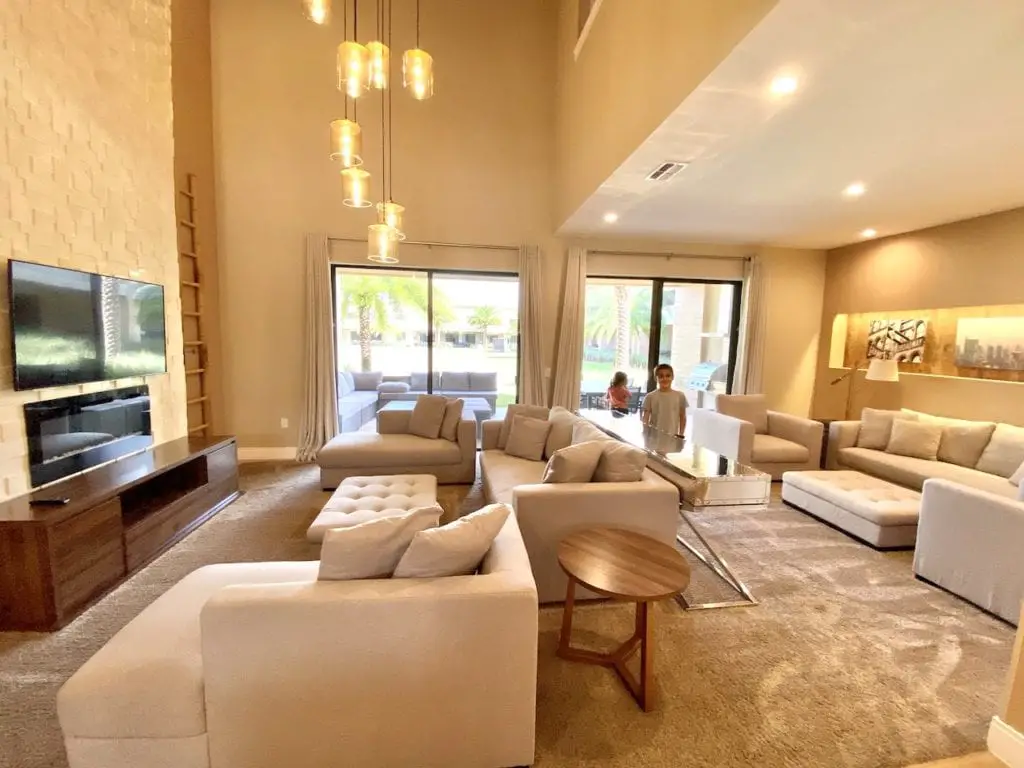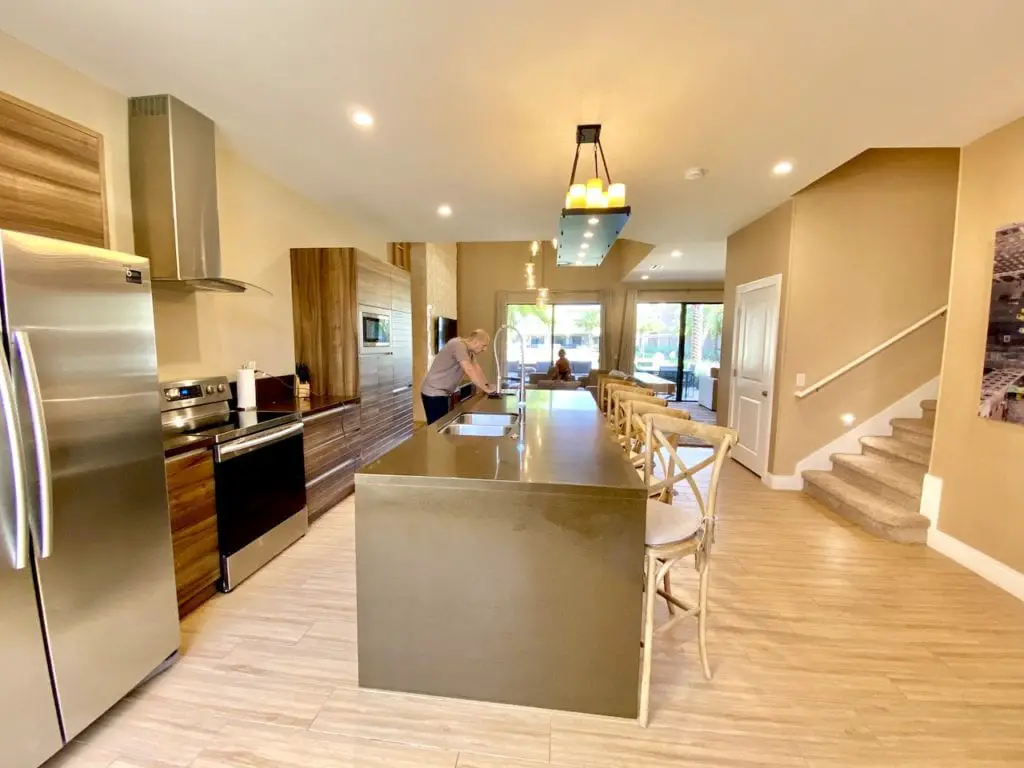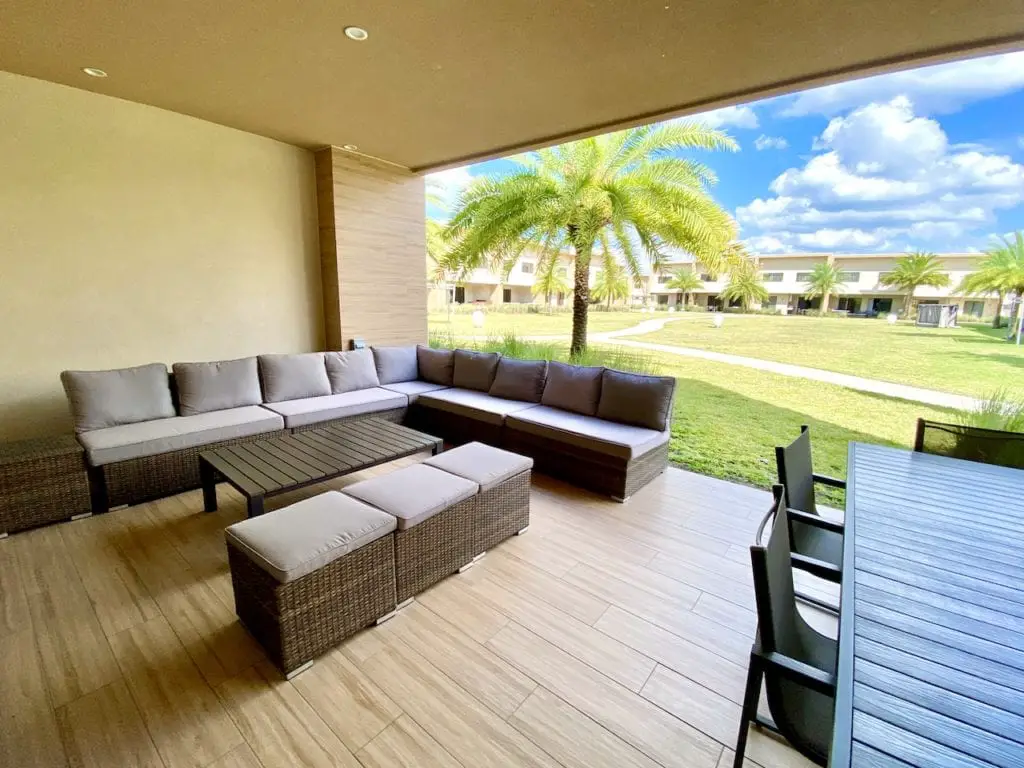 We absolutely loved the villas, with a dreamy open kitchen, bedrooms for each of the kids, and enough space in the master bedroom for a full-size desk.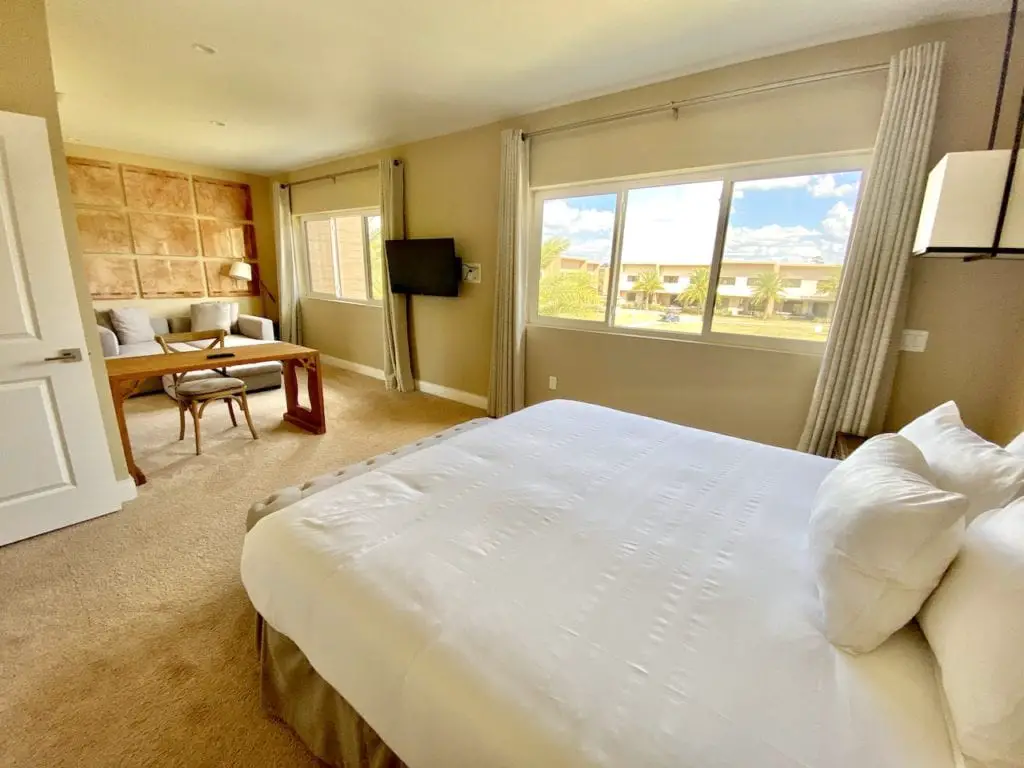 If you are a work-from-home, school-from-home family like we are, you will love the fast internet and will be able to take care of that homework before hitting the attractions.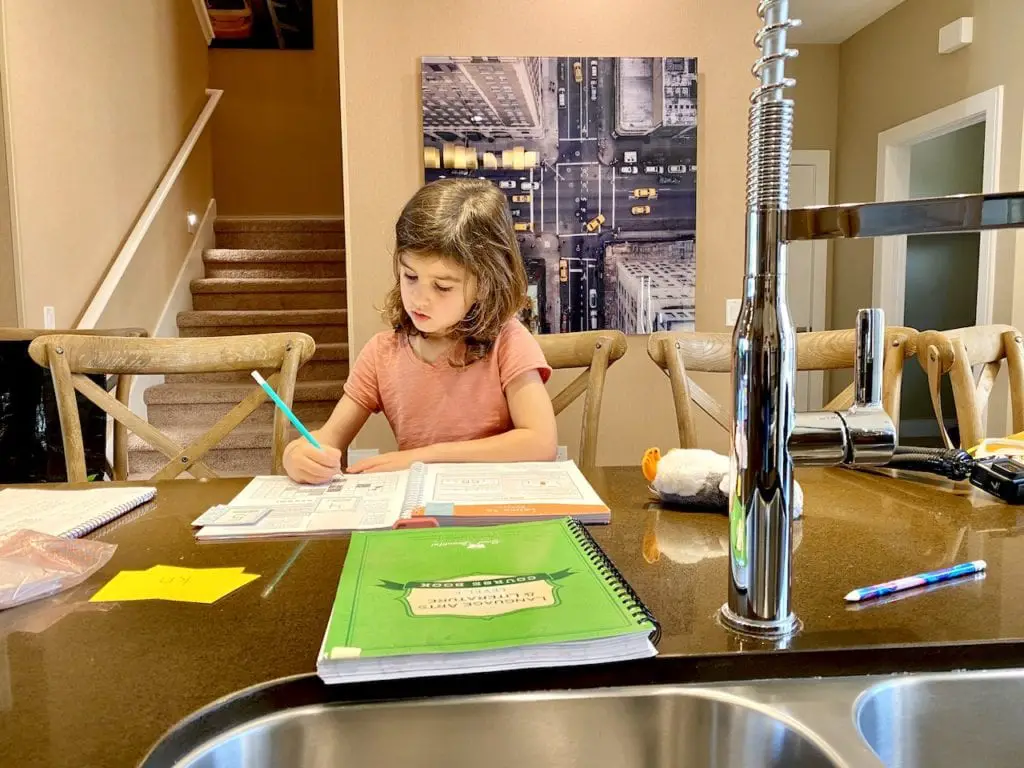 At Magic Village Views, parking is free, there are no resort or hidden fees, and the gated community is ultra safe and clean. After a full day at Gatorland, quickly hit the pool and hot tub prior to retreating for the night!
Day 2 – Orlando Tree Trek Adventure Park
If you are new to our blog and should know just one thing about us, it is how much we value outdoor adventure. Whenever we can, we take the opportunity to be outside.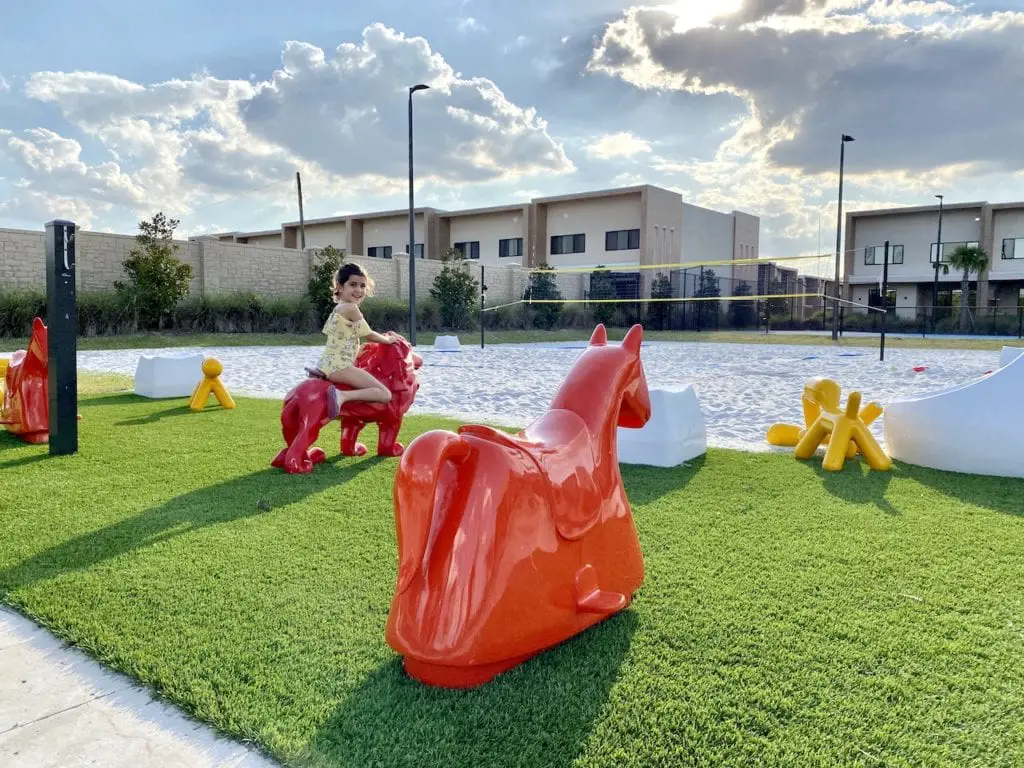 Orlando Tree Trek Adventure Park will satisfy the thrill cravings of the entire family!
When you first get to Tree Trek, sign in and get fitted with your harness, pulley, and gloves. An instructor will teach you everything you need to know to be safe on the course, before sending you on your way.
With 97 tree-top aerial challenges and a giant 425-foot long zip line, adults have fun on three courses of increasing difficulty.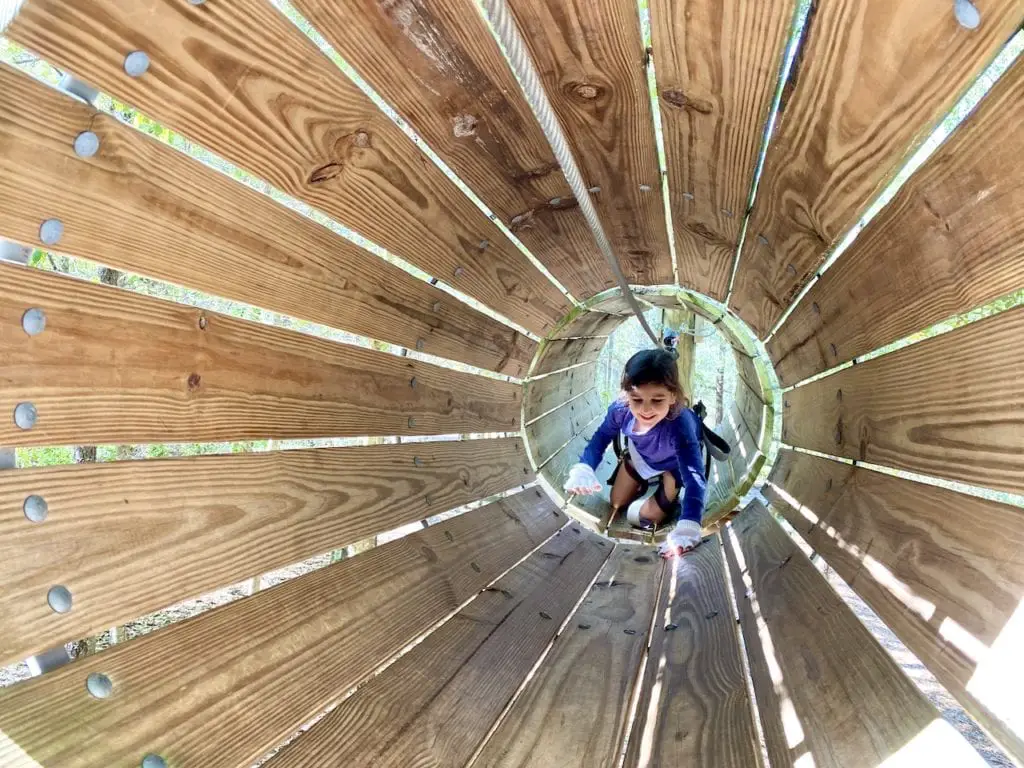 Children need to be 6 years old to partake in the adventure. If you have a tall 5-year old who can reach a specific height while standing with their arms raised, Tree Trek might allow you to trek with them on the kids course.
The kids enjoy 2 separate courses designed just for them. They come with 21 unique challenges, including 2 zip lines, and they are able to ride both courses twice for extra fun.
If your family likes thrill, you will love Orlando Tree Trek Adventure Park. Everyone in your party can challenge themselves on their own course, and adrenaline is sure to kick in for all!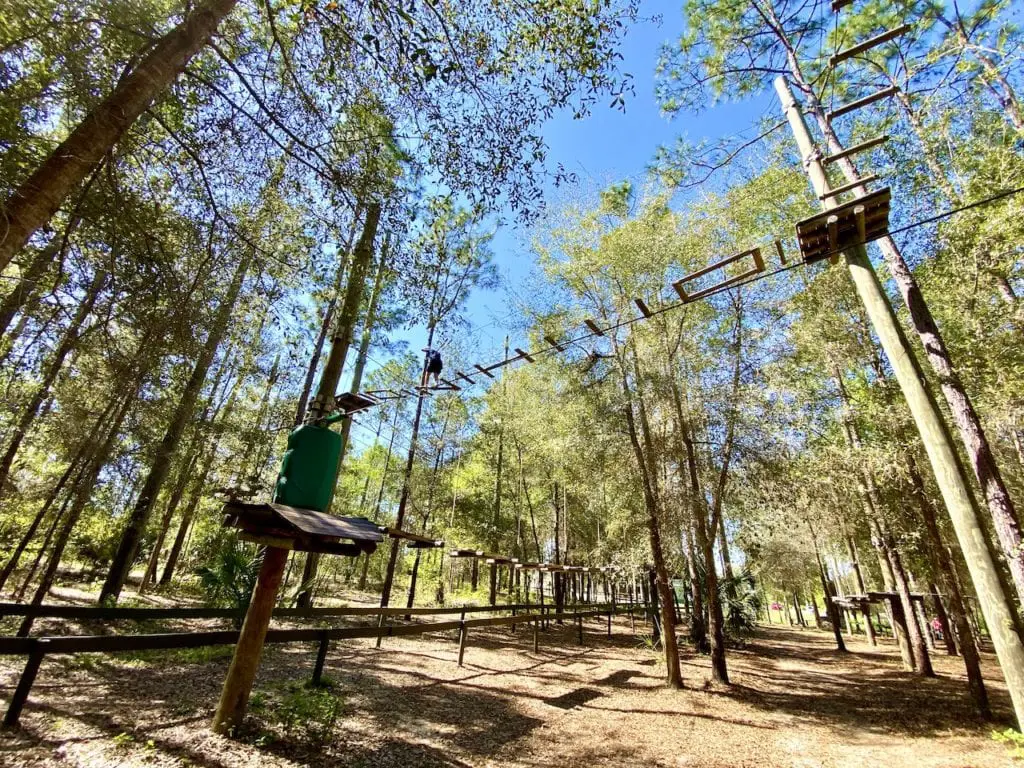 Tree Trek is located less than 10 minutes from Magic Village Views, and less than 15 minutes from Disney, making it an easy destination to get to during your Orlando trip.
Day 2 – Pool Afternoon At Magic Village Views
After a fun morning outdoors in hot Florida, you will love driving back to Magic Village Views to enjoy a fun afternoon by the pool.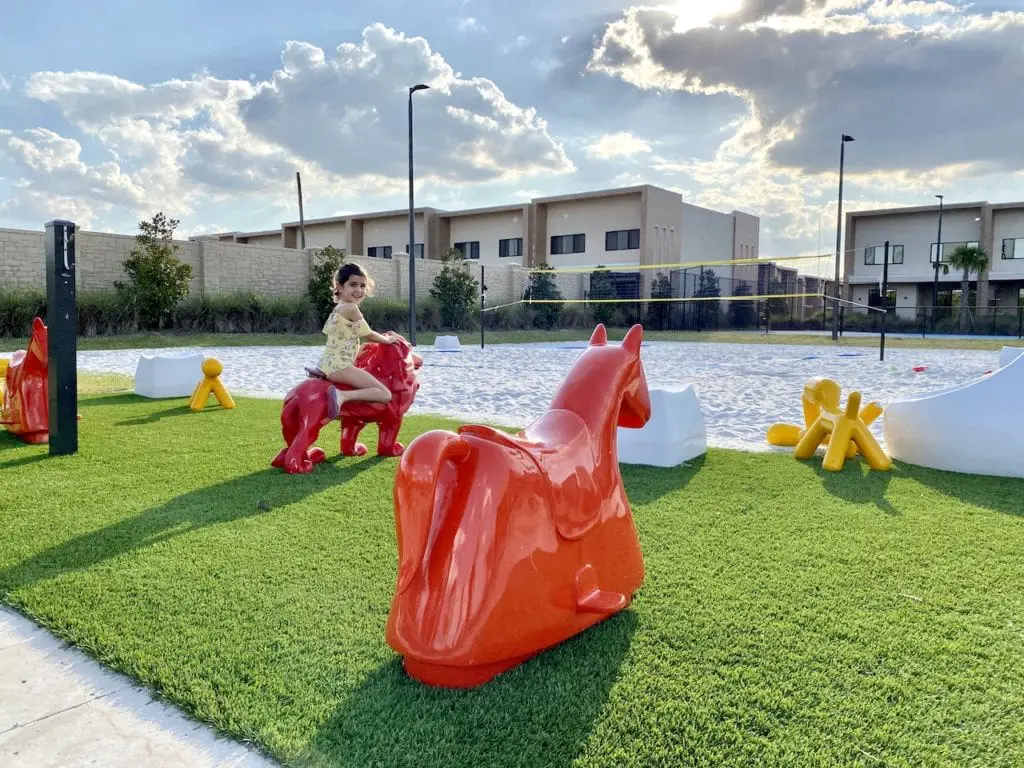 With sun chairs and free cabanas (first-come first-serve), watch the kids splash in the pool while you relax in the hot tub.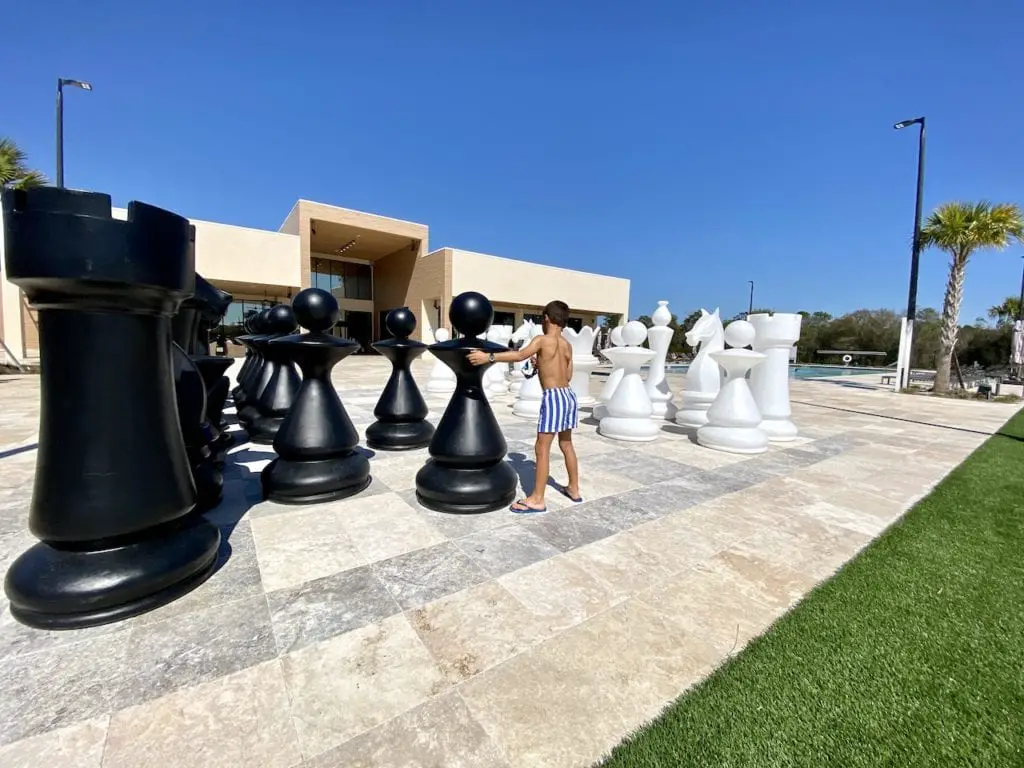 Right by the pool, enjoy a family game of life-size chess, some beach volleyball, or even some tennis action!
There's nothing like watching the sun set on the zero-entry pool, with nowhere to be but right here, perfectly relaxing with happy kiddos playing around you.
Day 3 – Wild Florida
Wild Florida has been one of our family's favorites for years. It has so much to offer and is, just like Gatorland, priced very fairly for the area. If you are Florida residents, the rate discounts are amazing! Note that Wild Florida is closed on Sundays, so make sure to schedule Monday through Saturday!
Located about 50 minutes from Disney World, it is a pretty ride into Central Florida. Once at Wild Florida, plan on spending the day. There are several really neat experiences there, and the food is super yummy! Here's what I recommend at Wild Florida for your Orlando getaway with kids:
** Airboat Ride
The airboat tours are a must at Wild Florida. Choose from 30 minutes or a full hour (though I really recommend the full hour!).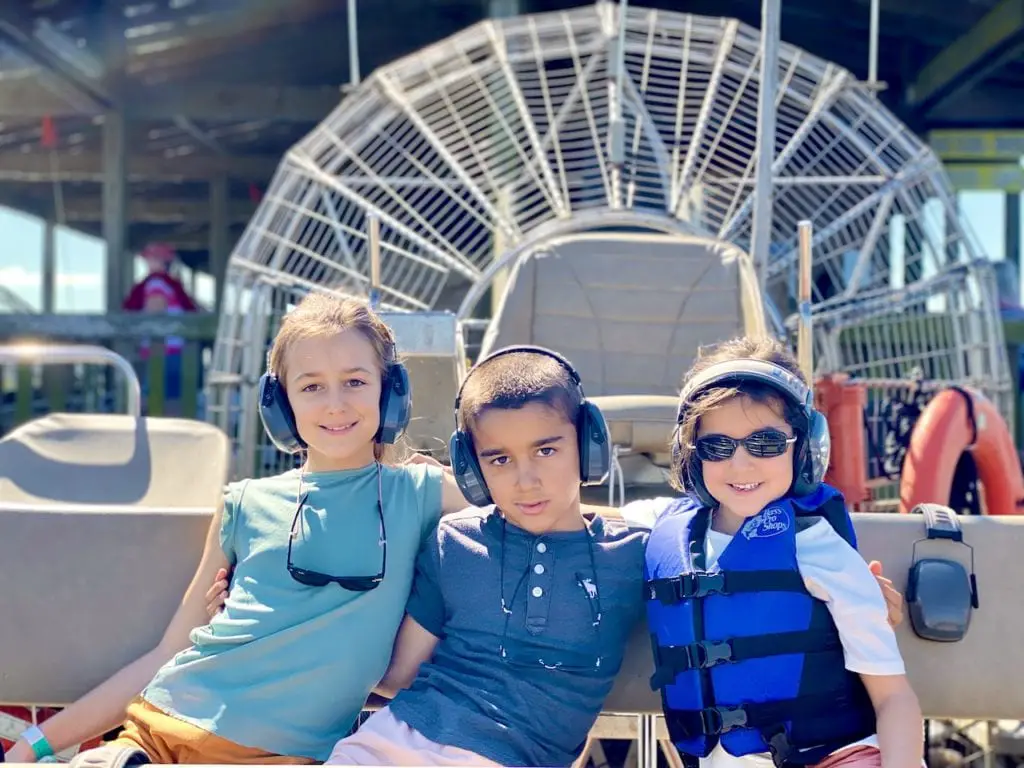 Pack your sunscreen and sunglasses, and get ready for some of the best nature and wildlife Florida has to offer.
There is nothing like seeing Florida from its wetlands. From the airboat, you can expect to see a variety of animals: from adult and juvenile bald eagles, to cows walking around the water, a large variety of birds (some endangered), snakes, and of course – alligators. If you are there at the right time, you might be lucky enough to see a mommy gator with her babies!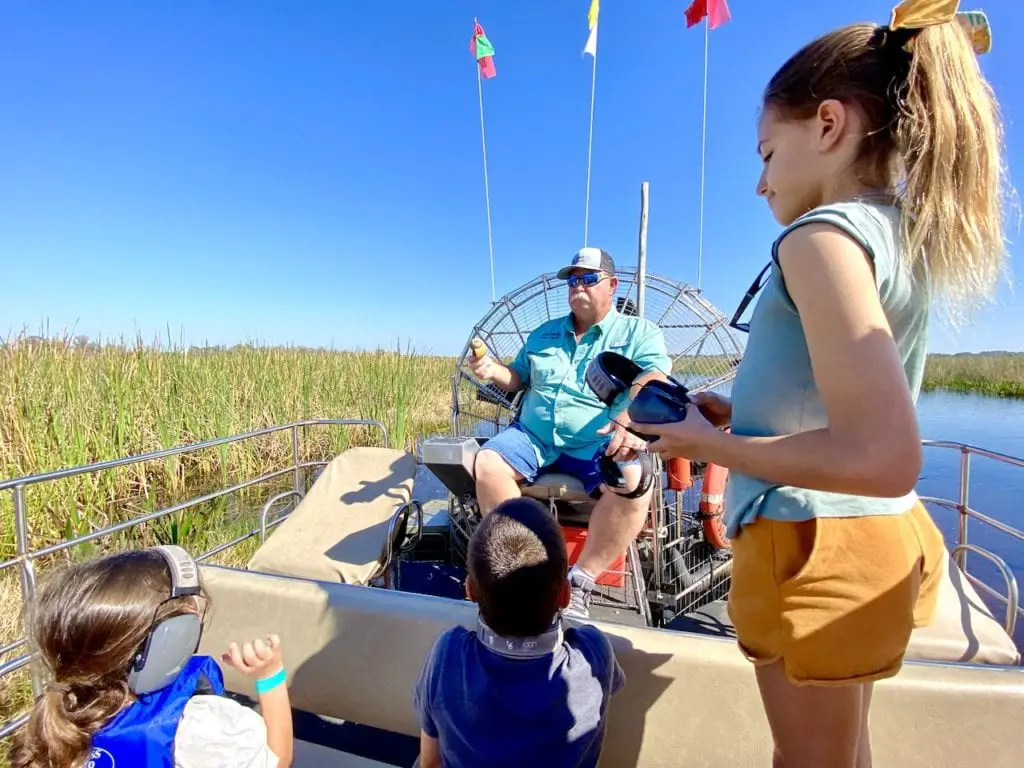 Your airboat captain is a pro and knows his wetlands in and out. He will stop the boat near the animals he spots, and give you plenty of time to stand, watch, and photograph the wildlife. Feel free to ask them as many questions as you'd like, they love educating the guests and always answer kids' questions with great patience!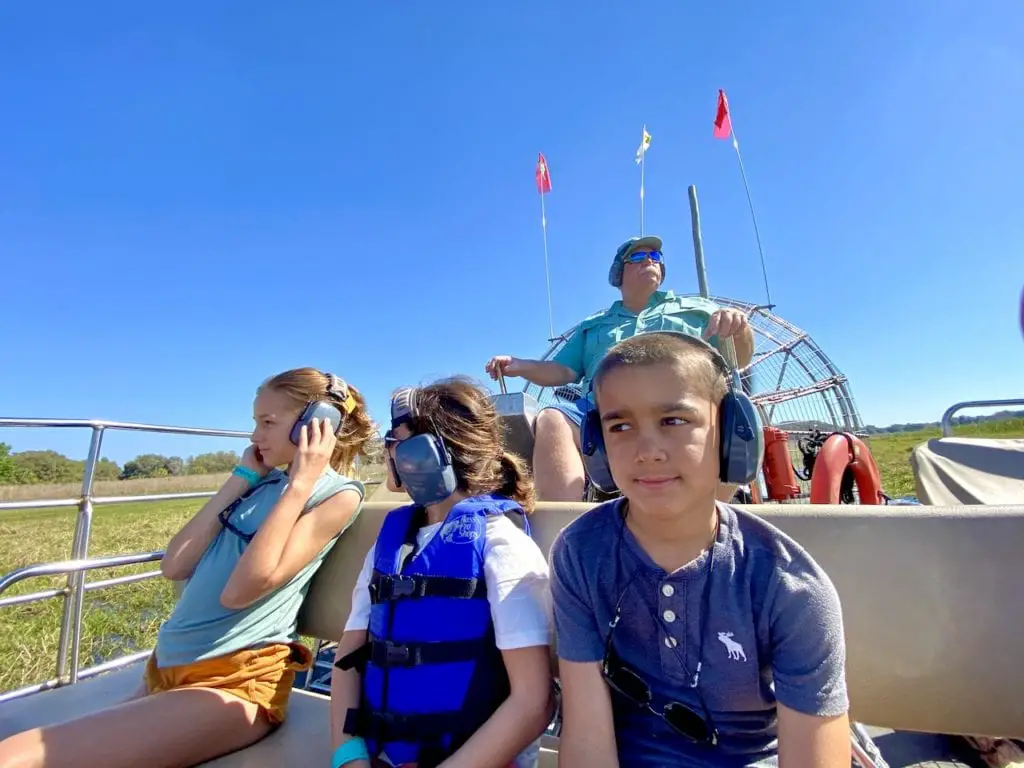 In between sightings, get ready for some thrilling speeds. I highly recommend using the ear-protection ear muffs provided on the boat. It gets really loud 🙂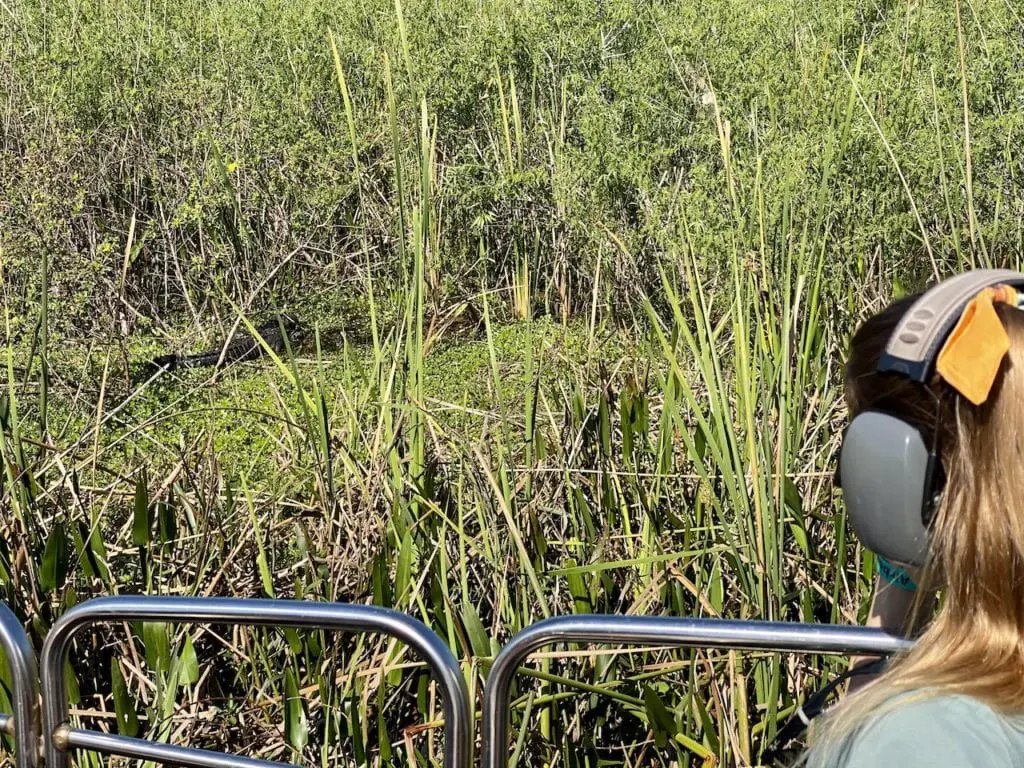 Note that you can book your airboat ride online, via email or by calling 407-957-3135. Kids under the age of 2 are free. Kids ages 5 and under need to wear a lifejacket (provided). In case of rain, your airboat tour could be canceled, and the staff will reach out to you by phone.
There are options for private airboat tours if you feel more comfortable staying with your own group only, as well as night group and private tours. During COVID, capacity is limited on the boats and each party sits on its own bench.
** Alligator Park
If you purchase an airboat tour, your ticket will include a visit to the Gator Park and the giraffe feeding platform.
After the airboat ride, which I recommend doing first, walk over to the Gator Park. There you will find many Florida animals, such as alligators, panthers, bobcats, deer, and more.
You will also love meeting sloths, lemurs, emus, and petting goats at the petting zoo.
You will get a chance to feed birds in the aviary, as well as alligators, for a small extra fee.
** Drive-Through Safari
We did not discover the drive-through safari until recently. It is such a treat!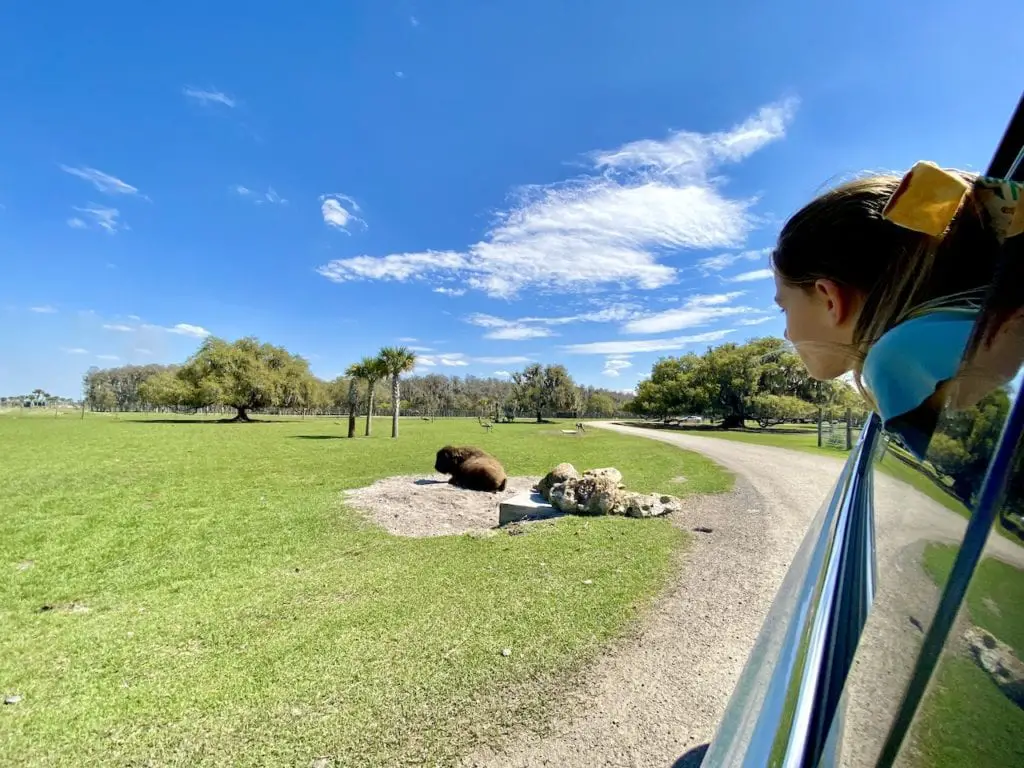 Two miles of unpaved roads take you through a grassy plain where you will drive right by 150 exotic and native animals. Bisons, emus, camels, water buffalo, wildebeest, zebras, and more, roam around the park freely.
It is an amazing experience you can take at your own pace and marvel at the beauty of the animal kingdom.
Here again, the Gator Park is included in the price of the drive-through safari, so you can turn it into full-day fun.
** Feed A Giraffe
You can partake in many animal encounters at Wild Florida – from sloths to gators, tamandua, and lemurs. Our family's favorite is the giraffe feeding experience, as it has no age limit and is a really cool thing to do!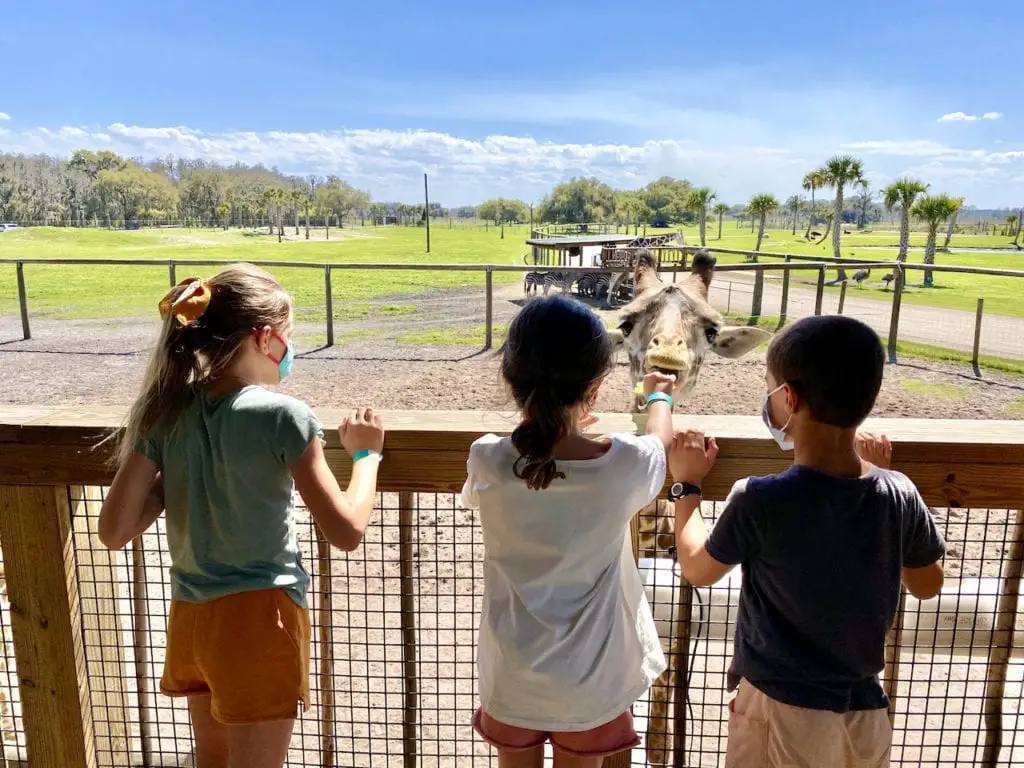 For $5 per person, get a few salad leaves to feed the gracious giants. It is a once-in-a-lifetime experience, sure to please everyone!
** Lunch At Chomp House Grill
I rarely mention park quick-service restaurants, but Chomp House Grill deserves a second of fame on here.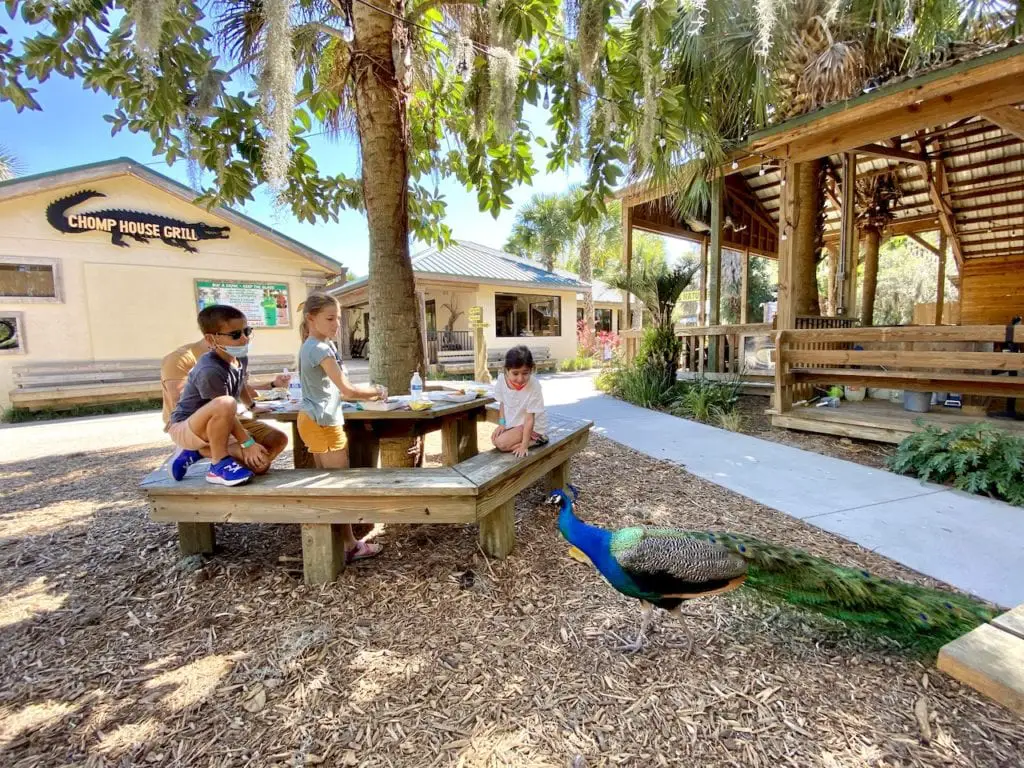 Everything we have ever eaten there was amazing. The pulled pork sandwich is to die for and you can even get a gator bite platter!
What To Do In Orlando On A Weekend Getaway With Kids – For The Nature And Animal Lovers
I hope you found this guide helpful. This is a 3-day itinerary that I recommend to friends and family who love the outdoors and want a good mix of animal encounters and nature time, while staying true to a Florida experience.
I can't think of a better way to experience Central Florida's wildlife than by coming up close with its native animals, navigating its water ways, and soaring high above its forests.
If you have any other suggestions, please let me know. We always love hearing from you guys. And if you have any questions, don't hesitate to reach out!
Enjoy Orlando!
---
Pin this for later!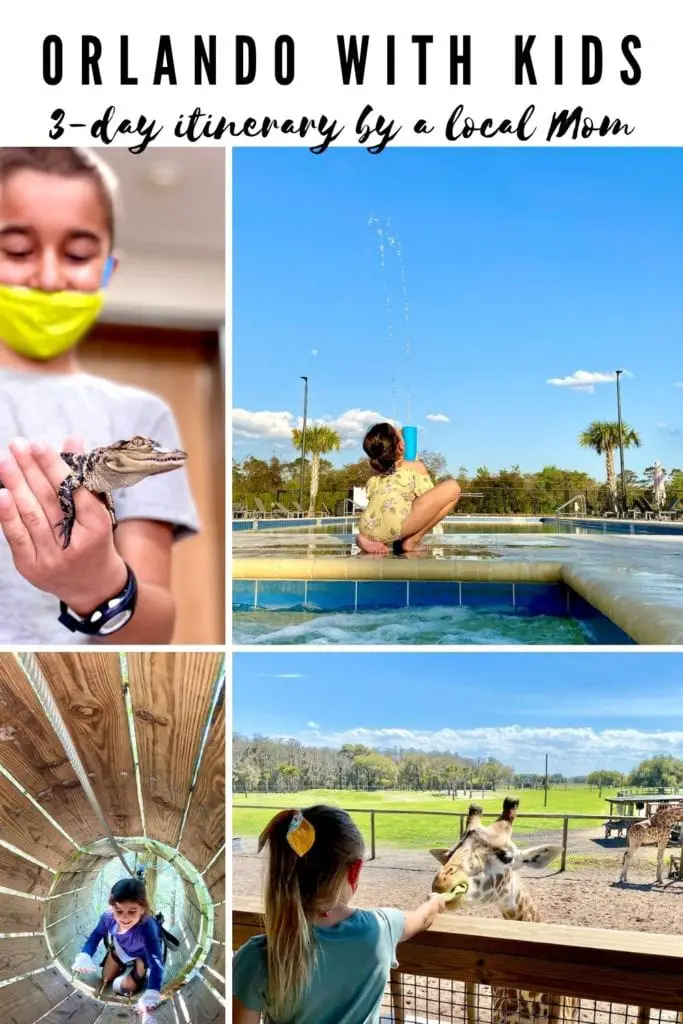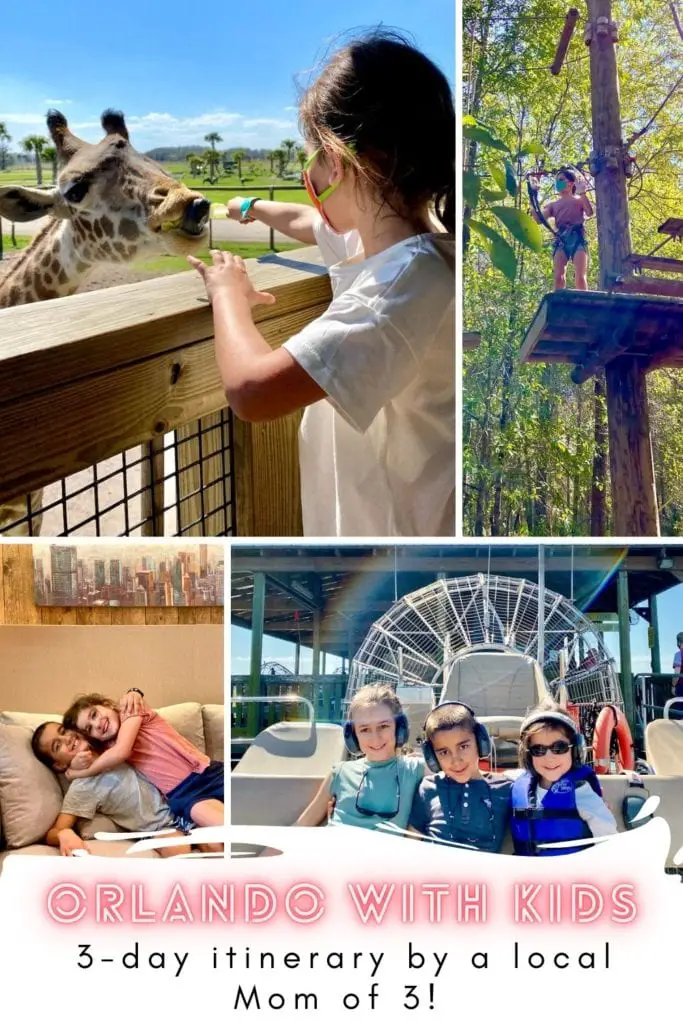 ---
Related articles you will enjoy:
ICON Park With Kids – Things To Do In Orlando, FL Besides Theme Parks
10 Tips With Kids – Gaylord Palms Resort In Orlando Florida
The Ultimate Disney World Packing List For Families
20 FREE Things And Experiences At Disney World
If you enjoy reading us, sign up for our newsletter below!