Let me tell you about a Hawaiian gem… A secret.. Almost just a whisper… A luau, so small, you become an integral part of their Ohana (family) by the time you leave. Its name is Toa Luau.
You will want to add Toa Luau to your Oahu itinerary. If you are looking for a small crowd, authentic, teaching, and moving experience, it is the place for you!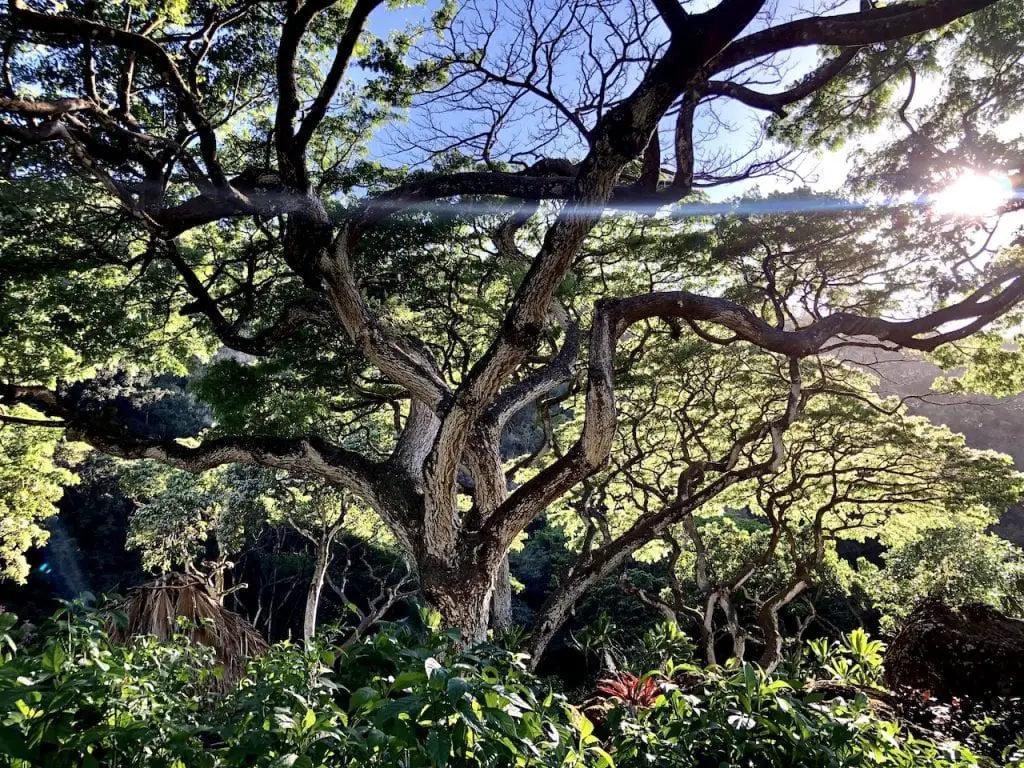 Here is what made us fall in love with Toa Luau. But before we talk about the luau itself, I recommend getting to Waimea Valley at least 2 hours before the luau. Access to the valley and the falls are included in your ticket and you need to take full advantage of it! 
Tip: note that traffic in North Shore starts backing up every day at 2PM. Keep this in mind as you plan your day at Toa Luau.
Waimea Valley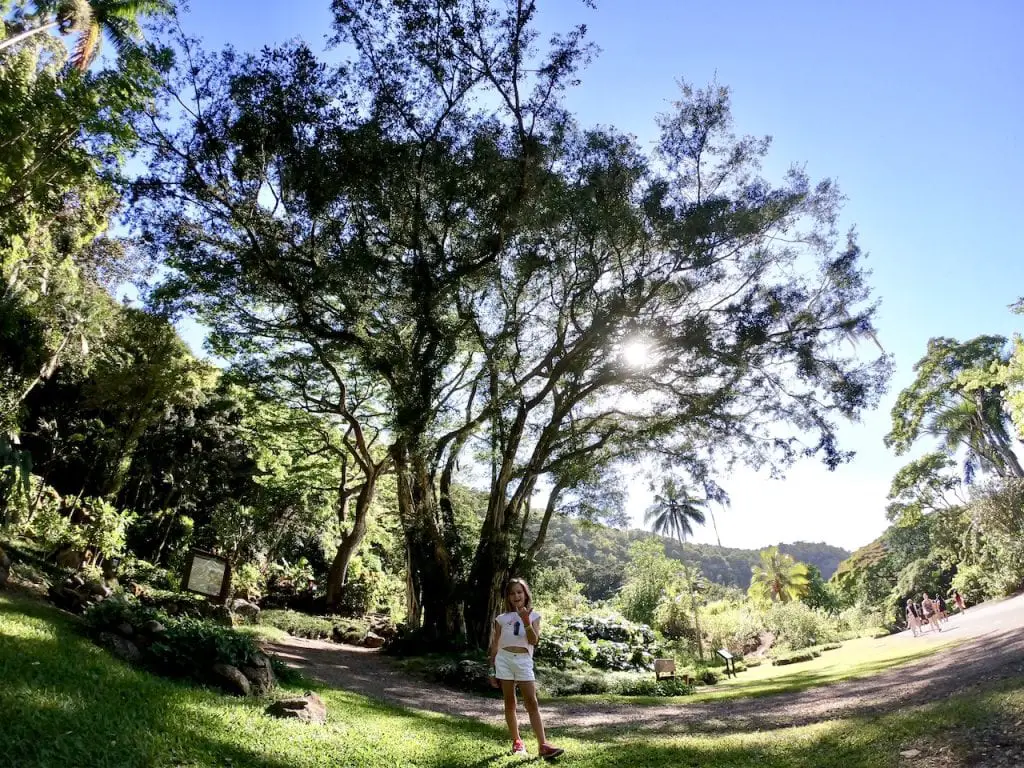 Before the luau, take some time to walk through Waimea Valley. The peace and calm that surrounded us as soon as we started our hike, made us wish we'd gotten there earlier!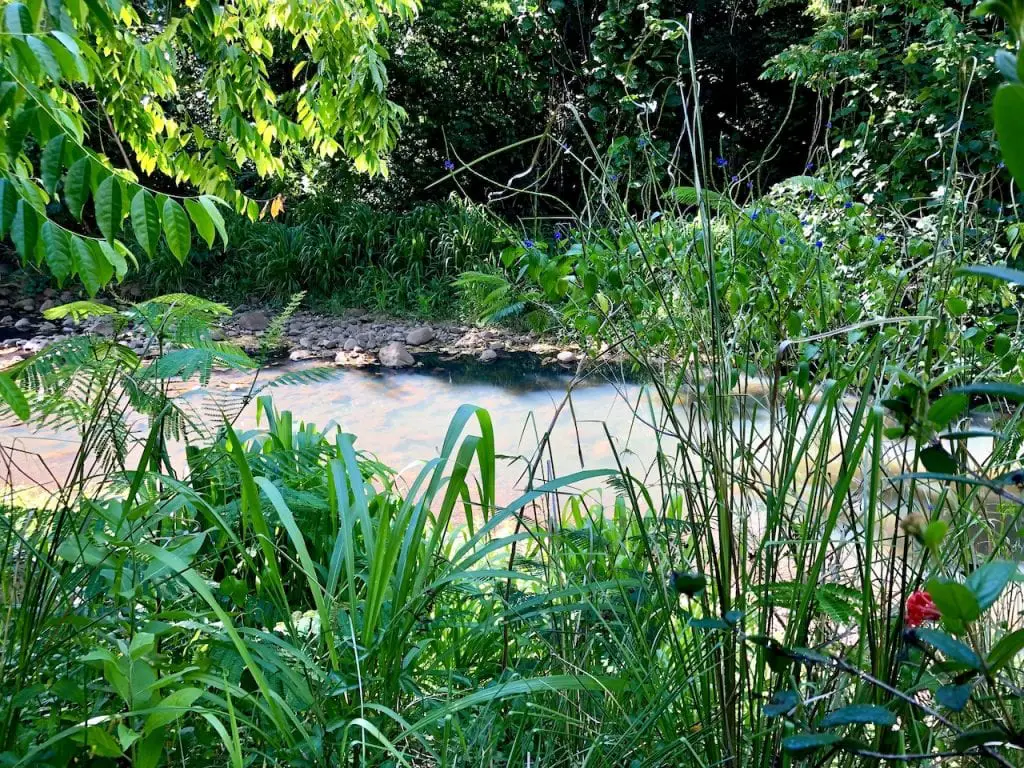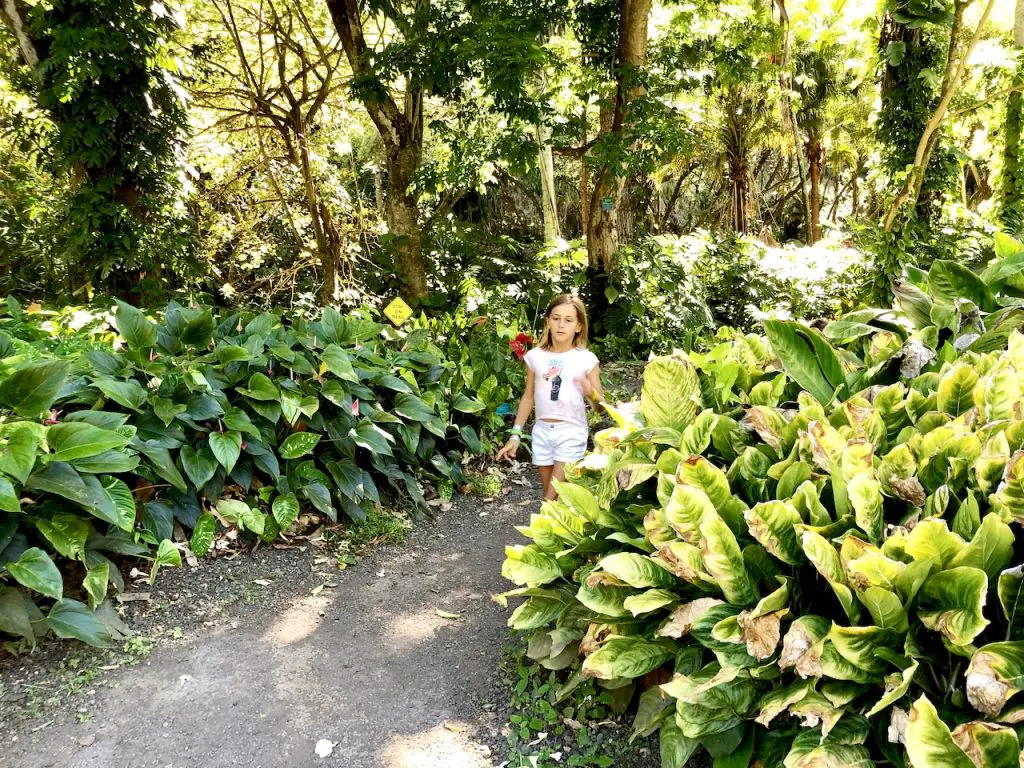 You will love the gentle hike (totally stroller-proof) and will want to venture left and right of the main path, on secondary trails guiding you through Polynesian flora and down by the river.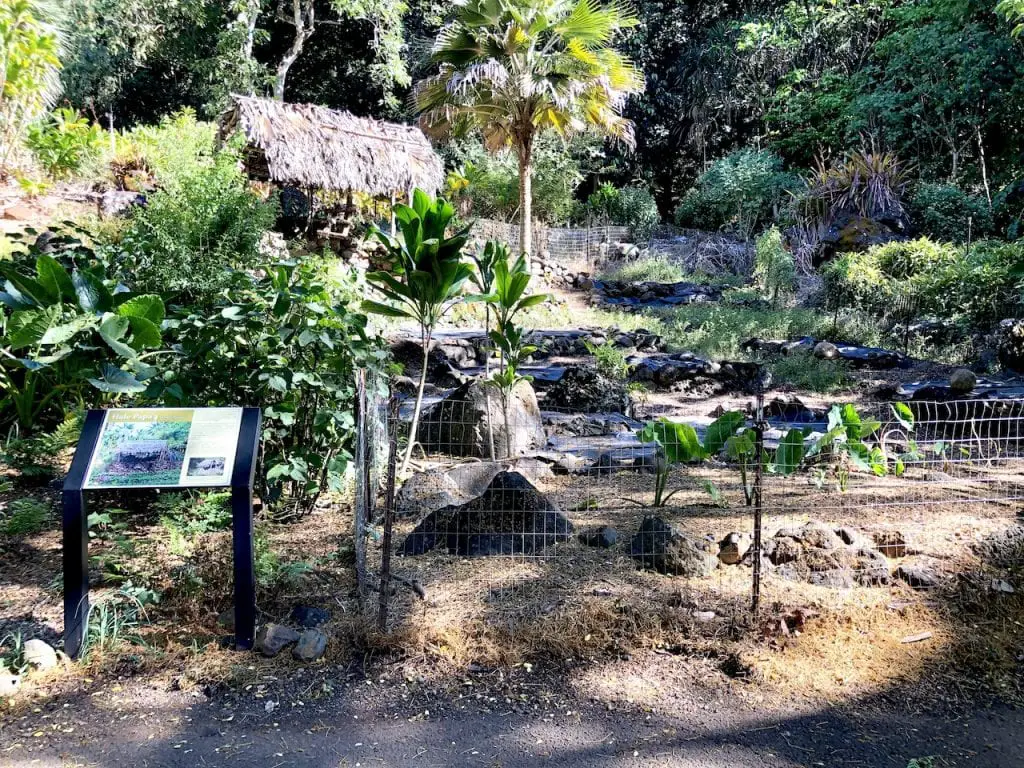 We loved discovering traditional Polynesian settlements.
And if you're a tree person like I am, Waimea Valley won't disappoint! 
Waimea Falls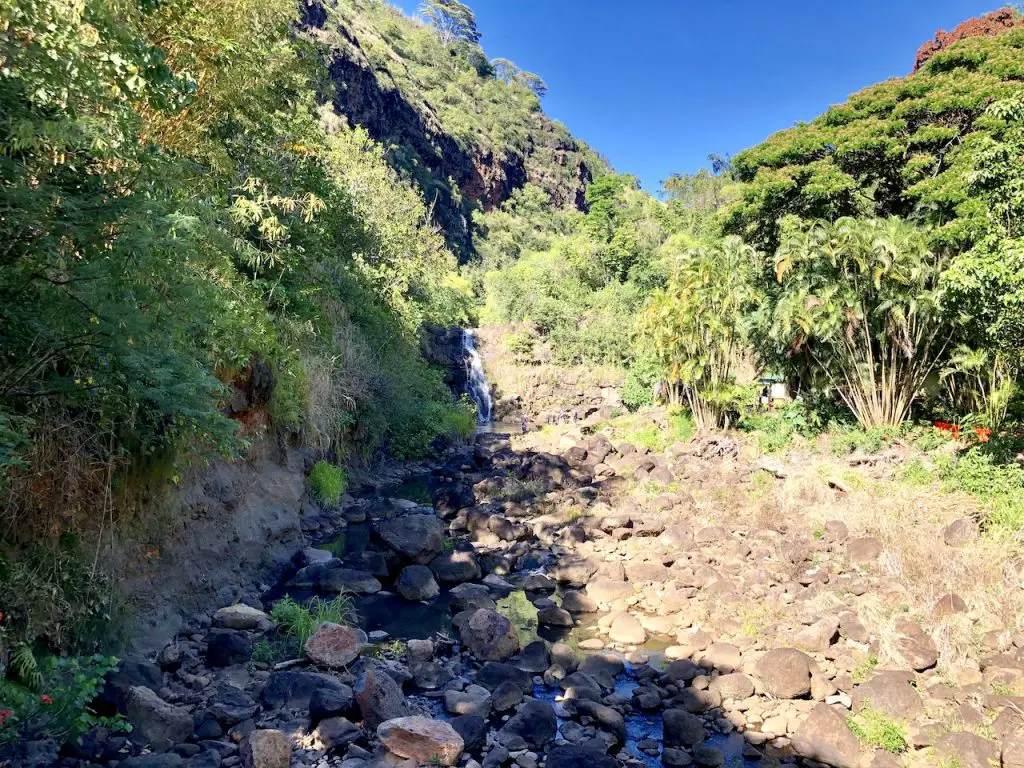 At the end of the hike – count about 30 minutes to an hour depending on how much you explore – you will be rewarded with a beautiful swimming waterfall!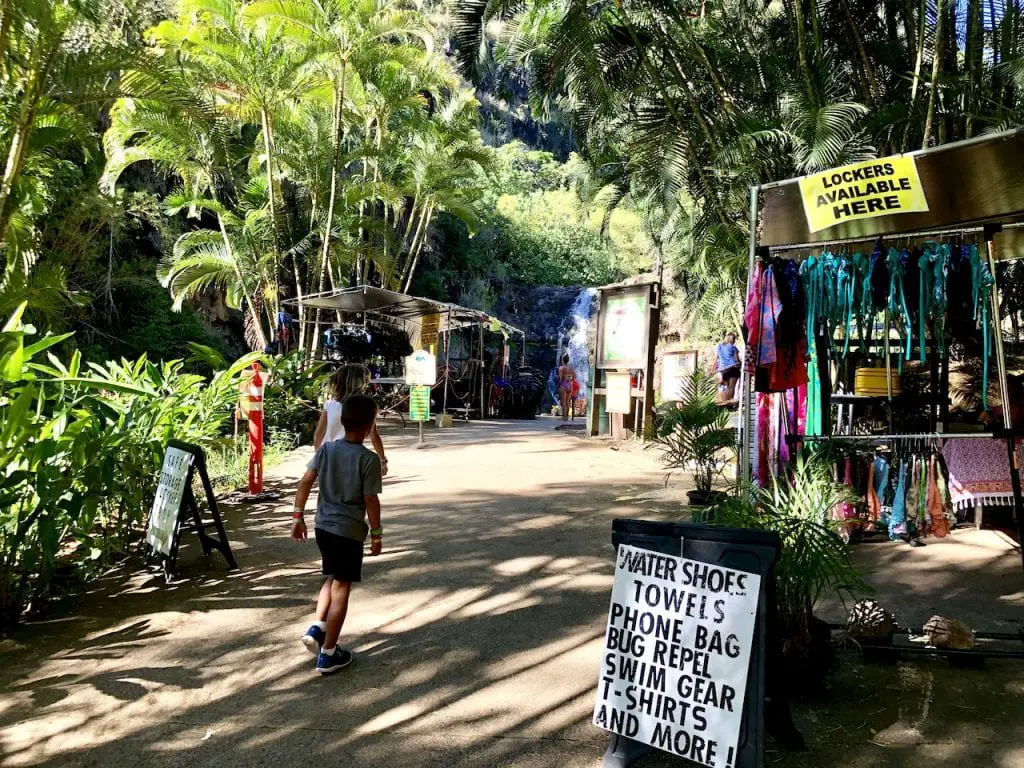 Right before the waterfall, are bathrooms, as well as changing rooms! Convenience doesn't stop there, and if you forgot anything from water shoes to UV shirts, you will find most essentials for purchase right before Waimea Falls. 
Once you are all ready to go, grab a life jacket (mandatory for swimming at Waimea Falls) and head over to the Falls. 
On a hot Hawaiian day like we had, and after the gentle hike, the refreshing water will feel heavenly!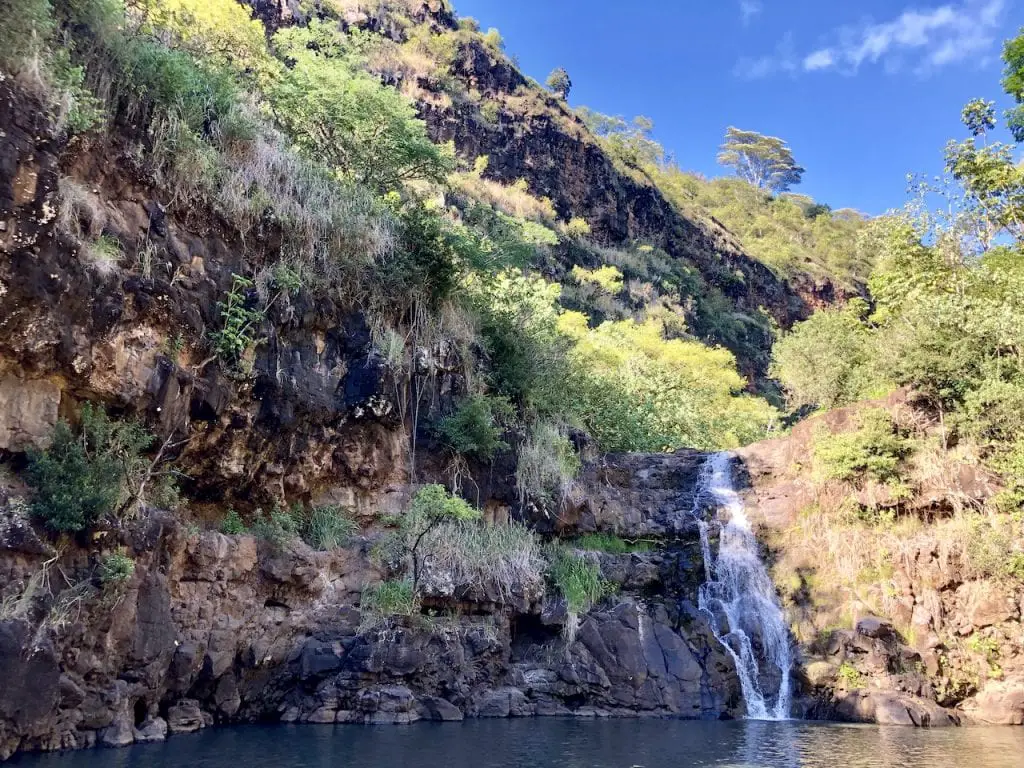 I wish I had swimming pictures to share with you but we decided to take the scenic route around the island on our way up to Toa Luau and were greeted by a closed dirt road, losing 2 hours driving back and through the island.. so no time for us to plunge in! That's travel, you all! 
Toa Luau 
Once you have fully experienced the Waimea Valley and Falls, head back over to the entrance of the park for the start of the luau festivities. 
Note that Toa Luau restricts their ticket sales to the first 200 guests, to ensure a genuine and close-knit experience. Make sure you purchase your tickets ahead of time! 
Here is what we loved about Toa Luau (and no pictures or amount of video can do it justice, we truly had the best of times there!! 🙂
Cultural Presentations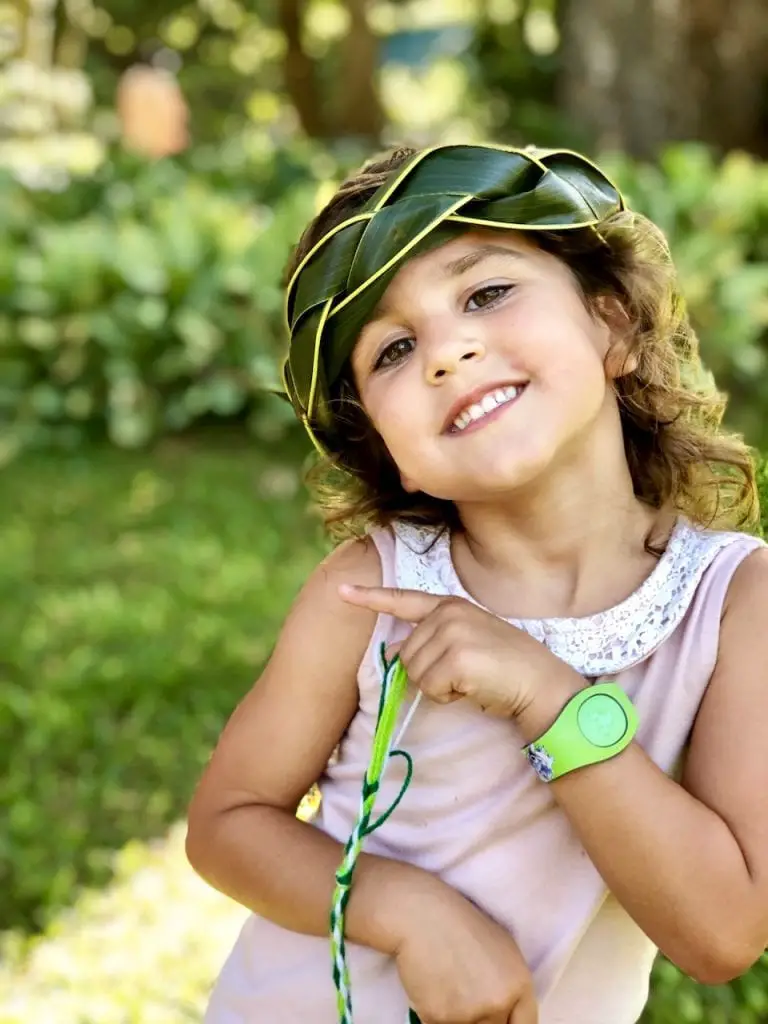 You all know how passionate I am about world schooling. And if you didn't, you now do 🙂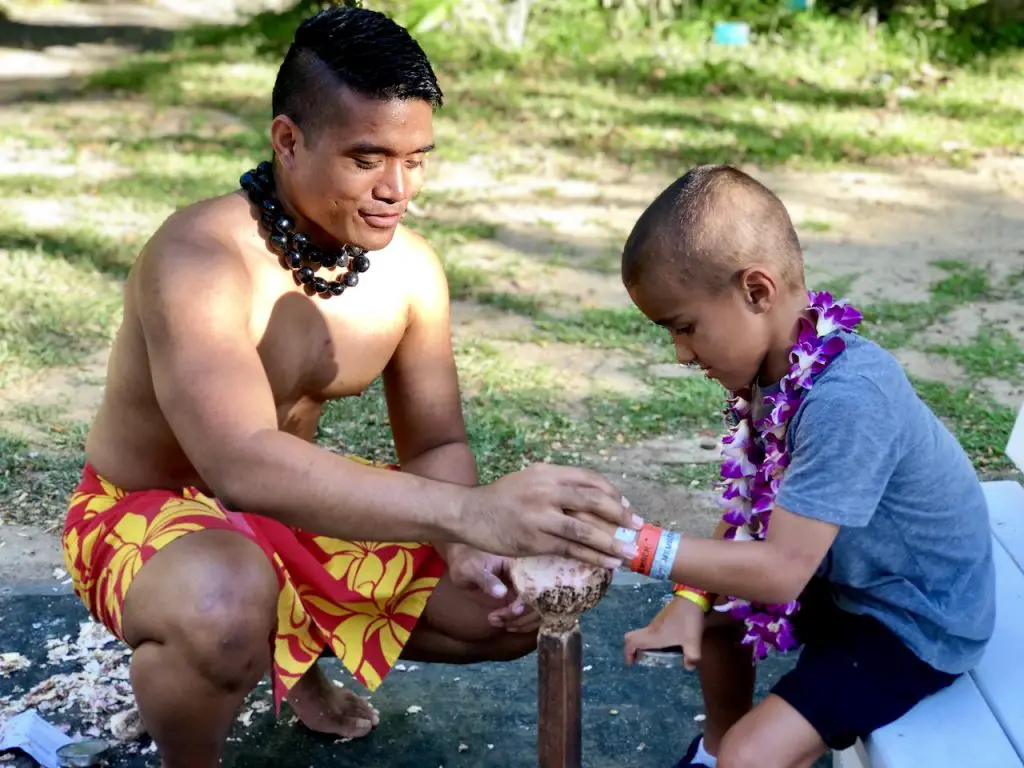 We use our travels to teach our children and ourselves. We want them to experience and understand cultures, differences, and foreign customs. It warms my heart to see our children mix in with the locals and learn from them. 
At Toa Luau, make sure you arrive by 4.45PM to take full advantage of the cultural offerings. 
We learned how to throw and twirl those light balls in the air.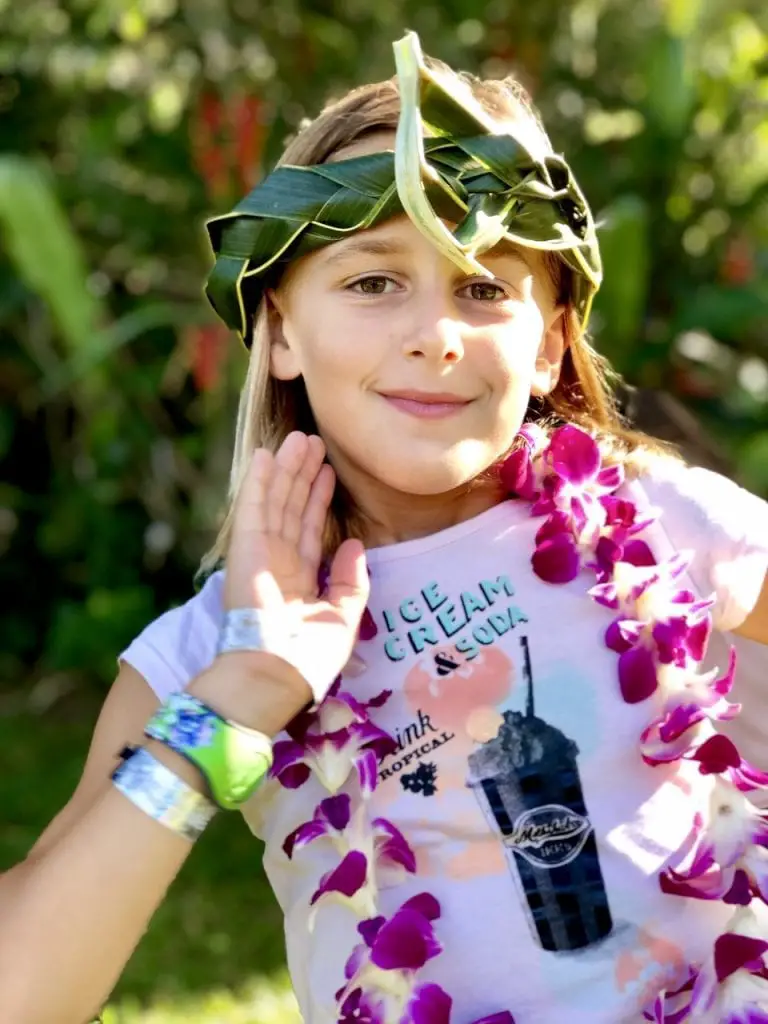 I made (don't ask me how cause I am not crafty) this beautiful crown of coconut leaves. My Hawaiian teacher was so patient and failing wasn't an option! 
The kids then tried themselves out at scraping coconuts.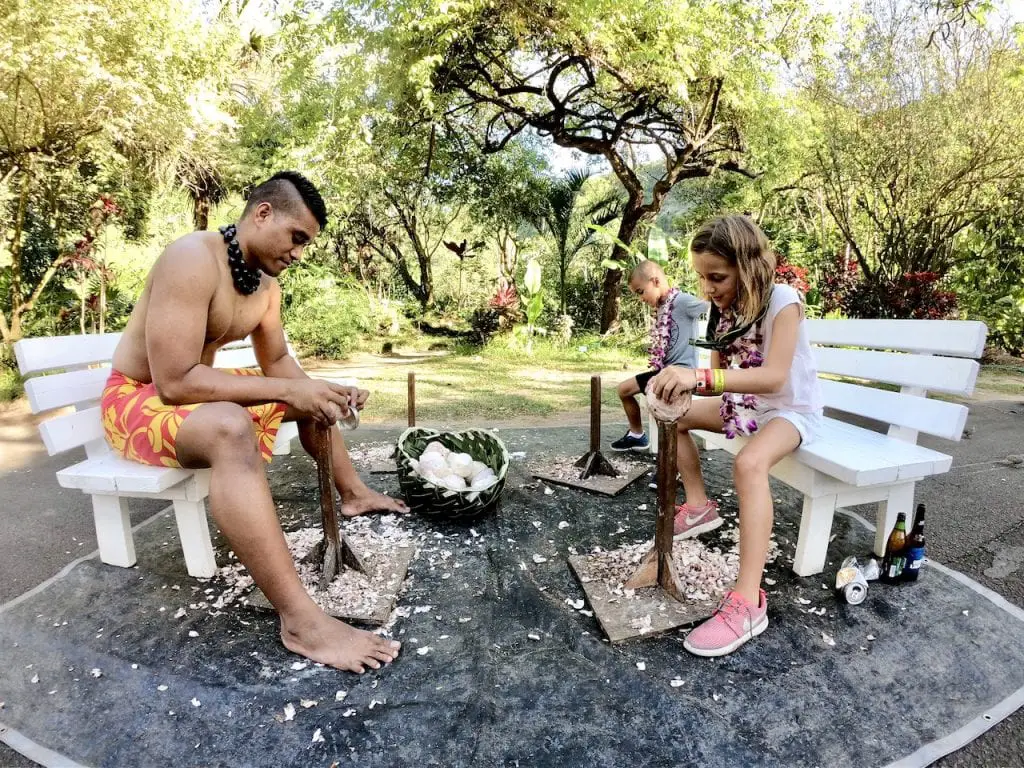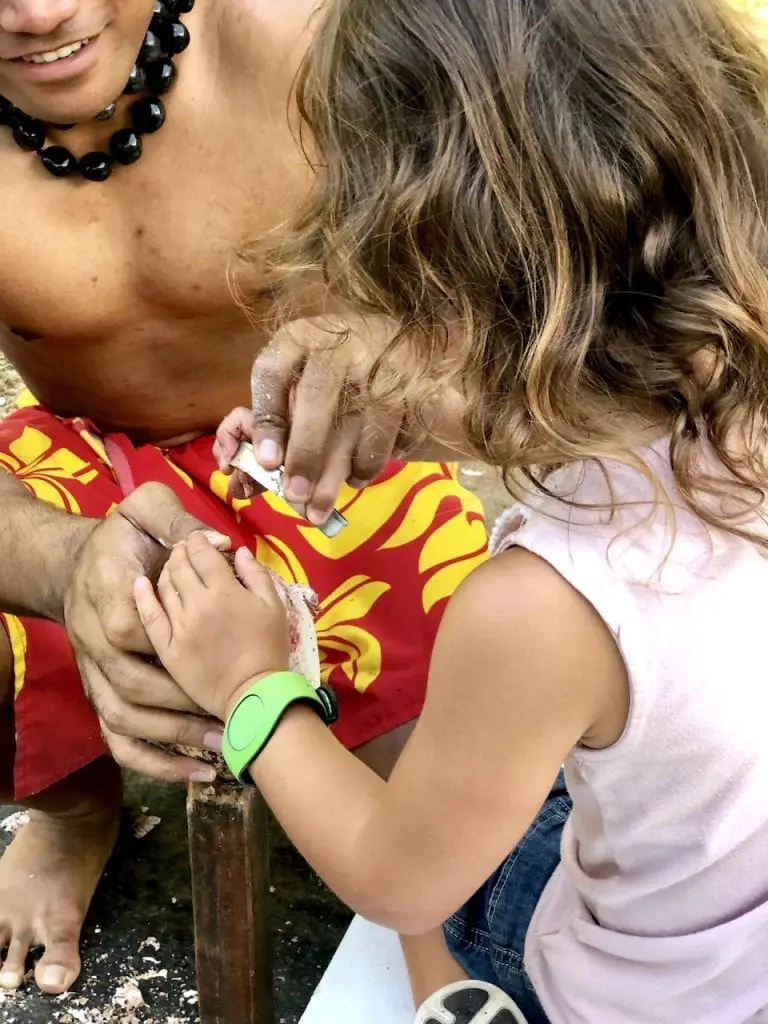 They helped the local men with cleaning taro roots for dinner… 
… and peeled unripe bananas! 
See the happiness on their faces? Nothing will make you happier, nor warm your heart, as much as seeing them learn!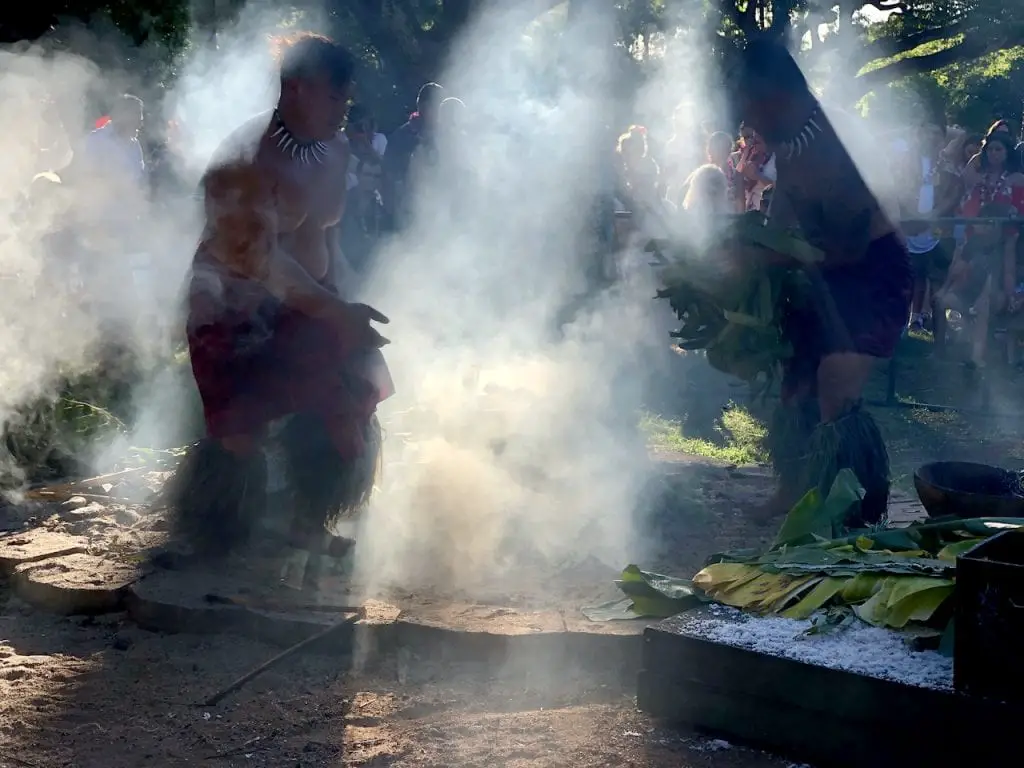 After about 45 minutes of friendly hands-on experiences – which taught our kids more about the Polynesian culture than sitting on any class bench ever will – the men cooked the food we'd prepared.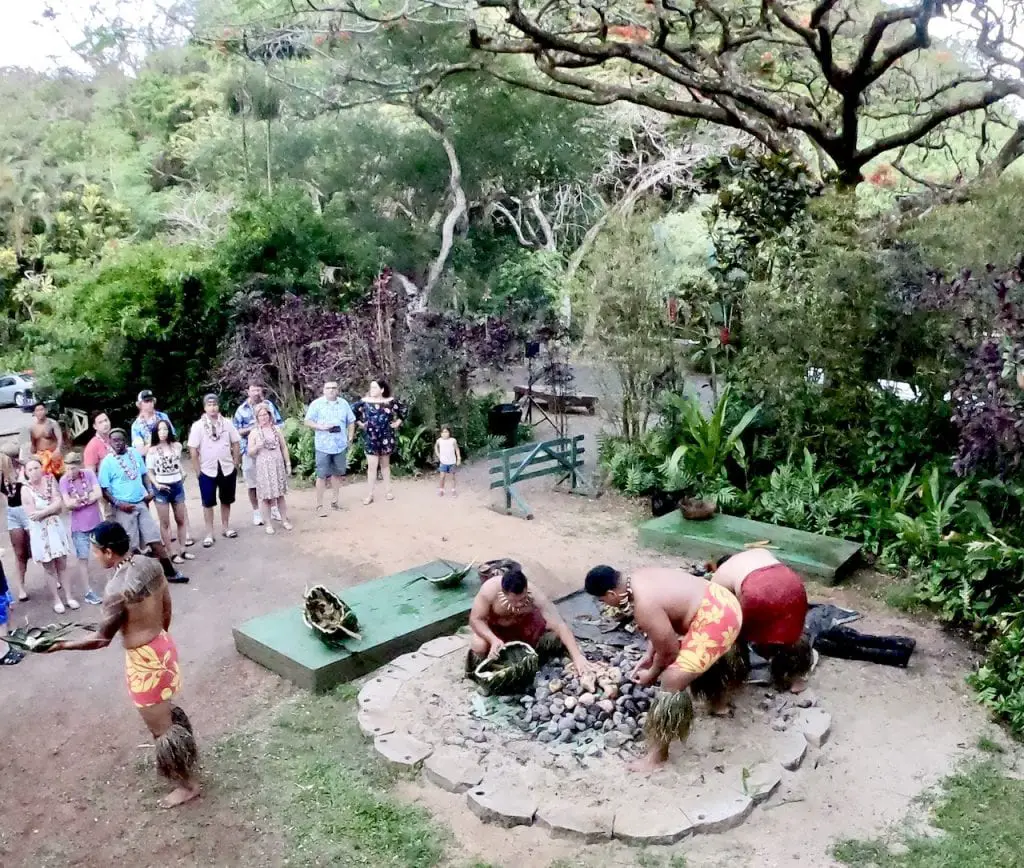 Did you know that in Samoan culture, men cook and clean? They wake up early to prepare food for their whole extended family on Sunday mornings, before going to church. 
We loved learning about Samoa and their local ways of cooking for their families and guests! 
Once everything was cooking on the fire, we watched 4 locals clim up coconut trees to the power of their bare hands and feet! 
Local Welcoming Ceremony 
Before heading out to dinner, we were welcomed and greeted by the Chief as guests to his family. 
At that point, we felt like we had become a small part of their Ohana! We were officially welcomed in a ceremony held in Samoan language, and ready to share dinner made by the Chief's family for us. 
Dinner At Toa Luau 
Based on the ticket you purchase, you will be assigned a table at the Toa Luau.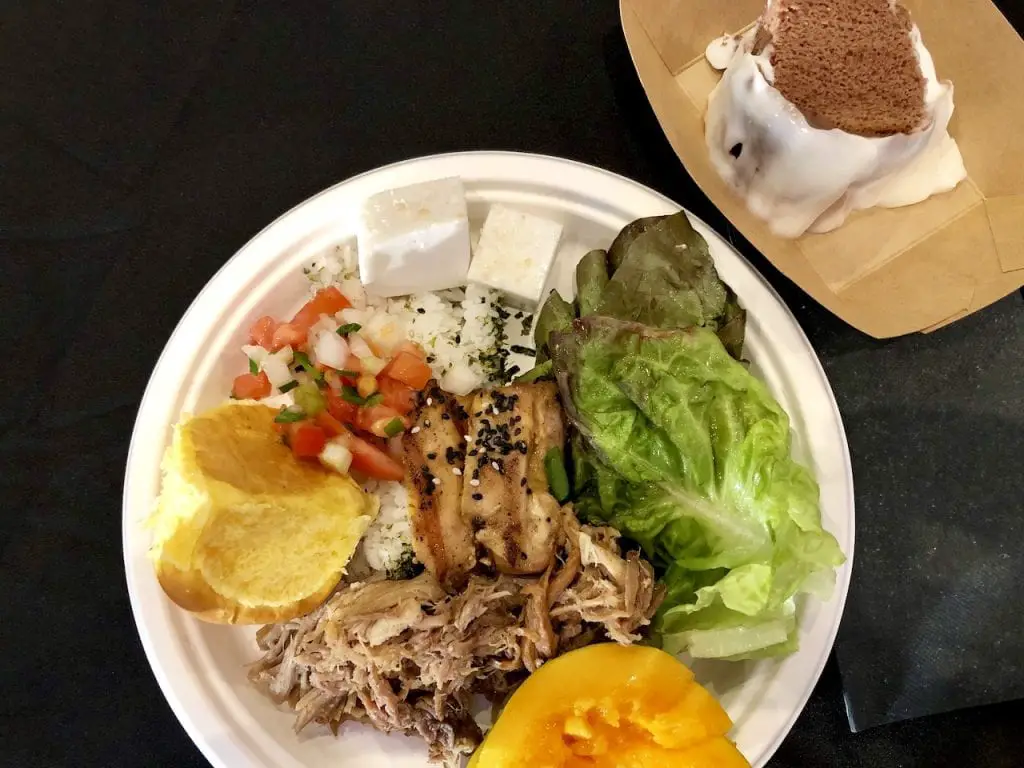 We loved how organized everything felt. Each table was asked to go get food and we never had to wait in line. The food was absolutely delicious. 
From sticky rice to very moist pork and chicken, and amazing desserts, we all loved our dinner.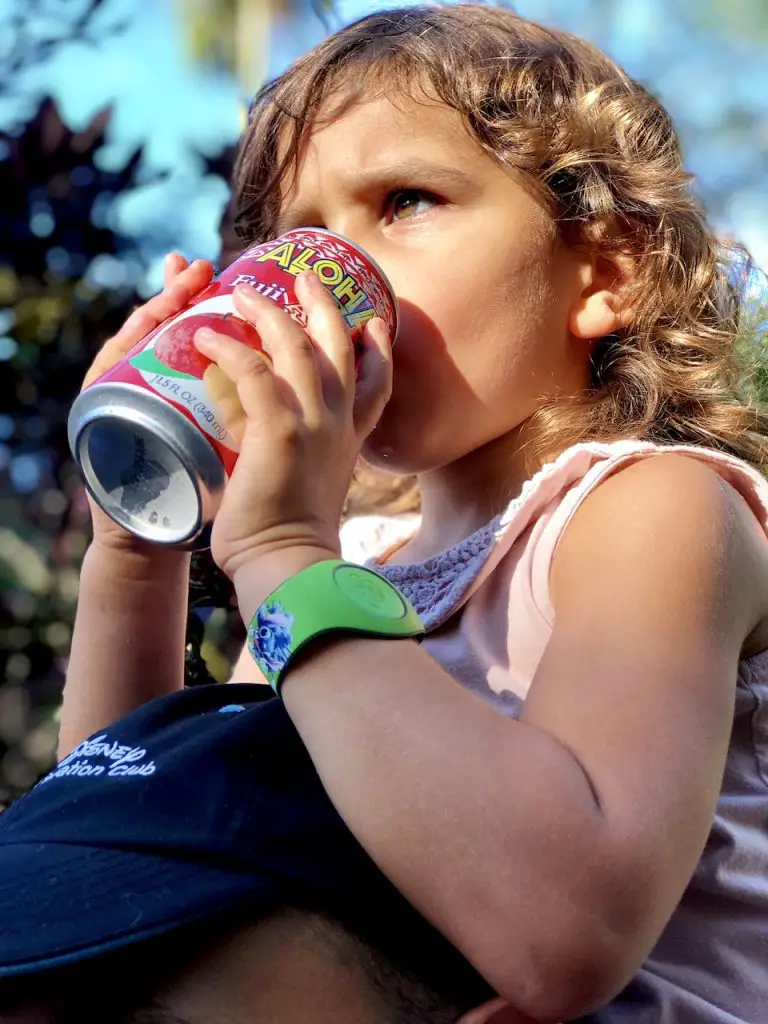 Kids receive coupons for soft drinks and juices, and adults get to pick a drink from the bar. My Mai Tai was yummy! 
The Show At Toa Luau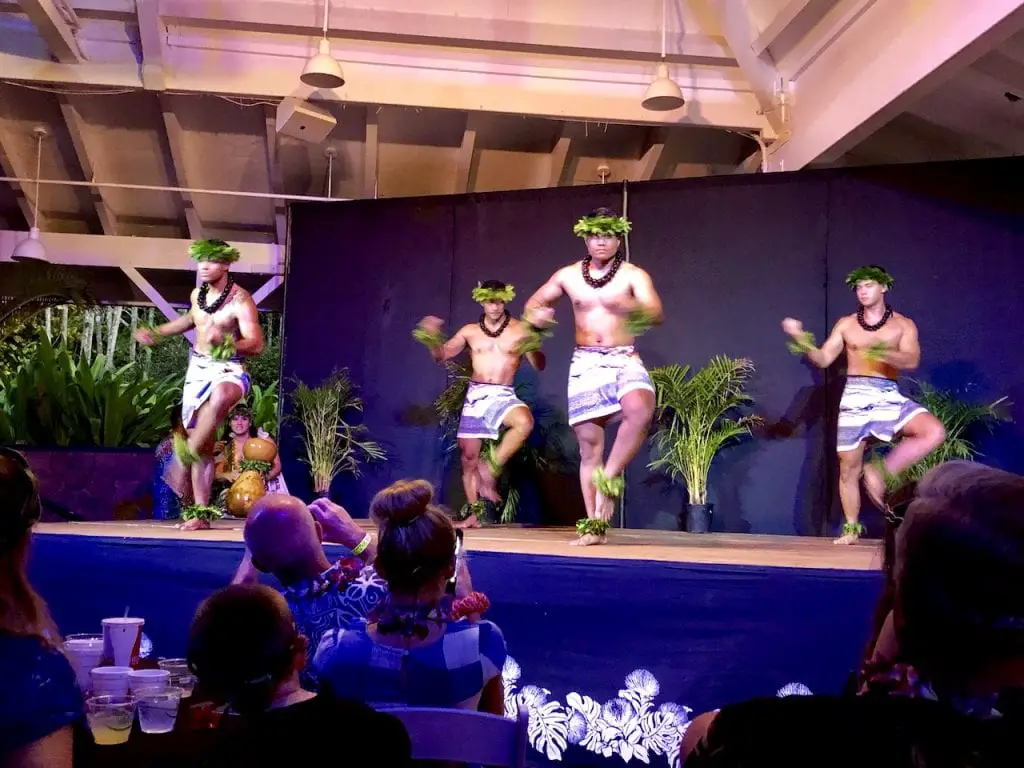 The after-dinner show was the icing on the cake! I actually loved that the show wasn't during dinner, giving us time to enjoy the food and watch un-distracted. 
Our Samoan host took us from Polynesian island to Polynesian island, through local dances and rituals.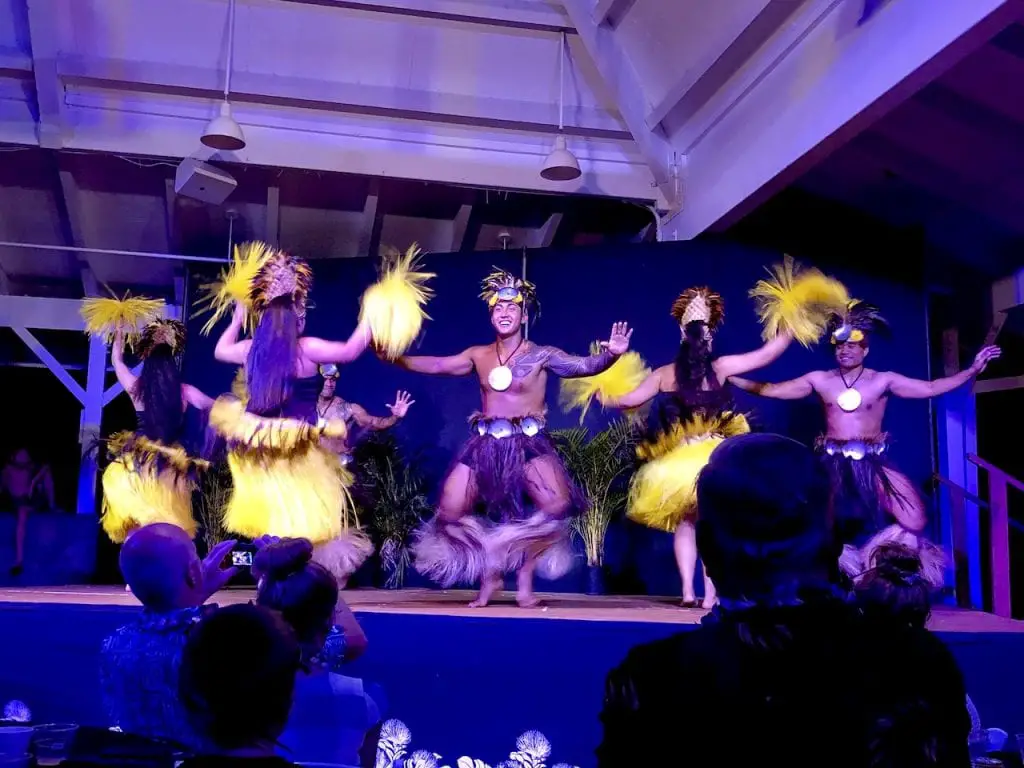 Watching each country's interpretation of dancing and happiness was an absolute treat.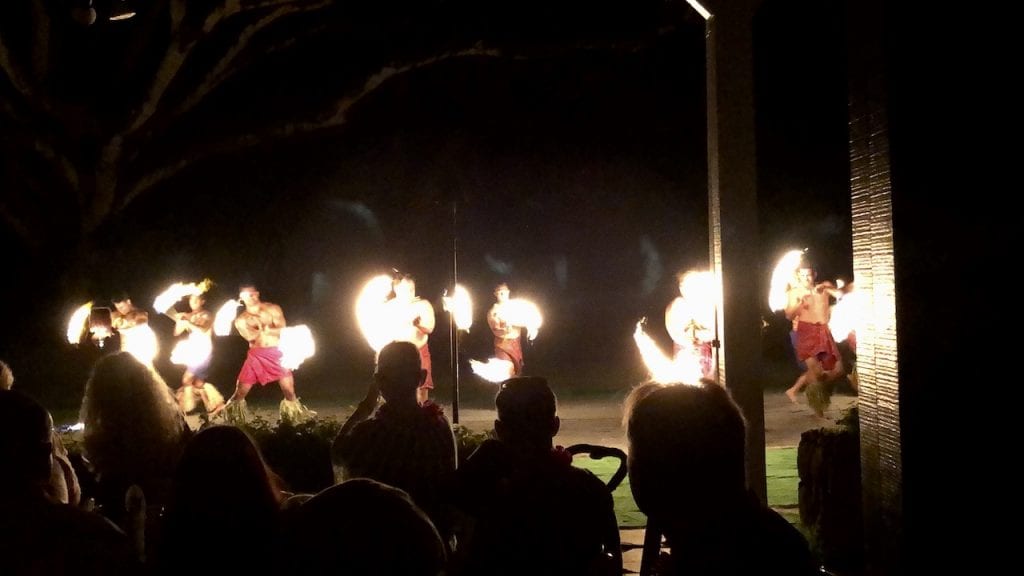 The New Zealanders demonstrated an incredible Haka and the show ended with a long and impressive fire show!
Toa Luau 
I wish I could make each one of you book an evening at the Toa Luau. 
It is an incredible value and one of the most rewarding experiences on Oahu! 
You will come out with a sense of unity and peace from your day, reassured that Family still matters and holds value today. The day after our luau, Ava (7) told us that she was sad to leave Hawaii but looking forward to seeing her aunt because "family is more important than places." For that… for this incredible learning… I urge you to visit Toa Luau on your next visit of Oahu, HI!
We are very thankful to Toa Luau for hosting us on this wonderful day on the island of Oahu!
---
Pin this for later!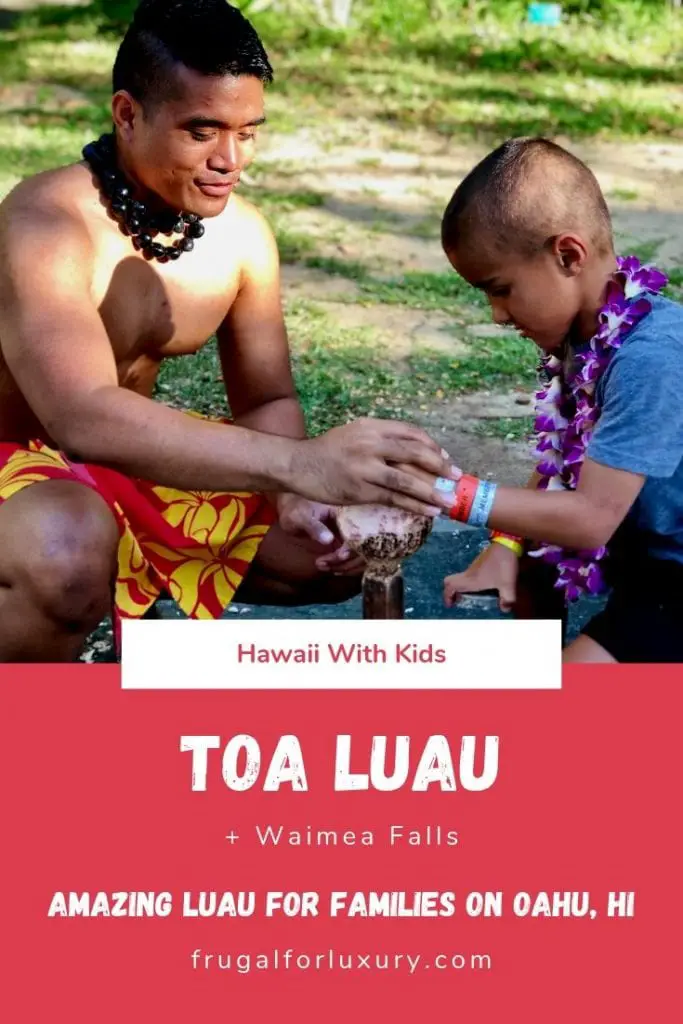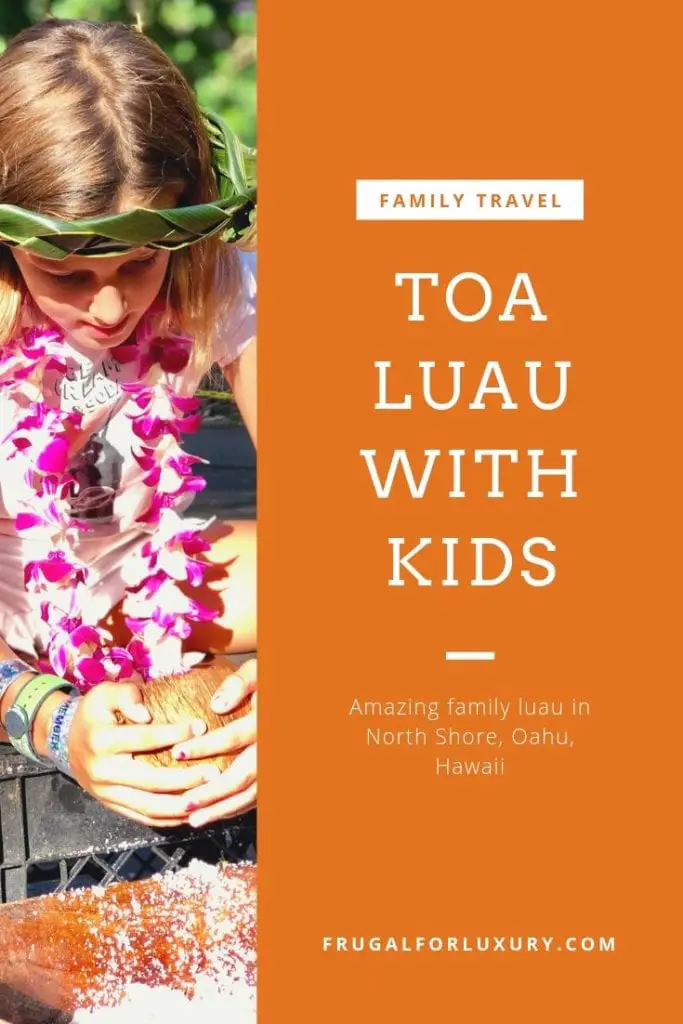 ---
Related articles you will enjoy:
OUR TOP 10 OF THE POLYNESIAN CULTURAL CENTER ON OAHU, HAWAII – WITH KIDS
MOUNT RAINIER: OUTDOORS FAMILY VACATION + ALTA CRYSTAL RESORT REVIEW
ZIP LINING WITH KIDS IN MONTERVERDE – COSTA RICA REPORT
If you enjoy reading us, make sure to sign up for our newsletter below!