Wow, we had the absolute best day skiing in Park City, UT today! We made memories for a lifetime and I just can't quite come down from cloud 9 right now!
Here are my 5 favorite things about skiing with kids in Park City, UT:
1- 300 Days Of Sunshine Each Year
You guys know how much I love sunshine. We skied under bright blue skies all day today.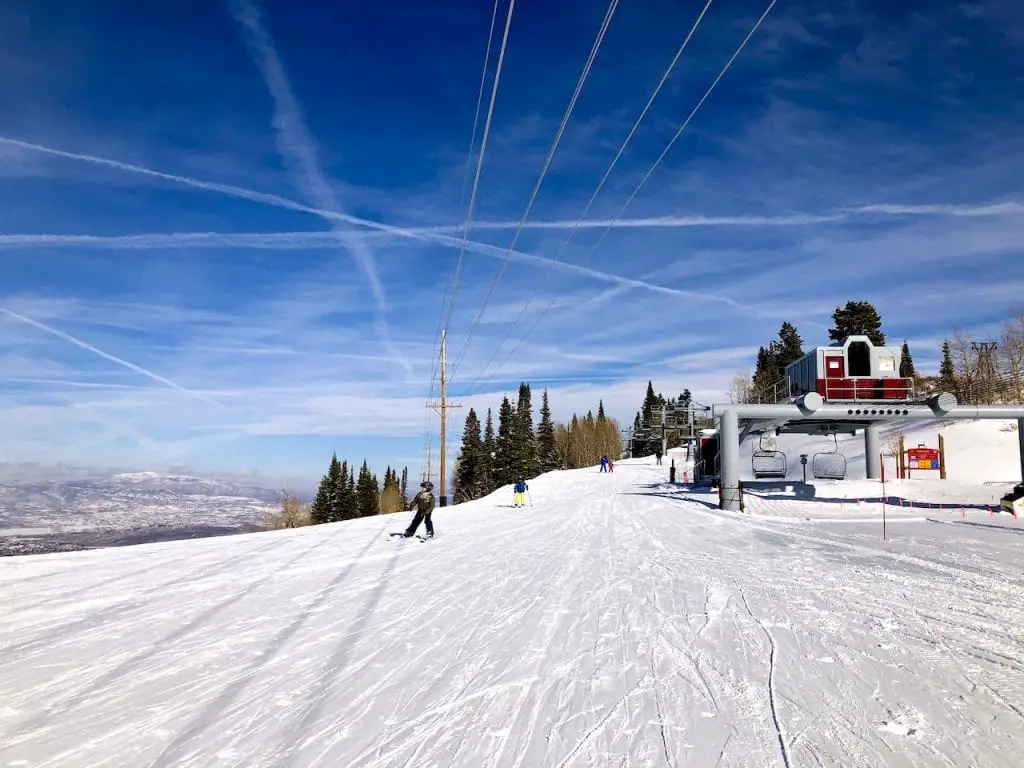 I was told that Park City gets 300 days of sunshine each year, which makes it the ideal destination for families with kids. Learning how to ski in the sun is the best feeling ever!
2- Family Ski Lessons
What made our day so amazing today, was our family ski lesson. Family lessons of anything are always an amazing idea, and this ski lesson at Park City Mountain was the absolute best!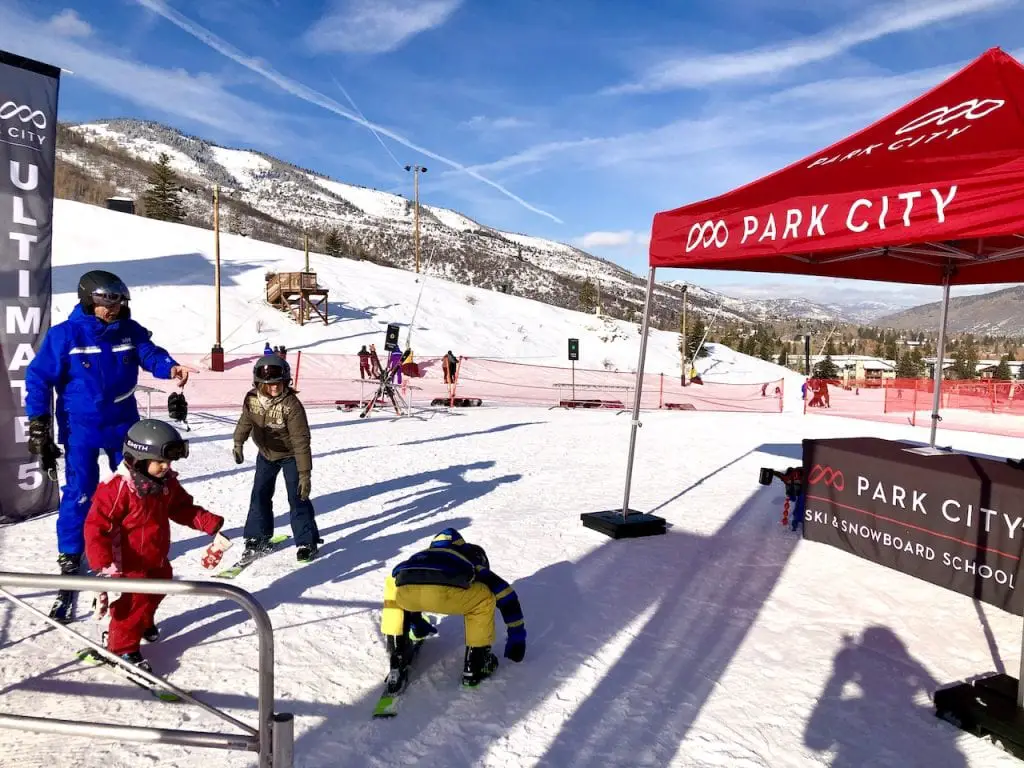 We were greeted at the bottom of Park City Mountain at 9.30AM by our instructor for the day – Philippe Astié. We got so lucky with Philippe, and I can't recommend him enough. He showed so much patience, and such love for the sport and the children, we were in awe!
Since none of us had skied in 11 months, Philippe wanted to ease the kids back into skiing. We spent the first 45 minutes running up the magic carpet and he made sure to give everyone the attention they deserved.
He used a little device to help Elin keep her skis from crossing, made sure Mark remembered how to safely stop, and started working on parallel skiing skills with Ava!
When he felt that everyone was safe to head up in the mountain, we skied to the nearest chair lift and up we went!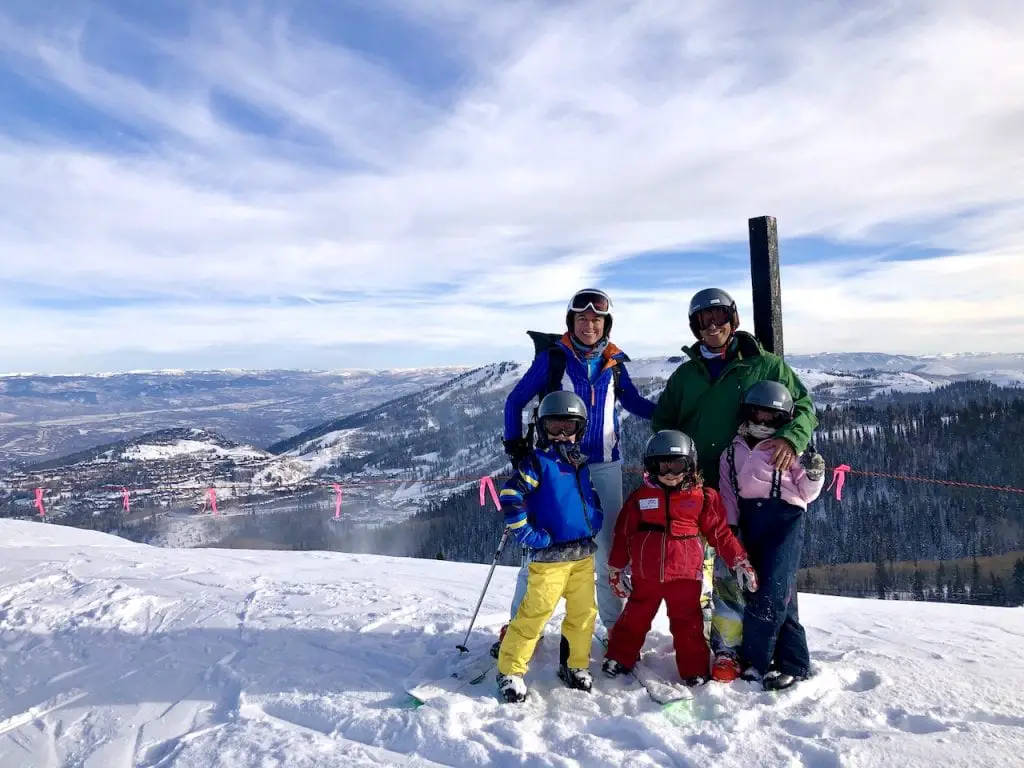 The rest of the day was spent working on skills and learning how to safely navigate the mountain, while discovering a nature too beautiful to describe.
Philippe was the most amazing instructor, and perfectly knew how to adapt his teaching to the children, Christian, and I. Because Elin was the weakest link, he spent a good amount of time bringing her up to the level that allowed her to ski along her siblings!
Several times, I skied with Elin so he could focus on developing Mark and Ava. He was also wonderful with Christian, who is just a beginner and needed grounding technique to start having fun!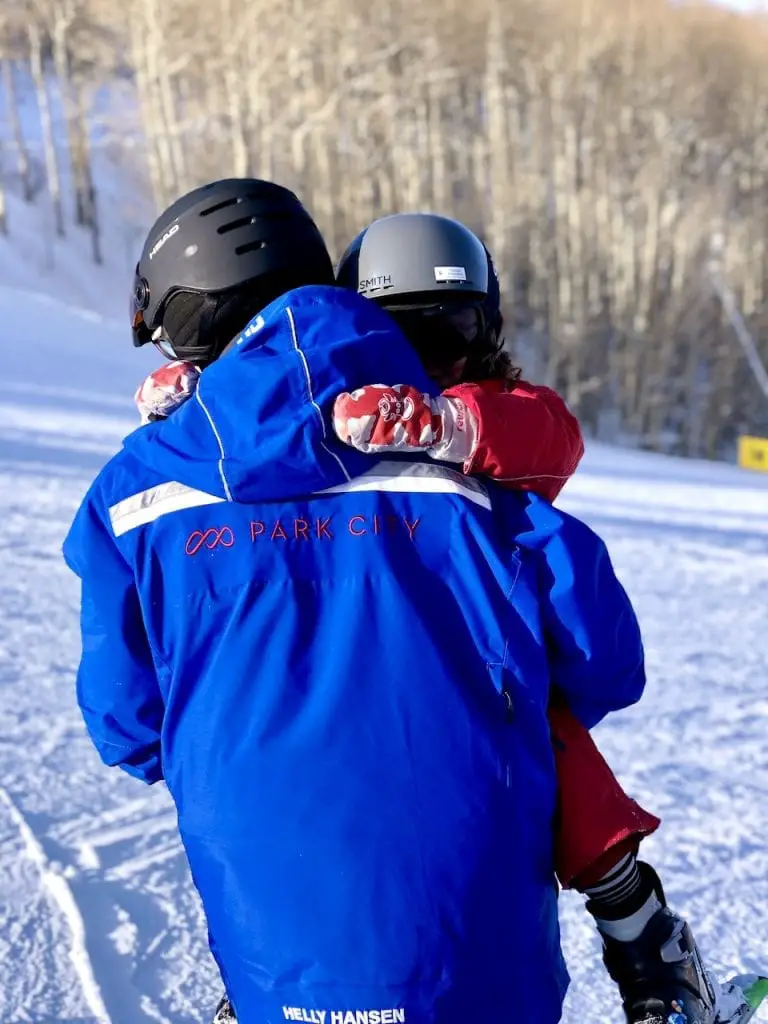 Elin totally adopted Philippe and he was the only one allowed to hop on the ski lifts with her 🙂 Ava invited him over to our resort's pool in the evening.. so it is safe to say he was the best! And if you are looking for a ski lesson in French or Spanish, Philippe Astié is your go-to ski instructor in Park City! A native of France but also fluent in Spanish (and of course perfectly fluent in English), he will happily teach in either languages!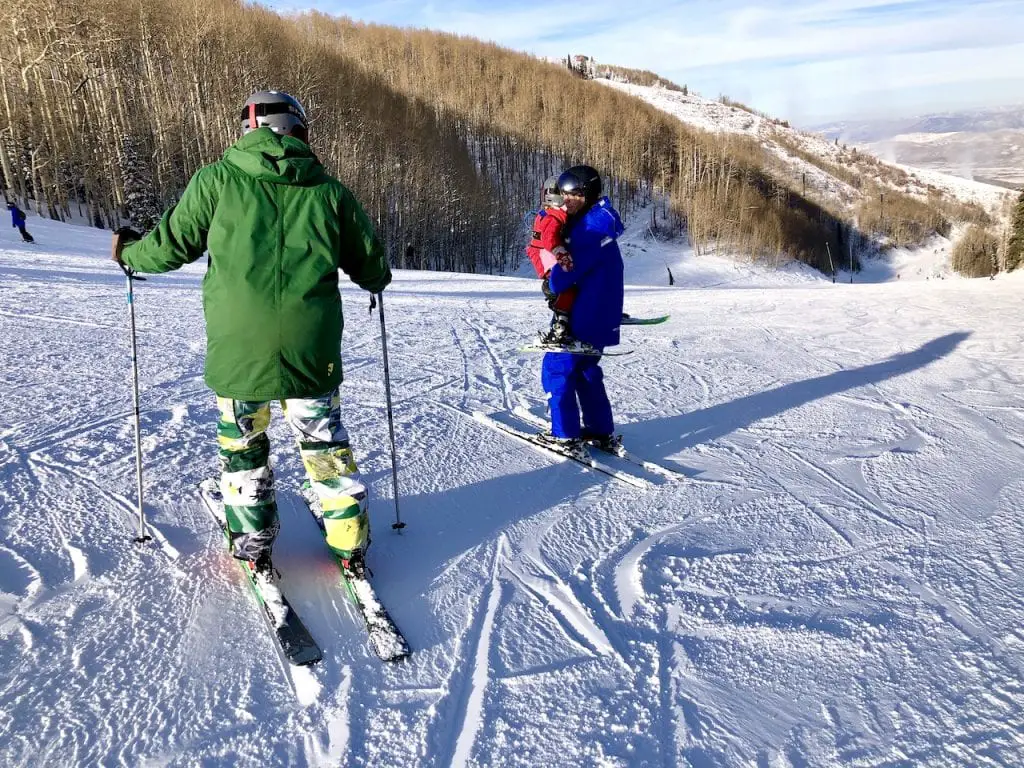 Taking a family lesson allowed each one of us to be able to focus on our skills while everyone was safely tended to. But it also meant that we could spend the day on the slopes all together, which is always amazing while traveling!
I never thought we'd go the whole day, but we ended the day at 4PM and took one of the last chairs up the mountain!
3- Size Of Park City Mountain
Even tonight, after a day spent on the slopes of Park City Mountain, I don't think that I can fully comprehend just how large the resort is!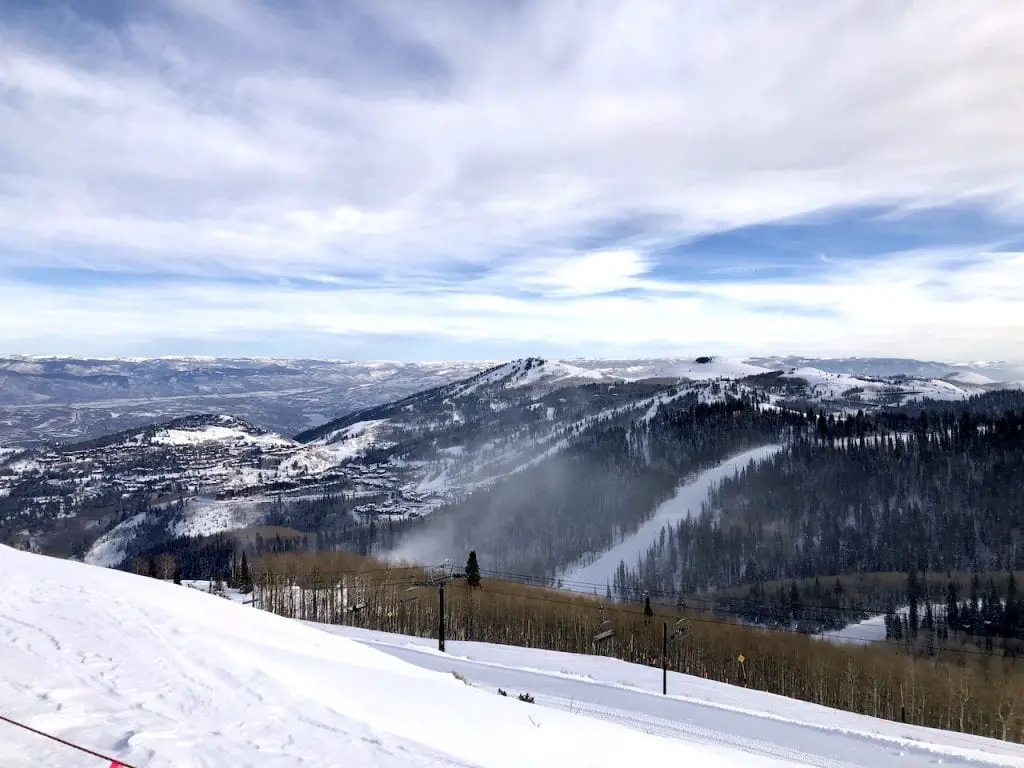 Park City is ideal for skiers of all levels. Anywhere we were in the mountain, we had the option of skiing down groomed blues and greens. But a ton of un-groomed, as well as diamond and double-diamond, runs are available.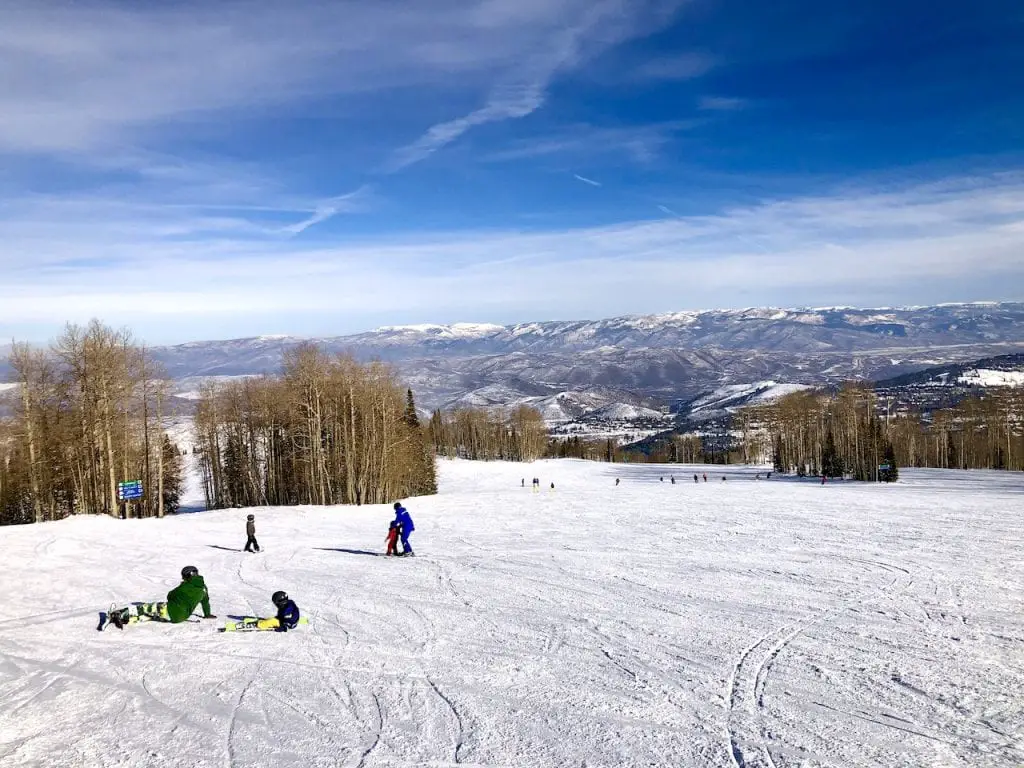 As a family, everyone can truly enjoy the mountain at his and her own level and pace!
4- Free Bus Shuttles And Super Easy Access
I couldn't believe how quickly we got from the Salt Lake City airport to Park City! We resided at The Lodges at Deer Valley, about 5 minutes past Park City center, and it was only a 45-minute drive from the airport!
From Orlando, we hopped on a direct flight to SLT, flew under 5 hours, drove 45 minutes, and were in Park City!
Once there, the bus system is entirely free! I love destinations that are easy on families. From the airport, it is super easy to hop either on a shuttle or an Uber, and you can be totally car-free while at destination!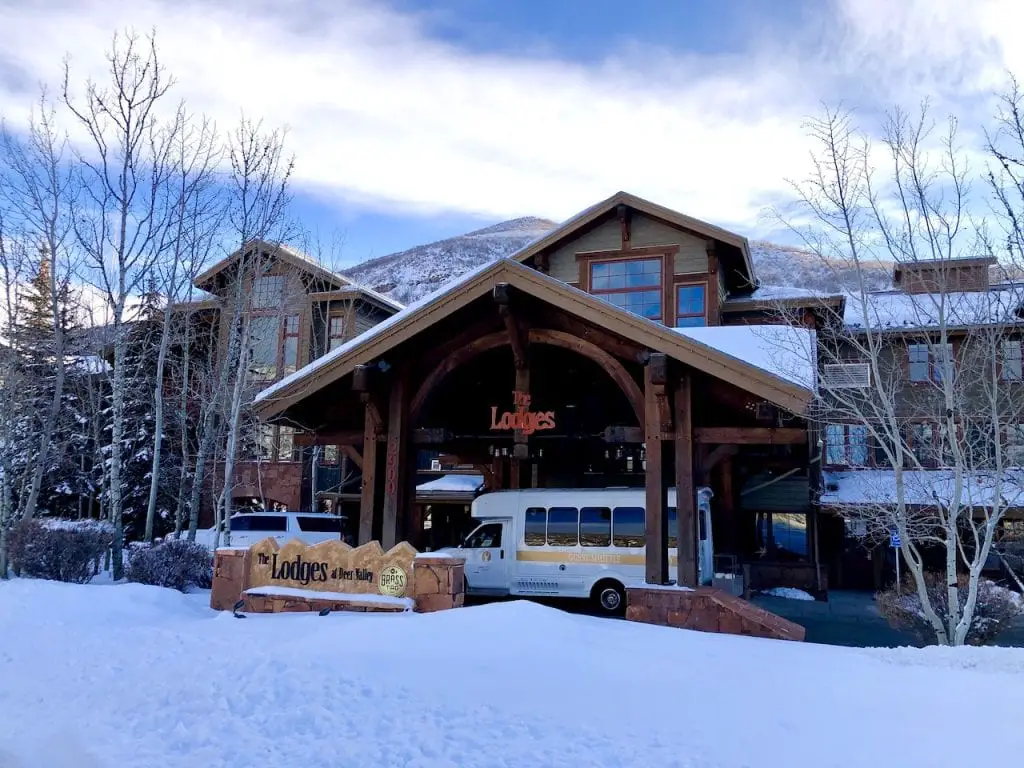 Our hotel, The Lodges at Deer Valley, even had a shuttle and we were able to be independent from the bus system since they took us anywhere we headed to ski or have dinner! So make sure you check the services available with your resort as well, since many offer very high-end service!
5- Fun And Unique Spots To Eat
Park City, UT, is more than just skiing. We absolutely loved everything we are there!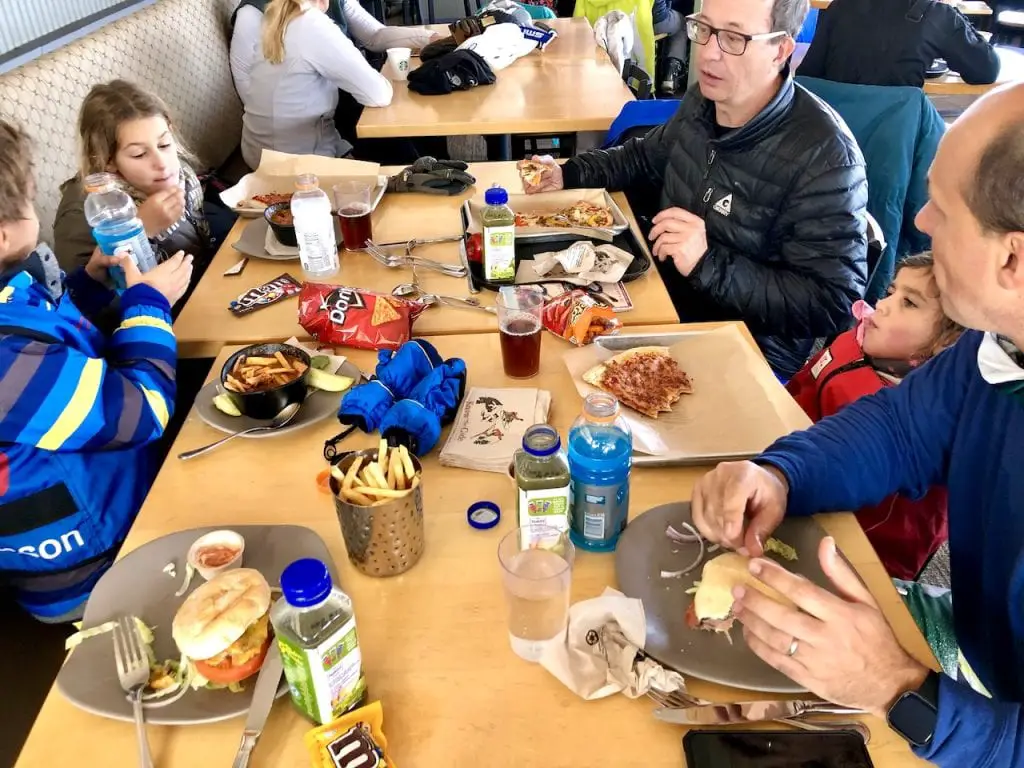 During our family ski lesson, we asked our instructor to eat at the highest restaurant in the mountain – Summit House. Not only was the view fabulous, but all of the food was great! I had a cheeseburger and that was probably the tastiest cheese I ate on a burger all year!! Very high quality food for a high-altitude restaurant!
Park City also opened a brand new place – Miner's Camp, a little further down in the mountain. The inside reminded me of a nice lodge and they had a full bar.
On a sunny day, it was also the perfect spot to spend a few minutes in the sun, resting the little legs!
At night, we dined at Wasatch Brew Pub, which is just up Main Street. You should definitely spend a little bit of time exploring Main Street and then head over to the Pub.
Our food was delicious and the servers were super kid-friendly (so patient with Mark spilling his water!!). The kids menus were full of fun games and I loved that they used illustrations for the kids to be able to order on their own!
We tried 2 of their own beers, which were delicious, but next time we go, I think we'll go with the $0.50 tasters and try a bunch more!!
Skiing With Kids At Park City Mountain
I can honestly say that we will remember our day of ski at Park City, for a long long time!
Our family lesson was one of our best experiences this year. Everyone built so much confidence in a safe and nurturing environment.
The mountain was beautiful, the sun was shining, everyone was very family-friendly, and I can only hope you all give Park City a shot as you think of your next family ski vacation!!
A huge thank you to Ski Utah for allowing us to experience Park City today!
---
Pin this for later!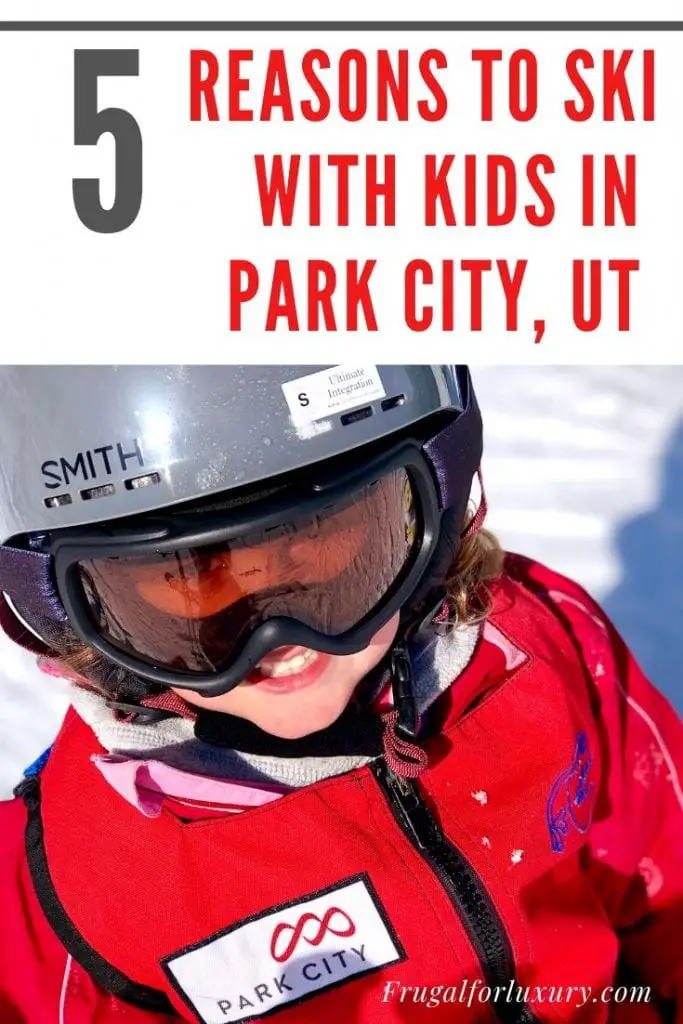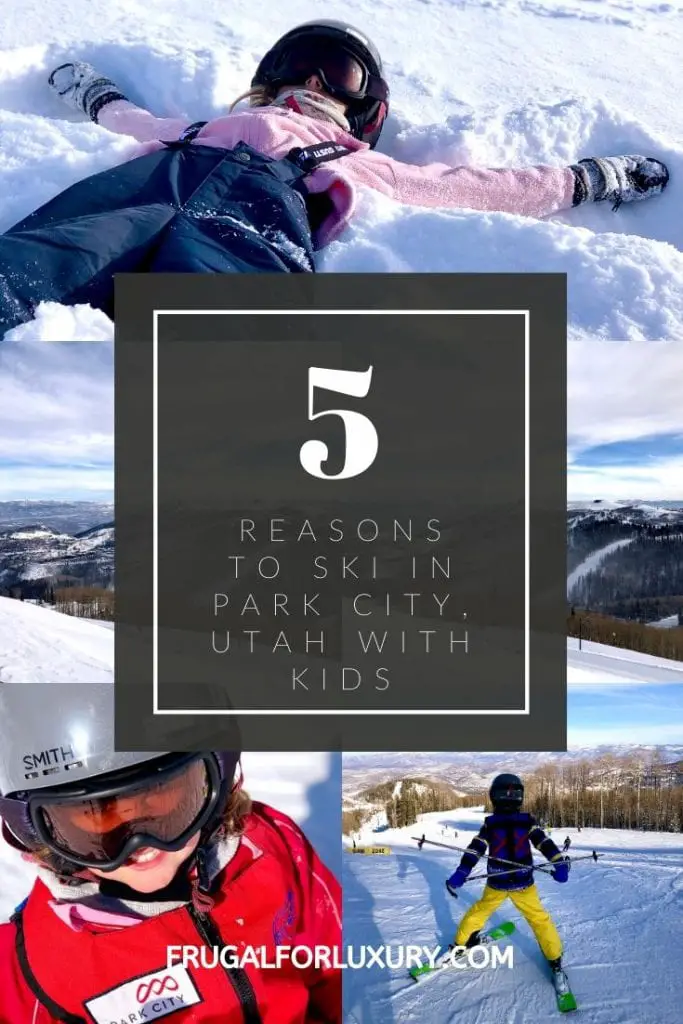 ---
Related articles you will enjoy:
Disney's Riviera Resort – A Photo Story + Video!
Club Med Sandpiper Bay
Family Surf Lesson In Jacksonville, FL
If you enjoy reading us, sign up for our newsletter below!