Our third and last day on Santo Antão was going to be the highlight of the trip. We woke up early and got ready for an 8-hour trek with an elevation change of 800 meters – or 2,600 ft. That is a hike up 800 meters vertical and back down 800 meters, with a baby on Christian's back and one in my belly. We were so so excited for that day!
Sporty Day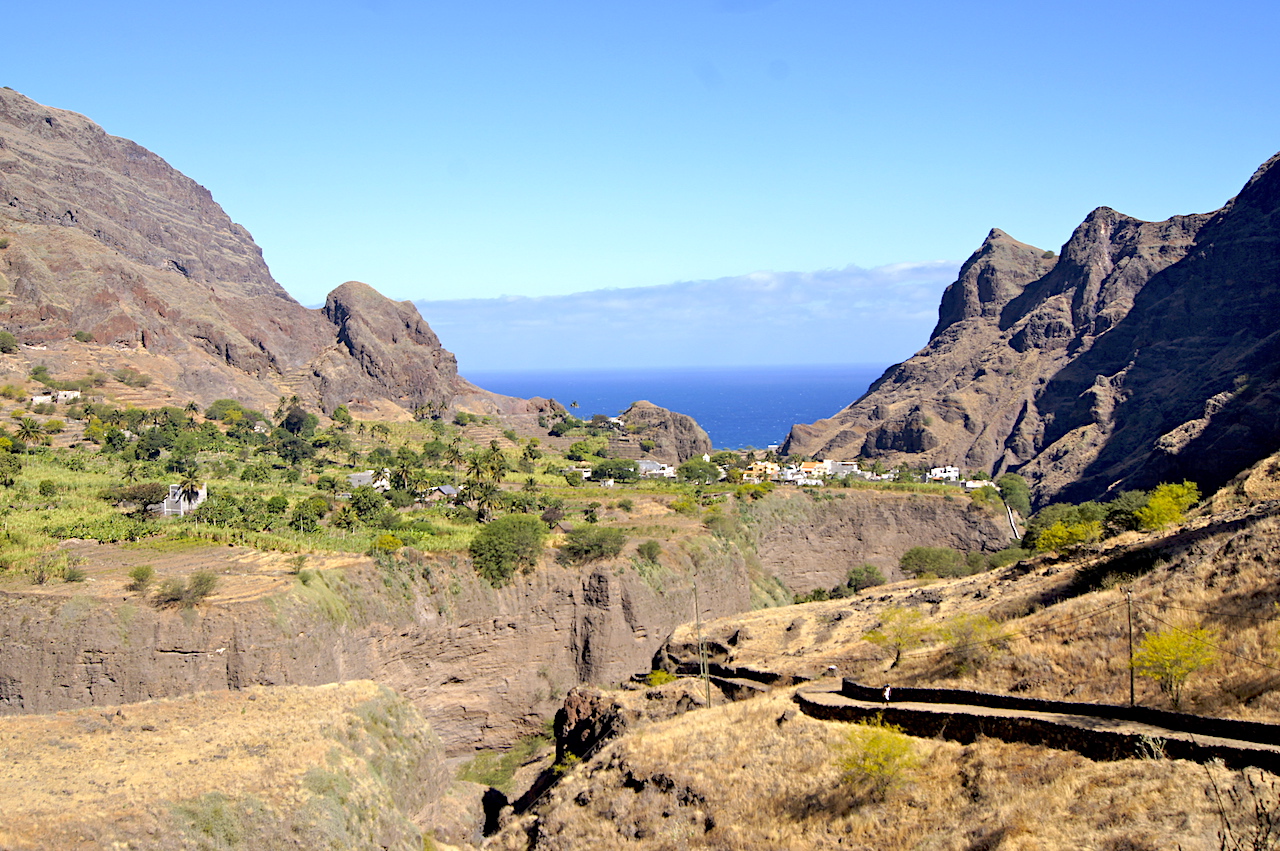 Our aluguer driver dropped us off quite a bit further inland than the first two days.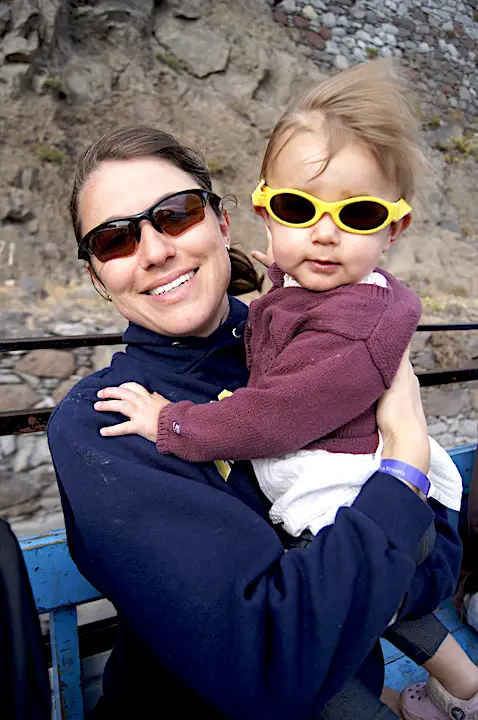 After 2 days and 2 nights on Santo Antão in rustic comfort, we were getting dirty. But we had preferred only packing a handful of clothes to travel light, which I highly recommend!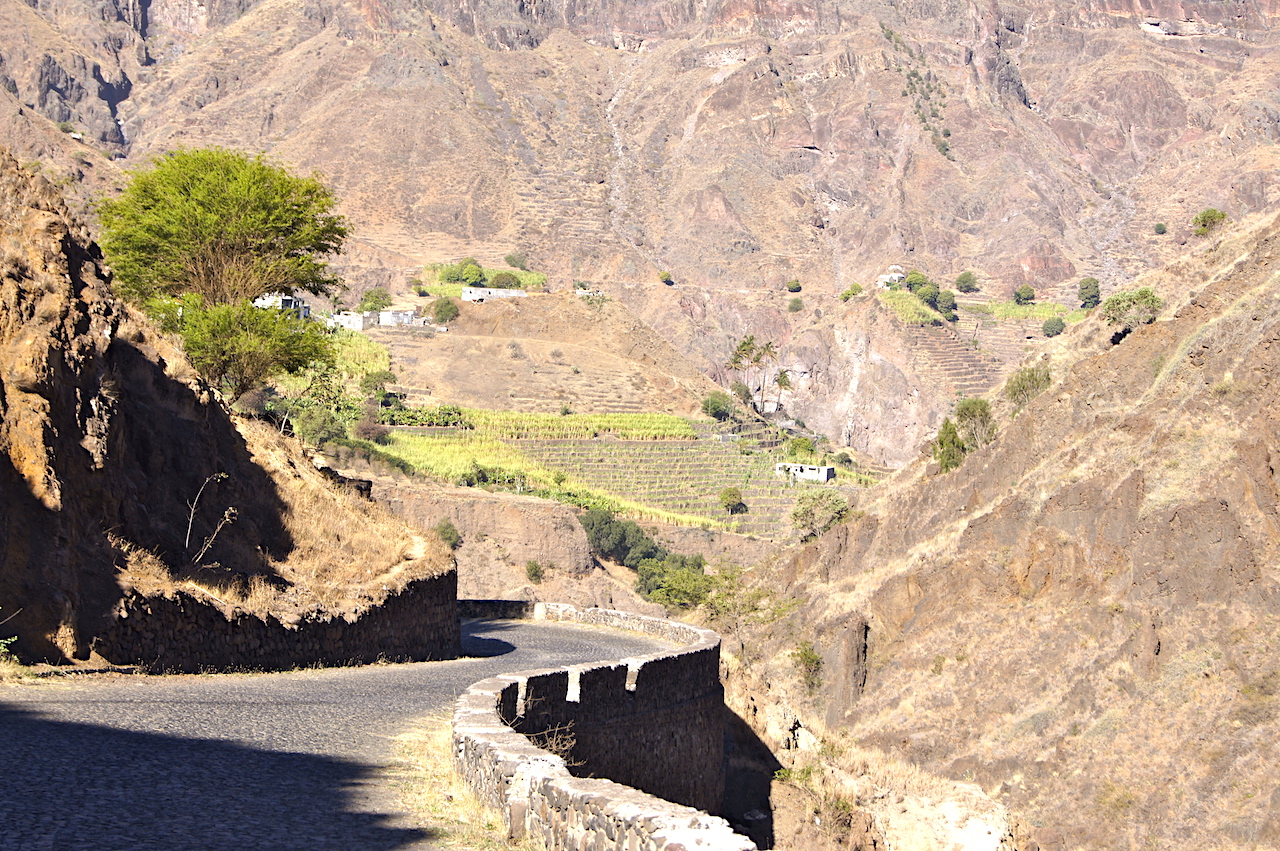 The road to the start of our trek was stunning. Hand paved, as most streets are on Santo Antao, Cape Verde, it took us from a mountainous and dry valley, to a canyon where we started walking!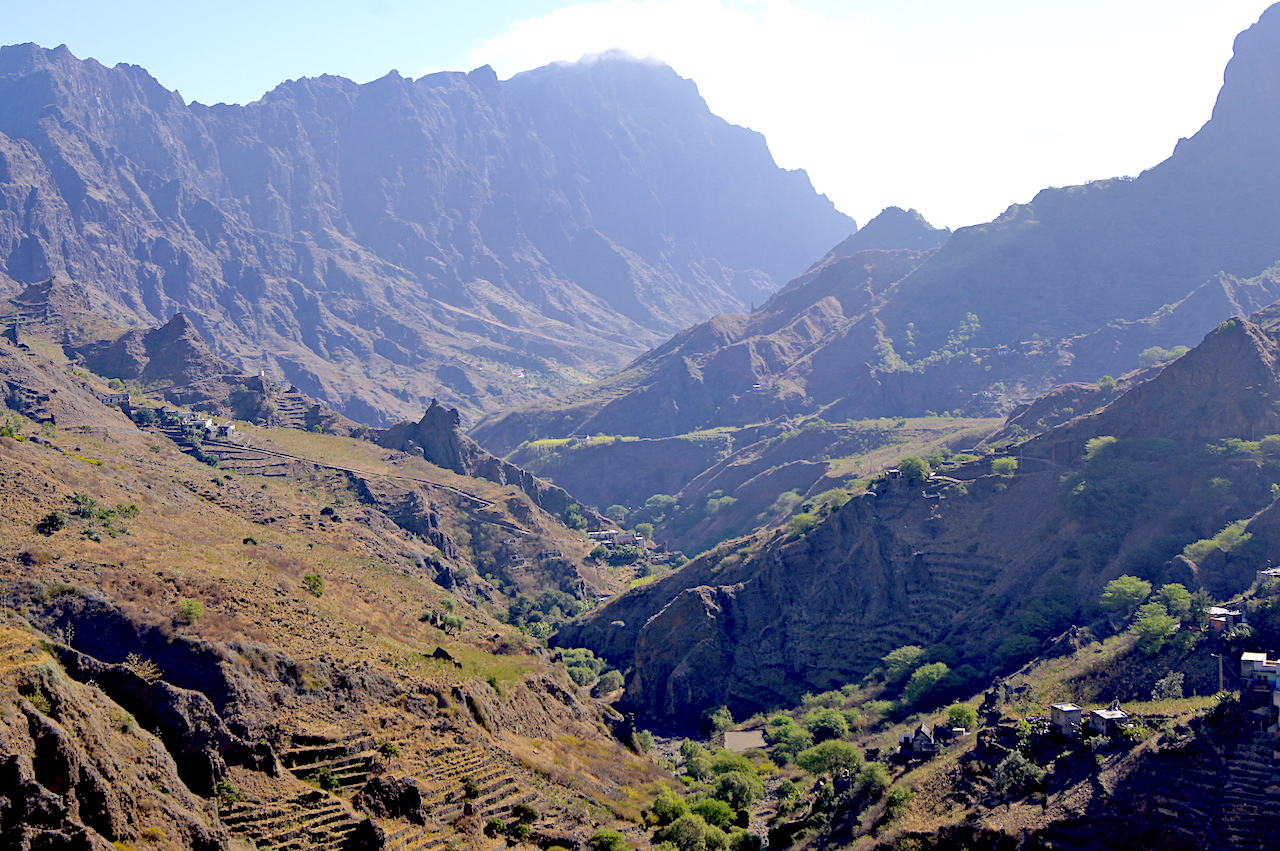 As we quickly gained height and looked back to the canyon, we could not help but wonder how nature came to create such an mind-blowing landscape. Even more amazing, how its inhabitants use the land to produce what they need to live on this amazing island.
The Trek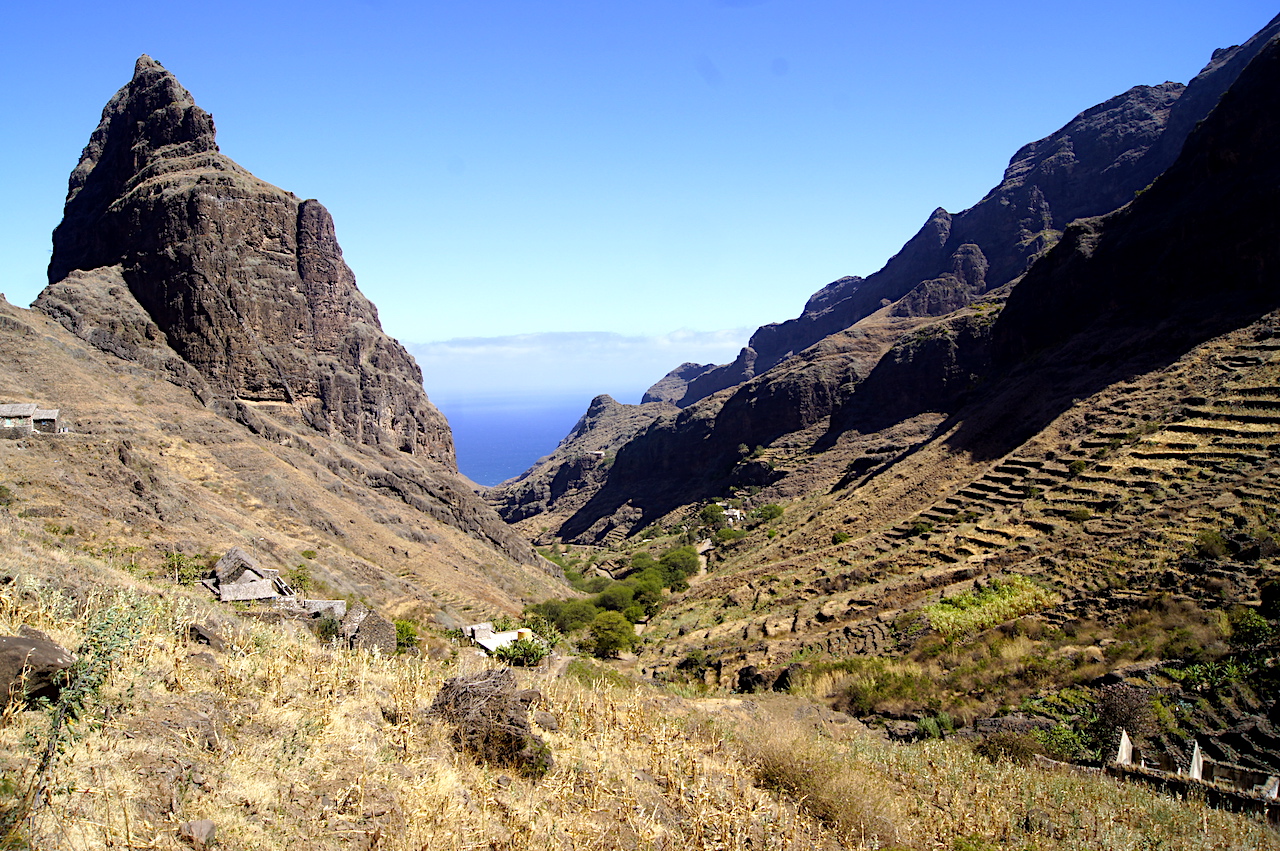 Our guide had planned 5 hours to hike up and 3 hours to walk back down. The trek stayed in land and took us up a rocky mountain, with views of the ocean all along the way.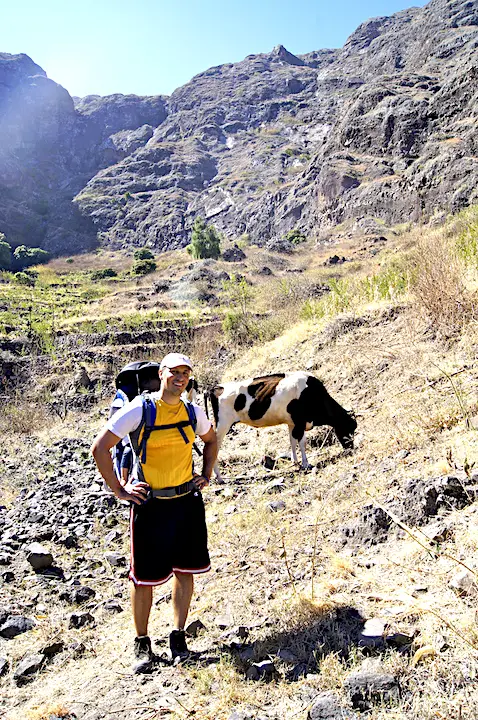 Once more, we made fun encounters on day 3 of our trek 🙂 No fence for those lucky cows! They roam around the mountain and hang on to the cliff to find some lucky grass growing here and there!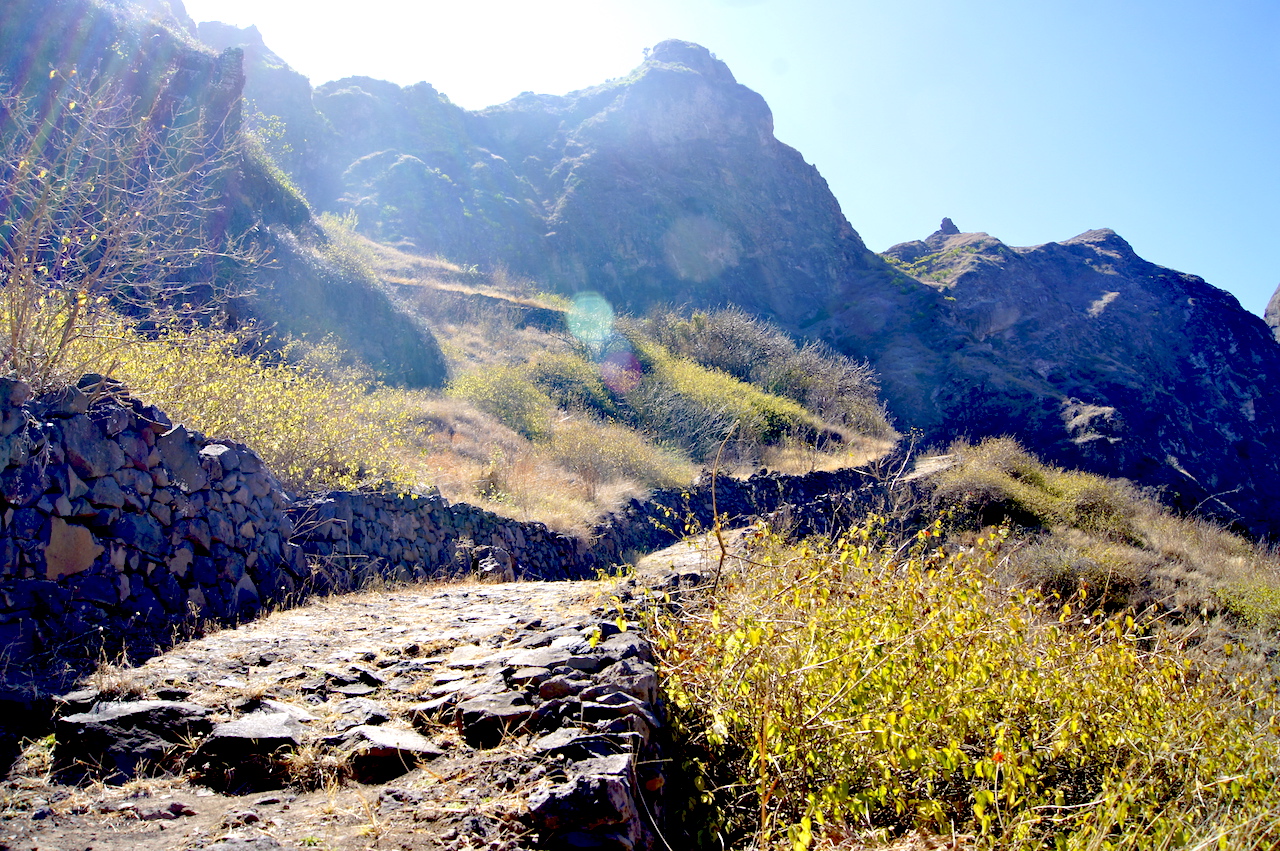 And up we kept climbing under blue skies, hot sun, and sea air. Just thinking of the men who paved part of this road as they use it with their cattle is very humbling!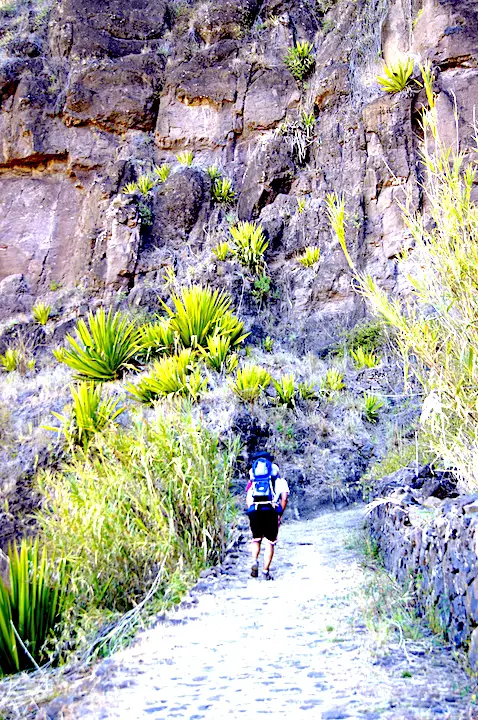 This guy earned the best Daddy award on our final trek on the island. On his third day of hiking with baby Ava on his back, he continued strong and raced to the top. It is so hard to show elevation on a picture, but I swear this was no joke as we neared the top of the mountain!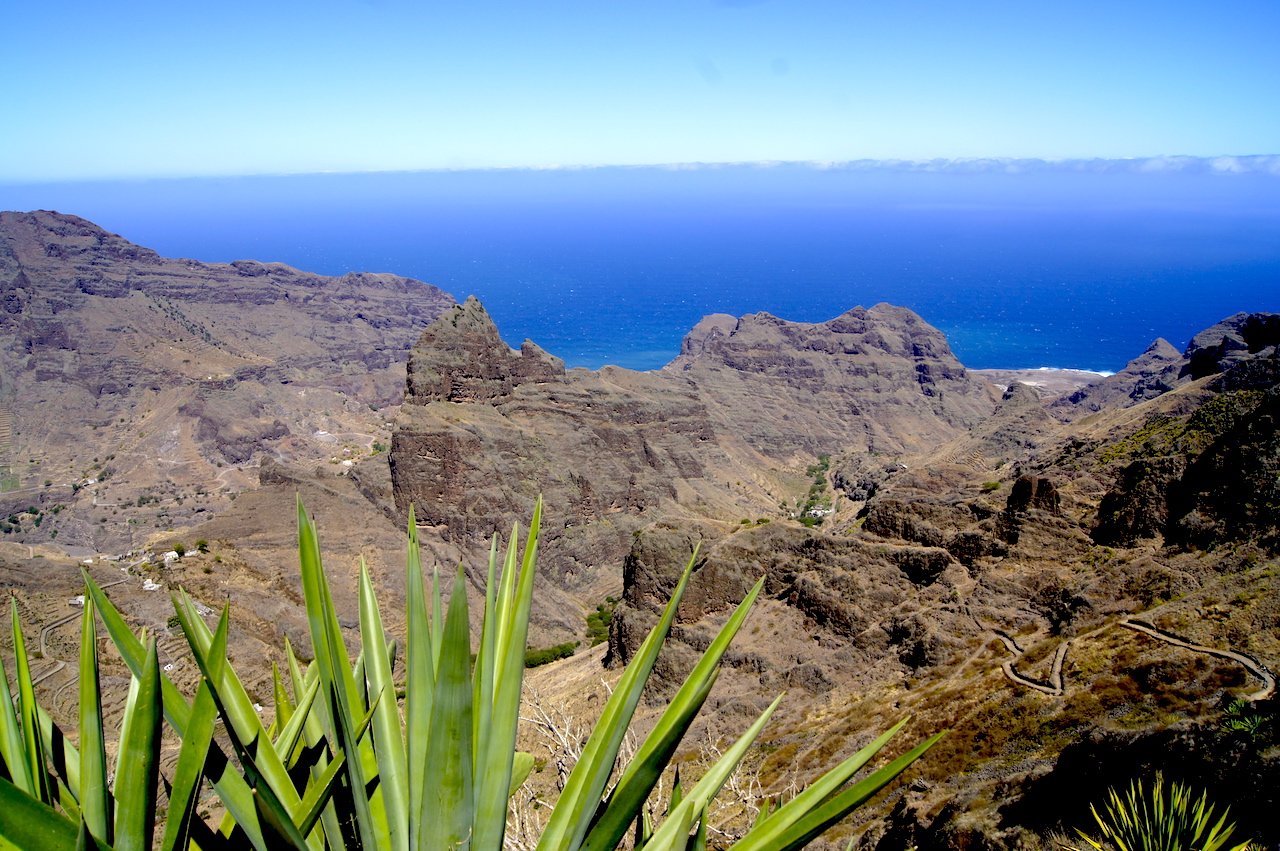 But for a view like this one, it was all worth it! The top granted us a 360 degree view, from dry mountain, to green valley, and all the way to the Atlantic Ocean.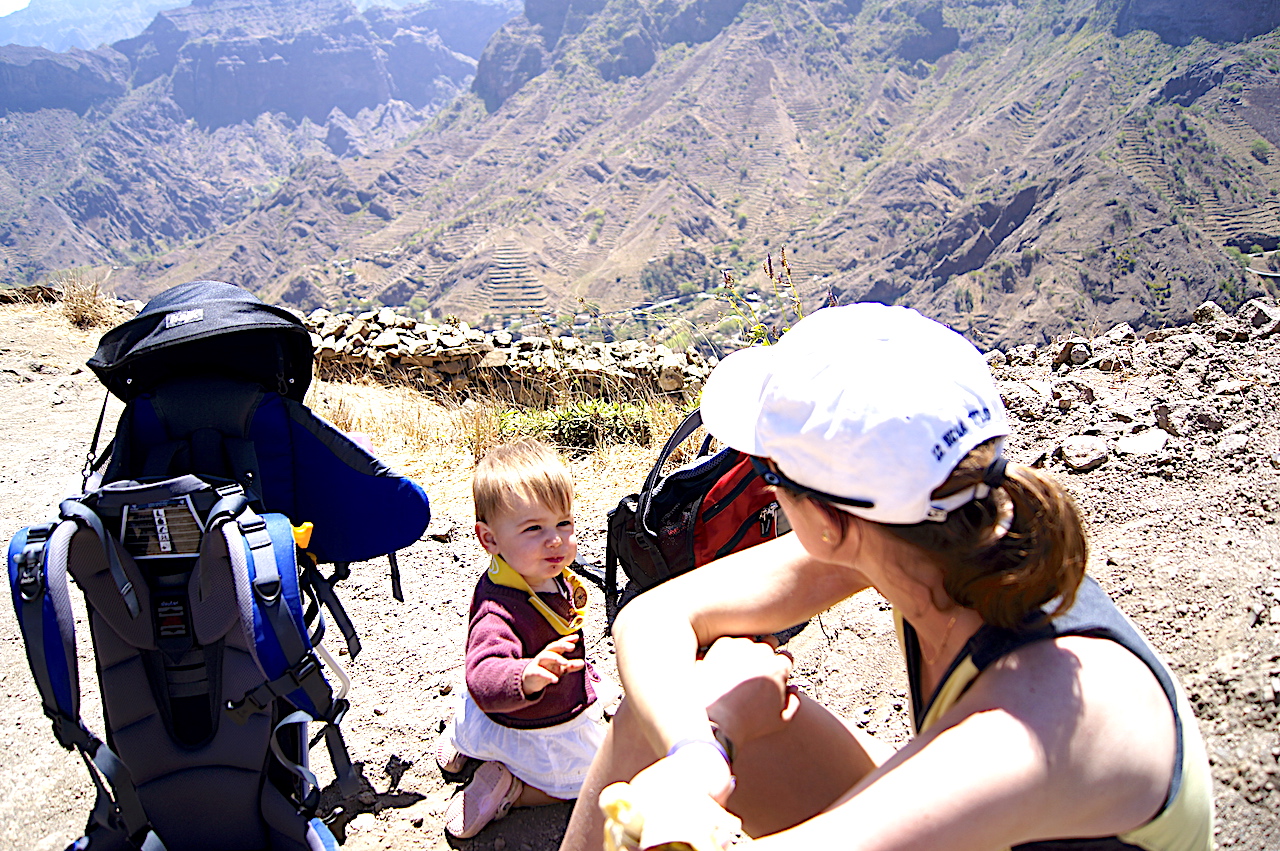 We had reached the summit in just 3.5 hours, giving us plenty of time to rest and enjoy the views!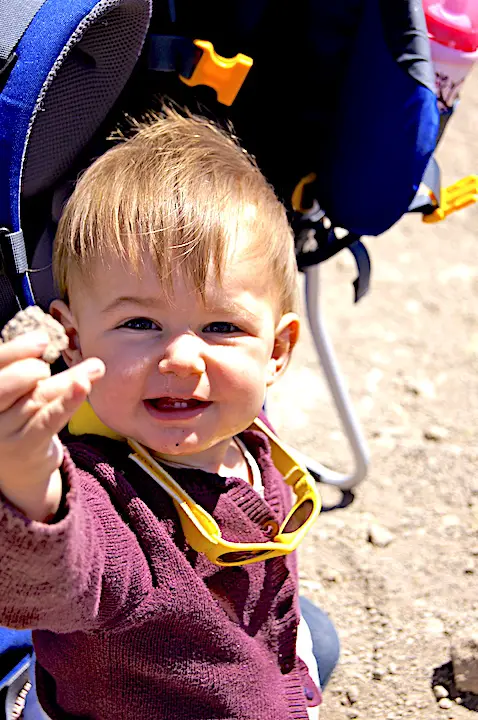 And that trooper baby needed some exercise! Playing with rocks and biting in a fresh banana might have been the highlight of her day!
Back Down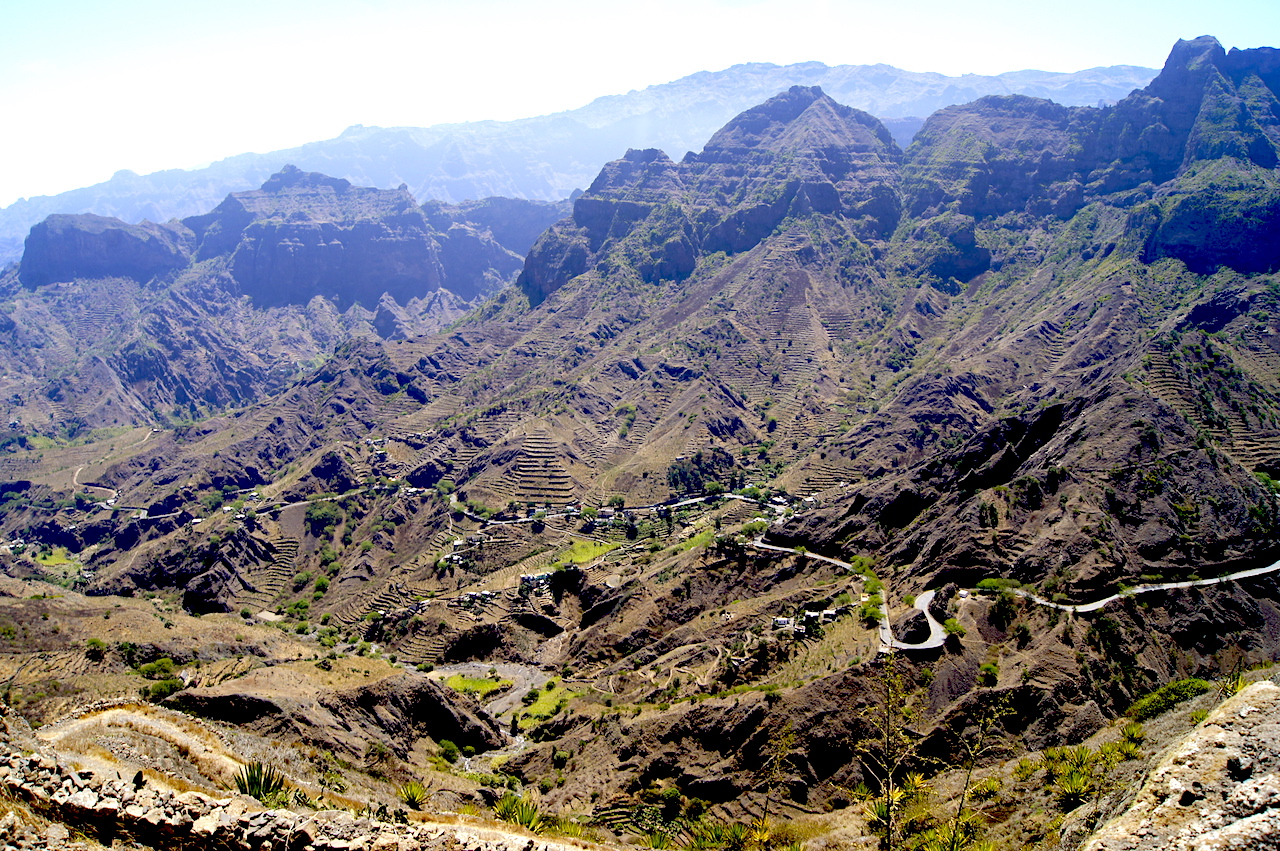 We knew what was left… walking all the way back down the other side of the mountain!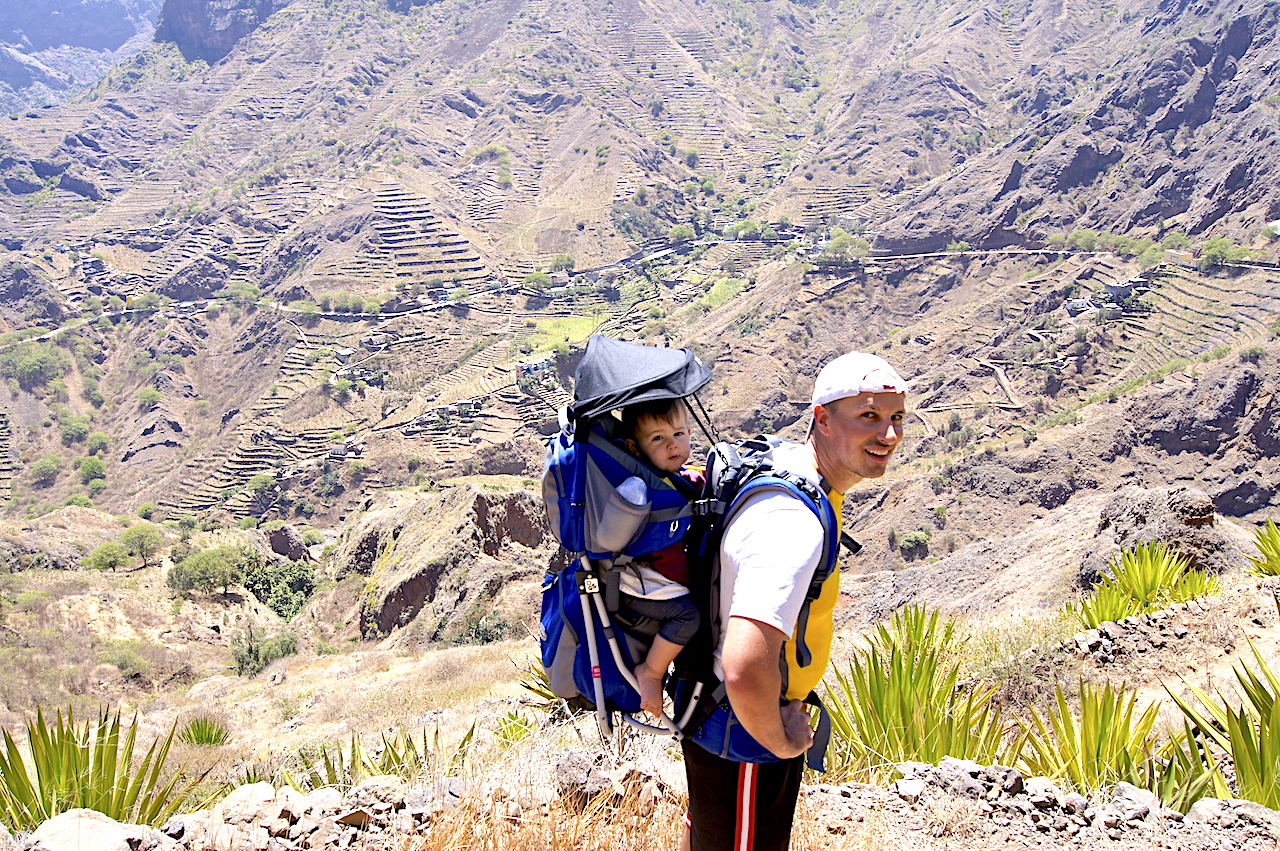 After several hours of hiking up a very dry mountain, we were surprised to find a greener side on our trek down.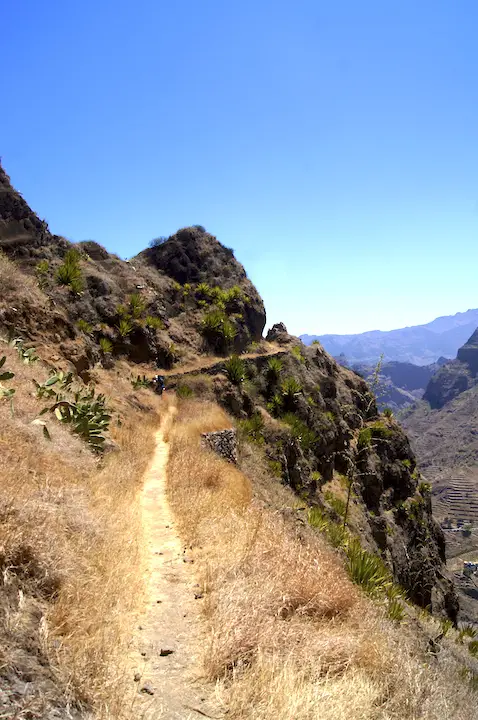 Experiences like those are ones of a lifetime. The beauty of this country and the unbelievable vistas it offers left us speechless.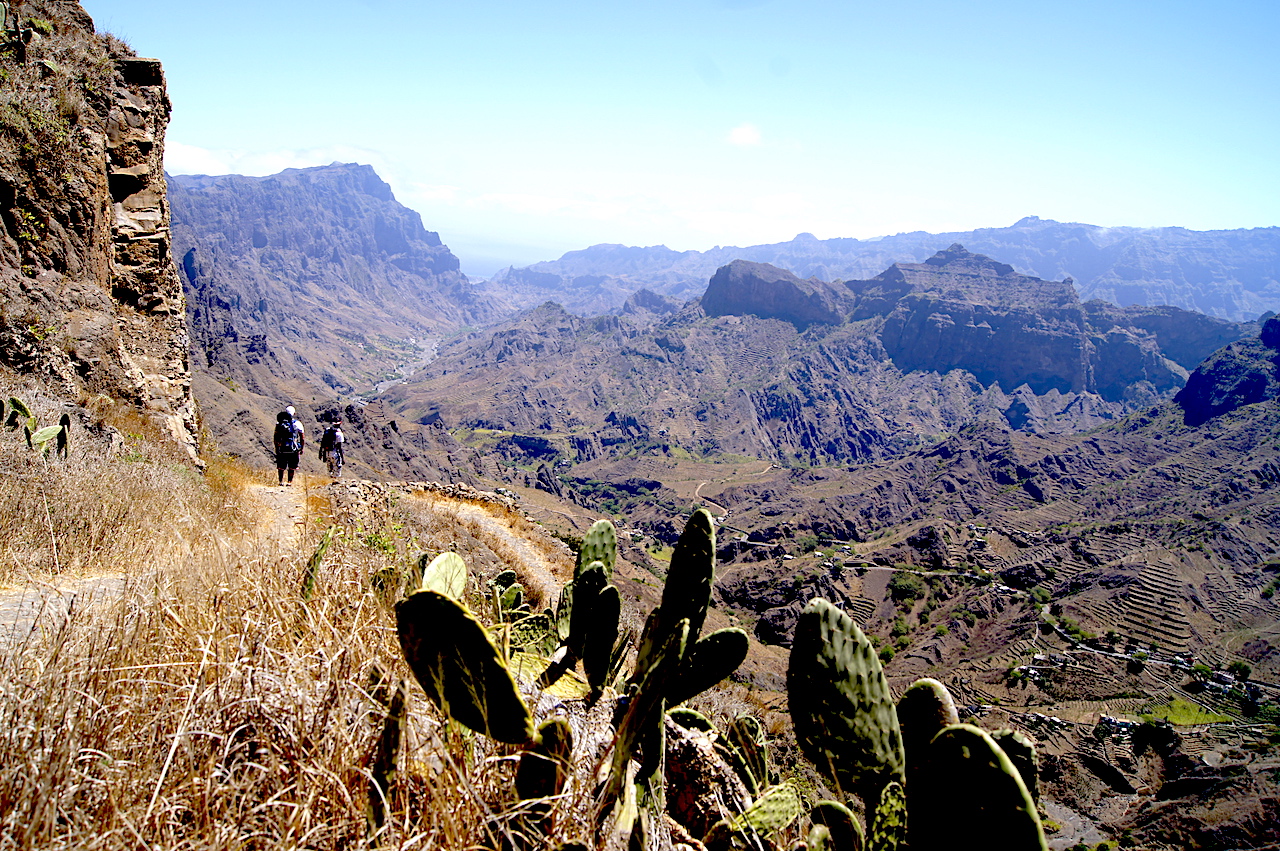 As we continued trekking back down to the valley below us, we felt very small in this infinite landscape of rocks and sea.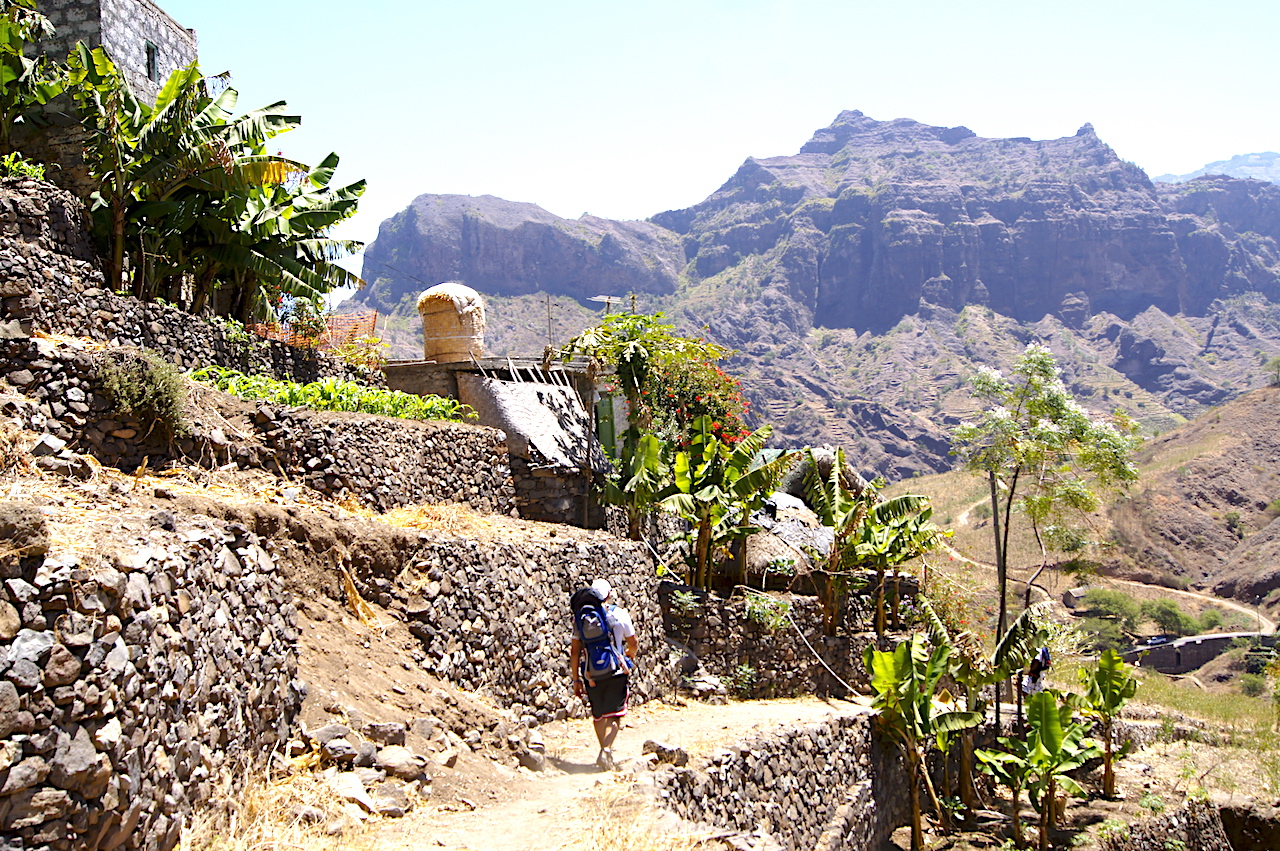 As we neared the end of our trek in just under 6 hours, we knew we'd never forget our experiences on Santo Antão, Cape Verde.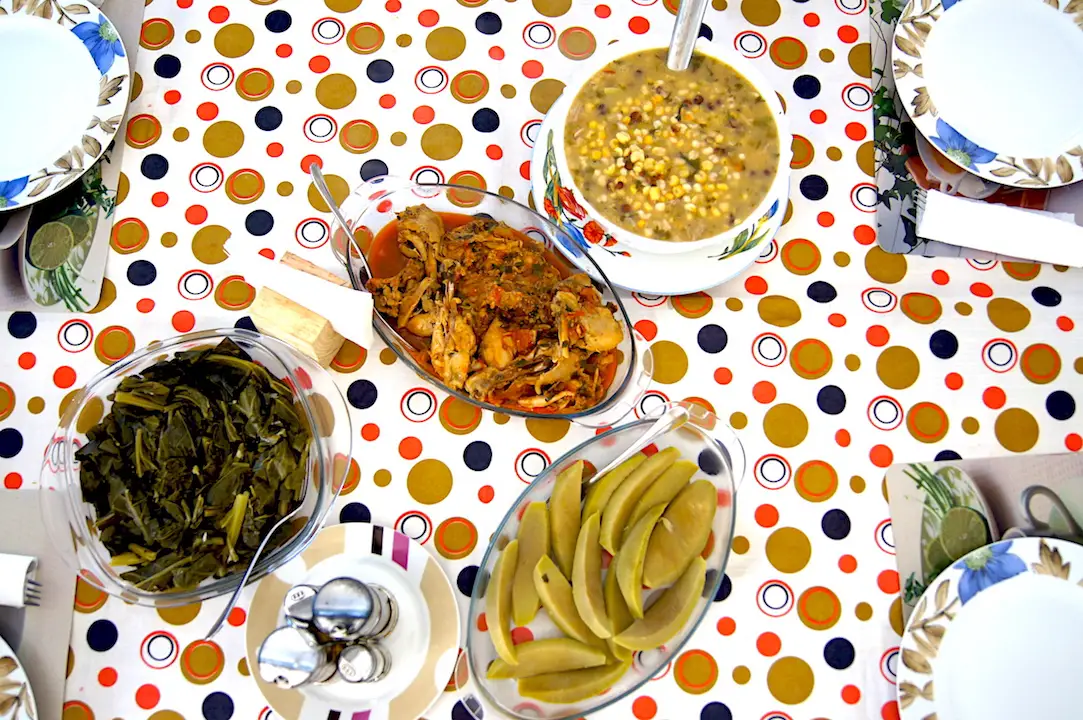 The promise of a local lunch did not disappoint. We were treated to some amazing food like no other!
Last Hours on Santo Antão, Cape Verde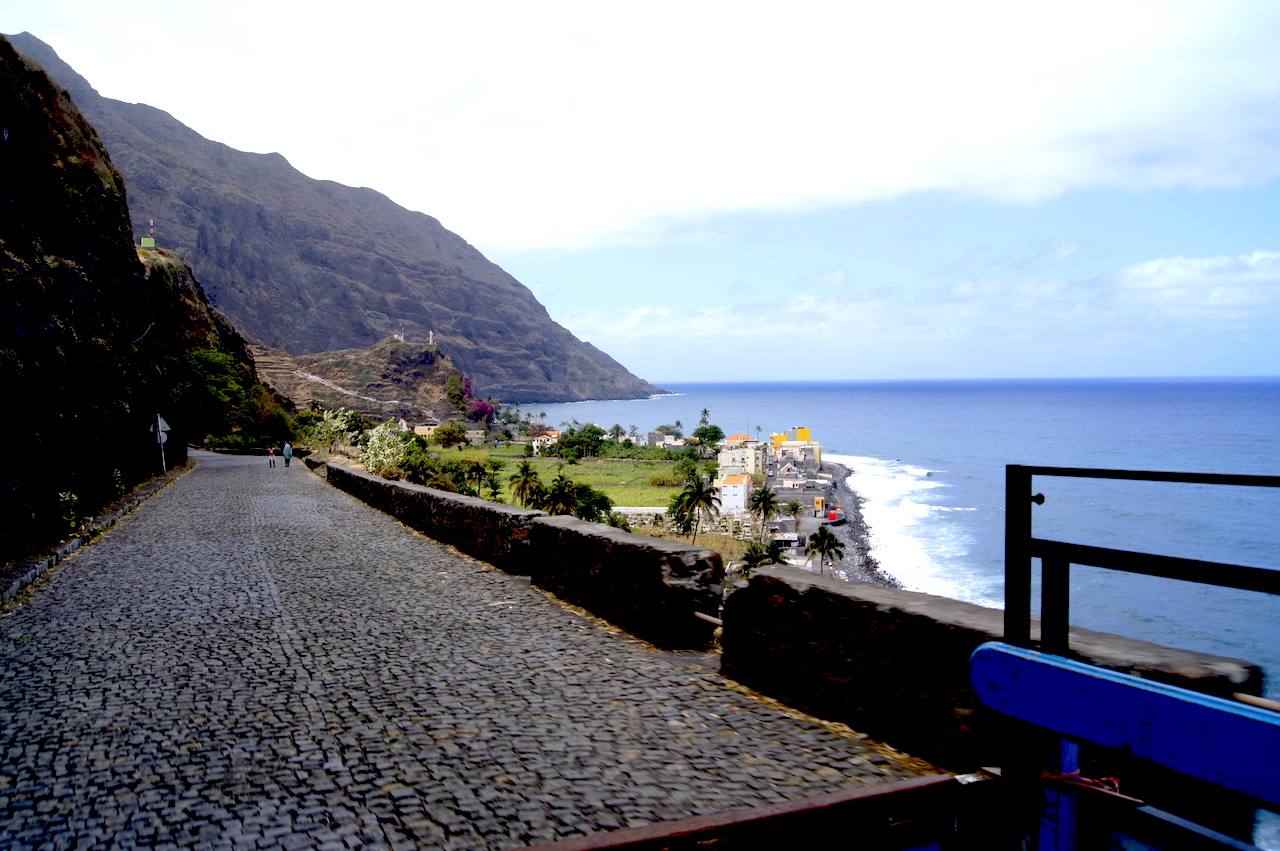 Since we hiked a lot faster than expected, we had an extra couple of hours to explore Santo Antão before catching our boat to Mindelo, São Vicente.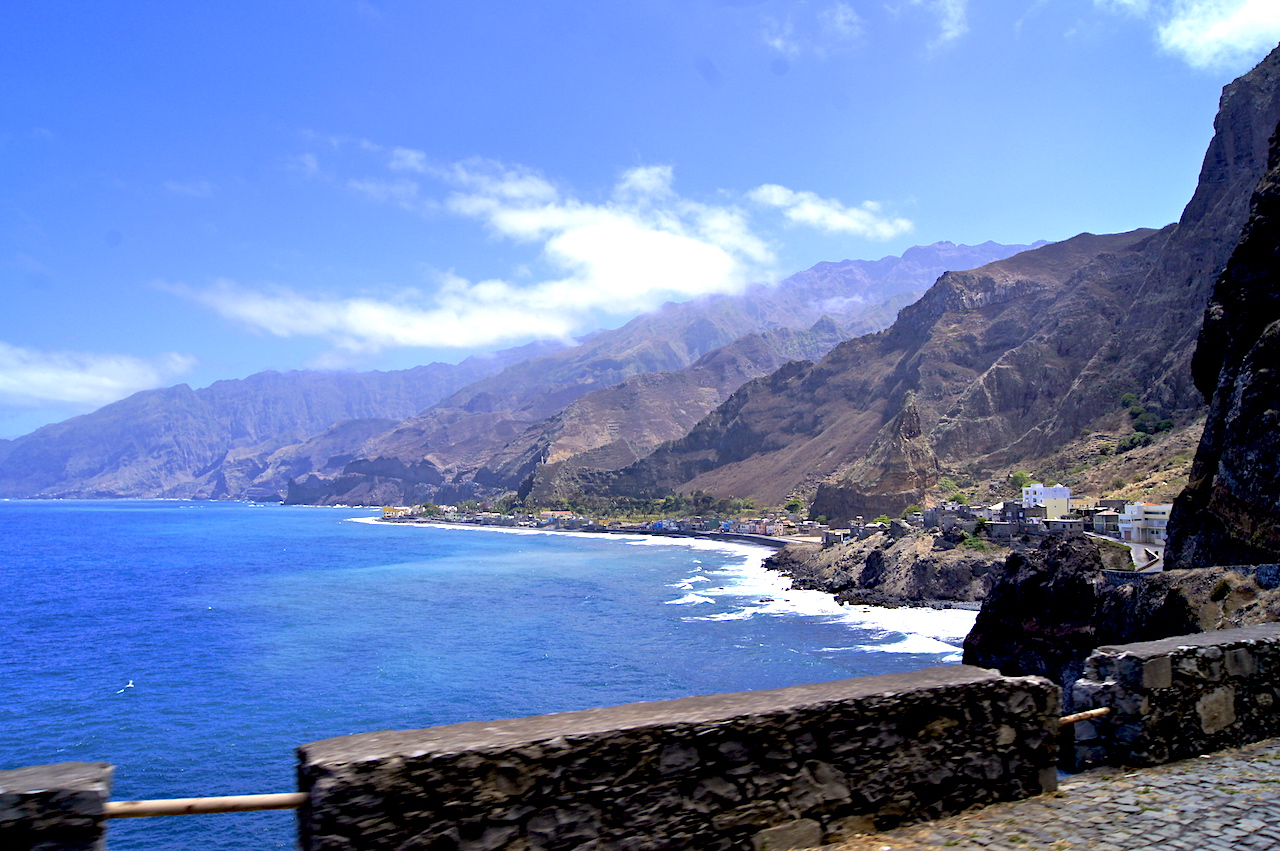 Instead of driving across the island again, we had enough time to drive along the coast and enjoy its shades of blues and blacks.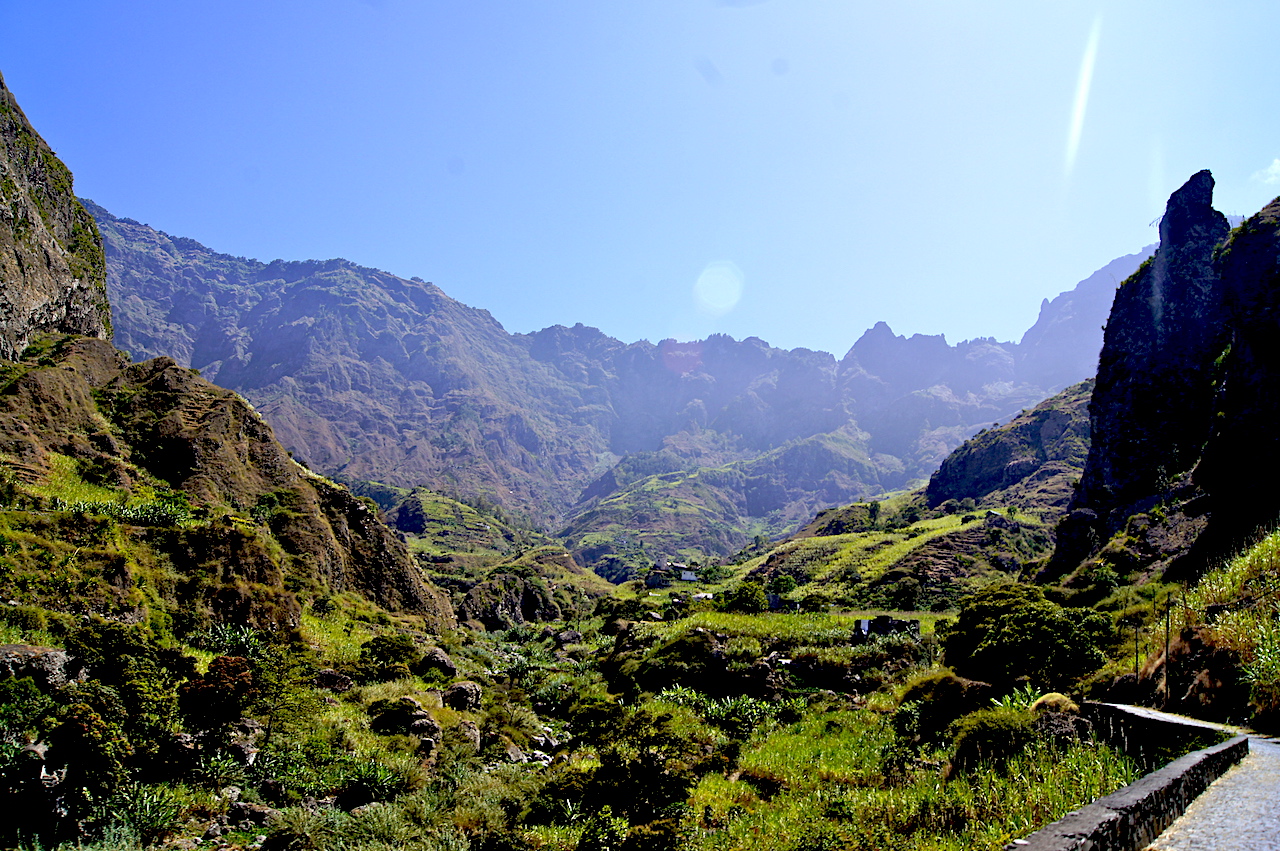 As I mentioned on our Day 1 report, I highly recommend spending at least 5 days on Santo Antão. We saw so much and yet felt like we saw so little. This valley – the Valley of Paul – was of outmost beauty. The aluguer took us as high as this vertiginous street went. At the very top, a pension is hanging by the side of the mountain and from there, trekkers start their journey through a lush forest by the refreshing river. I wish we'd had a couple of days to explore this part of the island.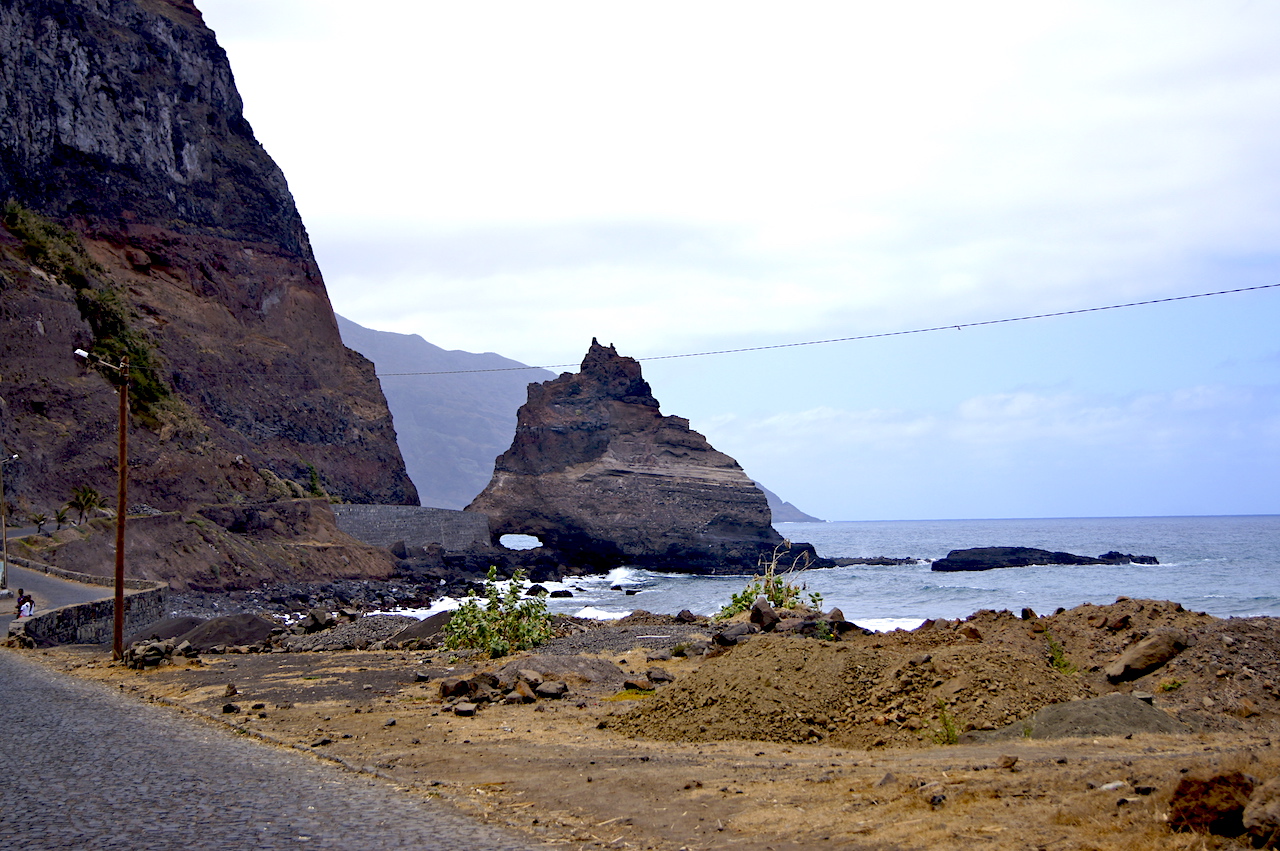 Our trip was coming to an end but Santo Antão impressed us until our last moments!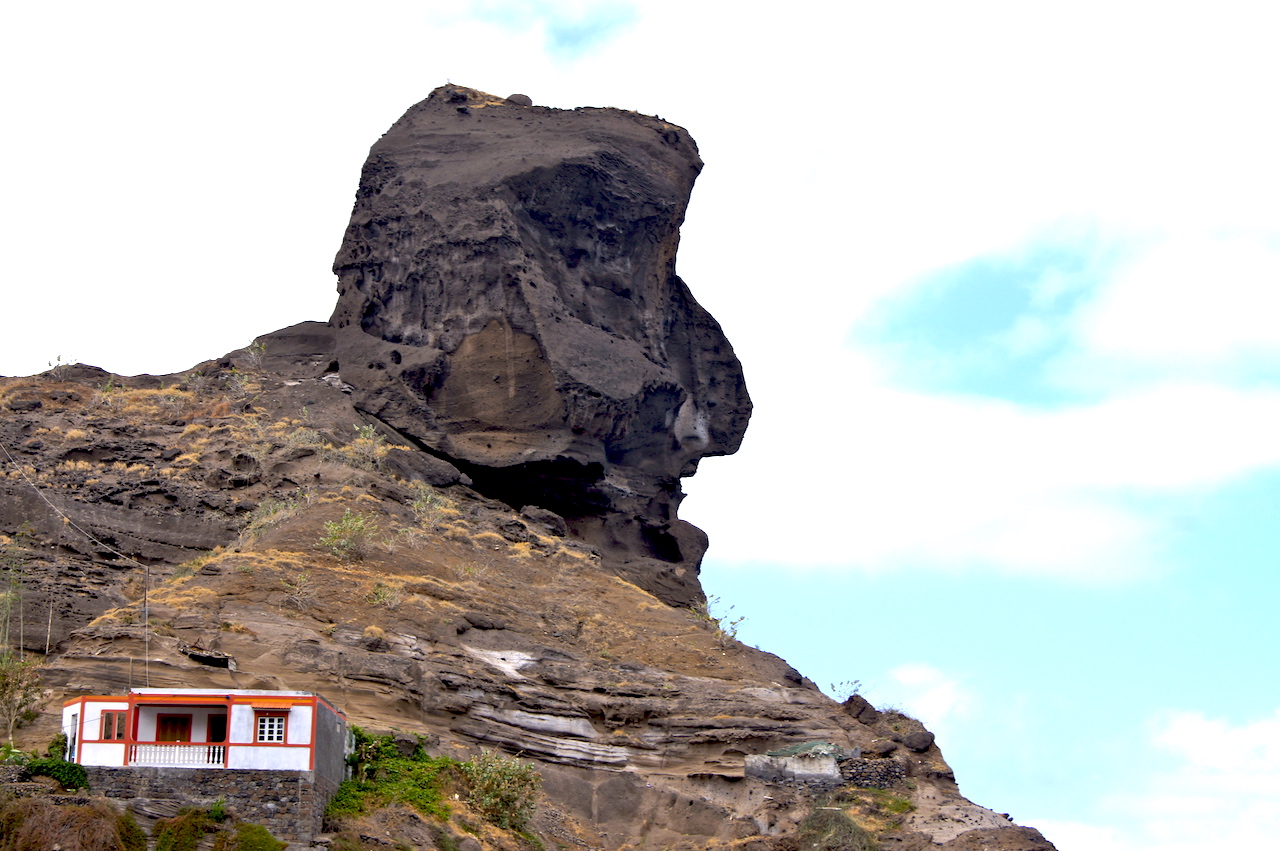 As we looked back from our open aluguer, our guide pointed out to the this rock, naturally shaped as the face of a man.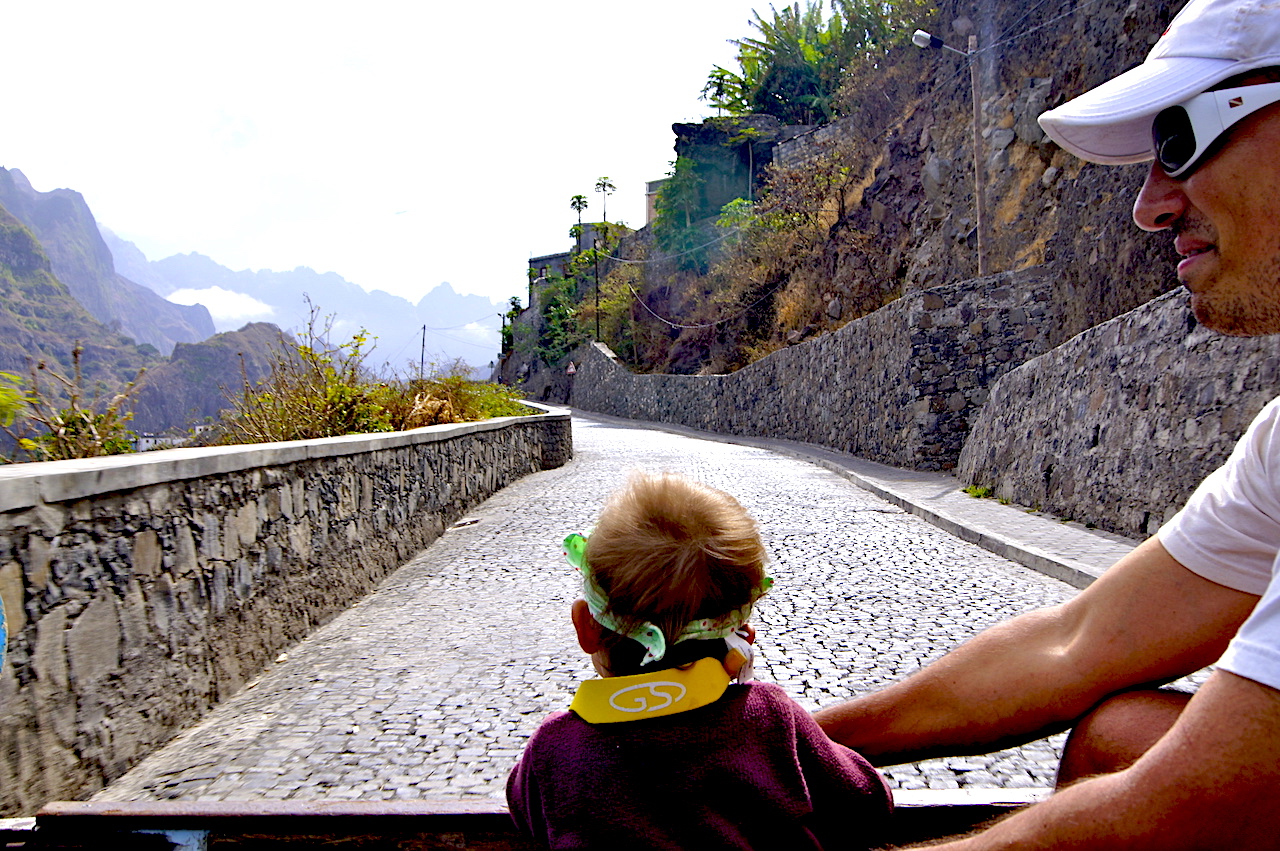 And as we said our "See You Later's" to this beautiful island, we could not help but feel nostalgic for the people and landscapes we were leaving behind us. It had been 3 of the most amazing days of our lives. We would not forget Santo Antão, Cape Verde, and were hoping to come back real soon! We only saw three islands of this impressive archipelago and each is so unique… we have to return and explore more of Cape Verde soon!
---
Enjoyed the article? Pin it for later!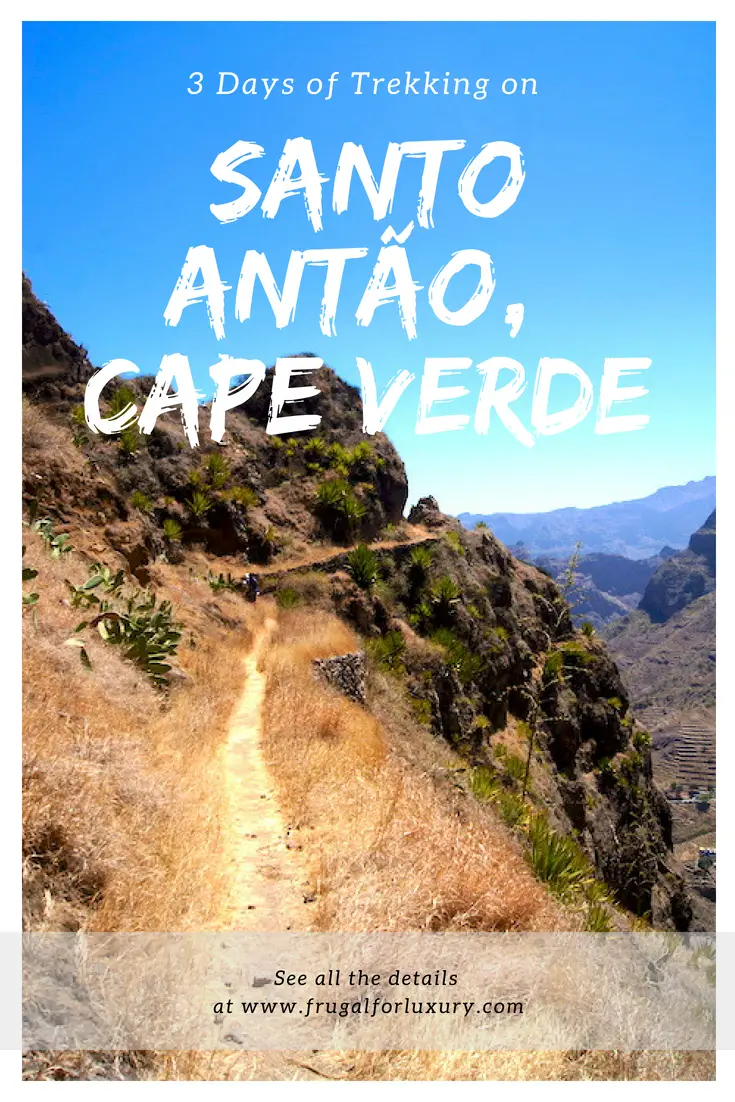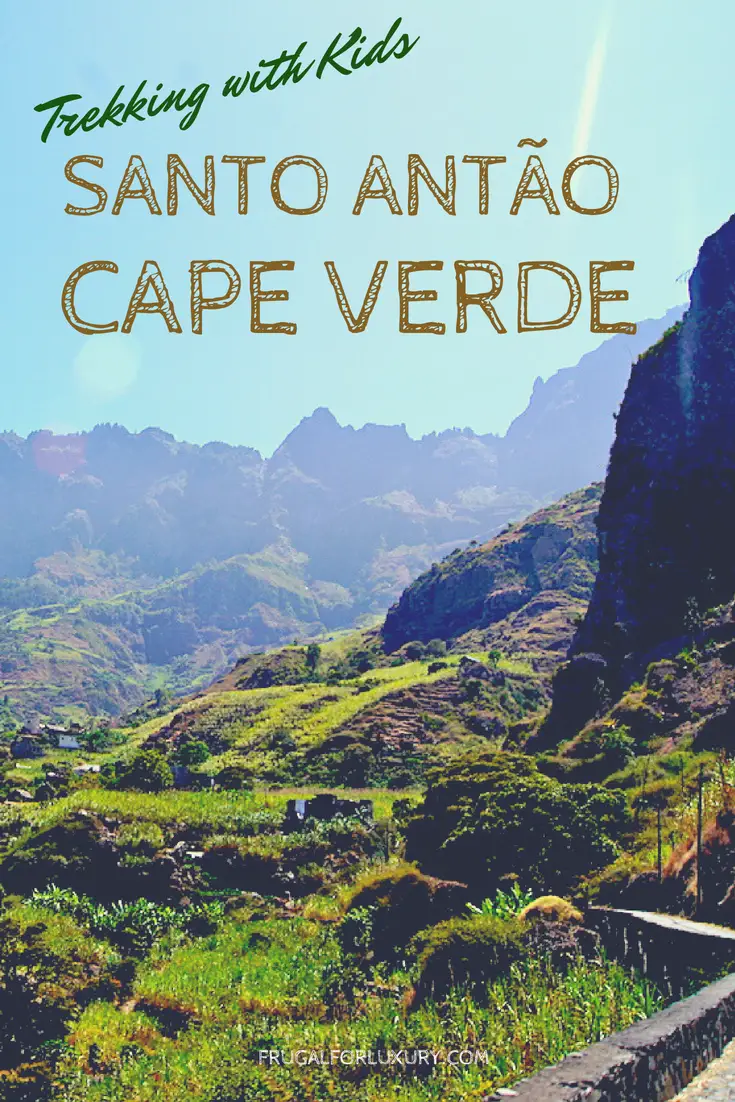 ---
Related articles you might enjoy:
3 Days of Trekking on Santo Antão, Cape Verde – Day 1
3 Days of Trekking on Santo Antão, Cape Verde – Day 2
10 Sanity-Saving Tips for Traveling with Kids
If you enjoy reading us, stay in the know by signing up for our newsletter!