So you're in Riga, Latvia – our family's absolute favorite capital in the whole wide world. I just can't tell you how much we love Riga and all of Latvia! You'll probably agree that it needs a lot more fame than it gets!
If you are looking to have some fun with the kids under an hour from Riga, I have the largest adventure park in the Baltics for you: Sigulda Tarzan!
Sigulda Tarzan
Address: Peldu street 1, Sigulda, LV-2150
Phone: +371 27001187
Opening hours: everyday from 10AM to 8PM
We had the most wonderful day at Sigulda Tarzan and I recommend planning at least 3 or 4 hours. If you asked the kids, we could have stayed an entire day and it still wouldn't have been enough!
So here's what we loved about Sigulda Tarzan:
1- Adventure Park For The Entire Family
The parents have as much fun as the kids at Sigulda Tarzan!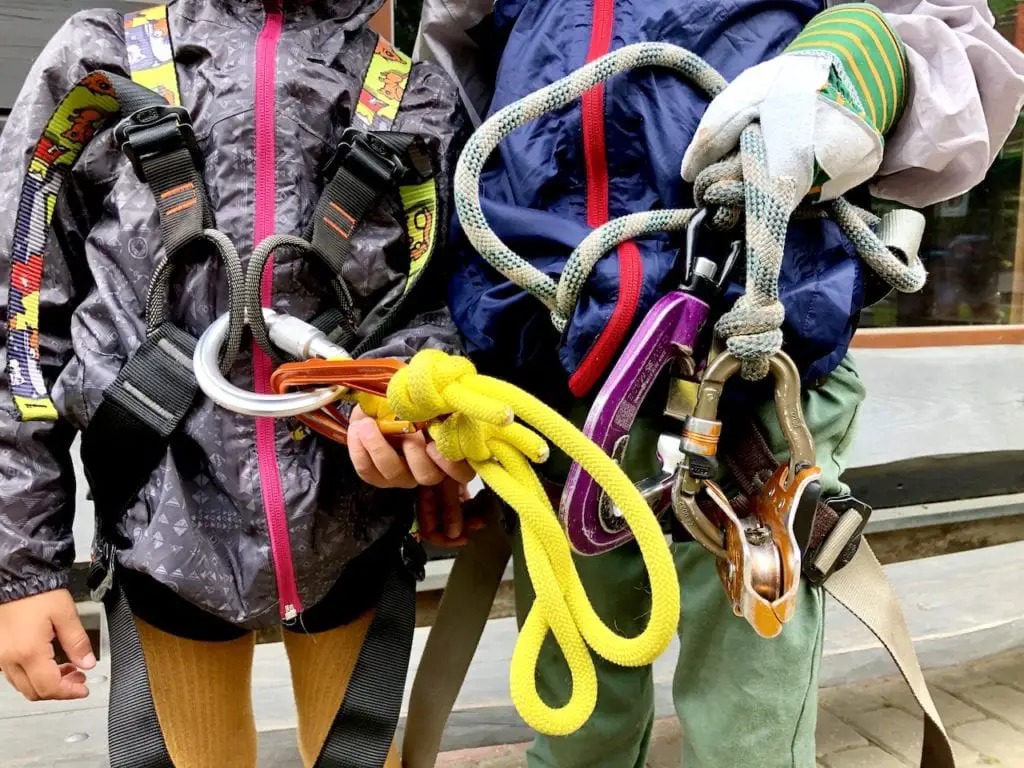 Hard to believe, right? We've done many adventure parks around the world, and this one hit it out of the park for us, parents!
Christian and I got an adult package ticket and got access to 10 tree top obstacle courses. Five of those were for ages 10+ and totally targeted to us, adults.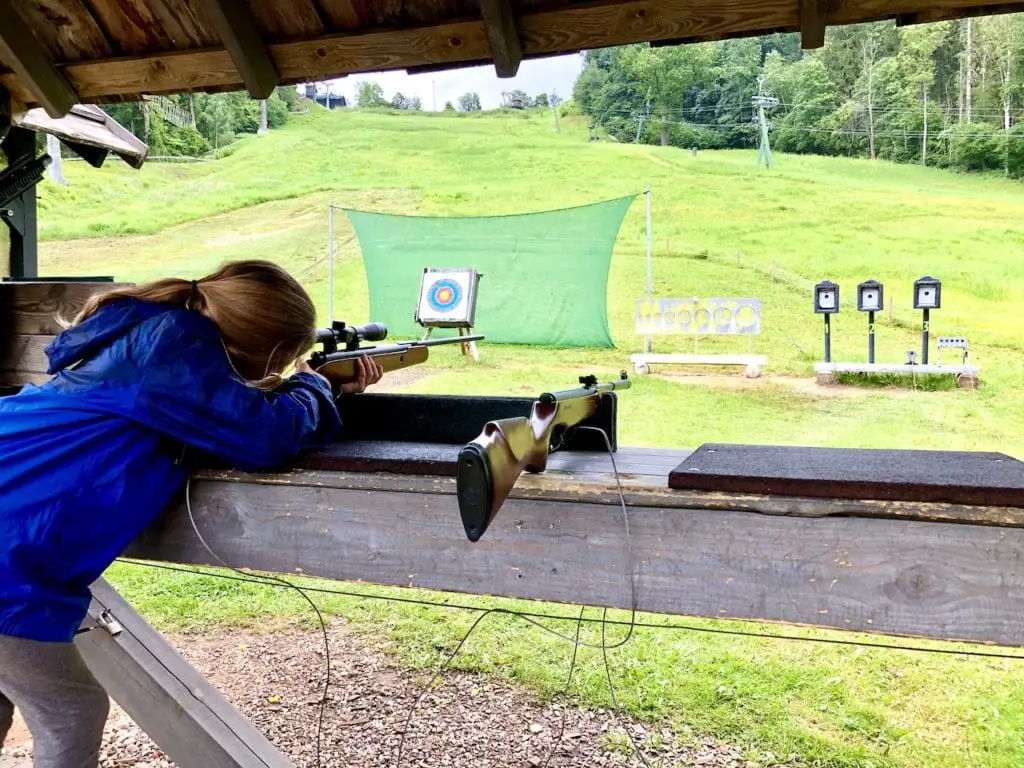 There is also the longest zipline in the Baltics, some shooting fun, and more. We had the best day, right alongside the kids!
And the kids obviously thought we were having a "kids day", which are very much sought-after days in our family. This was a huge win-win!!
2- Plenty For The Youngest Ones Too
Sigulda Tarzan is recommended for kids starting at age 3.
For your little ones, ages 3 to 6, a special tree-top obstacle course is planned. They are fully harnessed too and move from obstacle to obstacle at a very low height, allowing the parents to be involved as needed.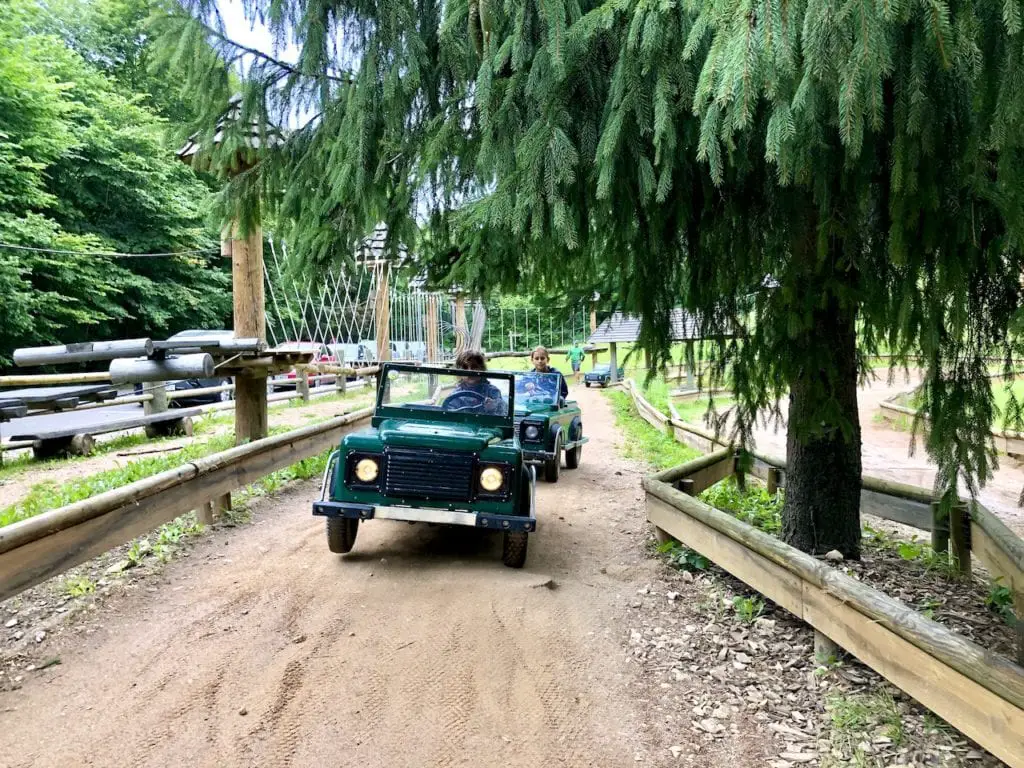 They even have their own zip lines and plenty for the kids to work on their driving skills!
3- Package Tickets
If you know me, you know how much I love value! I loved that Sigulda Tarzan sells package tickets for each age group, and at different prices.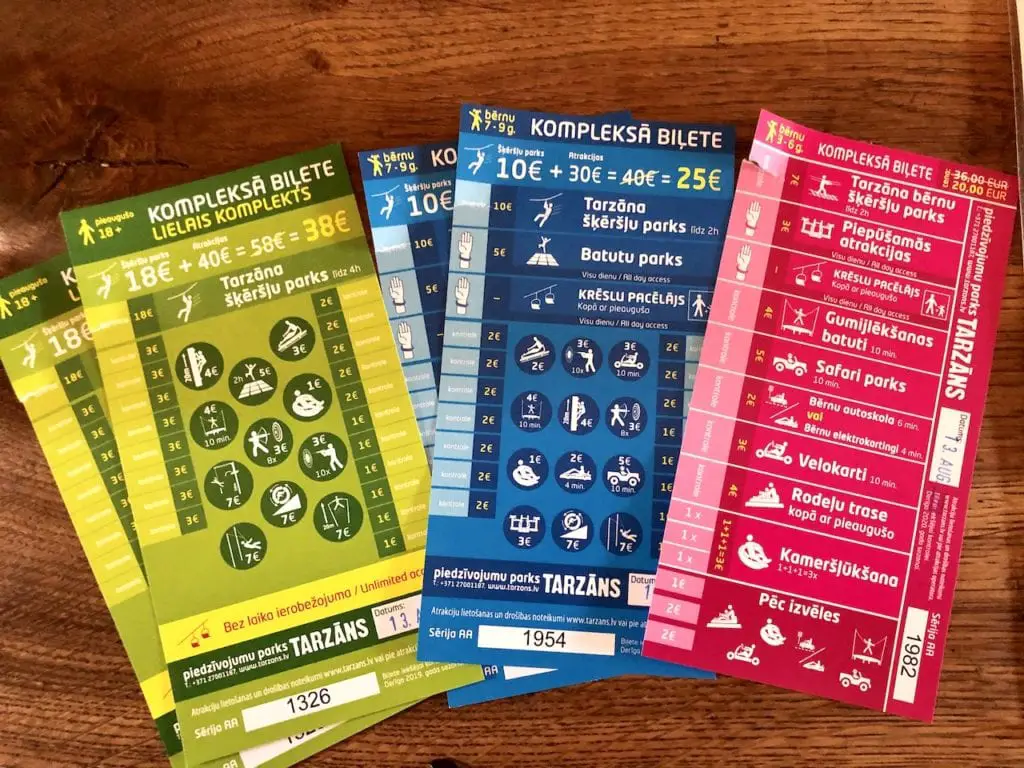 The package ticket gets you access to the obstacle course, unlimited trampoline time and lift chair access. It also includes a cash value for all of the other attractions and it is up to you how you choose to spend that allowance (see #6 for all activities and prices).
It is not only great value if you plan on spending several hours there, but it lets you customize your experience and try a little bit of everything!
4- Tree-Tops Adventure
I remember tree-top obstacle courses to be the highlight of my summers as a child, and Sigulda Tarzan offers one of the most extensive courses in the world.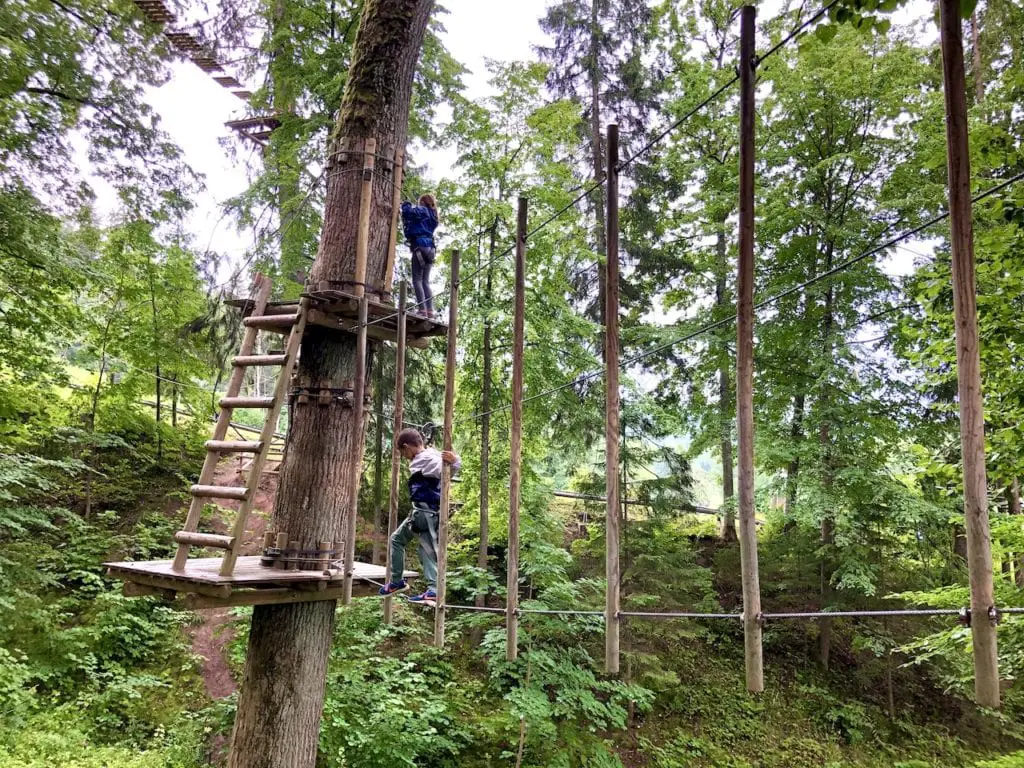 With 10 tracks of varying difficulty in its obstacle park and a total of 140 obstacles up to 20 meters up in the trees, you can spend a whole day challenging yourself!
Our kids loved snowboarding on a rope best, while we thought the bicycle was an amazing invention!
5- Fancy Zip Lining In Latvia?
Sigulda Tarzan boasts the longest zip line in the Baltics!
And if you're a fan of zip lining, you'll glide to your heart's content, down the park's 14 lines, the longest of which is 220 meters long!
6- Summer Luge
I don't know about your kids, but ours always beg for summer luge.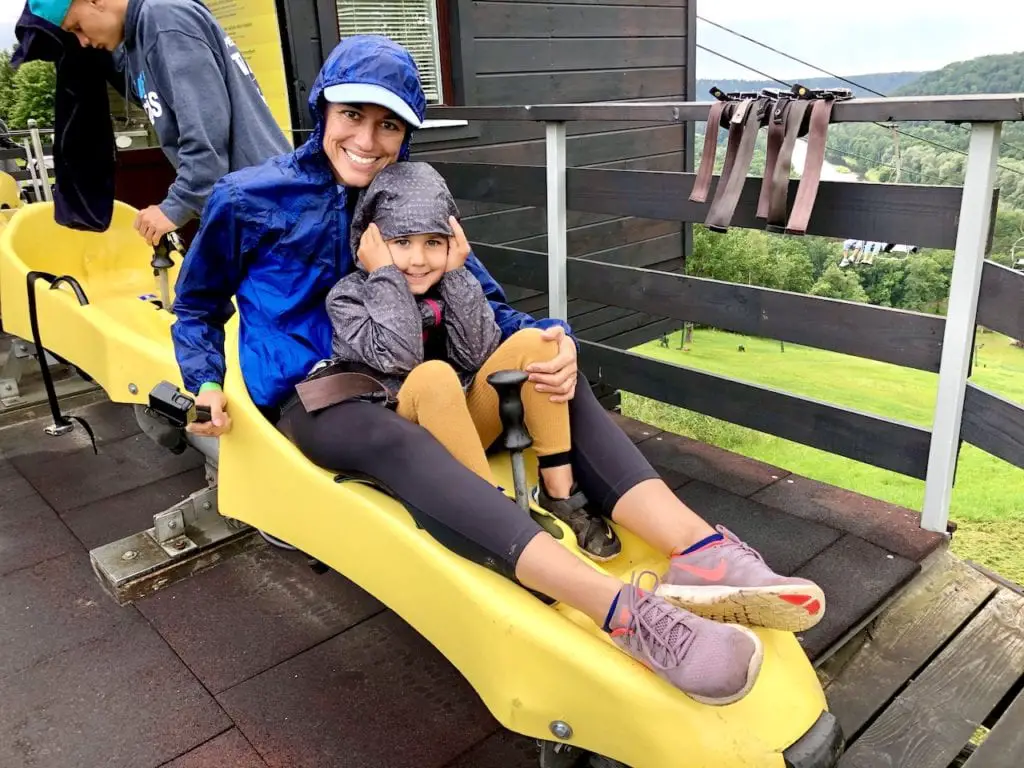 At Sigulda Tarzan, you hop on the chair lift that takes you to the start of the track and you speed down the mountain at speeds up to 40 km/h! Have a small one under the age of 6? No problem, just ride with them!
7- Not Into Tree-Top Adventures?
That's totally ok too! You can pay for each adventure on its own.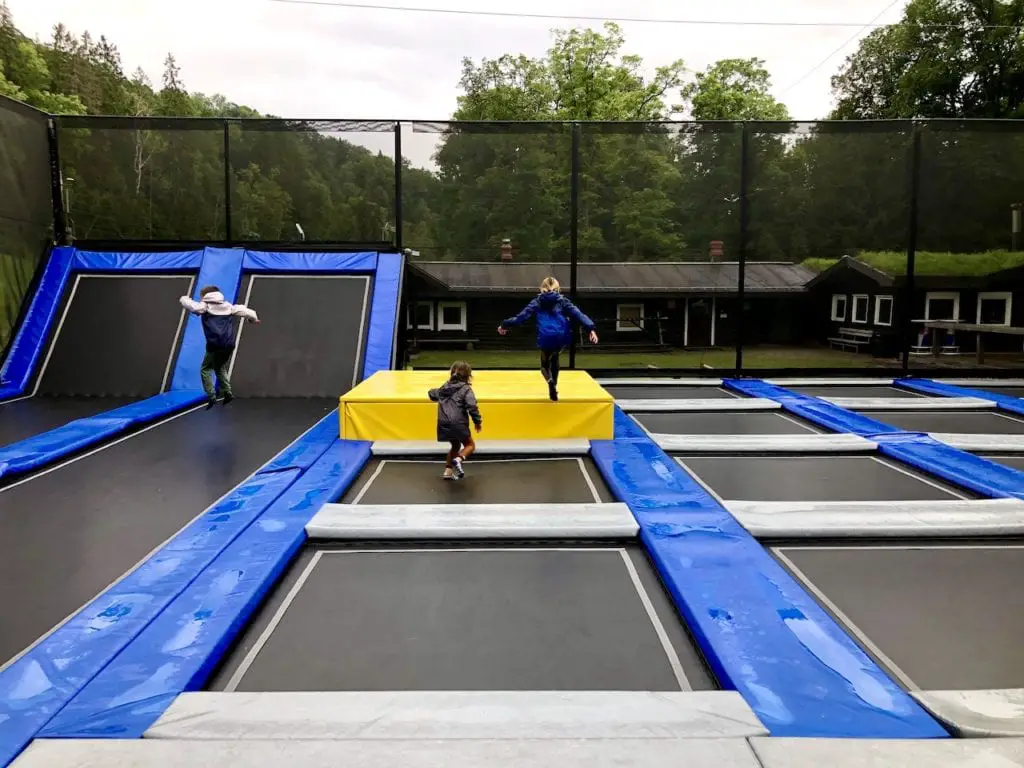 At Sigulda Tarzan, you can have fun with:
Summer luge: 2 / 3 EUR
Chair lift: 1 / 1.50 EUR
Tube sliding: 1 EUR
Trampoline park: 5 EUR
Electric safari jeep riding: 5 EUR
Catapult (ages 10+): 7 EUR
Giant swing (ages 7+): 7 EUR
Archery (ages 7+): 3 EUR
Pneumatic shooting (ages 7+): 3 EUR
Jungle jump (ages 10+): 7 EUR
Crazy roller (ages 7+): 7 EUR
Jungle climb (ages 7+): 4 EUR
Bungee trampoline: 4 EUR
Bouncy castle: 3 EUR
Electro go-karts: 3 EUR
Electric go-karts: 10 EUR
Children's driving school: 1 EUR
Go-karts: 3 / 4 / 5 / 7 EUR
Velomobile: 4 / 7 / 9 / 11 EUR
Children's excavator: 1 EUR
Click HERE for a detail of all prices by age group.
Thrilling Day Trip For Families From Riga
If you are looking for a fun day as a family near Riga, make sure you visit Sigulda Tarzan.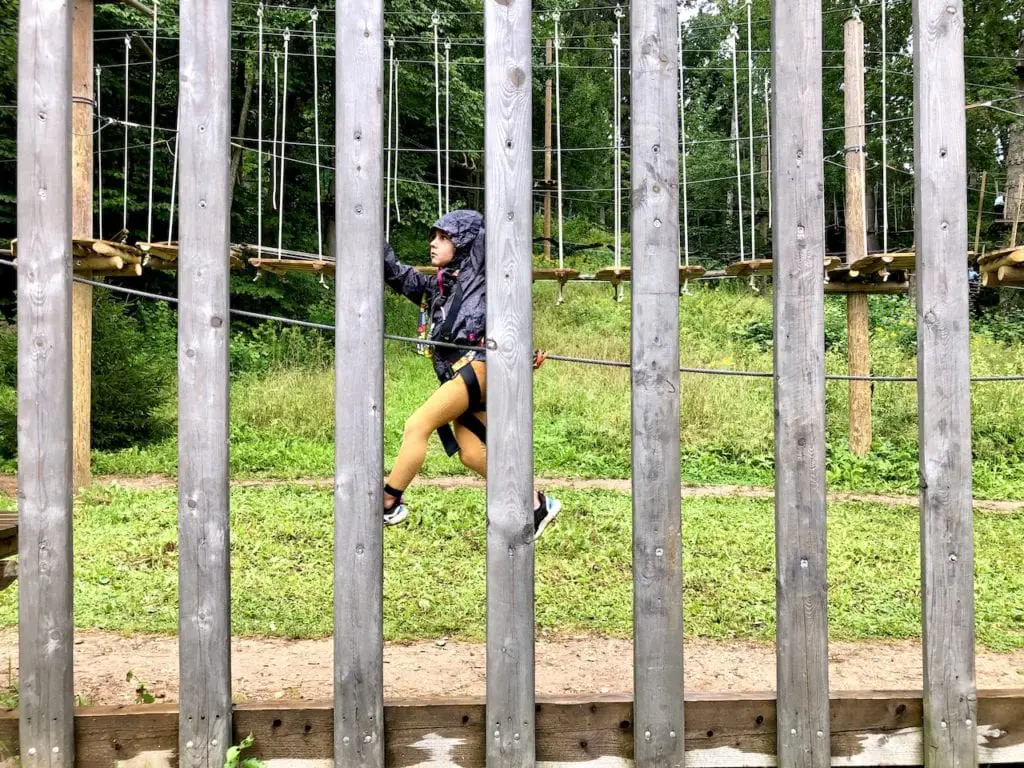 We were incredibly impressed with the quality of the attractions and how beautifully maintained everything was. This is a top adventure park and I promise you everyone in the family will have fun.
I have added Sigulda Tarzan to the GoWhee App <– click there to download and find other family-friendly locations around the world!
Thank you to Sigulda Tarzan for hosting us on such a fun day near Riga!
---
Pin this for later!
---
Related articles you will enjoy:
BUDAPEST THERMAL BATHS: 11 THING YOU SHOULD KNOW BEFORE VISITING WITH KIDS
THE CHEAPEST CAR RENTAL IN EUROPE YOU DIDN'T EVEN KNOW EXISTED // TT PROGRAM
GLADIATOR SCHOOL – BEST EXPERIENCE IN ROME WITH KIDS
If you enjoy reading us, sign up for our newsletter below!