This weekend was Mark's 5th birthday, and we celebrated at Discovery Cove Orlando! When you live in Orlando year-round, you sometimes forget about all the cool offerings. For the first time in a long while, we were tourists in our own town and this was the perfect experience!
Arrival at Discovery Cove
When you make a right on a little side street, you are far from expecting a premium water park. As we parked the car and started walking up to the Hawaiian-like welcome hall, we were transported in a relaxing world, far from reality. Upon entering the lobby, we went through a personal check-in, where our photos were taken and printed on a plastic pass.
Make sure to keep this pass as it gives you access to 14 days of visits to Aquatica and Sea World!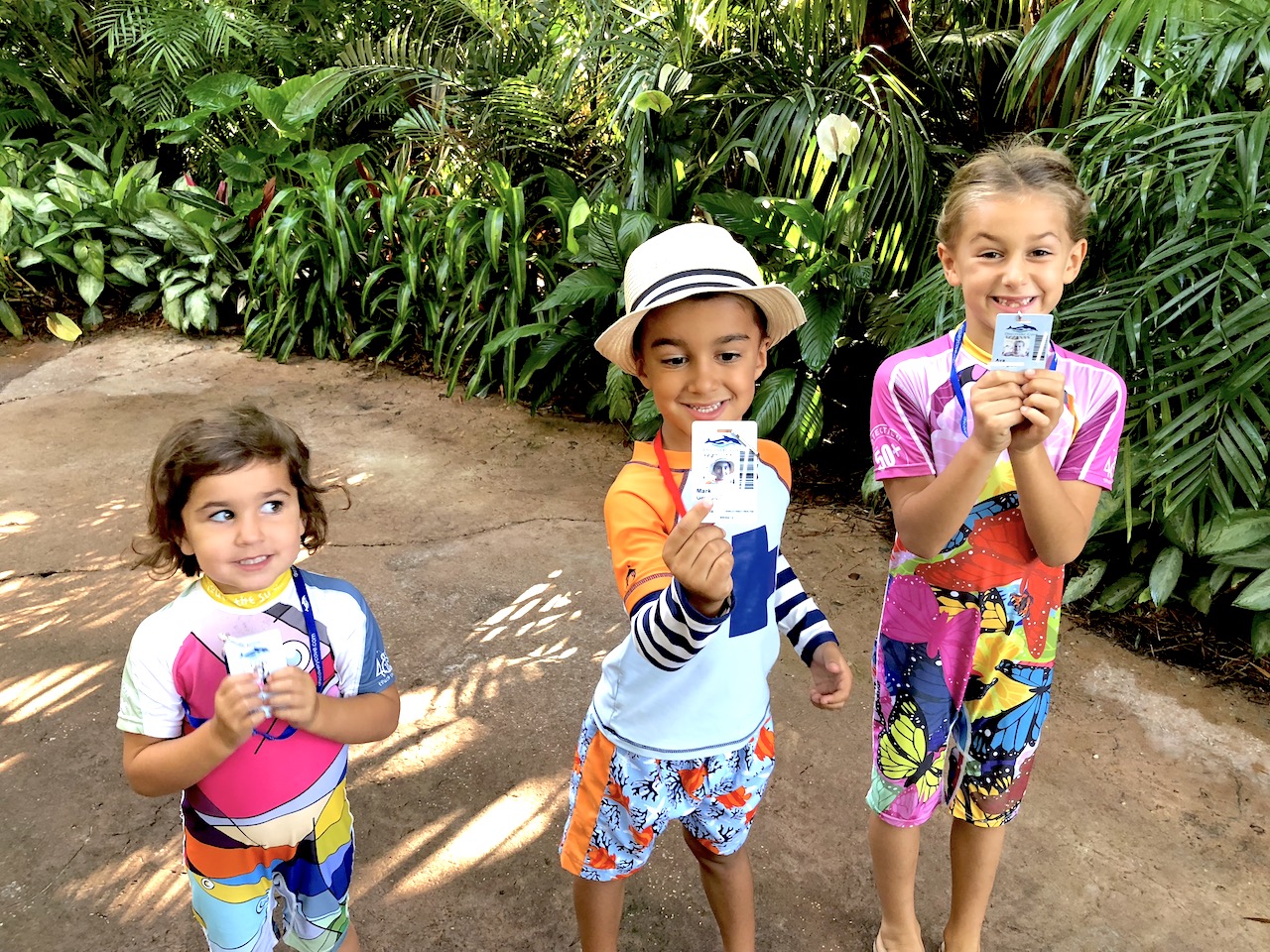 The lady helping us gave us all the details we needed to spend a wonderful day and sent us on to the park.
First Impressions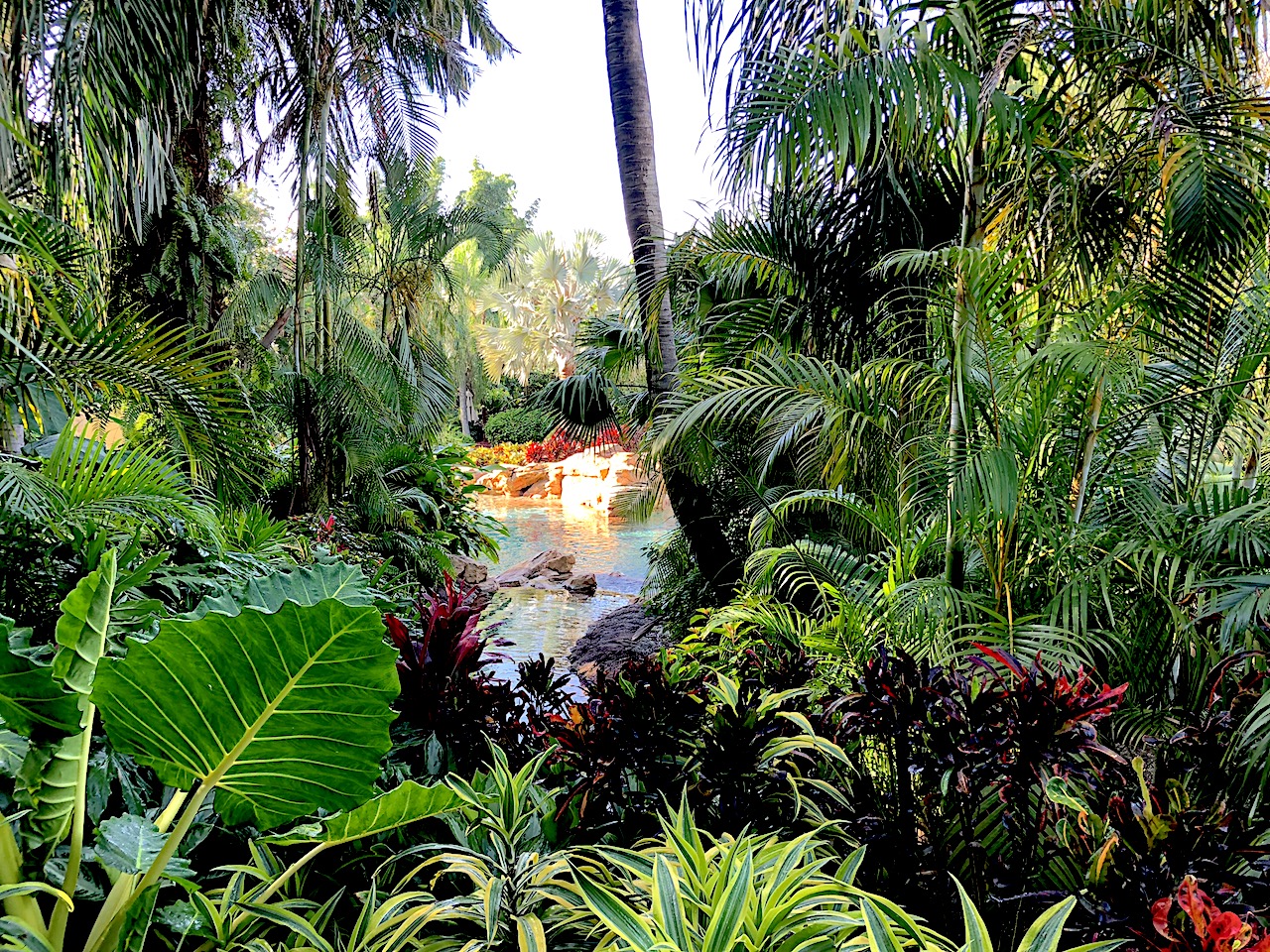 Not really knowing what to expect, but with high expectations, we left the lobby and walked down the path towards the pools. That walk… lush vegetation, beautiful flowers, and the pools in the background… was worth a million bucks!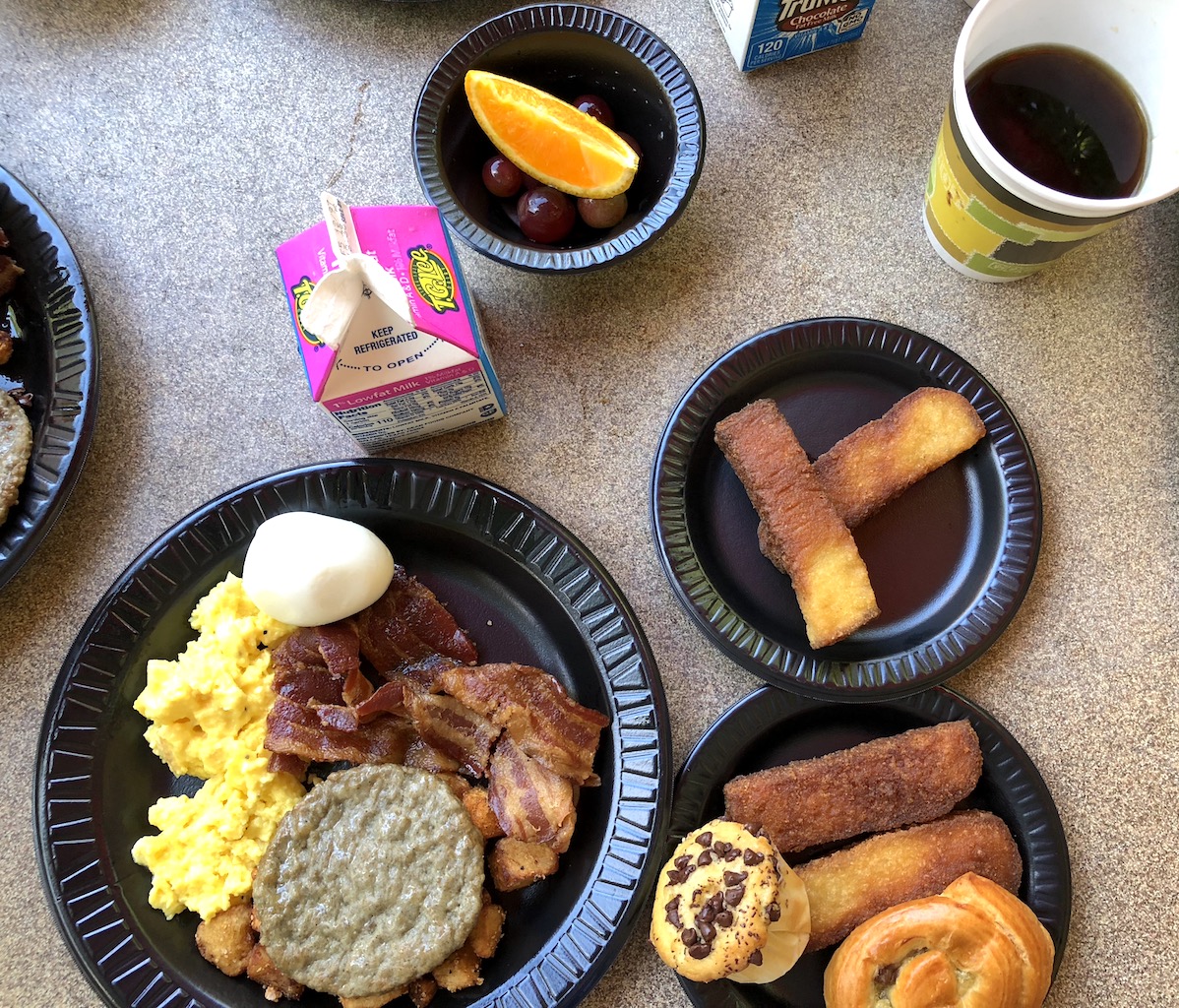 Our first stop was breakfast. Everyone found something they liked and it was a nice introduction to the day to come, where everything, and I mean everything, is included! Just kick back, enjoy, and start floating!
Start of the Day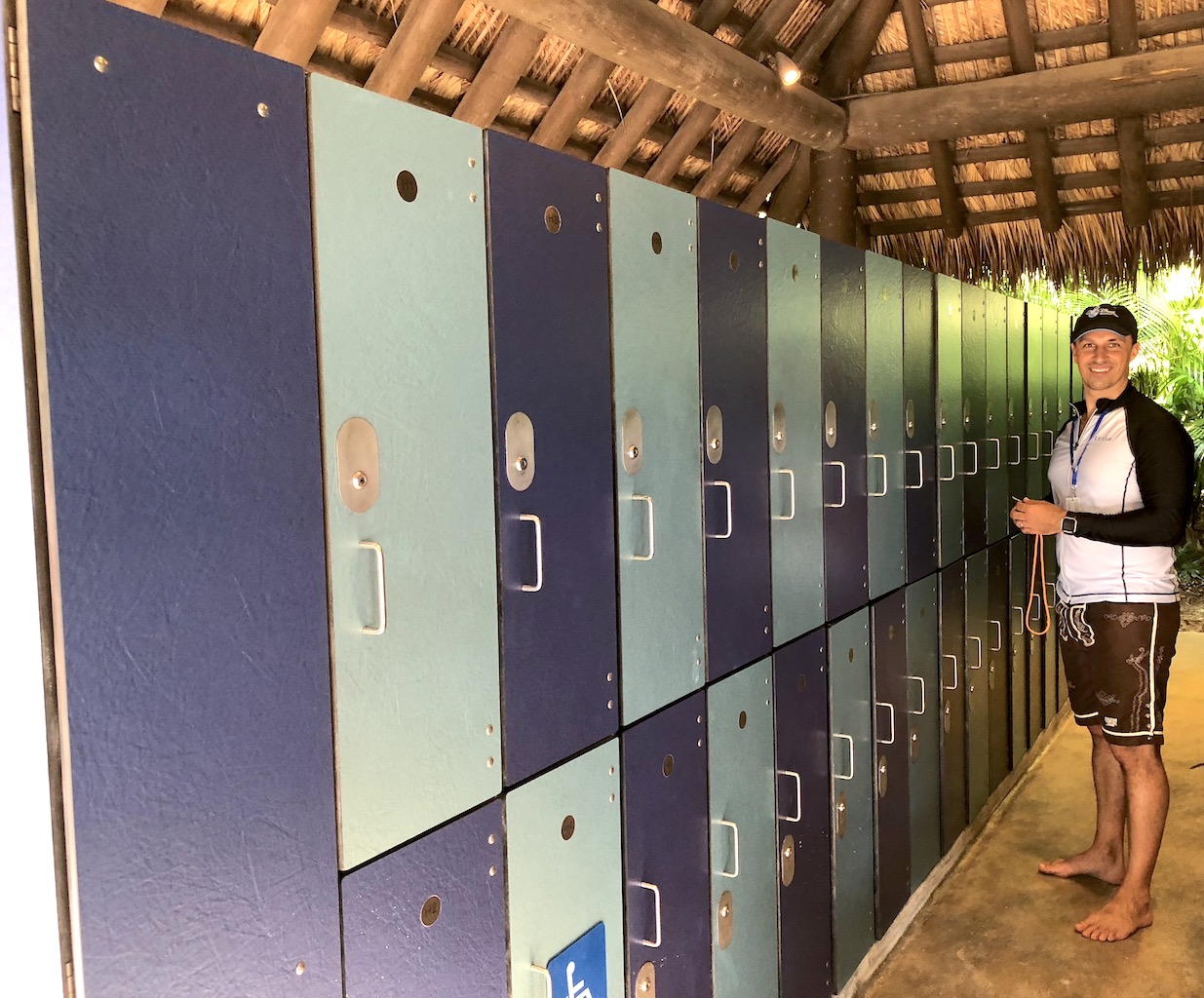 Before finding a chair for the day, we headed for the lockers. Rows of lockers await you in several areas. Simply open one, drop in your belongings, and lock it up!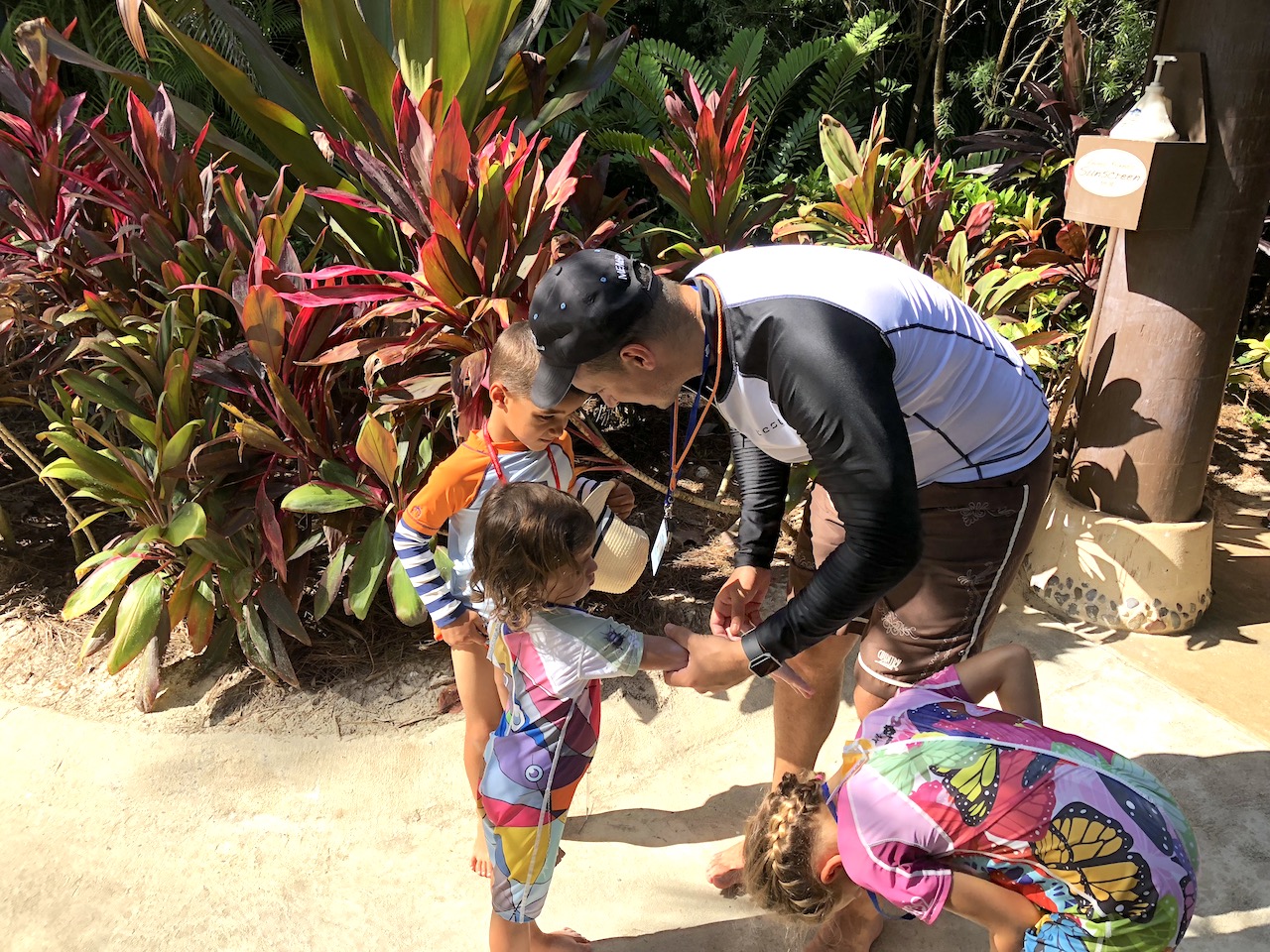 Discovery Cove provides sunscreen to all guests and everyone covered up for a day in the Florida sun!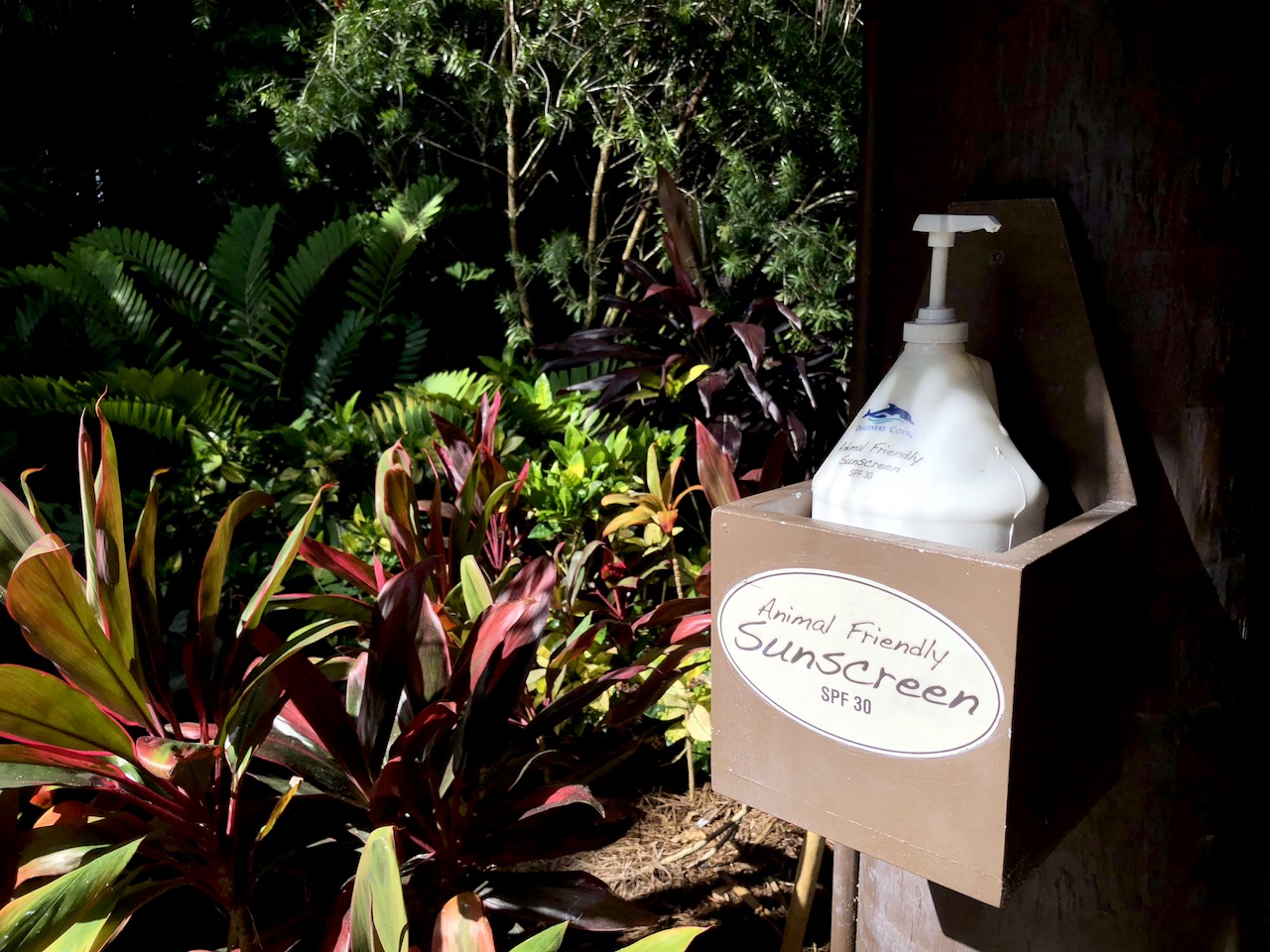 It is important that you do not apply your own sunscreen. The one provided is animal-friendly, and since you will likely spend a fair amount of time in the water with fish around you, make sure to use the park's free sunscreen!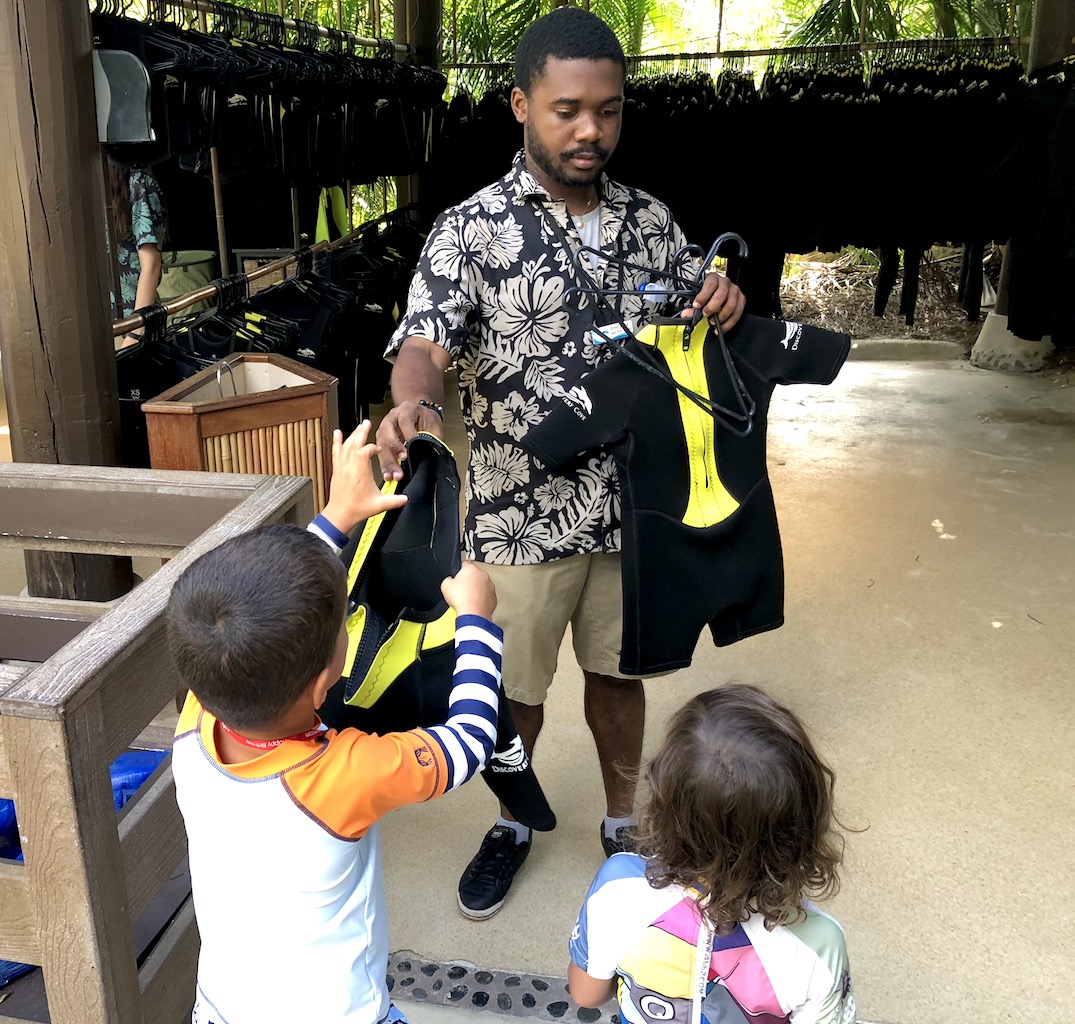 Next up – we were given some really nice gear! While the majority of pools are heated to 80 degrees, the Great Reef is only 72 degrees and Discovery Cove wants to make sure you are really comfortable. We all elected for the bodysuits but they offer sleeveless jacket wetsuits as well! We just don't do too well in cold water… but with those on, we never felt cold!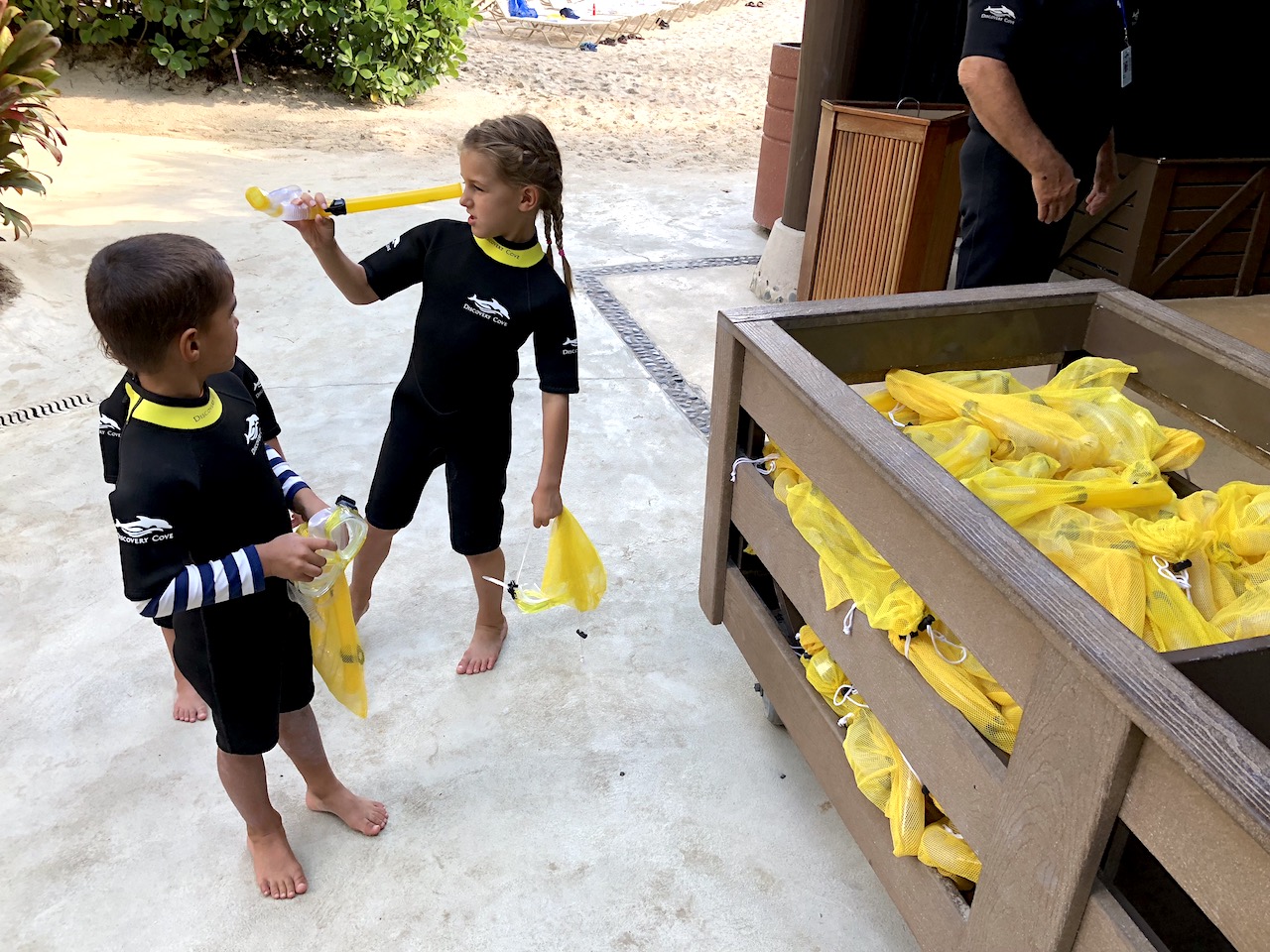 Last step – 2 giant bins with snorkel and masks were at our disposition. Kids got a yellow set, adults a blue set.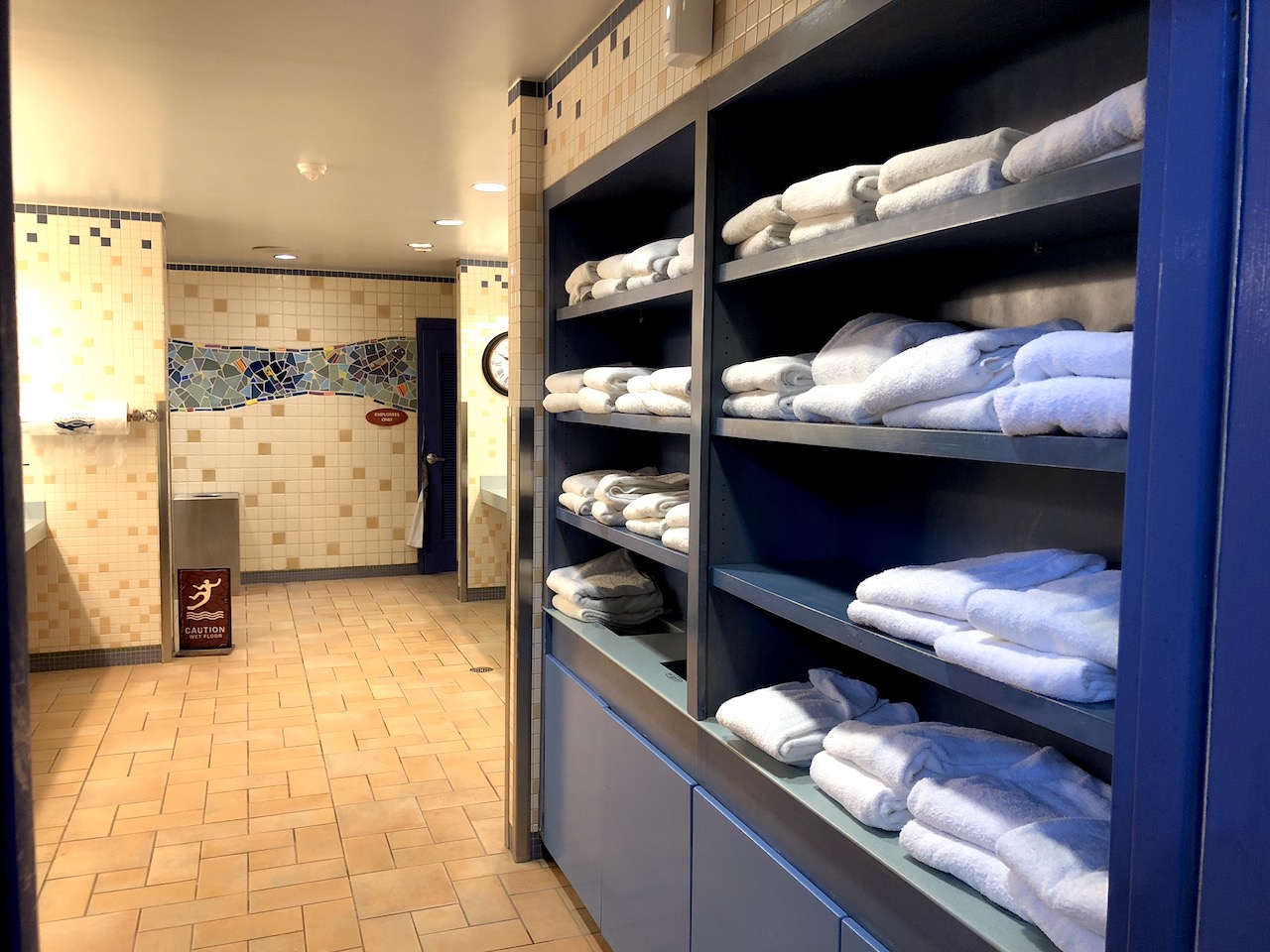 After grabbing towels for everyone, we were finally ready to head out to the water!
The Pools
Discovery Cove has 4 main pools. We started with the lazy river.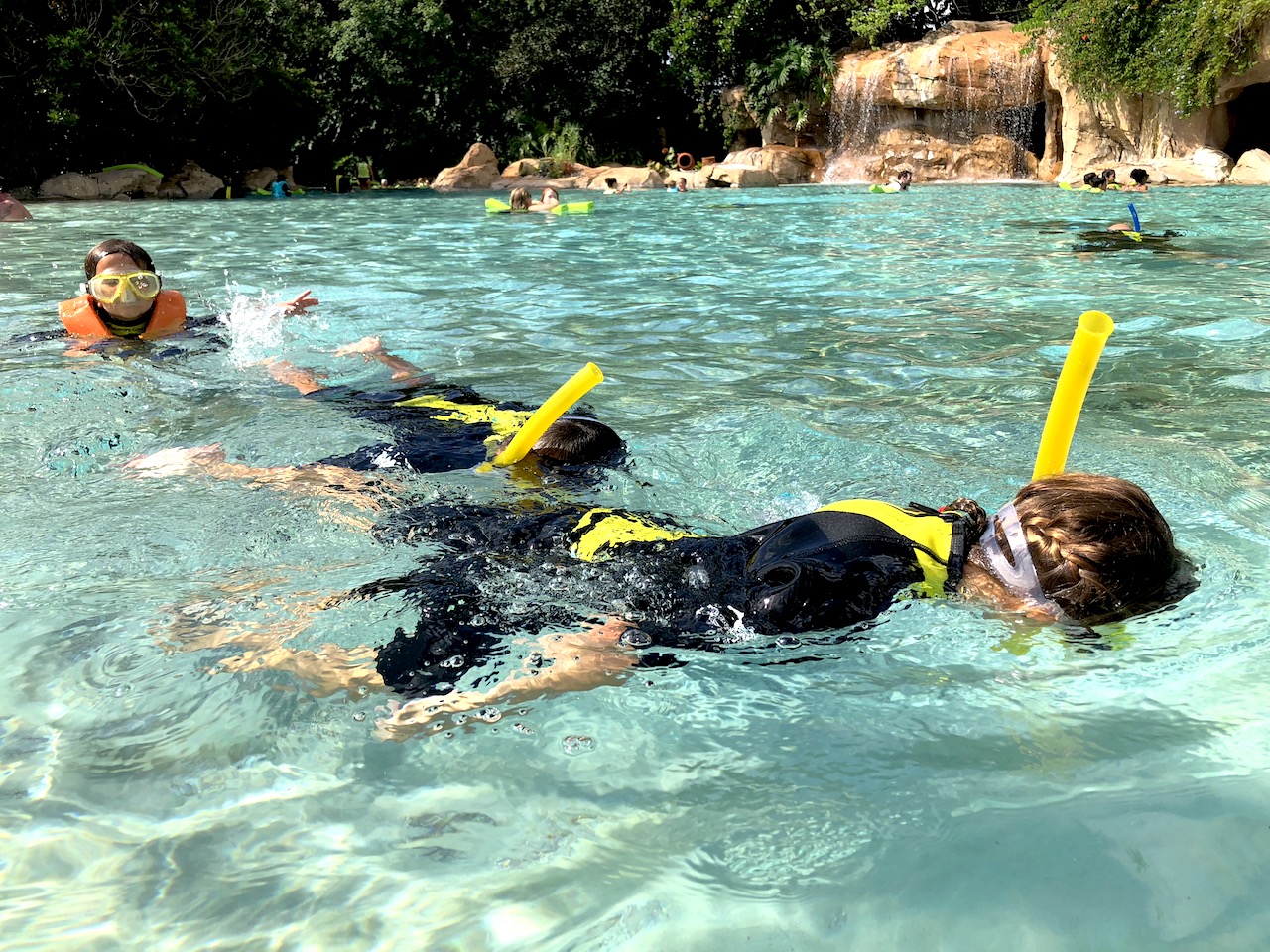 Forget any pre-conceived ideas of a lazy river. You will find no tubes here, no crowds, so bottlenecks. Grab your snorkel gear and enjoy a 20-minute peaceful swim through the river. If you prefer floating, Discover Cove has lifejackets in all sizes, as well as pool noodles available!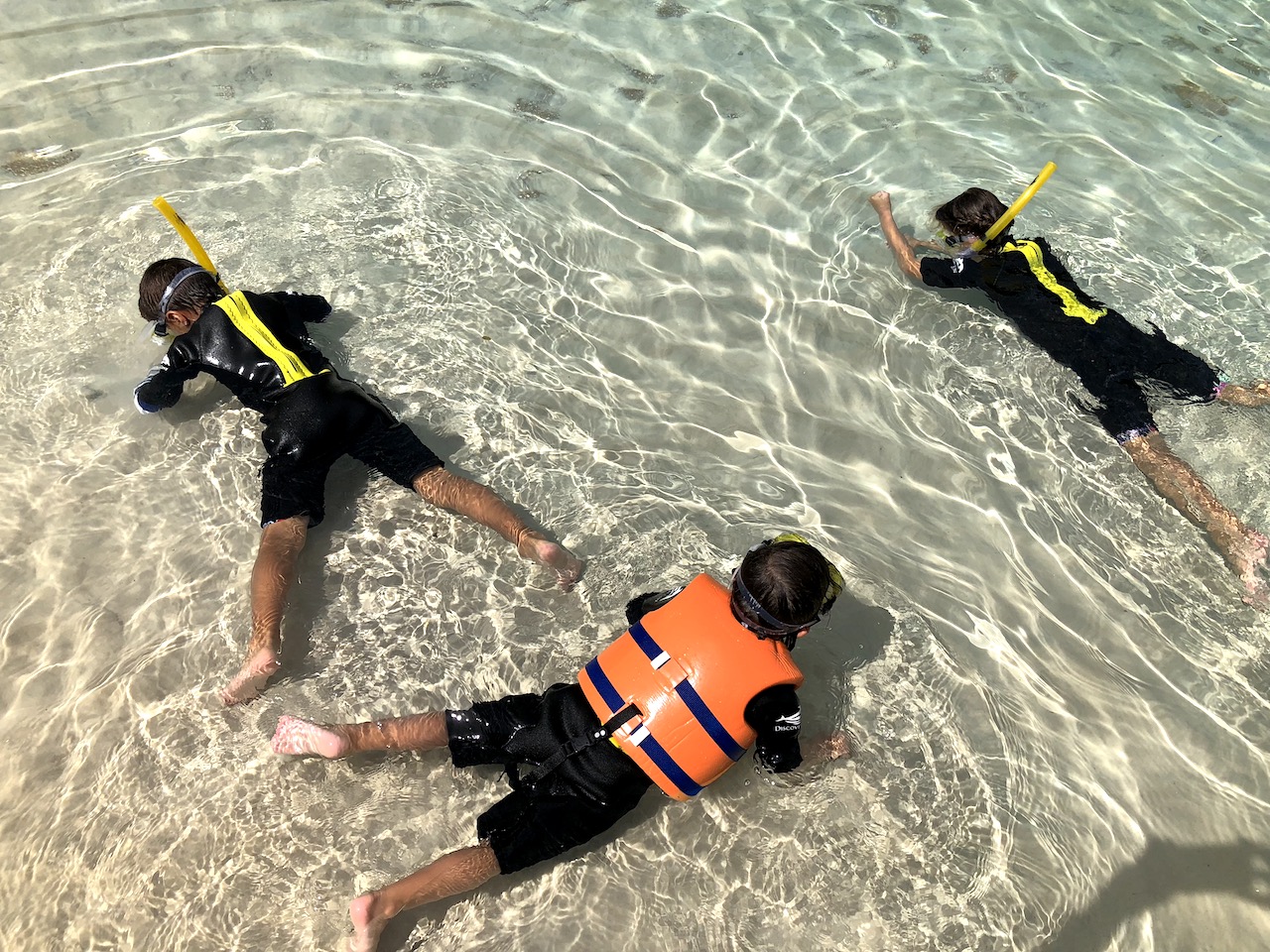 Those kids would have been perfectly happy exploring the sand beneath them all day!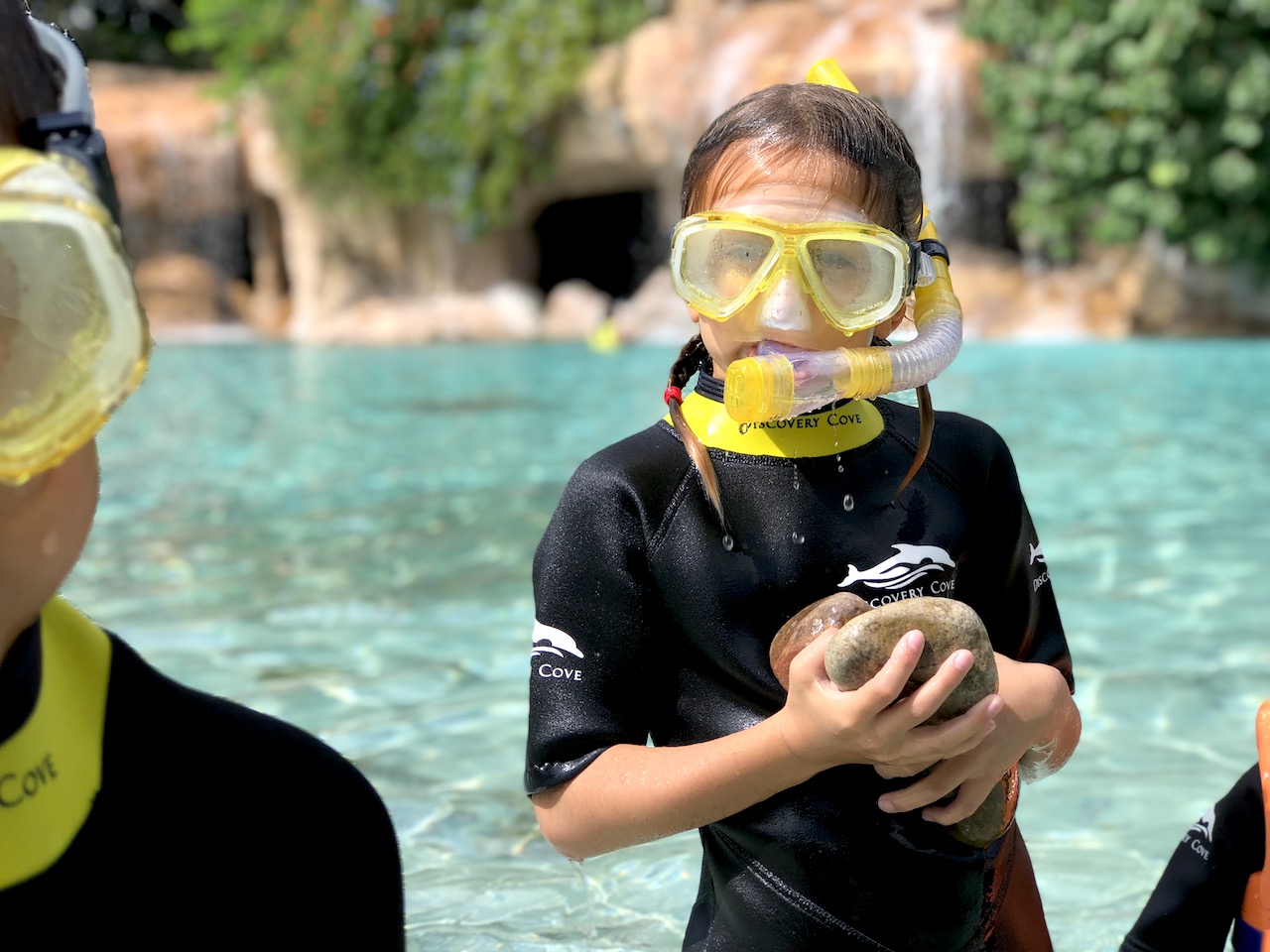 While the lazy river does not have any fish in it, nothing stops those kids from being creative. They found stones and built a fort right by the water!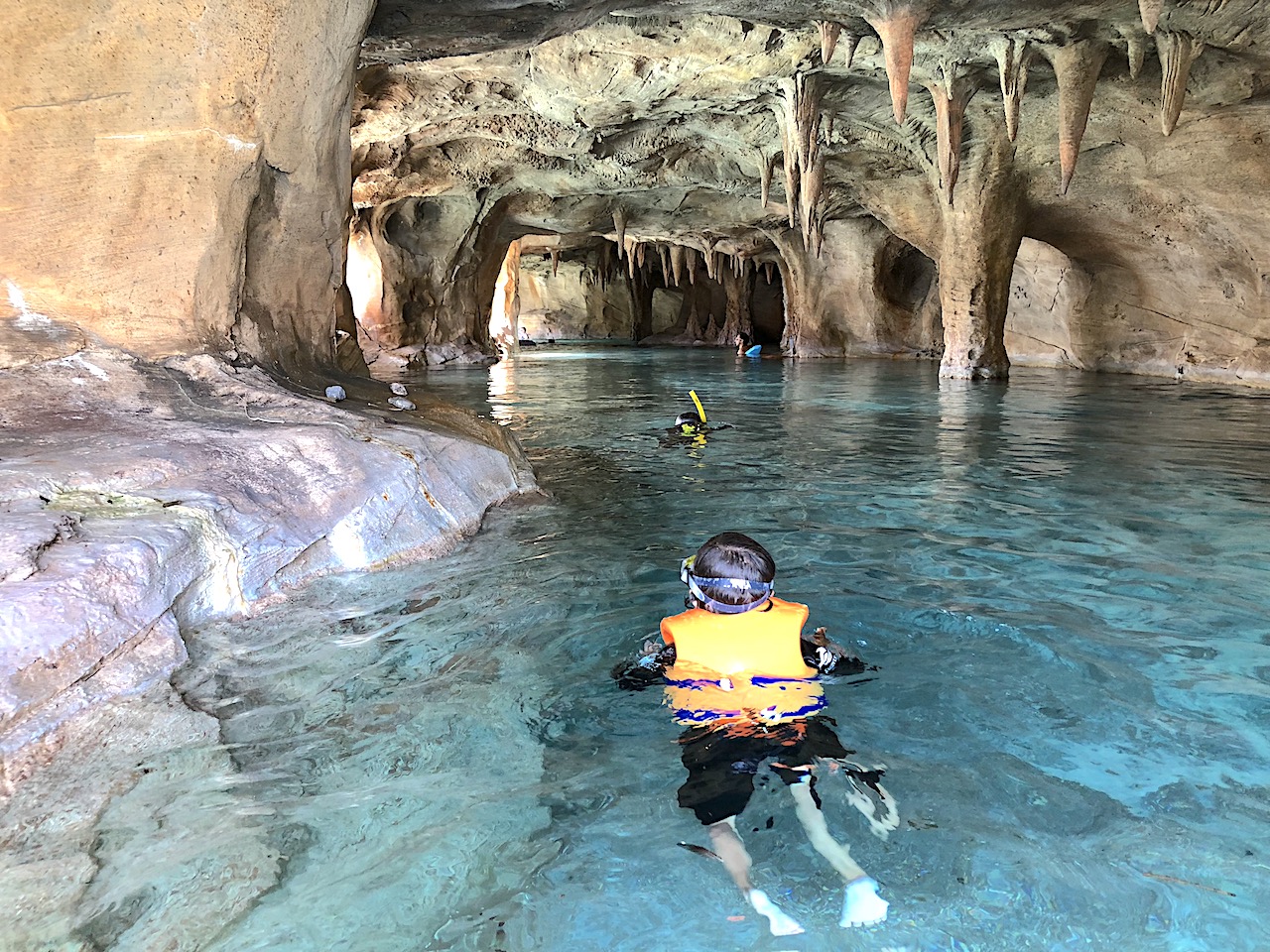 Eventually, we made it to the grotto and went on to swim through the aviary and some deeper waters where we found old canons and other treasures!
Animal Encounters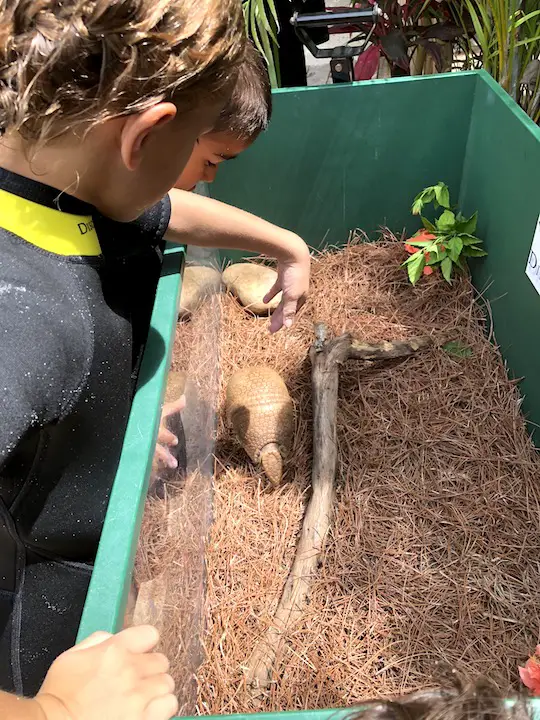 Shortly before lunch, we got to meet some animals. After being introduced to a beautiful parrot, we all learned about armadillos and even got to pet one!
Happy-Belly Time
With food and drinks included, we headed to the Laguna Grill to refuel! The adult food was actually really good, with a choice of burger, pulled pork, or sweet hawaiian chicken as well as a variety of side options and desserts!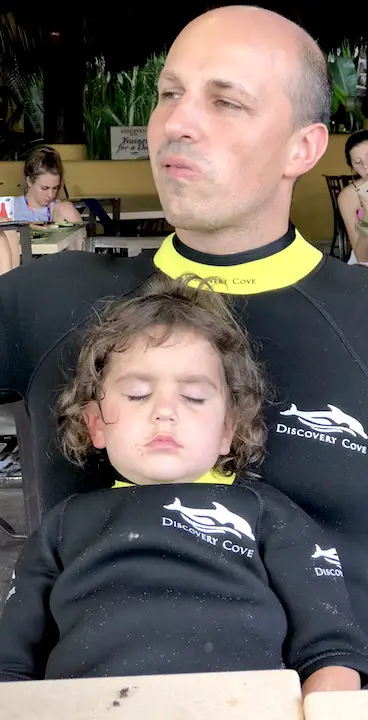 And when this happens… you know they're having a great day! Several hours of swimming and a good lunch put this little one to sleep!
The Great Reef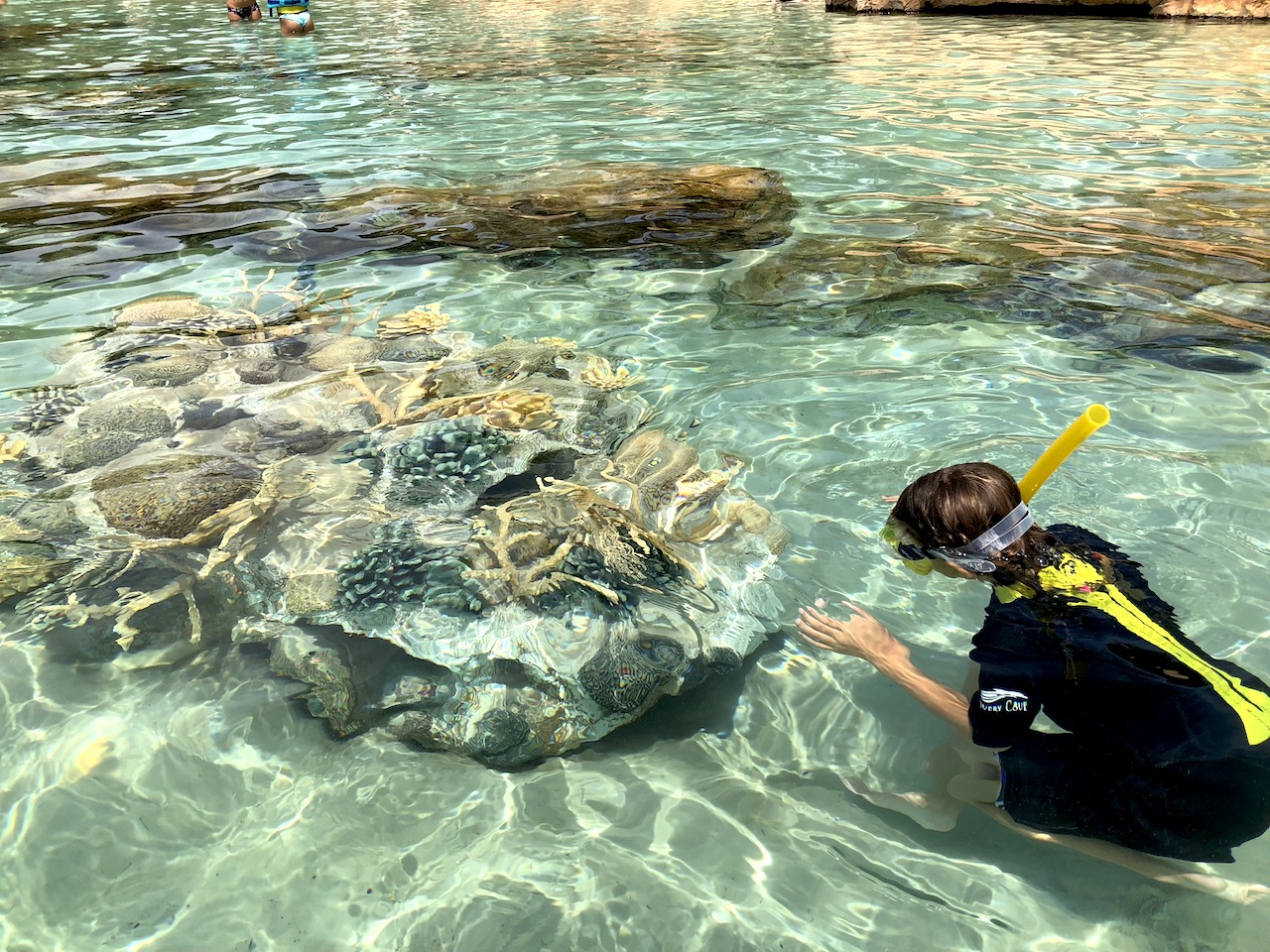 With thousands of fish in it, the Great Reef is a very impressive place!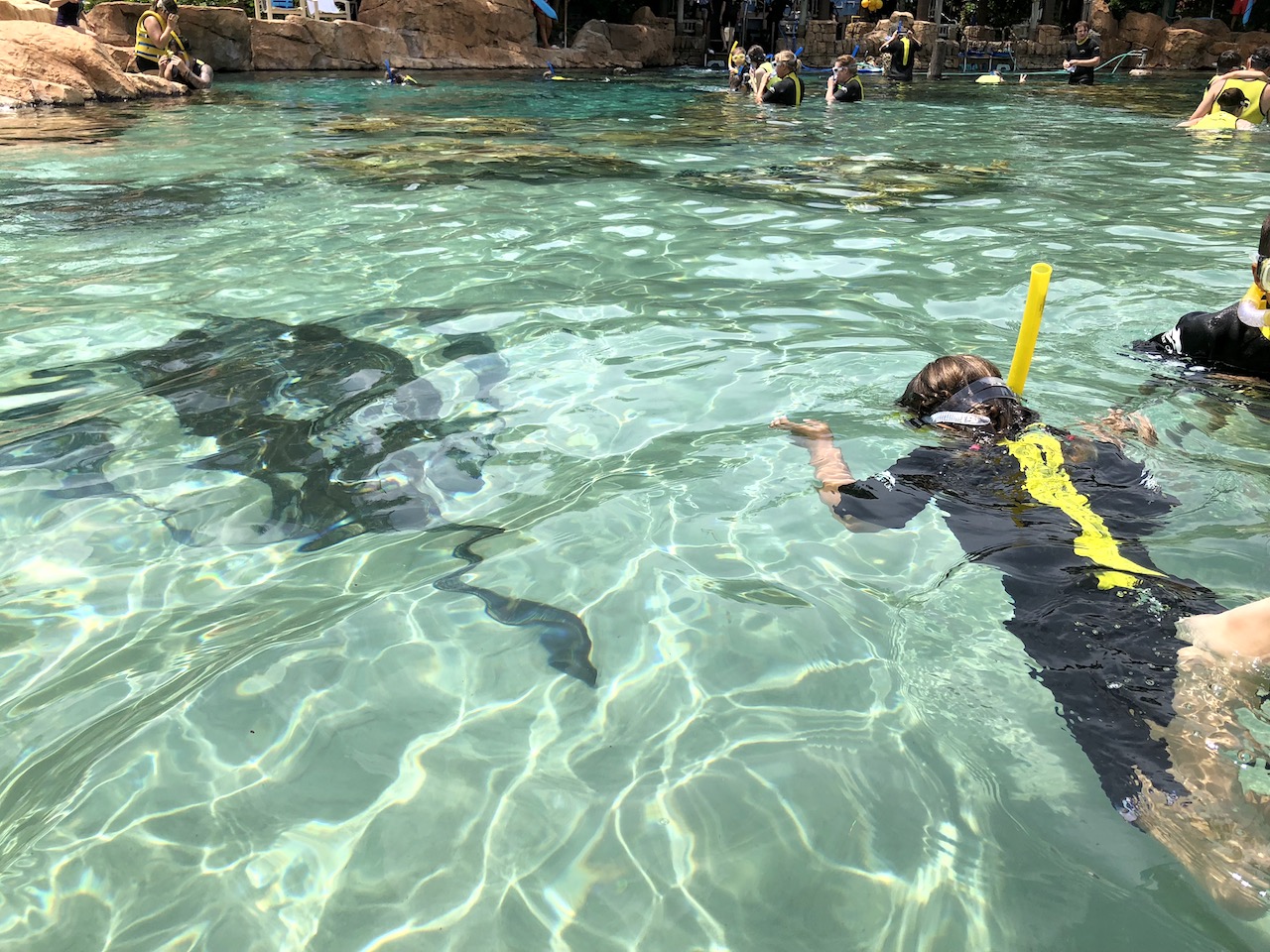 What you see in the above picture is a giant stingray. The biggest ones we saw were 1.5 times my size… We also encountered beautiful tropical fish and sea life and thought we had travelled to a far away ocean for a little while!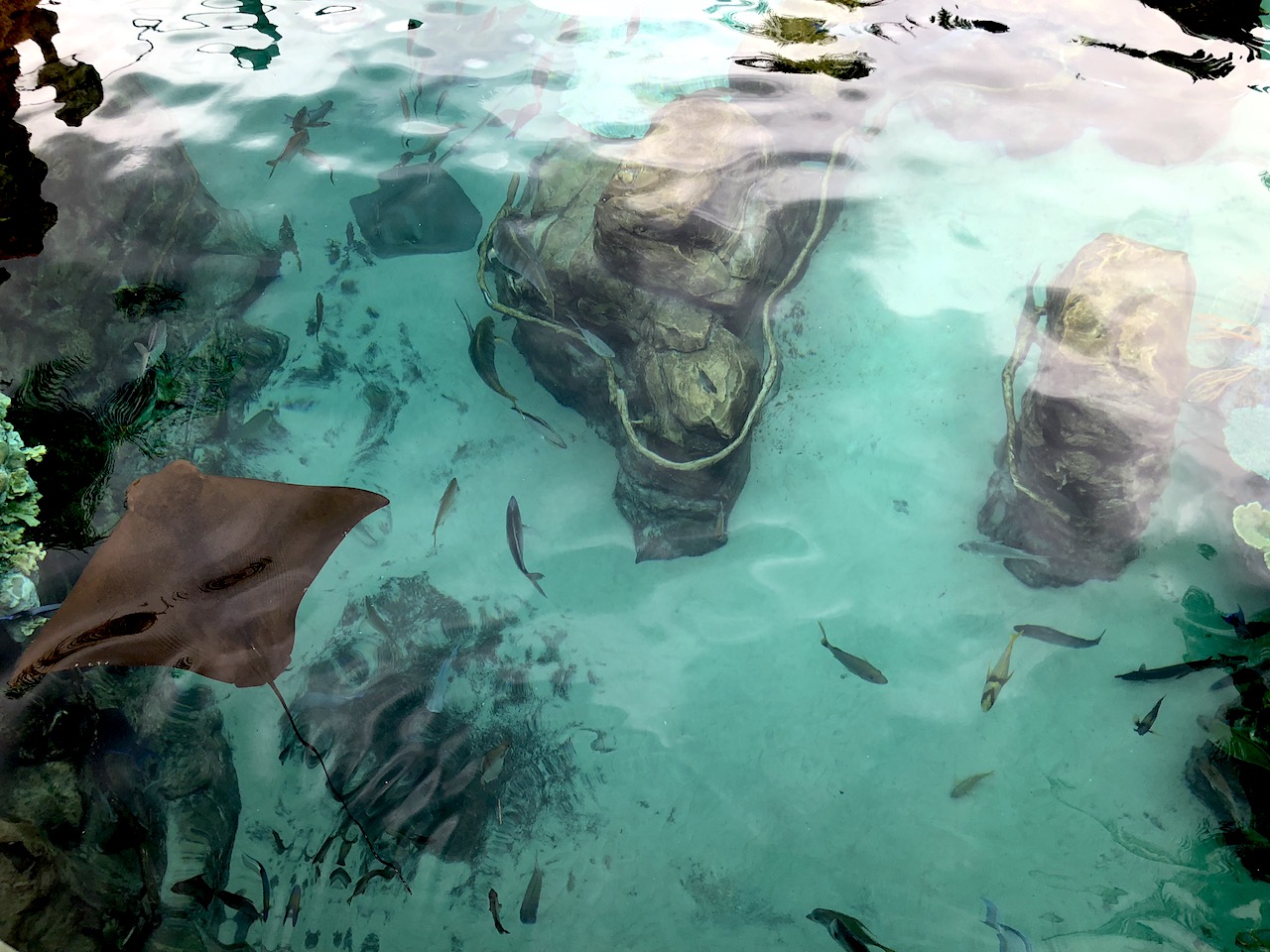 Discovery Cove offers several premium experiences. You can elect to swim with dolphins or sharks. Since some of our kids were too young for those encounters, we decided to stick with the Great Reef and everyone was very happy!
Afternoon Fun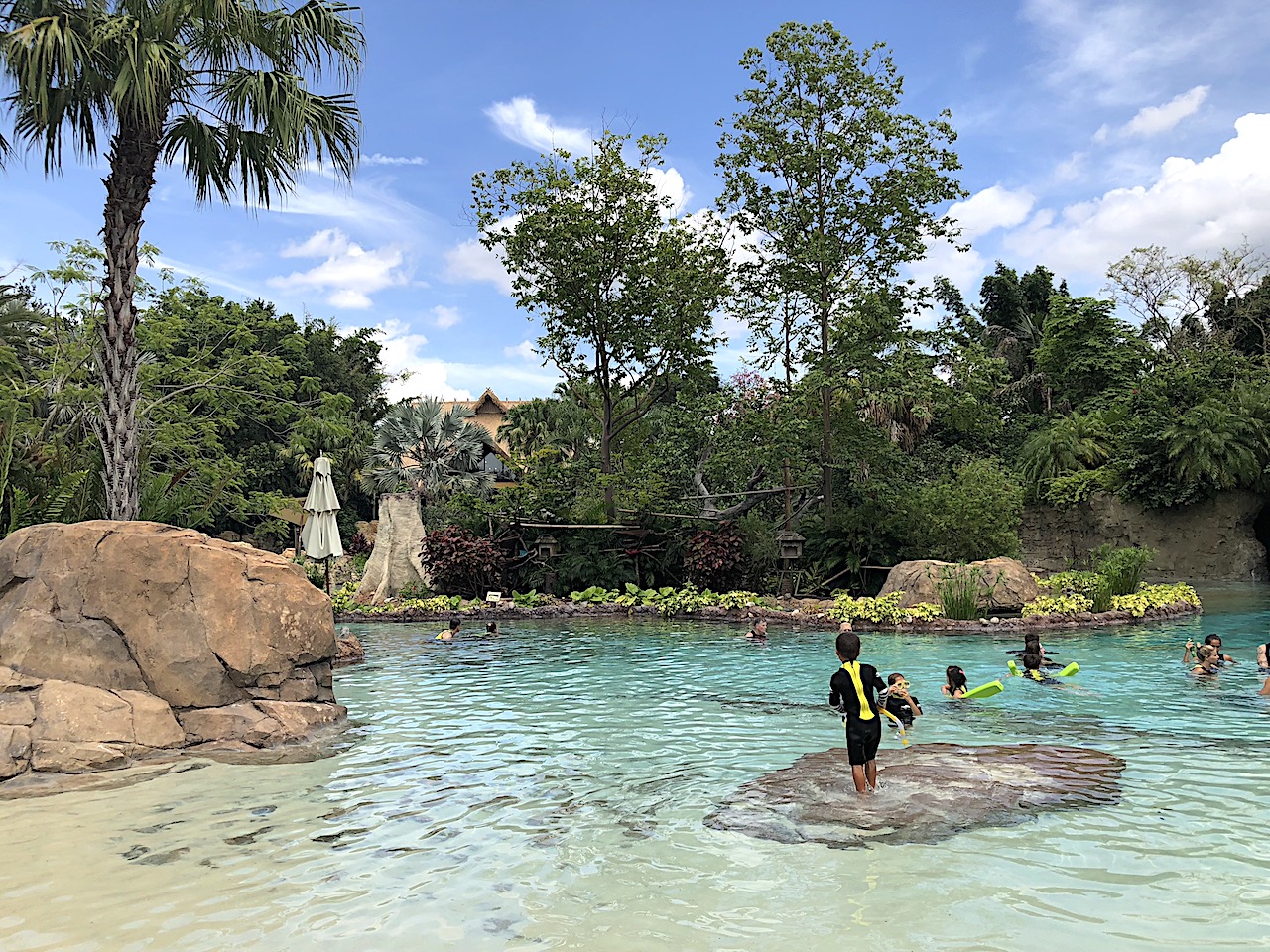 After the amazing experience of swimming with so many wonderful fish, we returned to the warm pools, where we swam to see tiny monkeys and otters (behind glass).
Our last experience for the day, took us through the aviary.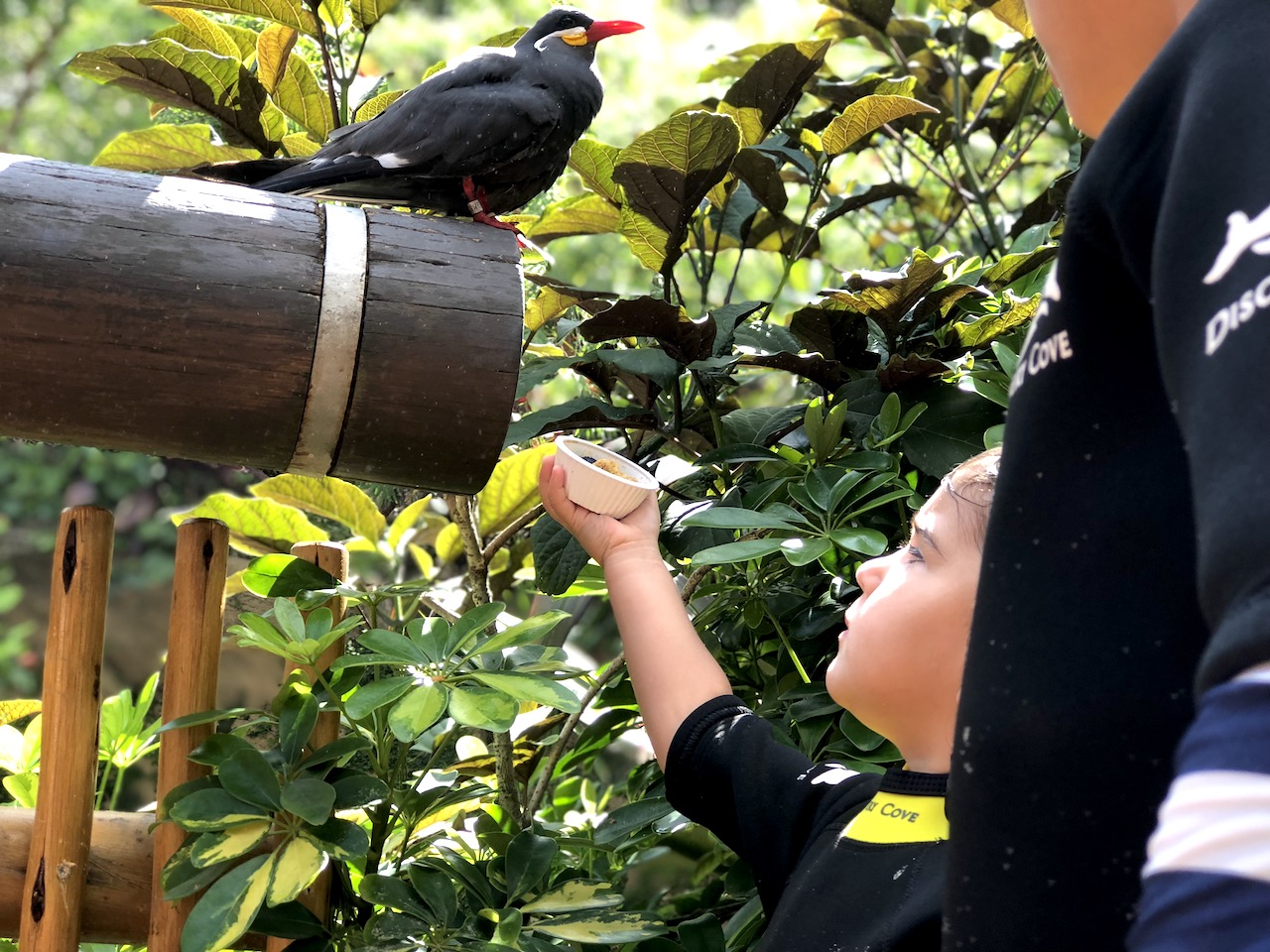 We were given bird food and we fed all sorts of birds who came down to lay on our arms and heads!
Snacks and Drinks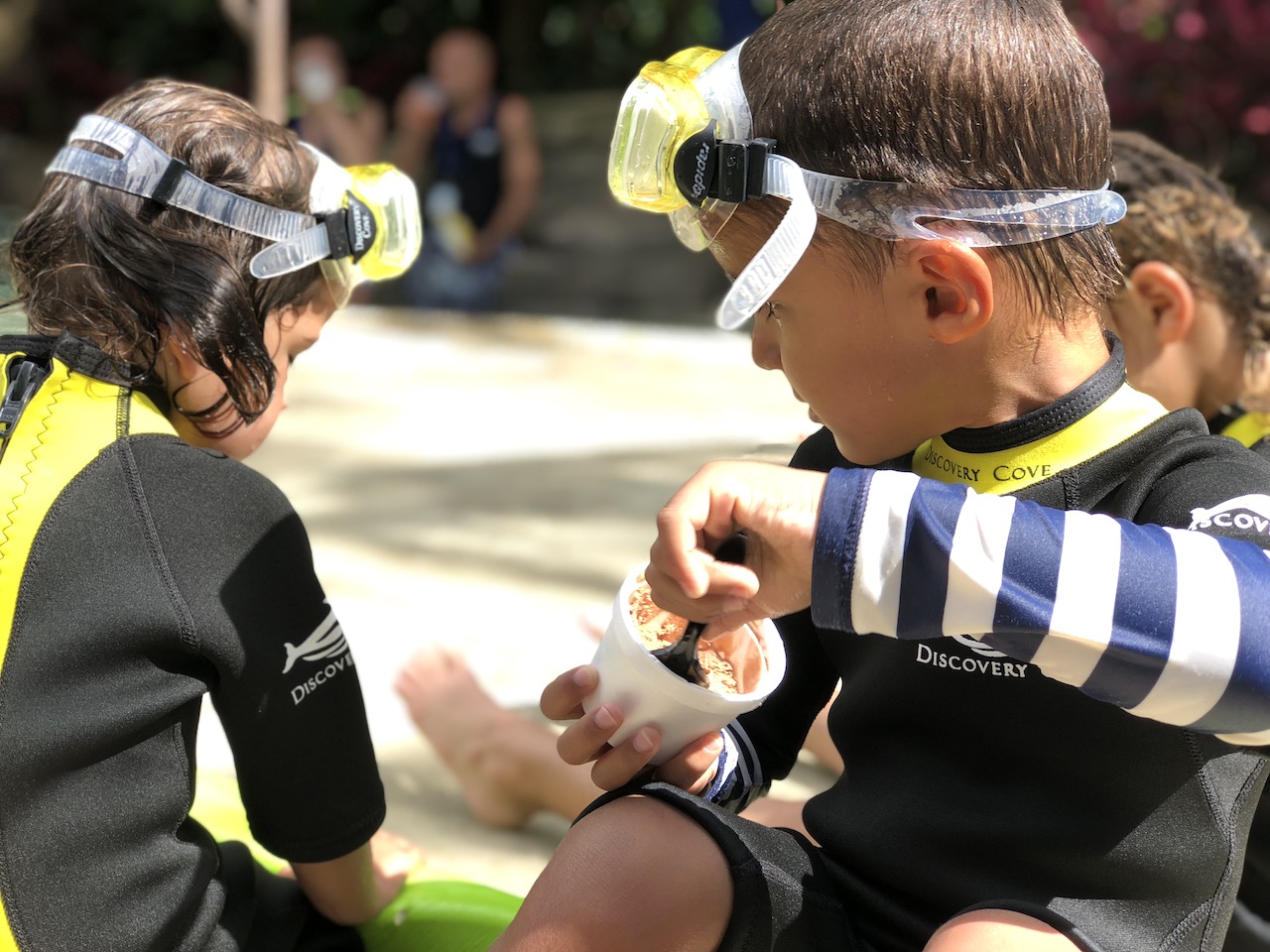 When I said earlier that, everything was included, I was not joking. Your ticket to Discover Cove includes the following:
lockers
towels
sunscreen
wetsuits
floatation devices
breakfast
lunch
unlimited snacks
ice cream cups
soda
icee
beer / wine / frozen piña colada / frozen mango cocktail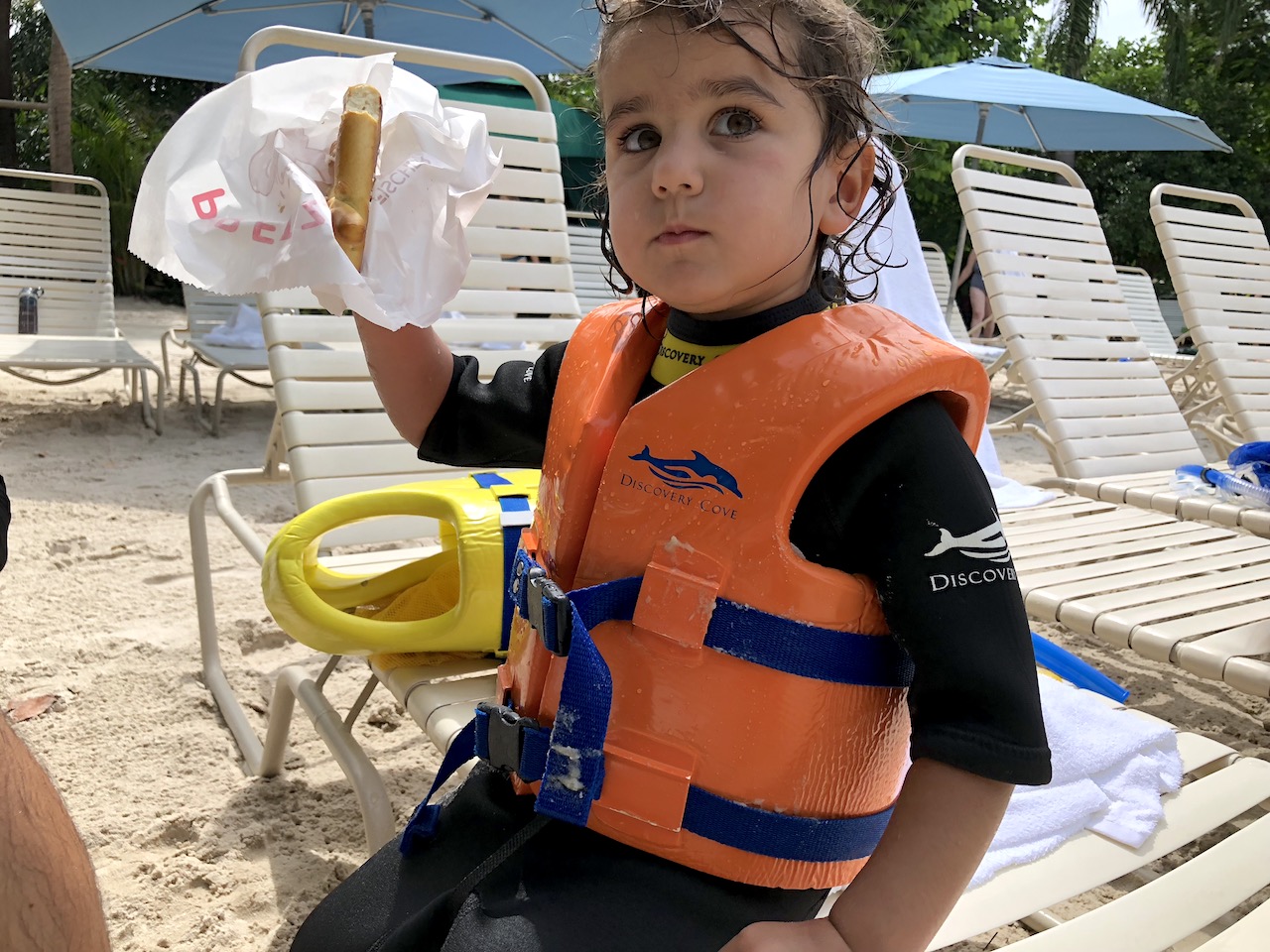 I would advise everyone to not remove a pretzel from this young lady's hands!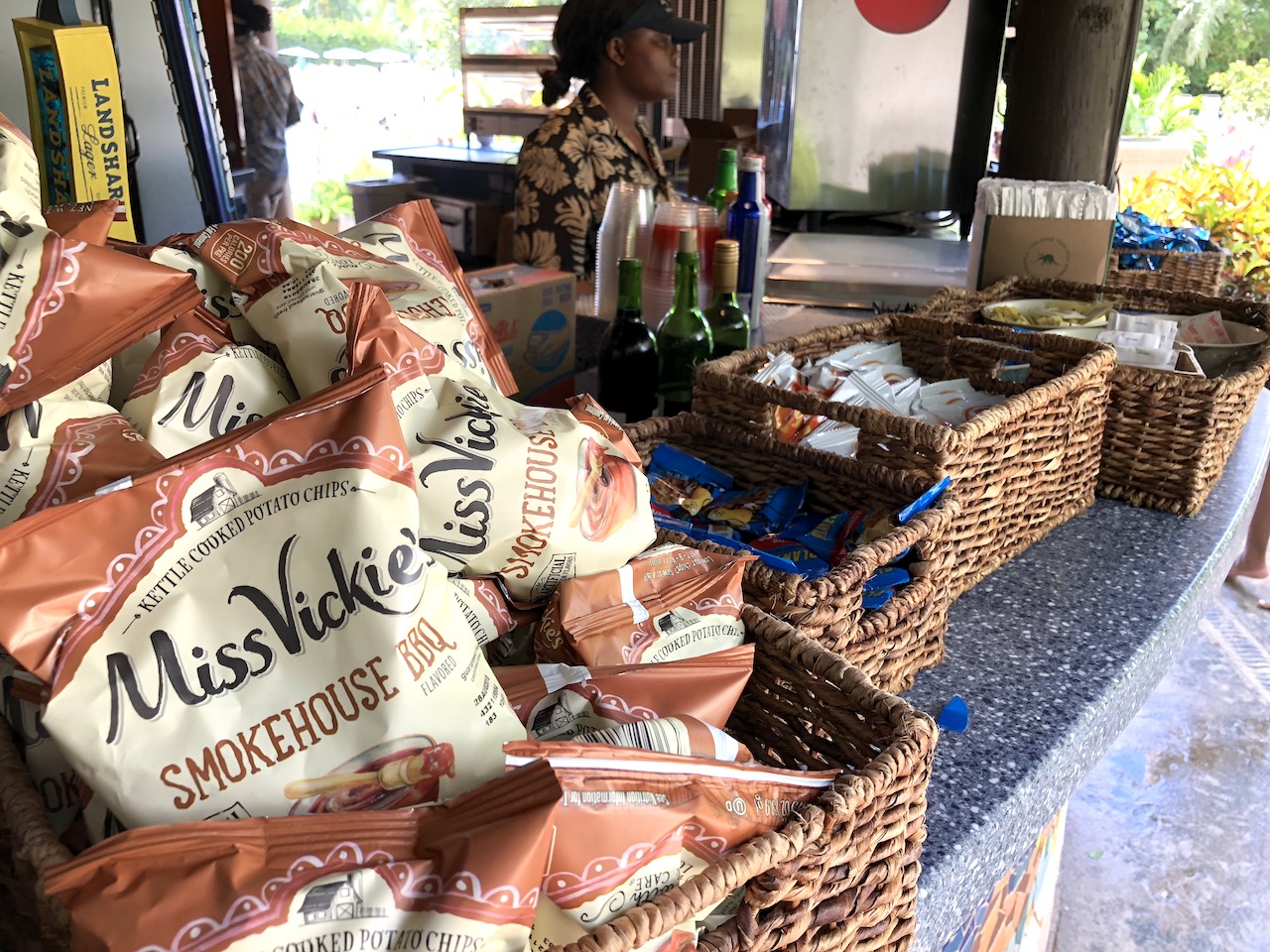 We were very impressed with the selection of snacks, from chips to peanuts, Goldfish,  hot cookies, pretzels, and ice cream cups.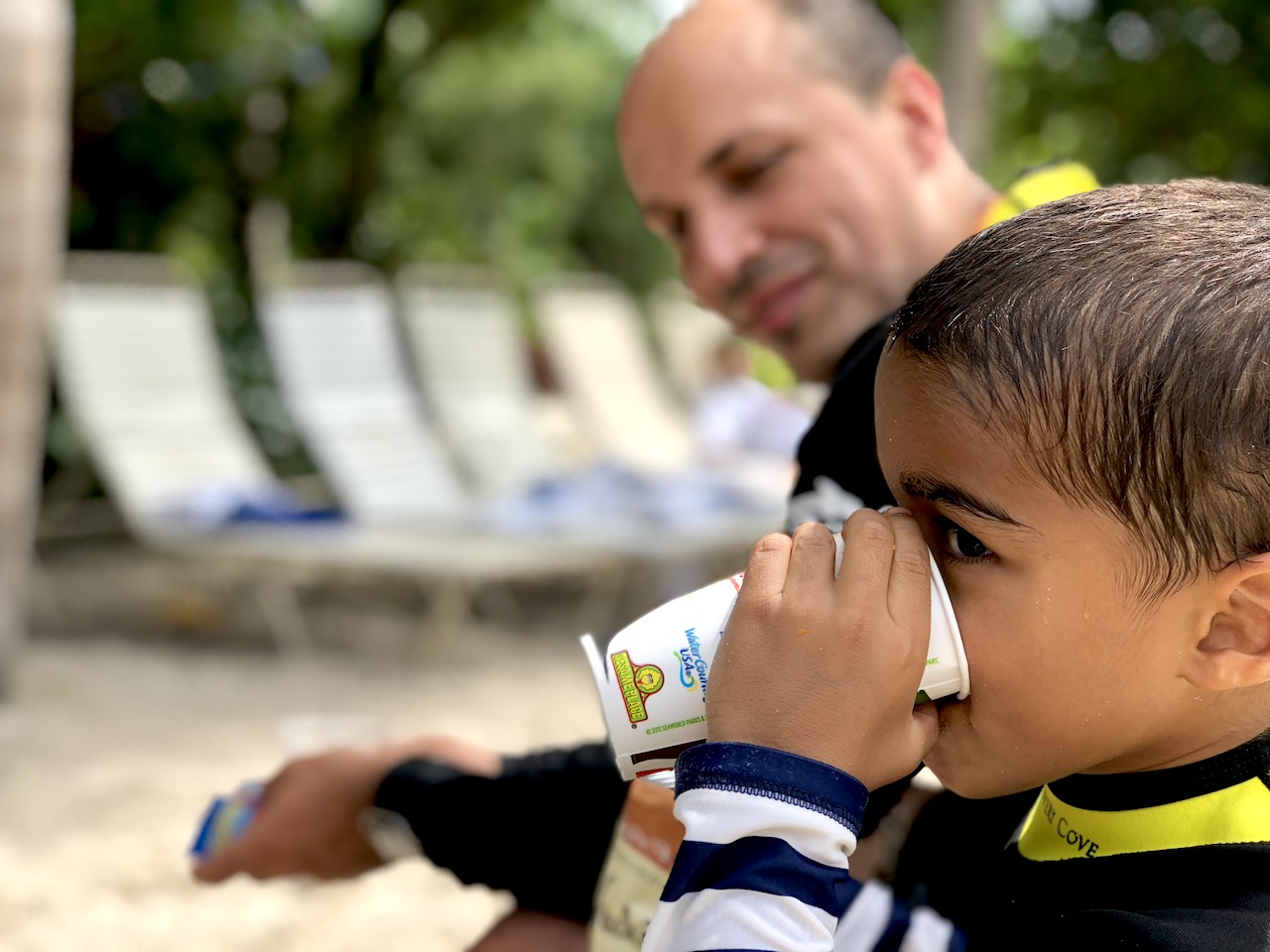 Everyone found someone they liked to snack on and no one complained to be hungry! I call that a WIN!
Overall Experience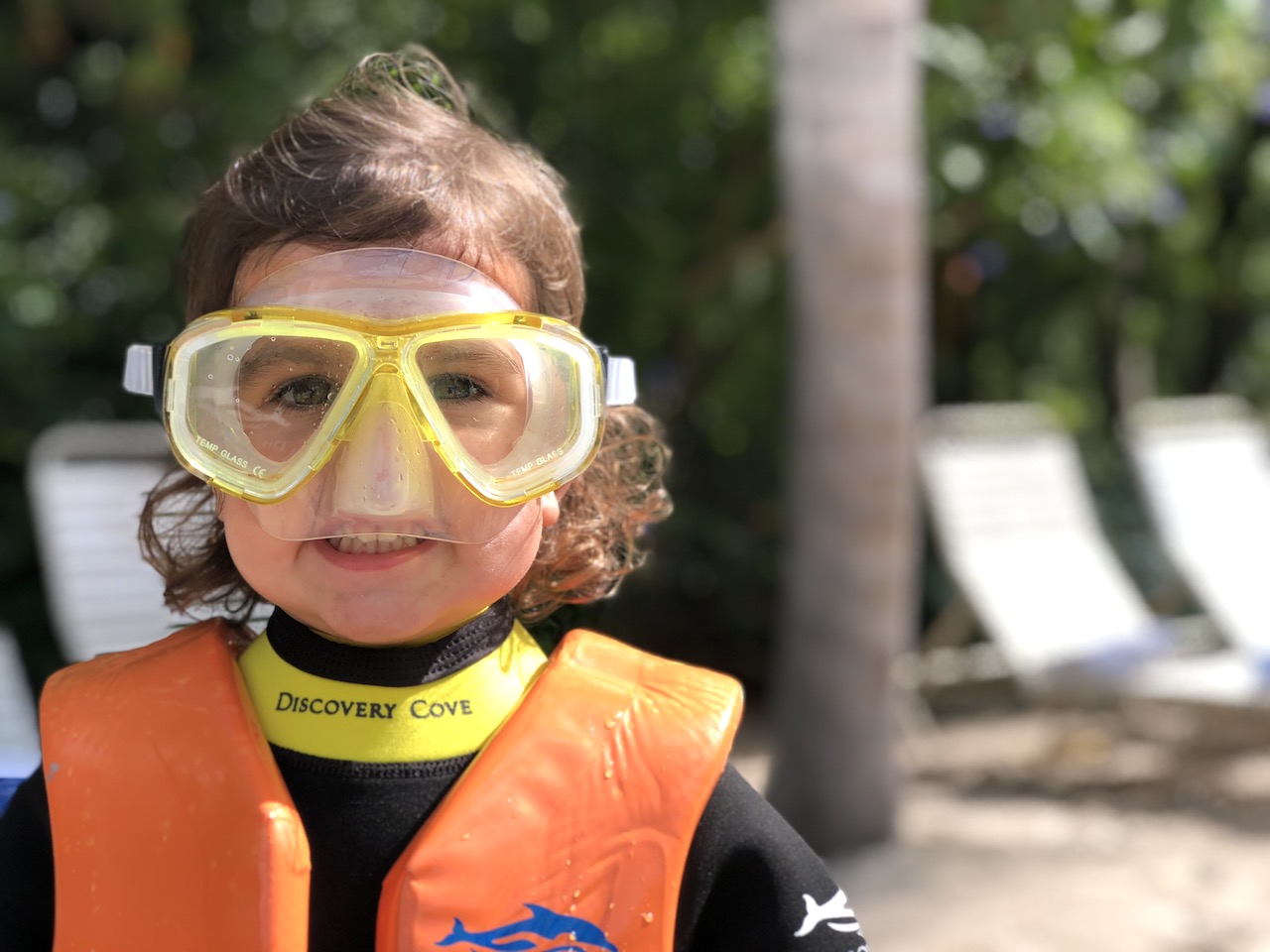 We came in with high expectations and left thrilled with our experience. We weren't sure what our day would look like and it turned out to be perfect. Since Discovery Cove is a ticketed premium park, the attendance is limited to a maximum number. We never had feelings of crowds! The park was absolutely stunning and beautifully kept! We were impressed by the amenities, the pools, the fish, and everything included. This was a truly all-inclusive experience and one-of-a-kind. The day reminded us of a cruise day, with no worries, no stress, absolute relaxation, and the added benefit of a beautiful nature surrounding us!
Make sure to put Discovery Cove on your list of activities when you visit Orlando next! You won't regret it!!