After our day at Parque Nacional Volcan Tenorio, witnessing some of Mother Earth's most impressive drawings, we drove the 3 hours down to Monteverde.
Before we get any further, please make sure you are driving an 4WD SUV before heading up to Monteverde. If you have it as a destination on your trip, you will need to rent an SUV!
Do not attempt driving up with a regular sedan. The roads are not paved and made of steep hills of rocks.
The local population has been demonstrating to get paved roads and the government is slowly catching up. But as of March 2019, all roads leading up to Monteverde were extremely perilous.
Where We Stayed In Monteverde
We rented Xinia's Casita for our night in Monteverde.
It seemed charming on AirBnB, and turned out being so much more than that when we got there!
Make sure you check our video to see our home for the night! Xinia's casita had 2 bedrooms and a convertible couch. But what the kids loved most were the 3 dogs roaming on the property, the cows in the field beneath the home, and the tire swing!
Christian and I loved Xinia's hospitality. She brought us home-grown red peppers and bananas! We had a kitchen with everything we needed to prepare meals.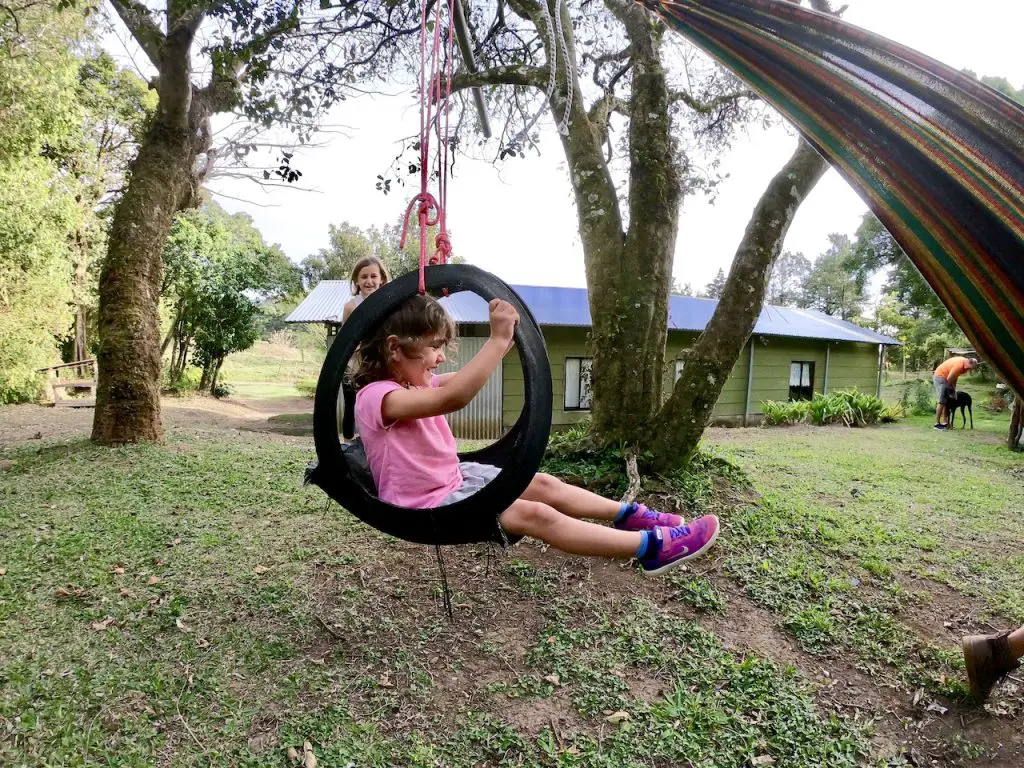 The kids cried when we left in the morning! I think they could have spent a whole week there and been happy campers!
What To Do In Monteverde
Monteverde is home of the cloud forest – a unique phenomenon!
As you plan your trip, you can easily schedule 2 or 3 days in Monteverde and visit the Monteverde Cloud Forest, the Santa Elena Reserve, and choose an activity park for thrilling fun!
We were so torn between visiting the cloud forest and going ziplining… we had done a lot of forest / jungle activities during our first days in Costa Rica and Christian wanted to zip line once during our trip.
We decided to spend our day having fun and doing something we'll probably never do again!
Since Monteverde was home to the first Costa Rican zip lines, you will have many choices when choosing your experience.
We went with Selvatura Park based on a local's tip we met at dinner the night before! She and her husbands are guides in the cloud forest and she recommended Selvatura for having one of the nicest forest canopies in town.
Selvatura Adventure Park
After a good night of sleep, we drove to Selvatura Adventure Park and decided to check off both Christian's and my must-do's in Costa Rica. He got his zip lining and I got my hanging bridges!!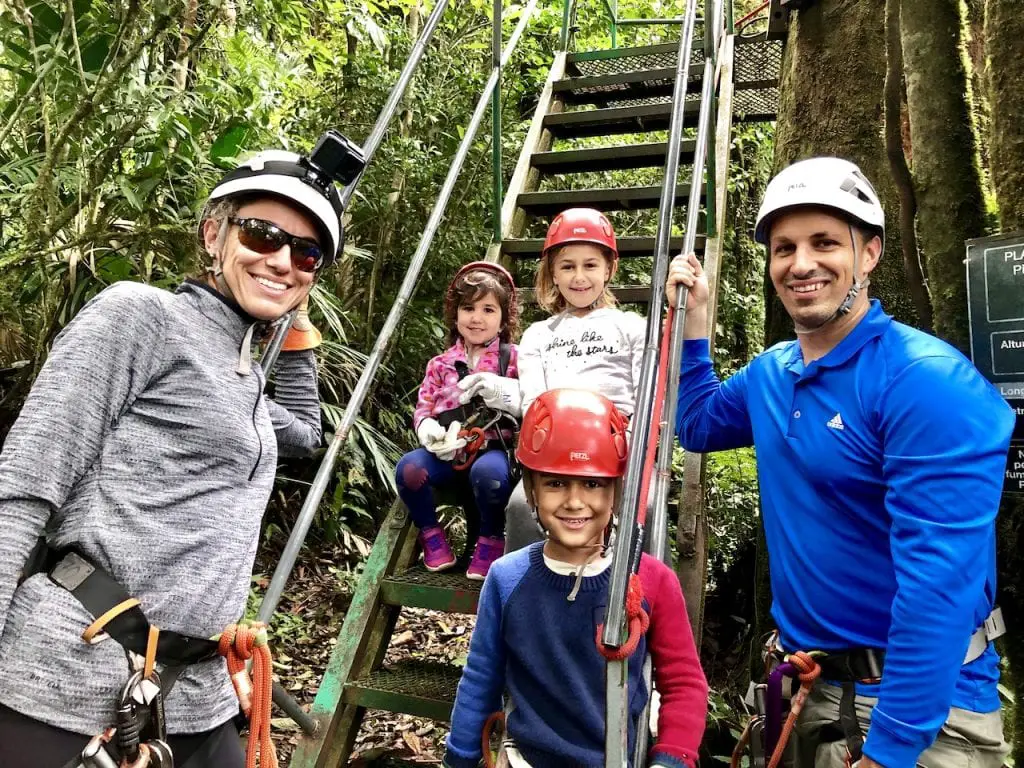 The combo zip line + hanging bridges was $80 for adults, $50 for children. Zip lining alone is $50 per adult. Kids typically need to be 5 years old to zip line, but Elin, who is an average built 3.5 year old fit into the harness.
At Selvatura, you can also experience a butterfly garden, a reptile exhibition, or the hummingbird garden, for an extra fee.
Zip Lining With Selvatura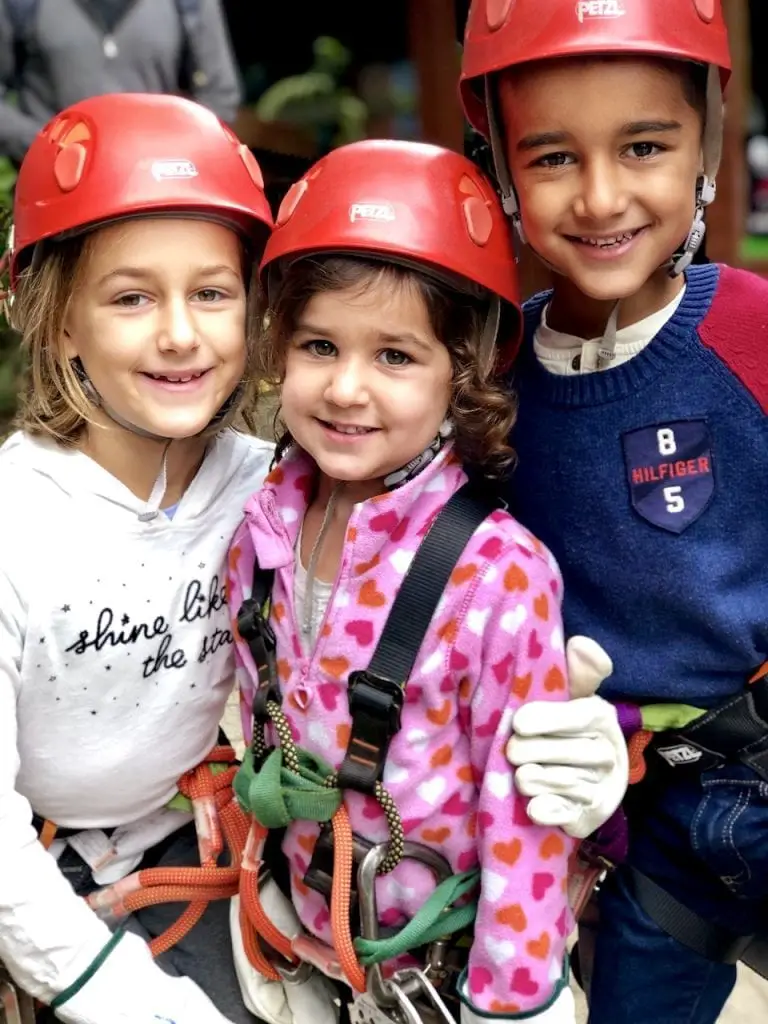 After getting all equipped with harnesses, pully, and gloves, a group of about 15 of us boarded a small bus that took us up the mountain to the training platform!
At the training platform, one of our guides kindly demonstrated the basics of zip lining. Our group was broken down between Spanish and English-speaking and our entire experience was led in English.
The parcours consisted of 13 zip lines, including the longest one of over 1km! For the thrill-seekers, you will get to jump on the Tarzan Swing!! And for an extra $10, you can Superman the longest cable!
Since Elin was young and small, she zip lined in a tandem with a guide. And since she got scared and wanted to zip line with me… her and I zip lined in tandem with the guide. All good though! The guides were incredible and made sure to lean back on the cables so we wouldn't miss a bit of the view.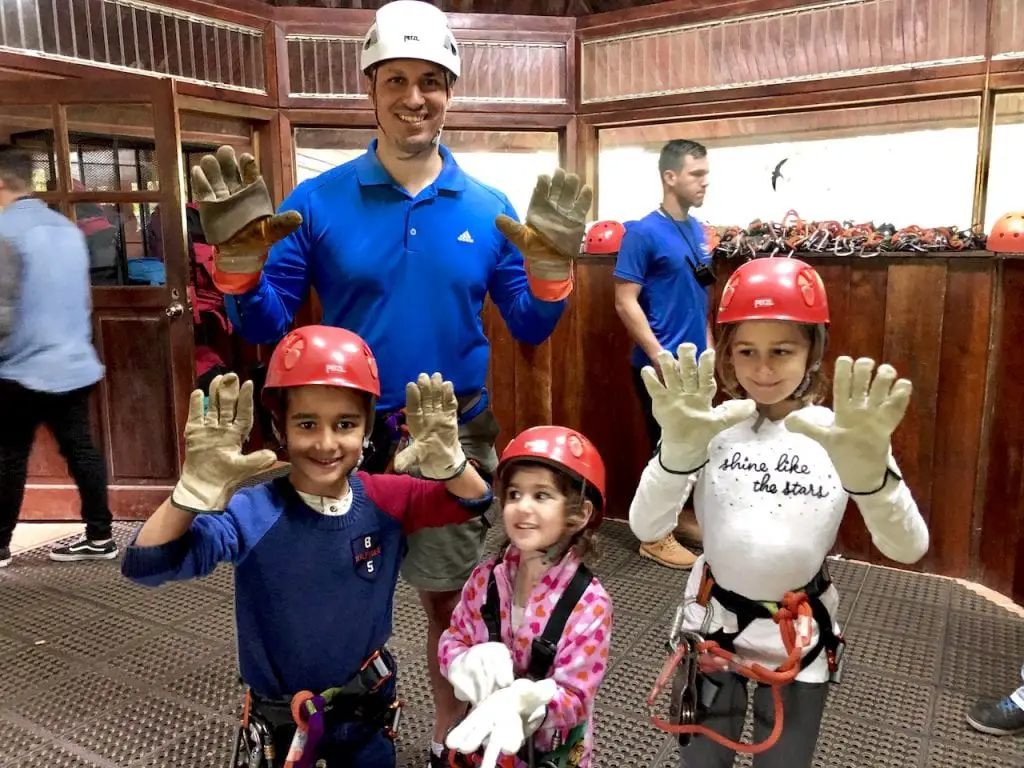 We were absolutely amazed by the experience. We flew high above the canopy with amazing views of the forest. The guides were amazing and very thorough and knowledgeable.
The 3 or 4 hikes in between platforms were very manageable for all of us and the whole experience took about 2.5 hours!
Hanging Bridges At Selvatura Adventure Park
The hanging bridges were my personal wish and we were blown away!! The walk surpassed all of our expectations and more!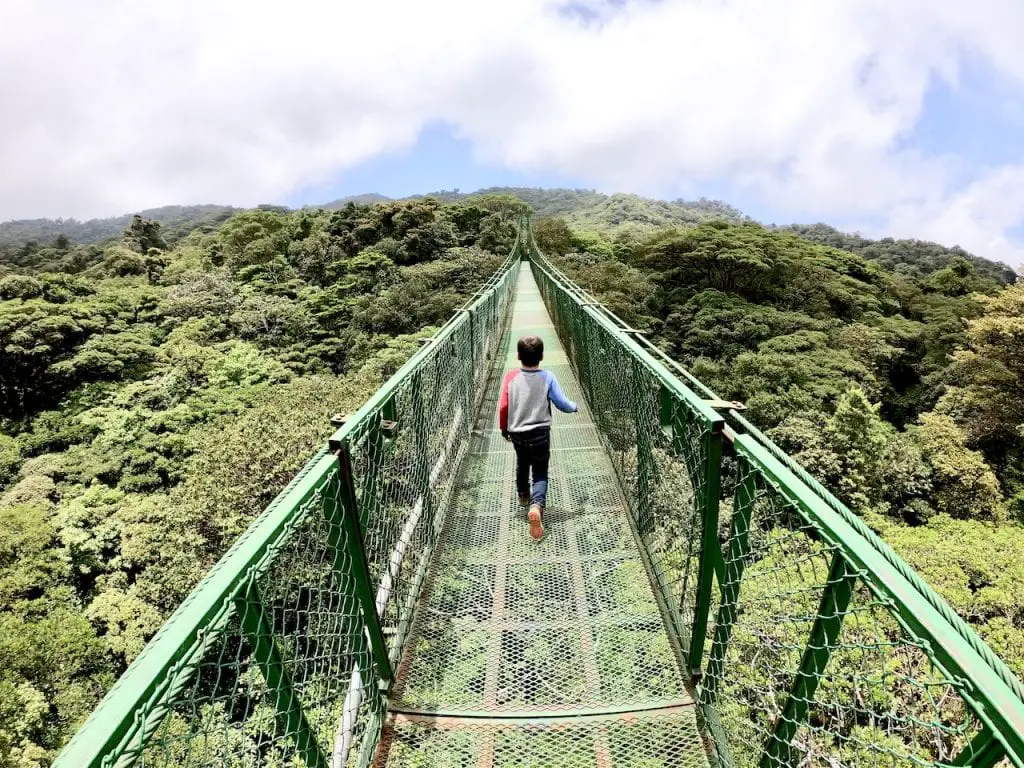 After zip lining, we grabbed a quick bite and headed over to the Treetop Walkways Suspension Bridges. The walk is self-guided so we started it once everyone felt ready for it.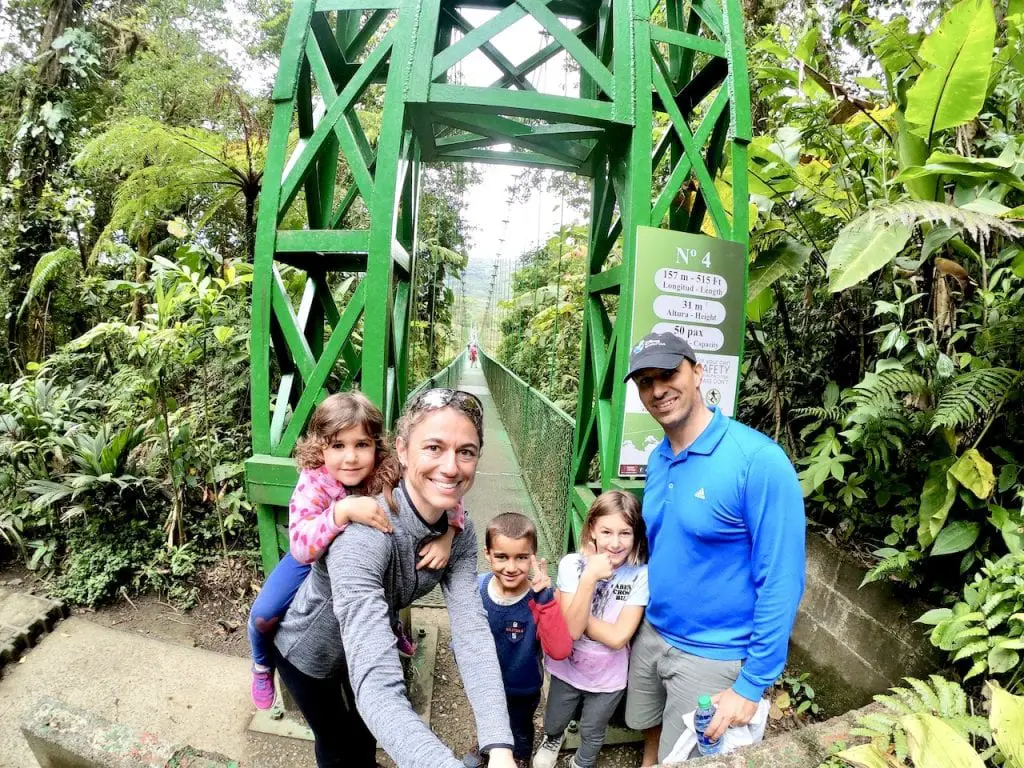 The entire tour took about an hour and a half and consisted of 8 bridges over 1.9 miles.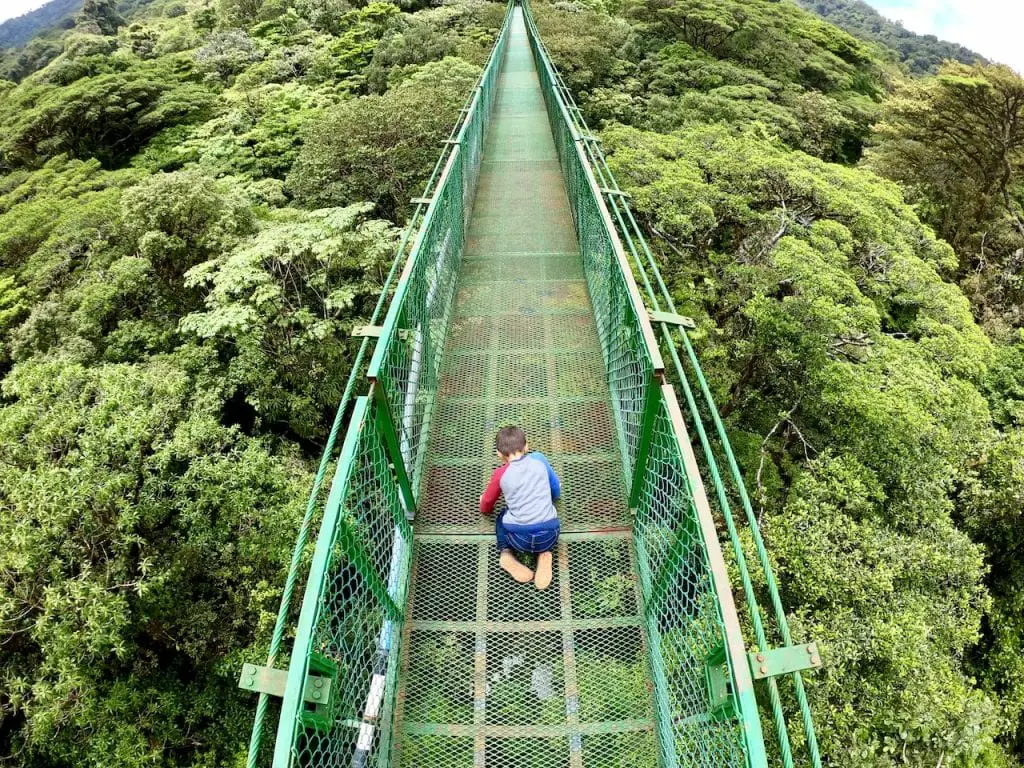 It was an incredible experience. We walked above the trees, enjoying the panoramic views of the canopy, listening to nature and rivers flowing far below us.
And the walks between bridges were manageable for kids of all ages!
We did spend the whole day tripping over that beautiful leaf though… 🙂 🙂
Not To Be Missed In Monteverde
If you like ice cream and you have been in Costa Rica for a few days, you probably haven't gotten very lucky with finding ice cream shops.
We are raising 3 little ice cream addicts – definitely taking after their parents 🙂
So… in Monteverde, head to the Monteverde Cheese Factory and enjoy their wonderful ice creams and cheese!
We first visited the actual factory, which is on the left hand-side of the road on the way up to the cloud forest.
The next day, after our zip lining adventure, we stopped by their small downtown outlet!! Amazing ice creams both times!
Perfect Adventure Day
While it was Christian and the kids' first time zip lining, I had done it many times as a child, and I wasn't really expecting much of the day.
As it most often happens, it was one of our favorite days in Costa Rica! We all enjoyed the thrill and the easy hikes.
Everyone was extremely friendly and knowledgeable. The cables and bridges seemed very well maintained, and we were only sad to have to leave Monteverde that night. We could have definitely spent another day or two in town!
---
Pin this for later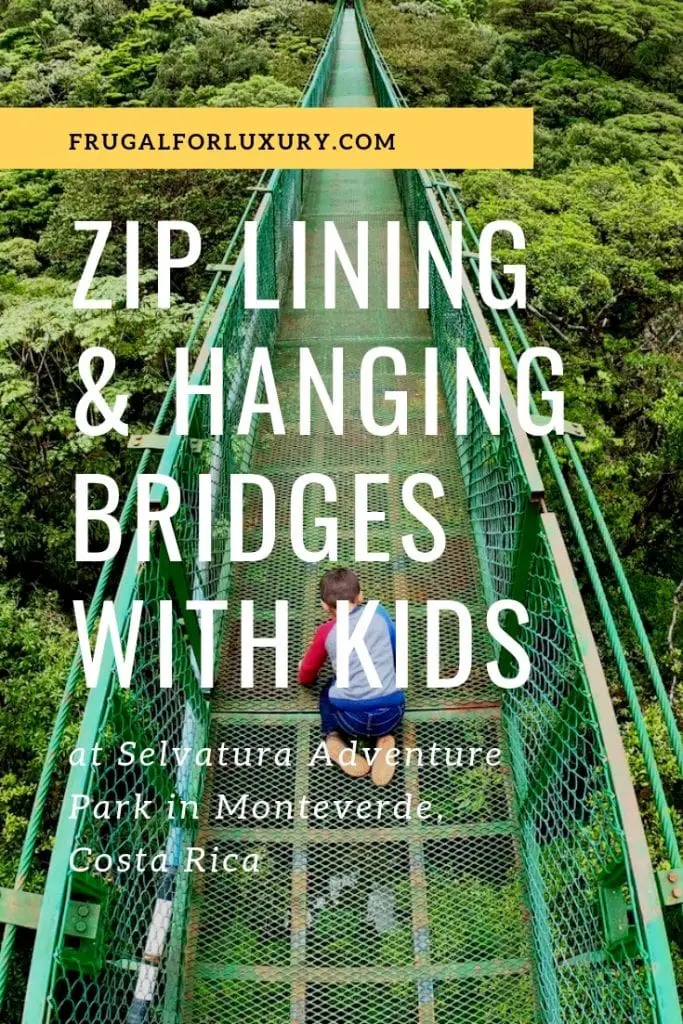 ---
Related articles you will enjoy:
What To Do Near Volcano Arenal With Kids – Costa Rica Report
Parque Nacional Volcan Tenorio With Kids – Costa Rica Report
Costa Rica Family Adventure In La Fortuna – With Desafio Adventures
If you enjoy reading us, sign up for our newsletter below!