After an exciting day of adventure of zip lining and hanging bridges in Monteverde, we left the mountainous Costa Rica to head down to the coast!
The 3-hour drive separating the two areas took us from the rough unpaved roads of Monteverde to the flat and well-maintained streets along the coast. We reached Quepos at sun down and enjoyed the most wonderful dinner at Soda Sanchez.
They had amazing freshly-pressed tropical juices and all-around amazing and cheap local food!
Where To Stay Near Manuel Antonio
Whether you are traveling with kids or not, I highly recommend Nomada's Paradise, located right in Manuel Antonio!
We had never stayed at a hostel before – and I must say that Christian wasn't really pleased with the idea…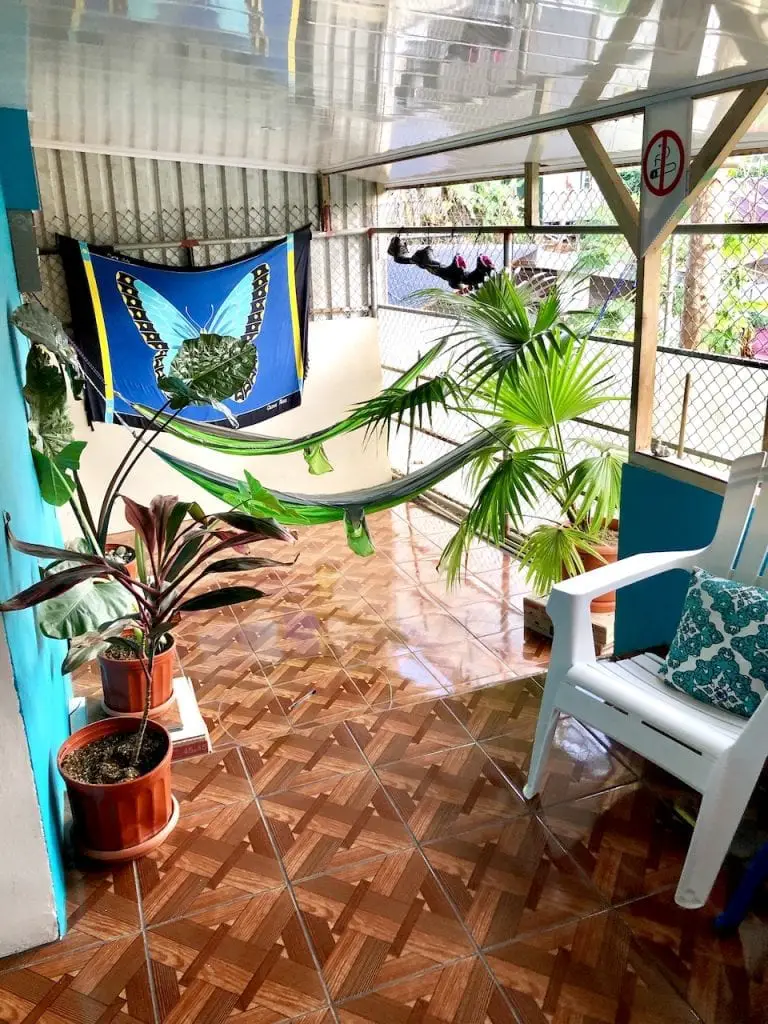 Nomada's Paradise was amazing! Not only a short 5-minute drive to the park, but extremely clean and well appointed!
It was our only night in Costa Rica, with a truly cold bedroom when we arrived. It was definitely the only night with working wi-fi, and it was high quality, which everyone really enjoyed. The kids had a little bit of a break and streamed a quick show before bed, while Christian and I caught up on emails and useful information for the rest of the trip.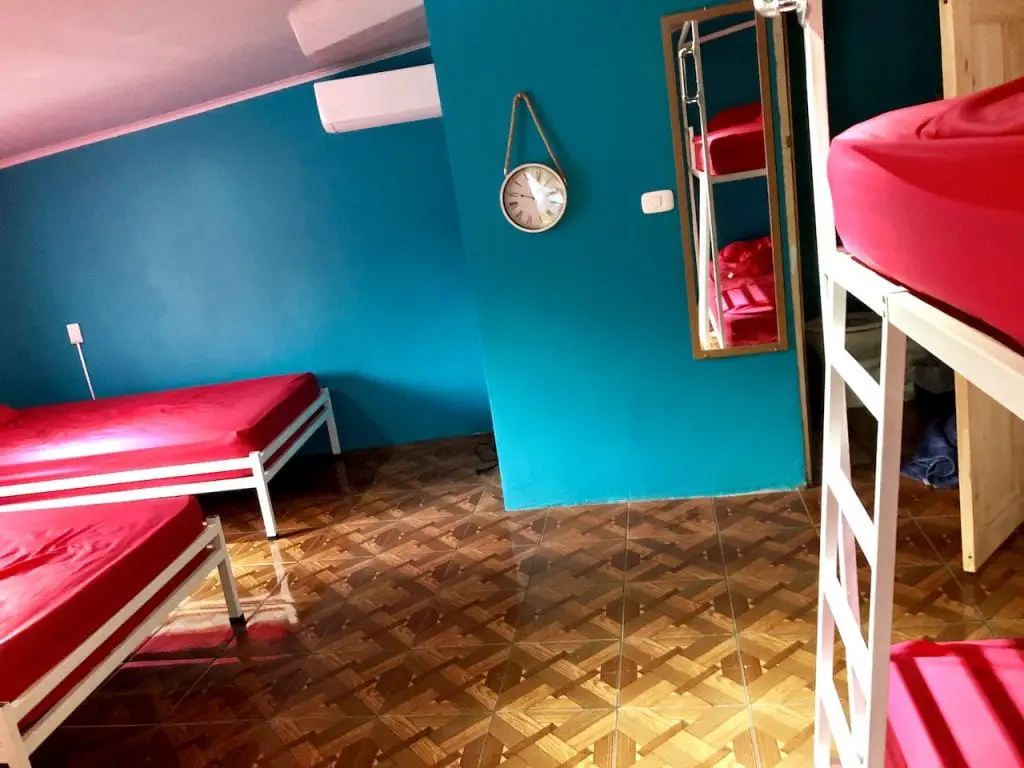 If you are traveling with kids, book room #4!! Separated from the rest of the house, you won't worry about the kids bothering other residents with noise. The room has 5 beds and an on-suite bathroom with really hot water, which was another plus!!
I honestly wouldn't even call Nomada's Paradise a hostel… and all we paid was $50 for the night and we had access to a full kitchen with fridge, a light breakfast to take out, and a parking spot! What else could you ask for?!
Logistics Of Getting Inside Parque Nacional Manuel Antonio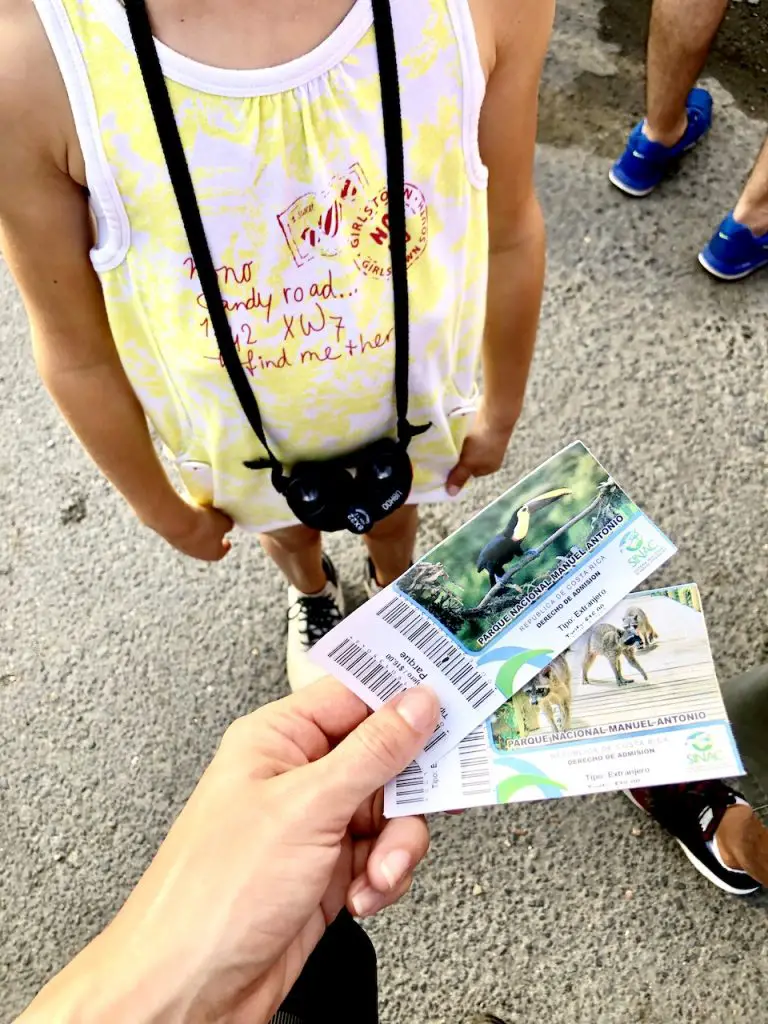 First of all, don't let the locals tell you where to park… they'll start trying to route you to their paying parking quite far from the park. Instead keep driving and you will find paid parking much closer to the park! Expect to spend just under $10.
I had assumed that we'd get there 30 minutes early and be the first ones to line up… WRONG!
The line to get into the park was 2-hours long!! At 6:30AM!! Which meant that we wouldn't be in until 9AM, when many to the animals would have receded back to the forest…
PRO TIP: there are 2 lines at the entrance of the park. The long one along the road is the entrance to the park. The one wrapping around the building just right of the entrance is the ticket line!! If you do not have a pre-purchased ticket, have your party line up to enter the park (along the road) and have one person line up to buy the tickets. The ticket booth opens at 7 sharp, and by splitting up, you'll advance both lines at the same time!!
PRO TIP #2: the national park is closed on Mondays!! Make sure to factor that into your itinerary planning!!
PRO TIP #3: you will get bag checked! You can only bring sandwiches and fruits into the park! Don't try bringing in anything wrapped, it will be taken away and trashed!
Getting A Guide For Manuel Antonio?
I am NOT one to hire guides… ever!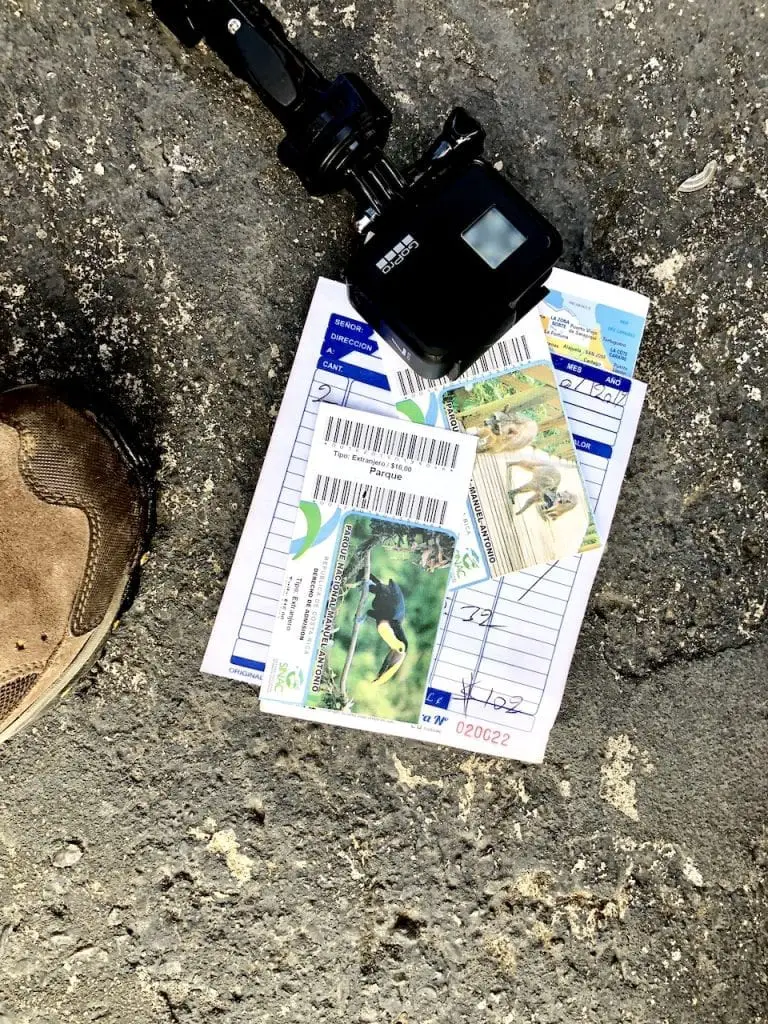 But when we lined up at the end of a 2-hour line and didn't even have our tickets, I decided that the $20 / person were going to be worth it.
What you get when you hire a guide at Parque Nacional Manuel Antonio:
you pretty much cut the line: the guides have pre-purchased the tickets and started lining up so early that they're pretty much at the front of the line. When the park opens, you meet your guide and walk right in
you benefit from a local's knowledge and get to see animals you would have NEVER seen on your own. They have high-quality long views and even if you were to tag on to a guide and try to see what he's showing his clients, you would not find the animals with your regular binoculars!
you don't waste time looking for animals. Your guide is in the park every single day, and knows which paths to walk and where each animal is located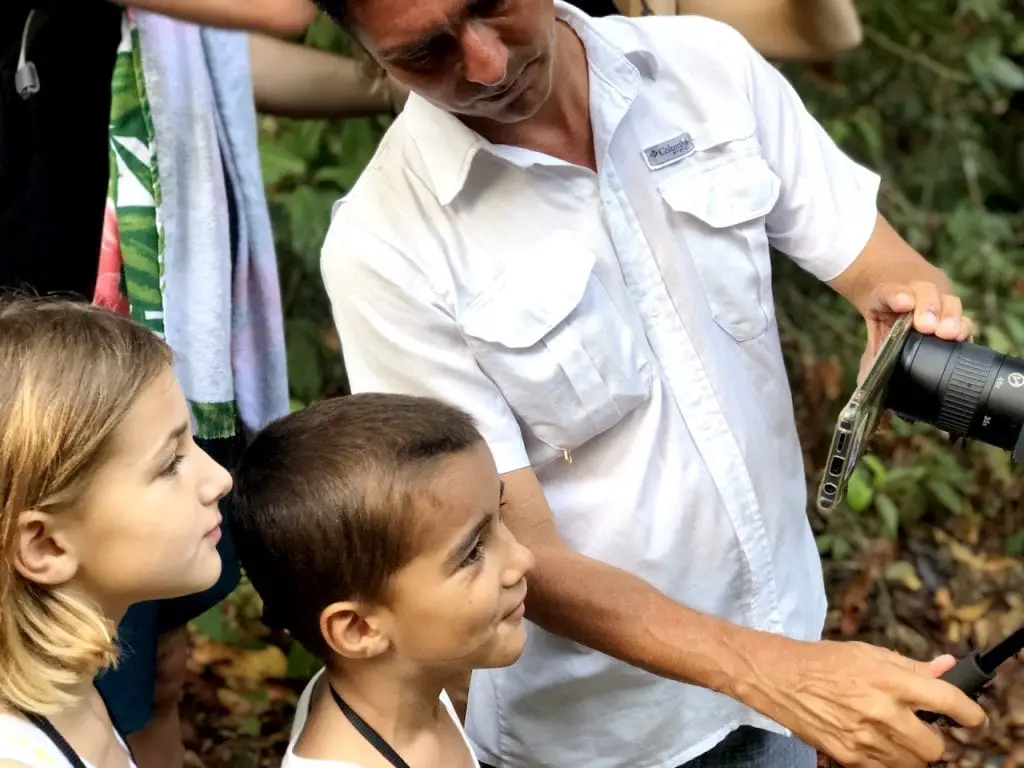 PRO TIP: only hire a certified guide. You will notice them for wearing a uniform and a badge. They will most likely approach you in the line. You'll spend about $20 per adult – try negotiating the kids price to $10, it worked for us – plus the price of the park tickets ($16 per adult, FREE to kids). Your tour will last a little over 2 hours and be worth every cent!
Wildlife Viewings In Manuel Antonio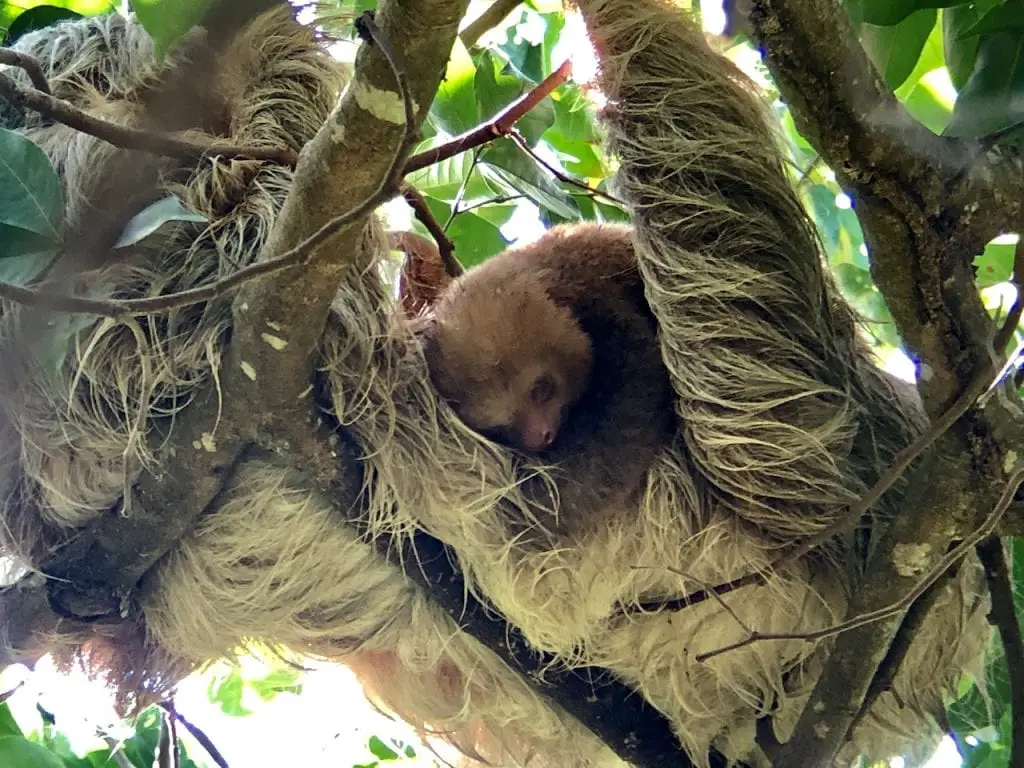 Manuel Antonio is probably the most popular national park in Costa Rica, for a good reason. You will see a ton of local wildlife and spend the rest of the day at the beach!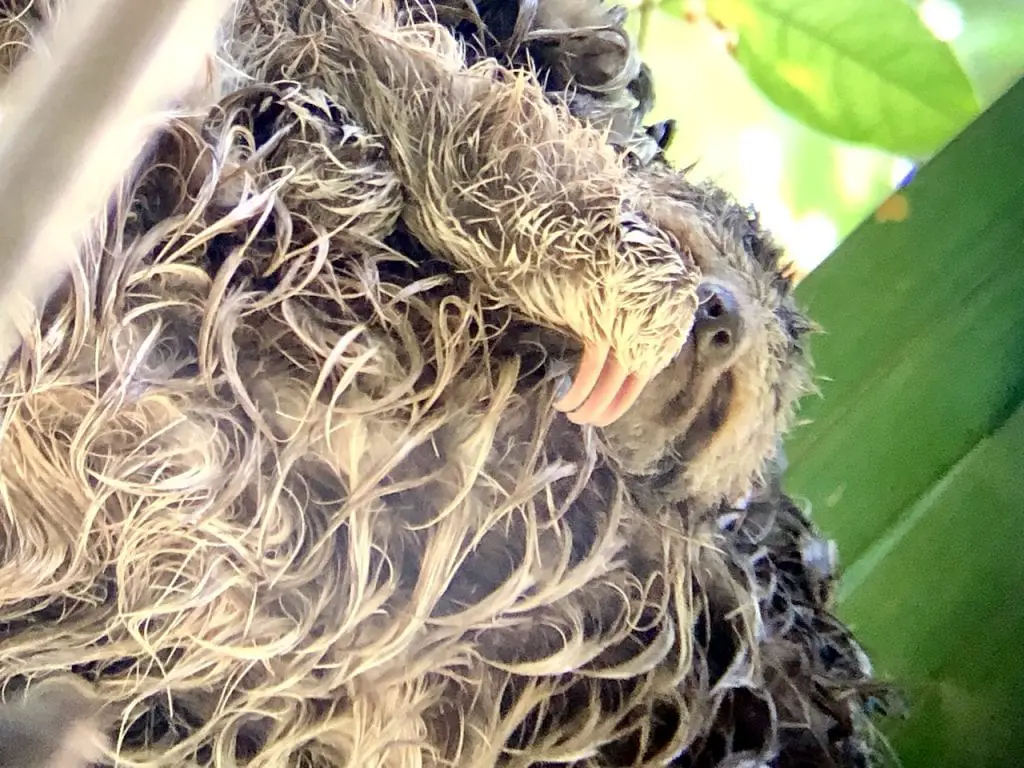 Our guide was so fantastic and we saw everything from deers, to huge lizards, a very special bird, 3-toed sloths, 2-toed sloths, mommy-sloths with their babies, howler monkeys, blue morphos, iguanas, and all sorts of tropical birds.
If you are in Costa Rica for the wildlife, make sure to put Manuel Antonio on your list!
The Beach At Manuel Antonio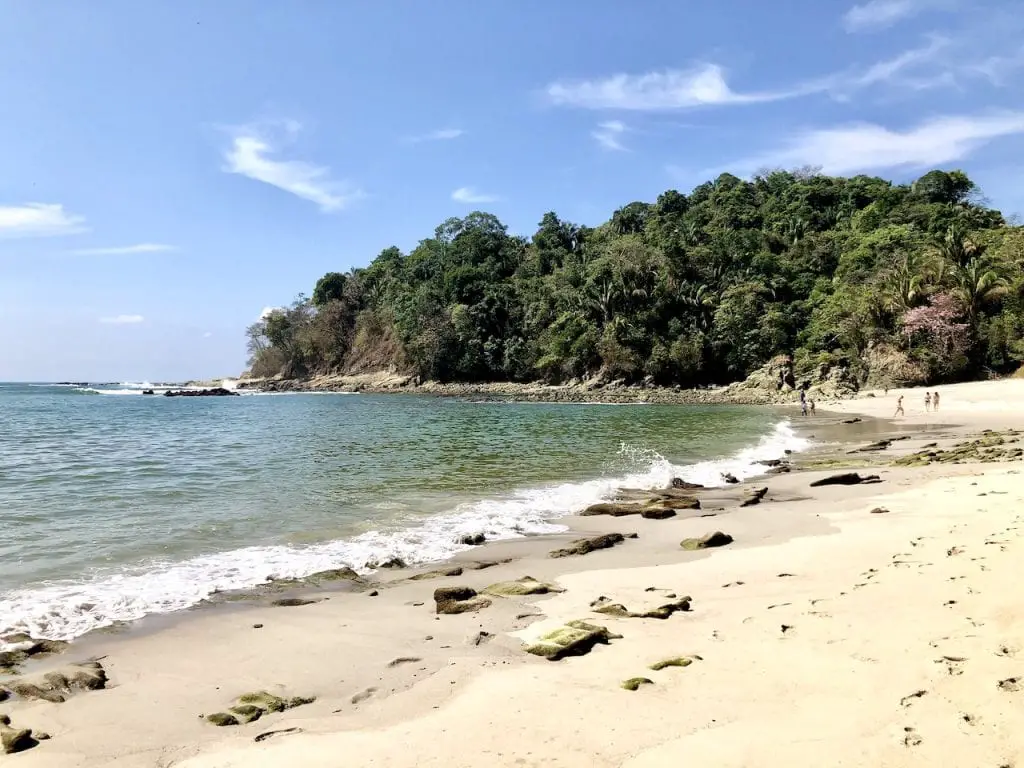 There are several beaches inside Parque Nacional Manuel Antonio.
All are at the end of the main path, which took us over 2 hours to walk since we looked at animals. On your way back, you'll walk that same path in about 15 minutes 🙂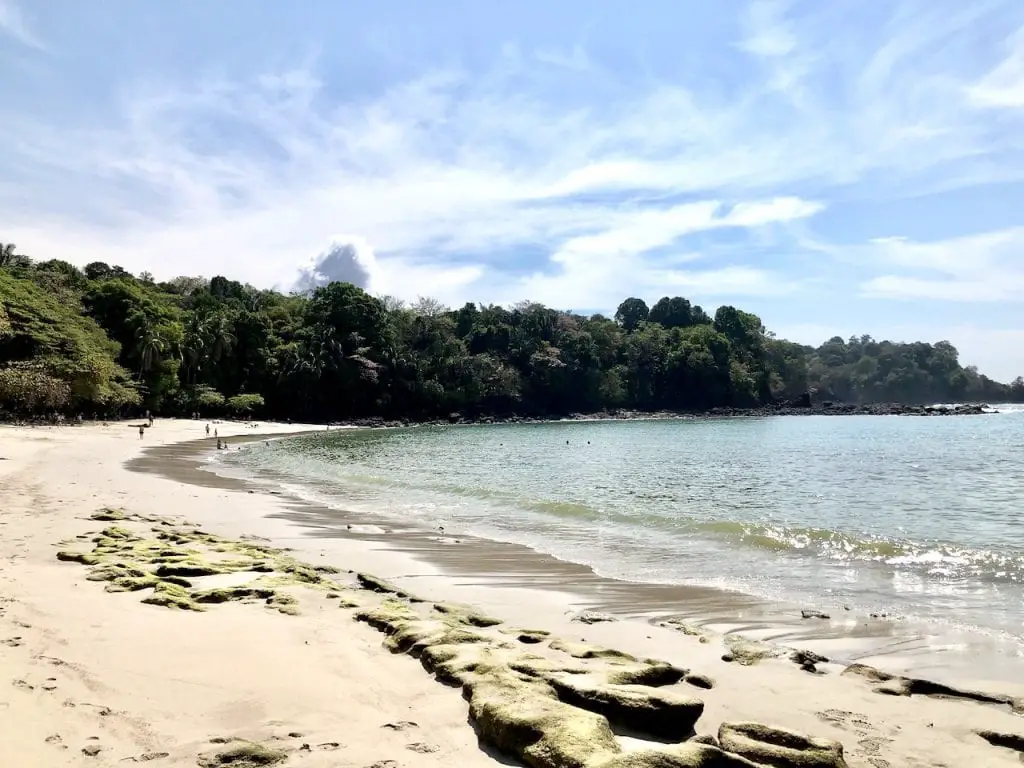 The beach we preferred visiting with the kids was Playa Manuel Antonio!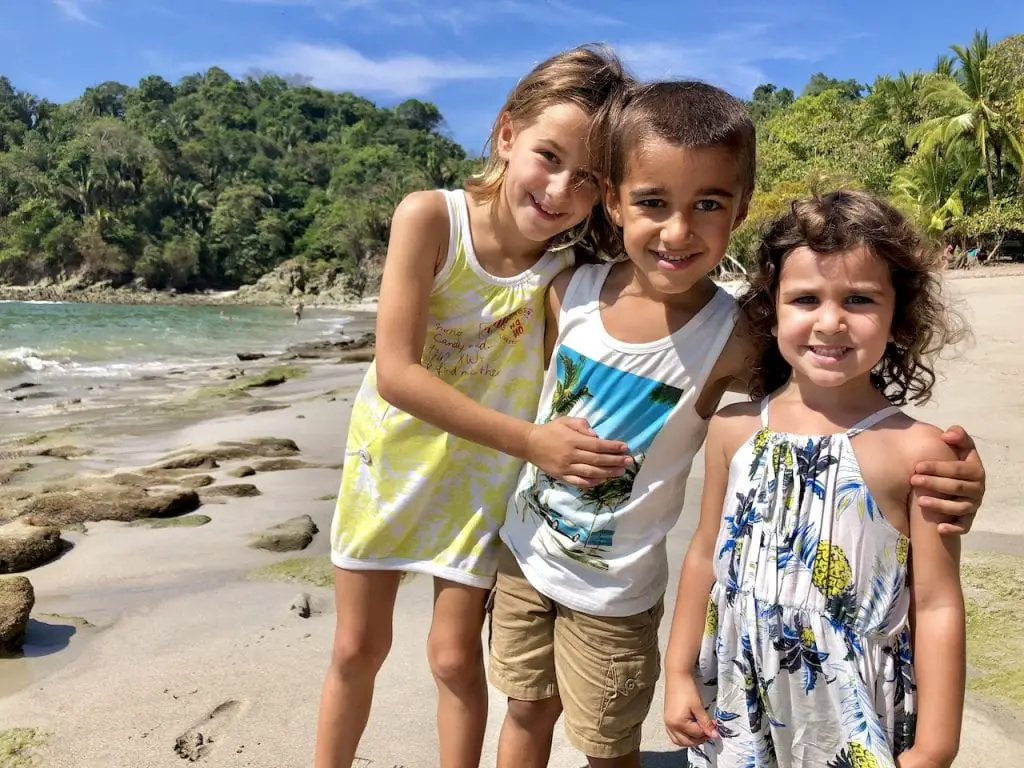 It is known as the most beautiful beach in Costa Rica, and while I don't totally agree, it is the backdrop of many commercials and movies, such as Castaway!
The water was really warm and the kids spent over 3 hours swimming, which felt amazing after 3 full days of trekking!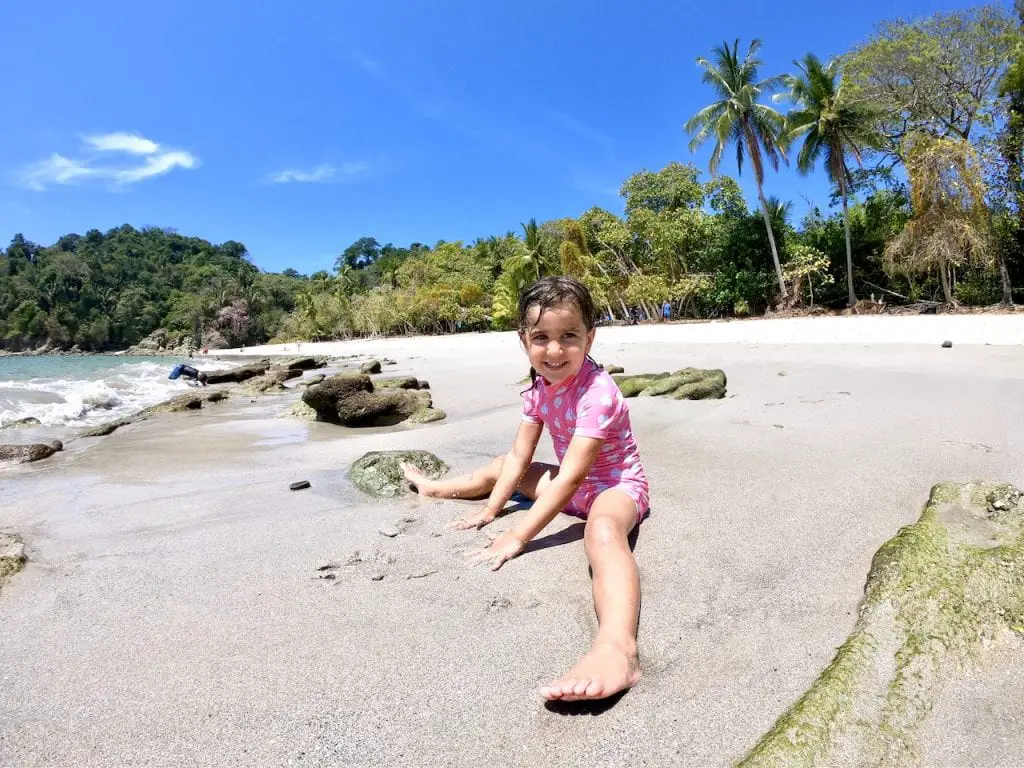 The beach is very sheltered, so no waves or current, and we found the water to be shallow and perfect for the little ones!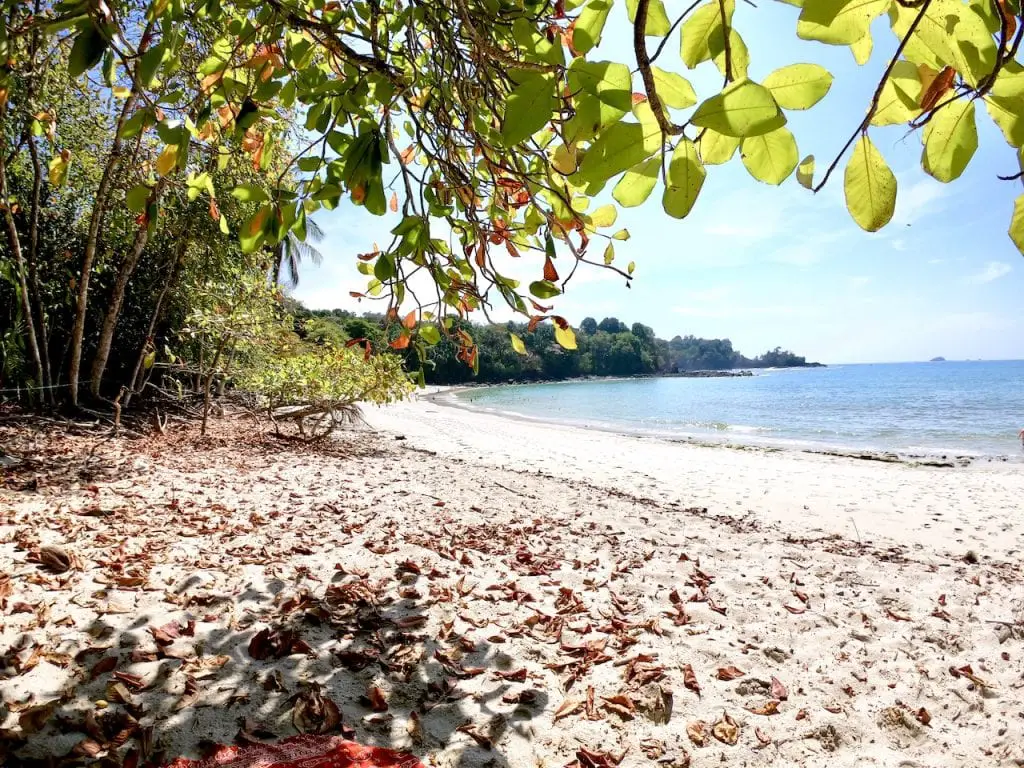 If you are like us, you will want to set up your towels in the shade, near the trees… please make sure you either have no food at all, or really close your bags well. My personal advice would be to make sure one adult stays near the bags at all times.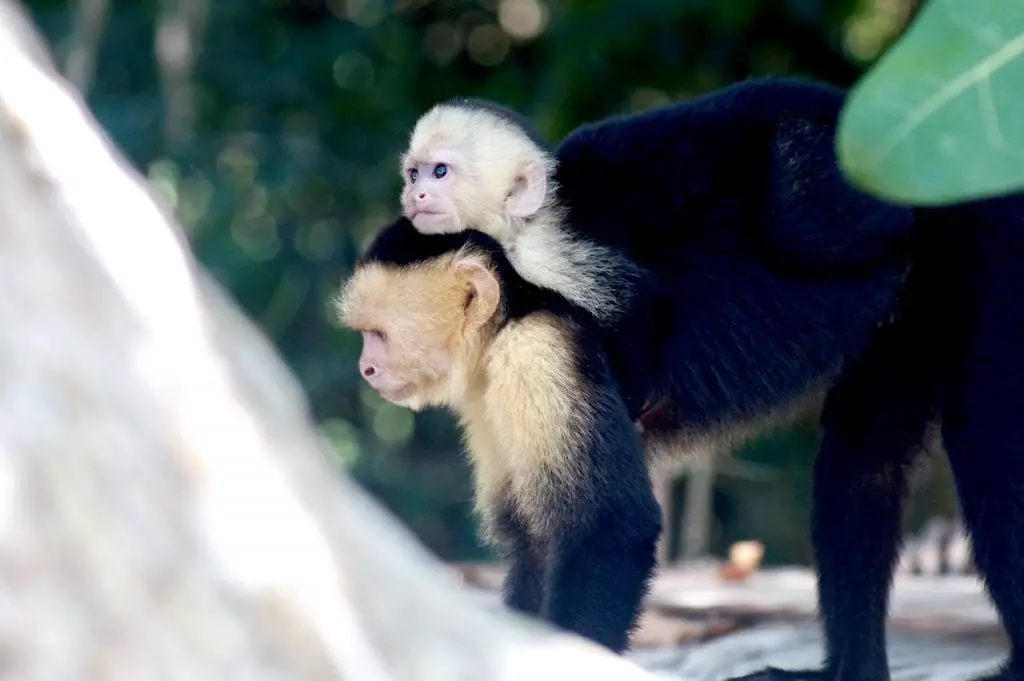 Raccoons and capuchin monkeys will be roaming that tree line and stealing every little bit of sandwich and fruits you bring in!
The raccoons even opened our zipped-up backpack and helped themselves to a healthy lunch!
Amazing Day At Manuel Antonio
We had an amazing day inside Manuel Antonio. We loved having a guide and would have not seen many animals without him.
After watching wildlife and slowly making our way to the end of the park in just over 2 hours, we spent an amazing 3 hours on the beach.
After the beach, you can rinse off at the public showers, which is a great plus since you'll be walking about 15 minutes back to the exit.
I would definitely plan for a whole day inside the park and start very early! If you can find accommodation near the park, you'll save precious time and sleep and get into the park early enough to see the animals!
---
Pin this for later!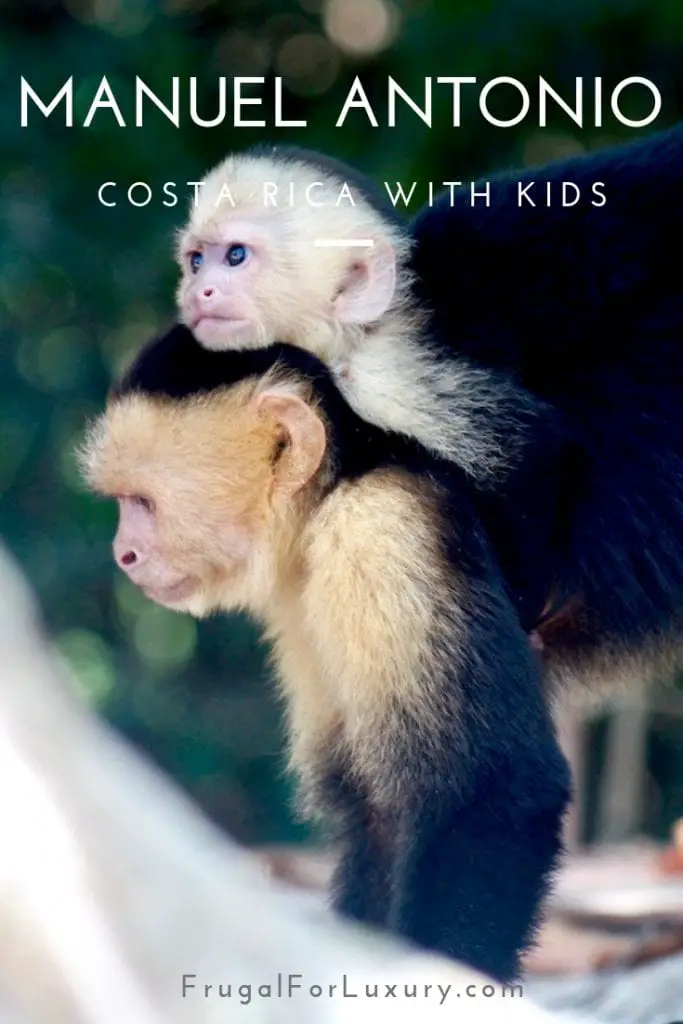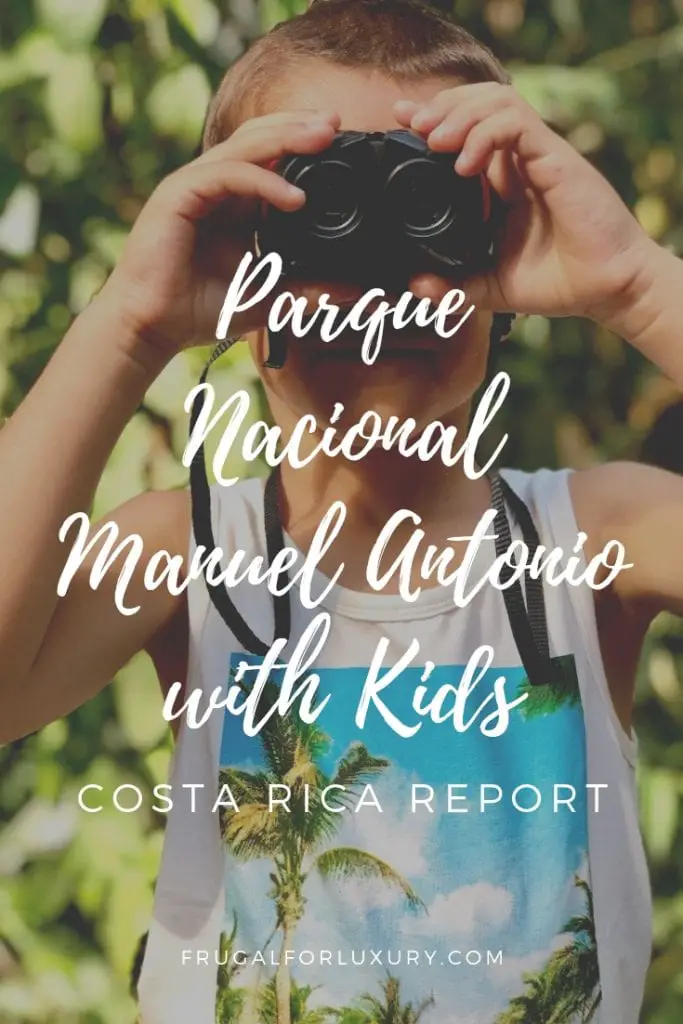 ---
Related articles you will enjoy:
What To Do Near Volcano Arenal With Kids – Costa Rica Report
Parque Nacional Volcan Tenorio With Kids – Costa Rica Report
Zip Lining With Kids In Monteverde – Costa Rica Report
If you enjoy reading us, sign up for our newsletter below!