We woke up on day 3, with huge snow flakes falling horizontally from the sky. But after all the fun we had skiing the day before, we couldn't pass the opportunity to head back out to ski at Heavenly!
Read HERE all about the first 2 days of our family adventure in South Lake Tahoe!
With the Heavenly Gondola closed for good reasons, we hopped on the shuttle bus to California Lodge.
Our ski rental in Lake Tahoe Resort told us that we could return our equipment directly at California Lodge, which was amazing news!
We spent 2 hours skiing, which in those conditions, was a good amount of time, especially if you ask Mark 🙂
With everyone cold and wet, but happy with their day on the slopes we headed back down and sadly said goodbye to Heavenly!
We had the most wonderful experience on our first family ski in the U.S.! If you are looking for the right place to take everyone out, Heavenly in South Lake Tahoe is definitely the place to go!
Everyone here is giving it double thumbs up!!
Onto The Ridge Tahoe Resort and Nevada!
It is with very mixed feelings that we said goodbye to the beautiful Lake Tahoe Resort Hotel, but we were excited to move on to the second half of our trip at Ridge Tahoe Resort. A special thank you to Ridge Tahoe for hosting our stay with them!
After tons of skiing, swimming, snow and nighttime fun, we left California for Nevada.
We braved the snow and ice falls as we made our way from Lake Tahoe Resort Hotel to the Montbleu casino and crossed the state line to Nevada. It is just a short walk away, but the conditions were rough. We learned later that night, that the area was under national weather alert…
Leave it to us to take 3 little kiddos skiing on a national weather alert day! But that explained why we only saw about 20 other skiers that day!! Yay for having the mountain and magic carpet to ourselves!!
Once at the Montbleu Casino, we hopped on the free shuttle to the resort and were there in less than 30 minutes!
Fun At Ridge Tahoe Resort
After a quick check-in, our jaws dropped when we discovered our two-bedroom condo suite!
With a full-size kitchen, two bedrooms with king-size beds and Sleep Number mattresses, two full-bathrooms, dining space, washer and dryer, and a large living room with fireplace, we had enough space for everyone to spread out and enjoy their stay!
The view from our 8th floor suite in the Plaza building might have stolen the show!
The sunrises were breath-taking!
On our first evening, with blizzard and crazy snow falls, we opted for a night in!
We explored the Plaza building and headed over to the spa area.
If you know Mark, you are aware of his obsession with hot tubs. Well… he had two hot tubs to choose from!
The kids had the biggest blast, walking on snow to soak in the outdoor hot tub. Check our video at the top of the article!!
We also enjoyed a family sauna and the indoor hot tub.
The best way to end our evening was to cook a big pasta dish to recharge with energy after a day of ski and relax by our private fireplace as the snow fell outside the windows!
A Full Day At Ridge Tahoe Resort
The next morning, as we woke up, the kids begged to join the Kids Club.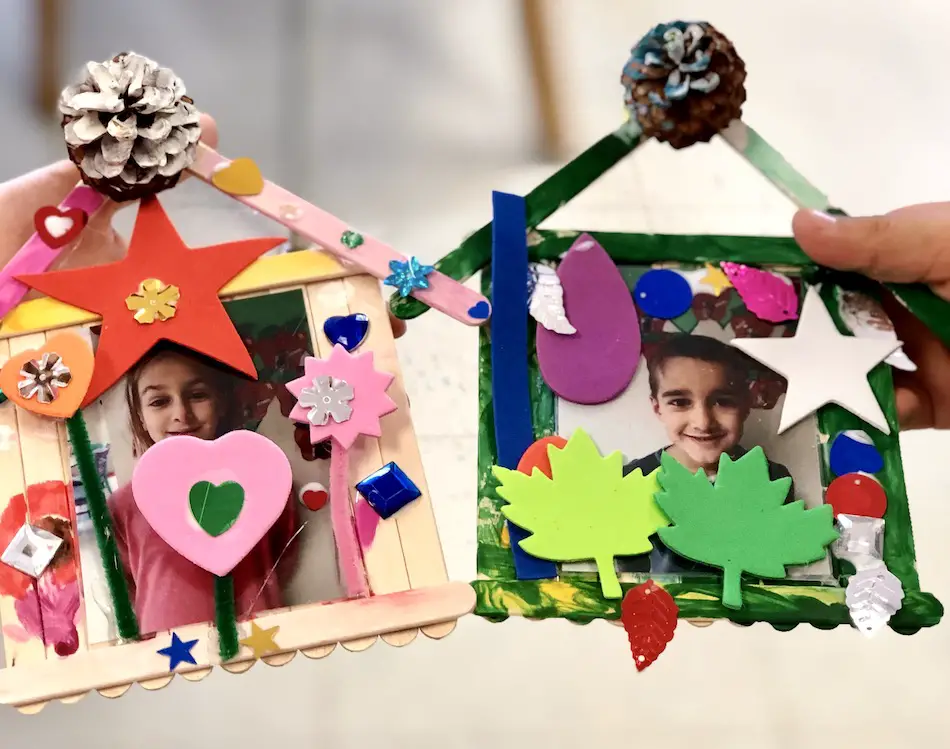 We took them across the street and Francesca had a whole crafts project ready for them.
Which meant that Christian and I had an hour and a half of freedom in front of us.
Hey, we love family travel but when the kids enjoy the entertainment and it gives Christian and I some alone time, I call that a win-win!
After picking up the kids, we headed over to the Marketplace where we filled up with food for the next few meals, and a large pot of ice-cream on everyone's request!
After a yummy lunch cooked in our suite's kitchen, we headed back out for a major snow ball fight…
… and a new snowman!
Followed by the most relaxing soak in winter wonderland.
Now that was my happy moment!! And Mark's…. and the girls'..!! 🙂
And of course, give some snow to three Florida kids, and they'll find a way to get out of the hot tub, in their swimsuits, and throw some more snow balls!
We ended our day with a movie at the movie theater and one last evening by the fire!
We were so IMPRESSED with Ridge Tahoe Resort. The amount of space we had was true luxury. And there are enough activities to entertain the whole family for an entire week, especially if you decide to ski from this amazing ski in / ski out resort.
Good Bye South Lake Tahoe
After one last night, we had to say our goodbyes to South Lake Tahoe.
When we leave a destination, I never know how long it will be until we come back, which makes us all sad. It is a big world out there, with so much to see… But South Lake Tahoe, CA, will always be a very special memory for our family, and our first ski trip in the U.S.
If you are looking for one of the family-friendliest snow destinations in the U.S., definitely include Lake Tahoe to your bucket list!
Where are you going next?
---
Pin this for later!
---
Related articles you would enjoy:
Family Adventure in South Lake Tahoe – Days 1 and 2
Family Ski at Heavenly, Lake Tahoe!
Planning Your Perfect Family Trip to South Lake Tahoe
What to Pack on a Winter Vacation with Kids
If you enjoy reading us, sign up for our newsletter below!