Tahiti is a dream destination for many couples, but I rarely hear families mention it.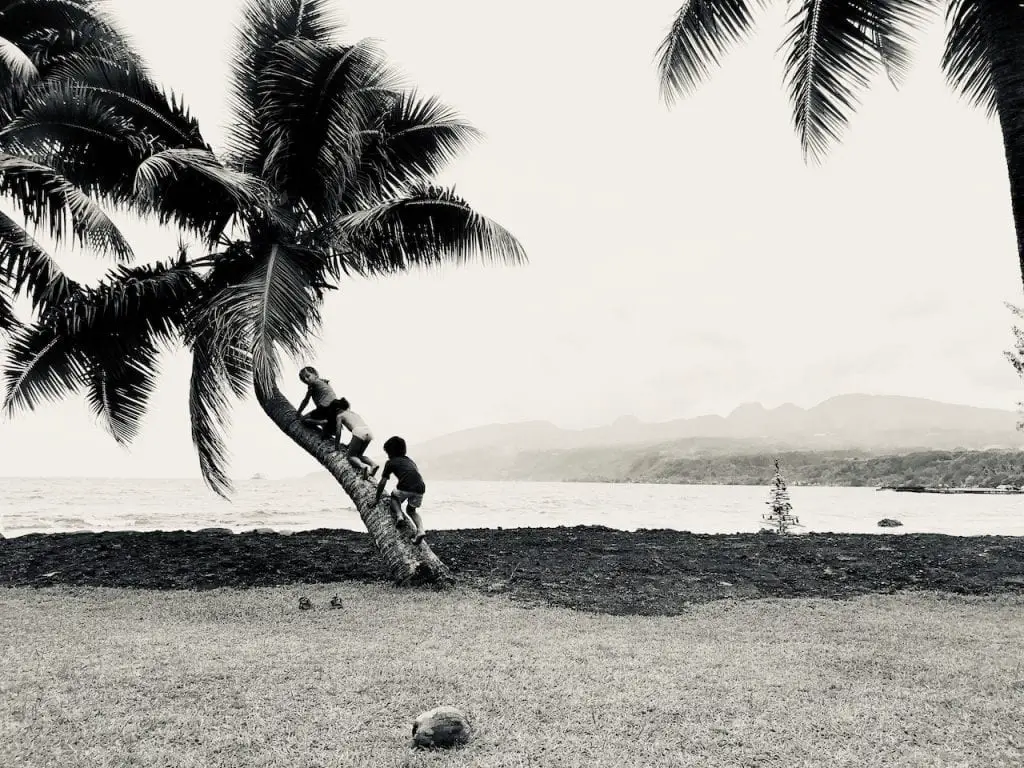 If Tahiti is not on your family's bucket list, let me change that! We spent 5 days on this beautiful island in the middle of the Pacific and had a blast.
And if you are worried about the cost of a vacation in the French Polynesian isles, look into flying with French Bee. The first long-haul French discounter flies direct from San Francisco. (It also flies Paris – SF for a really good price 😉 ) Once on the islands, skip the over-the-water bungalows and book a waterfront AirBnB with enough space for your whole family and snorkeling right off of your house for the week!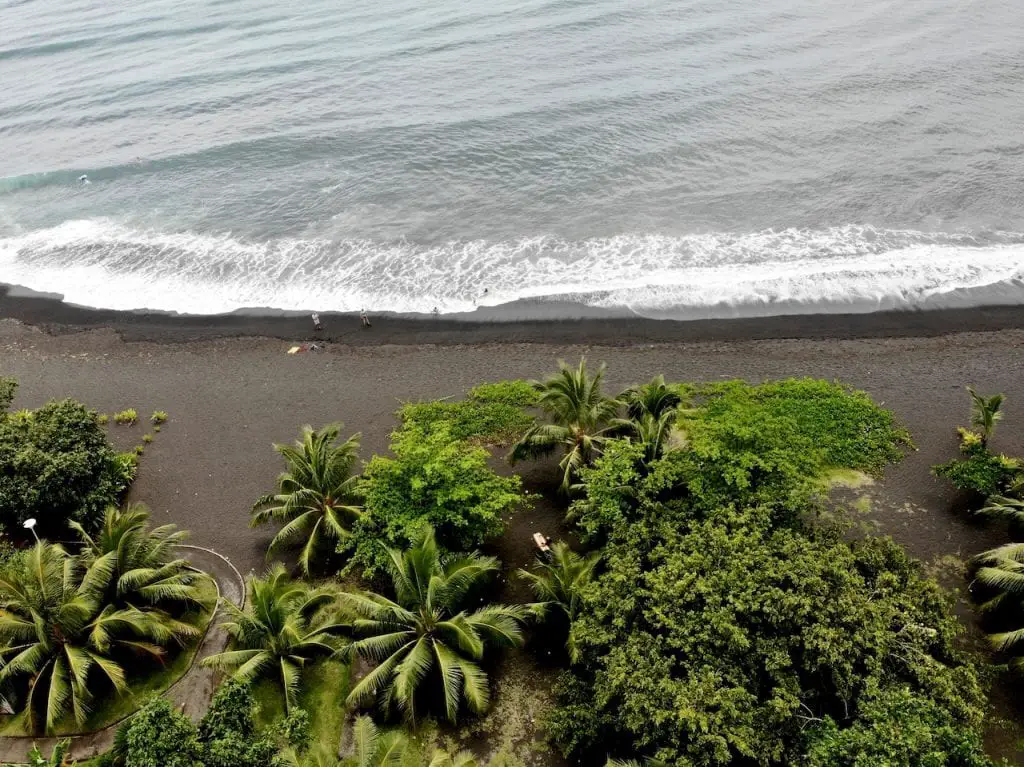 Tahiti is the biggest and main island of French Polynesia. As its name indicates, French Polynesia is a "territoire d'outre-mer", an oversees french territory. So when traveling to Tahiti or its neighboring islands, you are traveling to France.
Expect French language on radio and TV. You'll be shopping all French food brands at Carrefour. The locals walk out of the store with baguettes and pains au chocolat. And you'll most likely be given a manual gear car. If you can't drive those, make sure you rent an automatic transmission!
Tahiti Tips:
1- check that your car rental includes miles! We booked Hertz and apparently no mileage was included. We were charged for every mile we drove
2- January is the rainy season… we had rain every single day, and quite a bit of it! Tahiti has a really high mountain and clouds stay stuck on it
3- don't be too scared of the time difference (5 hours behind EST). In French Polynesia you'll live with the sun, go to bed around 8 / 9PM and wake up around 6AM naturally, nearly canceling any time difference.
Related: Moorea With Kids – A *Family-Proof* Travel Guide
So here are some of our favorite spots on the island:
Faarumai 3 Waterfalls (3 Cascades Faarumai)
If you are flying to Papeete, Tahiti from the U.S., you are most likely to be landing around 5AM. If your hotel or AirBnB doesn't let you check in early, the Faarumai 3 Waterfalls are a great first stop, right out of the airport.
Of course, it is a must-see anytime as well!
Park your car right by the waterfalls and walk up a very quick hike (totally manageable for little kids) and enjoy this 100-meter waterfall and two smaller ones near by.
Make sure to read the story of the waterfalls – very cool story!
Harrison Smith Botanical Garden
We headed to the Harrison Smith Botanical Garden after the waterfalls to spend several hours before our AirBnB check-in.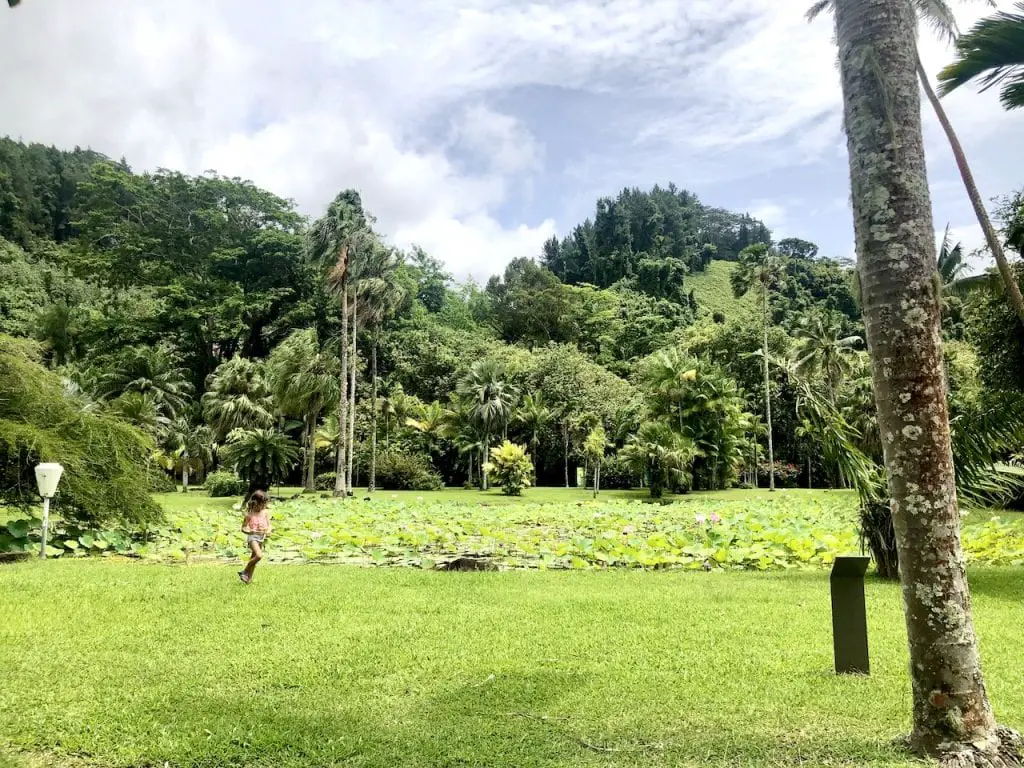 The kids loved seeing the huge tortoise and petting stray cats who called the garden their home. All they wanted was love and our kids had plenty to give.
Feel free to walk the grounds and drift off in the woods towards the water for some water fun!
Teahupo'o Hike
Located on the southern part of the island, Teahupoo is mostly known for its giant blue wave, where a yearly world-renown surf competition is hosted.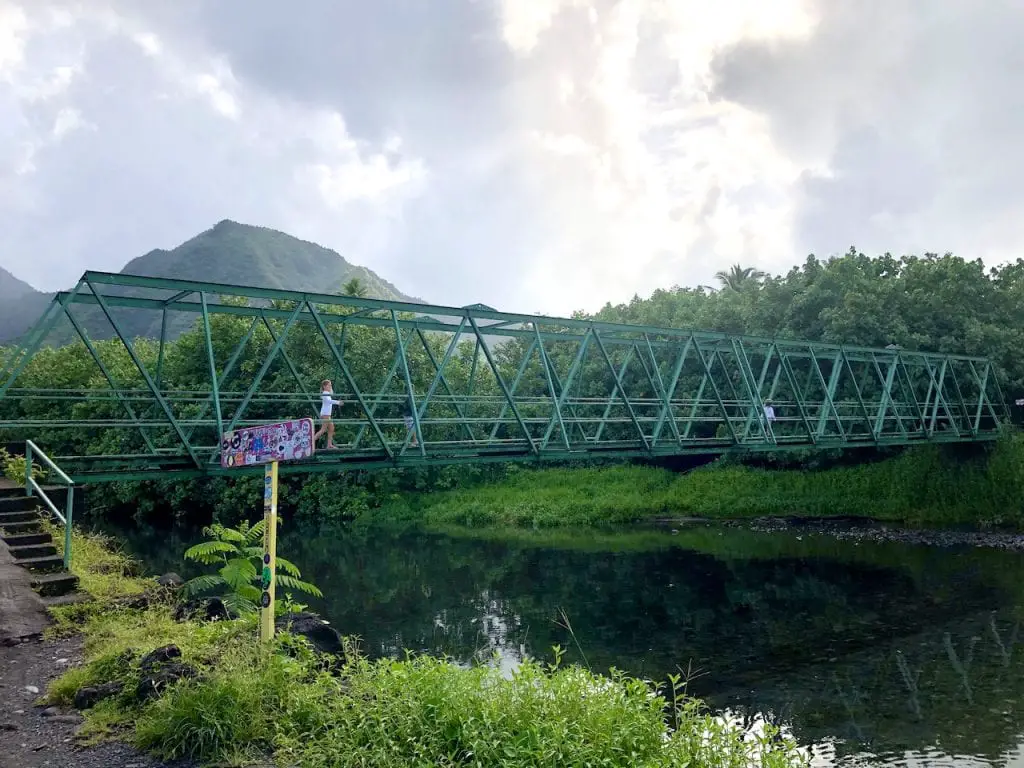 Park your car at the very end of the street (it is a dead-end roundabout with a giant wave in the middle), walk over the bridge, and hike as long as you'd like along the water.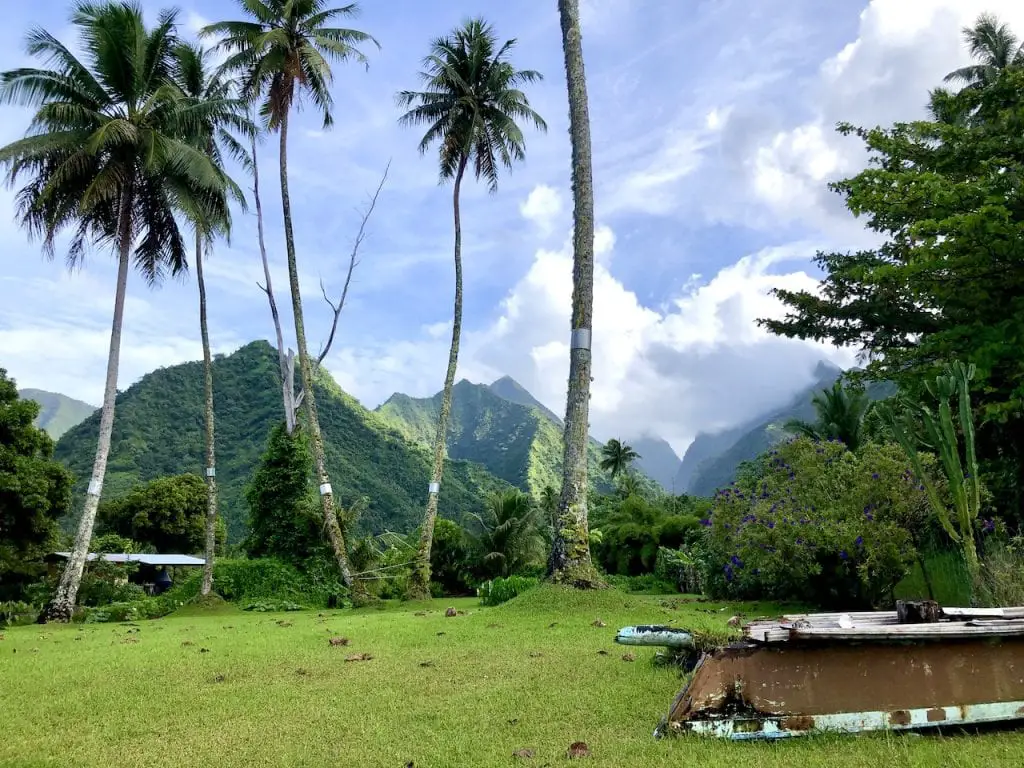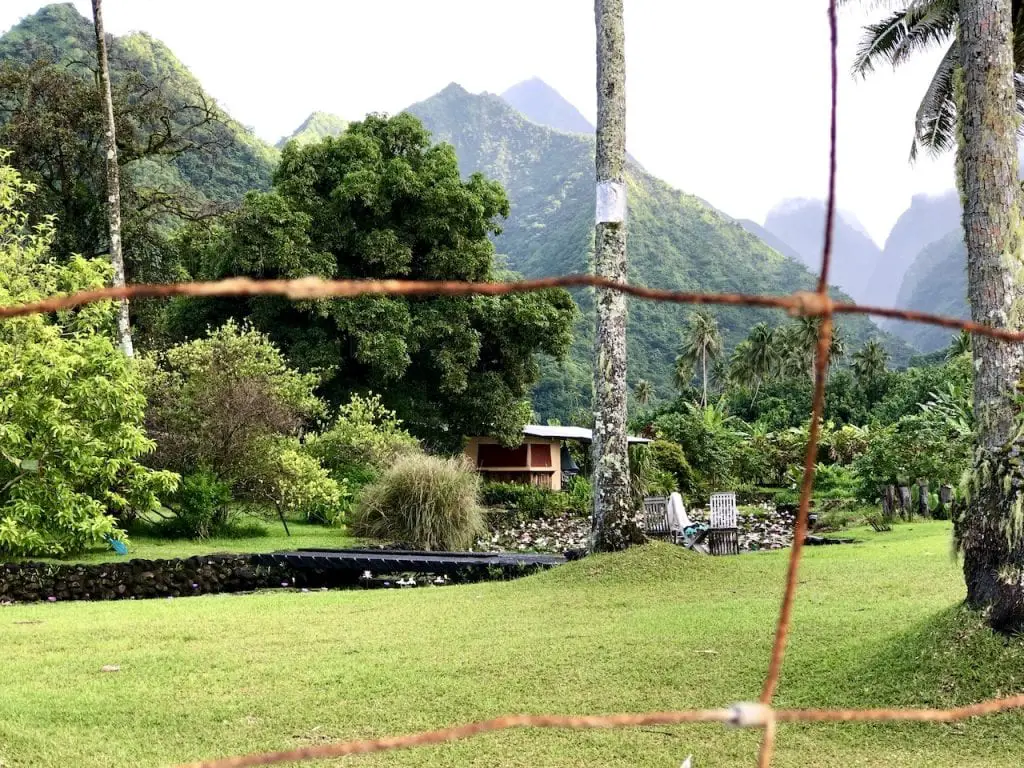 We walked an hour and a half and loved seeing the vegetation, dipping our feet in the ocean, picking up sticks, and taking in the mind-blowing scenery!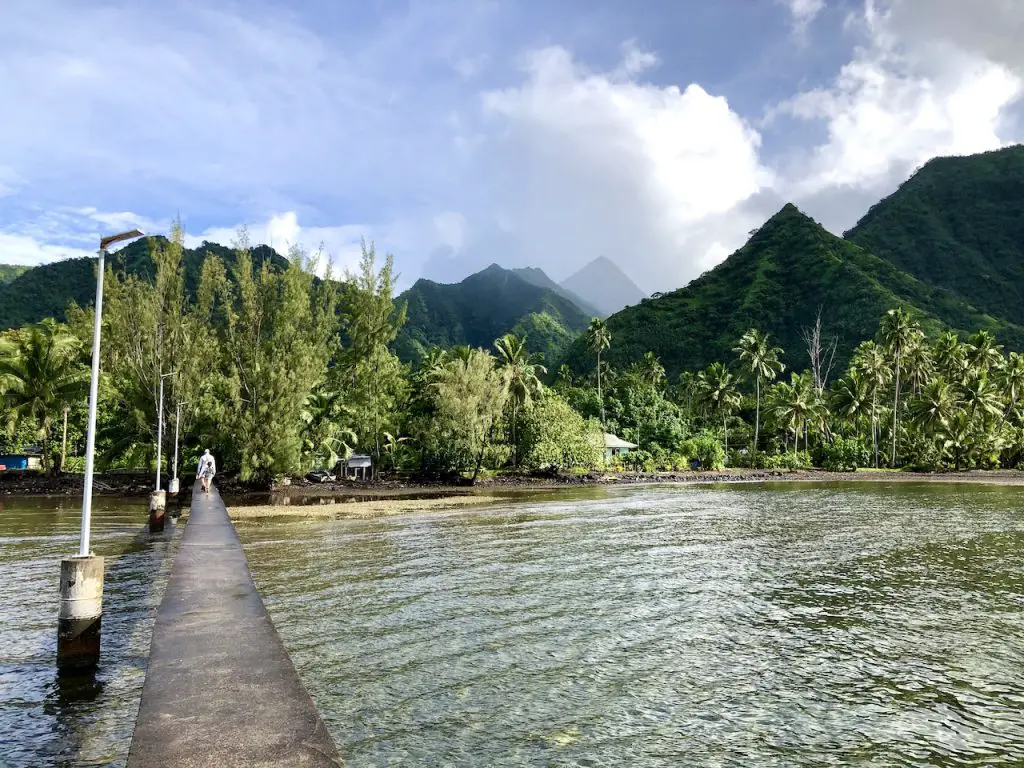 Those lush hills are jaw-dropping. We could have stayed there all day and were all alone, with just the locals living there.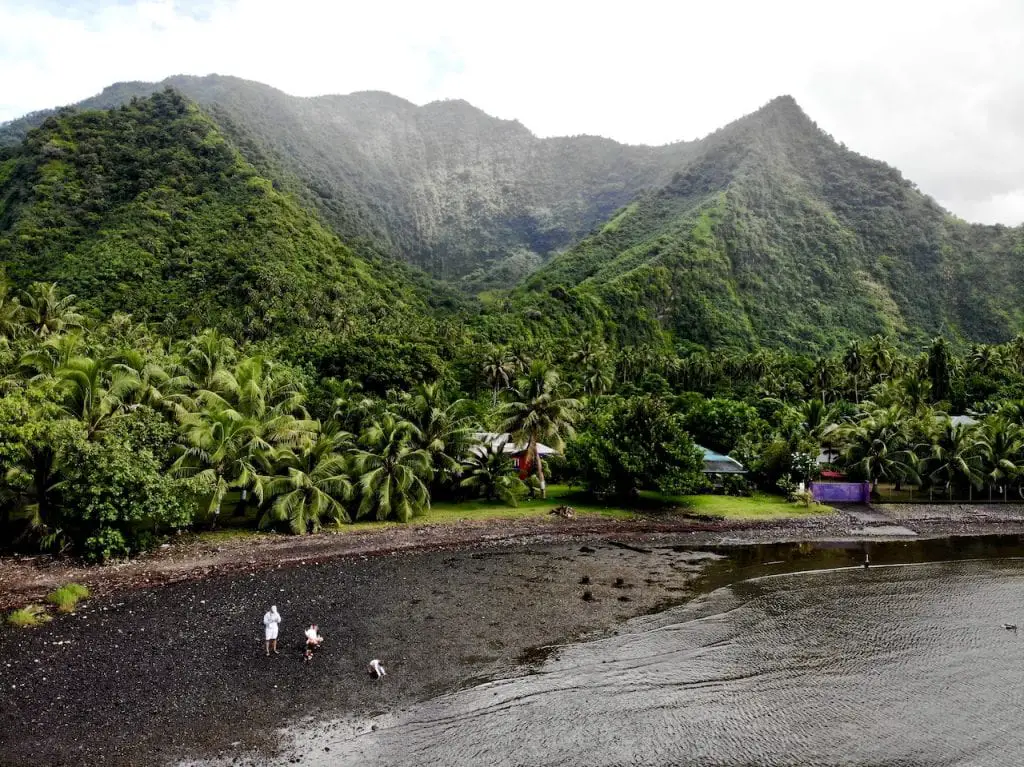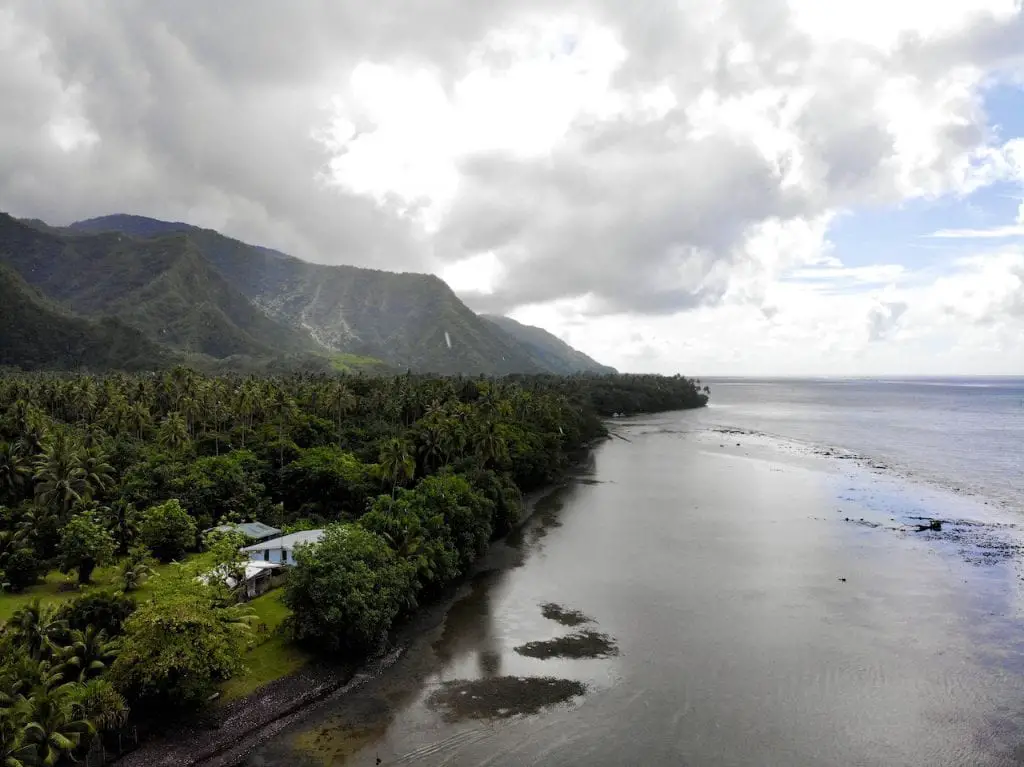 Those families can only access their homes by boat and the children get picked up by a school boat to go to school in the morning! You can also hire a taxi boat from Teahupo'o and go a bit farther to some caves!
Maui Beach (La Plage De Maui)
The only white sand beach we found on Tahiti, and on the way back from Teahupo'o.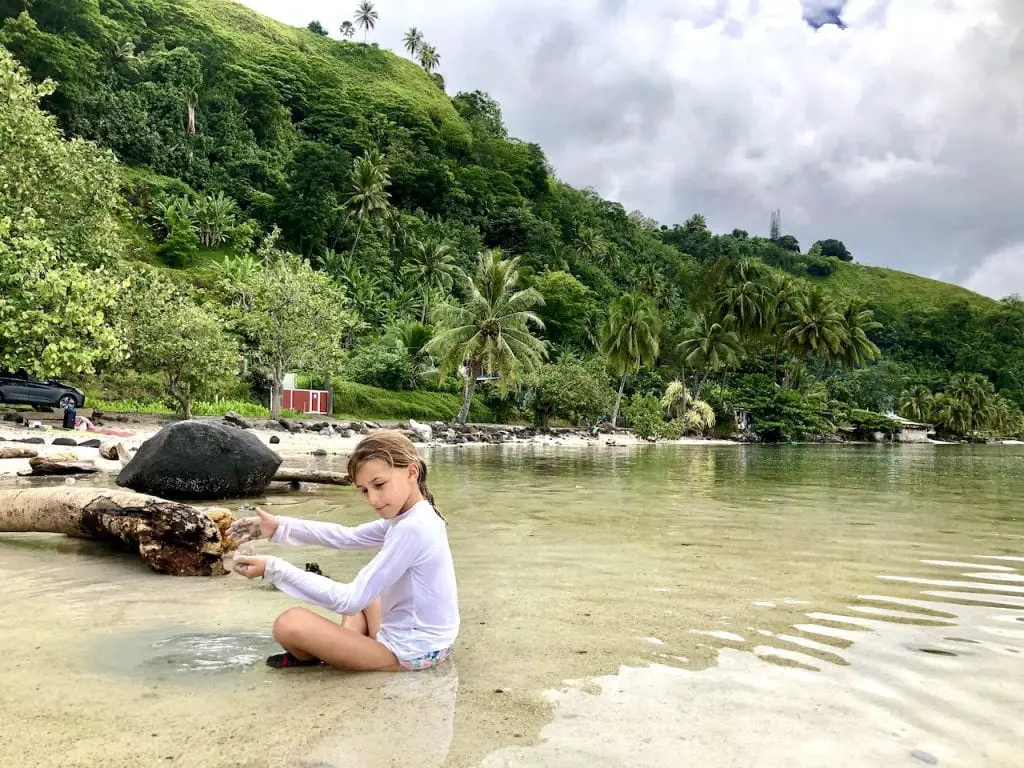 Do not expect a large beach. You will have enough space to lay your towel and bags, but the best of the beach lays in the water!
Protected by a coral reef, the water is very shallow and extremely warm, and full of colorful fish. You won't even need a snorkel to see them. The water is so transparent that you will spot them with your bare eyes!
On a nice day, come snorkel at sundown for a beautiful sunset!
Taharu'u Beach
Most beaches in Tahiti are black sand – volcanic beaches. Even if you are not a fan of black sand, you have to visit Taharu'u beach!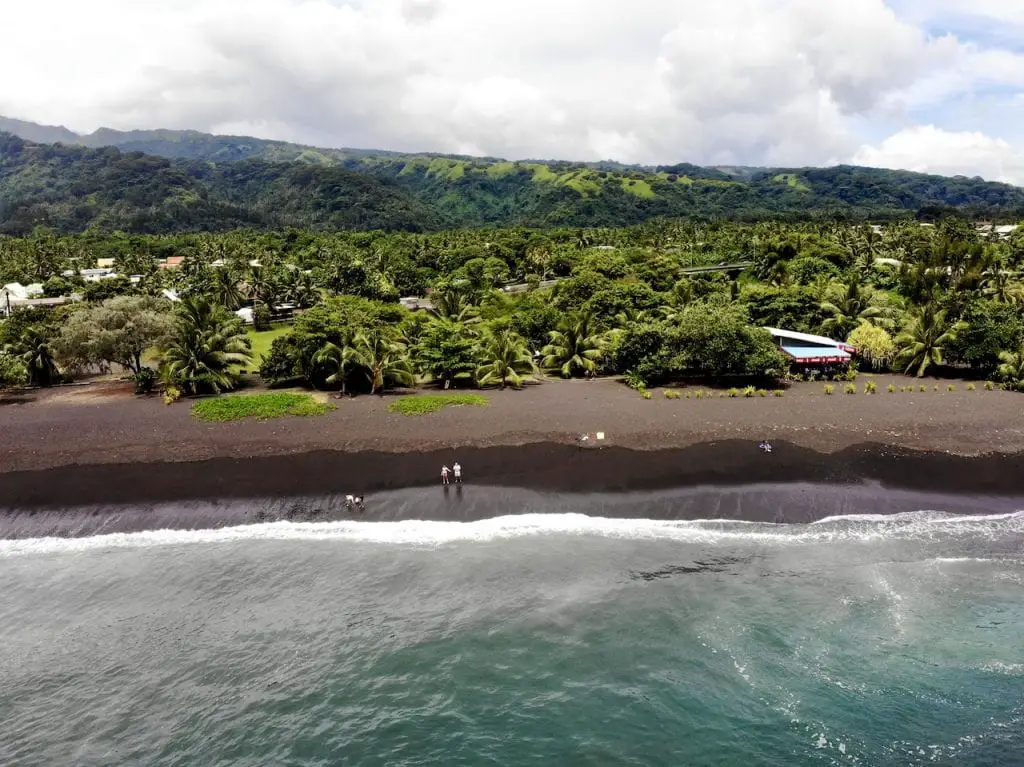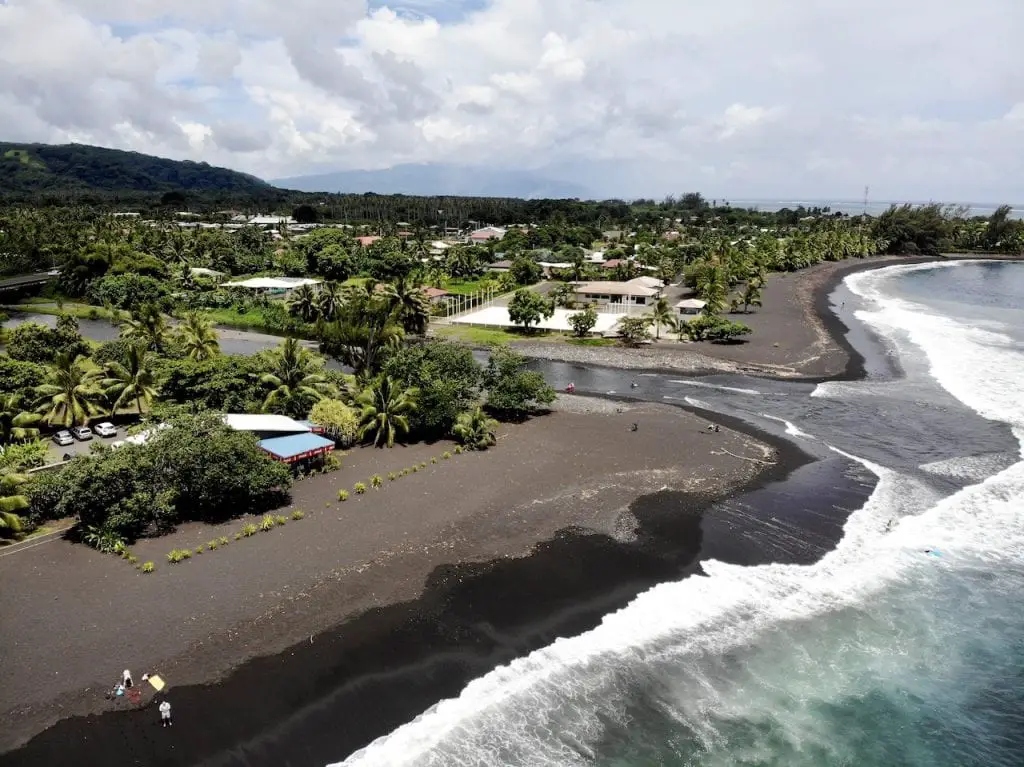 The sand shines like glitter in the sun. This is also the only decent-sized beach we found, with enough depth for the kids to play in the waves, and enough length to walk up and down the beach!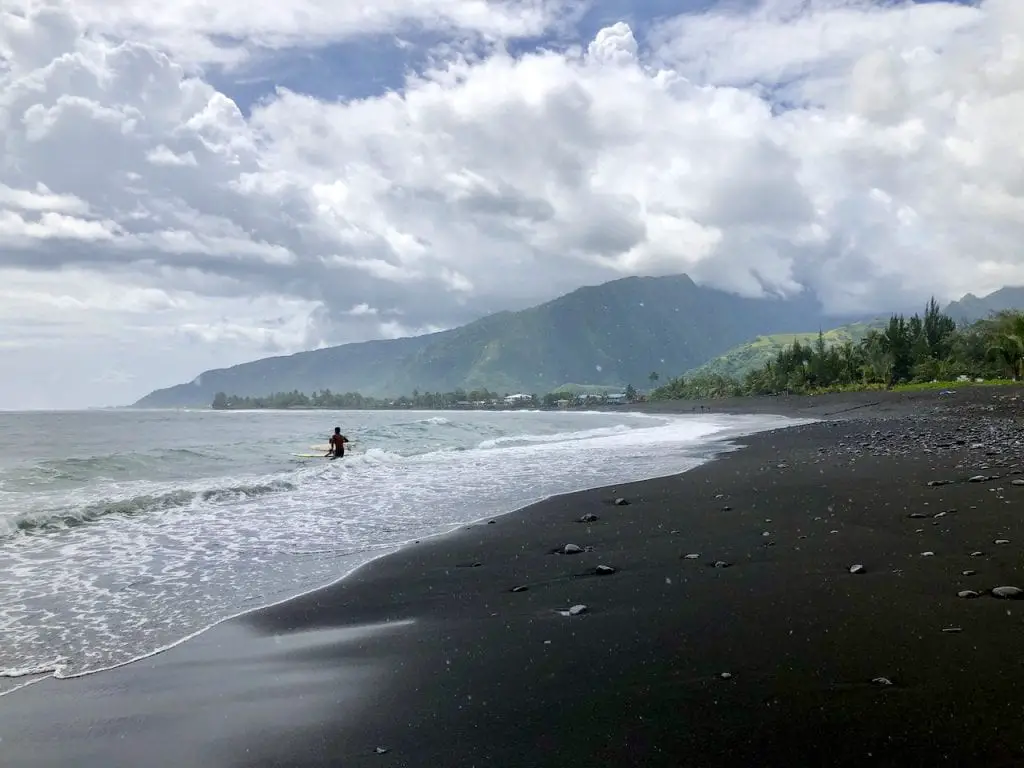 And if you think you are all alone, it is because the locals are surfing. Even just for that amazing show, make sure to visit Taharu'u Beach! You won't regret it!
Tautira Beach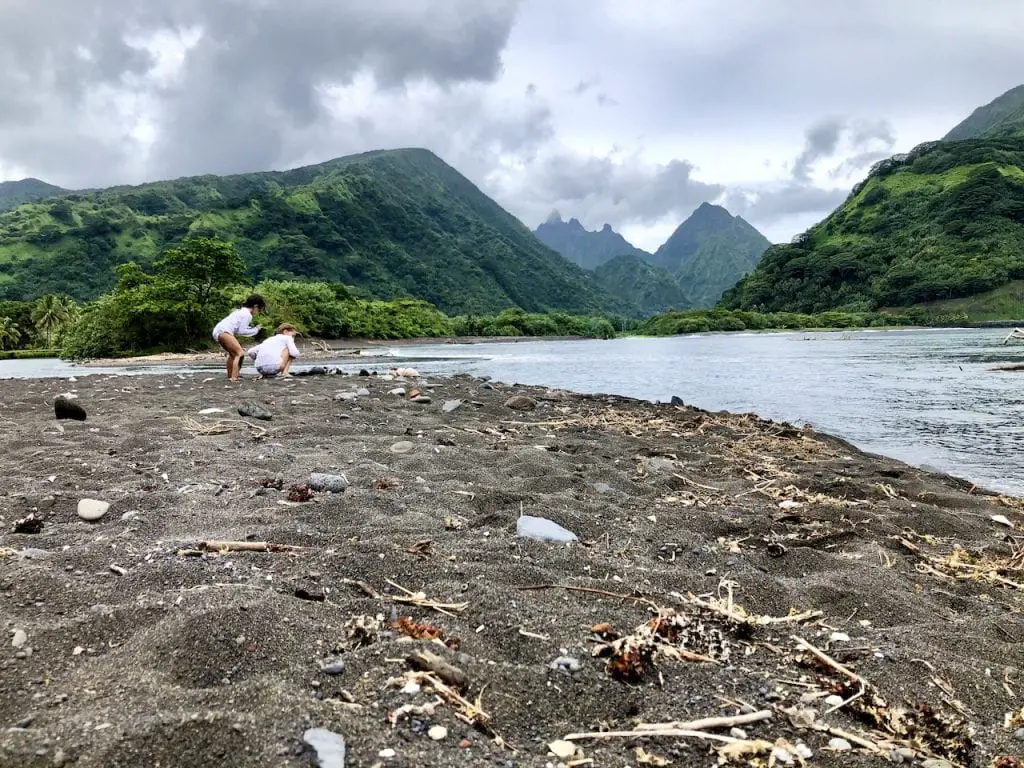 While Tautira Beach is fairly small, it was our favorite for the mystical mountains in the background. It felt straight out of a movie scene and is a must-see on Tahiti!
You'll also find a playground at Tautira Beach – a rare occurence in Tahiti!
Plateau de Taravau
Located on the southern side of the island, turn south by the Taravau Carrefour and look for the brown sign indicating the plateau.
Quickly stop at the Belvédère for a panoramic view of the ocean.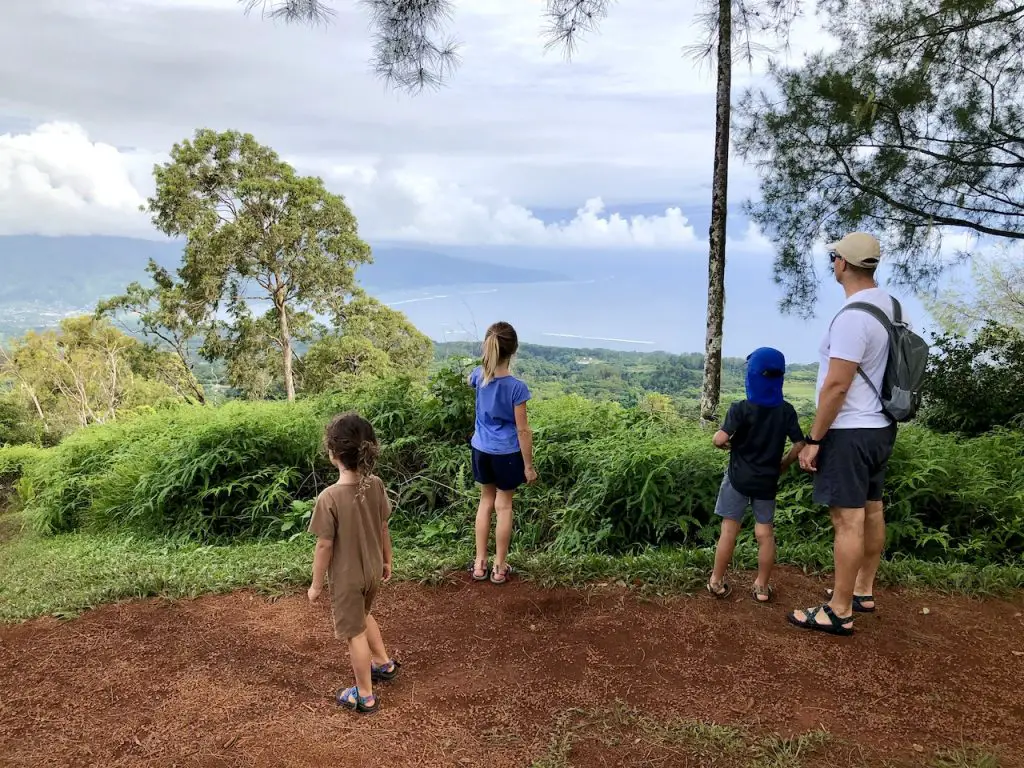 Then hop back into the car and drive up to where the road ends (another minute or so). Park the car and find the start of a very short hike to a beautiful view point!
This gentle hike is manageable for children and we loved the view from the top!
Tahiti With Kids
Tahiti is a beautiful Polynesian island and it offers many beautiful sites. From dark black-sand beaches to white beaches and clear lagoons, to tropical hikes and gardens, families will have a wonderful adventure-filled stay on the island.
Enjoy your time in French Polynesia!
---
Pin this for later!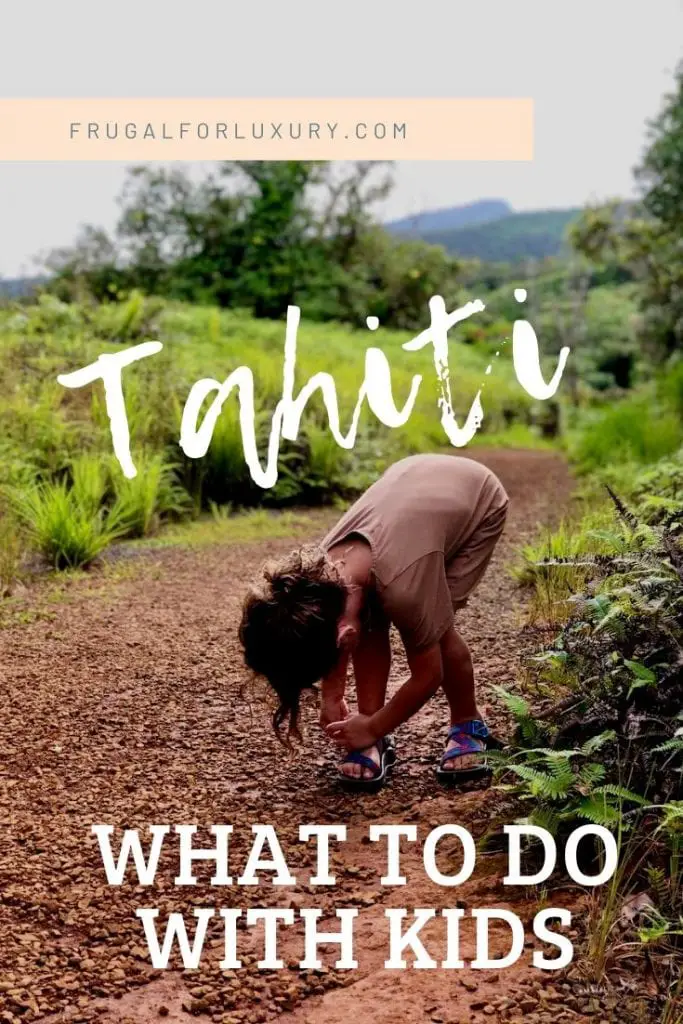 ---
Related articles you will enjoy:
Family Fun At Aulani – A Week At Disney's Hawaiian Resort & Spa
Our Top 10 Of The Polynesian Cultural Center On Oahu, Hawaii – With Kids
Visiting Pearl Harbor With Kids – Oahu, Hawaii
If you enjoy reading us, sign up for our newsletter below!