After spending 5 days trekking and hiking all over Costa Rica, we were ready for some relaxing time on the beach!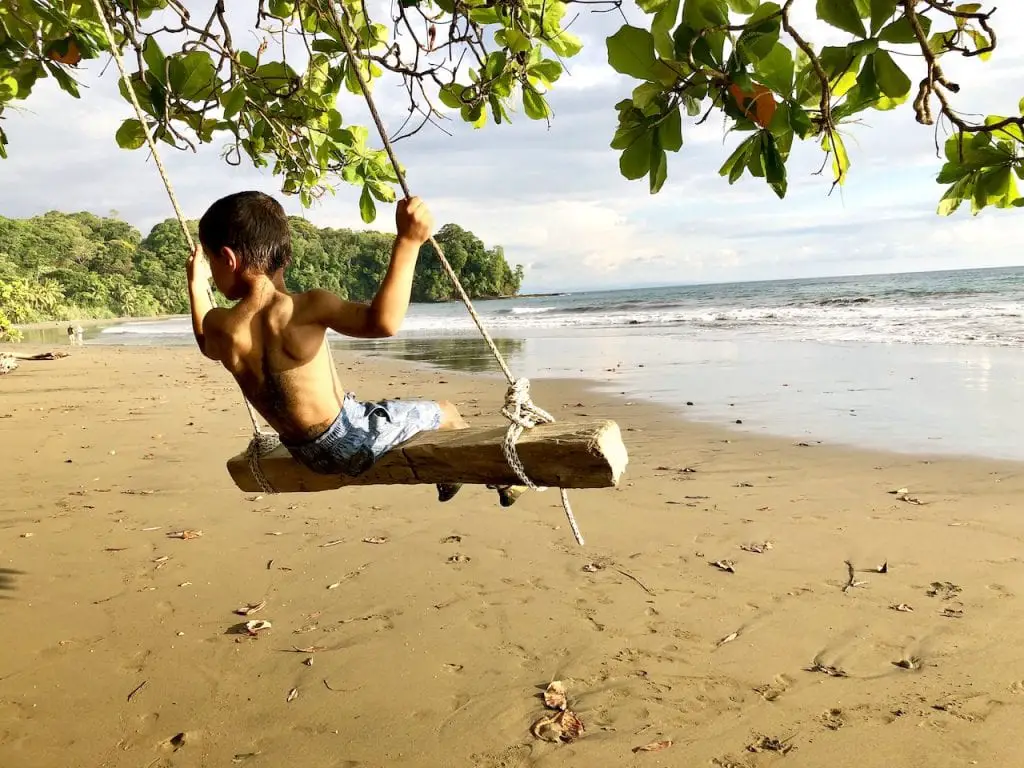 There are so many beach options in Costa Rica. The country has coasts going along its entire length on the Caribbean Sea to the East and the Pacific to the West.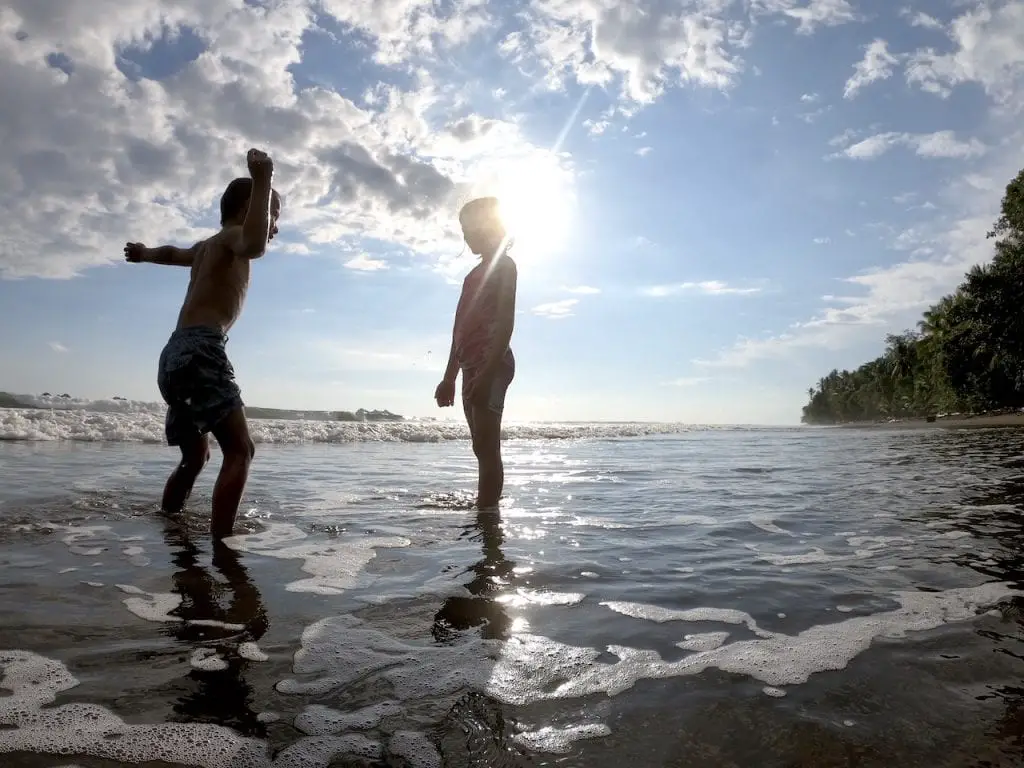 Since we live in Florida, we wanted to experience the Pacific Ocean. It is also the closest coast to Parque Nacional Manuel Antonio where we were the day before.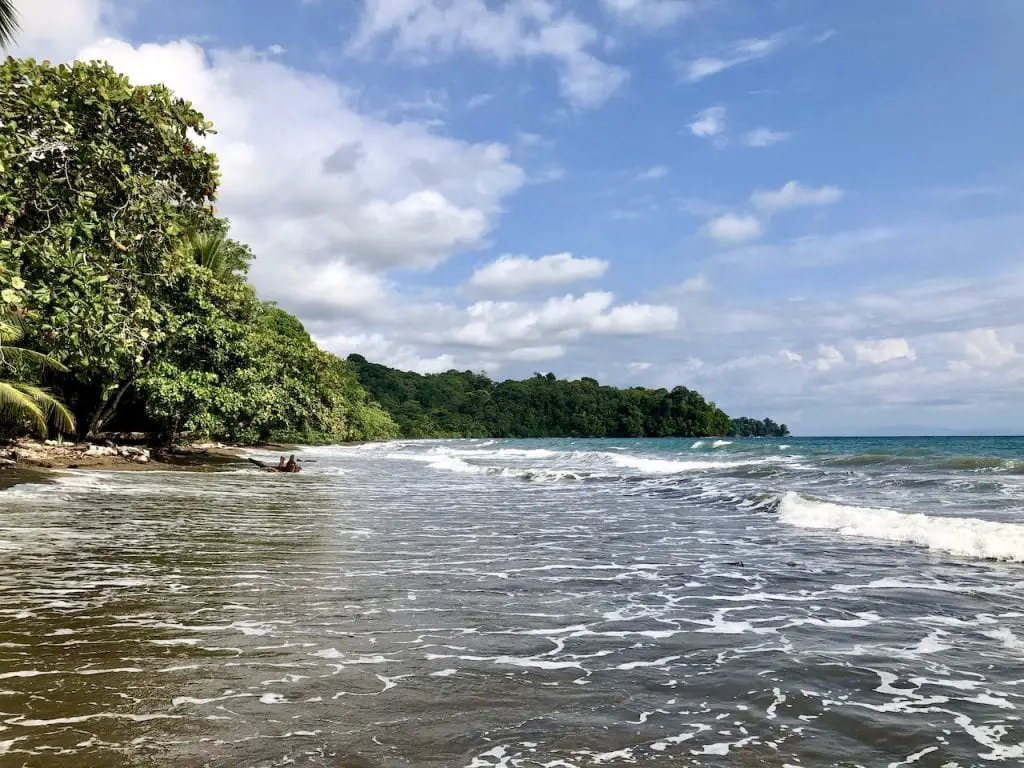 Uvita, in the Puntaneras Province, is a charming little town near the ocean. On the West side, it is bordered by the Marino Ballena National Park. To the East, you will quickly be in a hilly jungle, full of lush vegetation and cooling waterfalls.
Where To Stay Near Uvita, Costa Rica
Our idea for Uvita, was to be relaxing, unwinding, and on the beach! That was a non-negotiable – we wanted to be feet in the water, just steps separating our home from the sand.
We passed Uvita by a few kilometers and settled on the most charming AirBnB the region has to offer!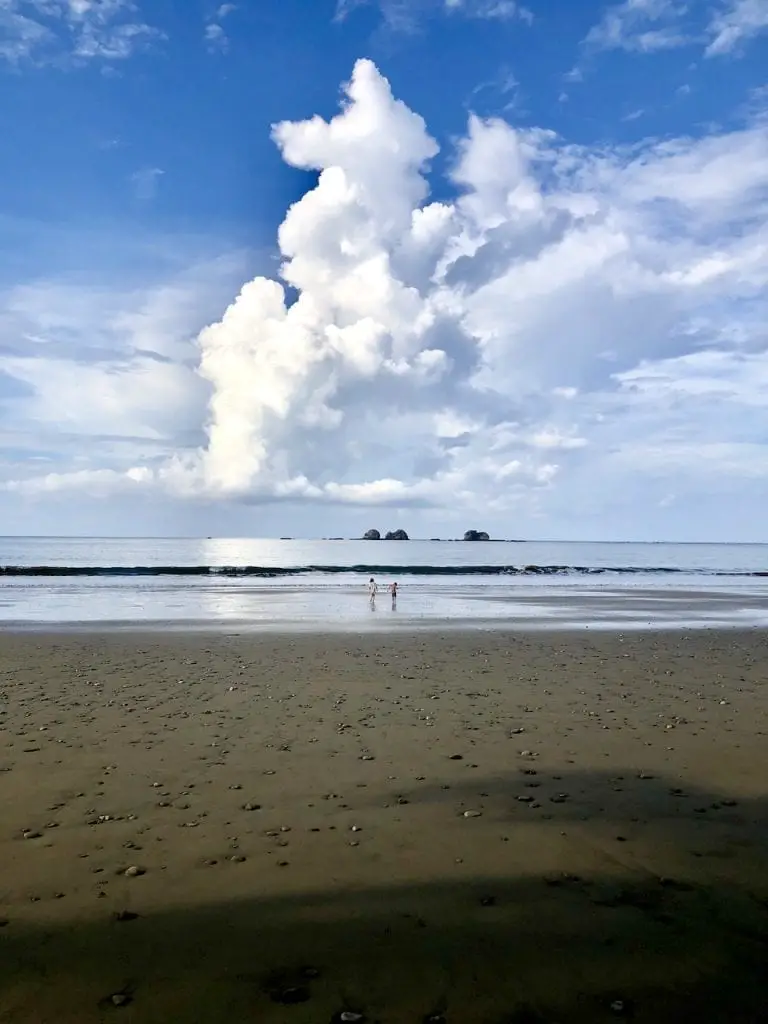 I cannot tell you how wonderful our stay was!
Deborah's home was right on one of the beaches of the national park!! Not only was the beach the most beautiful we saw in all of Costa Rica, but there was only one other house there and we were alone on the beach, day and night!
The home has been significantly improved since the pictures on the AirBnB listing. It had ample outdoor areas to eat and relax, as well as 3 bedrooms, a bathroom, and a full kitchen! And how about that outdoor shower?
Added to that, a 500-meter walk in the sand got us to a charming beach restaurant, with a double pool! It served up excellent and very reasonably-priced local food and the kids got to eat from the pool while Christian and I sipped on margaritas and piña coladas
What To Do Near Uvita
We spent 3 nights in Uvita and our entire days outdoors, mostly on the beach!
The ocean was in the 90's (in March), the waves were very mild and perfect for the kids to have fun.
Parque Nacional Marino Ballena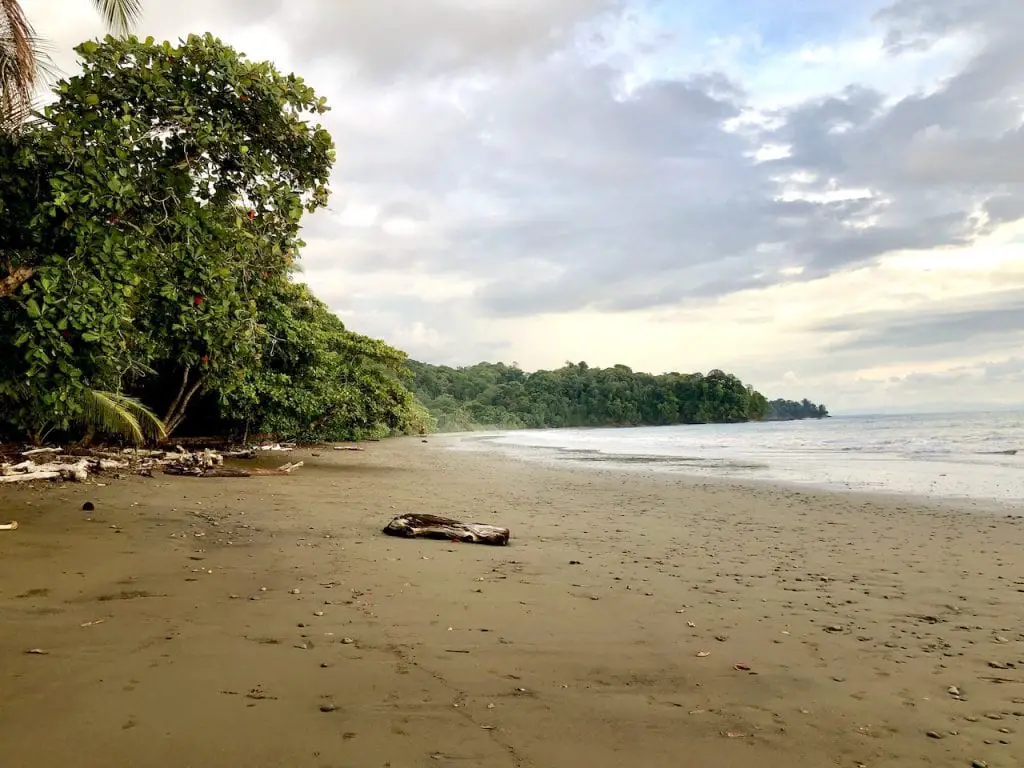 If you're looking for a beautiful beach, head over to the Marino Ballena National Park. We were extremely lucky to have rented our AirBnB inside the park.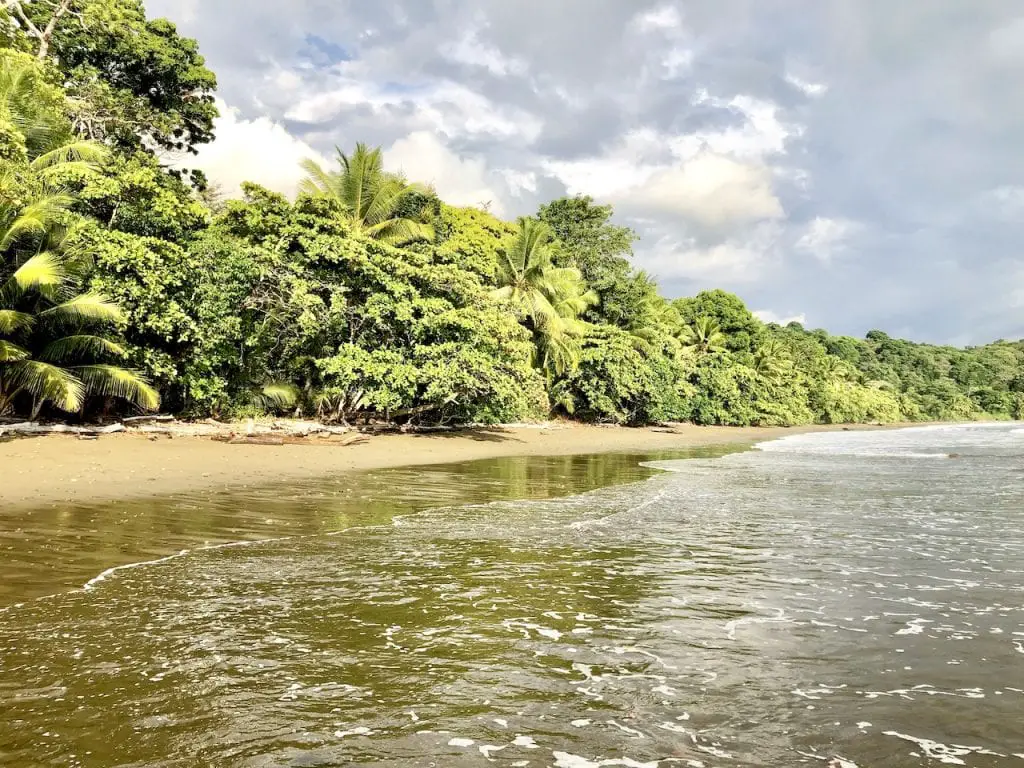 The beaches are jaw-dropping! I know many swear that Manuel Antonio has the most beautiful beach (playa Manuel Antonio) but we thought the Ballena one was a million times nicer!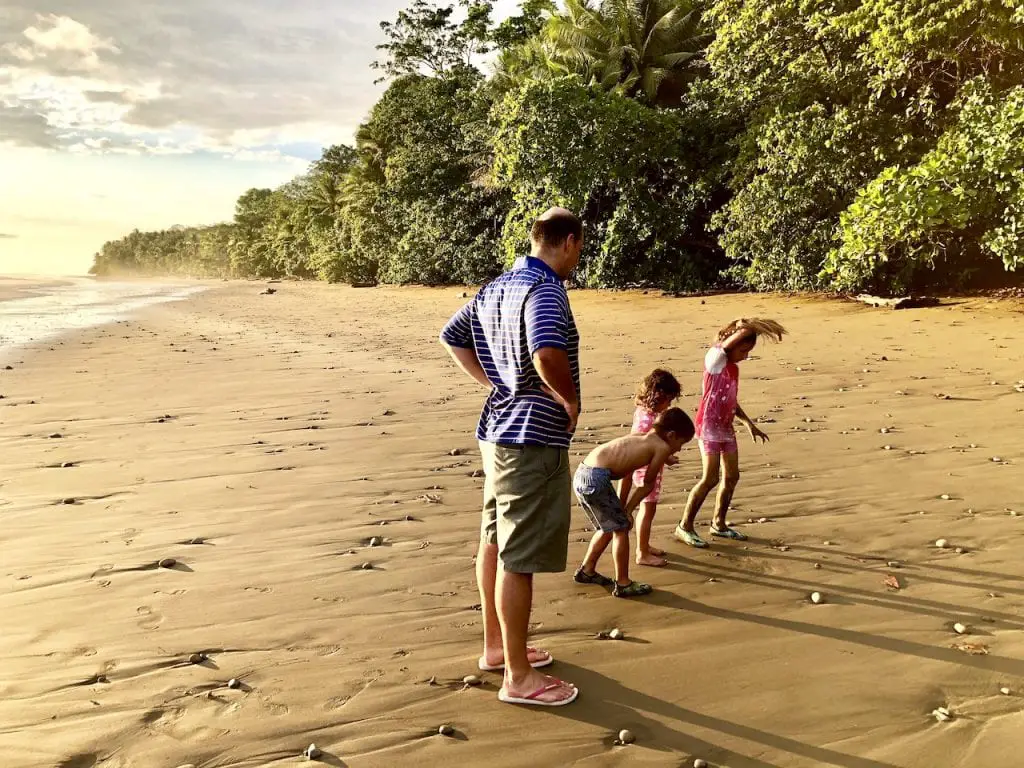 Make sure to stay as late as you can and enjoy the amazing sunsets!
Ojochal Waterfall
Because our AirBnB did not have air-conditioning (which was exactly the local feel we were looking for), by the time we hit 12 / 1PM, we got quite hot…
We took the car down to Ojochal and drove up the hill. We soon found signs for the Ojochal Waterfall.
If you are looking for something special, you are in for a treat! This is a local's secret and we loved it so so much!!
The waterfall is located on a local's private property. They charged us $10 for access to the site (for all 5 of us) and we were there alone.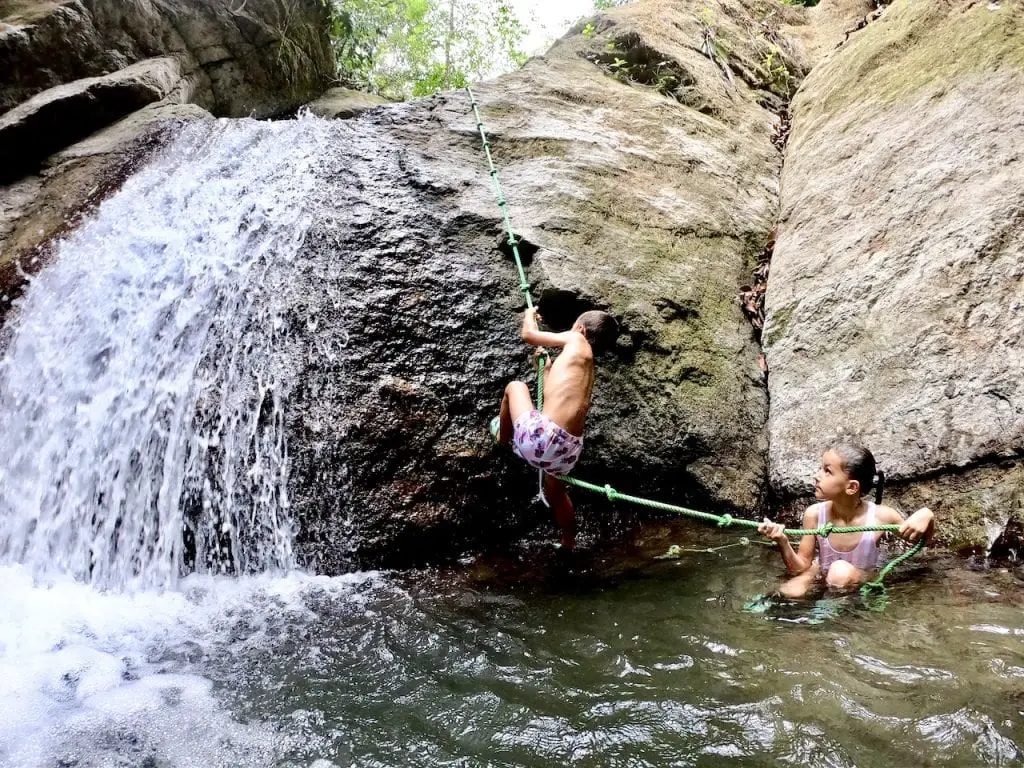 The waterfall is beautiful and you can give climbing a try! It has a little pool in its middle and you can climb to the top and enjoy walking up the river above.
If you are not into climbing, simply get out of the water and hike up to the top level!
Quick tip: wear water shoes! The stones get very slippery and you'll avoid slipping!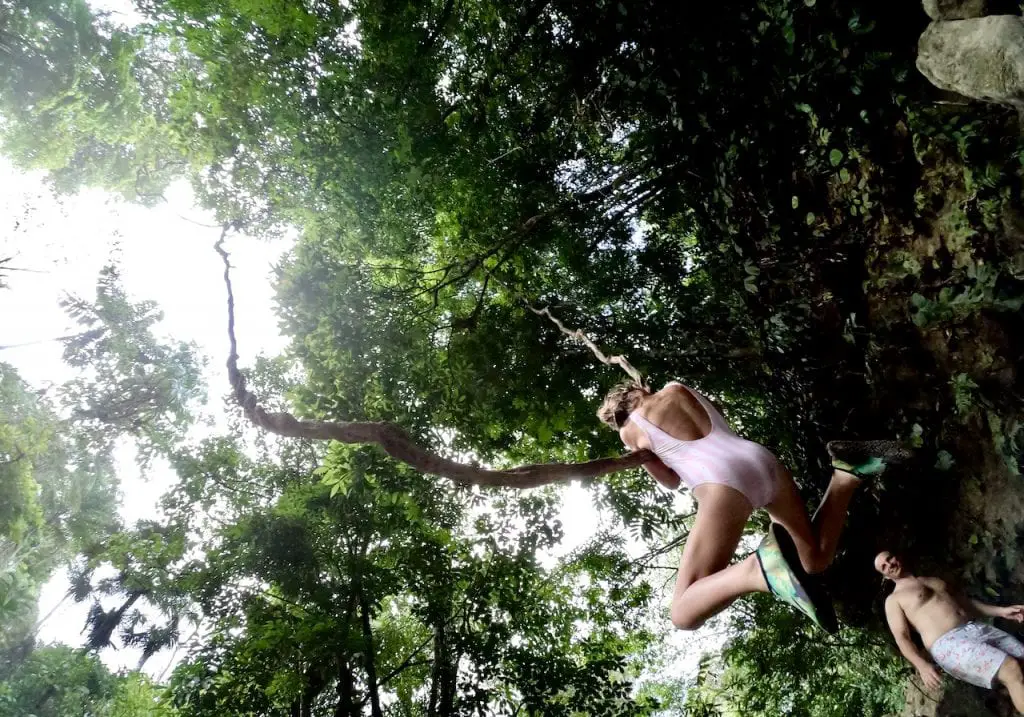 After playing in the river, the kids found a hanging vine and played Tarzan for another hour!! If you haven't yet, you need to check the video above to get a feel for it!!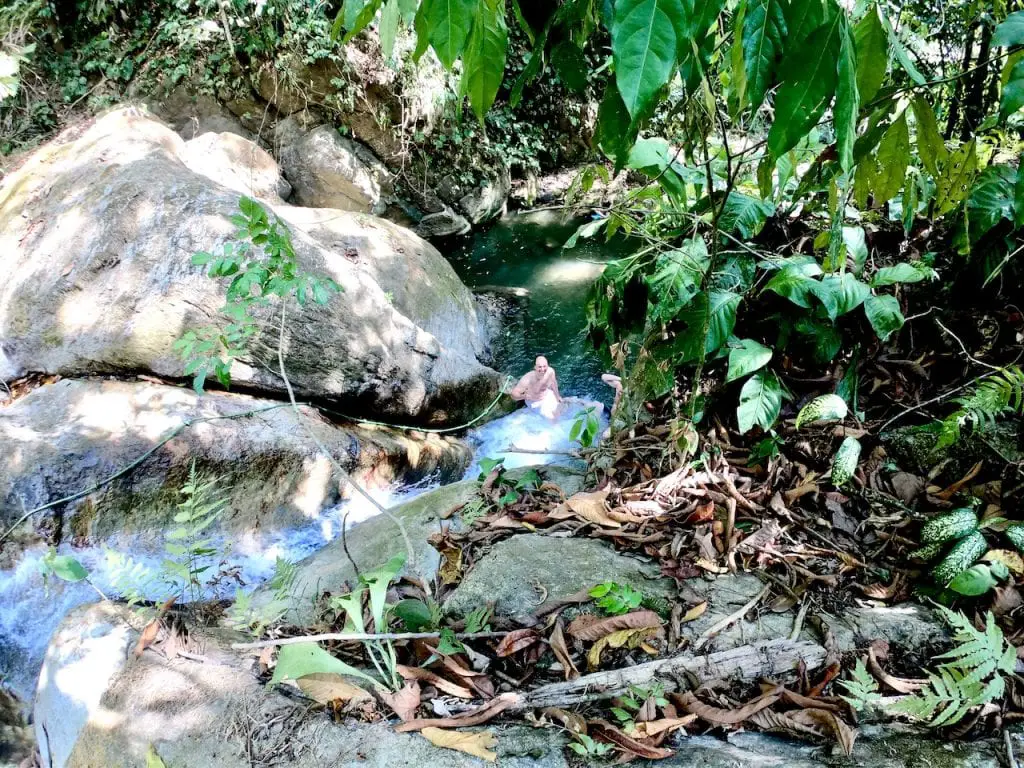 Seriously though, how fun is that!! And the water was perfectly refreshing on a hot day!
Uvita Waterfall Slide
We had so much fun relaxing by the beach and enjoying the Ojochal Waterfall, that we did not have time to visit the Uvita Waterfall.
It was on our list though… if you're there, go visit it and let us know what we missed out on! It has a natural slide you can slide down and fall in the river below!
Saturday Farmer's Market
Every Saturday morning, Uvita hosts its farmer's market. It is a must if you're looking for a local taste.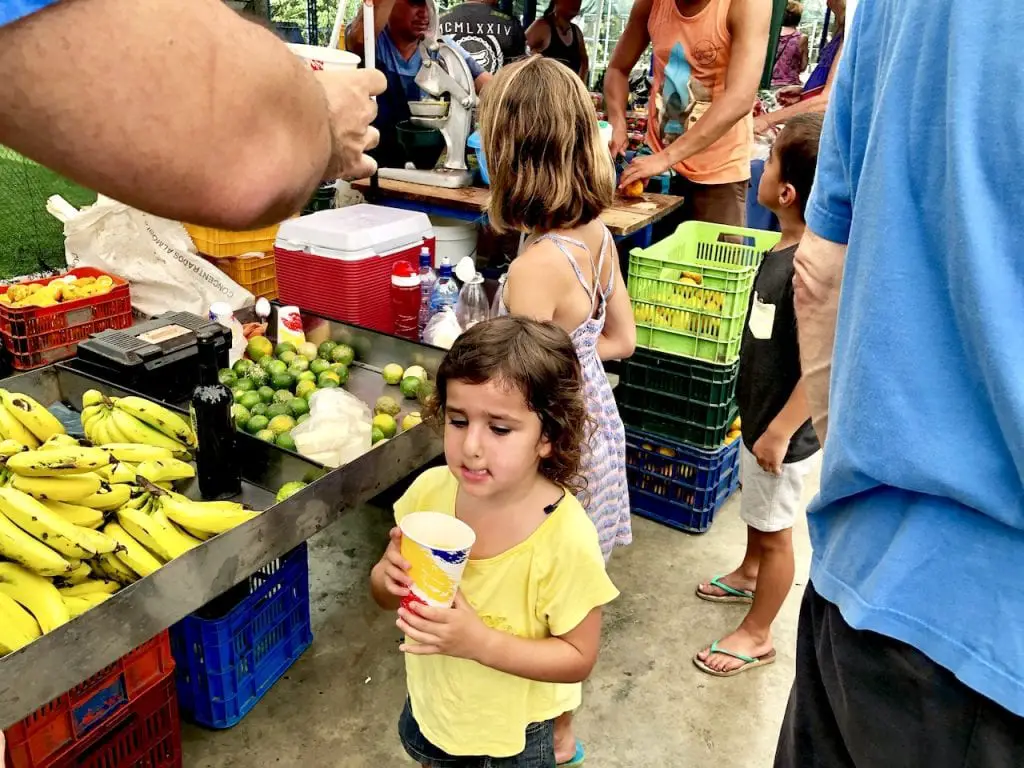 We filled up on tropical fruits.
Ava wanted a red pepper…
And the lady at the back of the market, made this amazing lunch for us! Couldn't tell you what exactly was in there, but it was one of the most delicious dishes we ate in Costa Rica!
Where To Eat Near Uvita
We only spent 3 nights in Uvita and fell in love with the beach bar/restaurant, 500 meters down the beach from our AirBnB!
Villa Leonor at Ballena Beach Club
This little restaurant, accessible via the main road or from the beach, serves amazing cocktails and wonderful local food and fish!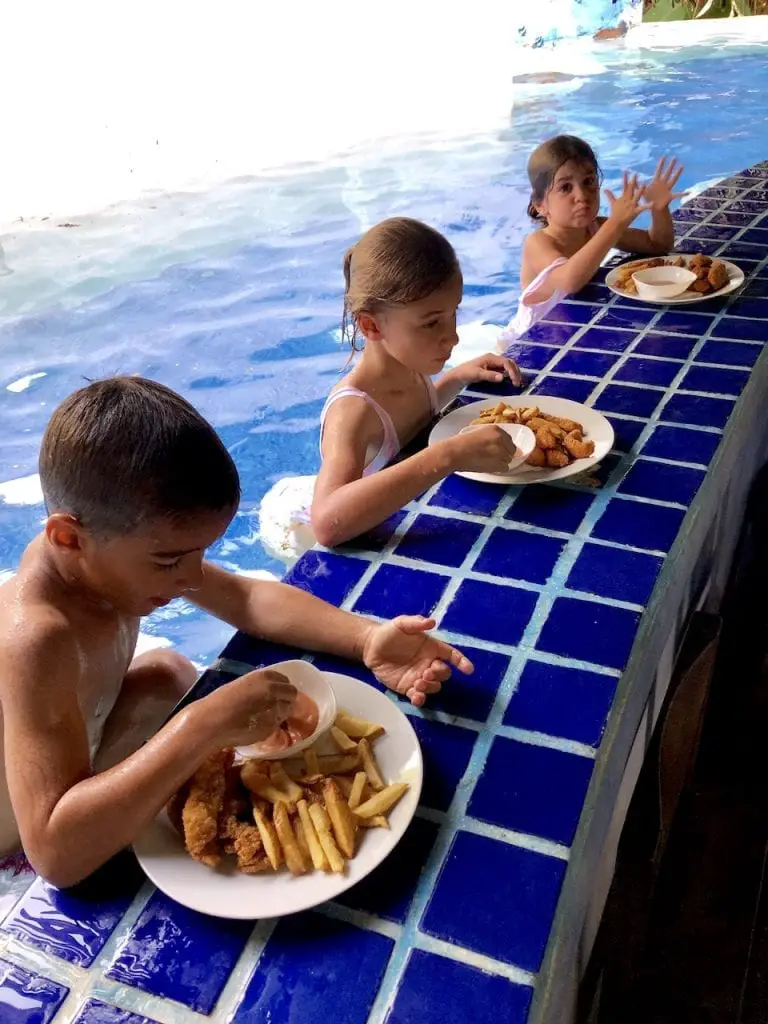 Prices are very reasonable and they have a double pool (one heated, one not), which was our kids' highlight! We loved it too since they spent all night swimming and Christian and I enjoyed peaceful dinners.
If that's not the good life… they were served their food in the pool (and allowed to eat kids food for one night…)! Now, that makes traveling with kids, the absolute easiest thing in the world!!
Pizza Time
After eating local food for over a week, the kids asked if we could do pizza night on our last night in Uvita.
We chose Pizza Time in Uvita (right off of the main road, on the sea side) and were served a delicious pizza! Highly recommended!
Why Uvita Needs To Be On Your Costa Rica Itinerary
Putting words on what Uvita feels like, in a very difficult task.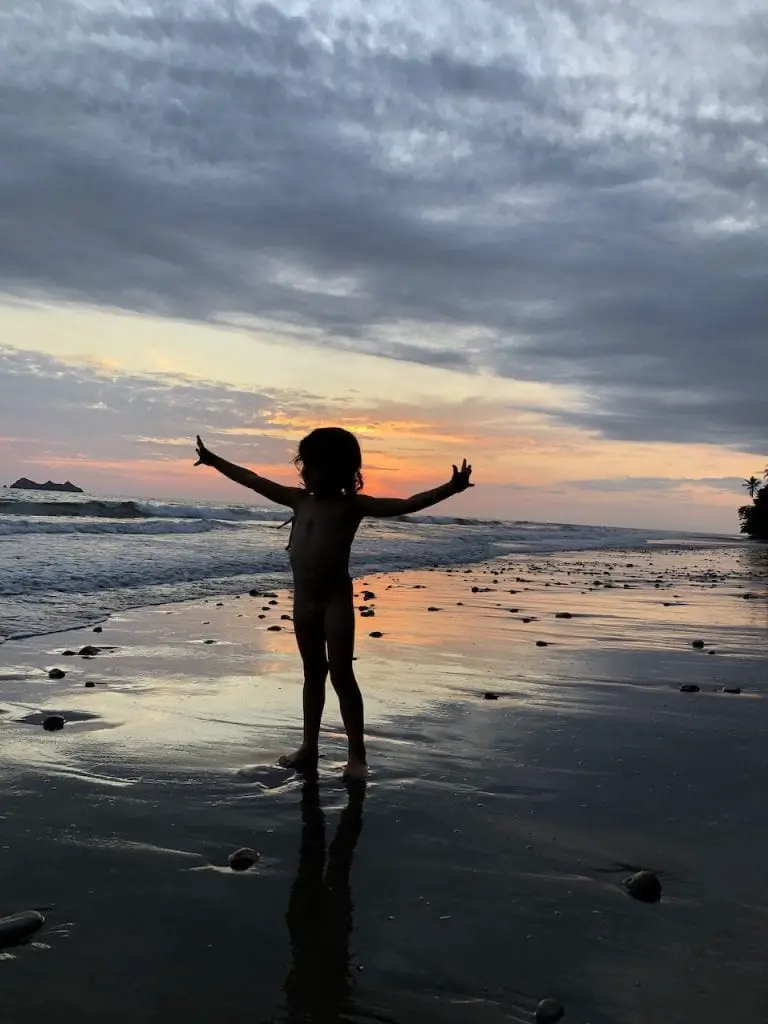 Relaxing. Unwinding. Disconnected. But connected to nature. Happiness. Slow. Warm. Salty. Diverse. Genuine. Natural.
You need to see it, to feel it.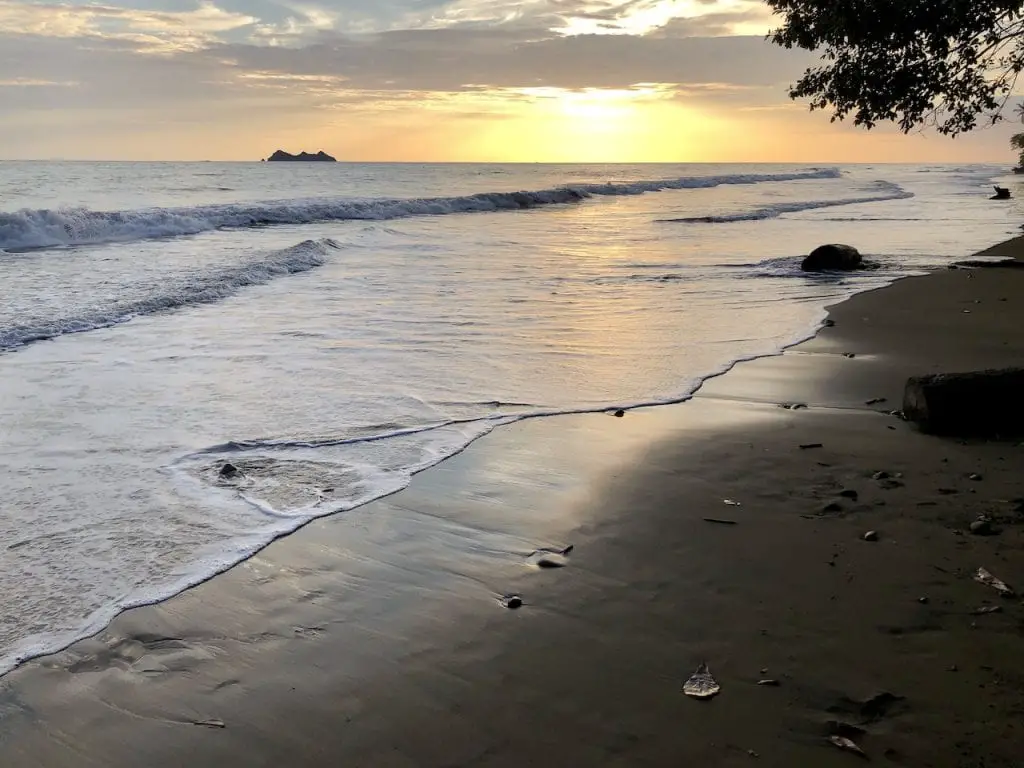 If you are looking to experience true Costa Rica, the kind that is still untouched and natural – you need to add Uvita and its region to your Costa Rica trip.
The region is stunning, its people incredibly nice. You won't find international hotels, tall buildings, or anything that impedes on the surrounding nature.
You will however, find many expats, who found a little gem and never left!
I promise you, you won't be disappointed! You have to spend at least 2 nights in Uvita!
Happy Travels!
---
Pin this for later!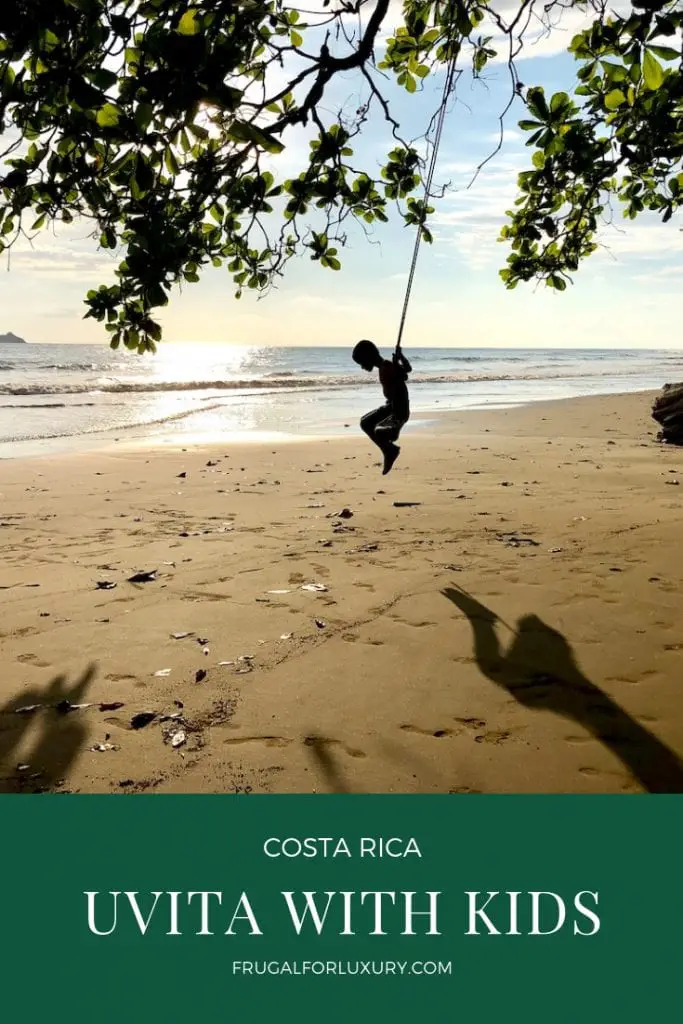 ---
Related articles you will enjoy:
What To Do Near Volcano Arenal With Kids – Costa Rica Report
Parque Nacional Volcàn Tenorio With Kids – Costa Rica Report
Zip Lining With Kids In Monteverde – Costa Rica Report
Parque Nacional Manuel Antonio With Kids – Costa Rica Report
If you enjoy reading us, sign up for our newsletter below!