BULA (hello!) from the Coral Coast of Fiji's mainland!
I still can't believe that we have been here 8 days already, and we're so sad to be leaving in a couple more days. Living down here is slow and happy. We live with the rhythm of the waves and tides. We enjoy lazy days on the beach, mixed in with exploring trips to Suva, local waterfalls, Sigatoka, and… thrilling fun at Fiji's biggest fun park – Kula WILD Adventure Park!
The Coral Coast is about 1.5 hours south-east of Nadi, where you are most likely to fly into, when visiting Fiji. We have rented a car but you could also rely on taxis and local buses.
We thought that the Coral Coast was the best place for families to enjoy Fiji's mainland. The snorkeling is fun and right off of the beach, and there is plenty to stay busy or relax at your heart's content.
So this morning, we took the kids for a fun-packed kids day at Kula WILD Adventure Park – located right past Sigatoka. We had been doing a bunch of visits and hikes and the kids haven't seen a playground in nearly 3 weeks… so we thought we were overdue for a kids day.
And boy did we ALL love our time at Kula WILD Adventure Park!
So here are 7 reasons to visit Kula WILD Adventure Park Fiji:
1- Combo Ticket
I highly recommend purchasing the ticket combo that includes the park entrance + 2 zip lines + unlimited water slides.
For 110 FJD (around $55 USD) and 60 FJD (around $30 USD), you will maximize the fun at Kula WILD Adventure Park.
2- 360-Degree Zip Lining
Our family had 2 absolute favorites! One of them was the zip lining!!
Kula WILD Adventure Park has a patent-pending 360 degree zip line. They call it the Krazy Canopy Flier and it is like no other! It allows you to swing from side to side as you glide down and through the canopy! It feels more like a mechanic roller-coaster zip rail.
Children need to be 25 kg to zip line. Mark and Ava were able to participate, while Elin waited at the bottom with a staff member.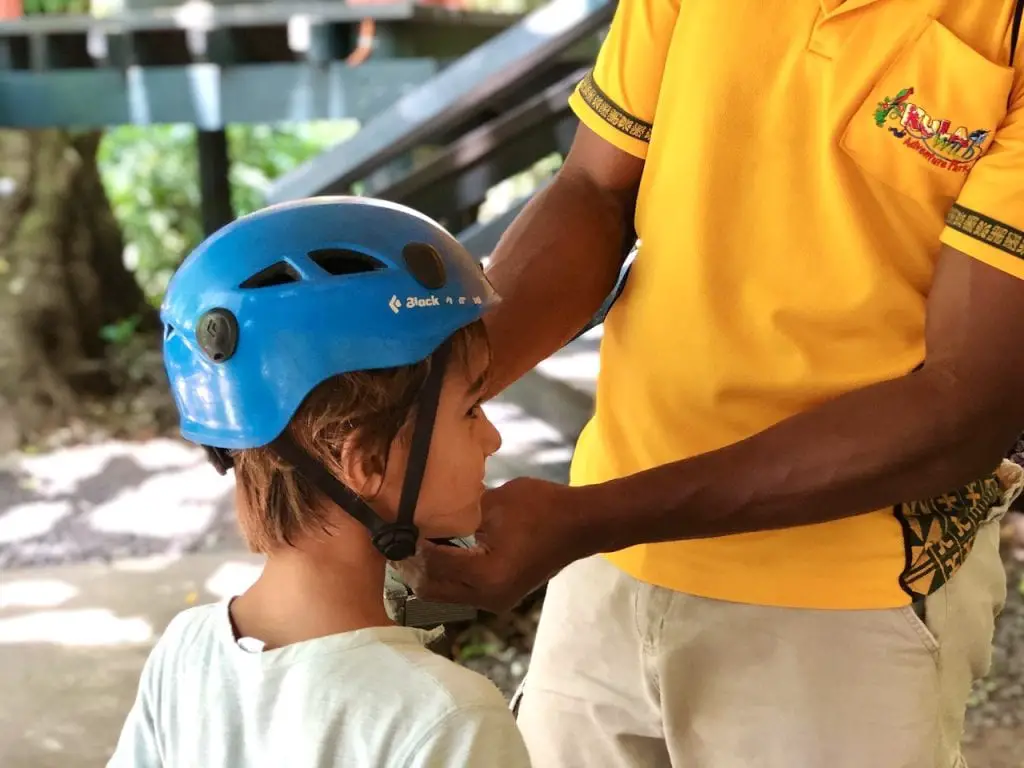 We were first fitted with our harnesses. Everyone was given equipment based on their current weight, which made us feel very safe! We then brought our trolleys up the mountain and got going!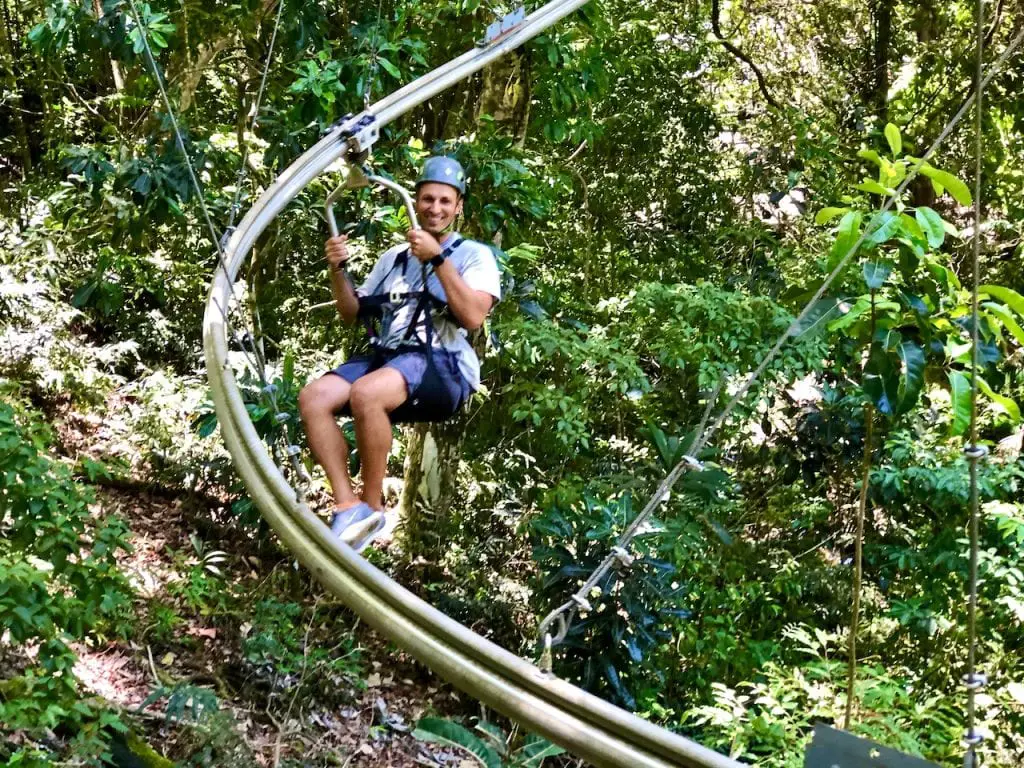 One after the other, we swung and glided through the beautiful canopy. Swinging and curling around trees at a thrilling speed.
Everyone wanted just one thing – hop right back on!!
You can always buy more rides at the park.
3- Unlimited Water Slide
Kula WILD Adventure Park has the longest water slide in all of Fiji, guys – over 100 meters!!
We might be used to Disney water parks, but this one was amazing fun! It was long, fast, turned left and right, and took us through the forest and above the river.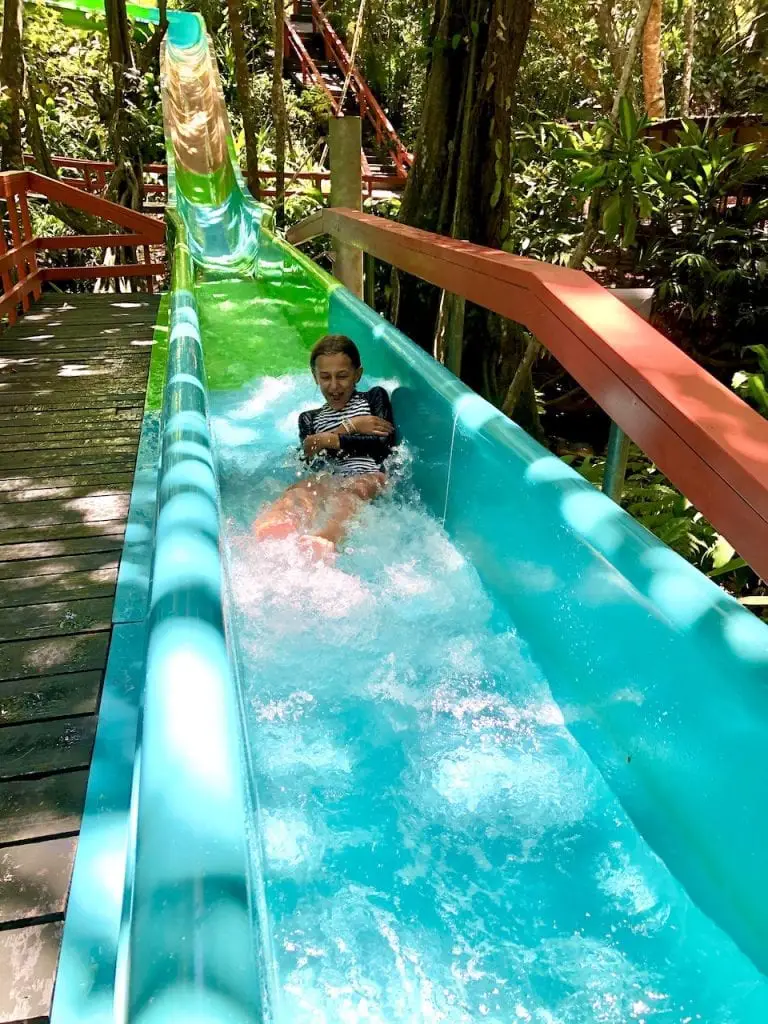 Get the unlimited water slide option for endless fun! We honestly thought we weren't gonna be able to leave the park!! 🙂 The kids went up and down for nearly an hour and a half!
On a hot day like we had, the water was perfectly refreshing!
4- Meet Local Rescue Animals, Plants, And Coral
Before all the thrill, we decided to visit the park and meet its local residents.
A nice long walk took us through animal-filled spaces and a stunning forest. We loved all of the signs telling us about the trees and plants. Lots of humor too! It was literally a FUN walk!
There was a whole area teaching us how the locals use their local flora to treat ailments.
The many birds and animals kept at Kula WILD Adventure Park are rescues. Some were confiscated at ports of exit by the Fijian Custom Authorities. Others were taken from the wild by local residents and brought to the park after they fell sick.
We loved interacting with all sorts of parrots, birds, and iguanas.
5- Feed The Turtles
Don't miss the experience, especially if you have children!
Three times a day, the park staff gives you the opportunity to feed the resident turtles.
After thoroughly washing our hands to not endanger the turtles, we were given fish meat and taught how to safely feed them.
It was such a fun experience for everyone and I wouldn't miss it! We missed the 11AM feed and participated in the 1PM one.
6- Hold Iguanas And Snakes
At the entrance of the park, was what I thought was the coolest experience. We got to pet and hold iguanas and snakes.
Note that you will be asked to come back at the end of your visit if you recently applied sunscreen. The park is very serious about protecting its animals and wouldn't want to endanger any of its residents.
Before touching the animals, we washed our hands and got to handle the iguana first.
Just like a snake, it is cold blooded and feels cold to the touch. The kids loved to pet them!
We then got to handle the snake – in our hands or around our necks.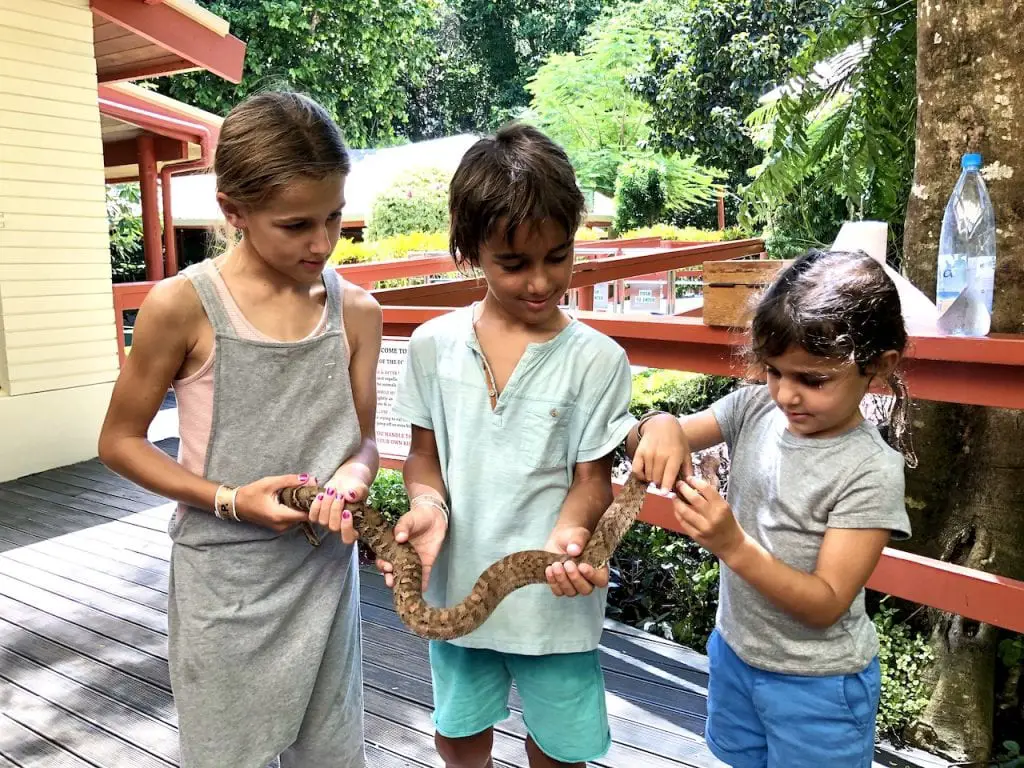 Such a special experience!
7- Kula Kiddies Splash Zone
If you have smaller children (or young-at-heart kids like ours!) they will love the water splash zone.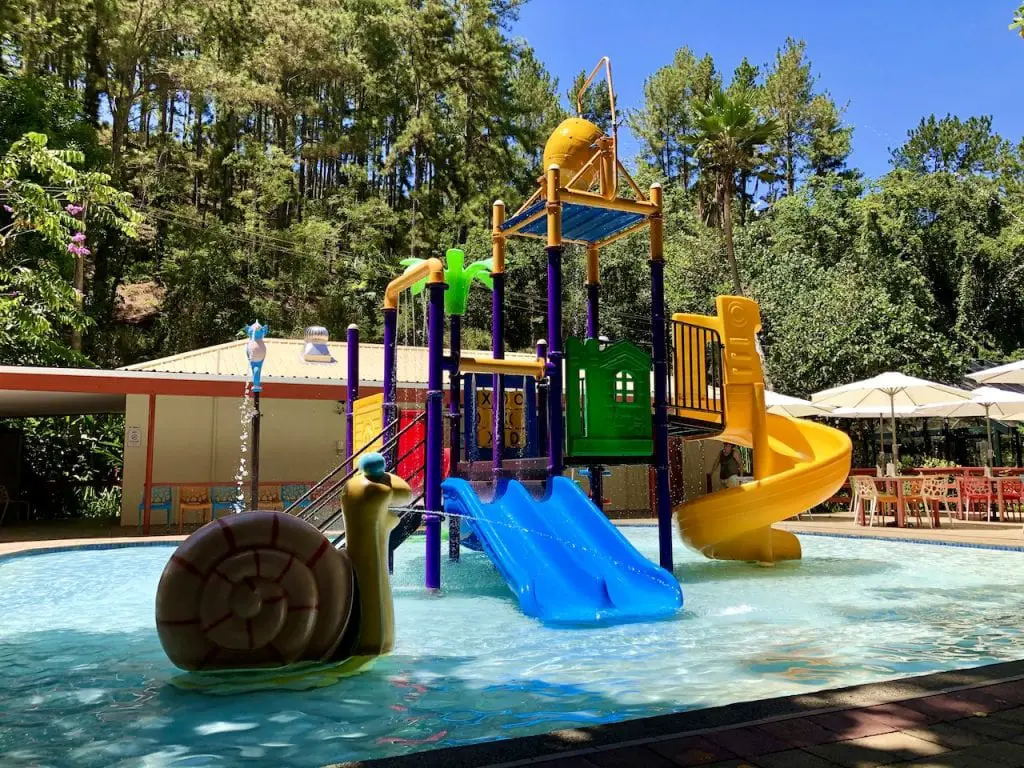 A large bucket of water emptied on their heads every few minutes and they sled down the slide non-stop!!
Kula Adventure Park Fiji
If you are in Fiji with kids, make sure to visit the Kula WILD Adventure Park. About an hour away from Nadi, right near Sigatoka, it is perfectly placed whether you are staying at a Nadi resort or on the Coral Coast.
We spent just over 3 hours inside the park and all of us really enjoyed ourselves. We thought the park was in perfect shape, very well maintained, safe, and beautiful!
They did a wonderful job at creating a very local experience of fun, adventure, and lots of learning opportunities! A must when traveling to Fiji with kids!
Thank you Kula WILD Adventure Park for hosting our family at your beautiful park today!
---
Pin this for later!
---
Related articles you will enjoy:
Best Way To See Most Of Fiji With Kids – 11 Reasons To Cruise With Captain Cook Cruises Fiji
Moorea With Kids – A *Family-Proof* Travel Guide
What To Do In Tahiti With Kids – 7 Must-See's
If you enjoy reading us, sign up for our newsletter below!