We just spent 3 nights at Center Parcs Villages Nature Paris A Disney Nature Resort and I can't wait to tell you all about it!
Located 15 minutes from Disneyland Paris, it is the perfect family resort when visiting the Disney parks.
Our stay was beyond amazing and here are 10 essentials that will make your stay memorable:
1- Cottage Vs. Apartment
There are many different types of accommodations at Center Parcs' Villages Nature Paris. Find the one best suited for your needs and party size:
Cottage Comfort: up to 6 guests in 3 rooms with private terrace and full kitchen, in about 65 sq. m.
Cottage Premium:

6 guests in 3 rooms with private terrace and full kitchen, in about 70 sq. m.
Can also accommodate 8 guests in 4 rooms, in 121 sq. m.
Modern design and close to shops and activities

Cottage VIP:

6 guests / 3 rooms / 81 sq. m.
8 guests / 4 rooms / 138 sq. m.
10 guests / 5 rooms / 150 sq. m.
12 guests / 6 rooms / 164 sq. m.
The Cottage VIP has water-front terraces, luxurious interiors, and jet bathtub and shower in the bathrooms

Apartment Premium: 4 guests / 2 rooms / 52 sq. m. and located at ground level
Apartment VIP: 4 guests / 2 rooms / 63 sq. m. and on one story
2- Accommodations With Families In Mind
All accommodations are built for families – a huge win in our books!
Parents have their own bedroom, separated from the kids' rooms for everyone's comfort. There are 2 bathrooms for speedy mornings.
In all accommodations, you will find a baby crib, stair gate, and high chair.
And after traveling through Europe for several months, I can't tell you how much we appreciated that sheets and towels were included, as well as the end-of-stay clean.
High chairs and baby cribs should be requested at time of booking!
3- Bicycle Rentals
If I had one tip ahead of your Villages Nature Paris stay, it is to rent bicycles for the whole family. From little balance bikes to training wheels and adult bicycles with kids' carriages, the entire family can rent bikes for their size and skill level.
The resort is very large and renting bikes will allow you to quickly get to your destination. They come with bike locks and helmets are available as well.
4- Aqualagon
Nothing cries Center Parcs more than its Aqualagon. And I promise you, you'll come back for it!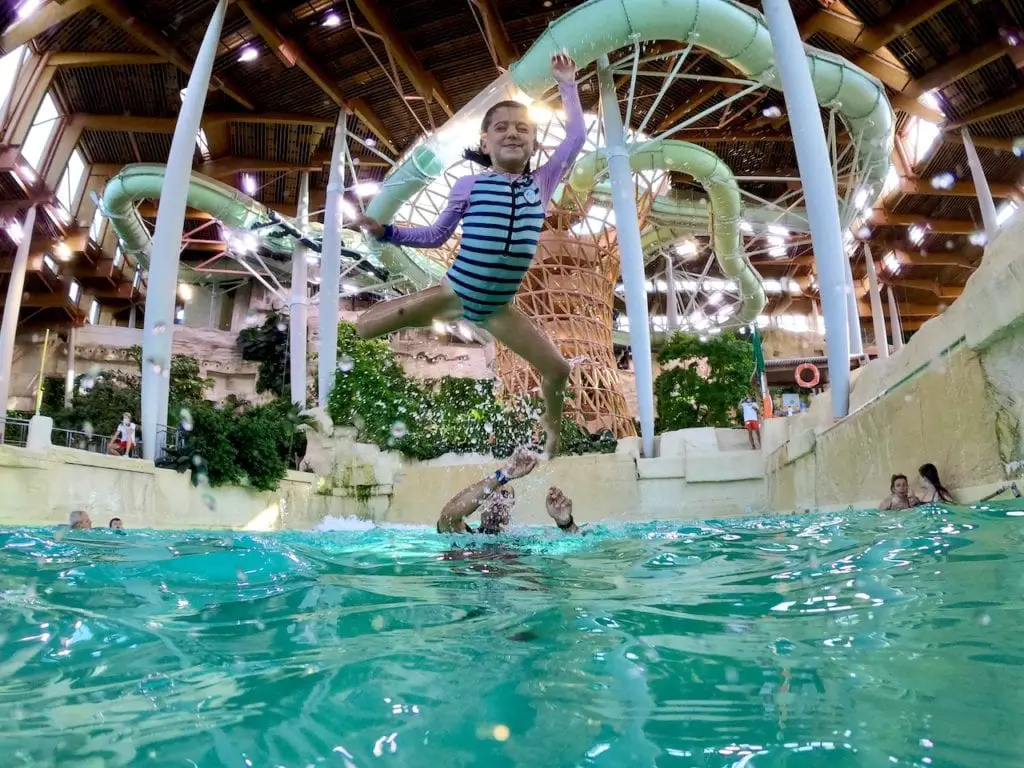 A paradise for kids AND adults, the Aqualagon is one of the largest indoor pool complexes we have ever visited, where the water is geothermally heated to 30 degrees (86 F) year-round.
It includes an indoor wave pool (no waves during COVID), outdoor lagoon pool, an indoor water playground for kids, an activity pool, 8 slides (some body, some buoy, some with 105 and up to 150 cm height restrictions), and a baby activity pool. We even spotted several baby playpens inside the Aqualagon!
Entrance to the Aqualagon is included with your nightly rate and access is unlimited.
5- Fun At The Action Factory
We thought the Action Factory was amazing. Add credits to your resort bracelet to use at the Action Factory.
The kids spent several hours climbing the rock walls and trying to gather as many points as possible in a friendly race.
The Karaoke, Let's Dance, and Ocean Play were lots of fun, and for anyone above 150 cm (4'9"), try your chance at beating the clock in the Ninja Obstacle Race.
6- A Kids' Paradise
Nothing cries "kids' happiness" more than playgrounds, and at Villages Nature Paris, they are plentisome , fabulous, and included in the nightly rate.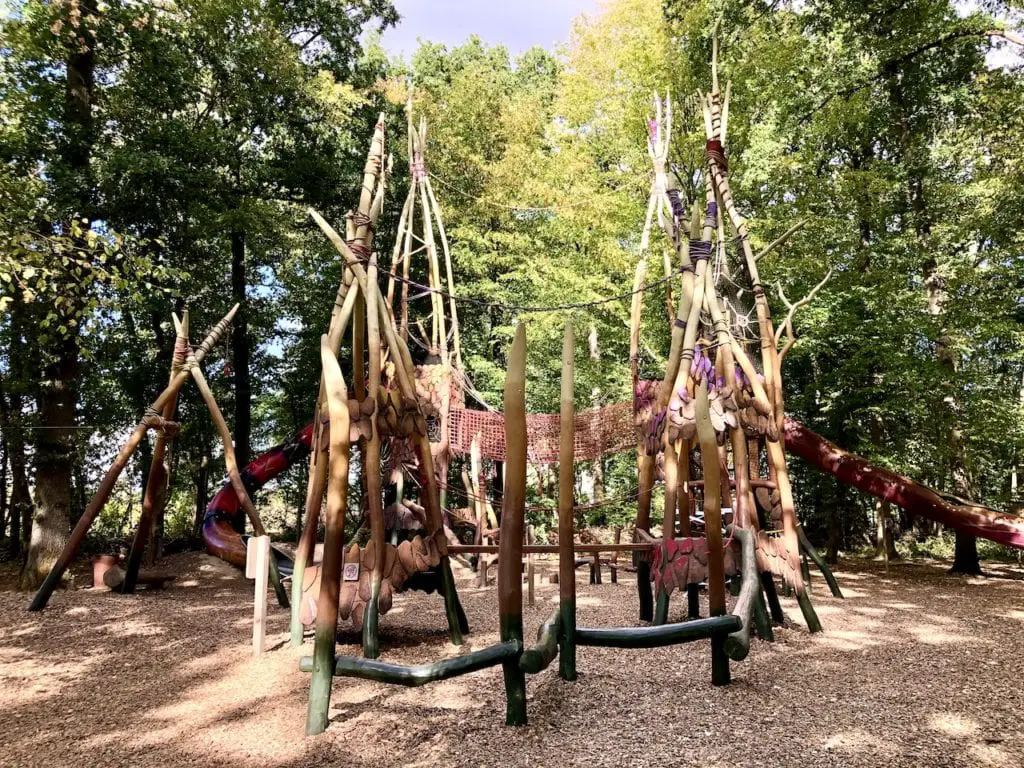 The largest outdoor playground, the Forest of Legends, is a dream come true for your little explorers. They'll be skipping from tree to tree and ziplining through the beautiful forest.
The indoor playground, Lait's Play, is beautiful and large enough to keep the young ones entertained for several hours!
7- Other Family Activities At Villages Nature Paris A Disney Nature Resort
There are endless activities to keep the whole family entertained at Villages Nature Paris. Many activities are free of charge, from guided tours of the farm, to kids discos, shows, trails and games, and more.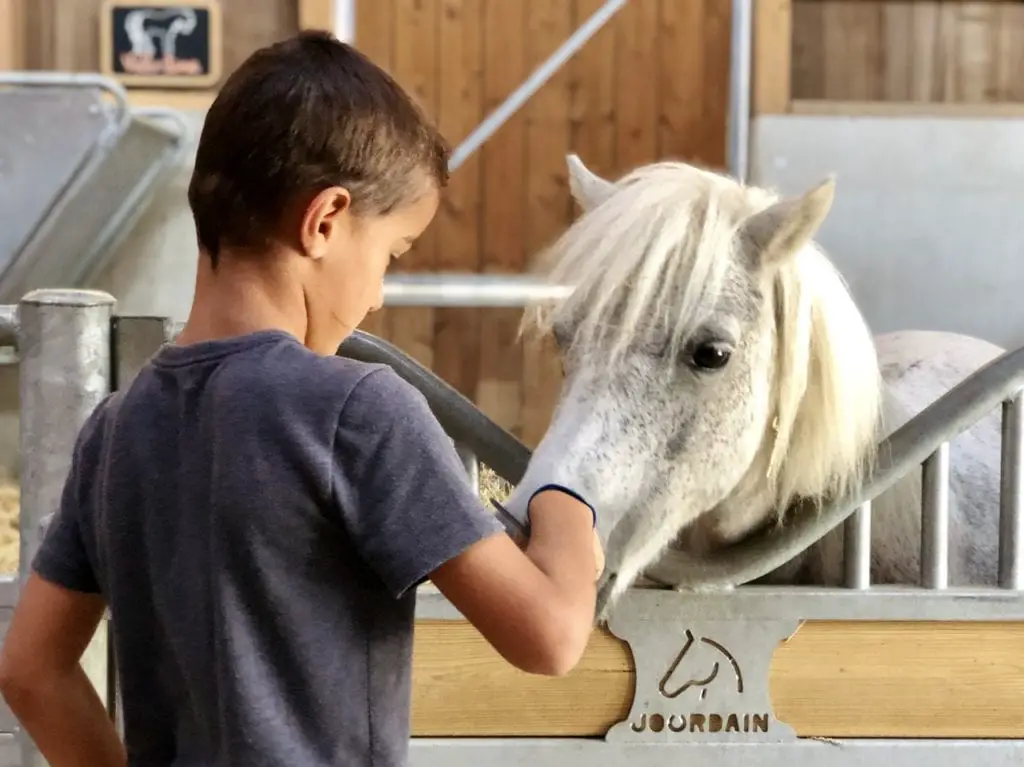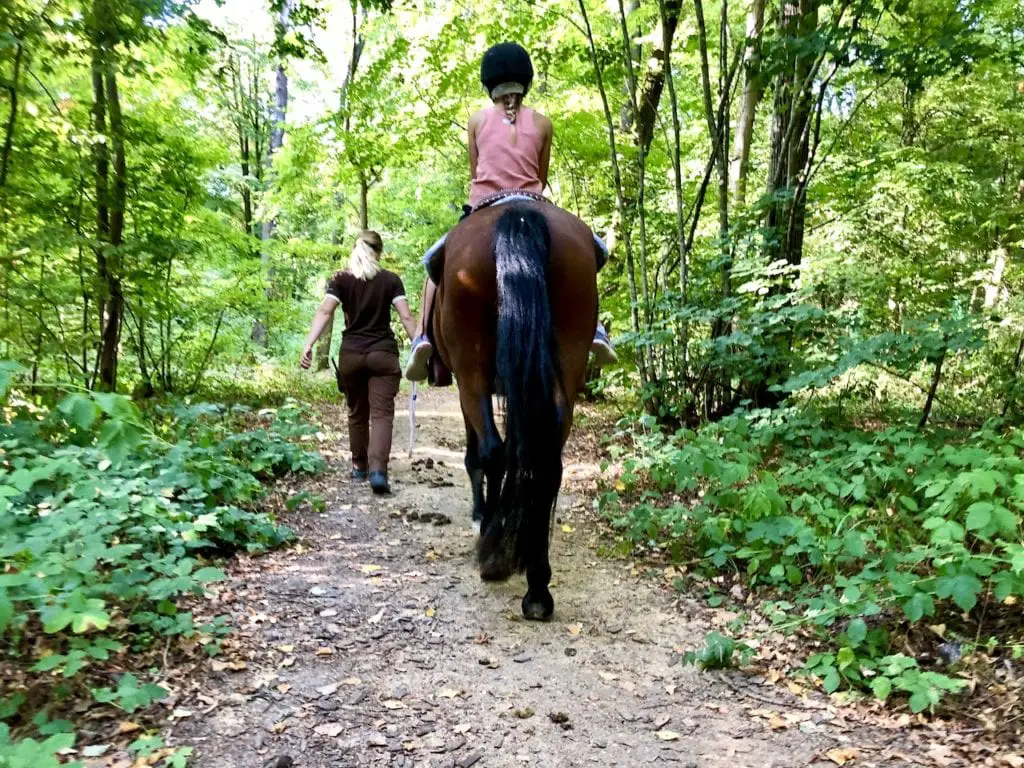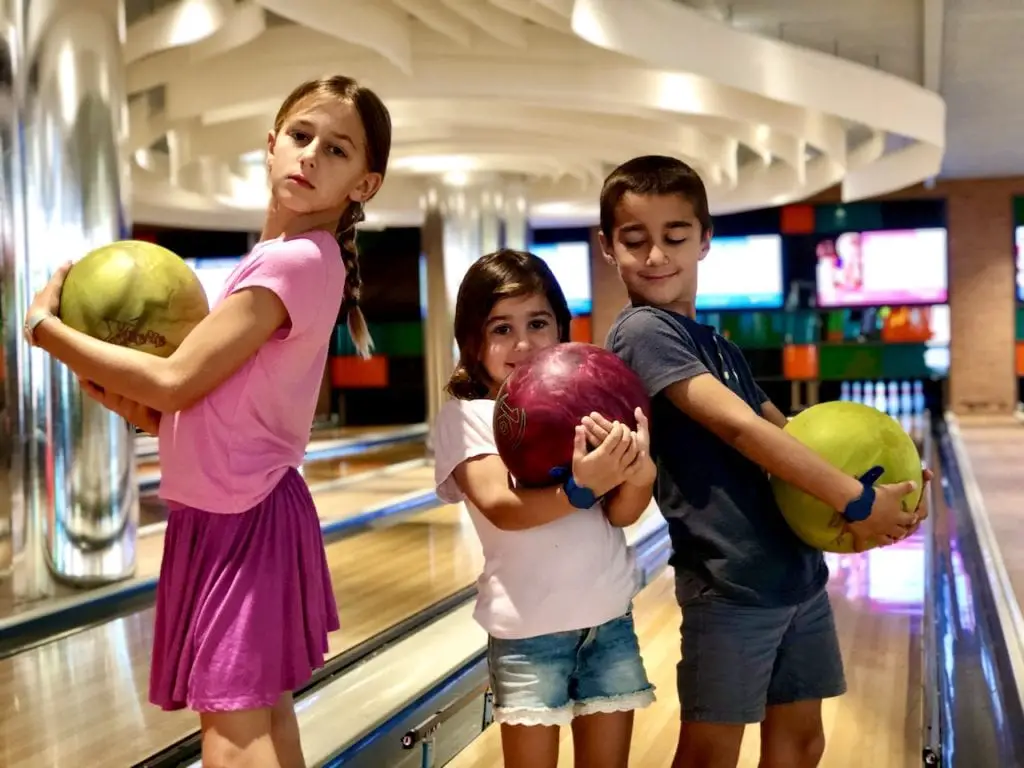 Others are offered for a fee. We loved taking the kids on a pony ride and spending an afternoon bowling together. Other programs include electric boat rentals, farm days, swimming lessons, Segway rides, a kids' club in cooperation with Disney Nature, pedal boat and mini-jeep rentals, tree trails, and much much more!
8- Food Offerings
There are so many options for food at Villages Nature Paris, you won't run out of ideas.
I highly recommend getting your breakfast delivered at your door. The bread and baked goods come from the Boulangerie Chez Meunier – renown Parisian baker and delicious option in the morning you should not pass on!
Other options include Bar Bowling, pizza house Vapiano, the Lagon Café inside the pool complex, and three other restaurants. We also loved getting ready-made food at the Franprix grocery store and bringing it back to the cottage for lunch.
9- Accessibility At Villages Nature Paris
The Cottages and Apartments at Villages Nature Paris A Disney Nature Resort, allow bookings with increased accessibility. Choose that option and benefit from:
Higher toilets with accessibility bar
Wider entrance, bedroom, and living room doors
Lowered kitchen countertops
Extra space under kitchen sink for wheelchairs
Lower kitchen oven
Shower seat
Terrace accessible to wheelchairs
10- Traveling To Disney With Pets
Center Parcs Villages Nature Paris allows families to travel with their pets! All accommodations allow for one of the following pets (1 per accommodation) to join in the fun:
Dogs – on a leash
Cats, rabbits, rodents – in a cage
Fish – in their fishbowl
Additionally, many dog parks are scattered throughout the resort for our best friends to have as much fun as we do at Villages Nature Paris!
11- COVID Measures At Villages Nature Paris A Disney Nature Resort
We felt extremely safe at Center Parks Villages Nature Paris during the COVID crisis. Our Cottage was perfectly clean and the resort took strong measures to protect its guests.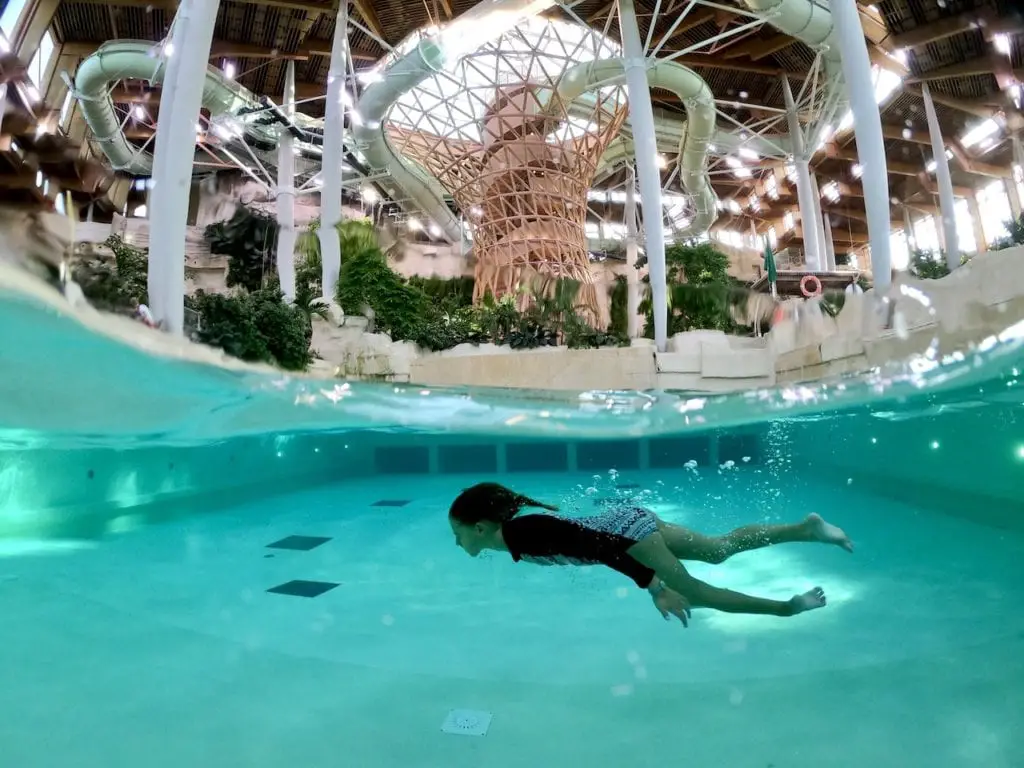 Masks are required inside all buildings, at playgrounds, and anywhere on the outdoor promenade. No masks are required inside the pool.
Additionally, Center Parks Villages Nature Paris allows you to book with serenity. Cancel your stay without a fee up to 7 days prior to check-in date.
Hotels Near Disneyland Paris With Free Shuttle
While Center Parcs Villages Nature Paris does not offer a free shuttle service, you can board the resort shuttle between Center Parcs and the Disney Parks / Disney Village for a small fee.
From there, you can also board a train (RER) for Paris Center, should you fancy a visit to the City of Love.
Center Parcs Villages Nature Paris Disneyland Paris
Our time at Center Parcs Villages Nature Paris was beyond wonderful. It was actually so good that the kids decided to spend all days of our three-night stay at the resort and to skip Disneyland Paris!! If that's not a statement of how amazing the resort is, nothing will be.
If you decided to spend some time in the Disney Parks, I recommend booking one or two extra days to really enjoy everything the resort has to offer.
Villages Nature Paris A Disney Nature Resort is hands-down, the best resort we stayed at near Disneyland Paris! And since it is a Disney partner, you can even book your park tickets right from the resort!
And don't forget to check GoWhee App to find this resort and more family-friendly locations near Disneyland Paris!
Many thanks to Villages Nature Paris for hosting us for three nights.
---
Pin for later!
---
Related articles you will enjoy:
Budapest Thermal Baths: 11 Thing You Should Know Before Visiting With Kids
The Cheapest Car Rental In Europe You Didn't Even Know Existed // TT Program
What To Do With Kids In Rovaniemi, Finland
If you enjoy reading us, sign up for our newsletter below!