Waking up in La Conner, WA for our last full day on the Cascade Loop, the excitement was higher than high! We were going to spend the day on a cruise, trying to spot as many whales as possible!!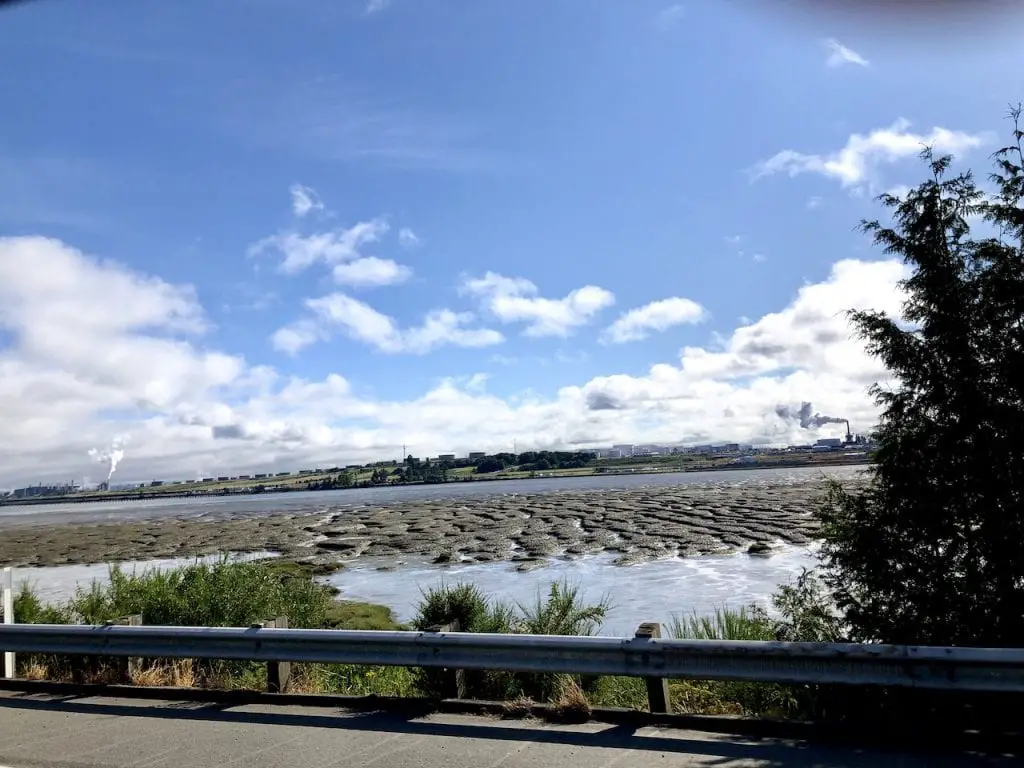 After a yummy free breakfast at the La Conner Country Inn, we headed out straight for Anacortes, WA, only about 20 minutes away, along the coast!
Island Adventures Whale Watching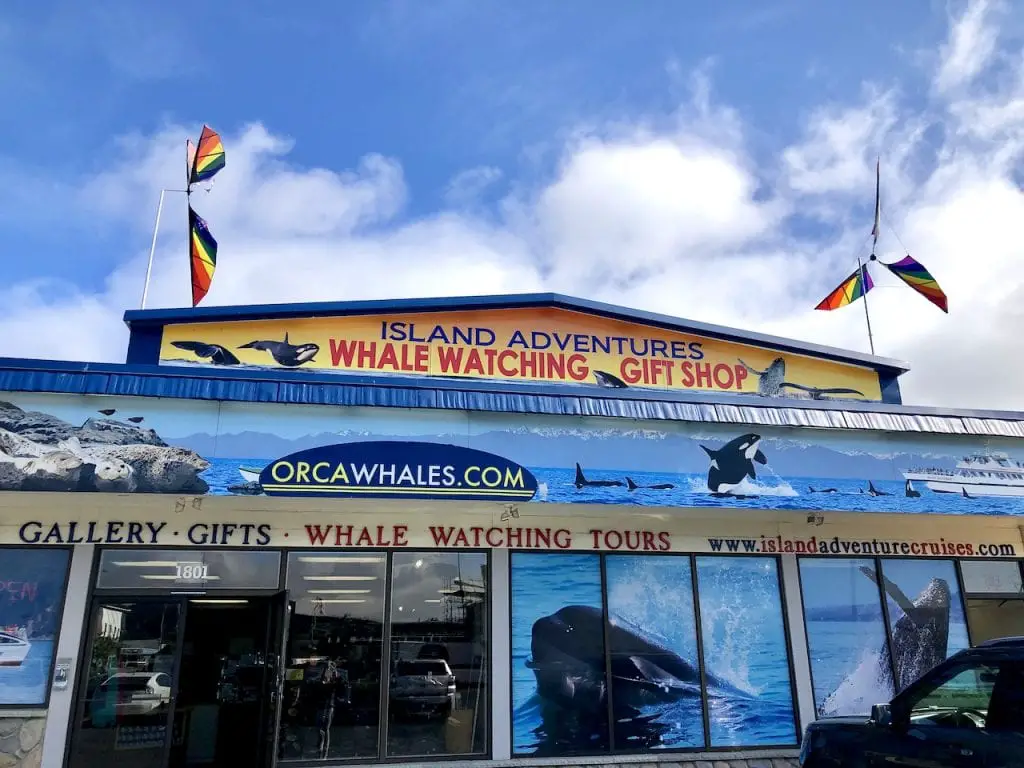 With a check-in office and shop in the center of Anacortes, Island Adventures Whale Watching is actually the top rated whale watching company in the north west!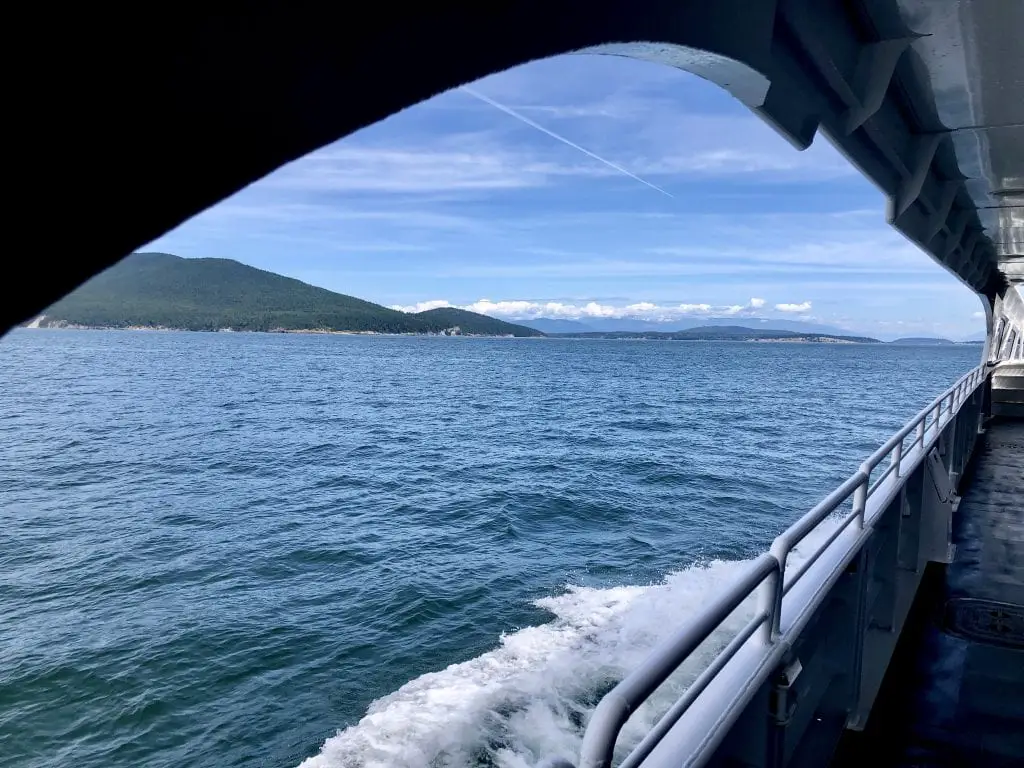 They have amazing whale viewing rates with a running rate above 95%! And guess what?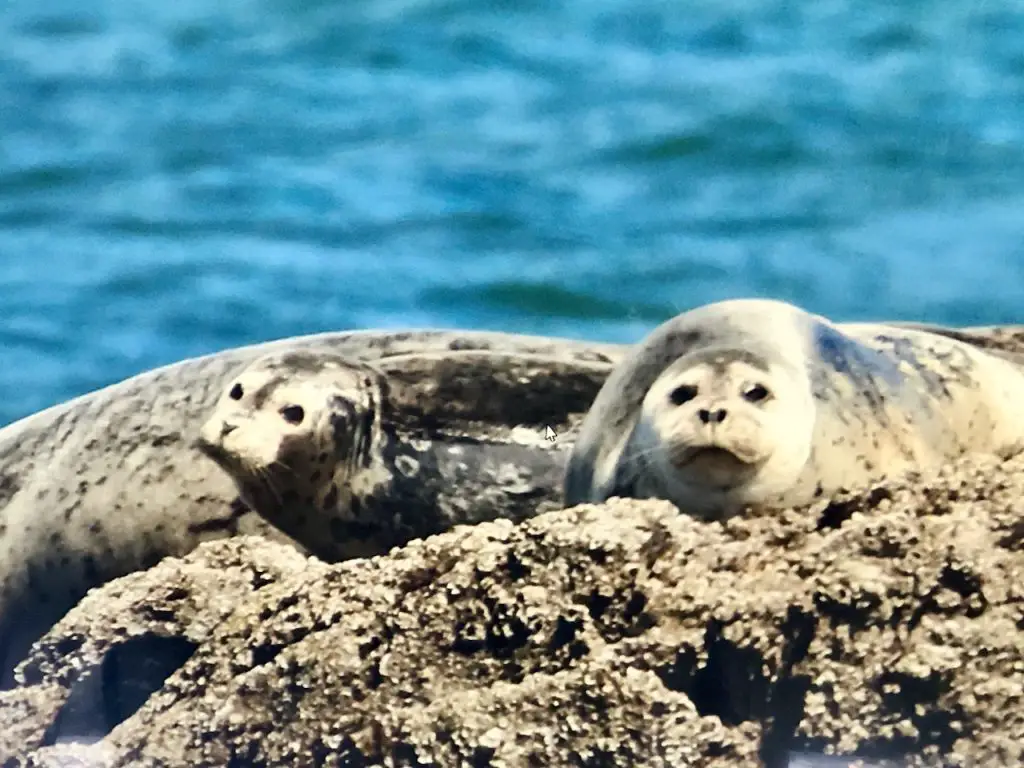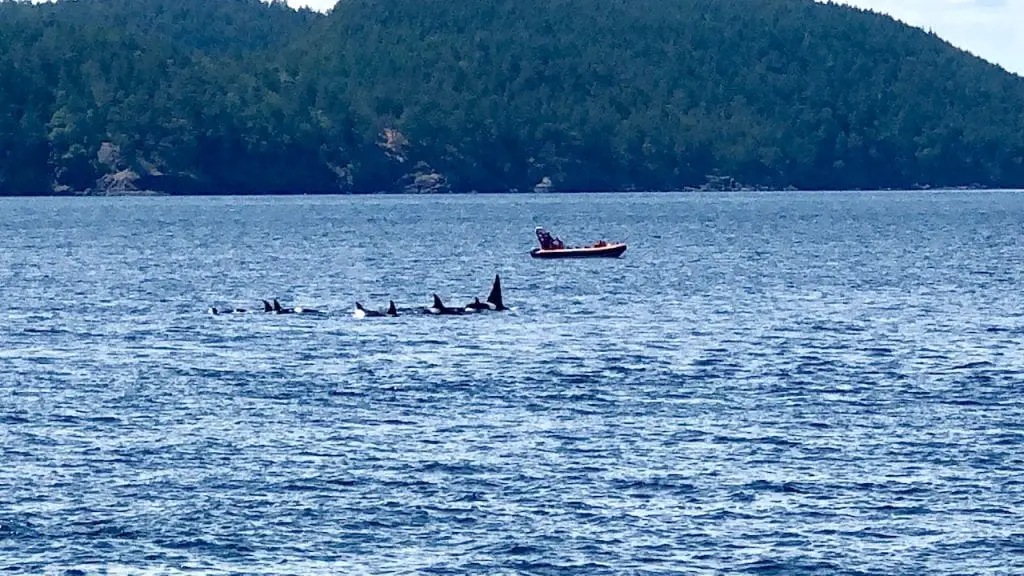 We saw a large family of orcas (more commonly known as killer whales!)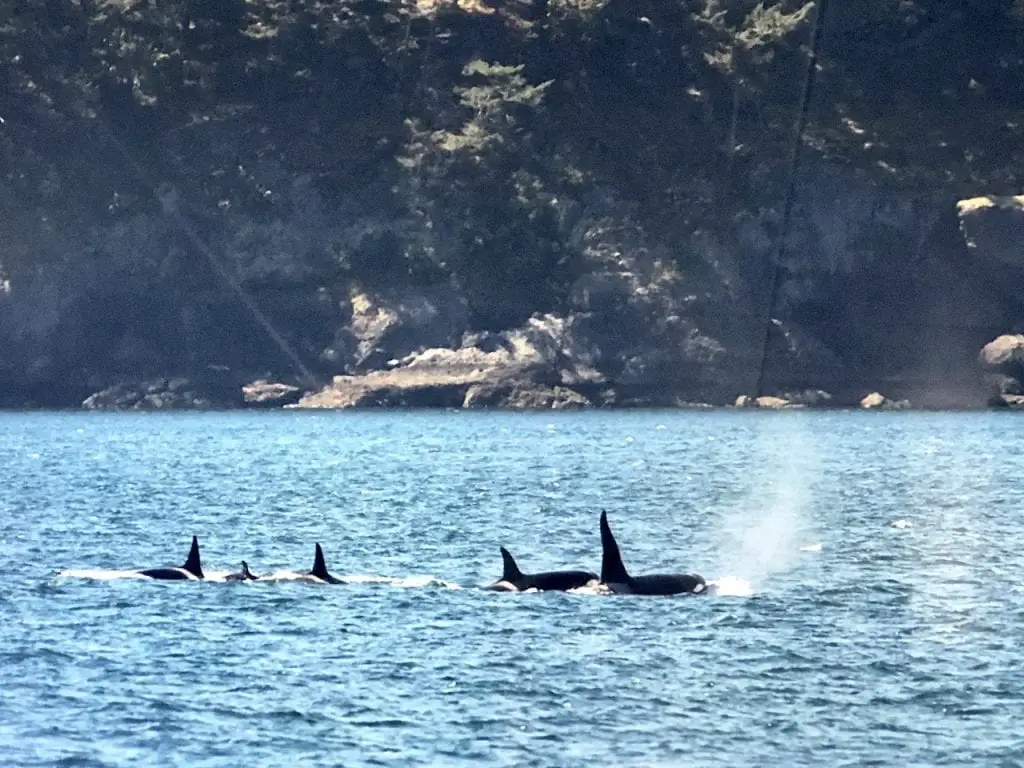 Being a matriarchal species, this specific group's leader was grandmother T36. She was together with her kids and some of her grandchildren visiting!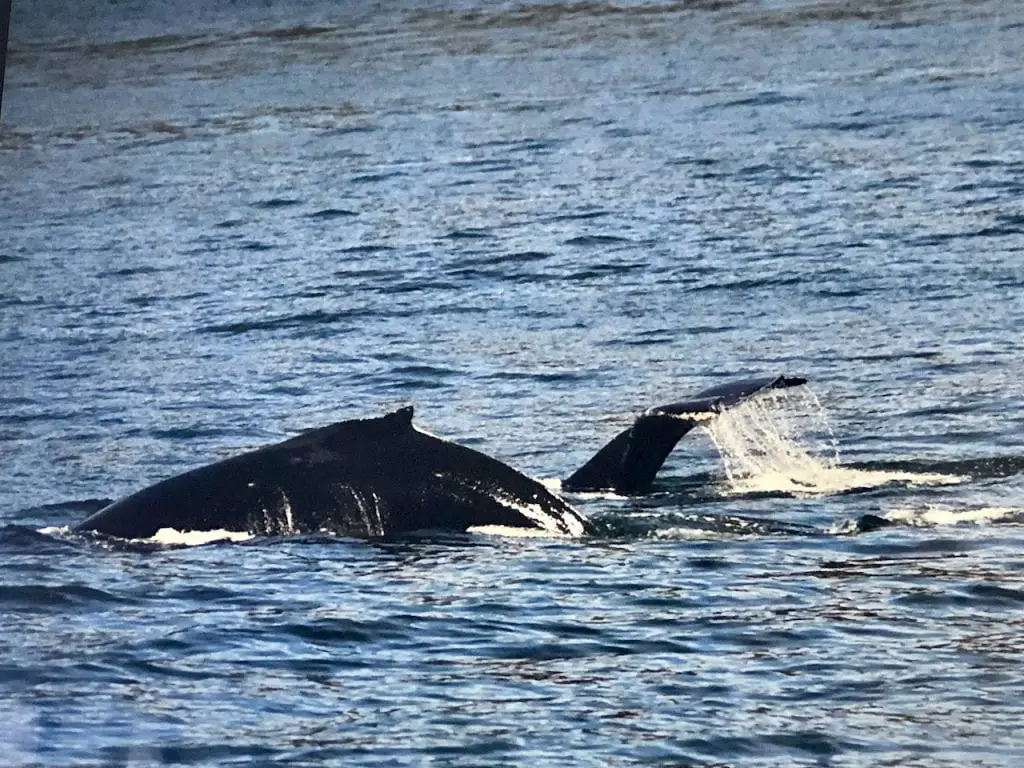 We also saw humpback whales!!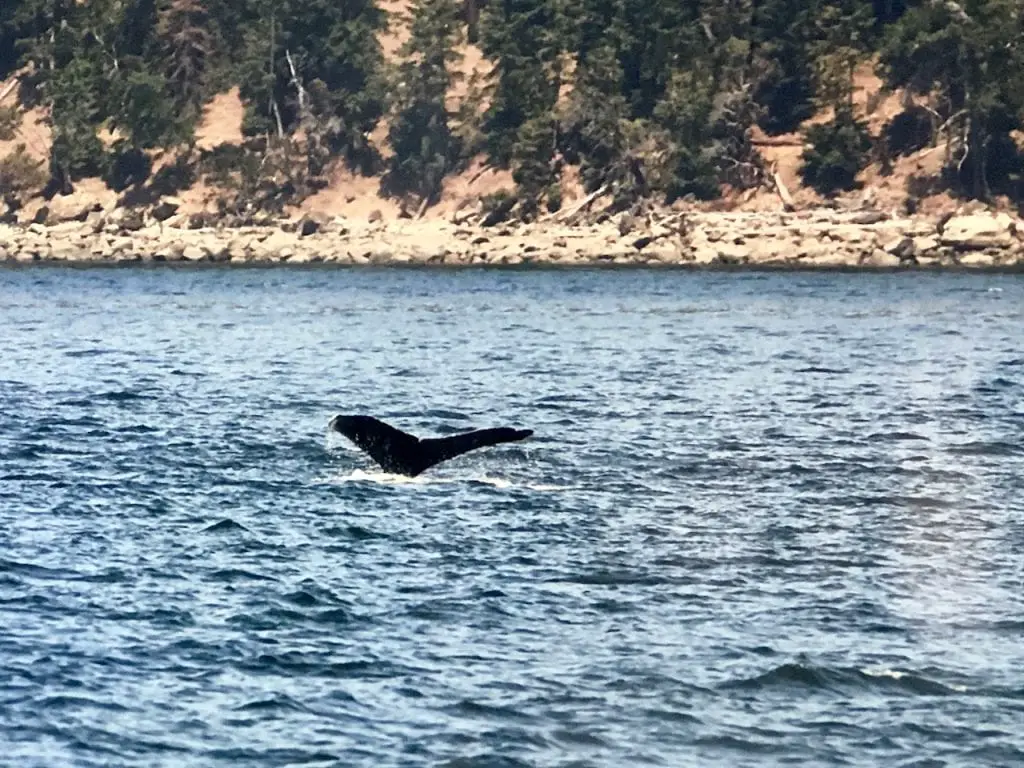 I really was hoping to see humpbacks and we saw two of them! They didn't show off their tails too much… but the on-board naturalist snapped a couple of really good pictures 🙂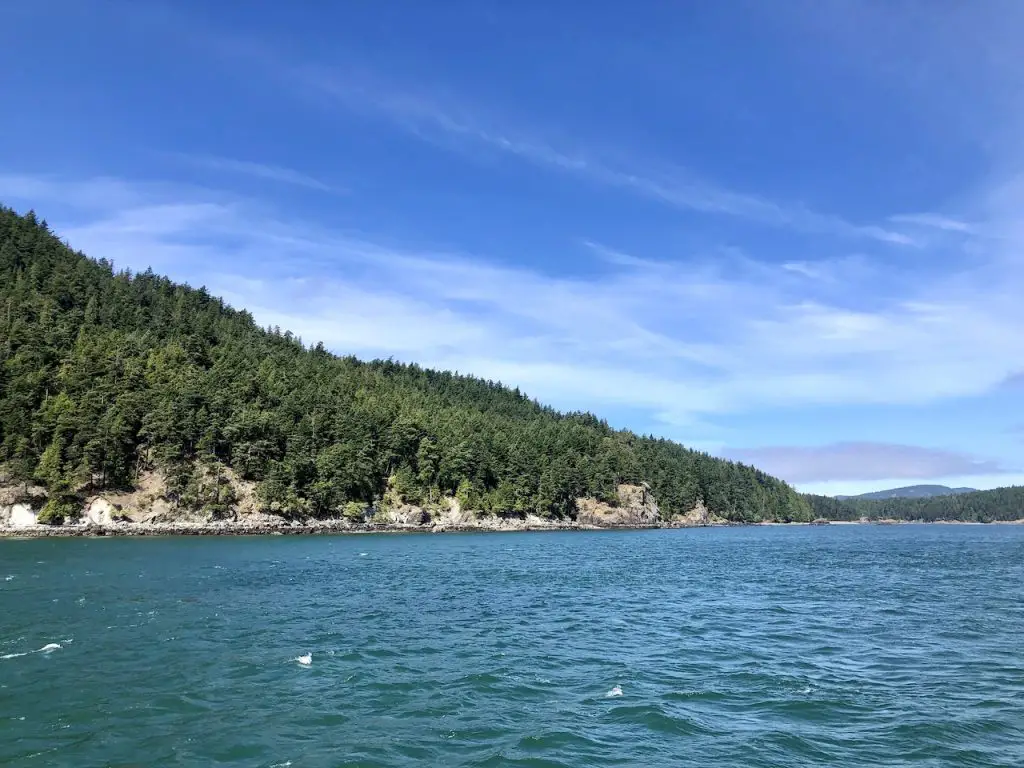 During the 5-hour cruise, we were also very fortunate to see the cutest group of seals, an immature and a fully-grown bald eagle!
Whale Watching With Island Adventures Whale Watching
Island Adventures Whale Watching is a super family-friendly company! We were very impressed with how nice everyone was with the kids!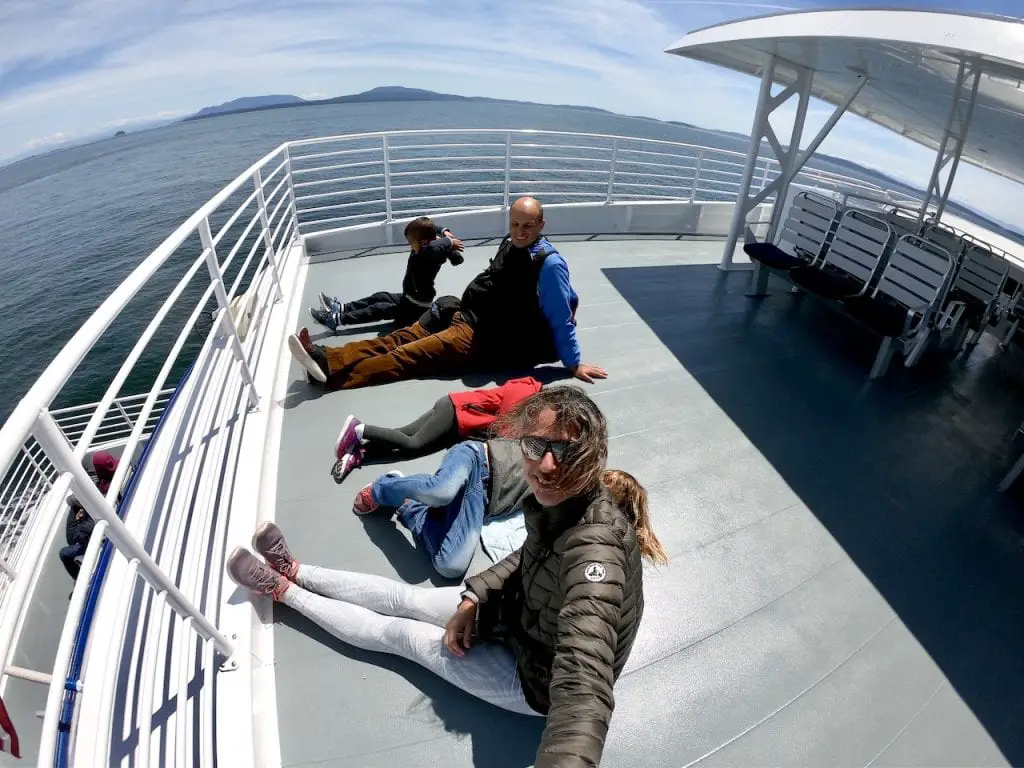 They have a 10AM and a 4PM cruise leaving daily. We hopped on the morning one and I suggest checking in in town around 9.15AM since boarding starts at 9.30AM.
On board the ship was a naturalist, on top of the captain and 2 ladies running the restaurant.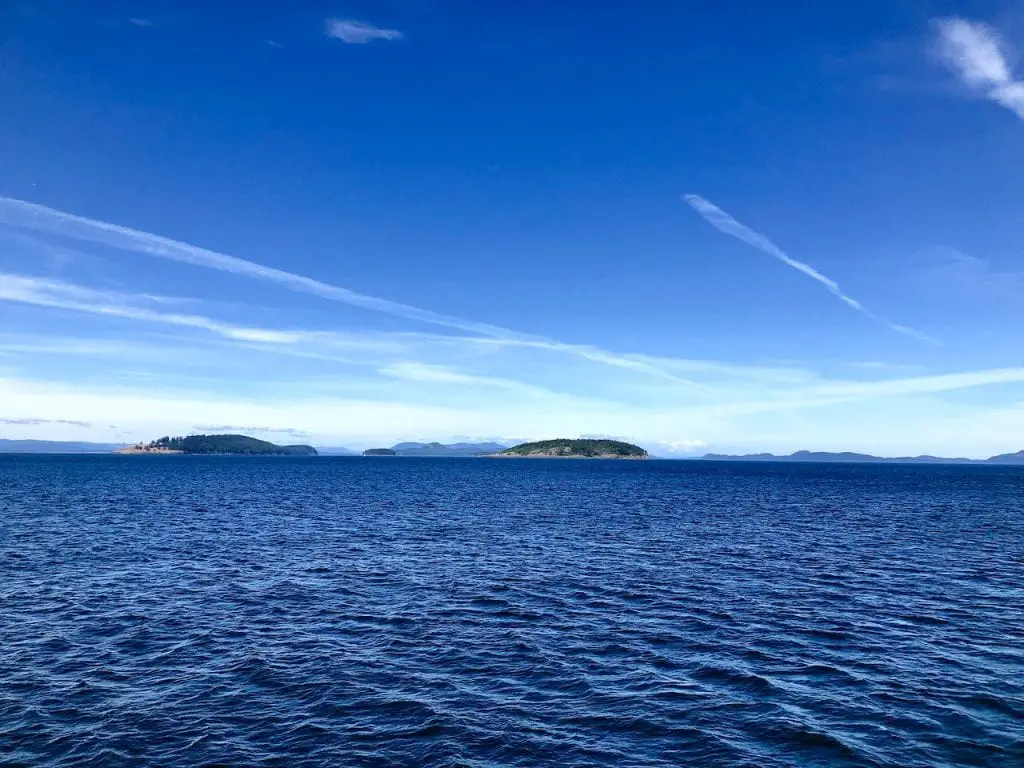 The naturalist shared his knowledge the entire 5 hours we spent on board! He was an incredible wealth of, not only marine life knowledge, but of the entire region and the San Juan islands.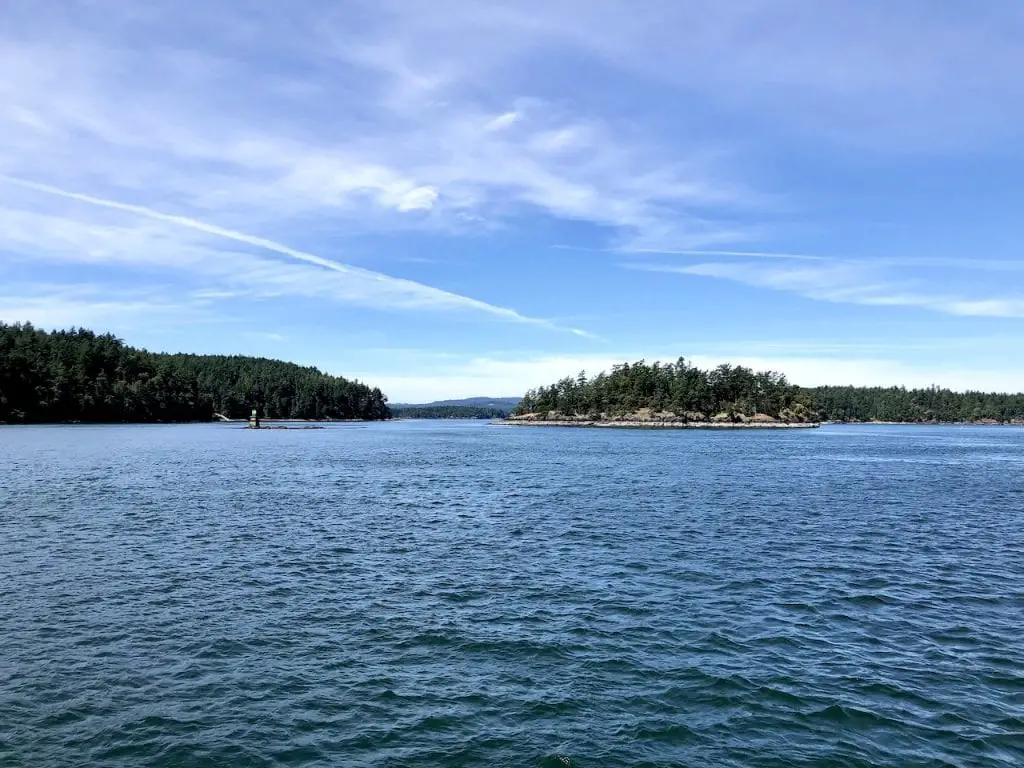 He pointed out to islands along the way, knew about their history, and shared facts we would have never learned about, if it wasn't for him!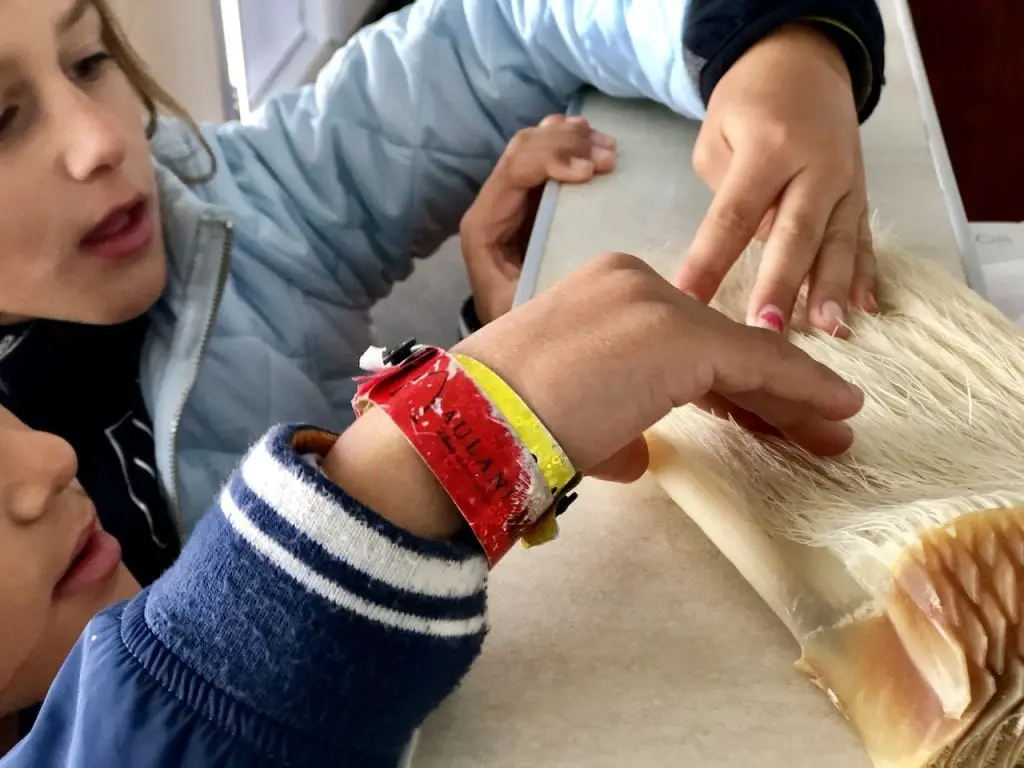 Since you will be on the ship through lunch or dinner, they operate a great kitchen! We had the fully loaded nachos and I have no picture to prove it 🙂 It was so good that it was gone before I could snap a picture of it!!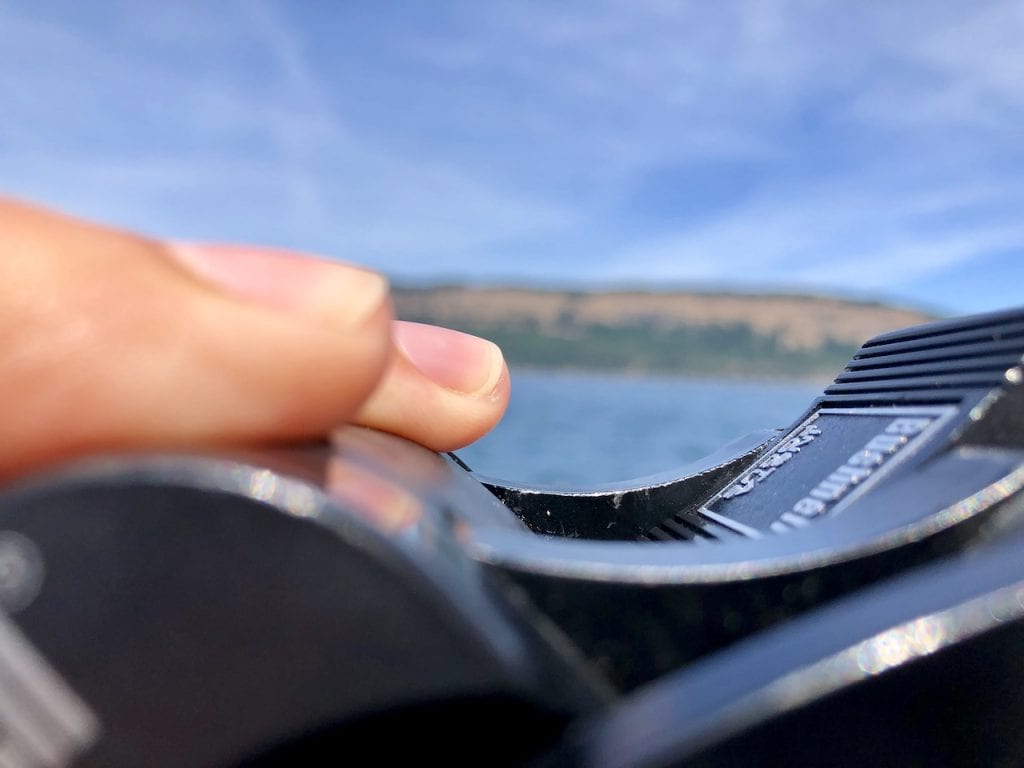 And they will let you borrow amazing binoculars against a piece of collateral on board!
Deception Pass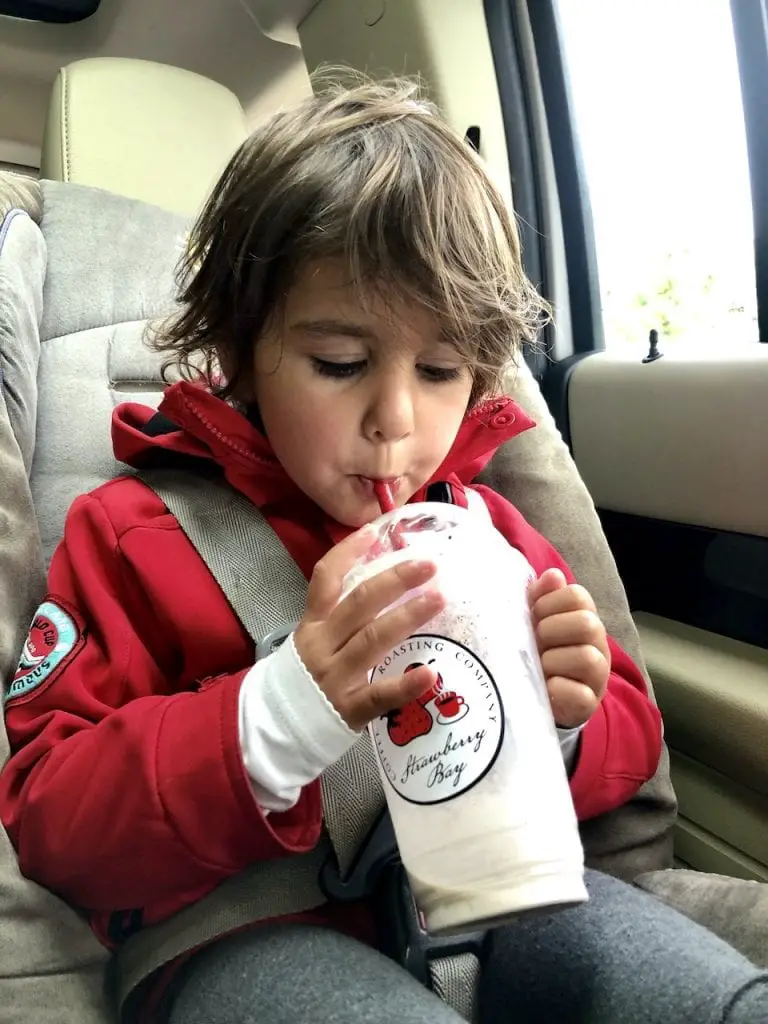 After disembarking the ship, we made a quick pit stop at the local coffee shop – which, by the way, we totally fell in love with in this region and can't believe that Florida doesn't have those!!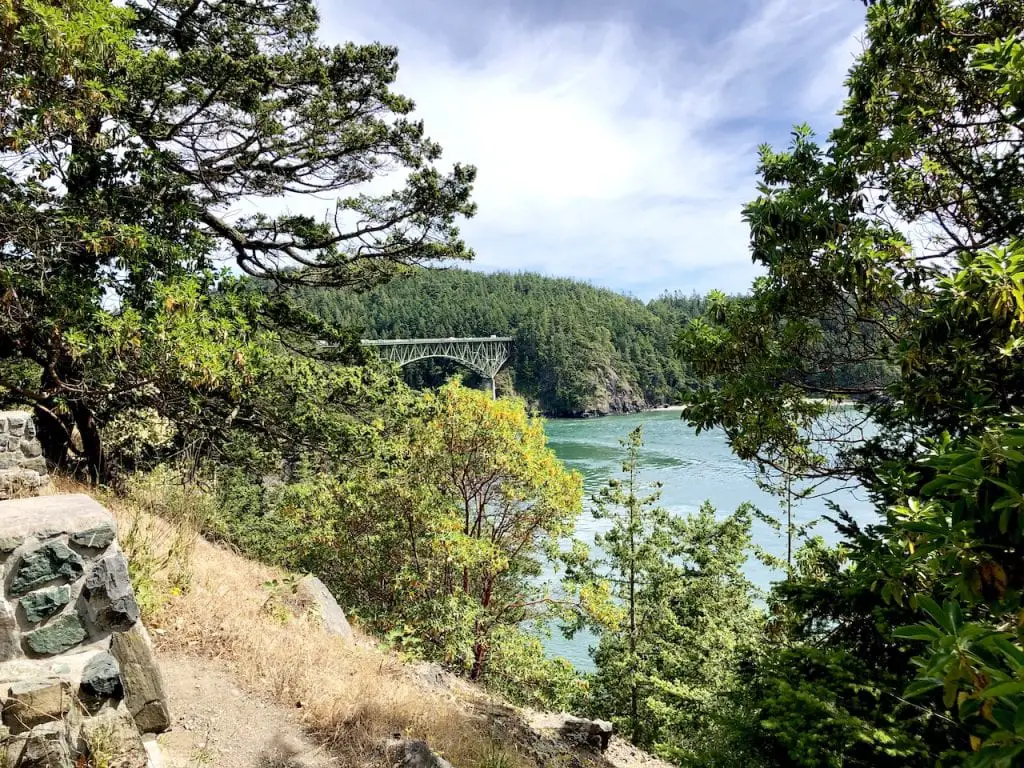 Our hour drive to Fort Casey in Coupeville took us through Deception Pass! That was quite the view!
Fort Casey Inn, Whidbey Island, WA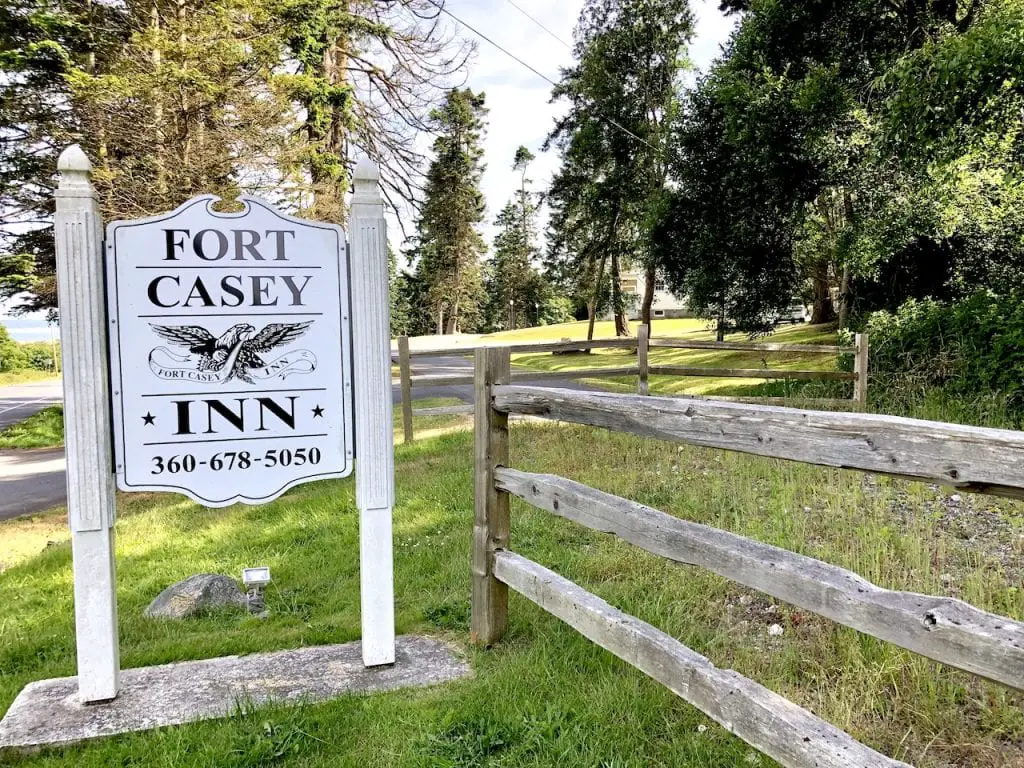 Ok.. let me pause for a moment because we all totally fell under the charm of Fort Casey Inn.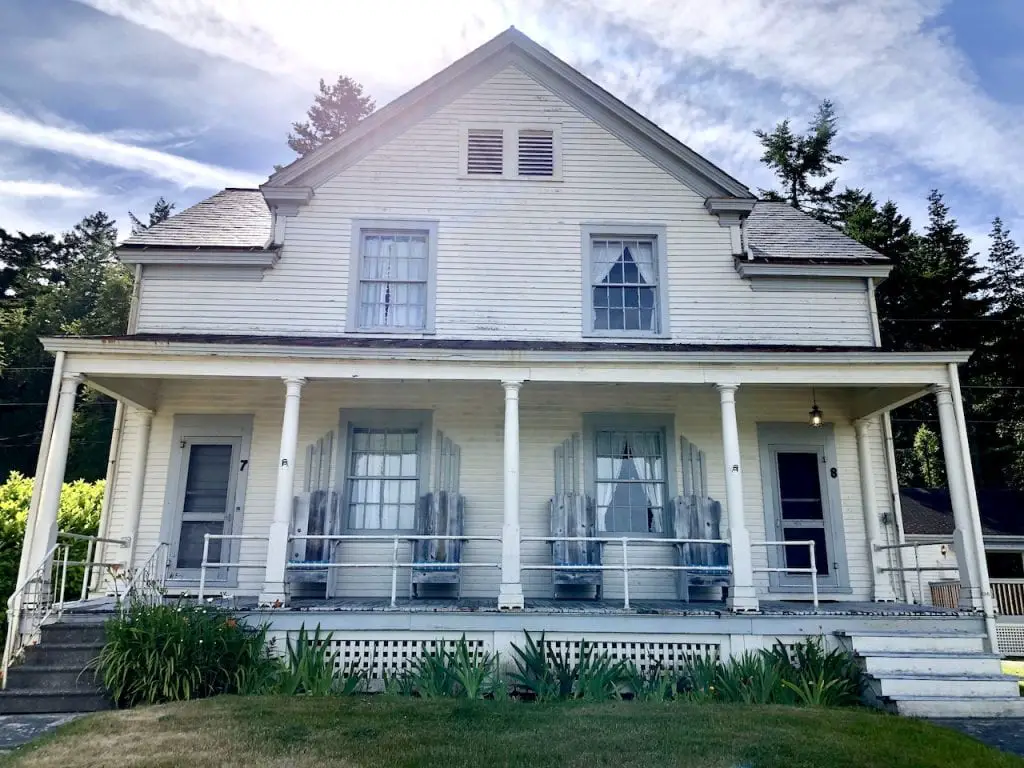 A place so charming, I don't even know how to describe it fairly! Their website probably says it best: "patriotism with a touch of historic romance."
We occupied house #8, the last on a row of 4 cottages, each divided into 2 units. Build as officer's housing prior to world war I, we felt like we stepped in history.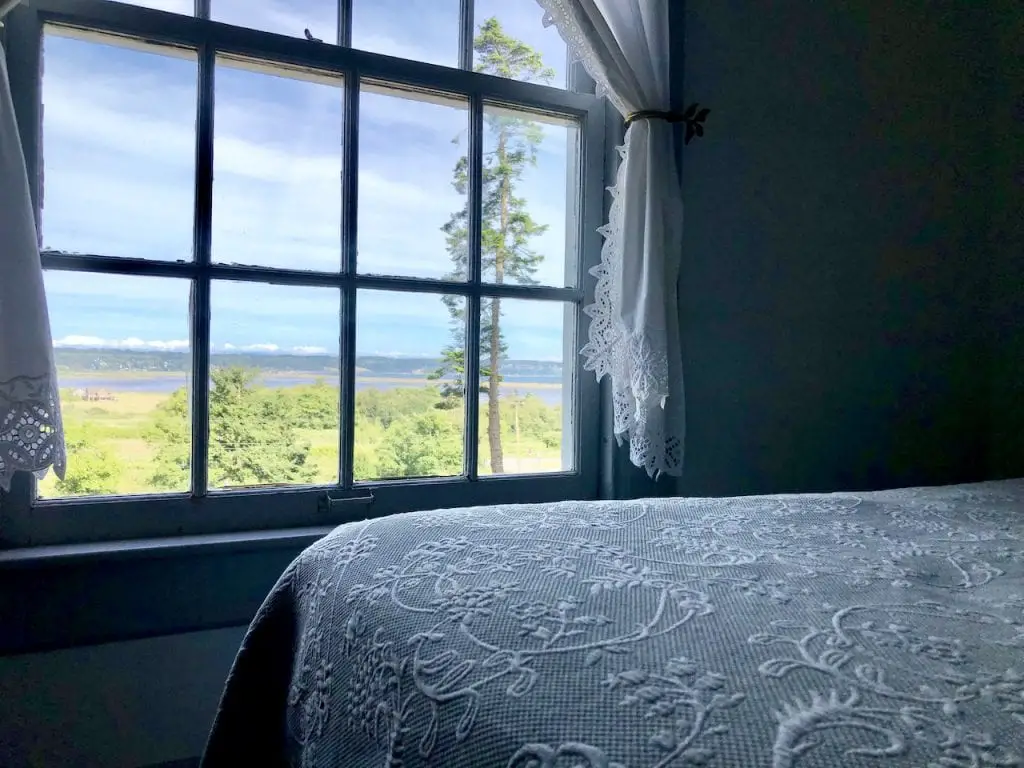 For a night, we became the officer's family, stomping their grounds, our children playing on the lawn their children played on, watching the sun set and rise over Washington's Puget Sound.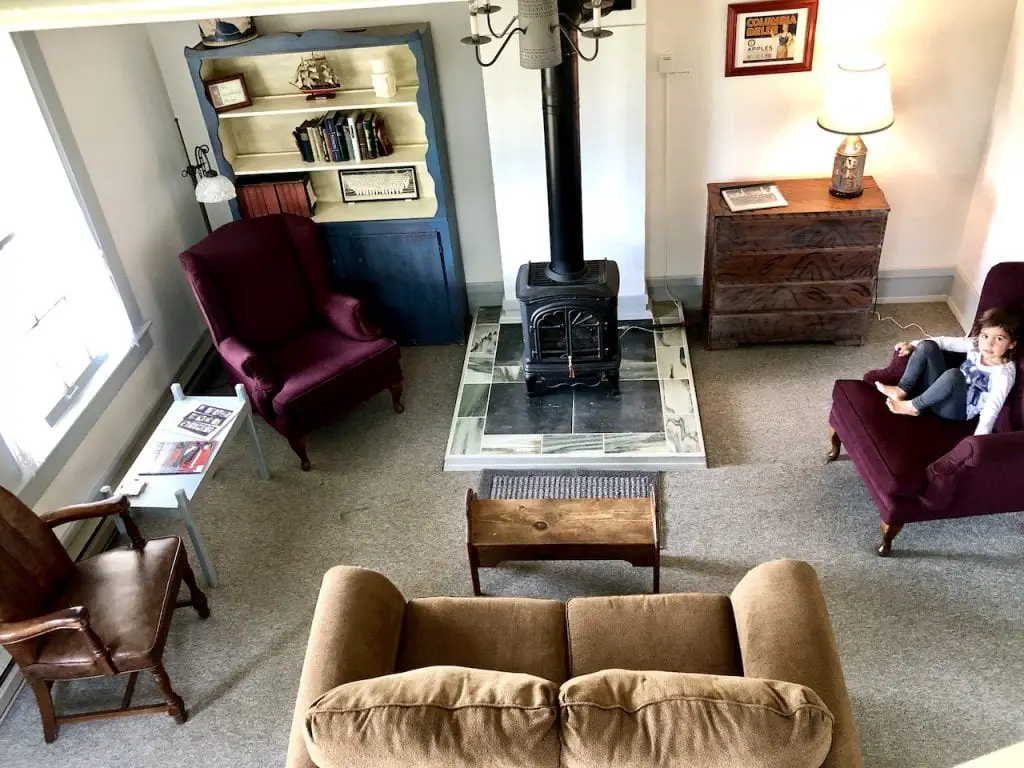 The experience was absolutely priceless. The charm of the cottages was endless.
Coupeville on Whydbey Island, WA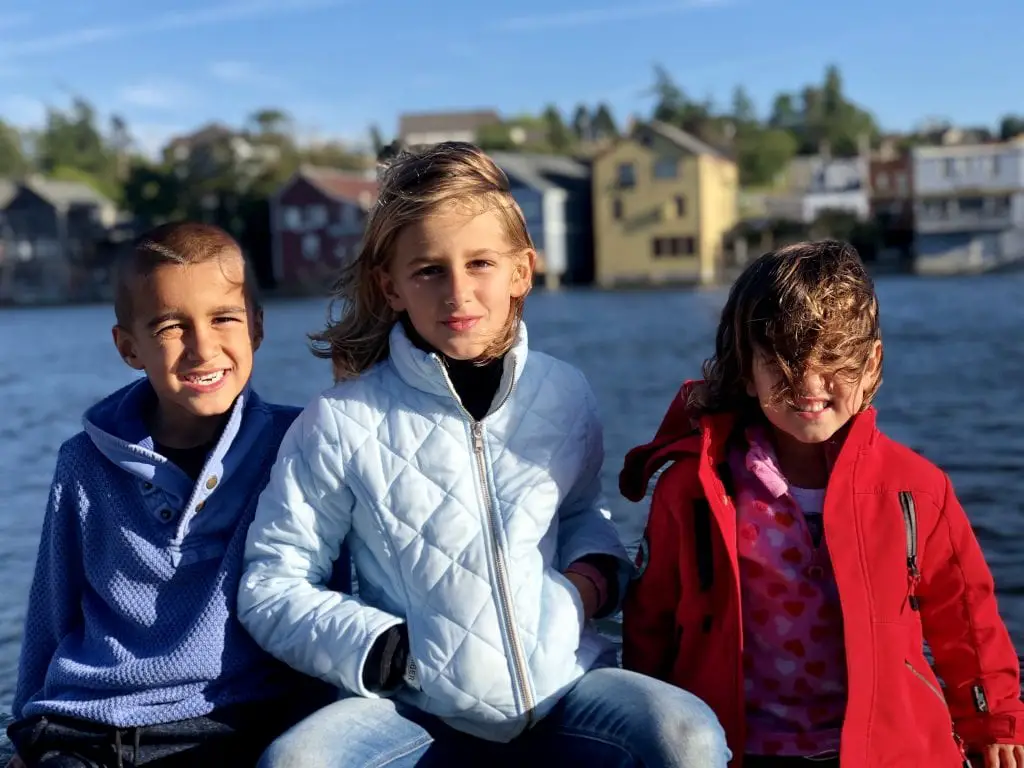 Fort Casey Inn is really located in Coupeville on Whydbey Island, WA.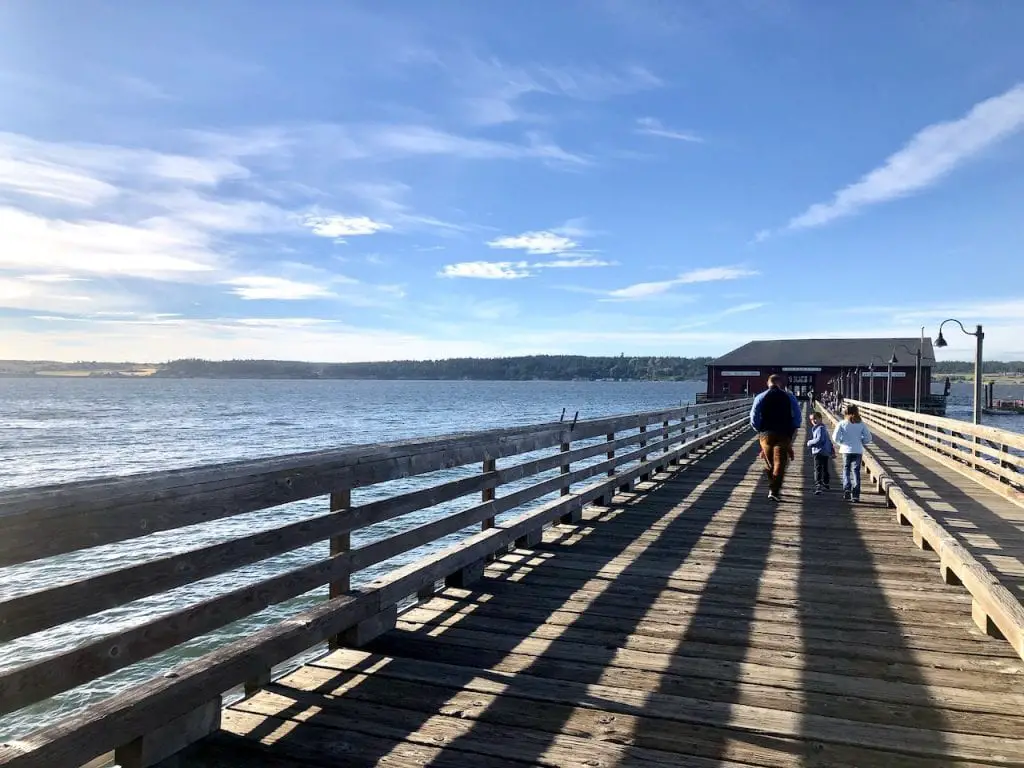 Make sure you visit Coupeville's town center. Walk up and down Front Street and visit the wharf.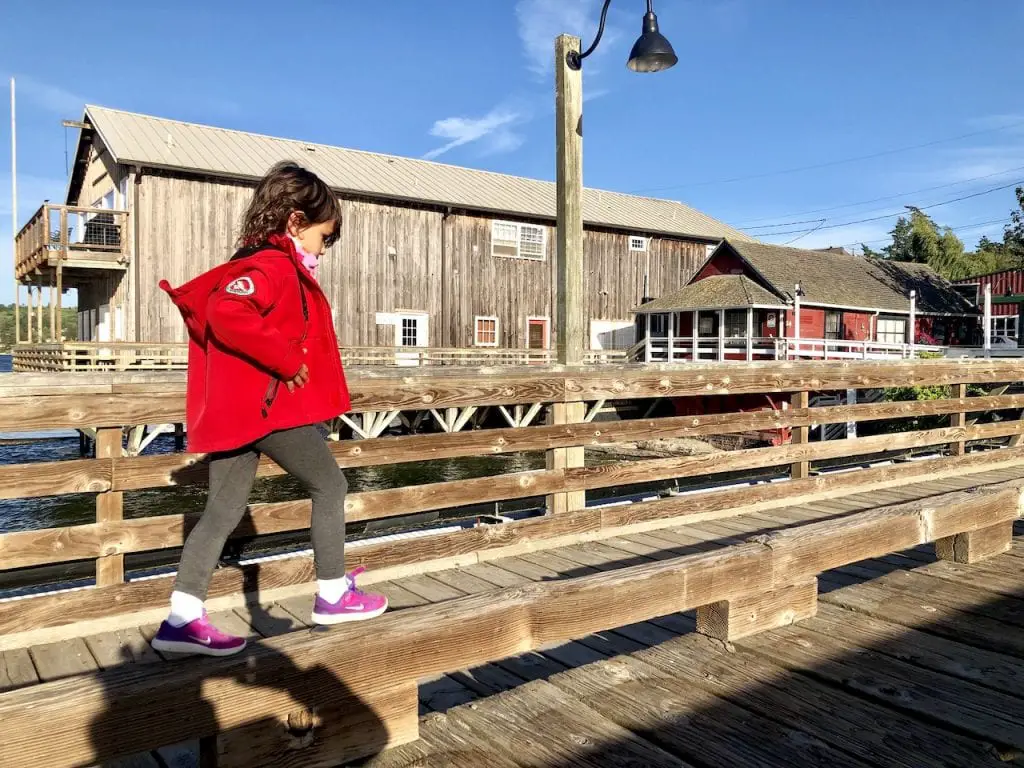 If you are there at sun down, warm colors paint over the historical town center.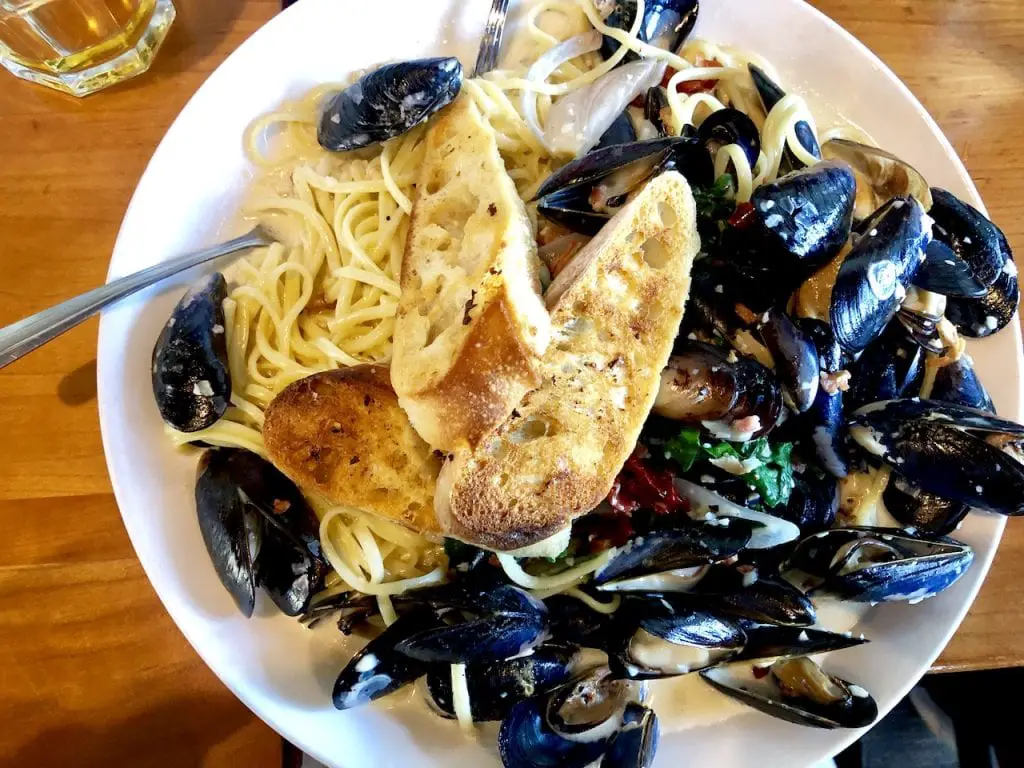 We had a wonderful dinner at Front Street Grill. Located right on the water, we felt as if we were on a ship. The mussels are a piece of art! We had the Copenhagen-style and you will need to try them!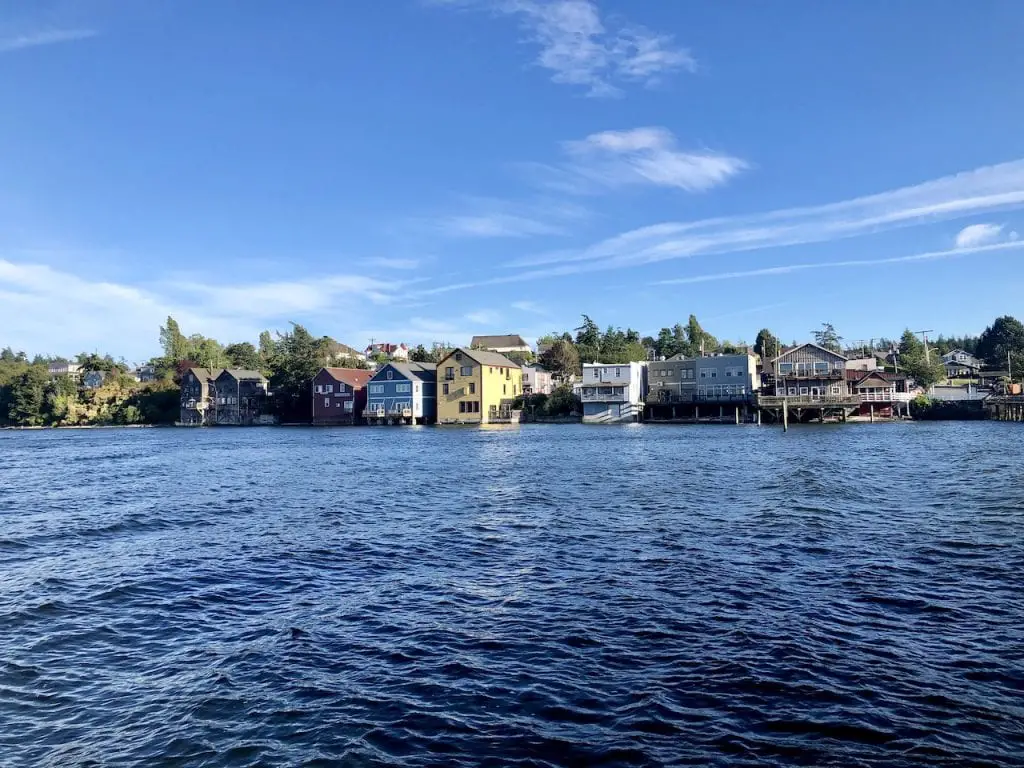 The wharf offers beautiful views of the little town and is a fun place for an evening walk.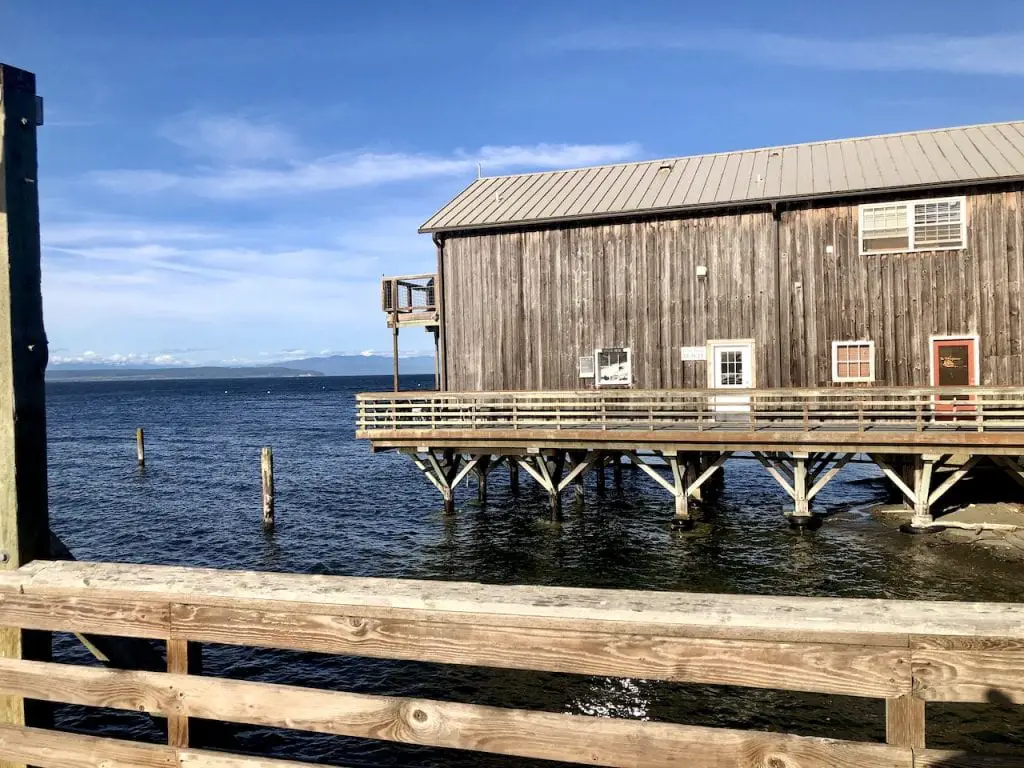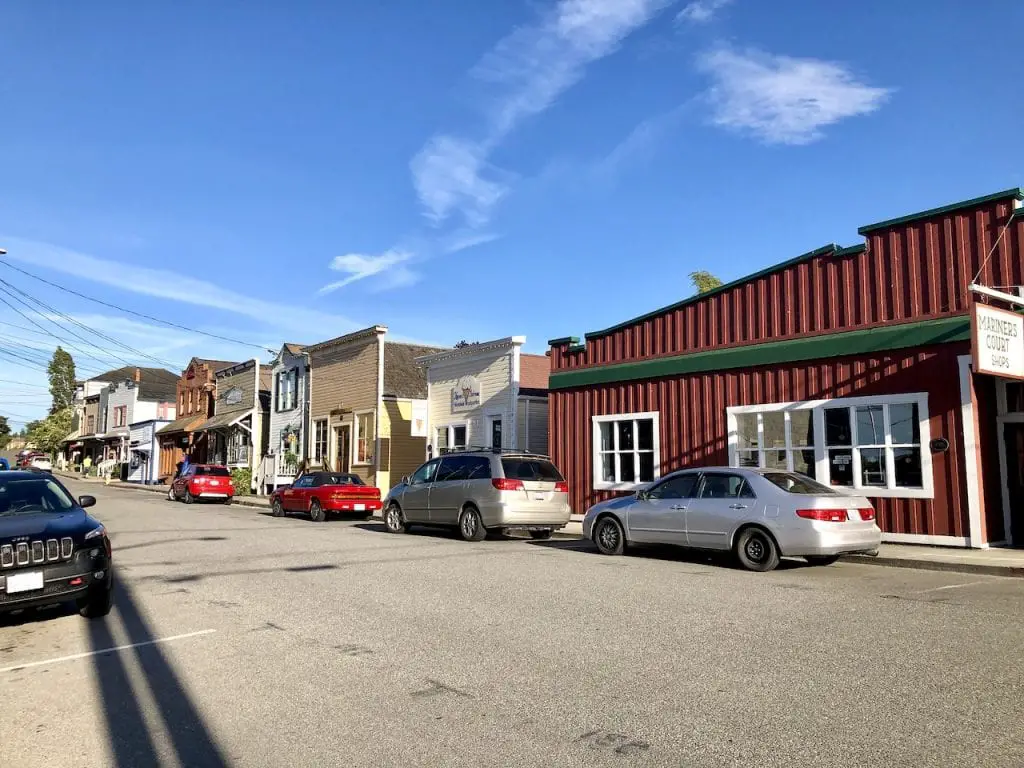 As we traveled down Front Street, we were surprised to find that a little house, today an ice cream shop, was the birthday of Seattle's Best Coffee! How cool is that!!
Beach Walks At Fort Casey Inn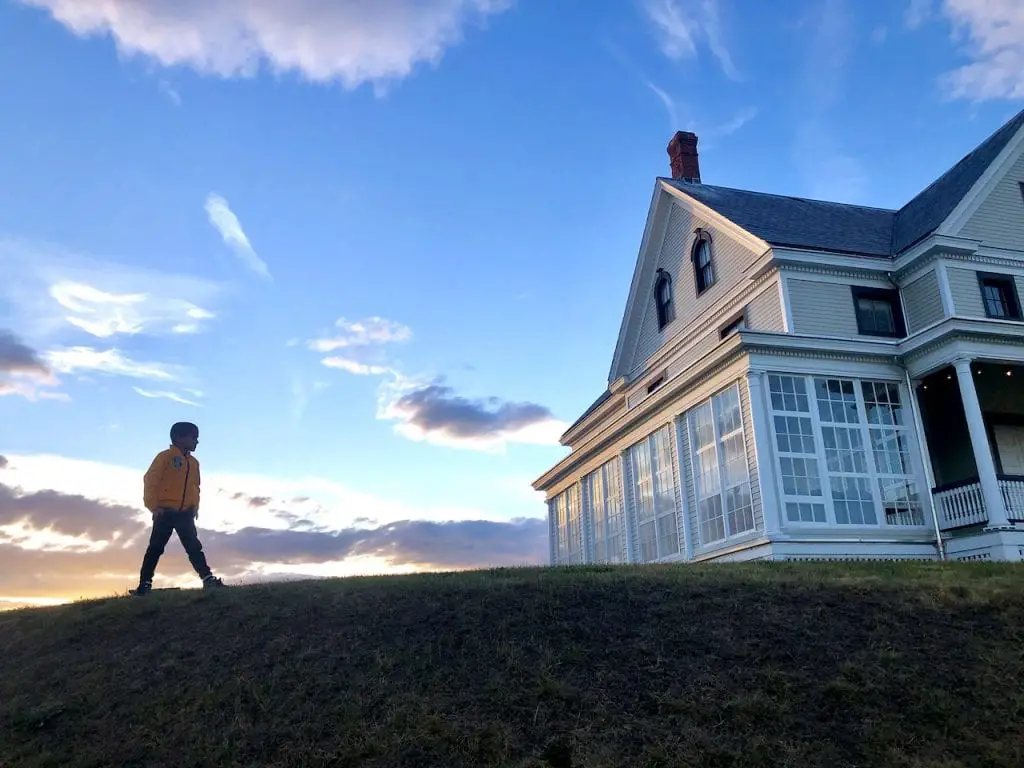 Back at Fort Casey Inn, walk all the way down the little street passing in front of the cottages and you will end up by the Colonel's House. That home stands up proud and tall over the beach and the naval camp.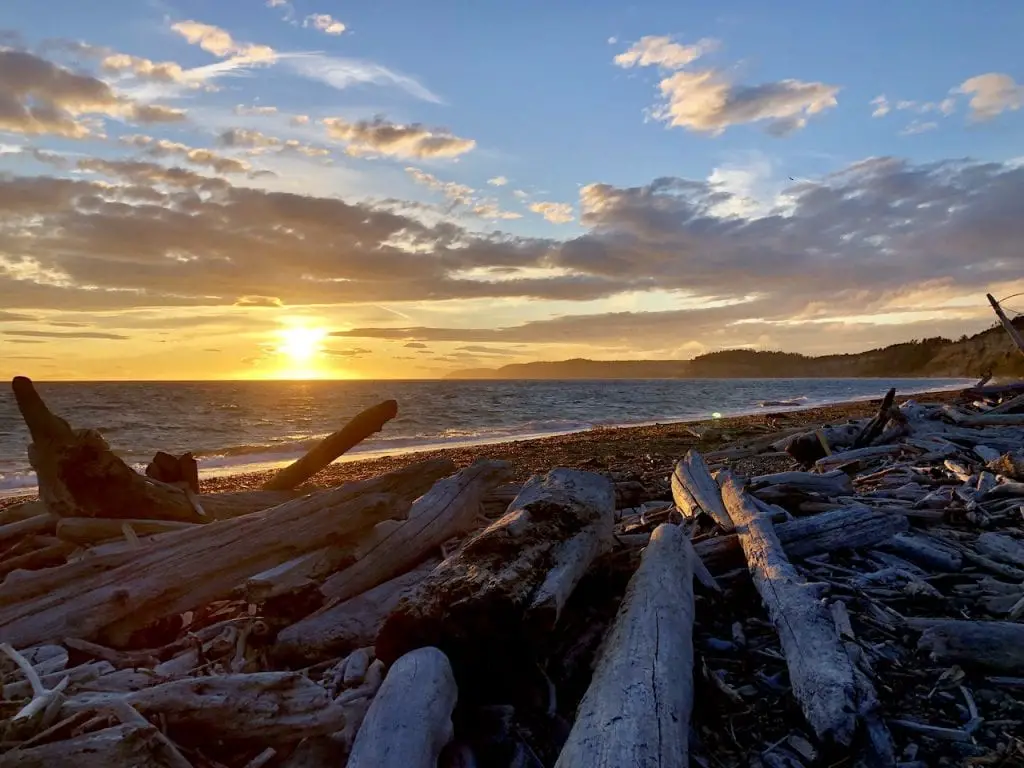 Right behind it is a stunning beach. Watch as the sun sets behind the bay, with the Olympic mountains as backdrop!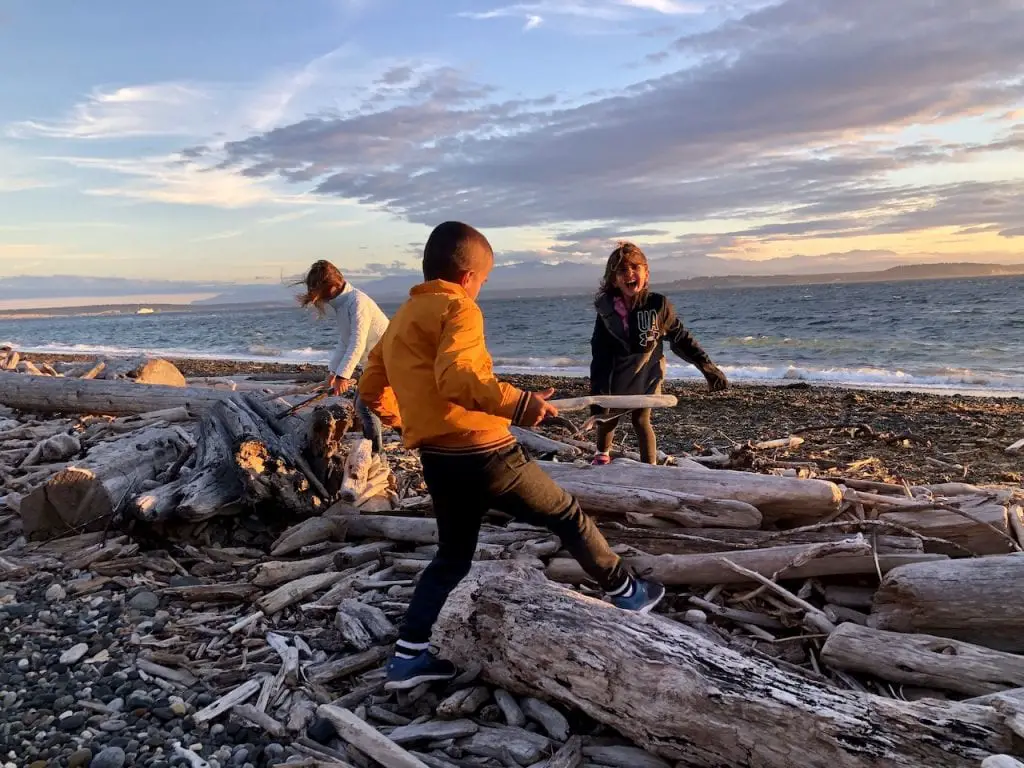 Make sure to pack a wind jacket as the cold wind can be strong and quite chilly, even in the summer!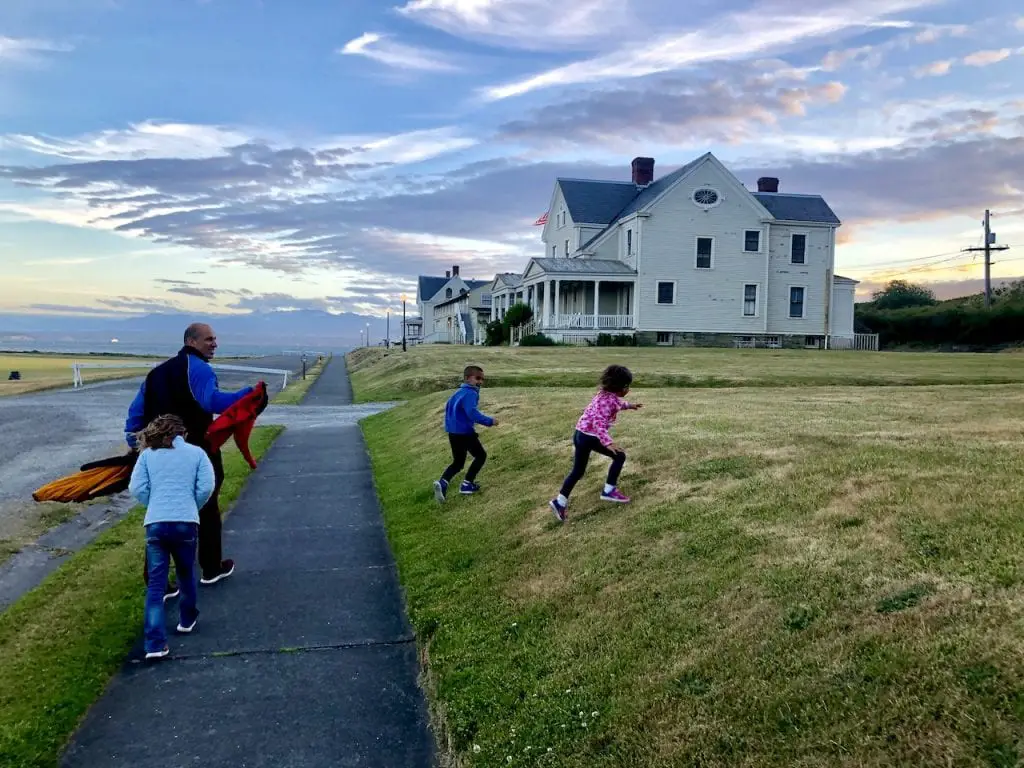 As we walked the Inn's grounds, we could not help but wonder how officer's walked home at night. Did their wives take their children on that very beach on hot summer days? What did they swimwear look like? Did the children roll down the hills like ours did?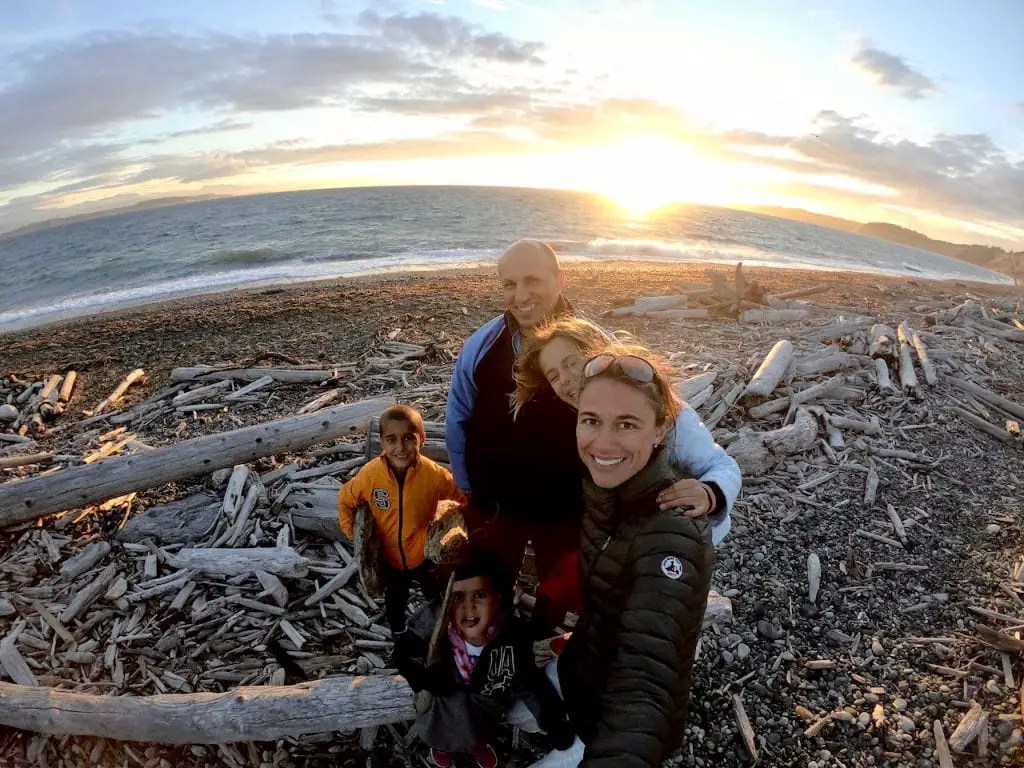 Fort Casey Inn is a live piece of history, allowing you to step in time and become a WWI officer's family for a night or two.
Cascade Loop With Kids
With one last step in the Cascade Loop – traveling by ferry back to the mainland – this concludes our road trip through the state of Washington on the Cascade Loop.
If you are planning on visiting Washington State, you will want to travel the Cascade Loop. We loved taking it counter-clockwise and were stunned at the diversity we encountered.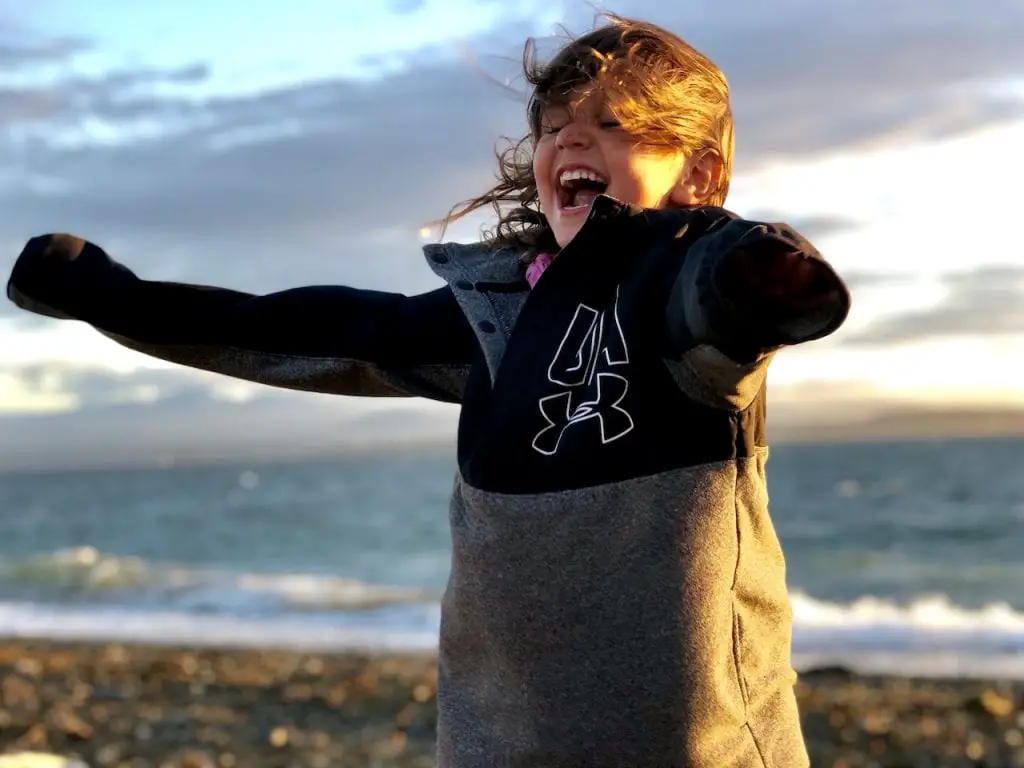 We traveled from green and thick forest, through dry and desert-like hills, up snowy mountainous passes, and back down to the coast. We experienced temperatures in the high 80's and days in the mid-50's. We saw deep dark lakes, and milky blue ones.
But mostly, we met incredible people along the way, very passionate about their state. We stayed in beautiful inns and lodges, all representative of the area they serve.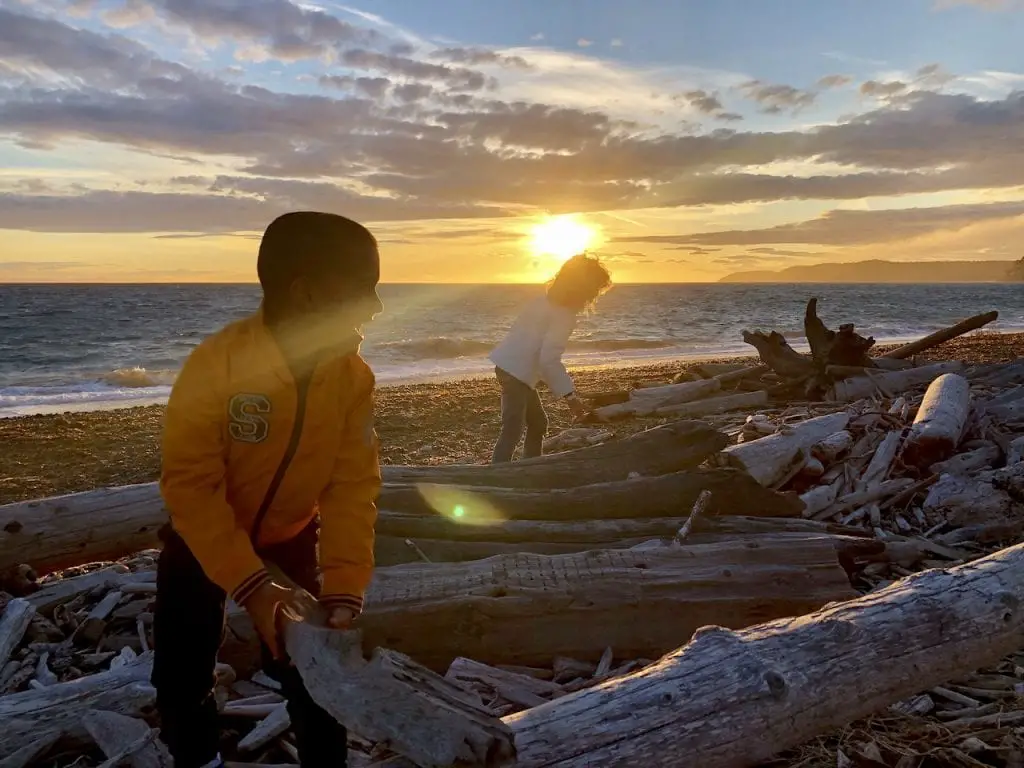 Traveling the Cascade Loop with children is a beautiful experience. Each day, the kids get to learn and experience Washington State in a new way, in family-friendly experiences targeted for them. The hikes are beautiful and a true playing ground for them.
This 440-mile road trip should be on your list this summer. You can drive it in as little as 4 days, with still enough time to hike and visit each region. Or take a whole week for a slower pace and more time in each town!
We are very thankful to the Cascade Loop for hosting us and providing us with free accommodations and activities.
We loved the Cascade Loop and you will too!
---
Pin this for later!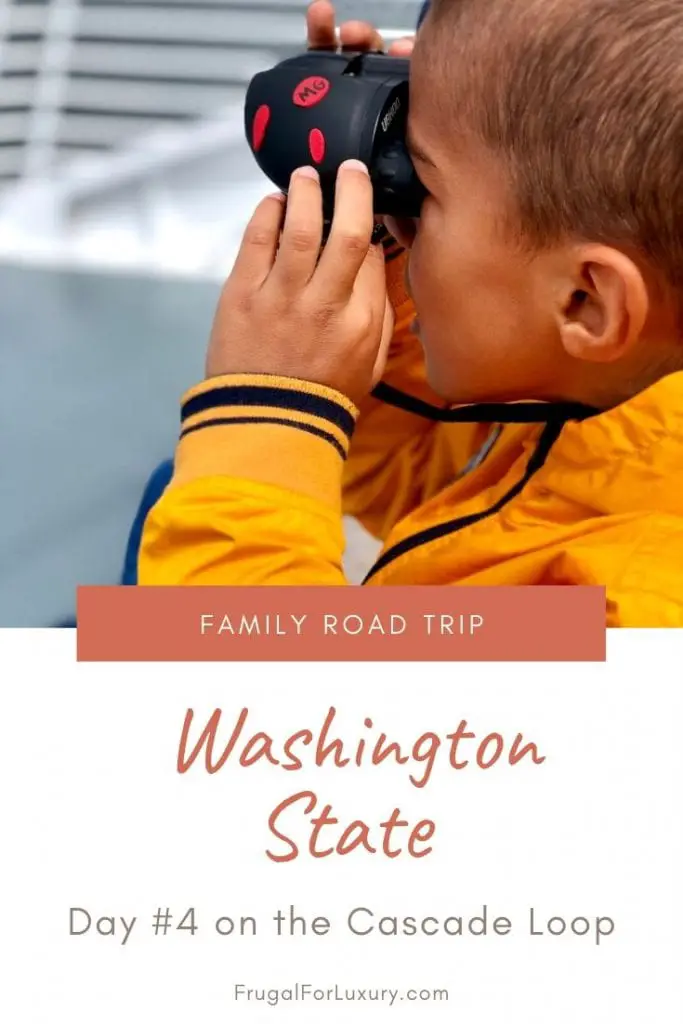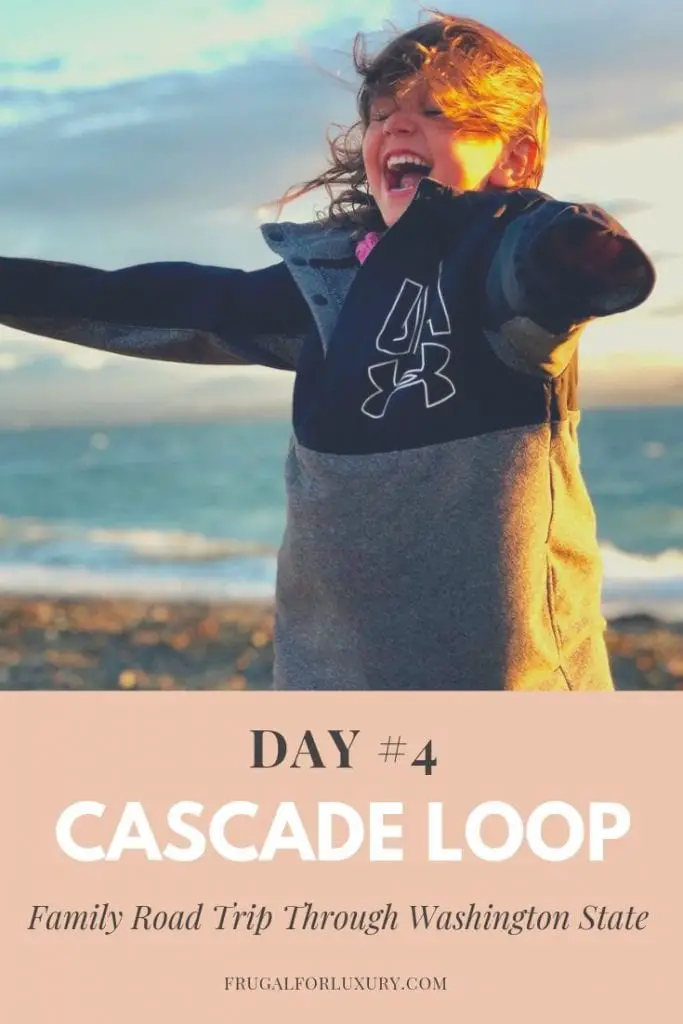 ---
Related articles you will enjoy:
ROAD TRIPPING THE CASCADE LOOP, WA WITH KIDS – DAY 1
ROAD TRIPPING THE CASCADE LOOP, WA WITH KIDS – DAY 2
ROAD TRIPPING THE CASCADE LOOP, WA WITH KIDS – DAY 3
If you enjoy reading us, make sure to sign up for our newsletter below!