Today, we are taking you near Ljubljana, Slovenia, for a beautiful day at Postojnska Jama Park!
But what do you really know about Ljubljana? The Slovenian capital is one of the most underrated European capitals, with less than 300K inhabitants, and lots for families to explore. Small enough to visit in a day, it gives you plenty of time to explore its surroundings!
Since you will be spending at least a couple of days in Ljubljana, you will have plenty of time for day trips from the capital.
Our favorite, with (or without) kids, is a visit of the Postojnska Jama Cave Park, coupled with the beautiful Predjama Castle! They are a short 40 minutes from the capital and our your way to the sea side!
Ready to hop in?
The Postojnska Jama Cave Park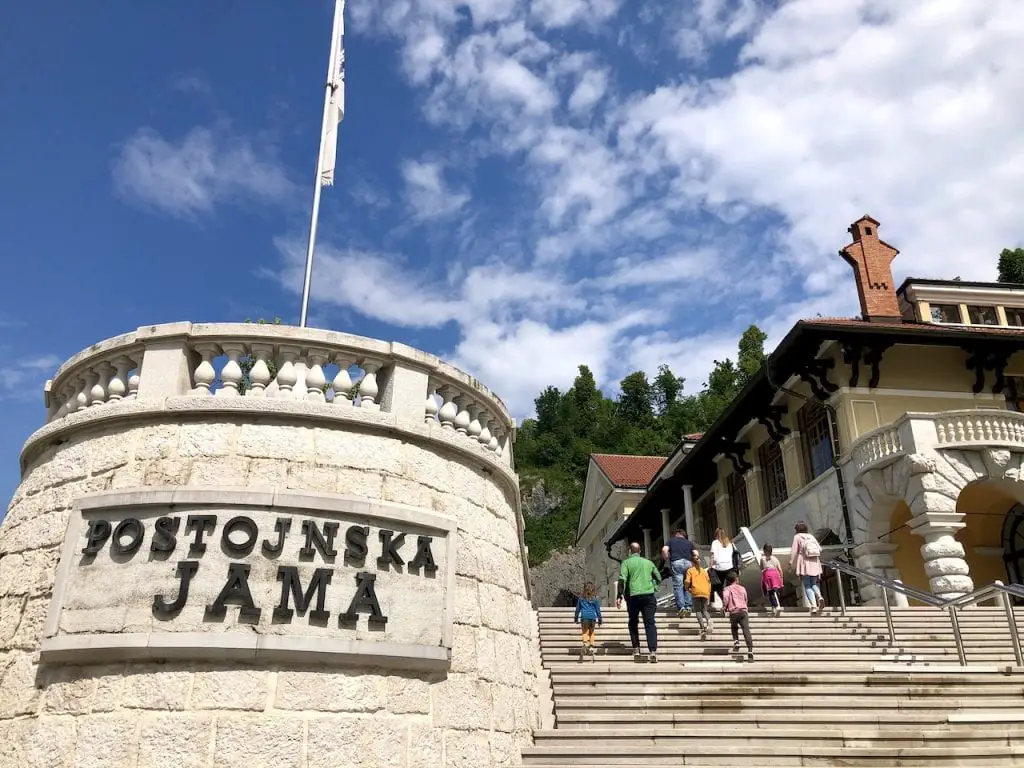 We are huge cave people! We love visiting the underground and the Postojna Cave has blown us away!! This is why:
1- You Won't Just Be Walking
Part of the visit is done abroad a… train!!
How cool is that? When I learned about a cave train, I was already sold on the experience. Caves are usually so narrow that they are only accessible by foot.
Here at Postojnska Jama, a train takes you about 10 minutes into the cave, allowing you to save precious time and go much deeper into the cave to some of the largest chambers I have ever seen.
2- Guided Tours In Foreign Languages
Before entering the cave, our group of visitors was split into two – Slovenian speakers on one side, foreign speakers on the other.
Since all visitors have to join a guided tour of the cave, non-Slovenian speakers are handed an audio tour device to wear around their neck.
At each station where the Slovenian guide stop his tour, we pressed a button on our devices and listened to the narrative in our native language.
I heard at least 5 different languages spoken by participants of the tour, and everyone was given a device in their own spoken language.
3- Size Of The Chambers
The Postohnska Cave Park is known as the Queen of the Underground World – and rightfully so!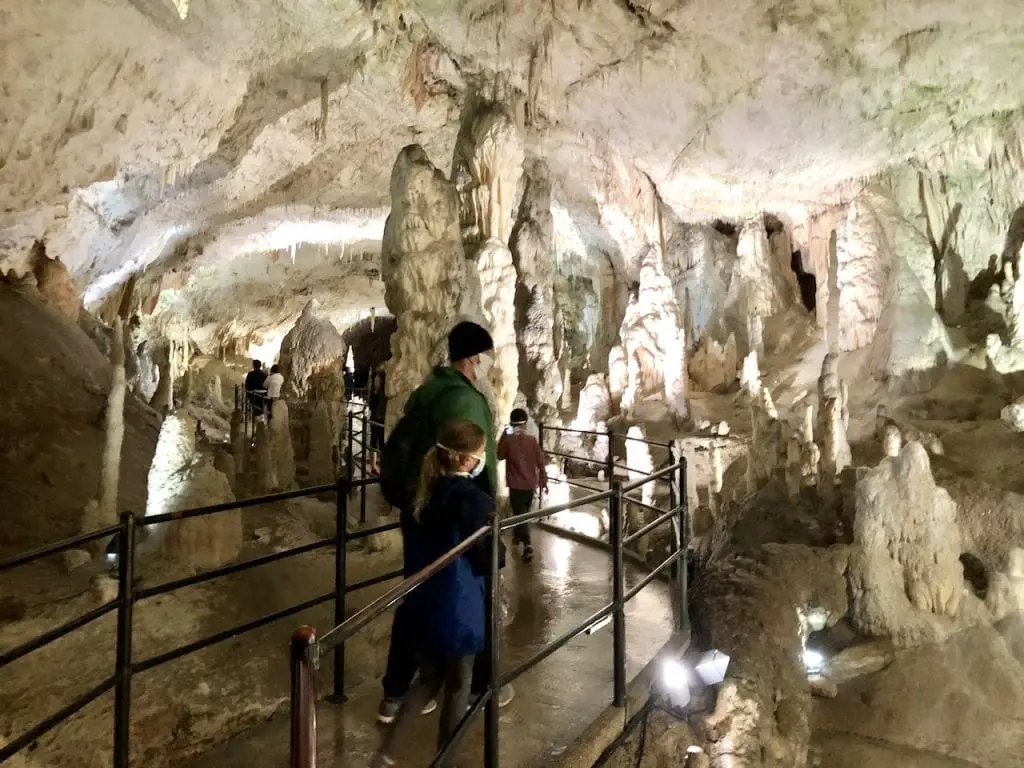 It is the largest show cave in Europe and you will be touring an amazing 24 kilometers within the cave system! Largely thanks to the train cutting off several hours of walking!
4- There Are Family Tickets
Honestly, any park or attraction that offers some sort of family ticket is making the top of my list! It is a limited-time offer and you can find out more here.
5- And Package Tickets
I am also a big fan of buying a package of tickets to experience more for a little less!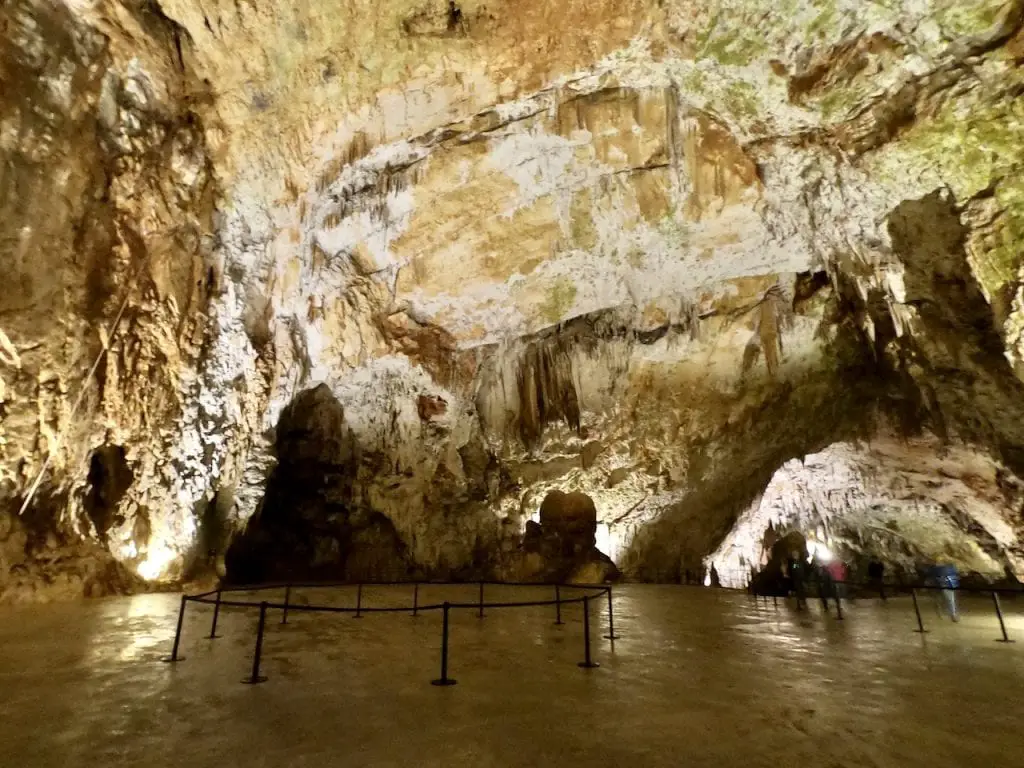 The Park Postojnska Jama offers several different experiences:
– the Postojna Cave
– the Predjama Castle
– the Vivarium
– the Expo Cave Karst
– as well as some more challenging cave explorations, adventure tours, four other caves, and more!
We did the Two Adventures, which included two of our favorite experiences: a cave and a castle visit!
6- We Saw Baby Dragons!!!
Onto the really cool stuff, because who can say that? You will see baby dragons!
There are 150 different animals / organisms found in the Postojnska cave system. One of them being the world-famous pale dragon – the olm. It never sees the light and has a very sensitive skin. No pictures allowed so I can't show them to you, but so very special since this is the only place in the world they can be found!
7- 100% Stroller-Accesible
The cave system at Postojnska Jama is 100% stroller (and wheelchair) accessible! There are no stairs, it is all ramps, and wide enough to navigate your stroller through.
Now for families with young children, that's amazing, and a rarity when it comes to cave visits!
Predjama Castle
Next on your visit is the Predjama Castle – 9 kms away from the caves and with free parking (note a 5 EUR parking fee for the caves, 10 EUR for RV's). The castle is such an amazing place for families to visit!!!
You will find yourself transported into a time long long ago and your little ones will see themselves as knights and princesses of the castle!
Our favorites at the Predjama Castle:
1- The Unique Cave Castle
We were blown away by our first view of the castle.
The medieval castle is embedded in the middle of a 123-meter-high cliff for over 800 years! The castle was build right into the cliff and the different families calling it home have added to, and improved, it over the years.
As you visit the castle and make your way to the top, where the original castle was built, you will find yourself inside the cliff, with a network of secret tunnels used by the first inhabitants to protect themselves and bring supplies in from the village.
Predjama Castle is the world's largest cave castle, and listed in the Guinness World Book! I promise you'll be fascinated by its beauty and uniqueness!
2- Foreign-Language Audio Tour
Just as with the caves, you will be handed a fascinating audio tour. You'll be getting amazing details and stories in every room!
3- The Cave Under Predjama Castle
I really hope the caves can be opened when you visit Predjama Castle. They were unfortunately closed when we went but you can tour them when opened and they host a colony of bats, which would be really neat to see!
Postojnska Jama Tips:
Start with the cave tour. You will book for a specific time and after that, you'll have free access to the castle until 6PM (check current opening times before your visit!)
Pack warm clothes!! It is only 10 degrees Celcius (50F) with 98% humidity in the cave. You will be cold, especially on board the open train
Arrive 15 to 30 minutes prior to your tour departure. You will need time to park the car, get your ticket (if not pre-purchased), walk to the cave (about 200 meters) and get your audio tour device
Save time by booking your ticket online and printing it. You will be able to proceed straight to the cave upon arrival
Thank you Postojnska Jama Park for hosting us on this amazing day! It will remain one of our favorite European experiences!
---
Pin this for later!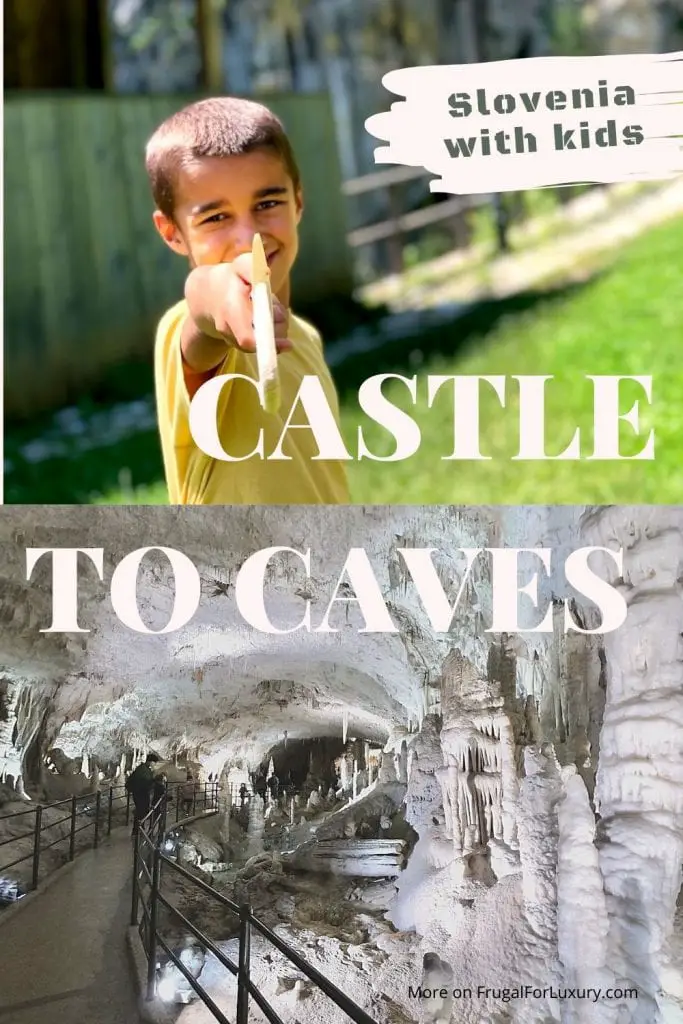 ---
Related articles you'll enjoy:
Cascade Wellness & Lifestyle Resort – Algarve, Southern Portugal – Best Beaches
12 Photos That Will Make You Want to Visit Norway
Malaga, Spain and its Unexpected Beauty
If you enjoy reading us, sign up for our newsletter below!