This post is sponsored by iD Tech, but the content and opinions expressed here are my own.
I don't know about you, but with the last 2+ months of quarantining and social distancing, our kids are ready to break the routine and enjoy their summer.
During any other regular year, we'd be planning summer camps with their friends and getting excited about long nights at the pool with our closest friends.
This year, we need to get a little more creative to keep the kids engaged and excited in a safe environment.
So we looked into online summer camps and decided to sign them up for an iD Tech virtual summer camp. It brought the magic of summer camps right to our living room and all we needed was a personal computer for the Zoom conferences and the program the kids learned about!
If you're already convinced, click HERE and use discount code LAURA125 for $125 off of your STEM virtual summer camp!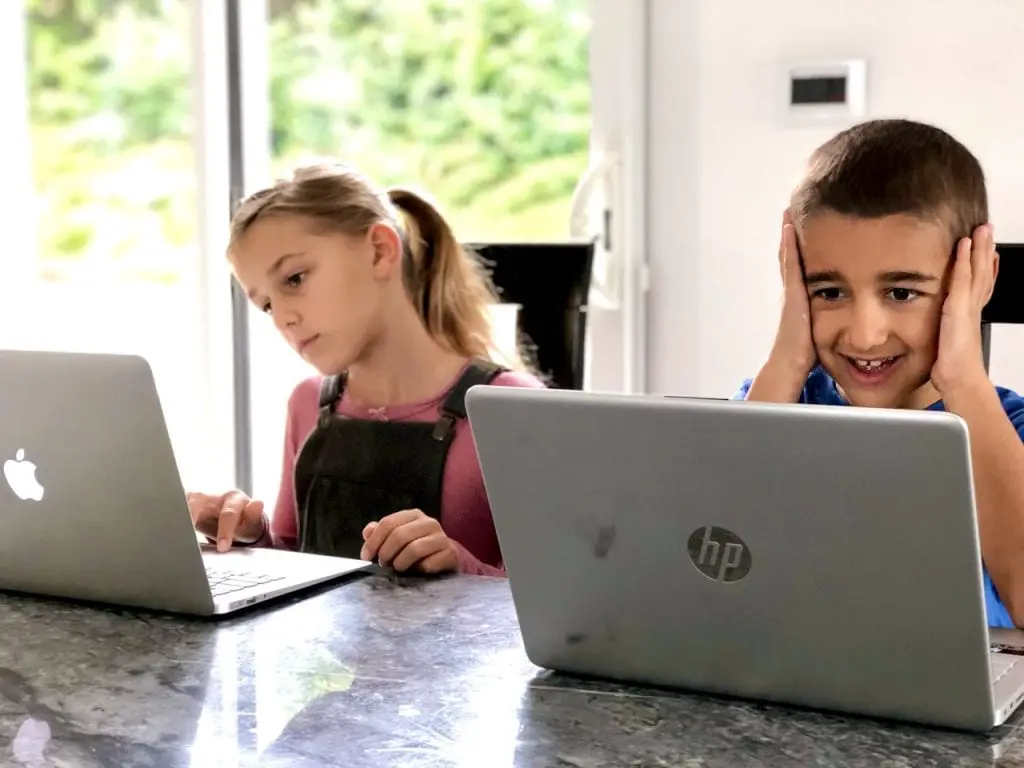 Here's what we loved about our STEM virtual summer camp:
1- Engaging Tech Experiences
Because the school year and last few months have been a little unsettling, we wanted to get the kids excited for something new but educative this summer.
We always dig into STEM resources when we look for new experiences.
We thought iD Tech offered amazing programs with STEM virtual summer camps in Python, Java, Minecraft, YouTube, Roblox, AI, Unreal Engine, Adobe, 3D modeling, and more.
We decided to give Minecraft a go and loved, loved, loved, our experience.
2- Great For Ages 7-19
iD Tech has a multitude of STEM virtual camps to choose from.
They cater to children ages 7 to 19, and they're great for kids starting as early as first grade. I loved that the kids were put into age groups that felt safe and happy.
The different summer camps also cater to children of all skill levels – from beginner to intermediate and advanced. So you'll find the right class for your child, no matter his/her age and skill set.
3- 5 Days @ 2 Hours Per Day
I loved finding a virtual summer tech camp that ran every day of the week for 2 hours a day. It brought us routine and structure around a set schedule.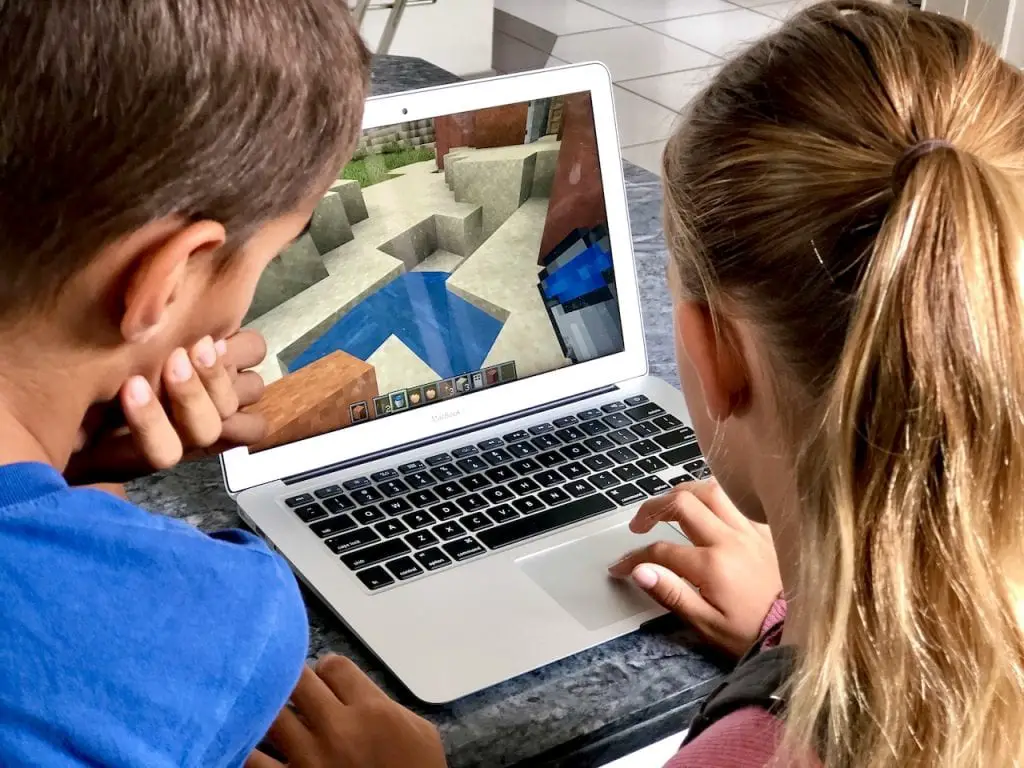 I like staying close by to make sure the kids understand what is going on, answer and ask questions to their instructors, and don't encounter technical issues.
However, the instructor was amazing and I definitely did not need to be nearby. The kids were able to work independently and I was able to get my work done next to them.
Since each virtual tech camp involves a project, the children typically had about 2 hours of self-work after camp. Our kids were so excited for Minecraft that they would have gladly spent the rest of the day working. But in 2 hours, they were able to get everything ready for the next day's class!
4- Safe Social Interaction
Since the virtual summer tech camps are grouped by age and skill set, the social interaction within the camp felt extremely safe.
Our kids participated in the age 7-9 Minecraft World Designer summer camp. The other children in the class had similar STEM interests and were always happy to share their knowledge and insights.
There was definitely no sign of bullying and the environment was safe, encouraging, and uplifting!
5- Safe At Home
With the current state of things, having the option of staying home this summer is amazing!
I never had to find at-home experiences for the summer and wasn't even sure what existed. Finding iD Tech felt just right and the kids were able to have the full summer camp experience right from home, which warmed my heart for a bit of normalcy and happiness.
6- Amazing Camp Instructors
We loved our Minecraft instructor. She was absolutely terrific! The perfect amount of kindness and patience with abundant knowledge!
She kept an eye on all students and checked-in with all children frequently. She shared her screen and asked the kids to share theirs to check on their work. She was gentle with a great command of her virtual classroom.
iD Tech has over 1,500 instructors with a passion for STEM and kids. Each one is reference- and background-checked and all are adults and coming from top universities.
What I loved about iD Tech is their 20+ years of experience in online and in-person tech classes for kids. I felt extremely safe giving them my kids and trusted that they would be very well taken care of.
7- Small Camp Classes
No matter the virtual summer tech camp, each instructor teaches a maximum of 5 students.
Our class only had 4 students and the kids really got to know each other. I loved the small group for the individual attention every child received, as well as the camaraderie they developed.
I often heard the children help each other and work together to solve problems and develop ideas.
Why Sign Up The Kids For A Virtual Summer Camp This Year?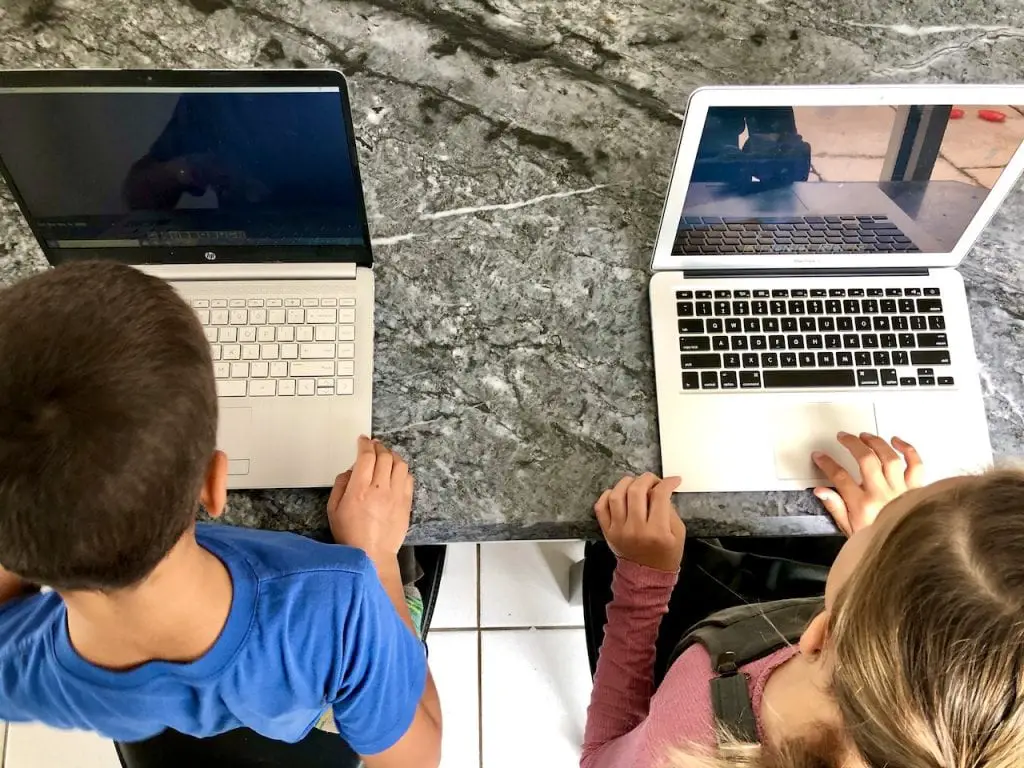 I love the structure the virtual summer camp has given us this week.
The kids knew that, each day at 10AM, they would be logging in and developing their Minecraft world. They loved getting to know the 3 other students and cheering each other up during class, after 2 long months away from other children.
The healthy structure and routine were very welcomed, and the kids learned about a game they'd never played before, in a safe environment.
They'd been asking to play Minecraft but I wasn't sure what the game entailed. With iD Tech, I was reassured by the presence of a responsible instructor who introduced the game within safe parameters.
The kids got super excited to learn new skills and I highly recommend iD Tech if your child wants to explore STEM topics from home this summer!
iD Tech Discount Code
We loved the our iD Tech STEM virtual summer camp so much that I have partnered with them to offer you a discount code.
Use code LAURA125 for $125 off of your Virtual Tech Camp.
And have fun, safe, and educative summer 2020!
---
Pin this for later!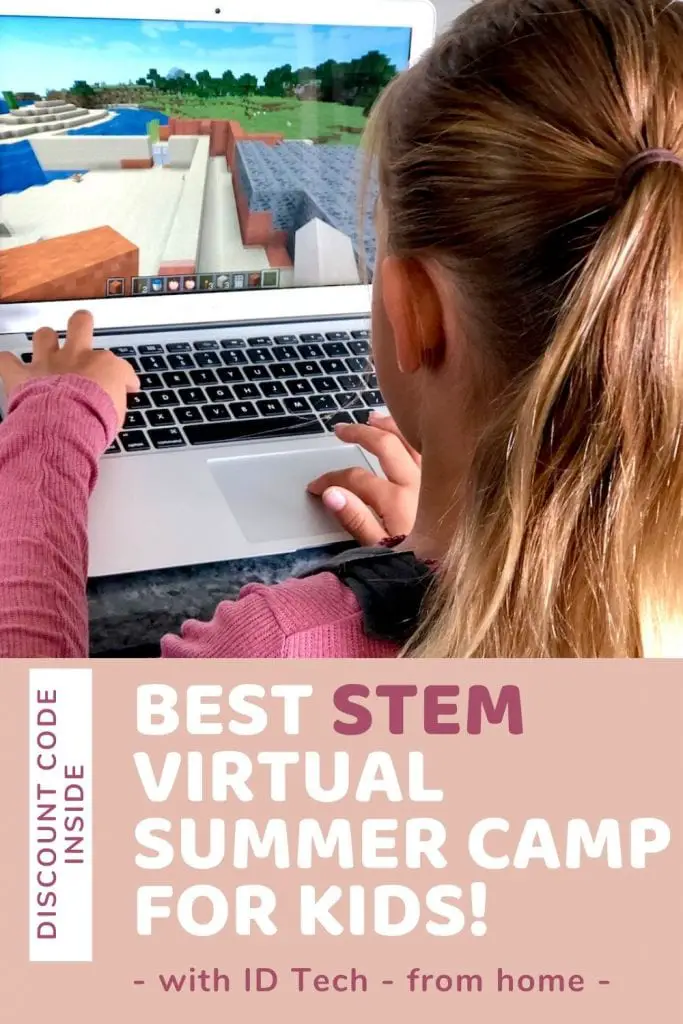 ---
Related articles you will enjoy:
Fun And Free Language Lessons – With Duolingo
Homeschooling On The Road – Our Favorite Resources
3-Week New Zealand Road Trip With Kids
If you enjoy reading us, sign up for our newsletter below!