Finding the perfect resort for your family vacation can be a little stressful. If you are planning on visiting Orlando with kids, you might be overwhelmed with the number of hotels, resorts, villa rentals you are finding online… We are locals to Orlando and have had a chance to stay at many properties around town. If you are looking for 3- and 4-bedroom villas, we can't recommend Magic Village Views enough!
Here are 10 things we loved about Magic Village Views by Wyndham:
1- 3- And 4-Bedroom Villas
Our family has been traveling ever since the kids were born, and spent nearly a year traveling the world full-time. Finding quality accommodation that gives everyone their own space is so important, and something that we have come to appreciate more than you can imagine.
Magic Village Views is absolutely wonderful from that aspect! Choose from 3- and 4-bedroom villas so everyone has a bedroom and full en-suite bathroom.
Not only will everyone get a better night of sleep, but mornings are more efficient with the 3 or 4 bathrooms. The privacy you get from having actual bedrooms is absolute luxury, when compared to regular hotel rooms where one space is shared by all.
2- Full Kitchen
After a full day of fun in the parks, kids (and parents, trust me!) can get tired and a little cranky. Eating out is not always ideal, and having a full kitchen to drive back to is priceless. Re-heat leftovers, fix the kids a quick pasta dish, comfortably prepare sandwiches for the next day.
The full kitchens at Magic Village Views are huge and fully stocked with everything you will need to make breakfast, lunch, and dinner if you wish.
We also love the savings of eating in vs. taking our family of 5 out to eat twice a day. Those costs add up quickly and make renting a villa with kitchen well worth it in Orlando!
3- Modern Design
Magic Village Views by Wyndham is beautifully designed. The village looks clean and modern from the outside, and the villas are beautiful inside!
We love the cathedral ceiling in the living room, large TVs, cozy fireplace, the extra reading place, large kitchen island, and the full laundry room!
4- Lawn, Summer Kitchen, Relaxation
Magic Village Views doesn't just do the inside nice… they give you a truly luxurious experience by ensuring that you open up your villa to a large lawn and spacious patio!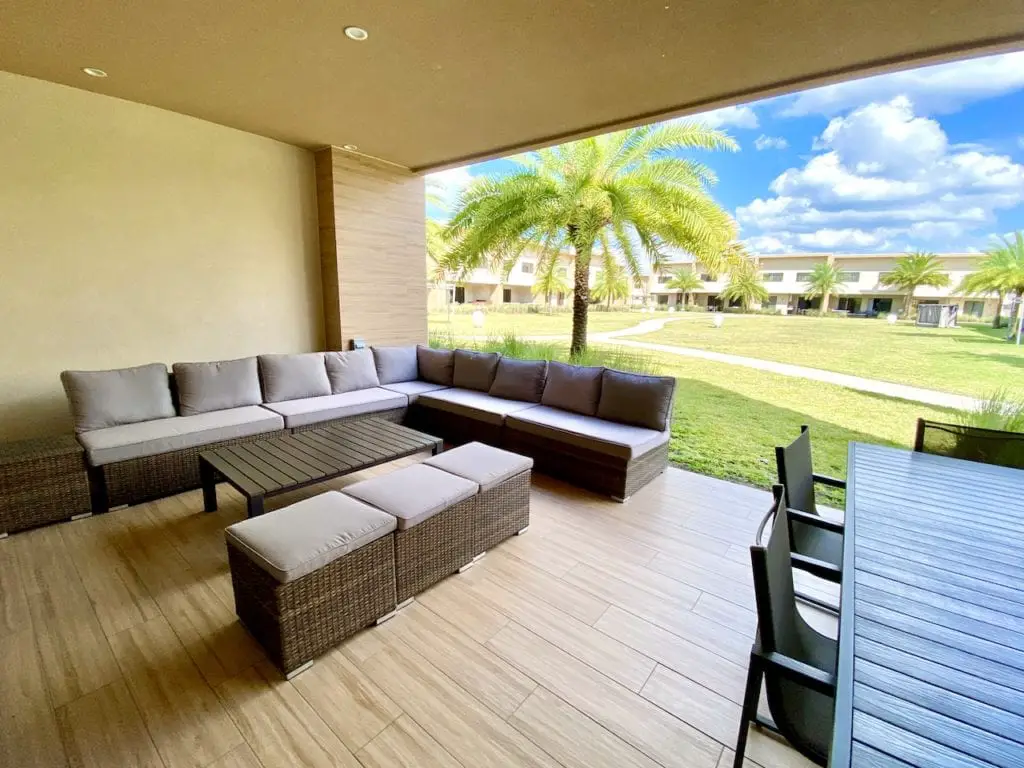 Look at that outdoor sitting area! Nothing quite like picking up a book and enjoying a warm winter day or late summer night!
Some villas come with BBQ grills, others have a hot tub on their patio.
Either way, sliding that glass door in the morning and enjoying a coffee on that quiet lawn is pure joy!
5- Fast Wifi
If you are a work-from-home / homeschooling family, like we are, you will love the fast wifi at Magic Village Views.
It makes working online very easy and you should have no problem doing business, or schooling, from the villas.
6- Villas Near Disney World
Location, location, location! Guess what? You can drive Walt Disney World without ever hopping on the interstate!! How cool is that?
Magic Village Views is located less than 10 minutes away from Disney's Animal Kingdom. Disney Springs is probably the furthest Disney location away from the resort, and only about a 20-minute drive!
There is nothing like being close to the attractions. Finding a good resort in Orlando surely includes its proximity to Disney and other experiences in the area. While you are at Magic Village Views, take a chance to experience Orlando Tree Trek Adventure Park for example, only 10 minutes away as well!
7- Proximity To Iconic U.S.-192
The U.S.-192 used to be the place to be when Walt Disney first built Disney World. It was lined with hotels, motels, shuttles, and restaurants. Today, the 192 around Magic Village Views is a fun and bustling area, with brand new buildings and entertainment popping up every month it seems like!
A few seconds from the resort, you will find all of the food offerings you can think of, a brand new WalMart with WalMart Pick-up (awesome to pick up an order right before checking-in with everything you'll need for your kitchen), a brand new and luxurious movie theater complex, tons of shopping (including Target) and even a water park!
8- Magic Village Views Pool
Our family loves the Magic Village Views zero-entry pool!
While I enjoyed soaking into the hot tub, the kids spent hours splashing around.
There are plenty of sun chairs, as well as very comfortable cabanas that are free and on first-come-first-serve basis.
9- Chess, Tennis, Beach Volleyball, And More
Magic Village Views is definitely worth spending a quiet day enjoying the amenities. And there is nothing wrong with that!
After several days in the parks, you might want to kick your feet up and enjoy a calm day in your villa and around the resort.
You will have plenty to do between the pools, giant Jenga game, life-size chess game, tennis court, beach volleyball, large lawns, and more.
We love hotels that provide entertainment on their grounds, because vacation should be relaxing too!
10- Free Parking
When you look for accommodation in Orlando, be aware of nightly parking and resort fees! Those can add up to $30+ per night, on top of your nightly rate. They can be a bad surprise at check-in.
Thankfully, Magic Village Views offers free parking. We have noticed each unit having a dedicated parking spot, as well as a free spot next to it. There are also no nightly resort fee. What you pay when you book will be your final bill, which is amazing for the quality of amenities offered!
Magic Village Views Trademark Collection By Wyndham
As you can tell, we absolutely love Magic Village Views. It is the perfect resort for families, whether you are traveling with your littles or multiple generations (or even friends!).
The villas are beautiful, with ample space for everyone to feel comfortable, and the amenities will entertain kids and adults alike. You will be minutes away from Disney and other attractions in the area and will love all of the amenities.
If you have any questions, please don't hesitate to get in touch or ask in the comment box below! For more Orlando travel inspiration, check out Visit Orlando's official website!
Thank you Magic Village Views for hosting our family for 2 nights.
---
Pin this for later!
---
Related articles you will enjoy:
What To Do In Orlando With Kids – A 3-Day Itinerary
10 Tips With Kids – Gaylord Palms Resort In Orlando Florida
ICON Park With Kids – Things To Do In Orlando, FL Besides Theme Parks
If you enjoy reading us, sign up for our newsletter below!