If you are in Salt Lake City, UT, or at any of the nearby ski resorts (i.e. Park City, etc.), you might be looking for something fun to do with kids.
How about a day trip to Heber City Utah?!
We visited Heber City in the winter, and the whole family had an absolute blast! If I told you that you could spend a winter day snow tubing, then jumping in a hot thermal pool inside a crater, and end it walking around the fairytale Ice Castles in Midway, what would you say?
Alright, I'm taking you in on an amazing day of family fun. This is your day trip from Salt Lake City, UT and 5 things to do in Heber City Utah with kids:
Find more family travel inspiration in Utah right here.
1- Soldier Hollow
Nothing cries out Winter Family Day more than snow tubing, right?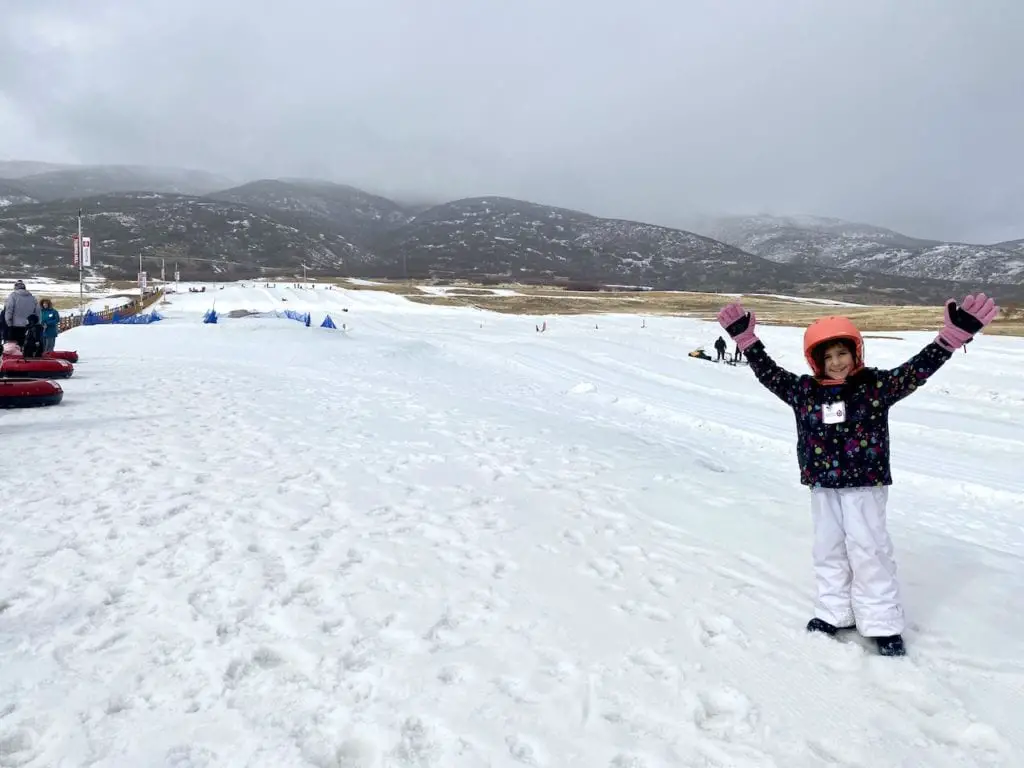 Soldier Hollow is actually the cross-country ski venue that was created to host 3 events during the 2002 Salt Lake City Winter Olympics. It is still used as a major cross-country skiing destination today, and located in the beautiful Wasatch Mountain State Park.
But we are here for all of the family fun, and you can head straight to the snow tubing hill!
And you are in for a treat! Soldier Hollow offers the longest snow tubing lanes in Utah with 1,200 feet of sliding awesomeness!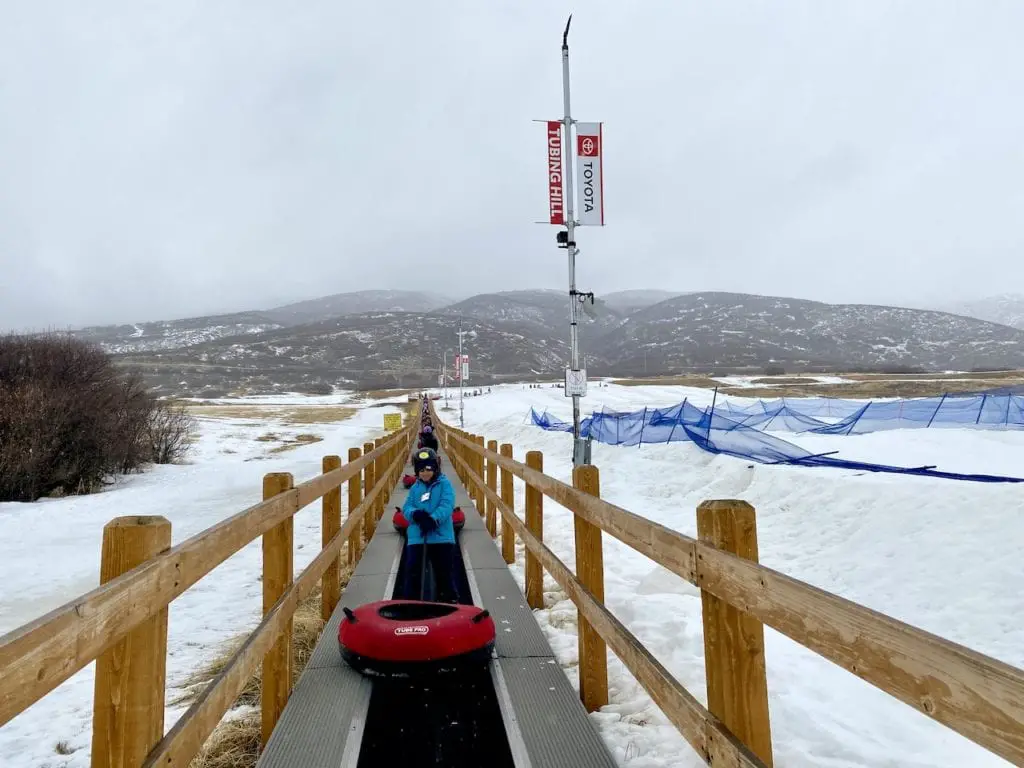 One of our favorite things was the magic carpet! It tows sliders and their tubes up the mountain for minimal walking.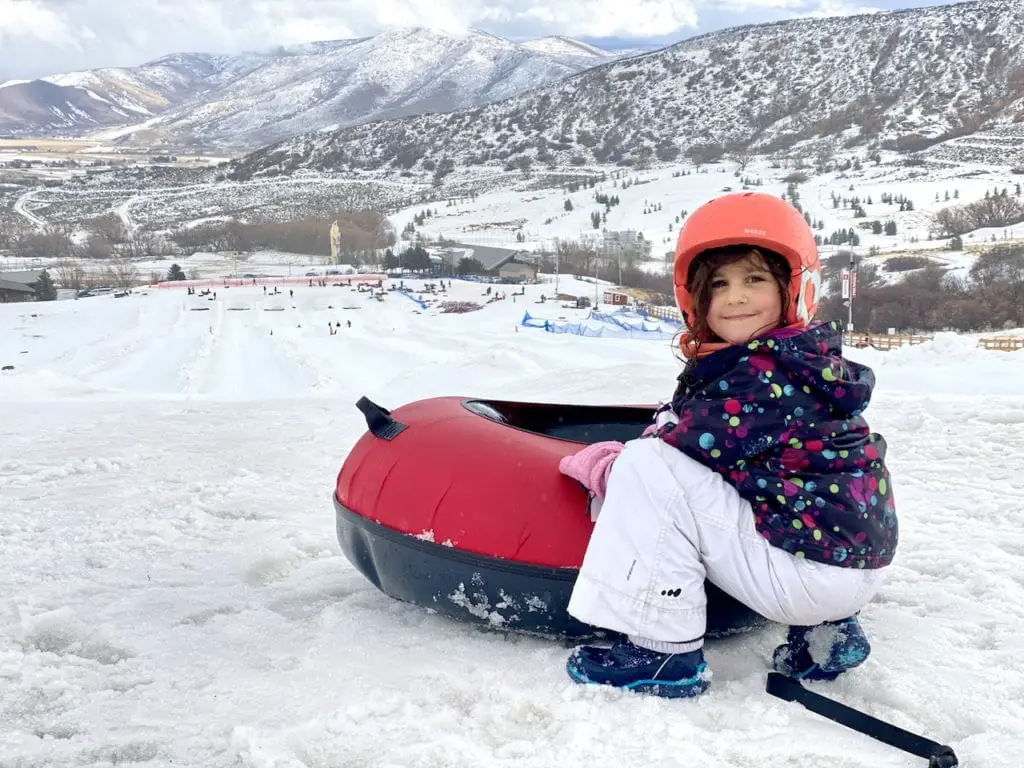 Once at the top, choose from several tubing lanes and race to the bottom to your heart's content. Honestly, I hadn't felt like a kid in many many years, and this was one of the most thrilling days in a LONG time!!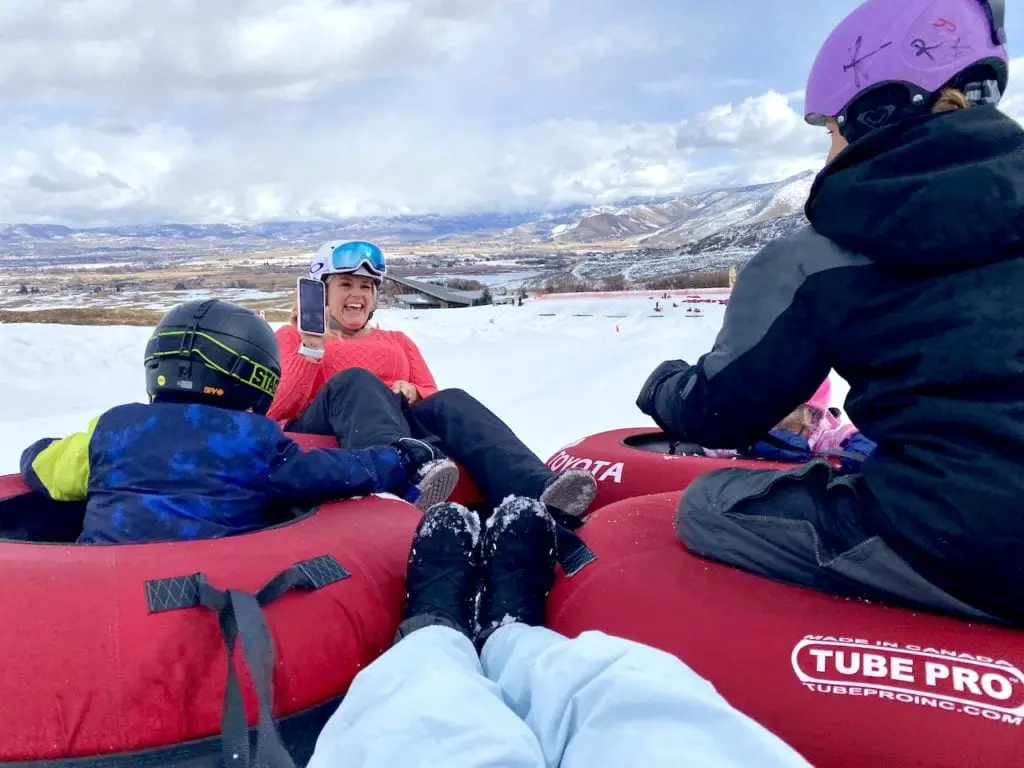 Soldier Hollow even lets you slide down as a group. Tie your tubes together and slide even faster with your whole party. Bring friends with you for one of the best family days of the year! We chose to go tubing with the awesome family behind the family travel blog 7wayfinders, and had an awesome day!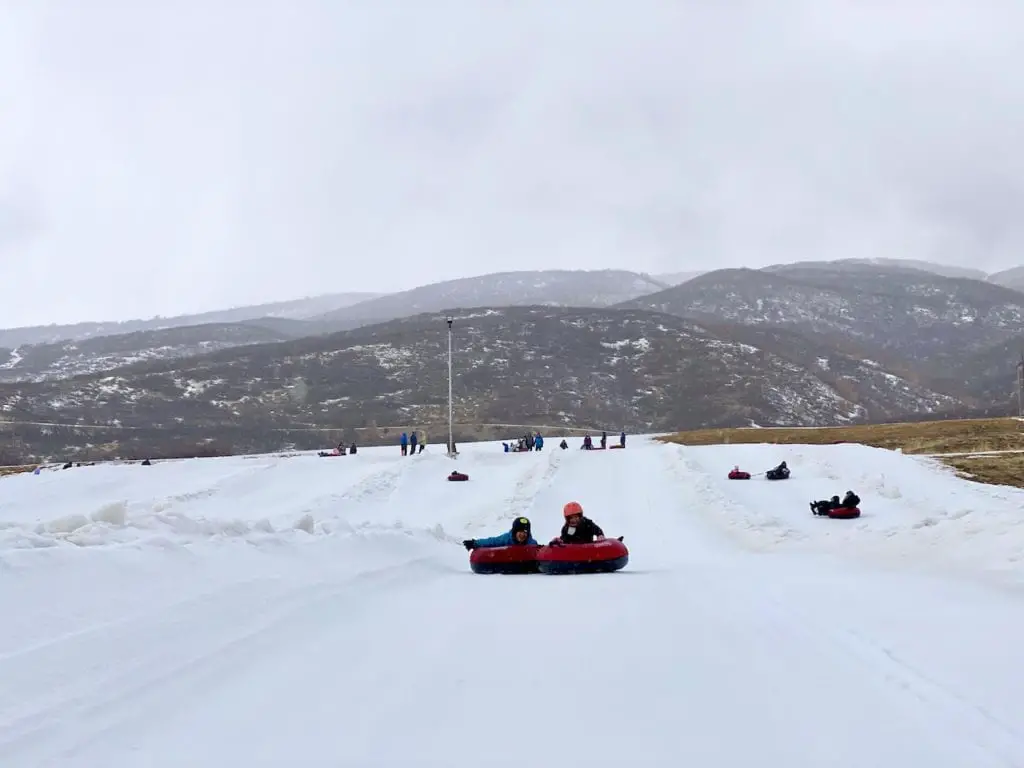 Note that you need to reserve your sledding time and will be able to sled as much as you want for 2 hours. I highly recommend a ski helmet for safety, though they are not required.
2- Homestead Crater Midway Hot Spring
After a fun 2 hours of sledding, make your way to Midway – a short 12-minute, or 5-mile, ride.
Pack some towels for your day, put on your swimwear, and go soak in this unique geothermal spring, found inside a 55-foot tall limestone crater. You can purchase 40-minute time slots for this experience (snorkeling also available).
You can expect the water inside the Homestead Crater to be 90 to 96 degrees and there is natural light coming in through the top of the crater.
It is a one-of-a-kind experience, sure to create incredible memories! Fun fact: you can even scuba dive and get certified in the Homestead Crater, the only warm scuba diving destination in the U.S.
Note that you will need to book a specific time slot for your visit as well! You can either call 435-657-3840 or email thehomesteadcrater@gmail.com for reservations.
3- Ice Castles Midway
If you choose to spend a day, or more, at Heber City / Heber Valley, you are in for a treat! Here is one more one-of-a-kind experience for your family: the Ice Castles in Midway.
Ticket prices vary between week day and weekends / Holidays, and I highly encourage you to buy them ahead of time as they sell out and no walk-in was accepted when we visited.
You will be blown away by the Ice Castles – it is like nothing you have ever experienced before. As you enter the Ice Castles, there is a very magical feeling floating in the air. The acoustics are different. The dancing rainbow LEDs light up the ice. The tunnels and structures are formed by thousands of icicles hand-placed by professional ice artists. And a million stars shine in the kids' eyes.
The kids will love the ice slides while the adults marvel at the iced fountain. My number 1 tip for the Ice Castles Midway, is to try to book a time that will allow you to enjoy the Castles by day and night. Try to get there a few minutes prior to the schedule sunset and you will be in for a treat! They are equally beautiful at night and during the day!
4- Heber Valley Artisan Cheese
For all of the foodies out there, go visit the Heber Valley Artisan Cheese.

Located in Midway, UT as well, this farm has been producing high-quality dairy for nearly a century. From their milk, they produce amazing cheese, giving you a true farm-to-table experience.
Pop in for cheese tasting, a dairy farm tour, or a mozarella-making class. You will learn about farming and the process of making premium cheeses. This is a wonderful opportunity for world schooling and learning on the road!
5- Wasatch Mountain State Park
The Wasatch Moutain State Park is a large state park, and where Soldier Hollow is located.
You can spend some time hiking, golfing in the summer, visiting its duck pond, or cross-country skiing for a small fee of $4.
It is a fun park, whether you visit in the winter or the summer. If you have a few hours' gap between two experiences in Heber City, it is a fun way to let the kids run loose and burn some energy!
Heber City To Park City
Many of you are probably on a ski trip to Park City, and I often get asked how far Heber City is to Park City.
Heber City is located only 21 miles from Park City. It is an easy 32-minute drive between the two location, making it a no-brainer when it comes to family snow fun!
If you are coming from Salt Lake City, count about 49 miles, or a 55-minute drive. Totally doable, and you will find enough to stay busy a whole day!
What To Do In Heber City Utah With Kids
Heber Valley is a really fun, and beautiful, place to visit in all seasons.
If you happen to be visiting Salt Lake City, or its nearby ski resorts, in the winter, you are in for a real treat.
Take a day out of your busy schedule to come spend some time in this beautiful area, and experience some one-of-a-kind attractions, sure to make beautiful family memories!
---
Pin this for later!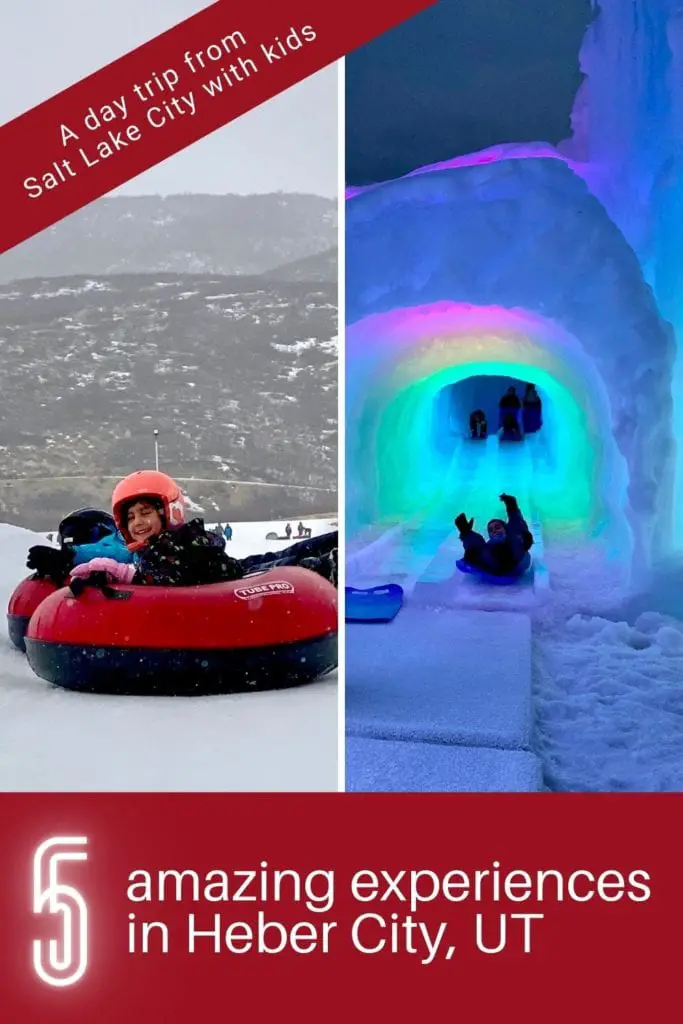 ---
Related articles you will enjoy:
Luxury Family Vacation At The Cliff Lodge Snowbird
10 Reasons Why Utah Should Be On Your Family's Bucket List – Luxury Family Ski Vacation
Deer Valley Resort – A Dream Come True For Family Ski
If you enjoy reading us, sign up for our newsletter below!