Note from Laura

I have been dreaming of Asia lately, even trying to convince my husband to take a sabbatical and travel with the kids for a year.

So when Akansha Negi, a published travel writer from India, approached me and asked if I'd be willing to publish one of her stories on Frugal for Luxury, I asked her if she could give me her Top 10 Best Family Resorts in India.

I hope you find them as inspiring as I do!
Vacations become truly memorable when we choose an ideal destination, partake in fun-filled activities and above all, select a comfortable accommodation.
Therefore, the best family resorts in India promise you a wonderful experience for an unforgettable trip. Featuring state-of-the-art amenities and offering world-class hospitality, those Indian resorts are not only child-friendly, but also cater to the needs of the whole family.
Unique in every sense, you will want to include the following resorts to your bucket list when traveling through India.
JW Marriott Mussoorie Walnut Grove Resort & Spa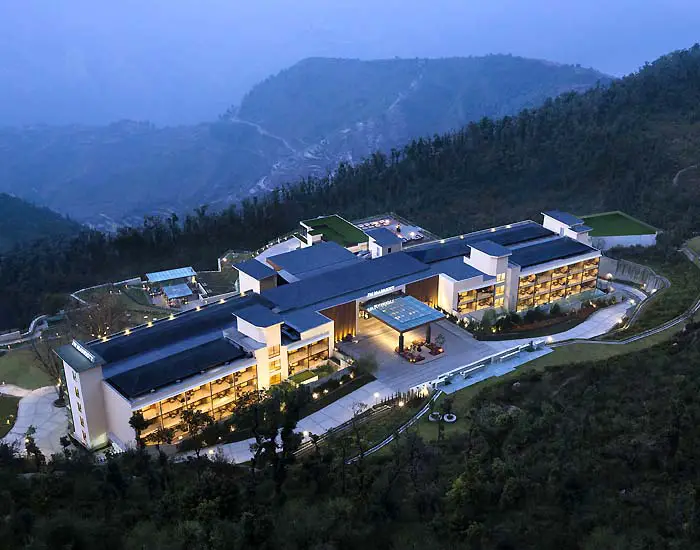 Besides offering a wide range of activities, the JW Marriott Mussoorie Walnut Grove Resort & Spa beguiles the guests with its pristine location. Treat your eyes to the staggering beauty of the Himalayas and rejuvenate your senses with Ayurvedic massages. Furthermore, an adventurous expedition raises the fun quotient to the next level.
Set your kids free to enjoy the heated indoor splash pool til their heart's content. This wheelchair-friendly resort takes great care of the specially-abled guests as well. The JW Marriott Mussoorie Walnut Grove Resort & Spa is one of the best resorts in India for families.
Location: Mussoorie, Uttarakhand
Activities for Children
Chokhi Dhani Resort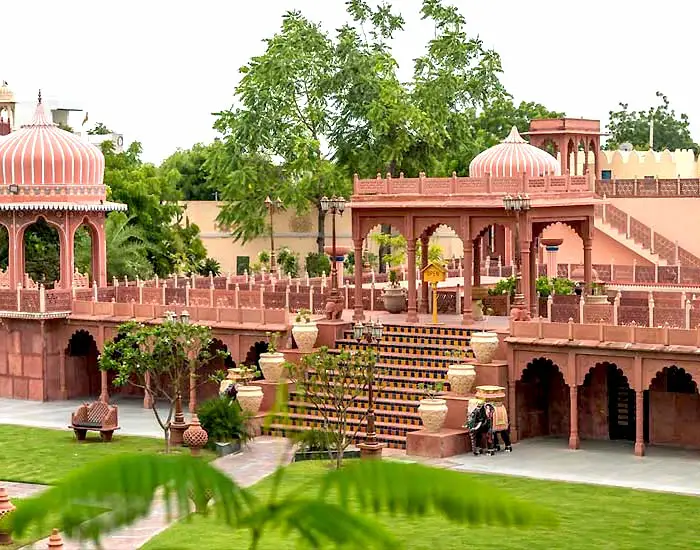 Offering a unique experience, Chokhi Dhani Resort enjoys worldwide reputation as the best family resort in Jaipur.
This 5-star ethnic resort is nothing less than a fine hamlet nestled amidst scenic landscape. Featuring picturesque and traditional dwellings, the resort is synonymous with Rajasthani village themed hospitality.
There is nothing better than delighting in the tangible feel of rural Rajasthan while spending quality time with friends and family. Pamper everyone with unmatched Rajasthani extravaganza coupled with the warm and excellent service.
Location: Jaipur, Rajasthan
Activities for Children
Swimming in small, shallow pool designed especially for kids
Indoor games at the Kids Corner
Camel rides, magic shows, puppet shows, boating, horse rides, etc. are an added plus
ITC Grand Goa Resort and Spa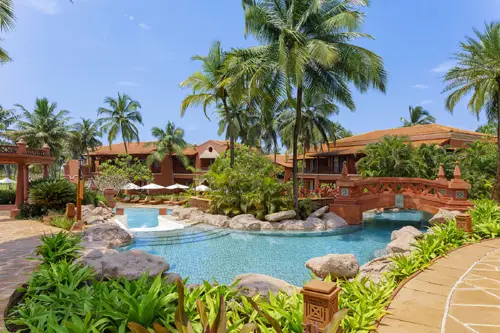 If you're seeking some seaside fun, ITC Grand Goa Resort and Spa is the place for you. Make your family holiday in Goa extra special by spending a few days at this beautiful property.
Not only does the ITC Grand Goa Resort and Spa offer amazing activities for the kids, adults will enjoy the horticulture tours. Another noteworthy feature making it one of the best resorts in Goa for the family is its wheelchair-friendliness. Thus, guests with special needs will also enjoy this resort to the fullest without compromising with comfort.
Location: South Goa
Activities for Children
Play on the giant chessboard
Enjoy storytelling
Allow your children to spend time in the kiddie pools
Let your child participate in educational activities
Play with beach toys
Besides these, ask for arranging customized heritage walks, food tours and boat rides
Wild Mahseer Lodge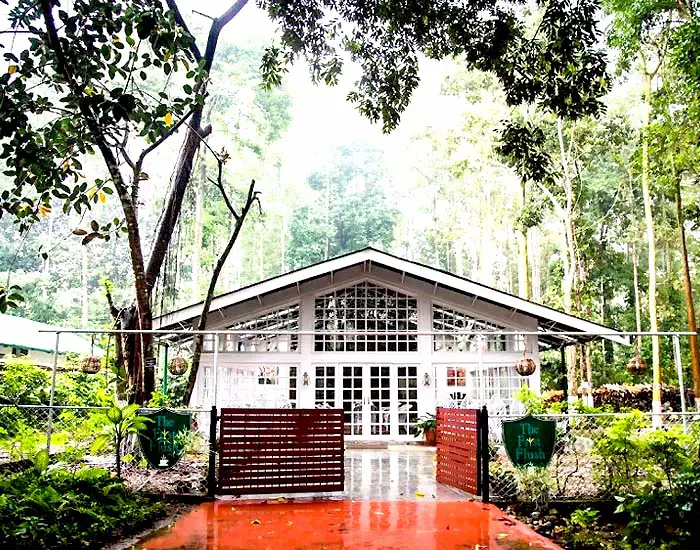 Tucked beautifully amidst the scenic tea valleys, Wild Mahseer Lodge is one of the best family resorts in India.
Sip on the finest teas while marveling at the beautiful sights. Spend days exploring the natural and cultural heritage of the Eastern Himalayas. Bringing alive the old-world charm, this unique haven is an ideal getaway for people from all over the world. In fact, tea lovers should not miss choosing this blissful lodge while planning their family holiday in Assam.
Location: Assam
Activities for Children
Revel in Kaziranga National Park Safari
Try biking across the plantation
Learn angling
Explore local tea gardens
Taj Lake Palace
Fulfill all of your family's wishes at the Taj Lake Palace. Reckoned as one of the most family-friendly hotels in Rajasthan, the property is extraordinary.
Nestled right in the middle of Lake Pichola, this Indian luxury hotel presents a unique spectacle. From the needs of children for indoor or outdoor activities to the requirements of newly-wedded couples, everything is taken care of.
Location: Udaipur, Rajasthan
Activities for Children
Go for a boat ride on Lake Pichola
Introduce your kids to India's rich historical legacy via a heritage walk
Watch puppet shows
Tree House Hideaway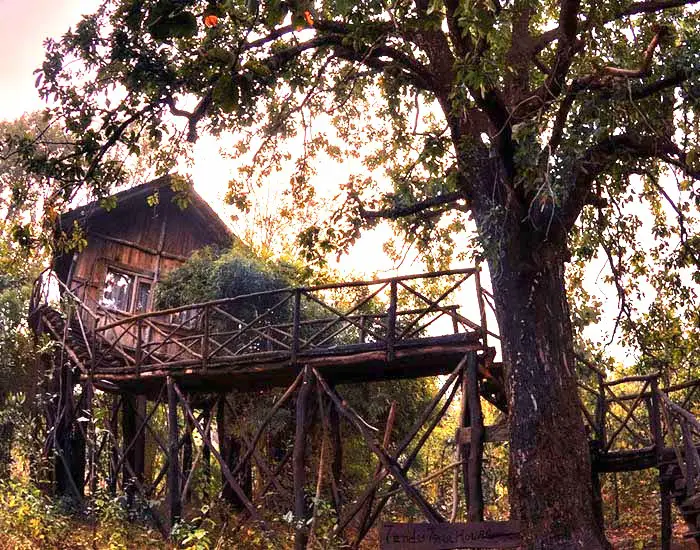 How about spending time with the reptiles, birds, and animals dwelling nearby you? If this idea excites you, then Tree House Hideaway is the place for you.
Watching time fly by while you remain surrounded by jungle trees is indeed an enthralling experience. Additionally, following the traditional lifestyle while having unrivalled wildlife holidays makes for the icing on the cake.
We advise staying at the Tree House Hideway between October and March since winter is the best time to visit with family.
Location: Bandhavgarh, Madhya Pradesh
Activities for Children
Revel in an enthralling wildlife safari
Spare some time for camping
Enjoy barbecue and bonfire
The Ritz–Carlton Bangalore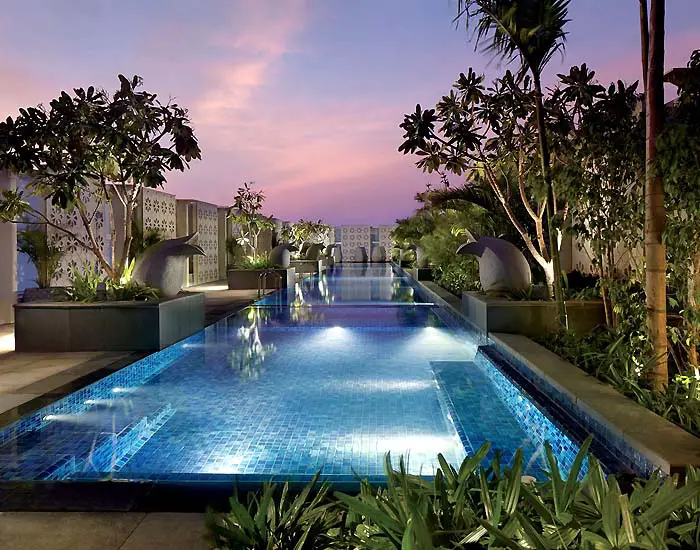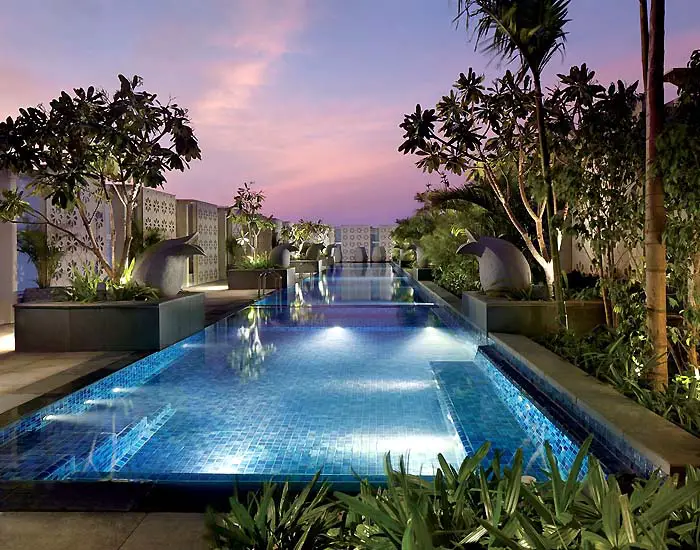 In addition to exuding vibrant energy, Bangalore, often known as India's Silicon Valley, attracts travelers to its world-class resorts. Amongst them, The Ritz-Carlton allows for perfect work-life balance.
If you are in Bangalore for work, your family will love this resort while you have peace of mind. Your children will have a blast under the supervision of professionals. Besides handling the needs of the business tycoons, this kid-friendly resort also caters to the wishes of the young ones.
Location: Bengaluru, Karnataka
Activities for Children
Choose camping experience with the activity pack
Your children will definitely fall in love with the Ritz Kids Night Safari
Let your kids go for a treasure hunt
The Himalayan Village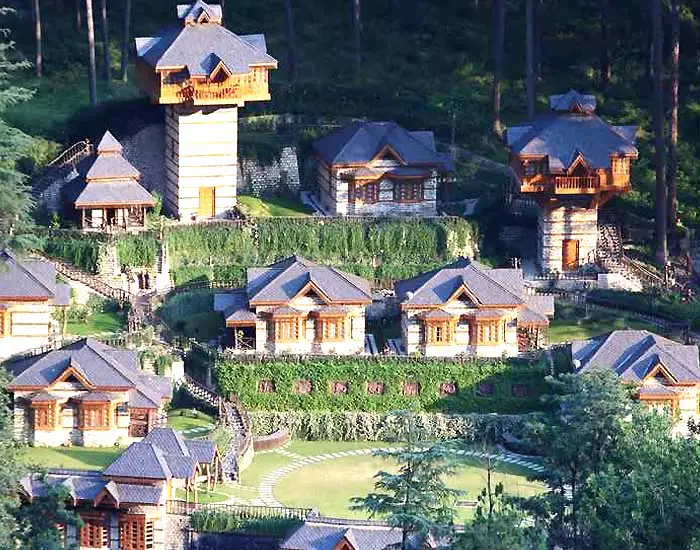 Step into a different world and enjoy several scenic valleys such as Chamba, Kinnaur, Kangra, Shimla, Spiti and Lahaul, all at once.
Built in the ancient Kathkunia style, The Himalayan Village, one of the best resorts in India for families. Wake up to sweeping views of the mountainous landscape from your machan-style (tree house) room. Additionally, your little animal lover will love the frolicking in-house pets running around the resort.
Location: Kasol, Himachal Pradesh
Activities for Children
Try your hands at Jeep safari, paragliding, mountain biking, etc.
Learn about agri-tourism and angling
Go for rafting, rappelling, jungle barbecue, nature walks, etc.
Khyber Himalayan Resort and Spa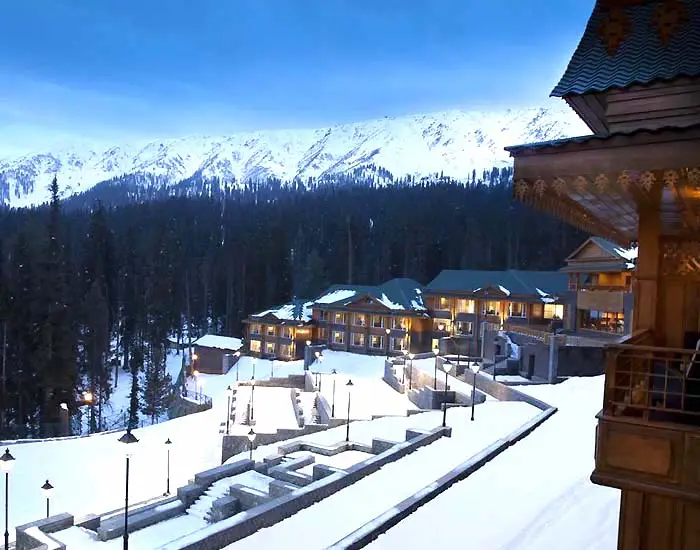 Situated in the lap of the breathtaking Pir Panjal Mountains, the Khyber Himalayan Resort and Spa is a beautiful snow retreat.
Considered one of the best resorts in India for family travel, the property excels in providing top-notch comfort and services. Owing to a plethora of activities for adults and children, this resort is a favorite of many.
Location: Jammu and Kashmir
Activities for Children
Send your child to The Igloo, an activity room for children, well stocked with board games, gaming consoles and a mini theatre
Discover nature trails
Delight in gondola rides   
Kumarakom Lake Resort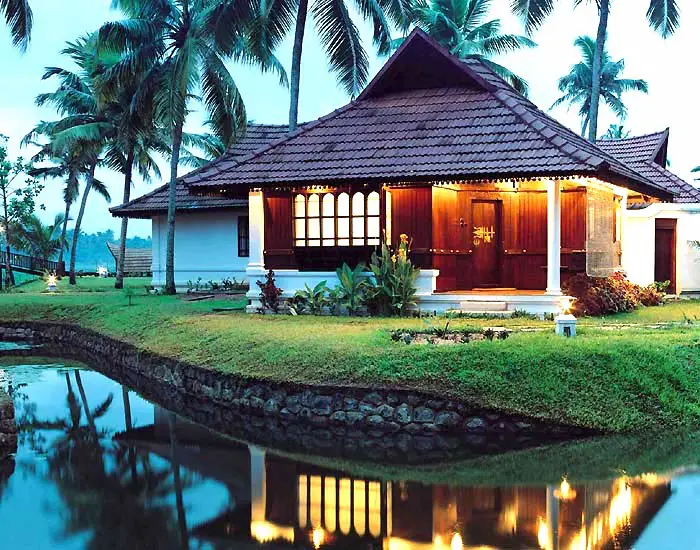 The quest for one of the best family resorts in Kerala ends at the Kumarakom Lake Resort.
Presenting an amazing mélange of Kerala's traditional architectural charm together with modern and luxurious comforts, the resort is simply majestic.
Location: Kumarakom, Kerala
Activities for Children
Stay in a houseboat
Spend some time trying activities on the lake
Go for a sightseeing trip, bird sanctuary visits, village walks, cycling etc.
Planning to stay in any of these best resorts in India for the family can guarantee delightful memories of a lifetime.
---
Article by Akansha Negi, an enthusiastic travel writer from India.
A soul bred in the mountains, Akansha Negi doles out travel inspiration from solo wandering, exploring heritage and culture, tasting local cuisine, adventures and experiences of her travels.
---
Pin this for later!
---
Related articles you will enjoy:
Sorry, Having Kids won't be a Good Reason NOT to Travel this Year
How we Keep Family Travel Spontaneous
21 Things your Favorite Travel Hacker won't Tell You
If you enjoy reading us, sign up for our newsletter below!