Hello from sunny Jacksonville, Florida!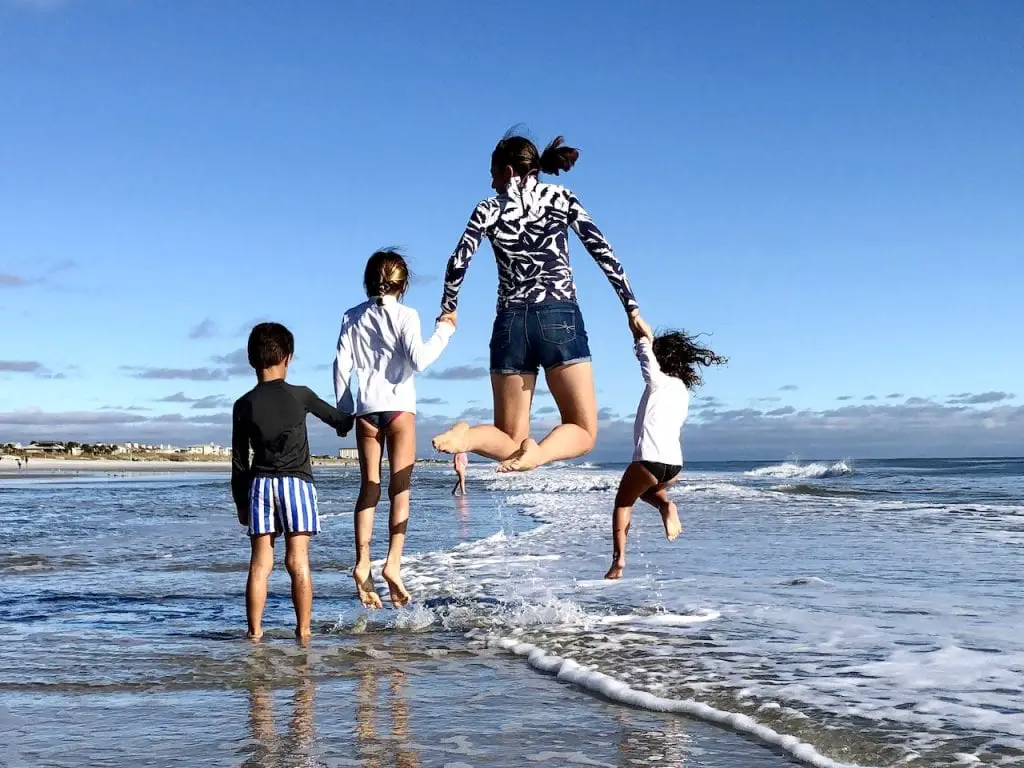 We have just spent an amazing weekend in Jacksonville, and I can't wait to share our top things to do with kids in Jacksonville, FL! Or Jax, as the locals call it!
Fun fact: did you know that Jacksonville is the largest city by landmass in the continental USA? That blew my mind too… but we quickly came to enjoy all of its diversity – from its beaches and Atlantic coast, to its forested areas, urban sights, and river banks! There is definitely enough for everyone to enjoy and we sure did!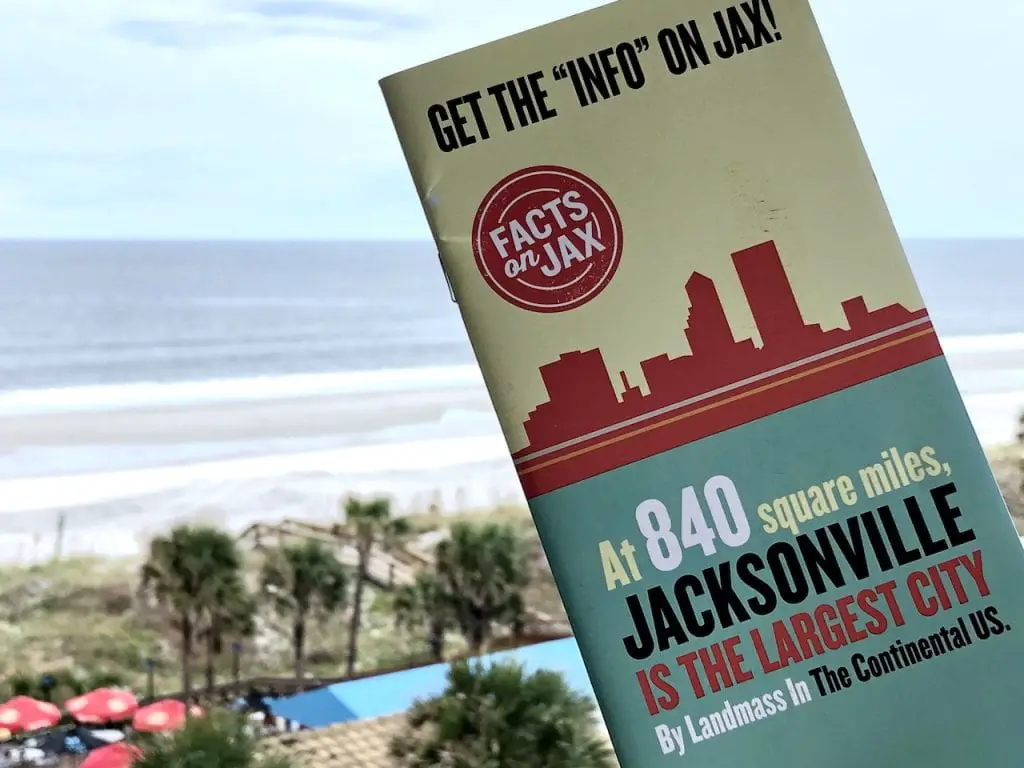 What we loved most was the relaxed atmosphere in Jacksonville. We felt like the locals were living a very laid back lifestyle and really enjoyed interacting with us and the kids, making it one of the most family-friendly towns we've visited in the US. We also loved all of the mom and pop shops and unique restaurants – recommendations coming below!!
And when I say that Jacksonville is kid-friendly, I mean it. November is a perfect month to visit and enjoy Jacksonville's Kid Free November! From November 1st to 30th, Jacksonville's top attractions admit 5 children, 12 and under, free of charge with a paying adult! Click HERE for a list of participating attractions!
Ready?
---
WHERE TO STAY
---
Address: 1515 1st St N, Jacksonville Beach, FL 32250
Website: Hampton Inn Jacksonville Beach Oceanfront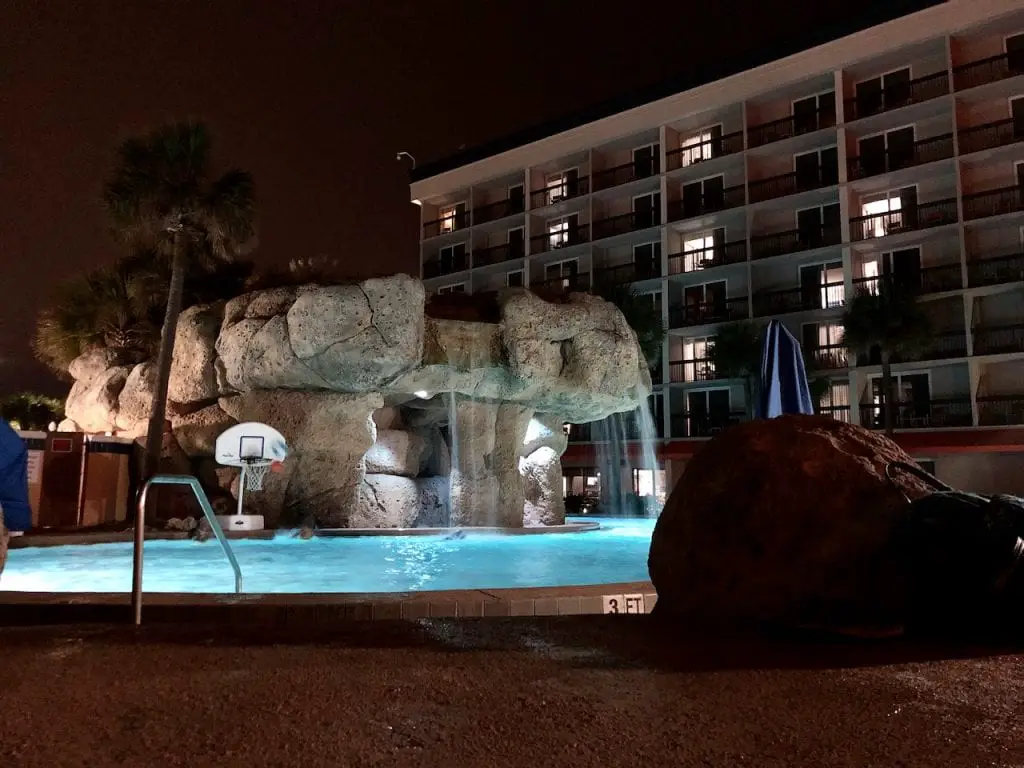 If you are vacationing in Jacksonville, FL, with children, I highly recommend staying right on the beach. There are a few options, but Jacksonville Beach will be the best place to choose from.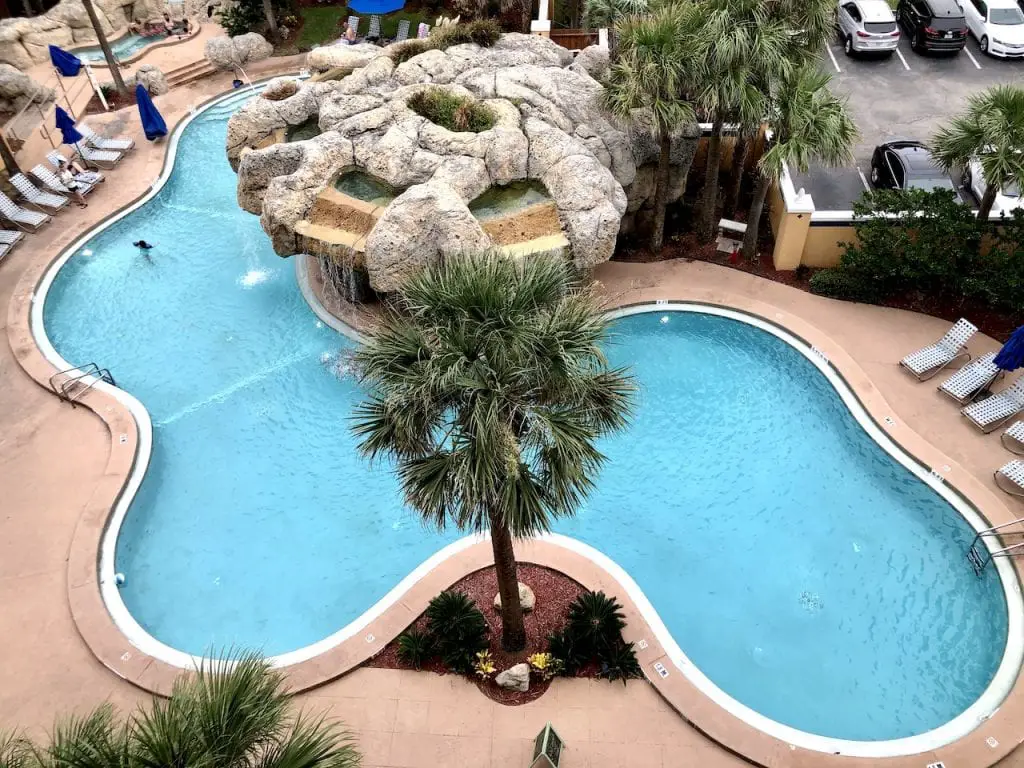 We spent two nights at the Hampton Inn Jacksonville Beach Oceanfront and thought it was the perfect family hotel!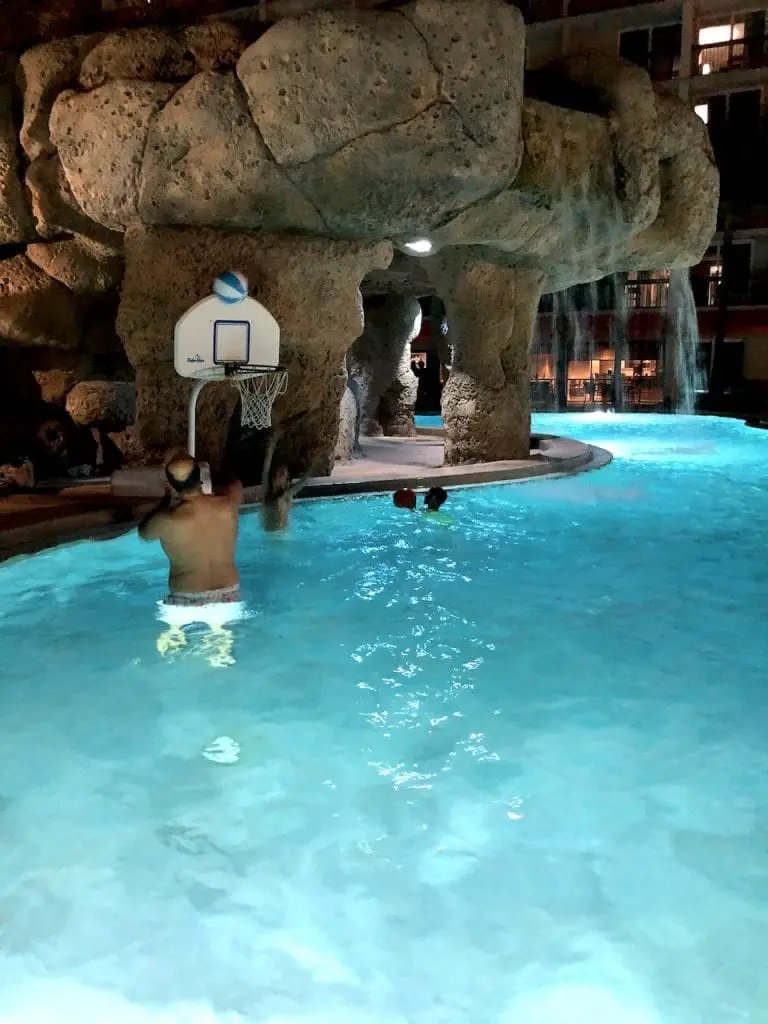 The kids LOVED the heated pool with waterfalls. They spent both nights throwing the ball through the basketball hoops…
…and jumping from pool to hot tub!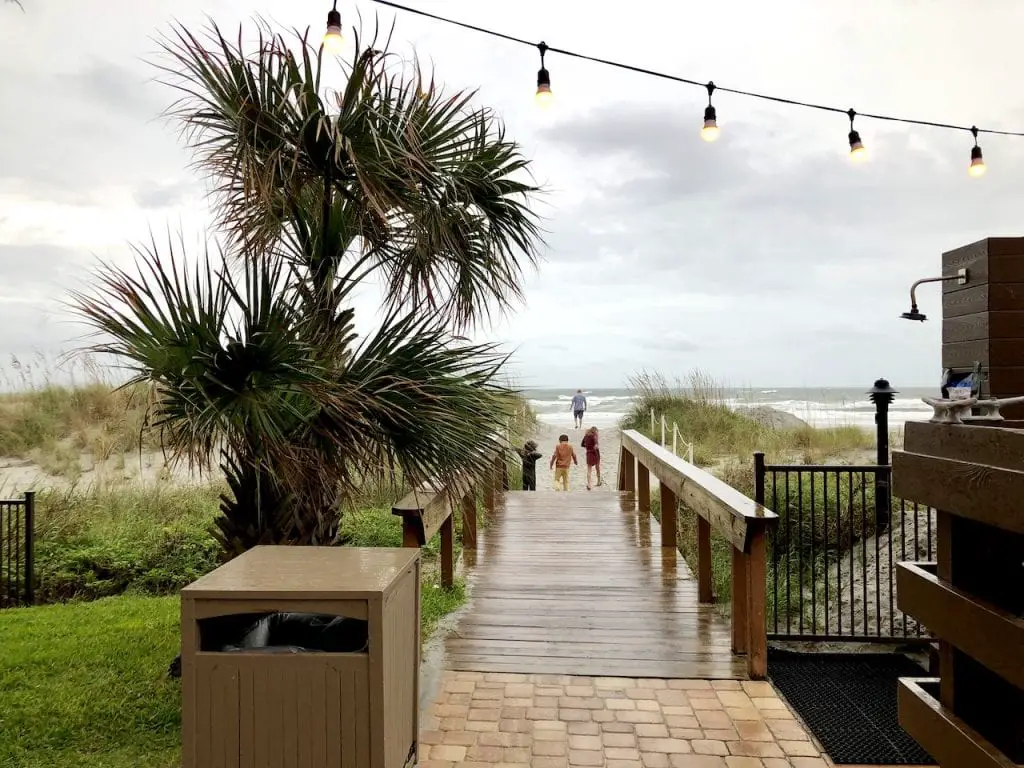 But the true highlight of the Hampton Inn in Jax Beach is the beach itself! Walk right onto a little piece of the 22-mile Atlantic coastline in Jacksonville. The white powder beach extends into the warm ocean and became our kids' favorite playground!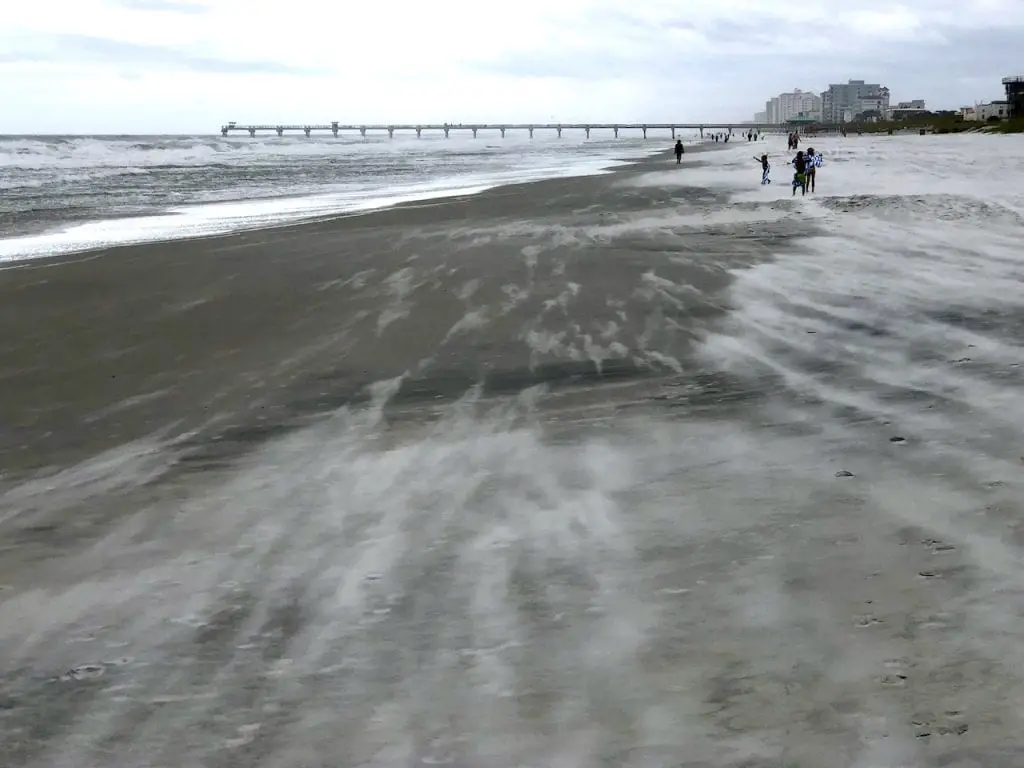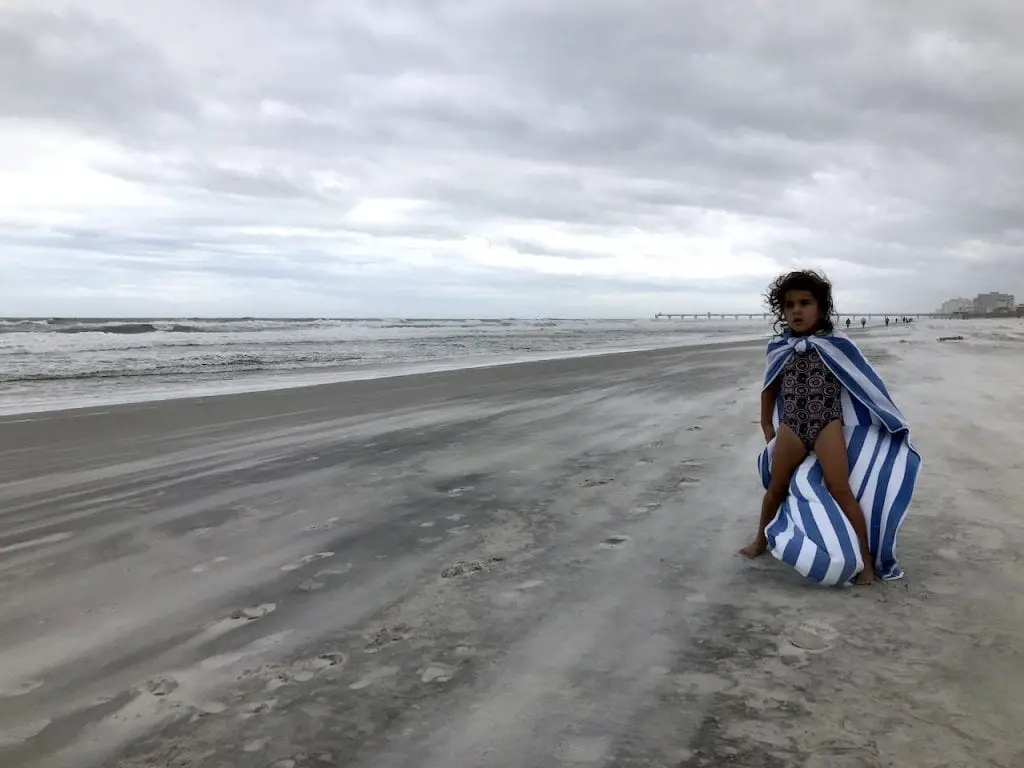 We arrived in Jacksonville on a tropical storm weekend, so we saw the beach turn from a black-and-white landscape with enough wind to give it a surreal look…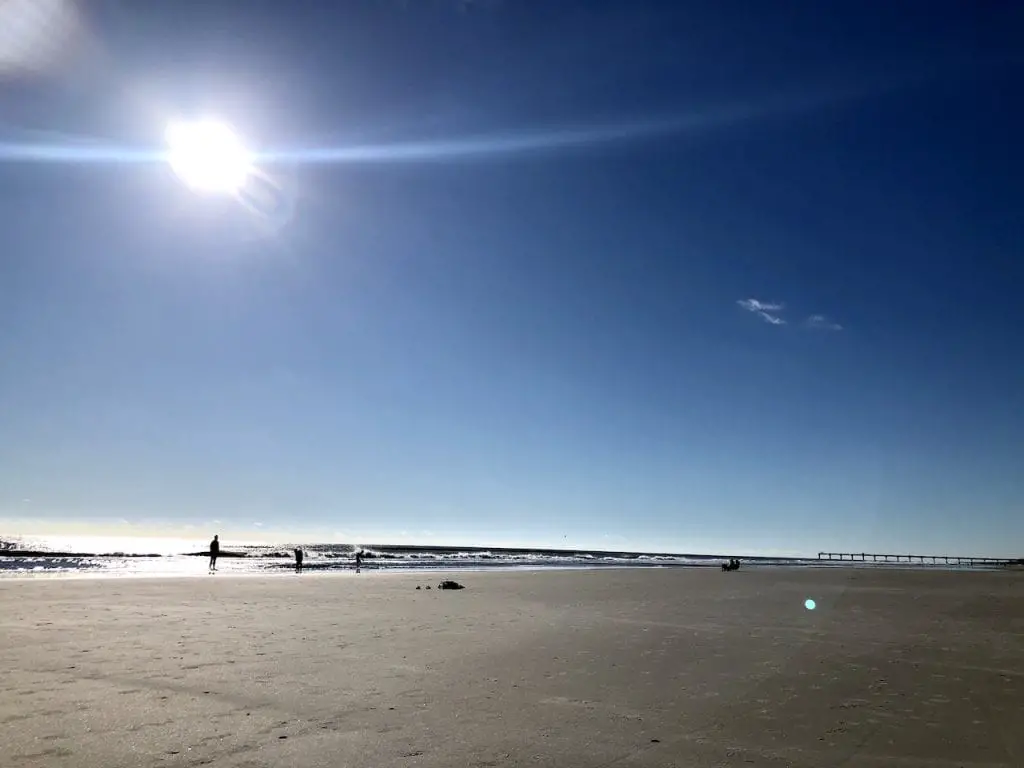 …to the beautiful white-sand beach it is under dark blue skies.
We were amazed at the beach and could not recommend staying at the Hampton Inn Jacksonville Beach Oceanfront enough!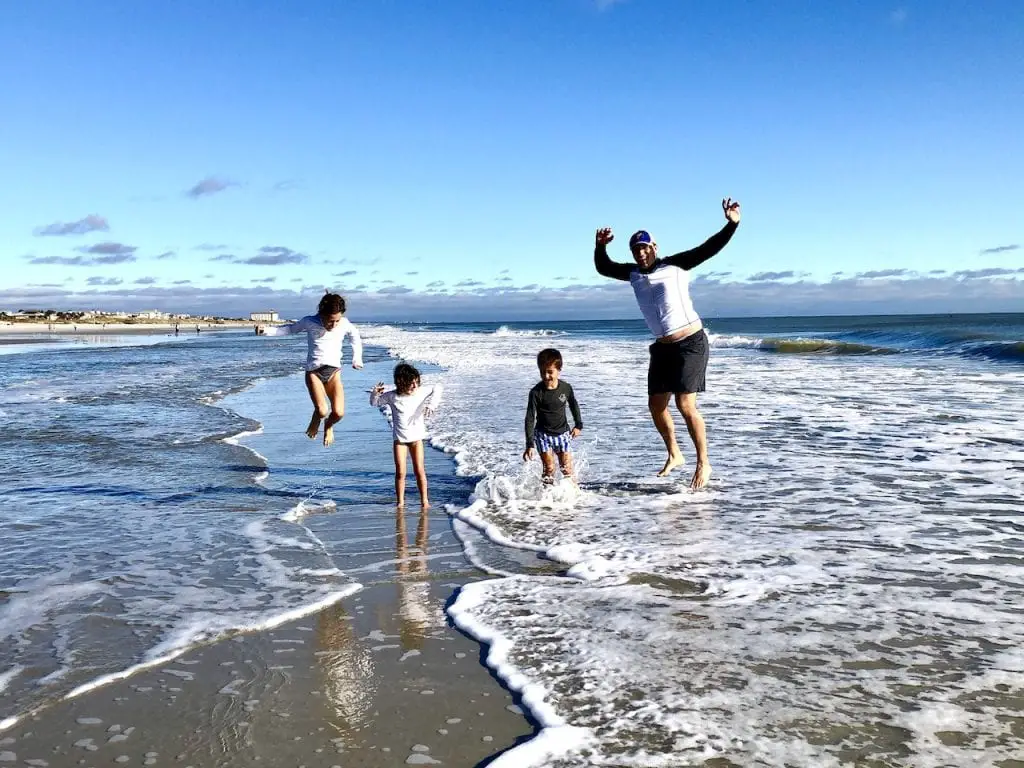 Ask for a room in the upper floors, for an almost-guaranteed ocean view.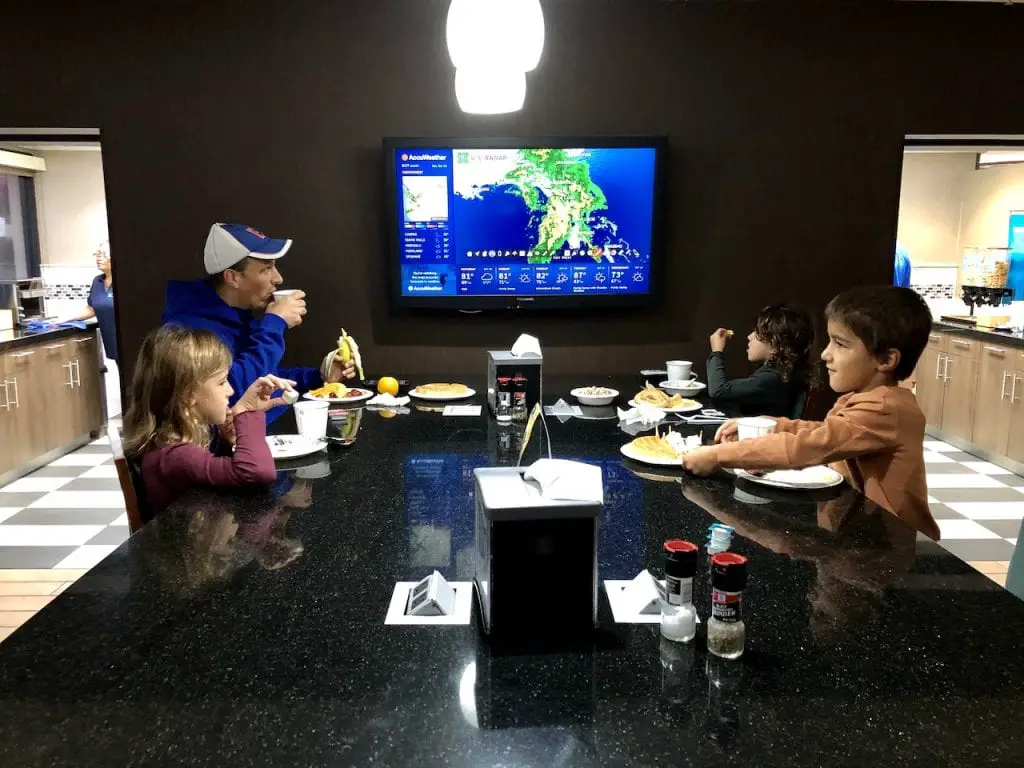 And be sure to enjoy the free hot breakfast!
---
WHAT TO DO
---
There is so much to do in Jacksonville… it is an unbelievably diverse and active community and you will find anything from outdoor adventures to indoor culture. Here are our family favorites!
Cummer Museum
Address: 829 Riverside Avenue, Jacksonville, Florida 32204
Website: https://www.cummermuseum.org
Hours: Closed on Mondays, T/F: 11A-9P, W/Th./Sat.: 11A-4P, Sun: 12P-4P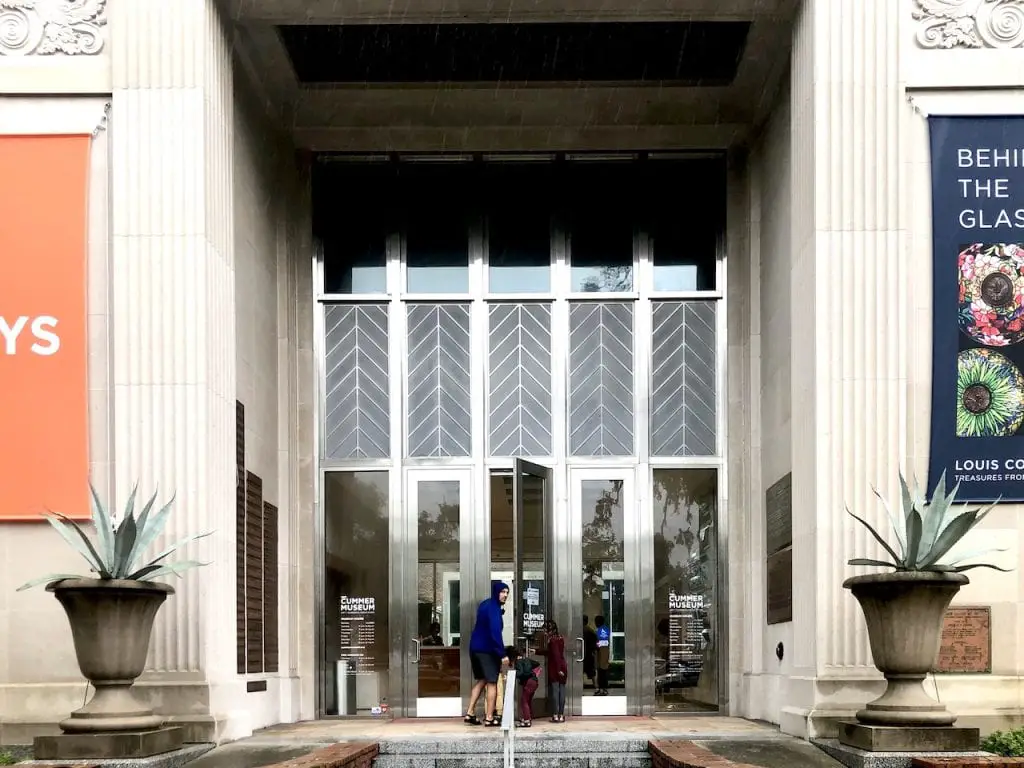 Since the weather decided not to cooperate on our first day in Jacksonville, we decided to explore the Cummer Museum with the kids.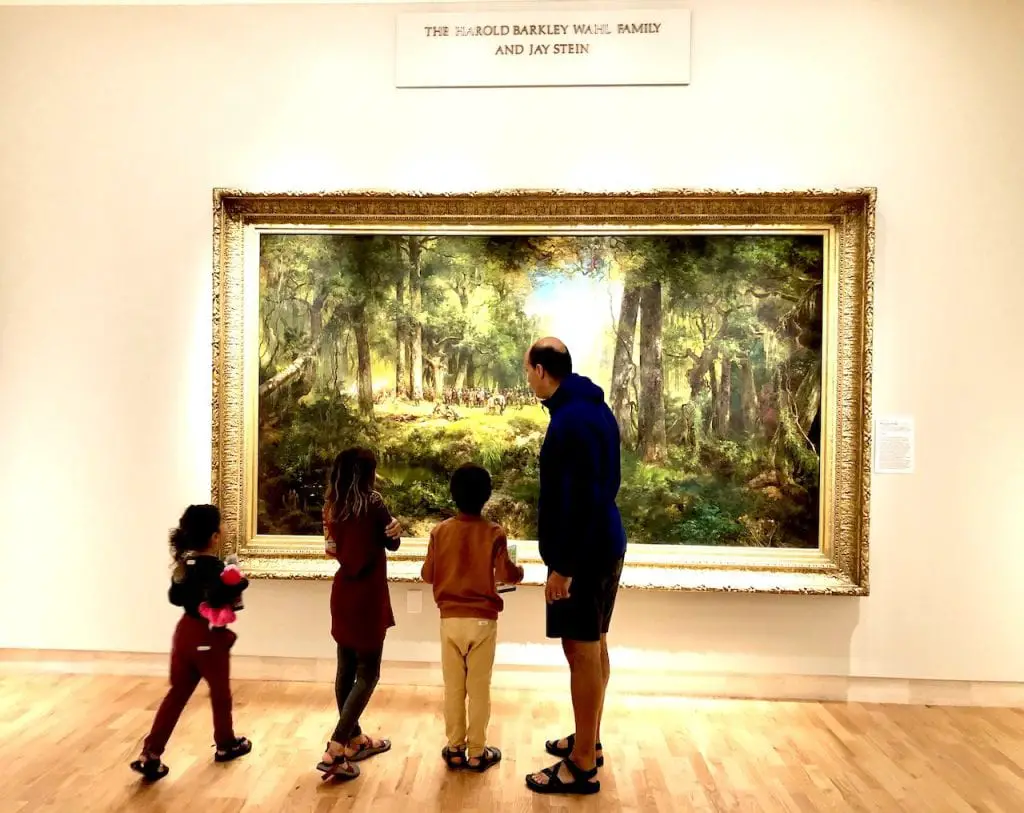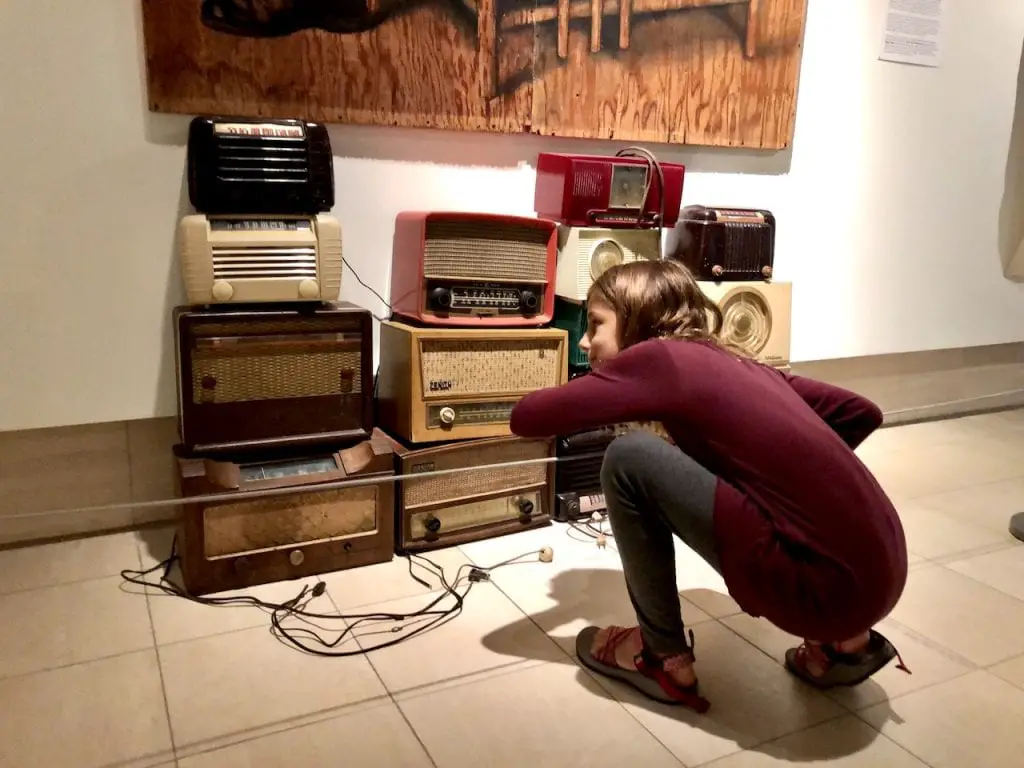 While we have taken them to many children and science museums, this was their first experience with an art museum. And it was a total success!
The Cummer Museum is amazing for kids. The permanent collection is very engaging and you will find amazing pieces like the one above, made of flies and resin!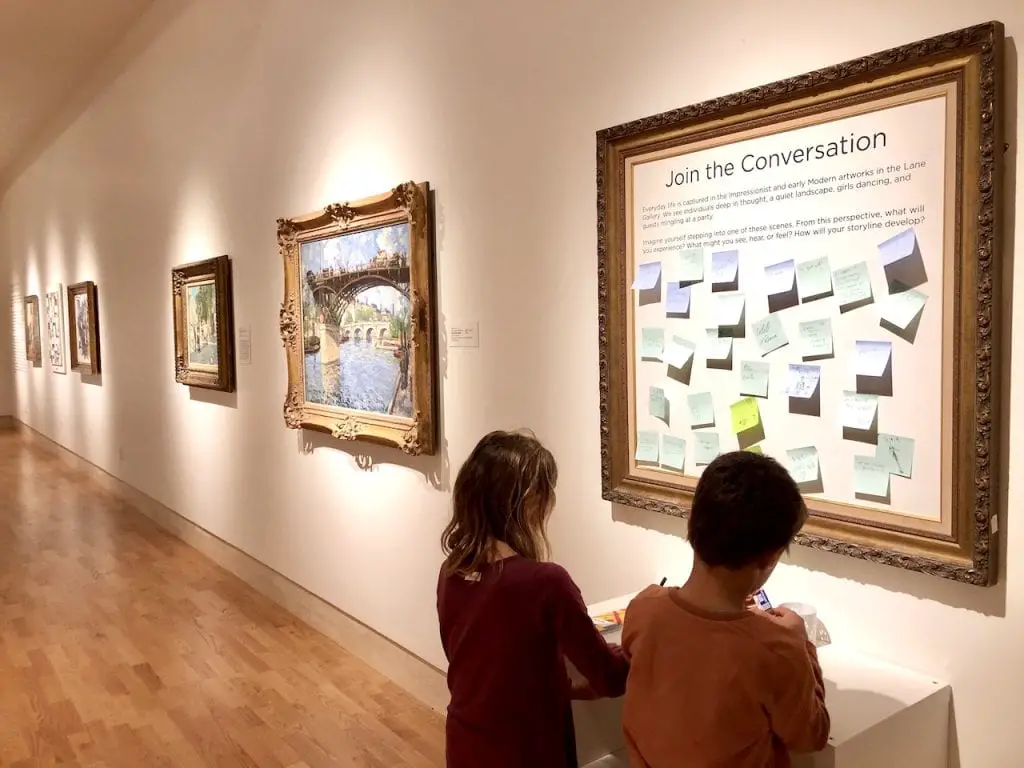 We all loved the special exhibitions as well, from the Tiffany glass to multimedia art in The Crime Of Art gallery, fascinating the kids and leaving them wondering about the limits of art!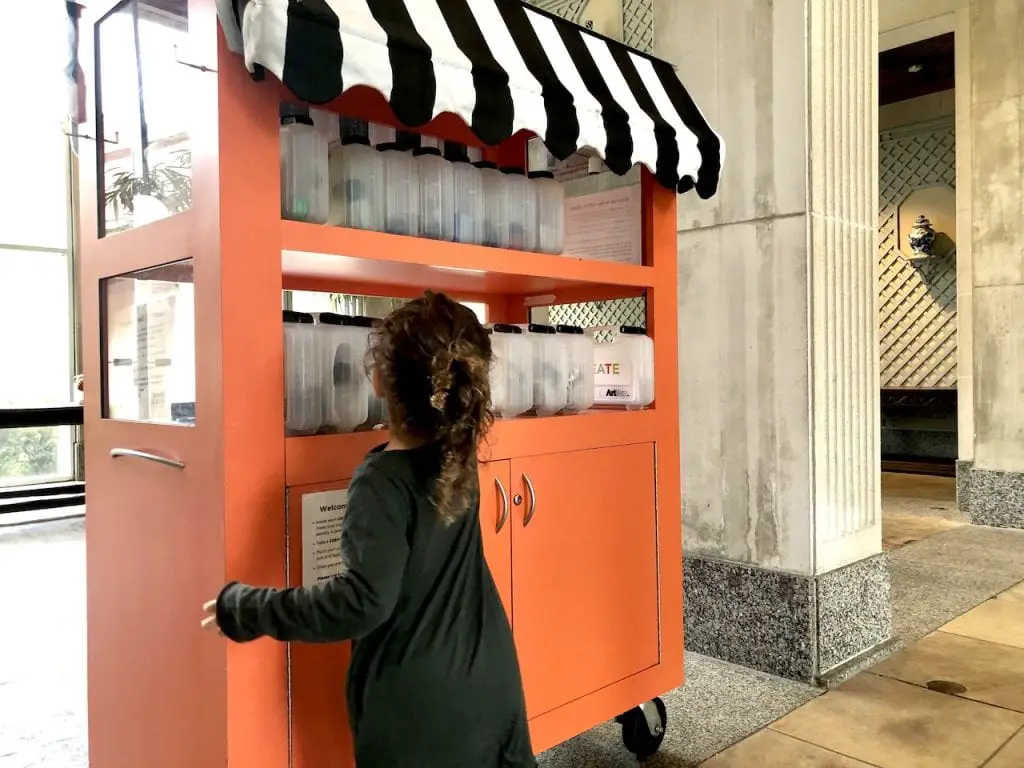 And then, as a truly amazing museum, the Cummer Museum engages its youngest visitors in a very special way. In its Loggia, a CREATE Cart stands for kids to pick a CREATE box and find a little spot in the museum to let their artistic side out.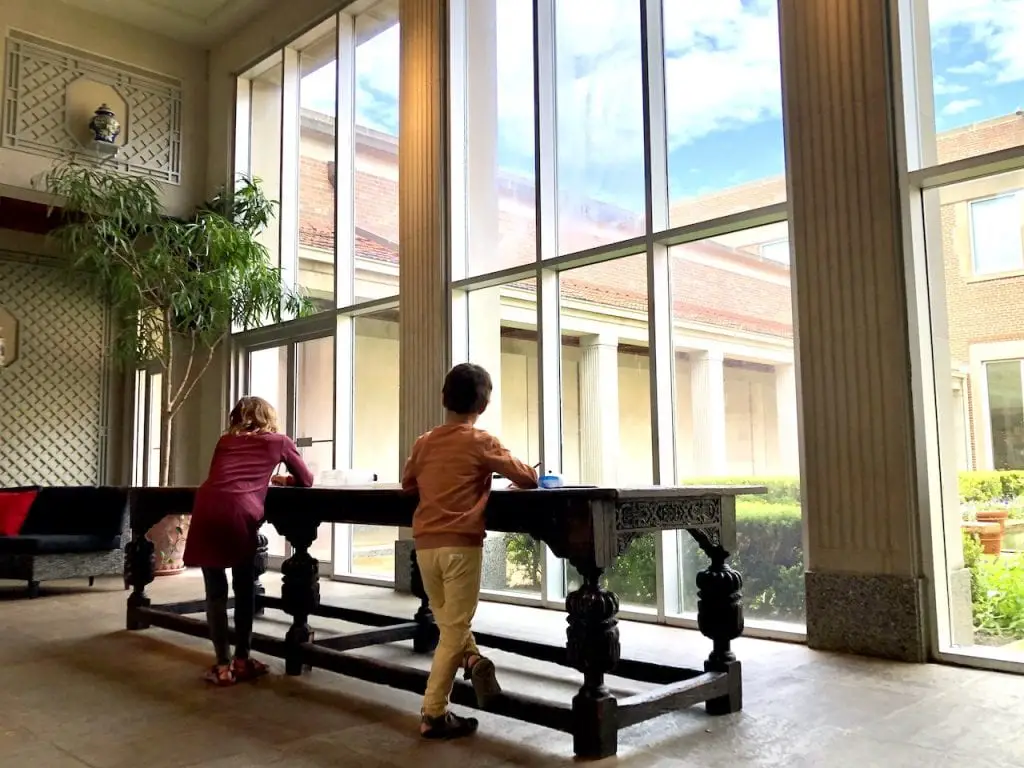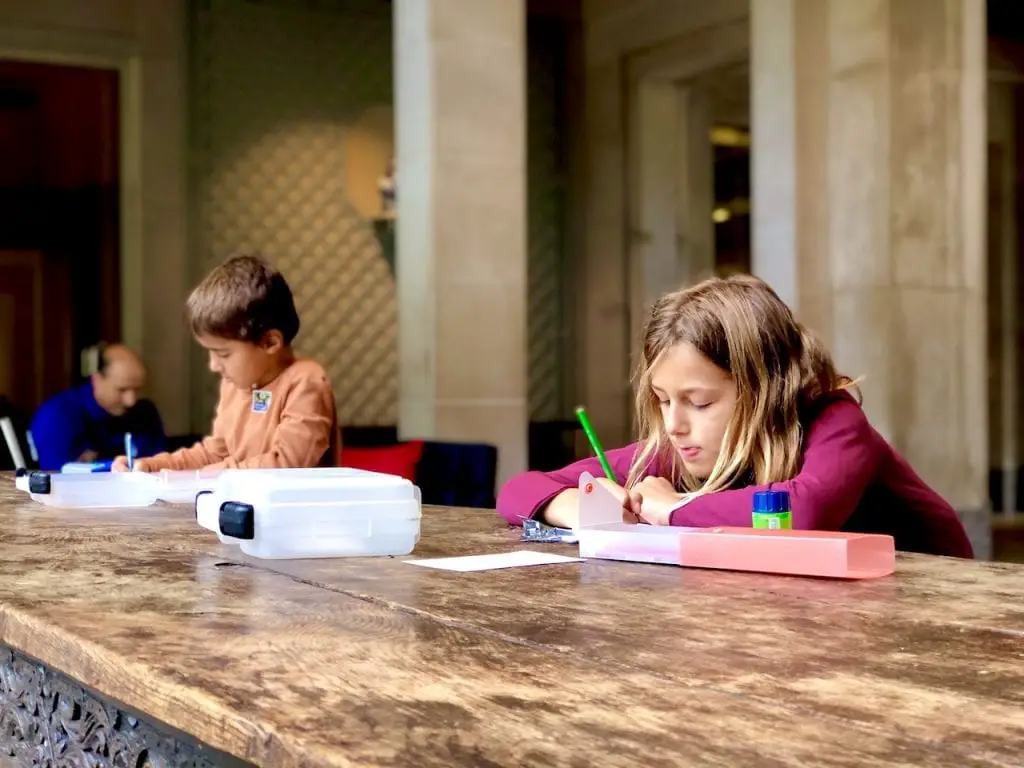 Ava loved drawing the courtyard in front of her, while Mark took a more imaginative approach and Elin experimented with her newly-found stick figures! All felt very inspired by the art around them and we spent over 30 minutes scribbling in the Loggia, each child lost in his and her pensive world.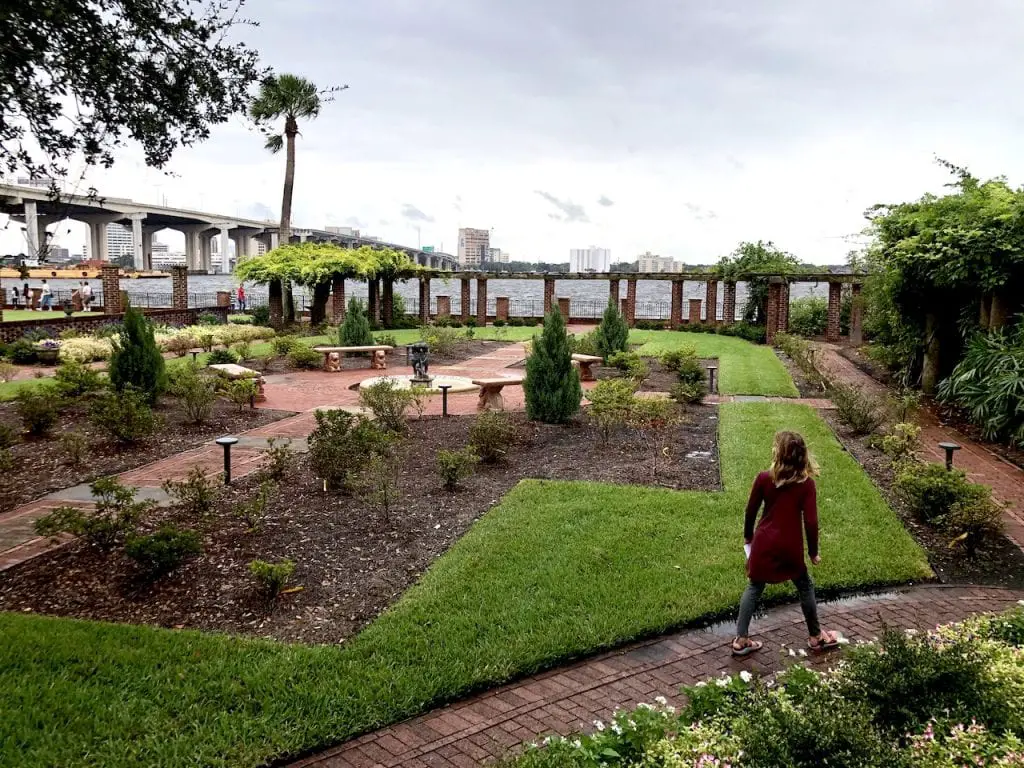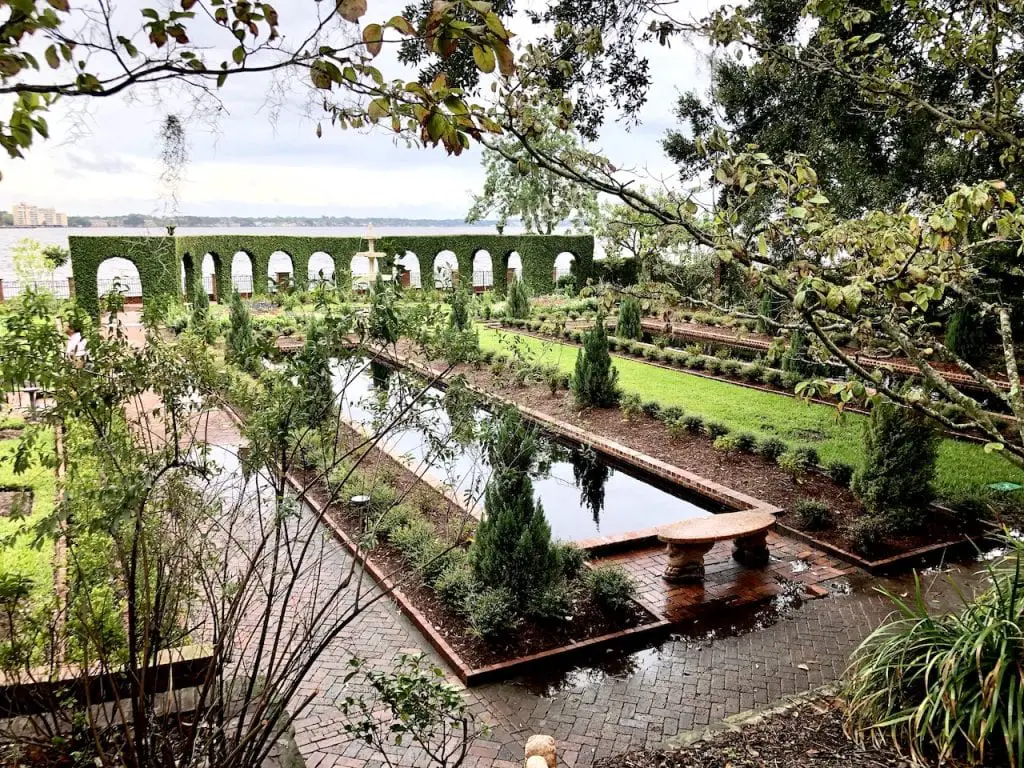 Not to miss – the English, Italian, and Olmsted Gardens. All back up to the St. John's river and offer beautiful and peaceful sights!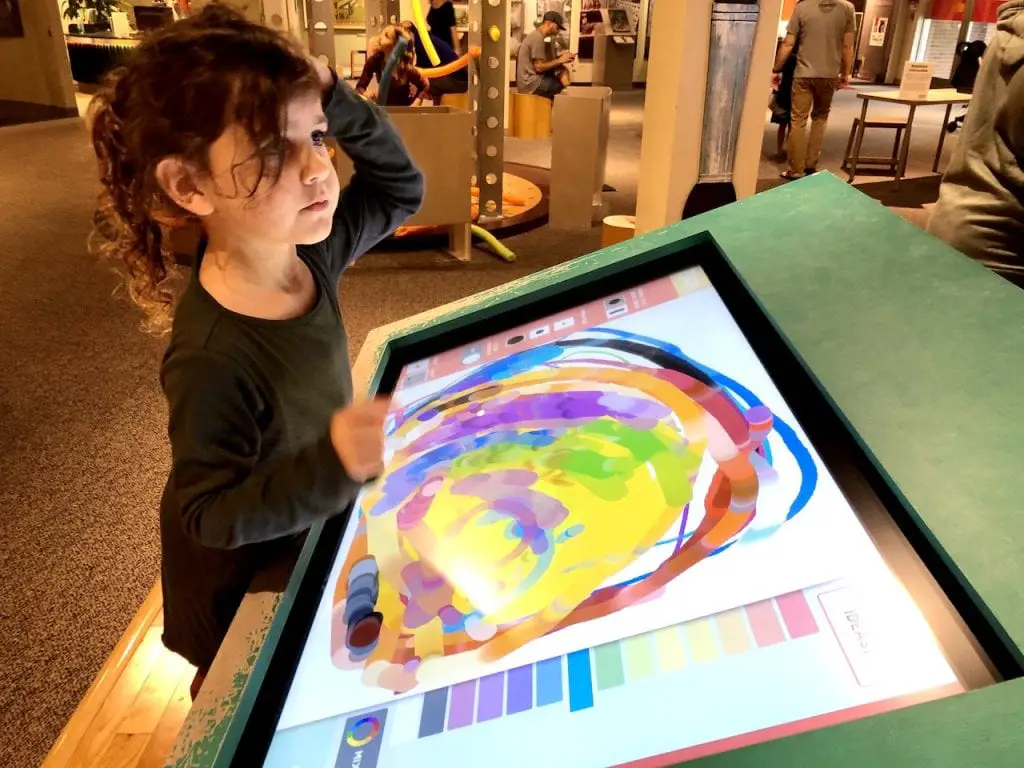 And lastly, explore the whole area created just for the kids to get creative and explore their artistic side!
Jacksonville Zoo And Gardens Spooktacular
Address: 370 Zoo Pkwy, Jacksonville, FL 32218
Website: http://www.jacksonvillezoo.org/
Hours: M-Sun: 9A-5P (Spooktacular starts at 6.30P)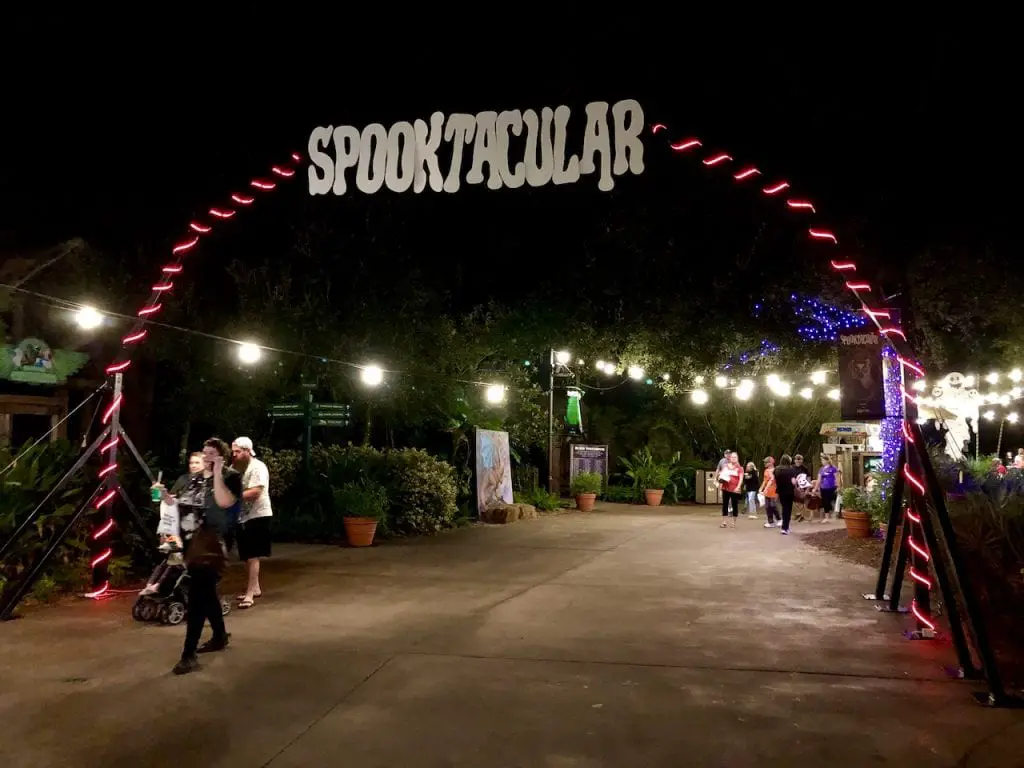 Jacksonville has its own zoo, taking its visitors from Africa to Asia, through Australia, wild Florida and more.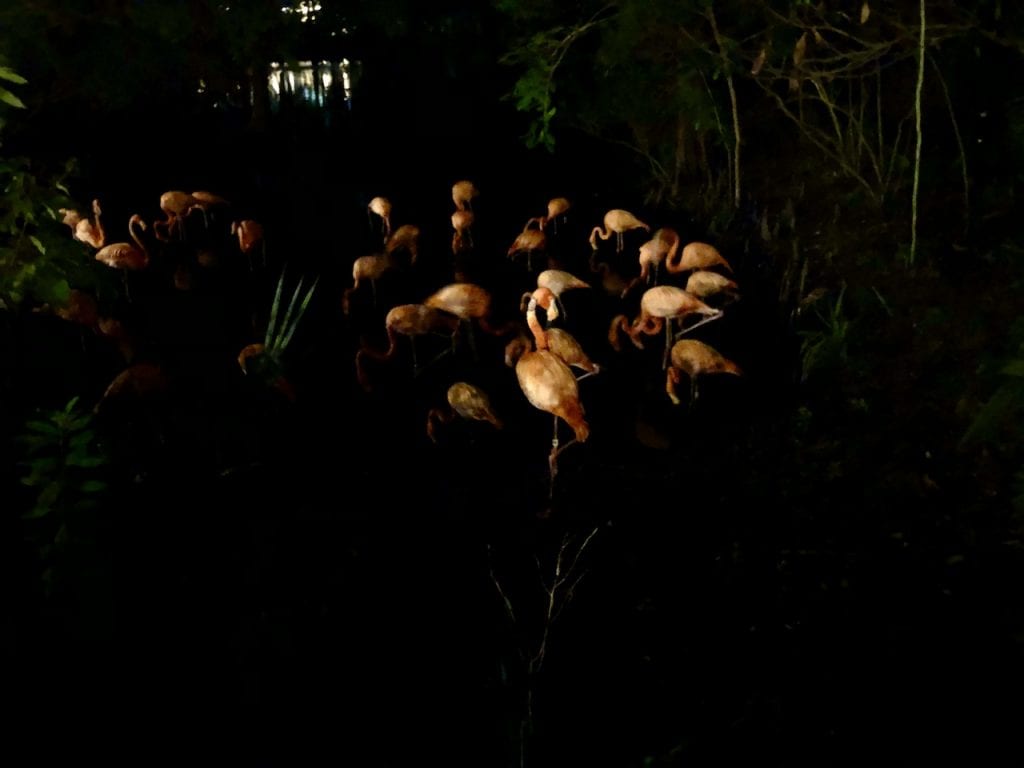 On top of watching some of your favorite animals, you will enjoy petting stingrays, riding a train around the park, and letting the little ones play in the splash zone and learn about critters in the 4D theater.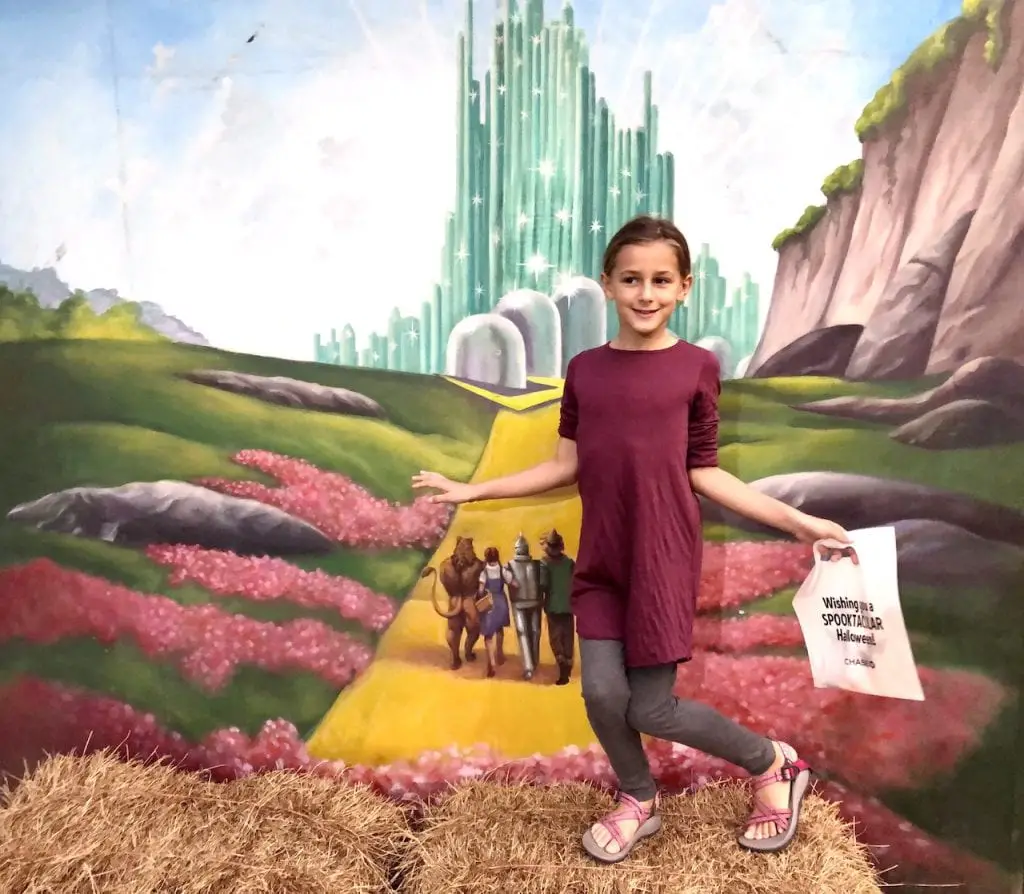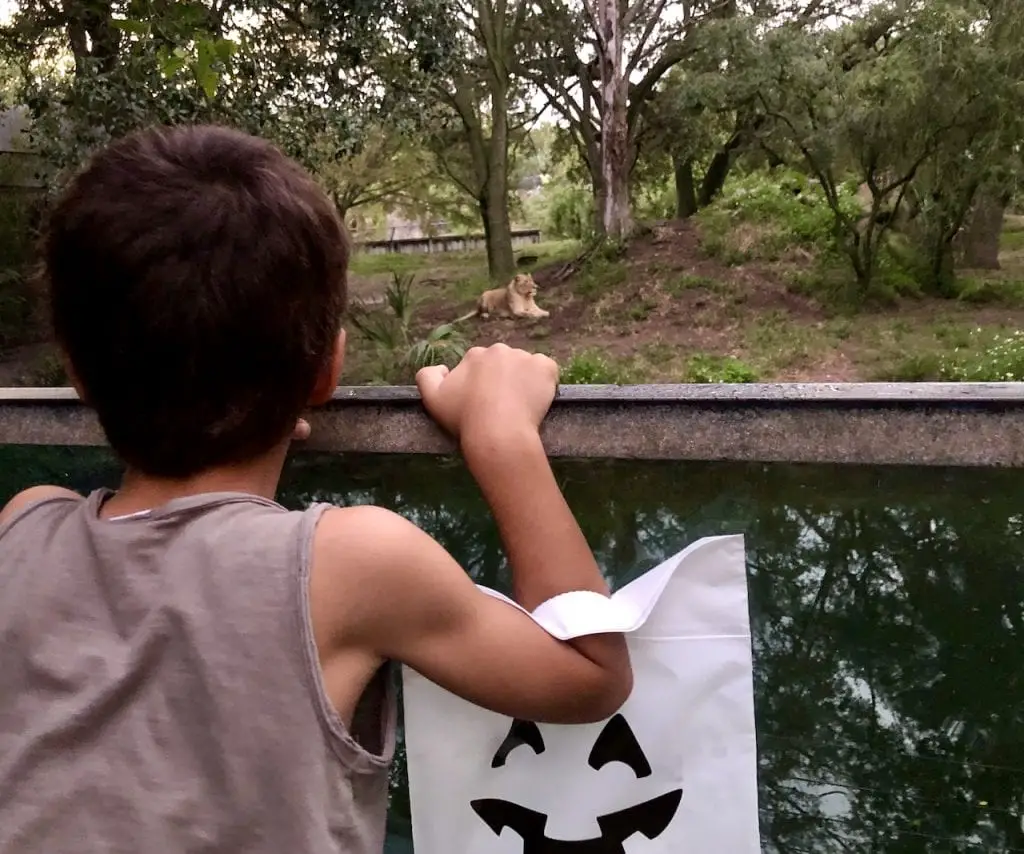 And if you are in Jacksonville around Halloween, do what we did and visit the park at night for a Spooktacular experience on select October nights!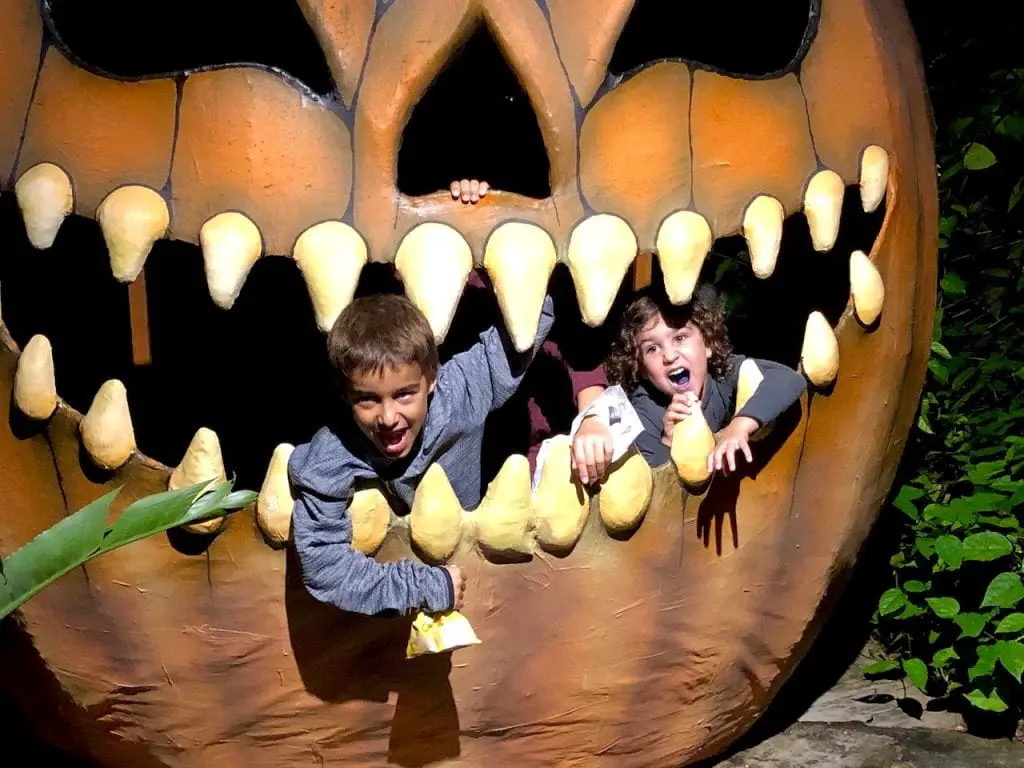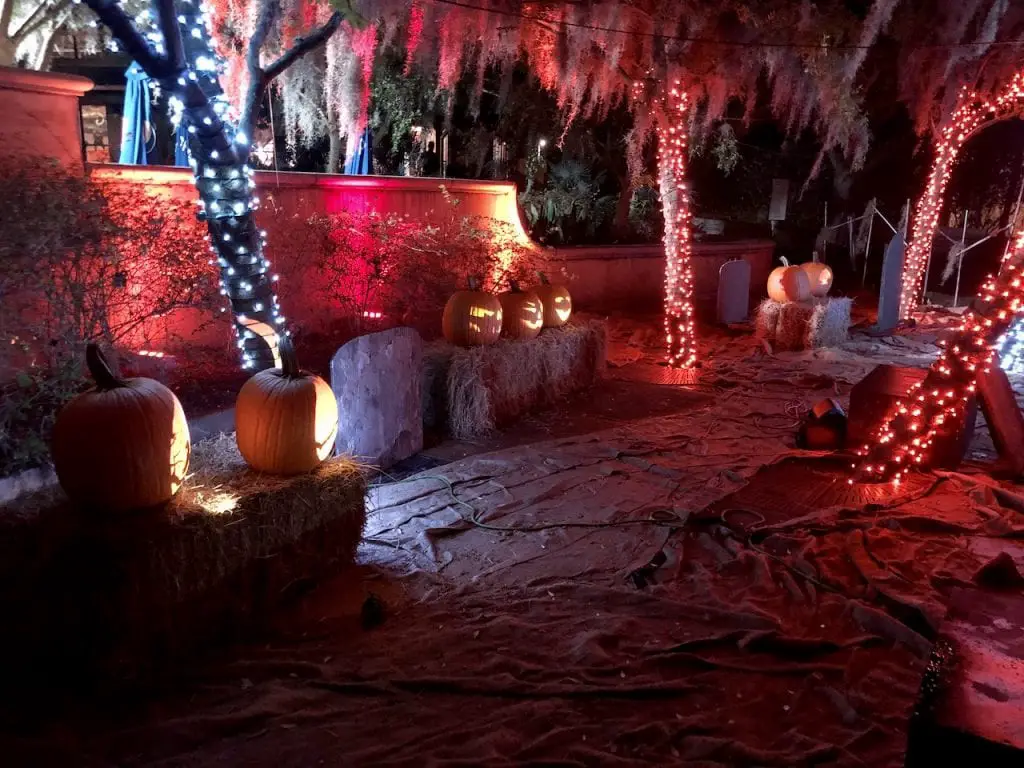 Starting at 6.30PM, the Jacksonville Zoo puts on its spooky coat and lights up in shades of orange, smoke, and scarecrows!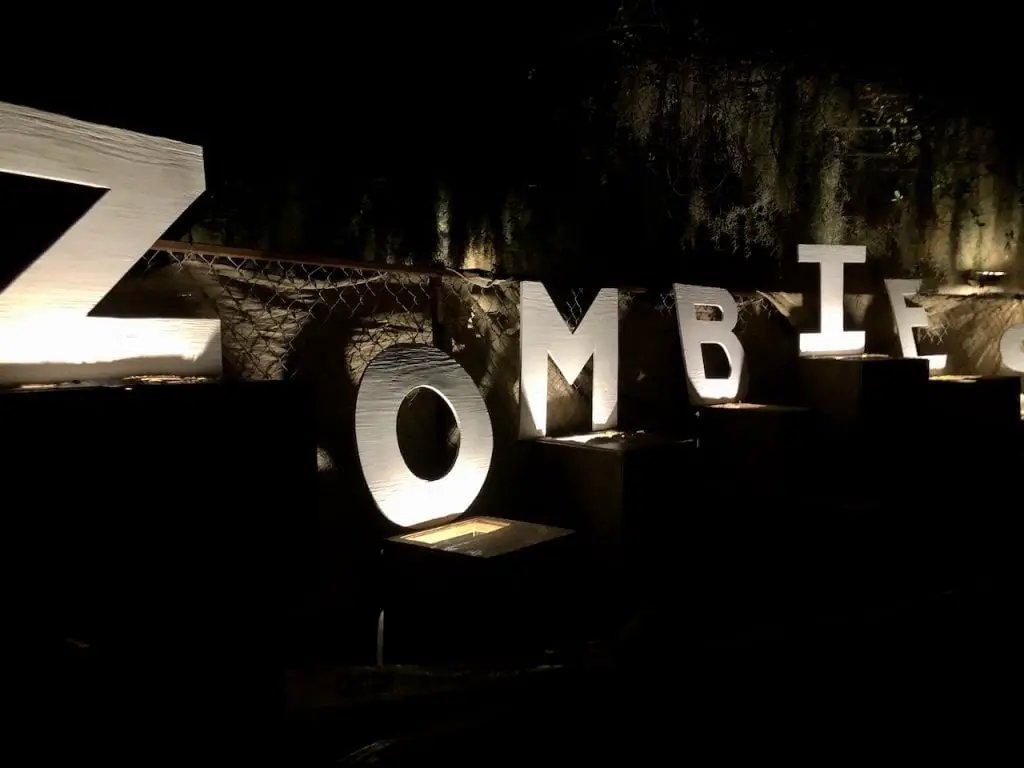 Be ready for it to get spooky in the Scare Zones…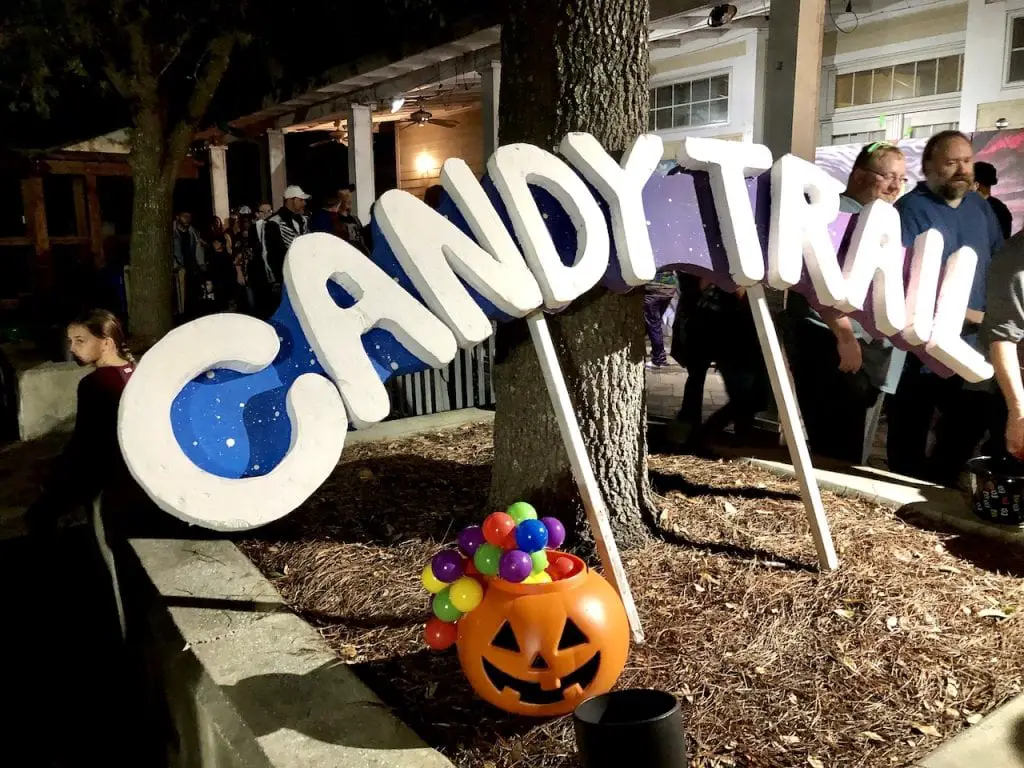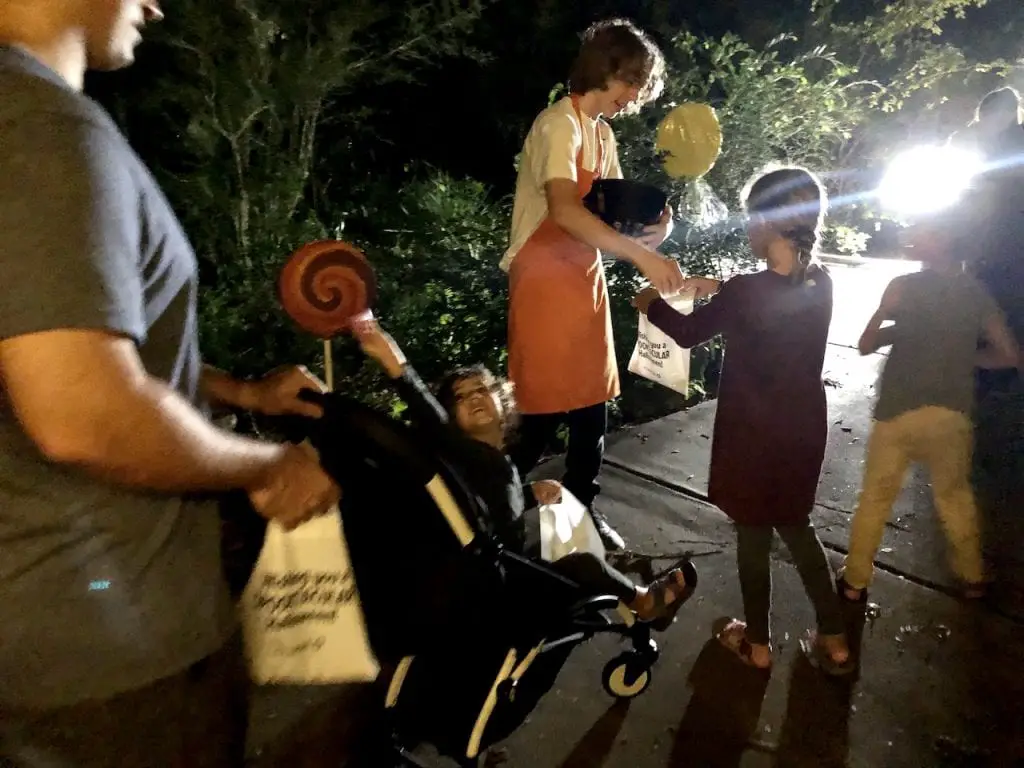 …sweet on the Candy Trail…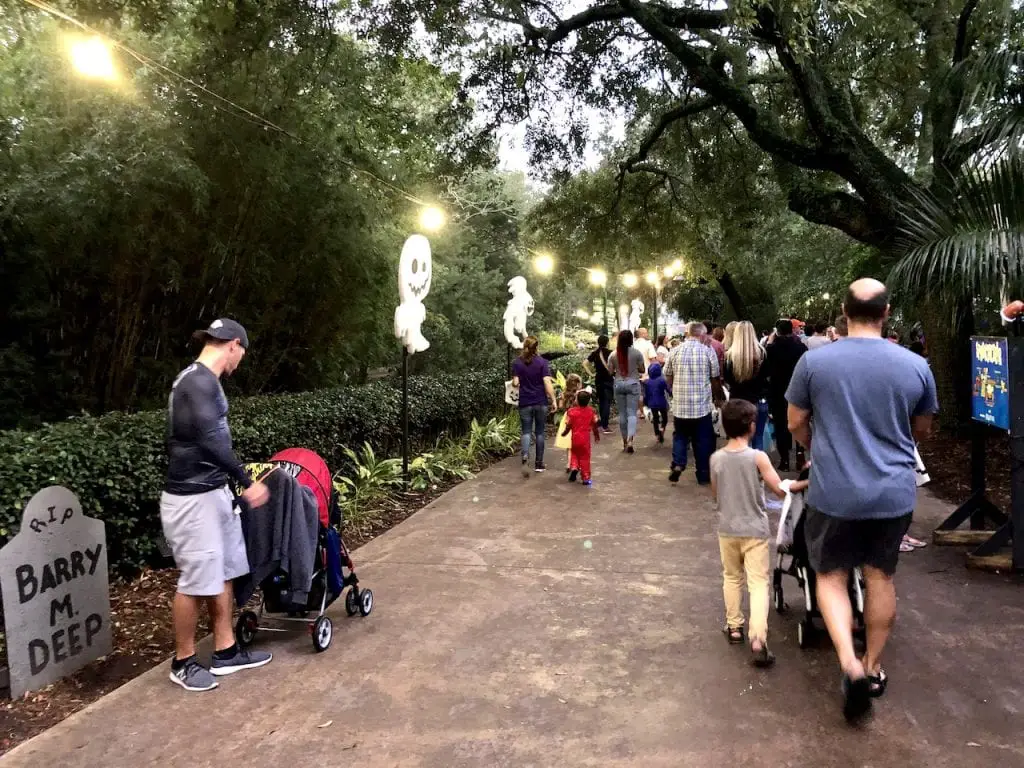 …thrilling at the Fair…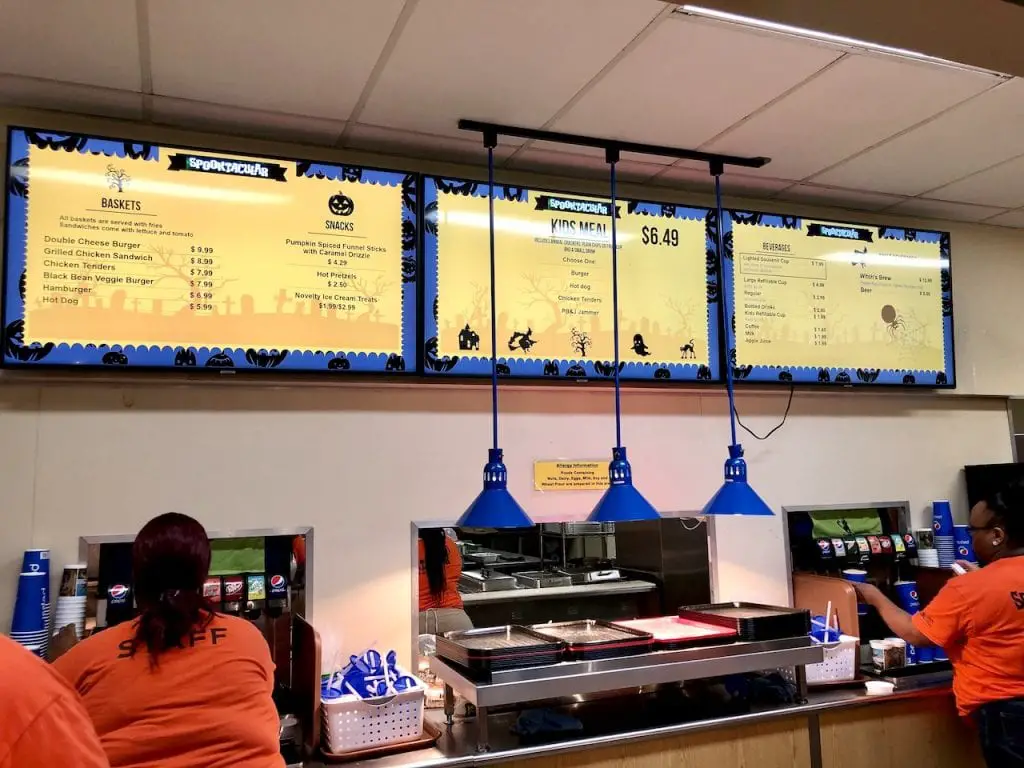 …and yummy in the restaurants!
Surf Lesson With Jacksonville Surf And Paddle
Address: 222 1st St, Neptune Beach, FL 32266
Website: jacksonvillesurfandpaddle.com
Jacksonville has some of the best waves in Florida and no visit would be quite complete without surfing on a beautiful sunny day!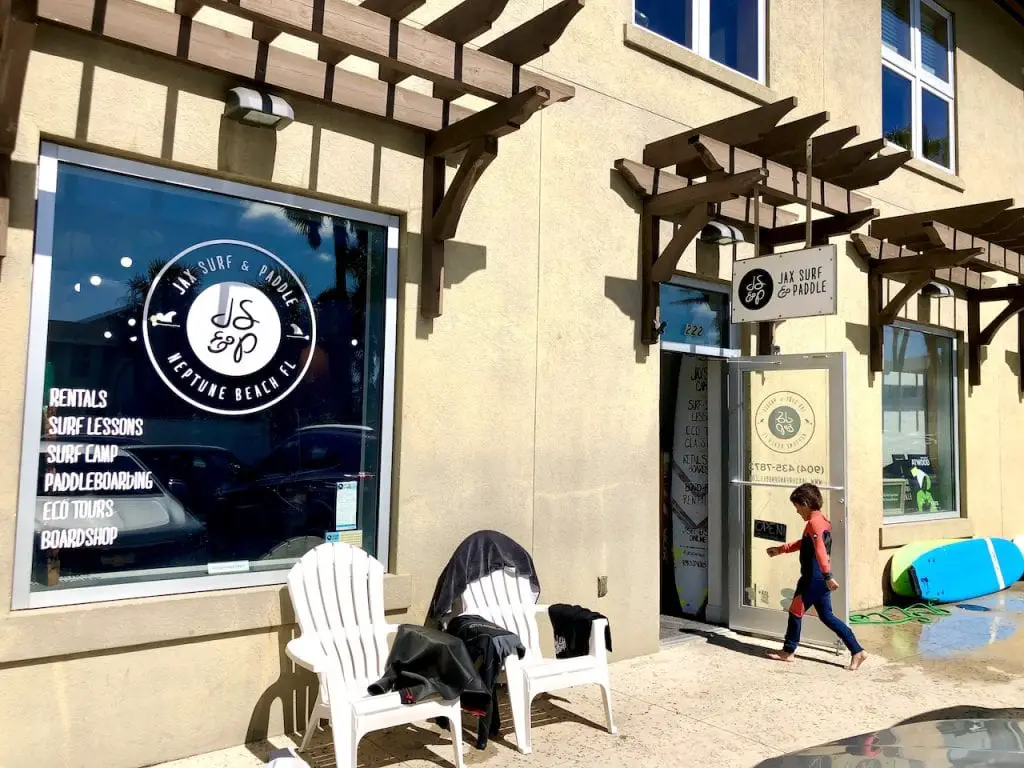 I can honestly say that, our 90 minutes in the water with the guys from Jacksonville Surf And Paddle have been one of the highlights of our year so far!
Mark had been begging to learn how to surf and he could not contain his joy as we walked towards our family lesson!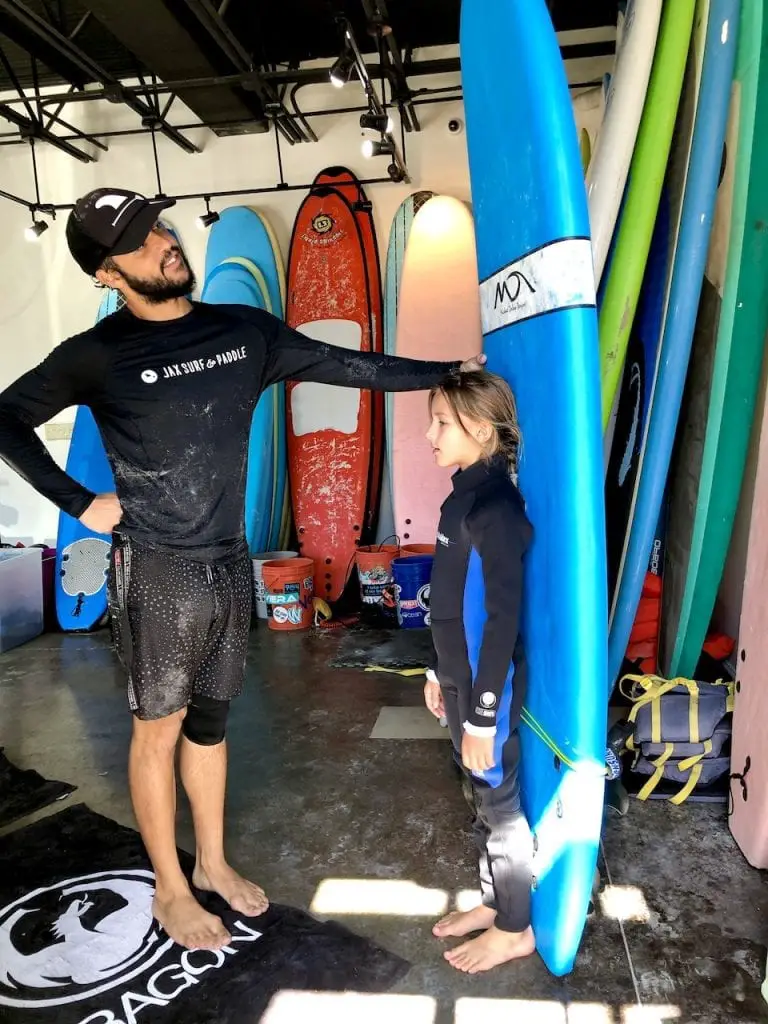 We had two amazing instructors for our family of 5, who first fitted us with the most appropriate boards for our heights.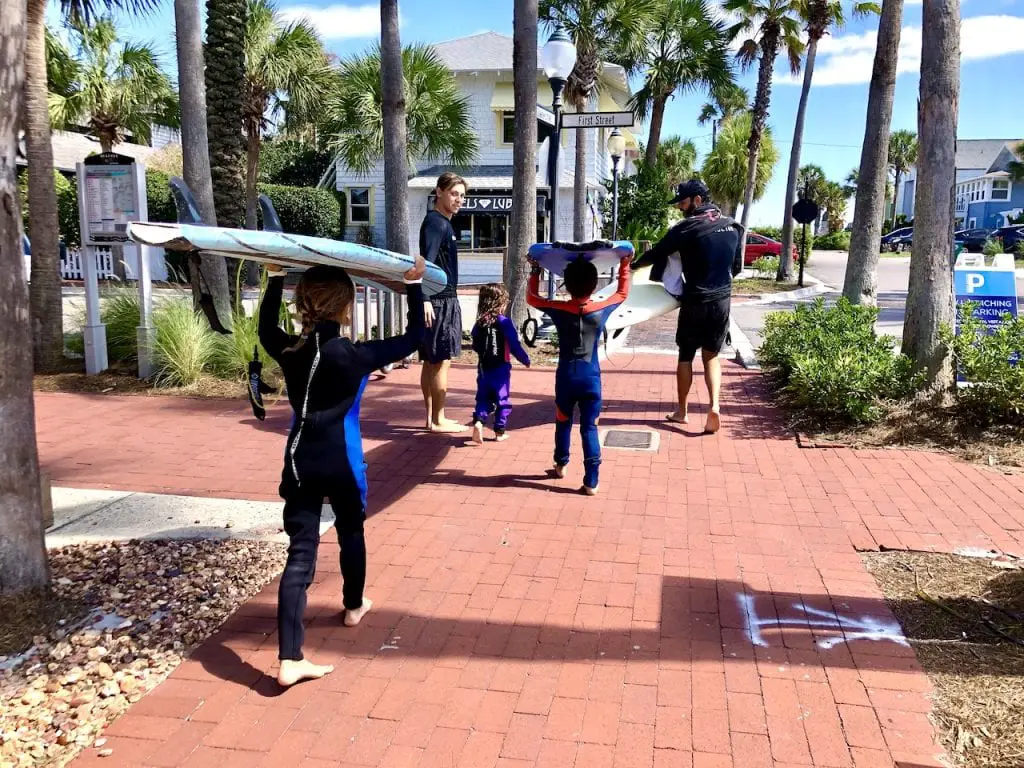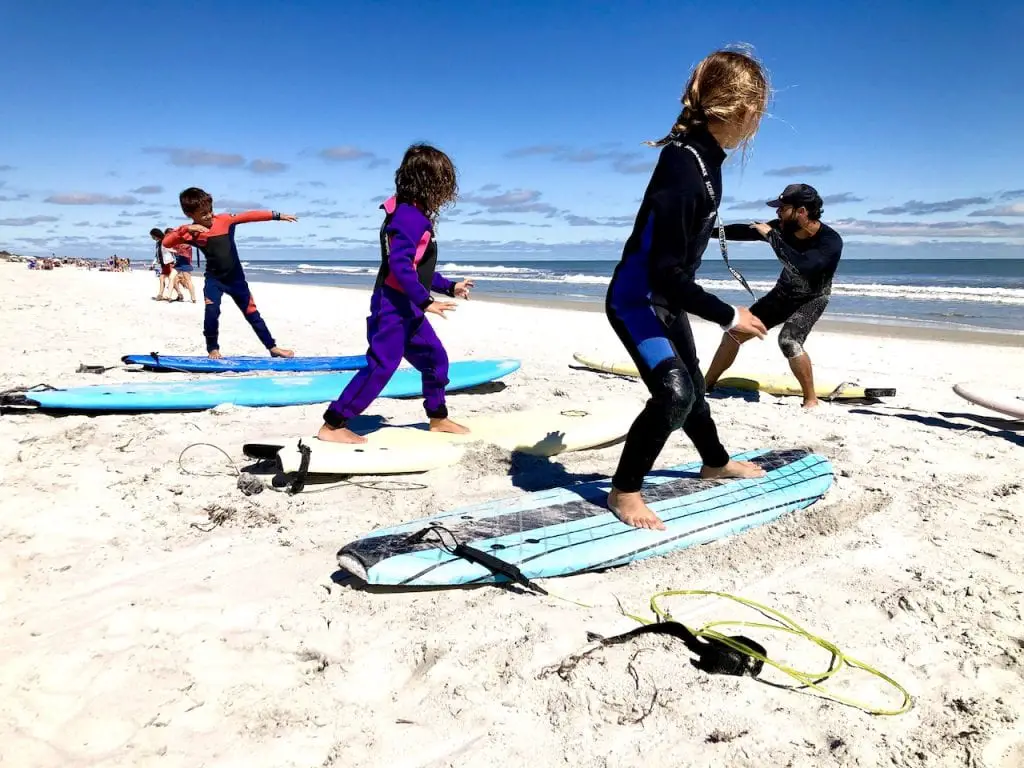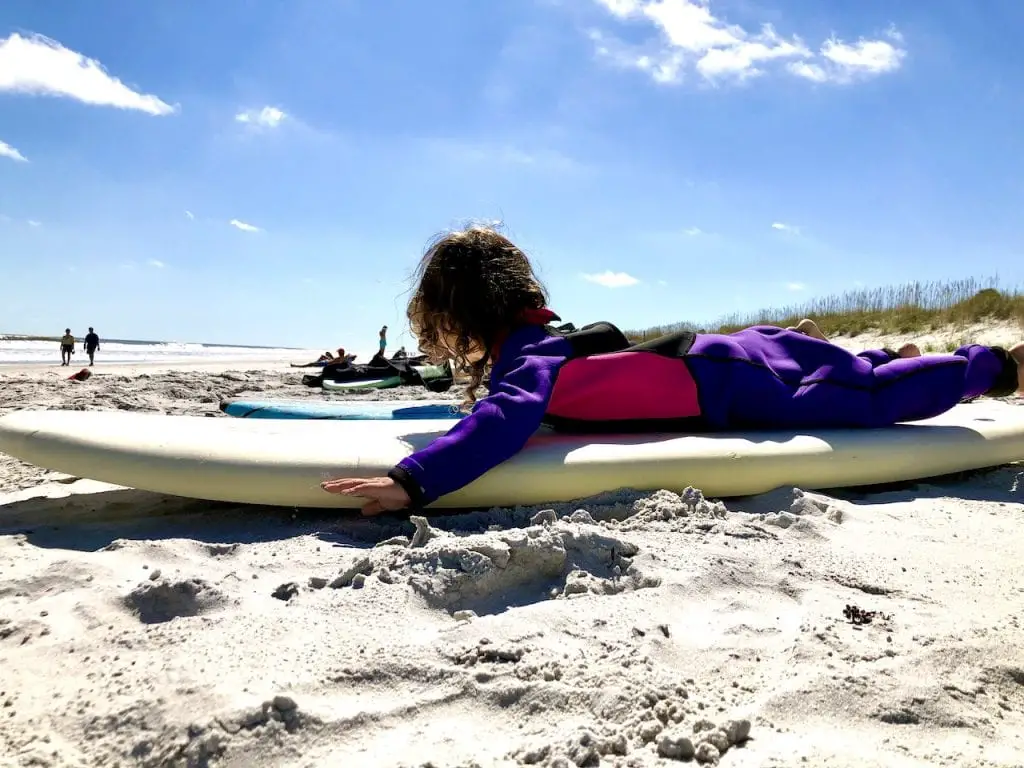 We then headed over to the beach where we were taught the fundamentals of surfing, right on the sand. After a little rehearsal, everyone was eager to jump in!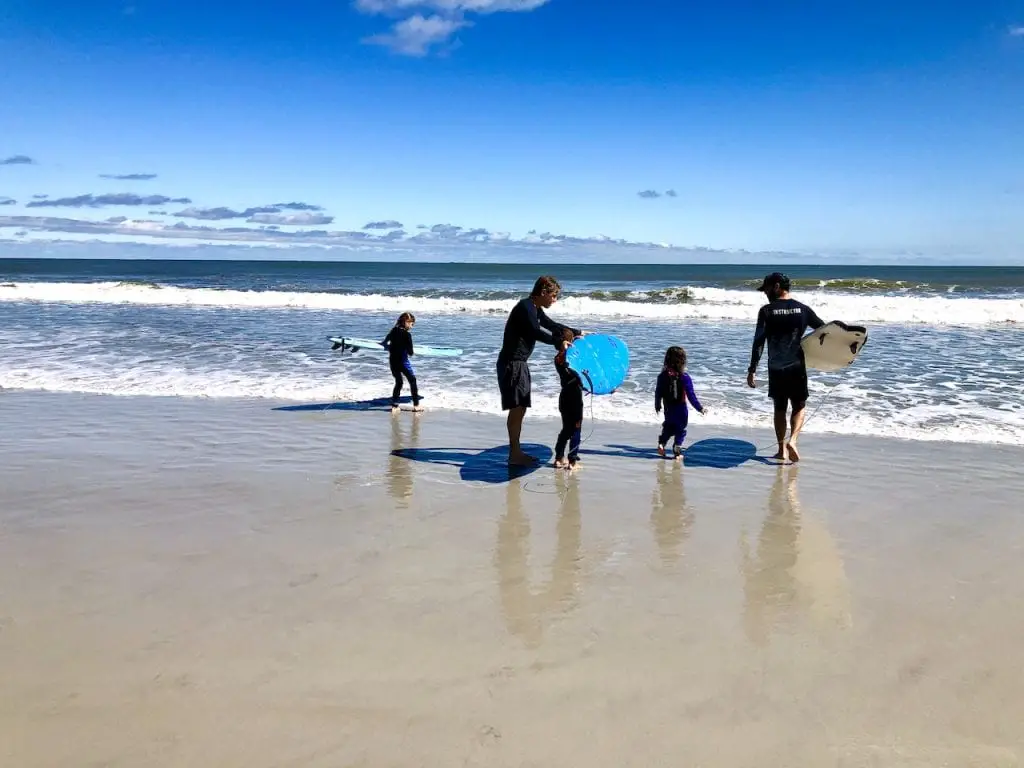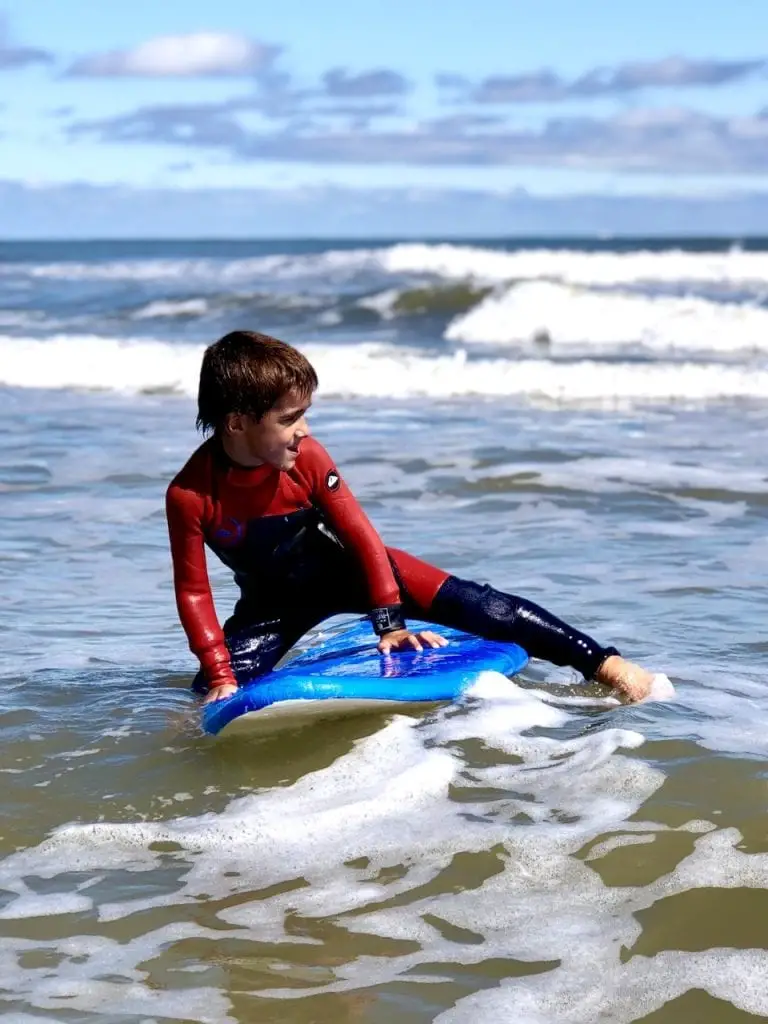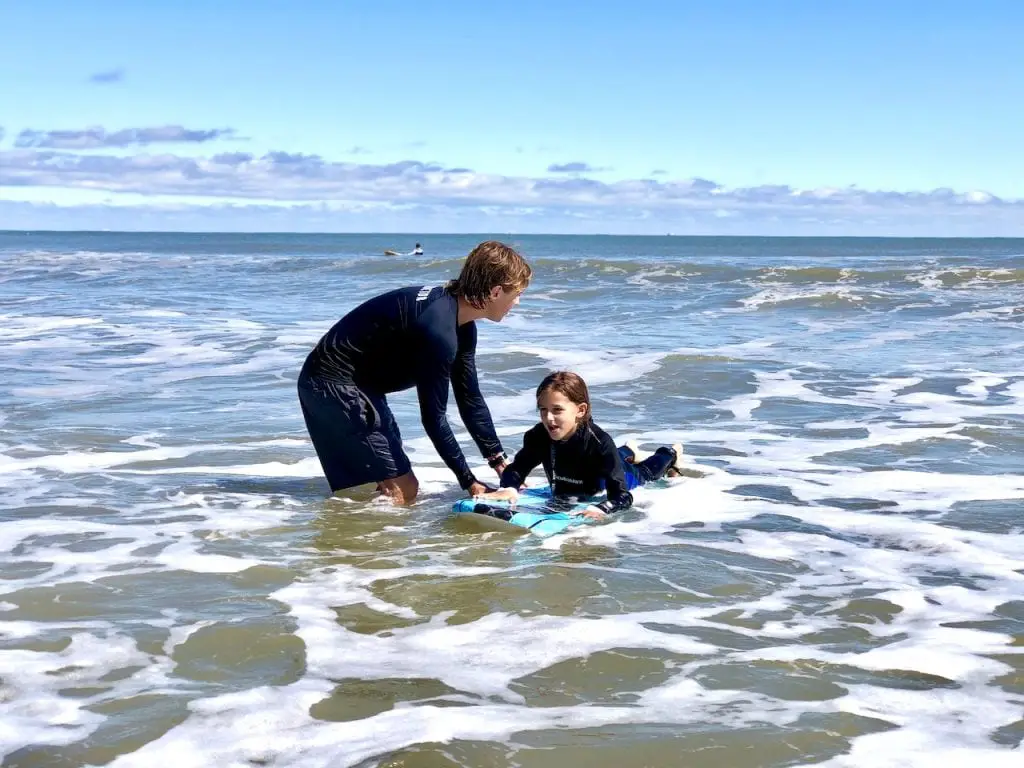 Our instructors were phenomenal! They spent so much time with the kids, holding their hands, carrying them up above the waves, teaching them how to jump up, stand low, glide forward, etc. All three kids were able to get up on their boards within minutes of the lesson starting!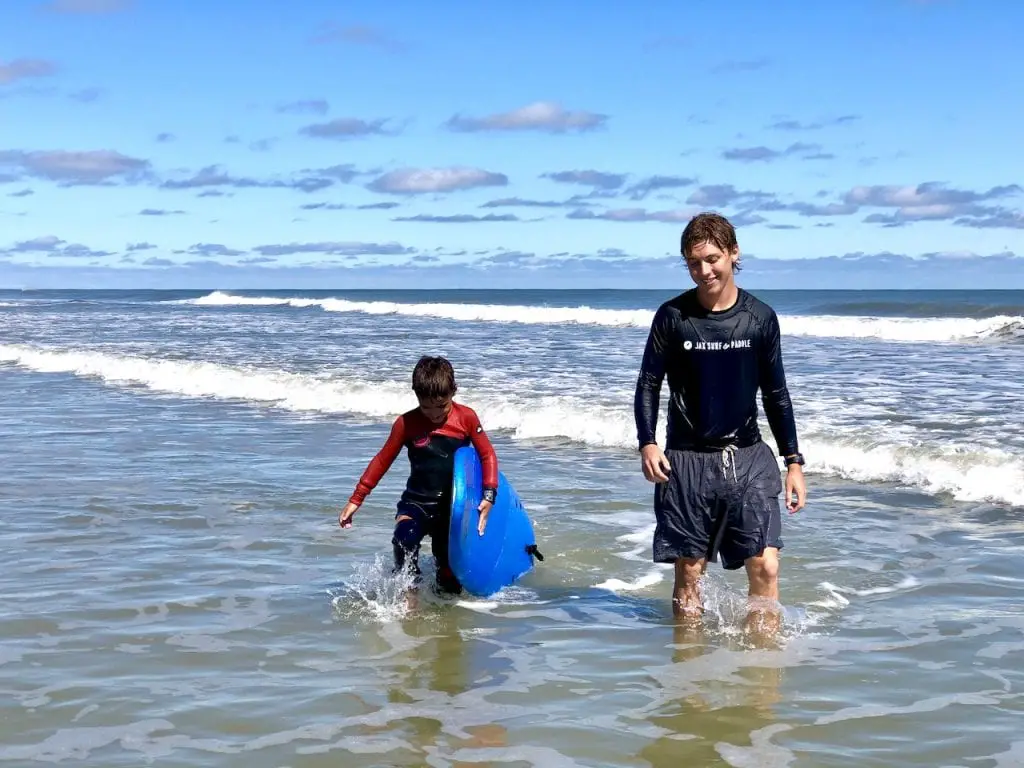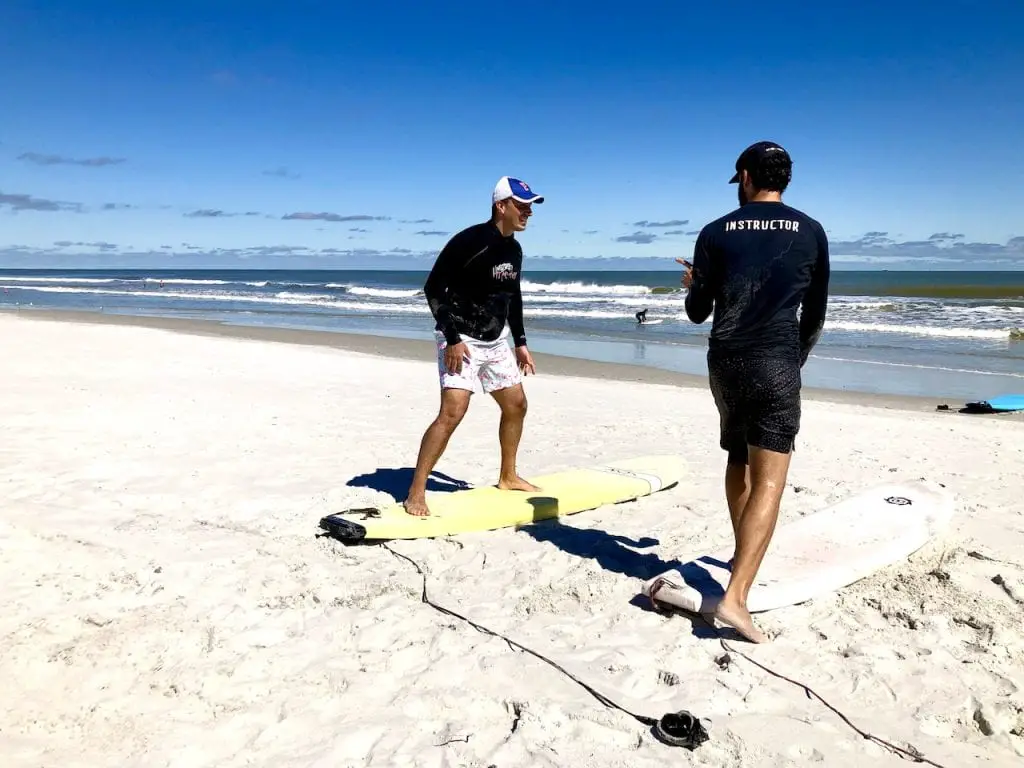 The instructors were incredibly professional in ensuring everyone was safe in the ocean, while spending just the right amount of time teaching Christian and I and getting us to stand up too!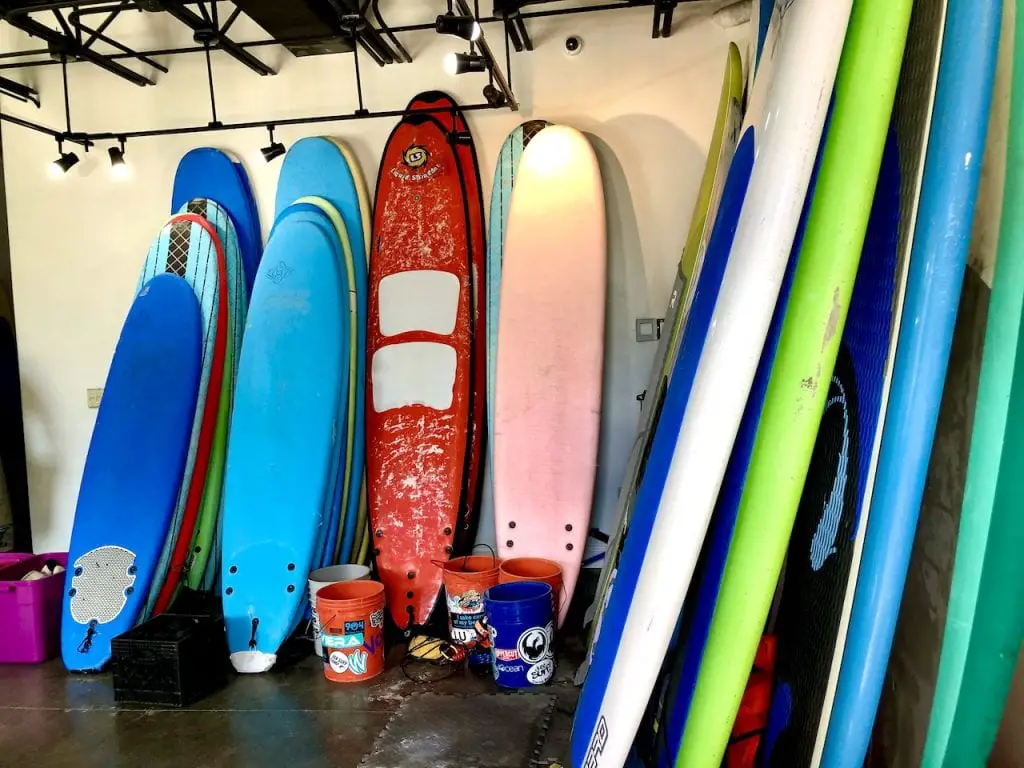 We were so impressed with the quality of the lesson we received that we ended up buying the kids a surf board from their shop! They sell some of their used boards for a great price and the kids will be able to take home what they learned and practice on our next visit!
Enjoying The Beach
With 22 miles of beaches, Jacksonville has plenty to offer to the beach-lovers!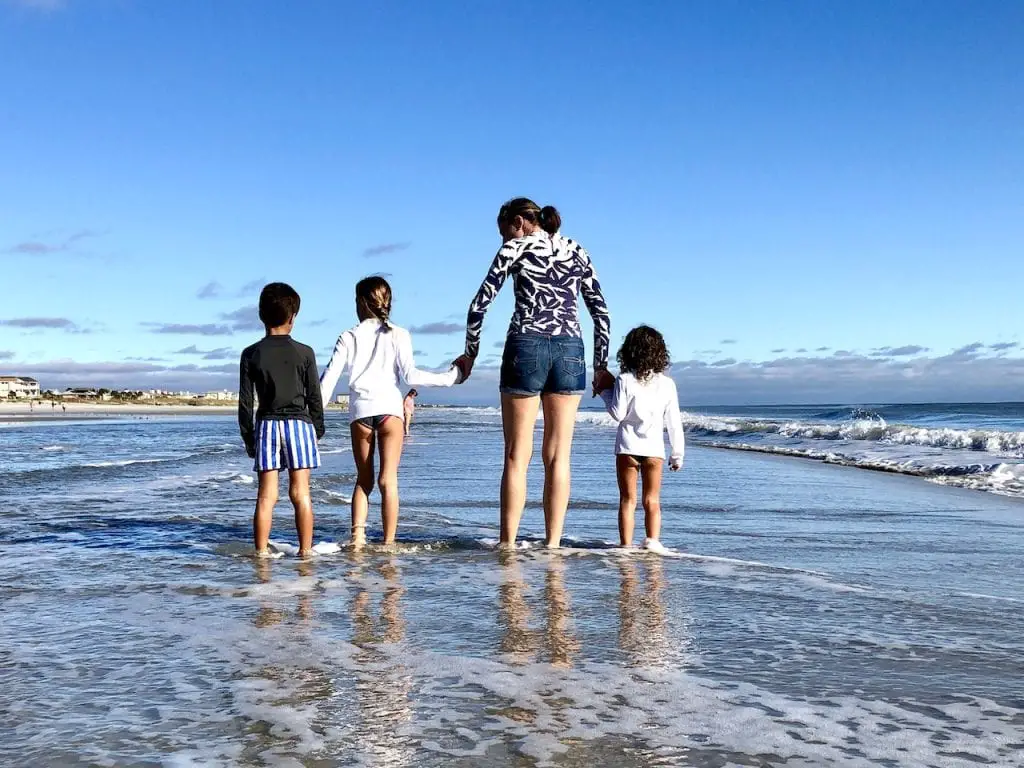 The beaches are long, the ocean is shallow and warm, and the sand is one of the finest and whitest you'll experience in Florida! Kids will love to play in the sand and water, and active adults can easily go for jogs or bike rides closer to the water!
They are no-drive beaches, making them safe for children, and parking is easy and often free or cheap, making the beaches easily accessible! Don't forget to spend some time playing in the sand in Jacksonville Beach!
---
WHERE TO EAT
---
I had been told about Jacksonville's vibrant and eclectic culinary scene, but it is not until I saw it for myself that I truly understood the magnitude of it!
We all definitely travel with our taste buds and every new destination excites me for what I will taste! Jacksonville is just one of those places, that keeps on impressing. Here are 3 establishments you cannot miss when in Jacksonville!
ABBQ – Central Texas BBQ
Address: 461 Atlantic Boulevard, Atlantic Beach, Florida 32233
Website: https://abbqmeatdrink.com
Hours: Closed on Mondays, T-Sun: 11A-10P
If you're a fan of BBQ, do yourself a favor, and pay those guys a visit!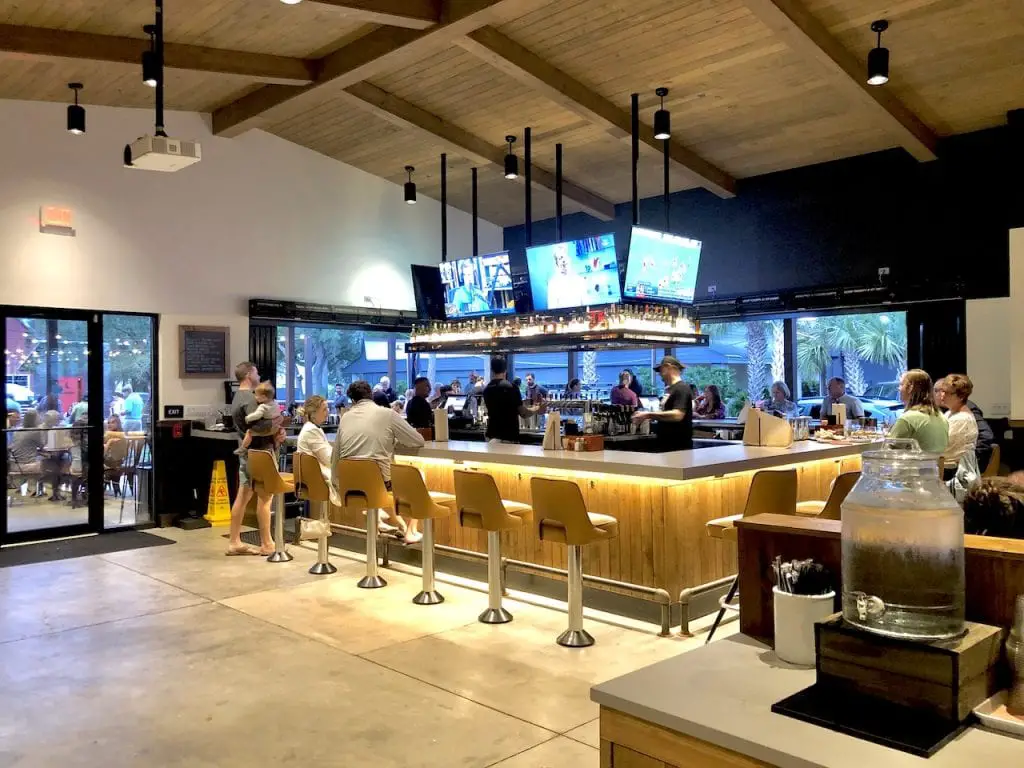 Locally owned and operated, it is hard to describe how good it felt to just be there. The first thing we noticed upon walking in (outside of the inviting industrial decor), was a chest filled with board games and children's books!! Guess what… I did not see a single child on an iPhone or tablet the entire evening!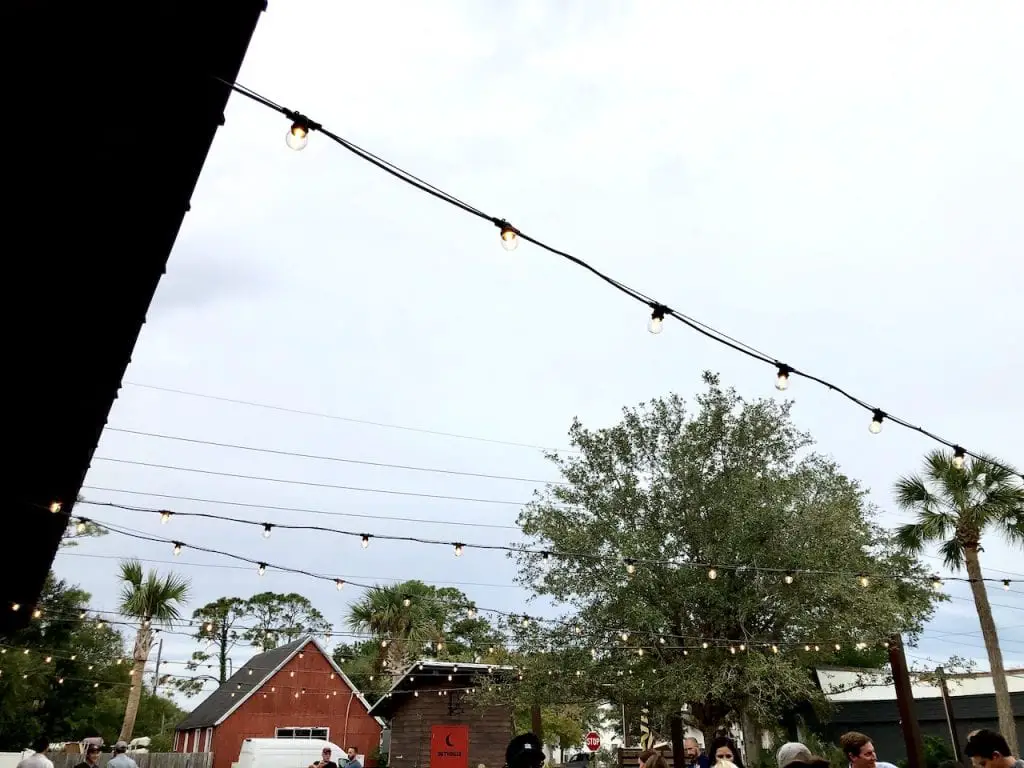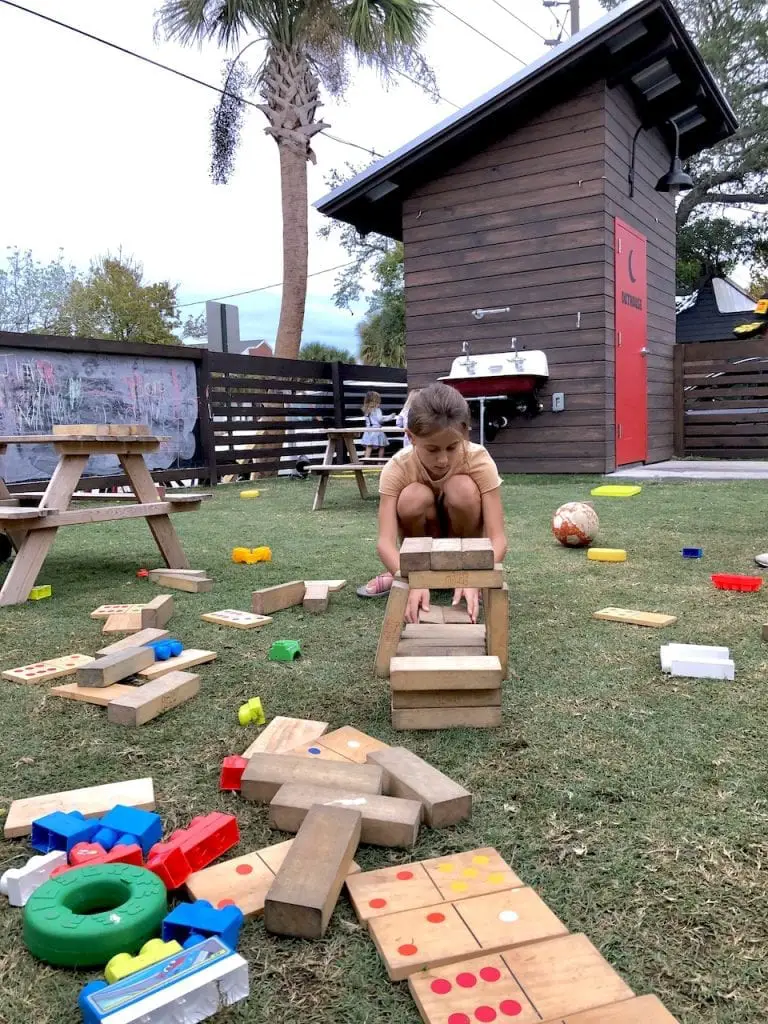 What I saw however, where dozens of kids getting active and playing on the incredible lawn out back! Get there early to grab a table outside on the patio and enjoy your BBQ while the kids are busy playing outdoors!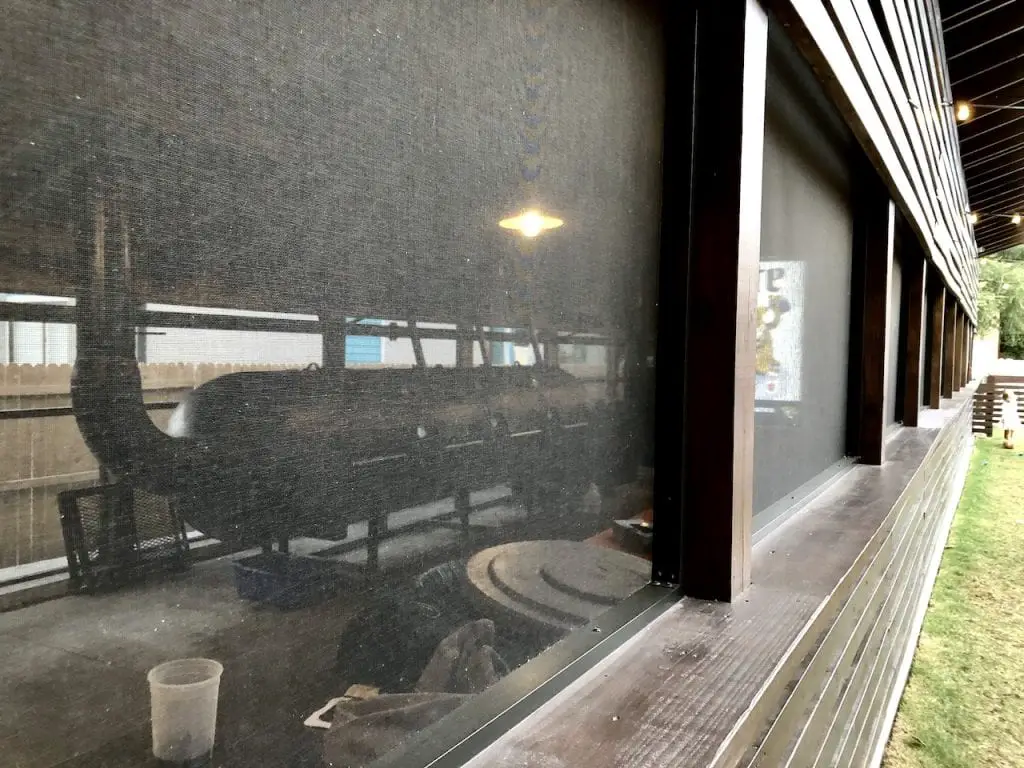 At ABBQ, the meat is cooked for hours in custom-made propane tanks. It is served falling off – you don't even need a knife to take it apart!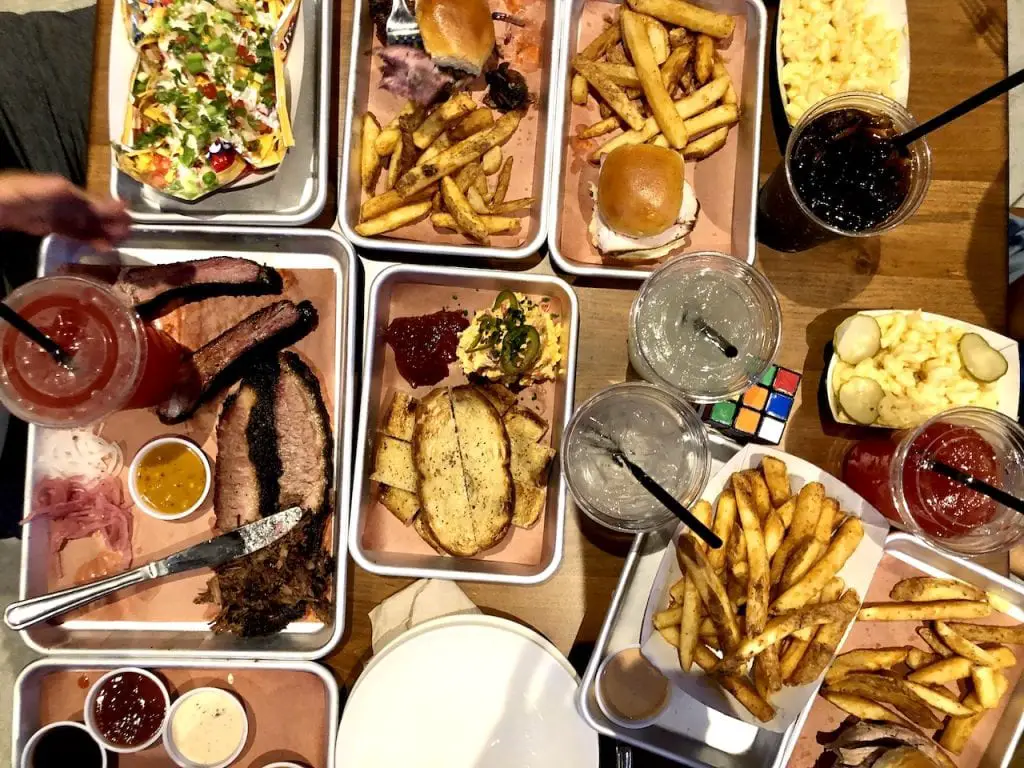 Everything we ordered was perfectly smoked and all sides were to die for. Please, try the pimento cheese with tomato jam and the Frito pie, served in an open bag of Fritos!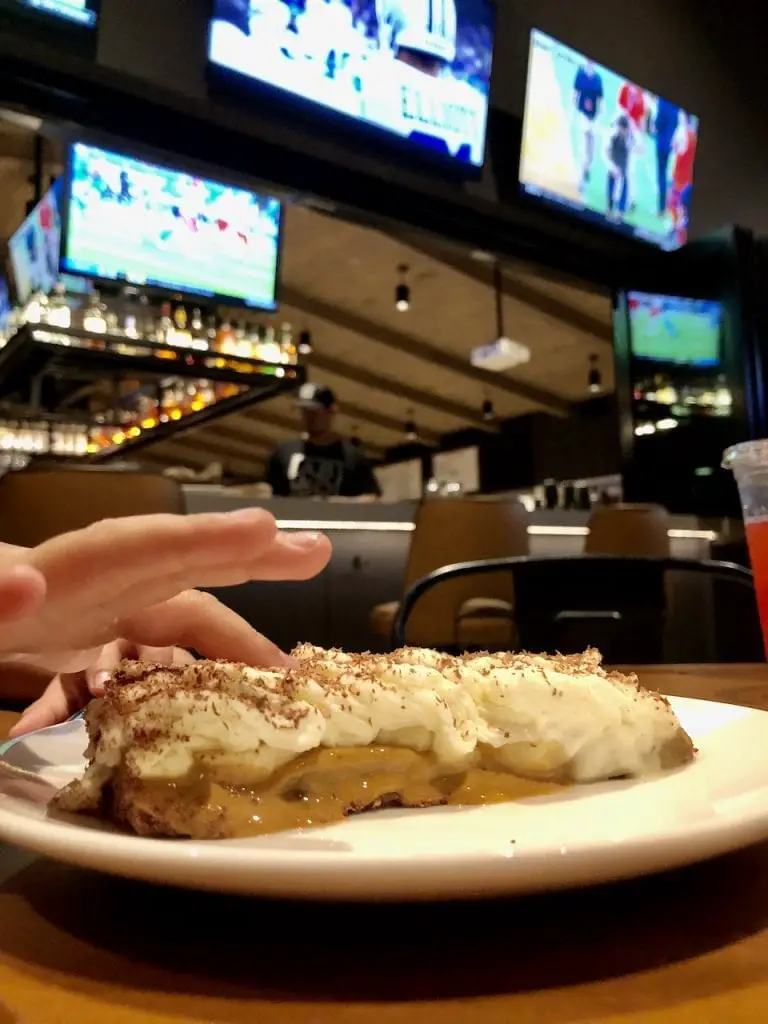 The dessert did not disappoint either. I promise you'll leave deliciously full, with happy kids and relaxed from them having been entertained while you ate! The kids literally played, then ate their food, and went back to playing. We had to pull them out, promising a pool night, to get them to leave! If I lived in Jacksonville, this would be our Friday night happy place!
Maple Street Biscuit Company
Address: 410 3rd St N, Jacksonville Beach, FL 32250
Website: https://maplestreetbiscuits.com/jacksonville-beach/
Hours: Closed on Sundays, M-F: 7A-2P, Sat: 7A-3P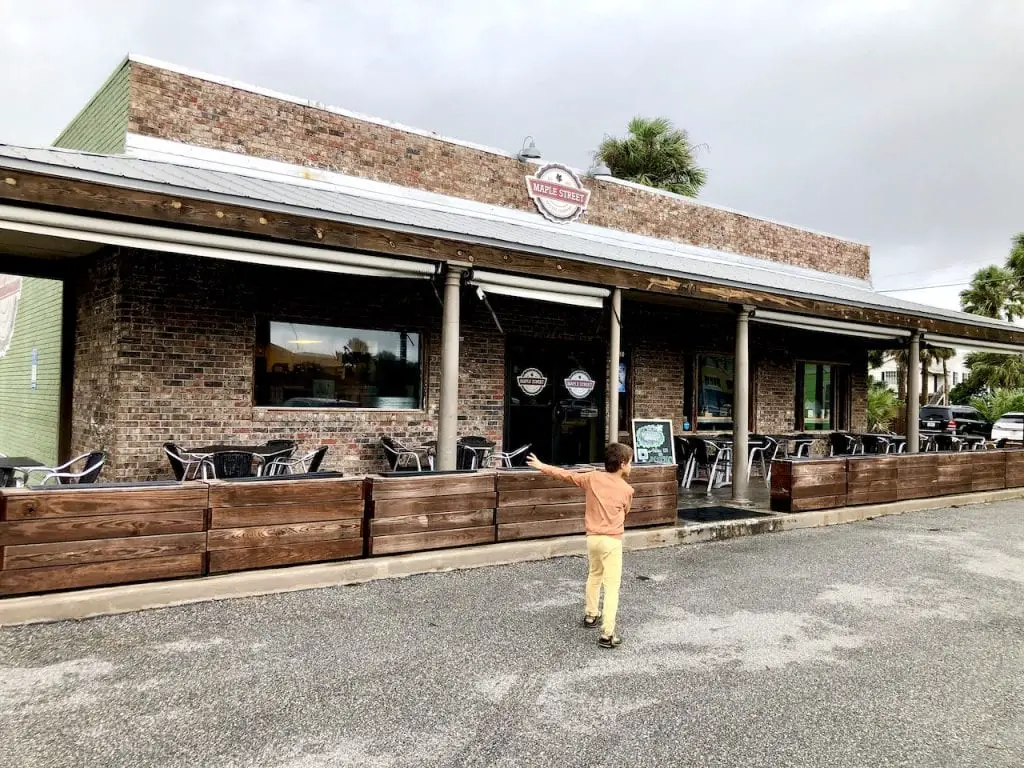 Maple Street Biscuit Company, located right in Jacksonville Beach, is the best place to have a breakfast, brunch, or lunch! We actually enjoyed a late lunch after our Cummer Museum visit and left belly-happy!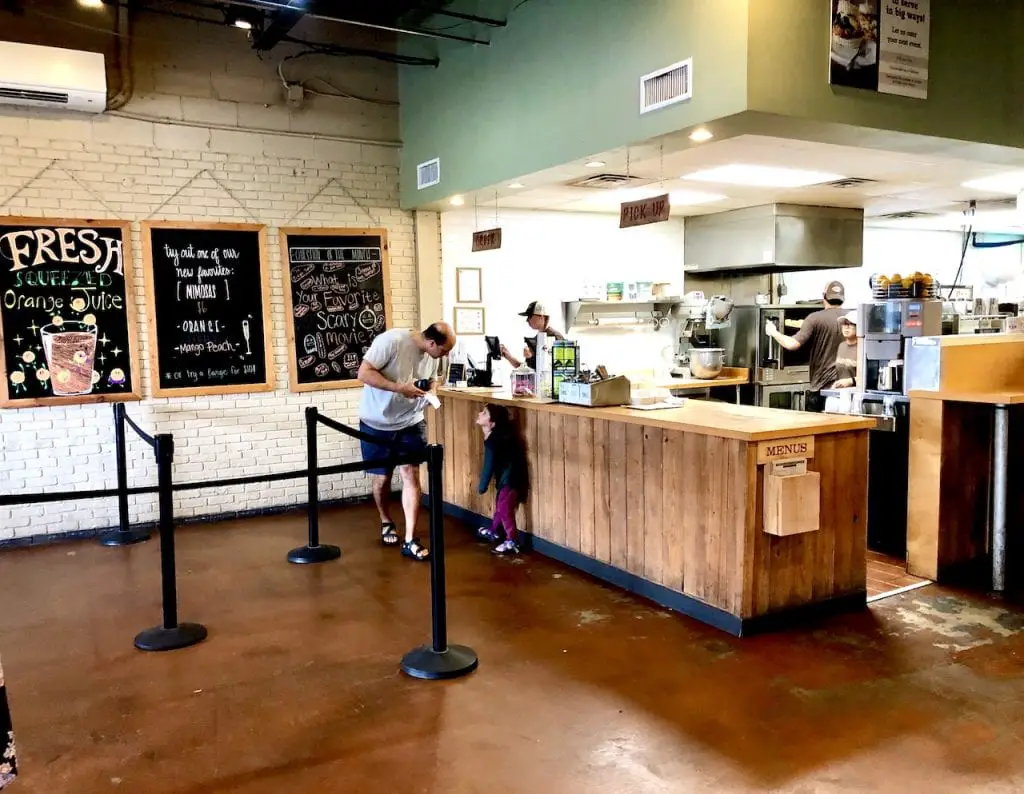 The atmosphere is amazing! Their coffees are on free refills. And the staff was incredibly attentive! They recommended some favorites and I can promise you, those were the best biscuits we ever had!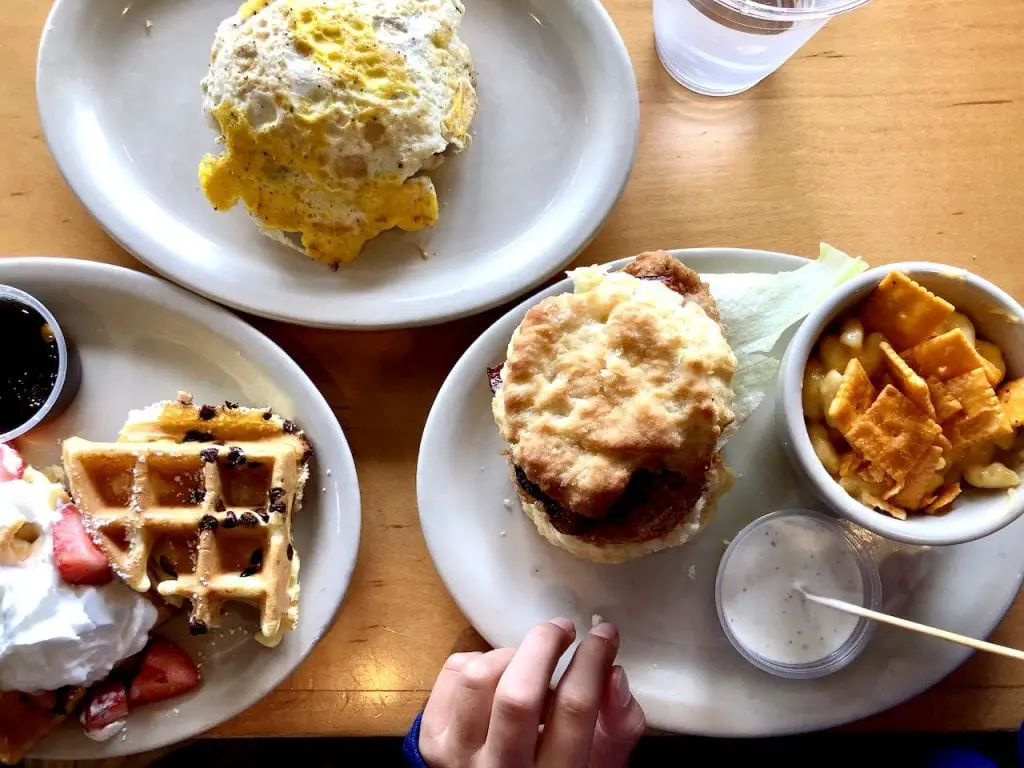 Definitely try the Squawking Goat! Served on a homemade flaky biscuit, a fried chicken breast is topped off with fried goat cheese and house-made pepper jelly! You'll never think of biscuits the same after that!!
Everything was delicious and there were many options for the kids to choose from!
Safe Harbor Seafood Market And Restaurant
Address: 4378 Ocean St #3, Atlantic Beach, FL 32233
Website: https://www.safeharborseafoodmayport.com
Hours: Closed on Mondays, T-Th: 10.30A-6P, F/Sat: 10.30A-8P, Sun: 10.30A-7P
If you like seafood and love unique restaurants, drive the short 17 minutes up to Mayport from Jacksonville Beach.
Safe Harbor Seafood Market and Restaurant is a locals' favorite and well-hidden secret! With the freshest fish in Jacksonville, it was voted the best seafood place in Florida!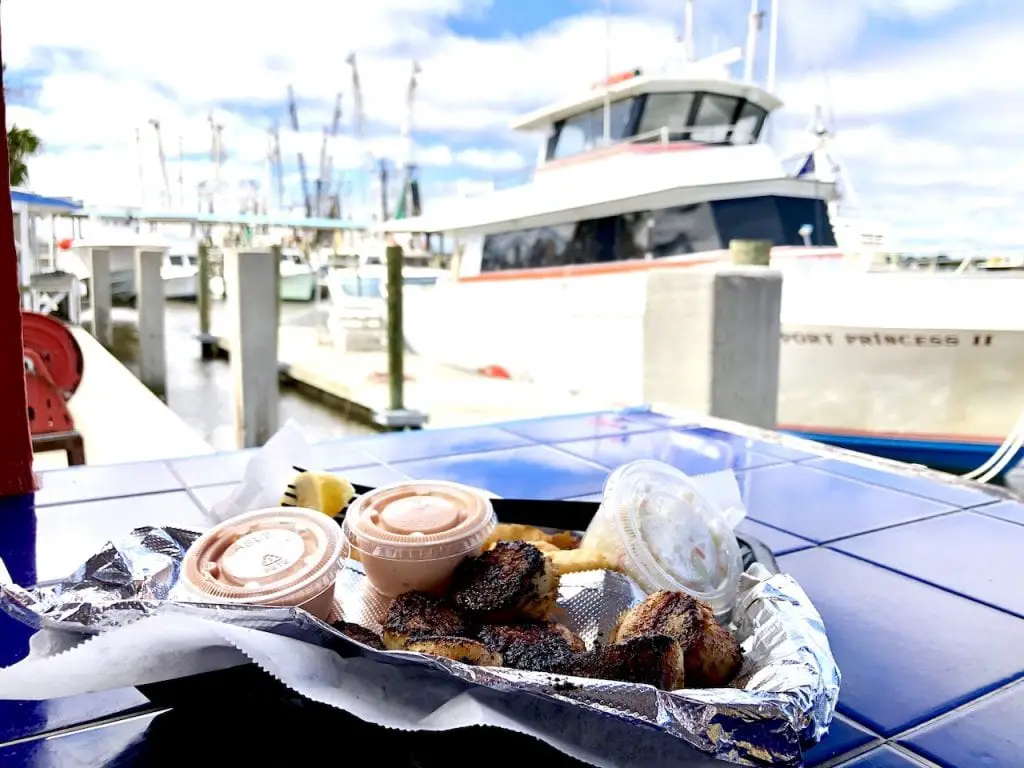 The shrimp and fish are caught just feet from the restaurant and you eat with views of the fishing port. It is the best culinary experience and your food won't get any fresher. The prices are amazing and my plate of scallops was only $13!!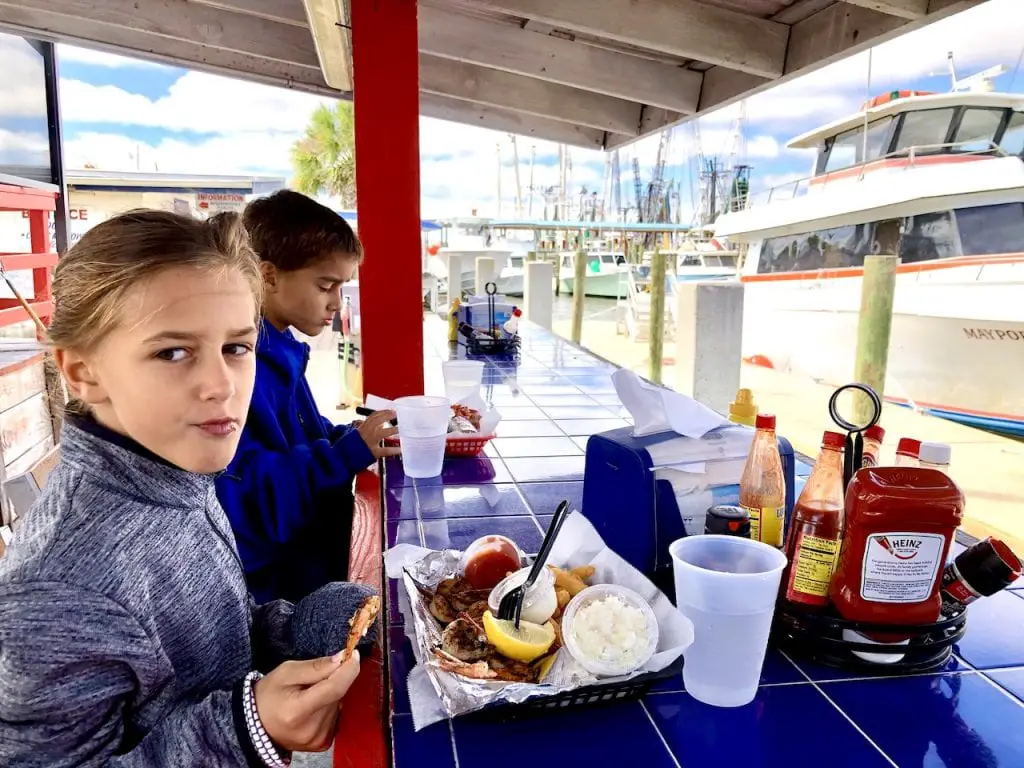 This one is a can't-be-missed when in Jacksonville, FL!
---
Those are only some of our top things to do with kids in Jacksonville, FL, but there are so many more!
Make sure to visit Visit Jacksonville's website for more inspiration and a complete list of all the fun to be had in Jacksonville and the beaches. And don't forget about the Kids Free November offer, if you are in the area this Fall!
A huge thank you to Visit Jacksonville for hosting us on this trip. It has been one of our family's highlights and we can't wait to return to discover some more and hit the waves once more!!
Let's keep chatting on Instagram!
---
Pin this for later!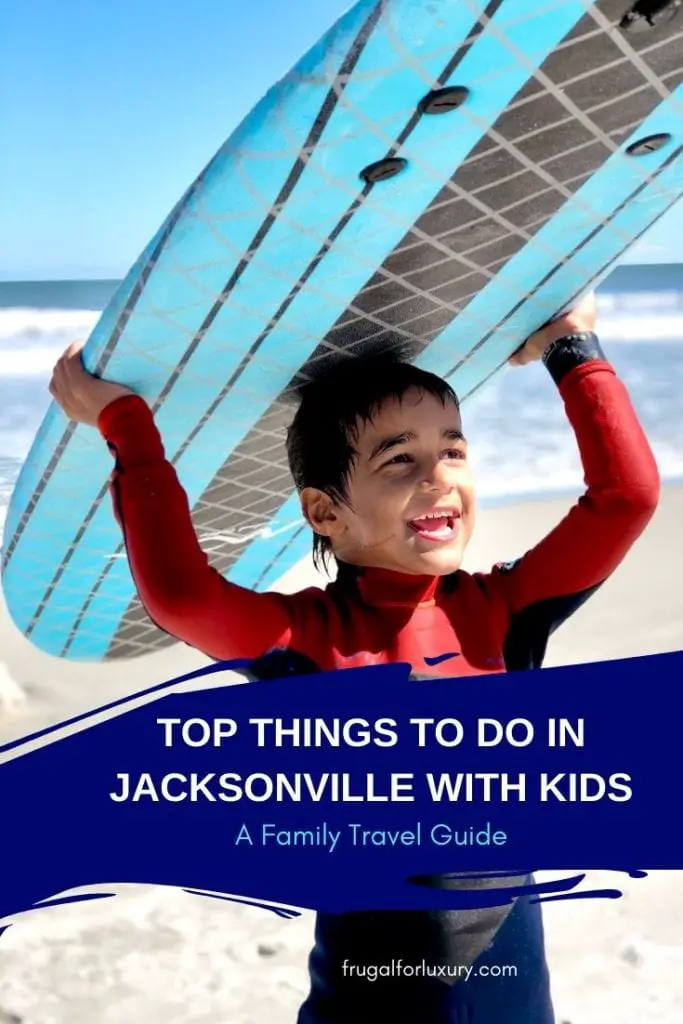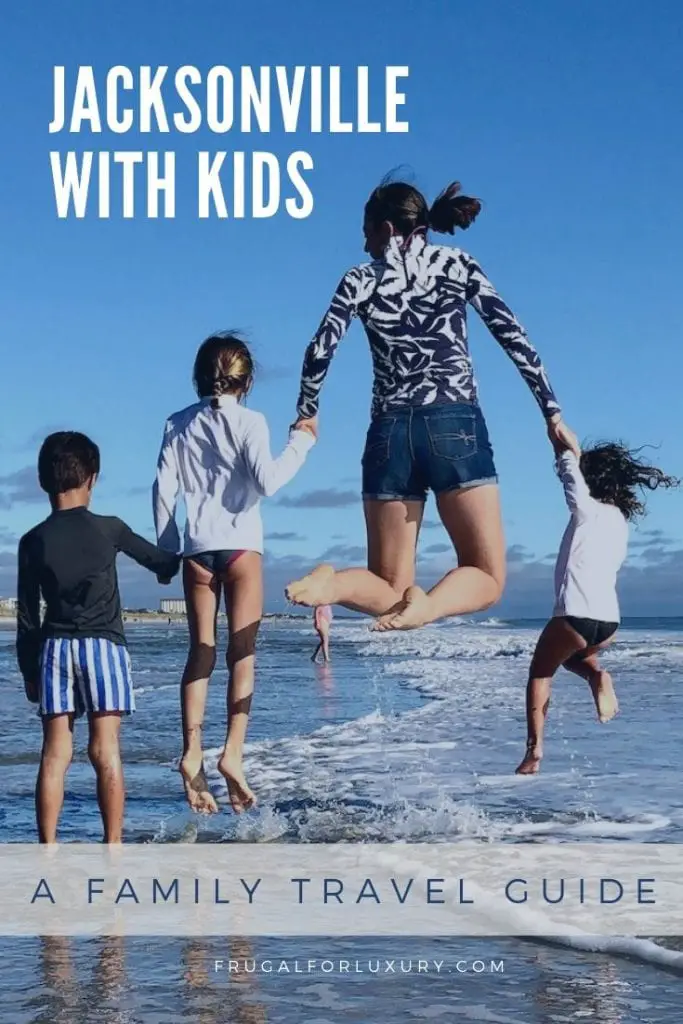 ---
Related articles you will enjoy:
10 Tips For A Spooky Night At Mickey's Not So Scary Halloween Party
Biking The West Orange Trail With Kids
20 FREE Things And Experiences At Disney World
If you enjoy reading us, sign up for our newsletter below!