We ended up in Canberra by chance… It was never on our radar and to be honest, we didn't even know that it was the capital of Australia…
Hey, we're smarter for it today 🙂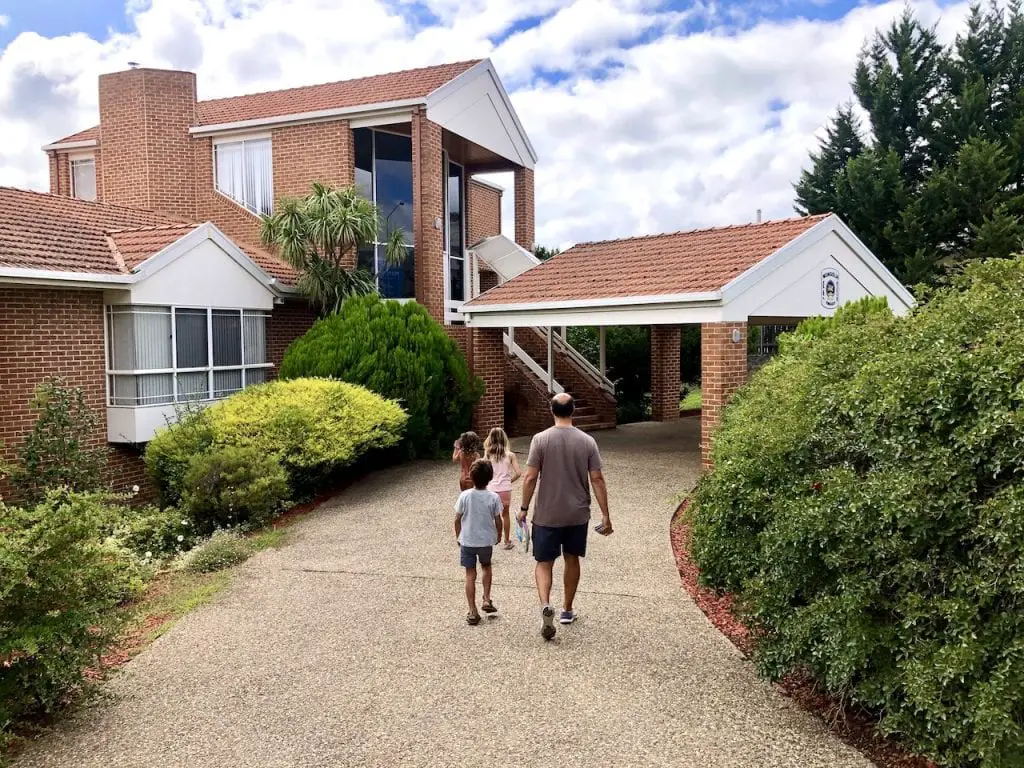 We headed to Canberra on a week day, in the hope of getting a visa for Mongolia. Unfortunately, due to the coronavirus and borders closing, we weren't able to get the visa. But we are very thankful that it put Canberra on our path!
We were so amazed with the infrastructure and the amount of free activities offered to families, that we ended up spending 2 days there!
Ready for lots of FREE fun in Canberra with kids?
1- The Royal Australian Mint
We loved visiting the Royal Australian Mint in Canberra.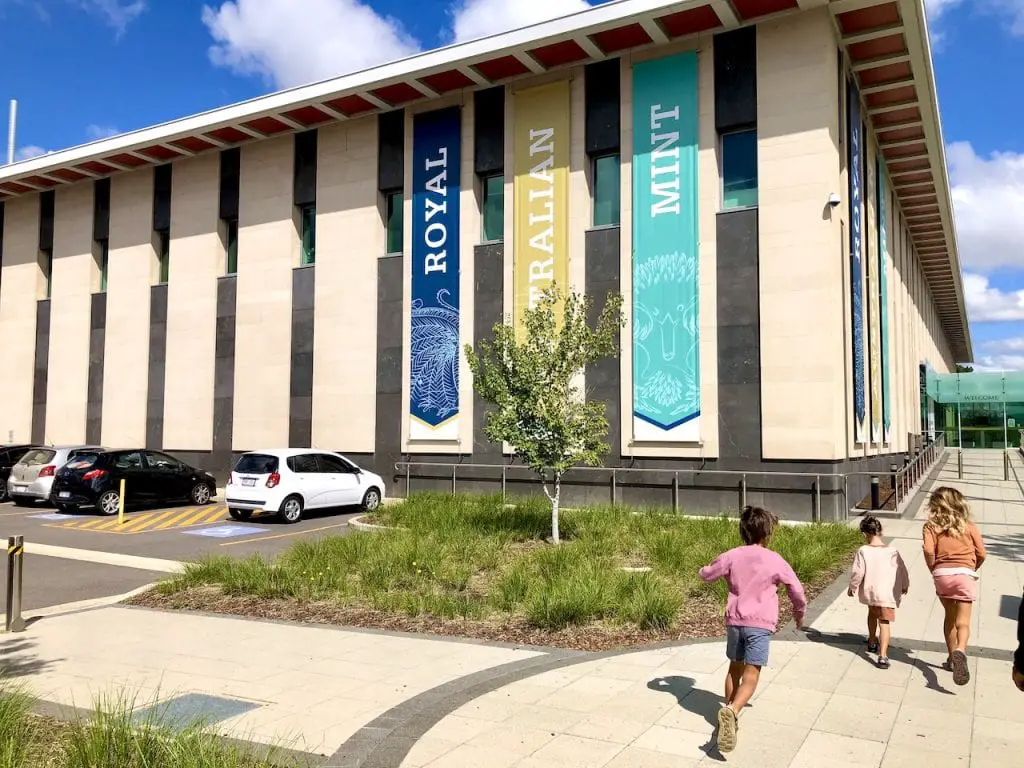 Check their website for daily guided tours. We missed it by 10 minutes and self guided ourselves, which was still pretty amazing.
Stop at the front desk upon entering and the kids will each receive a little activity booklet.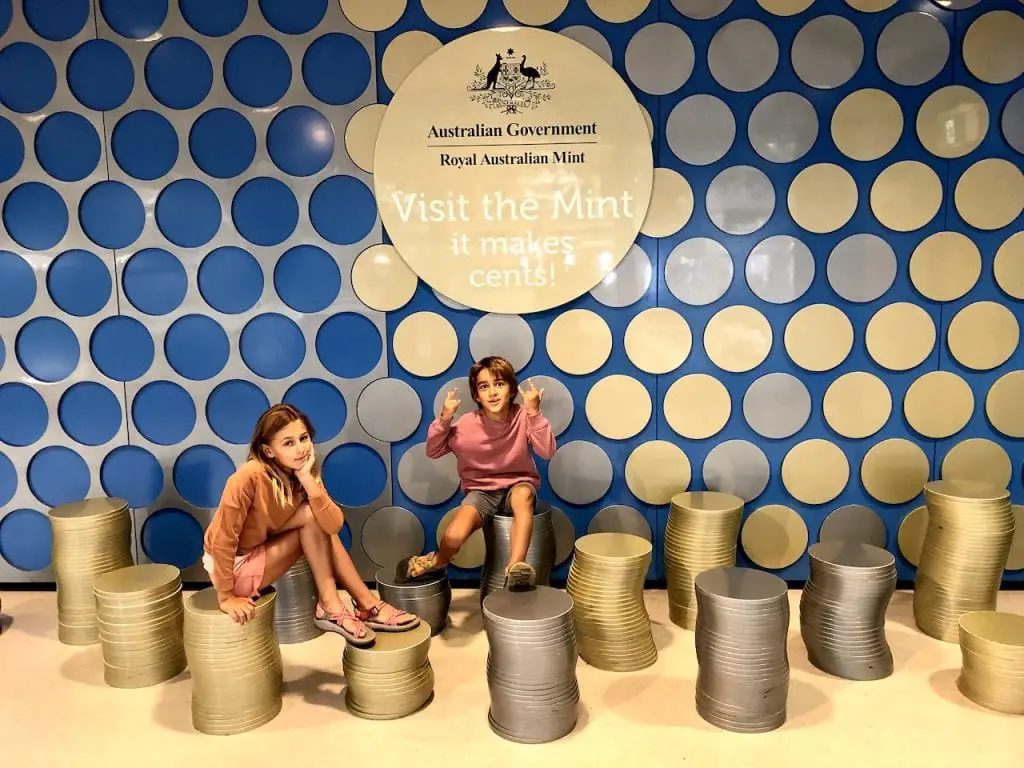 From there, head upstairs and learn about Australian coins, see some rare ones and others that didn't quit pass quality control.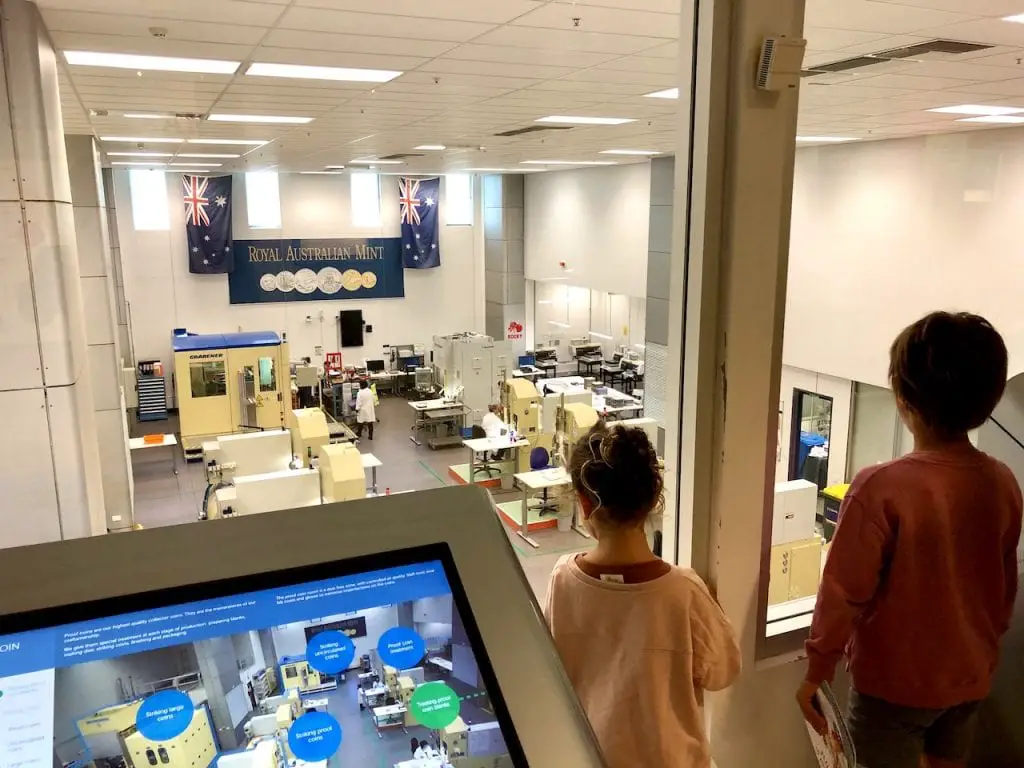 Finally, head over to the bridge above the mint floor and watch the men and women who make Australian coins. You'll even catch the robot dancing a little dance for you!
2- Parliament House
The Parliament House is the huge building you can see from pretty much anywhere in town.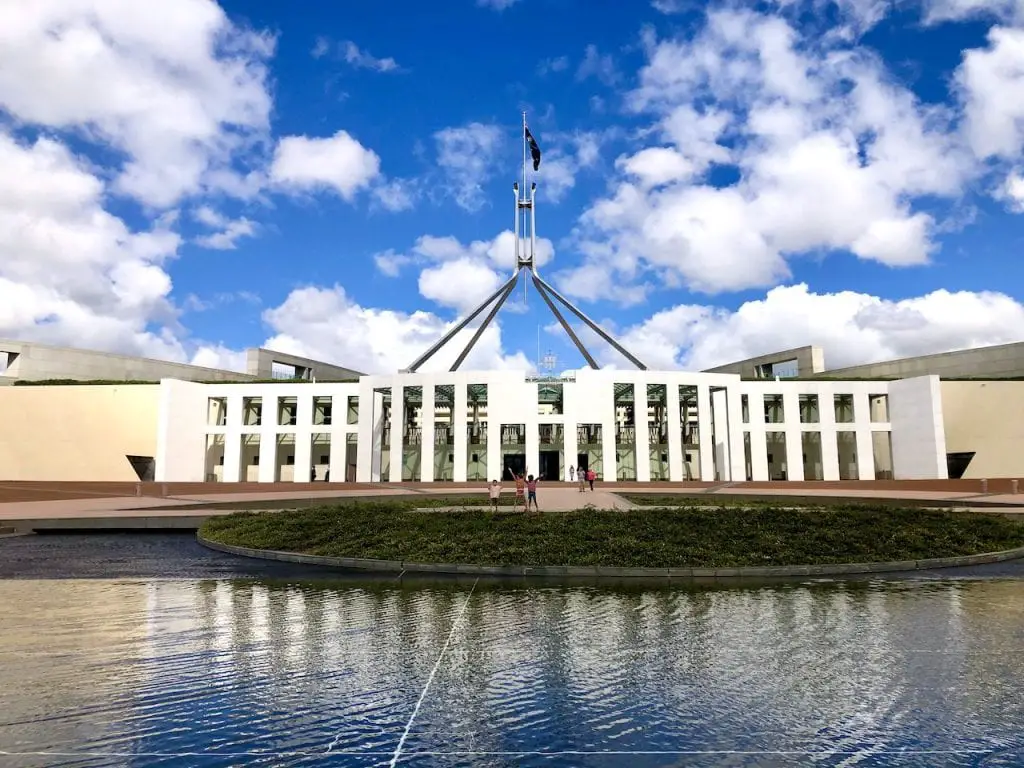 Park the car in the underground parking garage, 2 hours free of charge, which is plenty of time to visit.
Then head up, visit the front desk for another little activity book, and start your visit up the right hand-side staircase for a giant Lego reconstruction of the Parliament House of Canberra.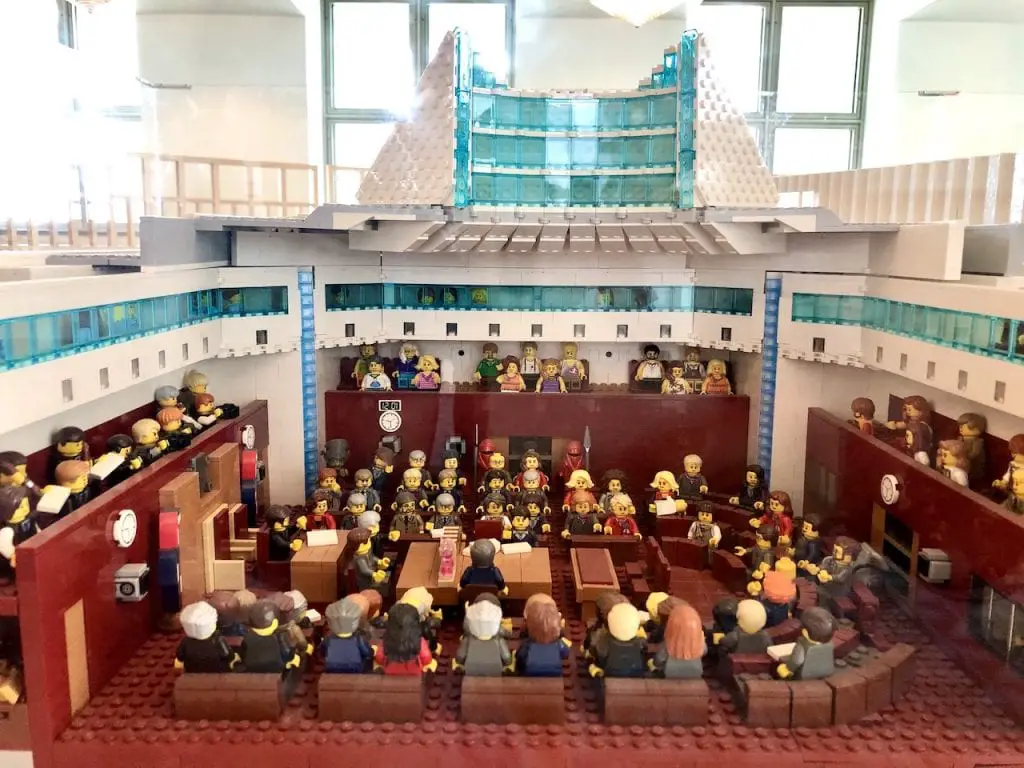 I LOVED seeing so much diversity and inclusion in the Lego house – a mom is breastfeeding her baby in the Senate, and several Representatives are in a wheelchair!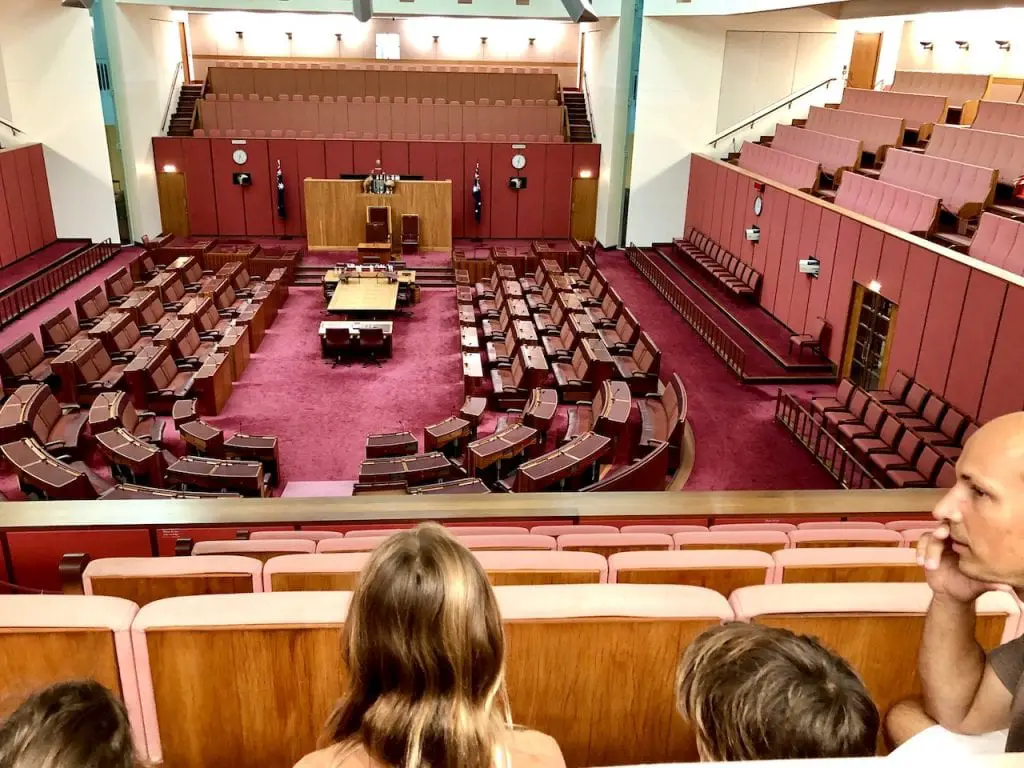 Then head over for a visit of the Senate and learn more about the government on your way there.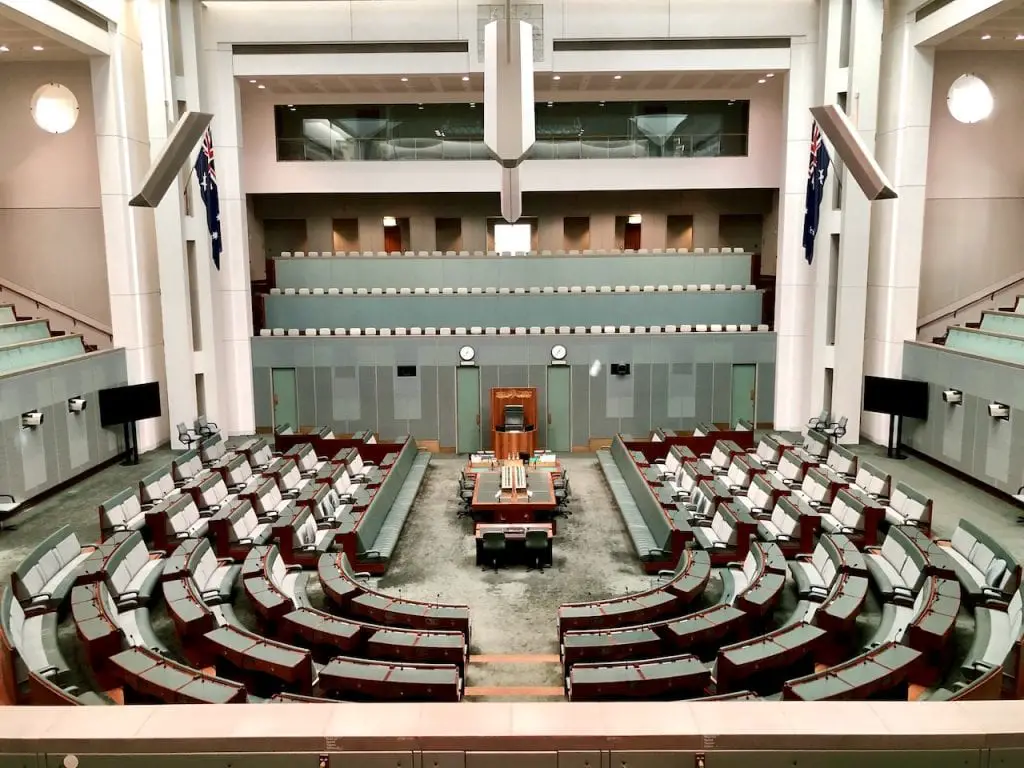 When you are done, cross over the House of Representatives and visit their quarter.
3- National Gallery Of Australia
Our kids are suckers for art museums (no idea where that comes from, but we don't complain!).
The National Gallery of Australia is amazing! There is usually an exhibition you can pay for, but the rest of the museum is free.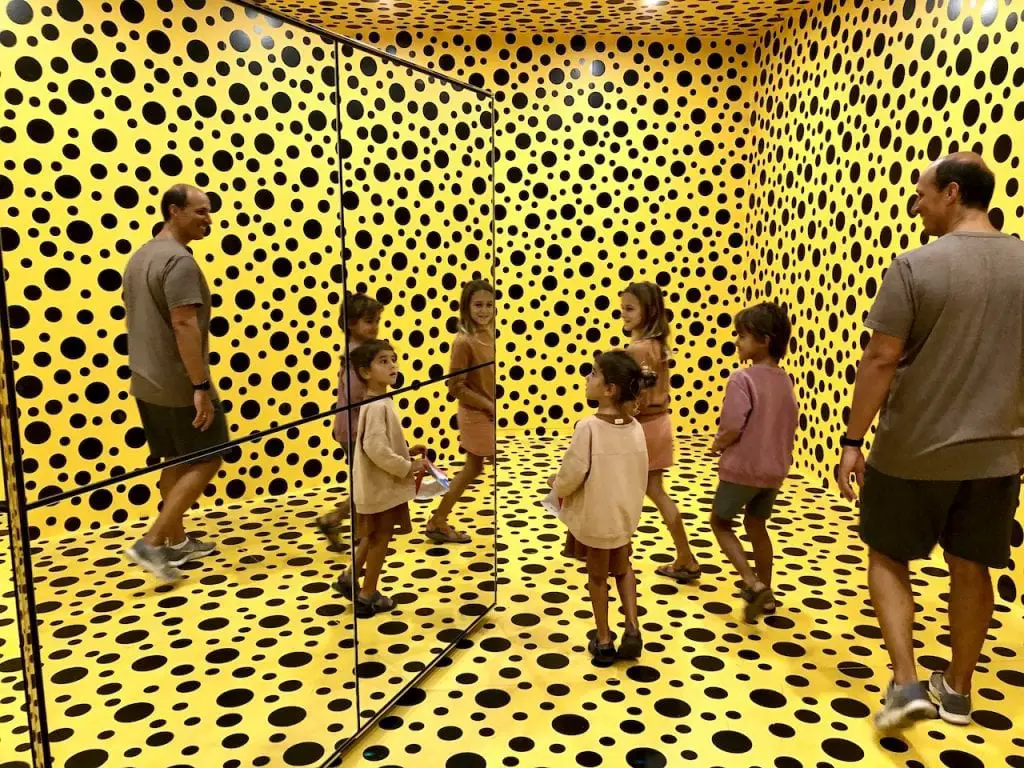 We loved seeing all sorts of arts (Asian, aboriginal, Australian, European, modern, impressionism…). There is a little bit of everything for everyone to enjoy!
4- National War Memorial
Ok… plan on spending a long, long, time at the National War Memorial! I recommend at least a half day if you can!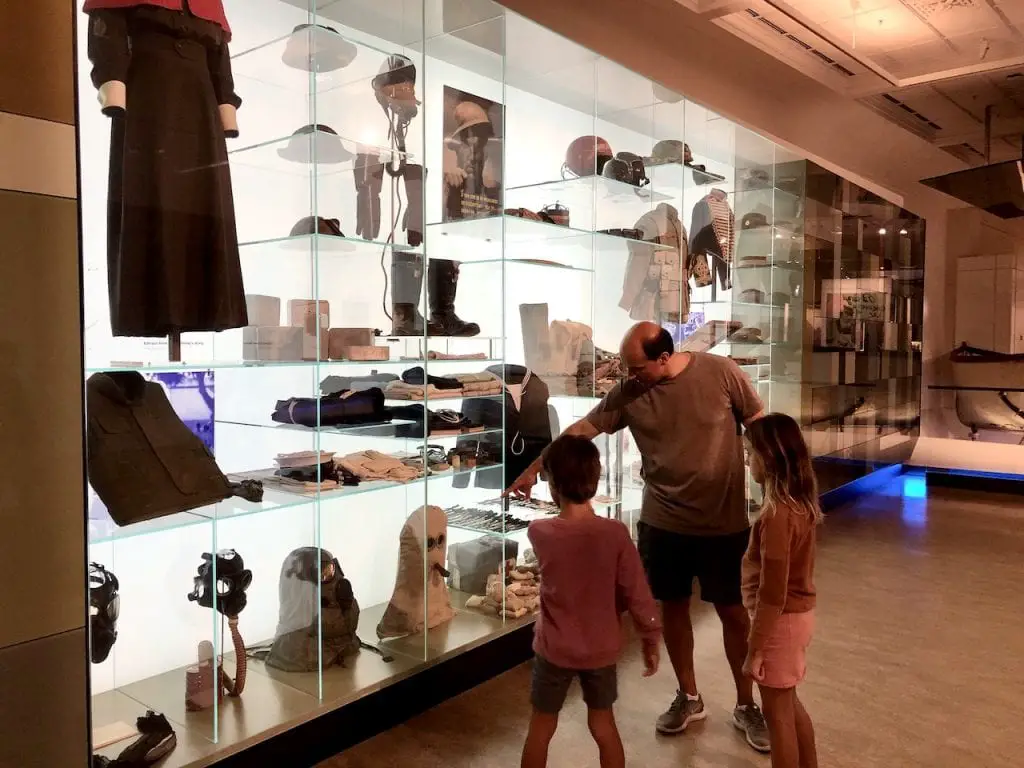 The museum covers all wars fought by the Australian armies, with a strong focus on the 1st and 2nd world wars.
One aisle of the museum focuses heavily on WWI and probably has the biggest collection we'd ever seen from that war.
The second aisle focuses on WWII and some more recent wars (Iraq, Afghanistan…). Be prepared to get emotional. I cried multiple times… But there are so many learnings and everything is presented in such a respectful way.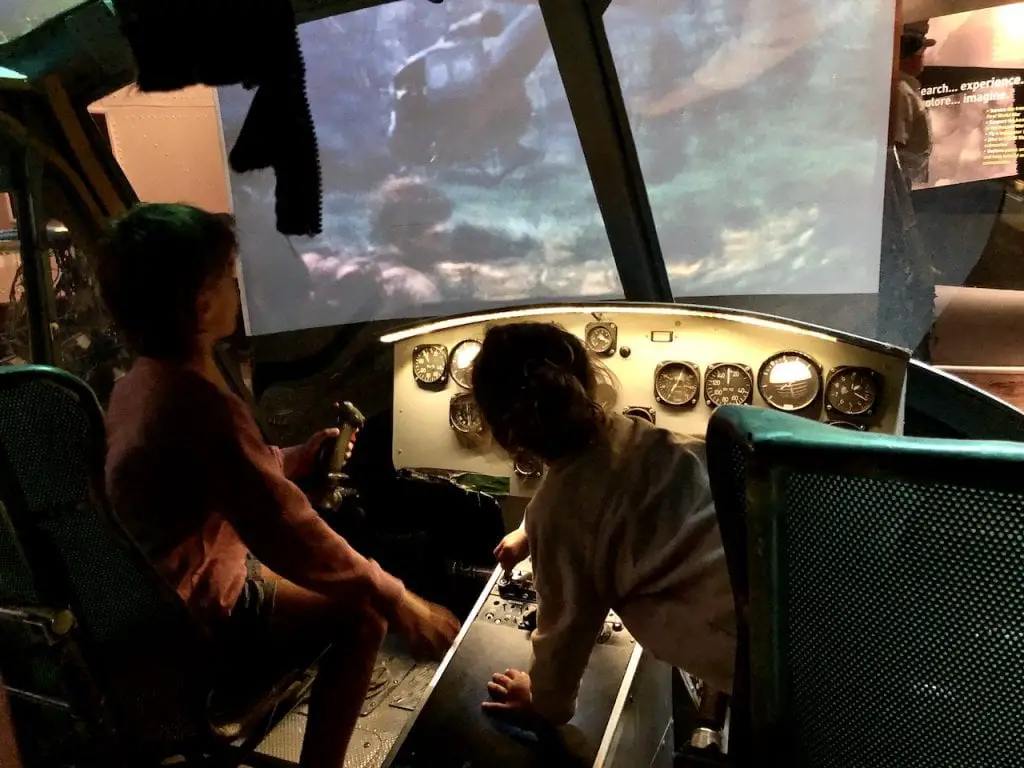 Don't miss the children's space downstairs – ask the reception for when it will be open for the public since they host Australian schools down there, several times a day.
If you can, I highly recommend spending the end of your day there so you can witness the 5PM closing ceremony. They honor a specific soldier each night. You will learn about the war s/he fought, their story, and how their life ended. The anthem, the speakers… everything is so beautifully done and it would be a shame to miss it!
5- Arboretum
If you are a fan of trees, the Arboretum is a fantastic place to walk around or even go for a jog.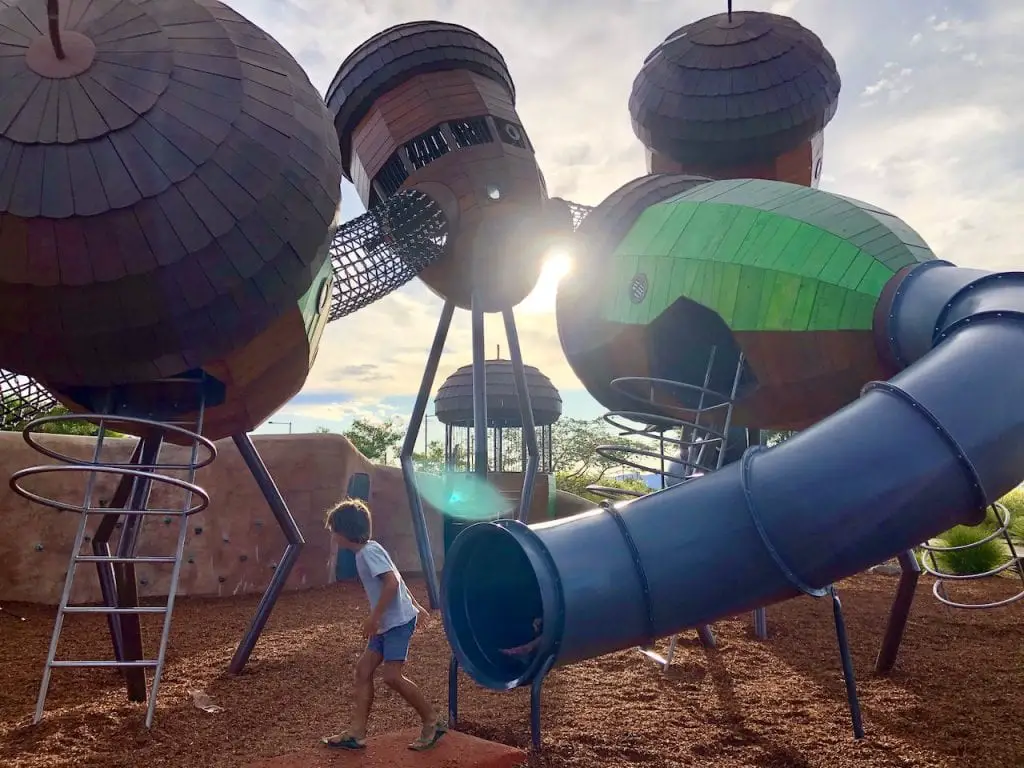 We visited it at the end of the day so the kids could let off some steam, and only visited the playground.
It is absolutely beautiful, very large, and us parents, had a wonderful view of the sunset! A must-do in Canberra with kids!
6- National Museum Of Australia
We loved visiting the National Museum of Australia!
They were renovating a lot of the halls when we visited (March 2020) and it will be such a fun place to visit when all is done.
The exhibits we got to visit were amazing!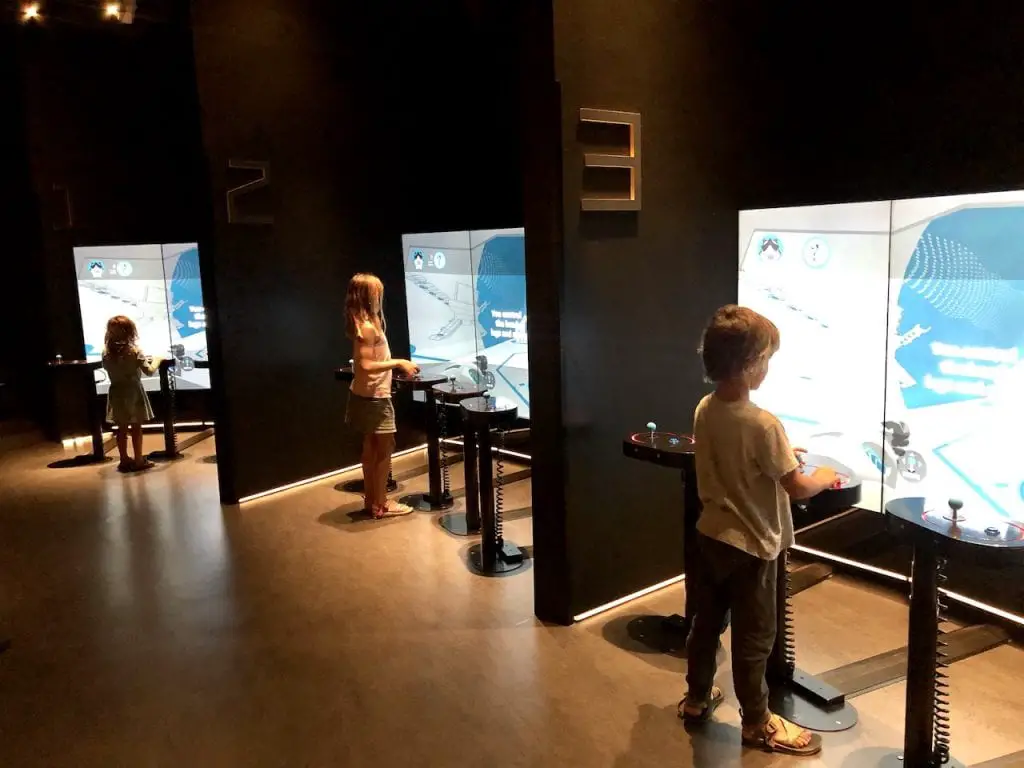 Start downstairs in the kids' place! There, the children create a robot and then take it on a series of adventures. The whole experience lasts about 30 minutes and is so much fun for the kids!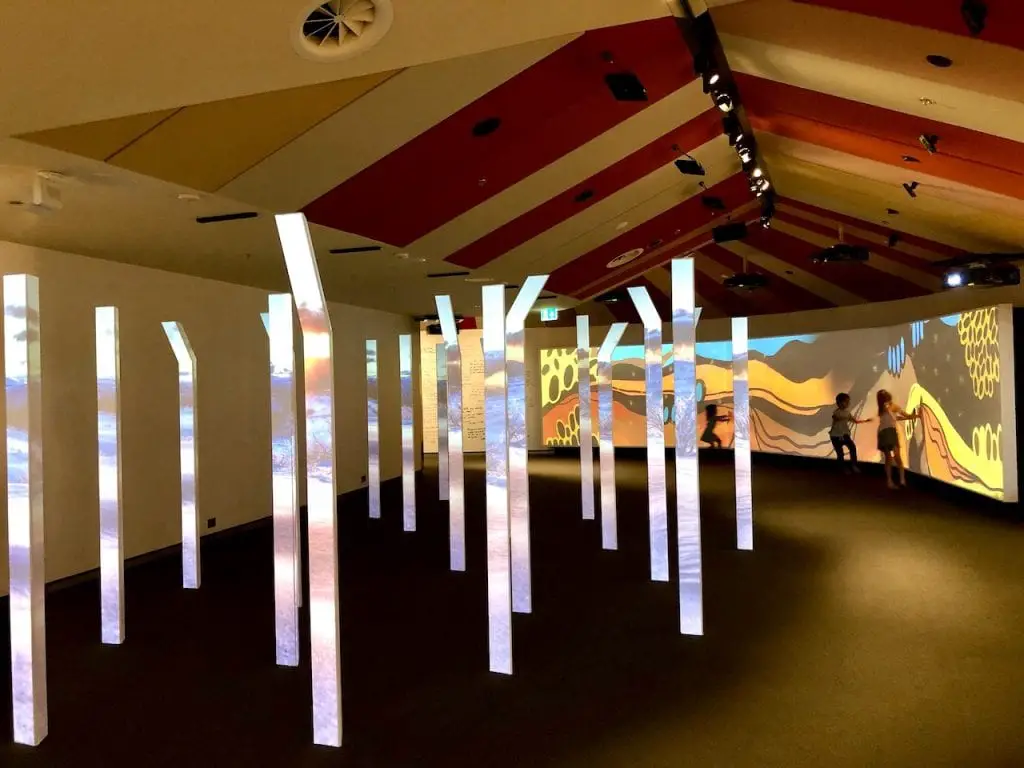 We then learned a ton about the local populations and Australia as a whole. Once fully opened again, plan on spending about a half day there!
7- Canberra Deep Space Communication Complex
The Deep Space Communication Complex is about a 30 minute scenic drive outside of the city.
It is a NASA facility, operated by Australia. We've been living so close to Cape Canaveral for years but never took the kids… so we took our chance in Canberra!
We learned so much about life in space. The kids still talk about their favorite space food – it would have been the multi-fruit juice pouches 🙂
Canberra With Kids
Canberra was forced onto our Australian itinerary and I honestly don't think we would have ever stopped there if we didn't have to visit the Mongolian embassy. So if I can make just one of you add it to their itinerary, that will make my day!!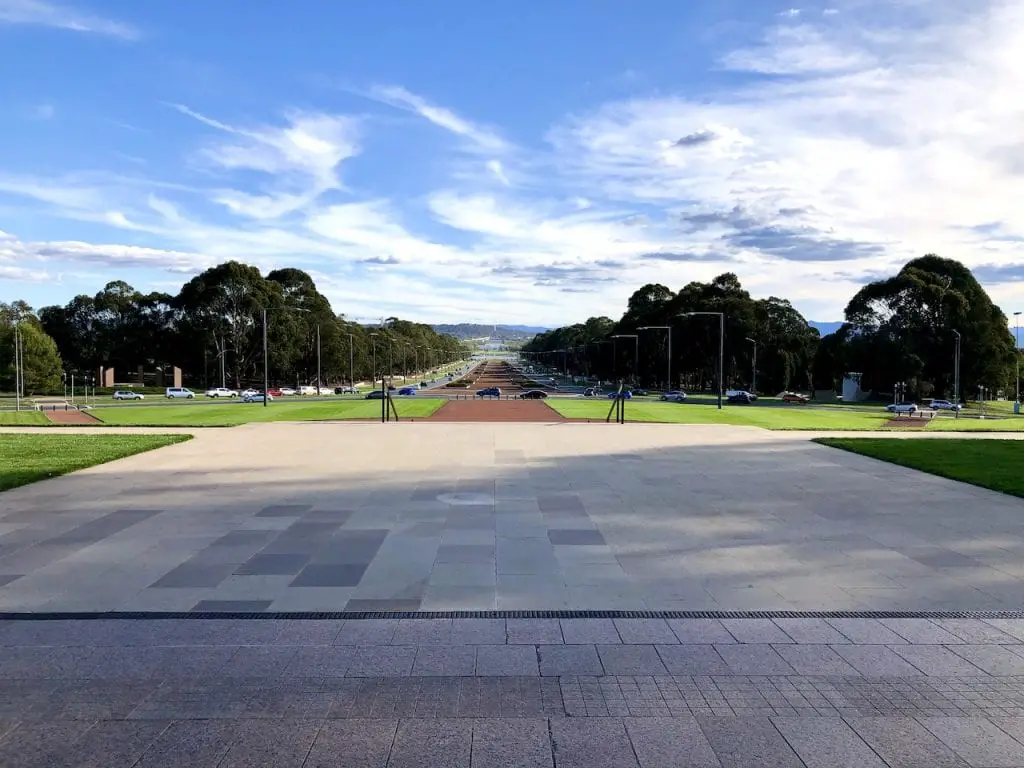 It is the most under-rated city (and by far, capital!) we have ever visited. Every family traveling to Australia should spend 2 or 3 days there. There is an incredible amount of things to do, and you could spend 2 full days, doing things entirely FREE!
Don't let Canberra pass you by!!
---
Pin this for later!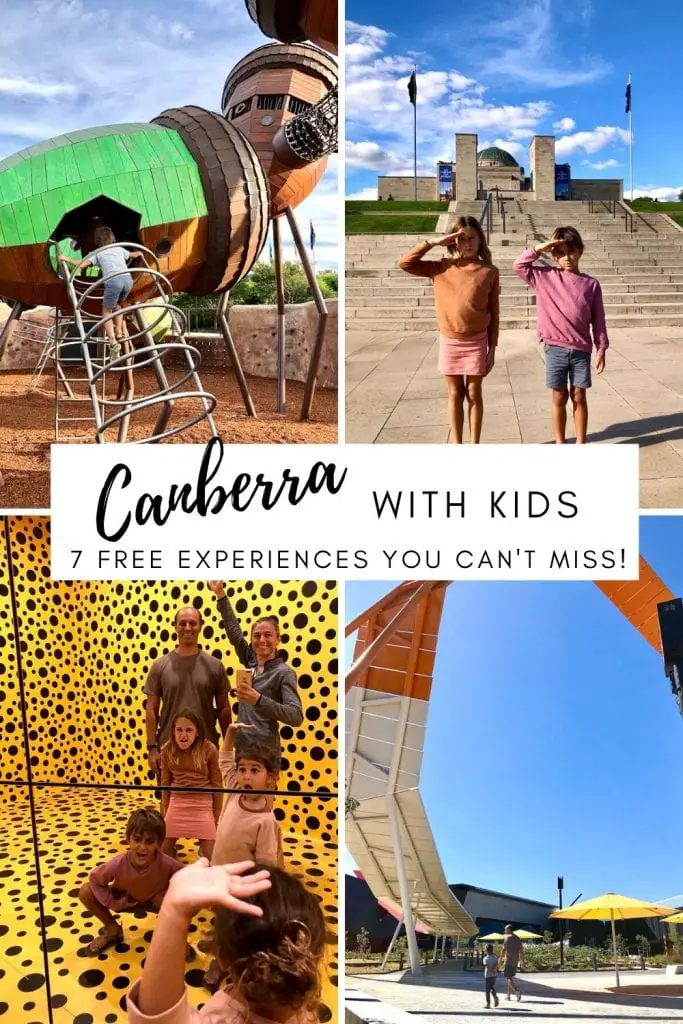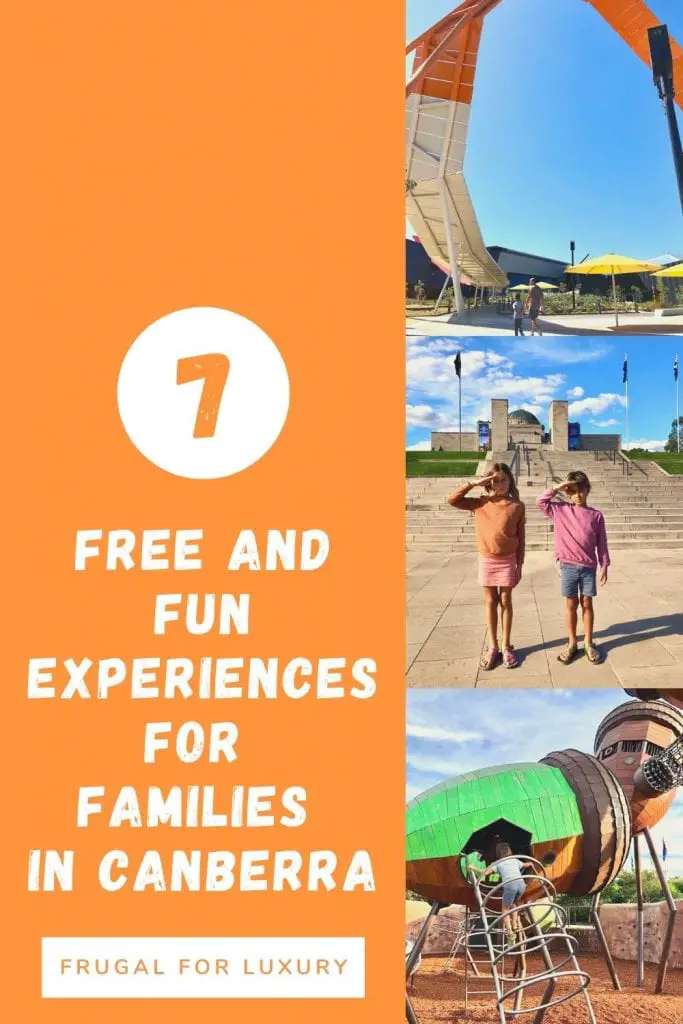 ---
Related articles you will enjoy:
How To Visit Sydney, Australia With Kids – Hop-On Hop-Off Cruise With Captain Cook Cruises
Family Fun In Fiji – At Kula WILD Adventure Park
Best Way To See Most Of Fiji With Kids – 11 Reasons To Cruise With Captain Cook Cruises Fiji
If you enjoy reading us, sign up for our newsletter below!