If you're looking for something fun to do for the whole family on Oahu, HI, you will want to head up to the Polynesian Cultural Center.
We got to the PCC right when it opened at noon and left at 9PM, with three little kids in tow, and we all felt like we could have stayed longer!
Before I get into our top 10, let me tell you a little more about the Polynesian Cultural Center. When you enter the park, you will be walking from one "island village" to the next.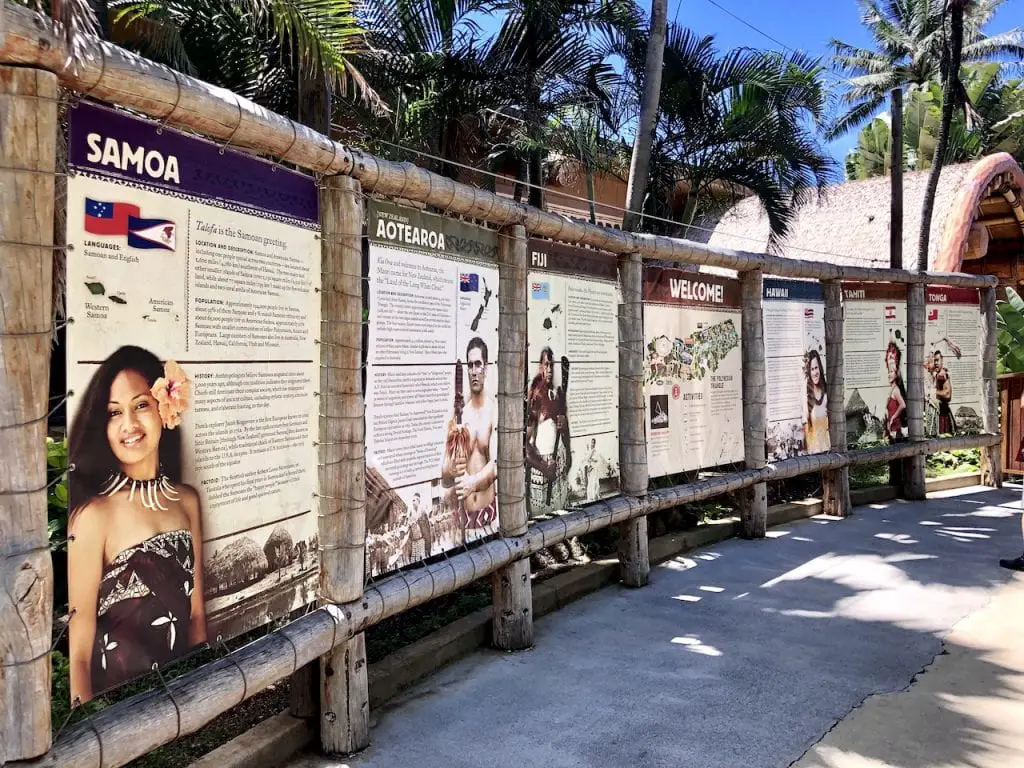 There are 6 villages, one for each country: Samoa, Aotearoa (aka. New Zealand), Fiji, Hawaii, Tahiti, Tonga. Each island village gives several cultural presentations each day, which you won't want to miss, as well as local activities, such as coconut leaf weaving, spear throwing, speciality cooking and more.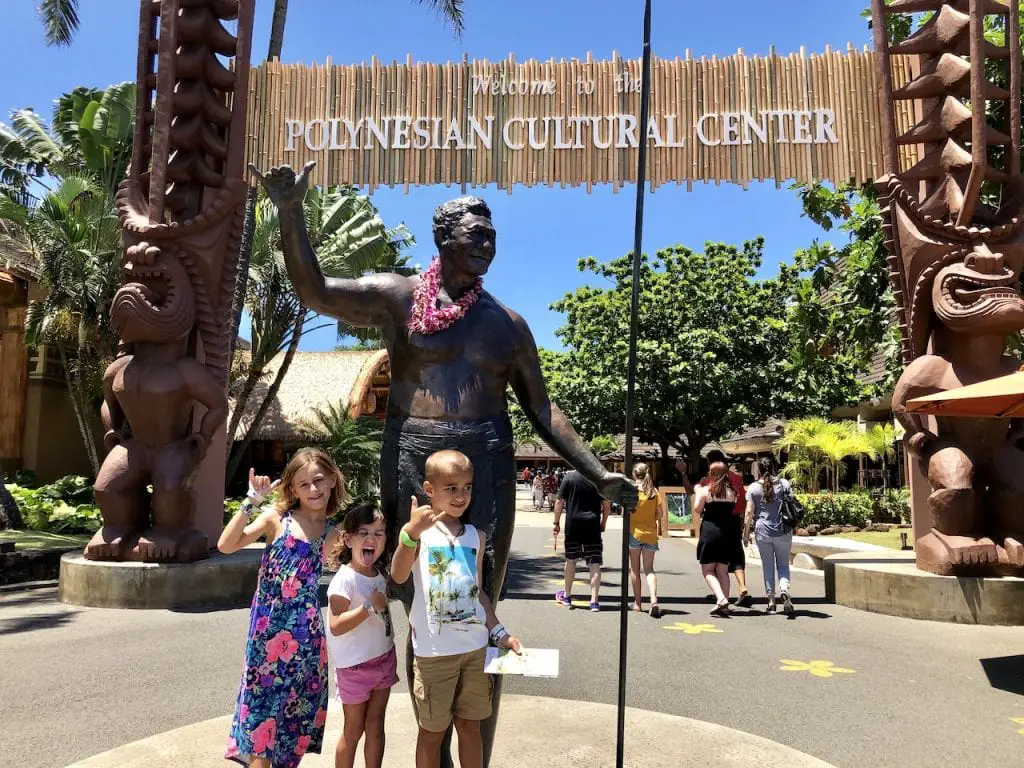 You will spend most of your day visiting the villages and learning from the locals. Once a day, watch the Canoe Festival on the river, where each country demonstrates some of their dances on board local canoes.
If walking is not your favorite way of locomotion, feel free to hop on a canoe, which will drop you off at any of the villages!
And do not miss the luau and other dining options. We dined at the Ali'i Luau and were blown away by the quality of the food, with an amazing Hawaiian show!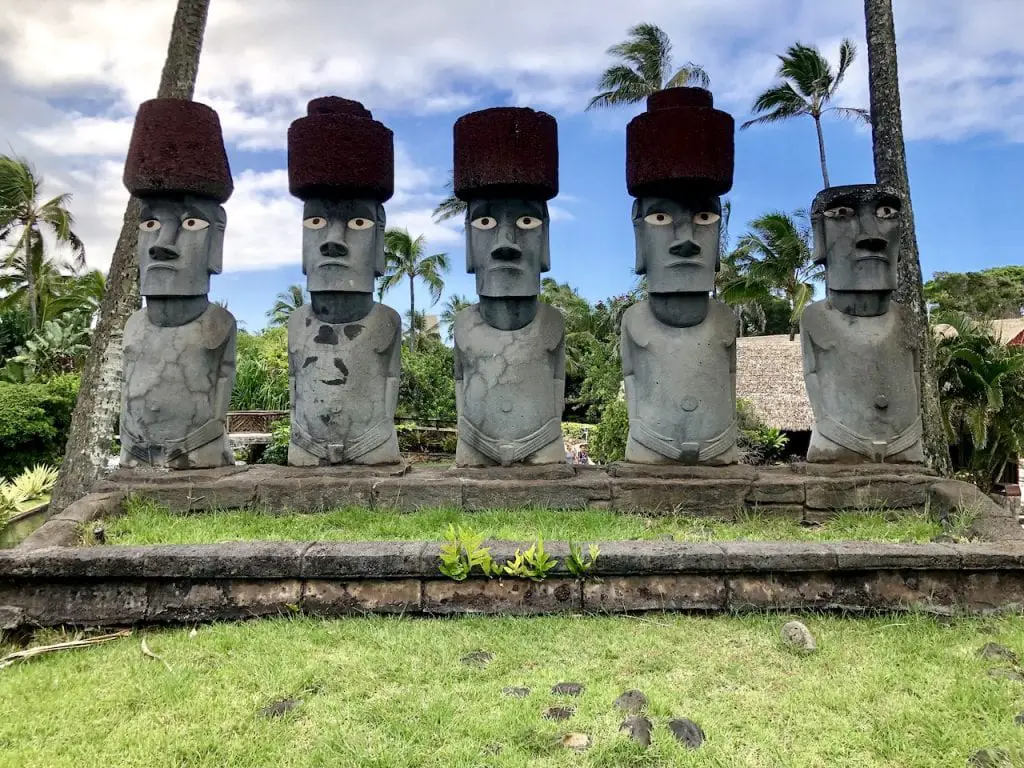 Once the villages close at 6PM, you will have 1.5 hours to enjoy the grounds before Ha: Breath of Life – a mind-blowing show! Visit the Football Museum, walk around the park, or grab something to eat at Hukilau Marketplace! Don't be late for the show starting at 7.30PM, at the theater right inside the Marketplace!
Here are our family's 10 favorites at the Polynesian Cultural Center! I realized at the end of the day that I did not have photos for all of them. Many were so intense, I watched all of it instead of snapping pictures. So make sure you watch the video above for a glimpse at all 10!!
You won't want to miss any of those:
1- Haka Show In Aotearoa
Our first learning of the day was the meaning of Aotearoa, which truly stands for New Zealand. You all know how much I love world schooling and teaching our children through travel, and I felt like we were all back at school for a day!
We loved the cultural presentation in Aotearoa. I think our jaws dropped a little when the men started their haka dance!
2- Tattoo In Fiji
Nothing will bring as big of a smile on your child's face as his first tattoo! Mark wore his like a war trophy and kept on checking his arm to make sure it was still there.
Best part – it is water soluble and comes right off in the shower! Oh… and adults can totally get one too!
3- Bare Coconut Tree Climbing In Samoa
In Samoa, watch a local climb up a coconut tree to the power of his arms and legs, with the only help of a band tied between his feet.
You will want to sit to the far right end of the audience and get up to watch him climb as soon as he starts. He is easy to miss, but believe me, you won't want to!
4- Tahitian Wedding And Vow Renewal
Oh boy.. this one brought tears to me eyes!
The cultural presentation in Tahiti was a local wedding. The story is beautiful and their customs, very touching! At the end of the wedding, renew your vows if you are married, looking into each other's eyes. I dare you not to cry 🙂
5- Coconut Leaf Weaving In Tonga
Handsy or not, this Tongan teacher will not let you, or the little ones in your party, fail!
Handing you 2 coconut leaves, you will have a local toy made in less than 15 minutes. Warning – you will be playing with it for the rest of your visit. It just has a satisfying calming effect, which I won't spoil for you!
6- Tattoo In Tahiti
Because you never have enough temporary tattoos and because each country has it own designs… grab a second tattoo in Tahiti!
Even I went for this one and got the big TAHITI tattoo!
7- Nose Flute Player in Tonga
Don't miss the cultural demonstration in Tonga. Not only is the show a lot of fun with audience participation at the end, but you might witness a first – a nose flute player!
Yep, the local Tongan player plays this flute with a blow from his nose! It was used as a respectful way to wake up royalty on the island! I am telling you – this is a full day of learnings!
8- Konane Game In Hawaii
Let your kids play new games to them, old games to the Hawaiians.
We ended our day in the Hawaiian village and loved playing local games until it closed. Once it closed, we enjoyed the lawn by the river right in the Hawaiian village and rested a bit before the show.
As a tip, especially when traveling with kids – this will be an exciting and long / late day. If you are traveling from mainland USA or Europe, try to pick a day towards the end of your stay so you are fully adjusted to the Hawaiian timezone and can fully enjoy your time at the Polynesian Cultural Center!
9- Spear Throwing In Tonga
Which child doesn't want to throw spears around? Ours were all over it!
After a quick lesson from a local Tongan, they participated in a friendly throwing contest!
10- Hula Lesson In Hawaii
Head over to the Hawaiian island village for a hula lesson, part of the cultural presentation.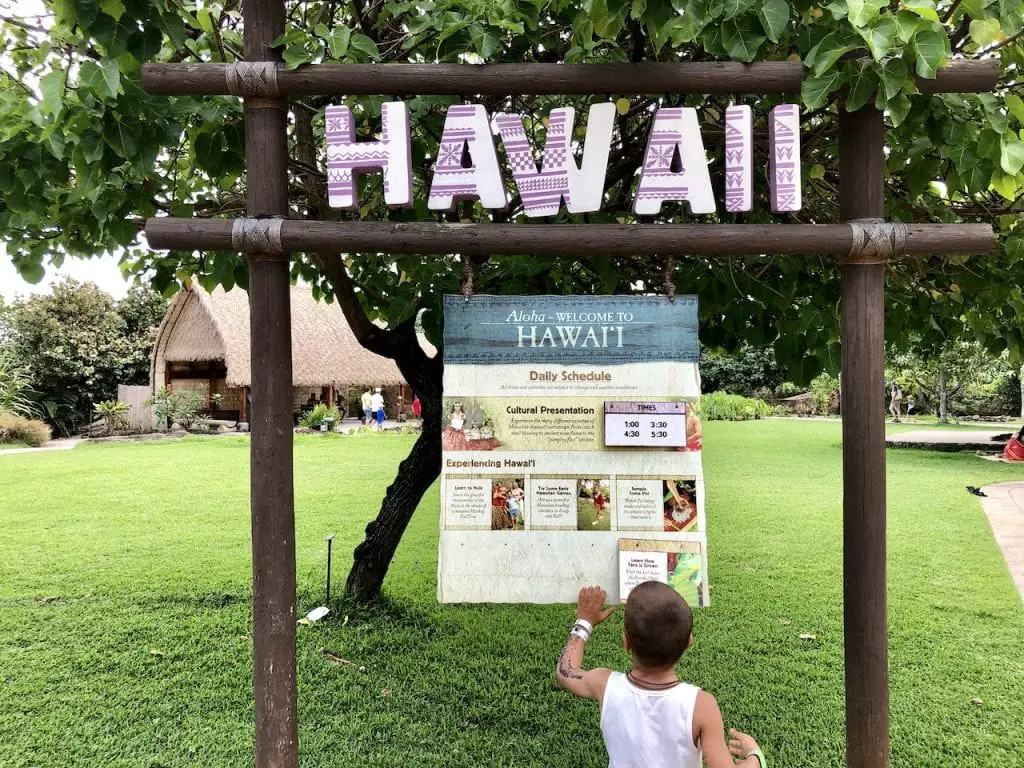 Not only will you be introduced to the history of hula and be able to see for yourself how the dance evolved pre- and post-colonization. You will be given a 3-minute hula lesson. And believe me… you will be stunned at how difficult hula truly is. And then you'll hear your teacher say that this was only 3 minutes, but they teach their kids in 30-minute lessons!
The Luau At The Polynesian Cultural Center
While the Polynesian Cultural Center offers several dining options, I highly recommend taking part in the luau – a Hawaiian landmark.
We were very impressed by the food! Everything was very fresh and tasty, cooked to perfection. They brought a roasted pig around the middle of show and the desserts were great!
You can get into the dining space 30 minutes before the start of the show and start eating immediately. We got there just a few minutes before the show and had absolutely no line for the buffets.
Up to you what your preference is. We loved having a little more time to explore the grounds of the Polynesian Cultural Center before dinner!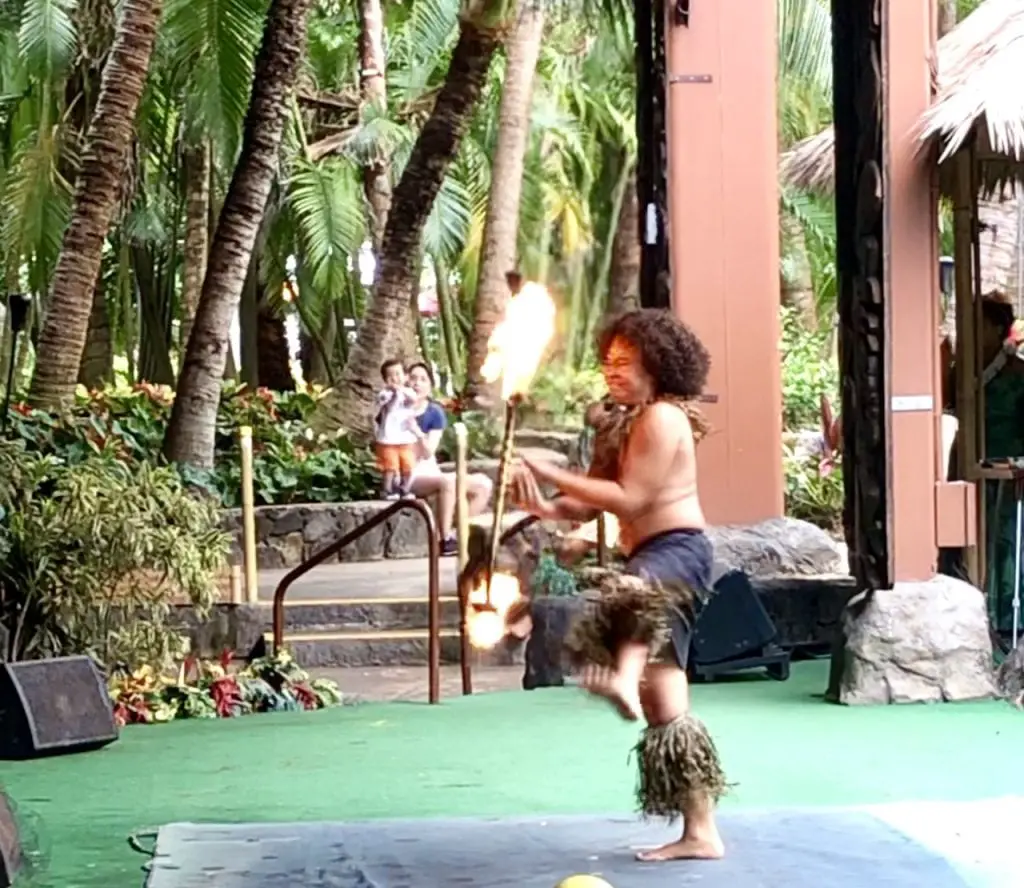 The show itself was nice and we loved the 12-year old fire boy who mastered his art in a way that will blow your mind!
Ha: Breath Of Life Show
After your visit of the island villages, be sure not to miss Ha: Breath Of Life! We walked in without real expectations and thought the kids might get tired quickly from jet lag.
We all ended up sitting at the edge of our seats all the way to the last second.
Cameras and filming were not allowed inside and I don't want to spoil the show with too much information. But prepare to be amazed as you move from one country's story to the next, making your way through the amazing Polynesian culture.
The end of show reserves pyro surprises and I will let you discover the rest of it for yourself!
The Polynesian Cultural Center
Whether you are traveling with children or not – but definitely if you are – make sure to reserve an afternoon and evening for the Polynesian Cultural Center.
Located close to North Shore, on the eastern side of Oahu, you will spend a day to be remembered. So many emotions and learnings will come out of this day, and you will cherish it as one of your best Hawaiian memories! We are very thankful to the Polynesian Cultural Center for hosting us and providing us with free tickets to their Center.
---
Pin this for later!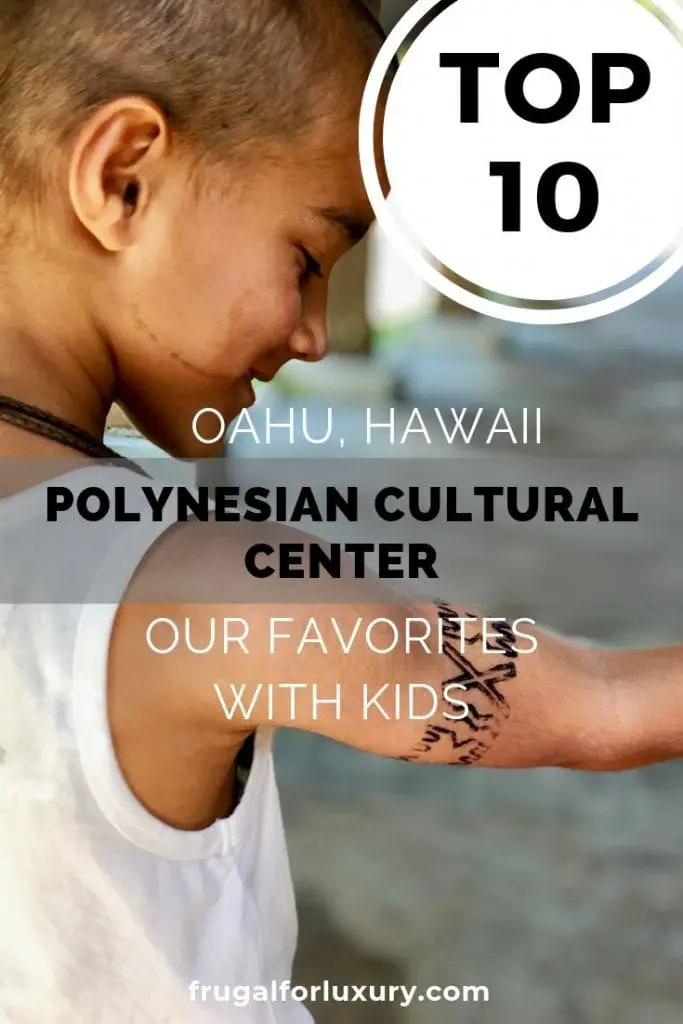 ---
Related articles you will enjoy:
3 Days Near Uvita With Kids – Costa Rica Report
6 Tips To Get Your Kids Excited About Your Next Trip
20 Free Things And Experiences At Disney World
If you enjoy reading us, make sure to sign up for our newsletter below!