While Christian and Mark were spending quality time together on their guys' weekend (read more about why, here), the girls asked to go to Crayola Experience. So we hopped in the car and drove to the closest one to us – at the Florida Mall in Orlando, FL.
Crayola Experience
Crayola currently has 4 locations: Easton, PA; Mall of America, MN; Orlando, FL; and Plano, TX. If you do not have one near you, make sure to visit one of their locations when you travel to those places.
The concept is simple and amazing. Crayola Experience is similar to an indoor theme park and we typically spend 3 to 4 hours there. Our Orlando location has over 15 different stations for the kids to get physically active and have fun with colors.
I also find their yearly memberships really reasonable. A family of 4 currently gets in year round for $104 (+ tax) and teachers get in for free with a valid ID. For that price, it's a LOT of fun to be had!
Indoor Playgrounds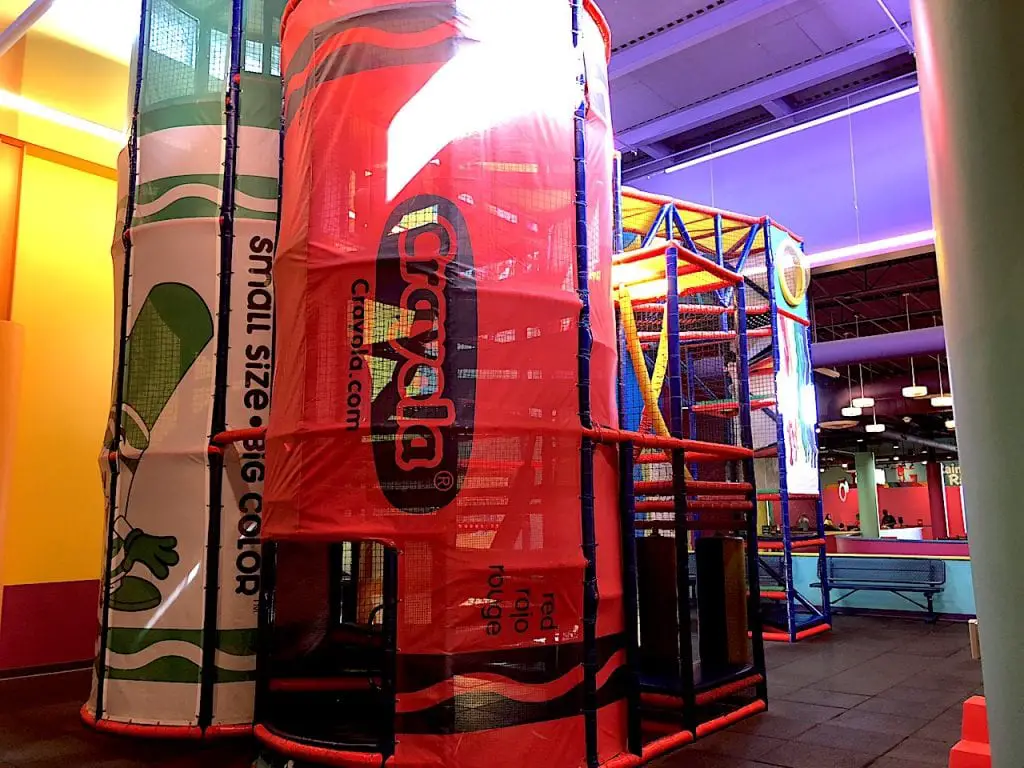 Our days at Crayola Experience always start with some energy let-out on the indoor shoe-free playground.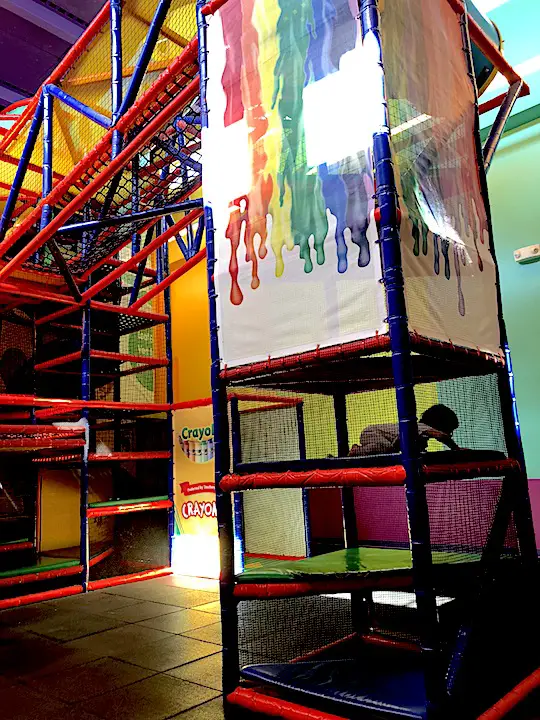 This is a great way to let some tension out before visiting the activity stations!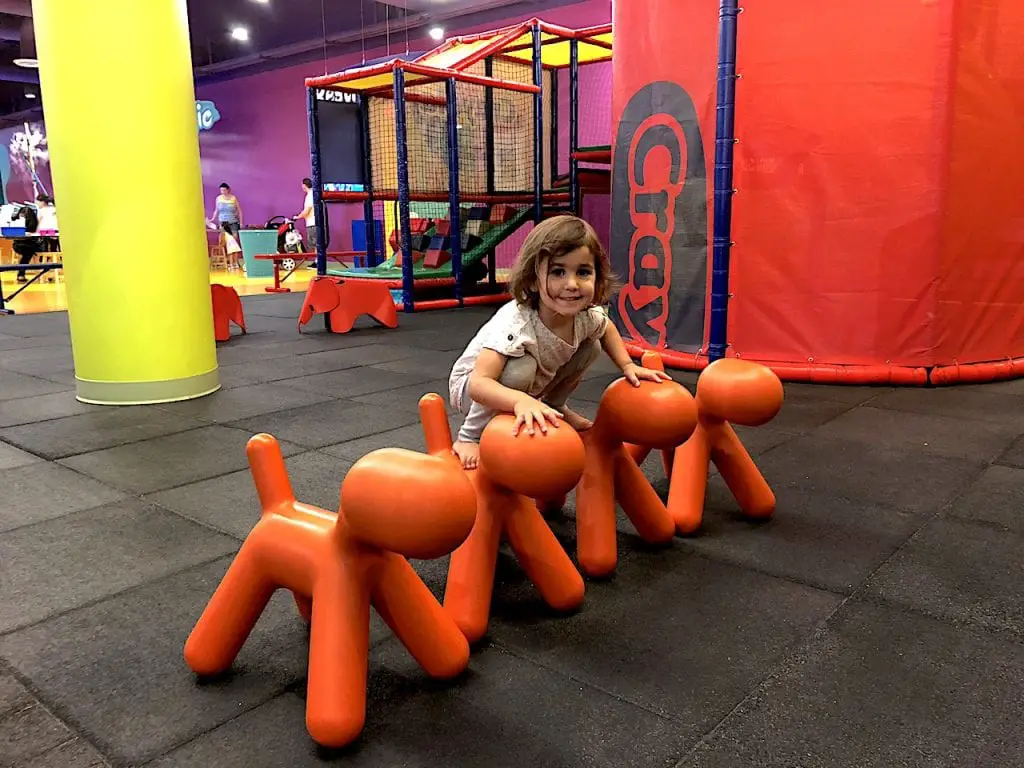 This smaller version is the Toddler play area, great for little ones still mastering walking and climbing!
Art Activities
There are so many hands-on activities to keep kids AND adults busy. Below are our favorites: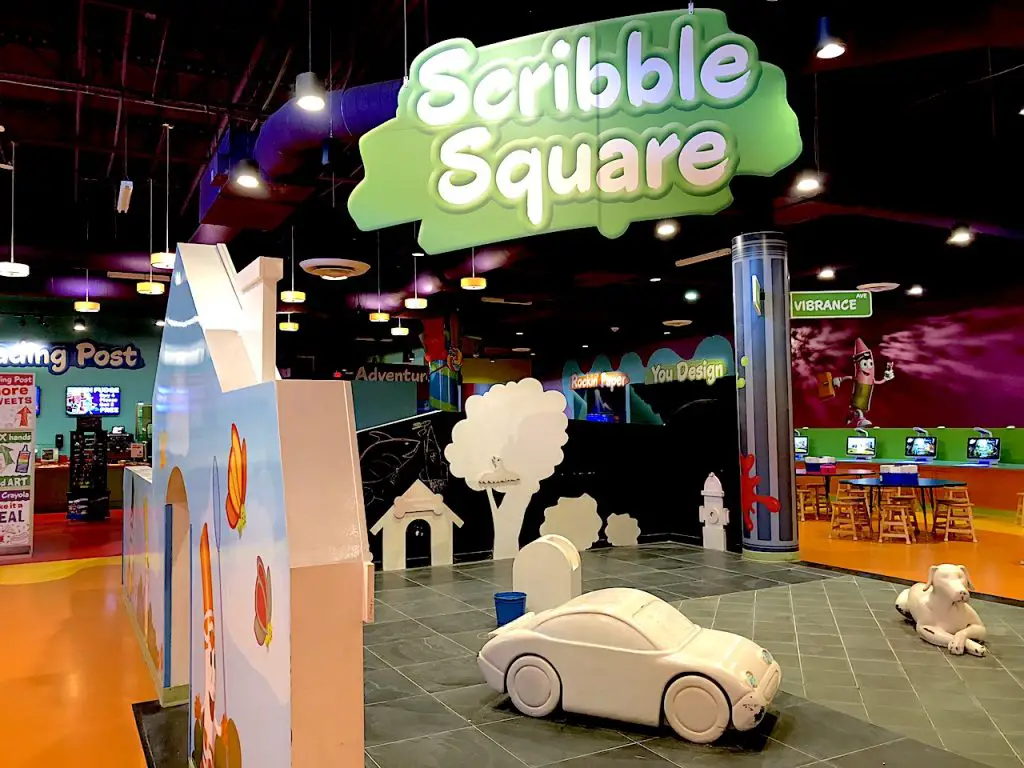 In the Scribble Square, kids get to do what they can't do at home – draw on things! Using markers and wax crayons, they decorate everything that you see on this photo!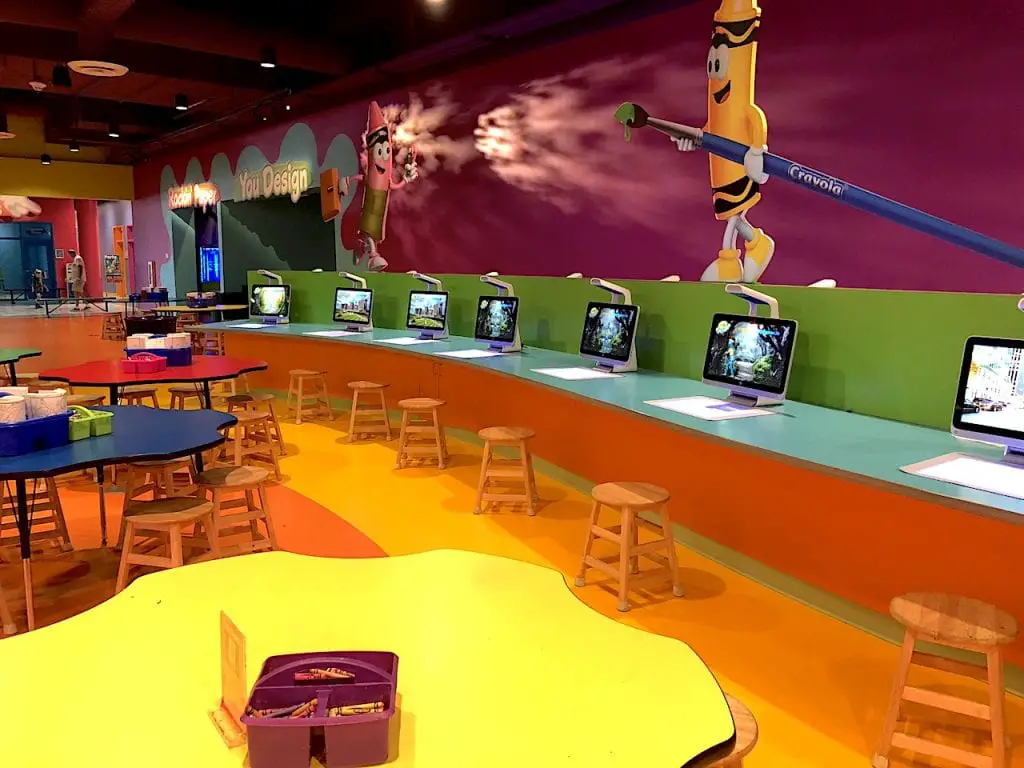 Color Magic – This is the section  where you will find the most adults. I can't pass that one myself. After coloring a character, you bring your drawing to those computers and watch it come to life on a background of your choosing.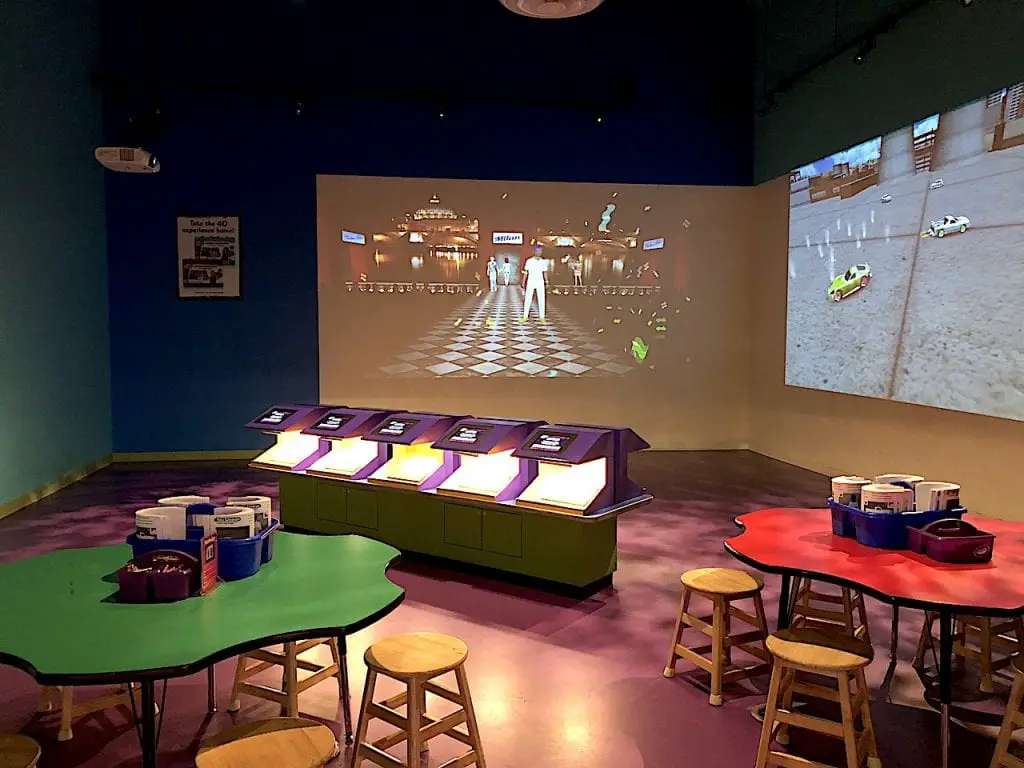 You Design is YOUR time to shine. Turn yourself into a fashion and/or car designer and watch your creations take life on stage and on the course.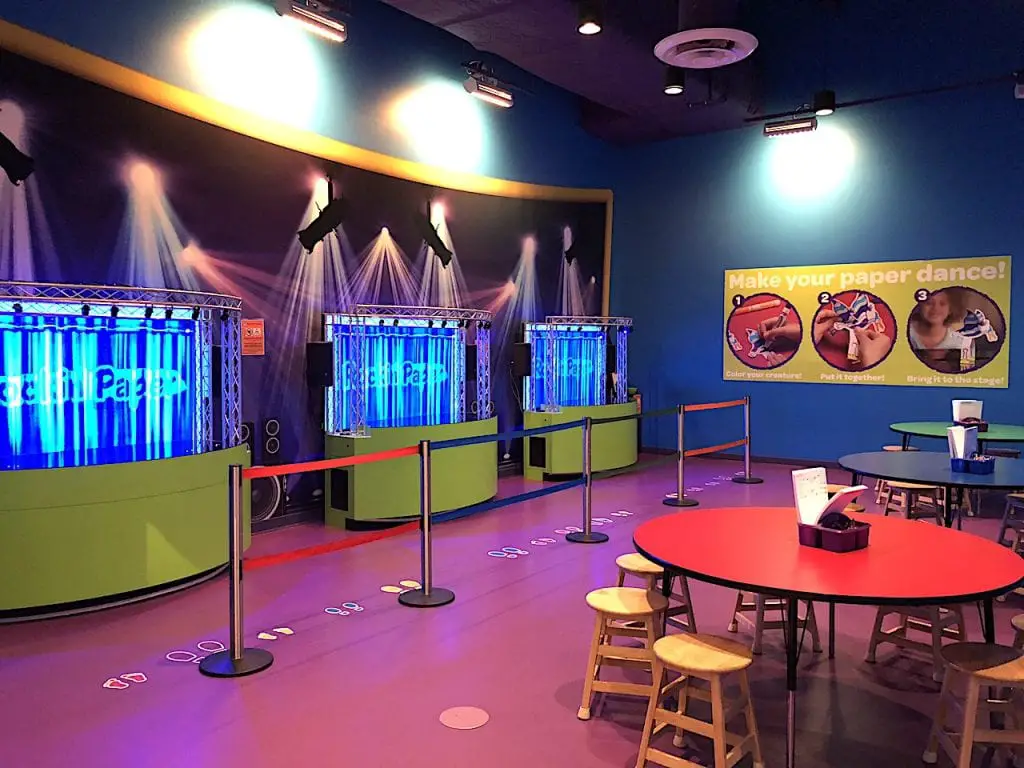 Rockin' Paper is our 6-year old's favorite. Personalize an animal with your favorite colors. The animator will set it up on stage as you watch it turn into a rock star!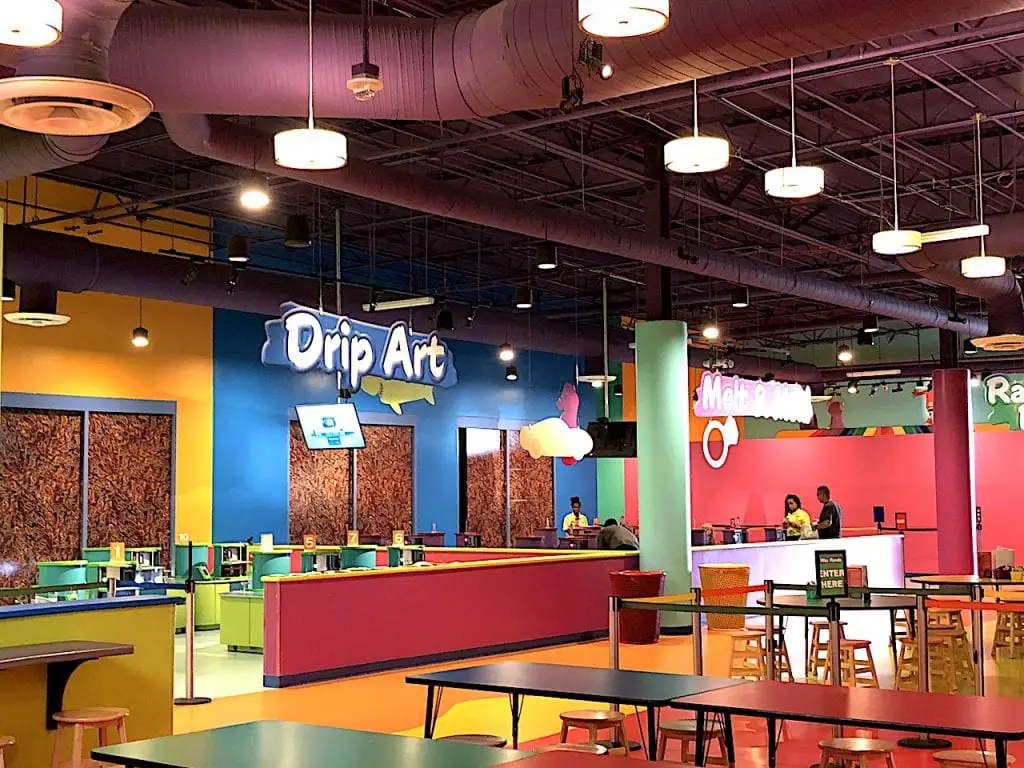 At Drip Art and Melt & Mold, the first step is to melt crayons. You then chose the shape in which you want to mold your crayon or spin a round piece of paper to create a unique design.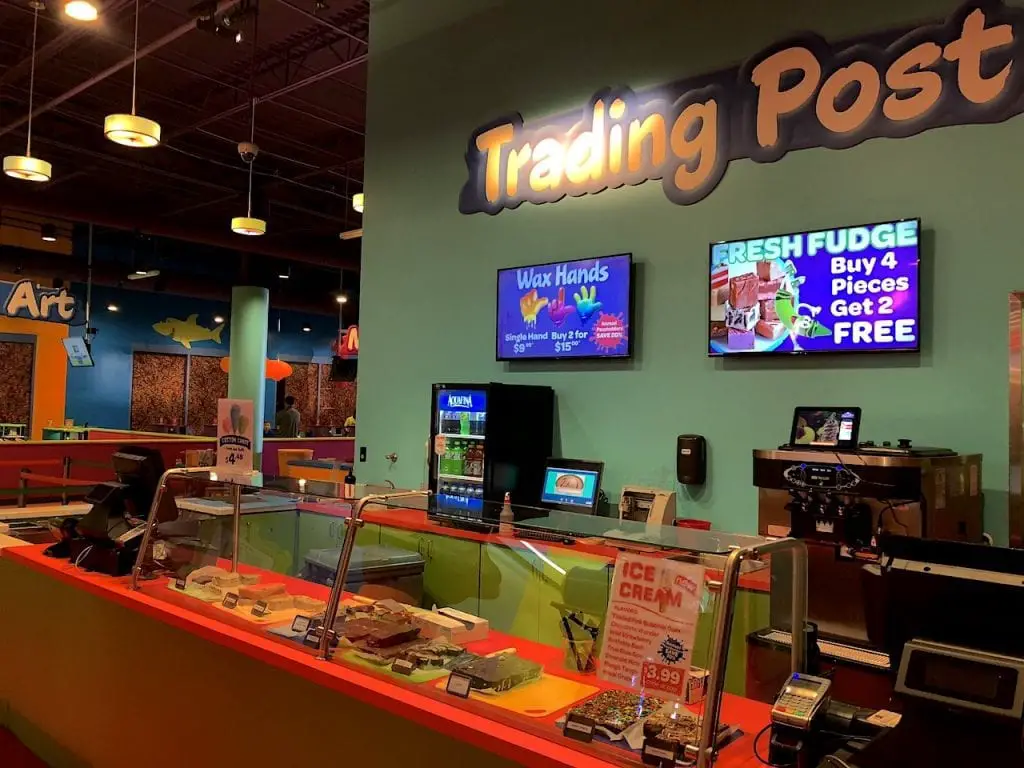 At Trading Post, melt some wax in the shape of your hand for a fee. This is also where yummy snacks await.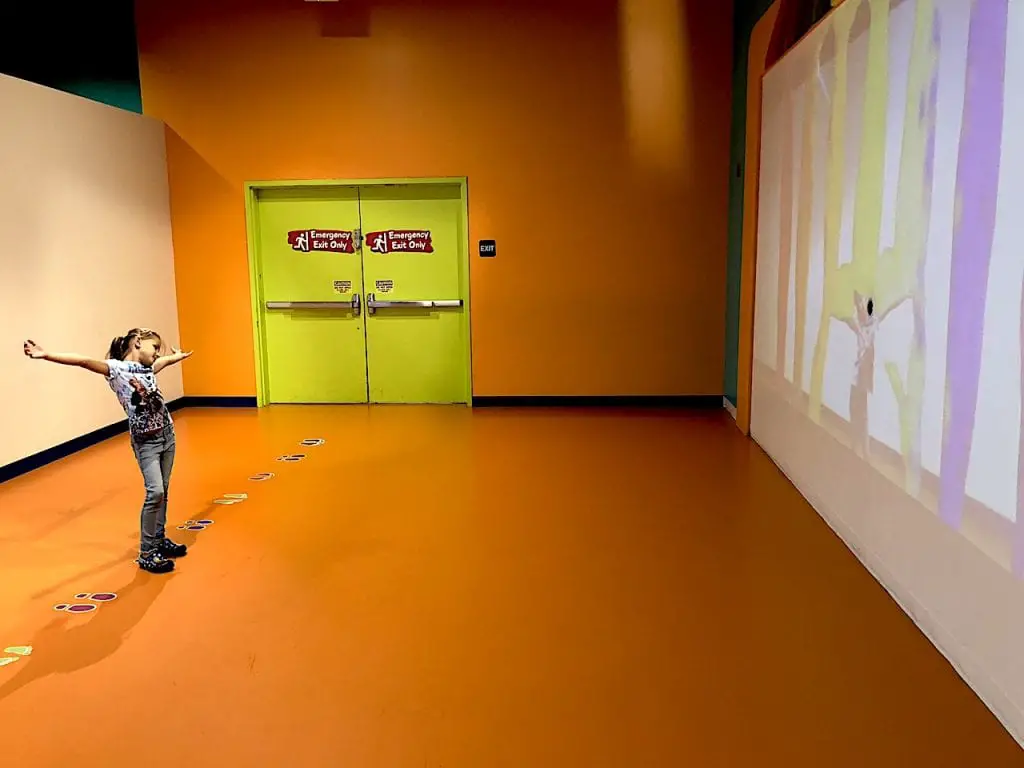 Rainbow Rain uses cameras and special effects as you watch paint drip all over you!!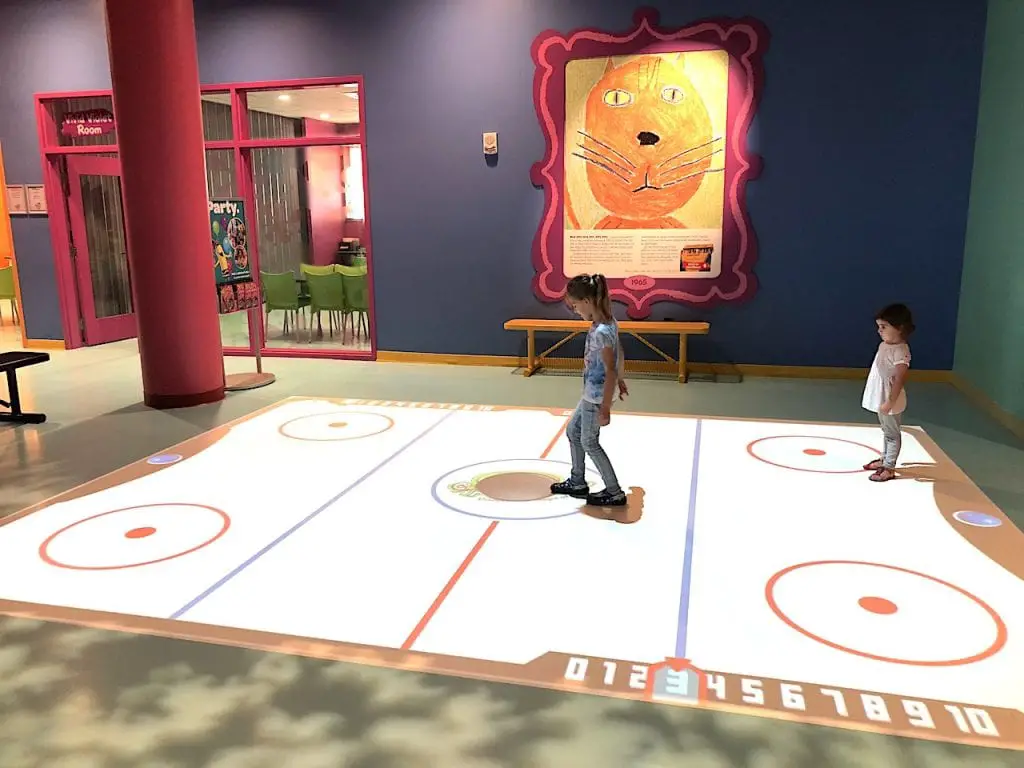 Stomp and Play. This one is fun for everyone. Parents – you won't be the only one stepping an occasional foot here. A multitude of cameras allow kids to play virtual games on this animated floor. Check the video above to see all the fun to be had!
Adventure Lab
This recent addition is amazing!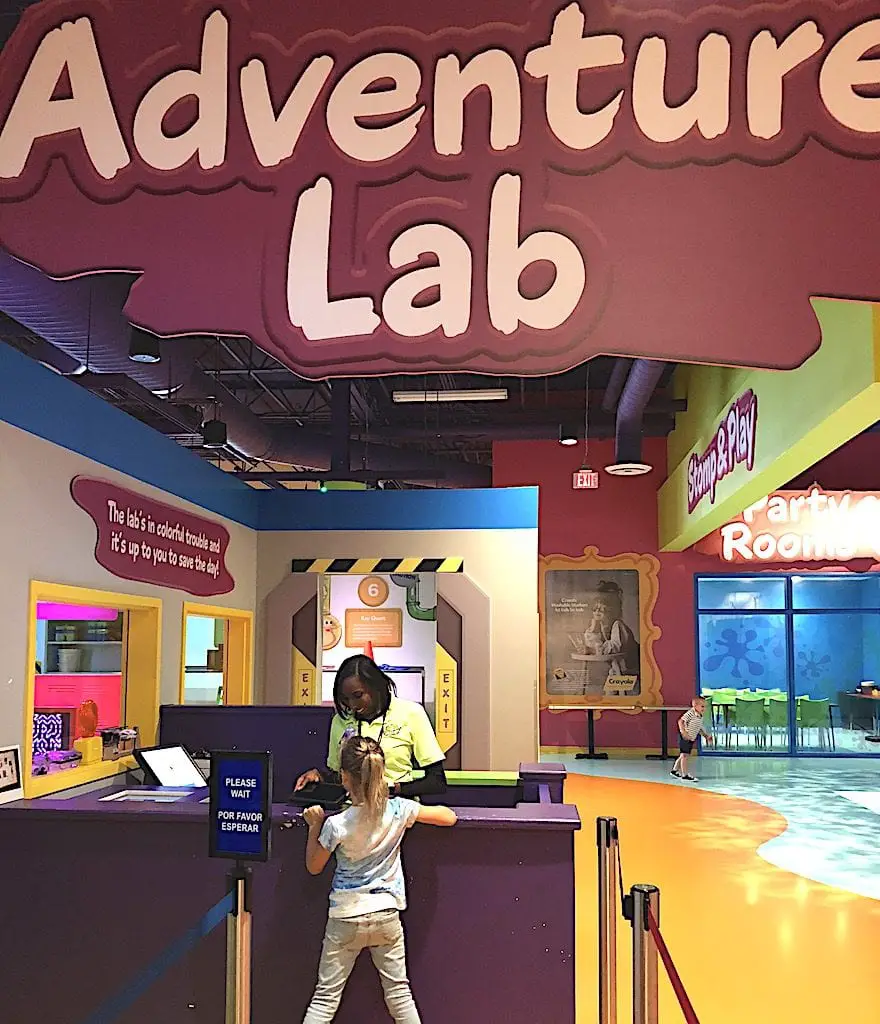 Before entering the lab, kids are given a tablet, which will guide them through 3 random activities inside the lab.
Kids follow the directions on the screen to turn to their next challenge.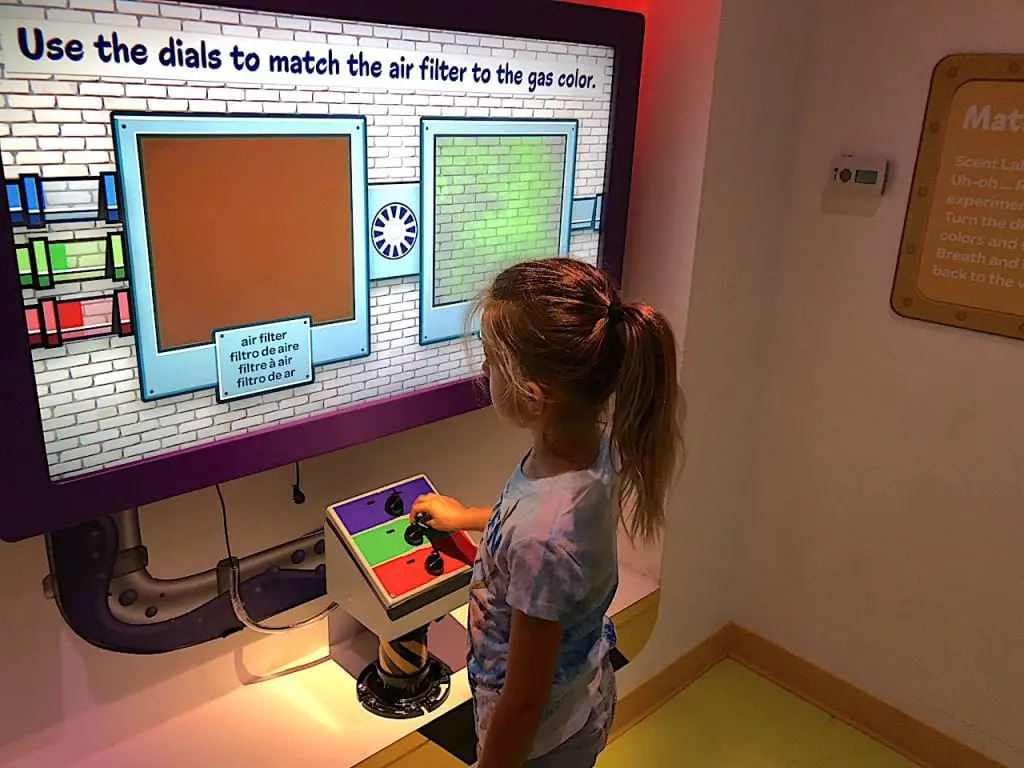 Every time we have gone, we were given a different sequence. Ava loved dialing colors to match the gas color! Those games are super educative and a lot of fun for all.
Crayola Currency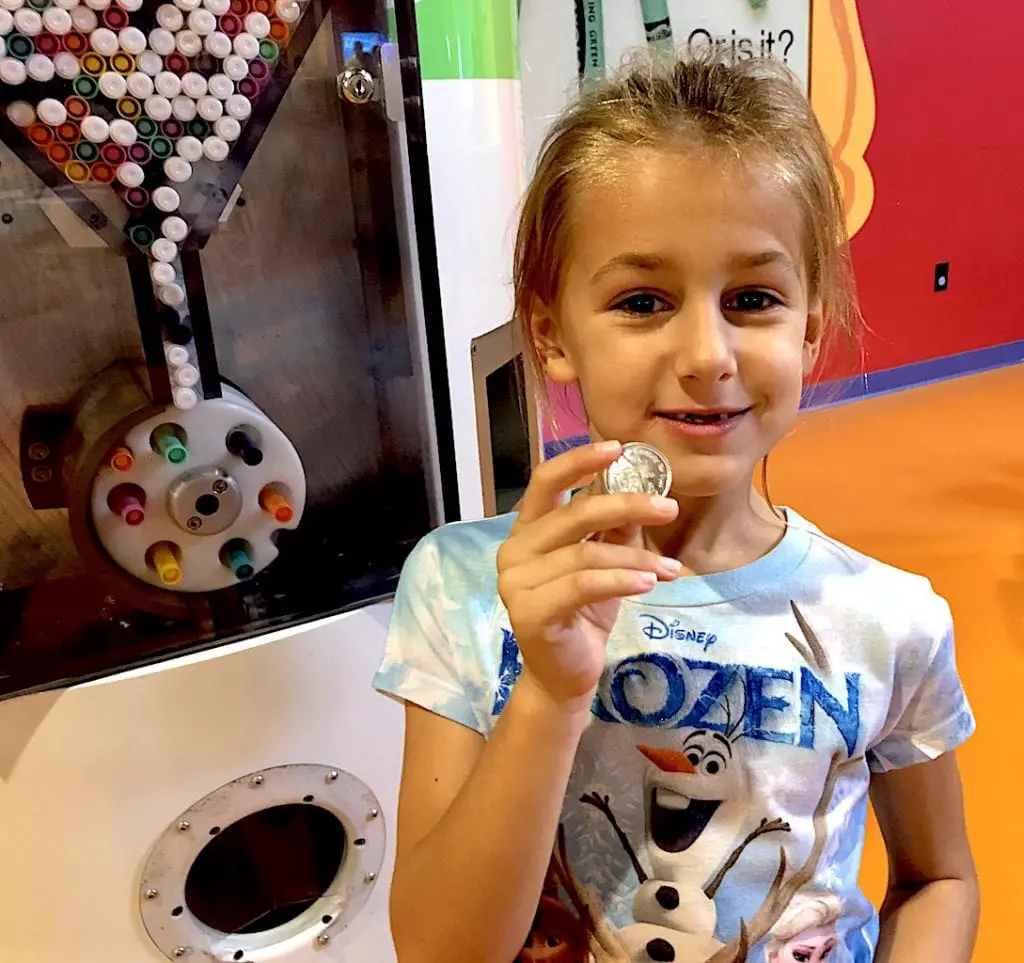 When you enter Crayola Experience, each guest is given 2 coins of Crayola's currency. At the end of the day, we let the kids choose how they want to spend that money. Above is a marker machine. Insert your coin and see the machine spin and spit out a random marker.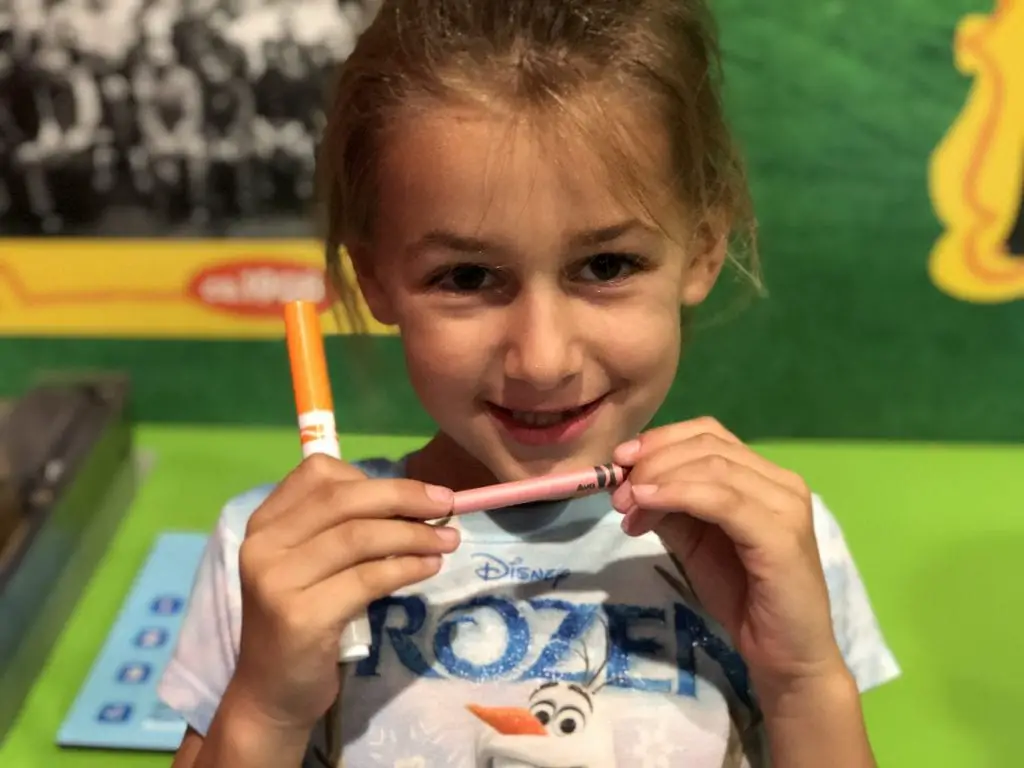 Ava loves to pick her favorite color crayon and name it after herself. We never leave without the kids having put their coin in the Magic Dough vending machine. They have so much fun picking their colors and dialing in the code that will get them their favorite one.
Crayola Experience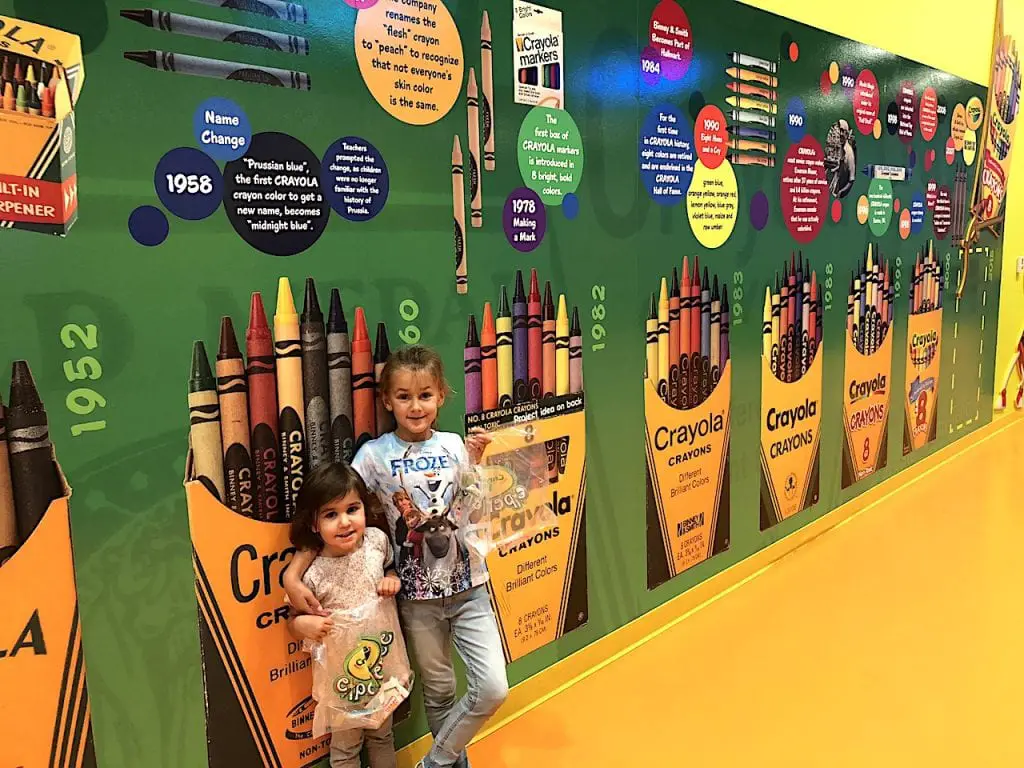 There is so much more to Crayola Experience. Those were just some of our favorites things to do.  We hope you get to spend some time there with your little ones and let us know what they liked most!
Other articles you might enjoy:
Crayola Window Markers – Best Gift This Summer 
Clean Cubes – The Disposable Trash Can You Should Rely On!
If you enjoy reading us, stay in the know by signing up for our newsletter!