Ridge Tahoe Resort is the best-guarded secret in South Lake Tahoe! I cannot begin to tell you how amazing of a stay we had up there and no picture can give it justice. You have to see it to believe it! Thanks again to Ridge Tahoe Resort for hosting our stay.
We had the best time at the resort and did not want to leave. Perched above everything else, on a ridge of the Sierra Nevada above Lake Tahoe, we felt on top of the world, literally!
Room Options
Ridge Tahoe Resort is actually a timeshare resort, where you can own a vacation unit, but also rent any of the luxurious accommodations – from deluxe hotel rooms to one- and two-bedrooms suites with full kitchens!
The resort itself is 11 acres and you will find the perfect accommodation for your family's needs!
Two-Bedroom Suite At Ridge Tahoe Resort
When we walked into our suite, we could not believe how much space we had!
The two-bedroom suite at Ridge Tahoe can host up to 6 guests and was absolutely perfect for our family of 5!
Two of the kids slept in one of the bedrooms, while Christian and I shared the one off of the family room. Ava loved spreading on the huge sofa bed.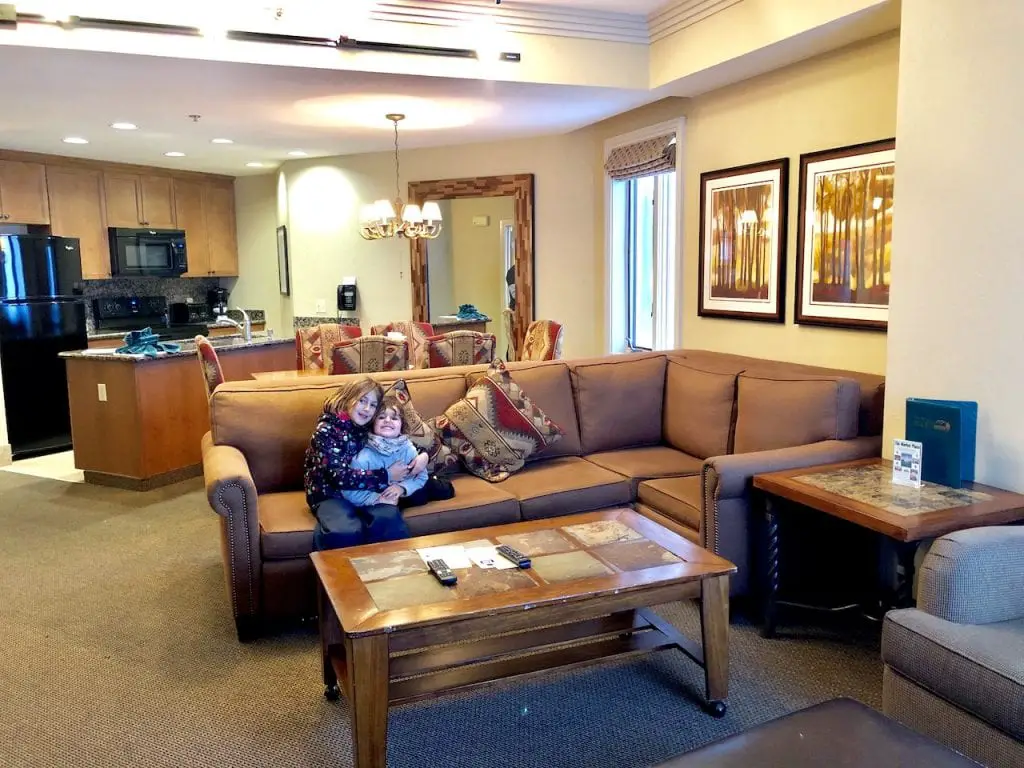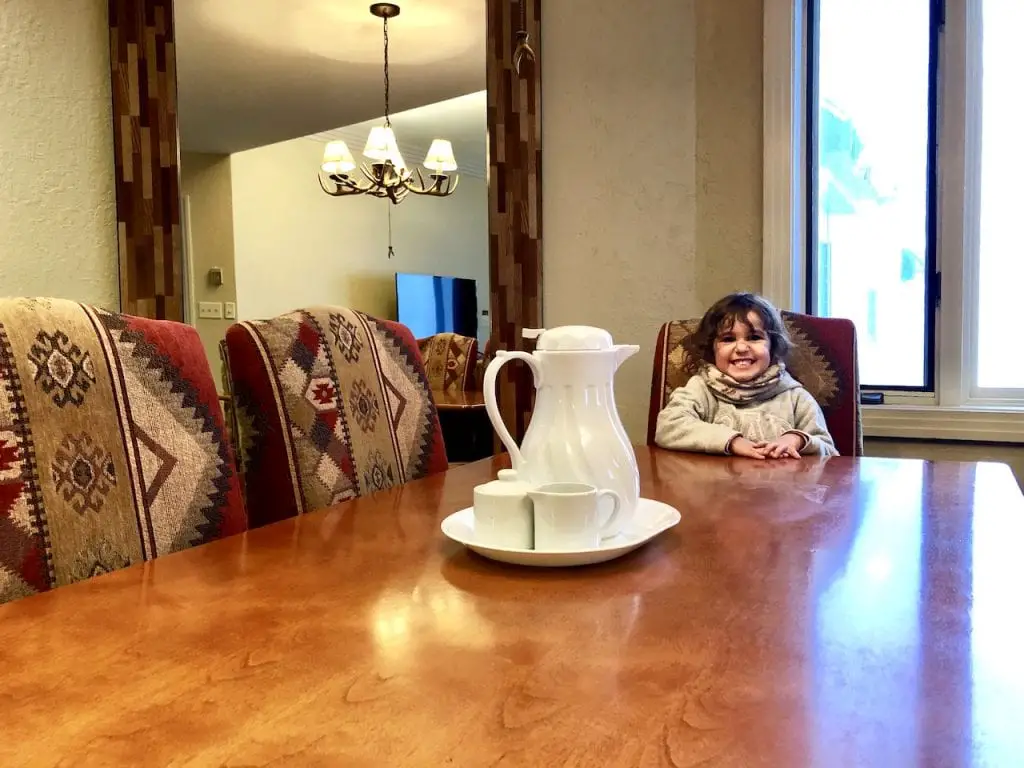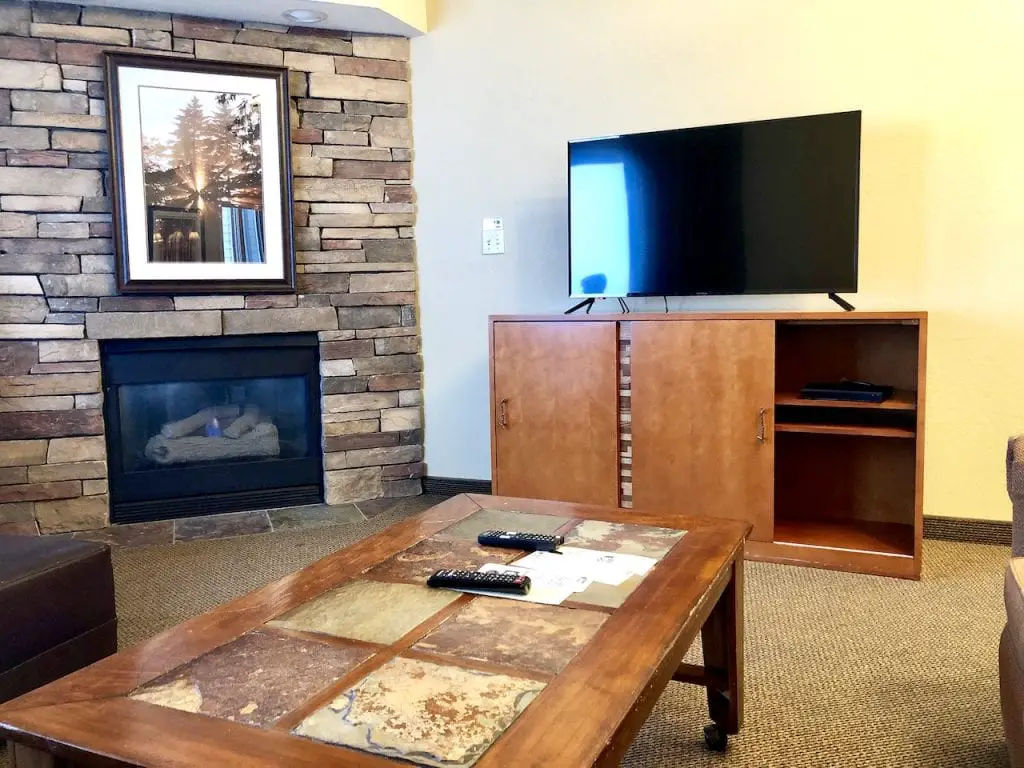 The suite was so spacious, there was more than enough space for all of us, all of the ski suits, and ample space left over to spread ourselves around the warm fire!
I never thought we'd enjoy having our very own fireplace so much, but we ended up using it every day!
We also loved having two bathrooms, a full washer and dryer, and a FULL kitchen! We actually grabbed groceries from the Ridge Tahoe's Marketplace and cooked our breakfasts, lunches, and dinners, since everyone felt so tired from all of the snow fun we were having!!
So Much Fun Every Day!
There is sooooo much to do at Ridge Tahoe Resort, you can go from morning to night without missing a beat. And with the crazy kiddos that we have, we definitely did!
All three kids LOVED the Kids Club.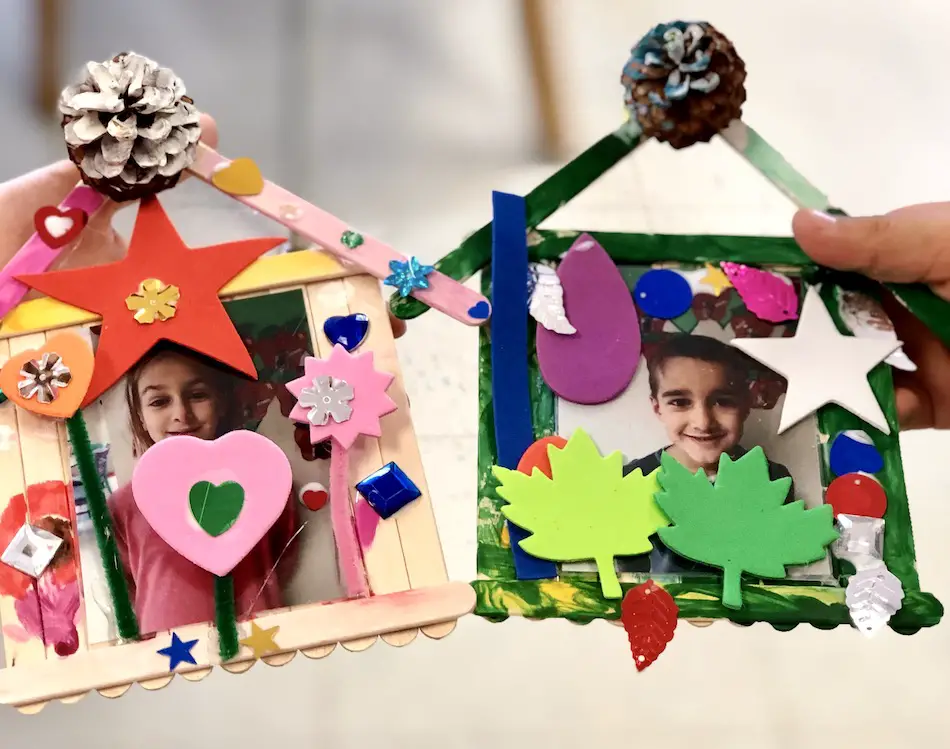 Francesca looked over them and had a whole crafts project set up for them. They spent an hour and a half there and did not want to leave when we came to pick them up. They had made the cutest little ornaments with pictures!
And that gave Christian and I some time to go an explore the resort and plan our day, which was AMAZING!
After all the fun at the Kids Club, the kids begged for a snow ball fight and snowman building.
Let me tell you… there is never too much snow, nor snowball fights, nor snowman building for those kids!
Once everyone was nicely tired, we had a filling lunch in the suite and headed straight over to the Club House's Pool!
This was the highlight of my day! The indoor / outdoor pool is heated and the kids loved it. But we spent most of our time inside the hot tub, with snow surrounding us and snowy peaks as background!
We ended our perfect day with a showing of Thor at the movie theater!
How is that for a resort day? It almost felt like we were on a cruise ship, but surrounded with jaw-dropping winter wonderland views!
Sports At Ridge Tahoe Resort
If you are the active kind, you will love all of the sports offerings at Ridge Tahoe Resort!
From indoor and outdoor tennis courts, to rock climbing, several pools and spas (including jaw-dropping rooftop ones!), access to snowmonbile tours, hiking and biking trails, you will need several days to explore everything Ridge Tahoe has to offer!
Skiing From Ridge Tahoe Resort
Ridge Tahoe is definitely a ski in / ski out resort.
In 3 minutes, you can access the Heavenly's Stagecoach chairlift, by using the self-operated Hilltrac Skier Express!
From there, you will be on the Nevada side of the mountain and can easily hope over to the California trails and all of Heavenly.
Easy Access From South Lake Tahoe
We started our Lake Tahoe trip in South Tahoe and decided not to rent a car. Everything is amazingly close and convenient in the city so we came straight from the airport on the South Tahoe Airporter.
Once in the city, we hopped on the free shuttle to Ridge Tahoe Resort at the Montbleu Casino. Just make sure to check the shuttle schedule and keep in mind that weather can alter pick ups and drop offs.
We Loved Ridge Tahoe Resort
It is so bitter sweet to write this article, as I know we won't be back to this beautiful resort for a while. All five of us had the most wonderful time.
I couldn't get enough of the views. Relaxing in a hot tub, surrounded with fresh snow and starring at the Sierra Nevada was pure heaven.
You will definitely want to spend several days there to enjoy the wonderful skiing, all of the activities and offerings, as well as the wonderful suites!
THE RIDGE TAHOE RESORTS
@ridgetahoeresort
ADDRESS: 400 Ridge Club Dr, Stateline, NV 89449
What is your favorite winter-time snow resort?
---
Pin this for later!
---
Related articles you might enjoy:
Family Ski at Heavenly, Lake Tahoe!
Family Adventure in South Lake Tahoe – Days 1 & 2
Family Snow Fun in South Lake Tahoe – Days 3 & 4
If you enjoy reading us, sign up for the newsletter below!