Hello from Fiji, or as the local like to yell it with huge smiles – BULA!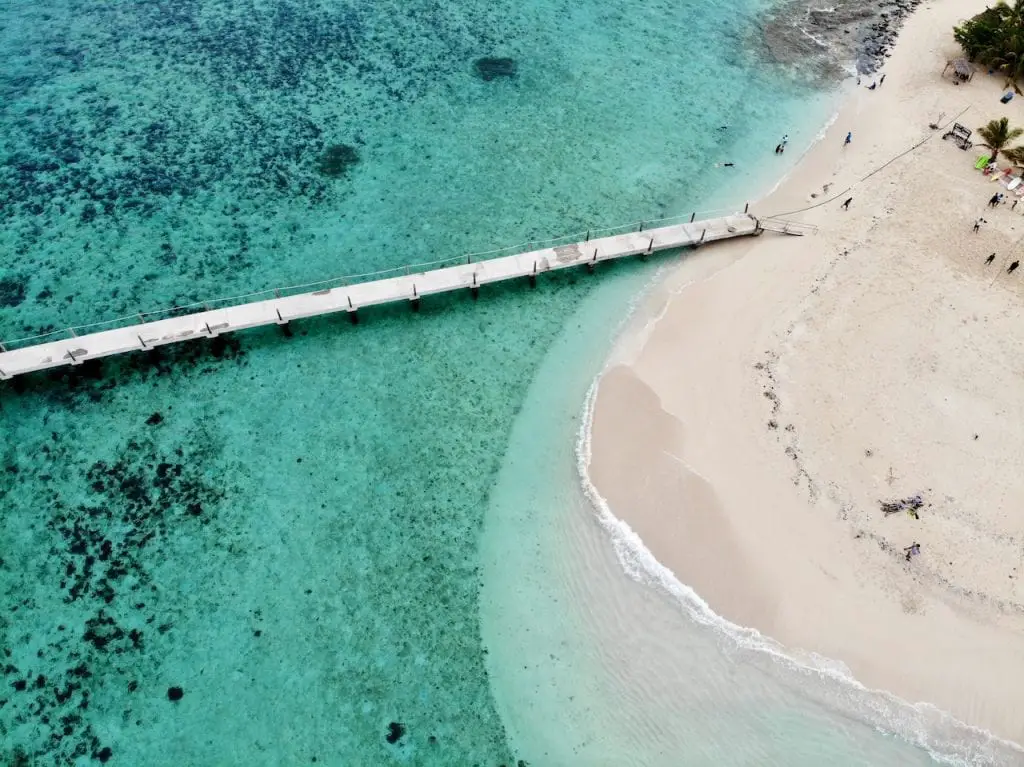 So you have decided to visit Fiji and if you're anything like me, you have opened a web browser and learned that Fiji has over 330 islands… I vividly remember the night I tried to plan our Fiji trip. This fact jumped out of the screen at me, it was 11PM… and I close my laptop. How in the world would I know where to start and which islands to visit?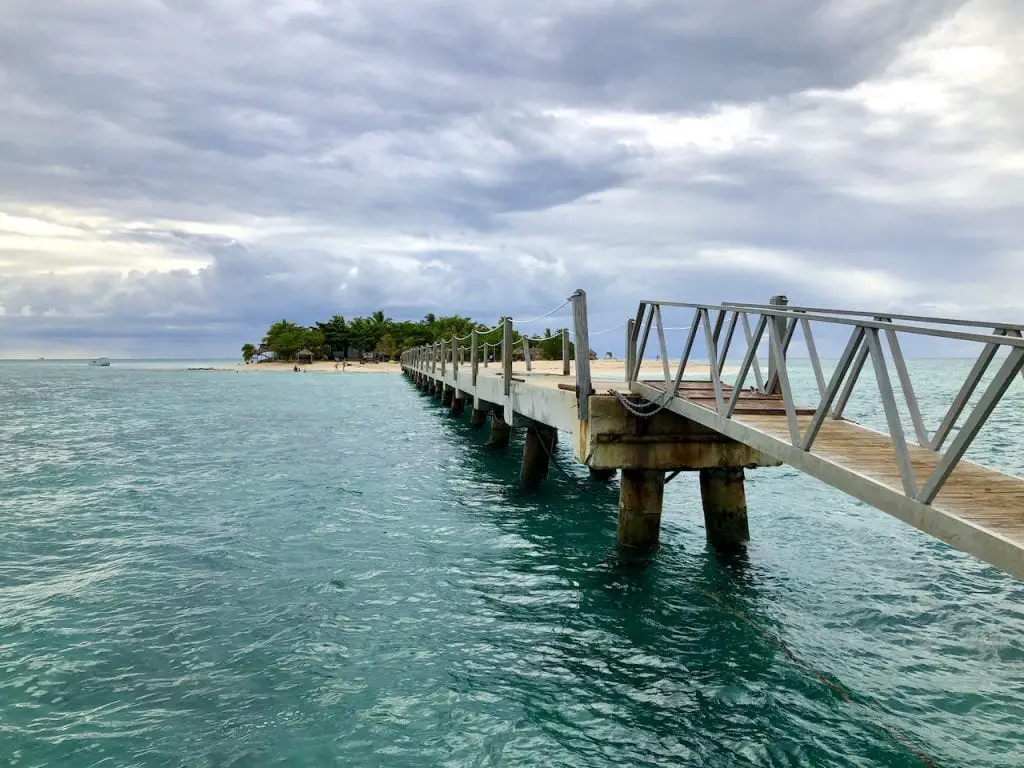 Great news! I am here to cut all that work out for you. No matter your party composition, but especially if you travel with kids, you will want to cruise with Captain Cook Cruises Fiji! The kids cried when we left the ship yesterday morning and Christian and I wished we could have stayed another week on board.
So why cruise Captain Cook Cruises in Fiji?
1 – Small Ship = Special Islands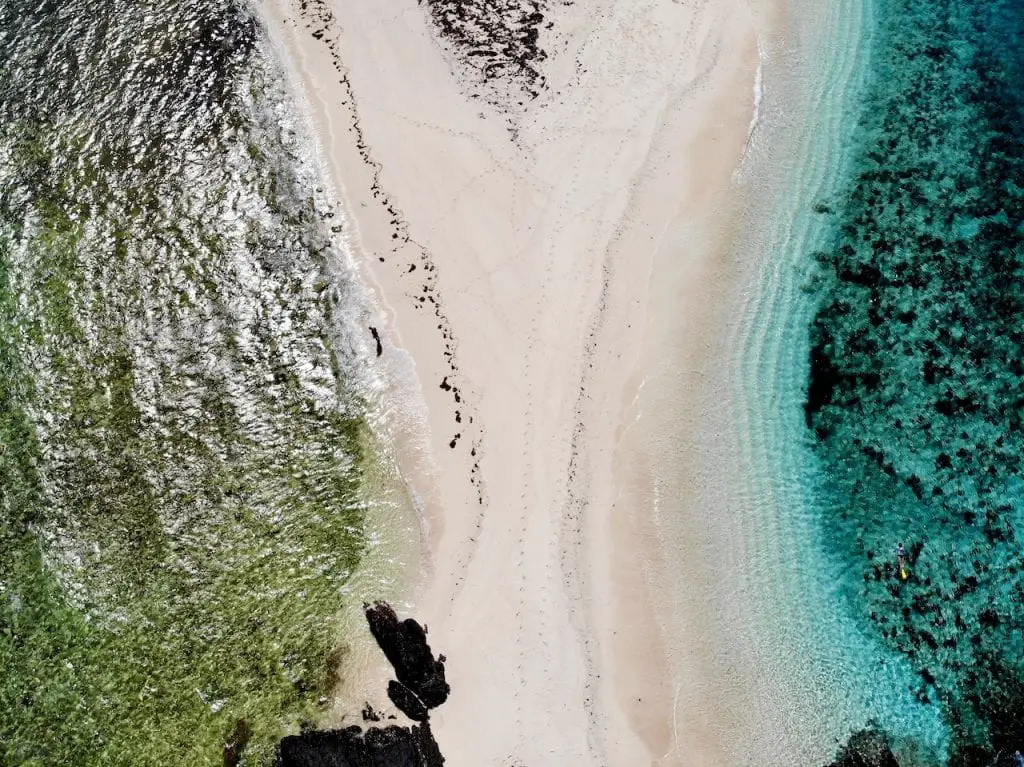 We have cruised on all sizes of ships and always favor smaller cruise ships. The Reef Endeavour – Captain Cook Cruise's ocean cruise ship – however, is the smallest ship we ever traveled with.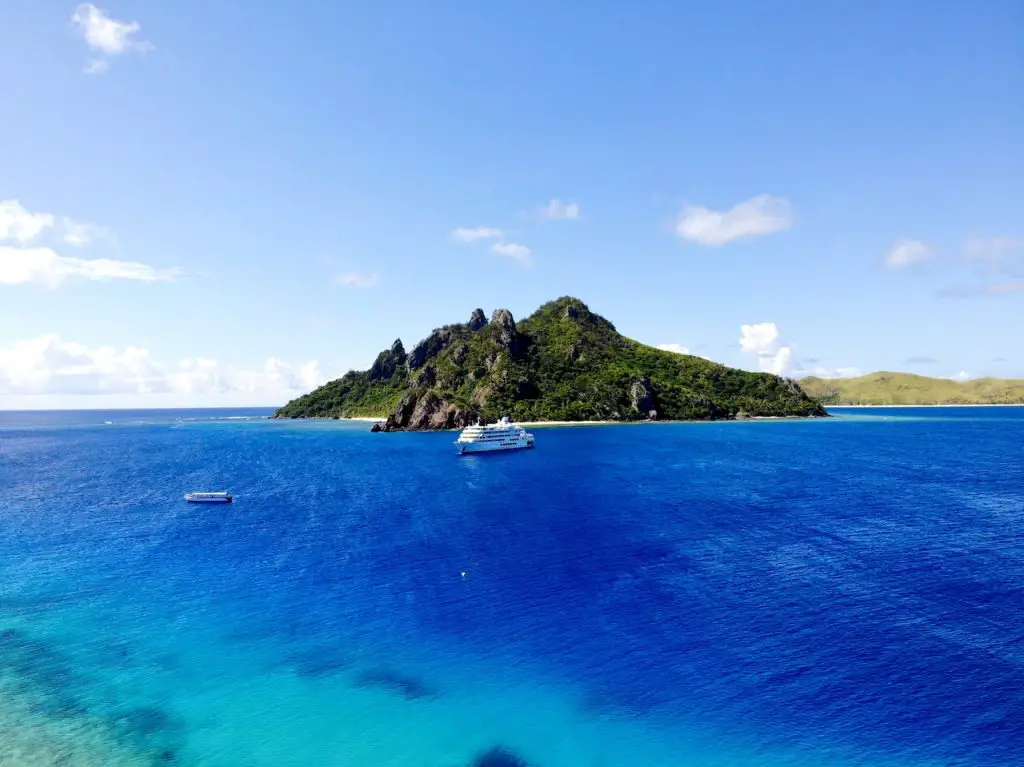 With a full capacity of only 130 passengers, our cruises only boasted 61 and 45 passengers!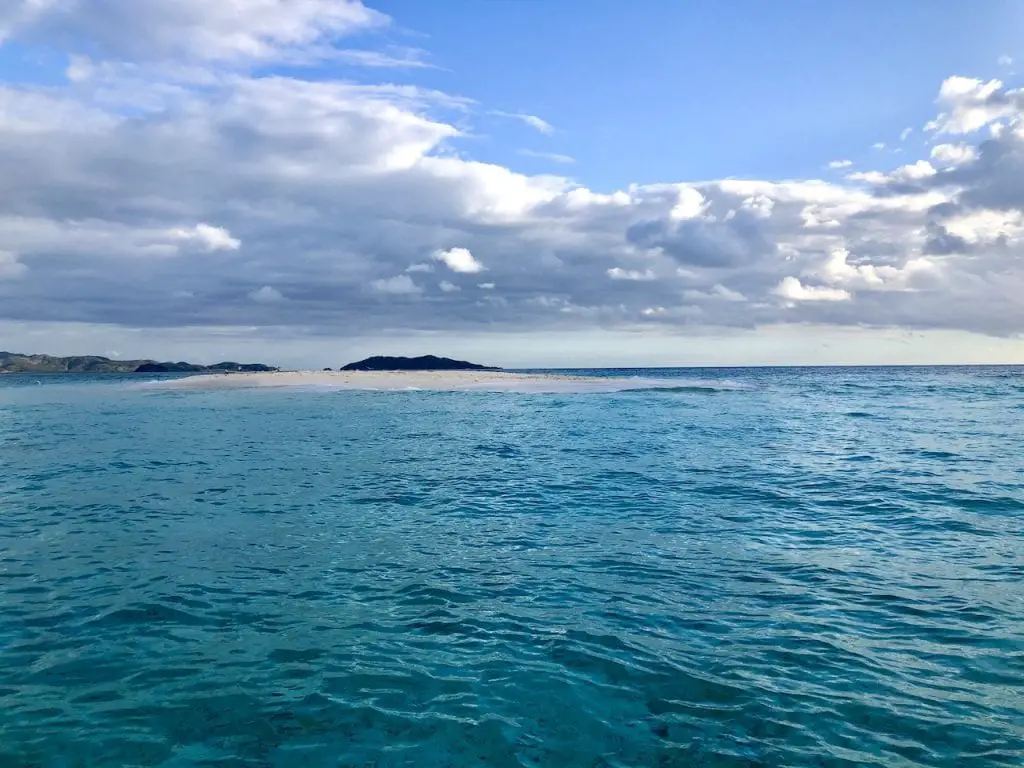 But a small ship means that it can access much smaller areas. The Reef Endeavour anchors at sea at some of the smallest islands. One of them, really was just a sand banks about 40 x 20 meters!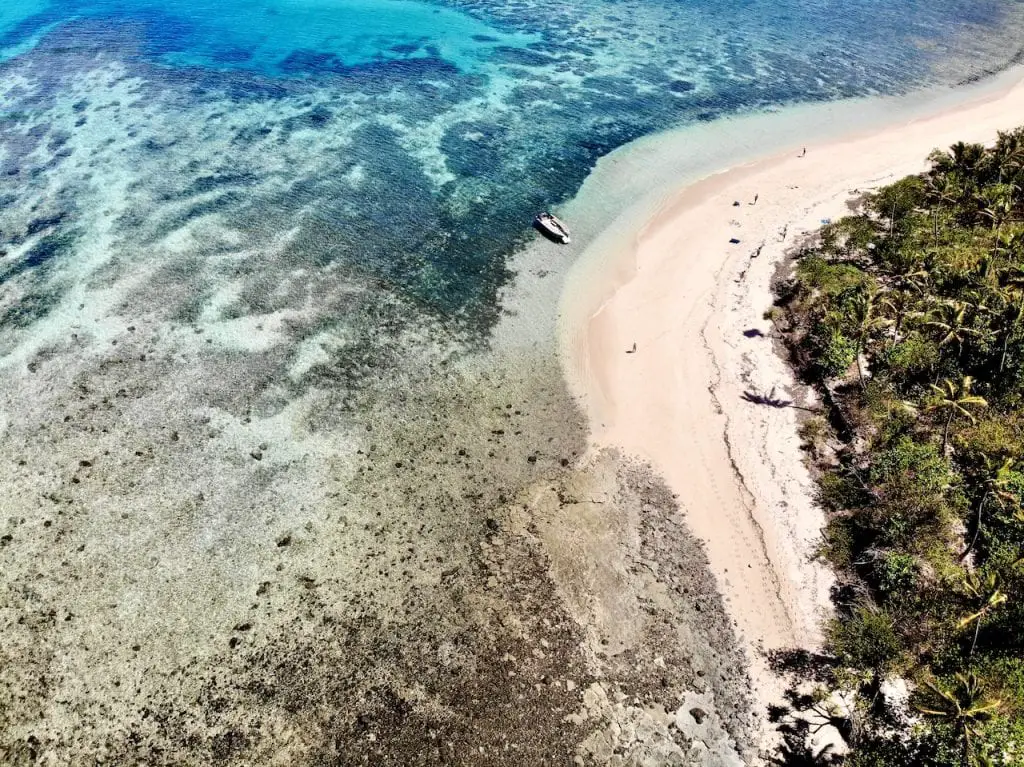 The islands we visited were beyond beautiful. We would have never seen any of them in a regular sized cruise ship!
2 – Combine Itineraries
Captain Cook Cruises Fiji has several itineraries to choose from and they are fun to combine.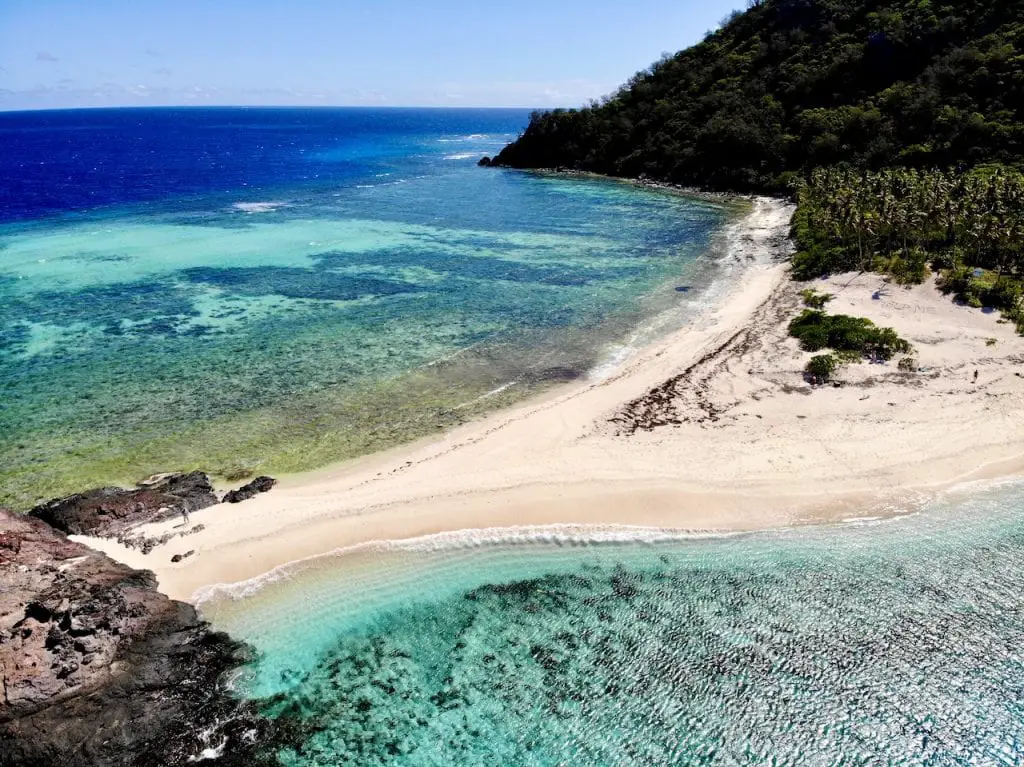 We did the 4-night Yasawa Islands, followed by the 3-night Mamanuca Islands. Not only did we see fantastic diversity in terms of corals, fish, and islands, we loved being able to cruise for a whole week.
If you book back-to-back cruises, you never have to leave your cabin and on the day that you get back to Nadi, between the two itineraries, you are offered to go on a free excursion! Take full advantage of that!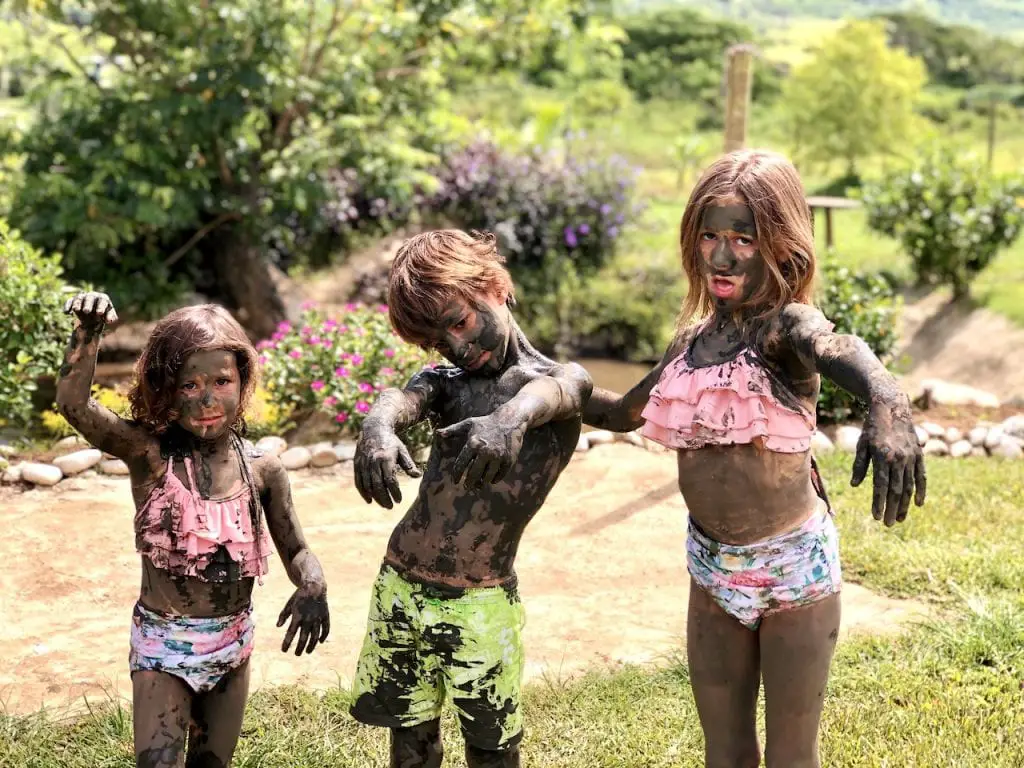 We chose to visit the Tifajek Mud Pool and Hot Springs and had the best time ever. Hey, which kid doesn't love spreading mud all over themselves without getting in trouble? 🙂
After those 7 nights, I am dying to cruise the 11-nighter to the very remote islands of Lau. The population in that northern island group only sees people from outside their village once a month. We were told that they broadcast Tongan radio stations and tend to identify to Tonga more than Fiji. That would be an incredible experience!
3 – Free Kids Club / Nanny Service
Ok, how many of you jumped straight to this paragraph?!
Could this have been one of my favorite features of the cruise? Maybe…
Captain Cook Cruises Fiji includes a free kids club. Don't think of it as a regular cruise line kids club. You will not find a dedicated space, nor tablets and indoor playground. No… you will find so much more..!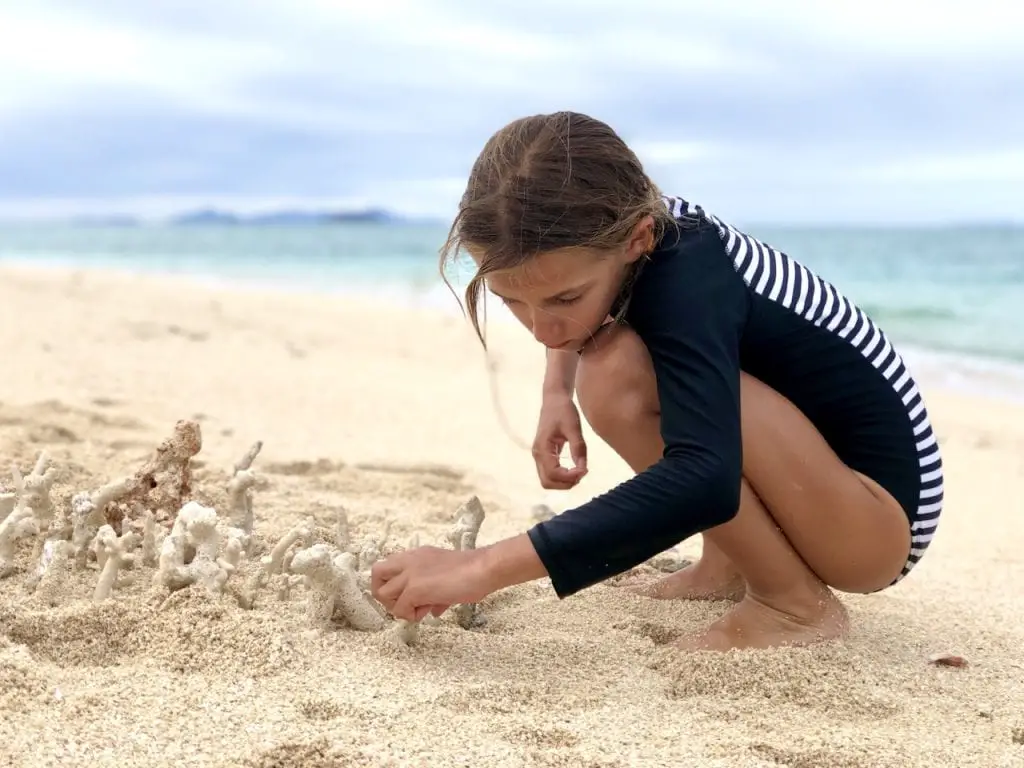 Your kids can be looked after between 9AM-12PM, 2-5PM, and 7-10PM. Those are the dedicated excursion and dinner times on board.
In other words, some days our children would decide to skip the morning snorkeling excursion. Instead, they were exciting for the beach egg-throwing competition. Christian and I would leave on the snorkeling tour while the on-board nanny would take the children to the beach for a fun morning of egg-throwing, water games, collecting hermit crabs, and building sand castles.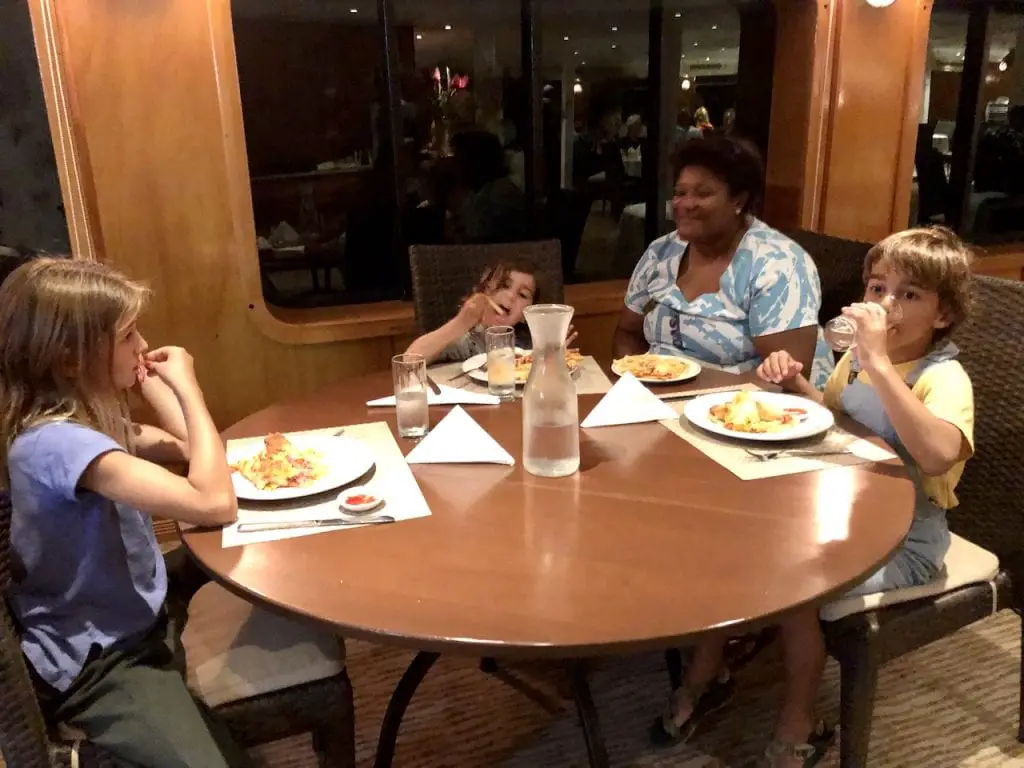 One night, we told the kids they could order from the kids menu. The nanny got the kids from us at 6.30PM, fed them the dinner we had ordered for them, then took them to the forward salon where they spent the evening playing games and watching a movie. All that while Christian and I enjoyed a children-free cocktail hour and dinner!
If we had let it to the kids, they would have spent the entire week with the nanny. And in all fairness, even when we went to the beach as a family, it was not rare for Christian and I to go for a long walk while the kids played with the crew.
It was absolutely amazing for Christian and I to get some couples time. Especially as we used it to snorkel and do activities together. Captain Cook Cruises Fiji fully understands the needs of families and caters to parents and children in the best possible way!
4 – Cultural Experiences
Traveling to Fiji, I wanted to make sure we experienced the local culture. I knew that Captain Cook Cruises Fiji was going to take us to a school… but that's about it.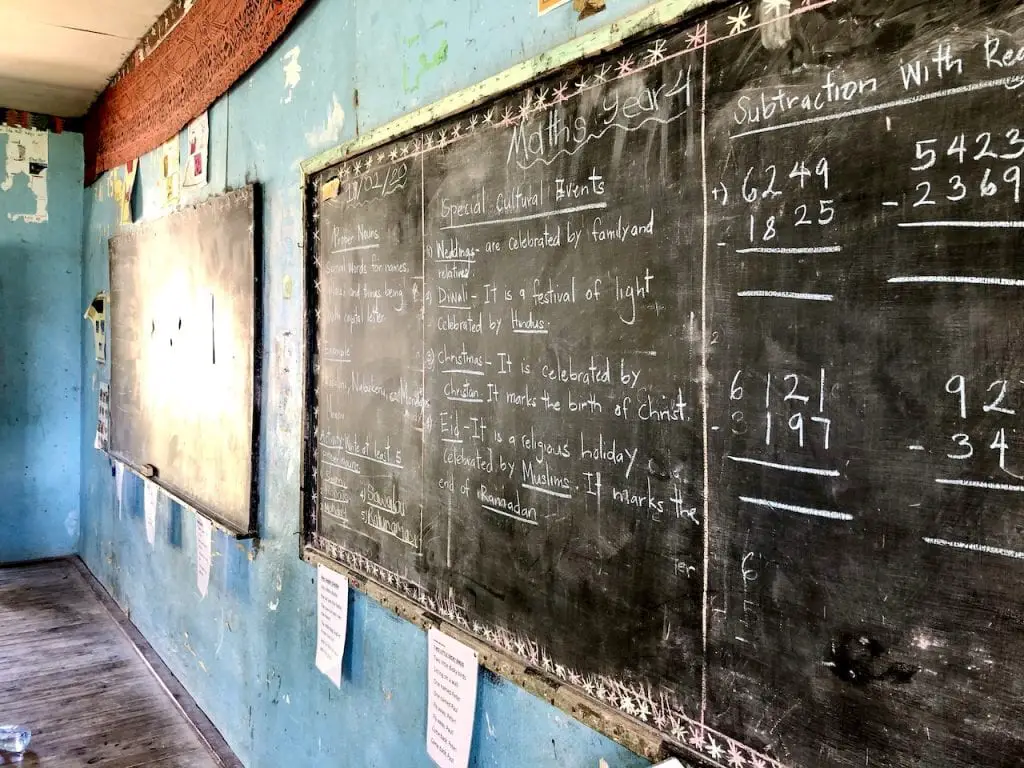 Boy was I wrong! We visited a local school, a village, a Sunday night church service, and a boarding school.
It felt like we were a part of the culture and I can truly say that we understand the ways of living in Fiji.
Since the ship is so small, all visits were done in small committee. We truly got to experience the schools. We played with the children and let them show us their classrooms.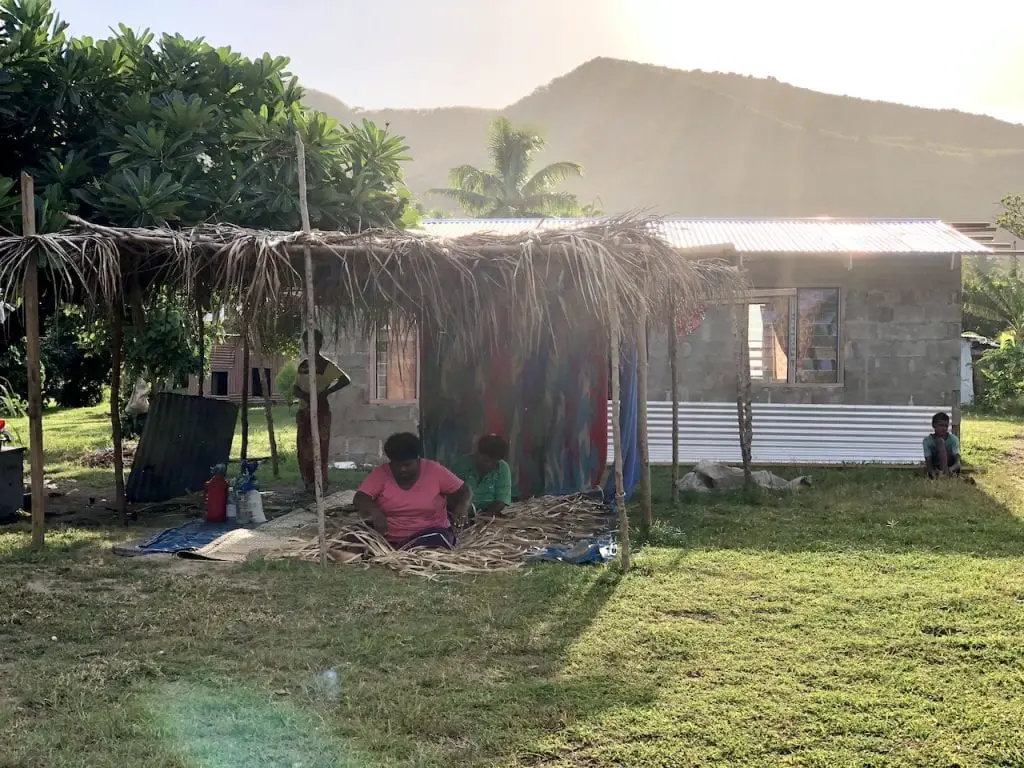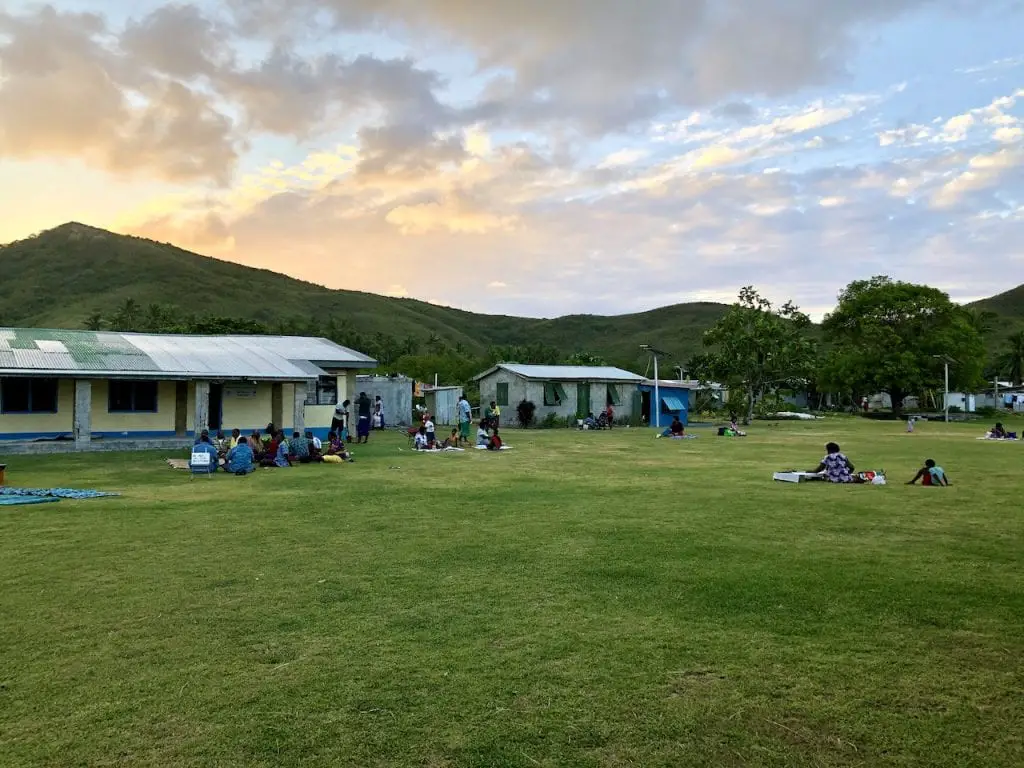 In the Gunu village, we first paid our respect to the village chief in the traditional kava ceremony. We were then invited to have a traditional dinner, cooked on hot coals burried in the sand. And ended the night with some dances performed by the villagers.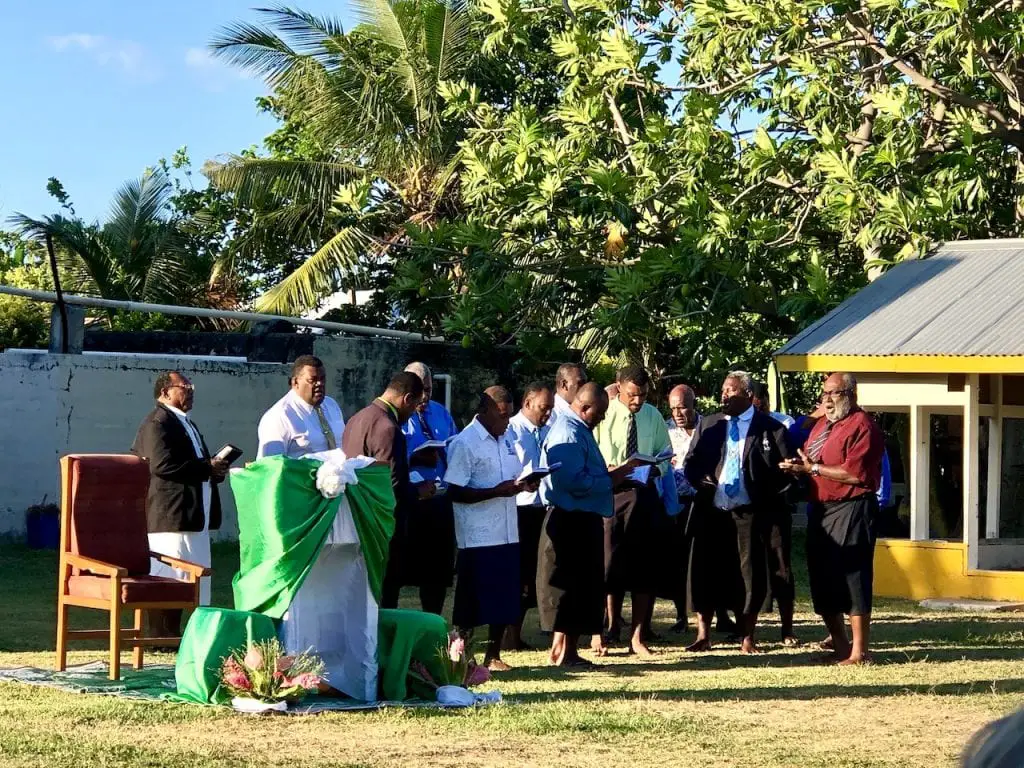 The day that we went to church (on the last Sunday of the month), we experienced 4 congregations praying together to wish for a successful new month. It was nearly 200 villagers of 4 different faiths, coming together as one.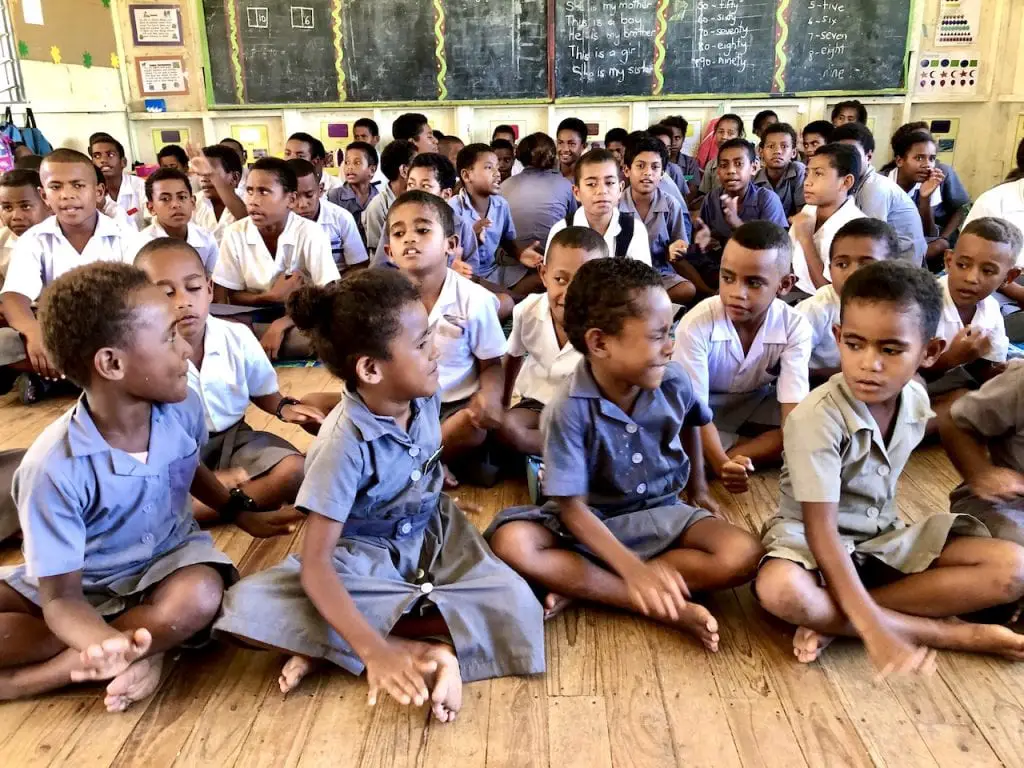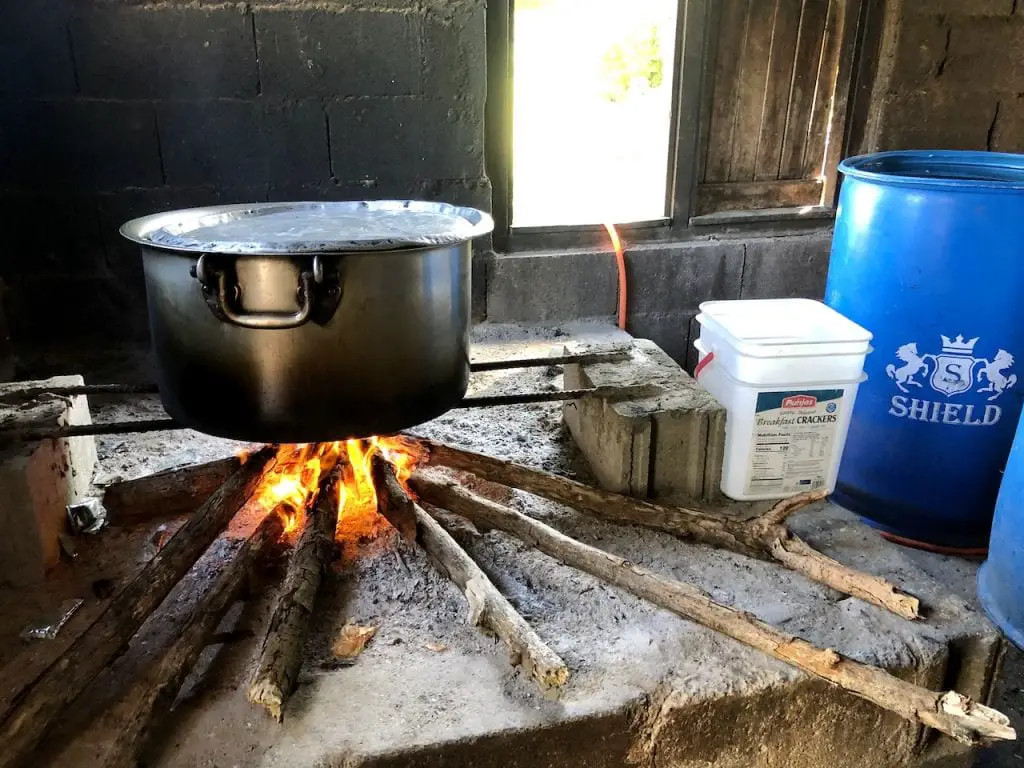 Lastly, as we visiting the boarding school, we were humbled by the smiles and voices of the children. They took us through their dorms and dining hall, and it was an amazing experience for our children to understand how much they truly have.
The cultural experiences are like no other and Captain Cook Cruises Fiji makes sure they give you the opportunities to feel the Fijian culture.
5 – All-Inclusive Excursions
All excursions are included in the cruise fare. So all cultural excursions, as well as the Nadi excursion between the 2 cruises, were totally free.
But on top of those, Captain Cook Cruises organized some sightseeing excursions, included in your fare as well.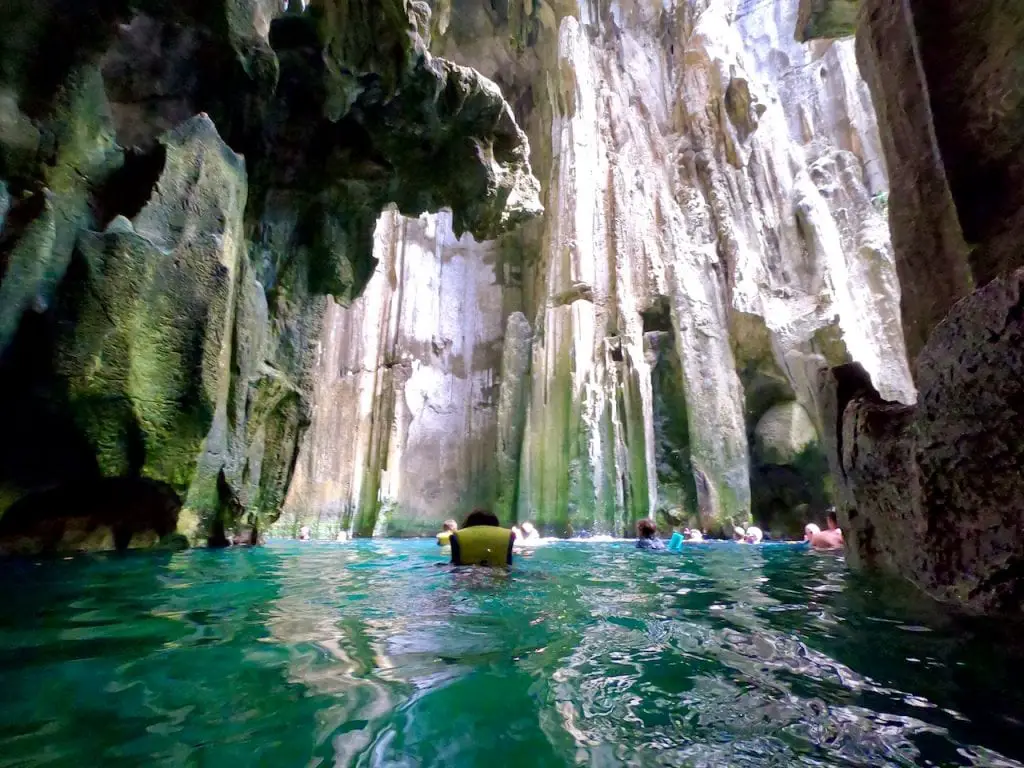 We visited Sawa-I-Lau Caves (this one did have a small contribution to the local village) where we hiked down to the caves and swam in the refreshing waters. This might have been one of the coolest things we've ever done!
There are also several glass-bottom boat coral viewings during the cruise. We were typically at the beach during those but could have taken part if we had wished.
On the last night, we hiked above the boarding school and got rewarded with those views!
The amazing thing about Captain Cook Cruises is that you can partake in every single excursion and activity offered. Nothing overlaps. We only decided to spend more time with the kids at the beach since we snorkeled every day, and skipped the glass-bottom boat. But everything is planned so nicely that you are able to participate in every single outing and activity during the cruise!
6 – The Snorkeling And Divings
On most days, there are 2 snorkeling excursions. You can also opt out of snorkeling and head to the beach. But the snorkeling excursions are typically about 35 minutes long, followed by a drop-off at the beach if desired.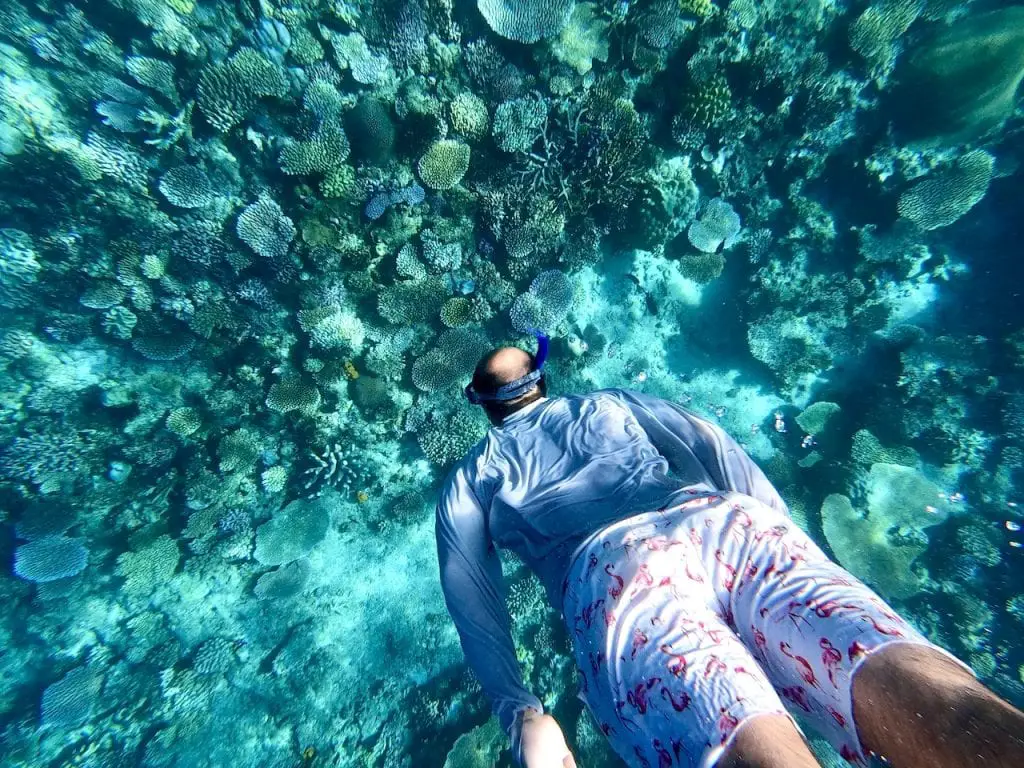 Christian and I took part in every single snorkeling trip. Some were deep sea drop offs, others closer to the beach.
We typically took the glass-bottom boat to the drop off and it would wait for us at the end of the reef. Additionally, a shallow boat was in the water in case anyone ever needed assistance on top of the reef! We felt amazingly secured at all times. The crew takes safety very seriously and we loved snorkeling with and without the kids.
A couple of times, Mark or Elin wanted to be done early – we simply signaled the crew and brought them back to the boat to wait out until we were done! Now I call that amazing family service! Christian and I could both go back to snorkeling, while the tired kids were carefully looked after by the crew!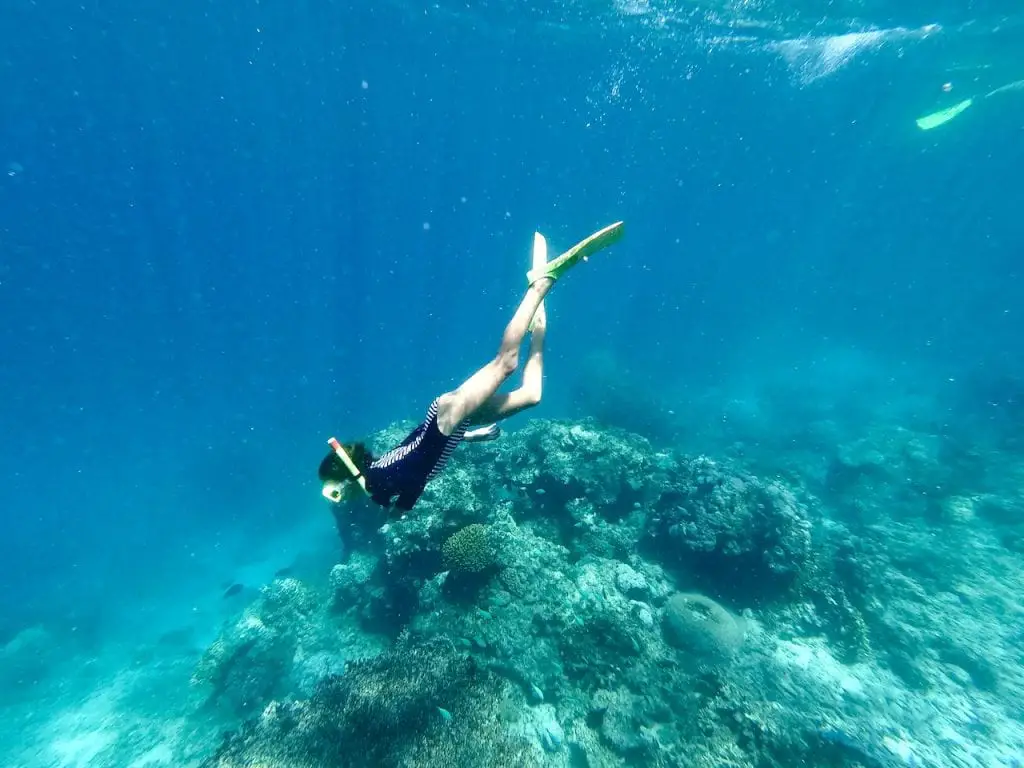 Back to the snorkeling itself….I think this cruise ruined snorkeling for us forever! 😀 And in a very good way! We saw fish and corals of a beauty we never imagined.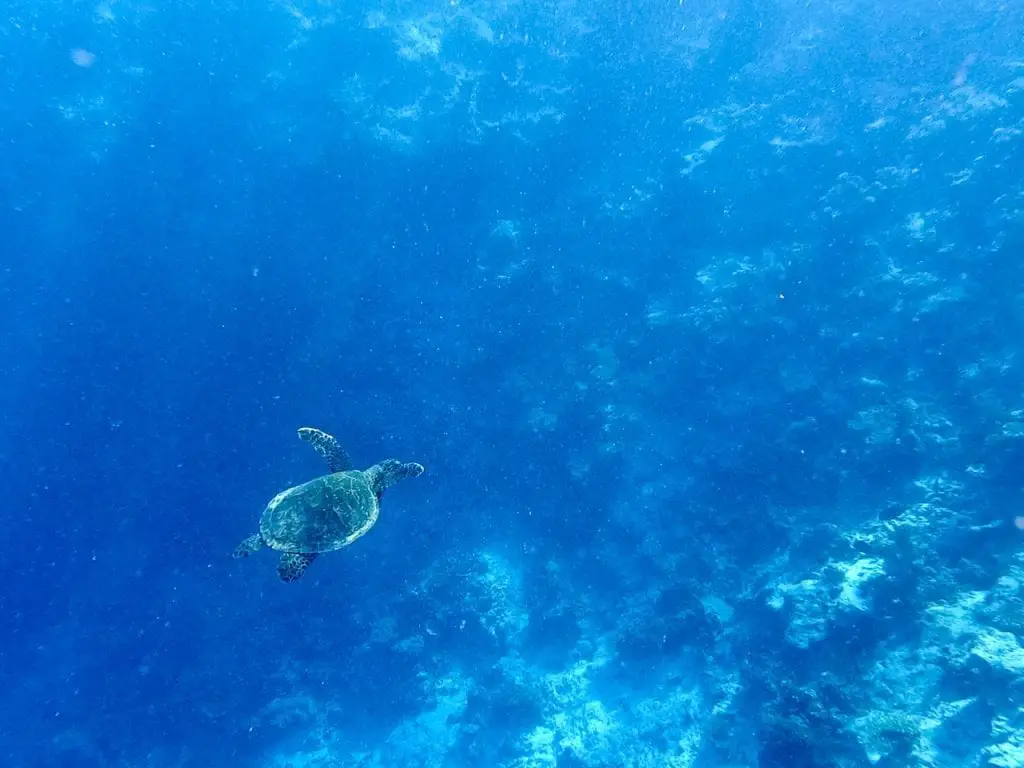 We got to swim with sharks, sea turtles, and spotted eagle rays!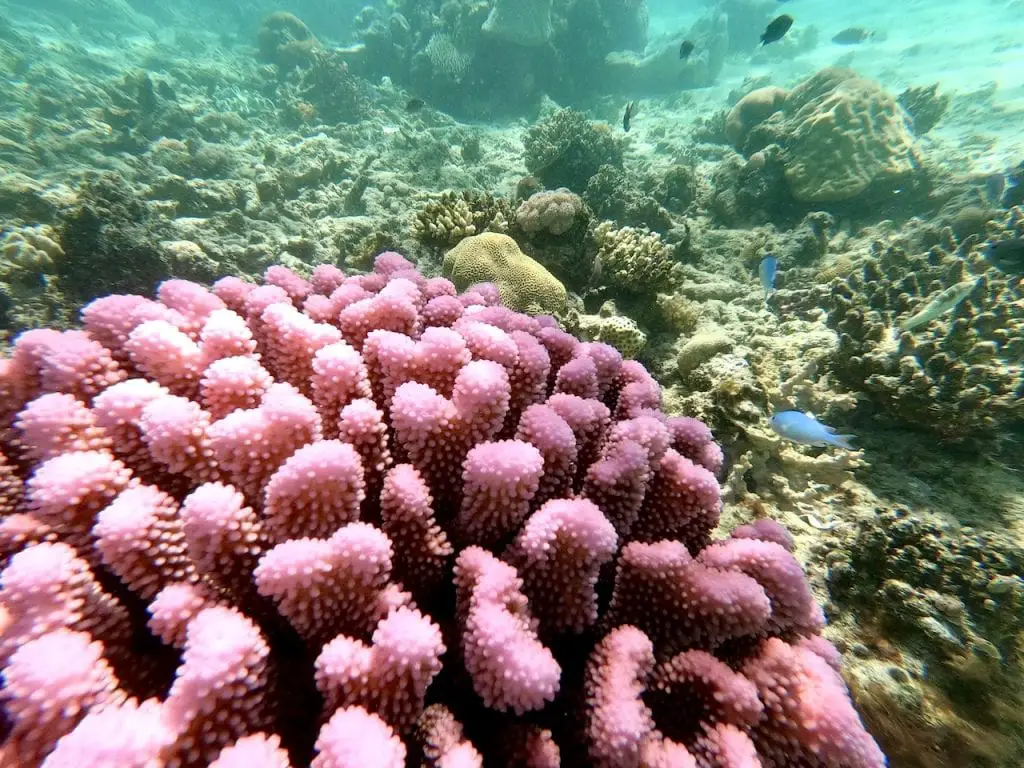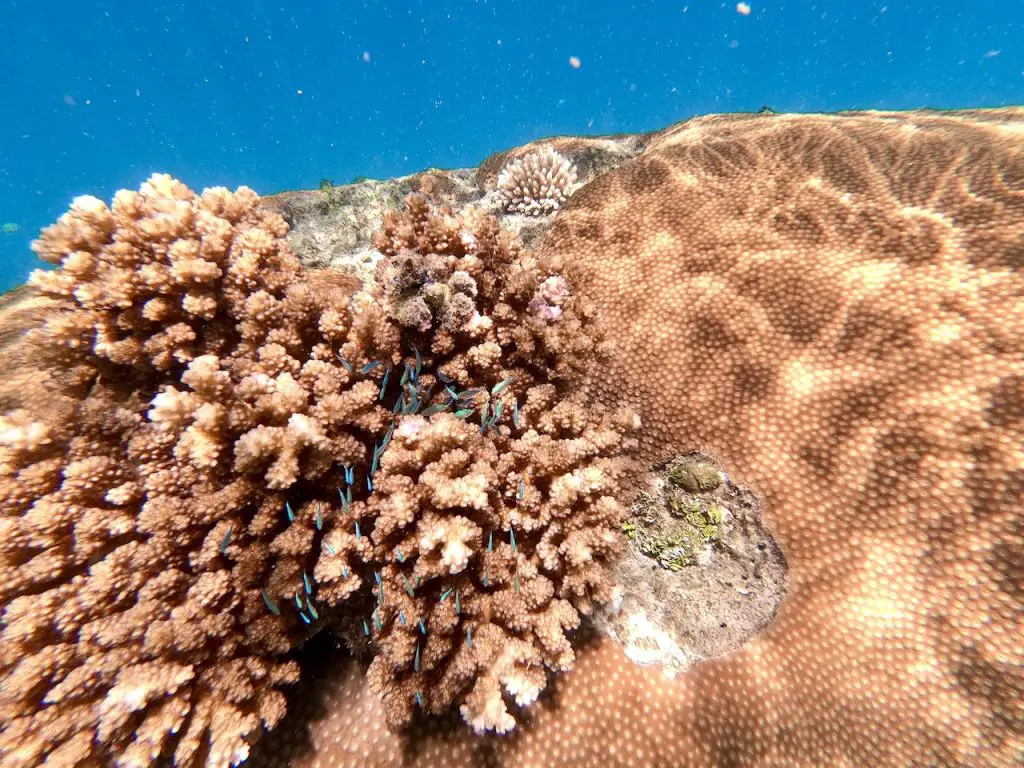 The Yasawa Islands had very colorful and healthy corals. We saw all shades of green, blue, yellow, orange, and pink imaginable!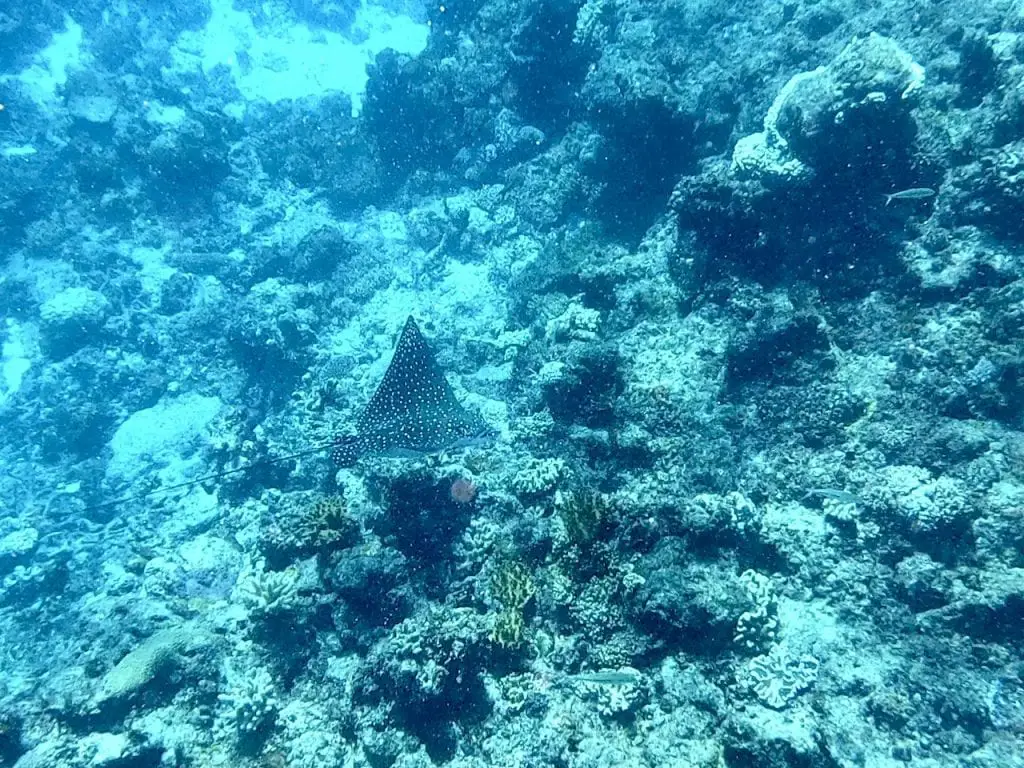 The Yasawas also had beautiful and colorful fish. While the Mamanucas boasted much bigger colorful fish! It was fun to notice the differences between the two island groups!
If you're a diver, the Reef Endeavour is a PADI 5-star "resort" and we heard amazing things from our fellow passengers!
Also note that you are able to borrow fins, mask and snorkels for the duration of your cruise!!
7 – On-Board Knowledge
Typically, the morning excursions lasted from 9 to 11.30AM. At 11.45AM, each day, the on-board marine biologist, Amos, gives a reef talk. We loved learning more about the ocean and Fijian marine life!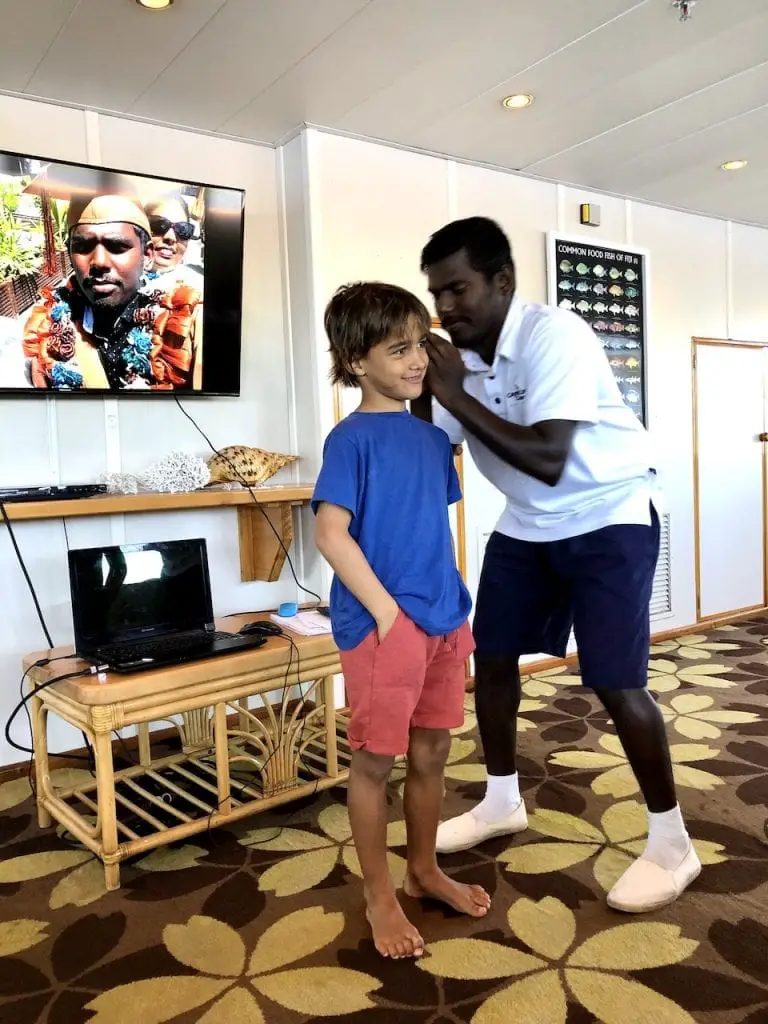 On our very first day, the cruise director gave a cultural and historical presentation, which we also really enjoyed.
We had told the kids that we would give them a full week off of homeschooling while on the cruise. Turns out they probably learned more than any other week on the road so far!!
8 – The Crew
The crew is everything and Captain Cook Cruises Fiji wouldn't be what it is without the wonderful men and women working on board.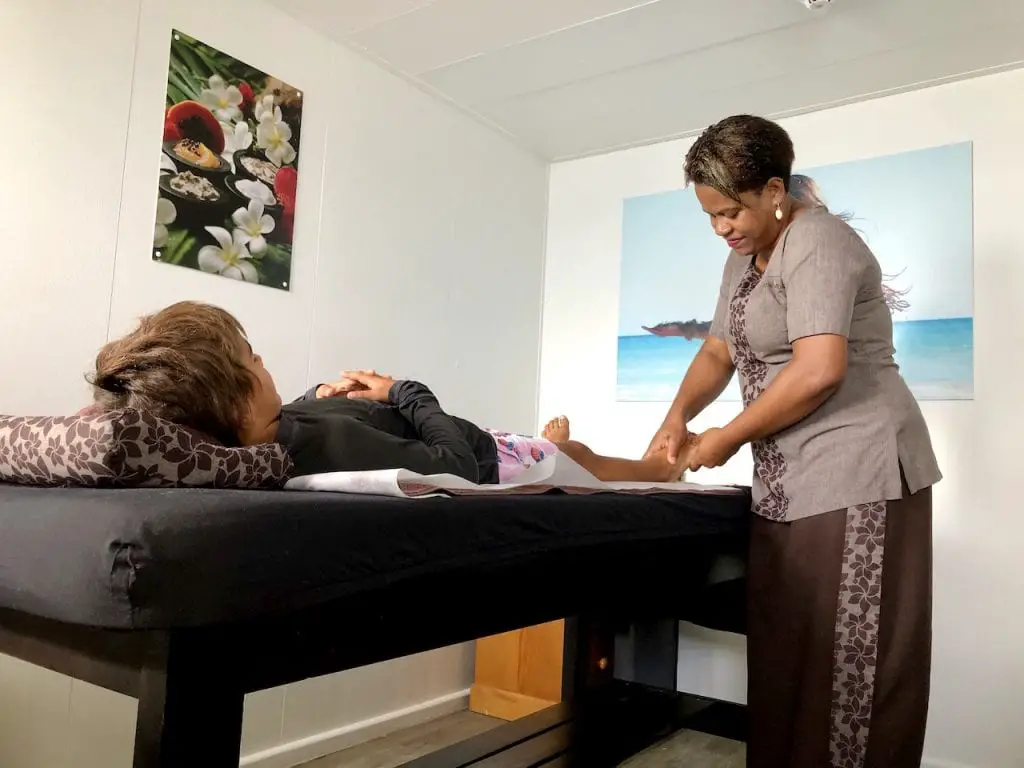 Our kids fell in love with each and every crew member. Everyone was exceptionally helpful and attentive to all passengers' needs. Our kids were the only kids on board and they received more attention than they ever should have.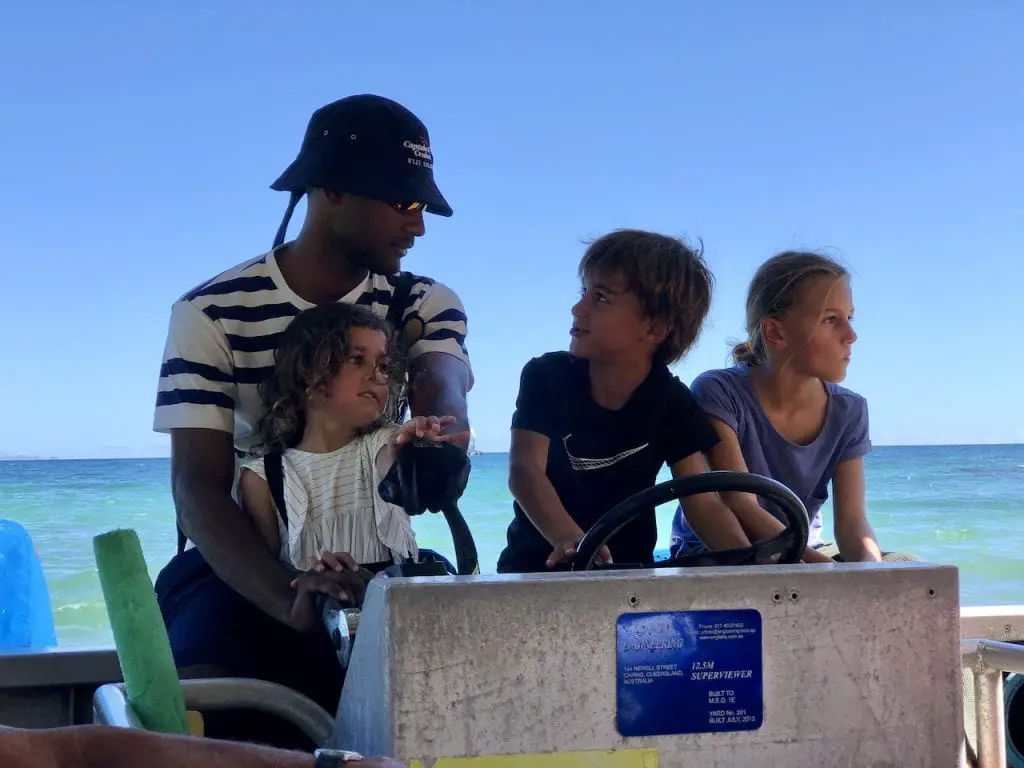 I stopped counting the hugs, high-fives, and special treatments. Their highlight – steering the glass-bottom boat back from the beach to the ship!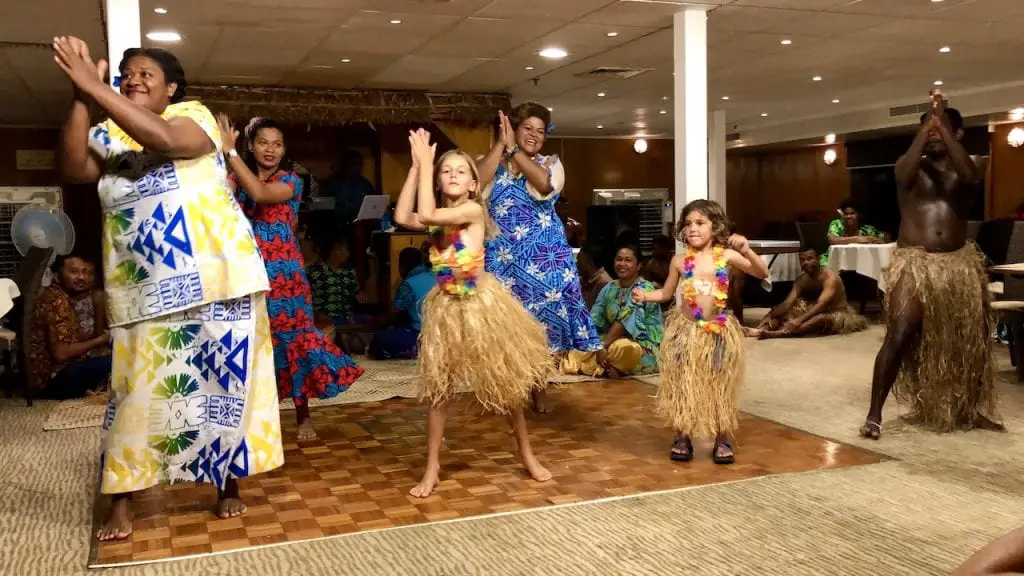 And the girls still talk about their traditional dance show on our last night!
9 – The Food And Beverages
The food on board Captain Cook Cruises Fiji is unbelievable.
Most dinners are à la carte – I believe that a couple were buffets. We ate what the local fishermen fished and brought to the ship while anchored. Everything we had was extremely fresh and fragrant and I can't think of anything we did not like. I honestly think this was some of the finest dining we've had on any ship.
The bar is tended by a very knowledgeable and passionate bartender who will gladly mix amazing cocktails for you! His specials of the day are to die for!
10 – Family Cabins
Once again, Captain Cook Cruises Fiji is incredibly family-friendly. They have several connecting family cabins. One of the cabins sleeps 2 adults in a queen bed and the connecting room fits 2 children in separated twin beds.
11 – Fellow Passengers
Another benefit of cruising on a small ship the size of the Reef Endeavour, is the ability to meet and mingle with the other passengers.
We got to know everyone on a personal level over the 2 cruises. Some sailed with us for 7 nights, others we had to say goodbye to after a few nights.
Everyone was extremely nice and interesting to talk to. They all welcomed our children with open arms and it felt like our kids were suddenly surrounded with a bunch of adult friends who constantly made sure they were having fun!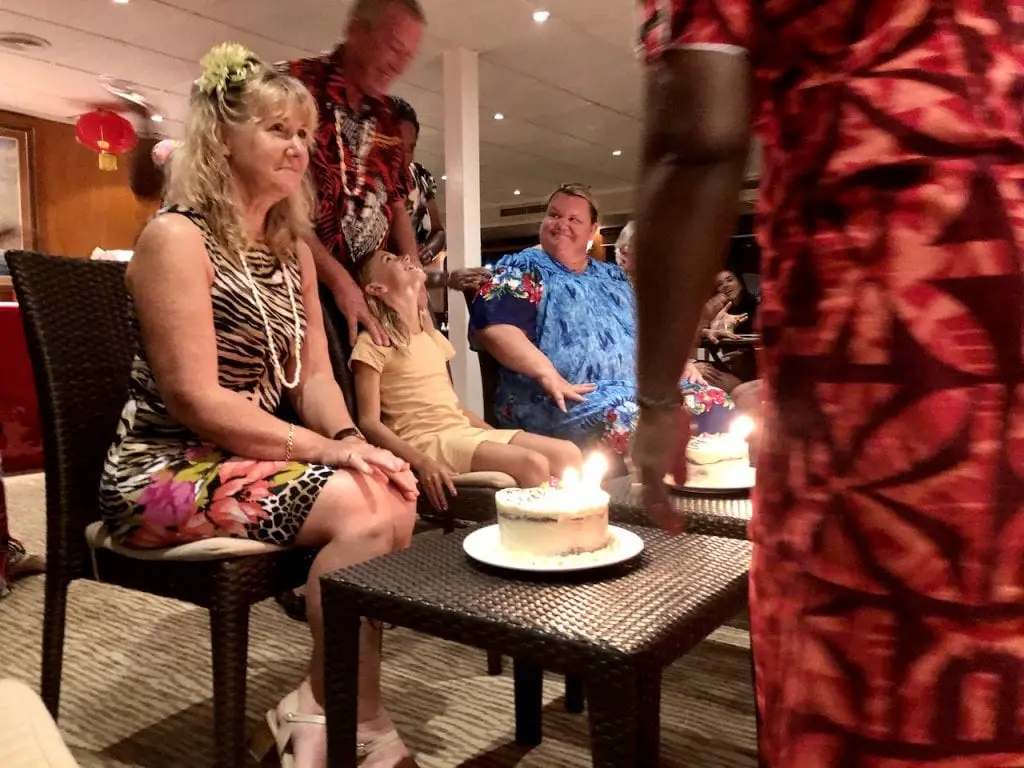 Everyone wished Ava well on her 8th birthday and all of the passengers eagerly waited for Mark's bottom tooth to come out!
At dinner, we were seated with different passengers every night, which was great for spending time with everyone. But we also very much enjoyed mingling with everyone over cocktails, at tea time and canapé time!
Captain Cook Cruise Fiji – Best Way For Families To See Fiji
All-in-all, I can say, without a doubt, that Captain Cook Cruises Fiji is the best way for families to experience Fiji.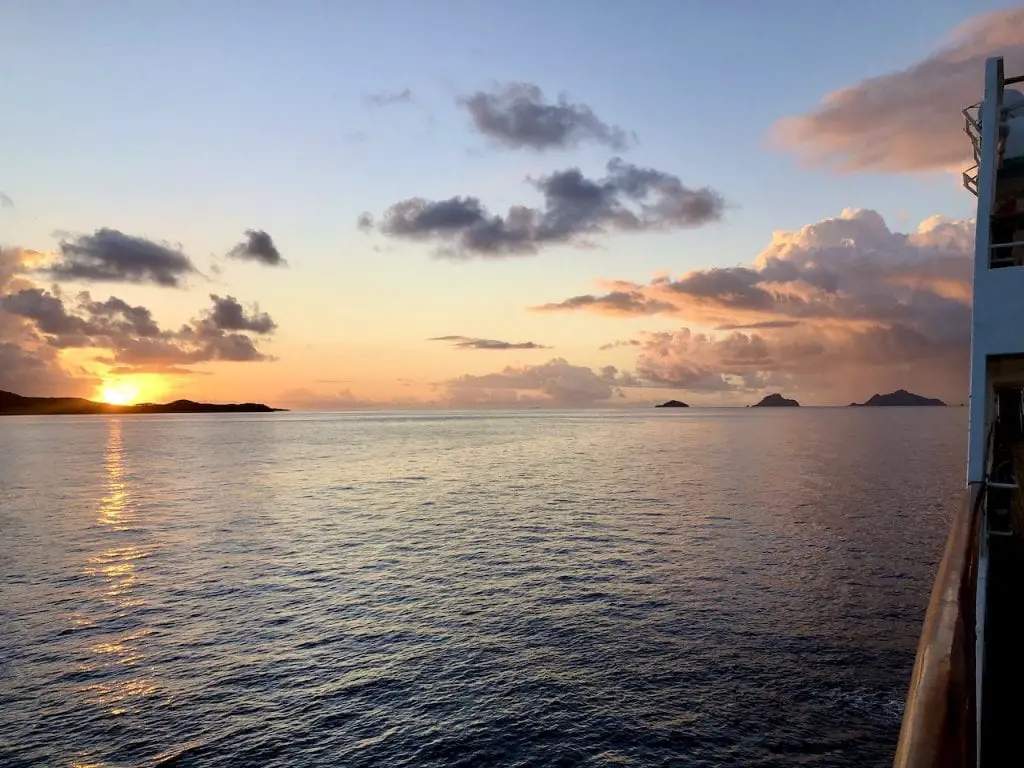 We would have never seen more than one or two islands if it wasn't for the cruise! And I can't even count how many islands we visited in 7 days. Maybe 17 or 18? During any given day, the ship typically moved to a different island over lunch. And sometimes again before dinner and the evening excursion!
We felt so much love and passion from the crew and our fellow passengers. We welcomed with open arms and felt very comfortable with our kids. They had the time of their lives, and so did we!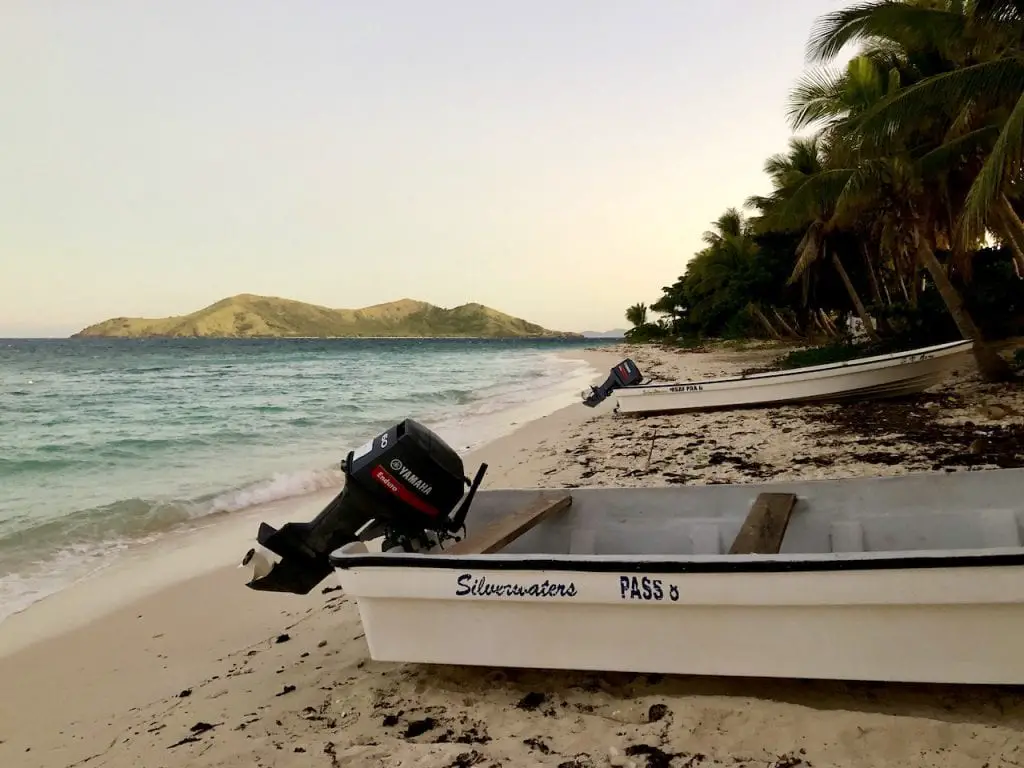 Thank you Captain Cook Cruises Fiji for offering us a discount on our 7-night cruise. We wish we could tell the whole world about you!!
Families – this is a must while in Fiji!!
---
Pin this for later!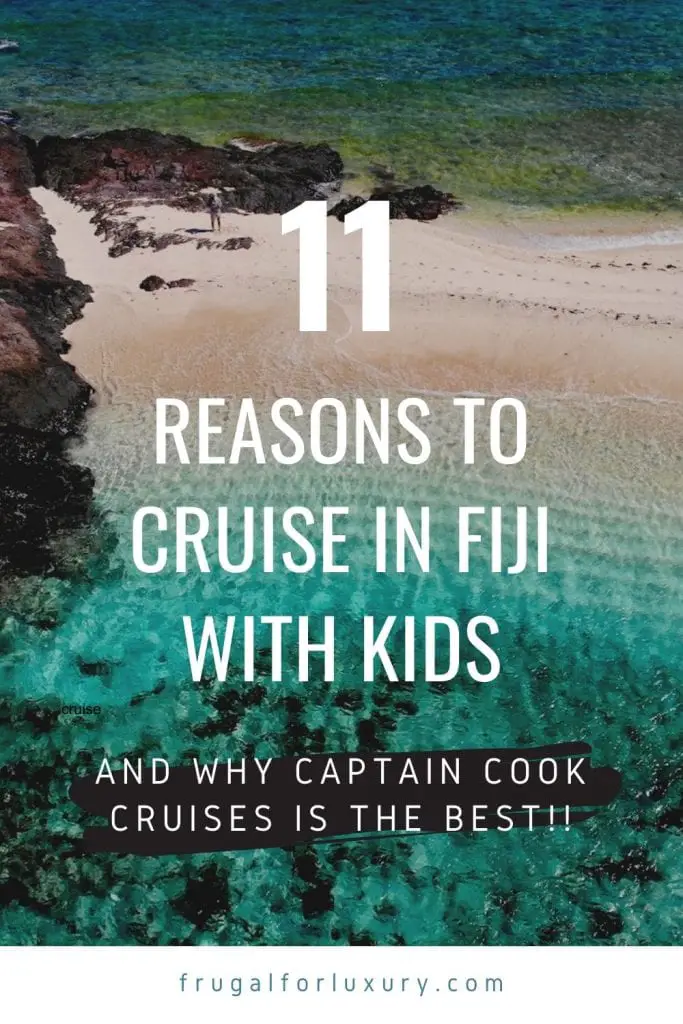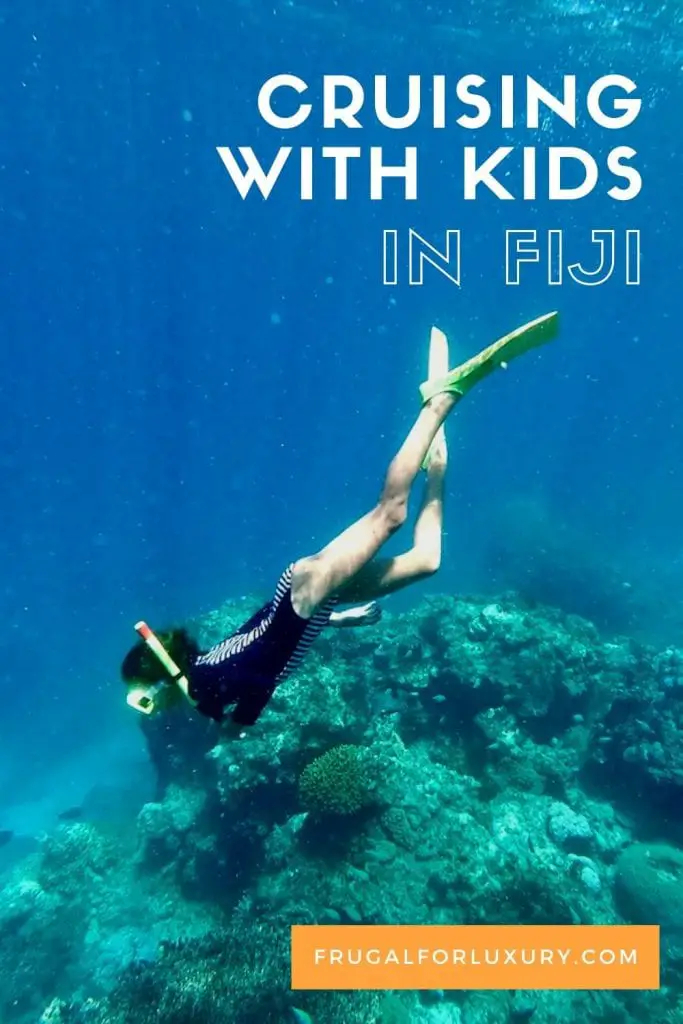 ---
Related articles you will enjoy:
Moorea With Kids – A *Family-Proof* Travel Guide
What To Do In Tahiti With Kids – 7 Must-See's
Find The Cheapest Flights With FlyLine – More Than Just A Flight Search Engine
If you enjoy reading us, sign up for our email list below!