We love Disney just as much as we love cruising and can't think of a better combination than Disney Cruise Line to keep the whole family excited and entertained. This is our experience on the 5-night Halloween on the High Seas cruise to Canada and New England from New York City.
Since we live in Florida, we generally enjoy Disney Cruise Line in the Caribbean . But when our desire to explore gets too strong, we happily hop on an airplane and travel to a new embarkation port if that means discovering new places! In the Fall, we booked our Halloween themed cruise out of New York city. Not only was it our first cruise along the north-eastern Atlantic coast, it was also our first themed DCL experience!
Before The Cruise
We took the opportunity of being in NYC to spend a couple of days wandering in the city and a couple more to enjoy the Hamptons. I can't count how many times the kids have asked to move to New York City since we got back. They loved everything about it – from dancing with street musicians, to enjoying the wonderful playground of Central Park, eating ice cream at Chelsea Market, and strolling along the busy streets of this never-sleeping city. They are not city-kiddos, and their little minds sucked it all in!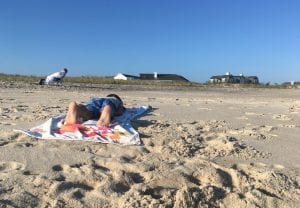 After two relaxing days visiting the Hamptons and enjoying the beautiful beaches and seaside, we left our rental home at 7AM to make our way to the port of New York.
Are We There Yet?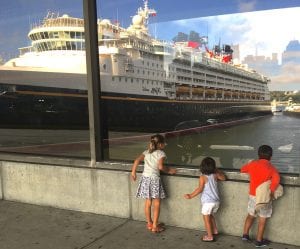 This is always one of my top moments of cruising with Disney Cruise Line. What can you say to this?! You first see her from afar and as you approach her dock, there she is, standing in all its glory. Kids and parents' excitement are at their highest! So much anticipation to finally meet her. And it doesn't matter how many times you live this moment, it never gets old! And everyone is a little child again!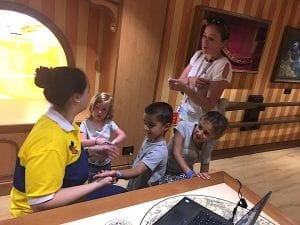 Our first stop always gets us to Disney's Oceaneer's Lab, where the kids get signed up and receive their Magic Band for the duration of the cruise. Unlike at Walt Disney World, those super cute Magic Bands need to be returned at the end of the course. You are welcome to keep them for a charge. One great tip is to sign up your little ones attending the Oceaneer's Club and Lab ahead of time. You will find that option during the online check-in and save a ton of time once you're on the ship with your kiddos, eagerly waiting to get in!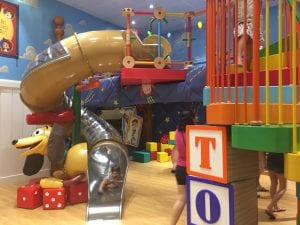 Wouldn't your 6-year old self get super excited with Andy's room as a playground?
The Itinerary
Sail away from NYC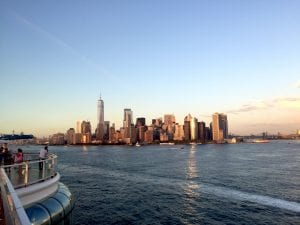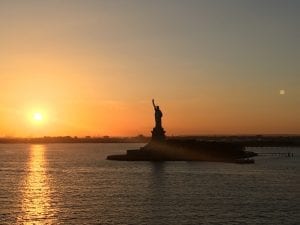 The itinerary itself was fabulous. Nothing beats sailing out of New York City. Seeing Manhattan from the sea is breathtaking and quite frankly, a bit intimidating. Many of us had to think about those generations of immigrants sailing right by the Statue of Liberty as we did. Look at that sunset and the majesty of this view!
Bar Harbor, Maine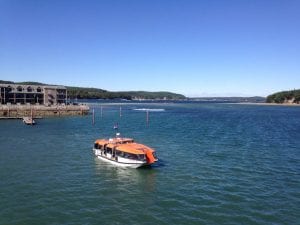 We got to Bar Harbor under beautiful sunshine and the first cold day of the season. We were really hoping to see the changing colors but all trees were still green. Nonetheless, the views were beautiful. We hoped in the tender and enjoyed a scenic route to the port. From there, we explored by foot with so much to see. Since we got there at low tide, we were able to cross to the little island right downtown, and enjoy a stunning walk on sand, shells, and in the forest on the other side. Locals will tell you to carefully watch for the rising of the tide or it will make for a cold night on the island. We then went on to exploring the quaint city center with its hilly streets and little shops. Once the yearly tree ornament purchased, we headed back to the ship for some fun family craft activities!
St. John, NB, Canada
We were unfortunately greeted with rain and cold weather in Canada. While a nice change from hot Florida, we spent less time in the city than we would generally do. We went on a quick walk alongside the port and hoped in a super fun indoor mall. The country is so cold that locals have created an "indoor city", which was totally different than anything we'd ever experienced before. We saw beautiful churches and rows of brick houses, as we walked back to the ship to enjoy a sit-down lunch at Lumiere's!
On-Board Fun
Back on the ship, we were ready to make the most out of our five nights. We enjoyed some of the great perks of Disney Cruise Line!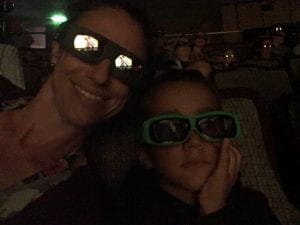 Mark and I got to watch a 3-D showing of the Beauty and the Beast. Did you know that the on-board theater shows the latest movies in a state-of-the art facility with 3-D and regular showings? One of my favorite times to cruise is during a premiere launch of a Disney movie – you get to watch the premiere right there on the ship at midnight!! How cool is that?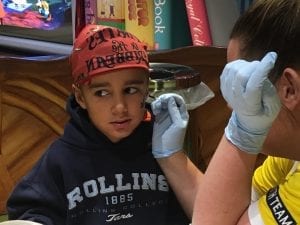 One big time favorites of all is Pirates Night! Kids got their faces painted, put on their costumes, and off we went to enjoy the only fireworks at sea!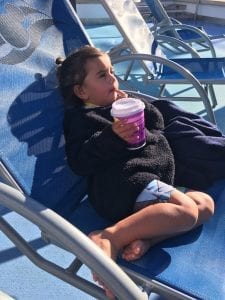 We loved the fact that our cruise was Halloween-themed. We got to enjoy a trick-or-treat event in and around the Atrium, themed parties, special story times, photo ops with dressed-up characters, and even costume contests. Disney Cruise Line was so great and sent out an email before we left. The contests included a Most Disney, Best Group, Most Spooky, and Most Original competition! The entire ship was themed after Halloween. Look at those hot drink cups… they came is Halloween on the High Seas purple!
Final Review
All five of use loved our 5-night Halloween cruise to Maine and Canada. Of course it was too short, but Disney Cruise Line did not disappoint. They packed as much Halloween as they could during the itinerary, took us to beautiful places, offered legendary service, wonderful food, and gave us memories to cherish forever! We will be back!
Related articles you might enjoy:
5 Reasons Why Cruising is the Perfect Family Vacation
10 Reasons to Cruise on Disney Cruise Line

If you enjoy reading us, stay in the know by signing up for our newsletter!