I can't tell you how excited we are to be back at this beautiful resort! Last we were here, I was 16 weeks pregnant with Ava, and I felt her very first kicks as I lounged by the family pool!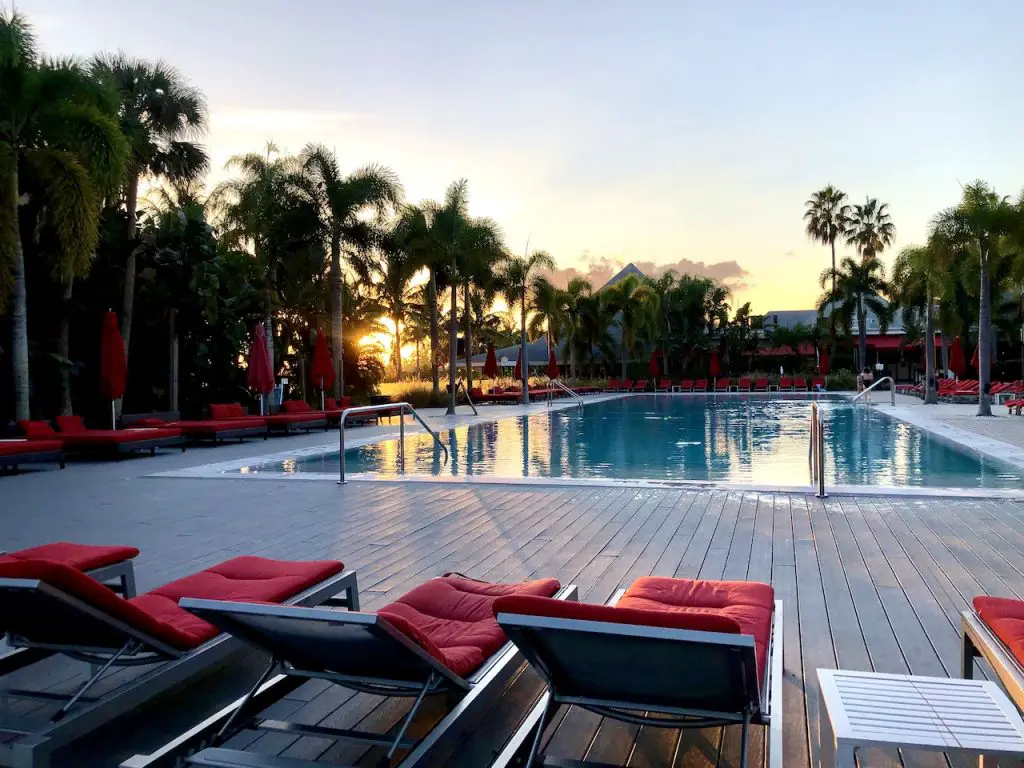 If this is the first that you hear about Club Med, make sure to read this article where I discuss what makes Club Med different and totally amazing!!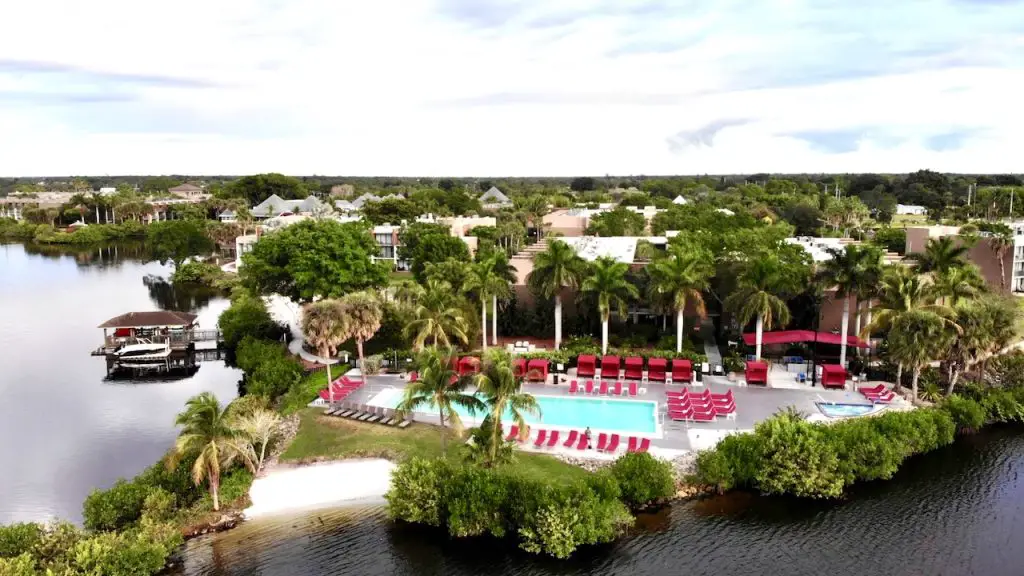 But here today, I can't wait to tell you all about Club Med Sandpiper Bay, Club Med's property on the east coast of Florida, and the best family vacation between Orlando and Miami!
So here are our family's favorites on what makes this resort special. I warn you… you might never be able to leave!
But first, a few grounding points:
– Club Med is a French resort with locations all over the world
– They pioneered the all-inclusive concept with their very first resort opening in 1950 in Majorca, Spain
– All resorts are all-inclusive (gourmet dining, open bar, snacks, activities, kids clubs, wi-fi, gratuities)
– Includes a large variety of land and water sports, and daily lessons by level
– Choose a mountain resort and your ski passes are included too!
– You go to Club Med for the G.O.'s (animators) and entertainment! Don't miss the evening shows!
– Starting at age 4, the Mini Club is included and your kids will have the time of their lives with their own G.O.'s
– In some resorts, babies from the age of 4 months can be looked after at the Baby Club for an additional fee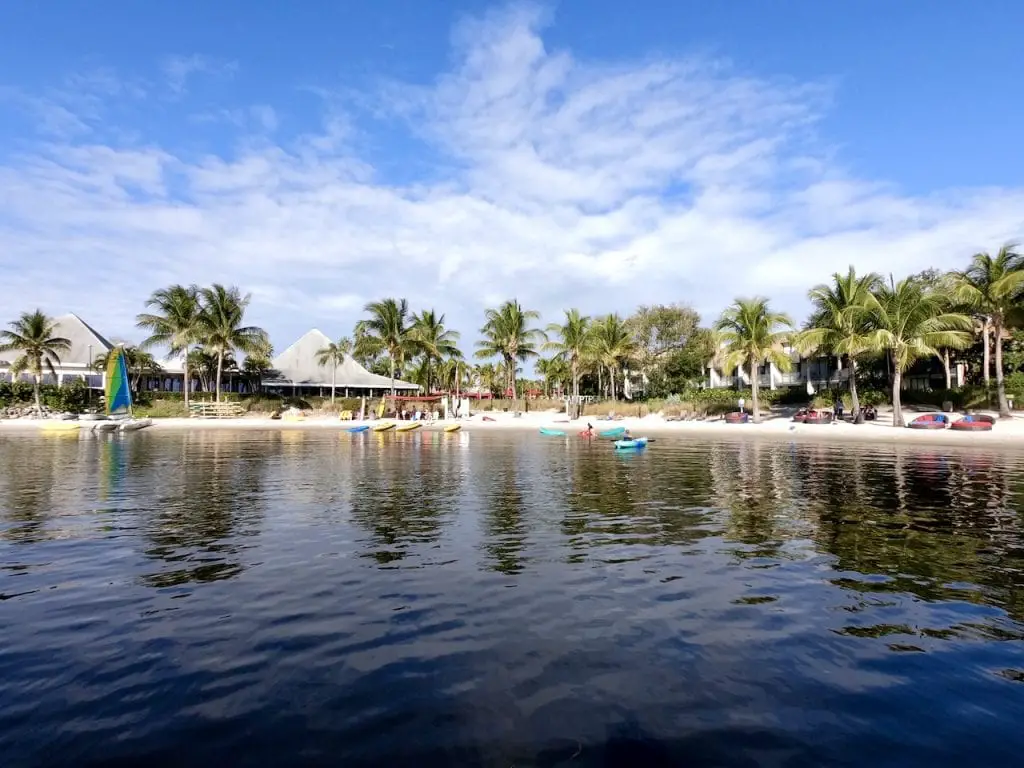 1- Club Med Food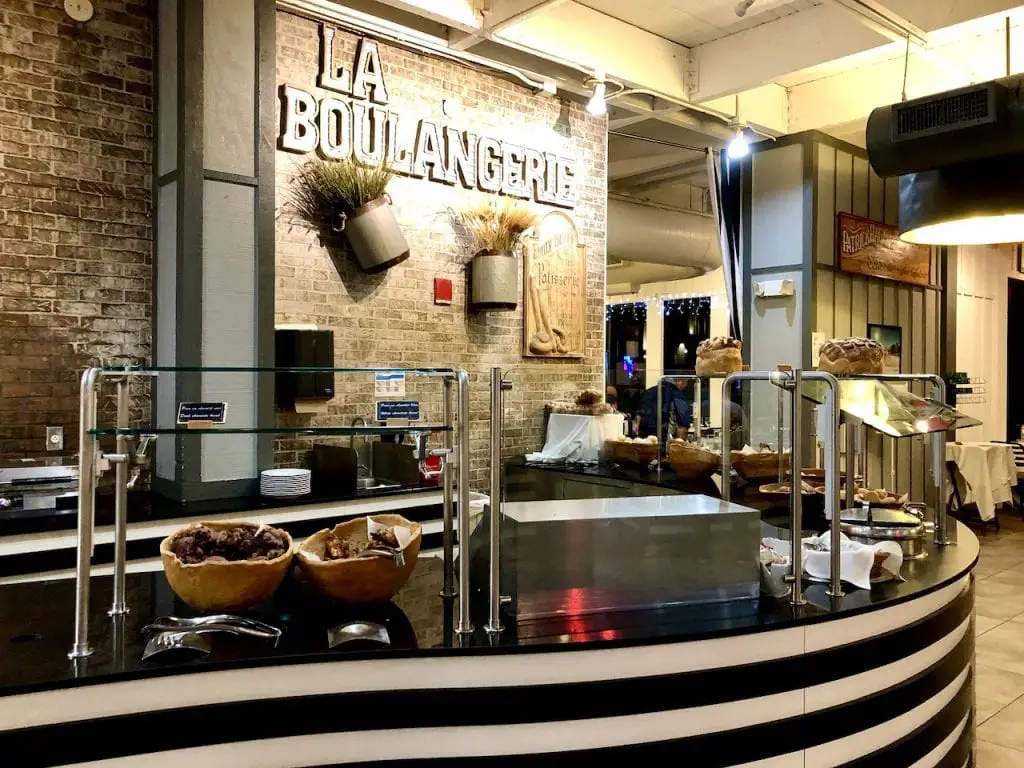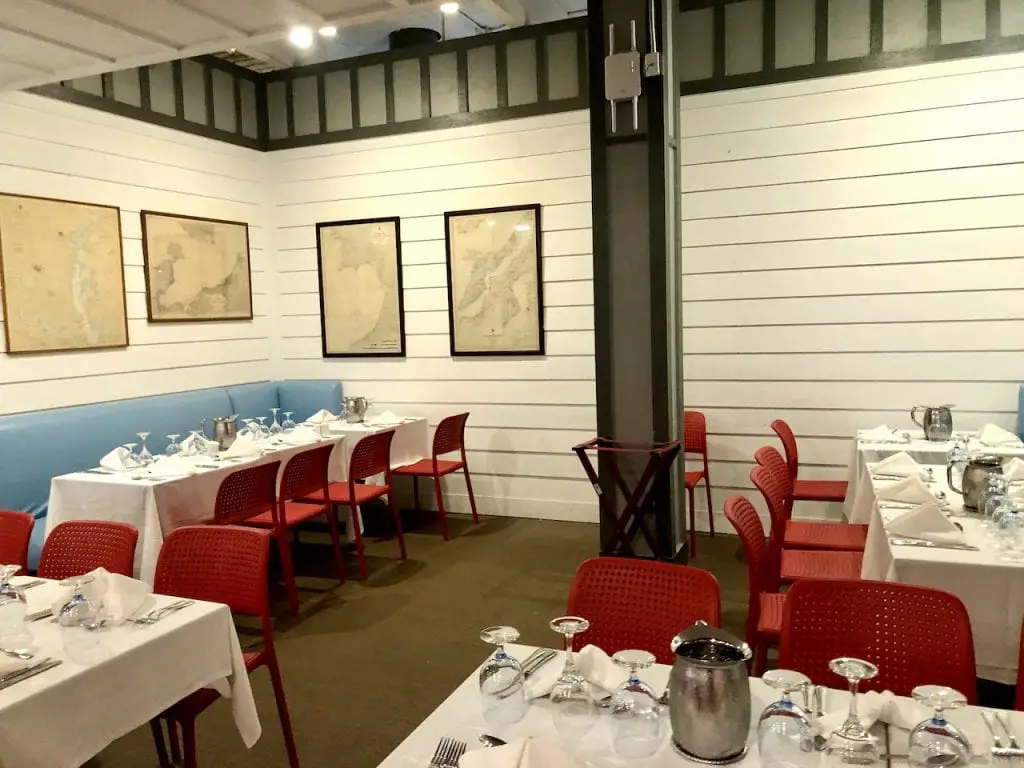 At Club Med Sandpiper Bay, the food is served in the form of buffets at the Marketplace. You'll enjoy your breakfast, lunch, and dinner there.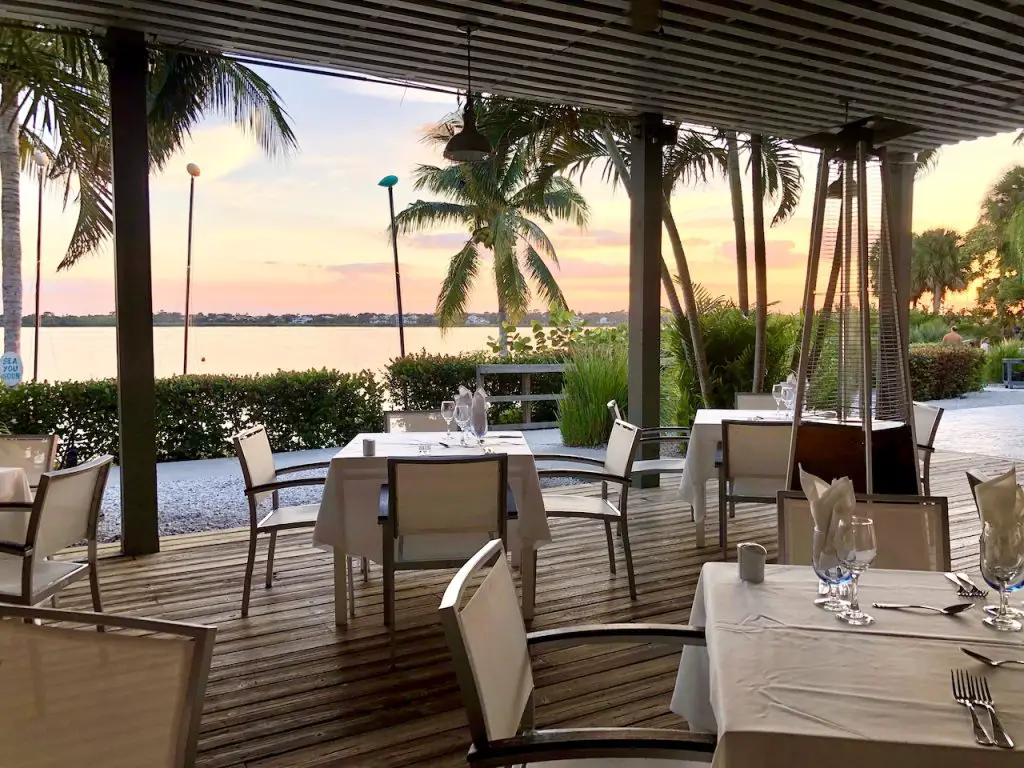 Eating on the terrace, overlooking the St. Lucie river is such a treat!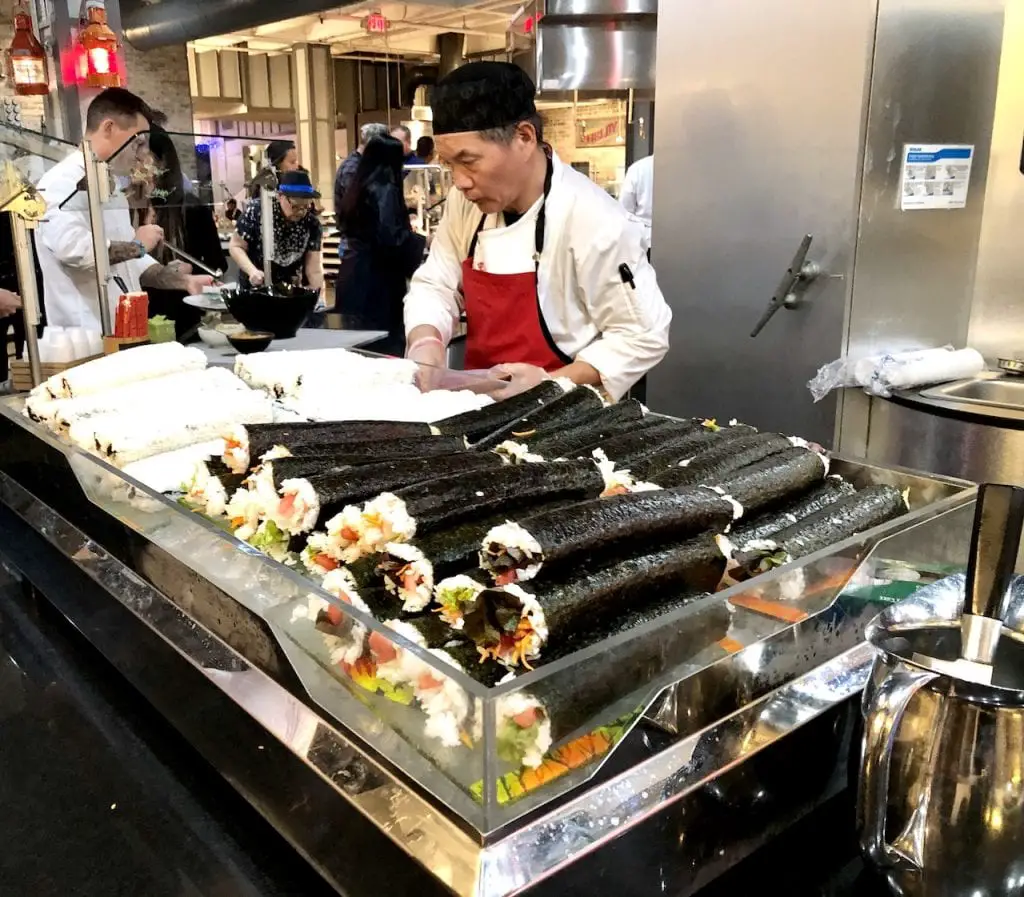 The food is always amazing and you can expect some French staples such as crepes and fresh specialty breads!
Christian have been talking about the white chocolate bread ever since our first visit to Sandpiper Bay! But we are now a divided household and the kids love the dark chocolate bread.
If you miss the Marketplace's opening hours, simply head down to Soleil and order from a menu of hot dogs and hamburgers!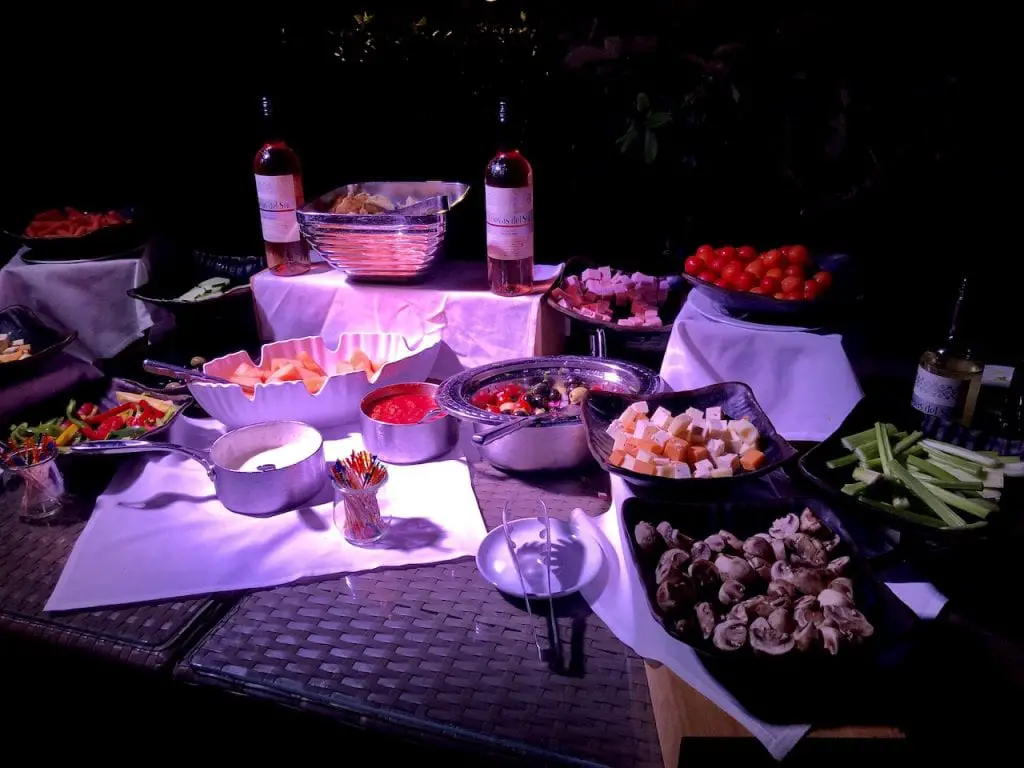 Around 6.30PM, sit down with an apéritif (pre-dinner drink) and help yourself to some fresh snacks, until you head out to dinner.
2- Club Med Drinks
It seems like it is 5 o'clock most of the day when vacationing at Club Med!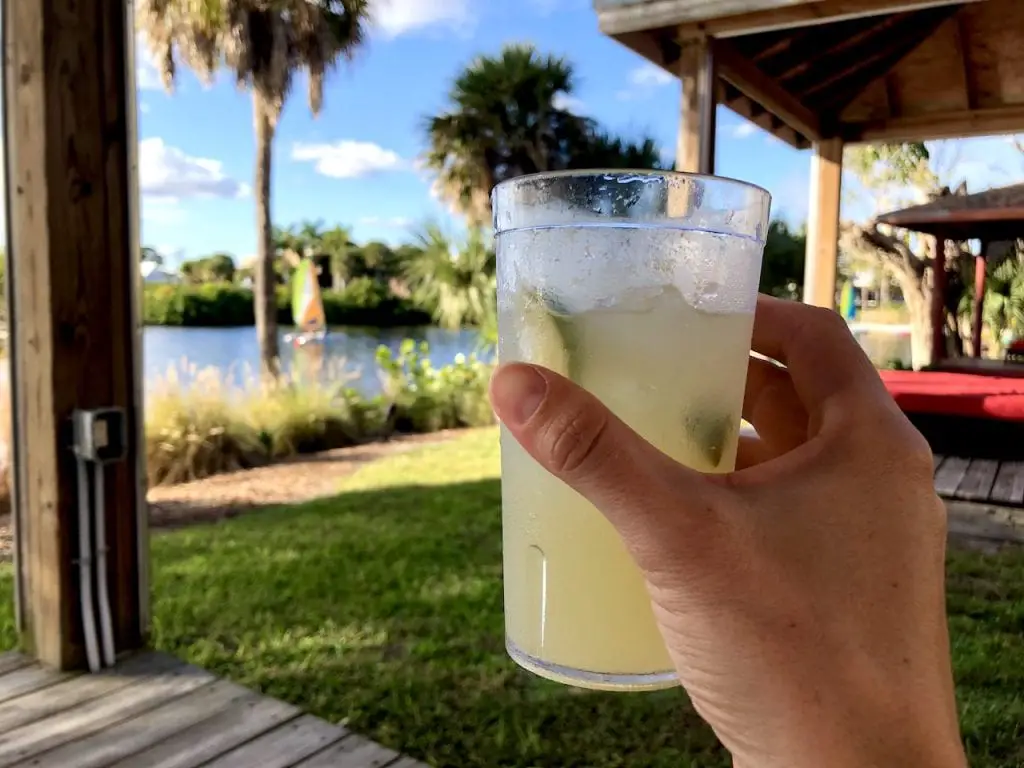 With alcoholic drinks included in your stay, you can order from 2 different bars. I love asking for a Bar G.O. to surprise me with a drink and trying all sorts of different cocktails throughout our stay.
Club Med Sandpiper Bay has so many cute sitting areas scattered throughout the resort. Ask for your drink in a plastic glass and enjoy it by the pool, the river, in your room, or in the gardens.
3- The Mini Club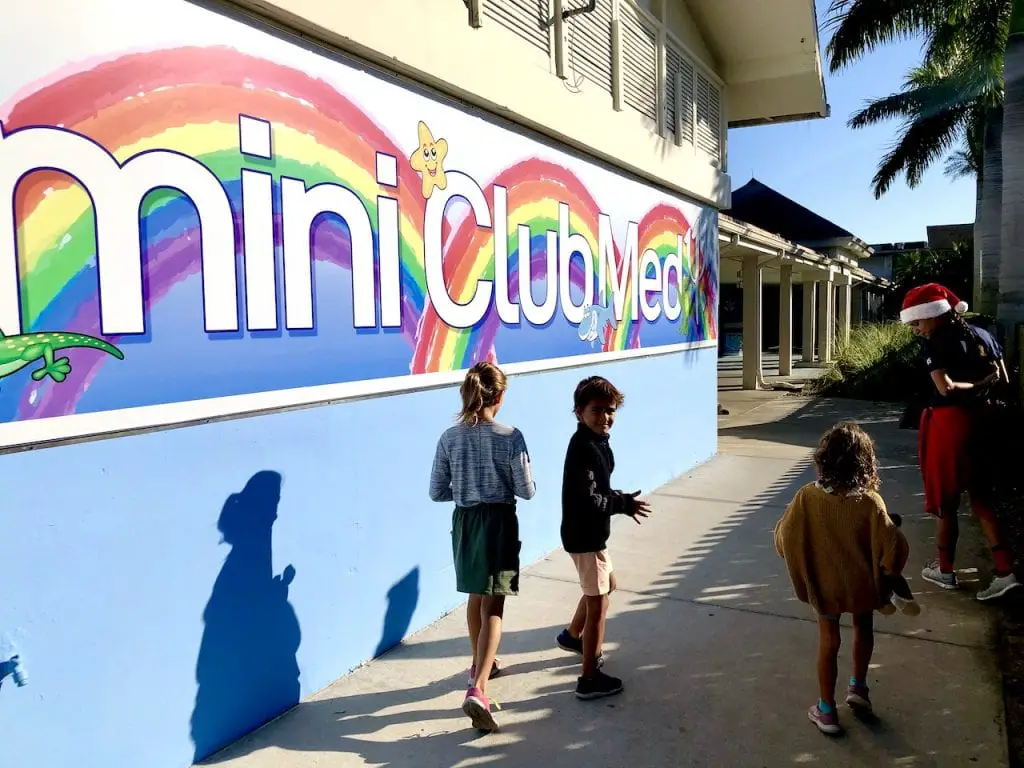 I grew up vacationing at Club Med and I have so many fond memories of my time playing sports and games with other kids.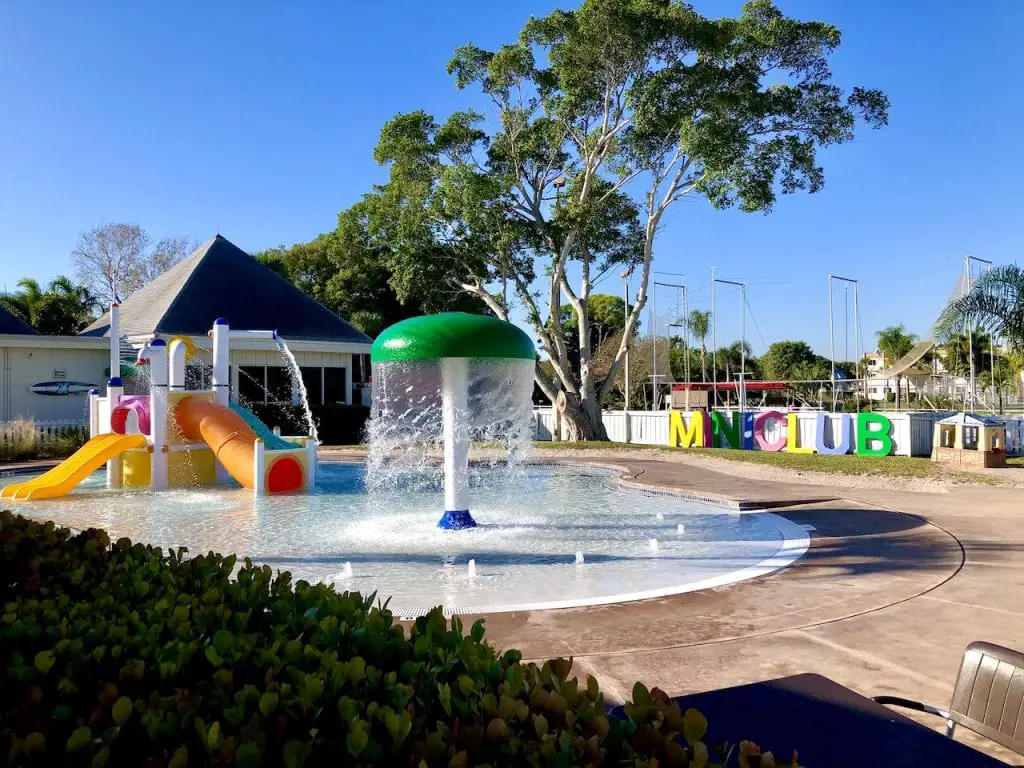 Pro tip: register your children online ahead of your stay to not waste time once at the resort. Otherwise, check the daily schedule for registration time on your first morning to sign them up.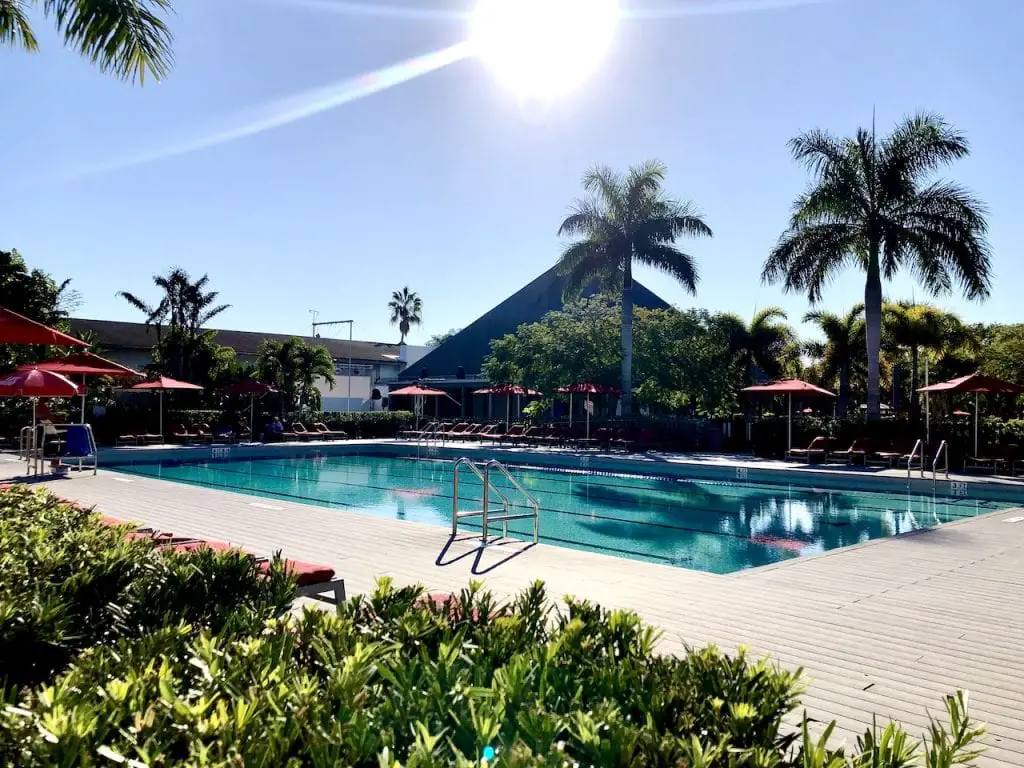 Club Med Sandpiper Bay has a Baby Club Med, where, for a daily or half-day fee, you can drop off your baby from age 4 months to 3 years for a day of fun and outing to the playground, kids pool, and even the beach.
The Mini Club is free for children ages 4 to 17. Split in age groups (4-8 / 9-11 / 13-17), the kids spend their days following a thrilling schedule of sports and activities.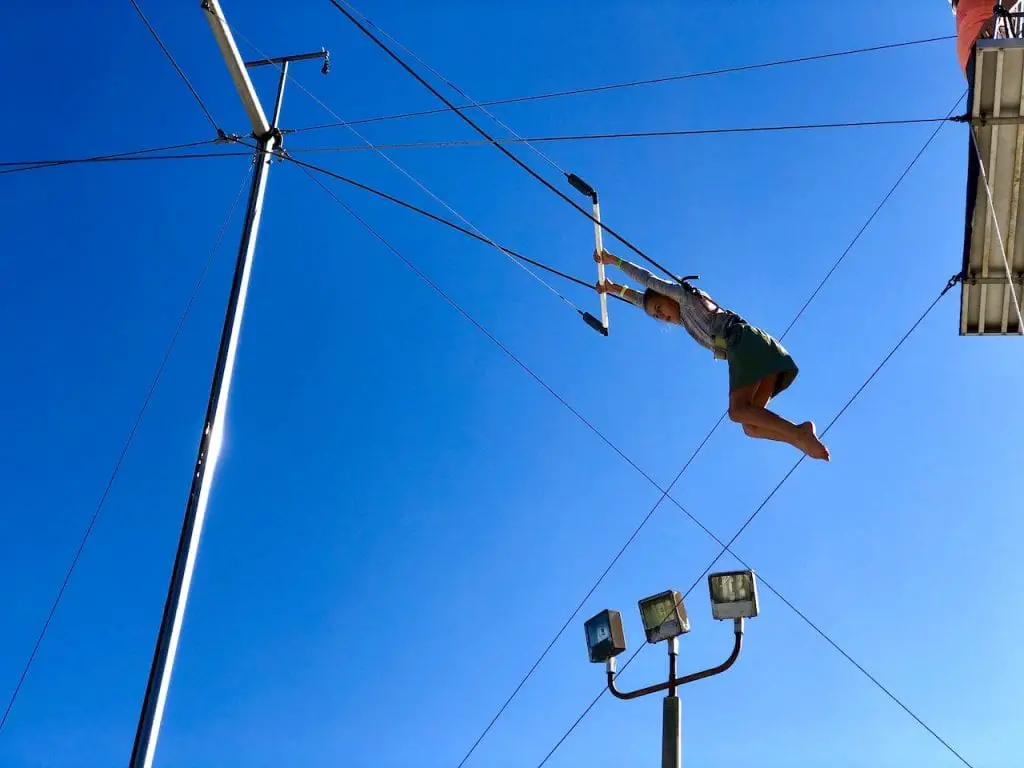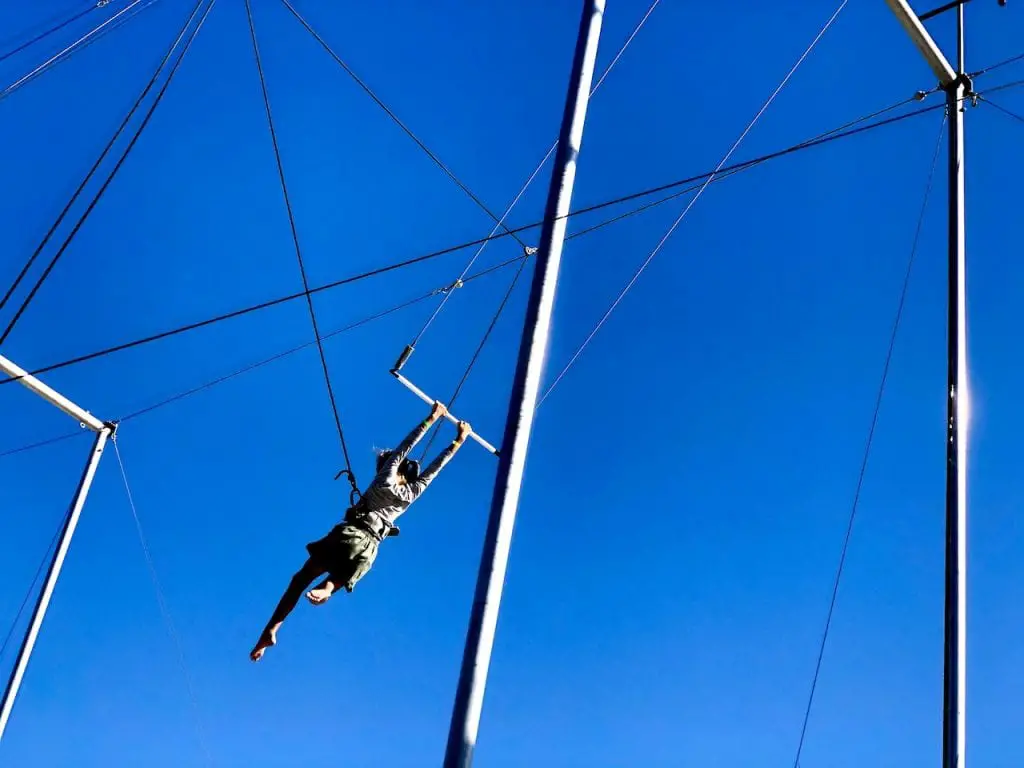 Our kids love the daily visits to the flying trapeze!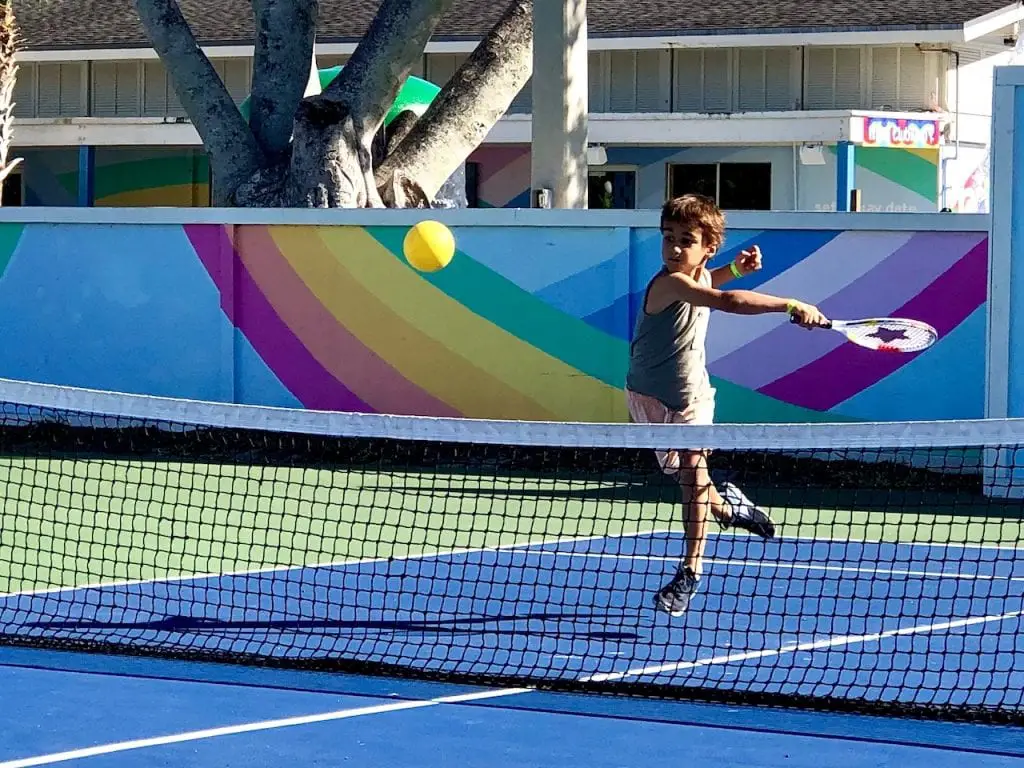 They play mini-tennis, fun pool games, visit the playground, go on treasure hunts, take part in talent shows, visit the art studio, and so much more.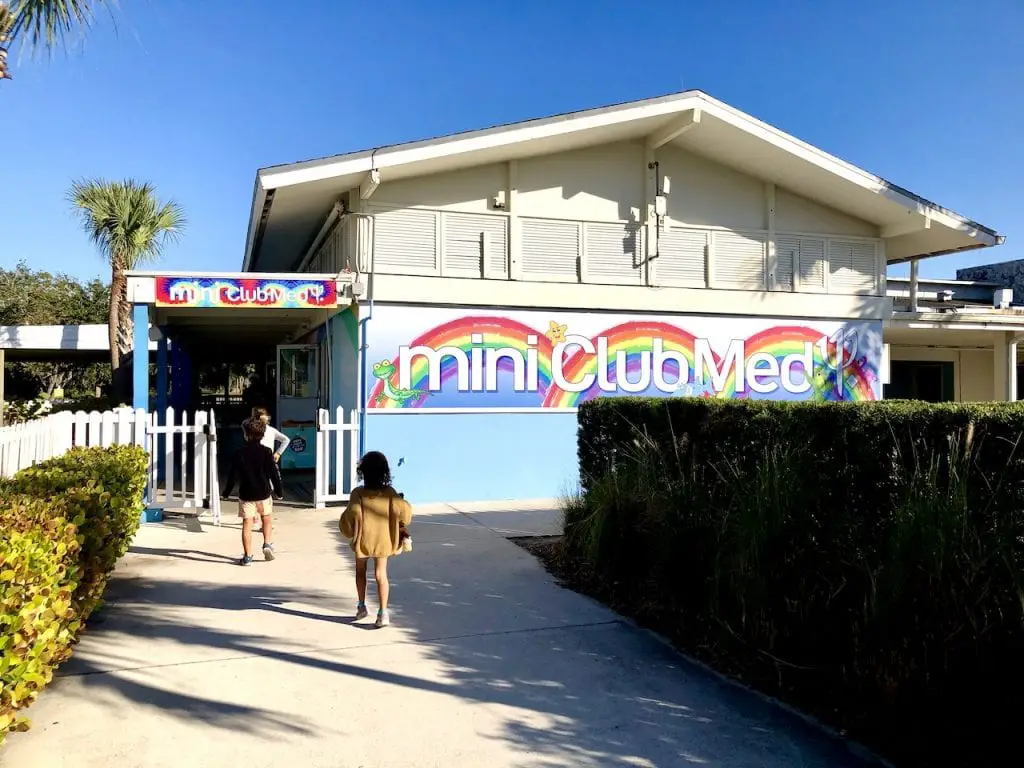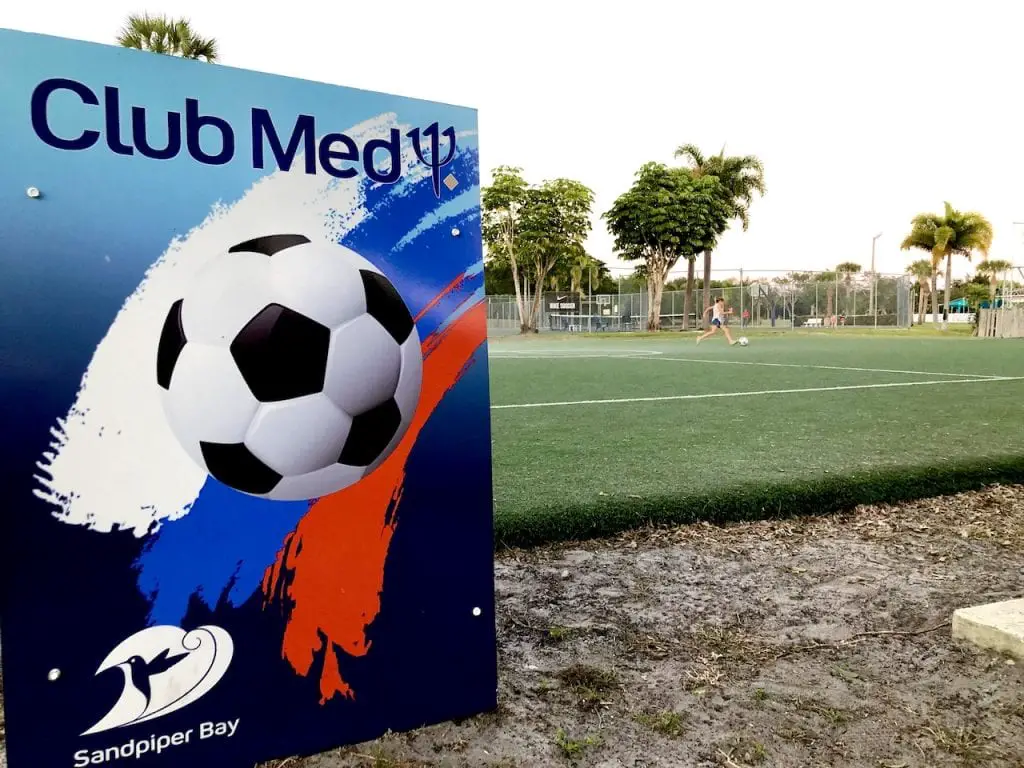 We check on them several times a day and they always refuse to be picked up, having way too much fun to hang out with their boring parents… 🙂 We check them in at 9AM, pick them up around 4PM, drop them back off at 6.30PM and up again at 8PM. We love eating with our kids, so we are the "mean parents" picking them up for lunch, but they can eat lunch and snacks with the Mini Club if we ever choose to do something during lunch time!
4- Club Med Sports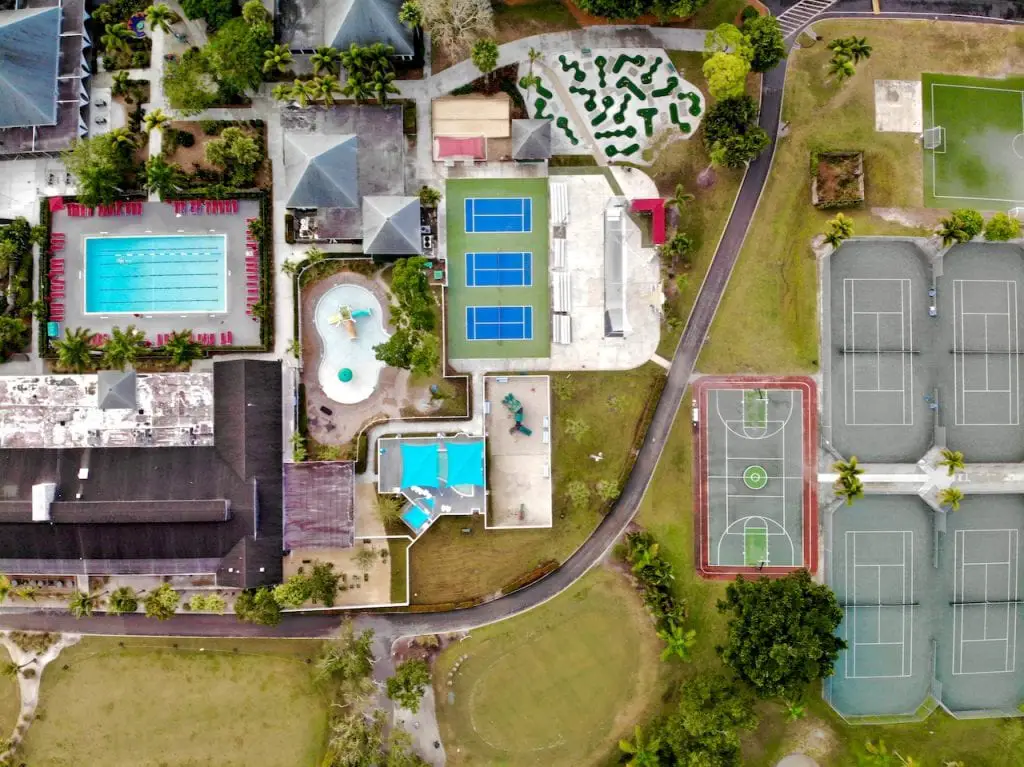 With the kids perfectly happy in the Mini Club and entire days in front of us, Christian and I have so much fun. We love vacationing at Club Med resorts where all 5 of us have our very own best time!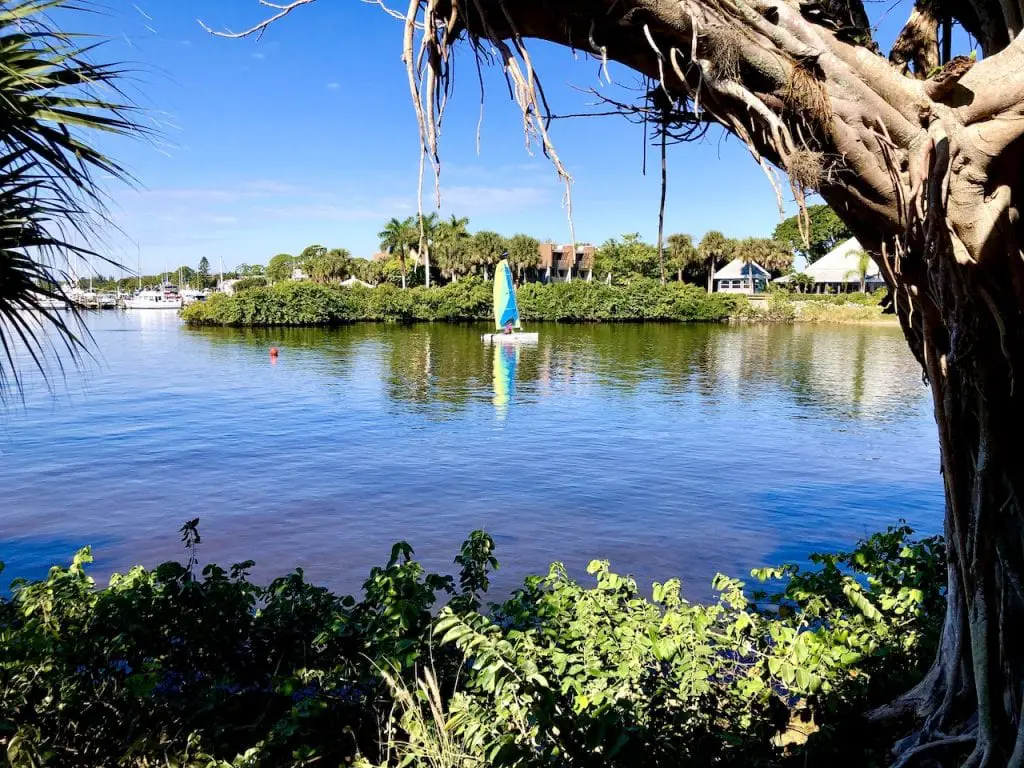 Christian loves taking part in the daily tennis group lessons and we spend the rest of our days working out, playing tennis together, attending golf lessons, hanging out by the pool, or on the St. Lucie river.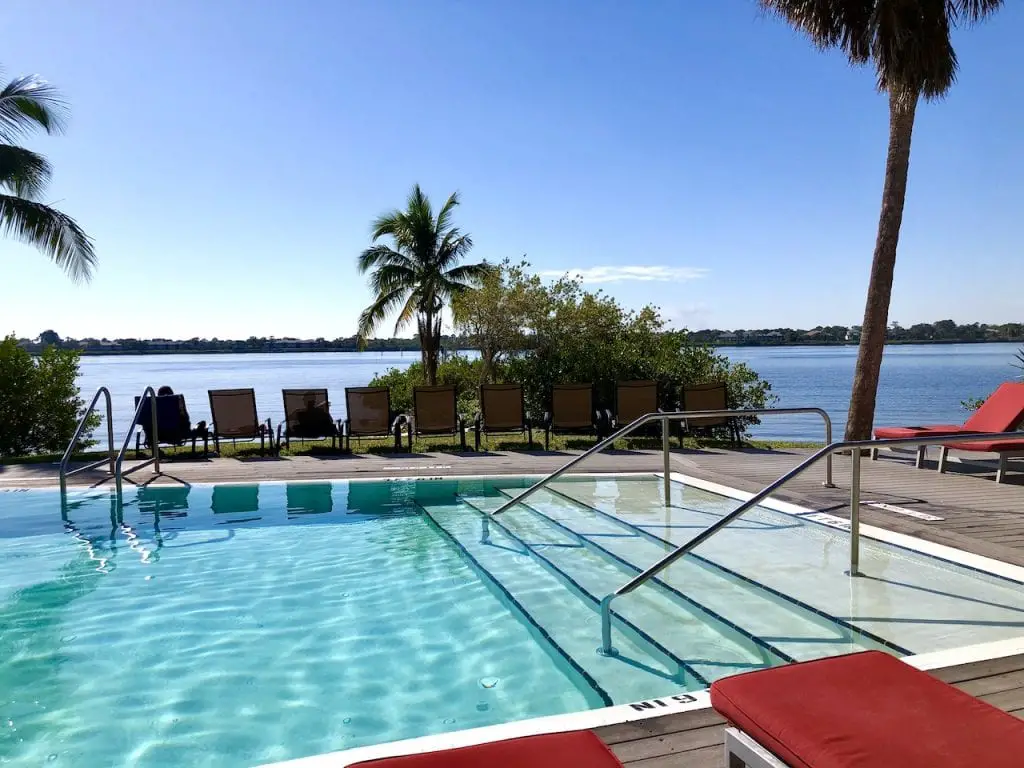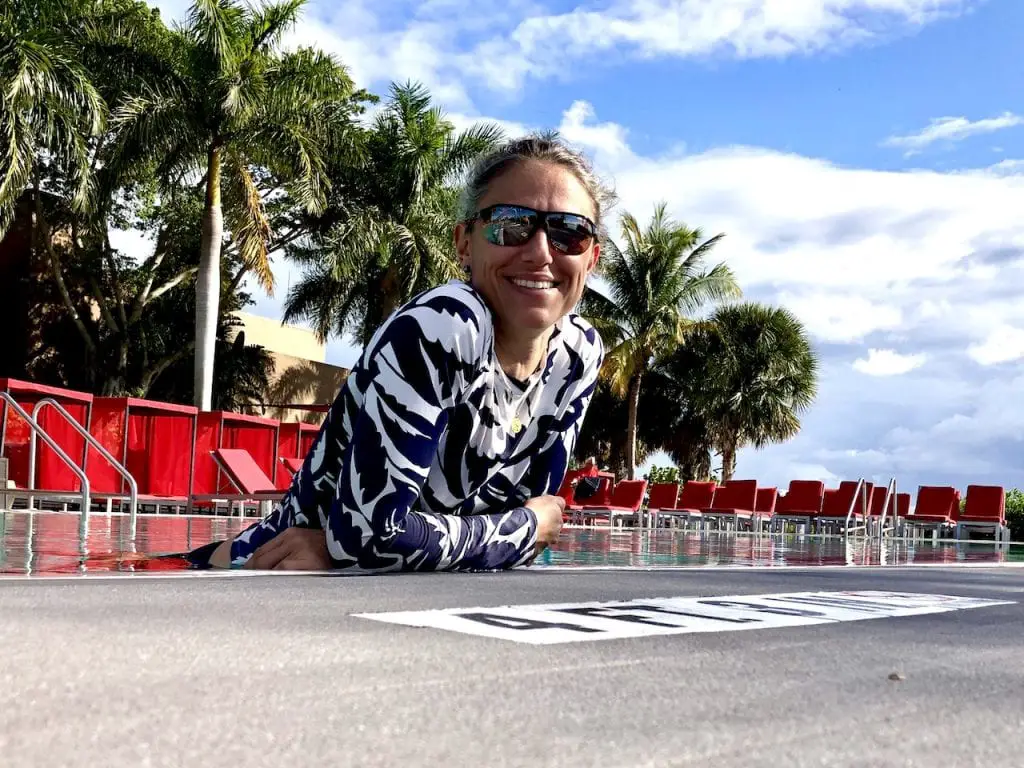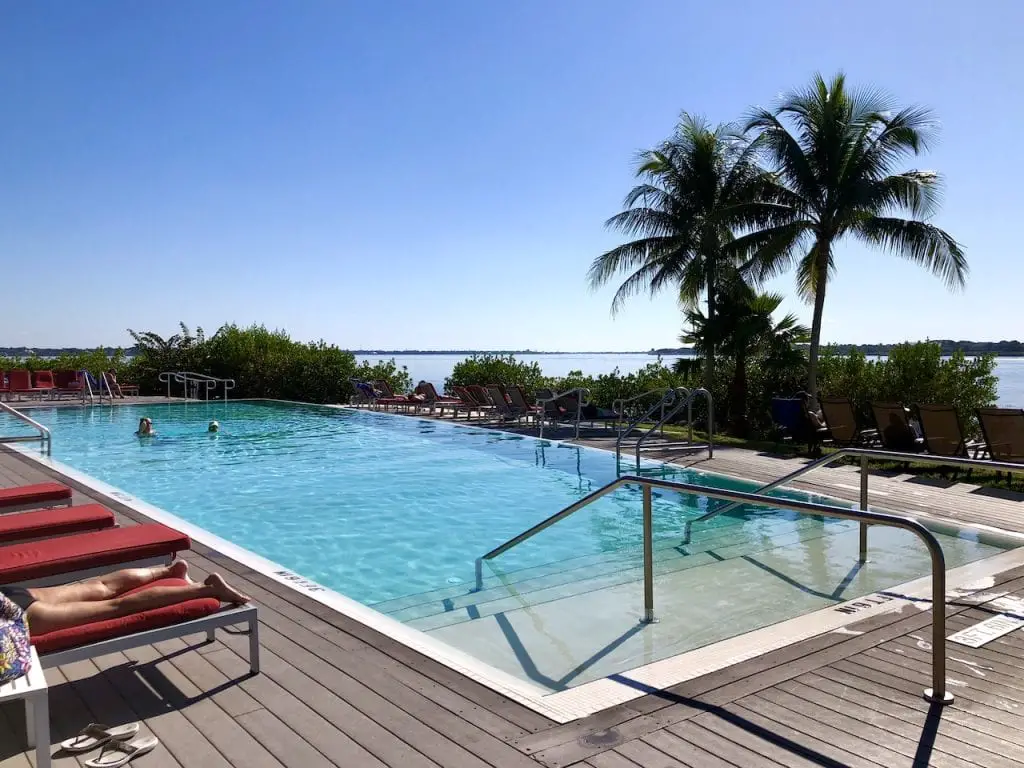 If relaxation is your idea of the perfect vacation, head out to the spa, one of the river cabanas, or the adult pool!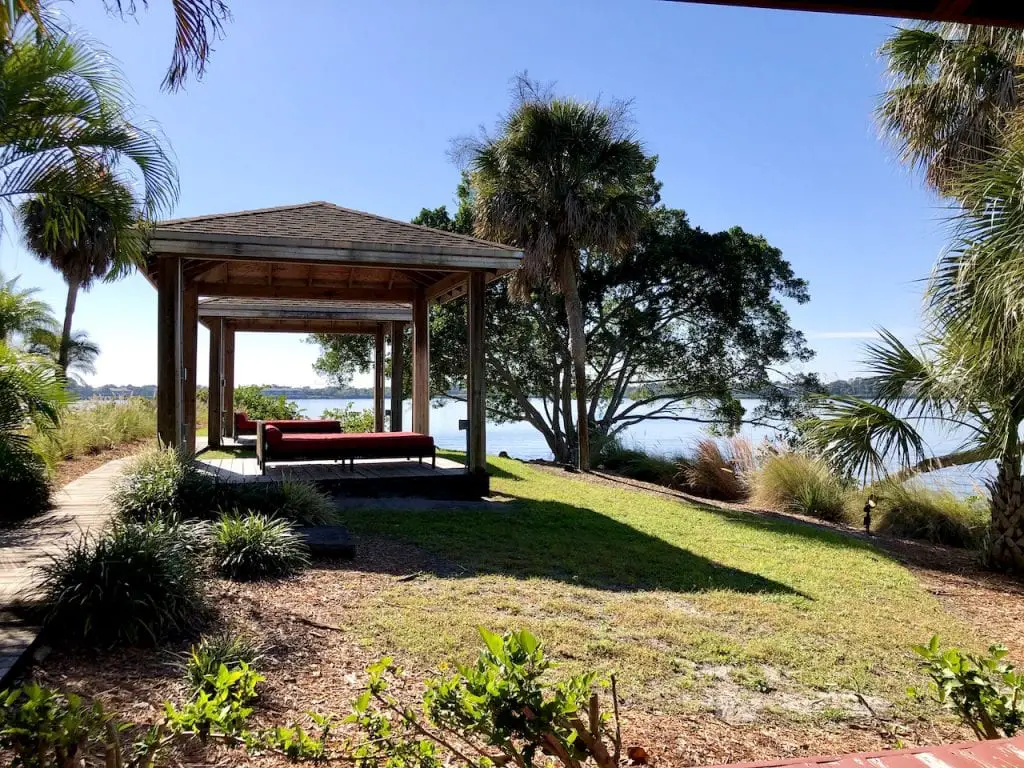 And then there are the non-motorized water sports! Ava found herself a new passion and after lunch, we spend several hours every day out on the water.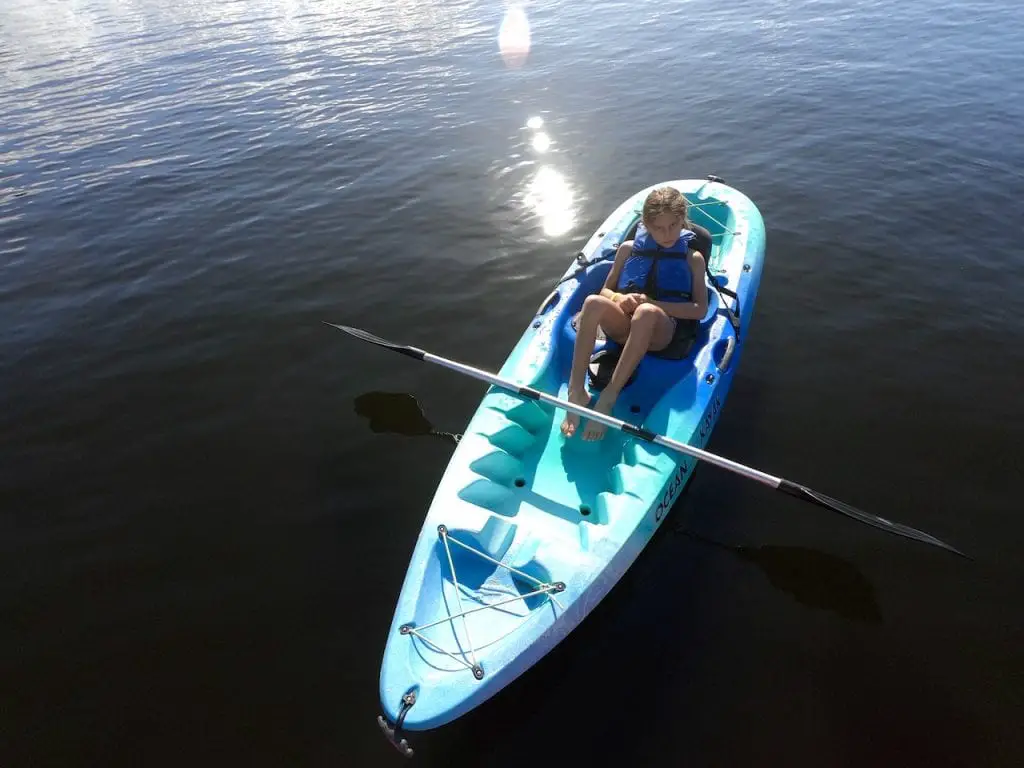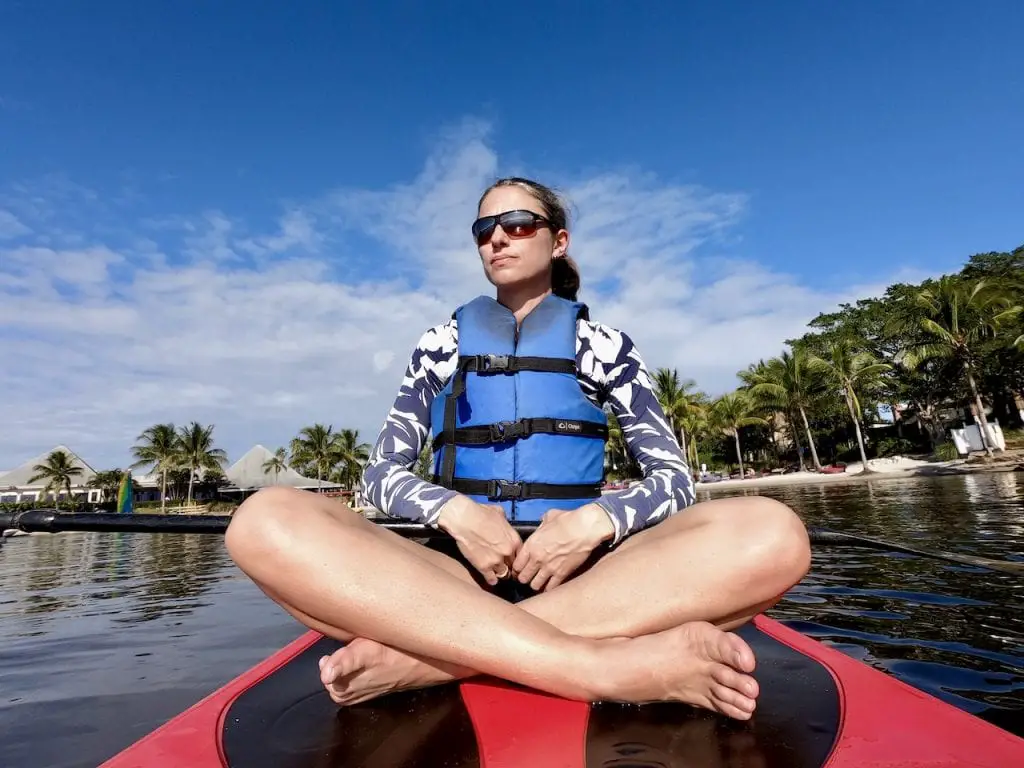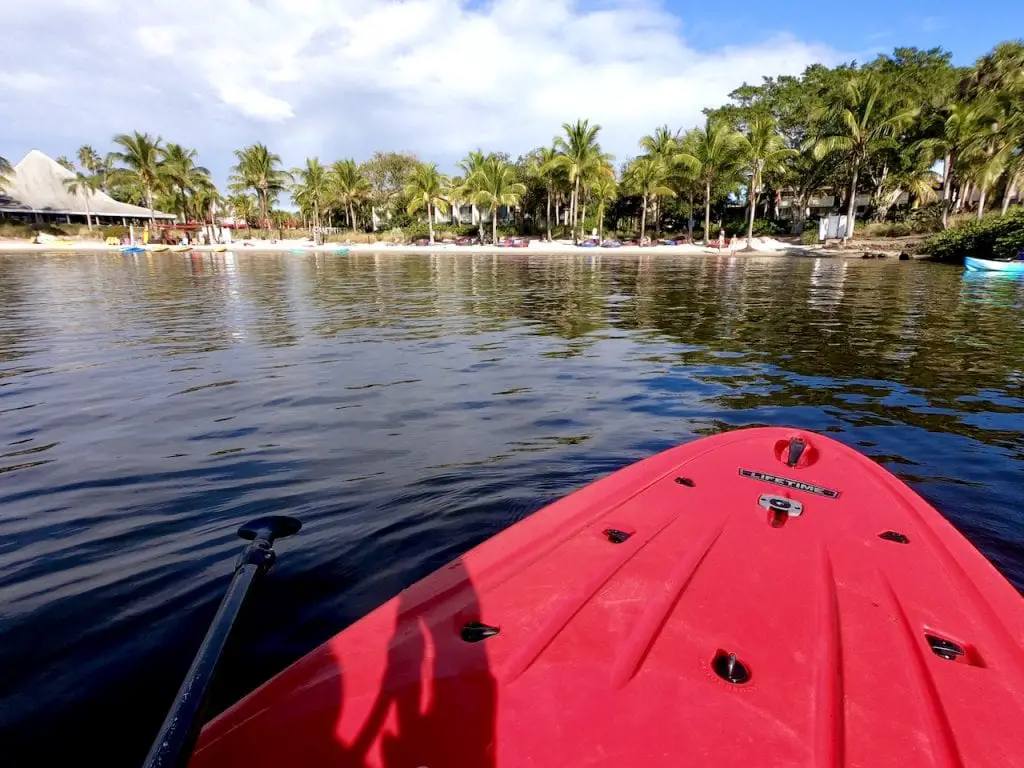 The non-motorized water sports are free and include SUP, kayaking, tandem-kayaking, and sailing. Kids from age 6 can take part in water sports with their parents. From age 8, they can go out on their own!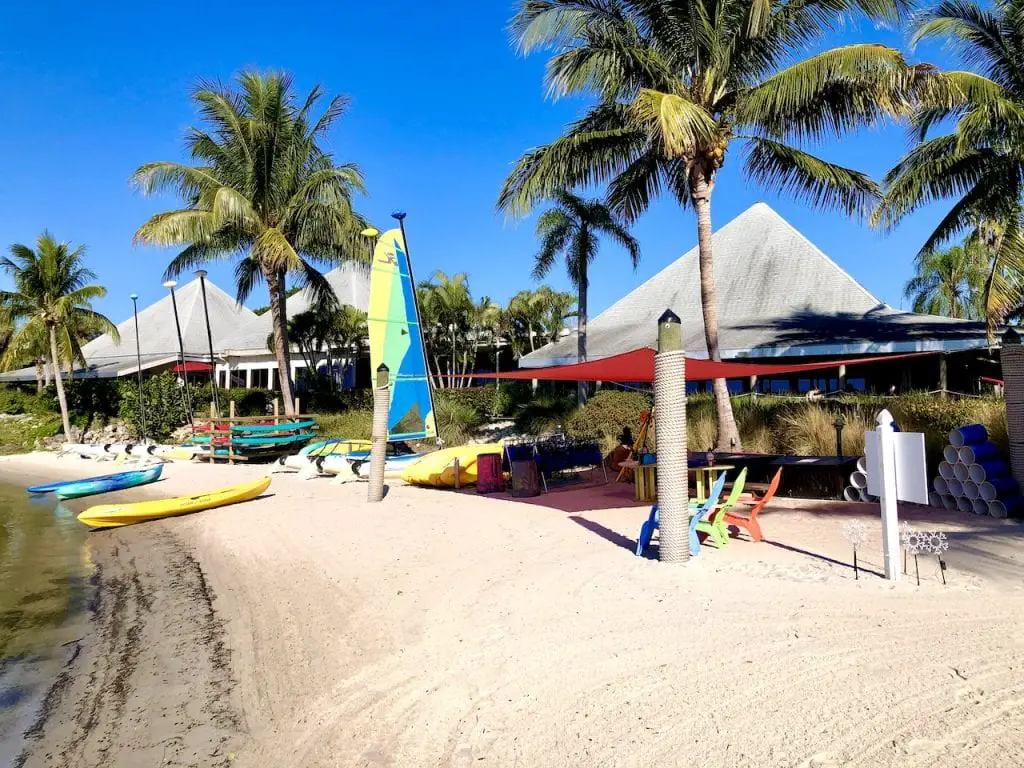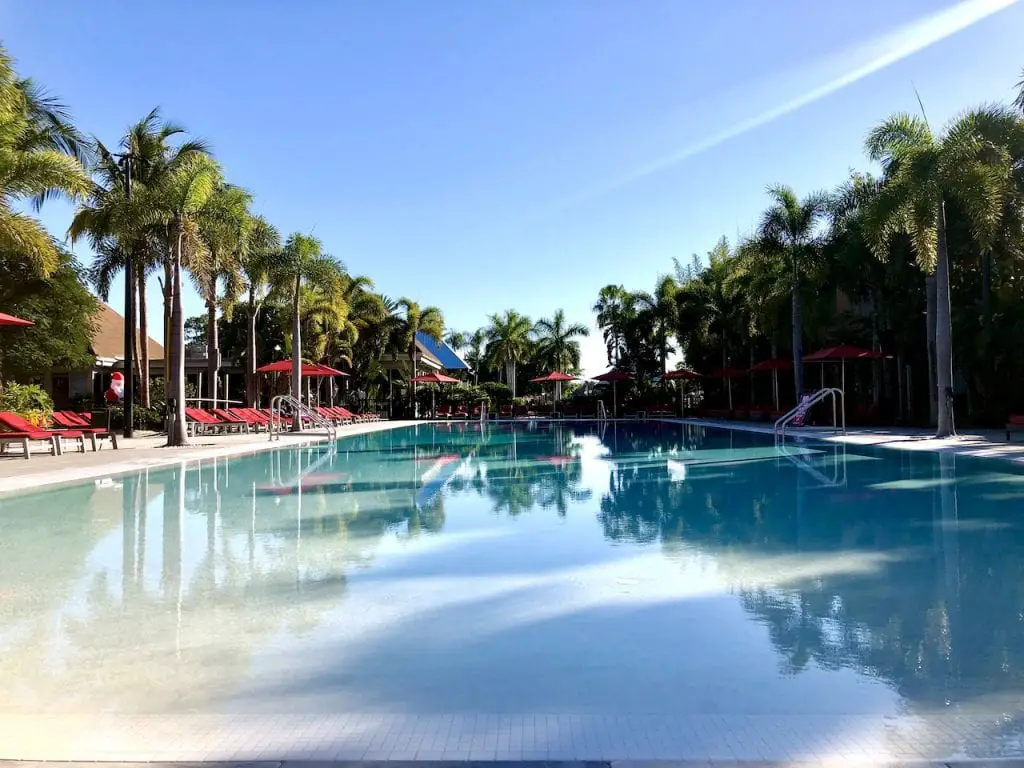 For an additional fee, take a jet ski out of the river, or book yourself a fly boarding experience! And if you're lucky like we were, you'll see a few dolphins swimming around!
5- Club Med Entertainment
The entertainment is always fabulous at Club Med resorts, and Club Med Sandpiper Bay is no exception!
Throughout the day, join in Crazy Sign sessions (guided line dances you will dance at all Club Med resorts) and fun trivia at the bar.
Make sure you join the G.O. team for the nightly 8.45PM shows. Full of music and fun acts, they send you laughing and ready for an evening of fun!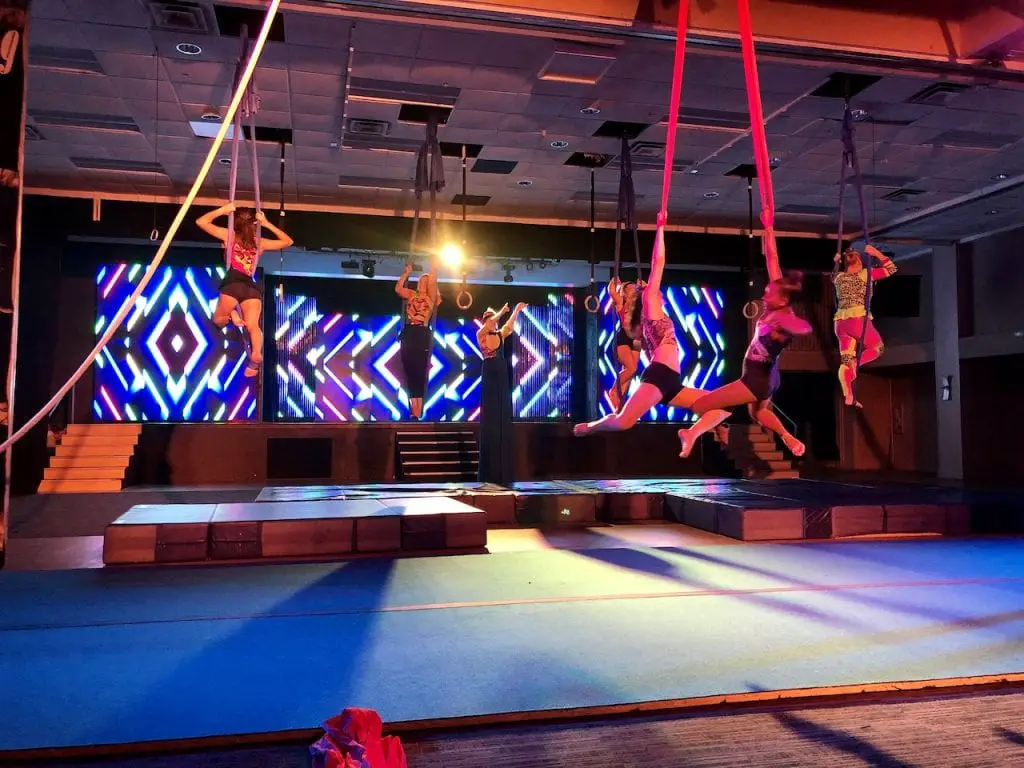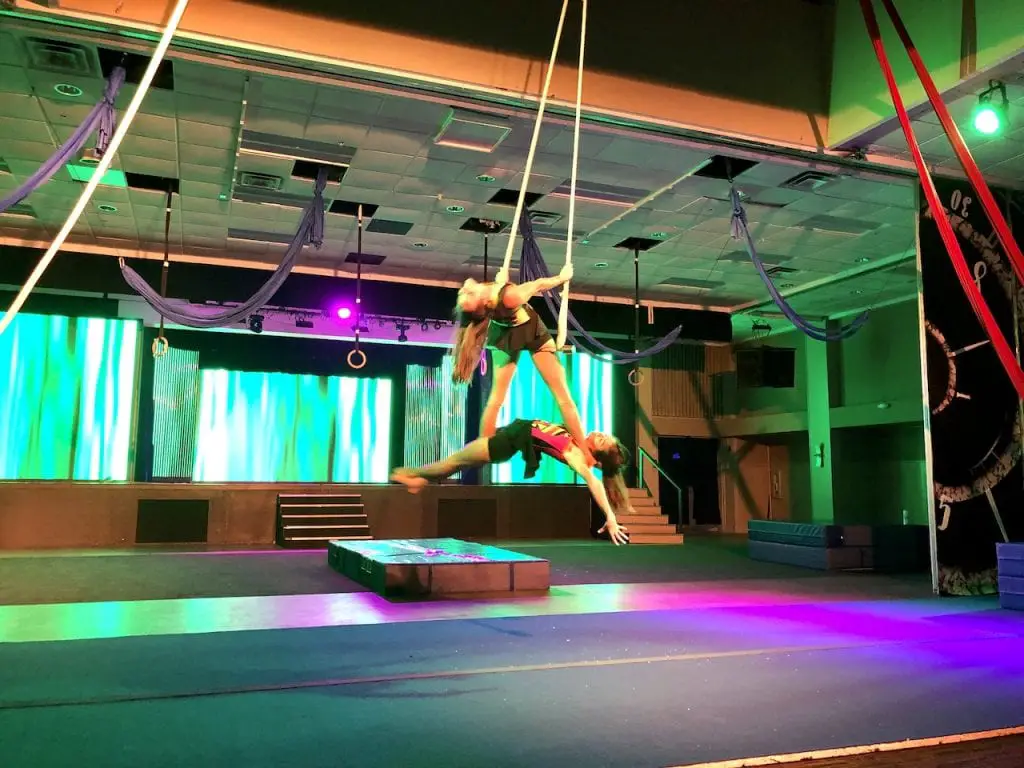 Once a week, the Circus G.O. team puts on a jaw-dropping show you won't want to miss.
After the shows, have fun with more Crazy Signs and themed party nights. Let your inner dancer out!
Where Is Club Med Sandpiper Bay Located?
The resort at Sandpiper Bay is super easily accessible and only 2 hours from Miami and Orlando. It is also currently, the only Club Med resort in the U.S.
For us, coming from Orlando, it is a quick hop over. Enjoy the attractions and head down east for this amazing resort!
Anything Special Happening At Club Med Sandpiper Bay?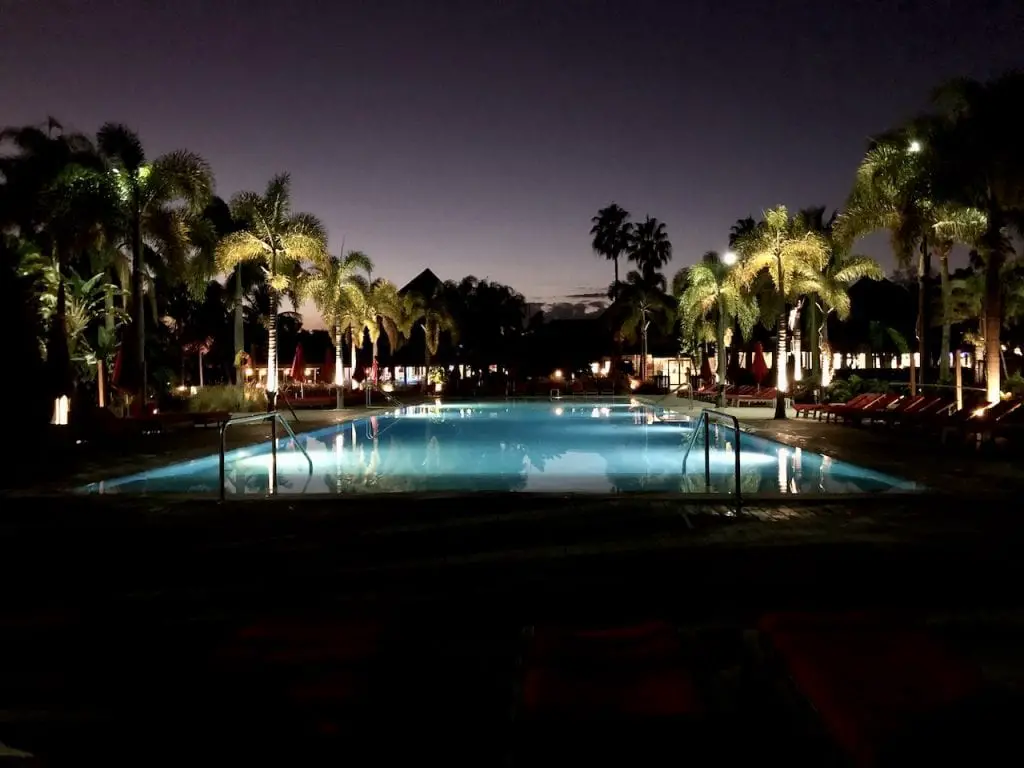 The Spectacular Months are happening at Club Med Sandpiper Bay – each 2 months themed with fun and special offerings: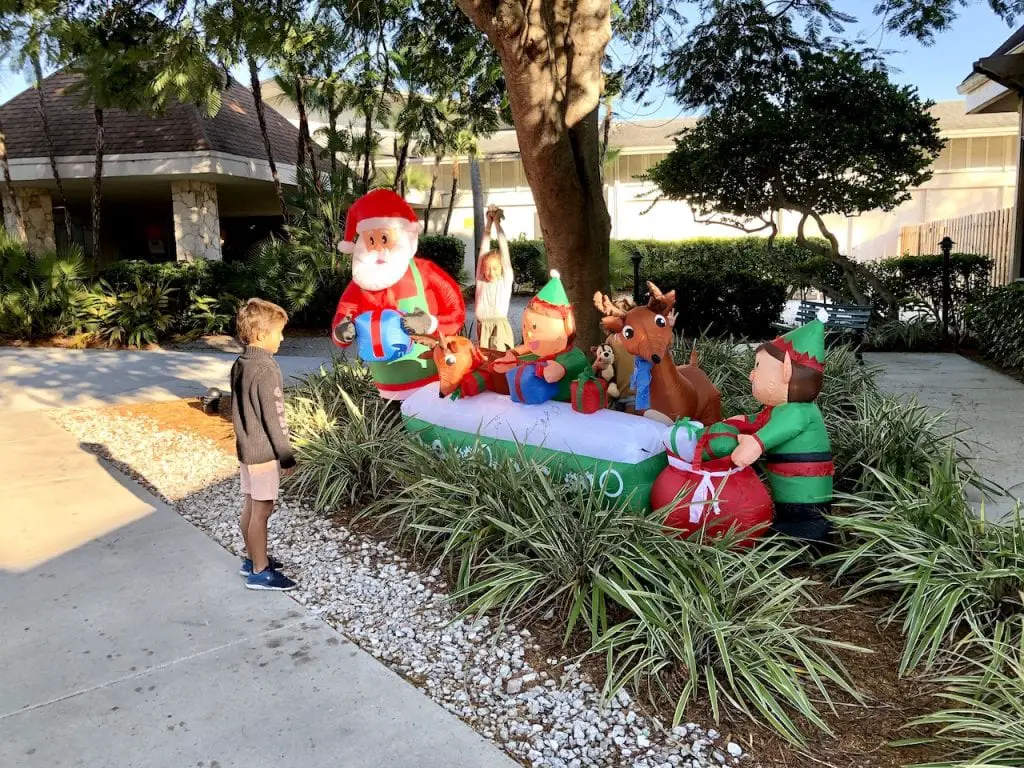 November / December: Fest-acular Months – celebrating the Holidays in a fun and festive way under the sun
January / February: Golf-tacular Months – special tournaments and free performance analysis with professional coaching from the Club Med Academies and practice / group lessons at the onsite 18-hole course
March / April: Circus-tacular Months – thrilling circus offerings on top of the flying trapeze, include aerial silks, lyra (hoop), Spanish web, trampoline and mask painting
May / June: Explore-tacular Months – celebrate all of Florida's natural treasures with memorable sunsets on the lake, kayak tours on the St. Lucie River, wine and paint events, and themed nightly shows. Guests who visit during those months will receive in-resort credit applicable toward excursions to Miami and Florida's Everglades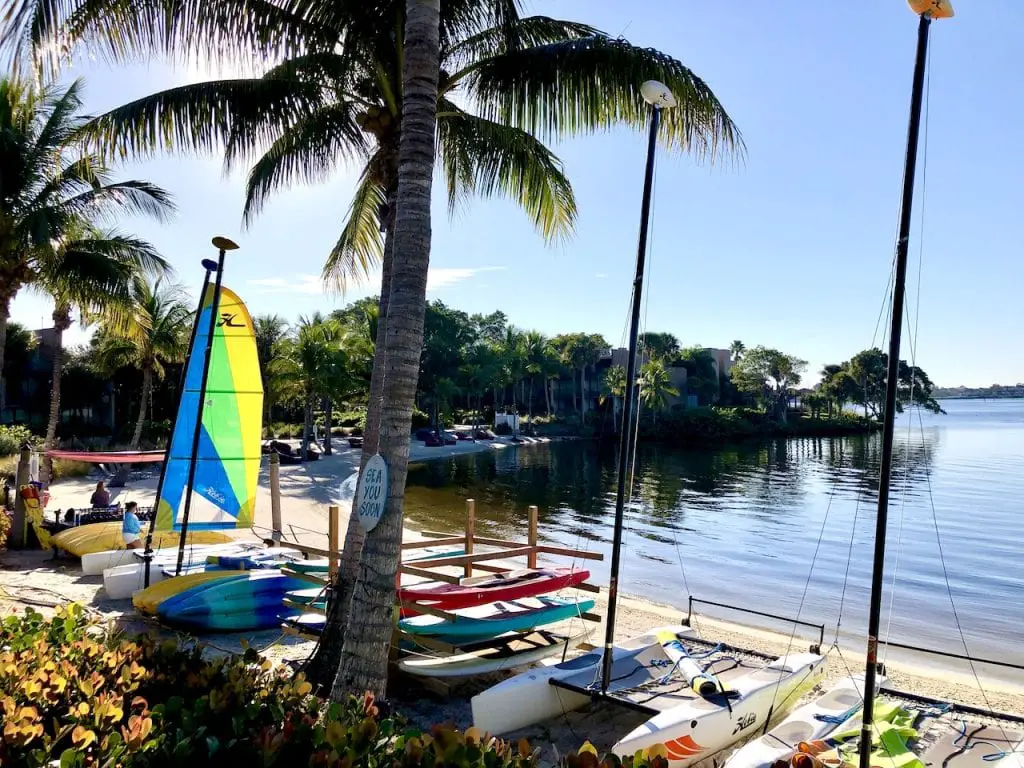 So what do you say? Best resort ever? Convinced that Club Med Sandpiper Bay is the place resort to vacation as a family in Florida? Ready for the kids to live their best lives, while you enjoy some much-needed adult / couples times?
If you have any questions, at all, please let me know! A question about a specific resort, please ask away! We have vacationed in Club Med resorts on three continents and would love to help you select a good one for your family!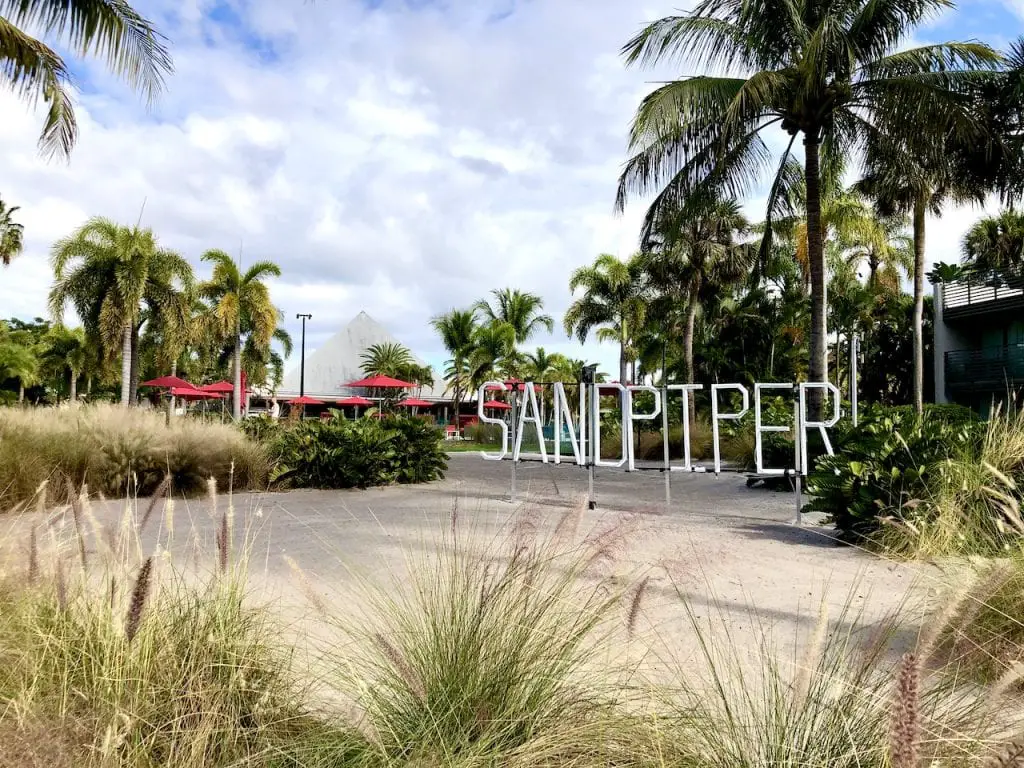 And next time you are in Florida, make sure to visit Club Med Sandpiper Bay and come tell me what your family's favorite thing was about your stay!!
Thank you to Club Med Sandpiper Bay for hosting our family in their beautiful resort. We made memories for years to come!
---
Pin this for later!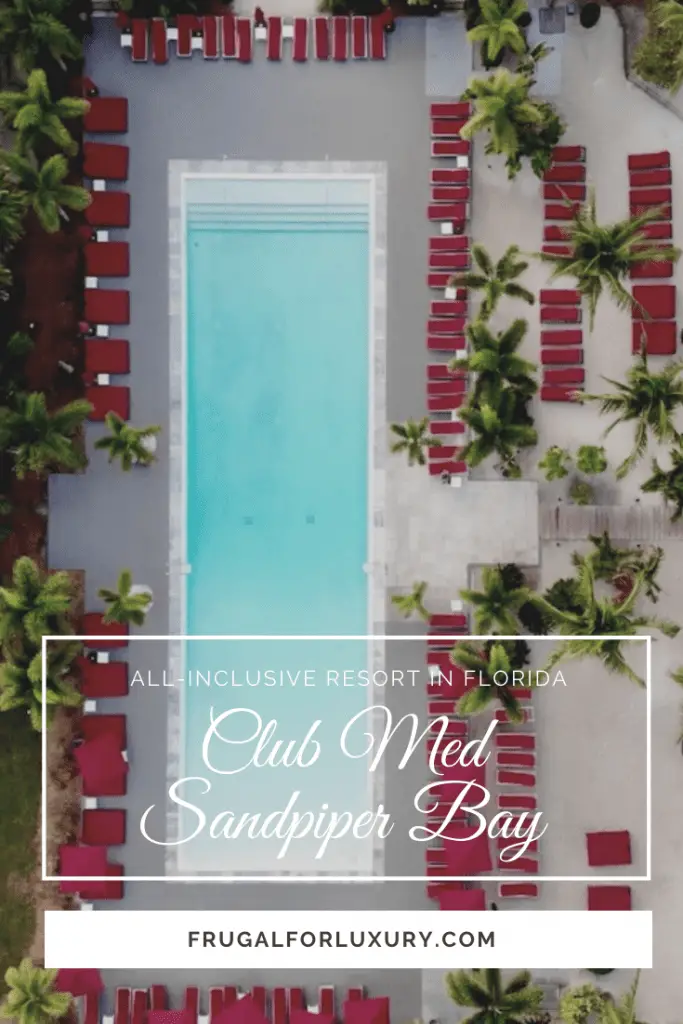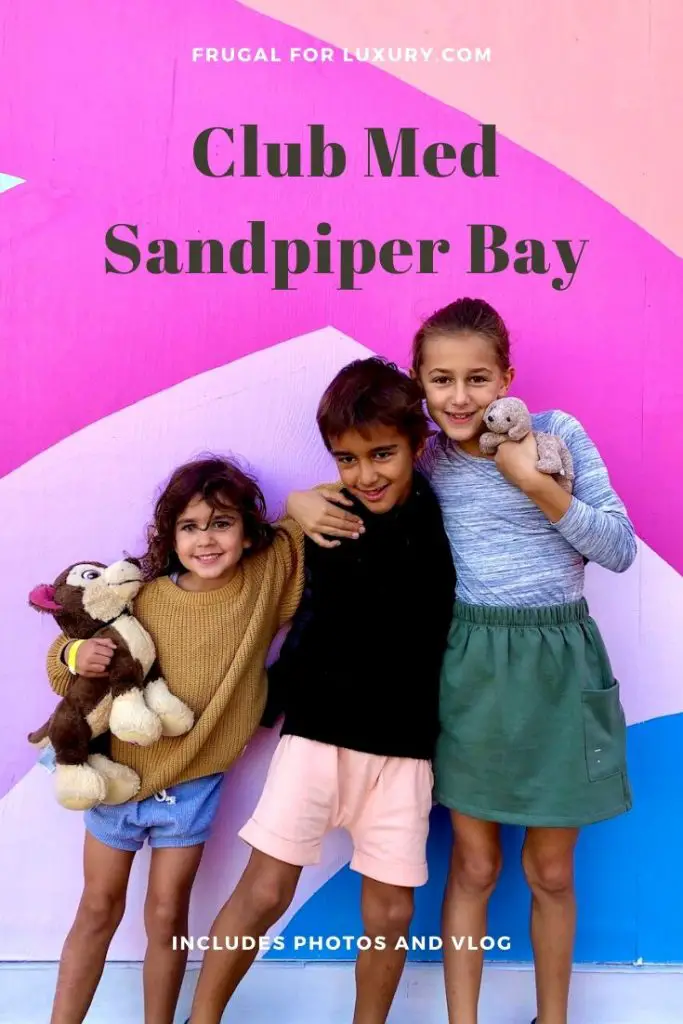 ---
Related articles you will enjoy:
Club Med Columbus Isle
How To Choose The Perfect Club Med Resort
20 FREE Things And Experiences At Disney World
If you enjoy reading us, make sure to sign up for our newsletter below!