Orlando is such a fun city with more entertainment that one can take on any given visit! Even for us locals, there is an endless amount of fun to be had and we love when something new and different pops up!
So once you have done what you are in town for, if you are looking for something new and want get out of you comfort zone, head over to Epic Axe Throwing. I guarantee you some fun and a little bit of something different!
What Is Axe Throwing?
I never knew of axe throwing until I heard of Epic Axe Throwing.
 It reminded me a lot of archery. You are given a couple of axes of different weights, a target, and a "lane". And boy… it is a lot harder to get those axes to stick to the target that I thought 🙂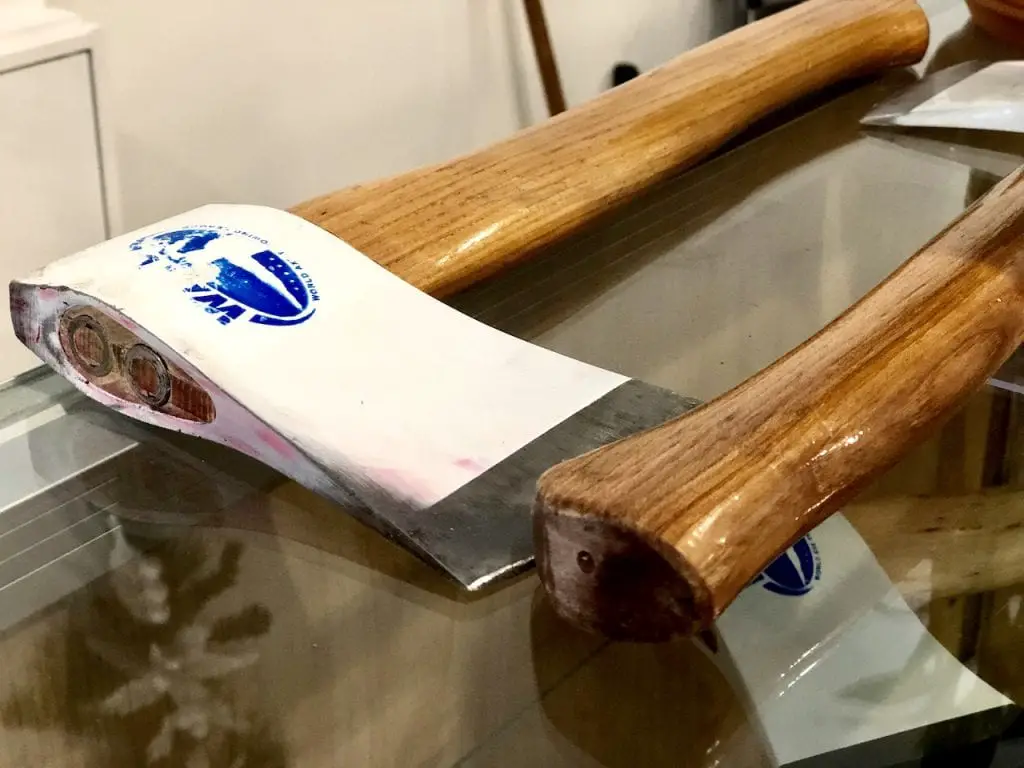 It was so much fun to try something completely new!
Epic Axe Throwing In Orlando, FL
Epic Axe Throwing is centrally located in downtown Orlando, making it easily accessible from all sides of town. If you are coming from the attractions, count about half an hour and add another 15 minutes to find parking and walk over.
We found very easy parking in the back of the building but would caution anyone parking there, to respect parking rules to avoid an unpleasant towing situation!
This was our first time axe throwing and we loved Epic Axe Throwing. We found it super clean, brand new, and felt very welcomed from the moment we arrived.
After signing a quick waiver, we were taken to our double-lane throwing cage (for lack of a better word!). An Axe Coach very thoroughly explained all safety rules and proceeded to teach us how to throw. 
We had SO much fun trying something new!!
After several throws and tips from our Axe Coach, we started getting the hang of it and got our axes to start sticking to the target. Definitely try different axes since each has its own weight and rotates differently!
Family-Friendly? 
I was very impressed with Epic Axe Throwing and how family-friendly they were. 
I did not know what to expect and while this can be a fun adult-only outing, I definitely wouldn't shy away from bringing the kids. 
There is one simple safety rule and a bright yellow line on the ground not to be crossed. Behind that line, our kids sat at high tops and loved cheering on us and keeping scores on large dry-erase boards. 
If you have smaller ones in your party, like we did, have adults take turns and hang out in the couches by the front desk. There is a large, bright, and very clean carpeted area where the little ones can walk around, supervised by Mom or Dad, while waiting.
If you're looking for something fun and new, please try out axe throwing the next time you visit Orlando. It will add the perfect dose of competition and thrill to your day and you will love the new experience!

EPIC AXE THROWING
@epicaxethrowing
ADDRESS: 47 East Robinson St, Orlando, FL 32801 – Suite #10
HOURS: MON thru TH 10AM – 10PM | FR & SAT 10AM – 11PM | SUN 10AM – 10PM. Call ahead for reservations only MON thru FR 10AM – 5PM | SAT & SUN 10AM – 12PM
---
Pin this for later!
---
Related articles you might enjoy: 
Adding Sweetness to Date Night in Orlando, FL – @ The Golden Pod
Experience True Cold in Orlando, FL – @ ICE! at Gaylord Palms
10 Day Trips from Orlando, FL 
If you enjoy reading us, make sure to sign up for our newsletter!