Christian and I recently left the kids with my parents and went on our first-ever couple's getaway sans kids! We chose one of the five star hotels in Orlando Florida and spent the weekend at The Ritz Carlton Grande Lakes Orlando.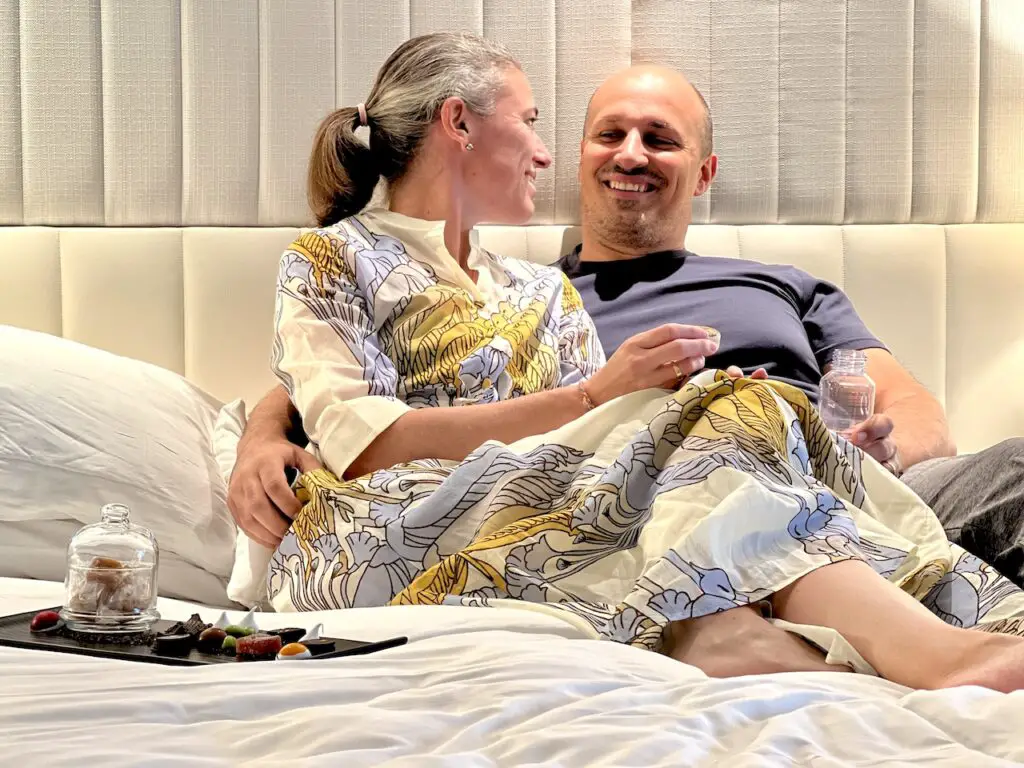 Here are 5 things not to miss when staying at the closest Ritz Carlton to Disney World!
A huge thank you to The Ritz Carlton Orlando for hosting us.
1- Book A Ritz Carlton Orlando Lake View Room
When booking your stay at The Ritz Carlton Grande Lakes Orlando, you are given several room choices. I highly recommend booking a lake view room.
Looking out west, not only do you see the lake, but the pool and golf course too. You will love the surreal Central Florida sunset views from your balcony and even catch the nightly theme fireworks.
2- Upgrade To Ritz Club Level
The Club Level at The Ritz Carlton Grande Lakes Orlando is beautiful and worth the upgrade. Note that you can select a Club Level room at check-in, or have the option to upgrade with points. You can also try to call the property for an upgrade after purchasing your stay, or try your luck for an upgrade at check-in.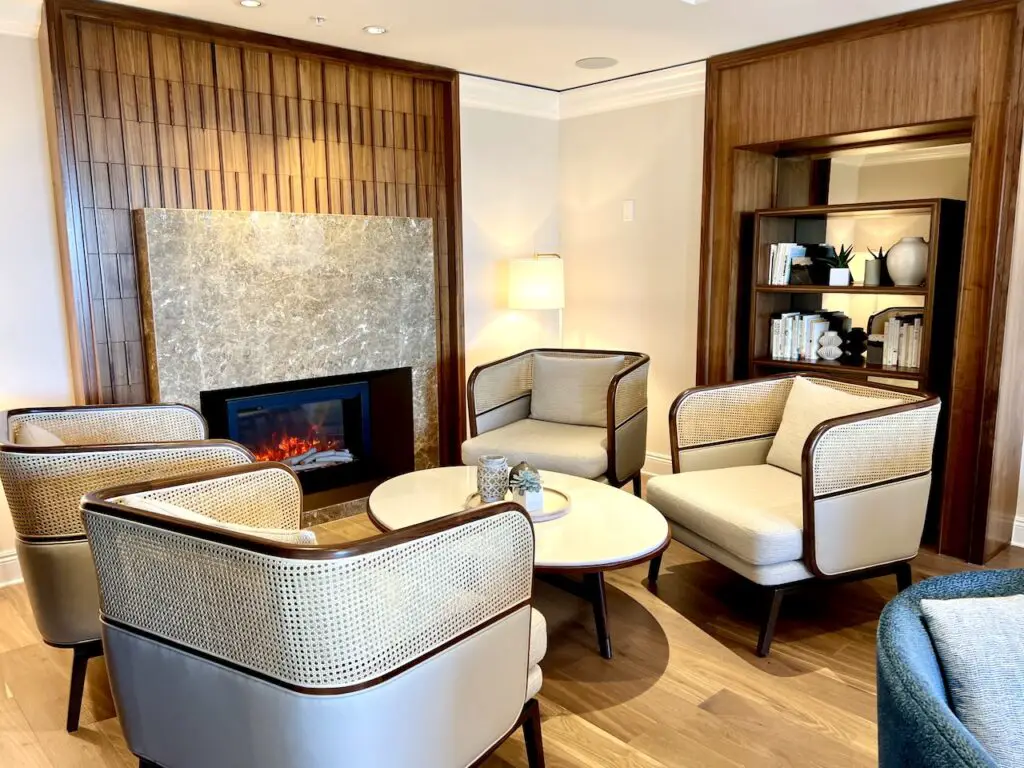 The Club Lounge at The Ritz Carlton Orlando is only available to those who have paid for the upgrade. The Lounge is located lake-side on the 14th floor, and booking Club Level ensures that you receive a room or suite with balcony overlooking the gardens, pool, and golf course.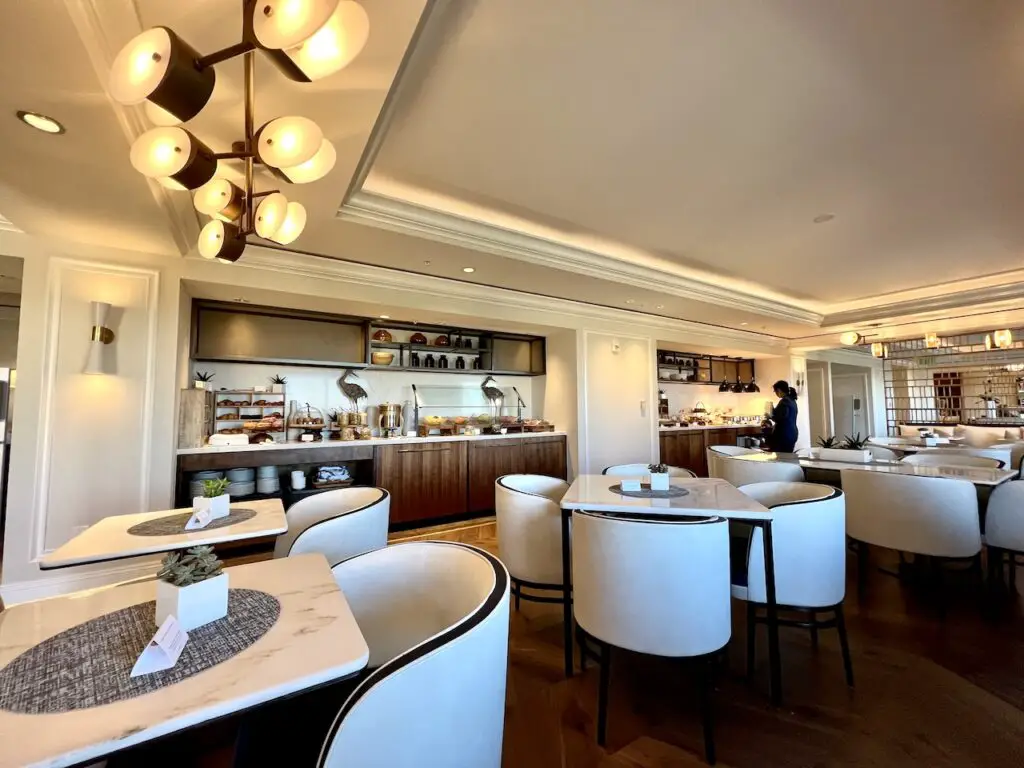 The Club Level is opened 7AM to 10PM and offers incredible benefits, including a team of concierge addressing you by name and ready to answer your questions and facilitate your requests. At Club Level, you receive:
Daily pressing for two garments each day
Complimentary Ritz Kids Day Time Programming for two children aged 4 to 12
Five food offerings per day + alcoholic and non-alcoholic beverages
To-go snacks and drinks throughout the day
We were so impressed with the food offerings and they are well worth the upgrade to Club Level. Warm breakfast including smoked salmon, freshly pressed orange juice, and specialty coffees were a great way to start the day. Don't miss trying the cinnamon roll!
At lunch and dinner, help yourself to delicious cooked food, a refreshing salad bar, imported cheeses and more.
Need a little boost in the afternoon? Head up to the Club Lounge and enjoy cold and warm snacks. The spreads are to die for and this can be a wonderful late lunch, or an after-park pick-me-up!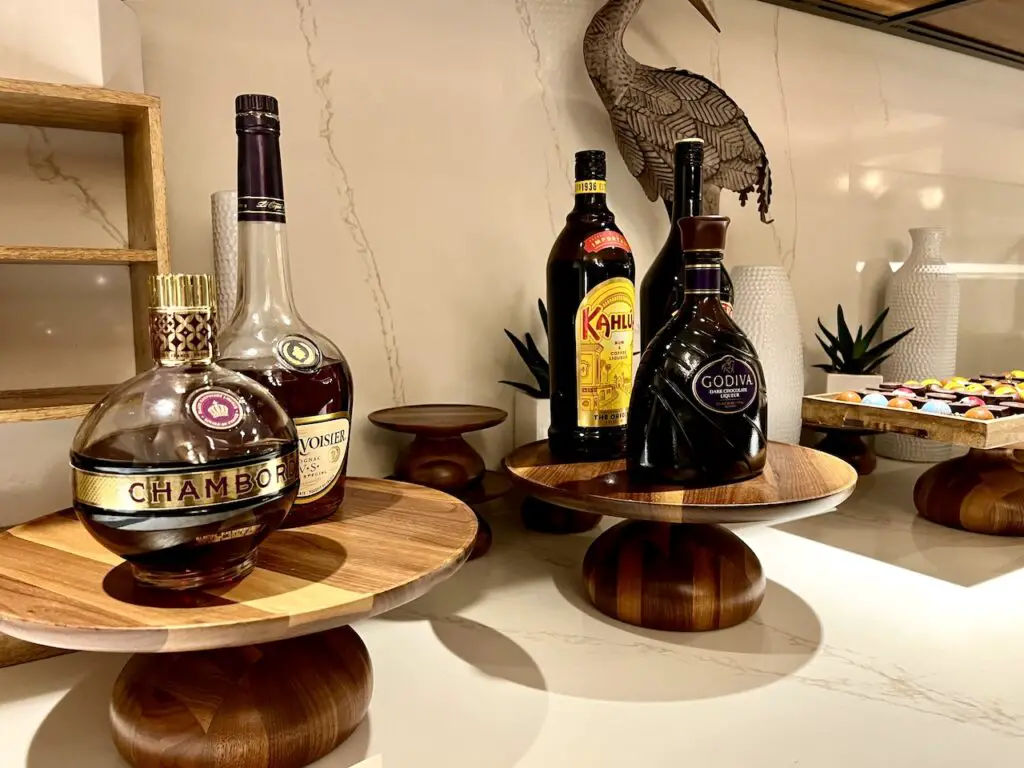 No matter where you decide to dine, make sure to come back up for desserts and cordials after 8PM. The desserts are incredible and the cordials are the perfect digestive before heading to bed.
And if you're staying at The Ritz Orlando with kids, they have their own little room inside the Club Lounge, with their own TV, a lower table, and a team of concierges readying to please them with their own kid-friendly refreshments!
3- Book A Private Pool Cabana
The Ritz Carlton Grande Lakes Orlando offers several private pool cabanas and they are the best way to elevate your luxury stay.
We tried out the Luxury cabana, accommodating up to 6, located front row from the pool:
As well as a the Family Cabana, accommodating up to 12, located on the third row from the pool:
Both pool cabanas are gorgeous and come with 4 reserved pool chairs, for those looking for sunshine.
Inside the cabana, we loved having a table for lunch and comfy lounge area. All come with WiFi and an HDTV, as well as a fully stocked mini bar and a safe to store your belongings. Enjoy soft drinks, coconut water, sparkling and flat water, as well as candies and snacks, sure to please the whole family.
A butler is at your service and ensuring you never run out of drinks and never have to leave your cabana, should you have any request! S/he will also be happy to bring you the gorgeous fruit platter and chips and guacamole that come with your private Ritz Carlton pool cabana.
And take my tip – enjoy lunch from the poolside Bleu. The menu and kids menu are in your cabana and your butler will be happy to take your order and bring your food right up to the cabana.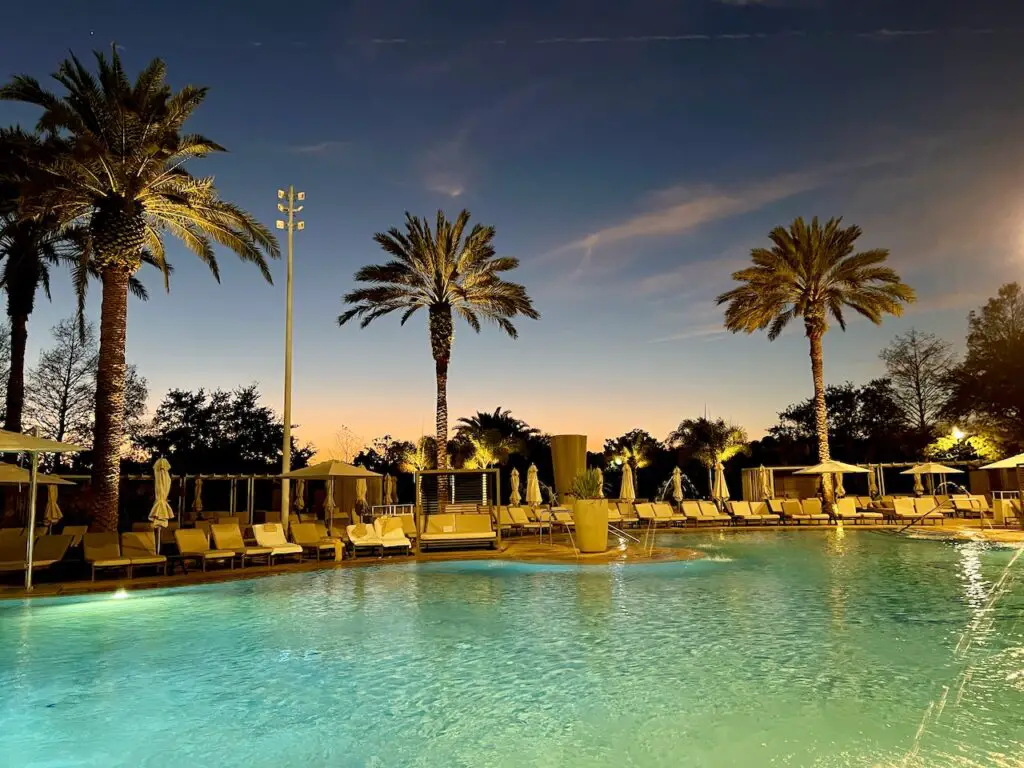 Upgrading to a pool cabana gives you the full luxury experience we've all come to appreciate at The Ritz Carlton. Note that there are only 6 private pool cabanas available, so make sure to reserve one as early as possible.
4- Dine At Primo
We have dined at some of the best restaurants around the planet and are not easily impressed with food… but Primo should be on your must-eat list, whether or not you are staying at The Ritz Carlton Grande Lakes Orlando!!
Primo is an organic Italian restaurant cooking up fresh Mediterranean flavors and actually located in the connected JW Marriott Grande Lakes. From The Ritz Carlton, I recommend enjoying the lake-side walk. In case of inclement weather, know that the two luxury hotels are connected via their convention centers.
In the open kitchen, the dishes crafted by award-winning chef Melissa Kelly are cooked fresh and served by talented servers happy to answer all menu questions and recommend their favorite dishes.
If I may recommend my favorite, make sure to try the octopus appetizer and the cannoli for dessert!
5- Book A Free Styling Session At The Mall At Millenia From the Ritz Carlton Grande Lakes Orlando
My fifth and last tip when staying at The Ritz Carlton Grande Lakes Orlando, is to book a free styling session at The Mall At Millenia. A short drive away, The Ritz Orlando is one of only three five star hotels in Orlando offering free chauffeured transportation to the Mall.
During your two-hour styling session, you will be welcomed to the Mall At Millenia's Personal Stylist Suite, where your personal stylist will have prepared outfits that fit you from several stores around the mall. In a beautiful setting, you will try on outfits and accessories handpicked for you and will not only surprise yourself, but have fun, learn about styling, and probably walk away with a new friend!
The suite is booked for one person at a time, making it a safe setting to try on new clothes and accessories.
There is no purchase mandatory, but I am ready to bet you will not leave empty-handed!
After your shopping session at Orlando's luxury shopping mall (if you've never been, you have to visit! It is like no other!!), feel free to benefit from Millenia Direct and get your purchases delivered to The Ritz Carlton Grande Lakes free of charge.
Note that the styling sessions are opened for anyone 12 years of age, and up, and can be booked 7+ days in advance. If you are within the 7-day period, call the Mall to see if they can fit you in.
The Ritz Carlton Grande Lakes Orlando
We had a beautiful weekend at The Ritz Carlton Grande Lakes Orlando. It was the perfect luxury couple's getaway, close to home but leaving us feeling that we spent a whole week away.
While we loved enjoying this five star resort in Orlando without the kids, we are looking forward to returning with our children. Everything from the Club Level to the pool seems to have Ritz Kids area, and the Ritz Kids Club is beautiful and would be the perfect way for a family to enjoy a vacation together.
If you are looking for a luxury couple's getaway in Orlando, however, this is it. The Ritz Carlton was everything we expected and more. The quality of the service is incredible and really sets The Ritz apart from other properties. The food, renovated pool, lake view rooms, beautiful pool cabanas, and the Club Lounge all contributed to the perfect getaway.
We highly recommend The Ritz Carlton Grande Lakes Orlando as you look to elevate your Orlando, Florida stay to luxury.
---
Pin for later!
---
Similar articles you will enjoy:
What To Do In Orlando With Kids – A 3-Day Itinerary
Luxury Cruising onboard Seabourn
Luxury Family Vacation At The Cliff Lodge Snowbird